Content
---
---
The most popular materials are metal, semiprecious stones, pearls and plastic. Sometimes nature itself provides the basis for design creativity. To create fashion accessories, shells, stones without cutting, straw for weaving are used..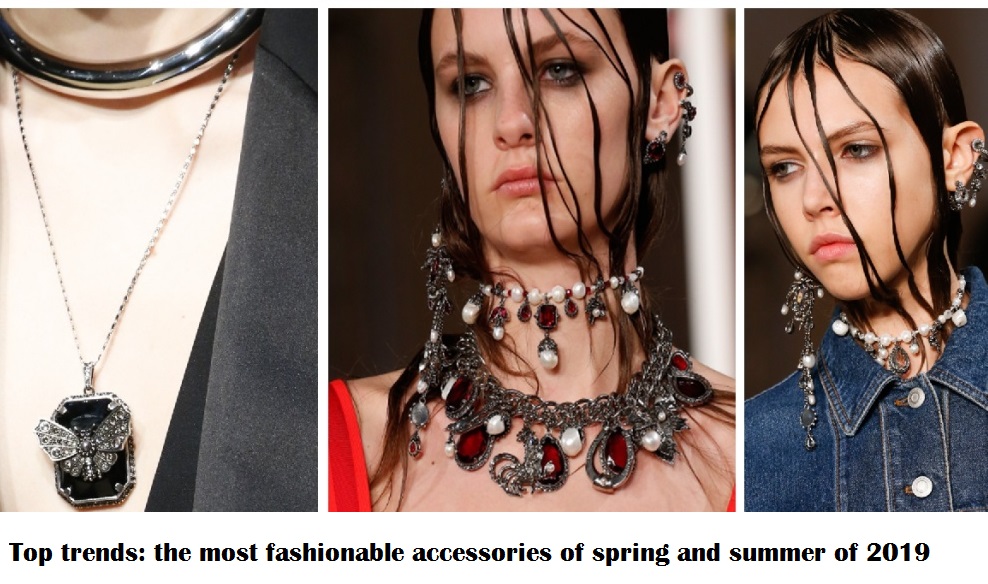 We offer an overview of the 20 most current trends for spring-summer 2019. Choose the images that you like and complement your look with stylish accessories.
Decorative chains
The chain has become the trend of the latest fashion shows. In almost all collections of the most famous brands bracelets, necklaces, earrings and chokers from large links appeared.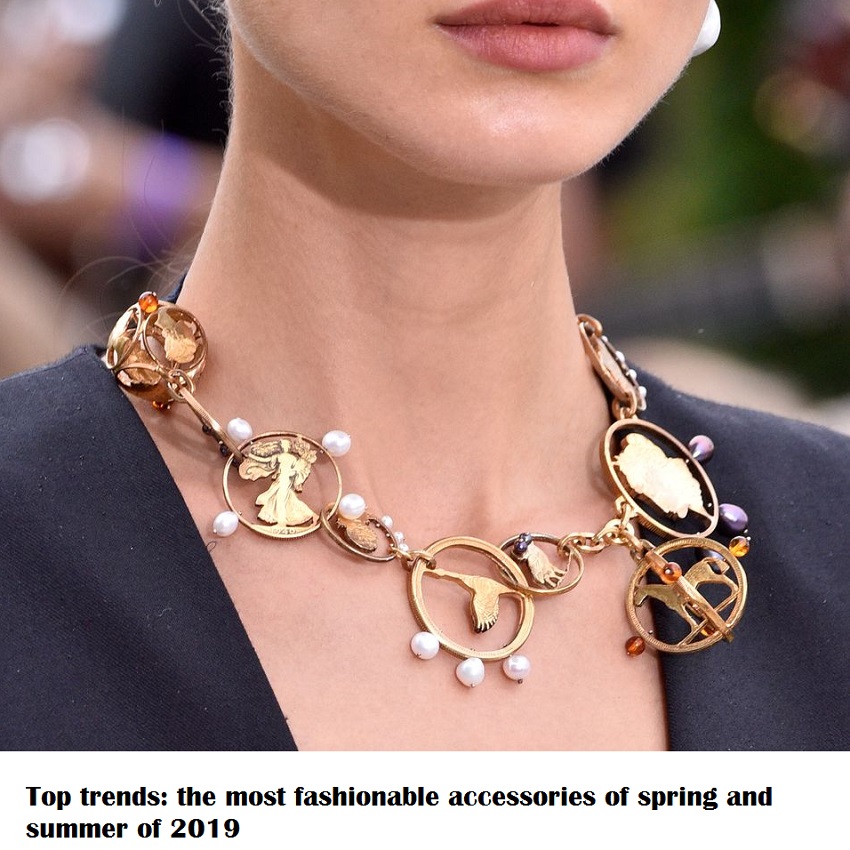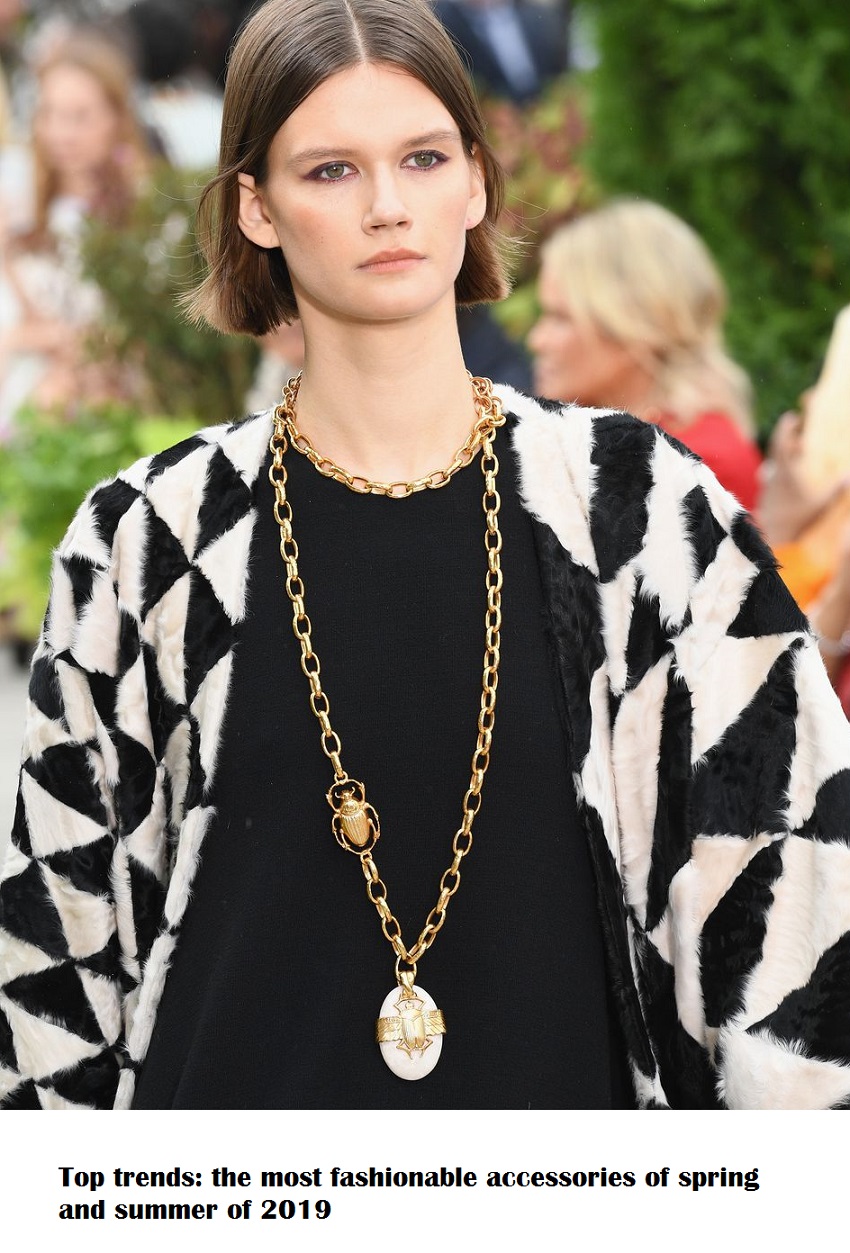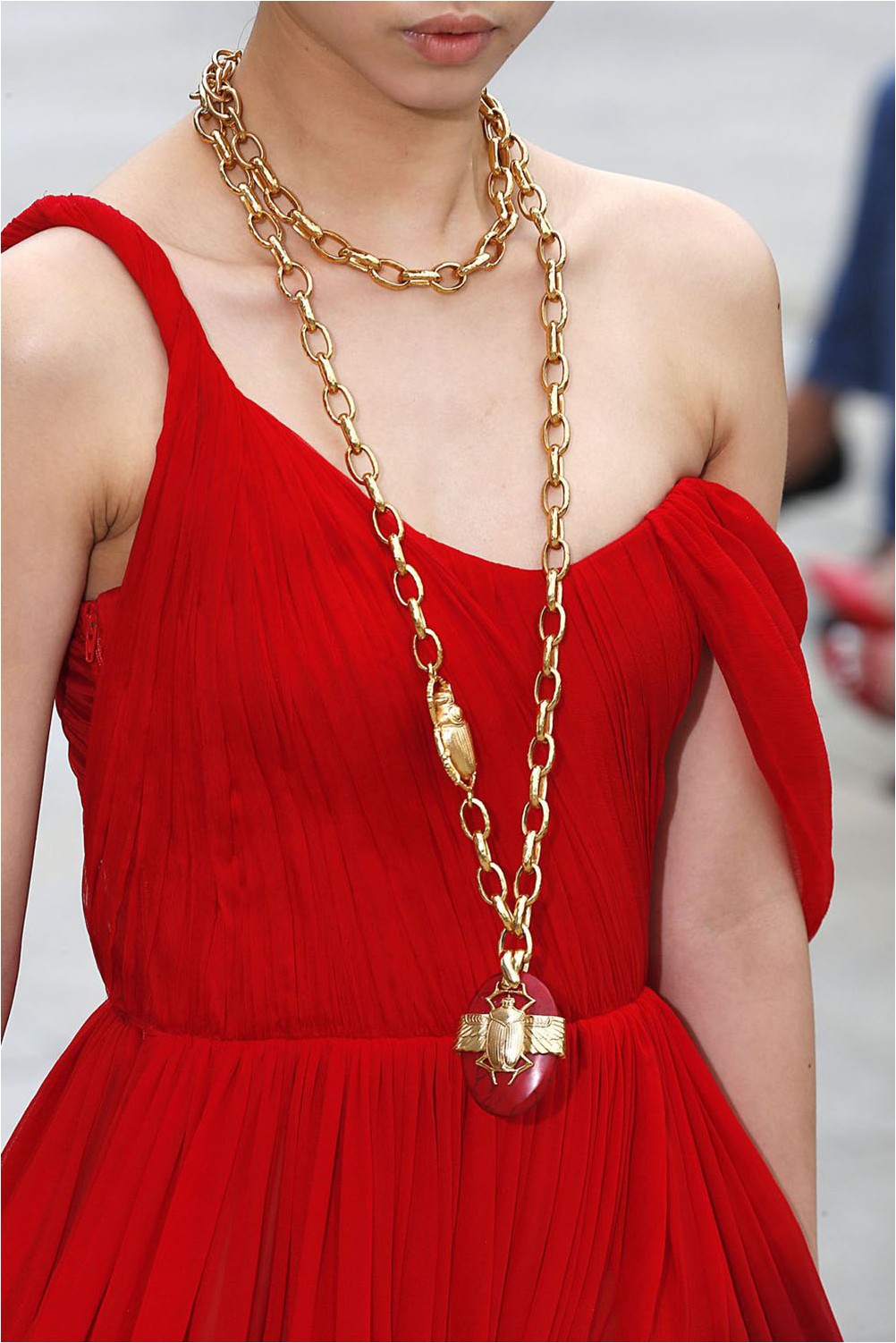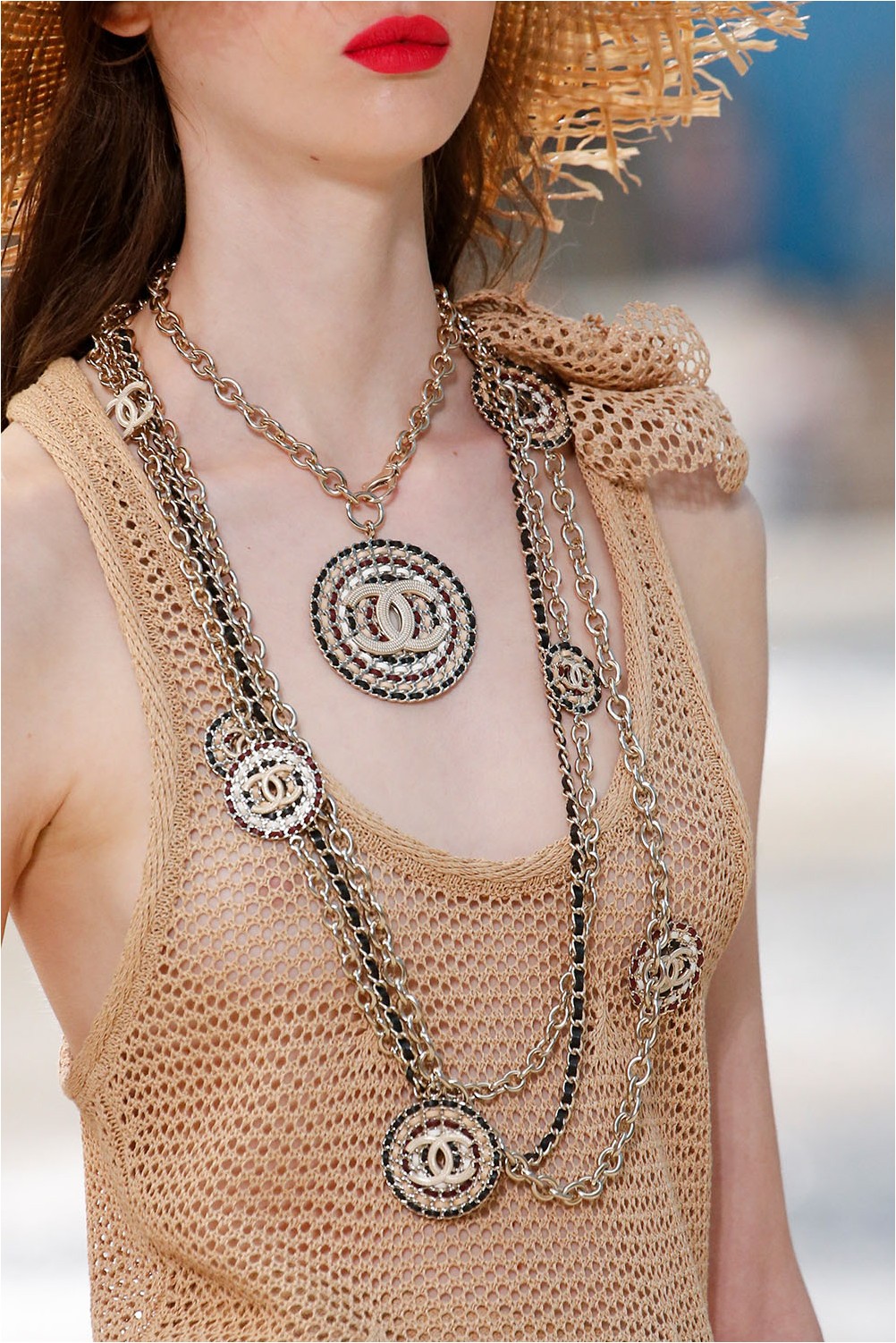 Chain fever has captured not only jewelry. She switched to other accessories. Belts made of thick and thinnest chains, handles of bags – no matter where the fashion trend appears. The main thing is that he be present at least in detail.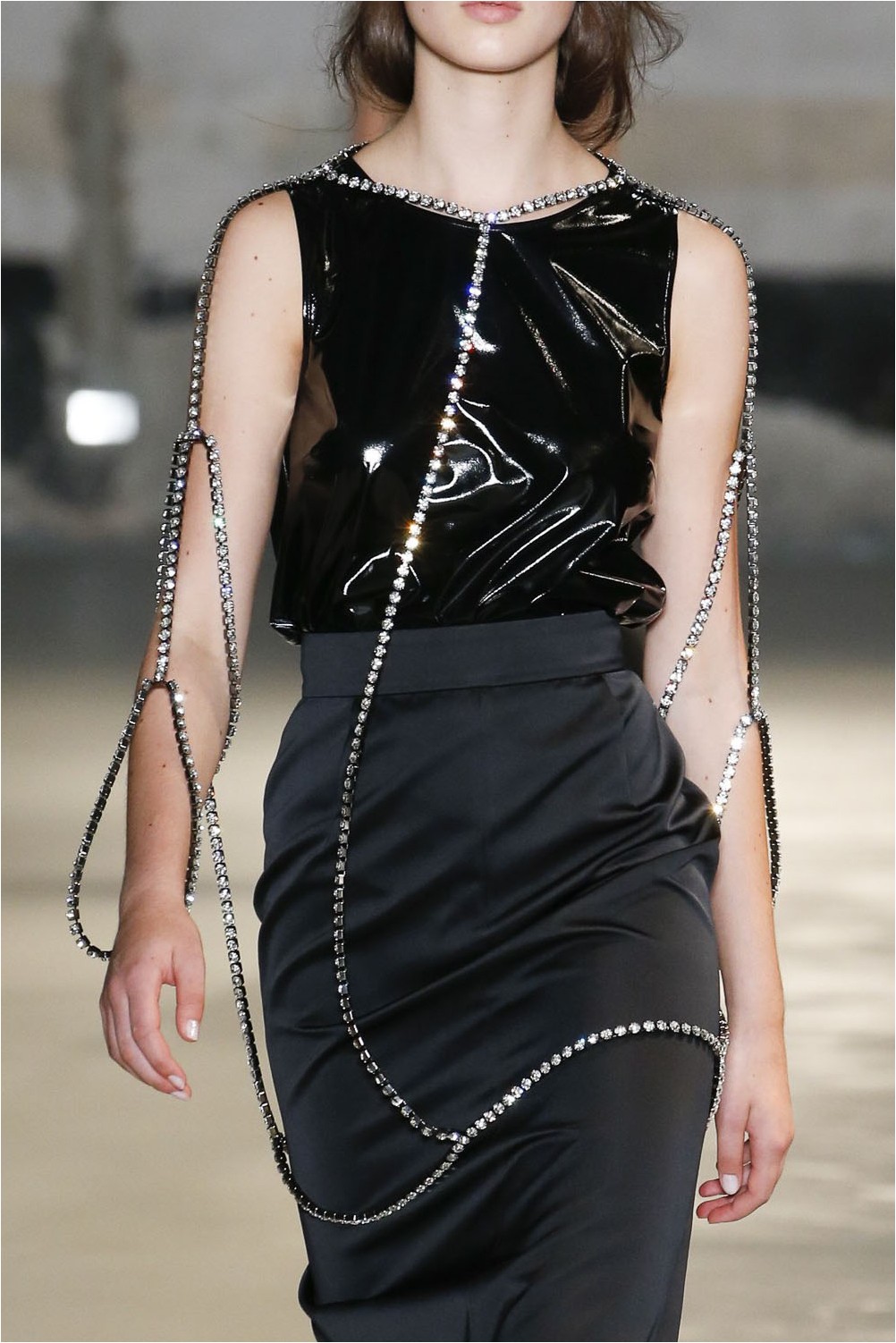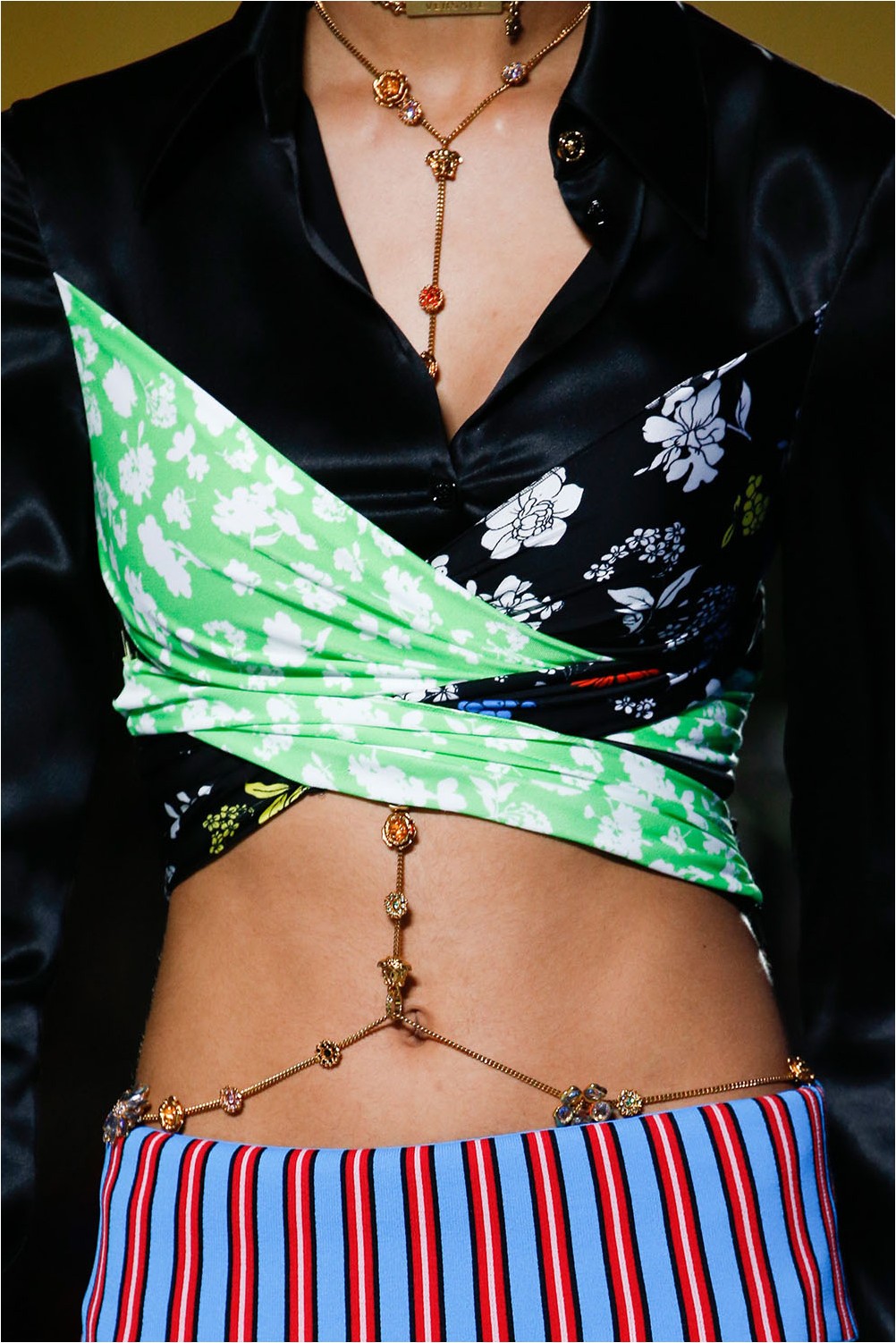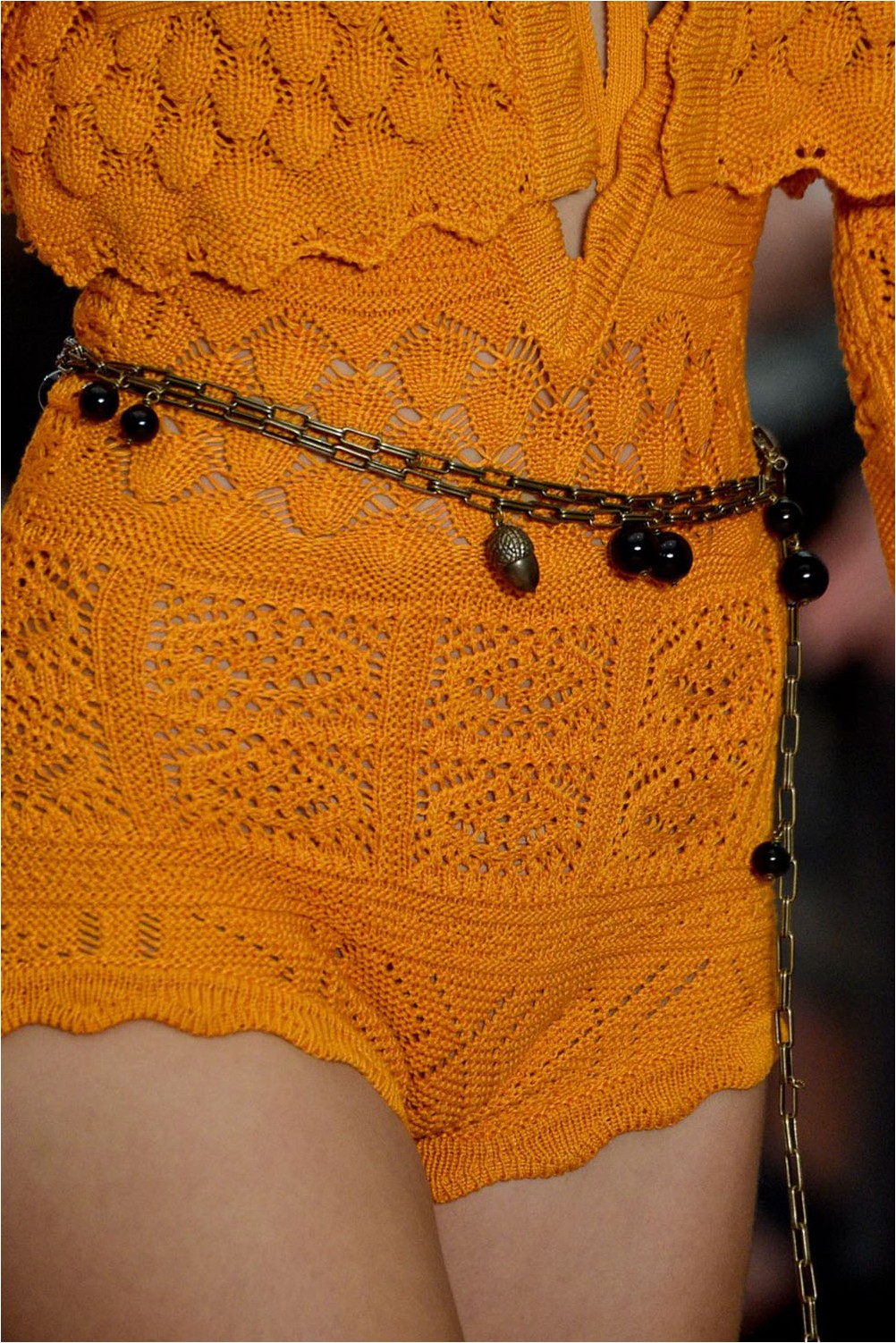 For example, Burberry and Alexander McQueen proposed to stitch the edges of clothing with rings. There was even a sword belt from chains. Sometimes thin chains envelop a dress or top with a barely noticeable web.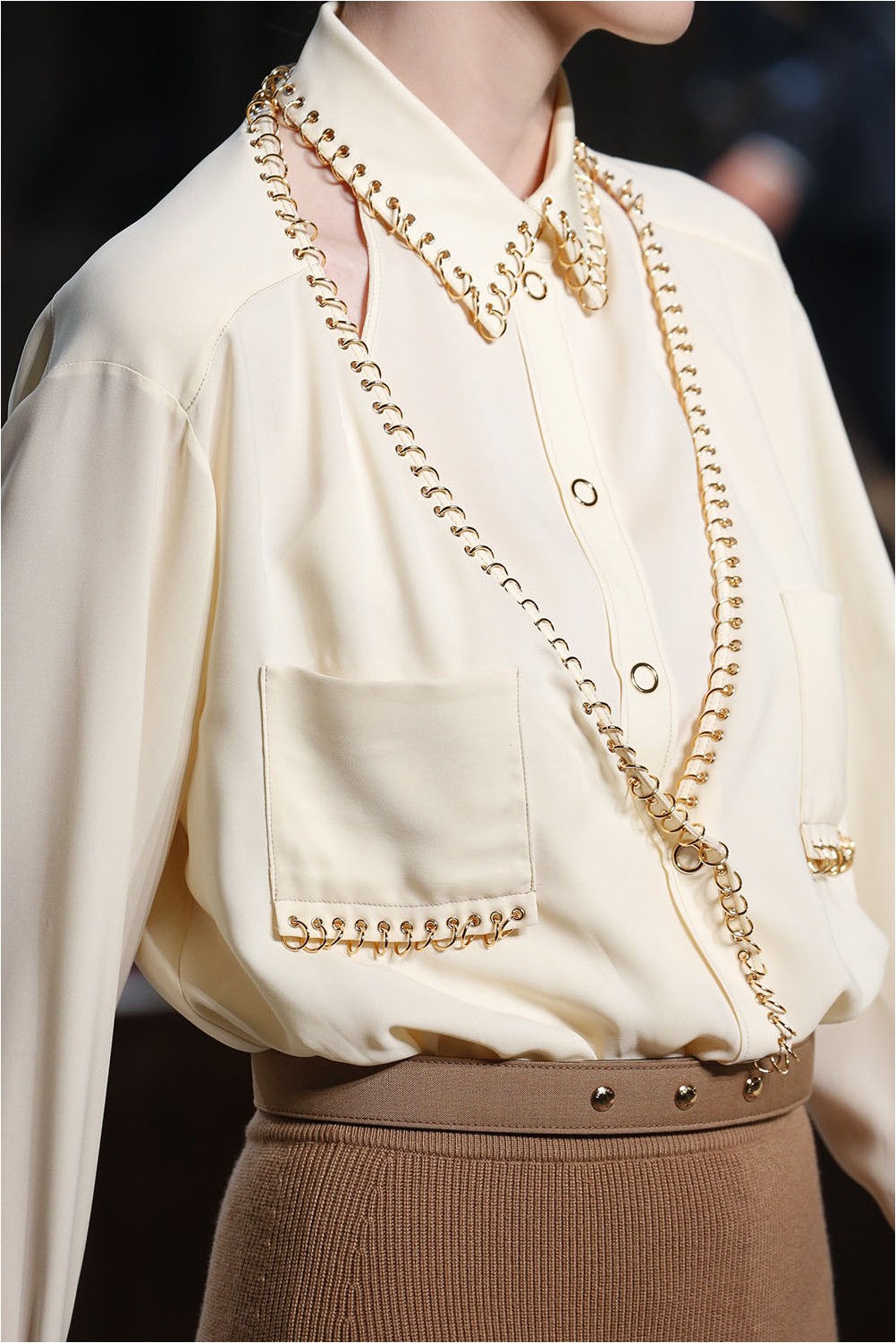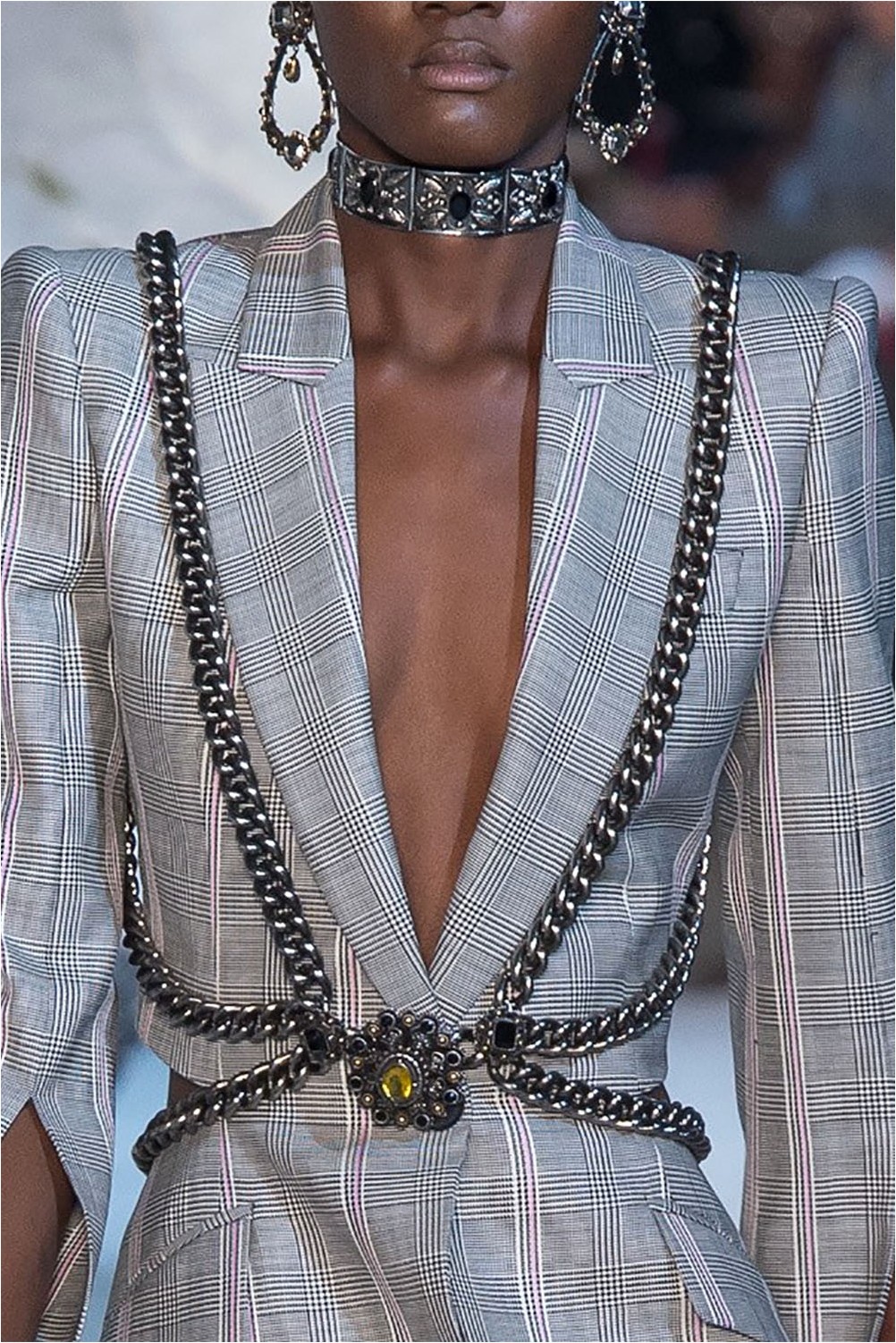 Statement Decorations
The style of statement jewelry is firmly entrenched on the fashion catwalk. And this is not surprising. Too it is pretentious and spectacular. Large, sometimes even massive earrings, pendants and necklaces with non-trivial decor are the "classics of the genre". It was in this performance that Gucci and Givenchy fashion house presented its jewelry.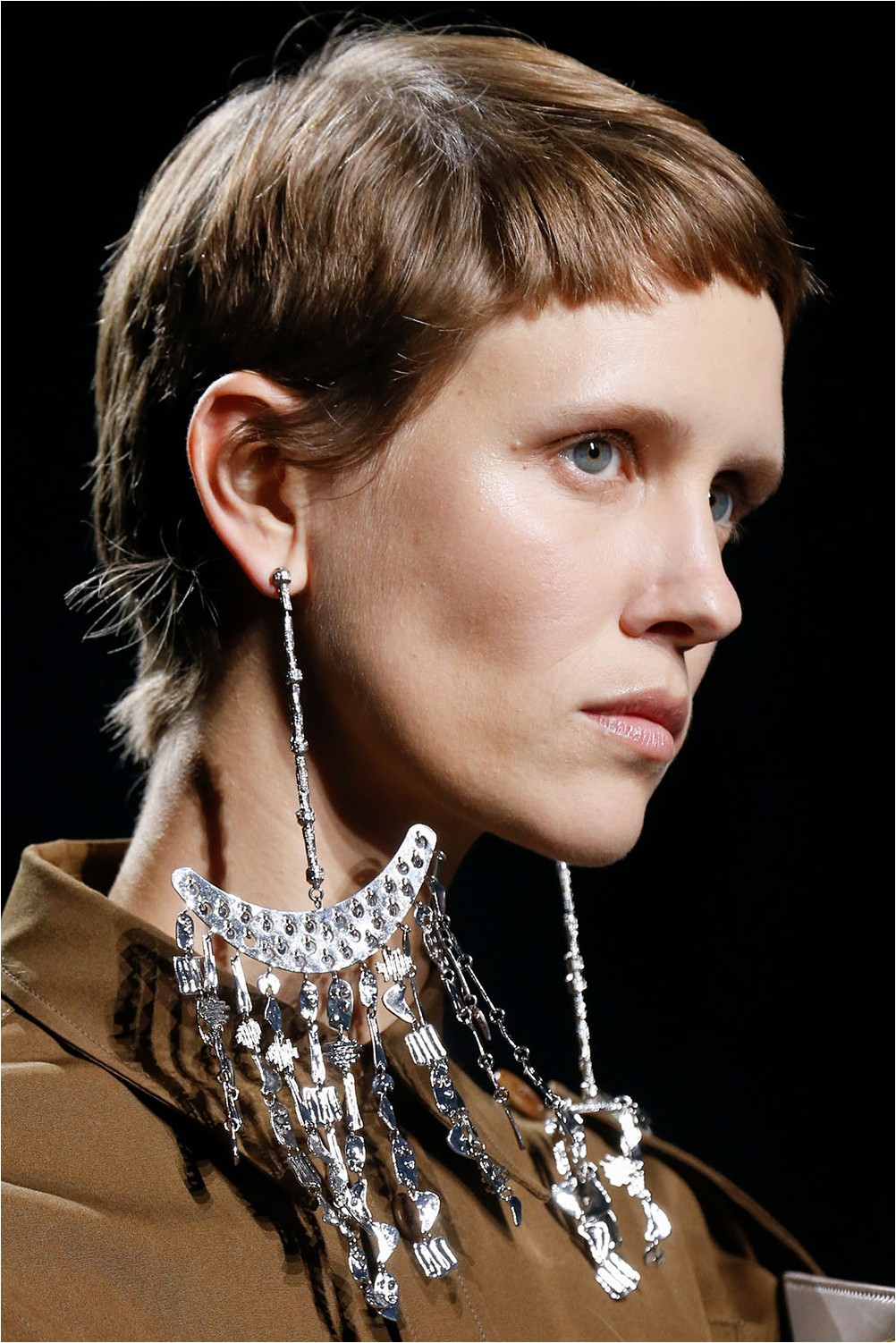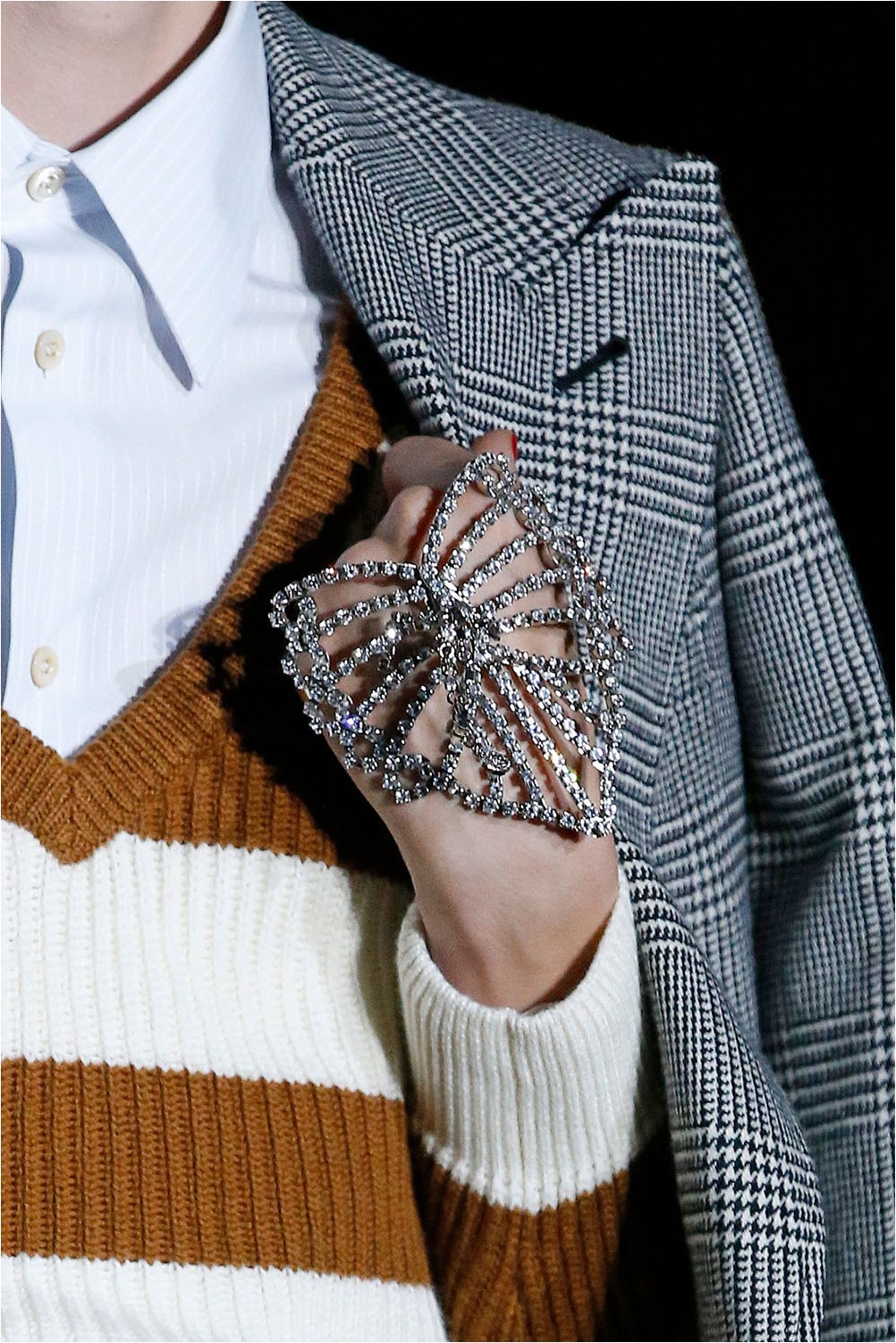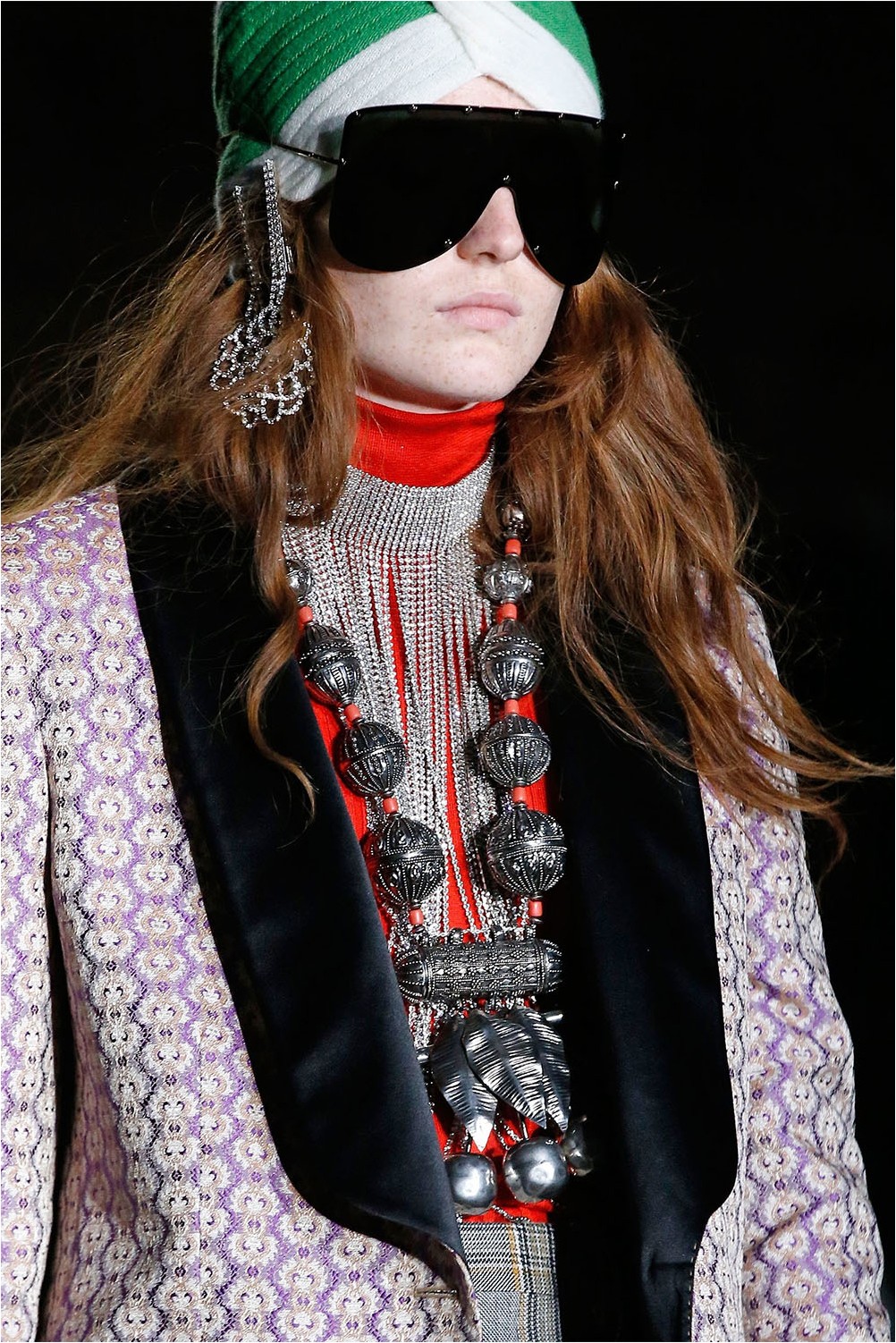 Miu Miu saw the trend in their own way – created weighty necklaces and earrings from many strands with rhinestones. Fashionable themes of the romantic era can be traced in a necklace from Oscar de la Renta. But the stylists of Dries Van Noten stood out most clearly. They embodied the statement style in woven shirt-fronts of gold threads and feathers..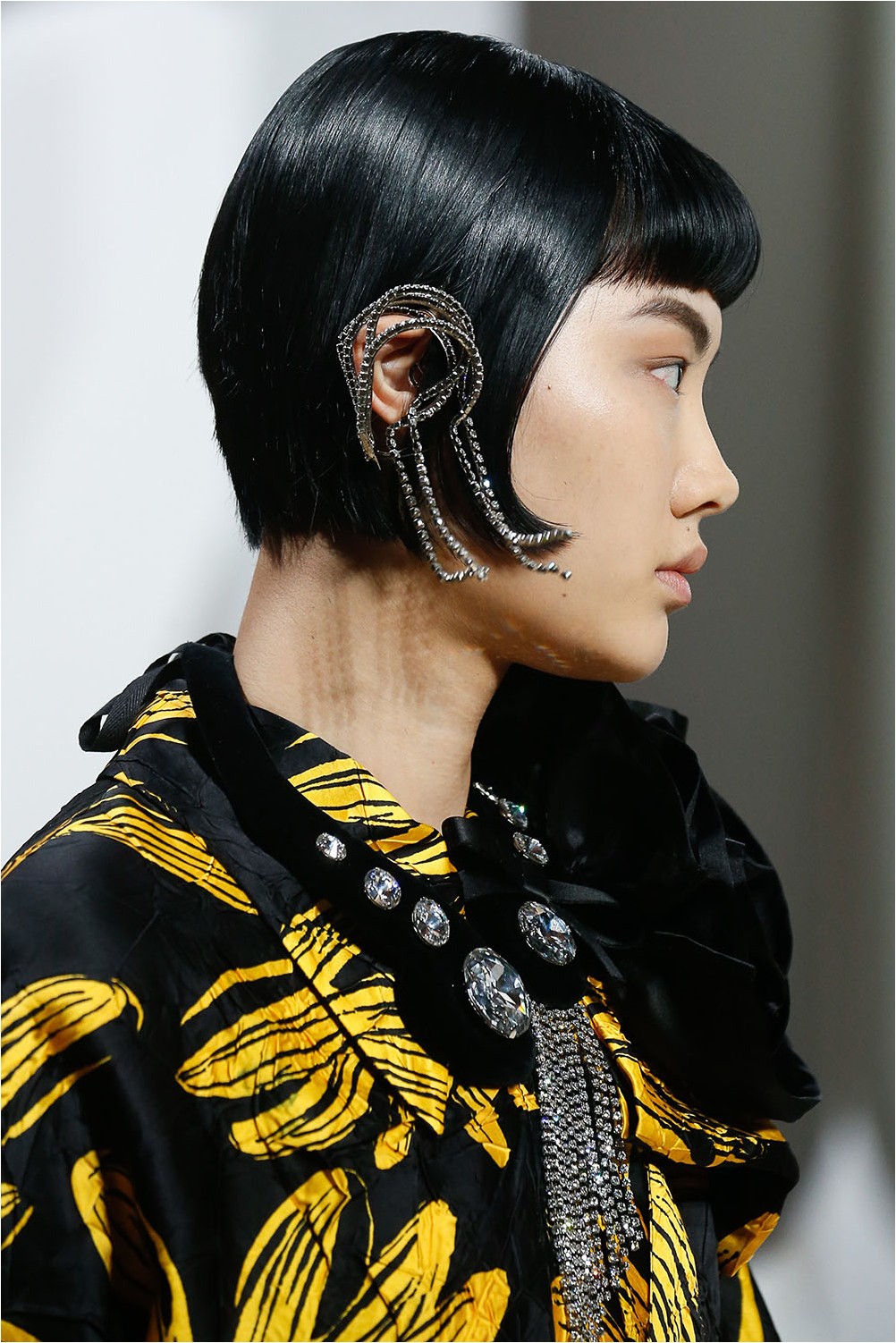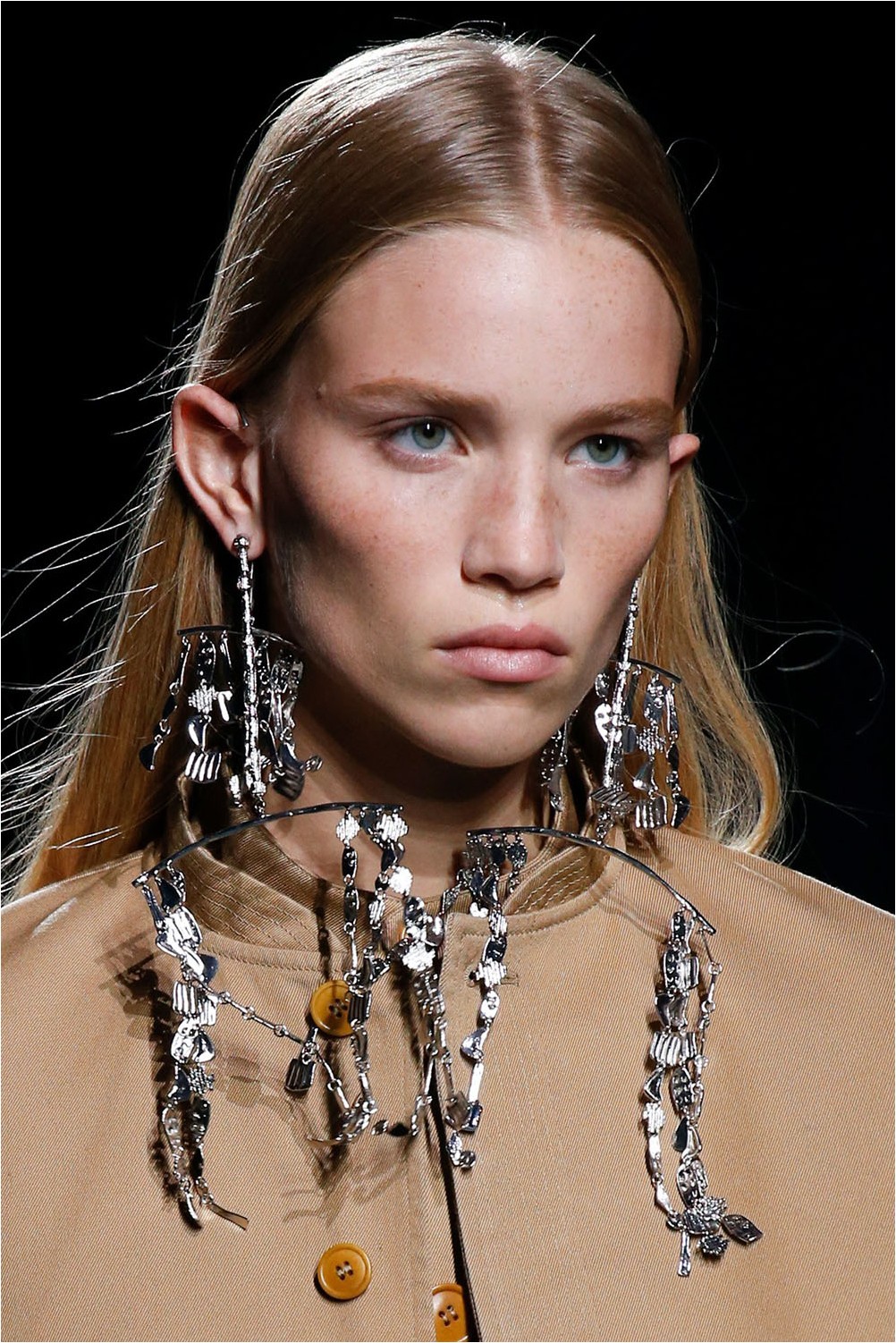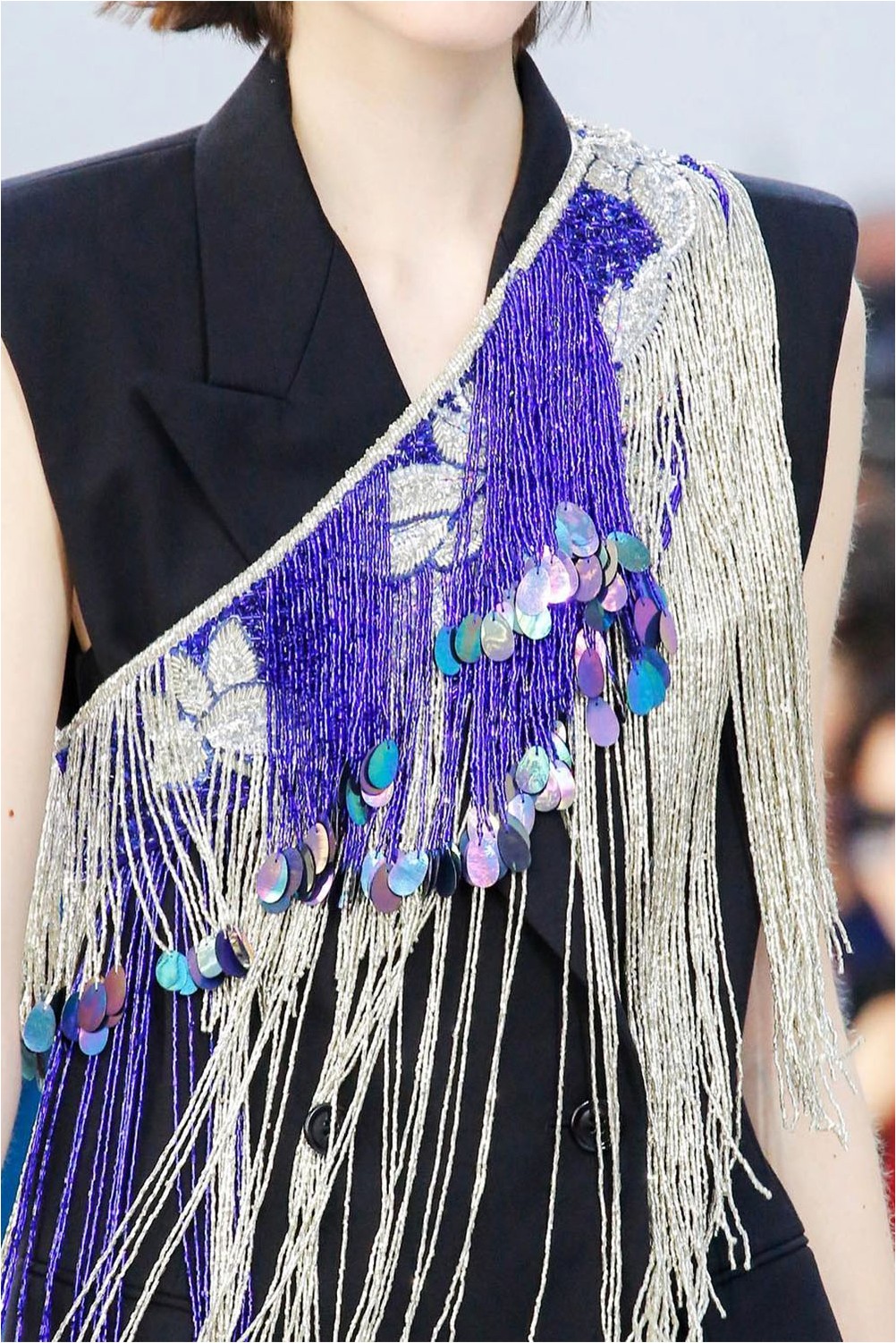 Fancy jewelry
Decorations that do not lend themselves to frames and do not fit into the standards are the hit of the spring-summer 2019 season. How do they look? First of all, as original as possible. It can be semi-rings of a fantasy form, like Giorgio Armani, or large clips with an abstract pattern, like Balenciaga. And once fashionable Burberry earrings-designers exchanged for earrings in the form of horse hooves.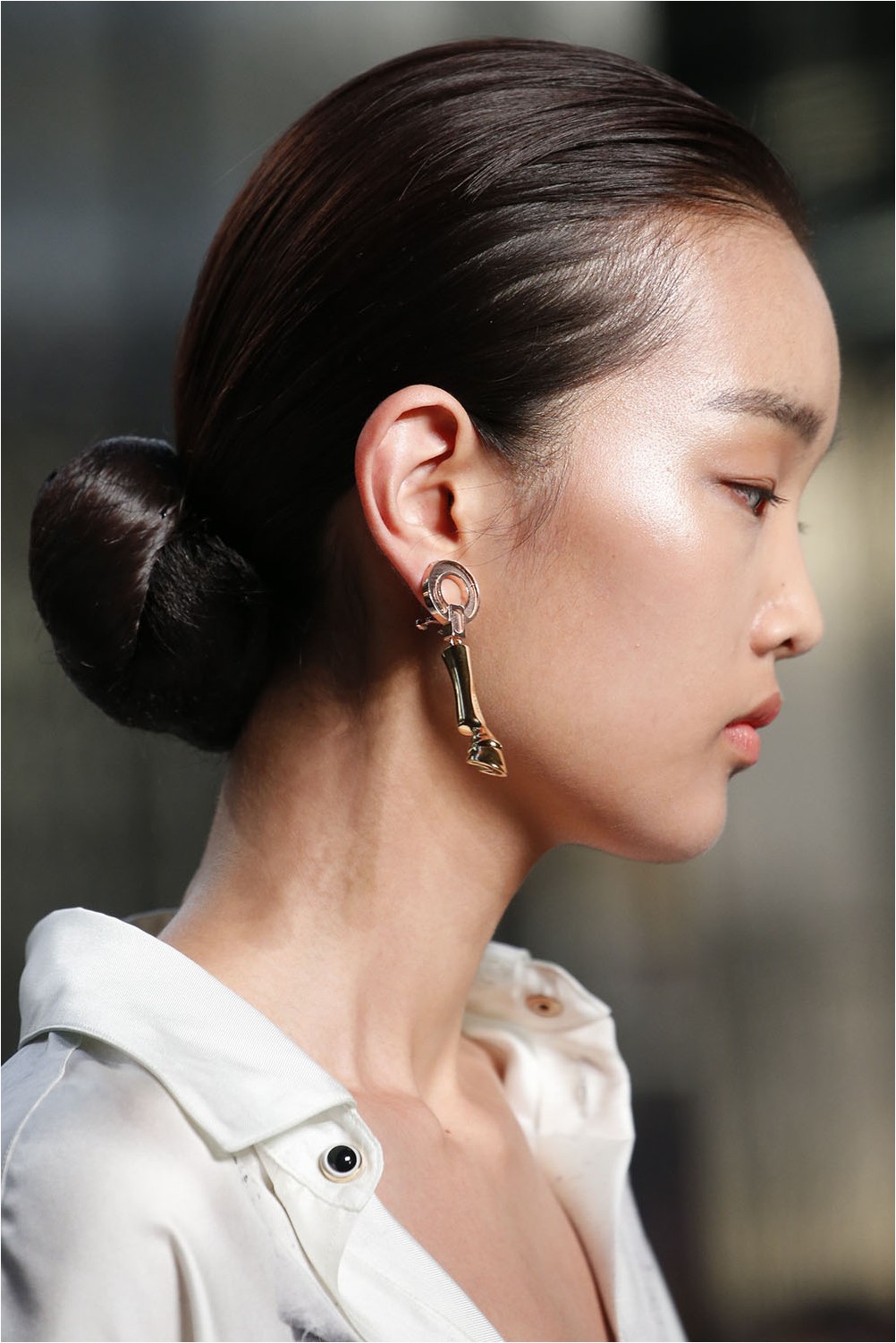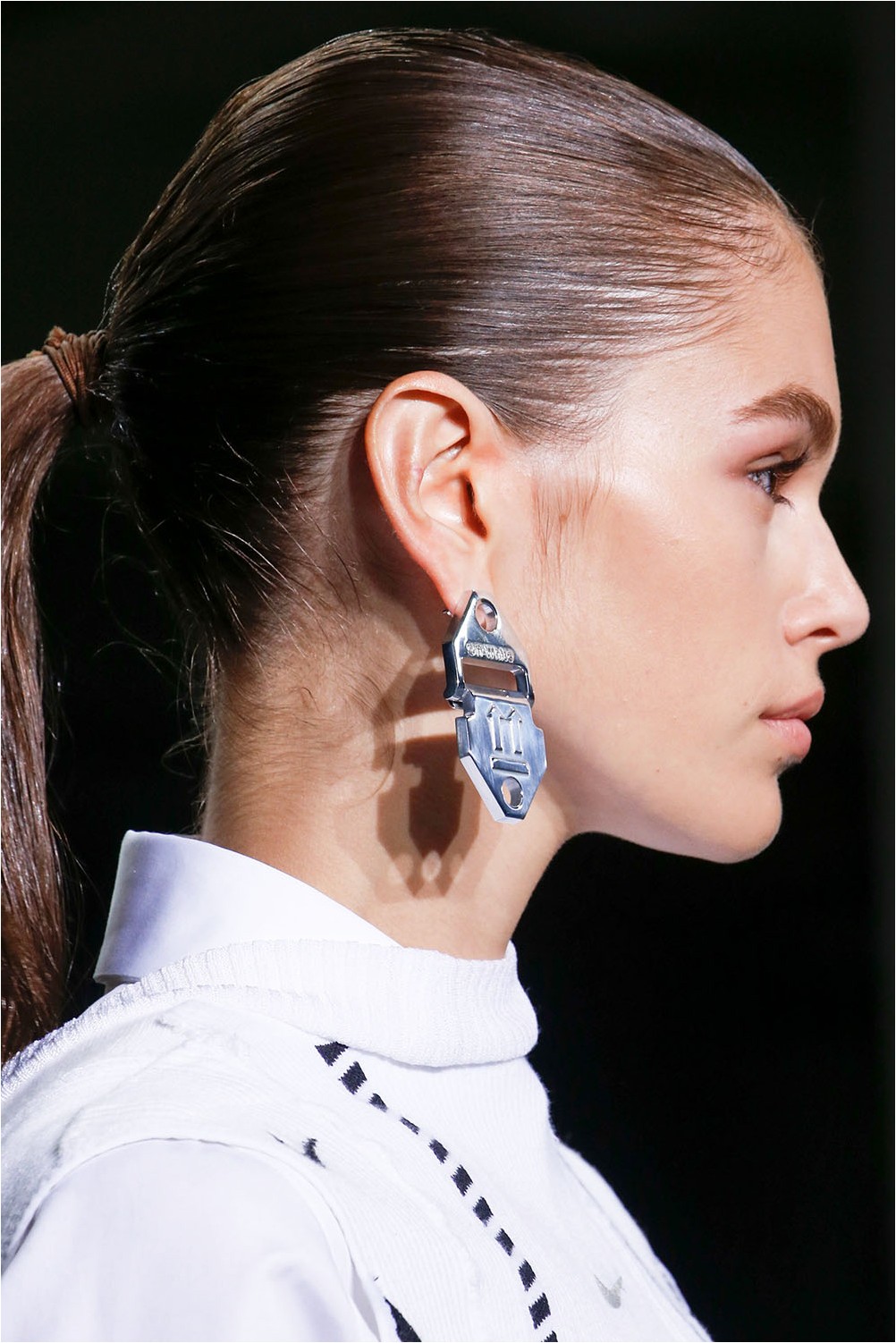 If you want more original experiments, then you can look at something from the Coach collection. Mono-shaped fork earrings with crooked teeth are suitable for lovers of grunge or rock style. Loewe leather jewelery is made in the same spirit. With such accessories, it's easy to be original and stand out from the mainstream..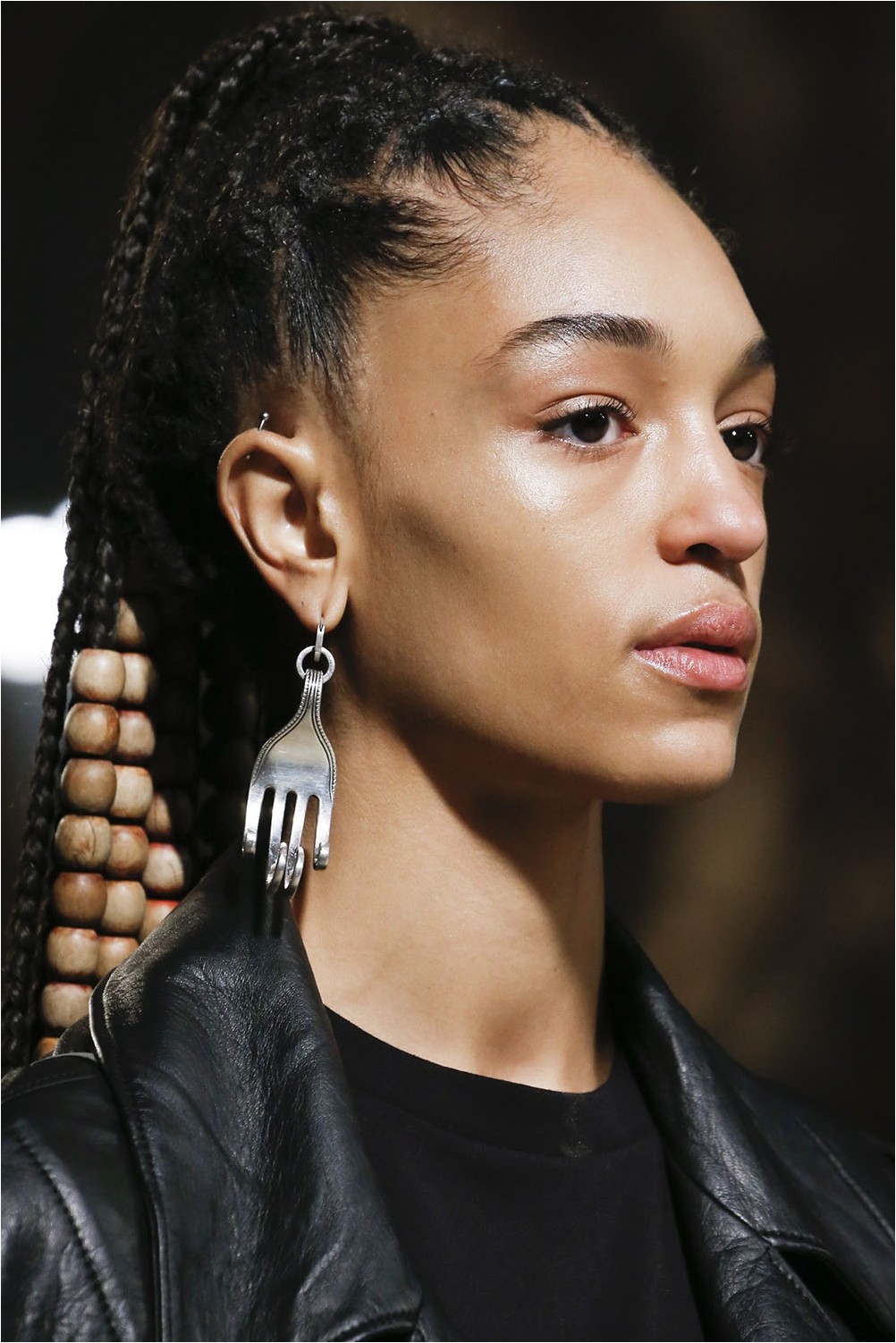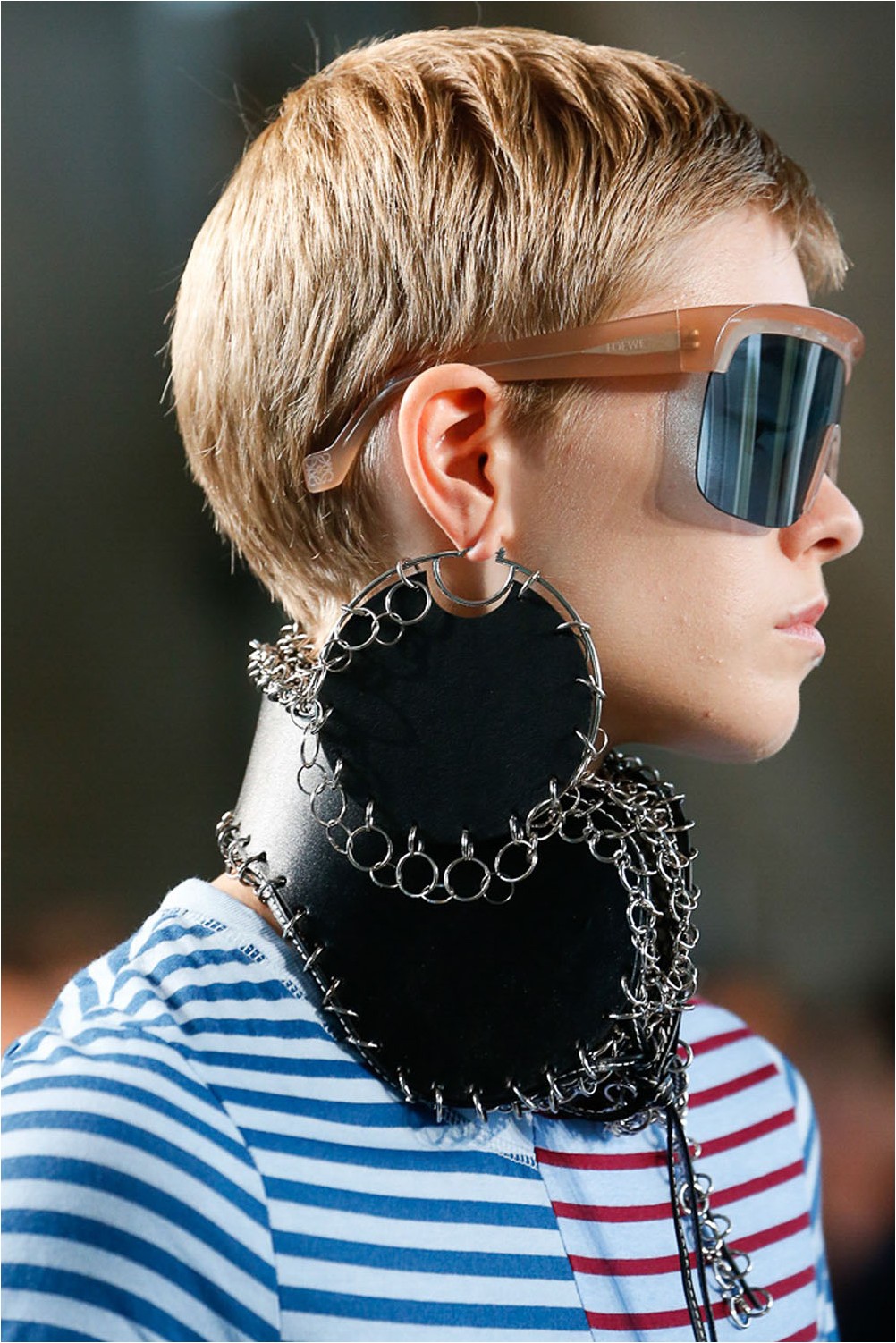 Logo Accessories
Logomania – this name has received a total passion for designers with their own brand names. Logos of brands flaunted on clothes, fashionable shoes and bags. And, of course, the fashion trend could not ignore the accessories.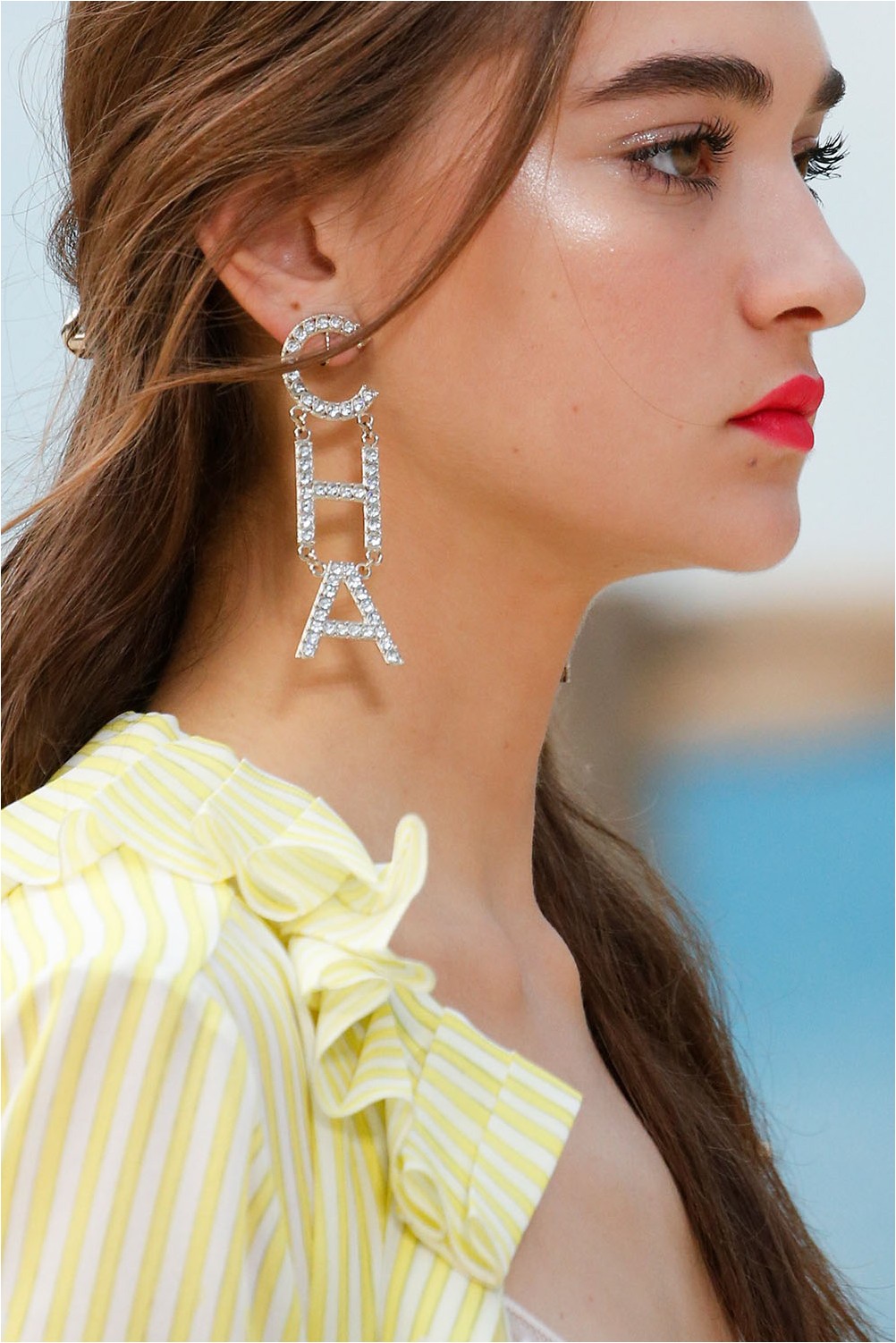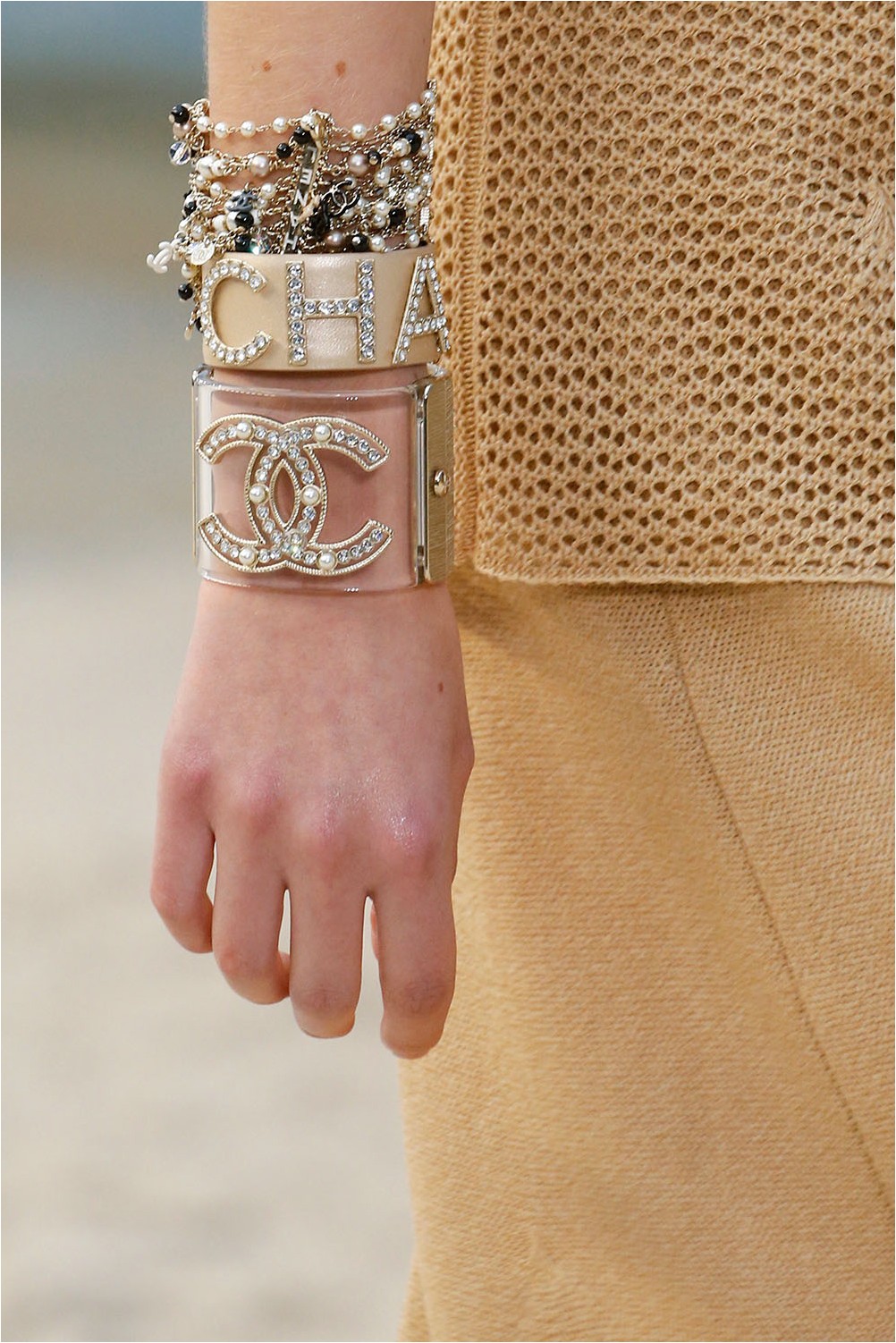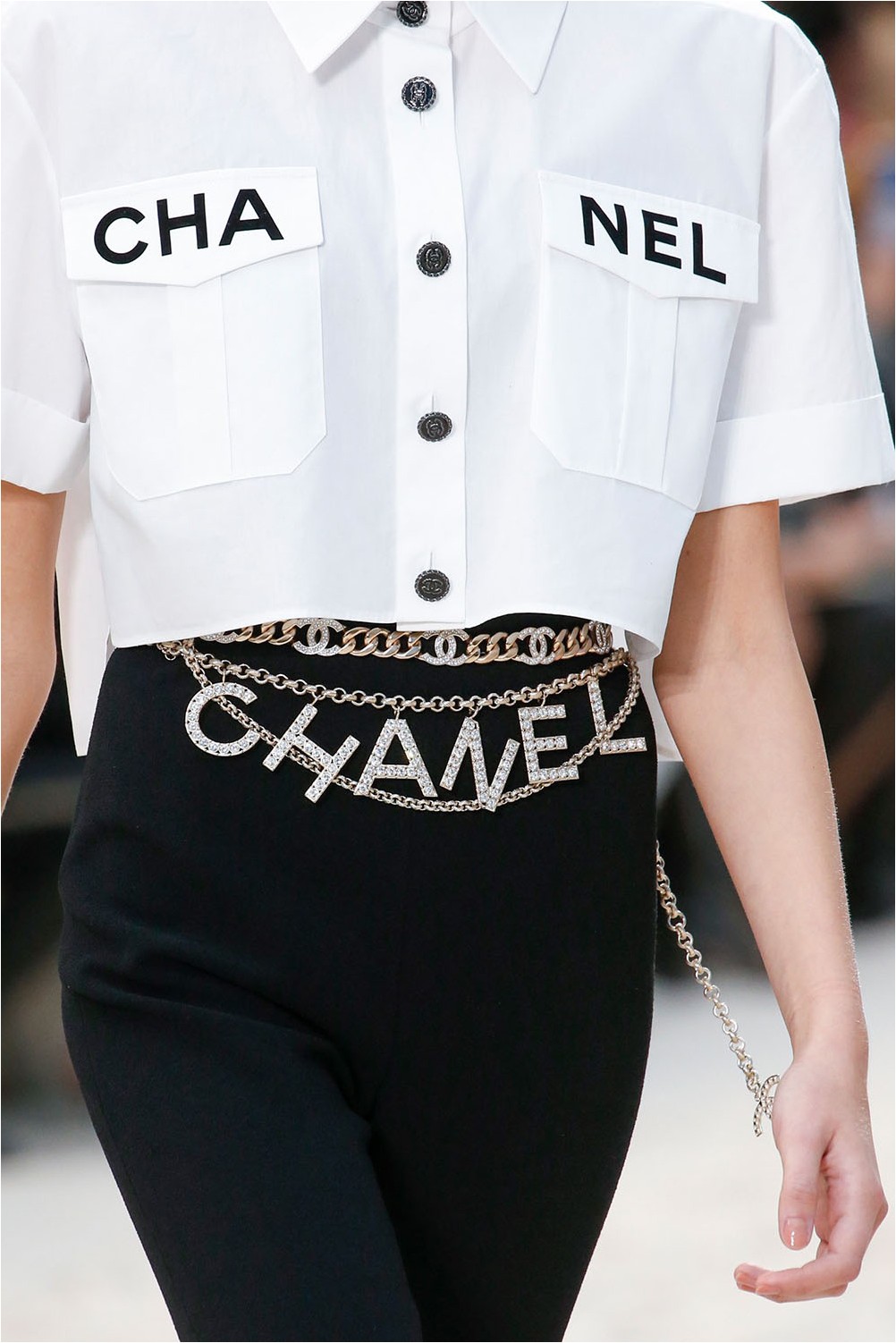 Decorate your look with earrings, glasses, watches, rings and bracelets with the names of famous fashion houses. And do not be shy, choose letters larger and brighter. Let everyone know which brand you are a fan of. Moreover, oversized logos are more relevant than ever.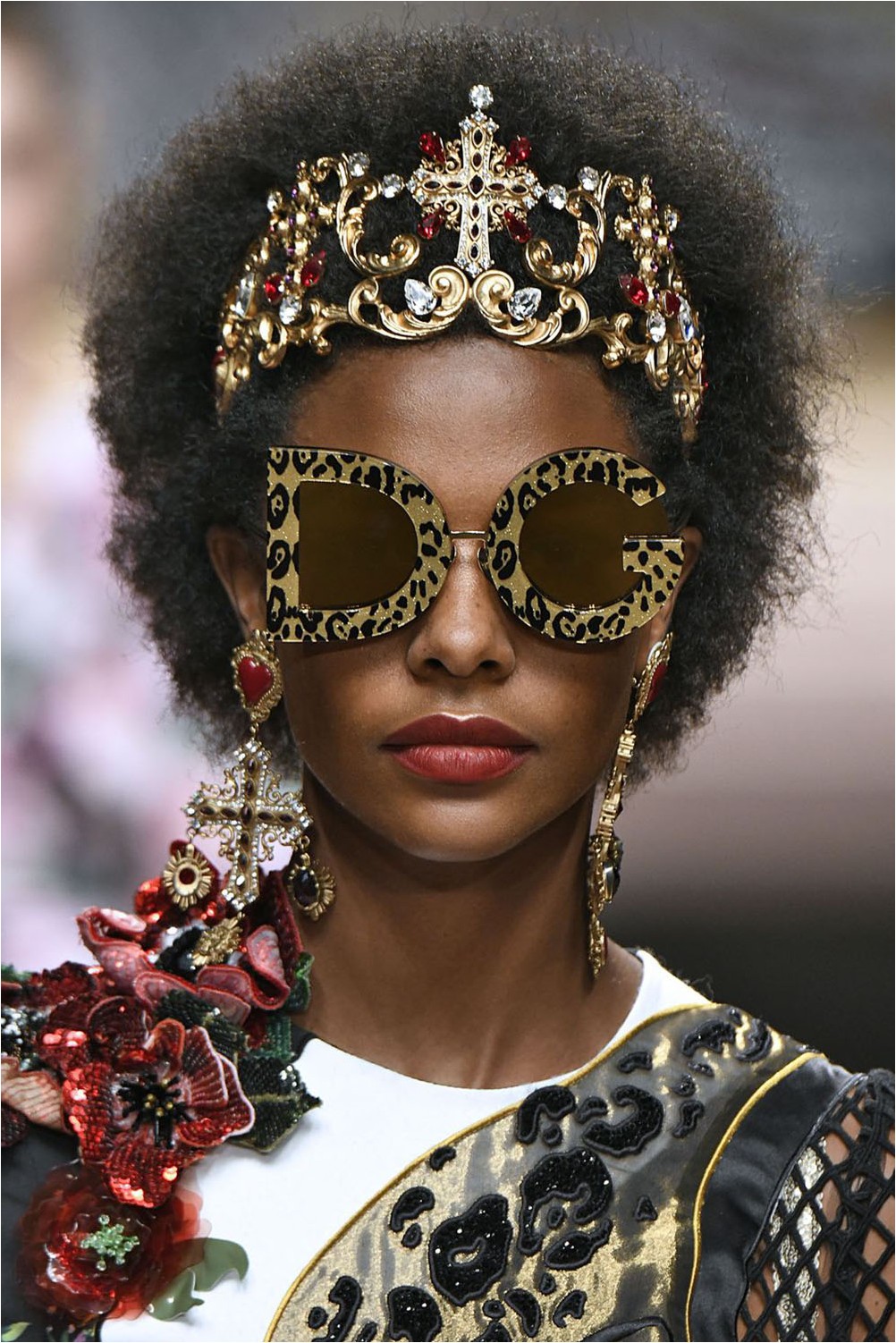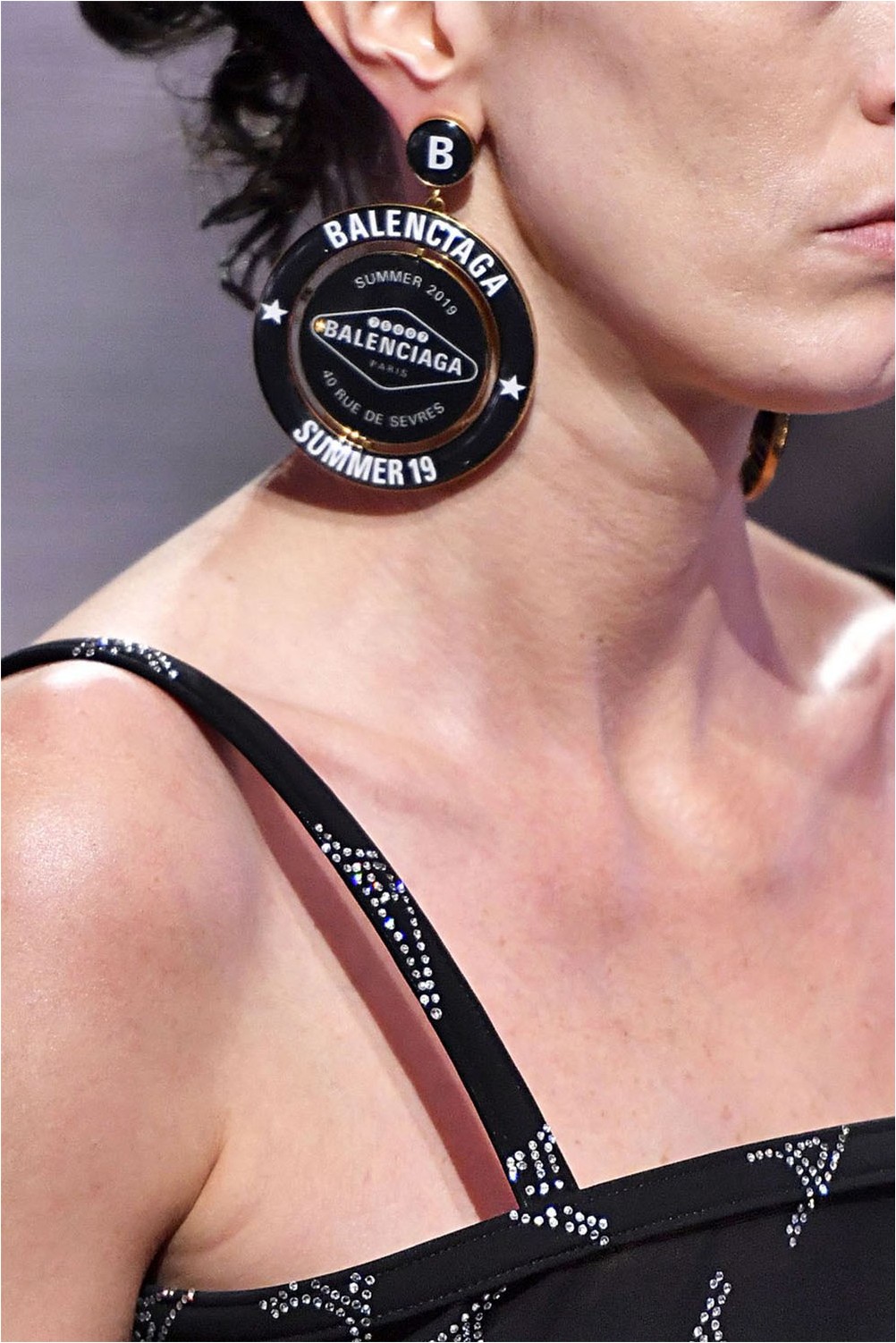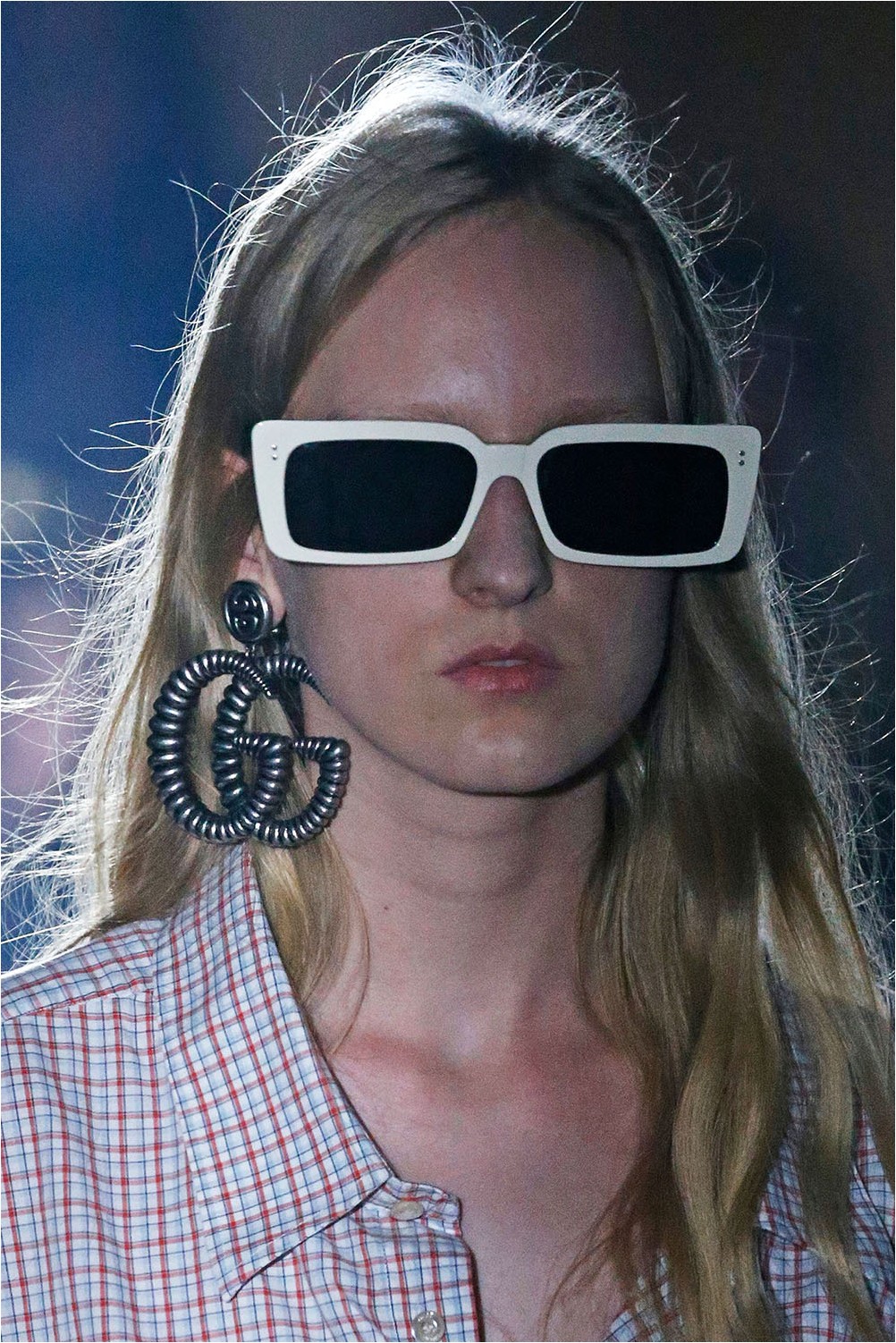 Large bracelets, earrings and pendants
Massive jewelry – must have the spring-summer 2019 season. Large fashion jewelry is loved by eminent fashion houses like Dolce & Gabbana, Roberto Cavalli and Alexander McQueen.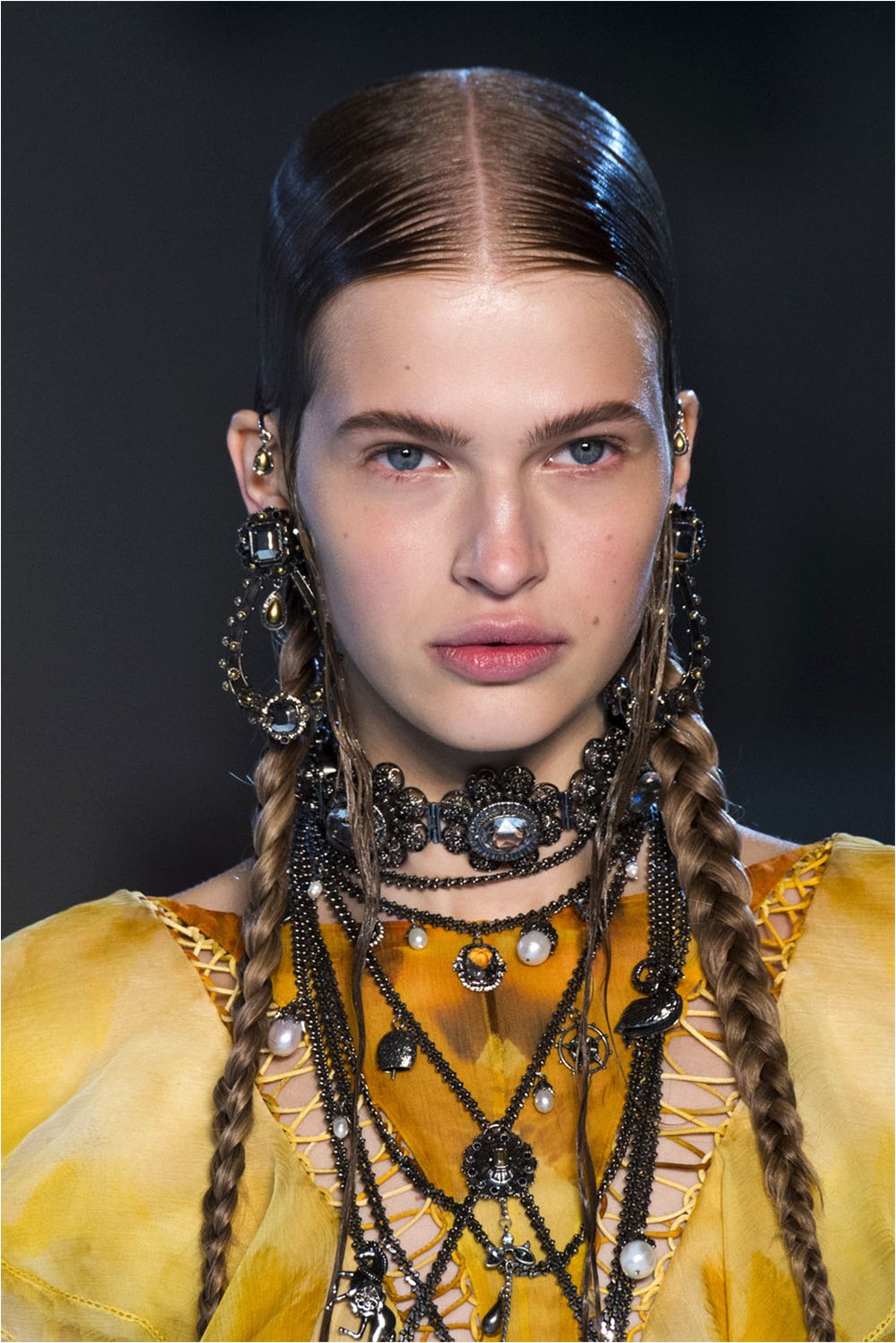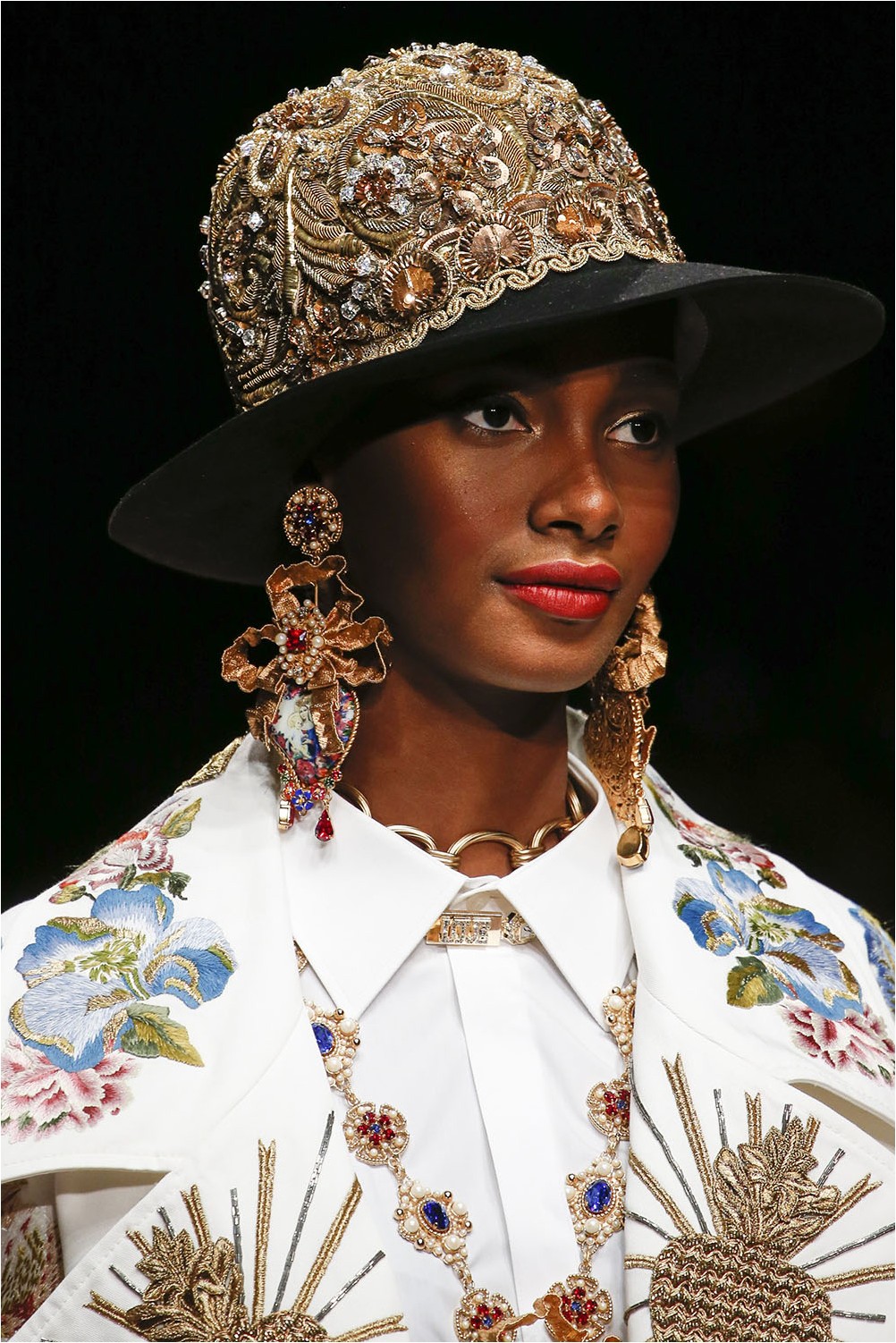 But this season, she unexpectedly appeared even in the collections of always restrained and conservative fashion experts, such as Karl Lagerfeld, Giorgio Armani and Ralph Lauren. Designers presented massive jewelry in the form of heavy "chandeliers", bracelets and pendants of the most bizarre shapes.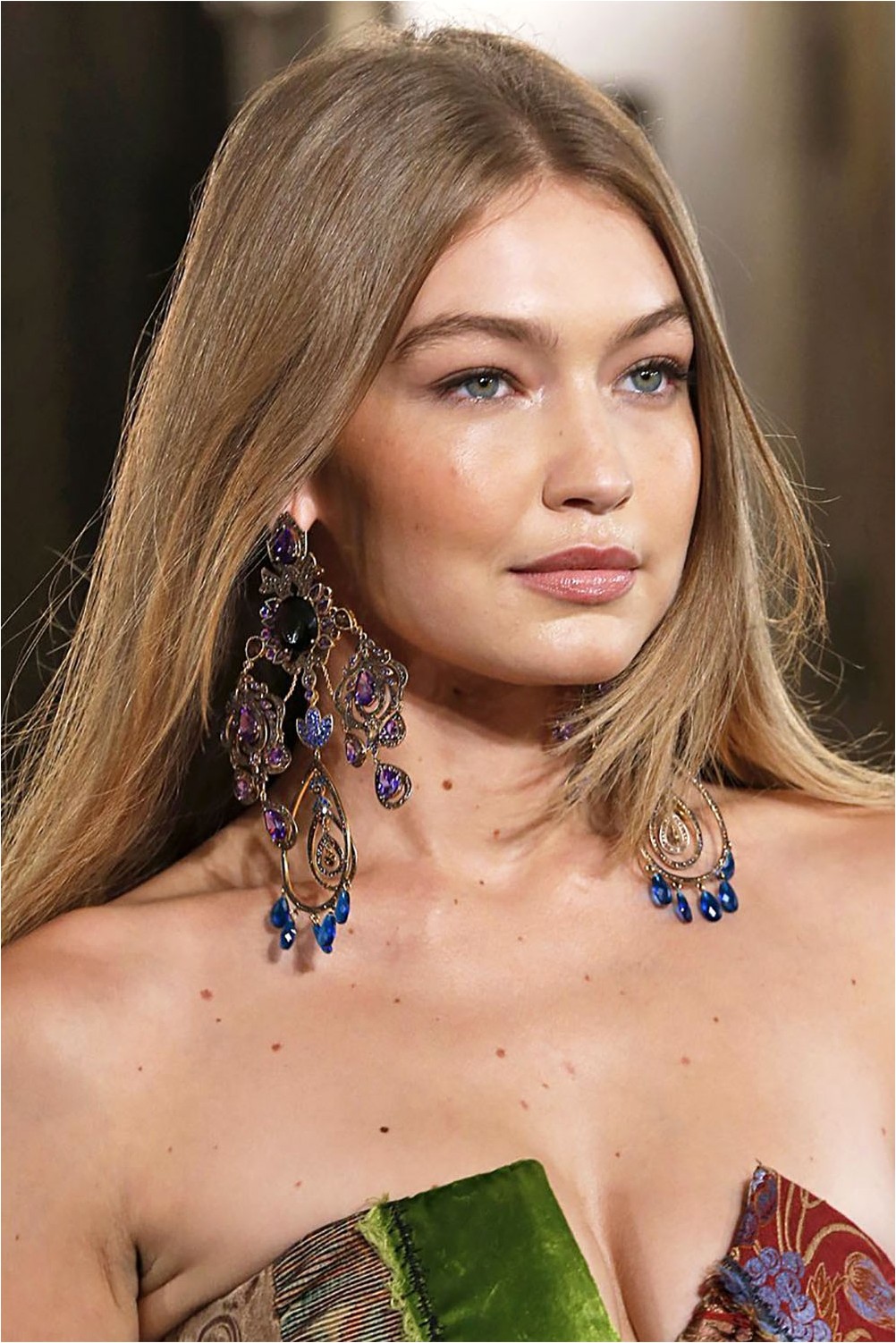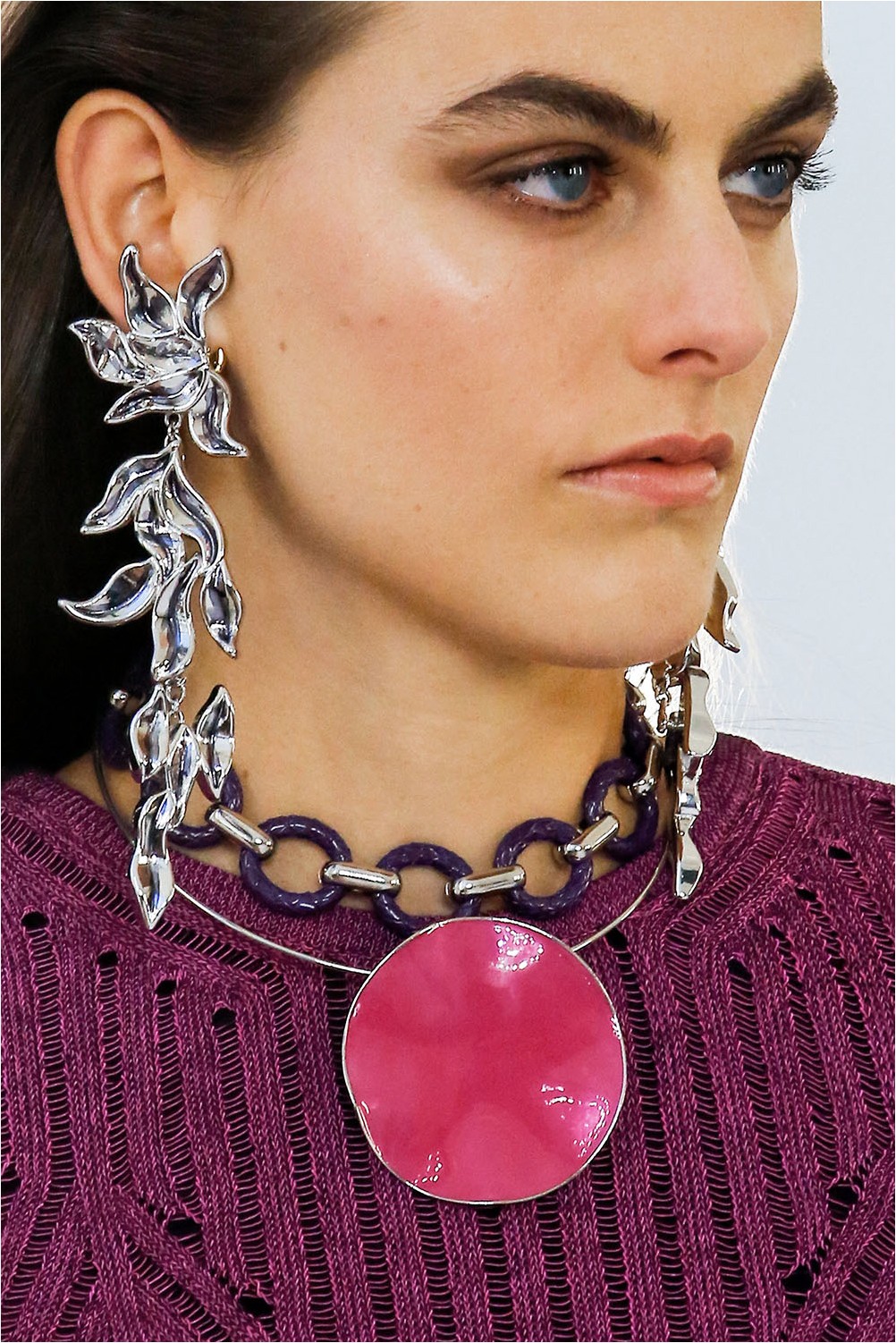 Jewelry and accessories with flowers
Now flowers can not only be presented in bouquets. The gift will become much more interesting if the flowers are in the form of earrings or necklaces. Moreover, the "flower" theme was almost the main trend at fresh fashion shows. The rims of roses, sunflowers, gerberas and other inflorescences are in trend.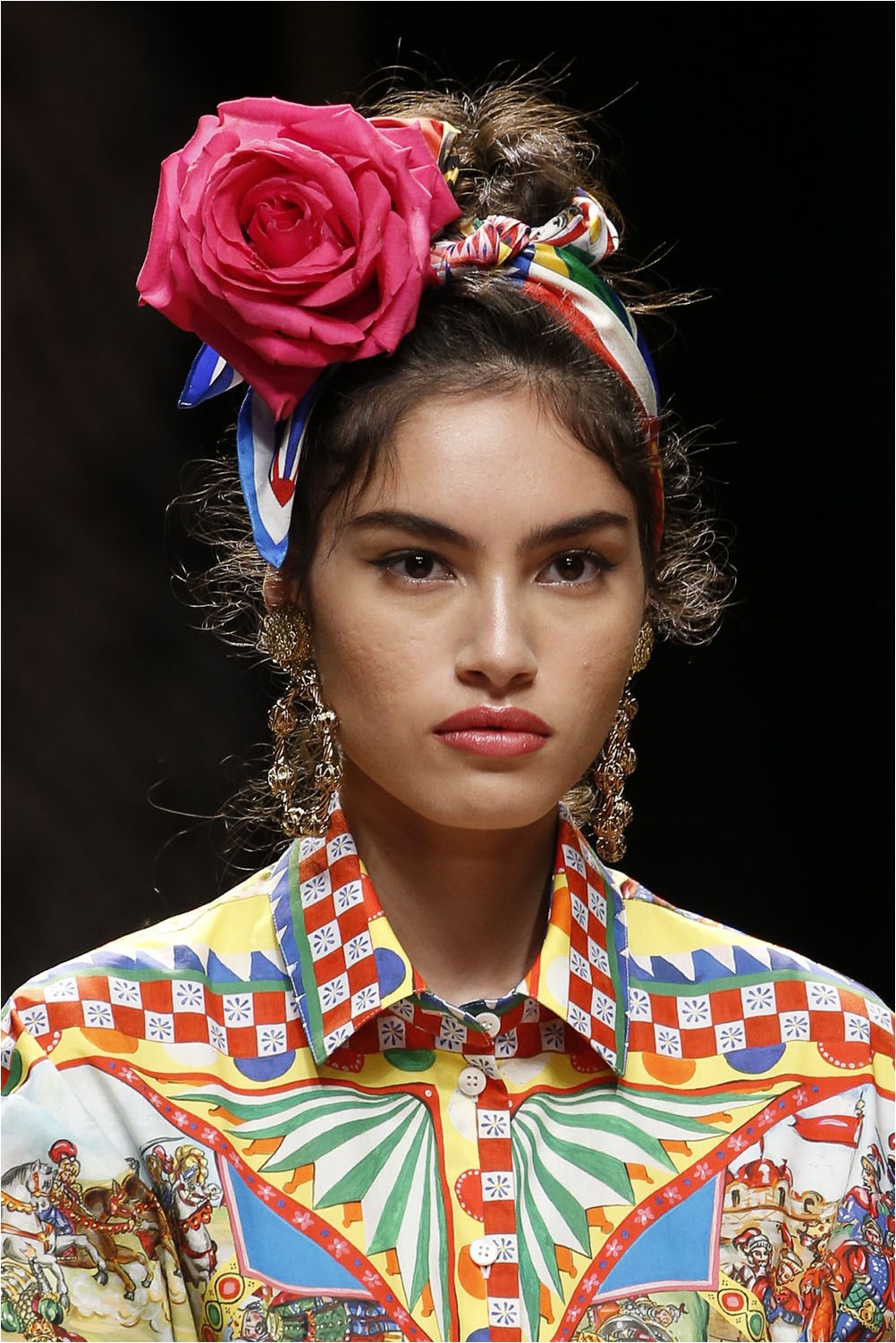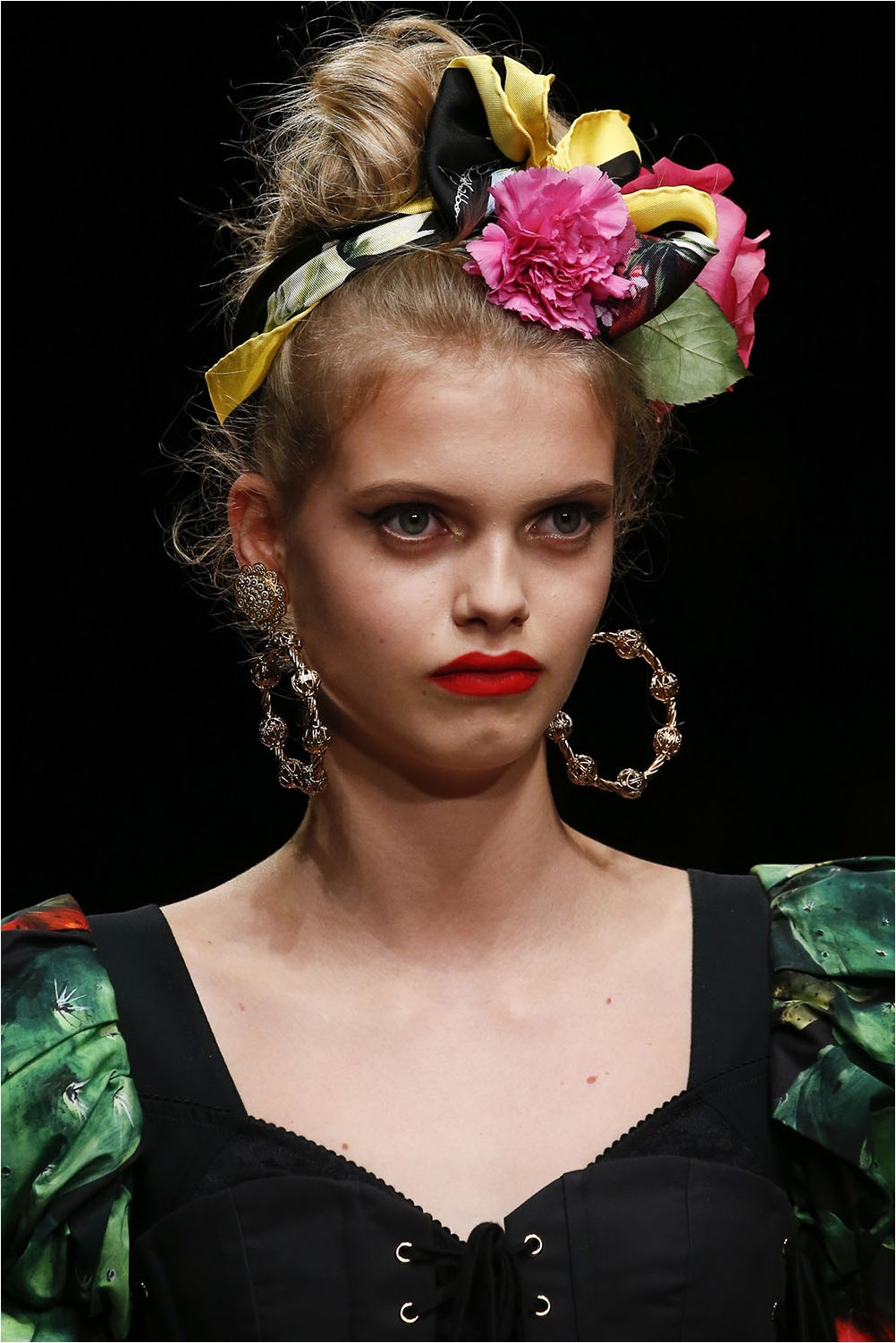 Earrings, bracelets and necklaces with flowers are also relevant. It can be massive pendants with large flowers or small cuffs with one buttercup. Clusters with many colorful flowers radiate a special charm and femininity..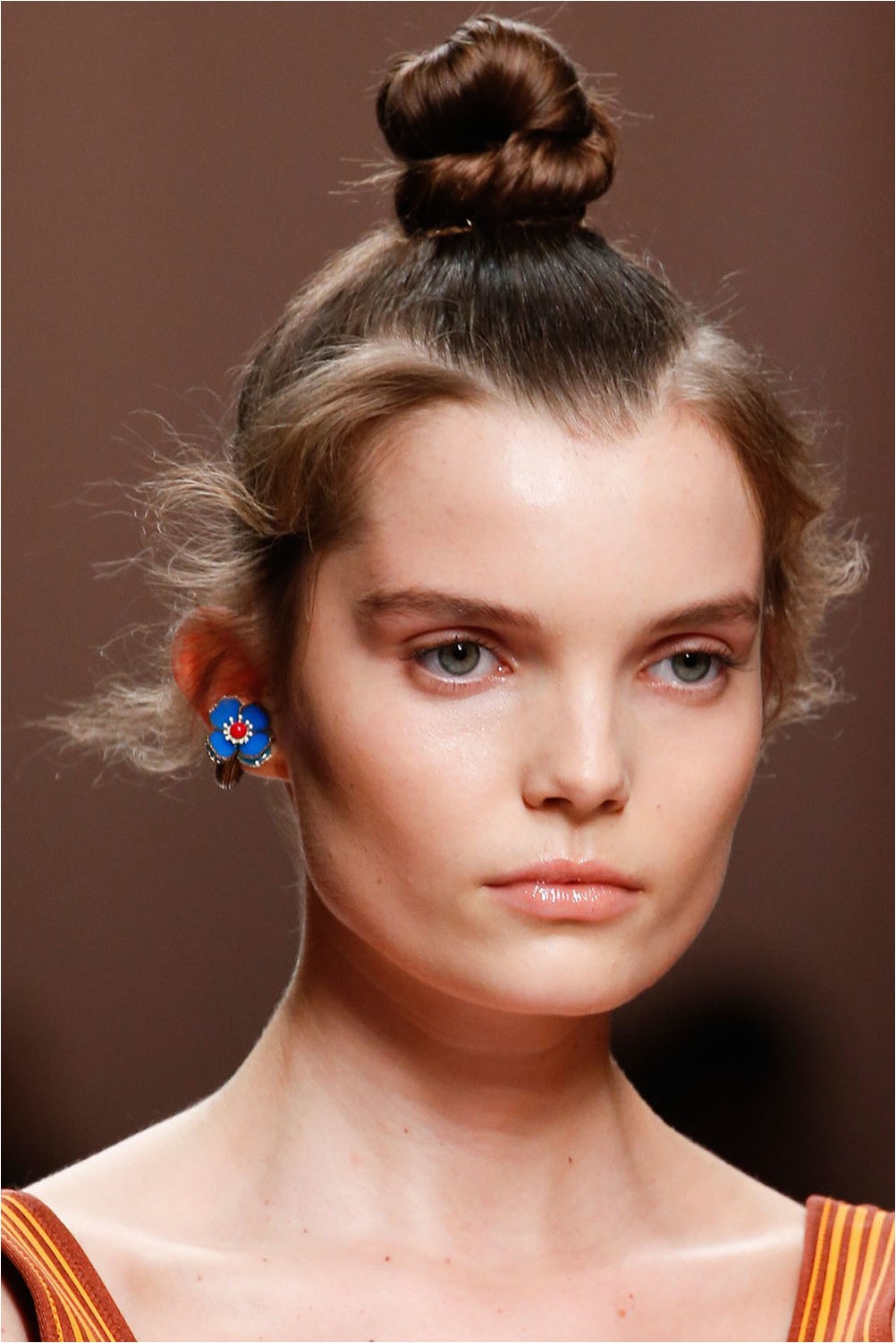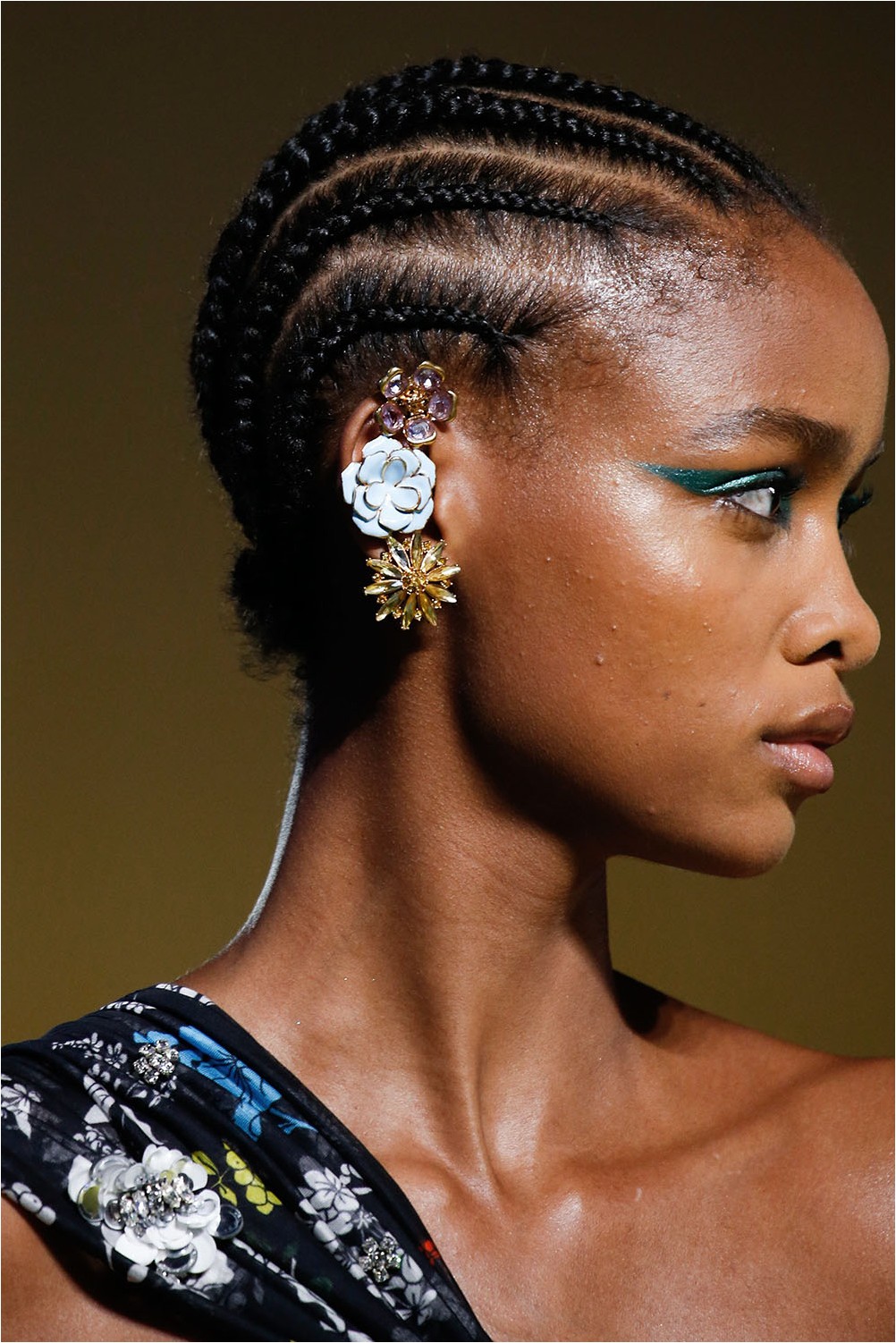 Layering
Layering jewelry in one image always creates an interesting and slightly chaotic effect. It seems that on the hands, neck and ears put on the entire contents of the jewelry box. But this is only an appearance. To create a truly stylish "puff" of rings, bracelets or necklaces is only possible for the most advanced fashionista.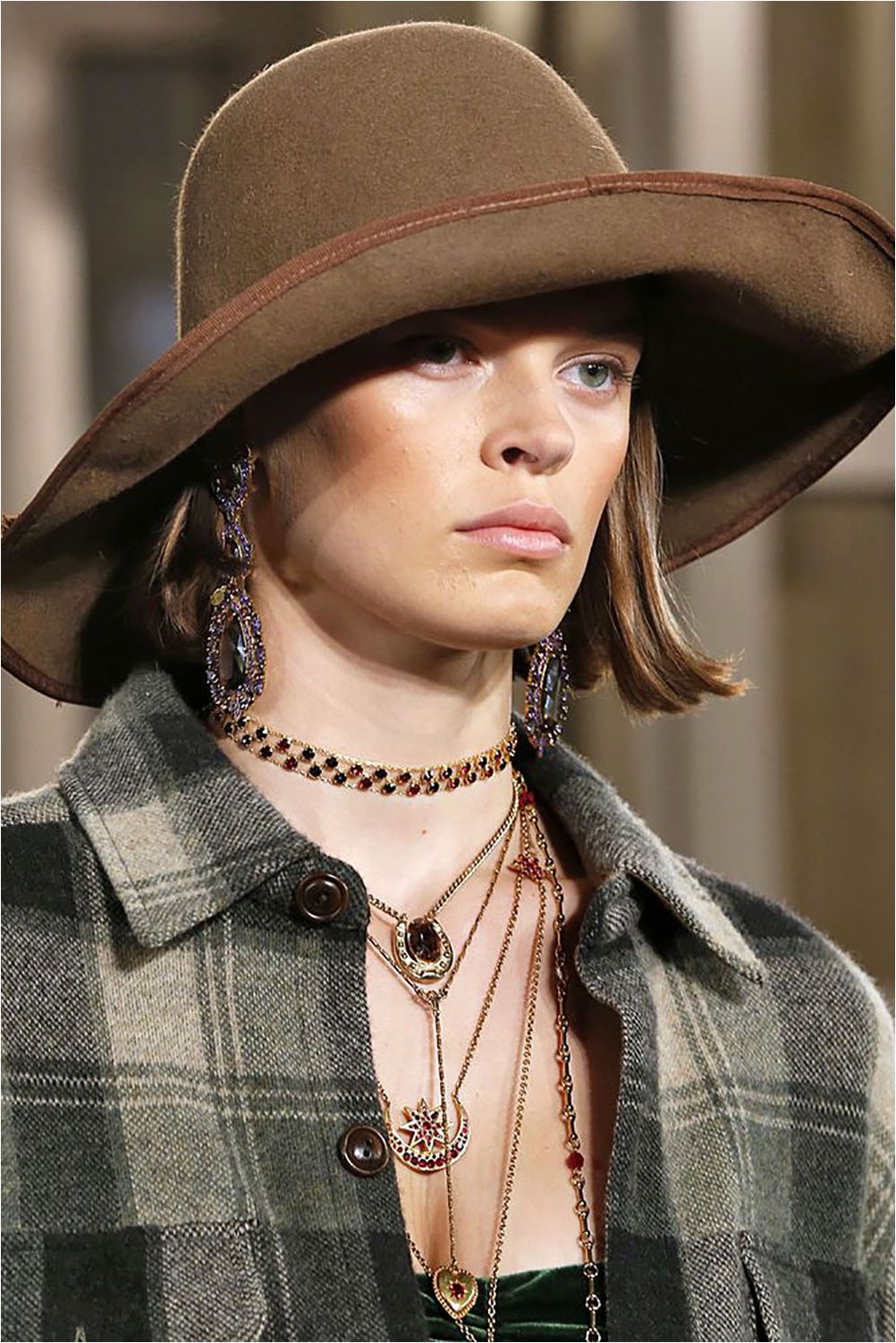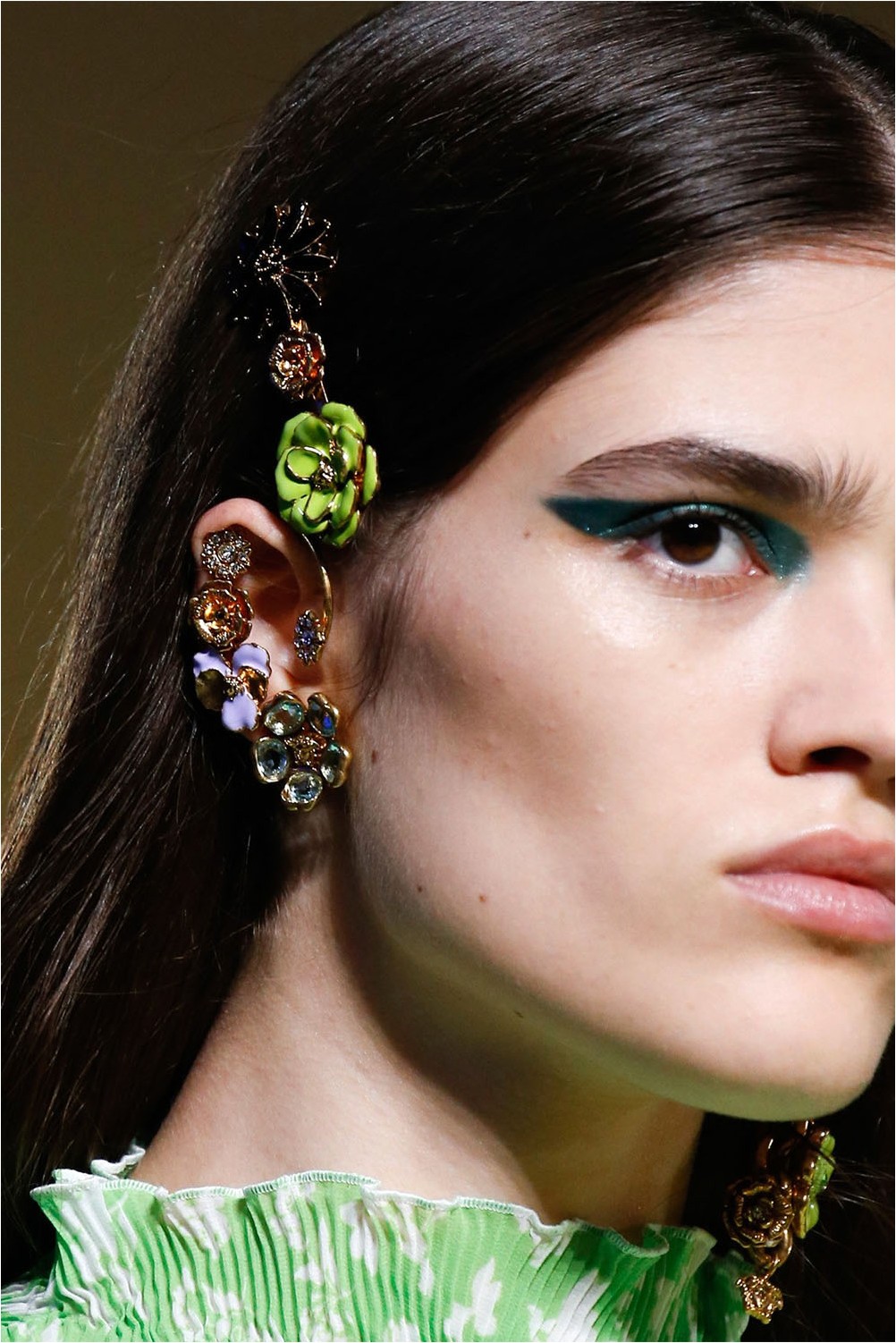 Layering of thin chains with pendants mixed with pearl strings, for example, as Karl Lagerfeld did as part of the Chanel collection show, is now in trend. Multilayer bracelets will also be relevant. And the first place in the top of the most trendy will be taken by boho-style cuffs with many decorative coins and keys.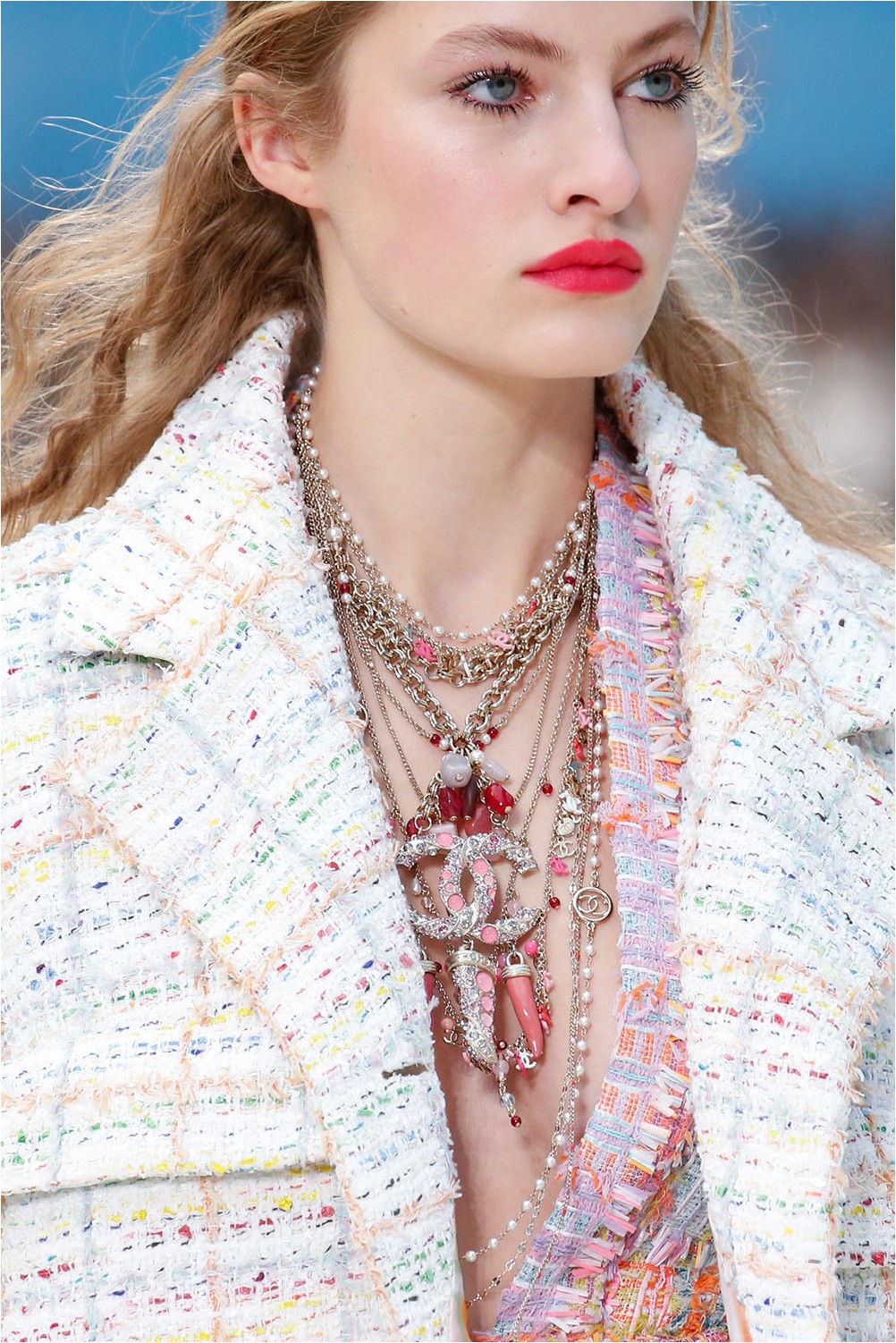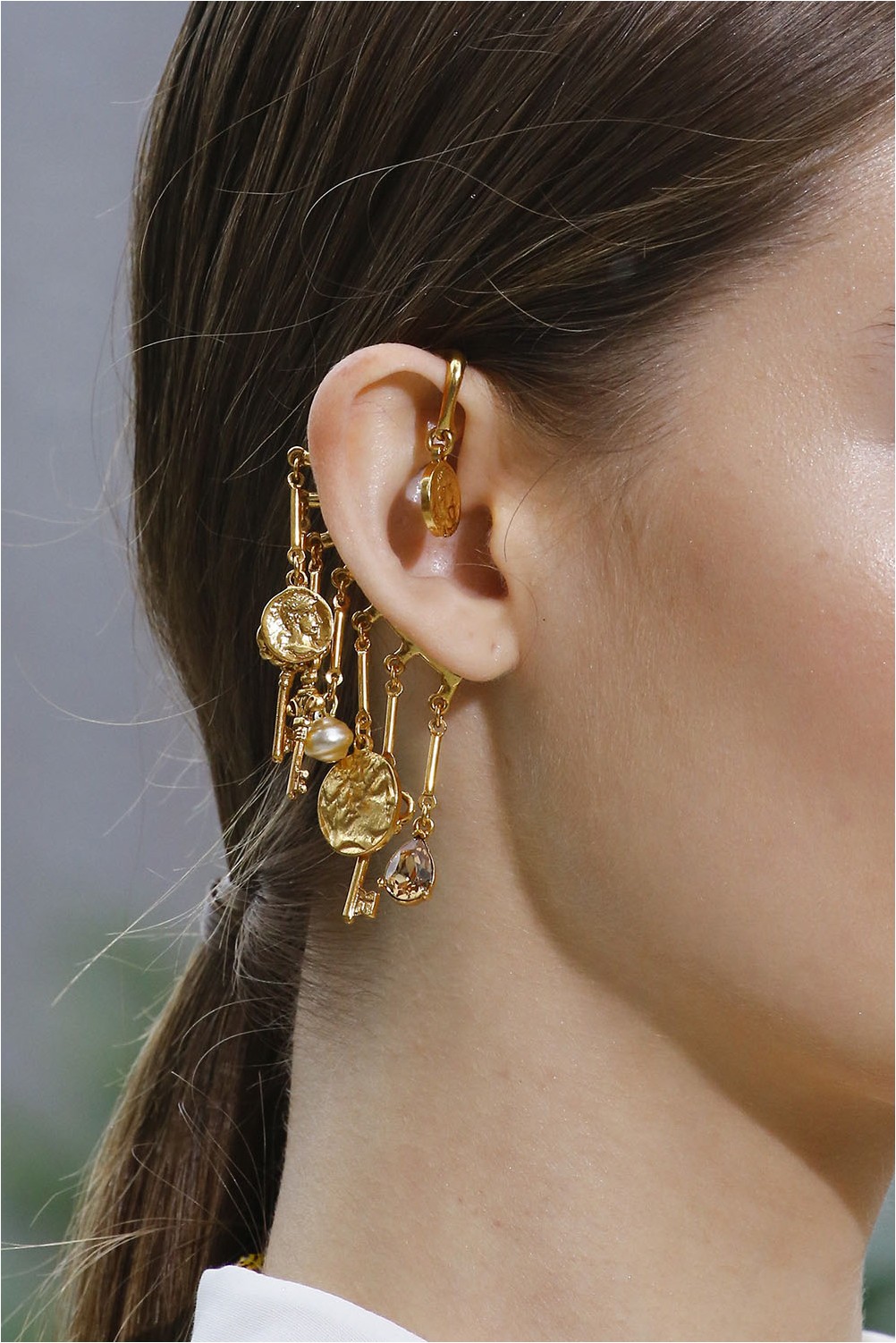 Asymmetry and mono earrings
Asymmetrical earrings indicate their hostess's reluctance to follow standards. In the trend, earrings-rings or half rings of different sizes with stones-nuggets. This version of the asymmetry was introduced by Missoni. And at Oscar de la Renta they decided to turn to the style of boho. His asymmetric gold-shaped earrings were made in the spirit of ringing and alluring gypsy jewelry.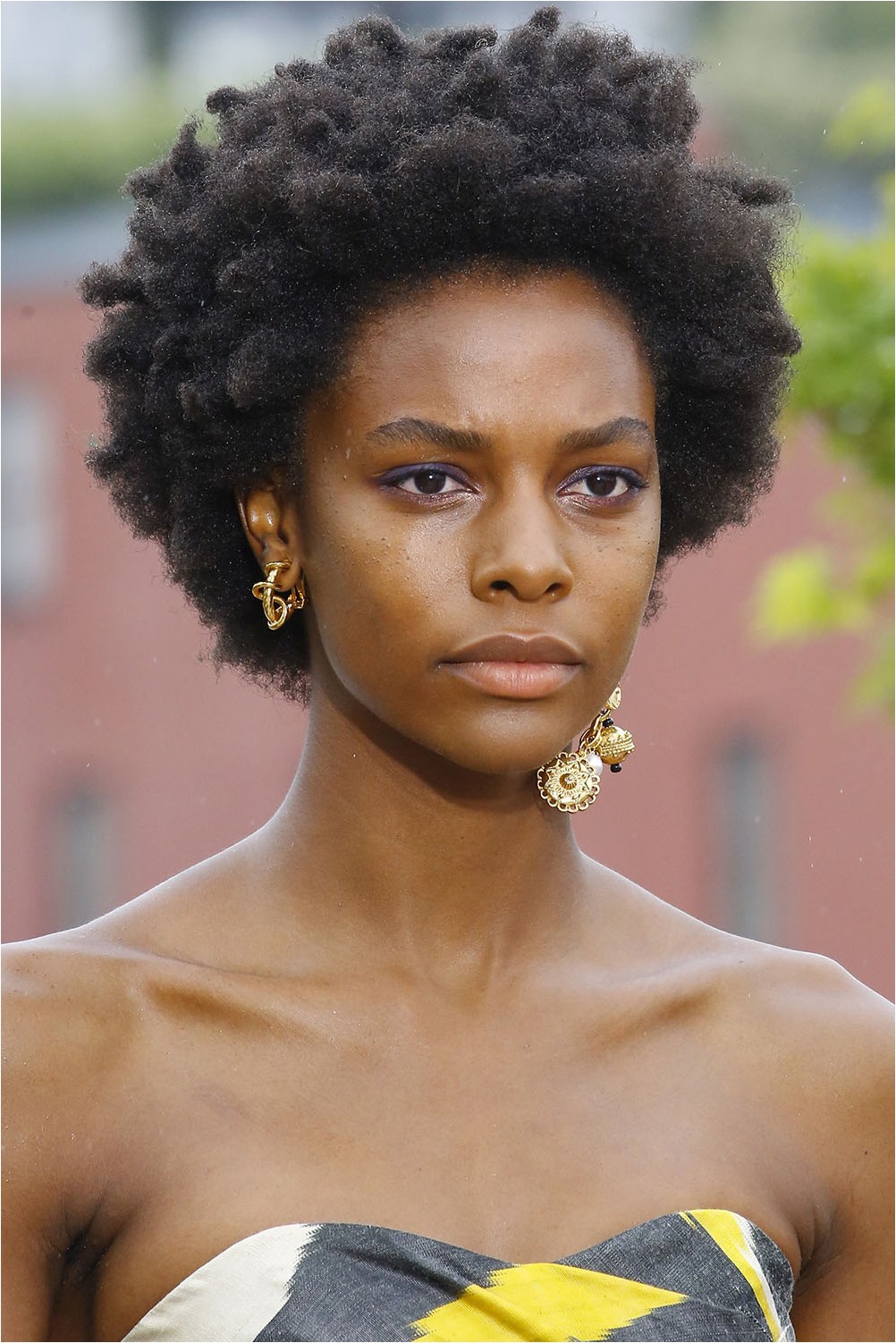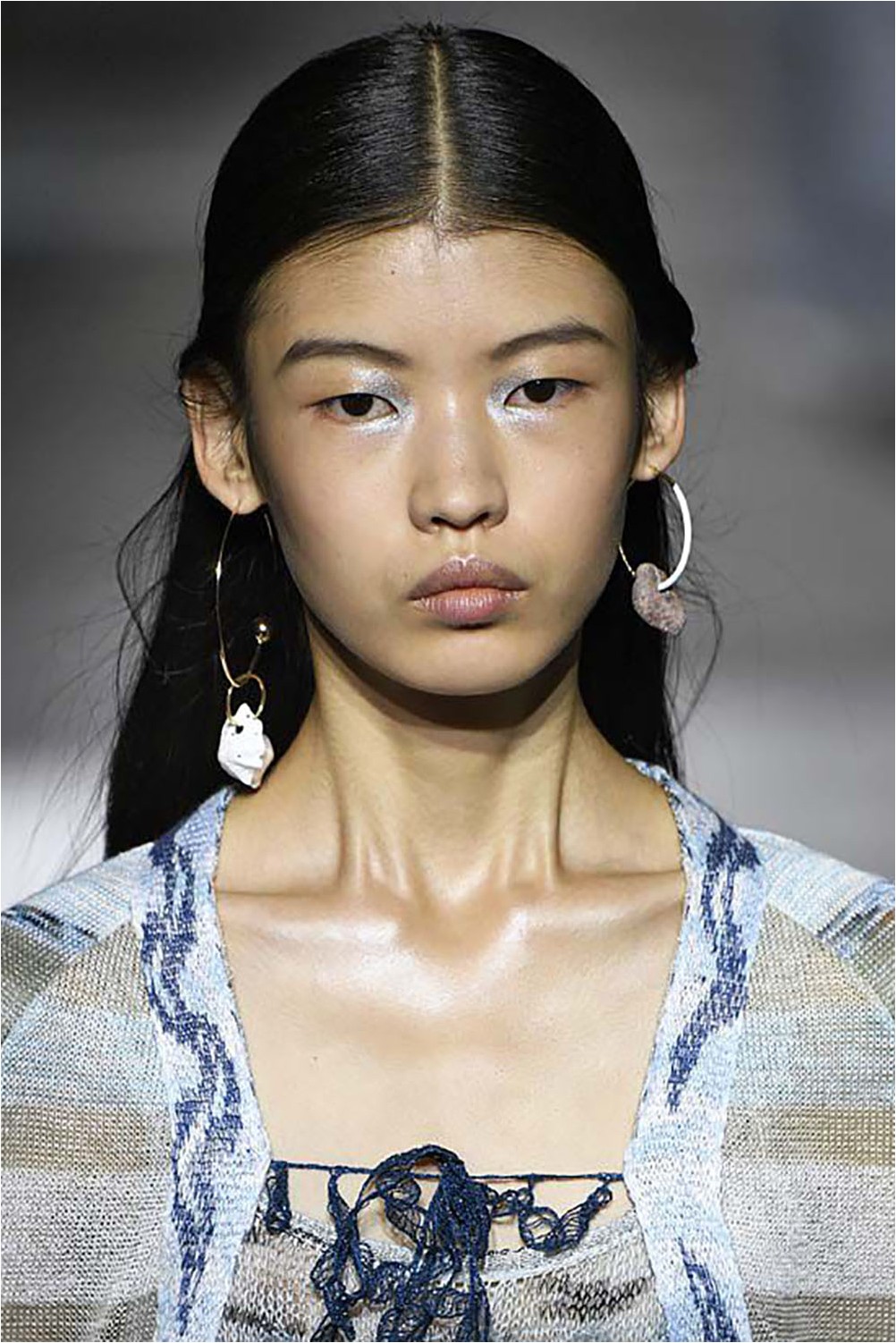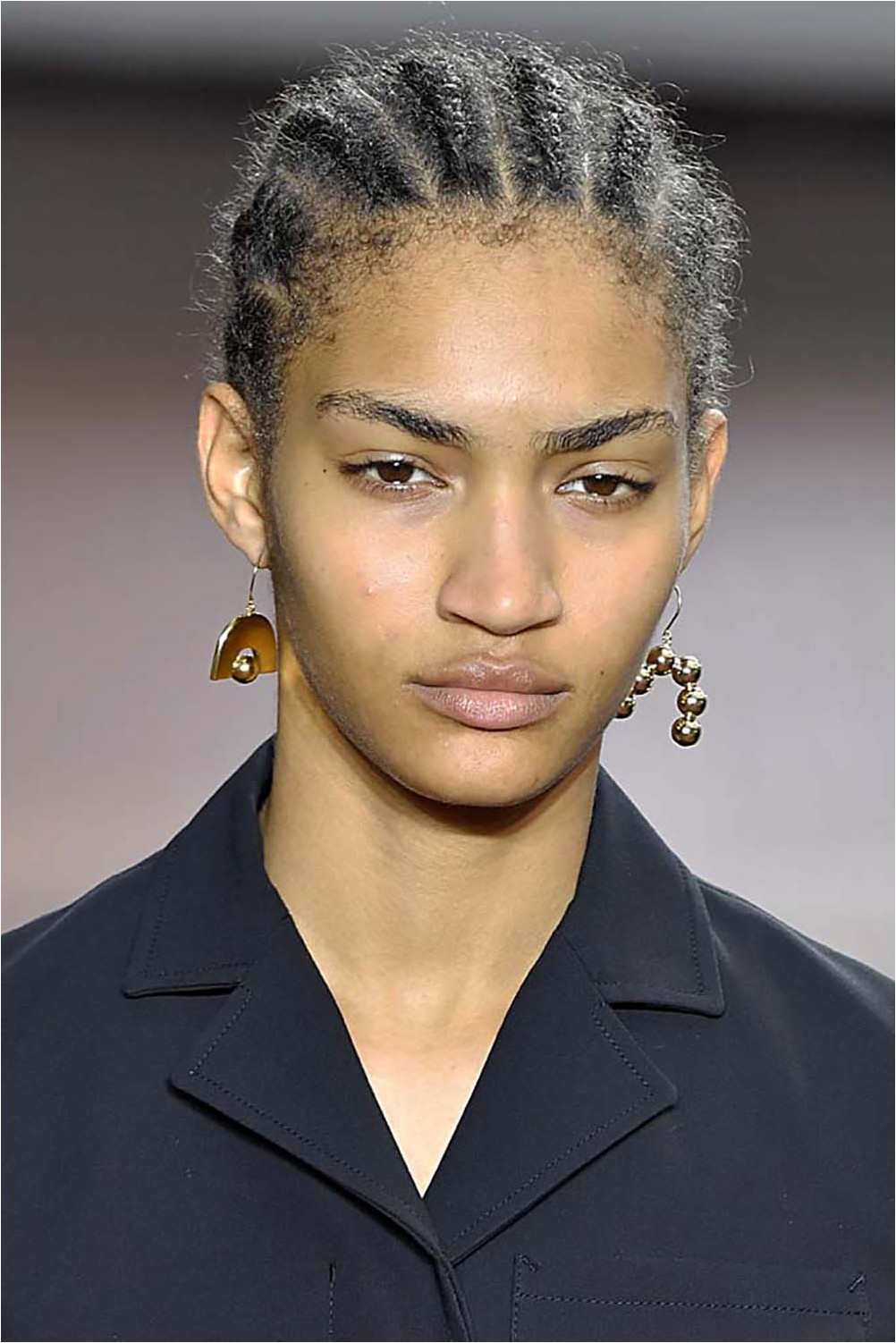 Jewelry from one earring remains relevant. But a mono earring should compensate for its proud loneliness. It should be large and noticeable. And most importantly – mono earrings do not need to be accompanied by other accessories. If you choose this accessory, then in your image no other jewelry should be present anymore. An example – exquisite looks from Oscar de la Renta.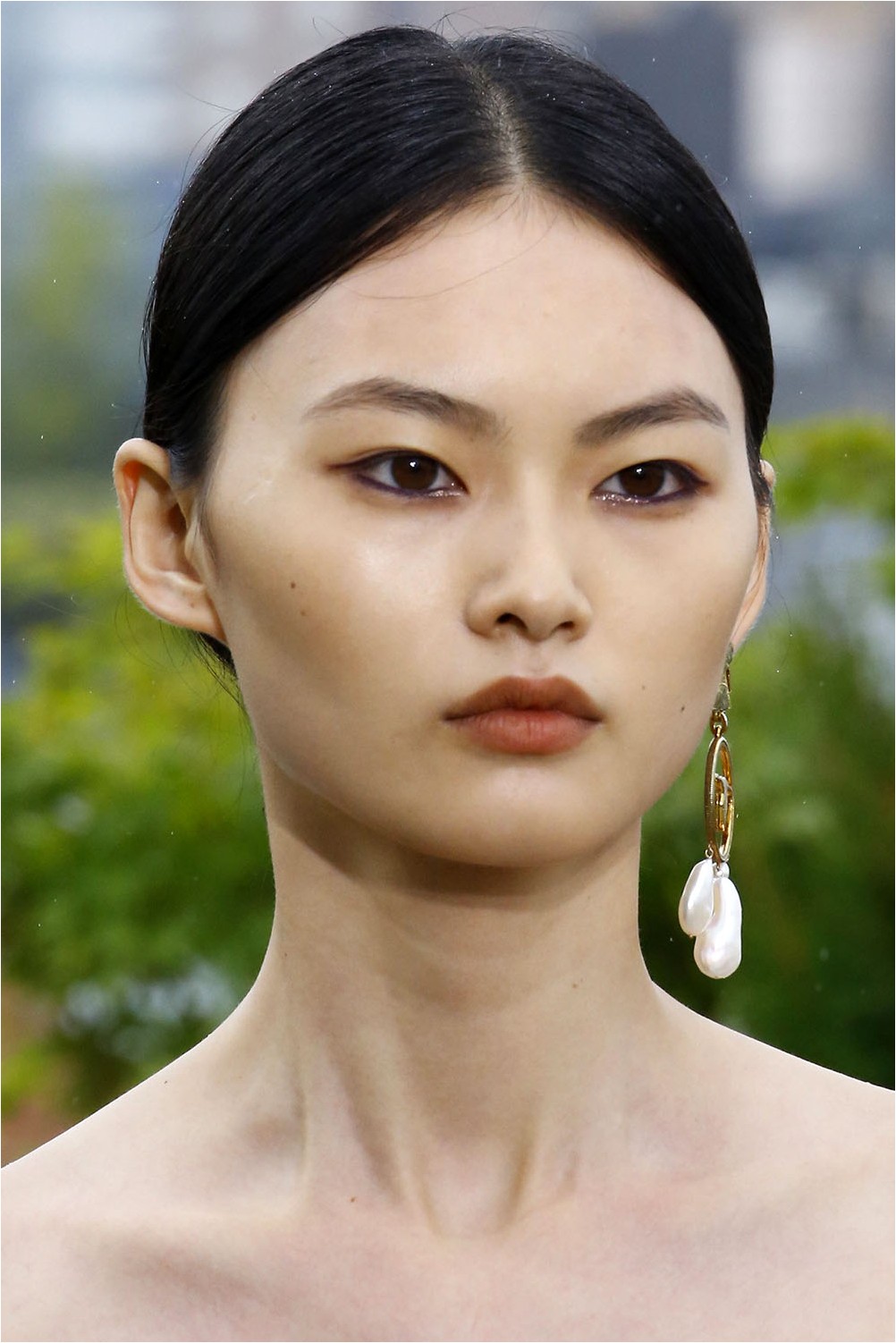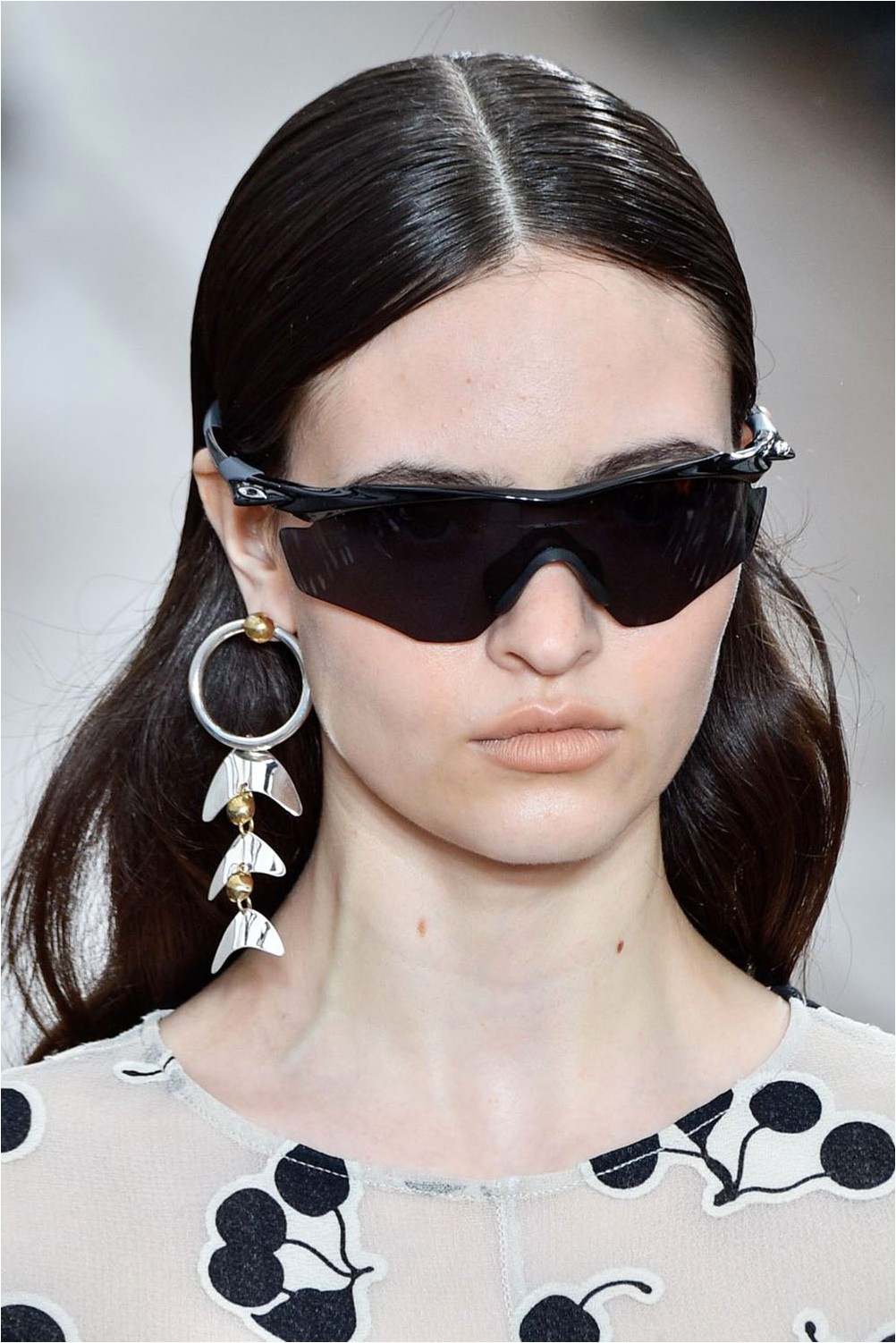 Retro era jewelry
Retro trends have embraced the world of haute couture. But if before designers returned to retro a couple of decades ago, now we are talking about whole centuries or even millennia.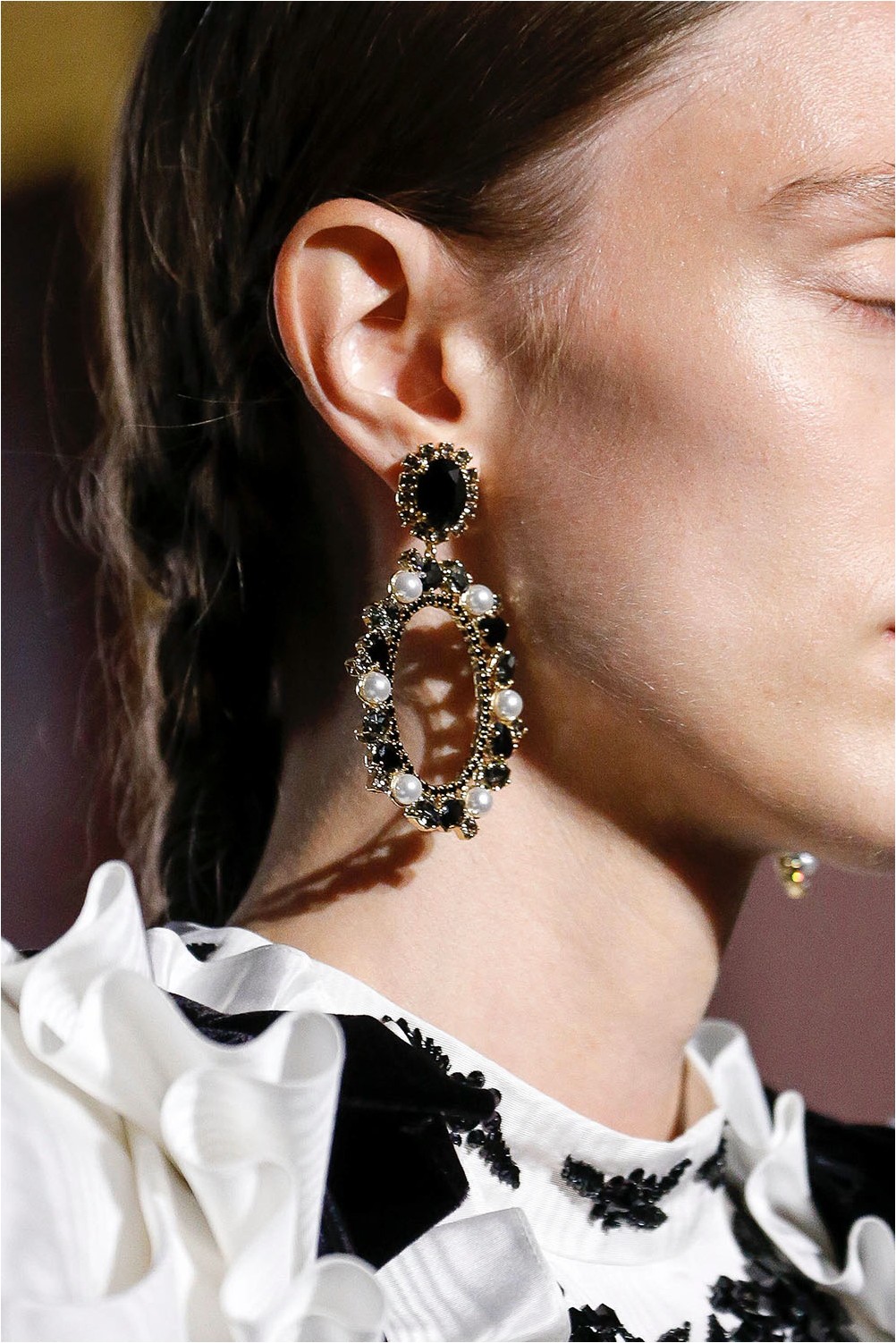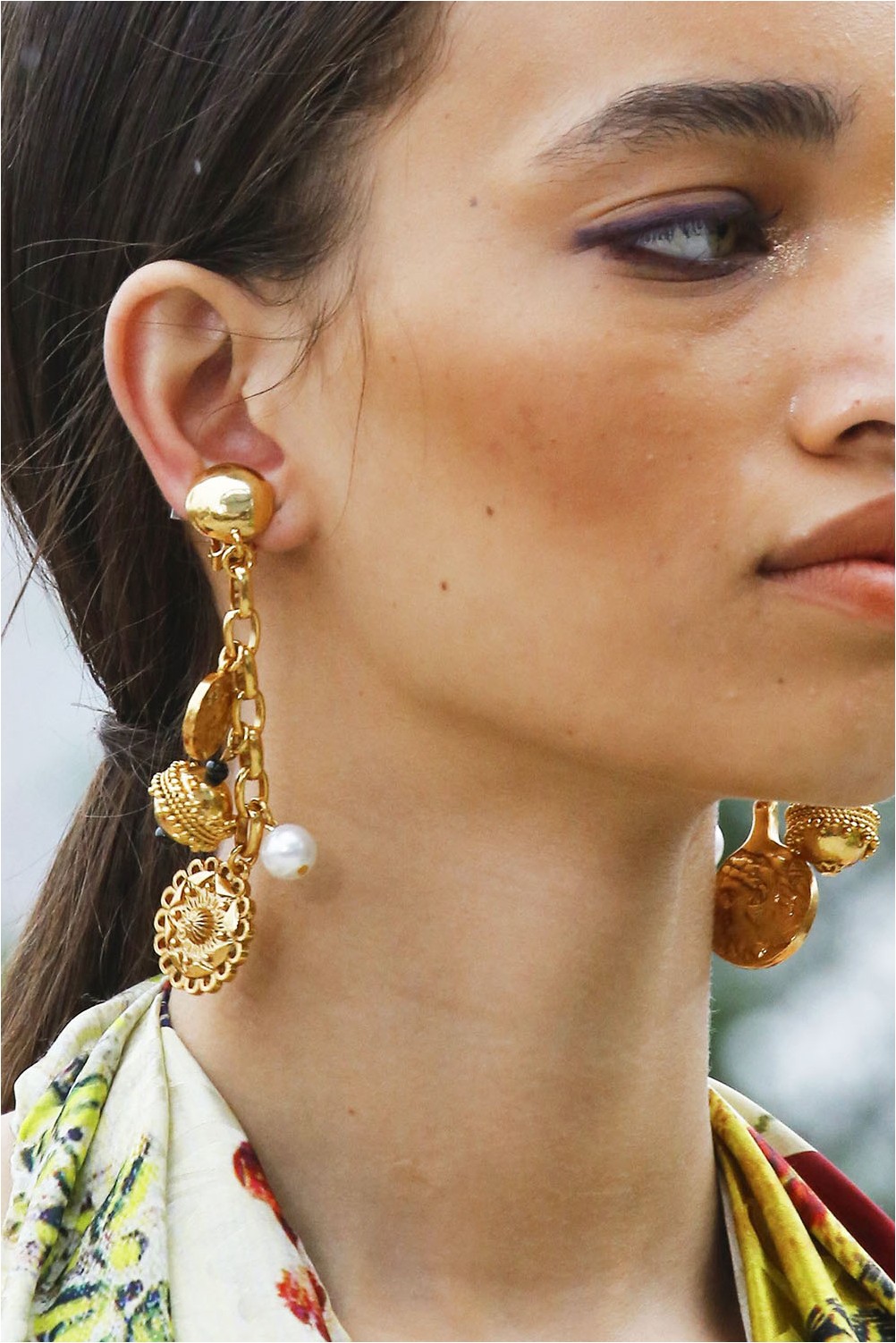 Ancient Roman spiral-shaped snake bracelets, chic chandelier earrings or "chandelier" with large baroque and rococo stones, metal earrings with stones from the romantic Victorian era – all this splendor was present at fresh fashion shows.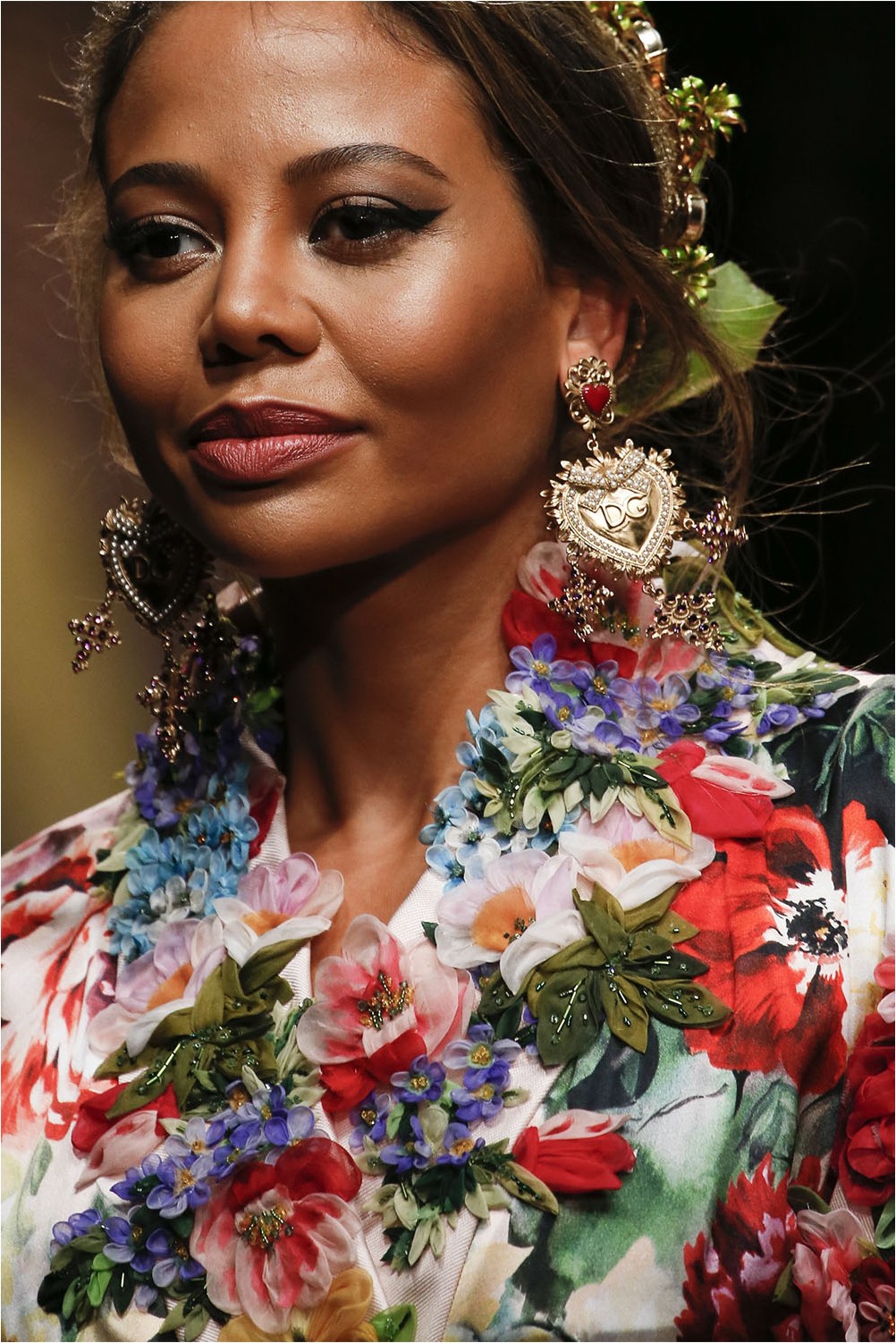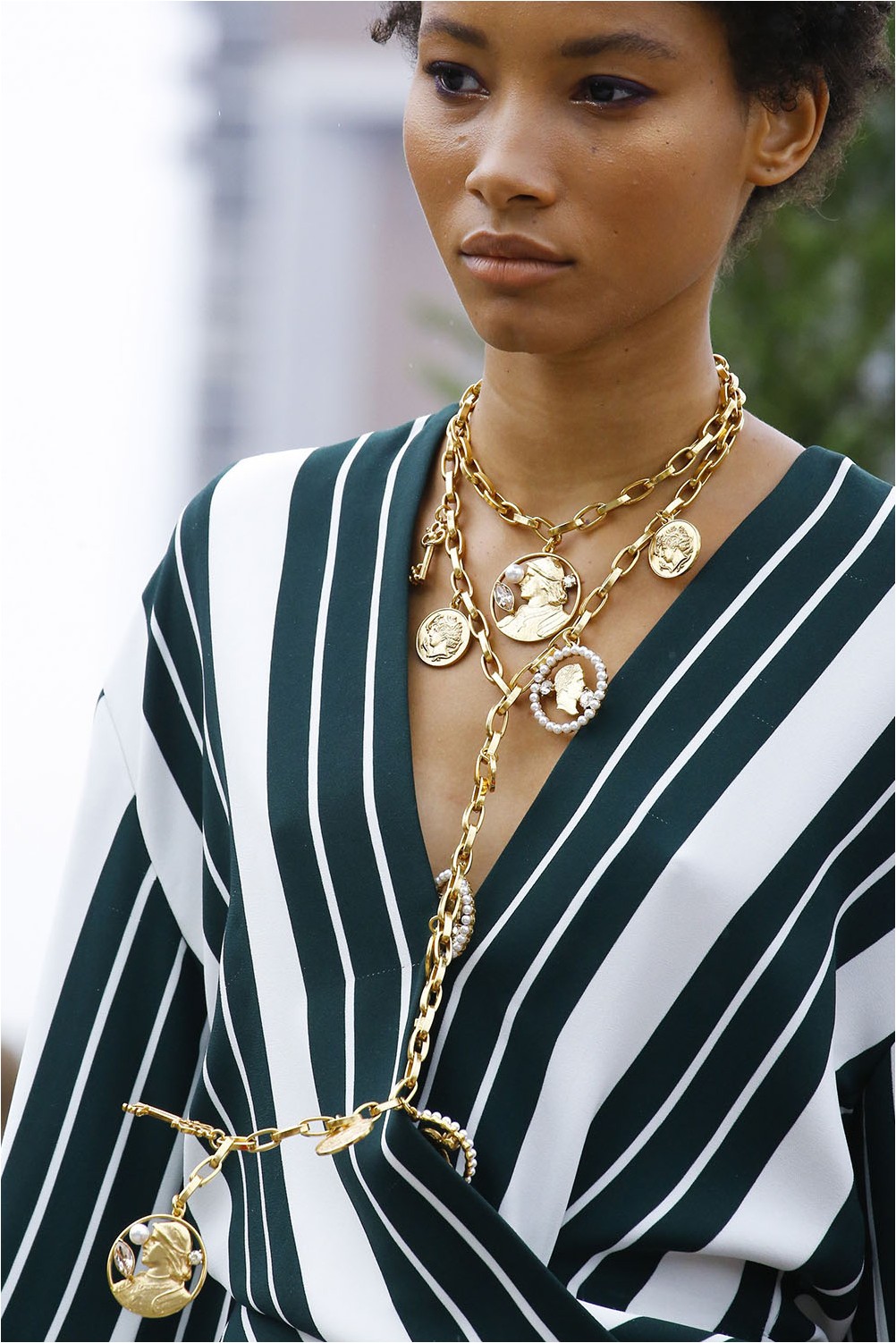 Victorian style
The romantic style of the times of Queen Victoria is the most relevant trend in the spring-summer season of 2019. Everything related to the Victorian era is fashionable: bows, guipure, ruffles, flounces.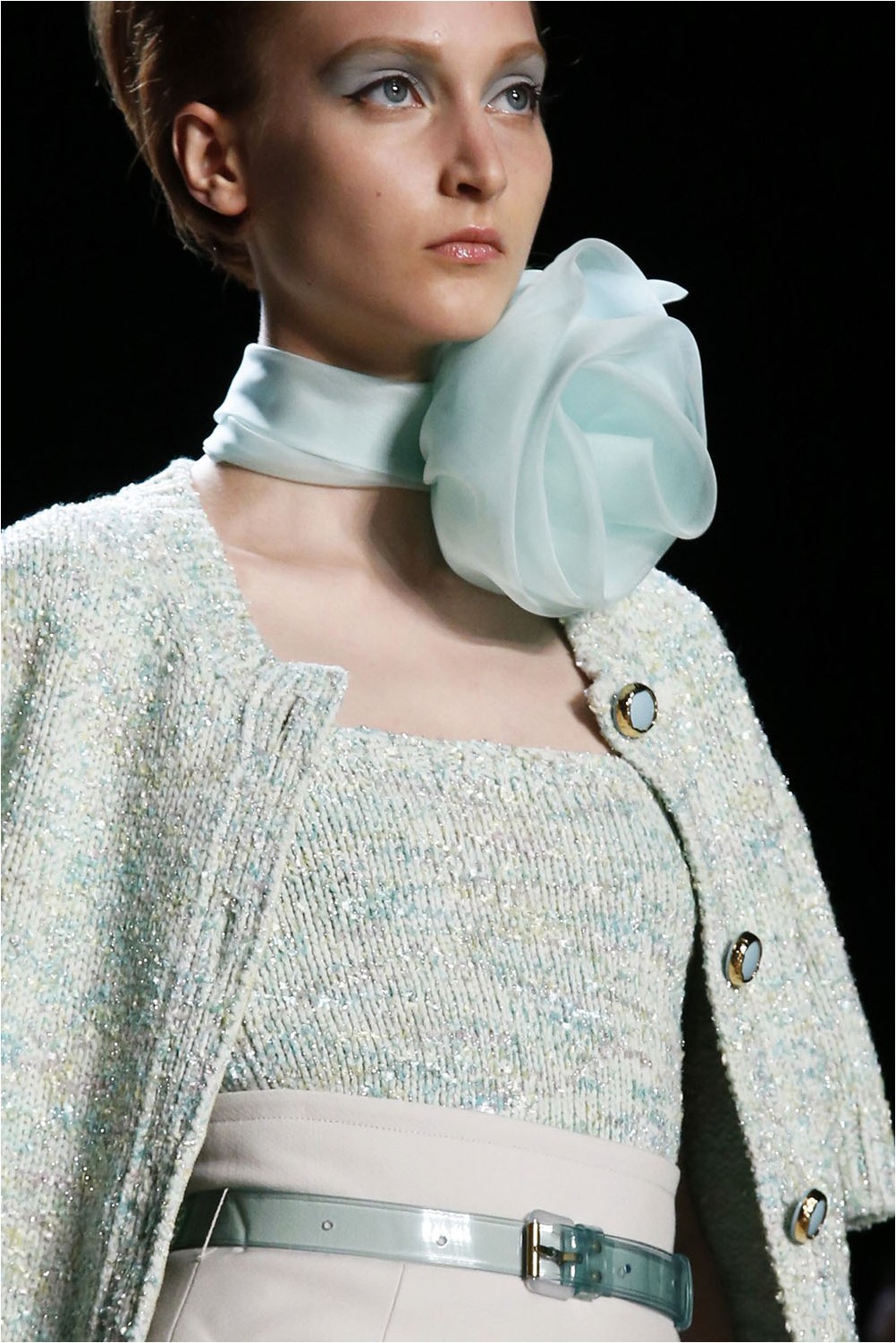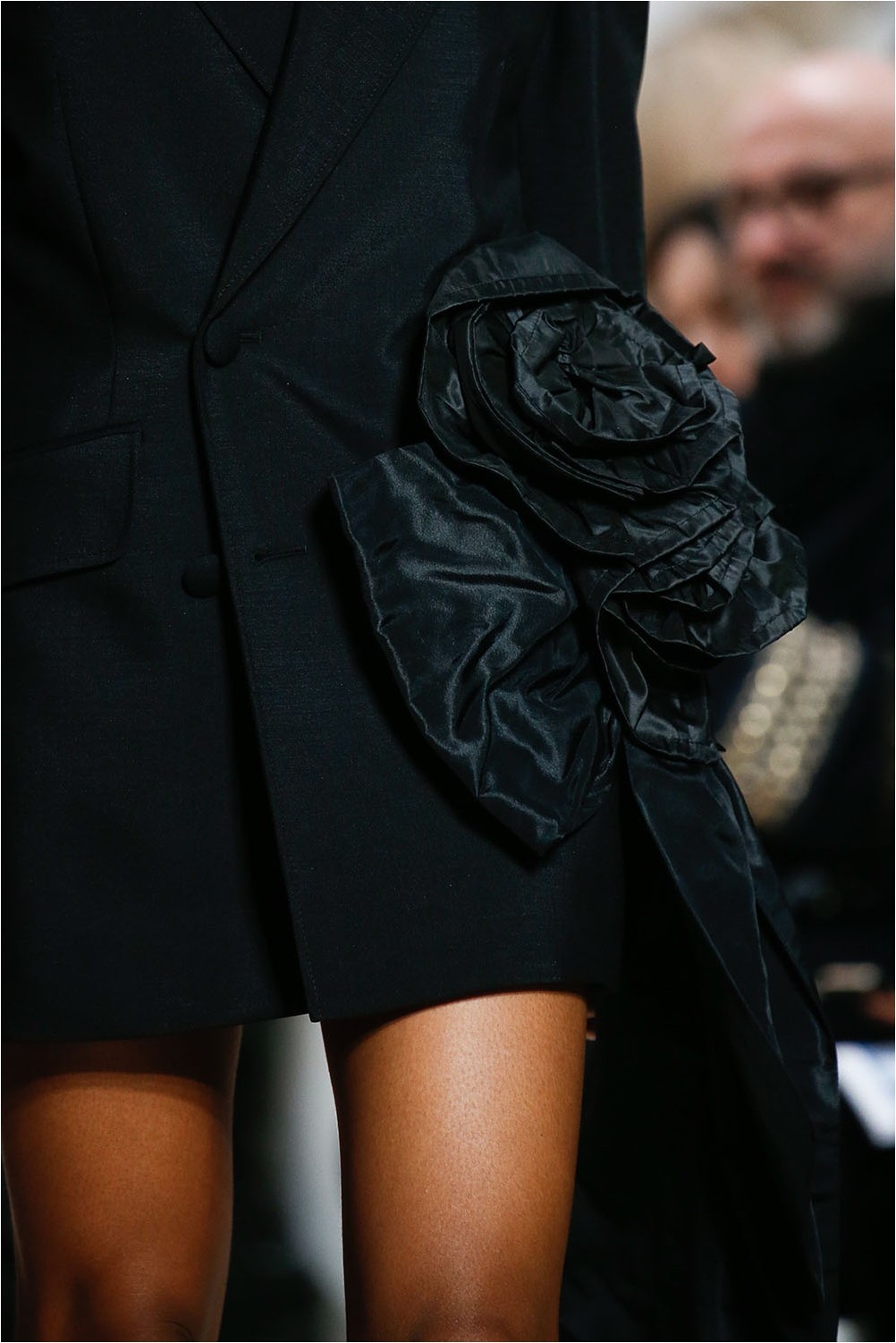 Jewelry took a special place. Without her, it is impossible to imagine a lady of the XIX century. Therefore, stock up on metal jewelry with stones, pearl earrings and bracelets, pendants with miniature figurines-statues.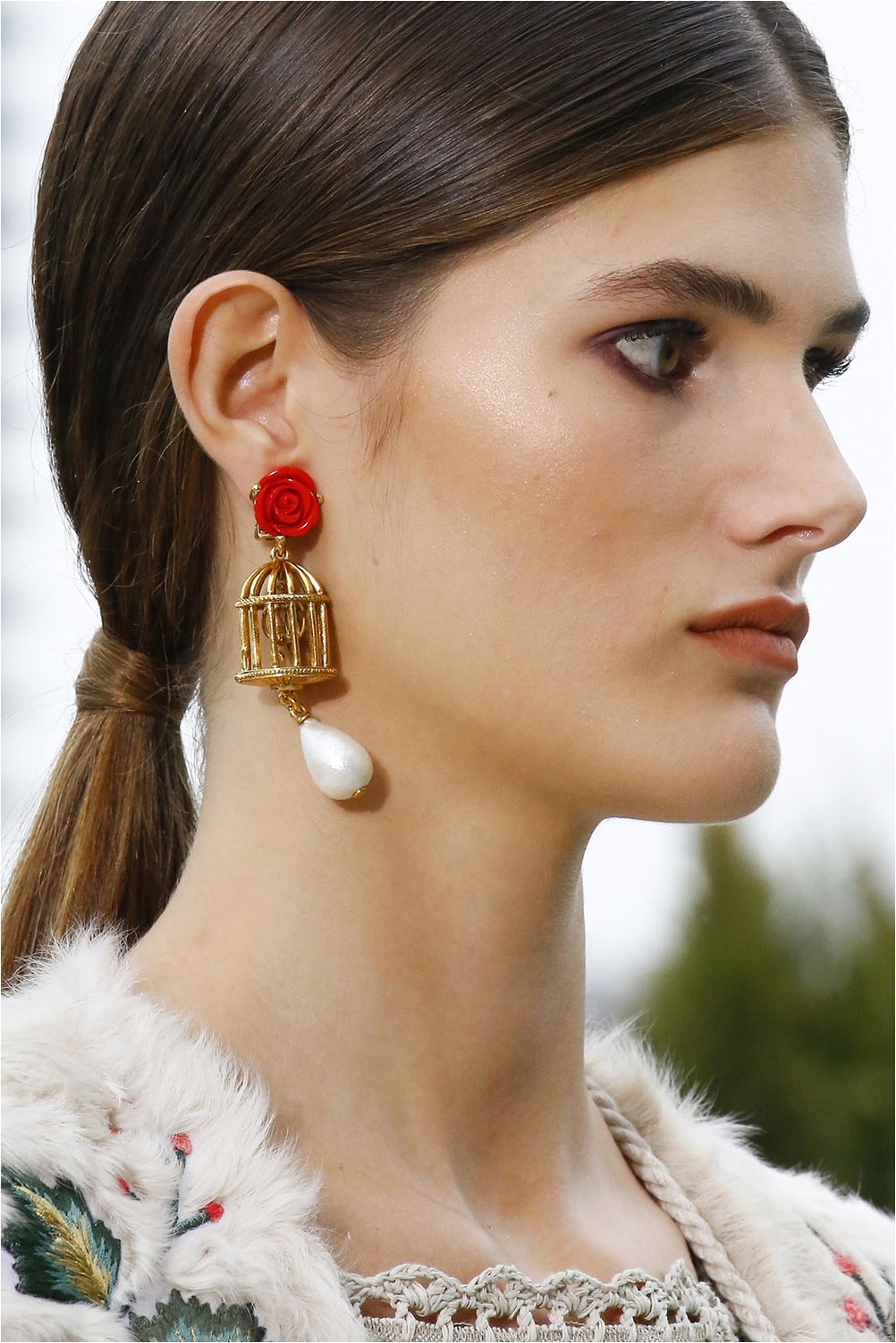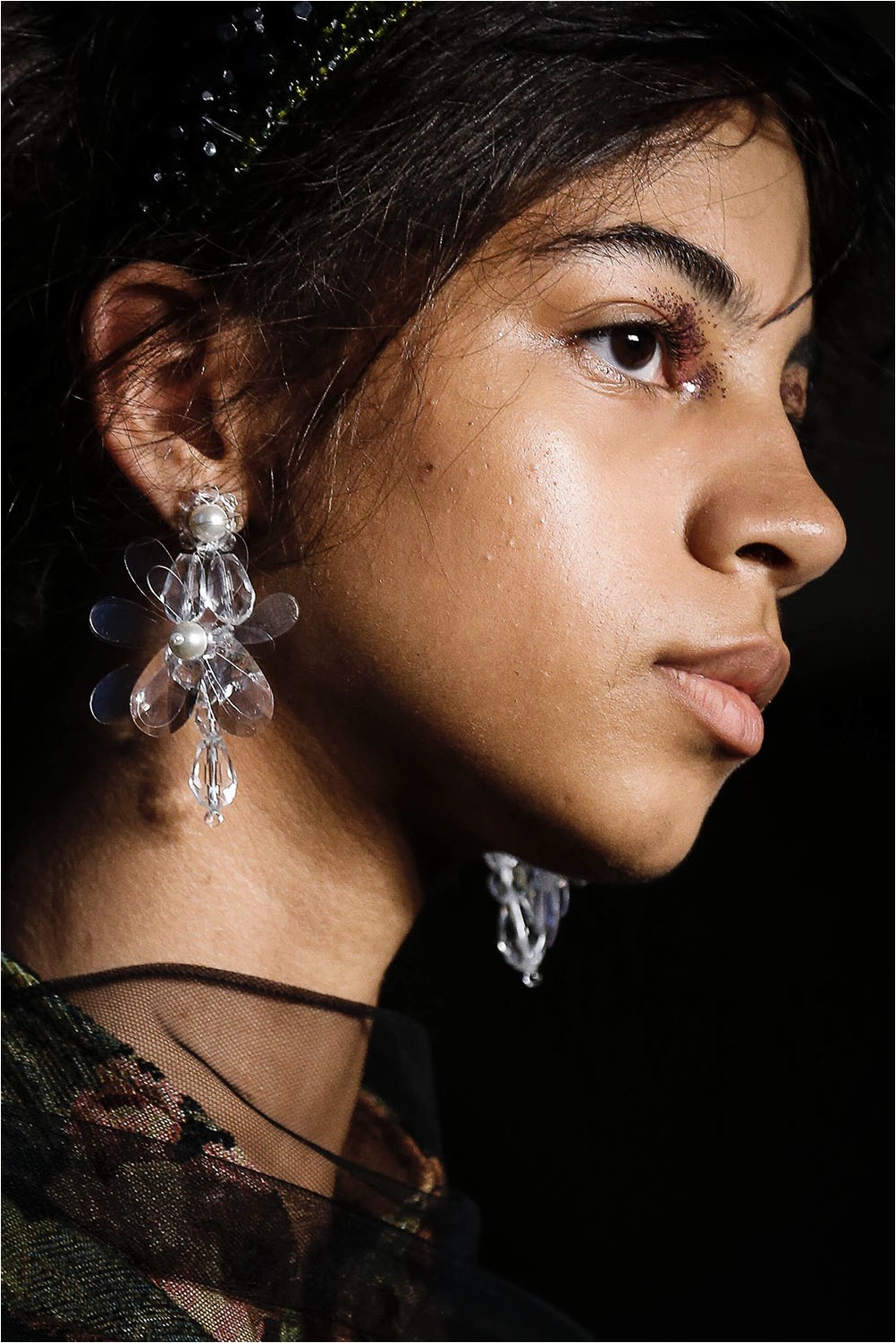 Hats play a significant role in the image. Marc Jacobs, Erdem, Céline proposed feminine retro hats with a transparent organza or voluminous bow decorations. And as part of the Maison Margiela show, John Galliano created women's hats by combining a hat and a men's bowler hat of the 19th century.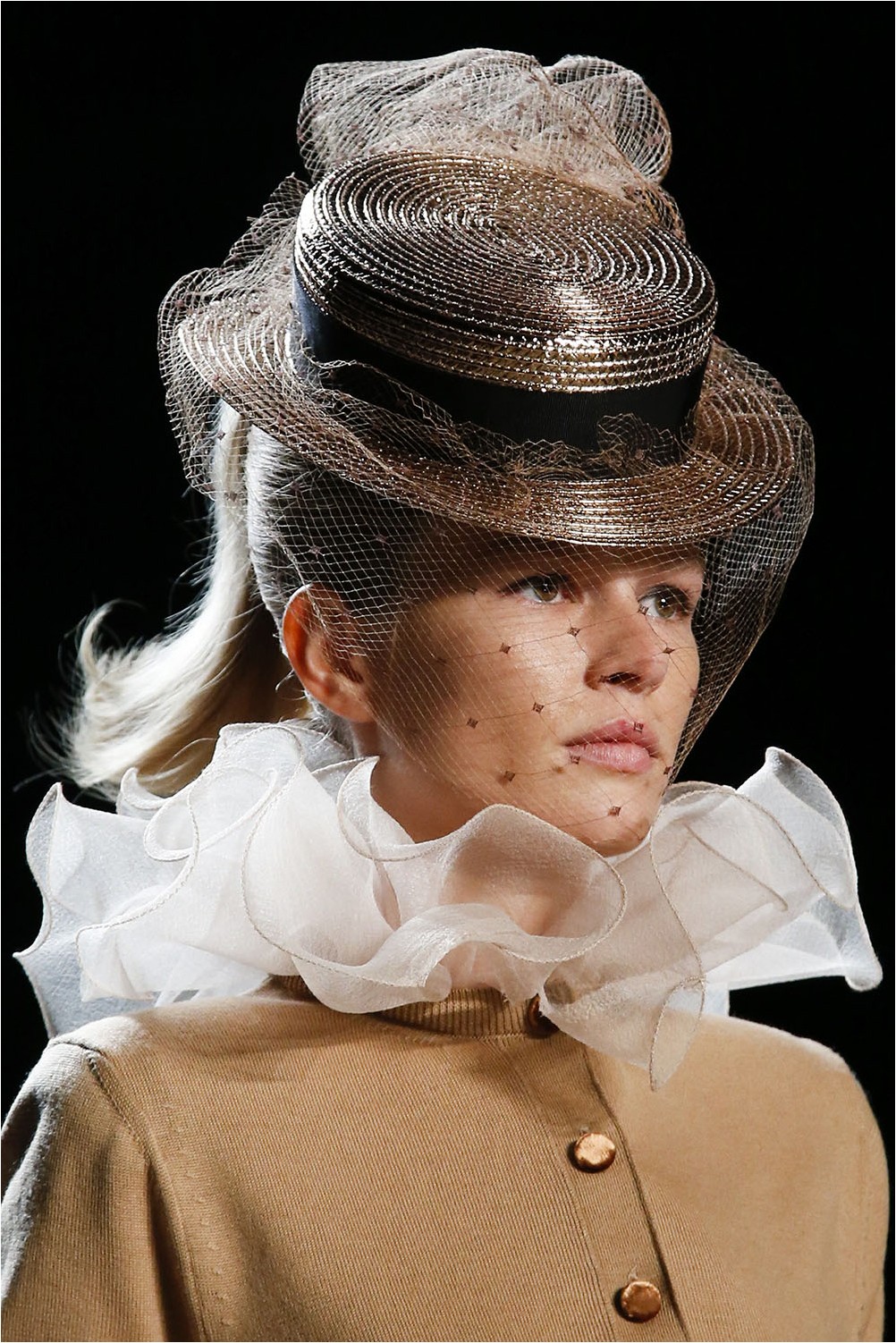 Belts with decor
Particular attention in the warm season of 2019 is given to belts. No wonder. The straps focus on a beautiful, thin waist – the pride of any girl. Thin chain-pendants decorated with pendants are in fashion.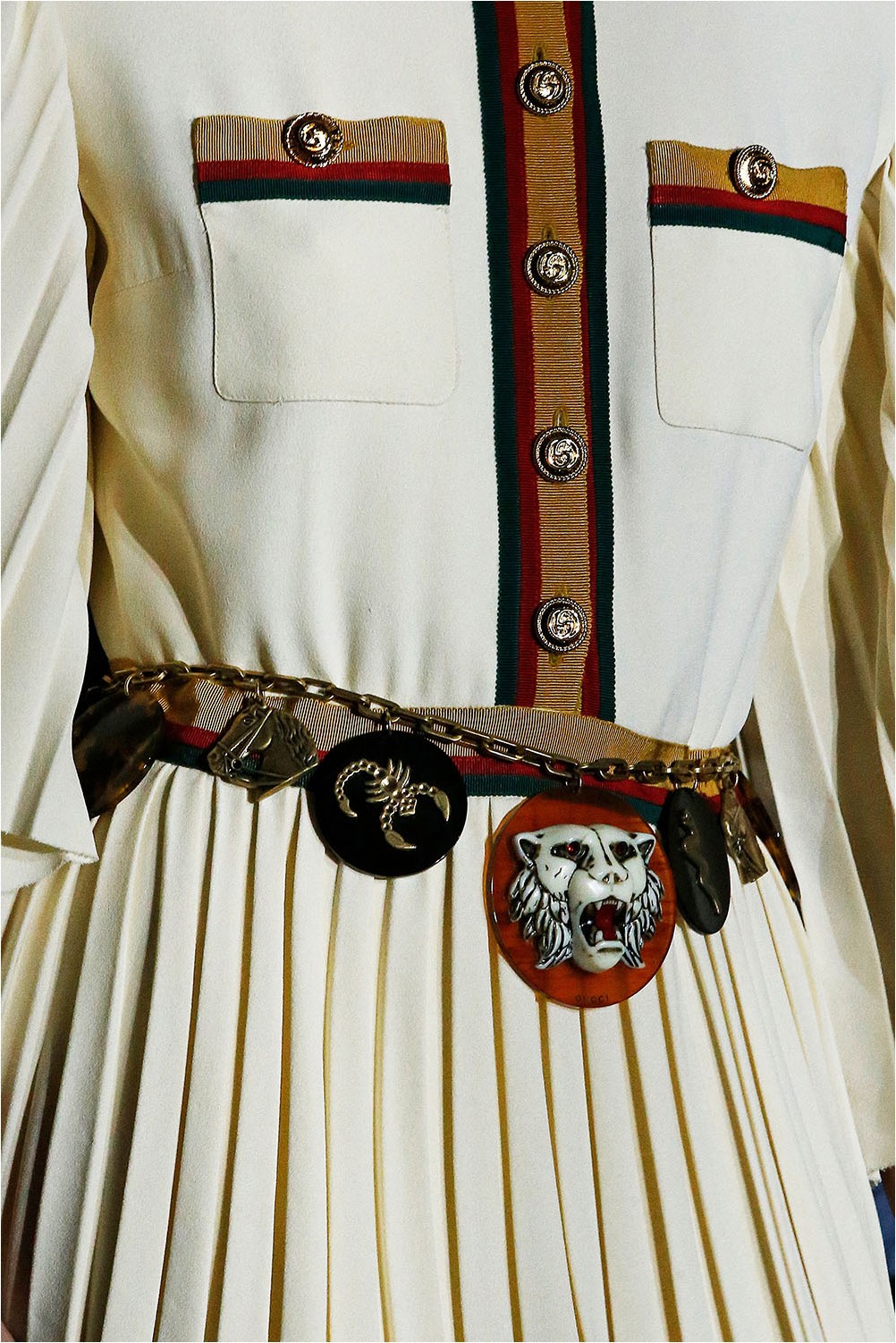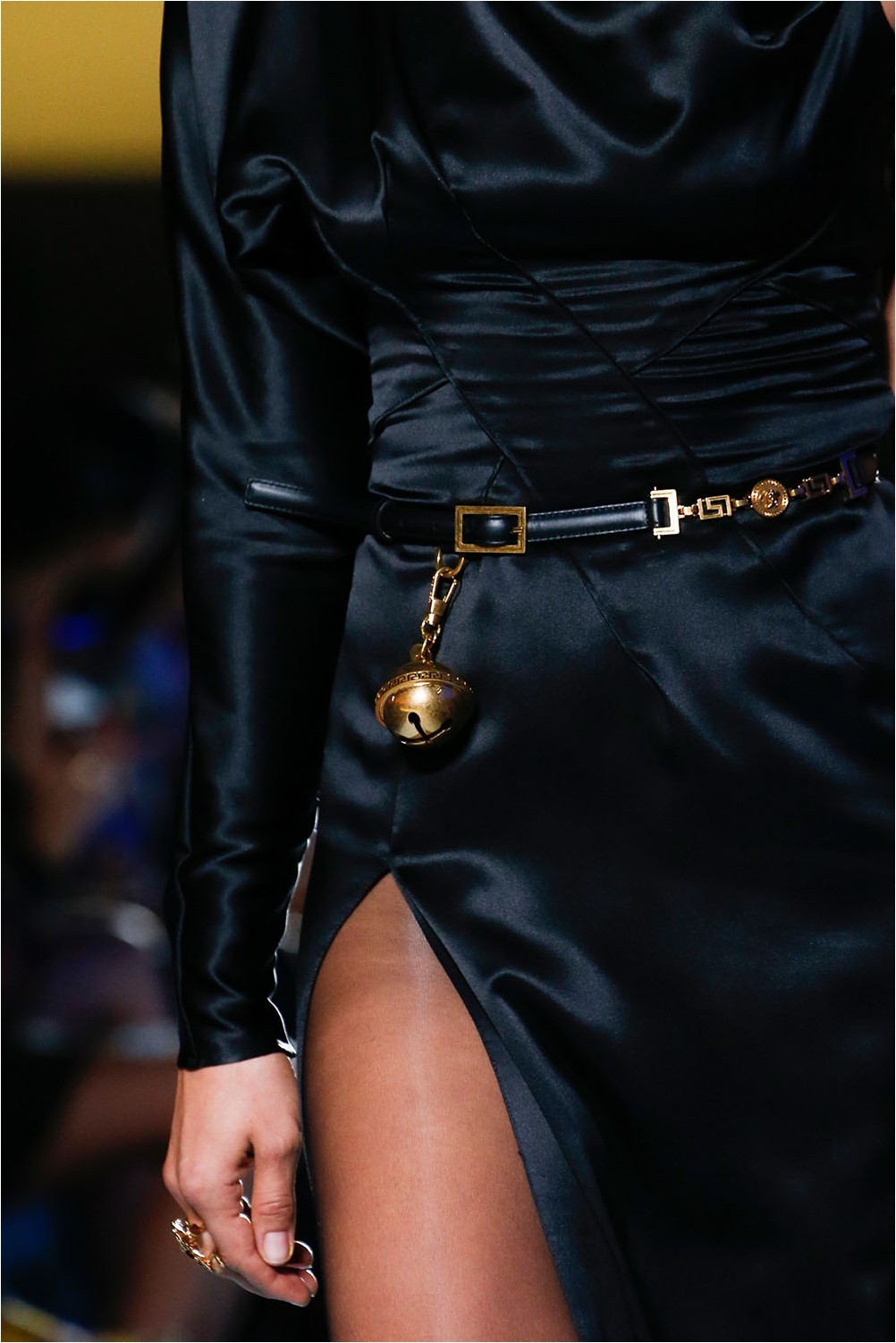 Braided cords and belts will be no less relevant. You can also draw attention to the aspen waist at the expense of small waist envelope handbags..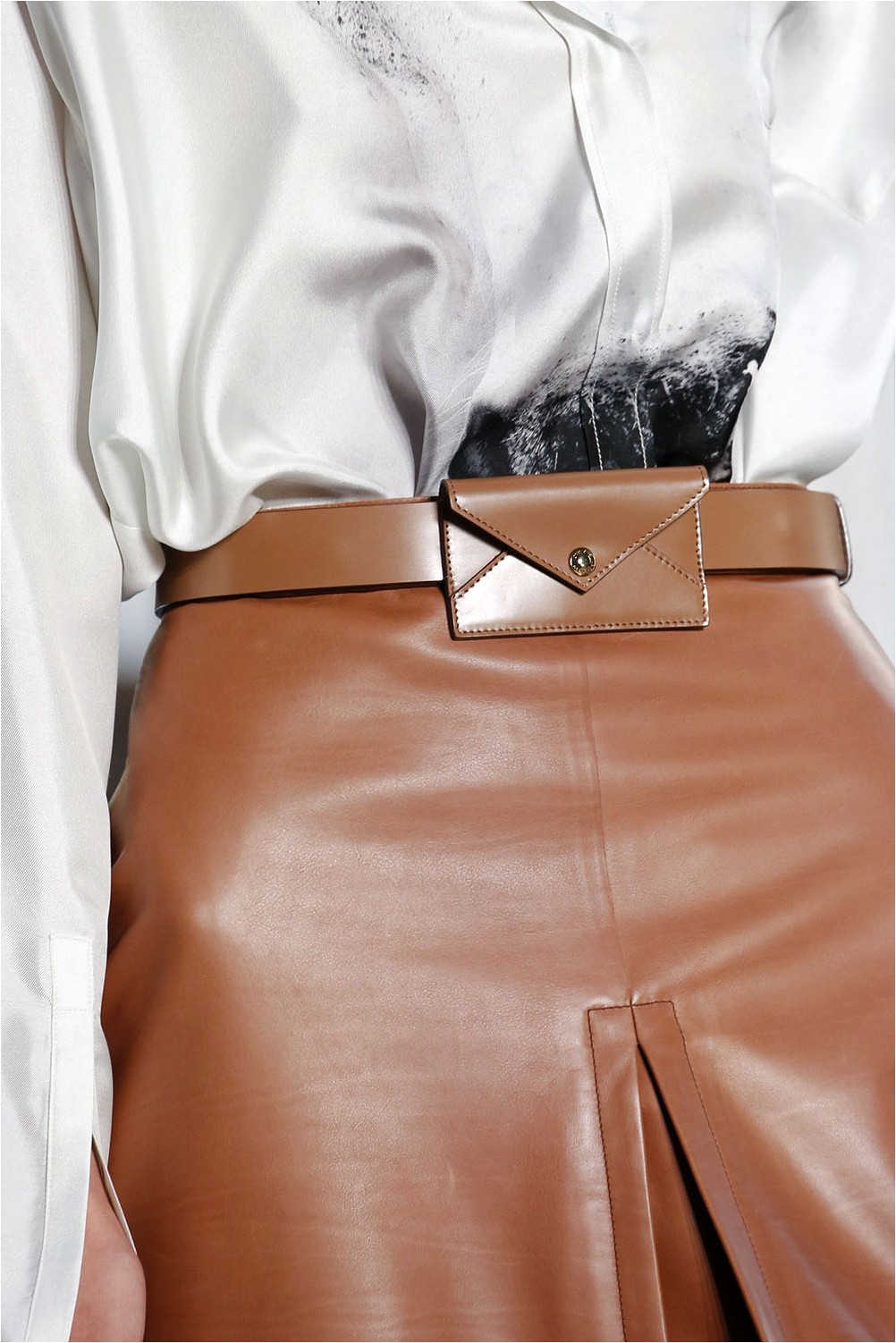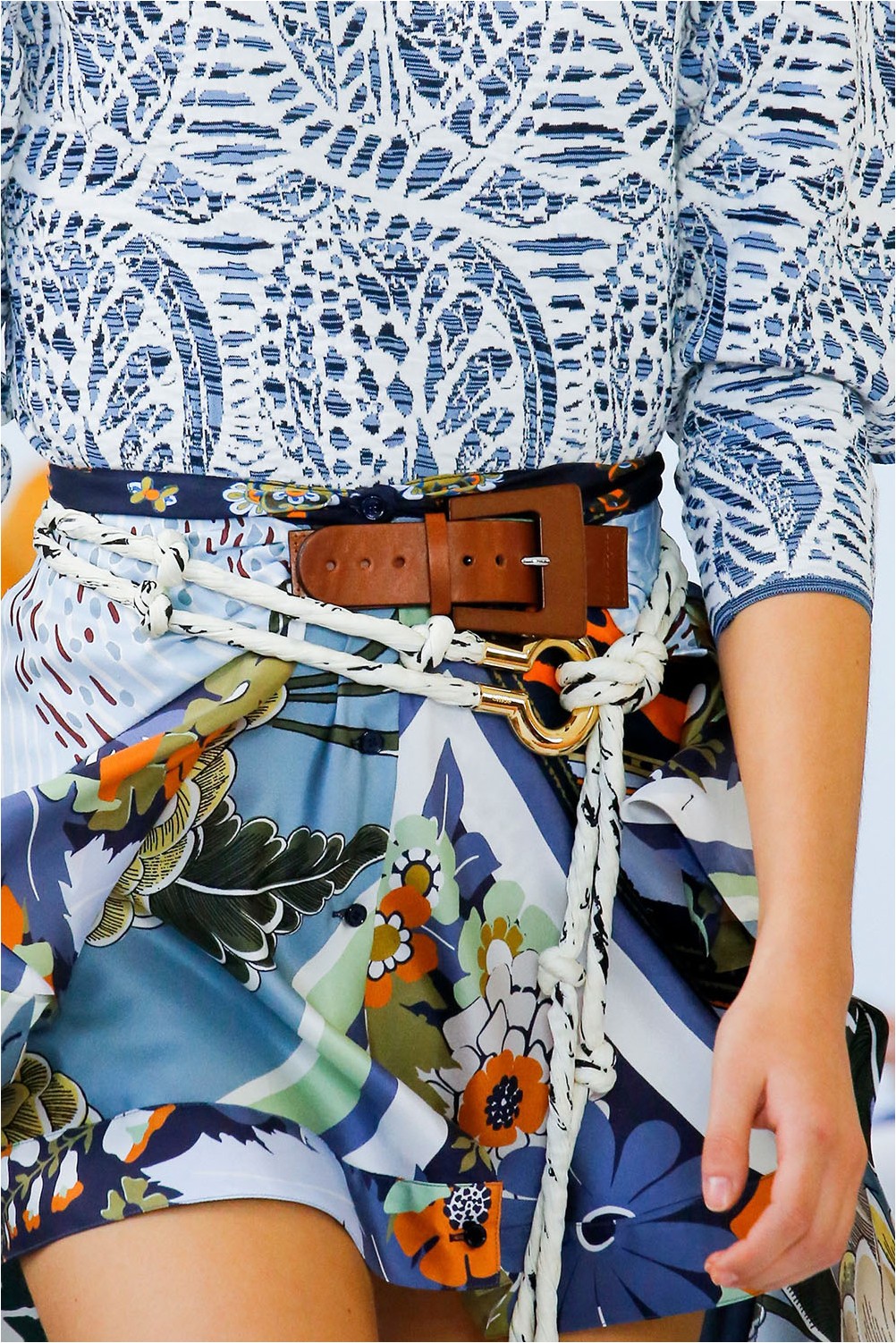 If you don't want to go far beyond the classics, then choose belts with spectacular buckles, like Salvatore Ferragamo, Tod's.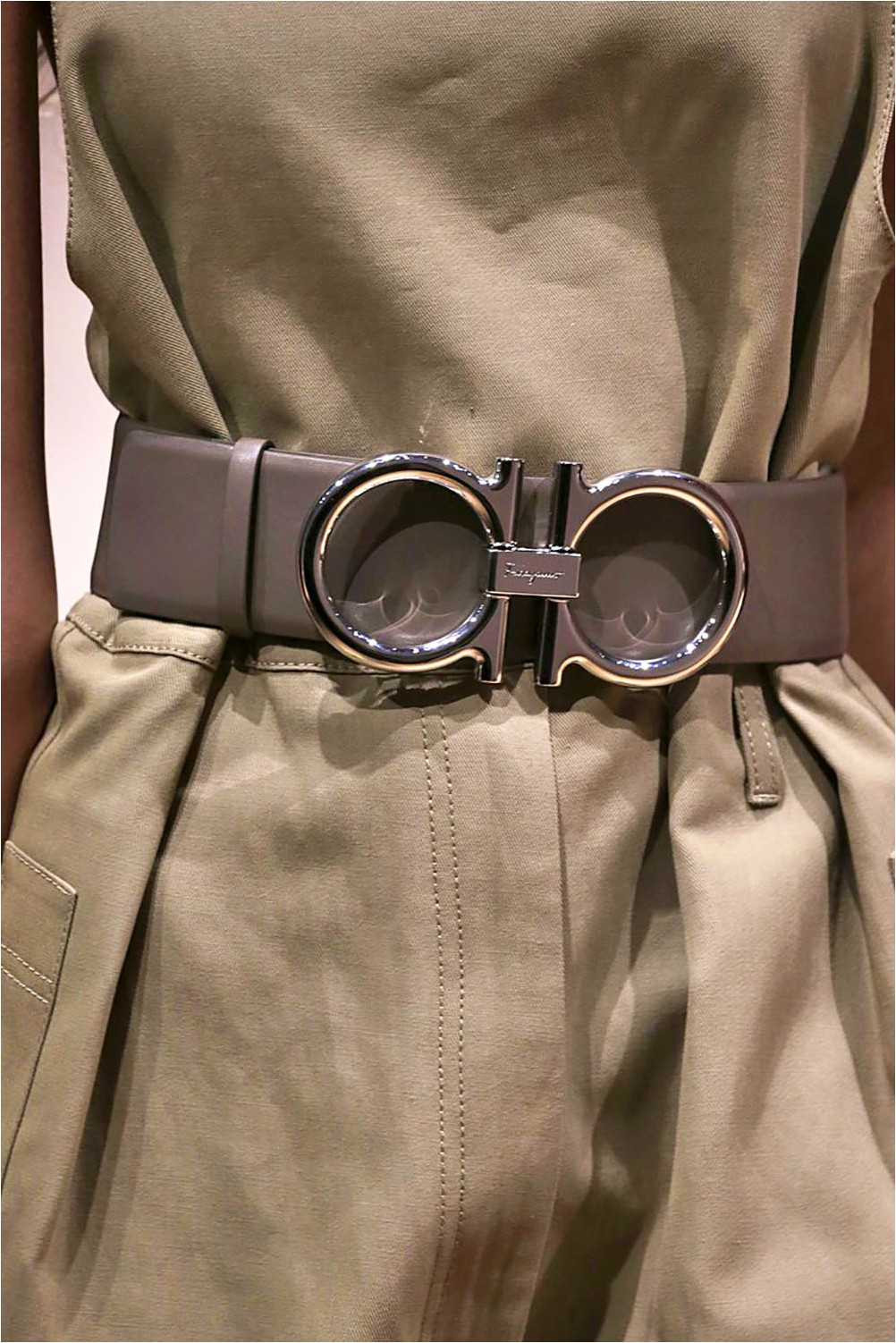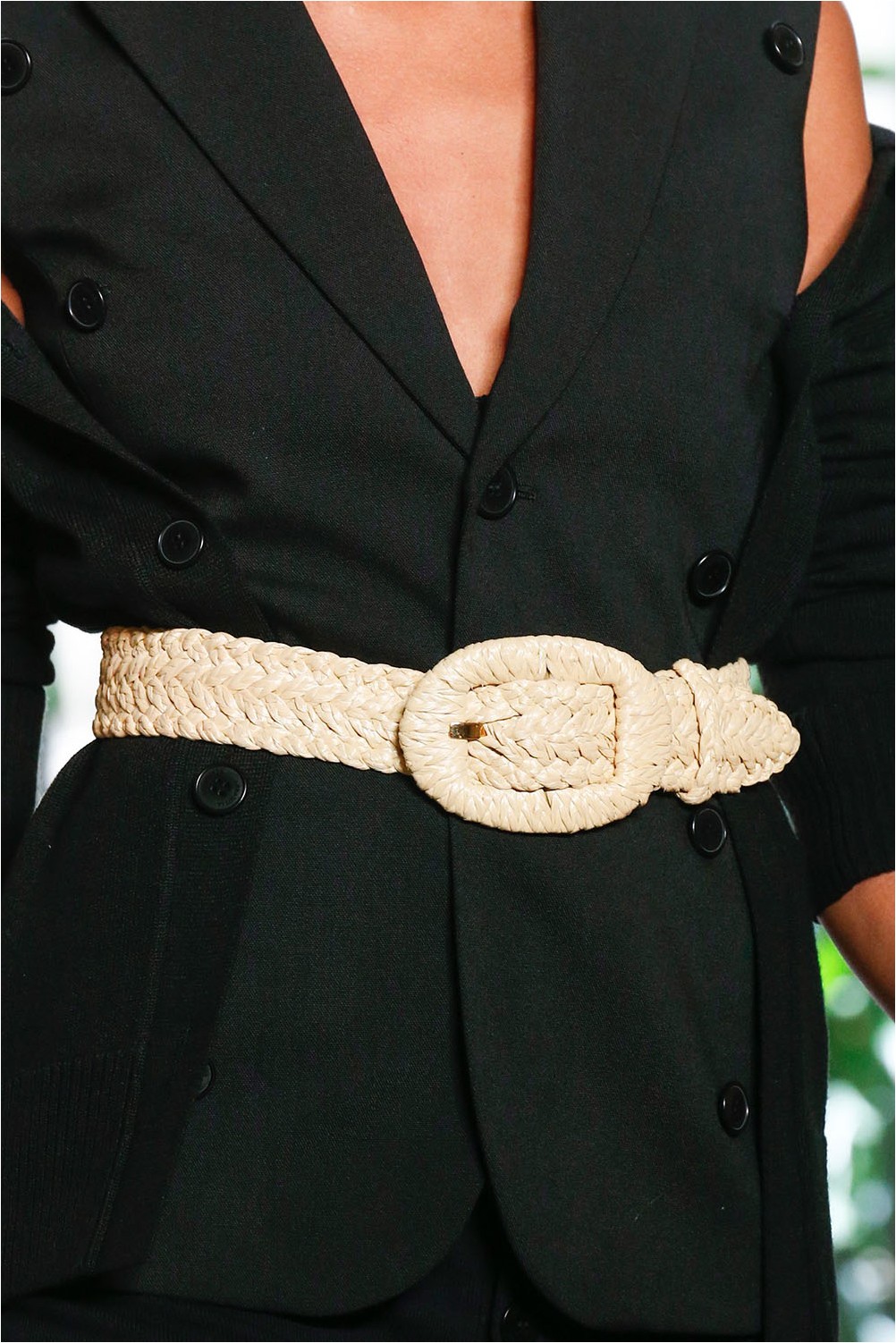 Sea and beach subjects
Marine themes were present in many fashion collections of the spring-summer season 2019. First of all, these are hats. Wide-brimmed straw hats, a turban and bright shawls will become relevant..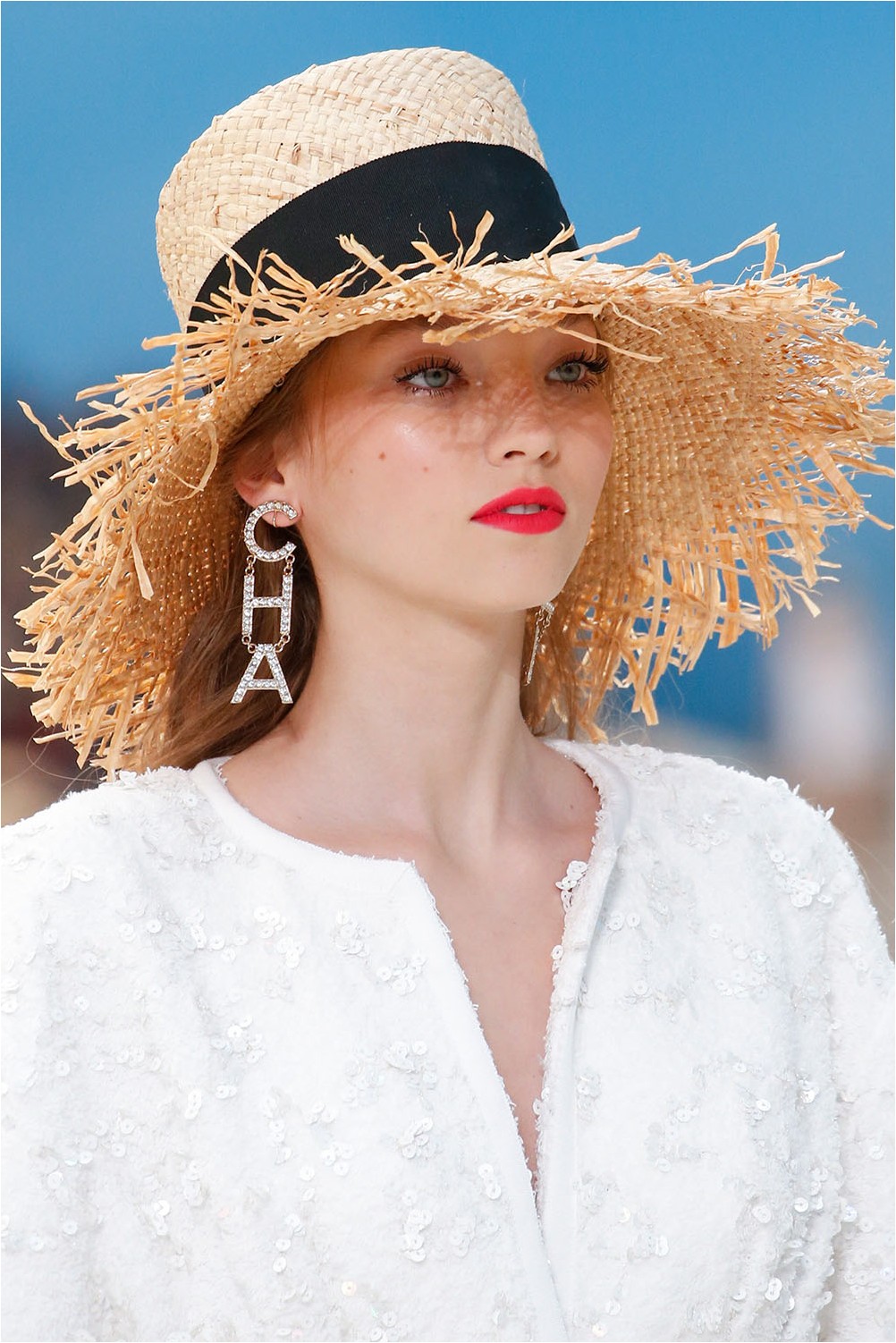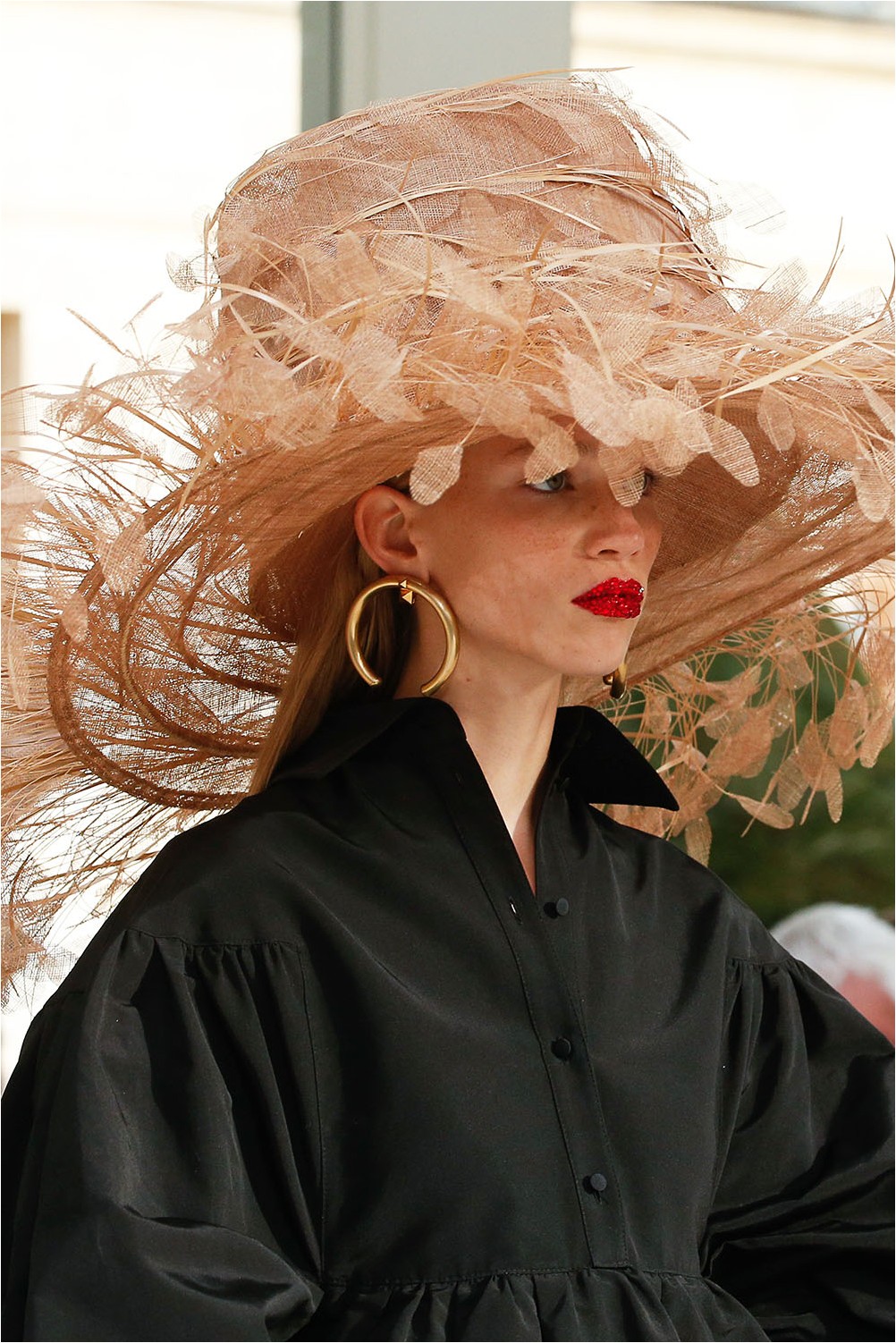 In the trend of accessories and jewelry from sea or river shells. Even a star-shaped belt buckle will support the fashion trend.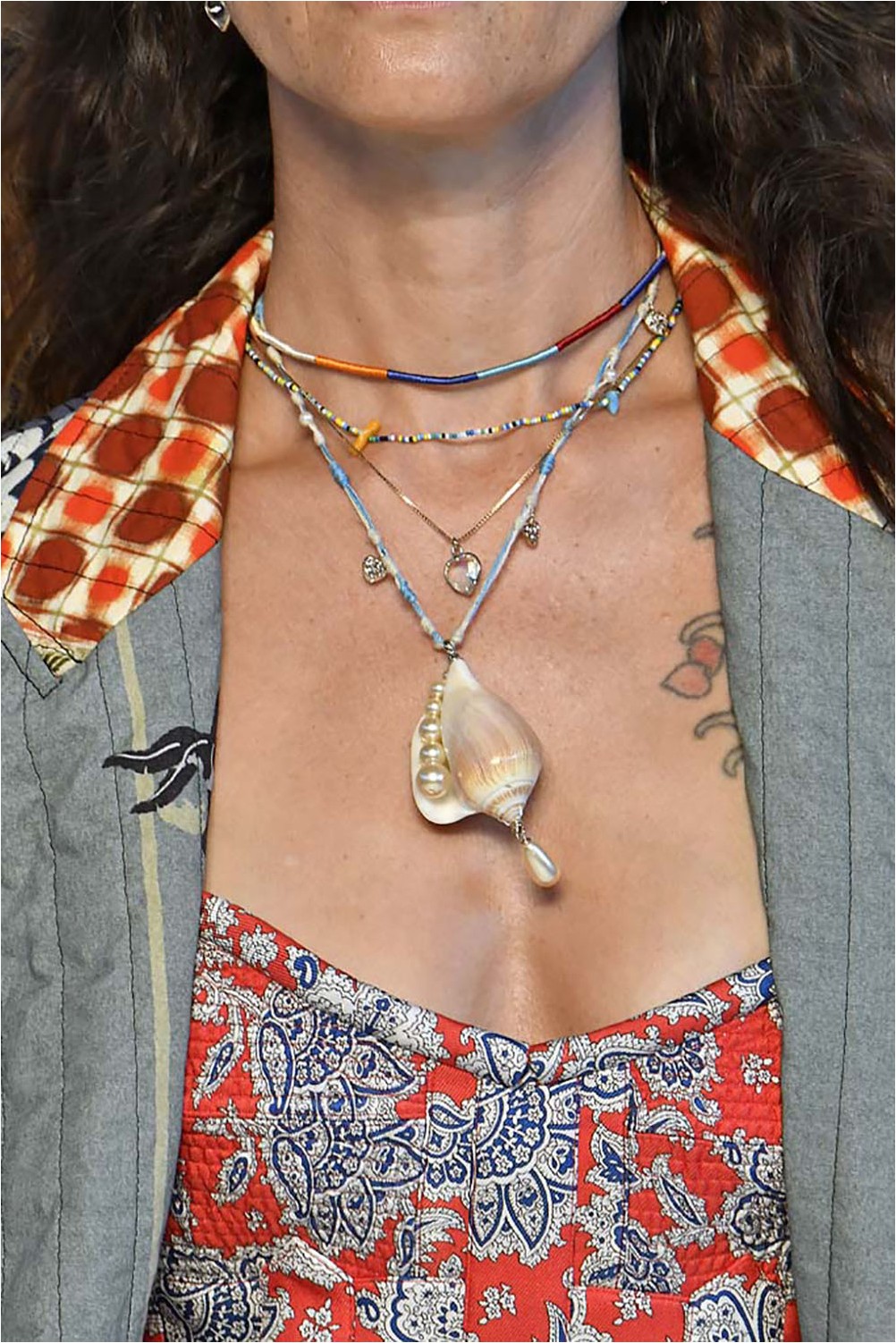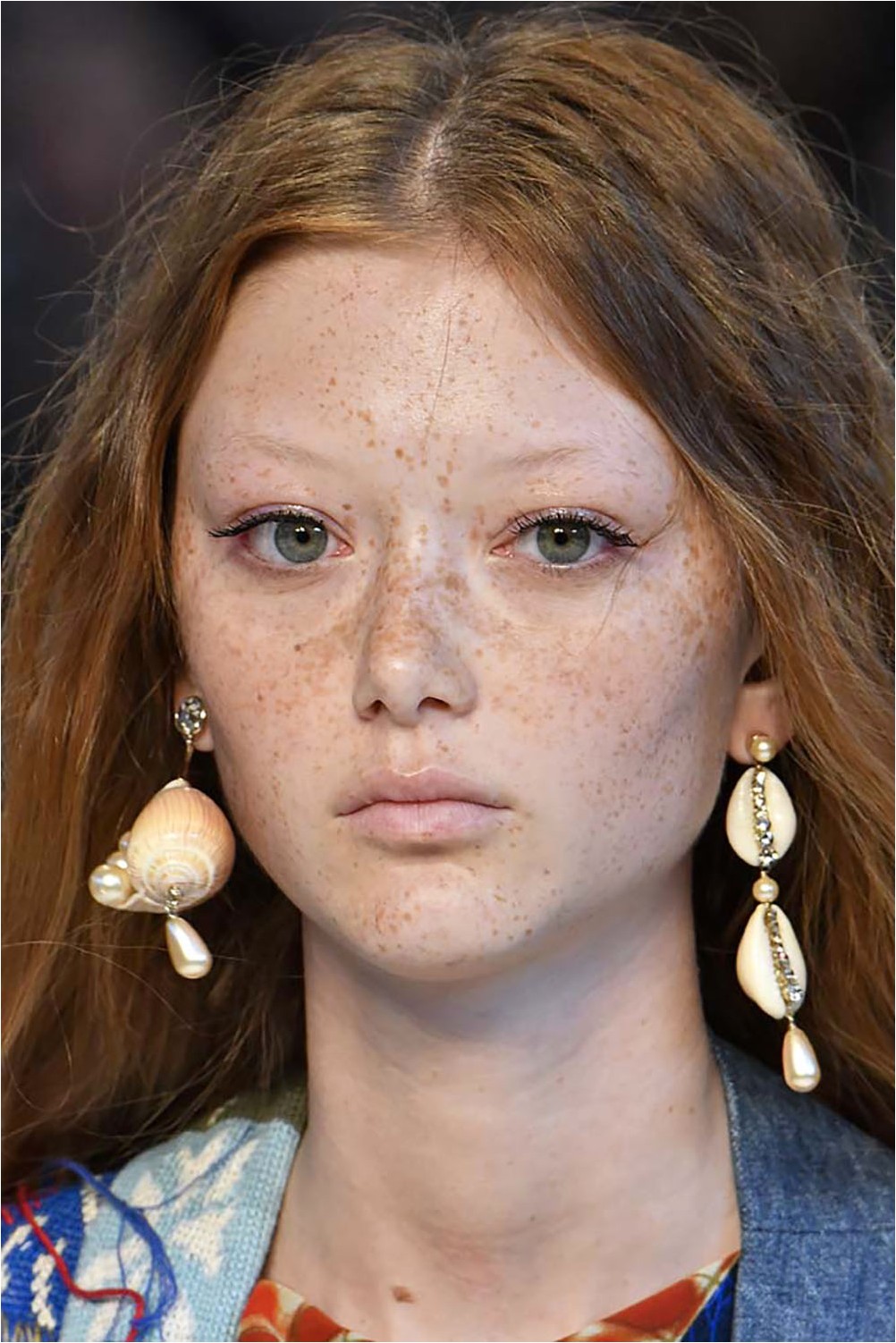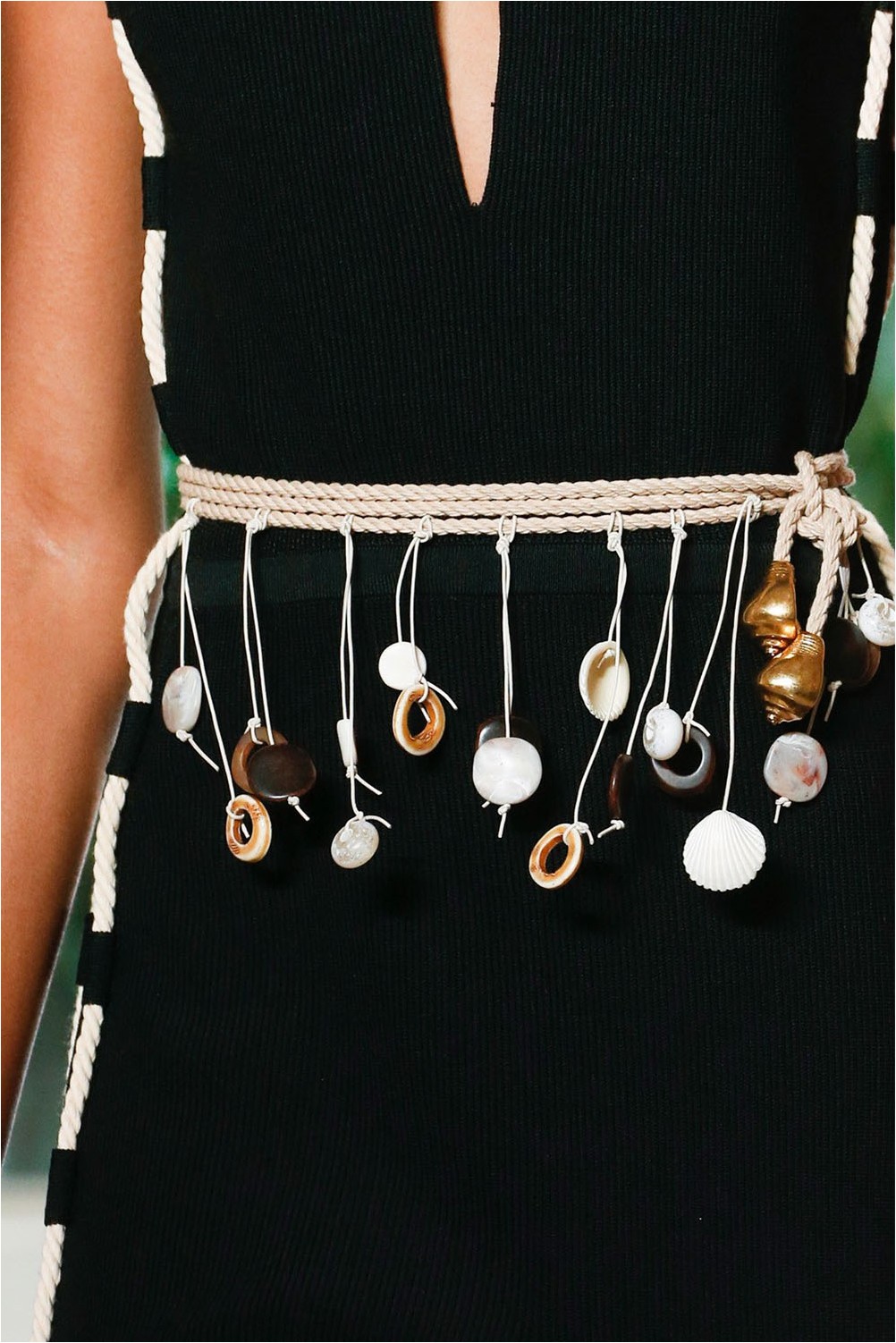 The imperishable classic in the form of pearl rings and bracelets remains in fashion. But pearl jewelry this spring is returning in a new guise. Along with asymmetric earrings, mono earrings and jewelry from unusual pearls are in fashion.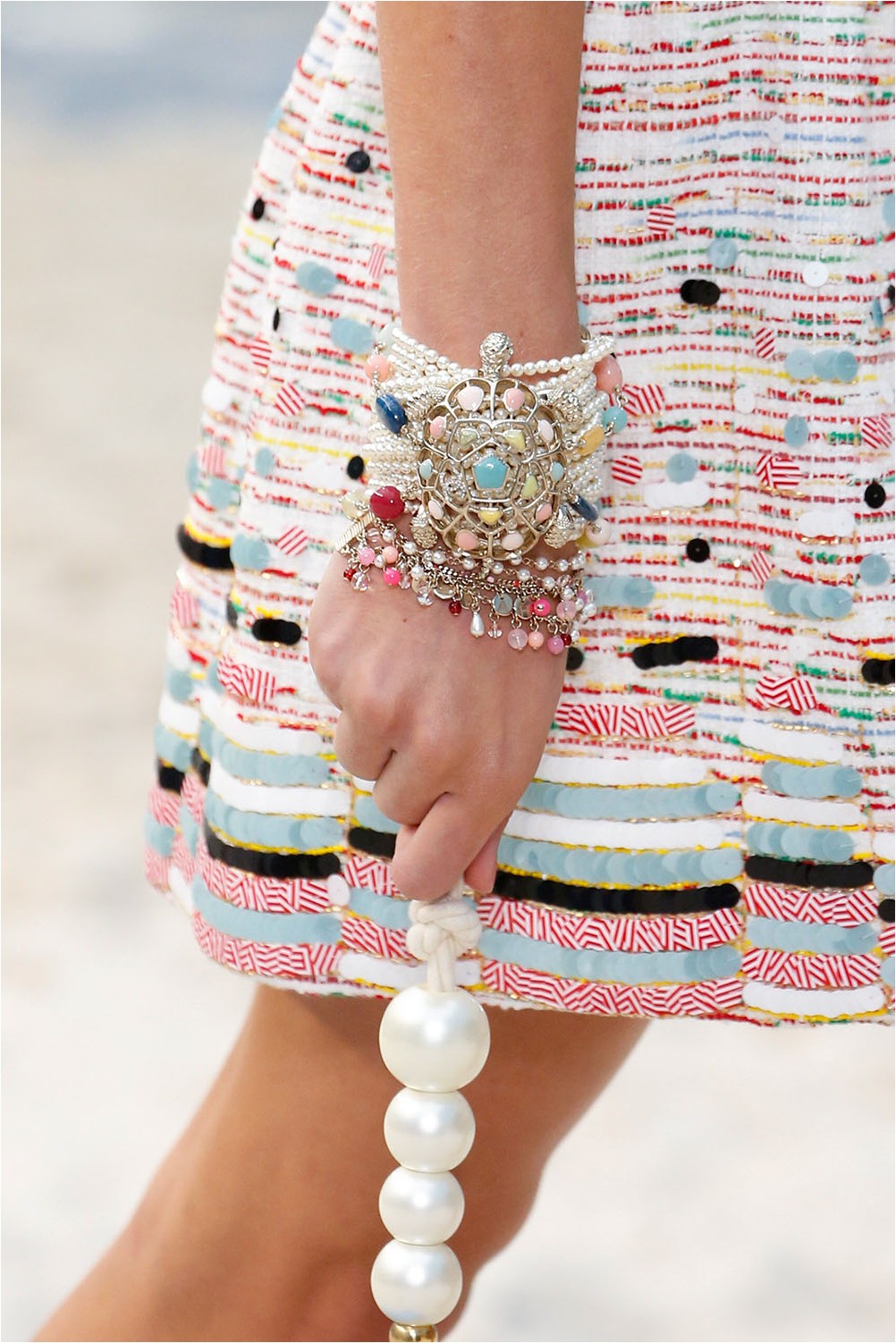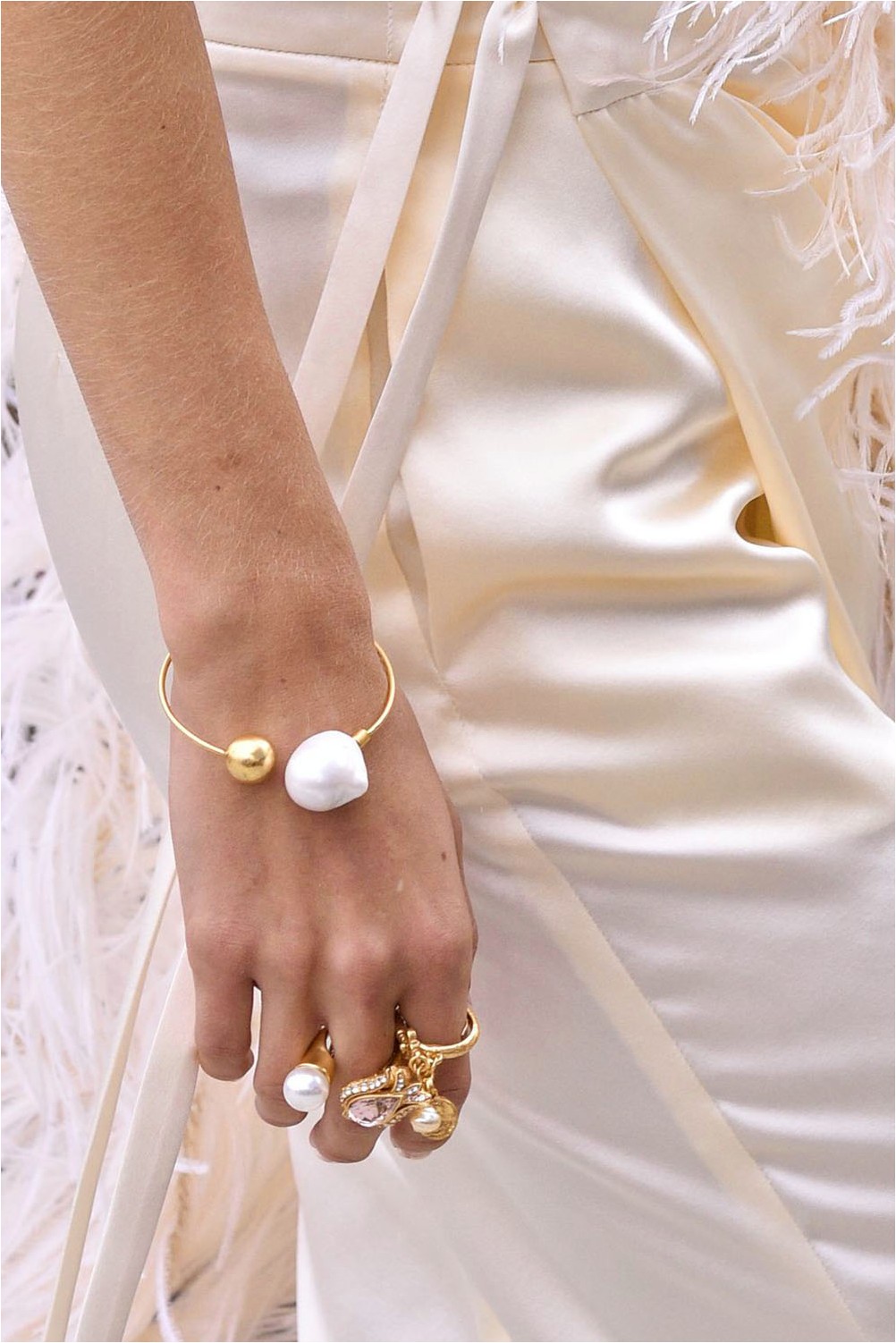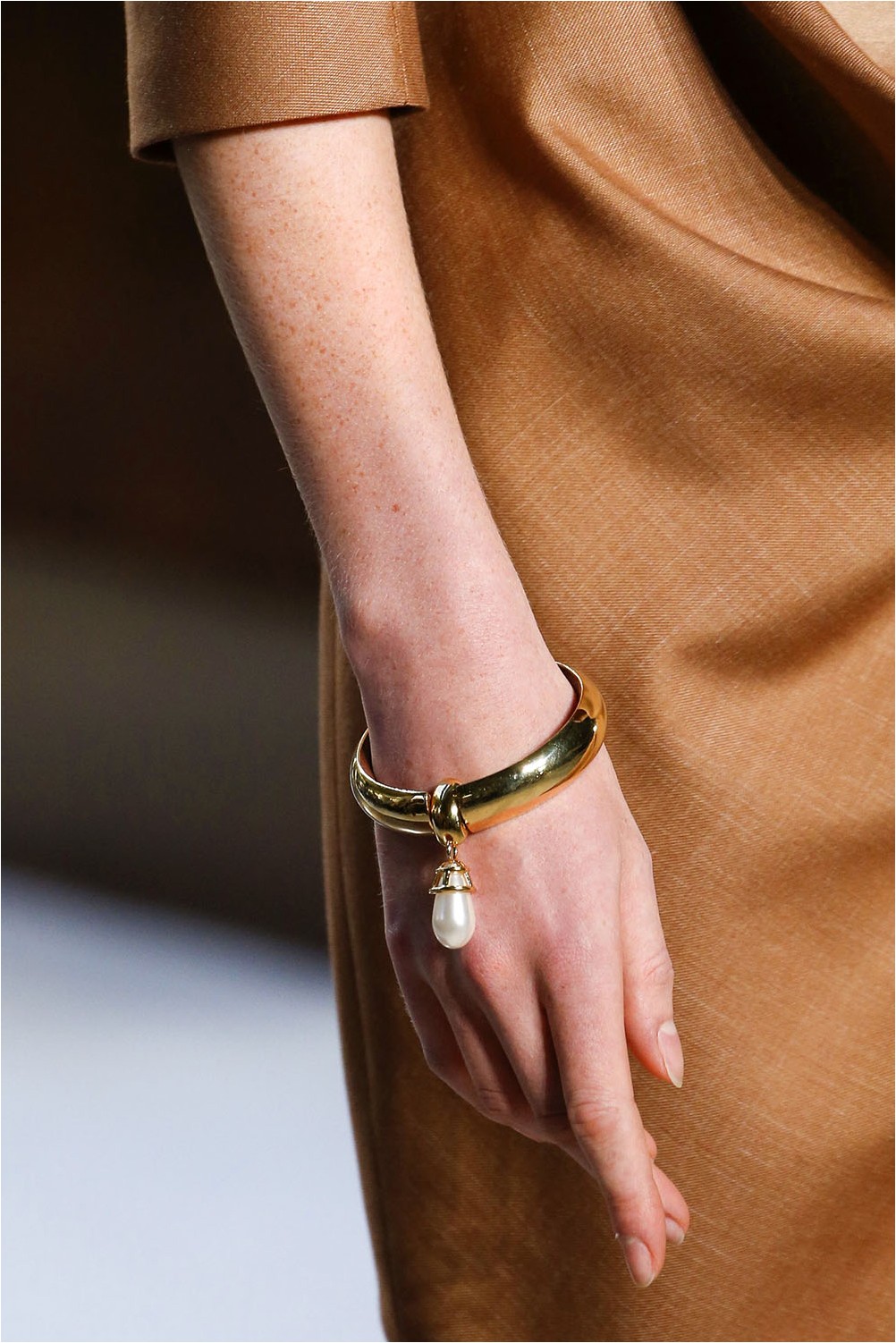 Headbands
If you forgot about headbands for hair from school, then it's time to return them to your fashionable "arsenal". Indeed, in the spring-summer 2019 season, it will be impossible to create a trendy image without them. The trending hair bands are oversize. They should be large, with a bright print and massive decor. But there are exceptions. For example, Christian Dior proposed a two-layer exquisite leather rim in a ballet style..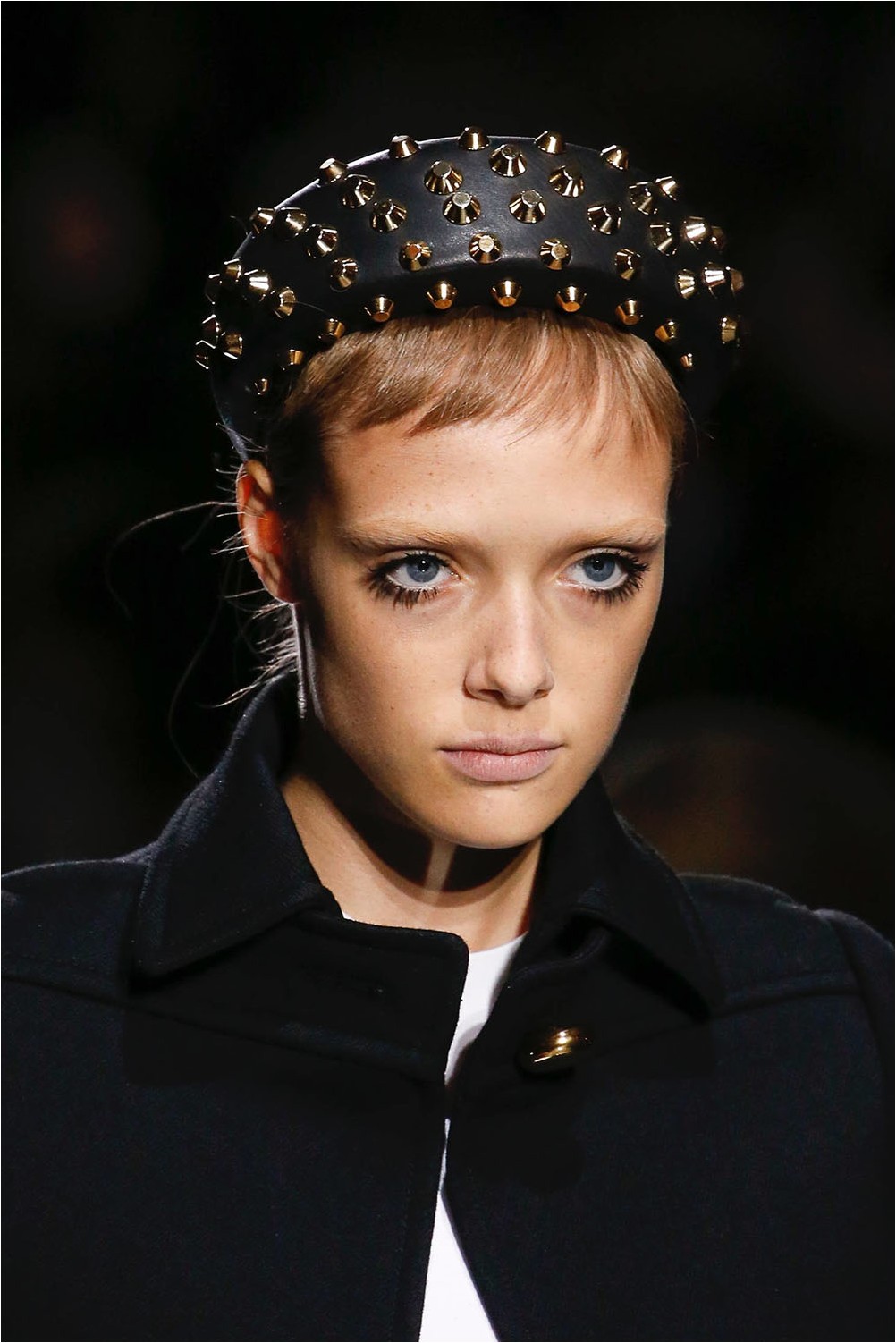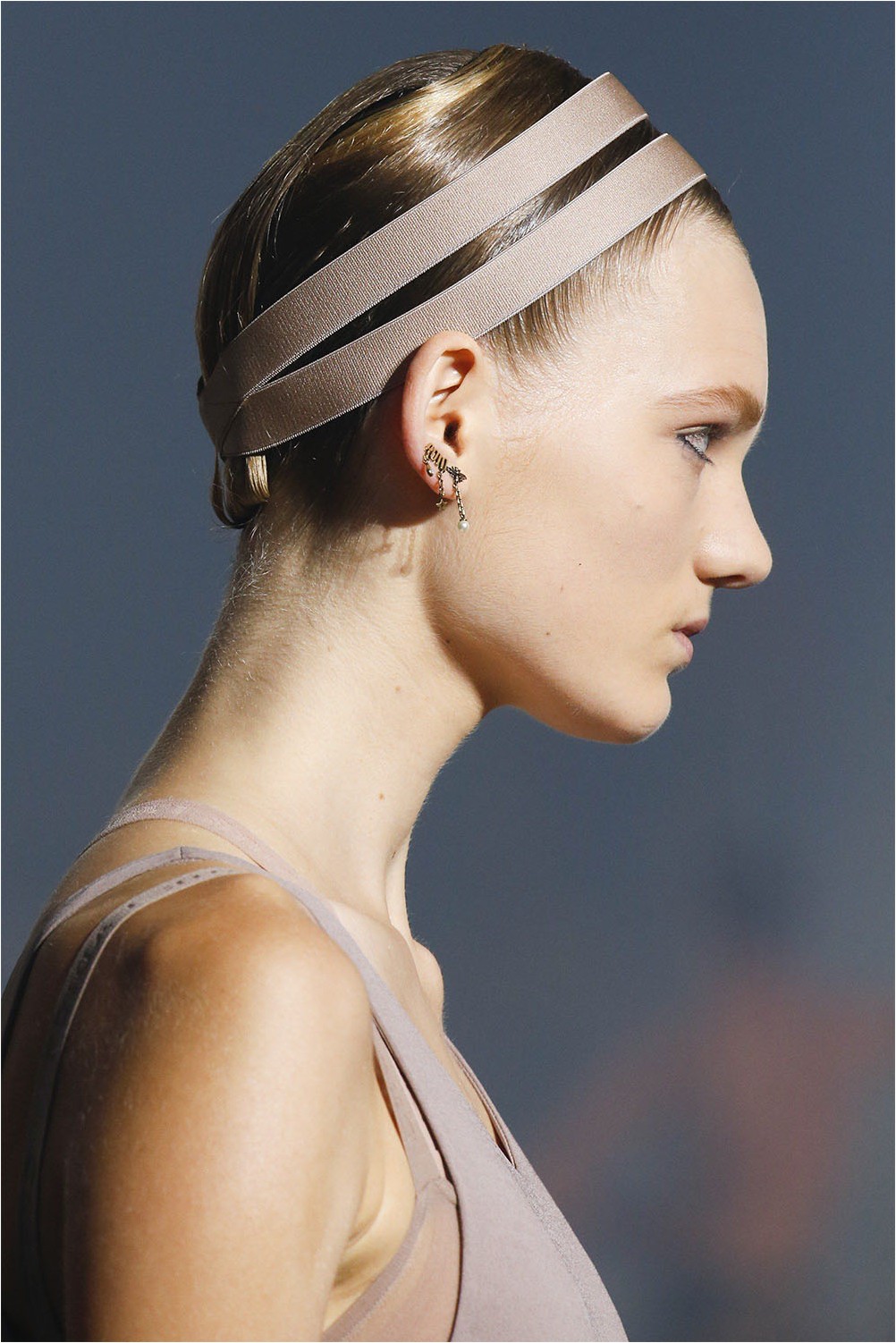 Sunglasses
A must-have accessory for the summer of 2019 – fashionable sunglasses. And not only because they protect the eyes from the bright sun. Rather like a fashion statement. Pick up sports-style glasses or a cat's eye. After all, it was these two models that occupied the top positions among the most fashionable sunglasses. For lovers of retro trends – fashionable dragonfly glasses by Prada.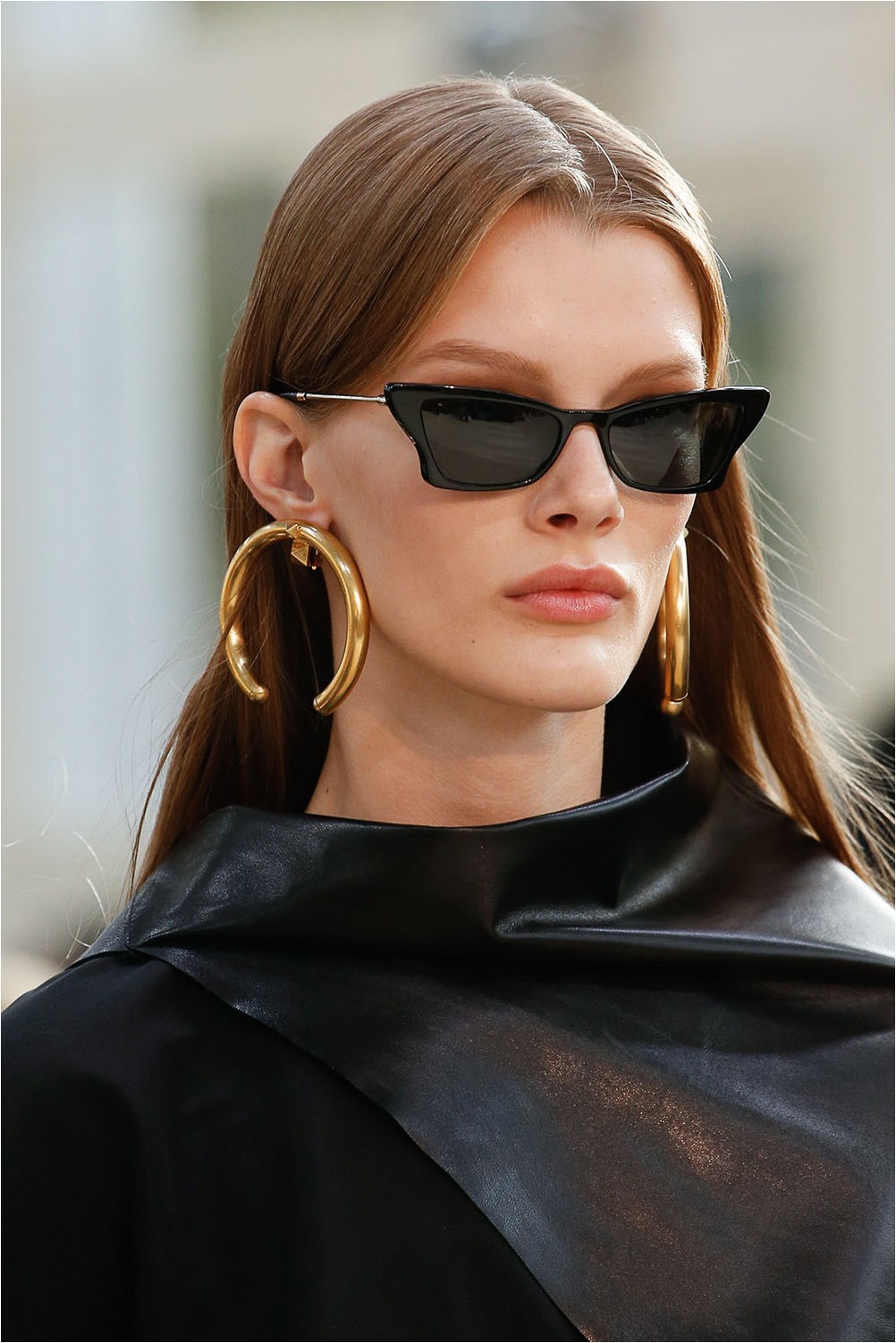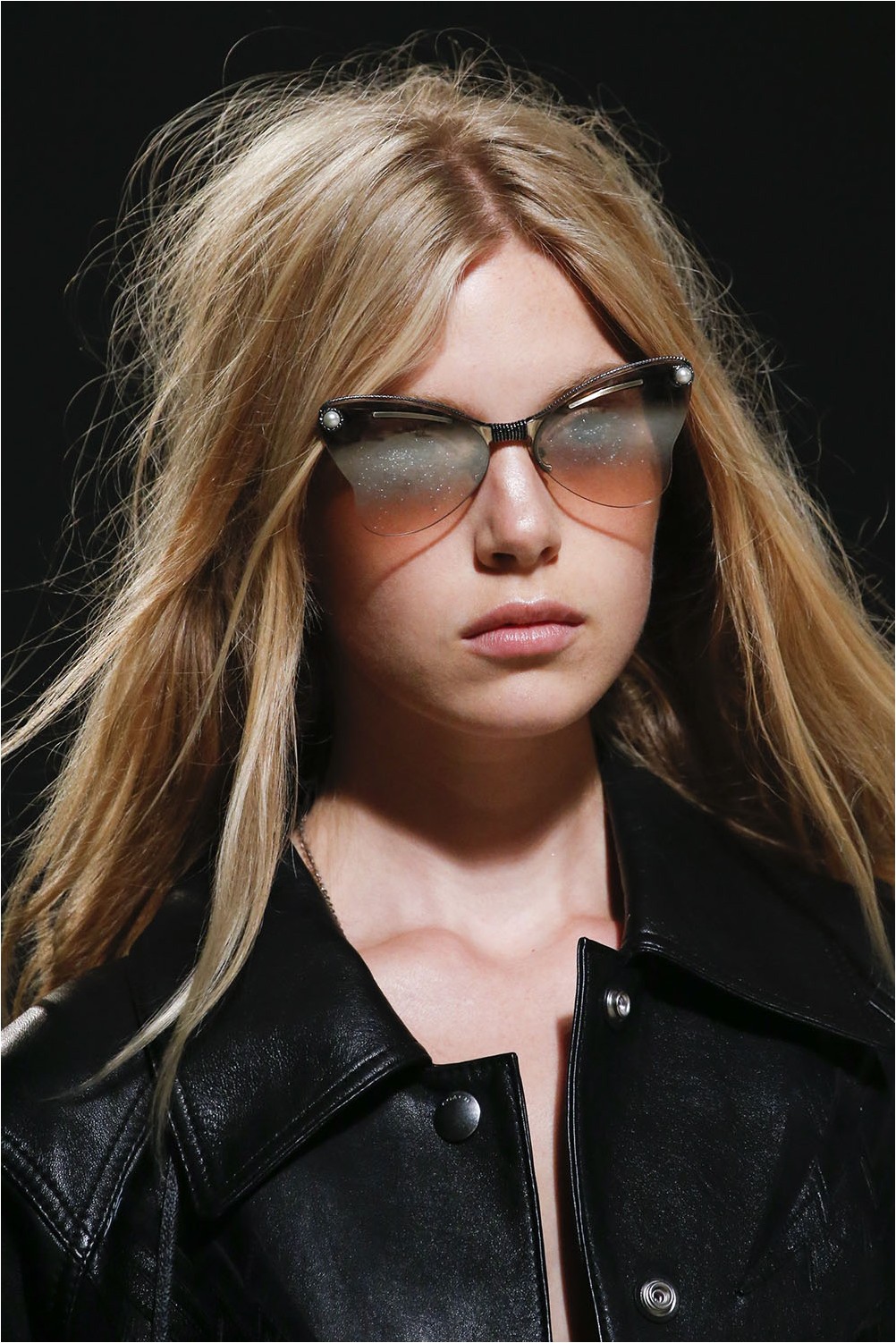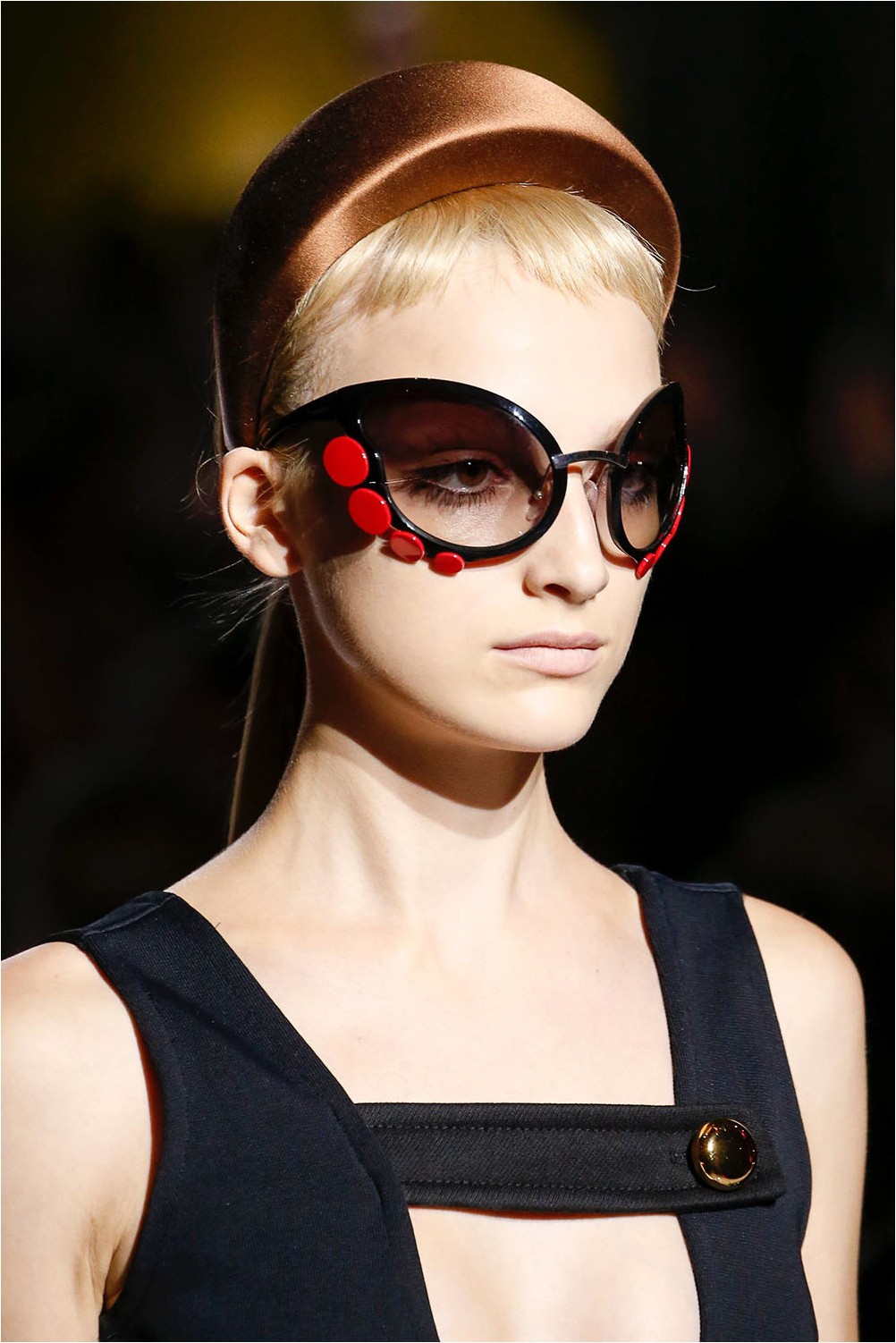 Gloves and Mittens
Another must-have accessory for spring 2019 is gloves or mitts. If you like rocker style, then choose leather models from Gucci, Marc Jacobs, Off-White. Kenzo gloves and Victorian mittens are more romantic. All of them are made of delicate guipure or airy lace and give the image incredible femininity..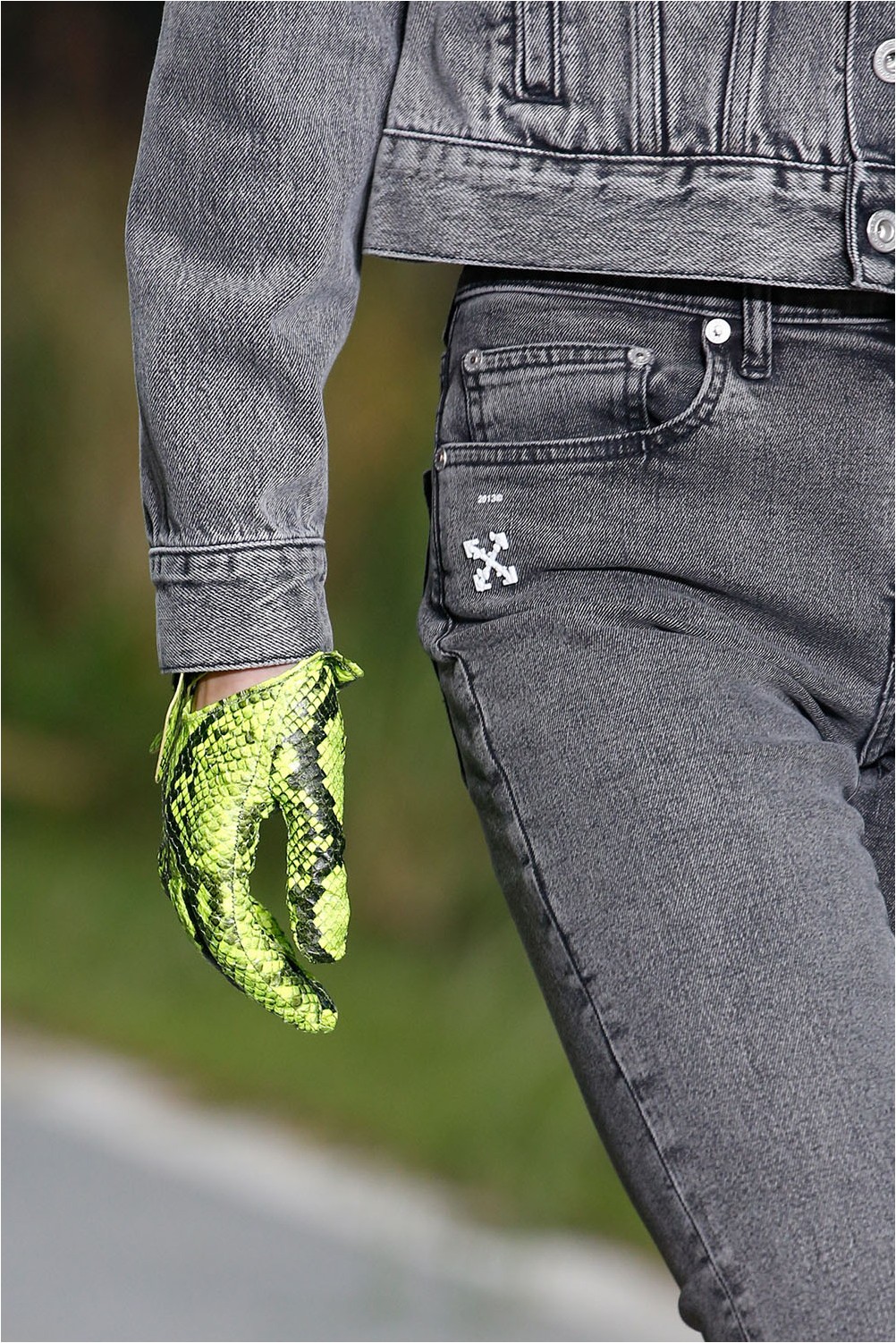 By the way, on top of such lace gloves, you can wear several massive metal bracelets. Such an unusual and stylish "mix" was demonstrated at Gucci fashion shows..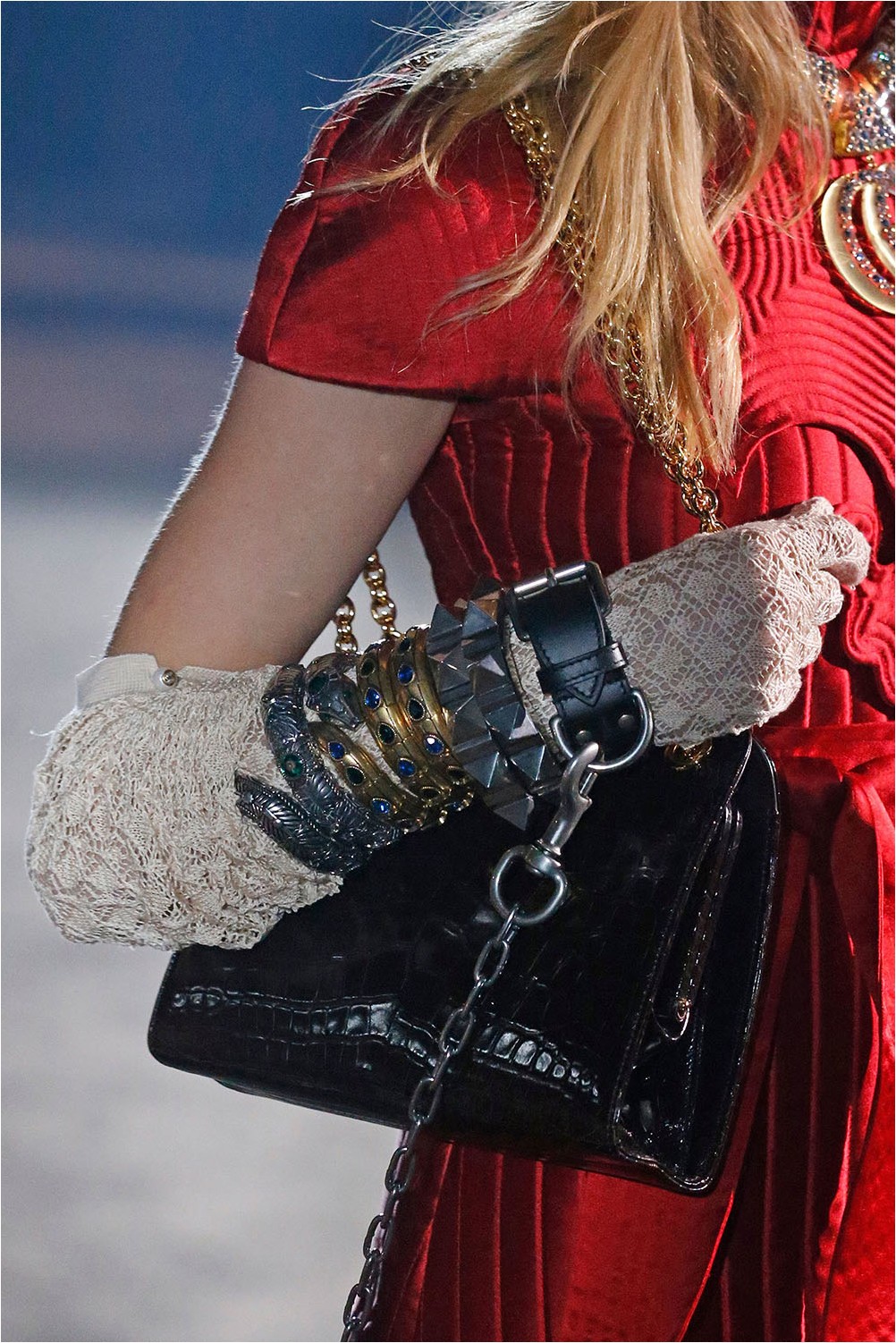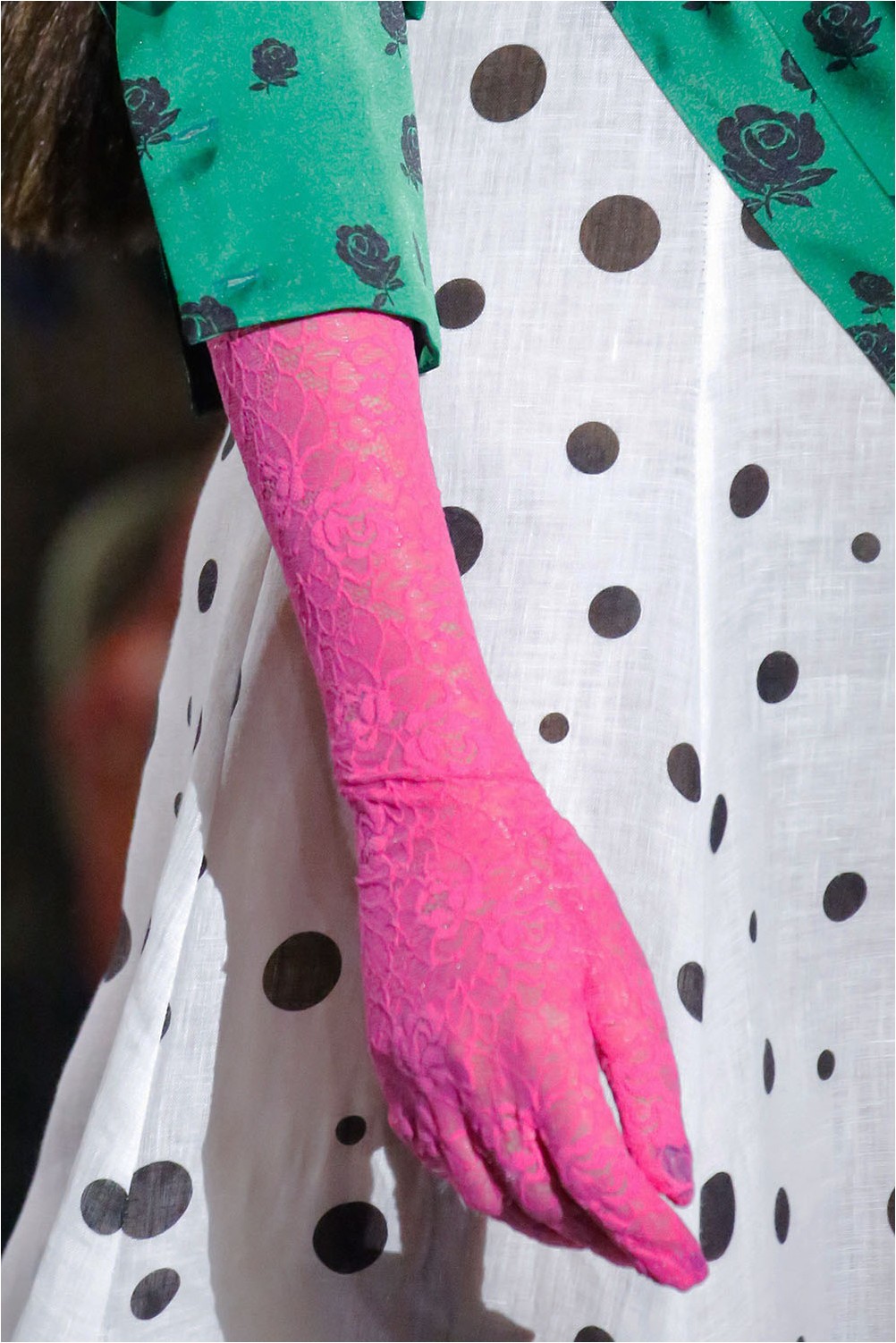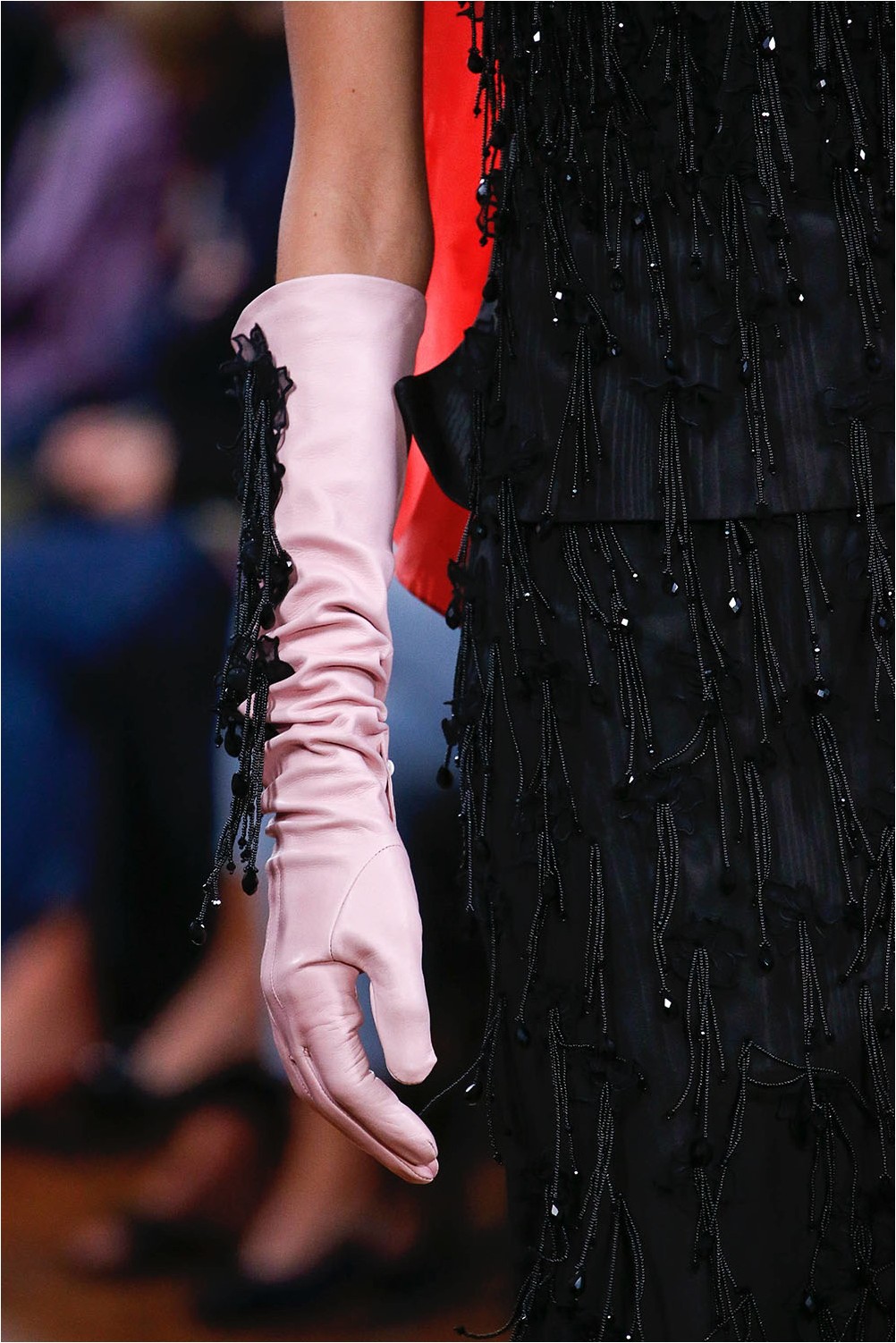 Shawls
A scarf has long ceased to be just a hat. Now he moved into the category of stylish accessories. What roles did he not try on in the spring-summer collections of 2019.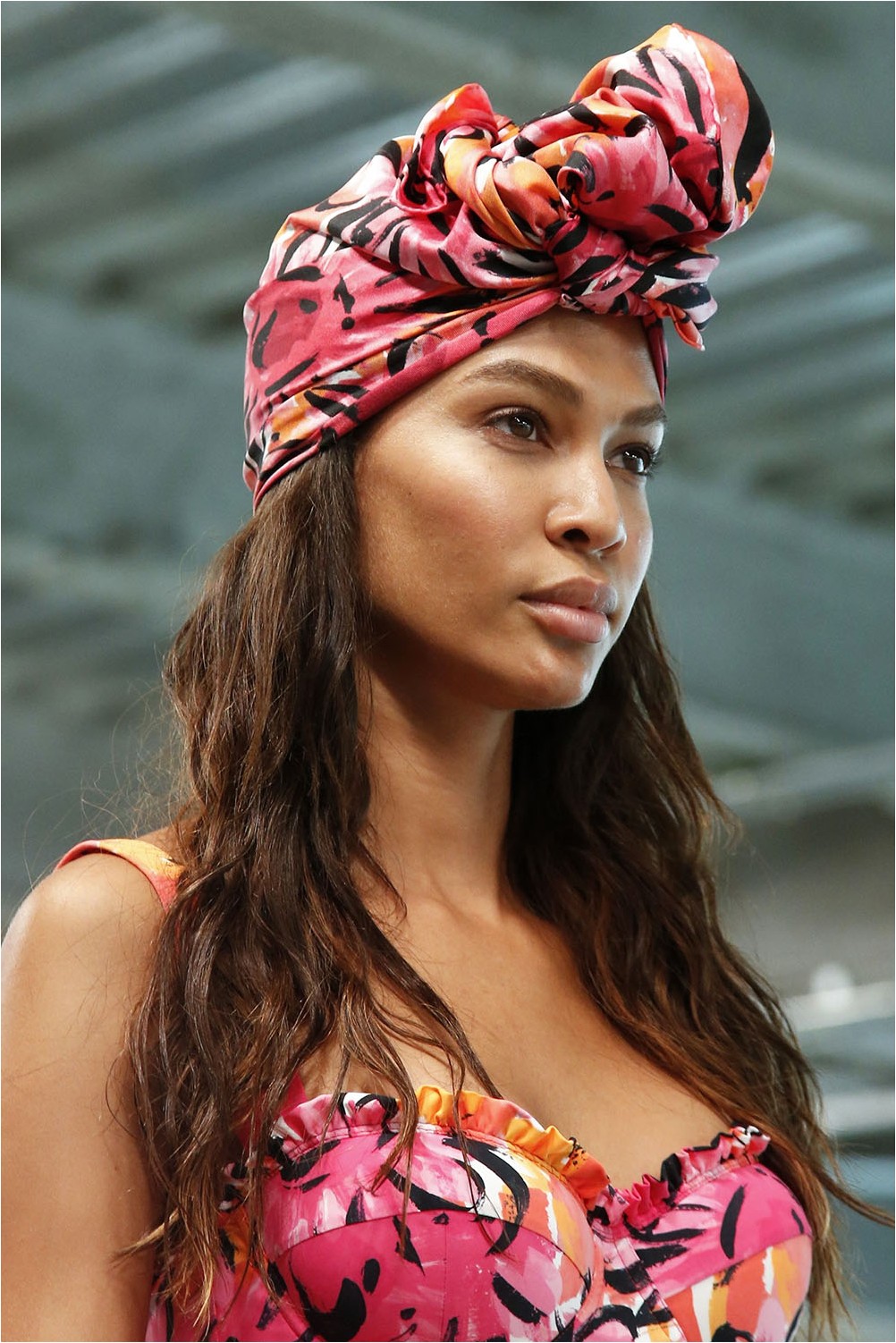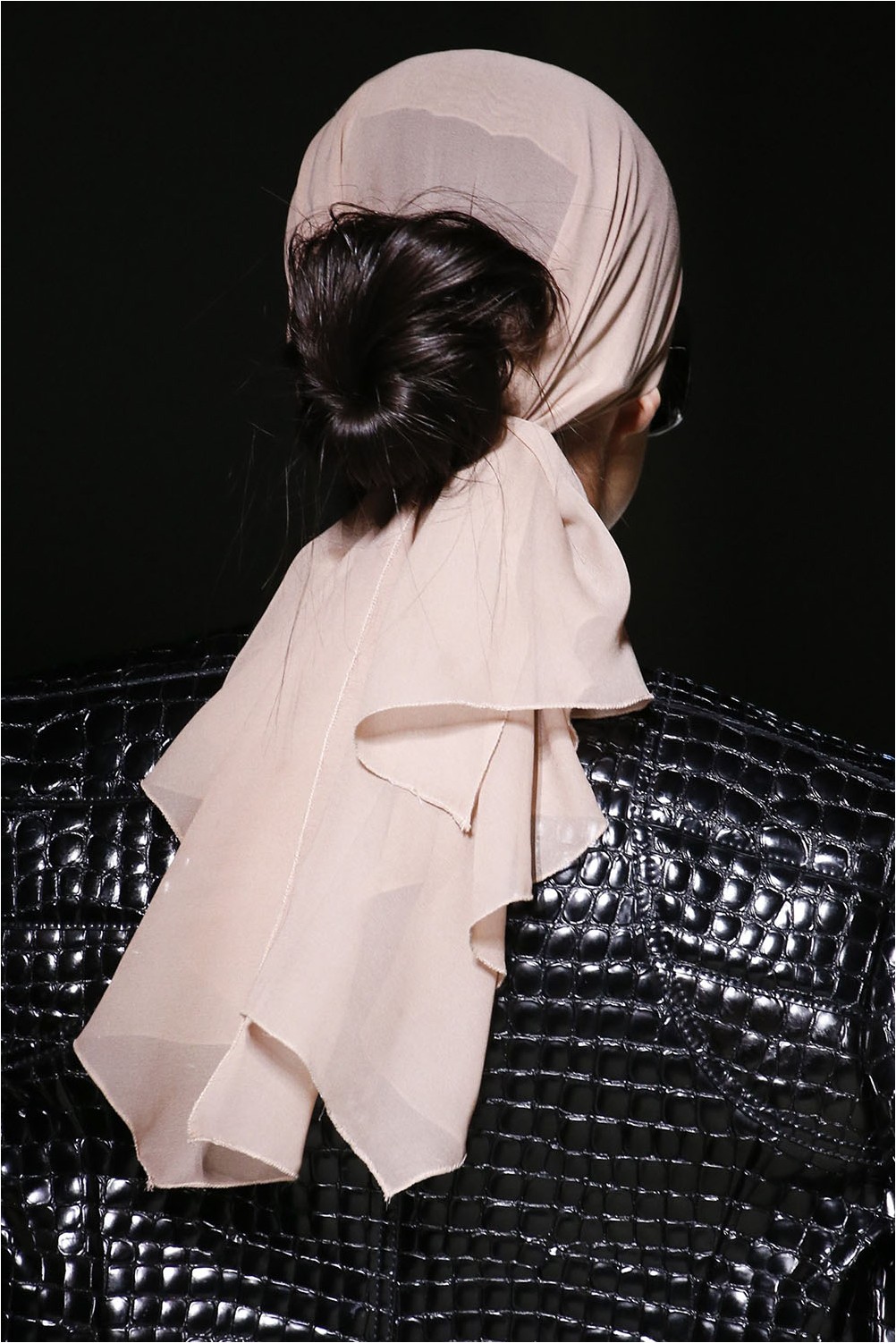 Have dolce & Gabbana he became a tie-hoop. In the skillful hands of Tod's fashion designers, the headscarf turned into a simple but elegant necklace. Tom Ford used shawls to create stylish hairstyles for the summer. And in the Burberry collection, the scarf was used as a belt. Even if you just tie a scarf in an unusual way, you will 100% fall into the trend.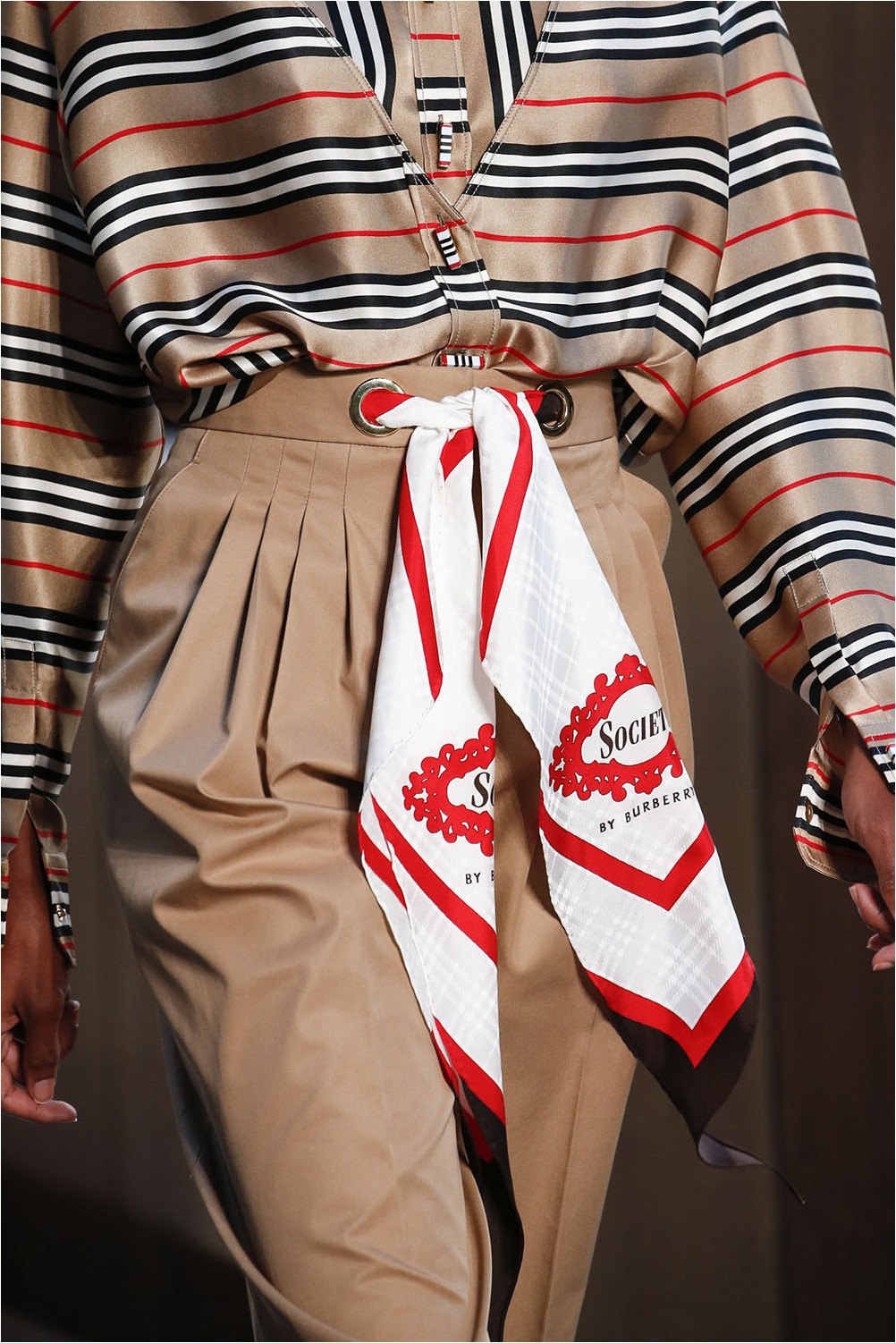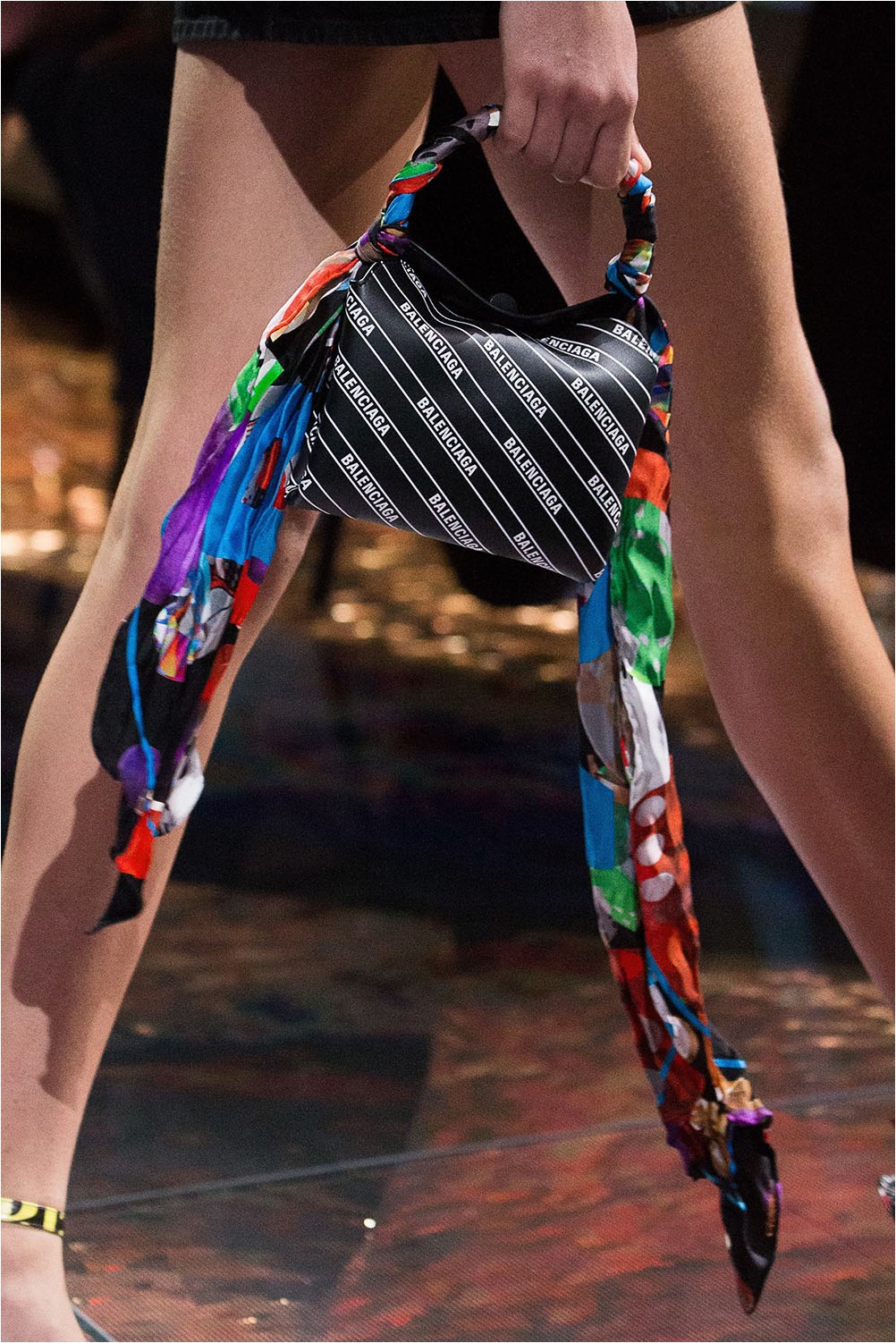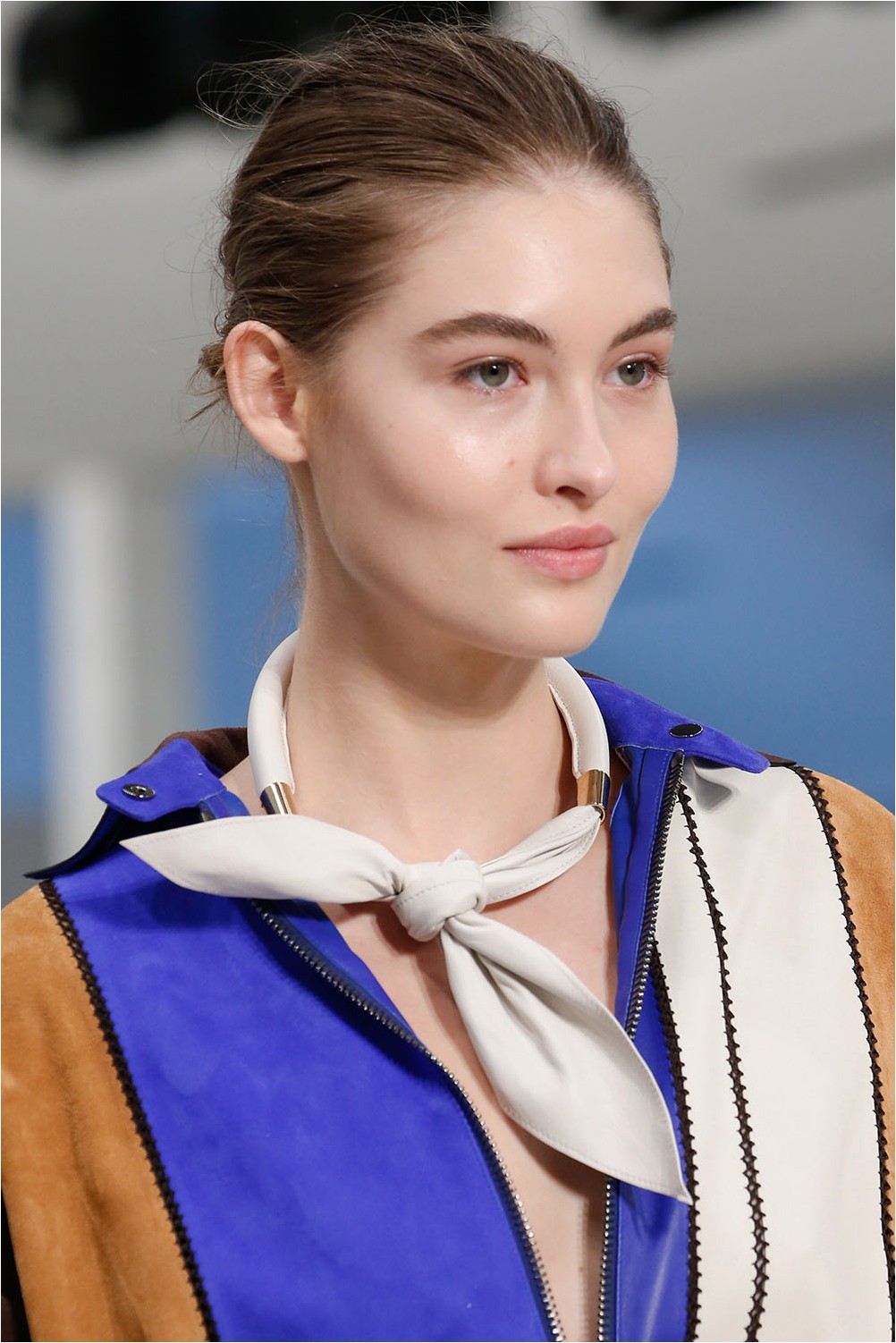 Gems and semiprecious stones
Jade, lapis lazuli, charoite, jasper and other semiprecious stones became the basis for many trendy jewelry. Multi-colored combinations of stones were included in multilayer compositions of bracelets, chains and earrings. But gems should look unprocessed, be as natural as possible. Set the fashion trend of Giambattista Valli. In his version, jewelry looks colorful and natural..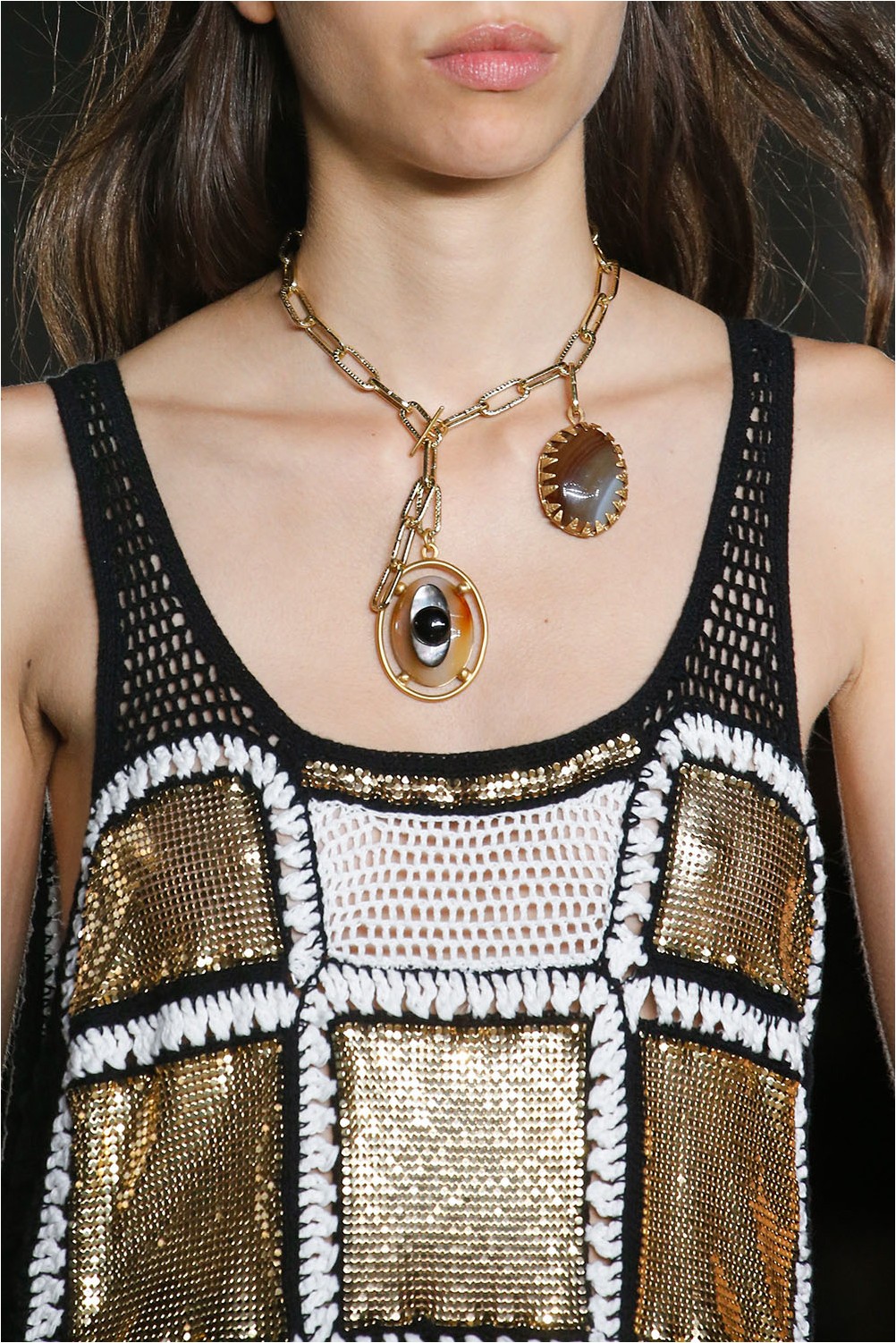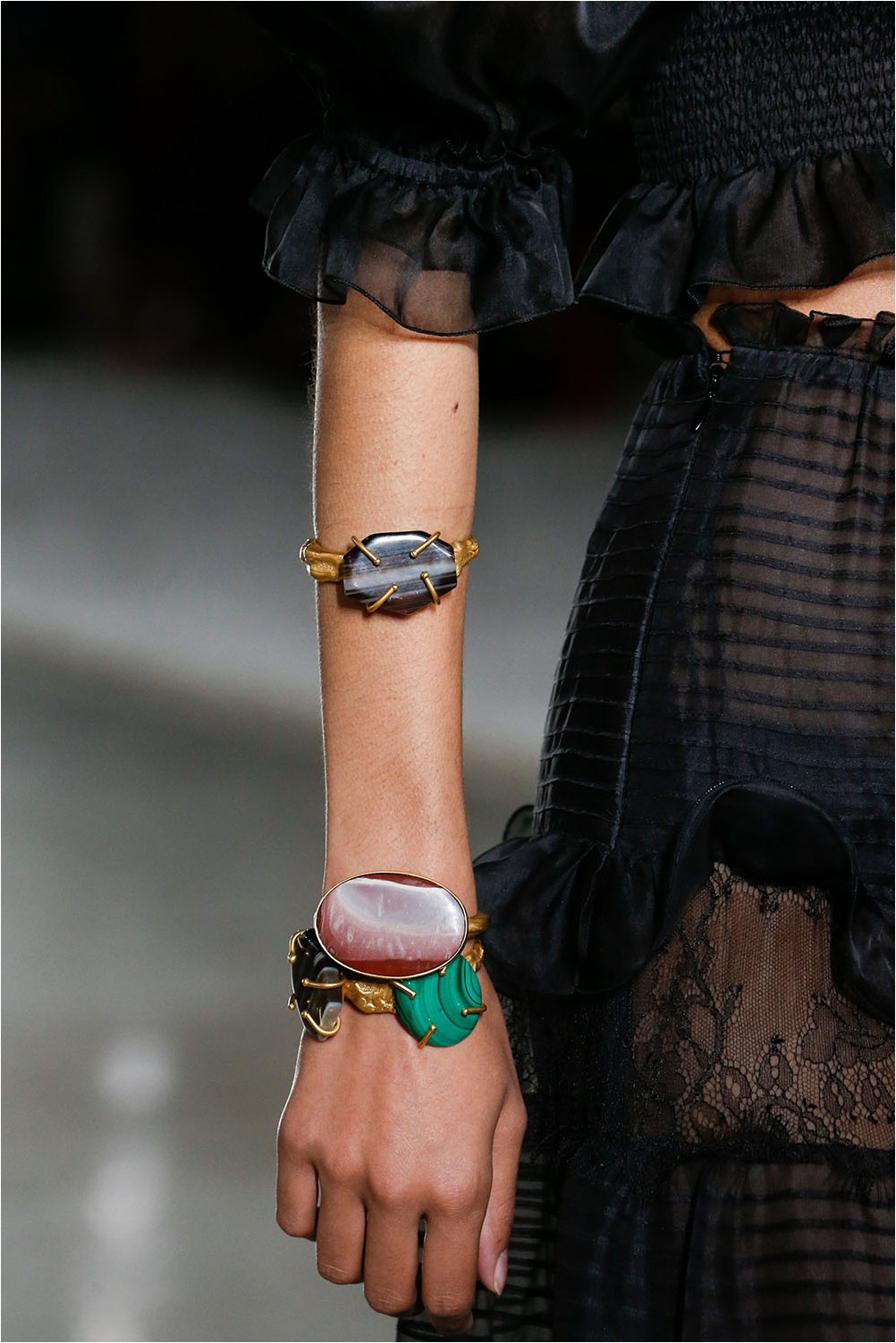 Earrings and half rings
Boho style reigns in accessories fashion. One of its main attributes is ring earrings. The first requirement is that they must be oversize. The larger the rings, the more likely they are to get into the trend. Second – circles should not be commonplace. Pendants made of shells, coins, feathers – an obligatory application to them.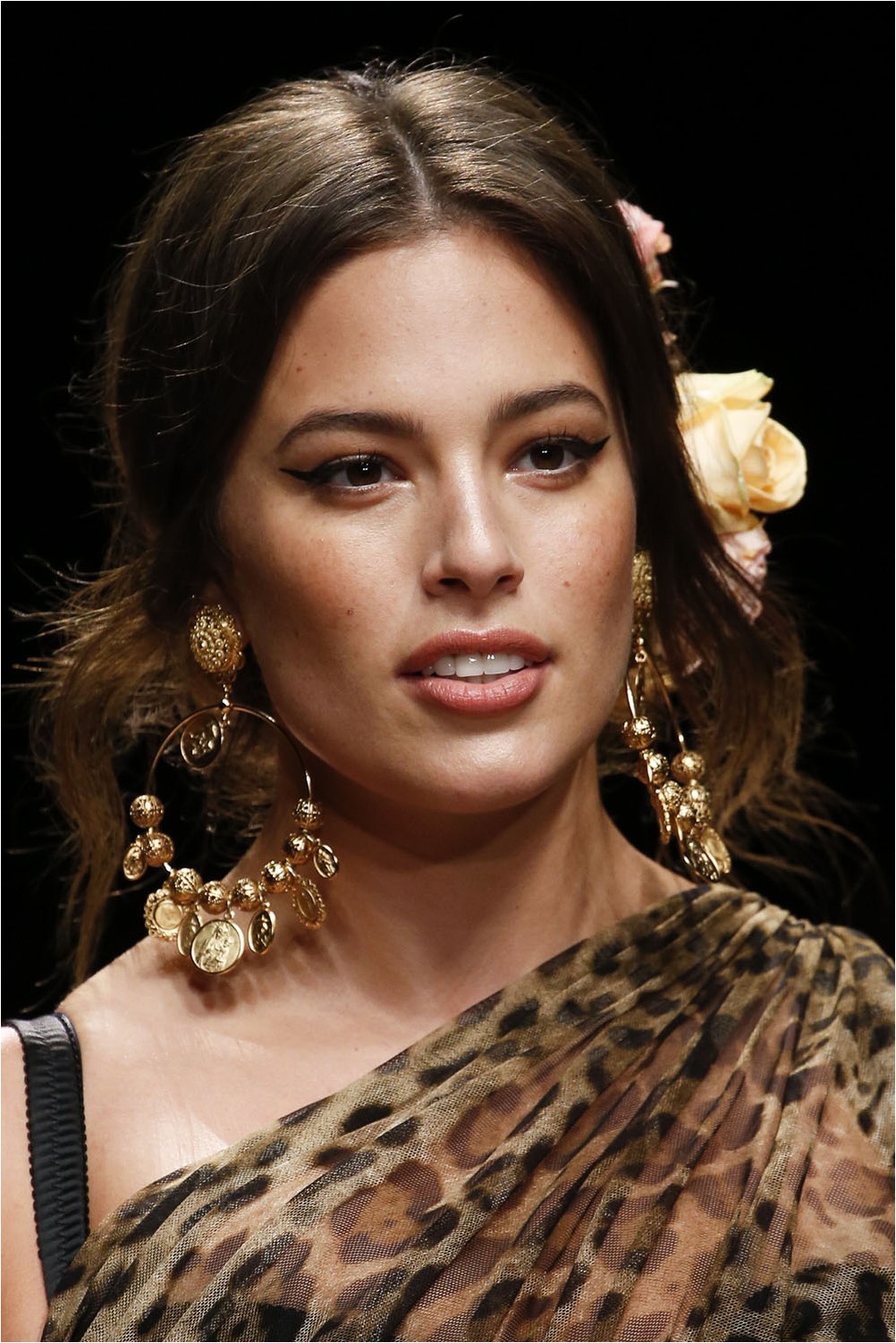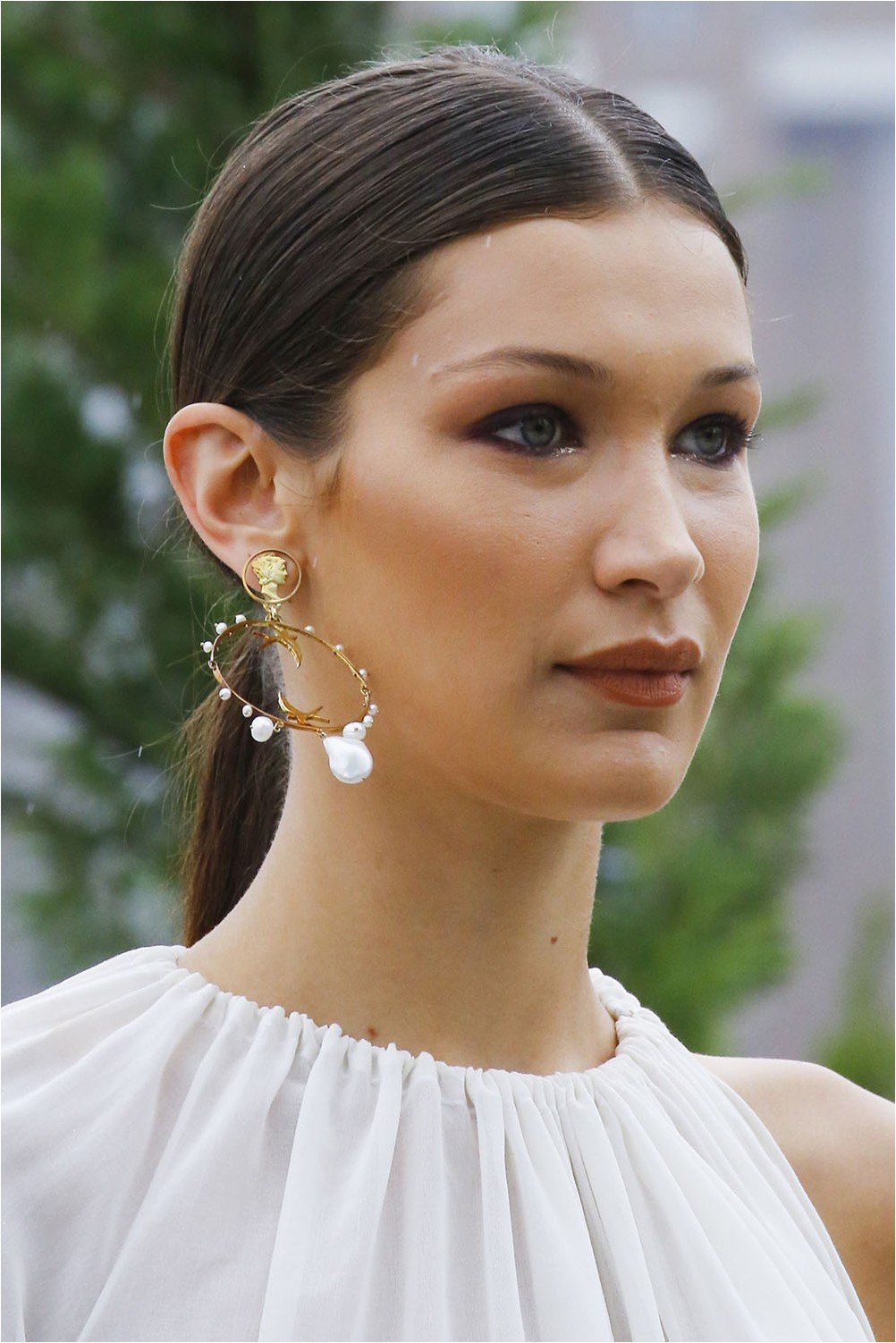 If you want to be more concise, then pay attention to Valentino earrings. In their performance, the rings do not close the circle. A simple solution, but it looks original and stylish.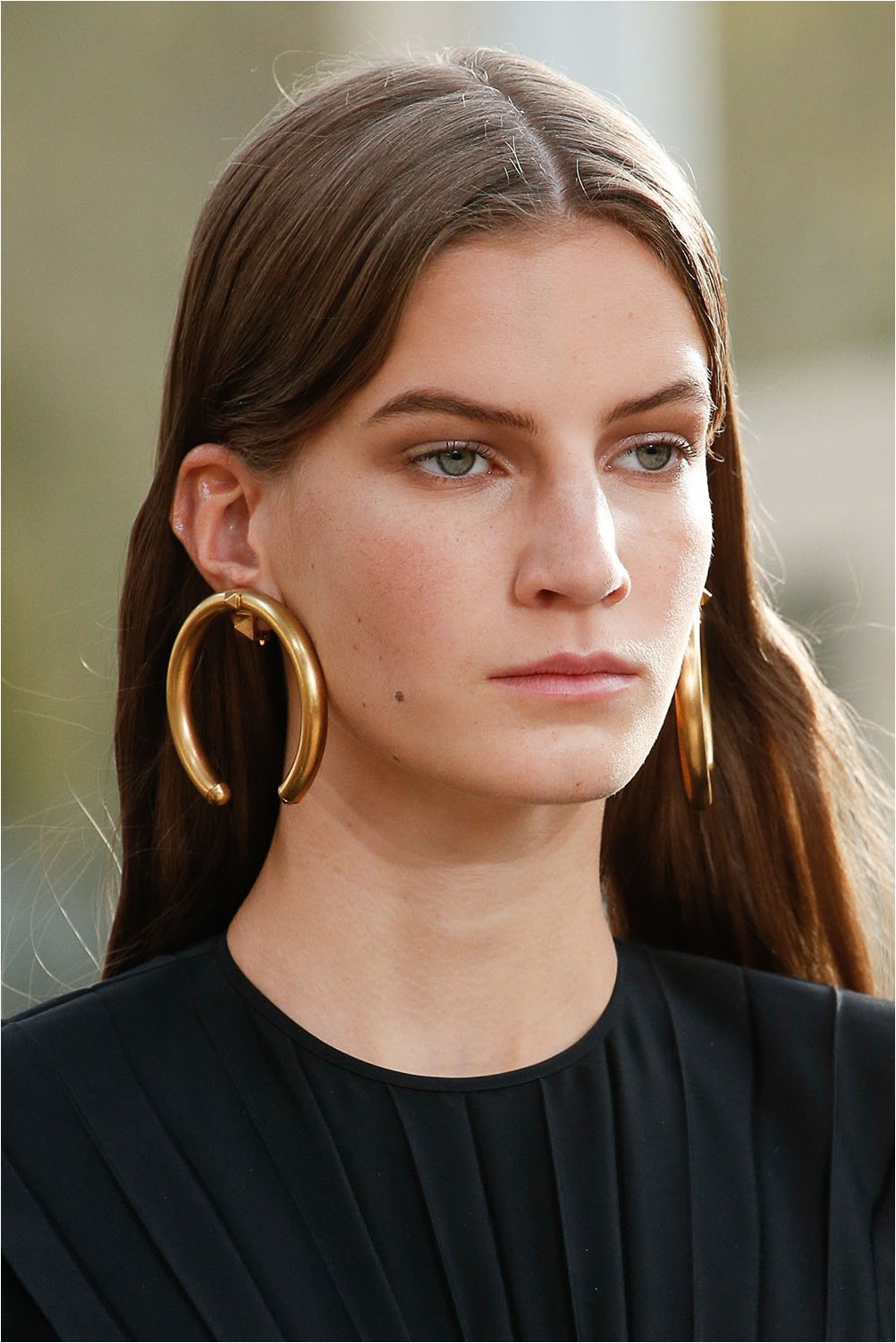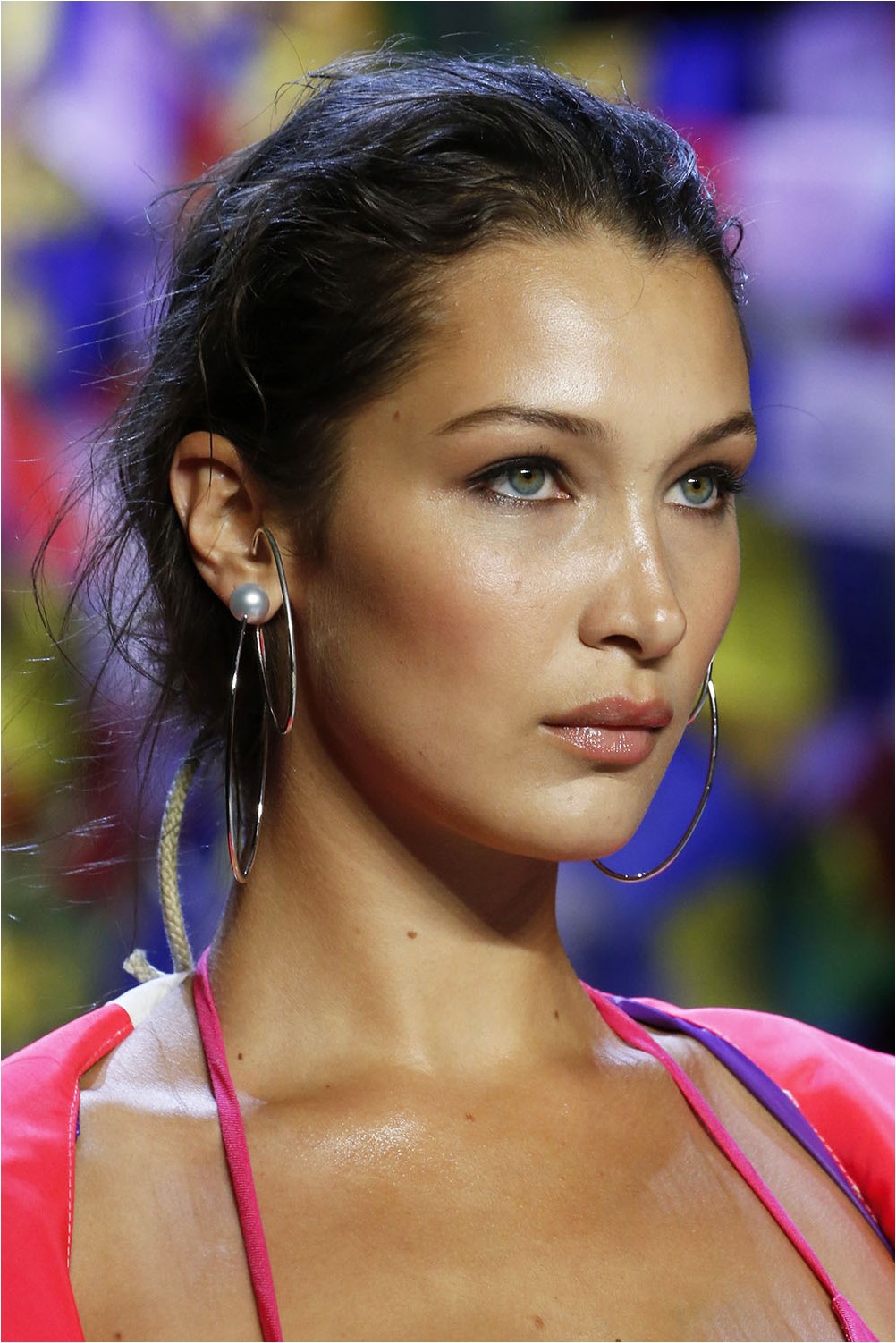 Chokers
Not much time has passed since the designers forgot about necklaces that fit tightly around their necks. Chokers are again returning to fashion catwalks, albeit not in the same quantity as before. Their main feature is no catchy decor and intricate configurations. Now they look the most feminine and elegant.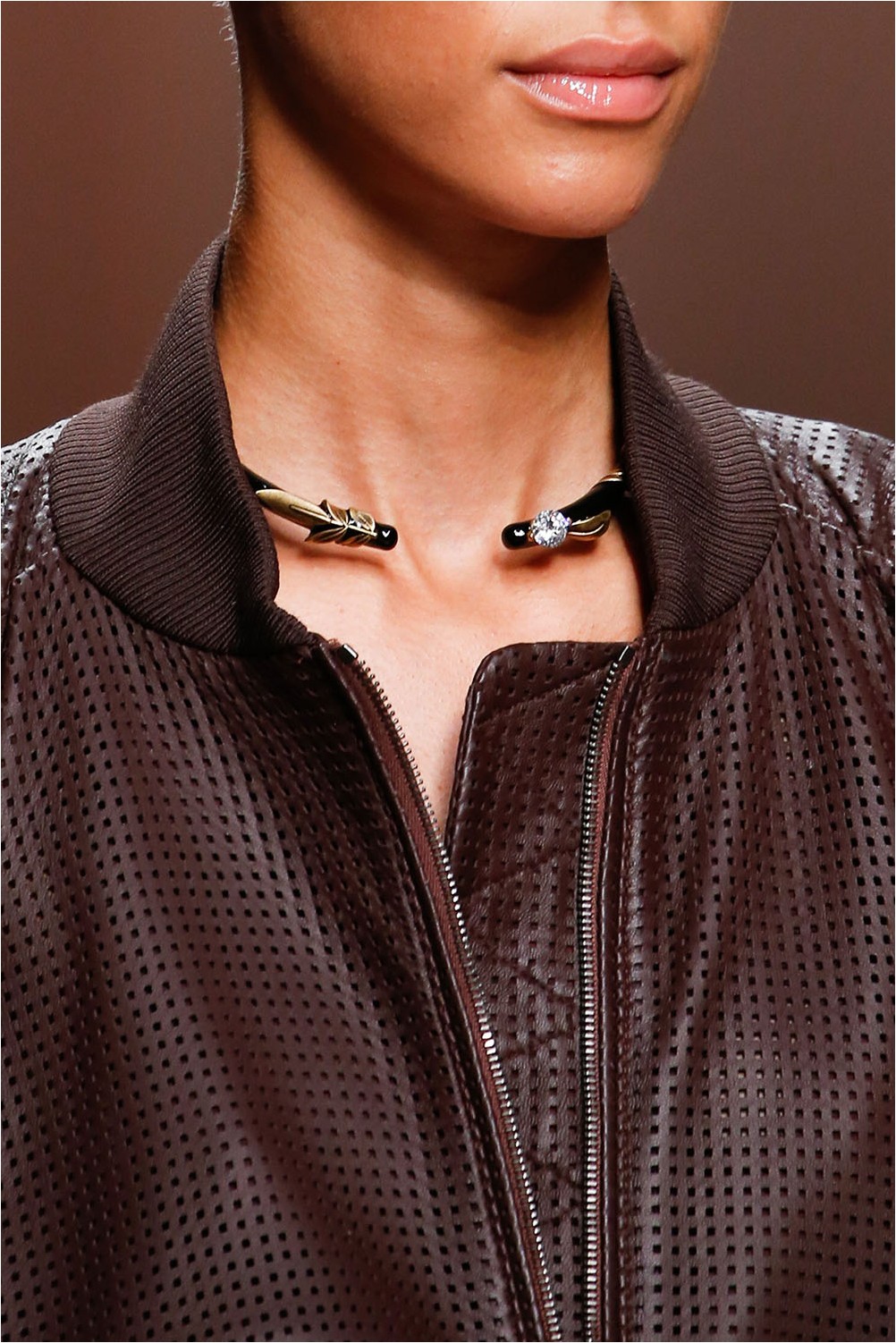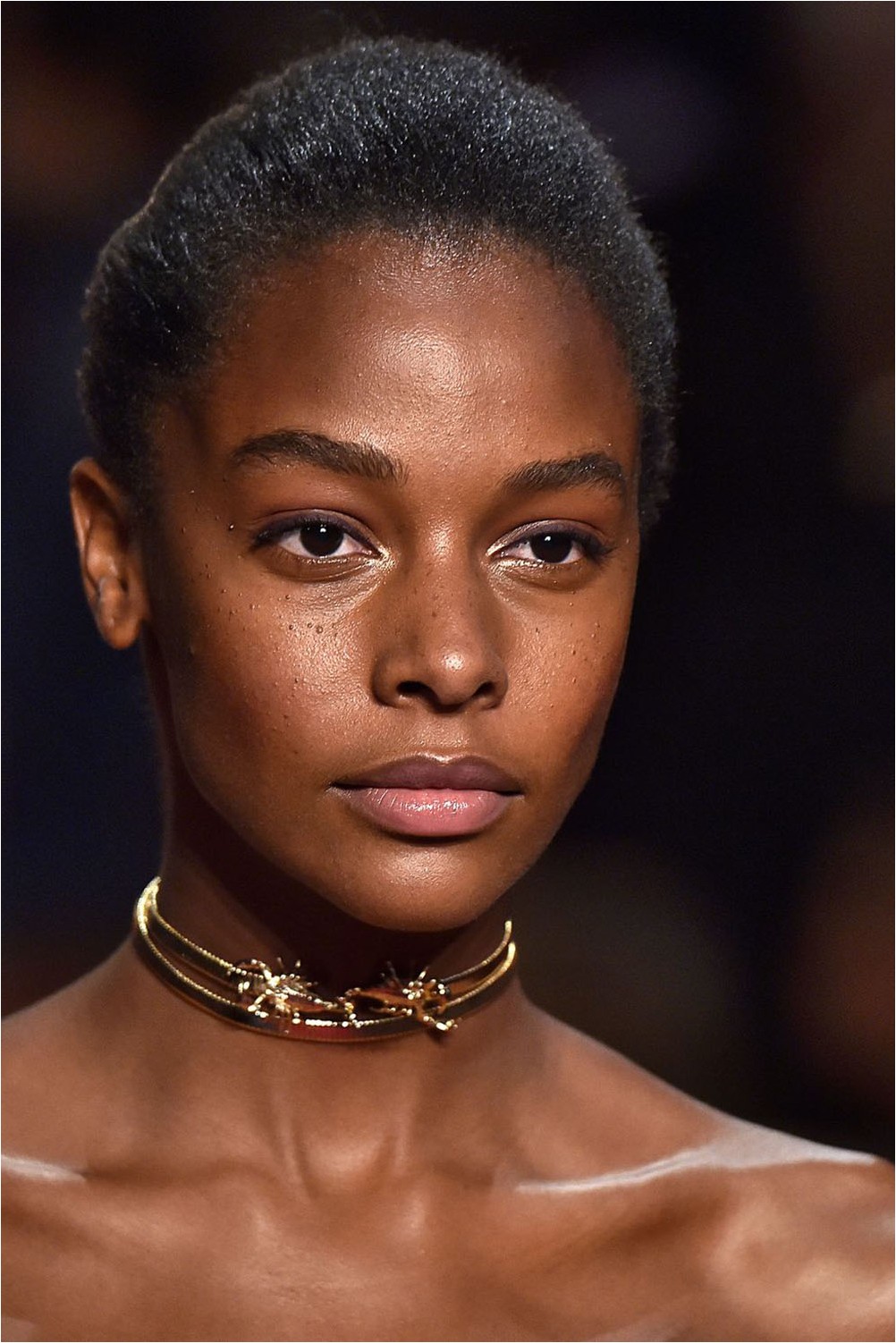 Fashion accessories for the spring-summer 2019 season are a great choice, an abundance of colors, textures and bold solutions. Despite such magnificent and colorful magnificence of jewelry, belts, scarves, hair bands, jewelry looks elegant and elegant. After all, the designers focused on femininity. And shocking and rough lines were almost completely excluded from trending images.
♥ Good luck! ♥
Similar articles
---