Content
---
---
New prints have also appeared – shawl, degraded effect, Tie dye and Victorian-style images. A special place at the shows was occupied by water and beach themes. Designers have spent a lot of effort to create a marine mood in their collections..
Print "Polka dot"
Whatever you wear: a skirt, dress or pants, you will always remain feminine and elegant. The trend is the "Polka dot" print of all stripes: large, small, bright, color or barely noticeable, in nude shades. But the classic black and white version was and remains the most sought after.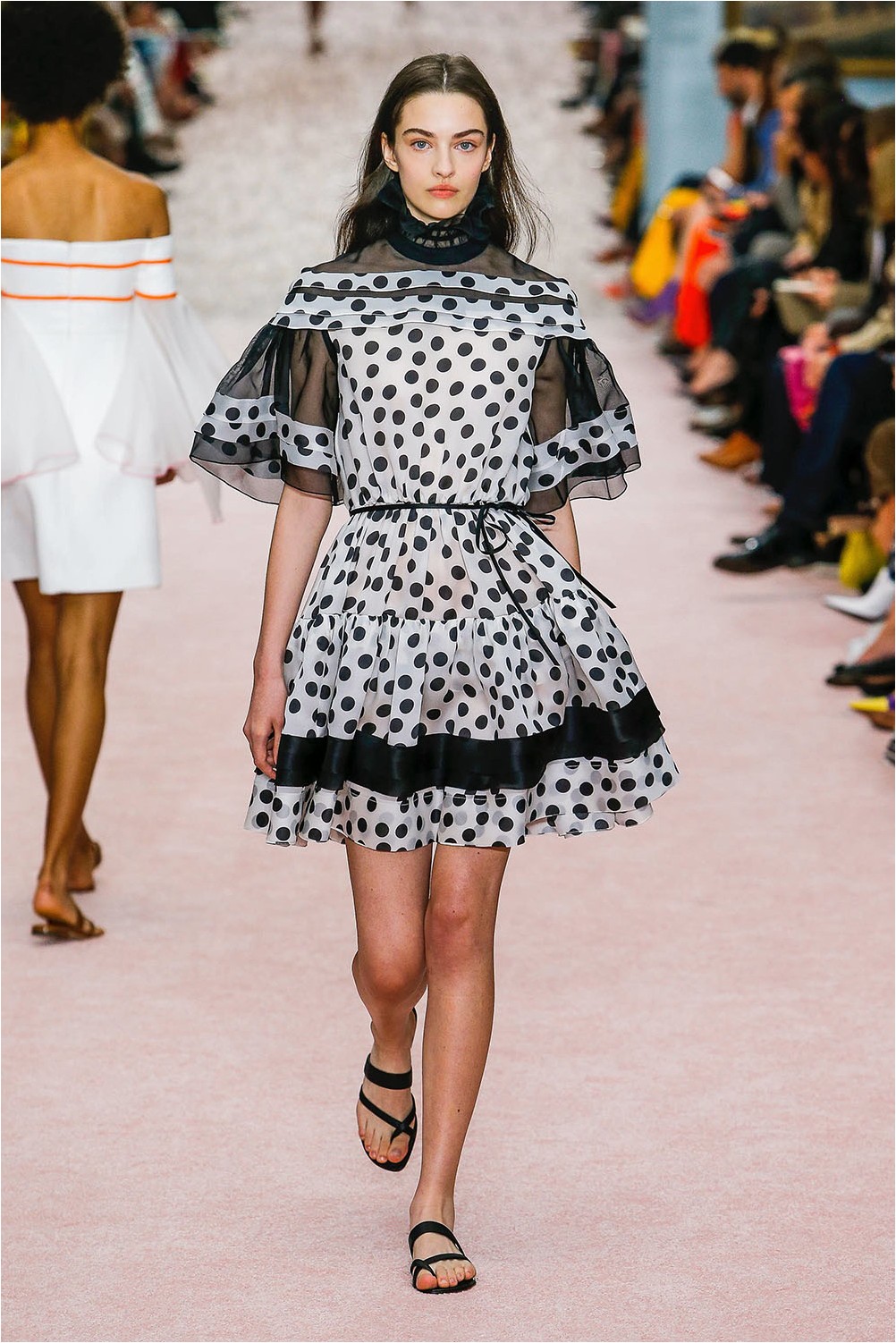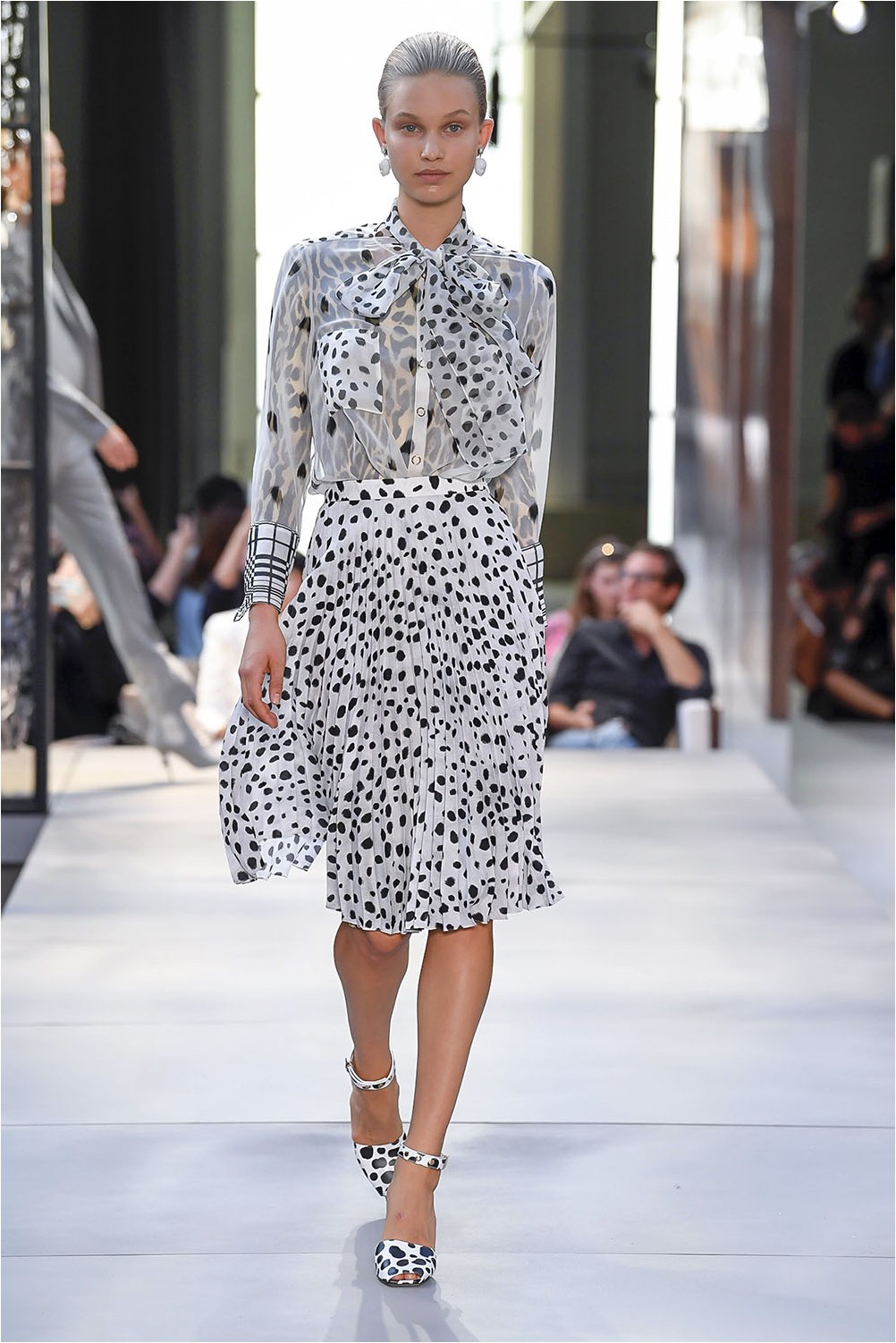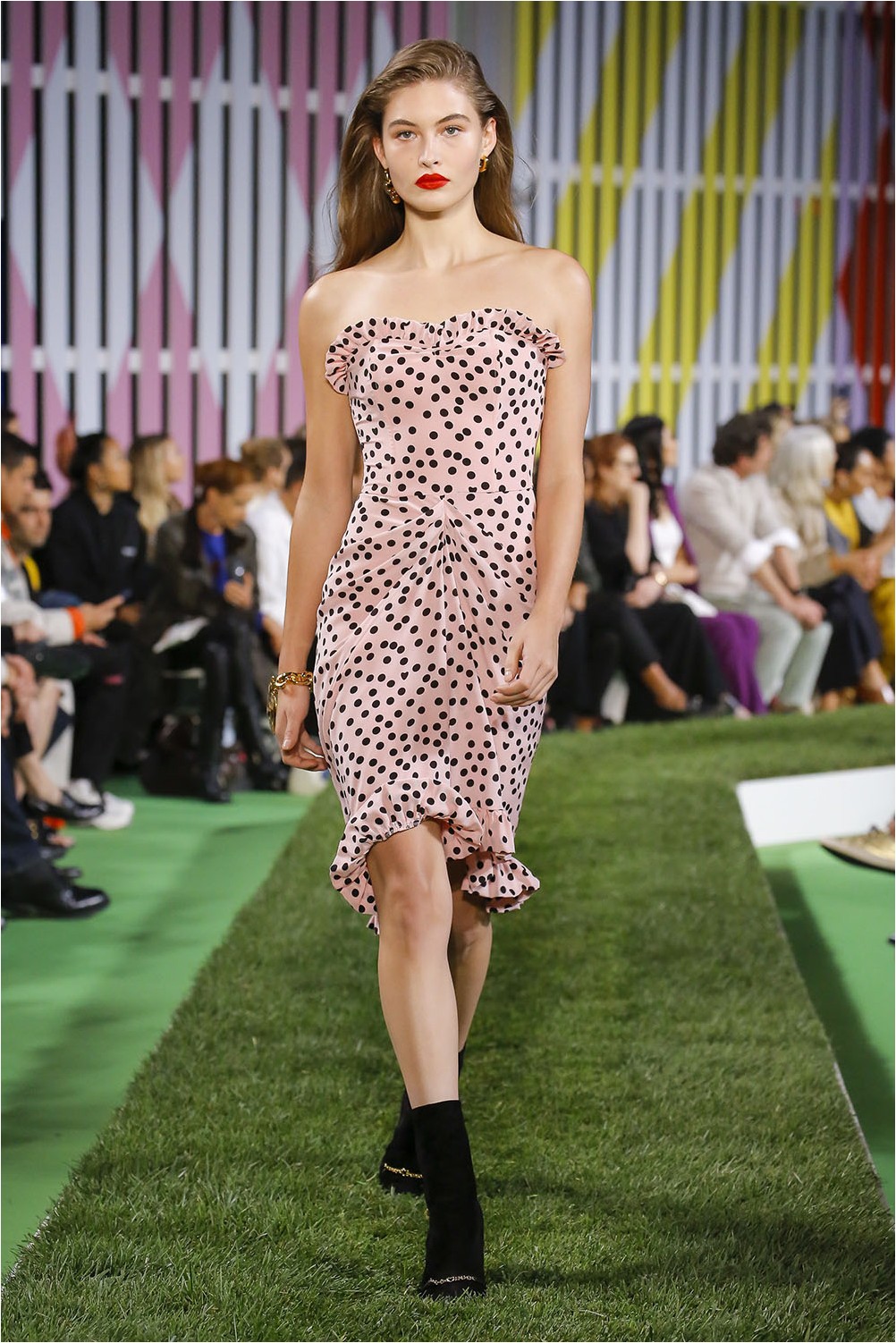 Designers presented us with many different ideas for creating a stylish image. For example, fashion houses Kenzo, Max Mara and Burberry suggest using print as the basis for a mono image. And Michael Kors felt that a retro skirt with a Polka dot print could well become part of a casual casual style..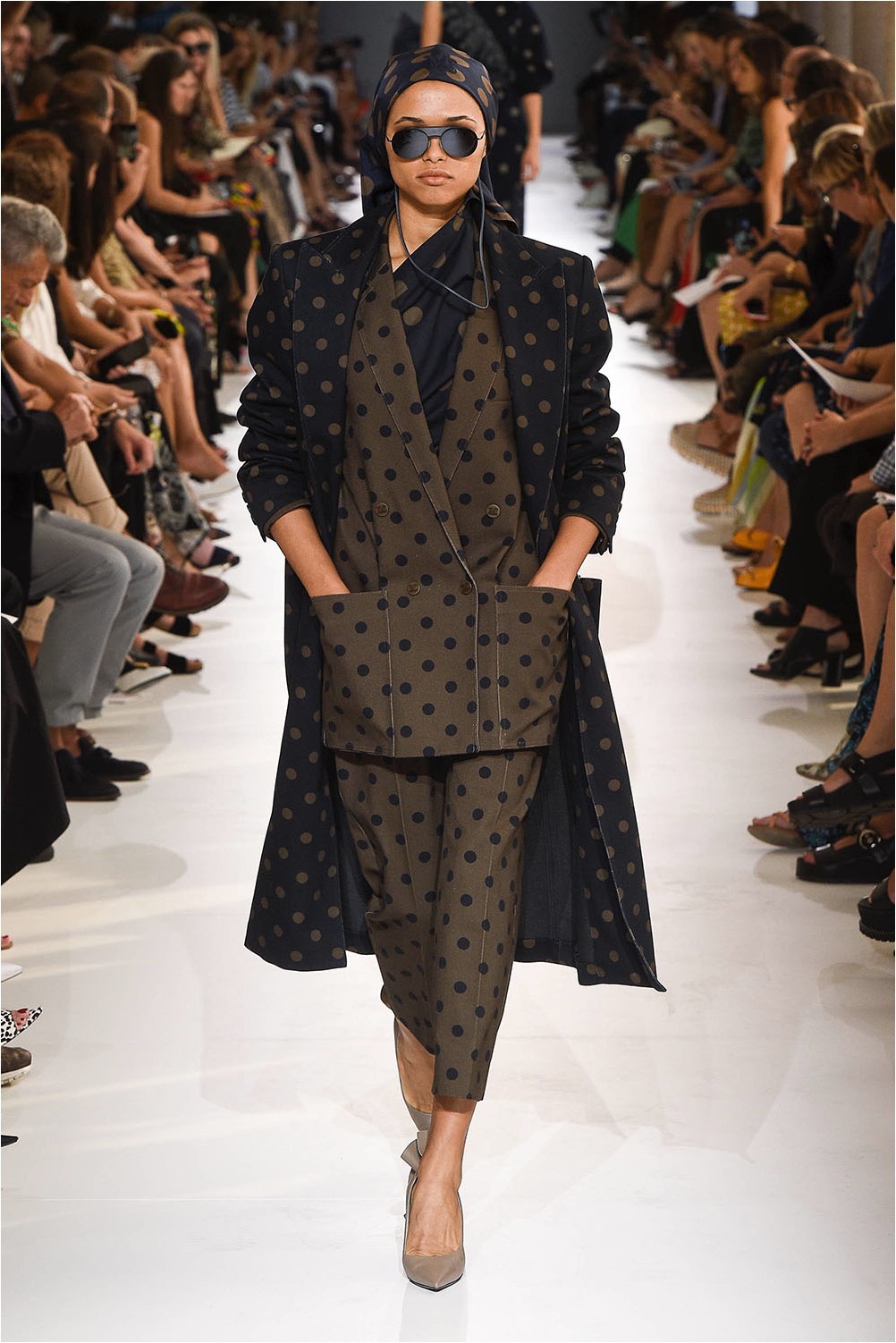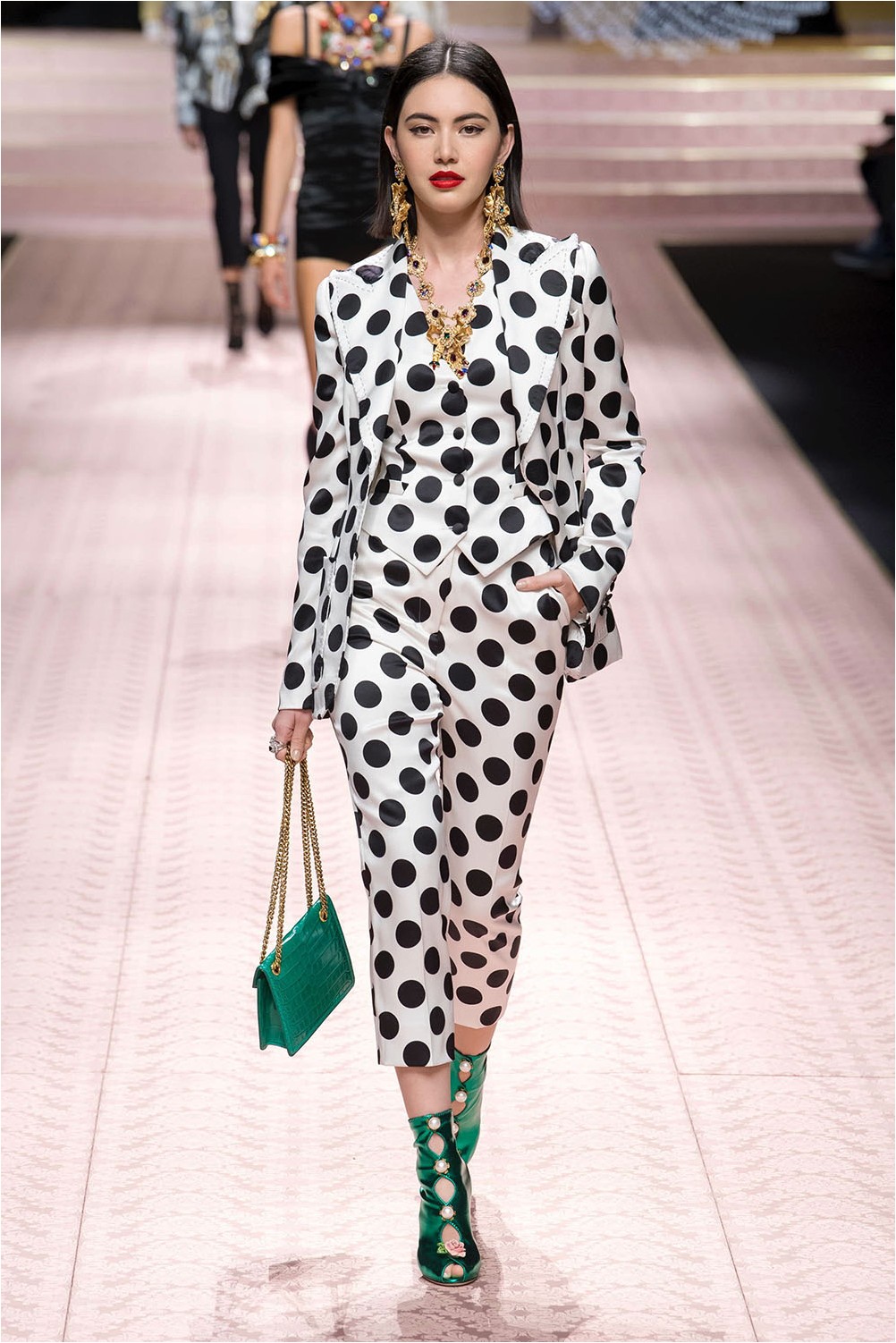 Flowers
In a feminine spring-summer fashion 2019, a whole sea of ​​flowers has appeared. Daisies, roses and buttercups "bloomed" wildly on the fabrics of trend collections. At the same time, there was practically no place for the once fashionable miller. Models with huge, catchy colors took the catwalk.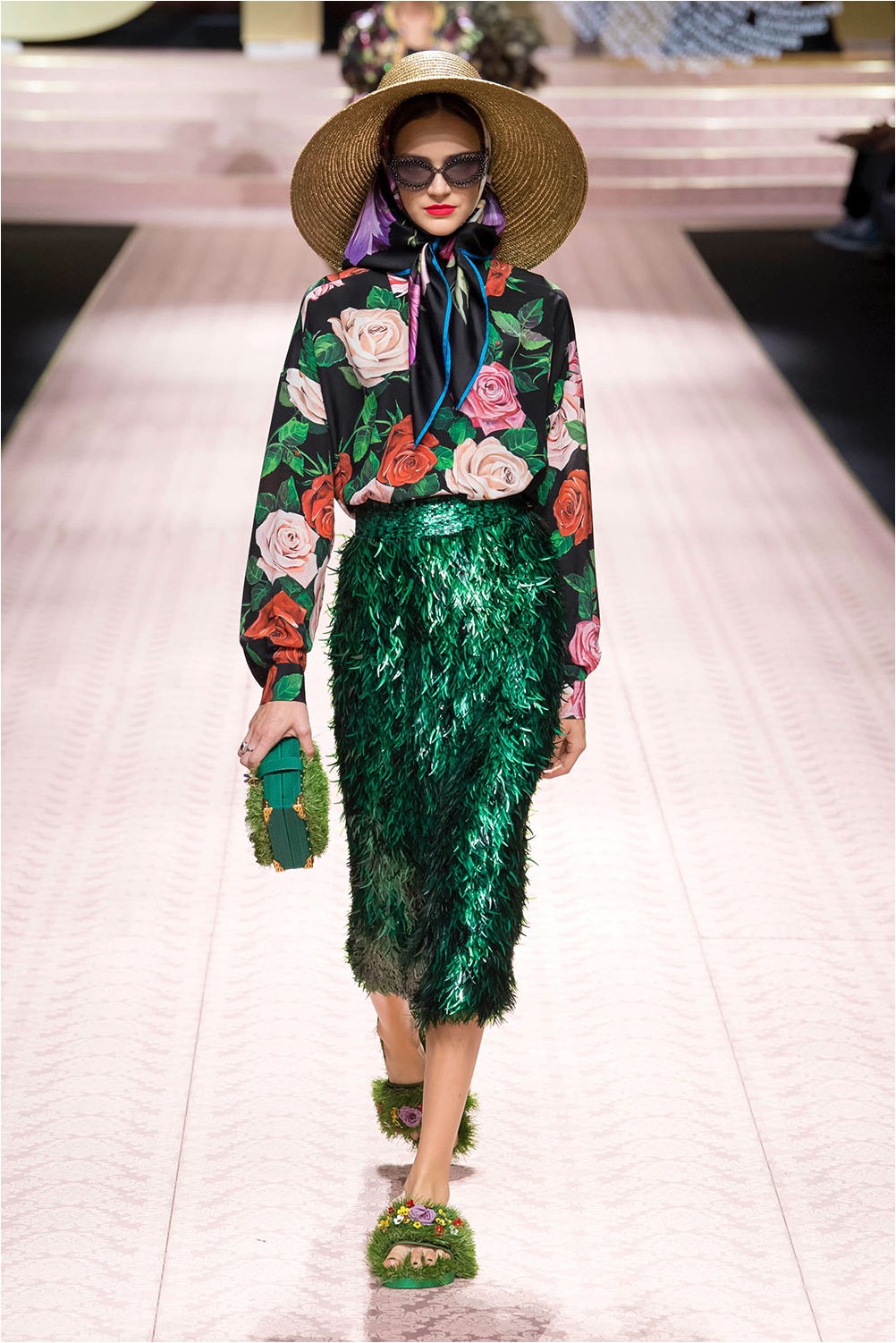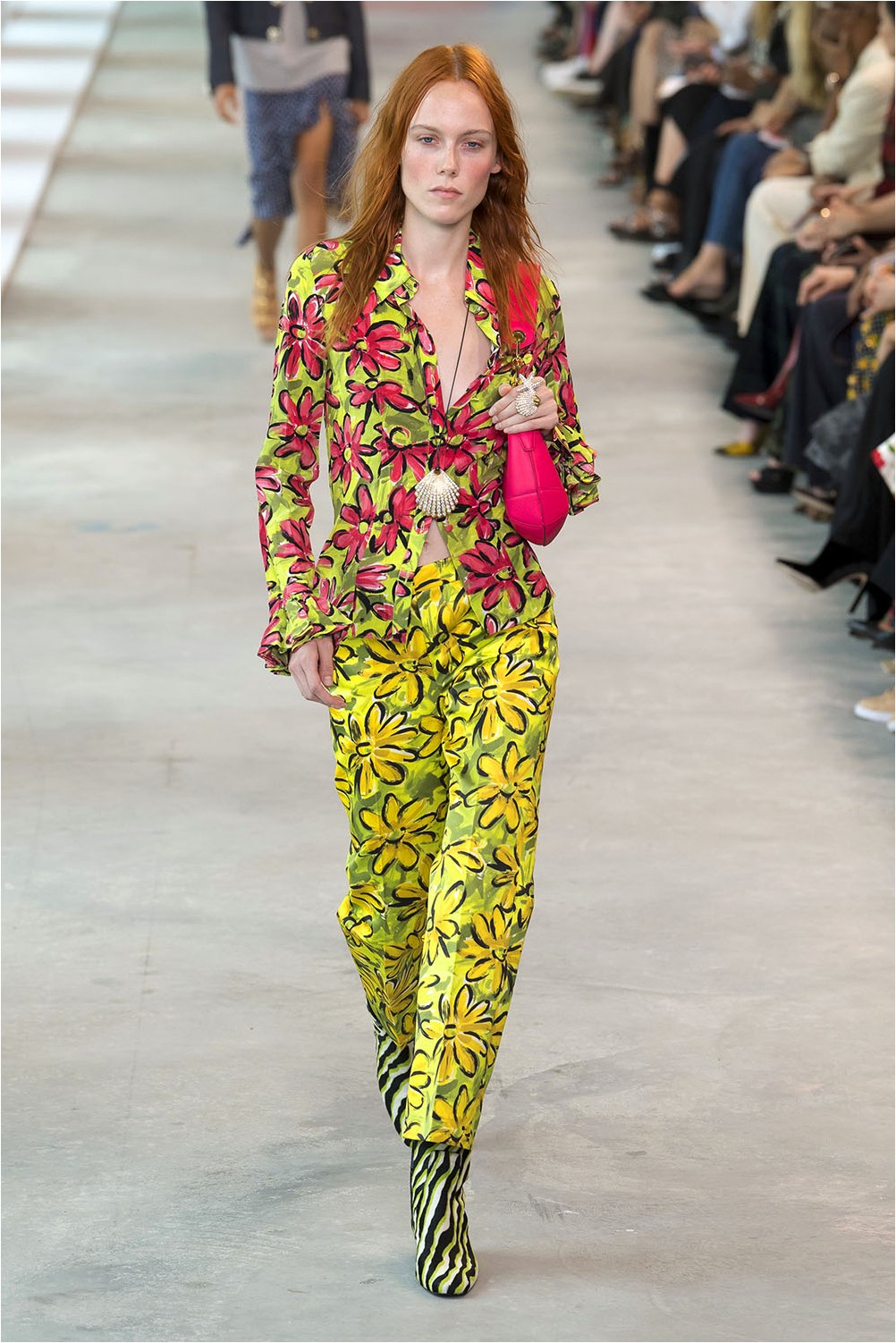 The fashionable image of this spring is a trouser set in the style of total look with a large floral print. This is exactly what the most trendy image looks like according to the great experts of such fashion houses as Dolce & Gabbana, Michael Kors and MSGM.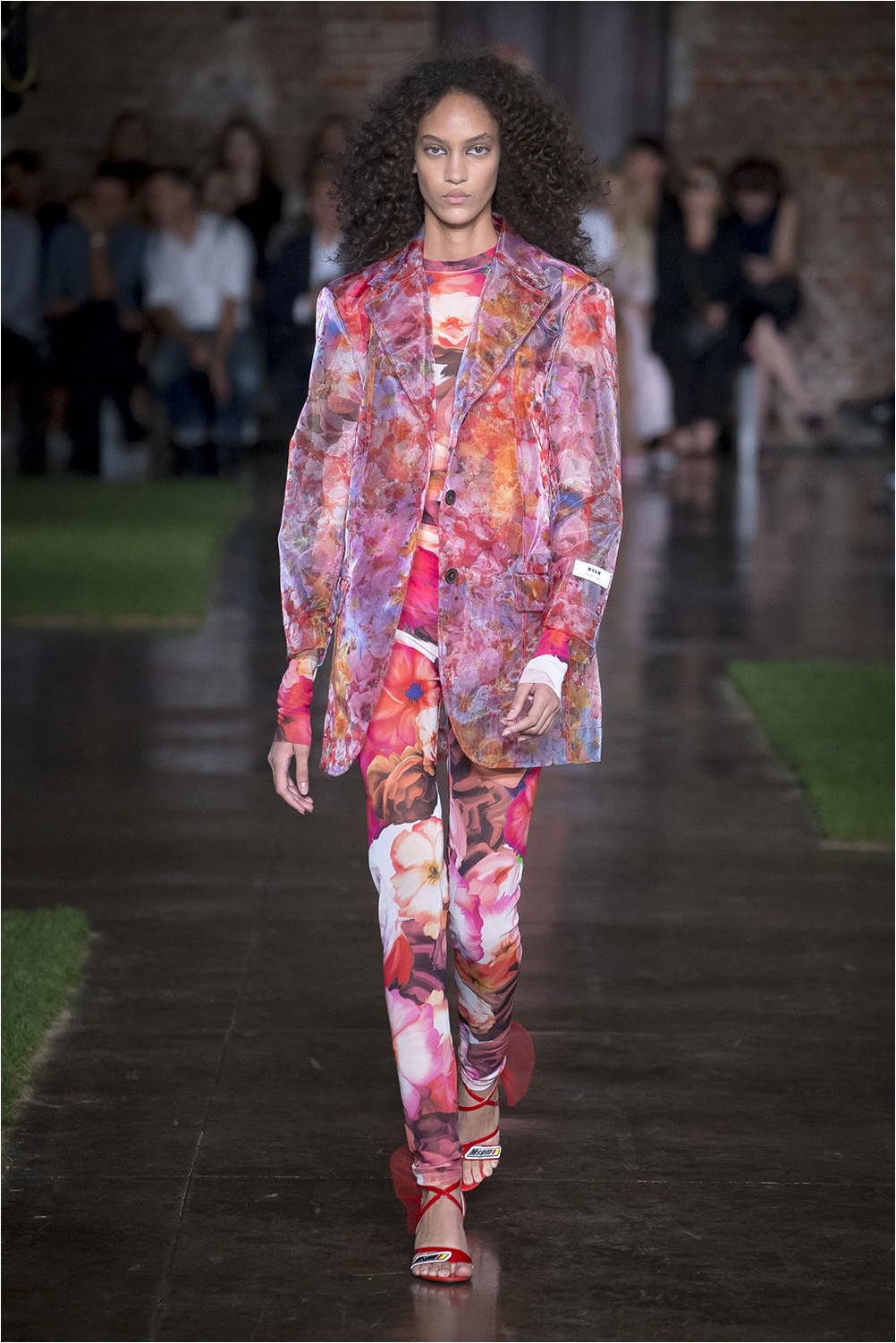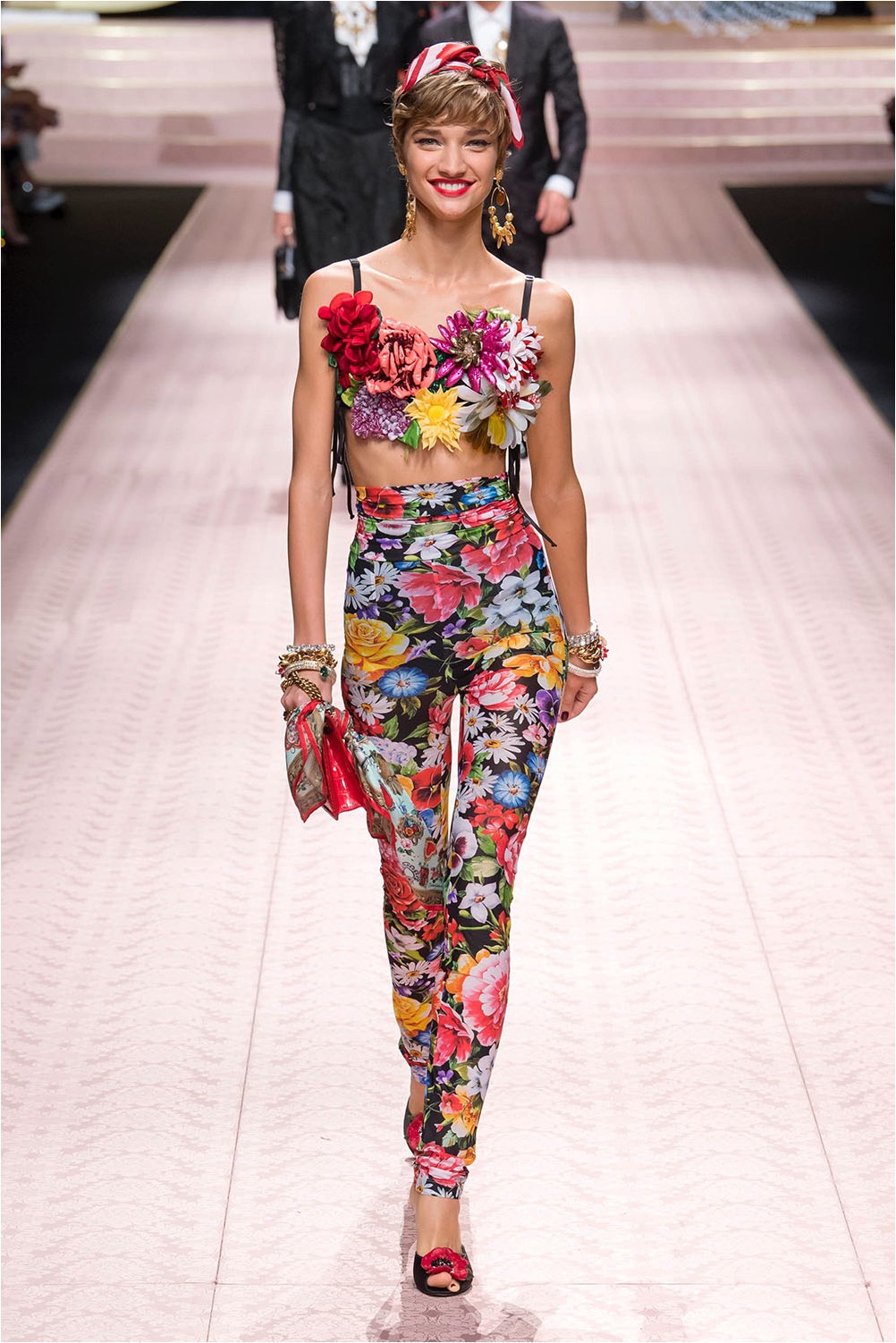 In the trend are flowers, not only printed on the canvas. A special place among the variegated abundance was occupied by embroidered voluminous flowers. They met in collections from Andrew Gn and Badgley Mischka. A special charm is given by bouquets on a dark chiffon. This retro theme was chosen for their models by Karl Lagerfeld, Paul & Joe and Elie Saab.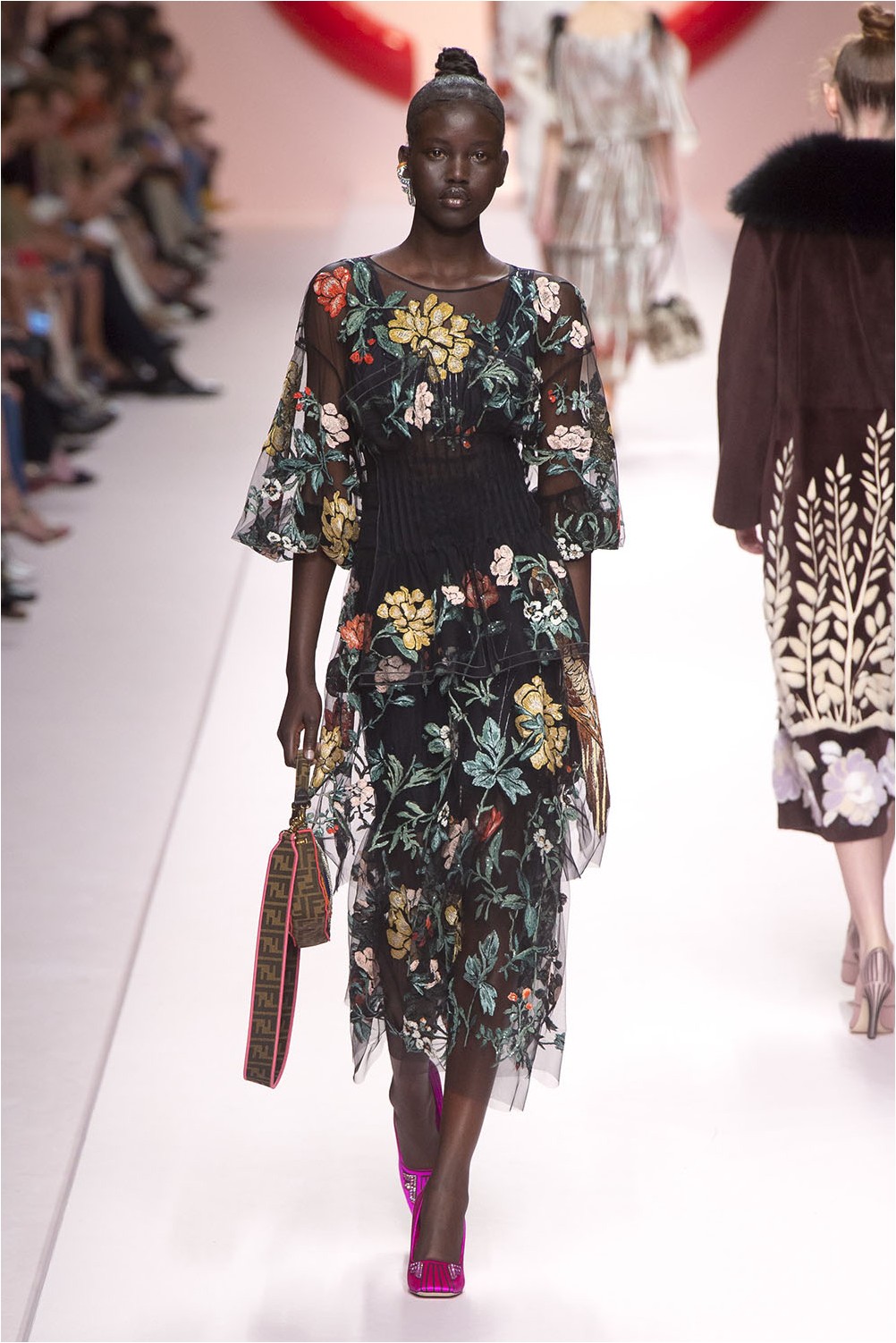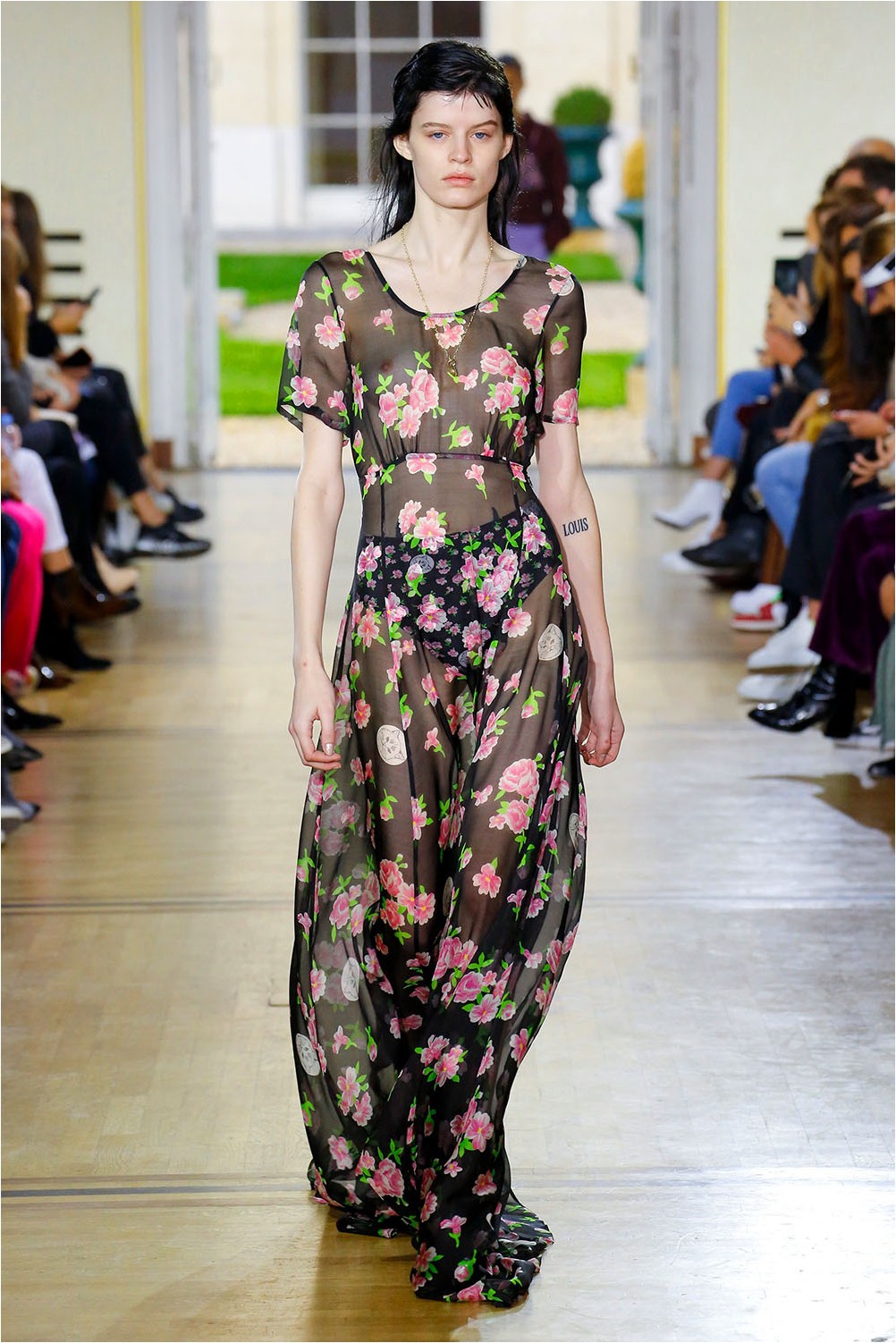 Combined print
Combining predatory motifs, stripes, cages, "Polka dot" and many other patterns in one outfit is not the latest idea. A couple of seasons ago, the combined trend swept the fashion world. Moving from season to season, he was constantly changing. In the spring-summer 2019 season, it will become brighter and more unusual. The trend is this: the more different prints appear on the clothes, the more chances there are to get into the trend. Up to 10 or more different patterns appeared in one image.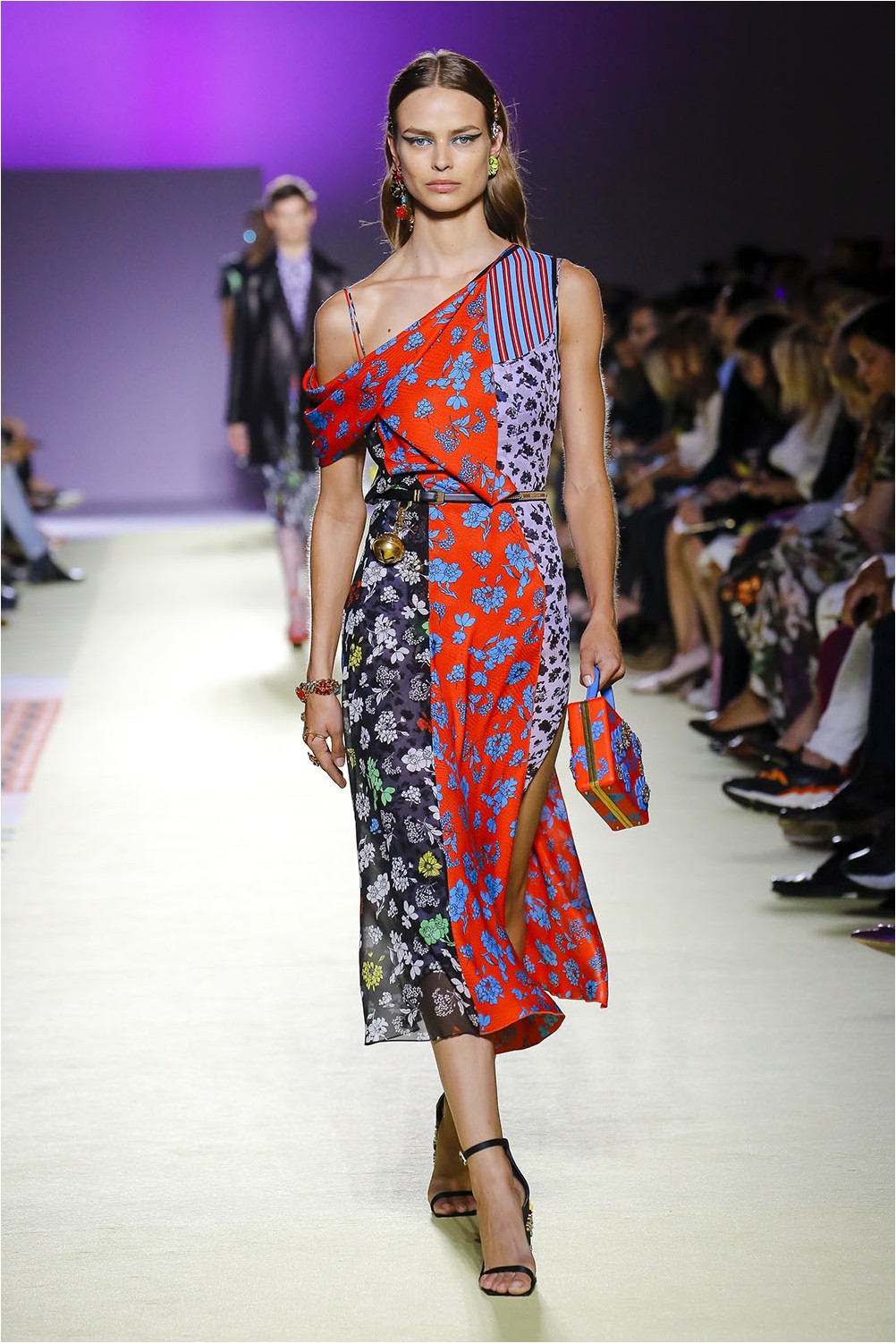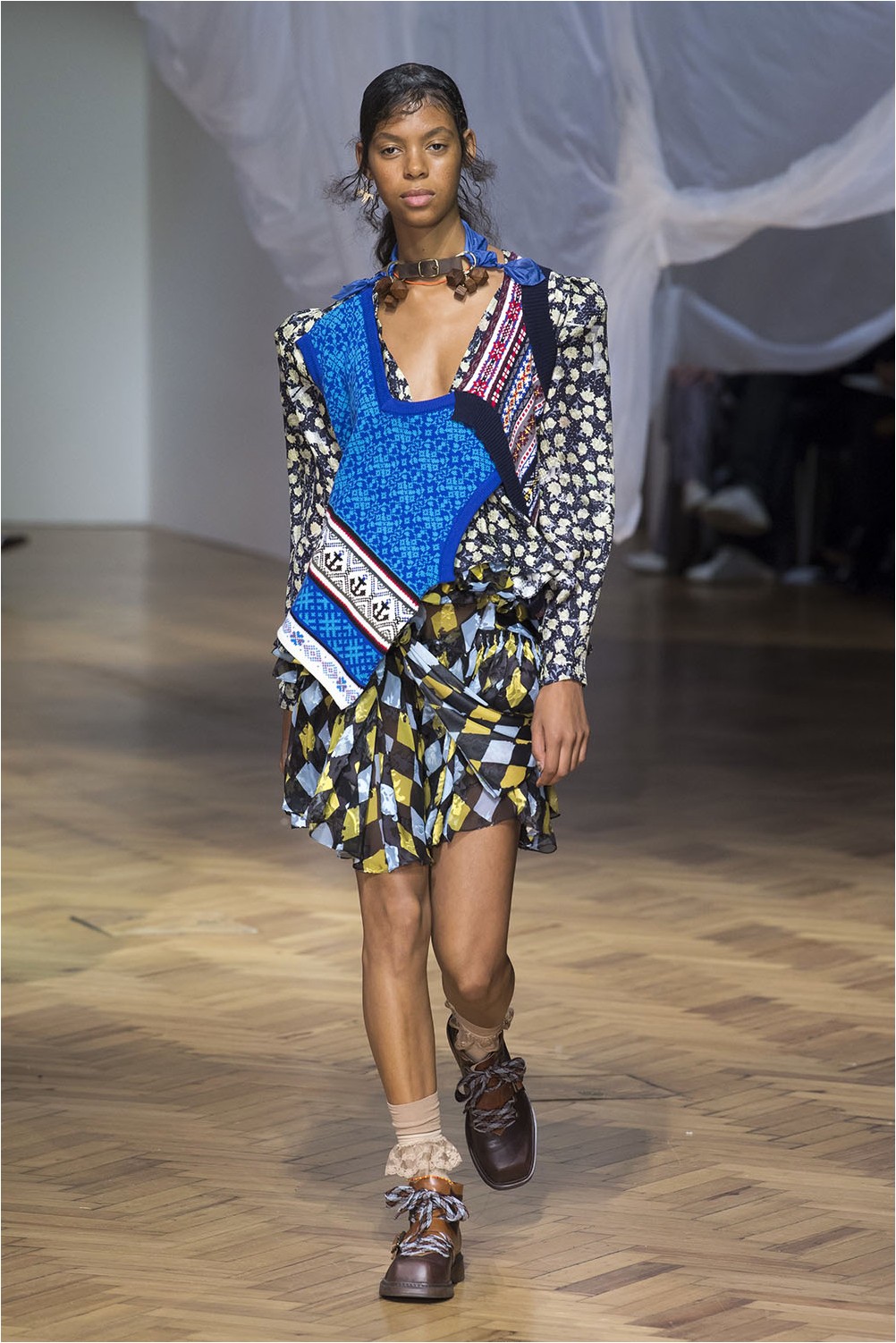 If you are an opponent of motley outfits in the style of patchwork, then you can combine only two prints made in one color. The designers of the fashion house Escada went along such a laconic path. They combined the strict strip and the Polka dot print into one stylish and feminine look..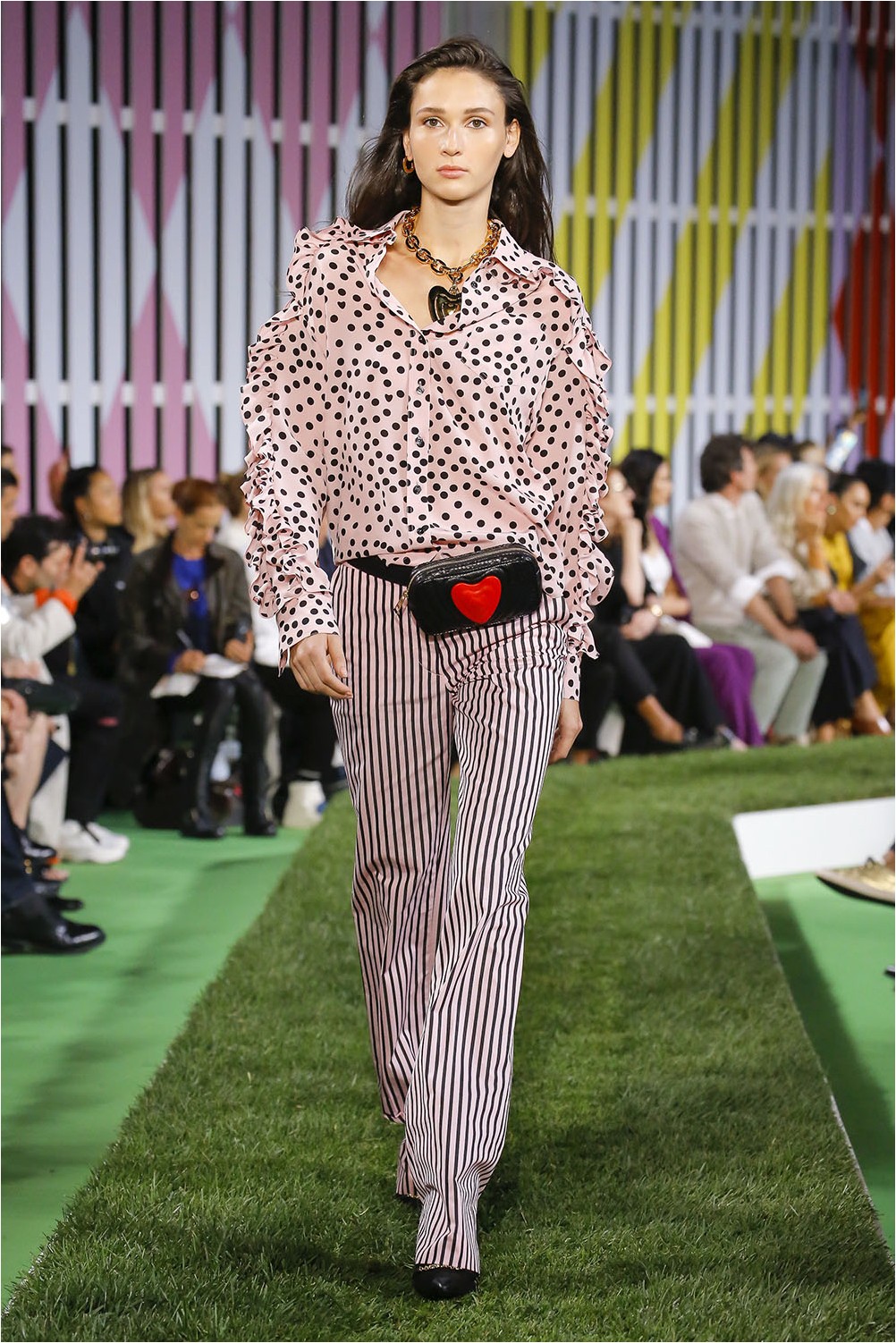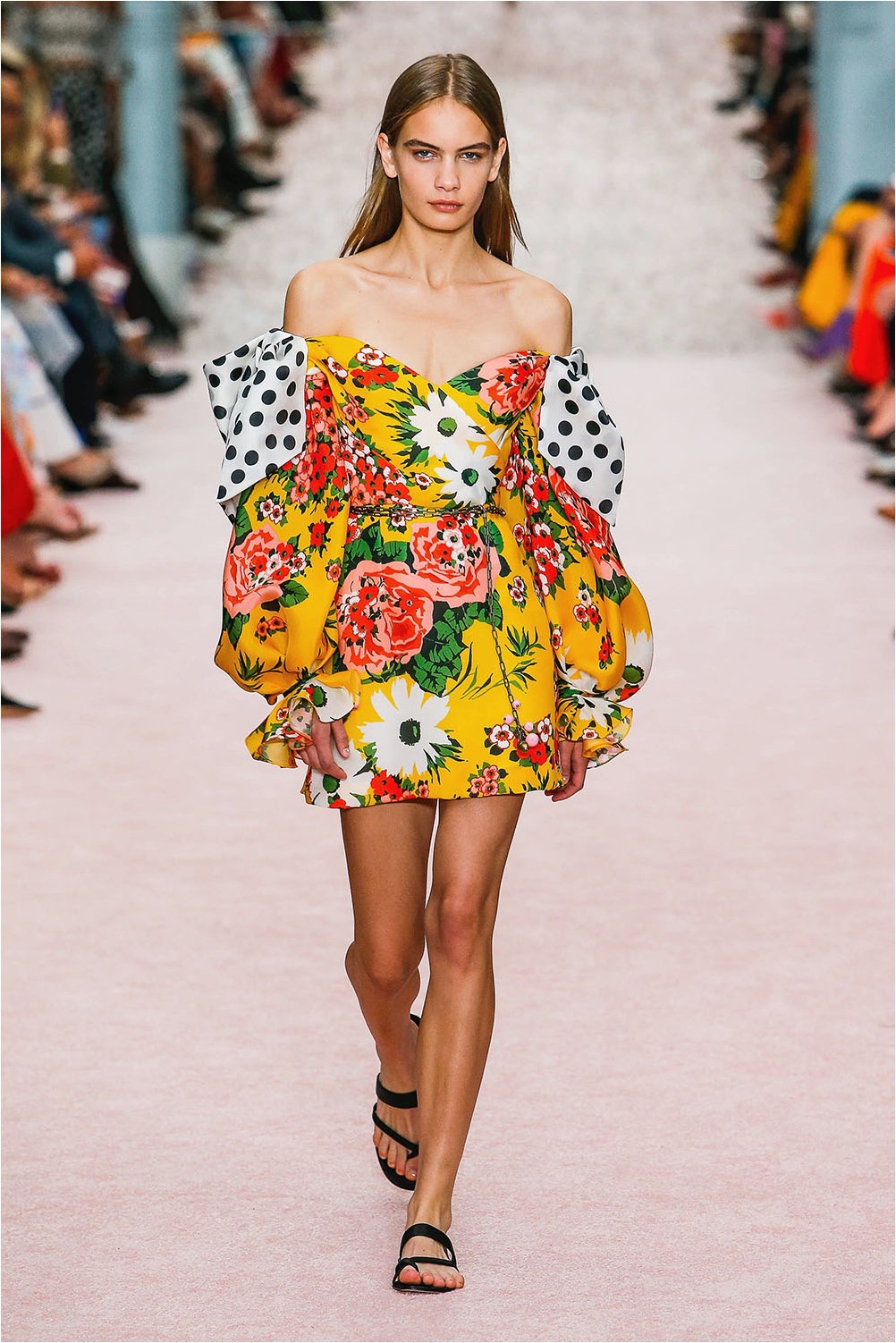 Predatory motifs and reptile print.
Imitation of the skins of snakes, crocodiles, leopards and tigers is not in vain for so long kept in trend. Predatory motifs resemble the bold and free image of Amazon women. Leopard stains, zebra stripes or spotted snake patterns – any solution will look relevant in the warm season.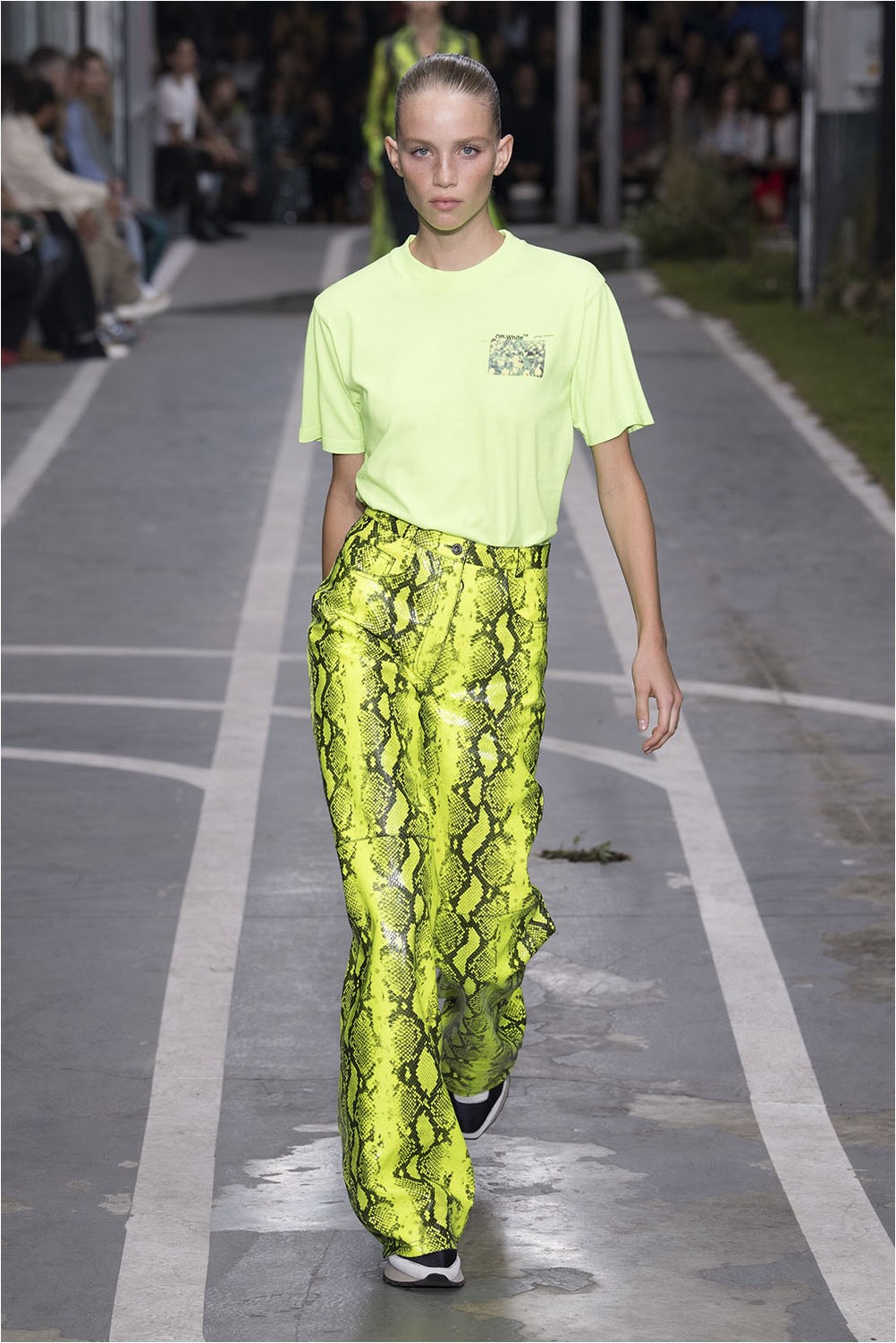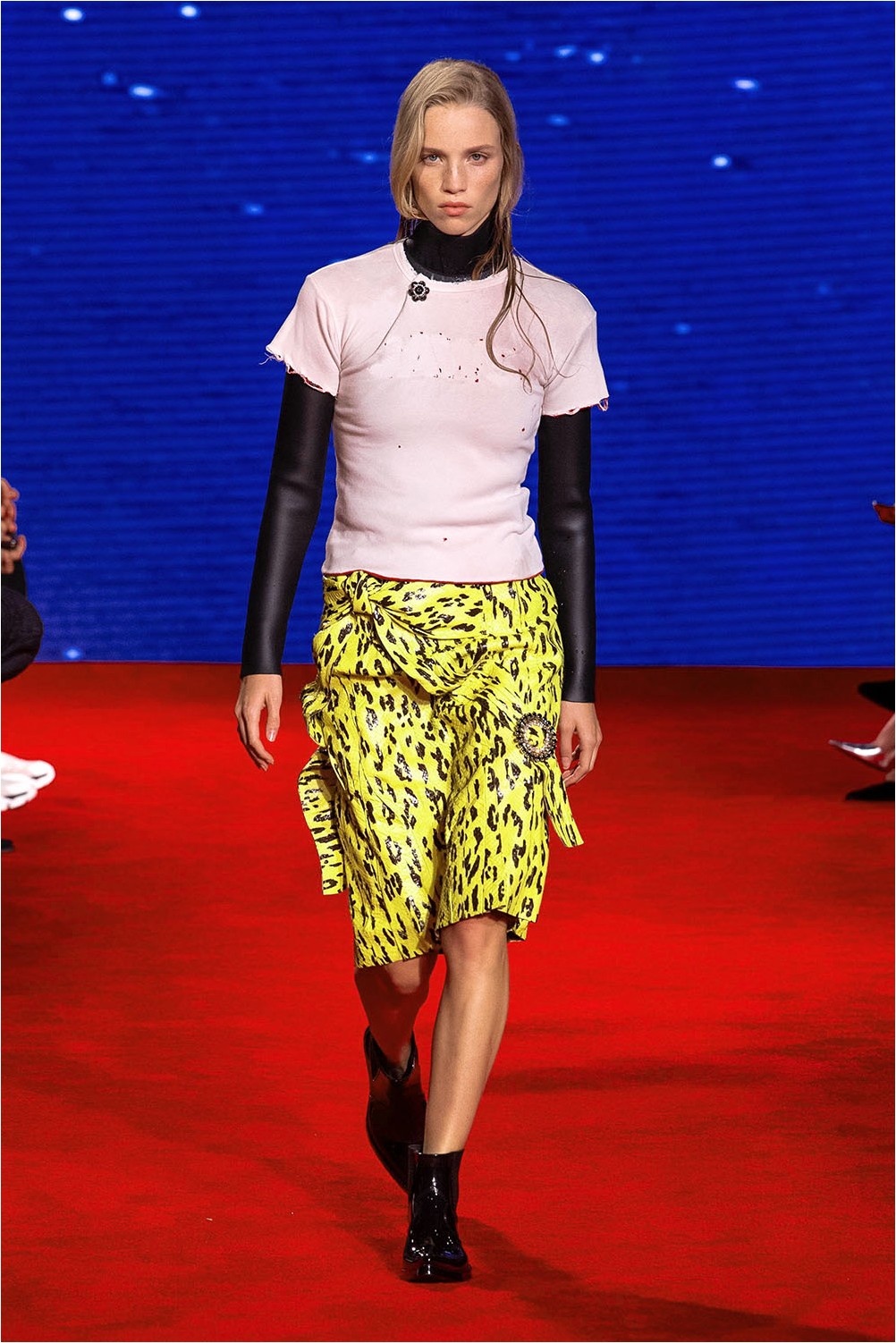 The snake print of acid shades on leather skirts and trousers is still in demand. Combined predatory print does not lose its position. With his participation, unusual and unexpected compositions are created. Now the leopard-colored pattern can be combined with a floral pattern or with a "Polka dot" print, as in the models by Antonio Marras.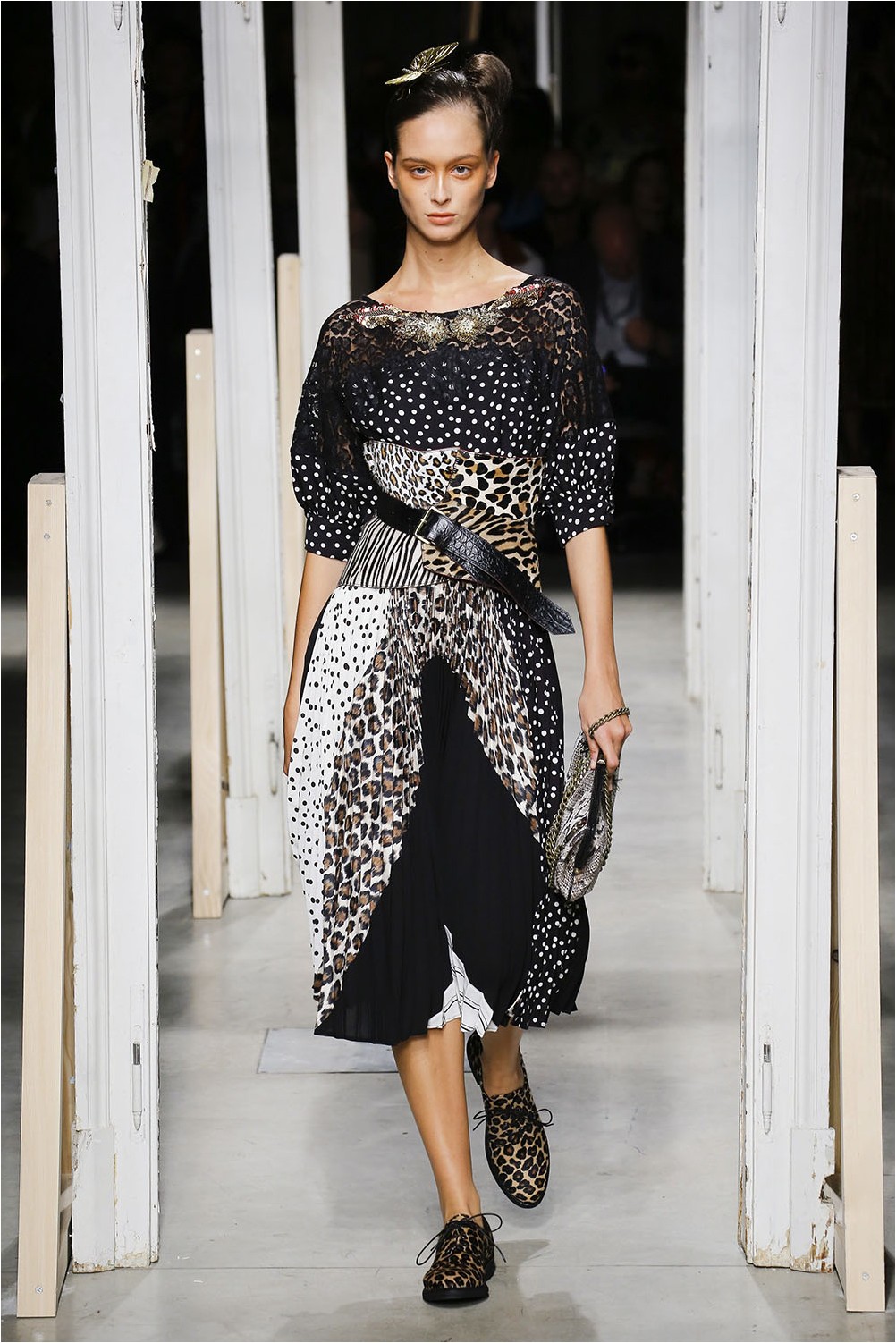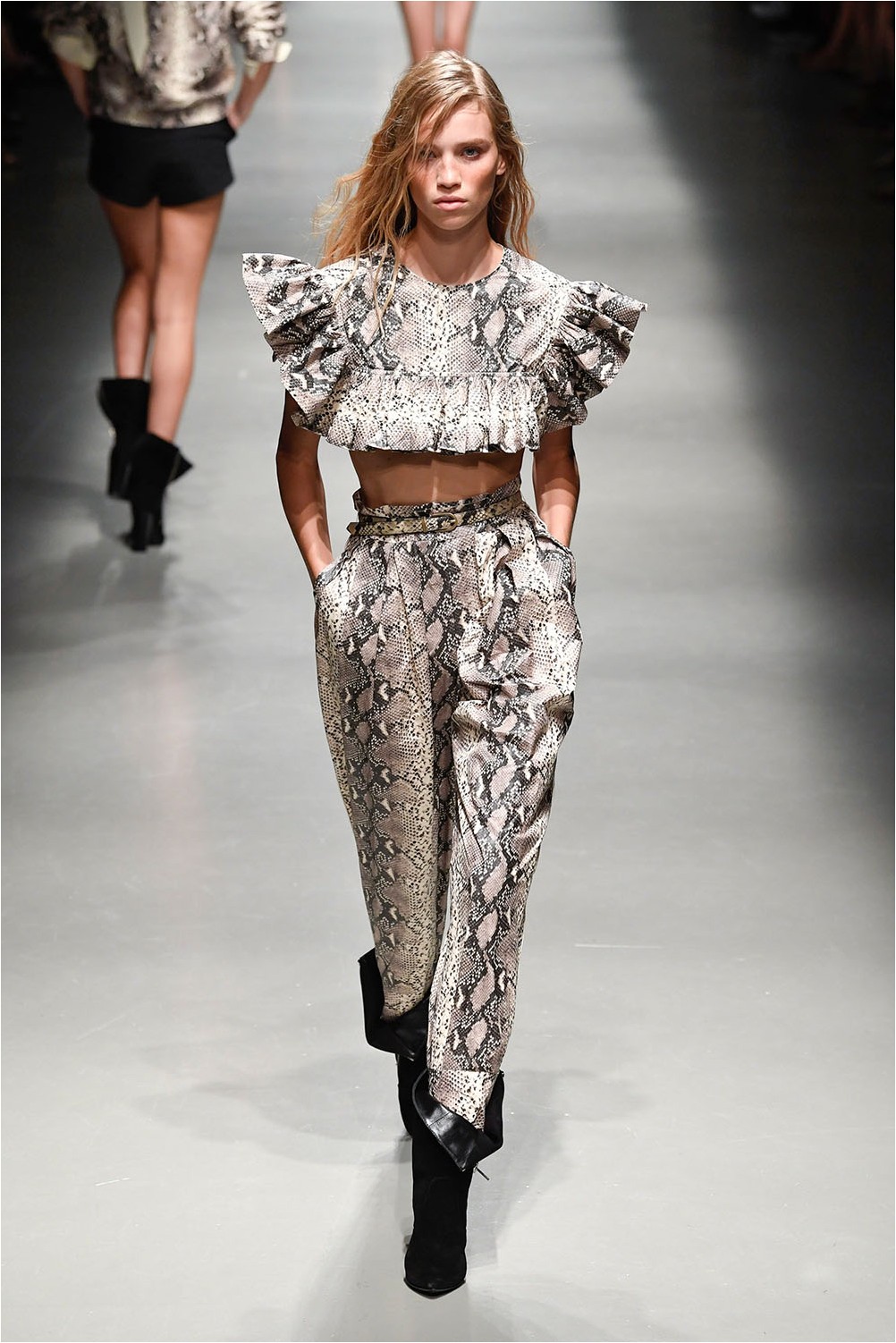 Abstraction
For some, abstraction is an original way to express yourself. Someone "encrypts" the message to society in an extravagant figure. And someone just likes to look different than everyone else. With models from Prada, Mugler and Issey Miyake, it's even easier to differentiate from the mainstream. Motives from abstract paintings that flaunt skirts, trousers and blouses from reputable fashion houses will effectively set you apart from the crowd and will not let you get lost in the middle of gray everyday life..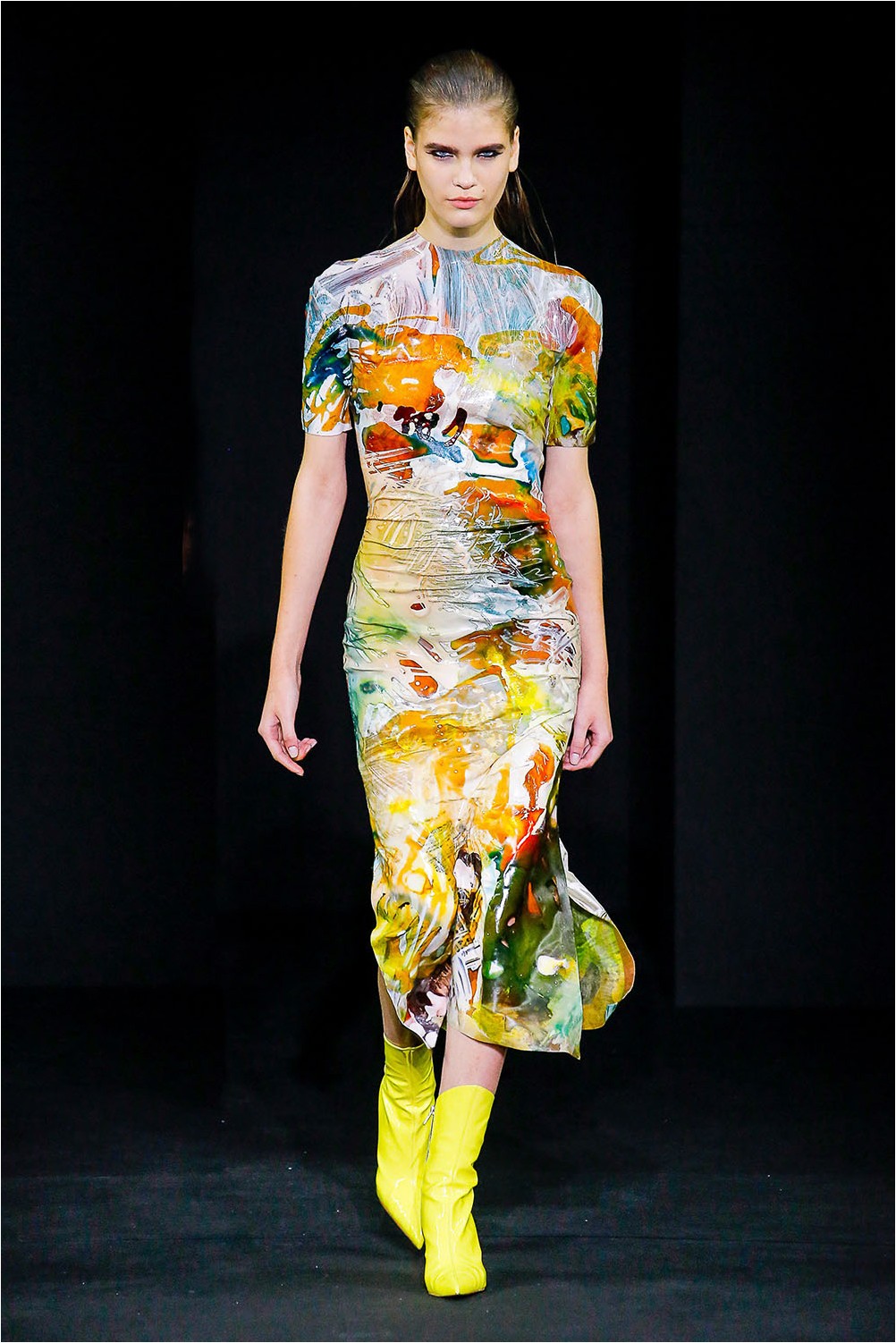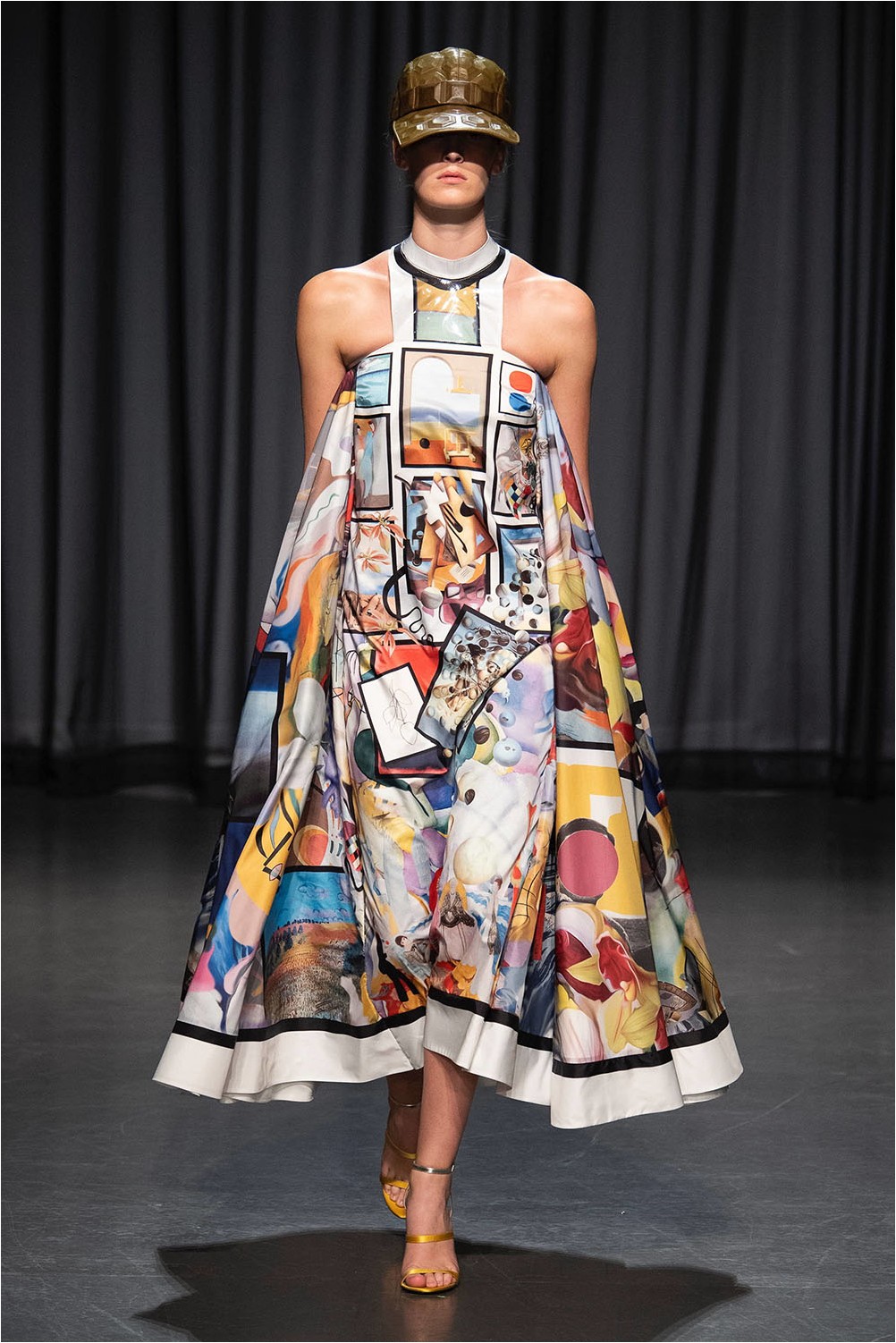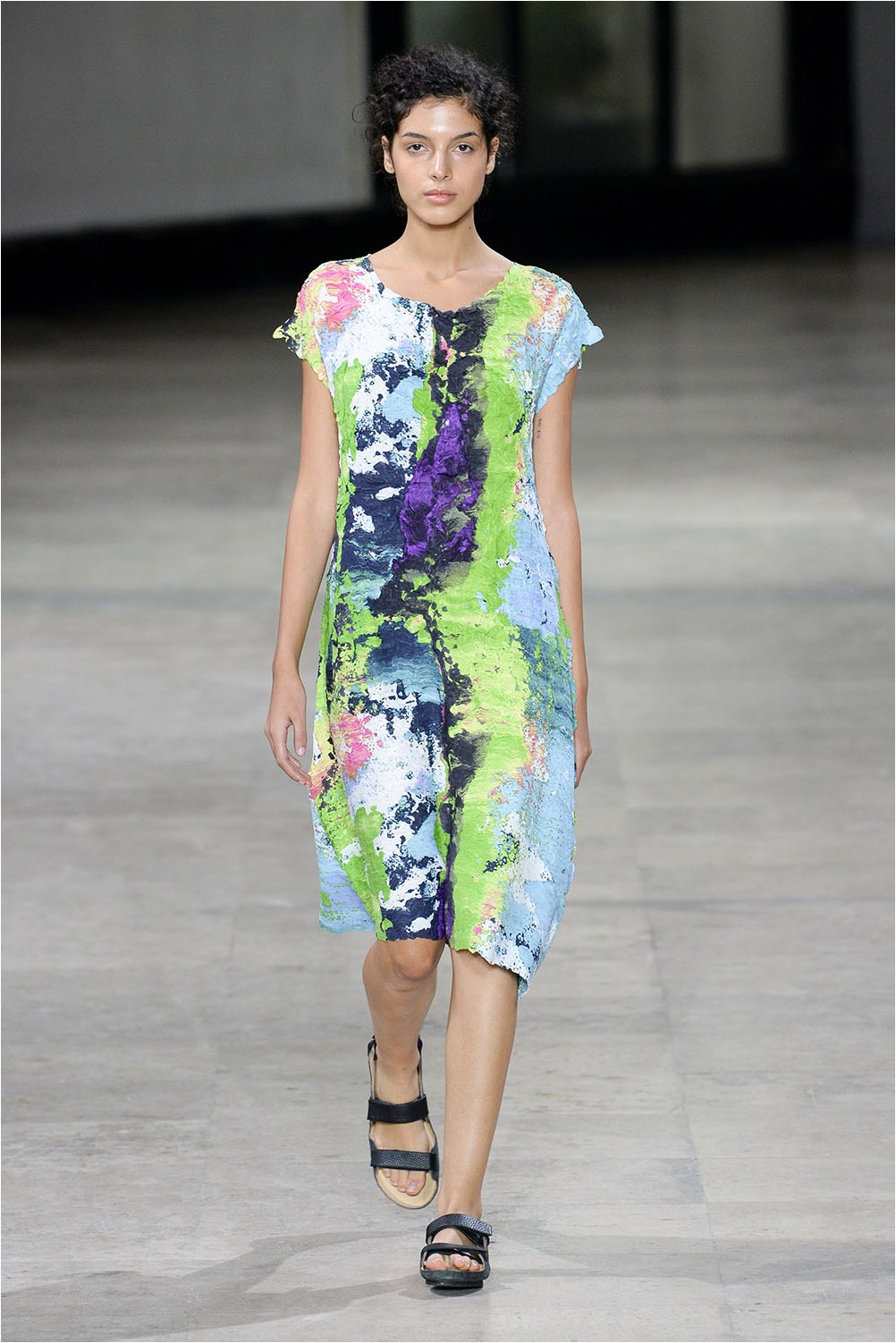 Fashion collections from Louis Vuitton and Valentin Yudashkin with bright touches, dots, spots and other fancy motifs will charge the spring mood..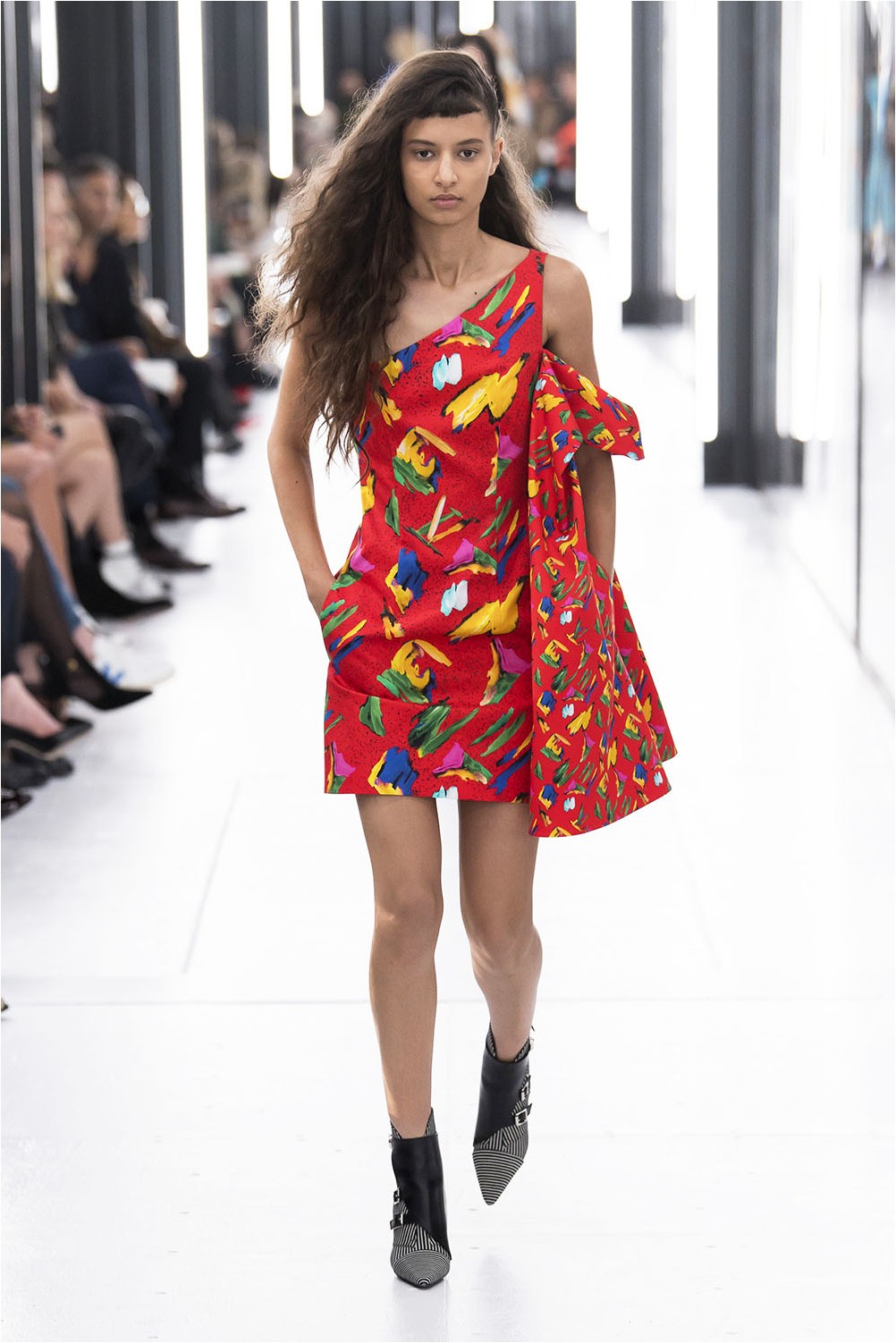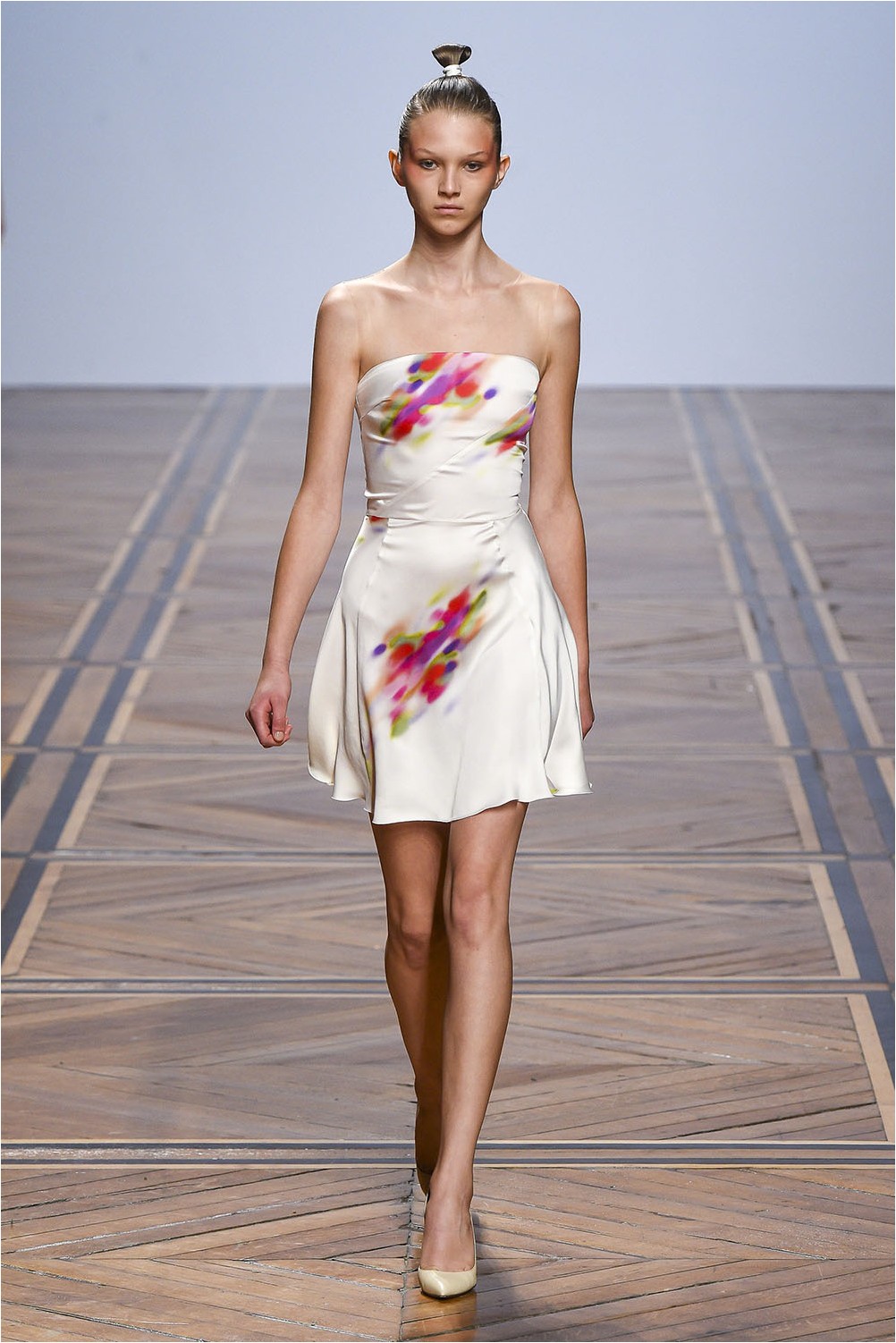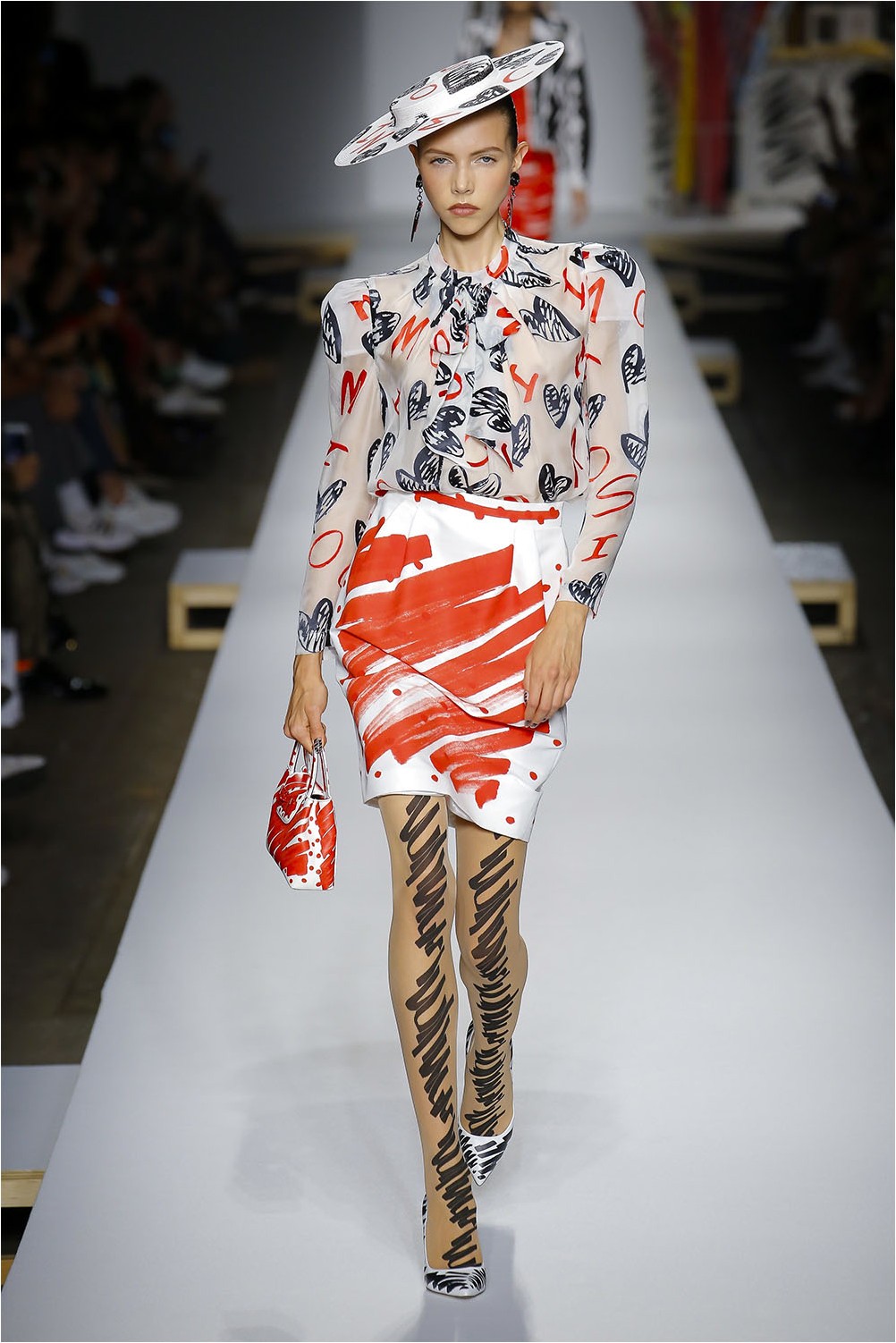 Gradient and degrade
The ombre dyeing technique is actively used not only in hairdressing. Fabrics with various transitions from one color to another are gaining popularity. Previously, the gradient was fashionable, in which light tones flowed smoothly into dark shades of the same color. Now for ombre several different colors can be used. Such models were found in collections from Each x Other and Prabal Gururng. Gradient colors can be juicy and quite contrasting..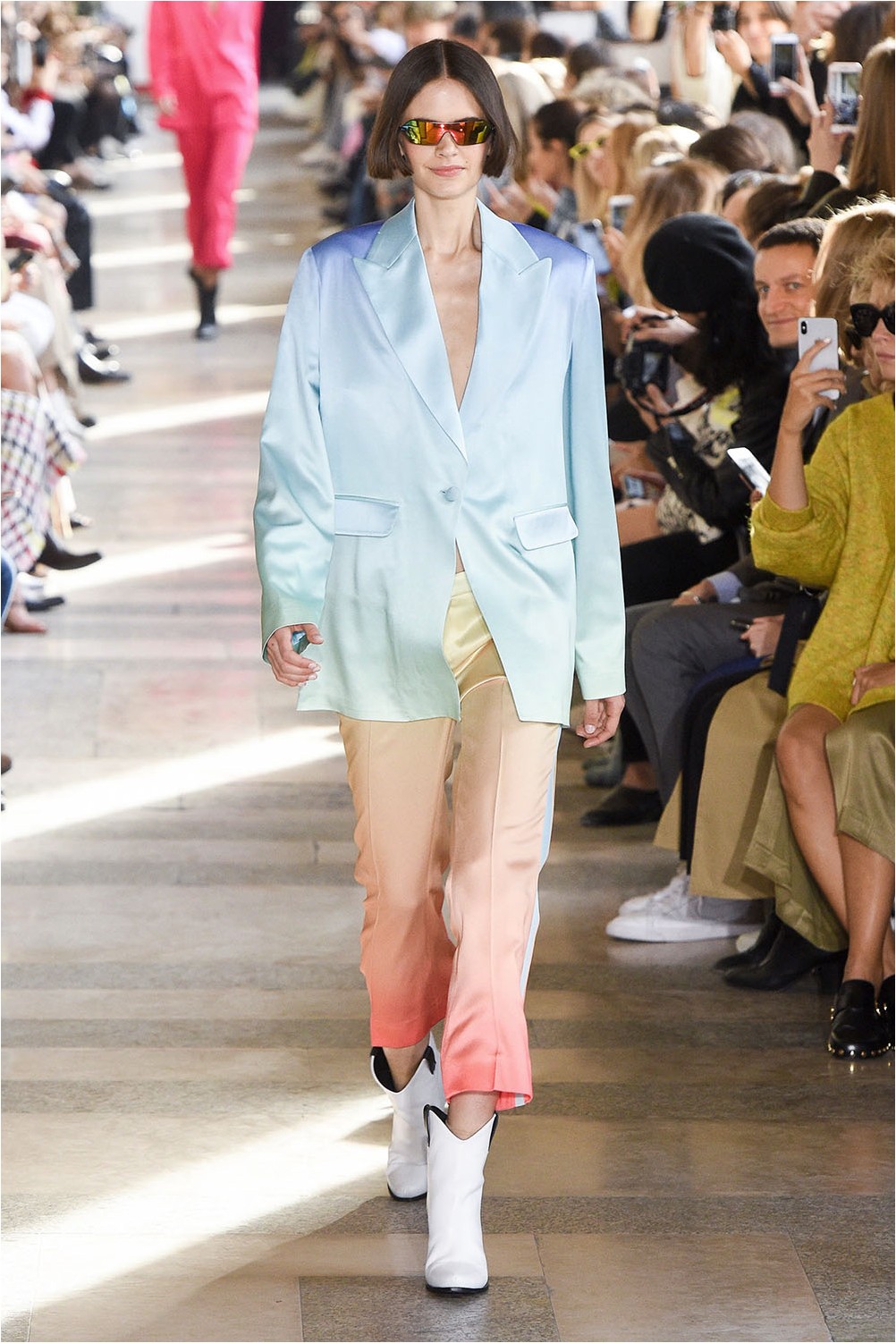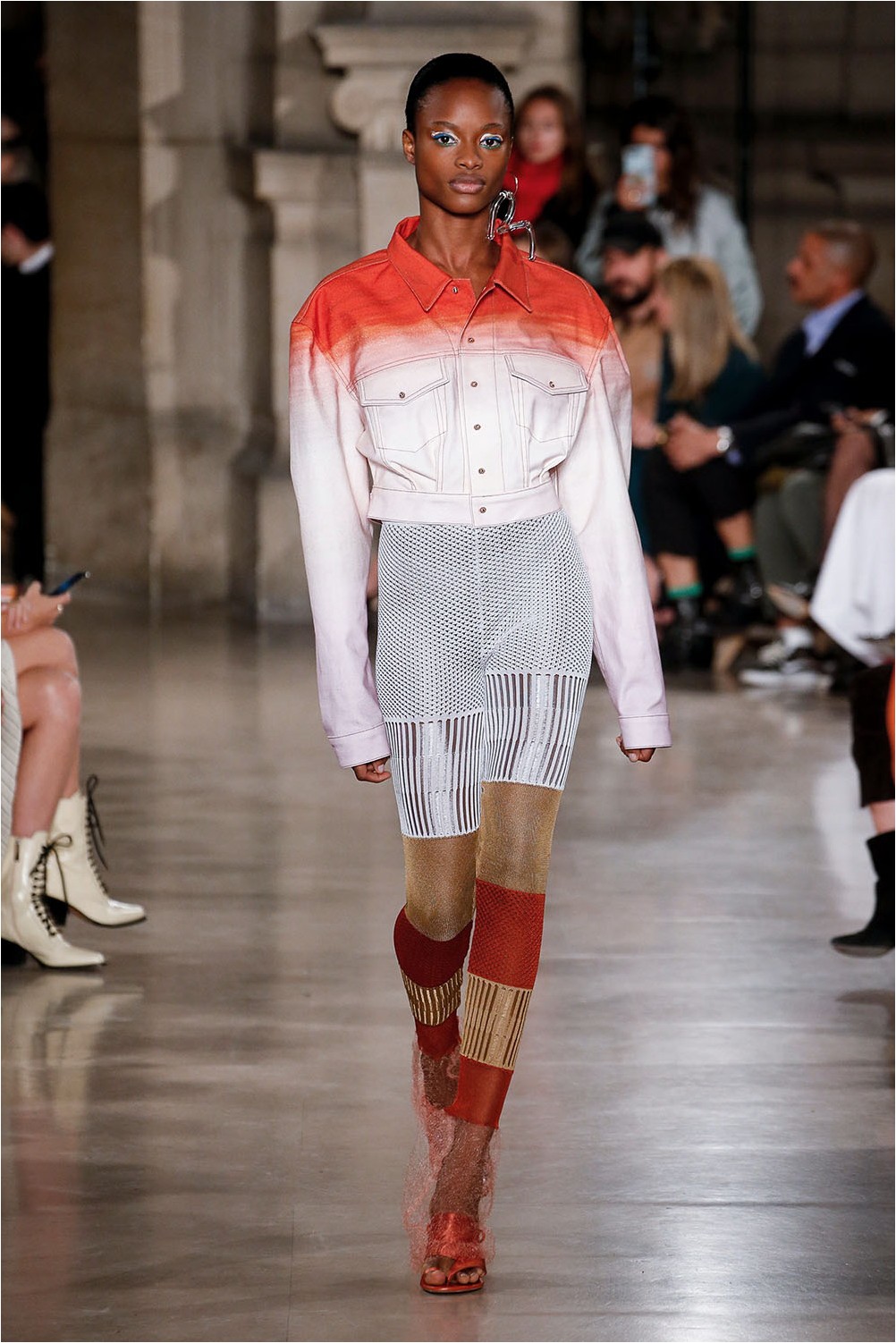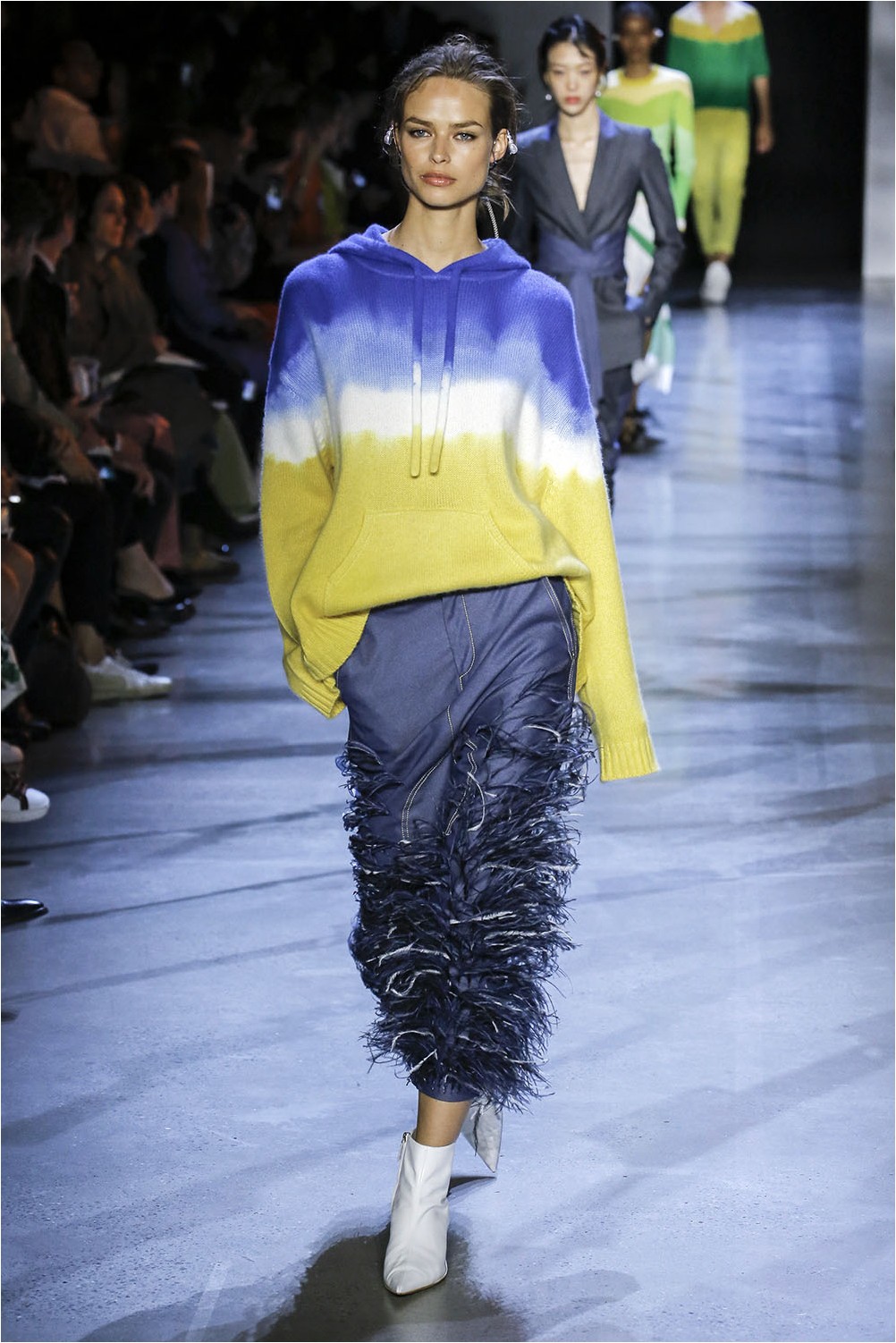 But there is another trend option – ombre in delicate colors. A similar technique was used by the brands Christian Dior, Alberta Ferretti and other masters of style. The image was very airy, subtle and sophisticated..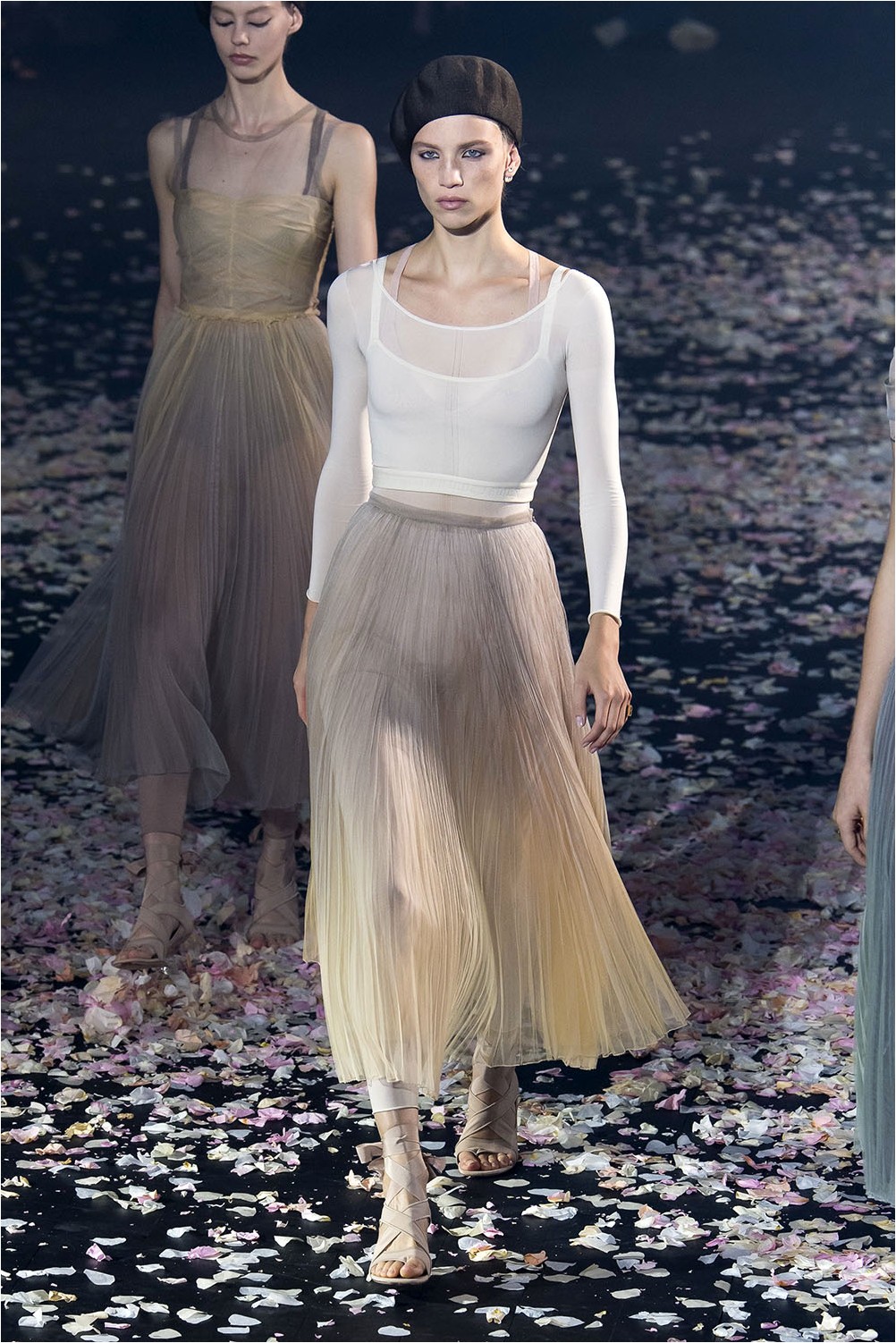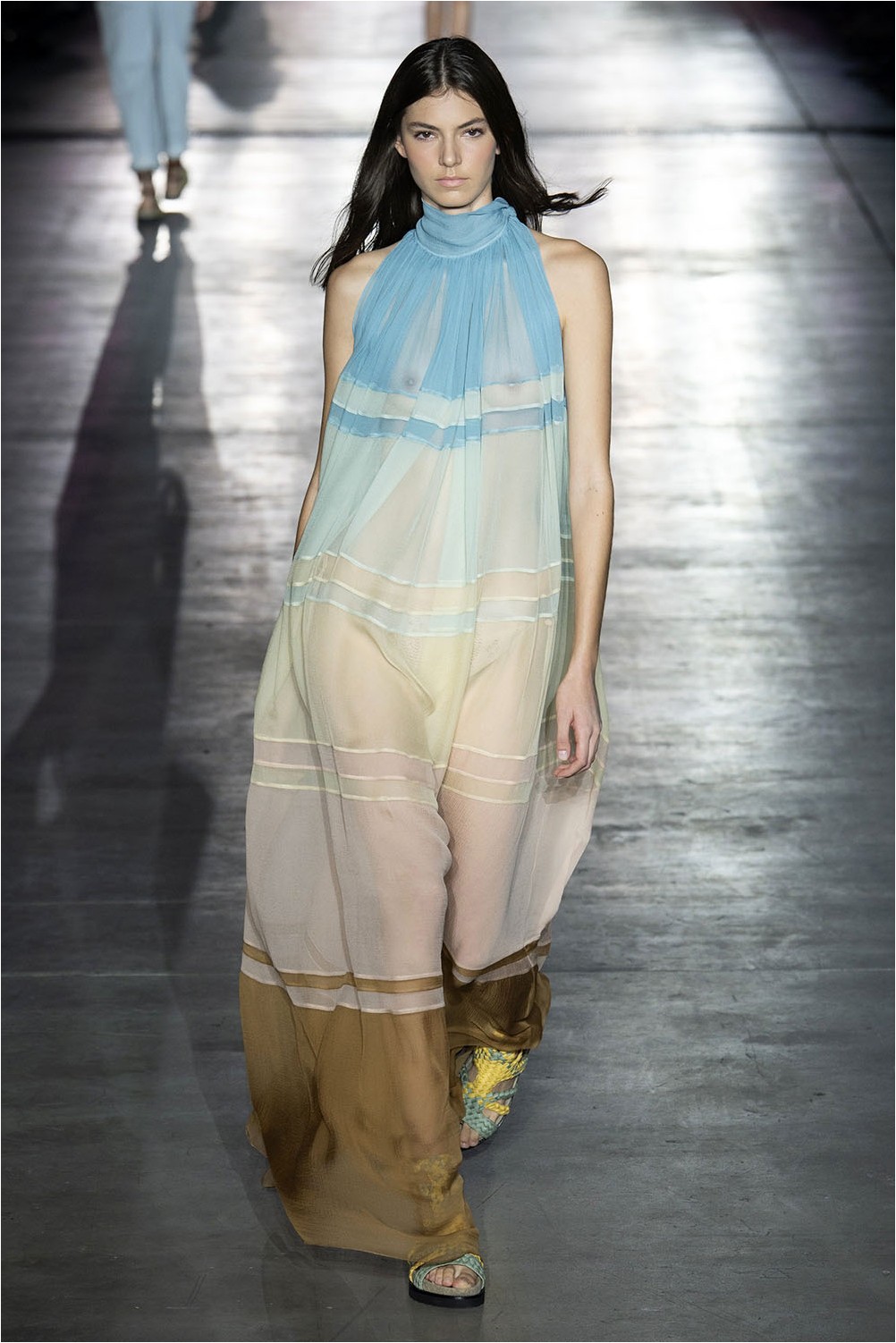 Sea and beach subjects
Is it possible to imagine summer without the sea, sun and palm trees? Of course not. So the designers did not ignore the theme of the sea and relaxation on the coast. In the trend are any prints associated with the elements of water and beach vacations. The dream of the sea will be much closer with the trend collections from Anna Sui and Etro.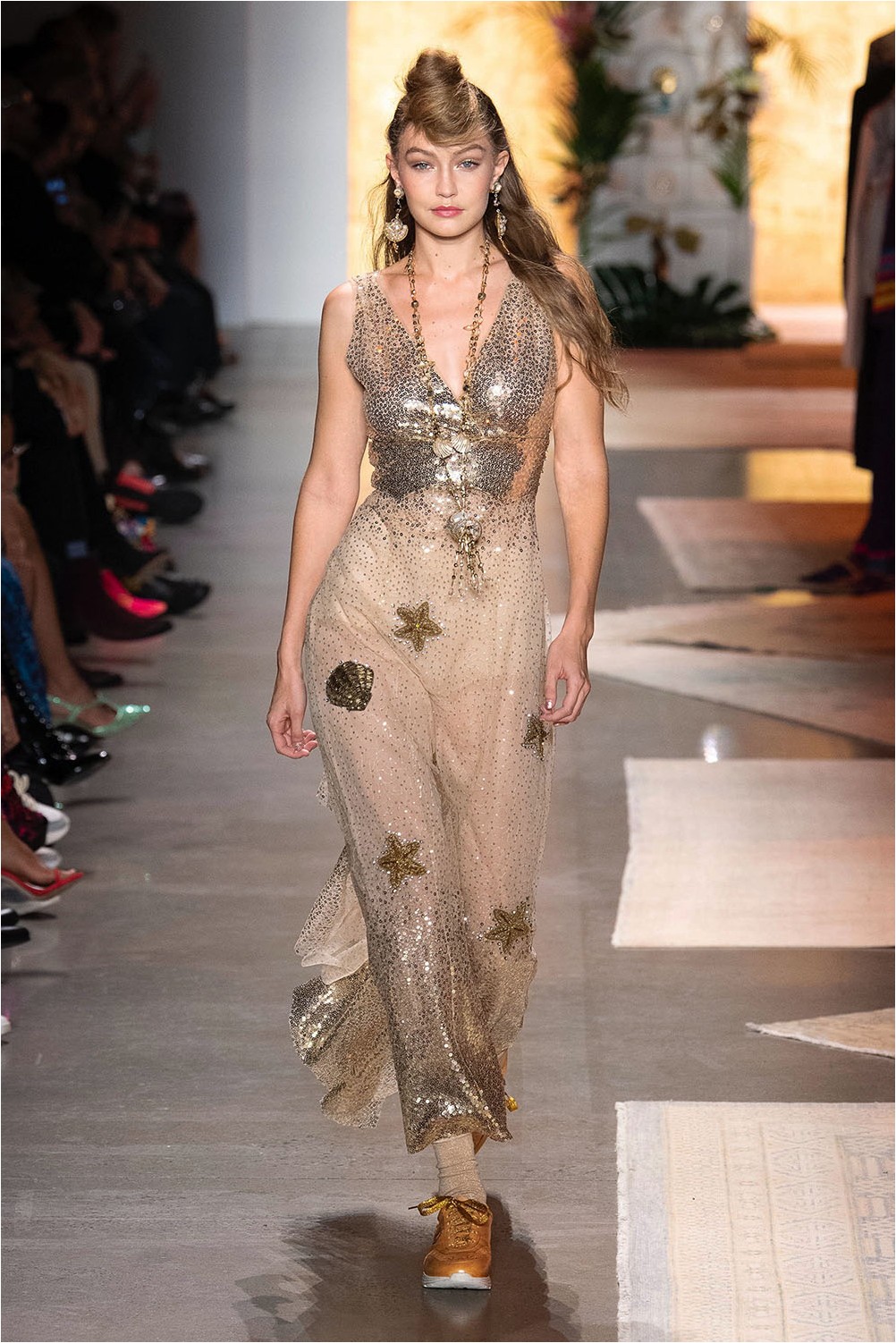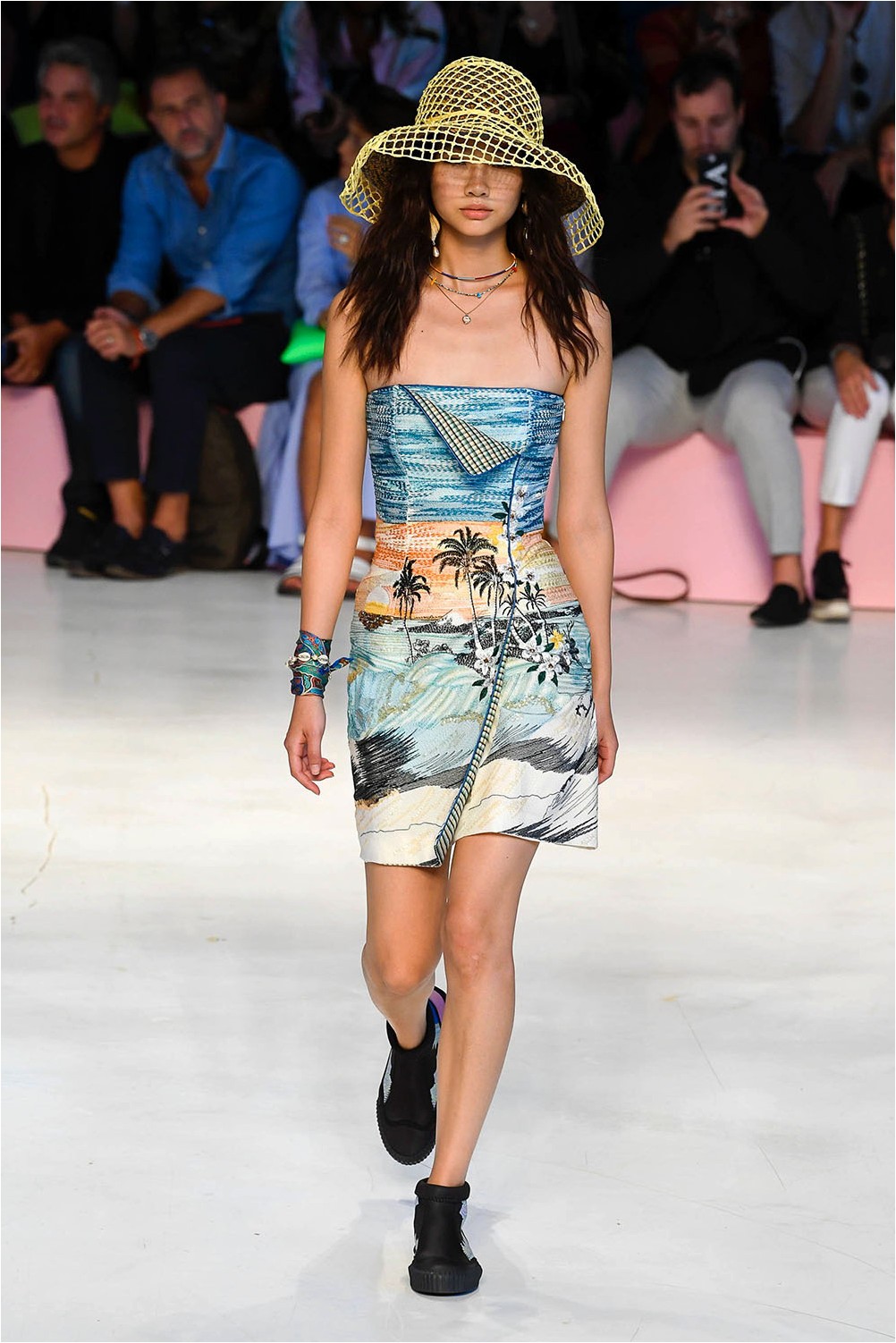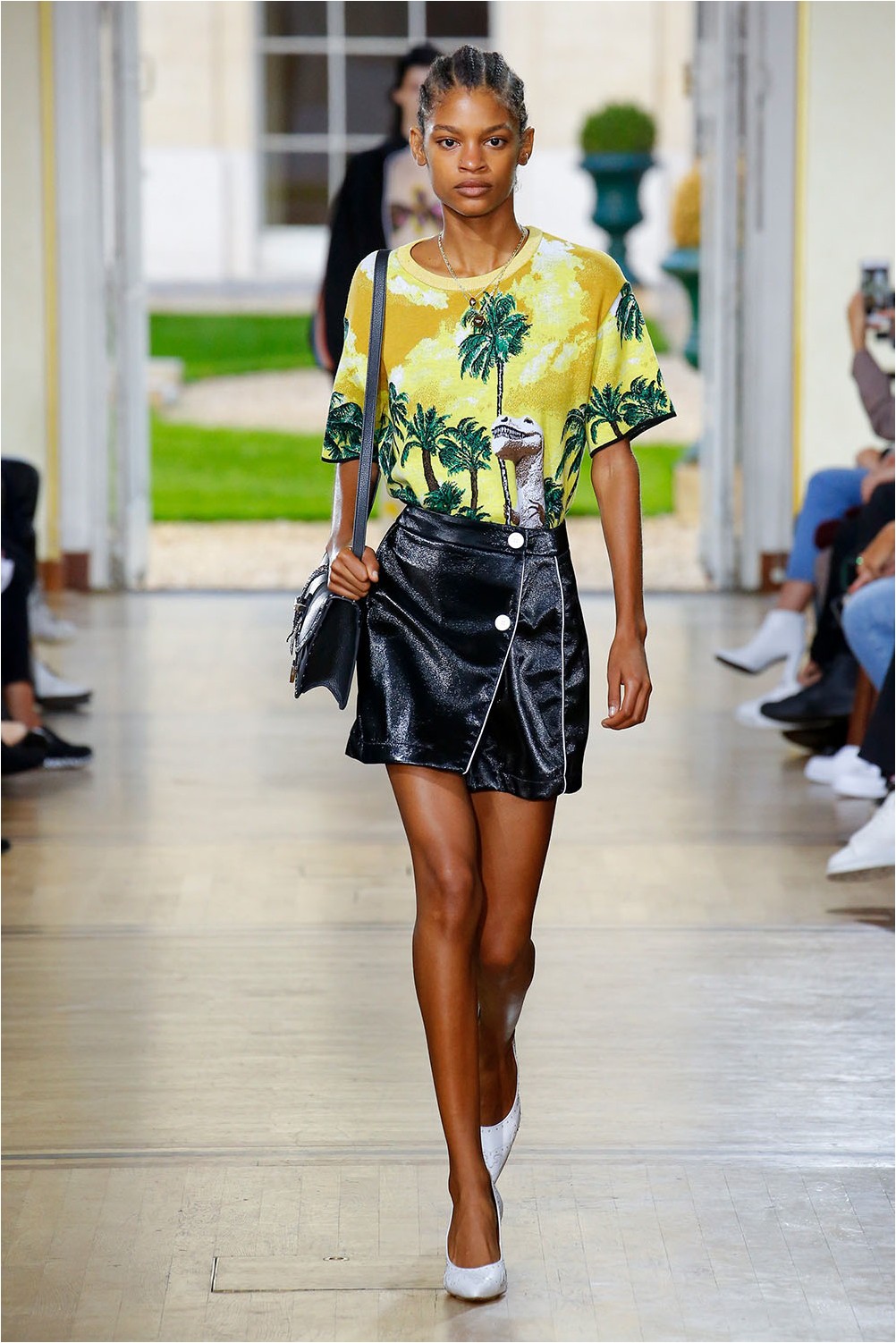 In the first case, thoughts about the water world evoke volumetric images of shells and starfish. In the second – a fun and carefree picture with palm trees, waves and a flaming sunset.
Tie dye
The technique of dyeing fabrics in folded and knitted form Tie dye – the main trend of this spring. When the matter is deployed, the original stains remain on it. Such patterns were actively used in the fashion of the 1980s. And since the trends of those years are now experiencing a rebirth, the Tie dye print adorned the latest fashion collections.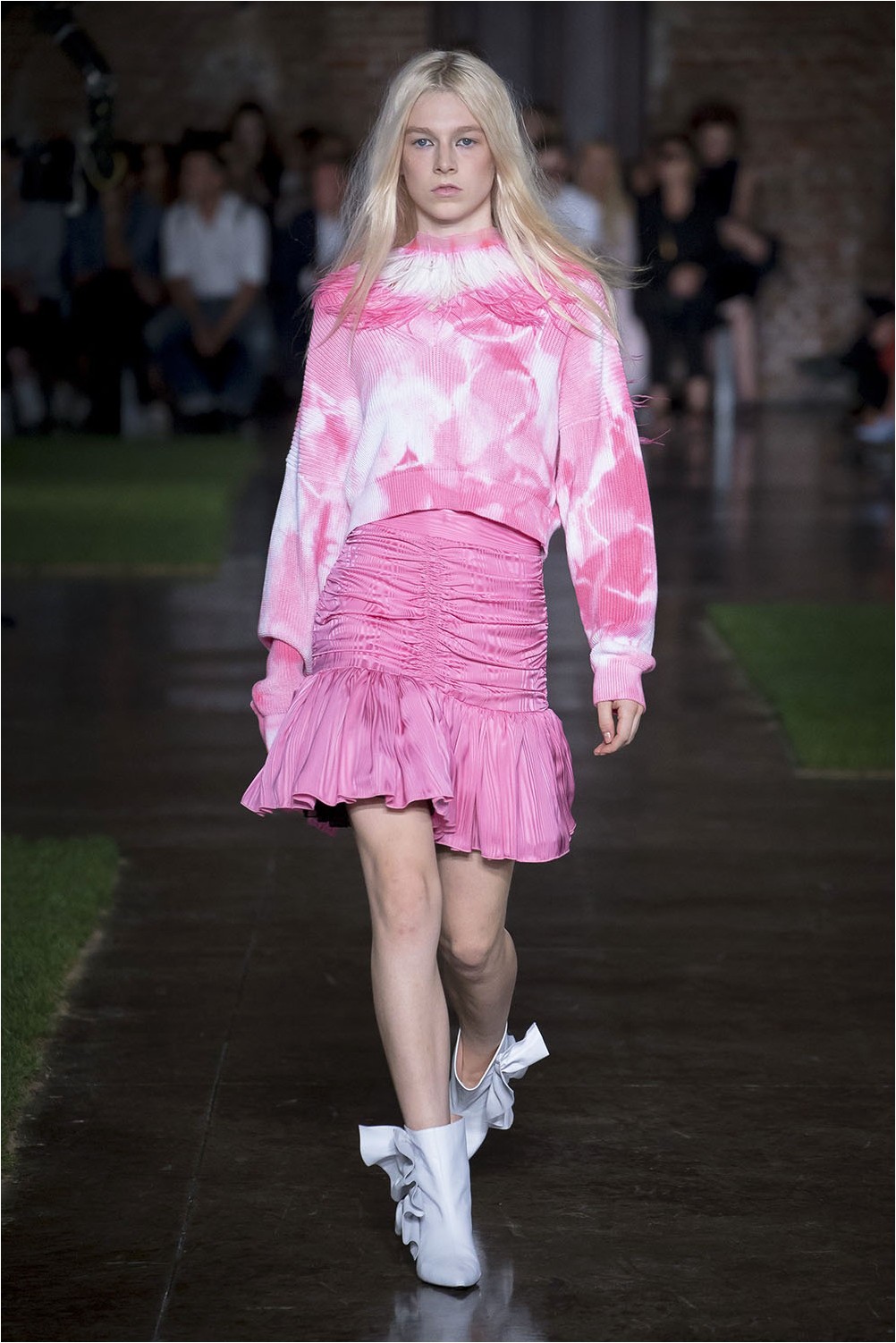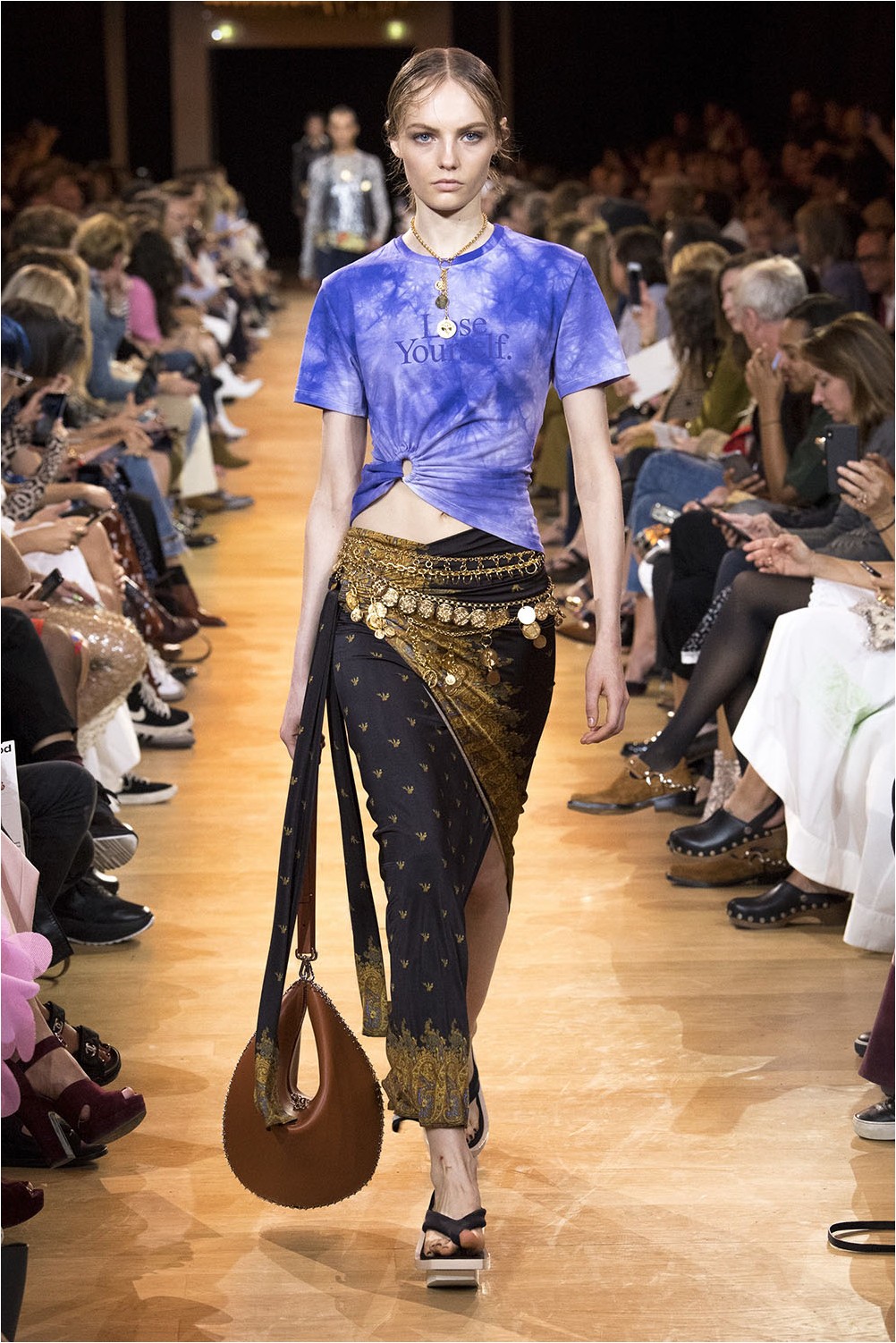 Drawings in the Tie dye technique can be in the "classic version" – two-tone. Although recently three- and four-color compositions have been appearing more and more often. Multicolor variations on the theme of Tie dye presented Paco Rabanne, Issey Miyake and other famous designers.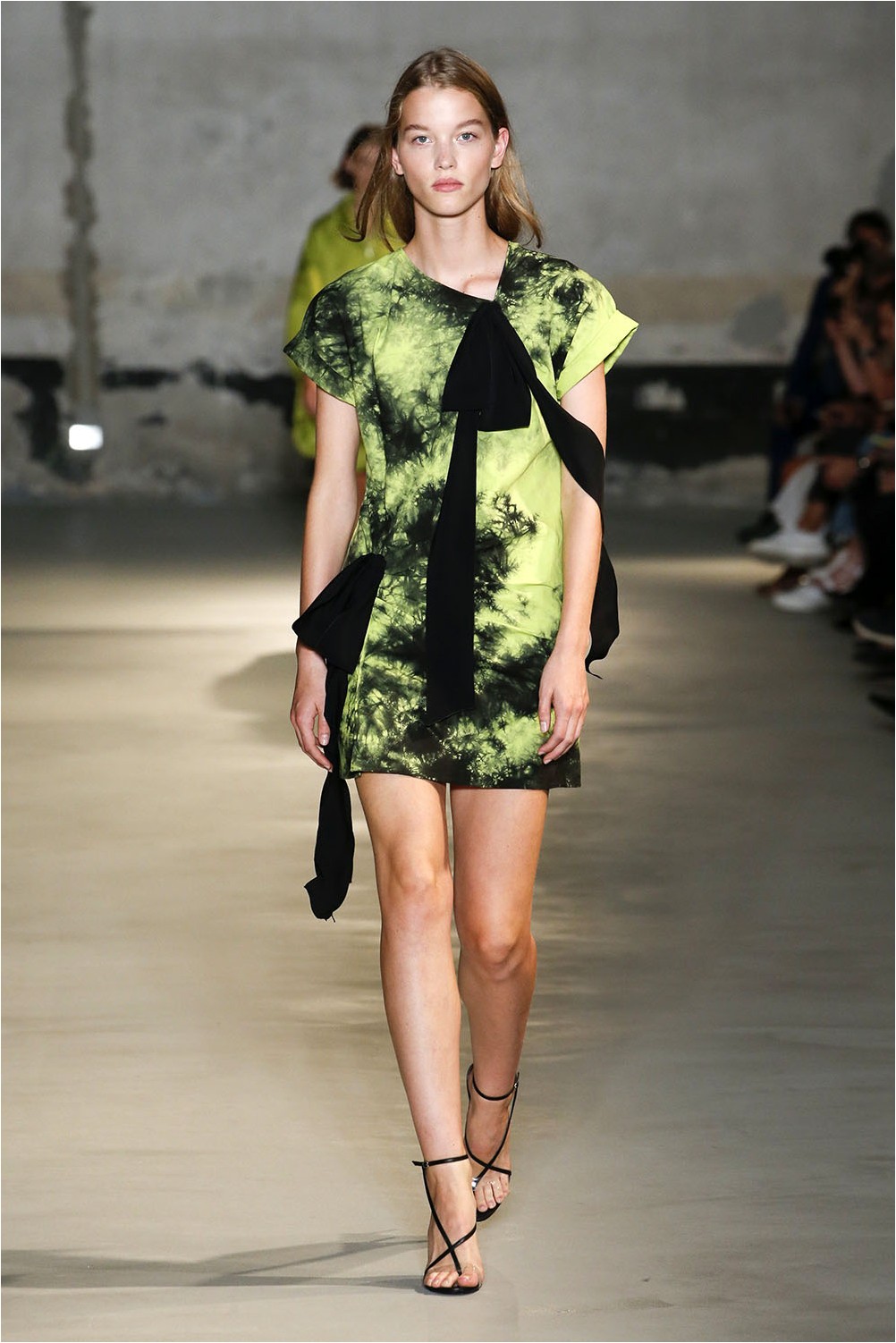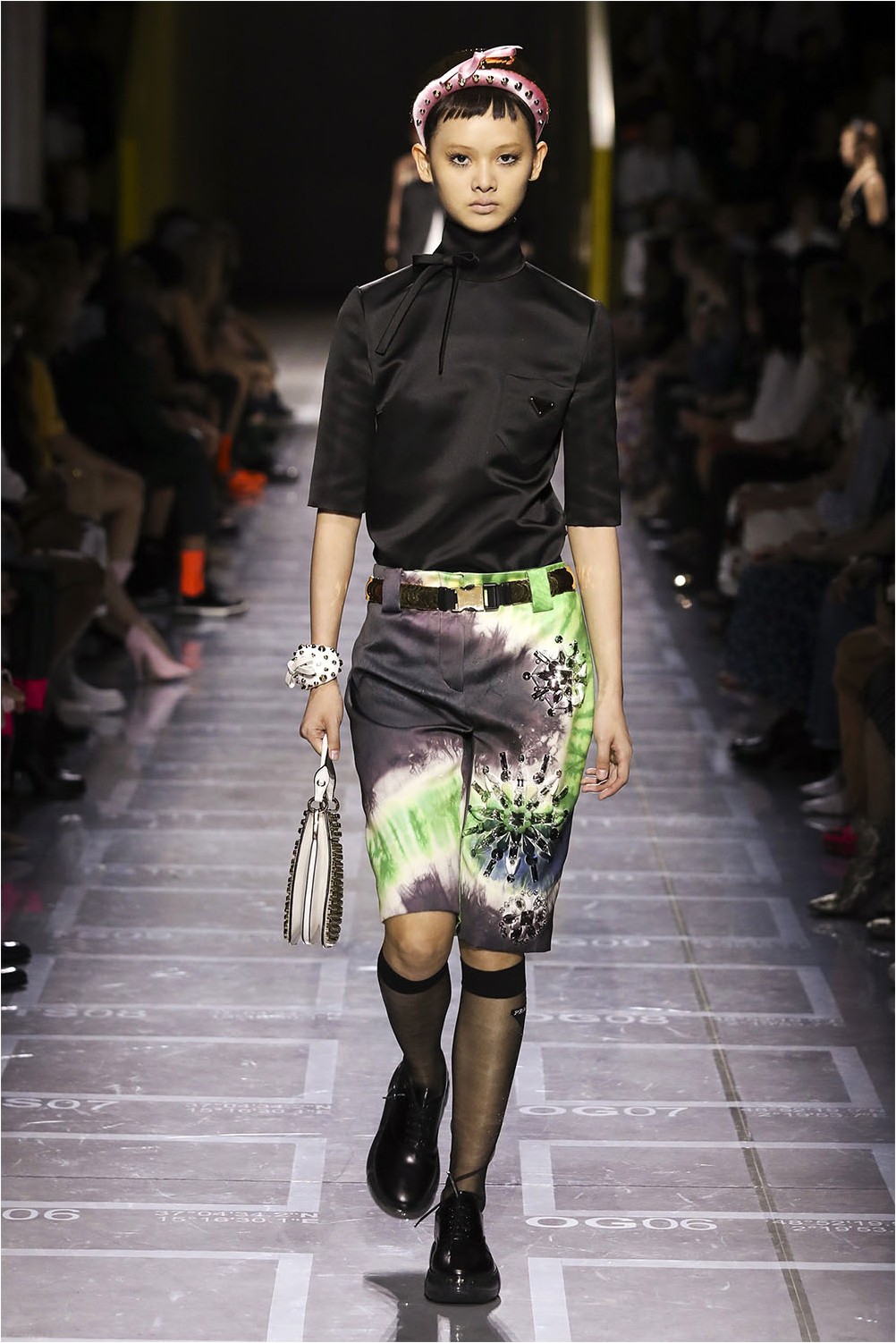 Victorian era
Suddenly, the English clothing style of the end of the 19th century loudly declared itself. Everything related to the romantic Victorian era is in fashion. The trend is expressed in different ways: shuttlecocks, hats with thin tulle, frill collars, lace and guipure. But there is another way to embody a fashion trend. It's enough to use an old photo of those times, and the fashionable image is ready.
That's exactly what the experts at the Burberry fashion house did. An English photo from the time of Queen Victoria flaunts on trousers from the famous British brand. And the Irish designer Simone Rocha, when creating his masterpieces, this time was inspired by the origins of history.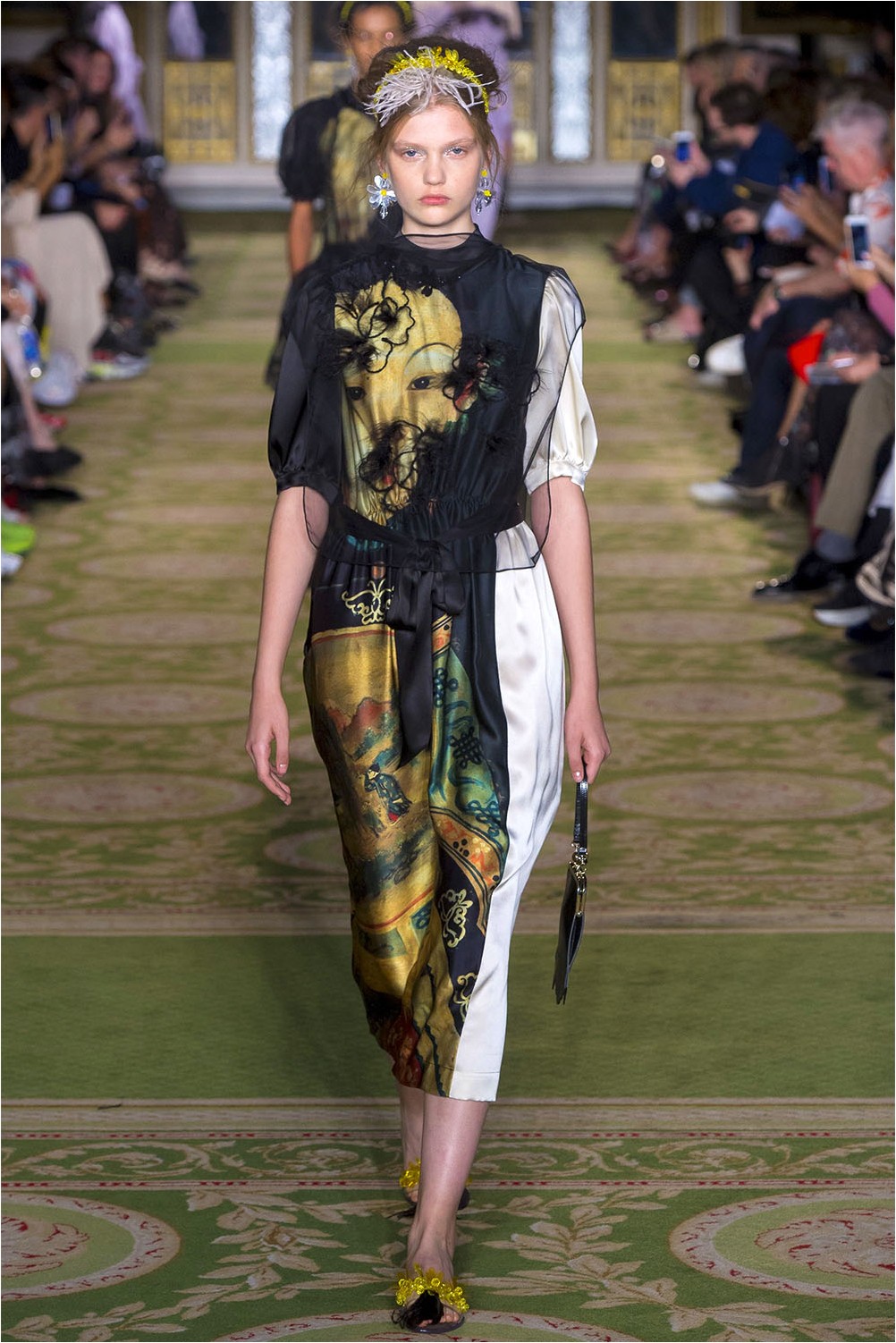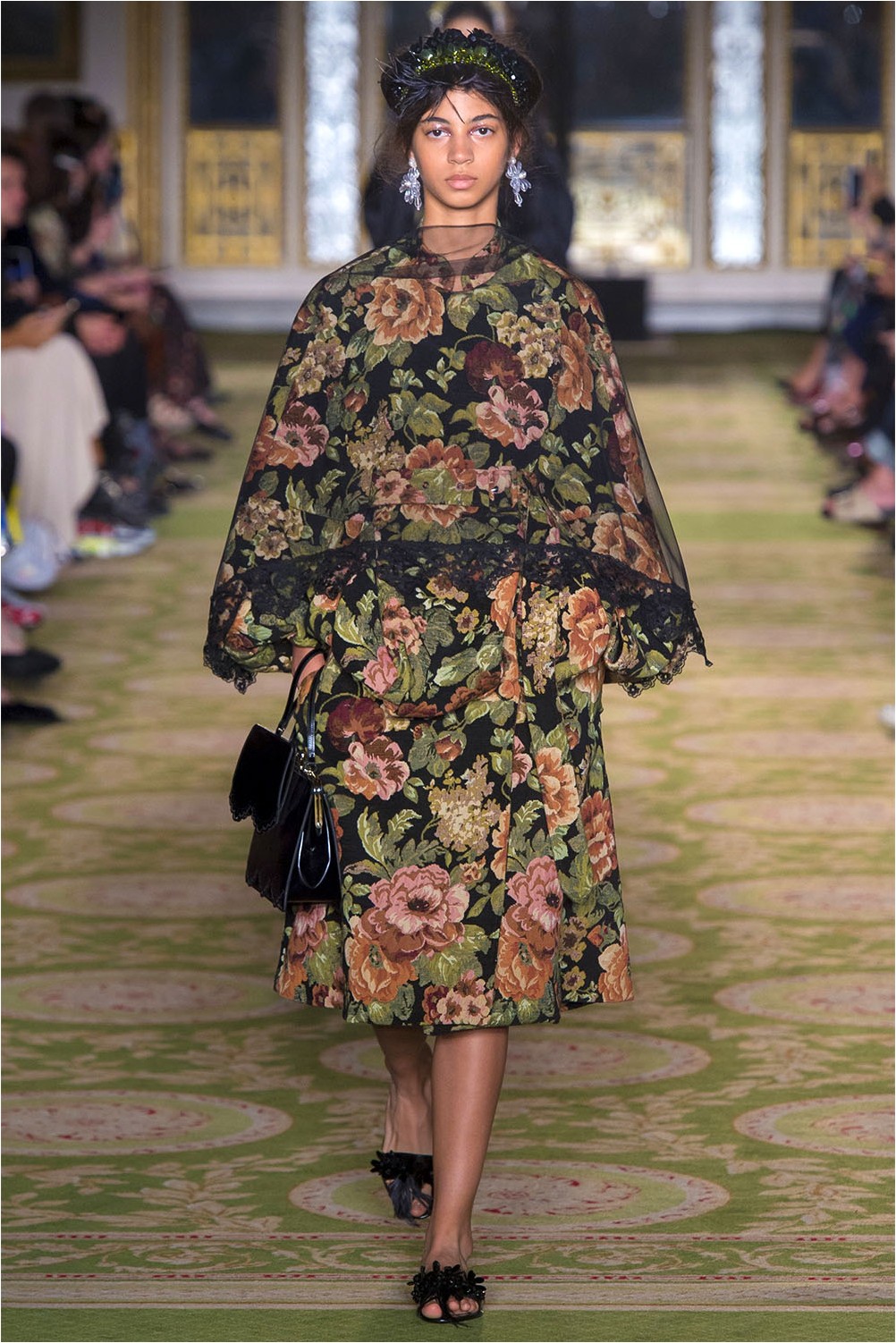 This time he turned to ideas for two historical epochs – Victorian England and eastern culture of the 16th century. Thus, on his exquisite outfits appeared images of portraits of the favorites of the rulers of the Tang Dynasty and large flowers on tapestry fabrics.
Shallow strip
The strip went beyond the usual black and white zebra or vest. Today, fashionable exquisite stripes in pastel colors. They should be thin and not too different from the main white background. In such a minimalist style, models from Badgley Mischka and Brock Collection were made.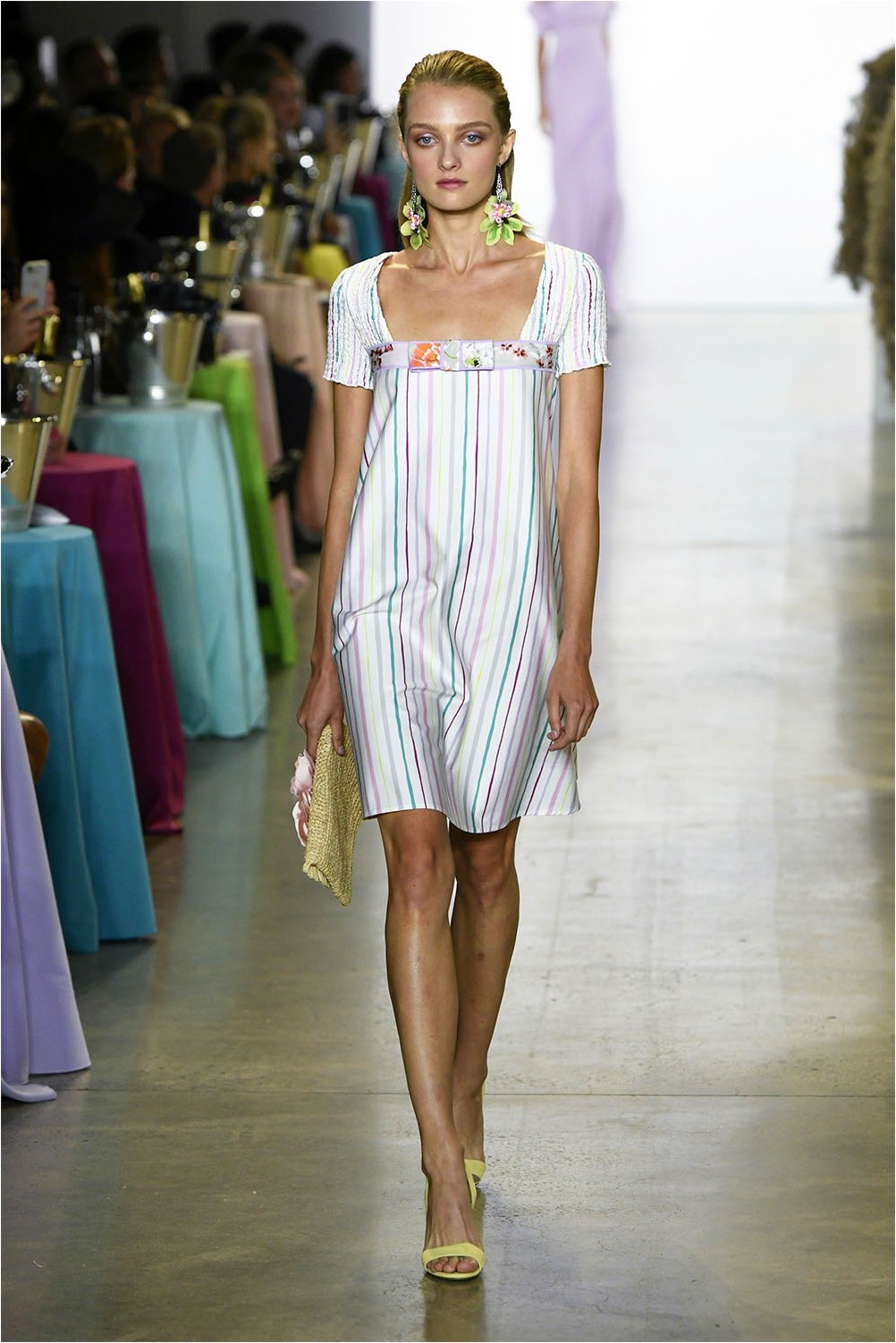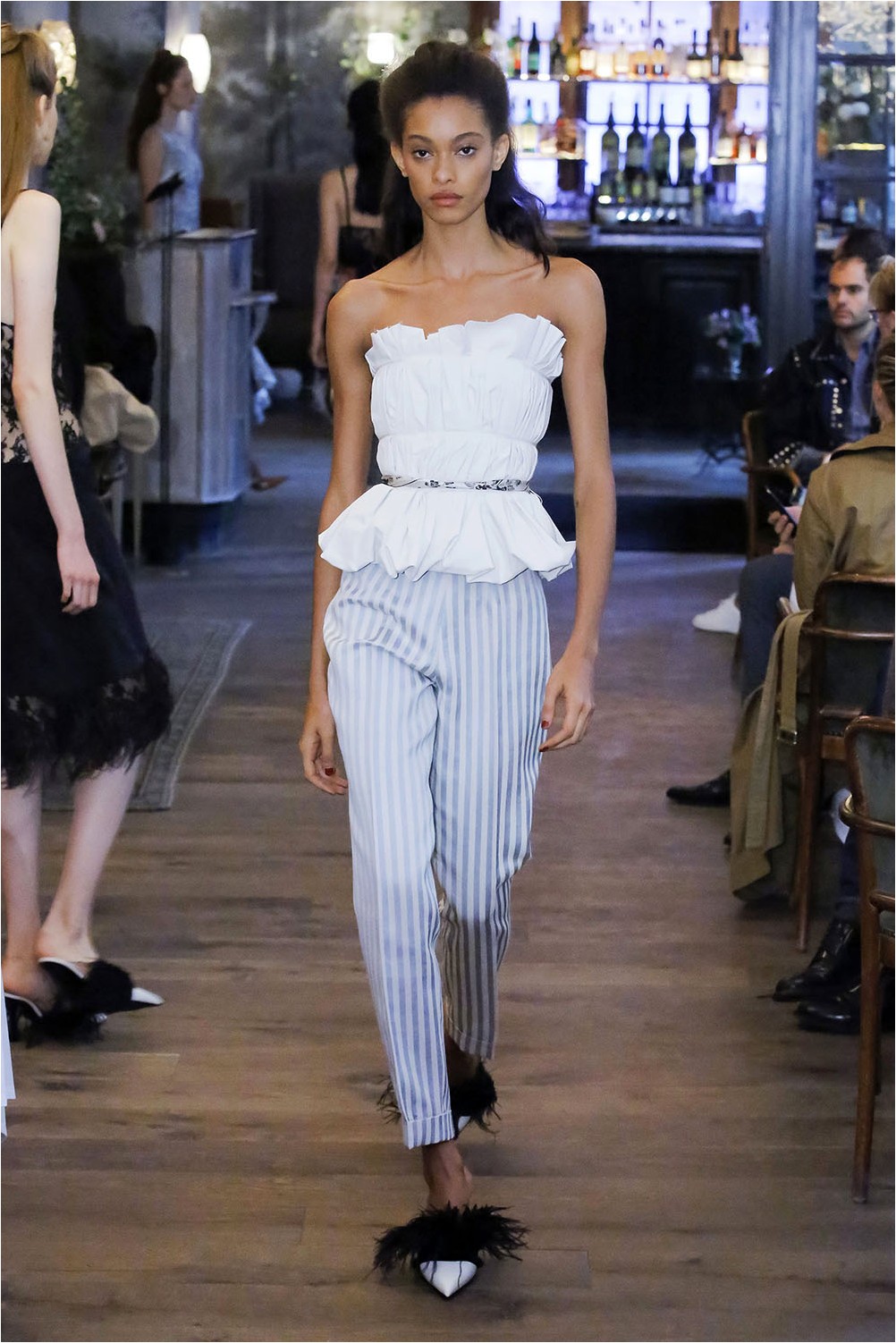 The trend is striped mono images and stylization of Latin American ethnic motifs. Another hit of the spring-summer season 2019 is outerwear made of striped fabric. And if you want something completely unusual, then the model from A.W.A.K.E. will come to the rescue. It has a strip of "folded" from bamboo shoots.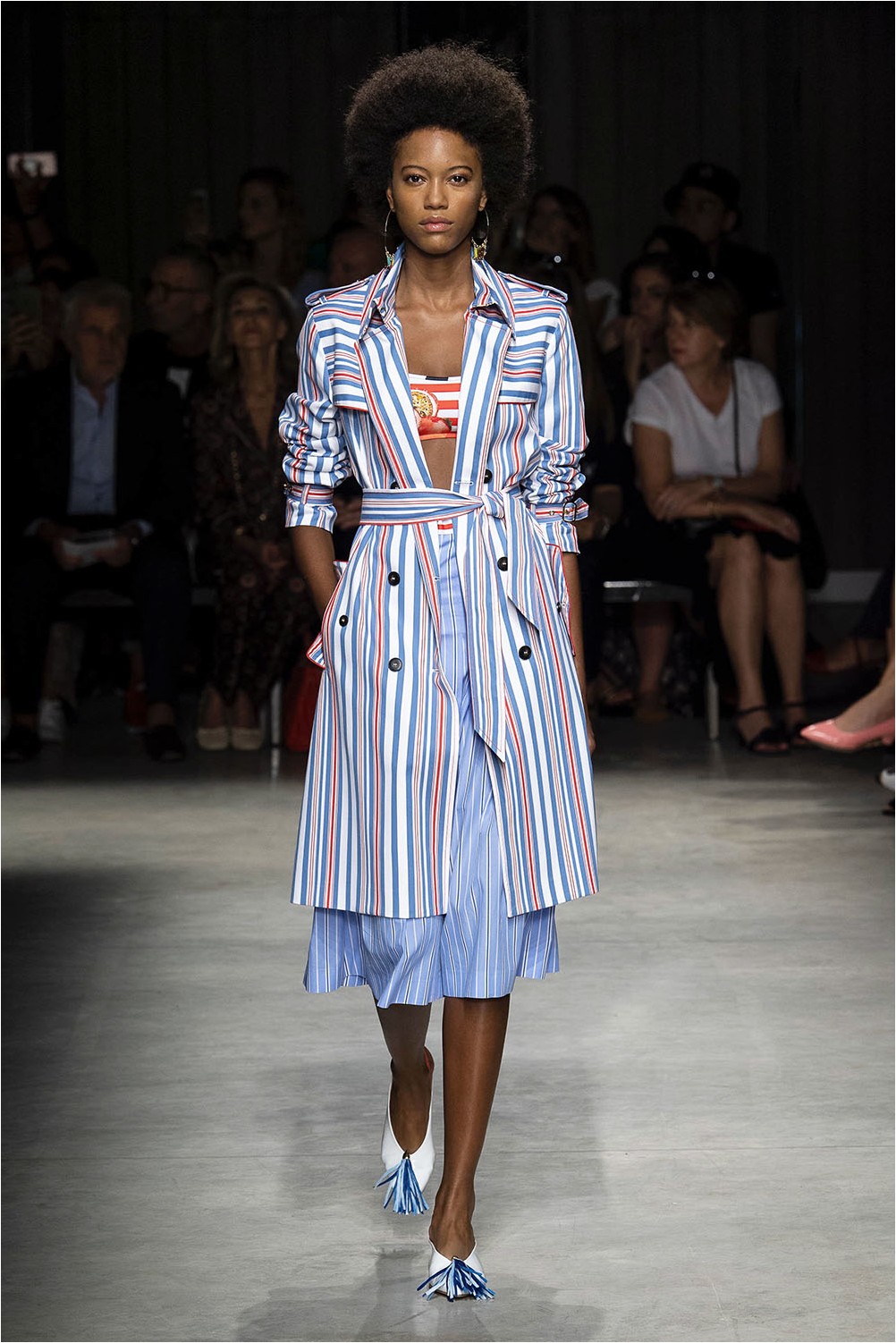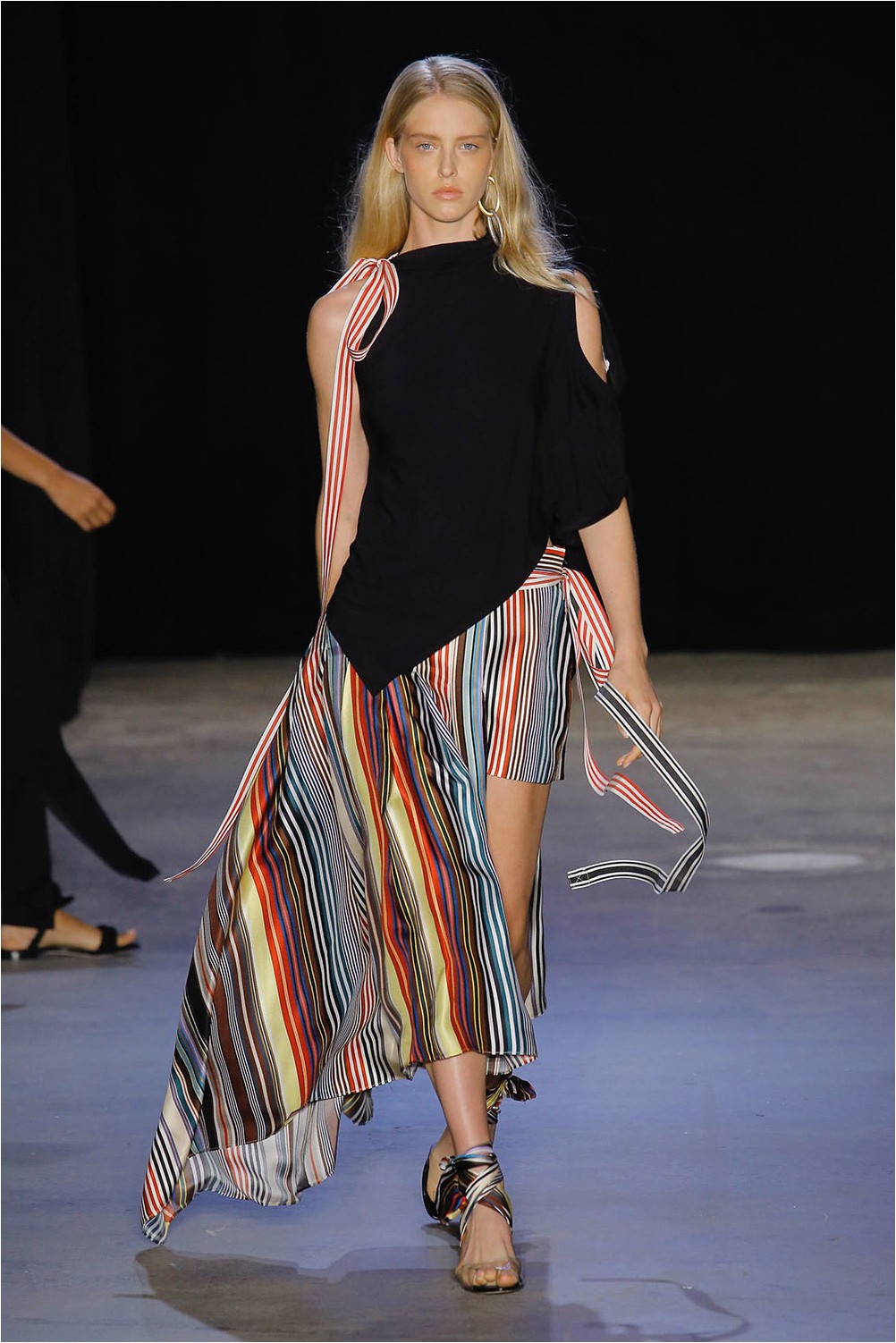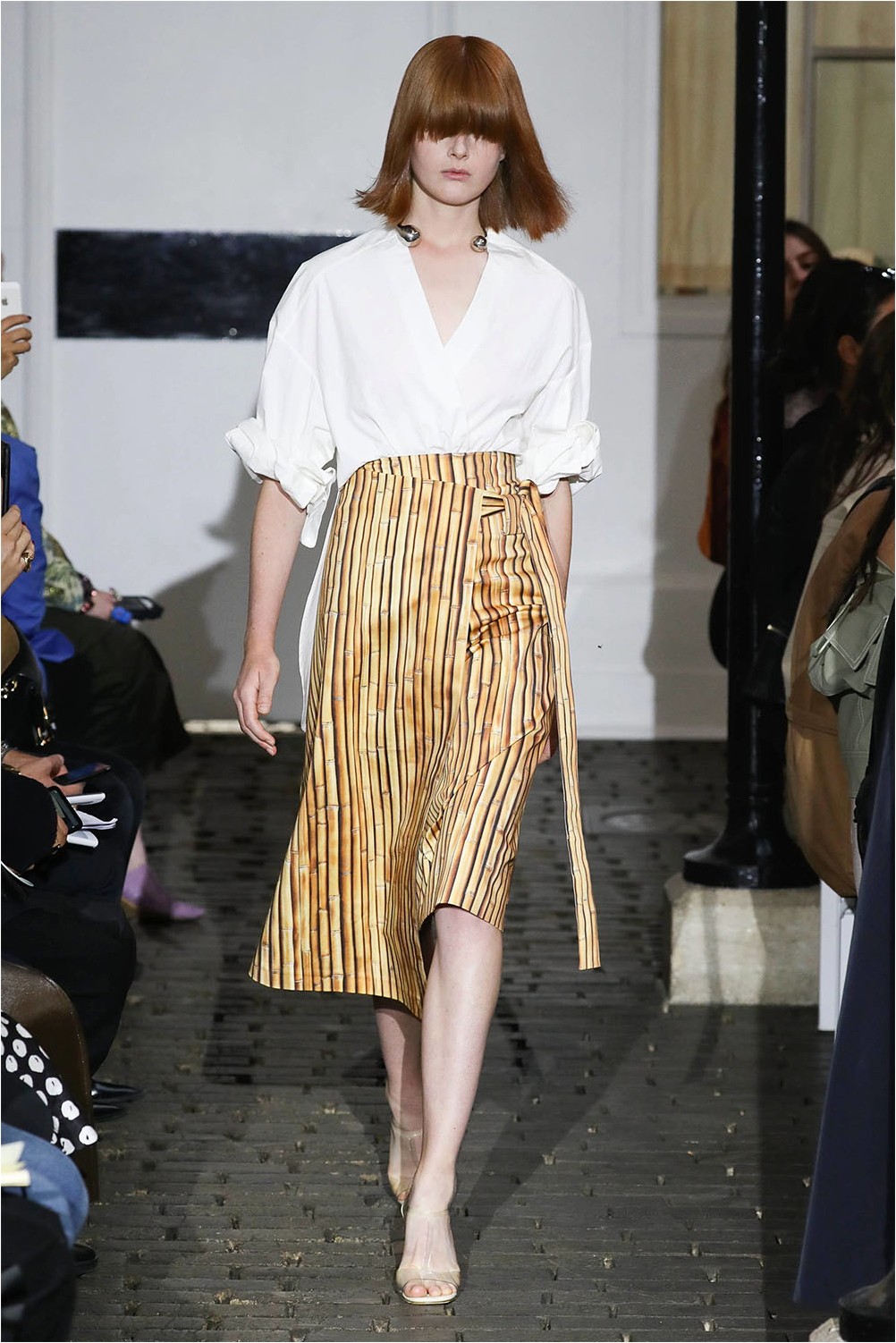 Shawl patterns
In the spring-summer fashion 2019, shawl motifs played with new colors. All those patterns that we used to see on shawls and shawls are now used in the design of trendy clothes. Blouses, tops, overalls, jackets – now any clothes can be decorated with shawls.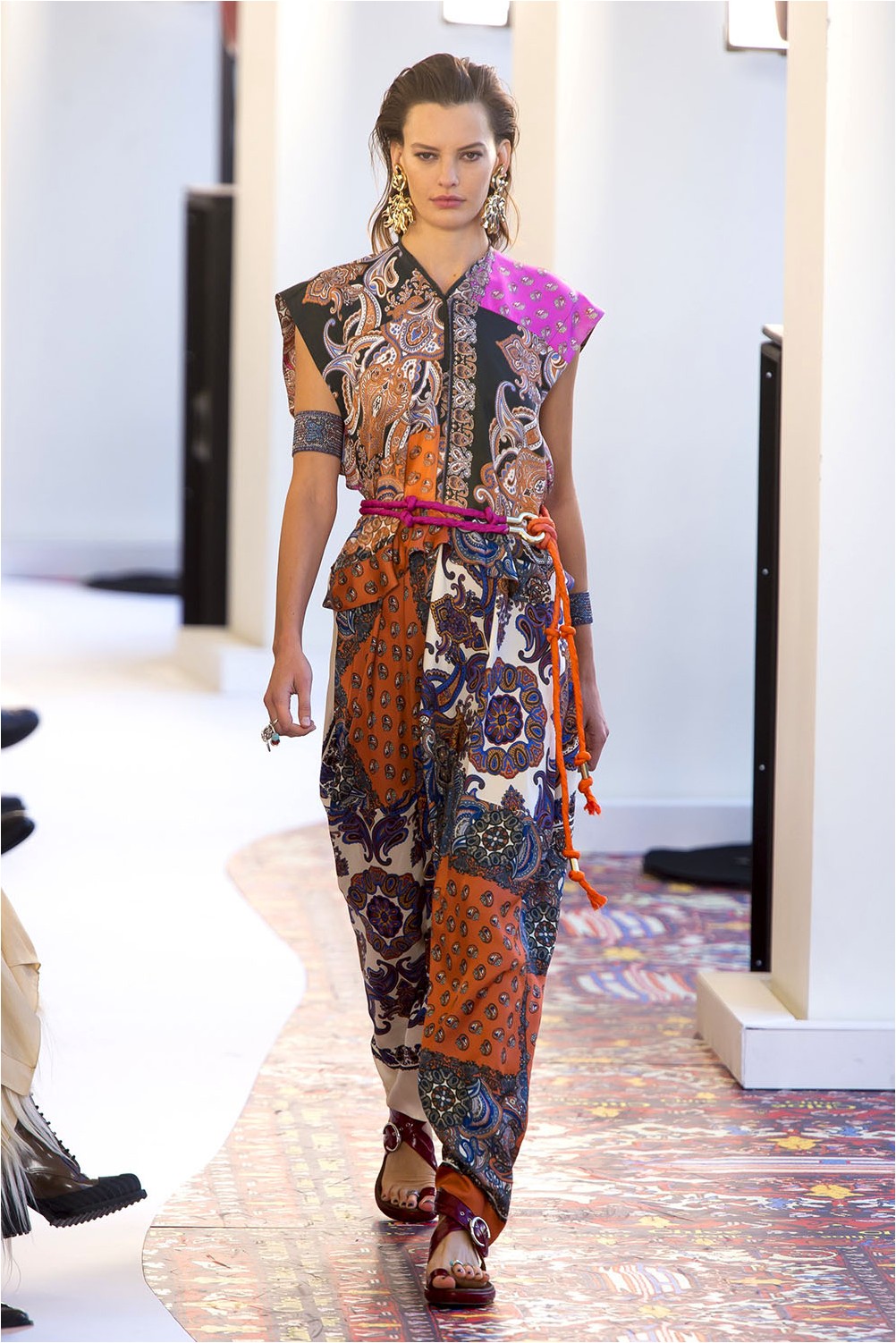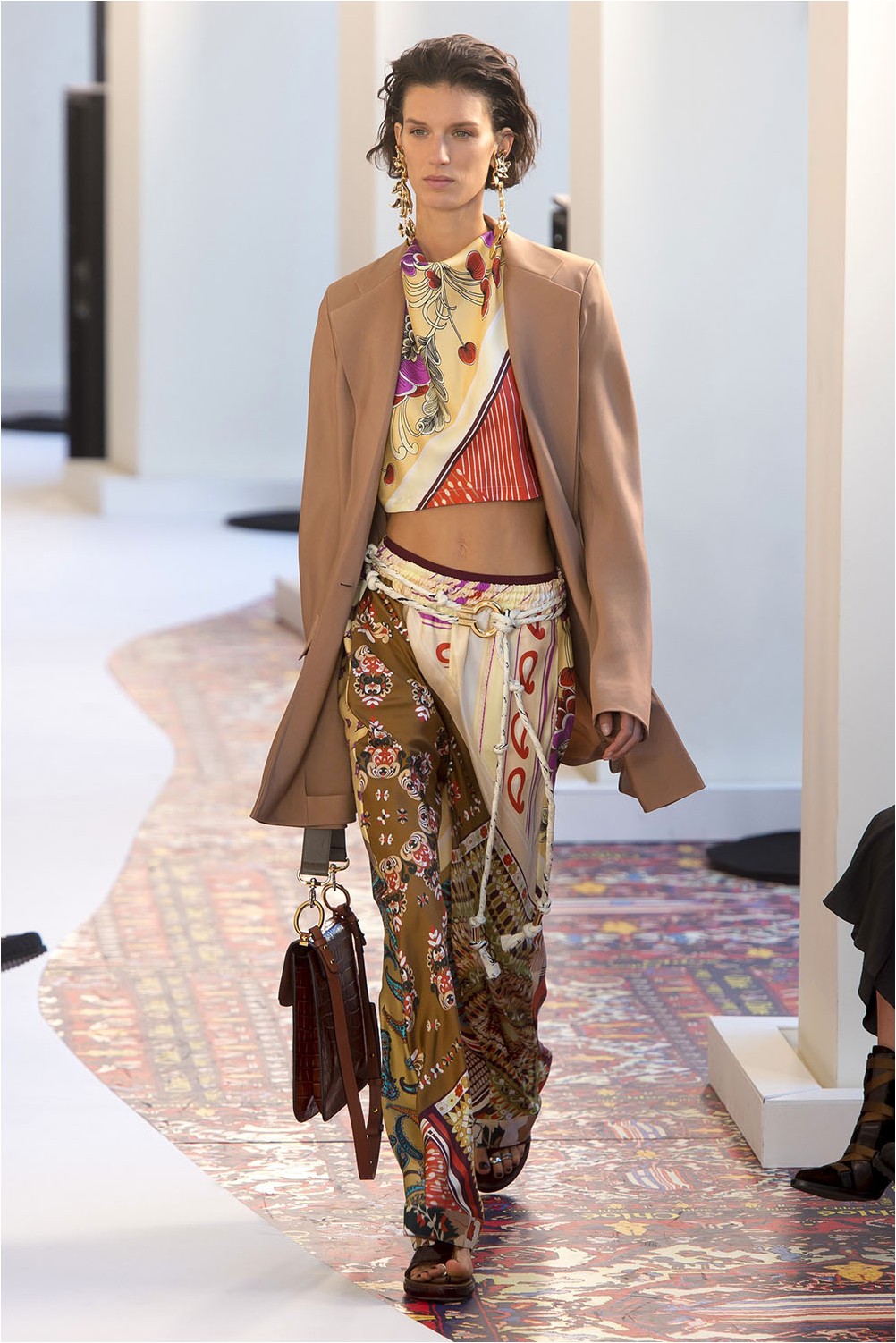 Turkish "cucumbers", curls, flowers, geometric lines can appear even on outerwear. A light, refined mini dress made from several scarves is a must have in the warm season. If you have such an outfit for the beach season, then you won't have to puzzle over how to tie a pareo correctly.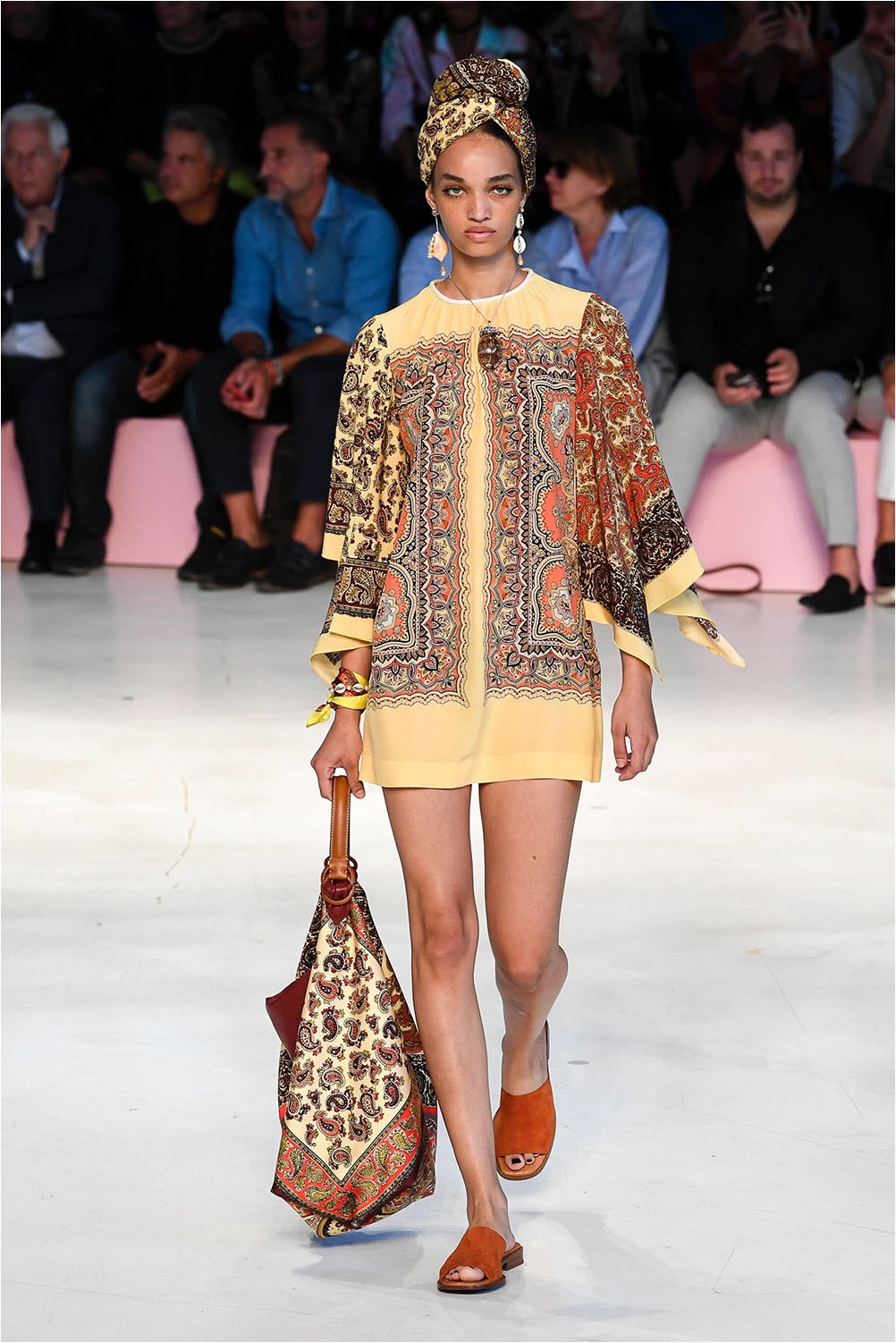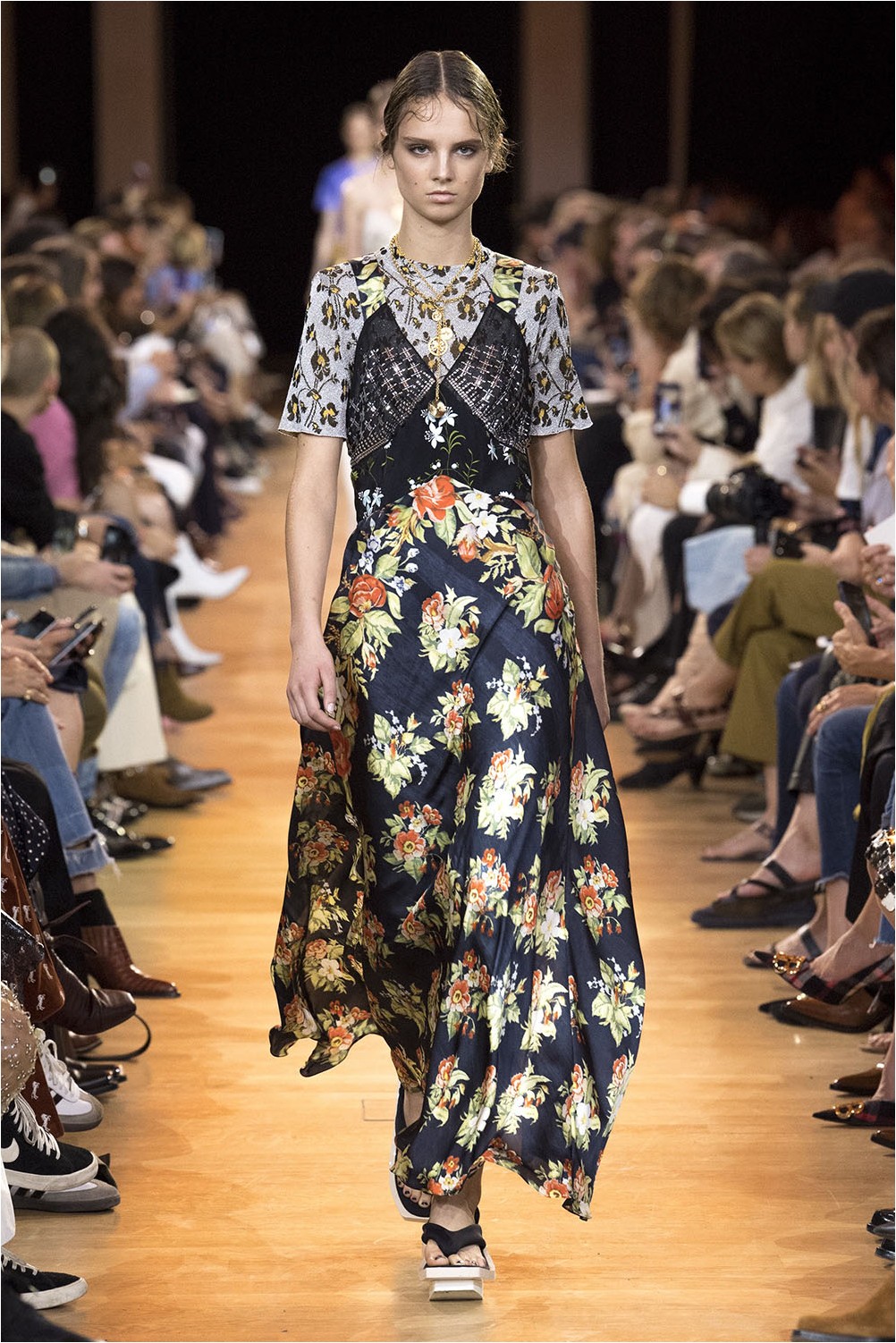 Pop art prints
Pop art is impossible without catchy, sometimes few compatible advertising elements, newspaper and magazine clippings, labels and scraps of retro photos. A print in the style of pop art is always a bold challenge to society. If you are ready to protest in mass or if you just like bright and stylish things – choose a fashionable pop art style picture..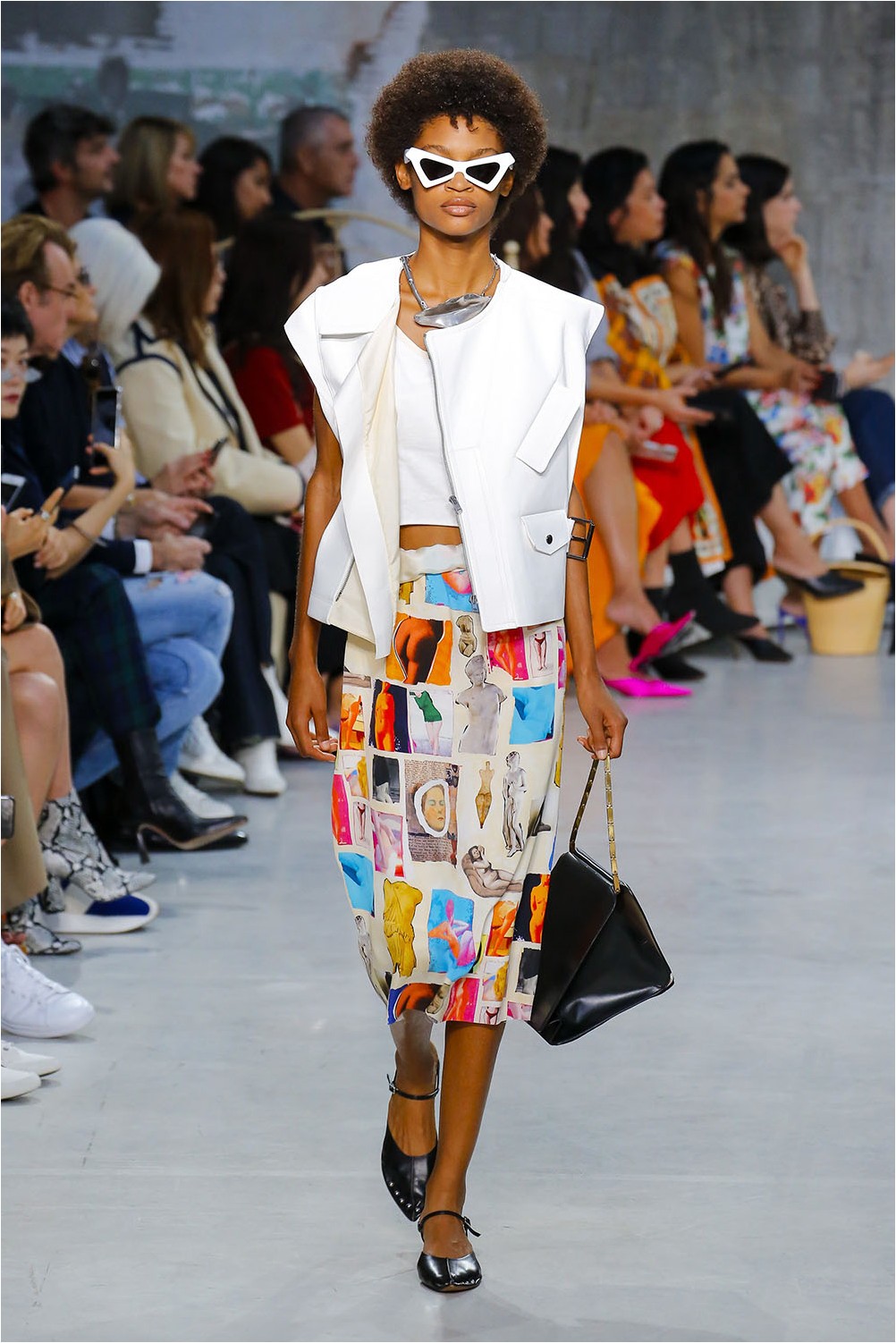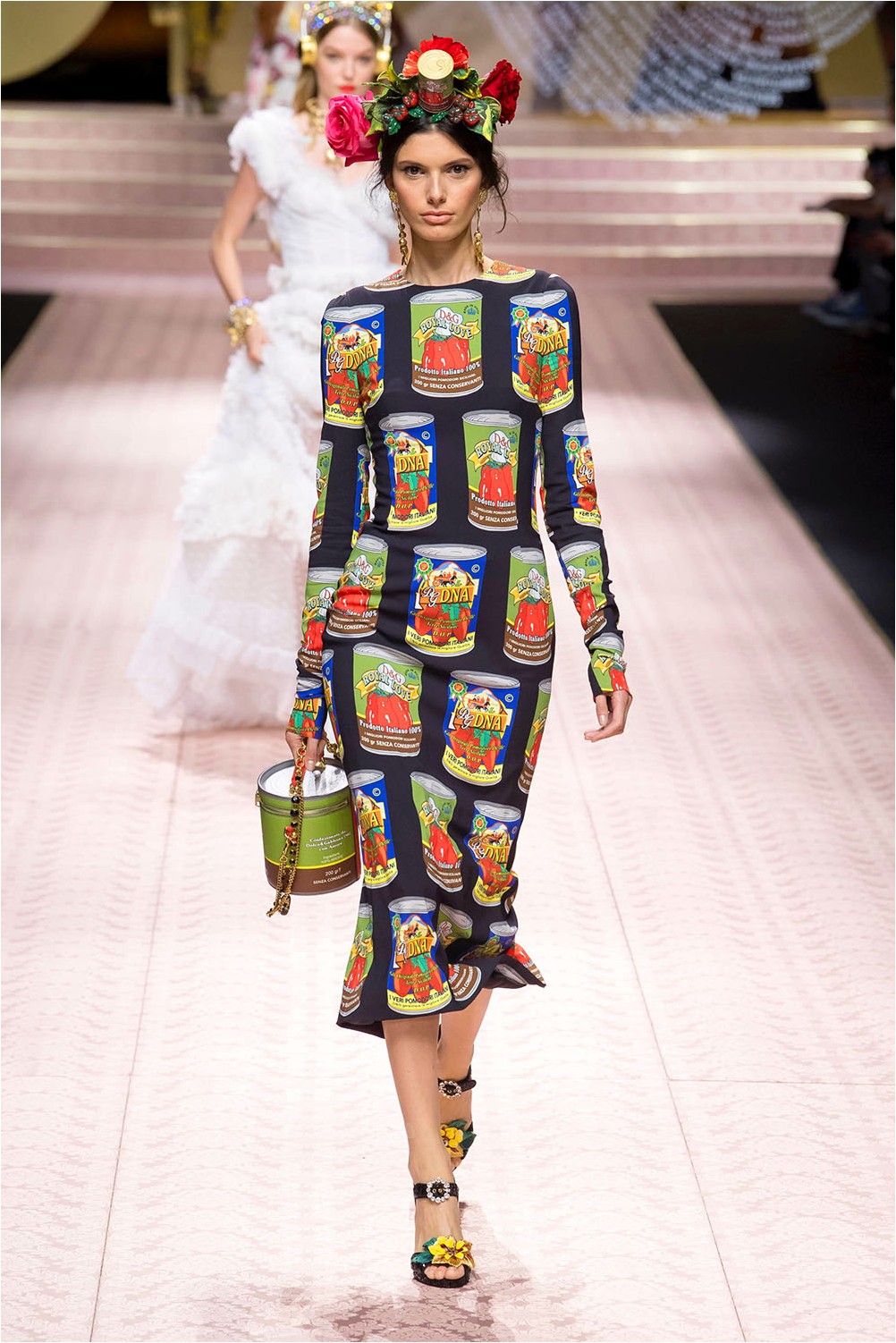 Unusual clothes with pop art fragments attracted general attention at the September fashion shows. Still, after all, only the most daring fashionable women can wear such a shocking outfit.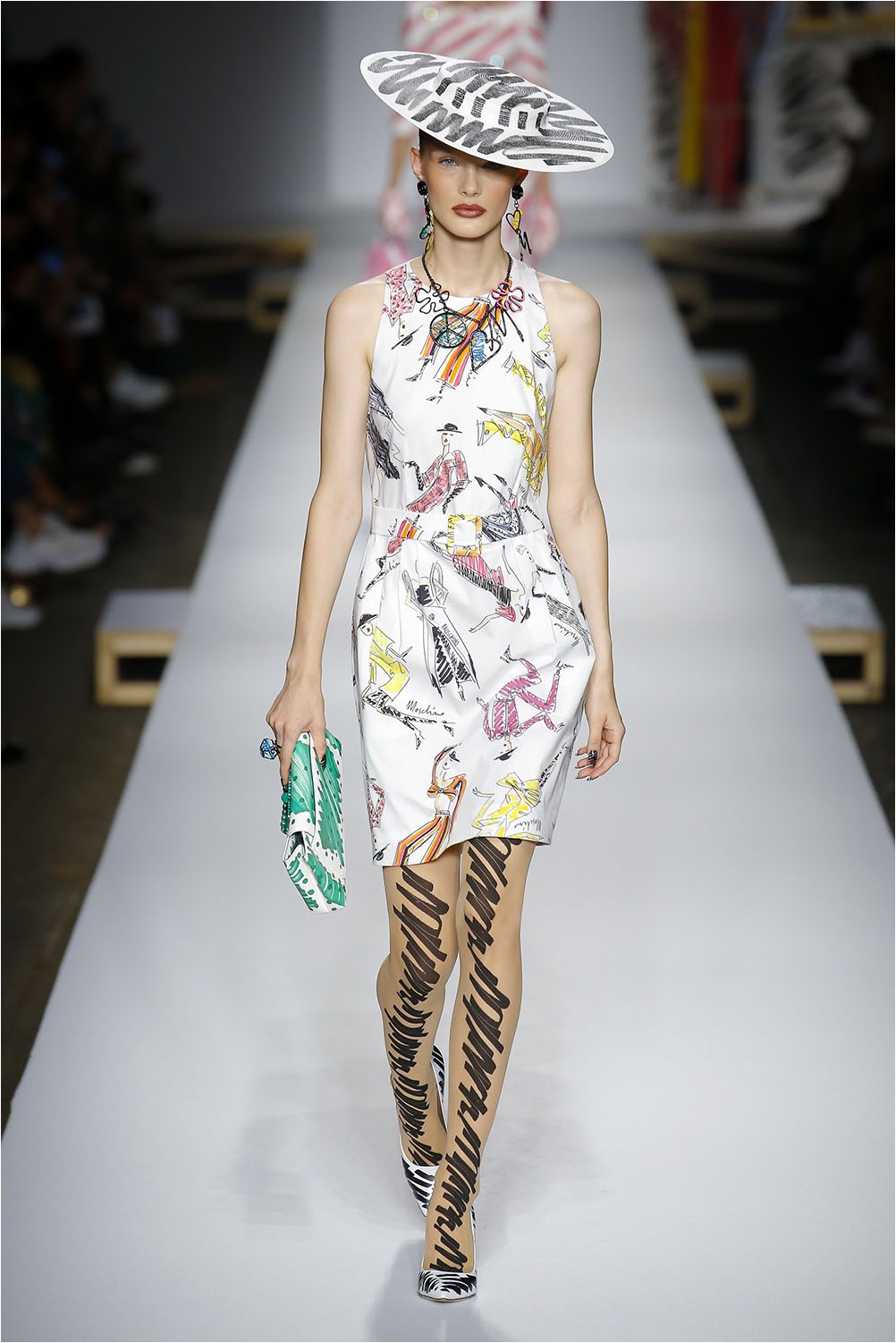 Logos
Not only flowers, Polka dot or stripe inspire designers. Even the brand names of the brands themselves can become independent prints. Moreover, such solutions always look stylish. To see this, just look at the dresses from Balenciaga with images of their own logo.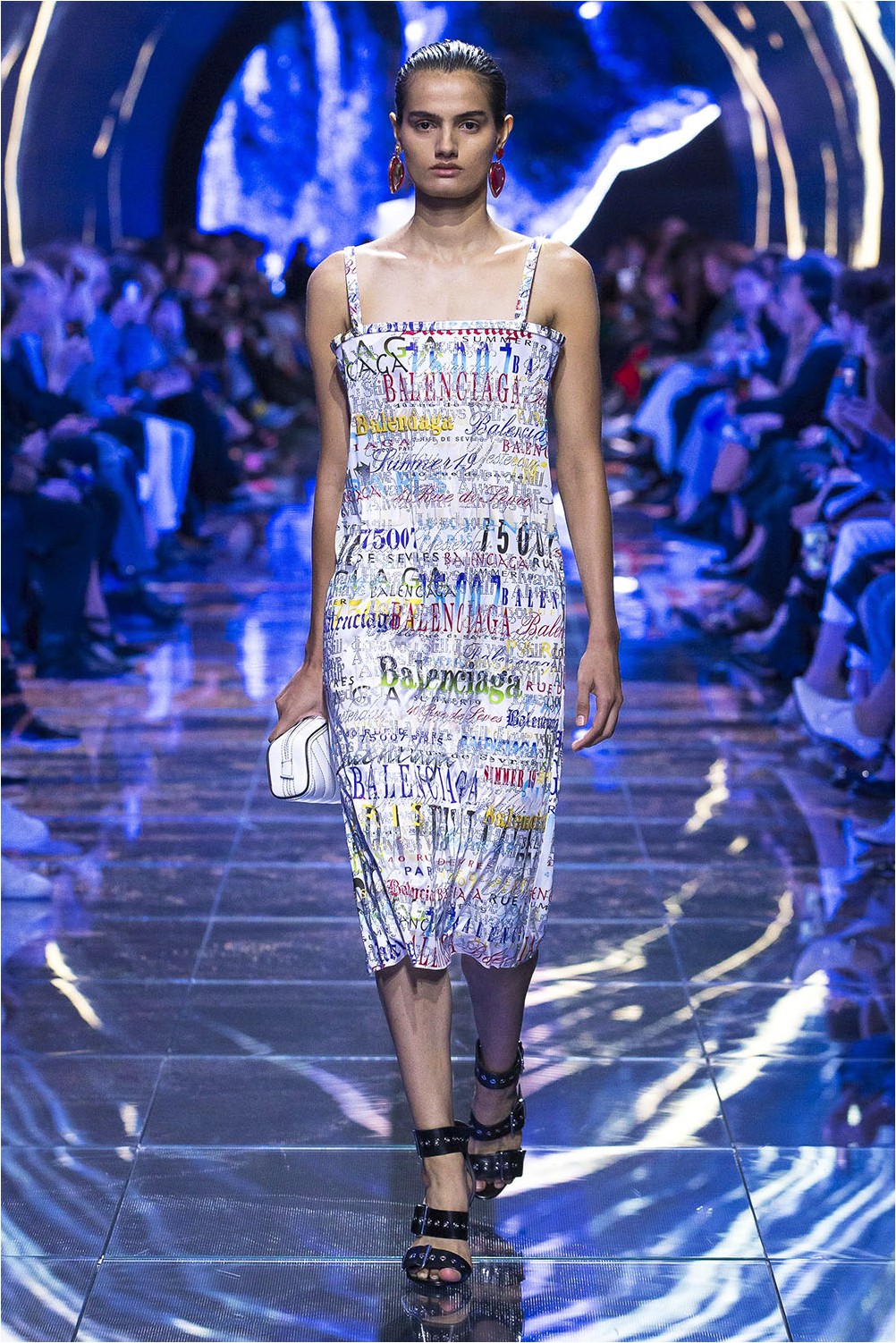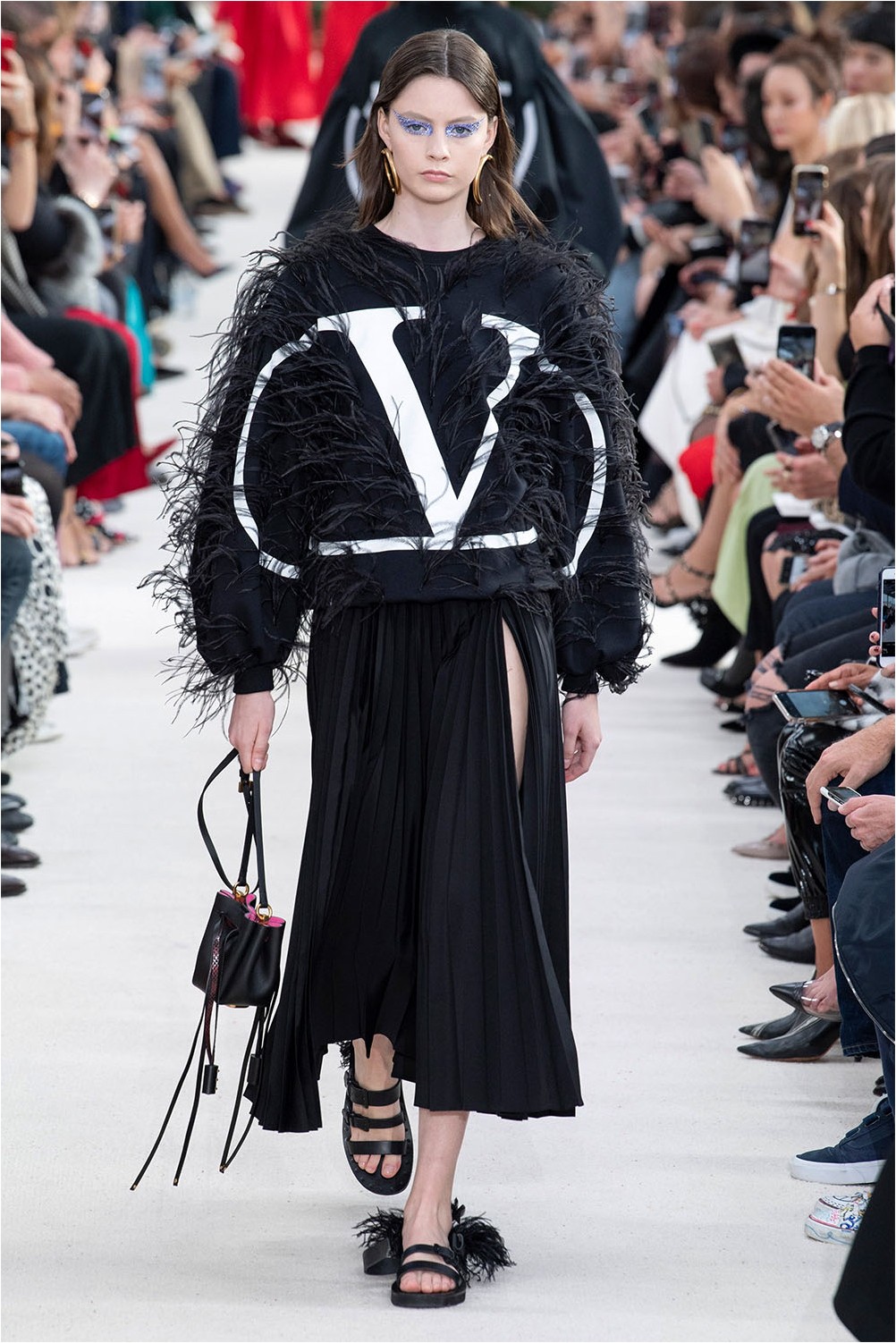 Images of birds
The theme of bird plumage was traced in many trend collections. Couture clothing and shoes were generously decorated with feathers and down. "Feathered fever" also appeared in fashionable prints. At fashion shows appeared trousers, dresses and blouses, decorated with motifs with birds. As a rule, the background for them was chosen light, so that colored parrots, hummingbirds and jays became brighter and more expressive.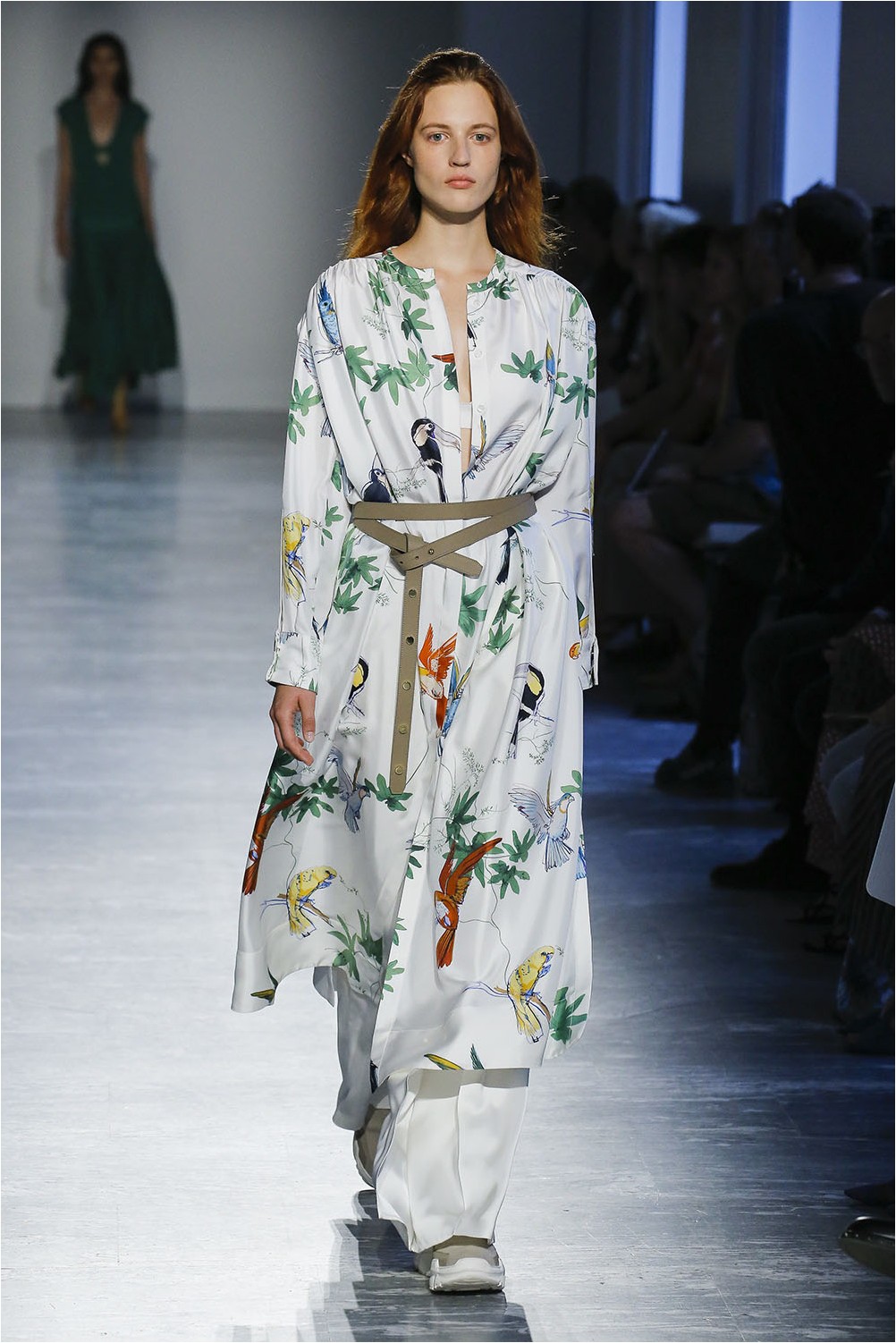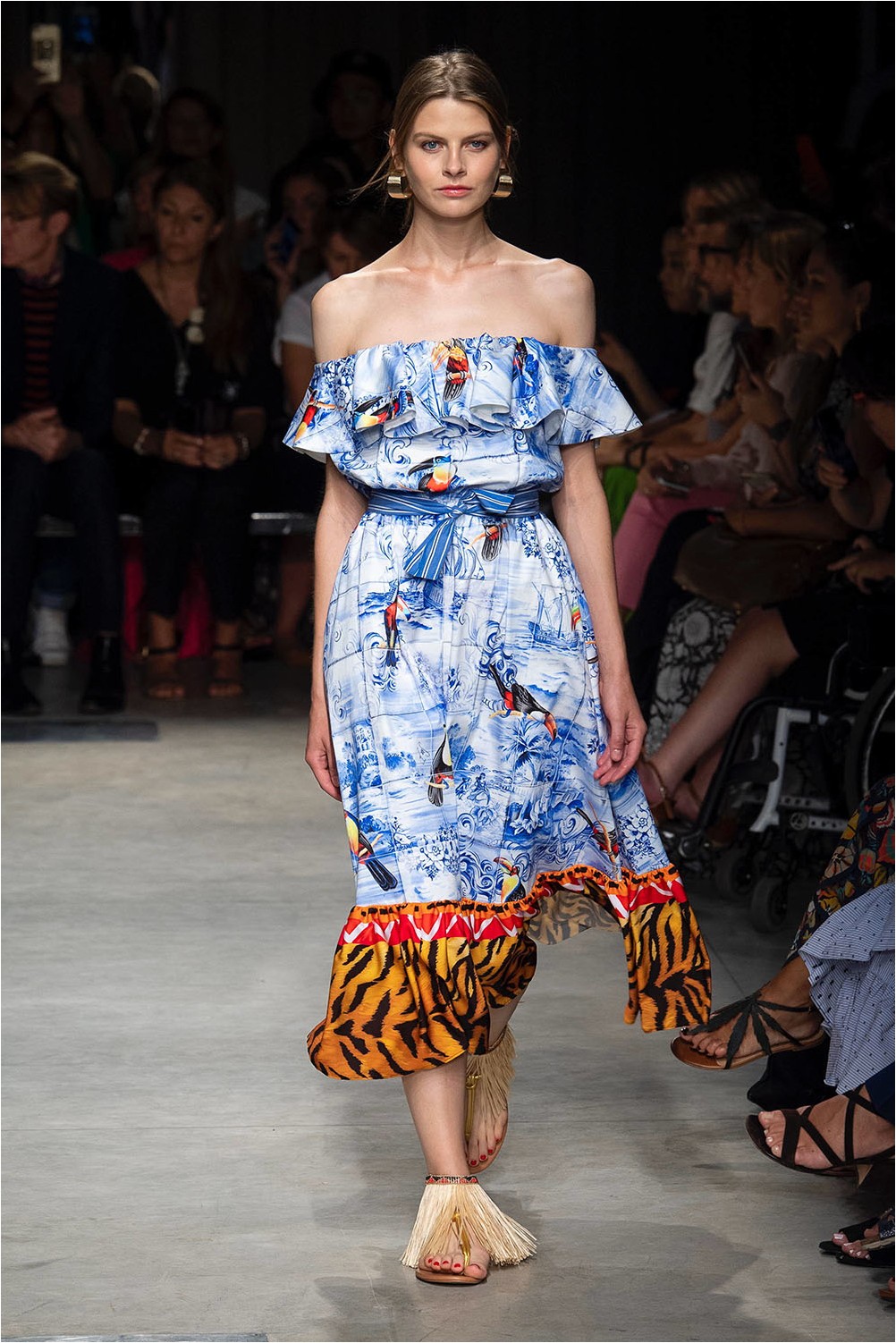 Geometry
Geometric shapes and lines are in fashion. They are located on the canvas in a chaotic order. Despite the strict motives, the geometric-looking clothes look incredibly feminine. An example is dresses from the Boss collection. There are no feminine flowers or a romantic "Polka dot" print. But the model at first sight attracts with its refinement.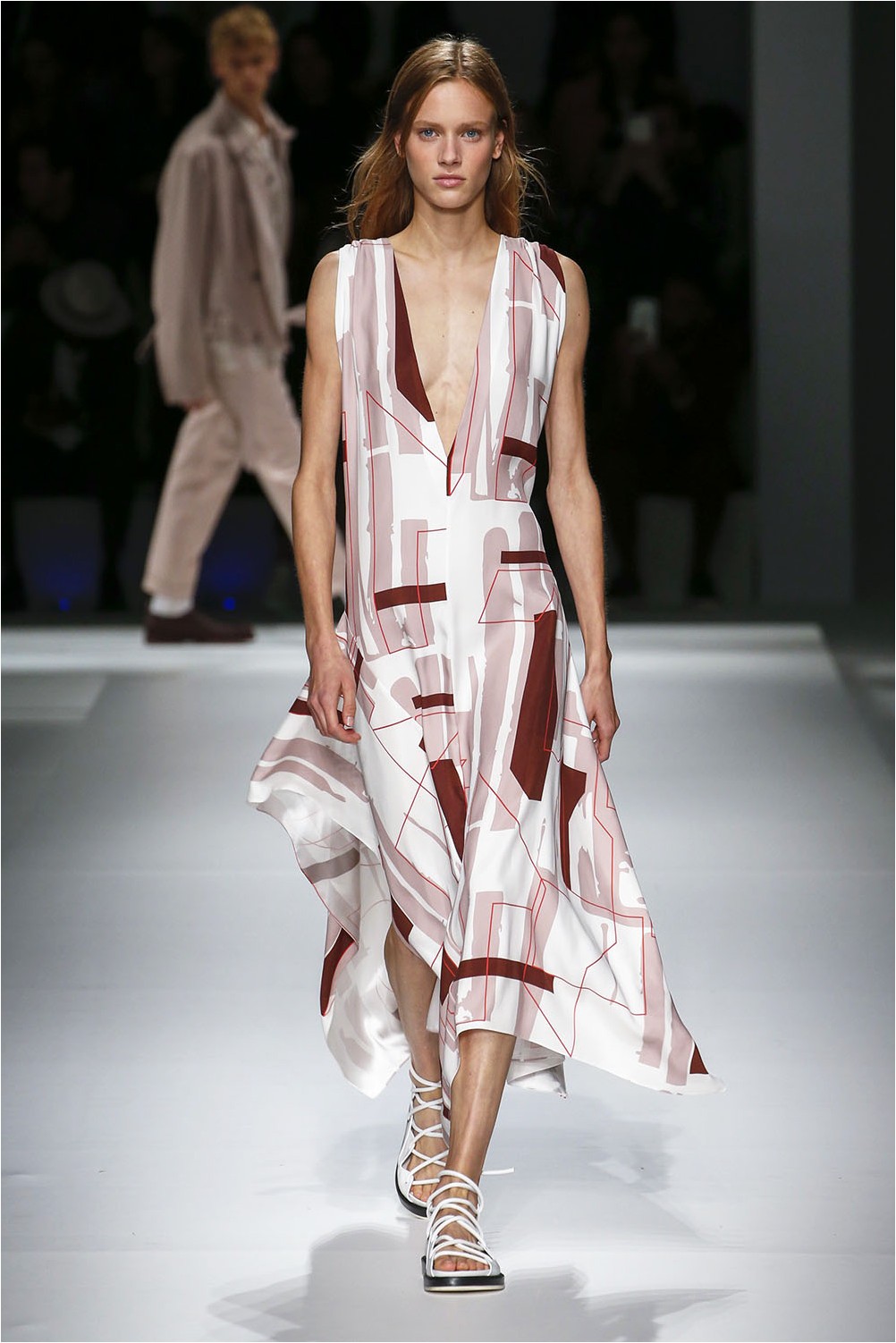 Craquelure effect
It is impossible to ignore the print repeating the craquelure pattern – the technique of artificially aging things and painting. Craquelure fabrics – fashion trend from Balmain.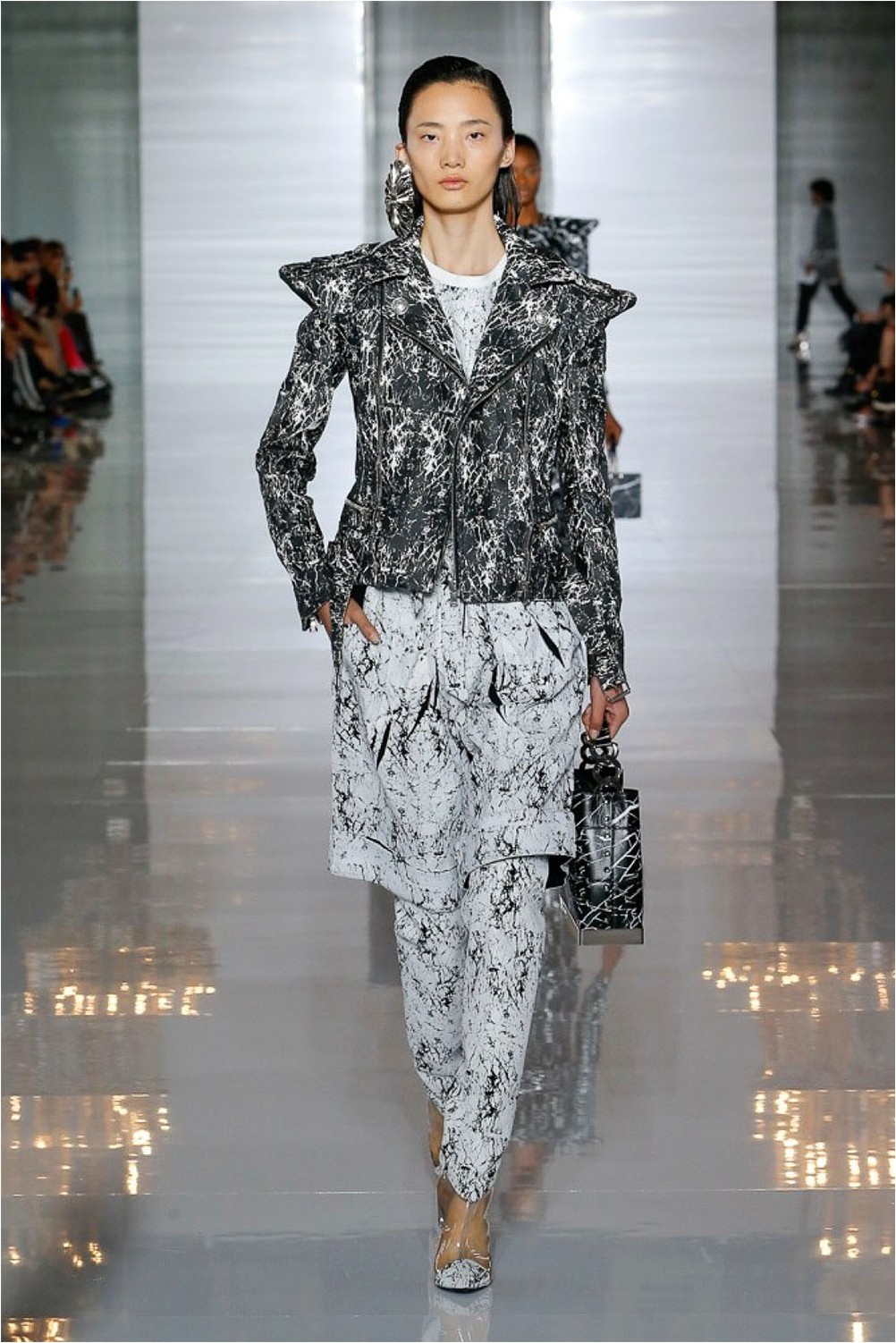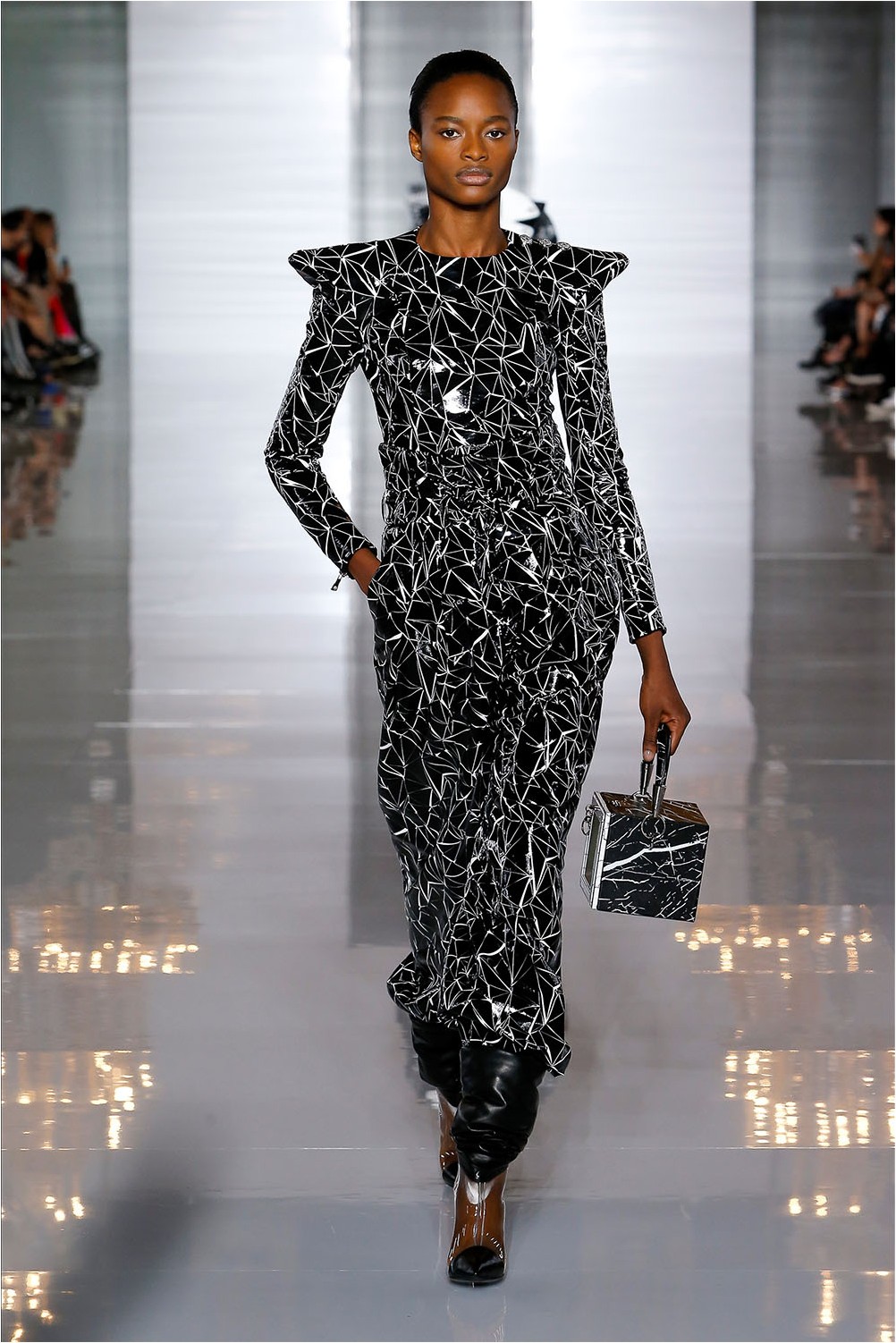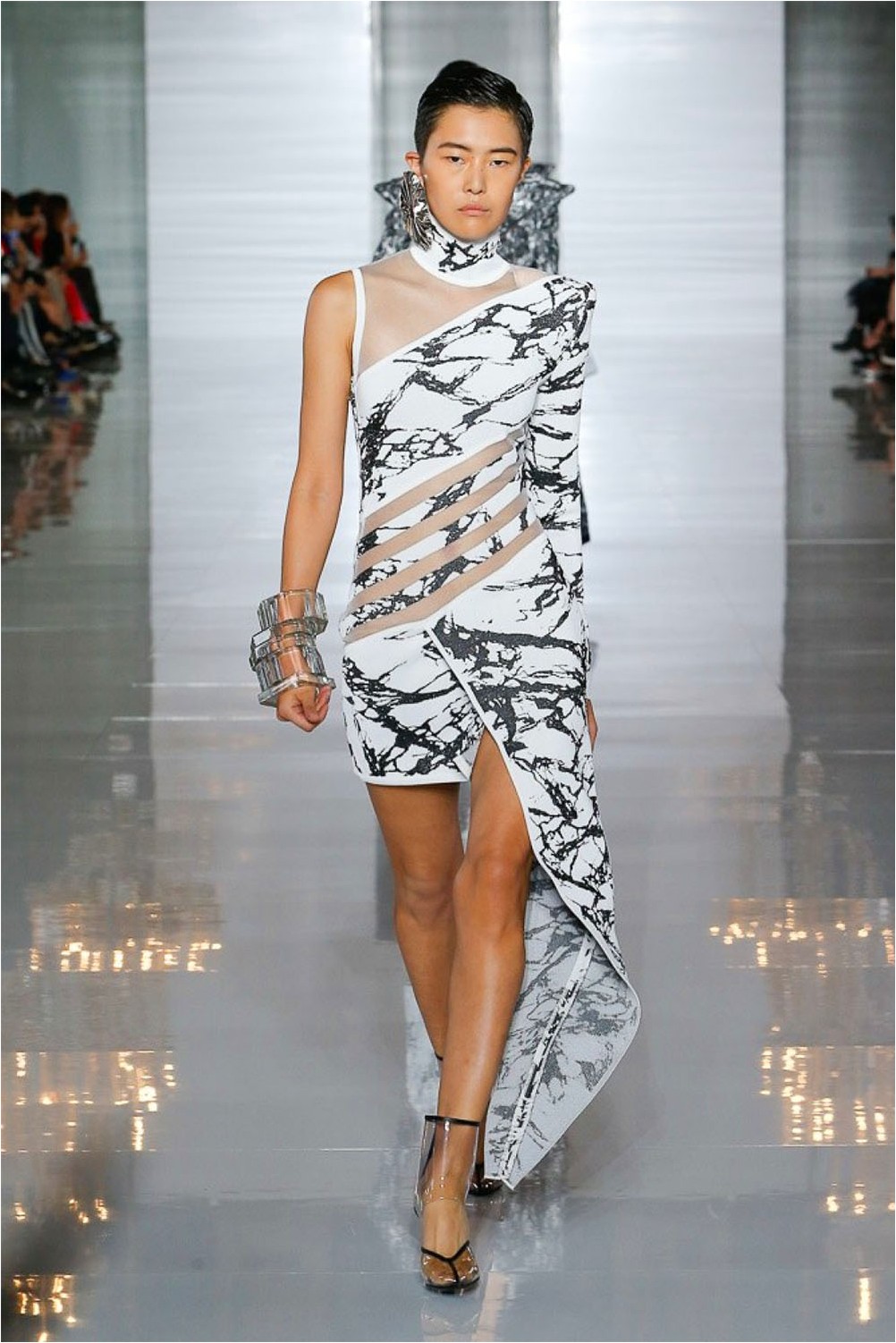 But in the designer's craquelure graphics there was no sense of antiquity. On the contrary, in his last collection there was a futuristic note, and the outfits themselves were real masterpieces of high art.
Trendy prints of the spring-summer 2019 season are full of feminine notes. Flowers, shawls, bird images and a cute Polka dot print adorned trend models from leading designers. The choice of drawings is so vast that it is not surprising to get confused. But for this case, designers have saved the decision – to combine different prints.
If you still have not decided which motive to choose for your summer dress or skirt – choose several at once. After all, the combined trend remains relevant..
Similar articles
---