Content
---
---
Unusual shoes made of transparent plastic, shoes – generously strewn with shining sequins and framed by a cascade of flounces. The main attention should be paid to the elements of decor.
Transparent shoes
Shoes made of silicone, PVC and other types of plastic – have become the main trend of this season. Designers loved this material for its visual weightlessness..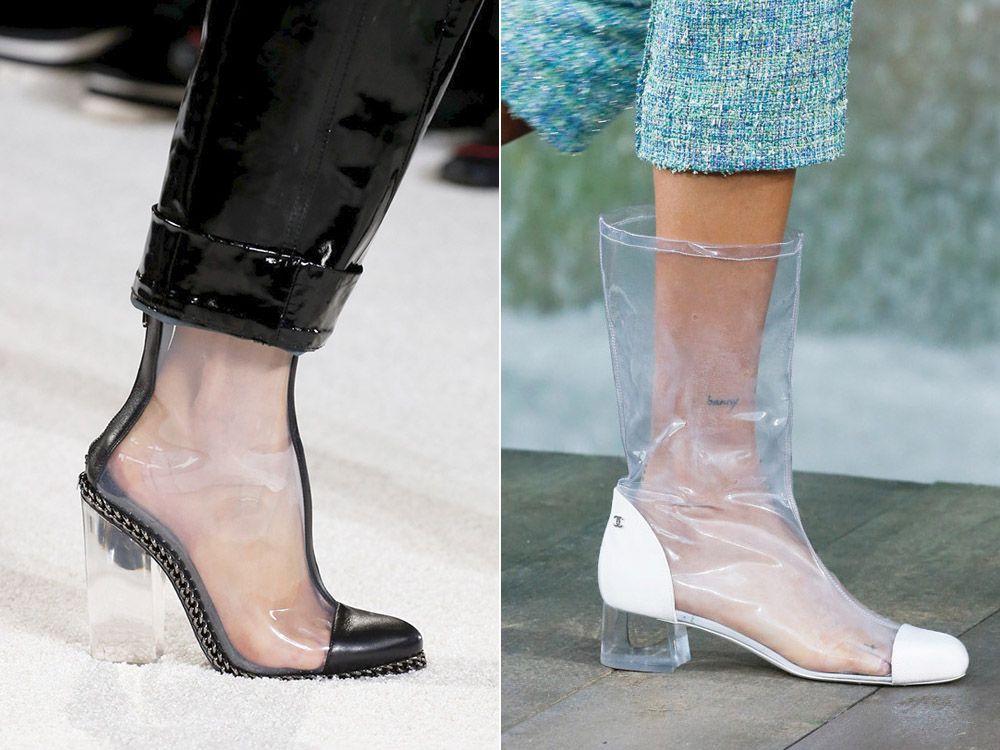 Some designers chose to decorate with "invisible details" only certain parts of the shoe. For example, Oscar de la Renta and Alexander Wang made only the lift line transparent, which made the neat classic shoes look even more elegant.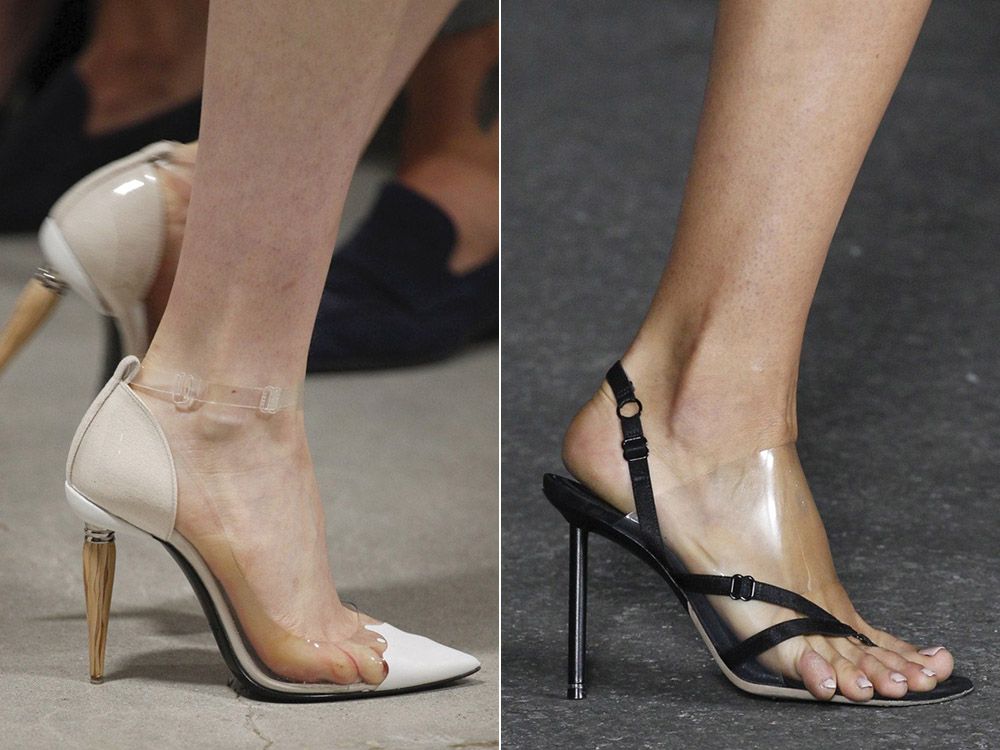 Transparent heel is one more original trend. Versus, Prabal Gurung, Balmain and a number of other well-known brands presented stylish and extraordinary styles of shoes with transparent heels..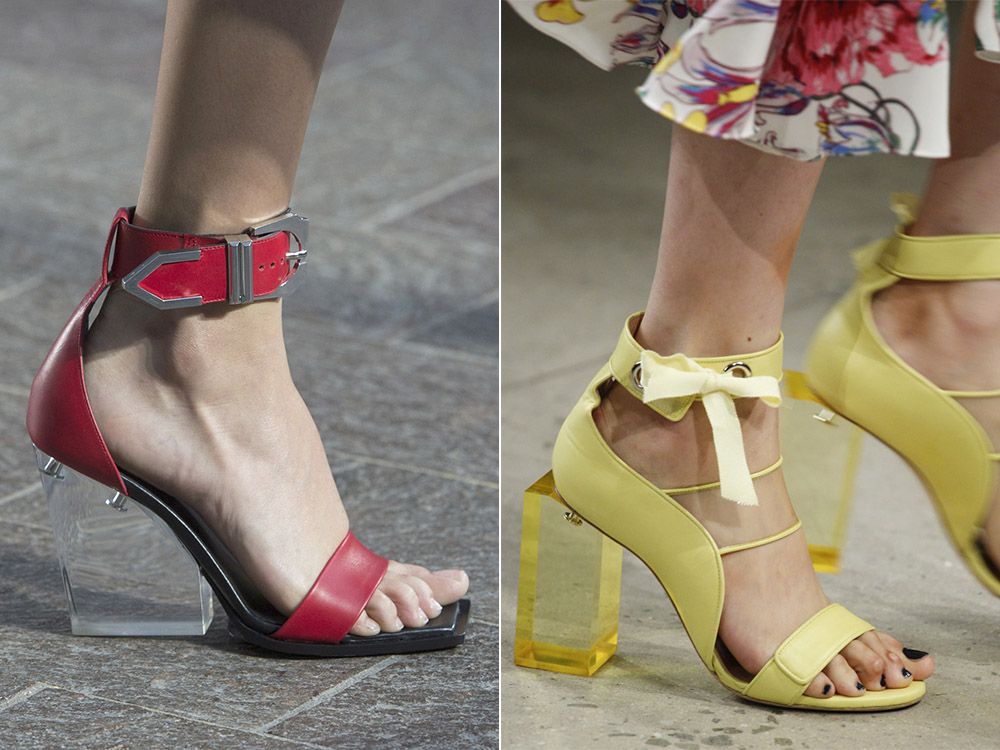 Flat platform
Mary Katranzou made the platform multi-layered and very massive. And Gabriela Hearst models somehow reminded traditional Japanese sandals, only in a modern design.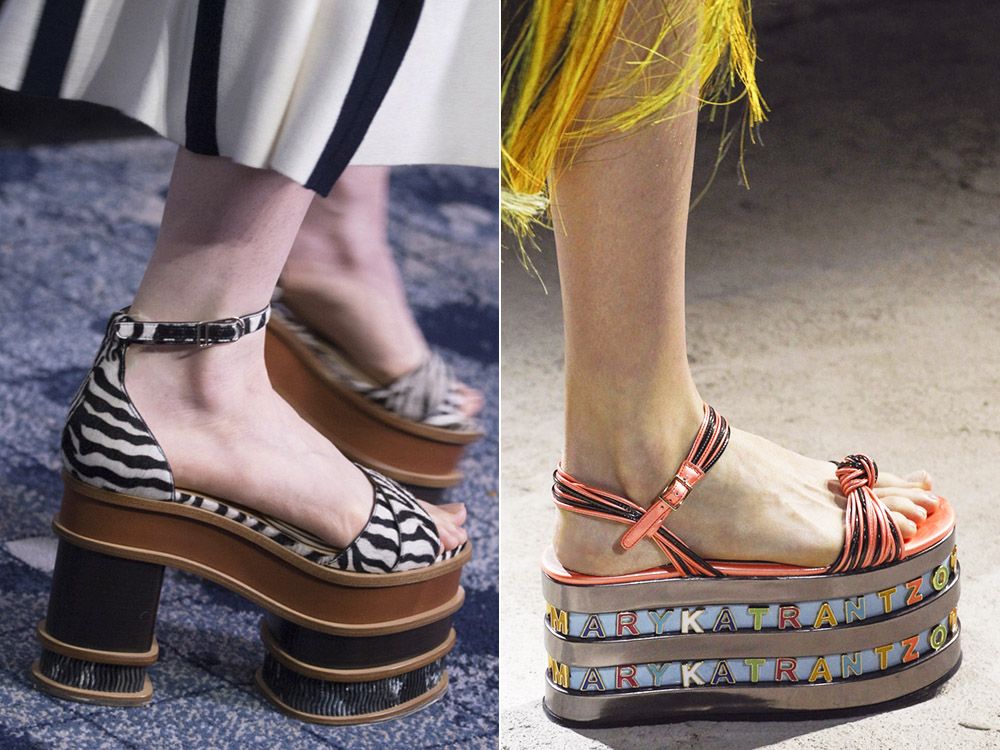 Platform shoes do not have to be eccentric. She can be elegant. Such models on a flat platform were in the collections of Simone Rocha and Alexis Mabille.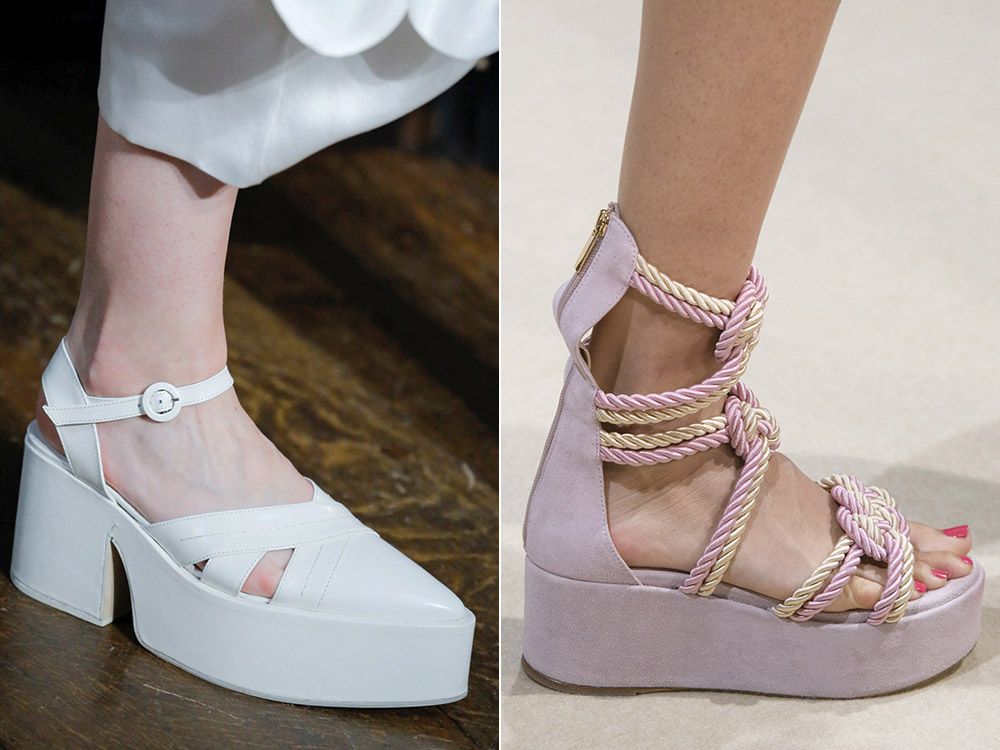 Classic shoes
"Real" classic mid-heeled shoes can be found in the collections of Victoria Beckham and Calvin Klein. There is nothing superfluous in them, the emphasis is only on color – most of the shoes are made in fashionable shades, which Panton called the main in the spring-summer season of 2018.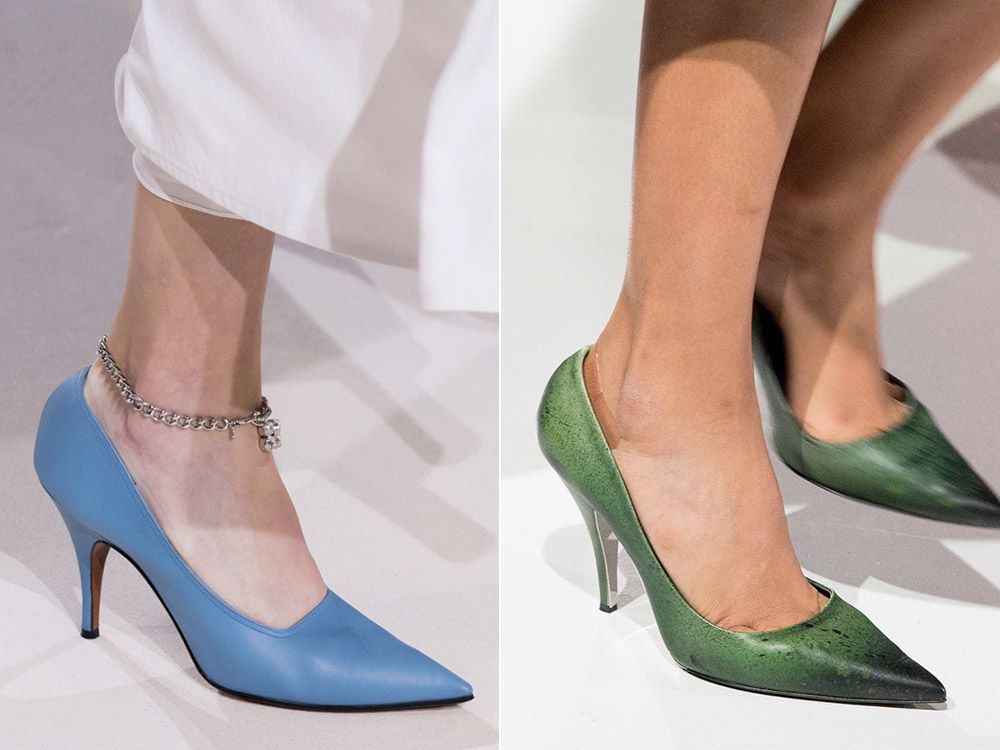 Added a little decor to simple unremarkable Tom Ford and Saint Laurent shoes, fringe and sequins will be in trend this season..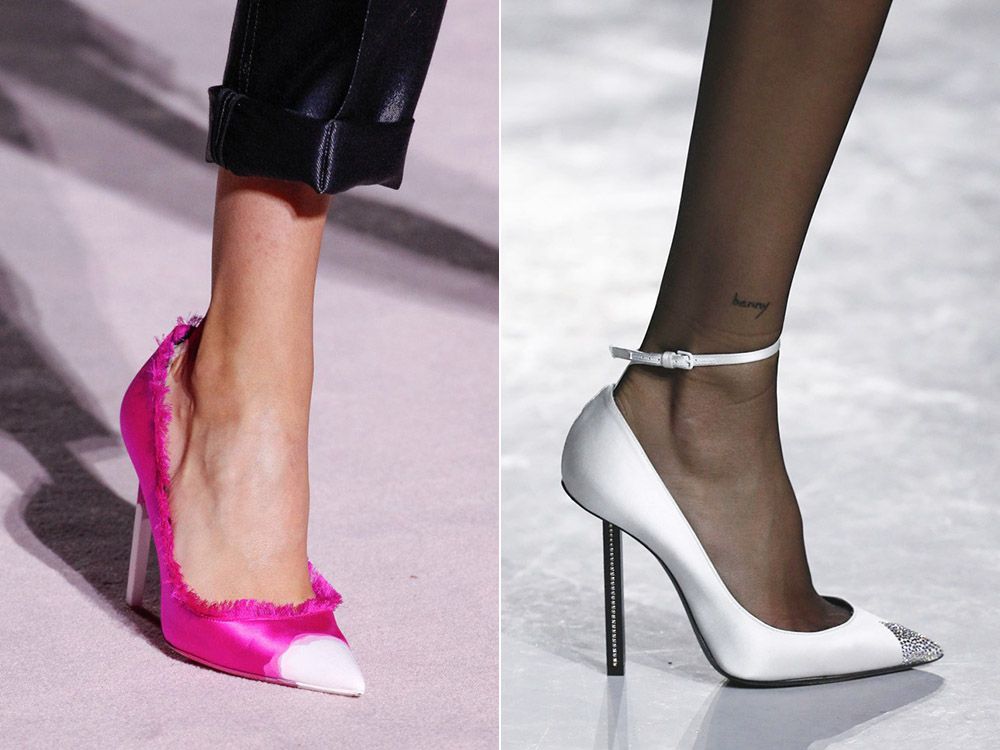 Stella McCartney invites us to try on incredibly comfortable low-heeled shoes. Her collection includes a whole line of shoes in any color scheme – from calm shades of gray and brown to bright ultramarine and bright fuchsia.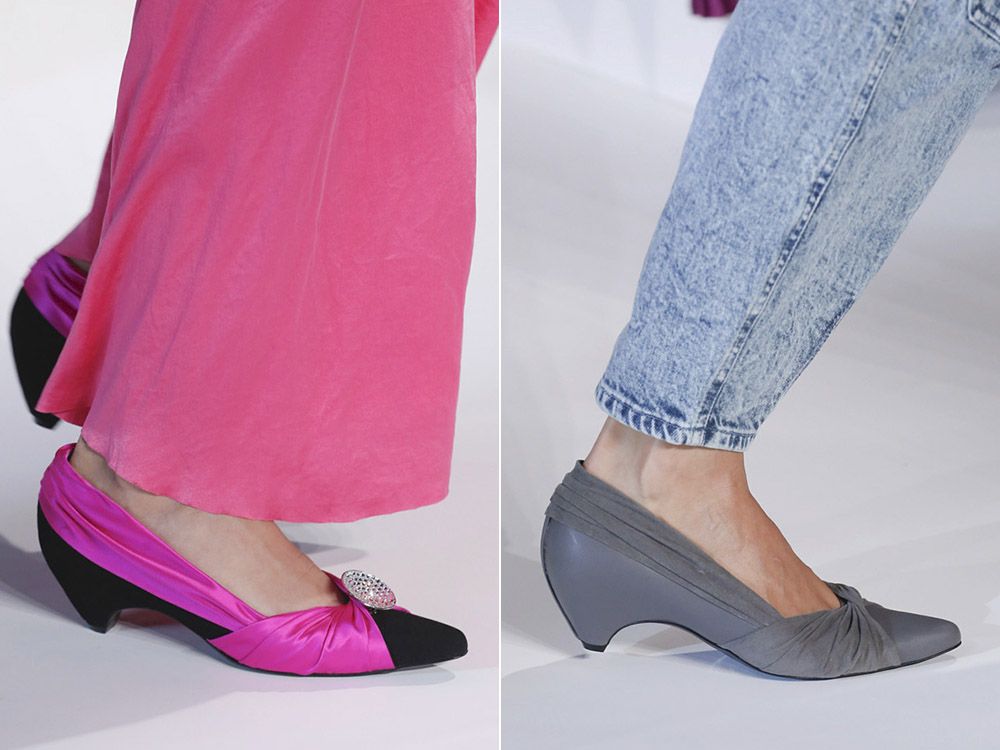 Low heel shoes
Buy shoes for spring with a 2-3-centimeter kitten heel stiletto heel, which went into fashion last year. In the spring-summer 2018 season, such a small heel is a very fashionable trend..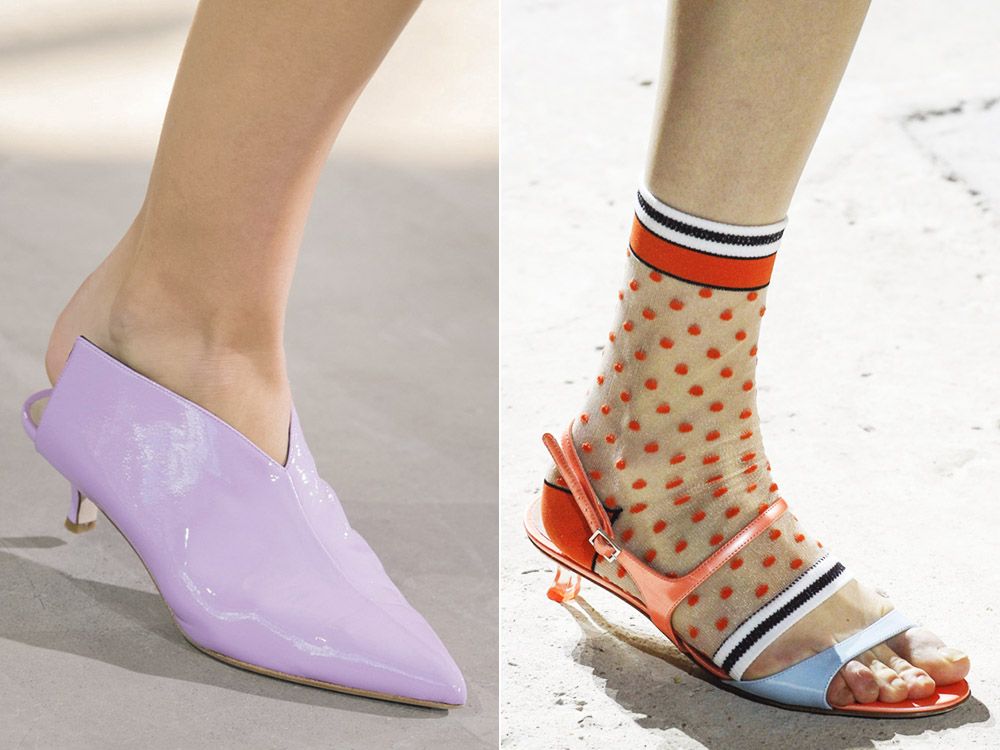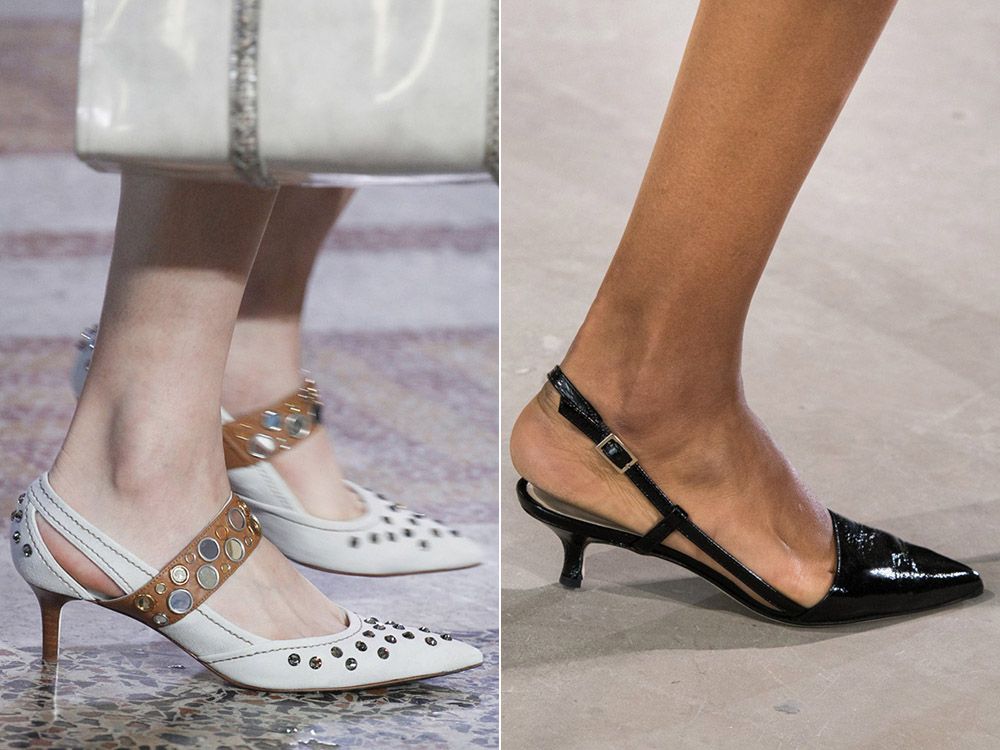 Flat shoes
Designers have prepared many fashionable options for low-soled shoes. All attention to straps and shape – the heel in these models is completely absent.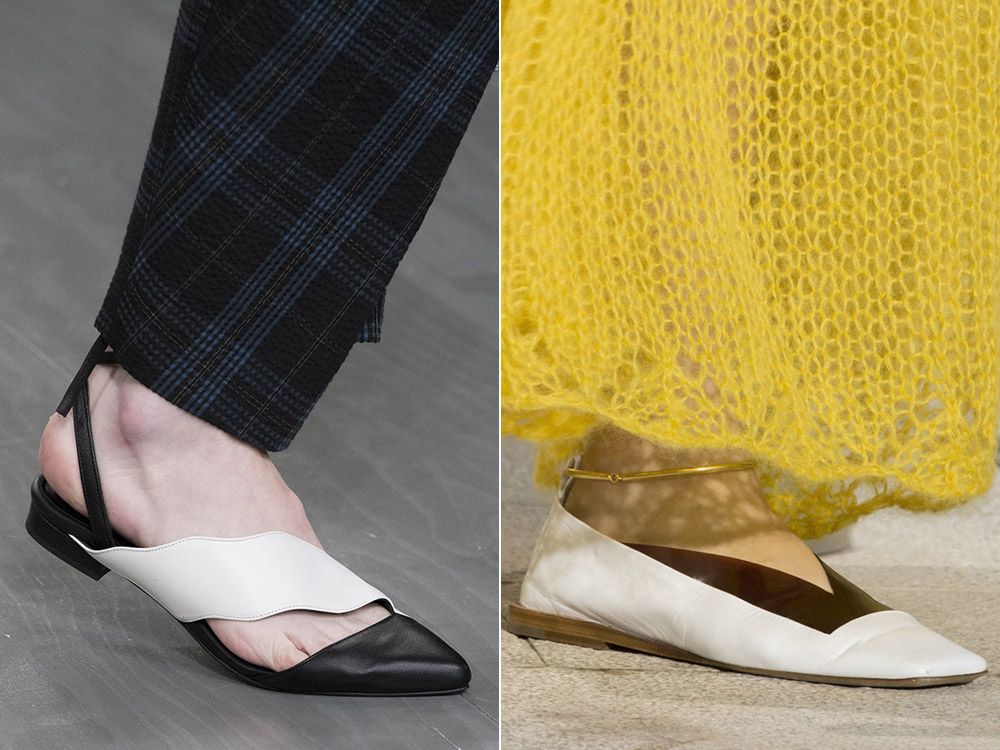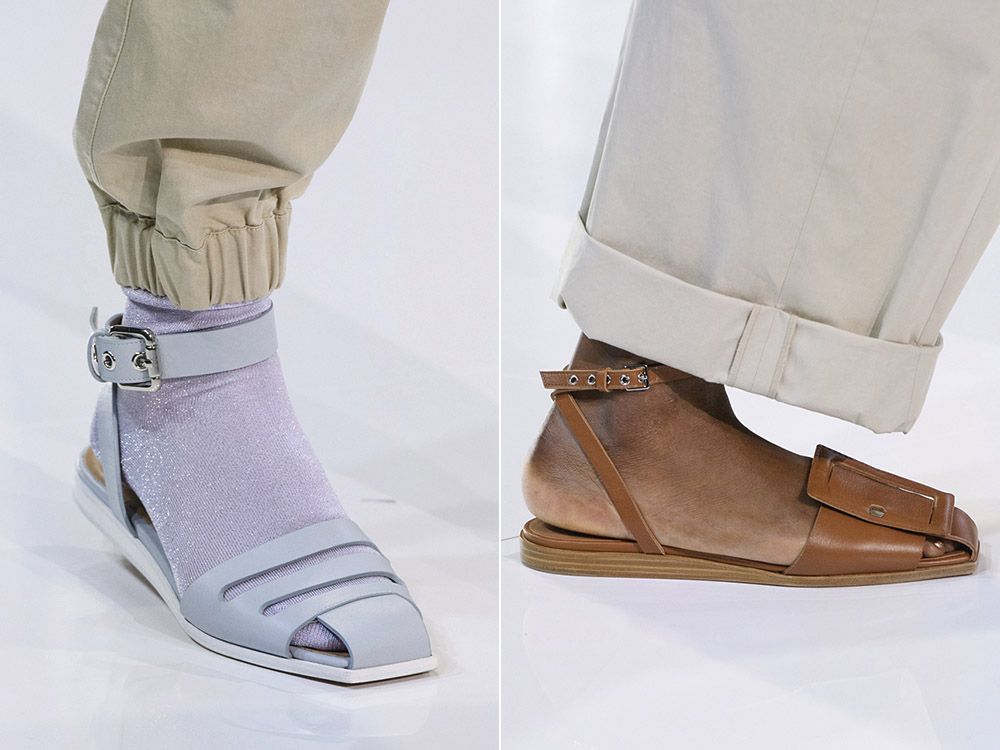 Fashion Slippers
When it gets really hot, designers advise changing shoes into open summer slippers.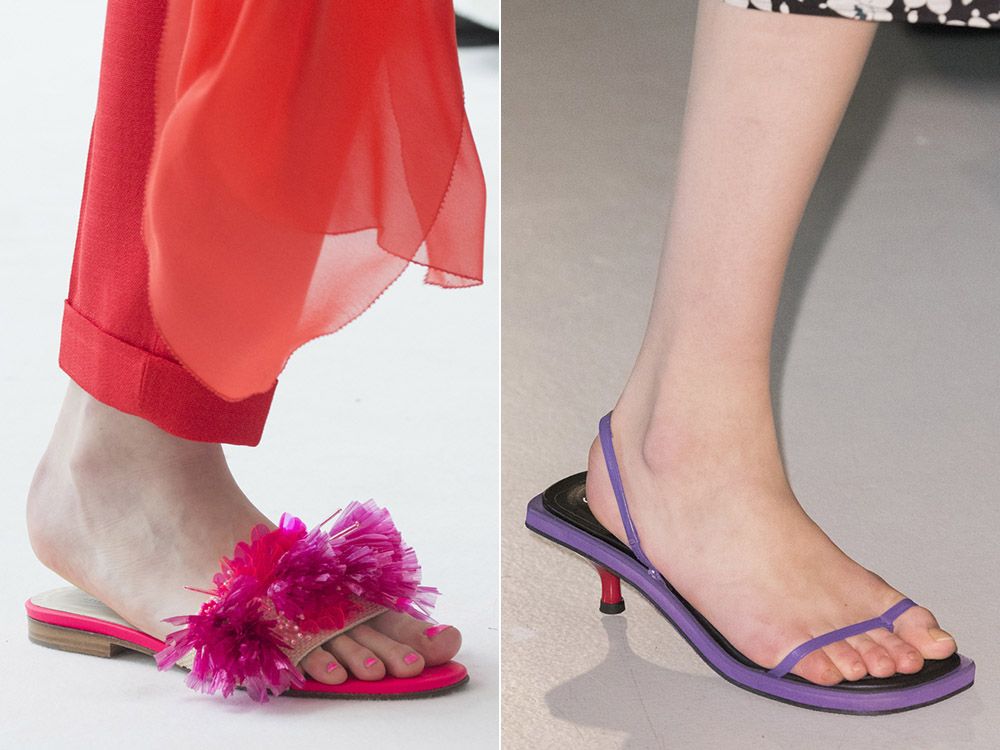 For sports enthusiasts, there are slippers in the Mark Jacobs and Monse collections. They successfully combined both beauty and comfort. A bright decor and delicate colors will give a cheerful look to the whole image..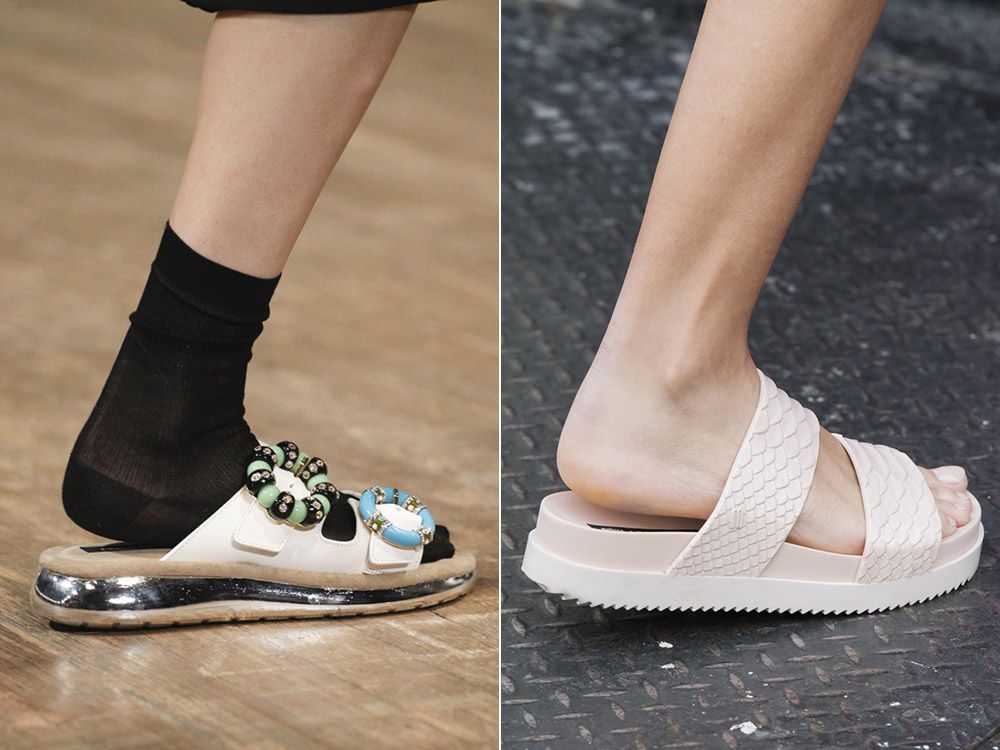 Trendy Crocs
These shoes have long become fashionable, gradually gaining leadership among the rest of summer shoes. Initially, these shoes were developed for sailing – rubber materials allow you to not slip on the floor.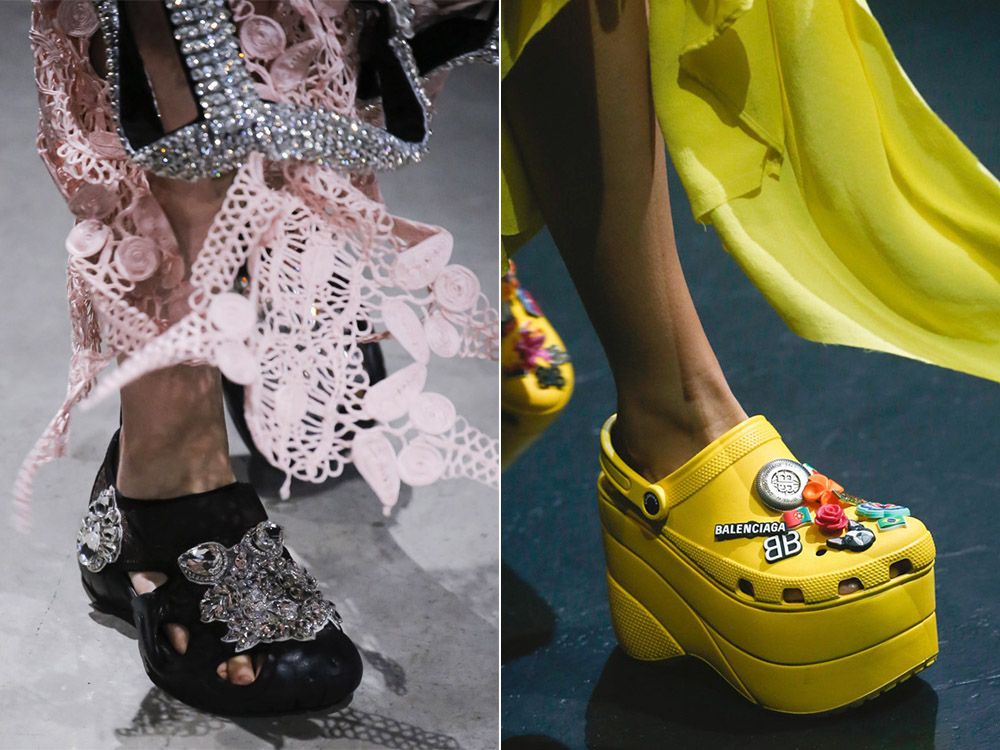 Designers combined croslite with crystals, sequins and lace fabric. Such an unexpected combination gives the shoe an extraordinary modern look. Trendy Crocs can be found in the Balenciaga and Christopher Kane collections..
The return of "mules"
In the spring-summer 2018 season, "mules" took one of the leading positions. Salvatore Ferragamo, Trussardi, Sportmax, Dion Lee, Marques Almeida – each brand presented its own design. Dion Lee and Y. Project unveil similar "mules" high-heeled and pointed-toed models.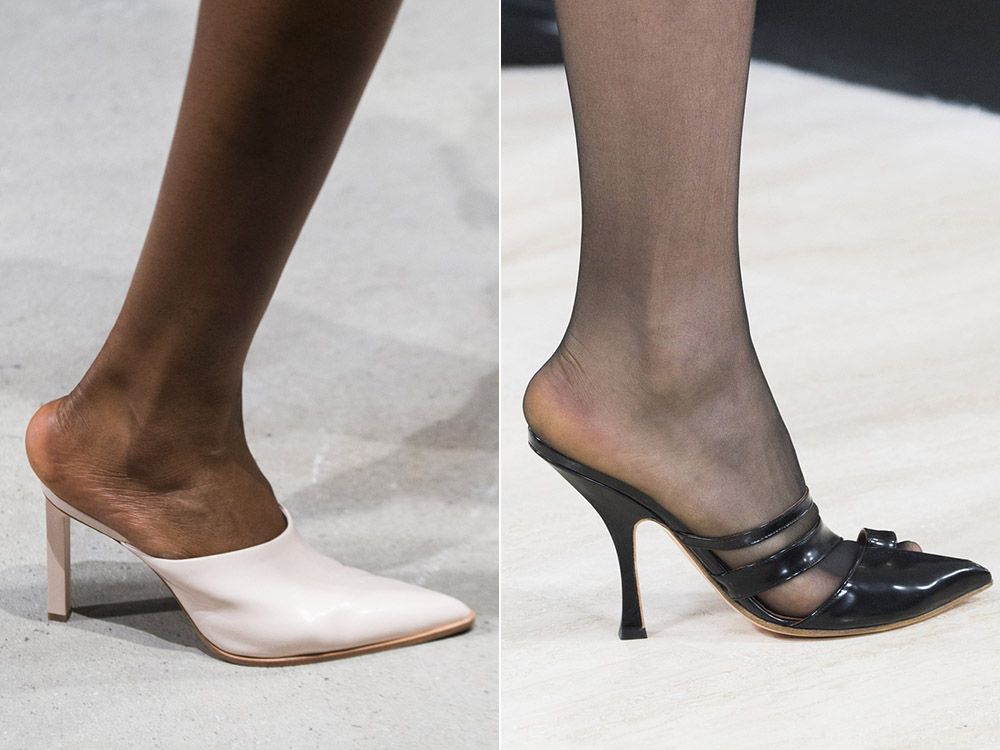 Salvatore Ferragamo and Trussardi unveiled "mules" in steady heels. Their shoes go well with jeans and casual clothing..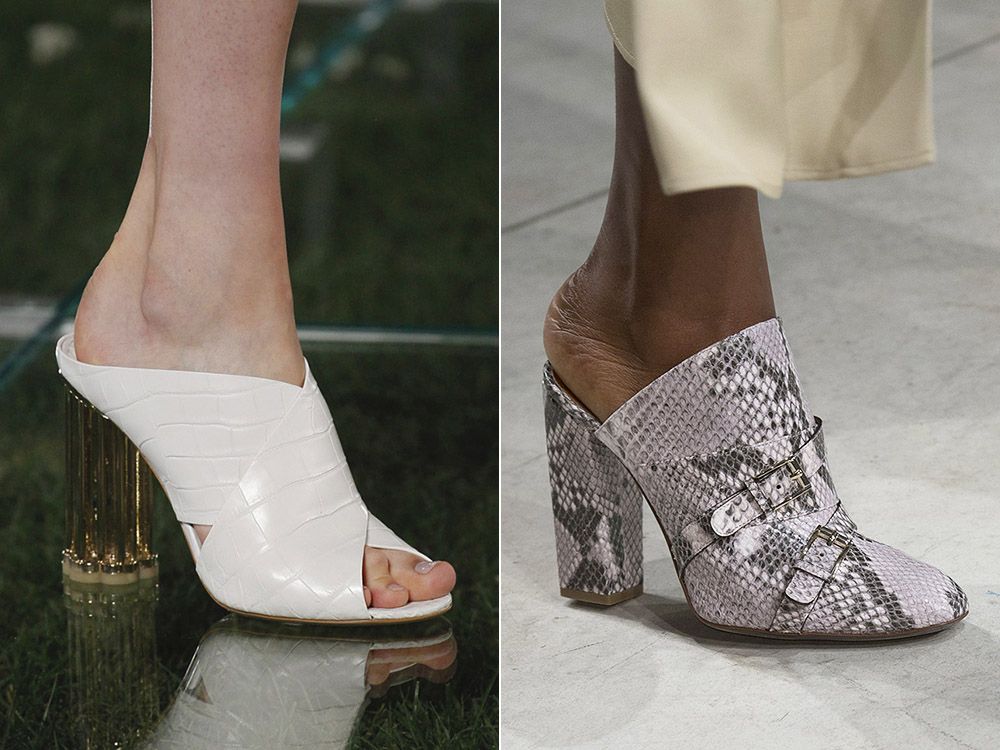 Masculine style fans will also find their "mules" in the Marques Almeida collection. Black color, angular shapes – all these are distinctive details of a man's style.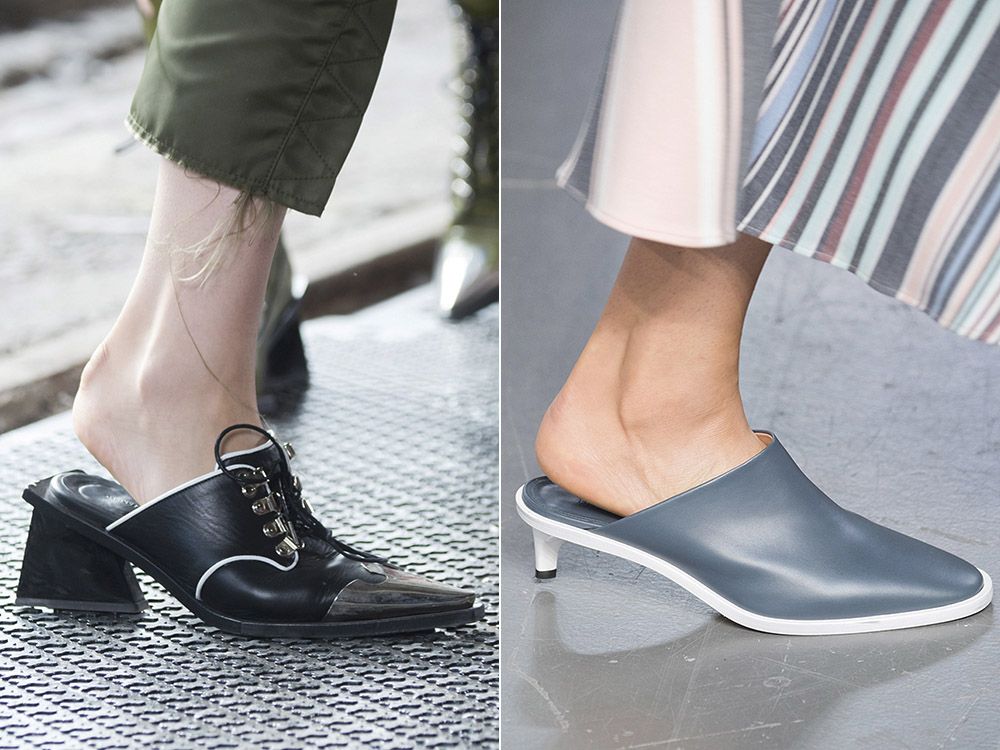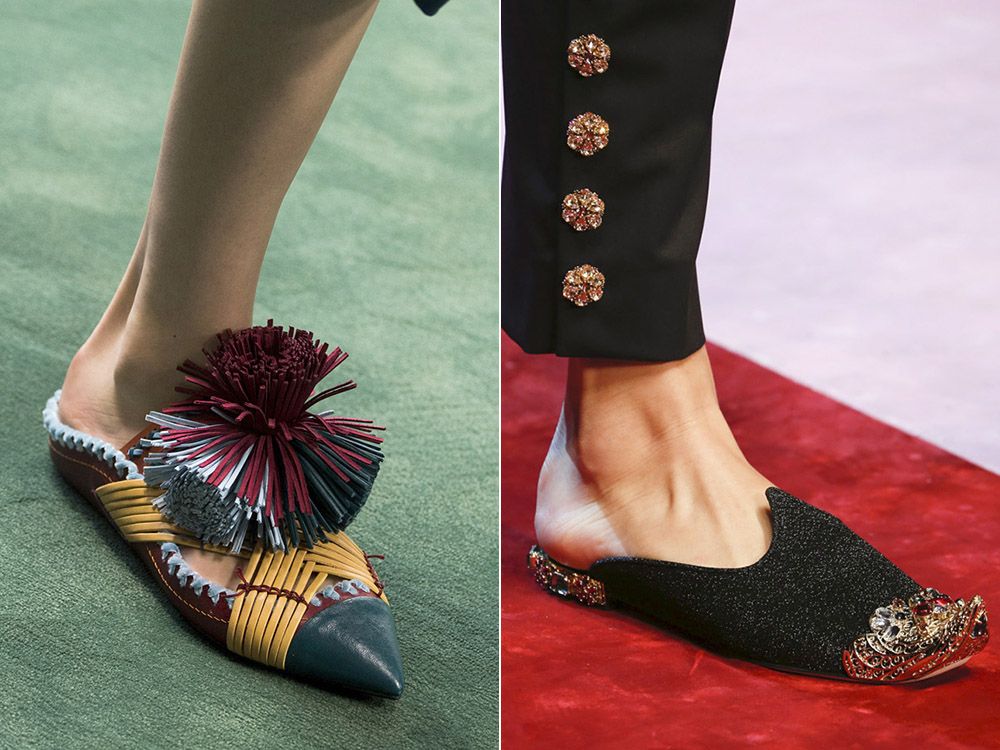 Masculinity
A woman in a man's image is a long-circulated modern image of strong and stylish girls. If in clothing masculinity is expressed in trousers and shirts in the men's style, then in shoes – in the form of coarse loafers and strict shoes with clear geometric shapes.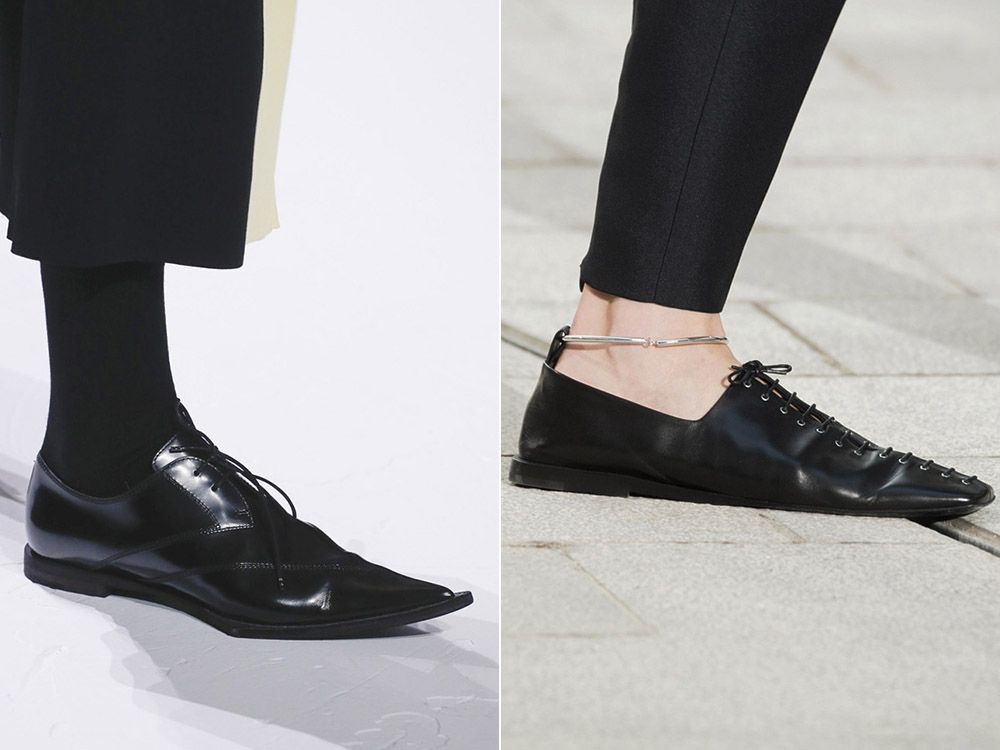 Haider Ackermann and Jil Sander presented a strong woman in black angular shoes without a single hint of femininity.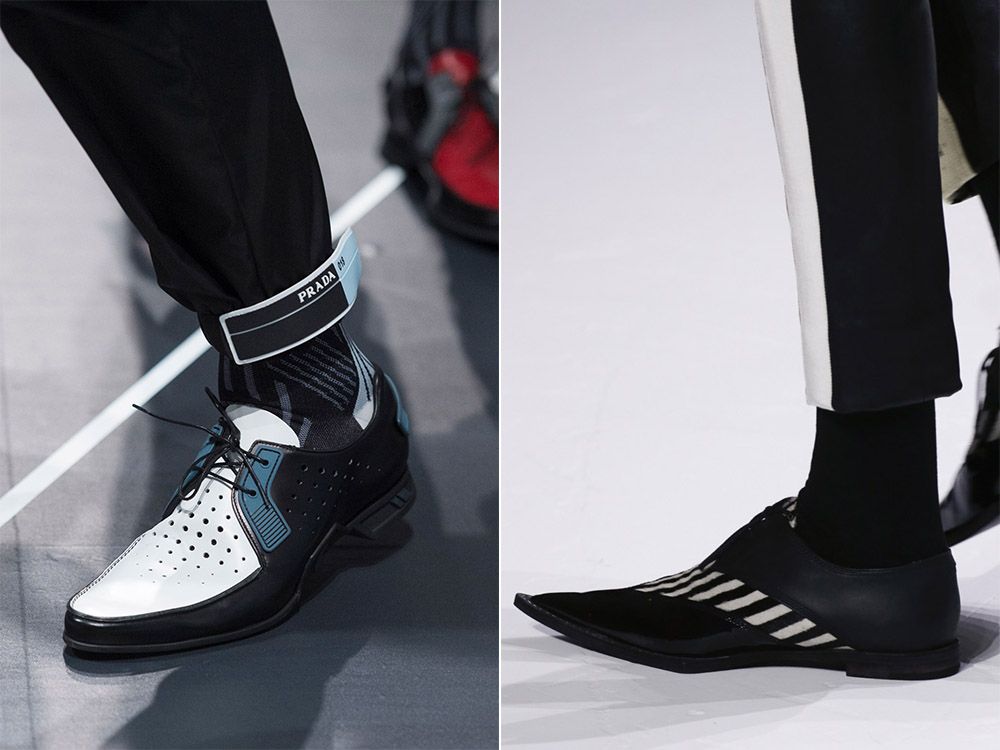 Prada and Simone Rocha presented more feminine models in delicate pastel and brighter colors with a small amount of decor in the form of "pearl" beads and metal staves.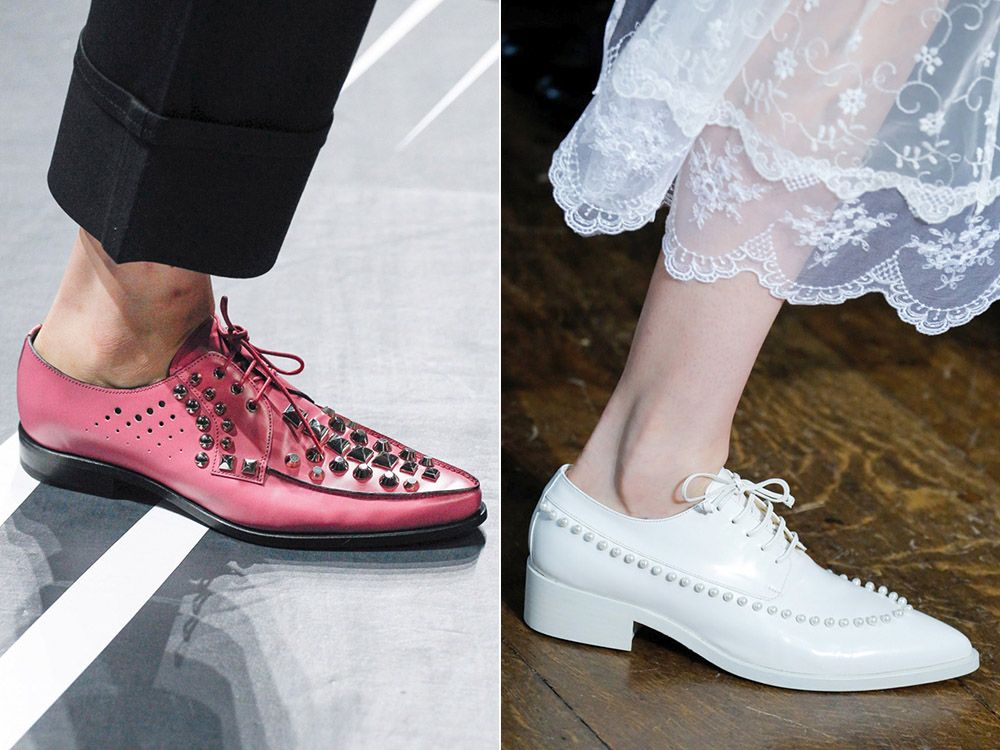 Fashion shoes
Alexander McQueen and Jeremy Scott brought in the spring-summer season – 2018, models in the form of army glamorous boots that are combined with floral prints, rhinestones and sequins.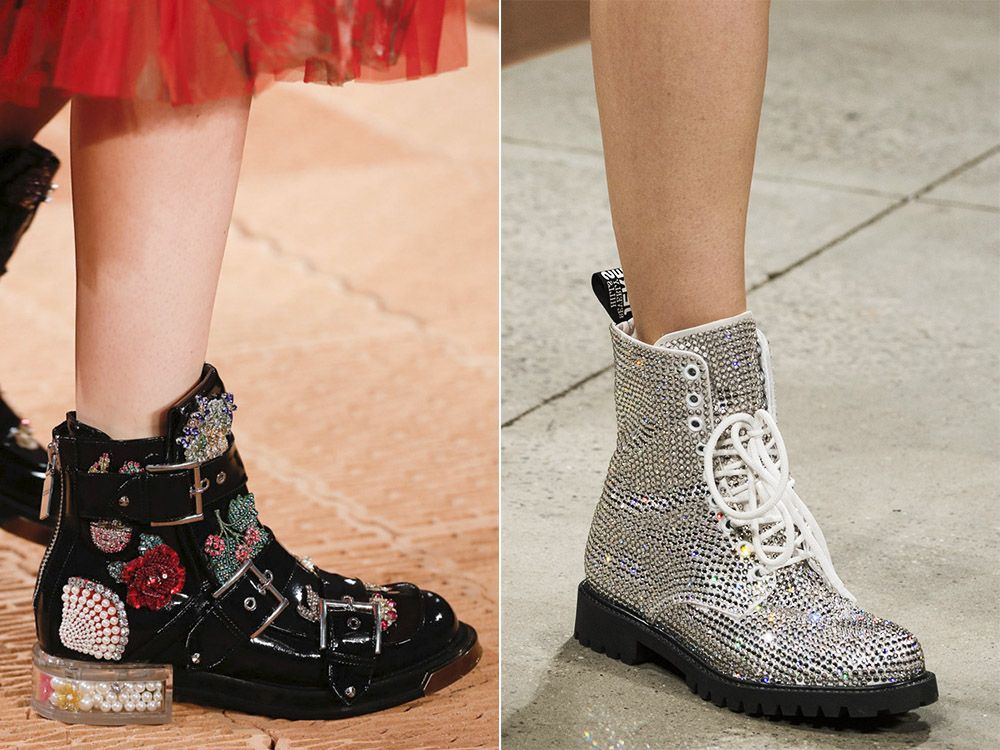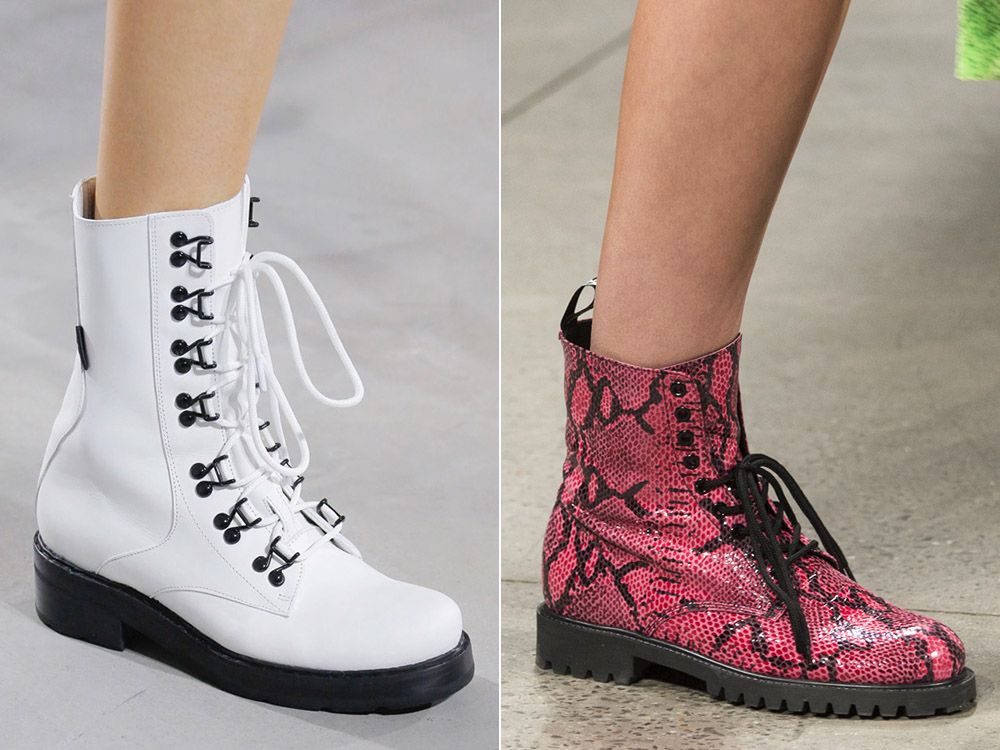 Cowboy boots
Continuing the "male" theme in women's shoes – cowboy boots. Calvin Klein introduced cowboy boots with an iron insert, Maison Margiela decorated shoes with a few rhinestones.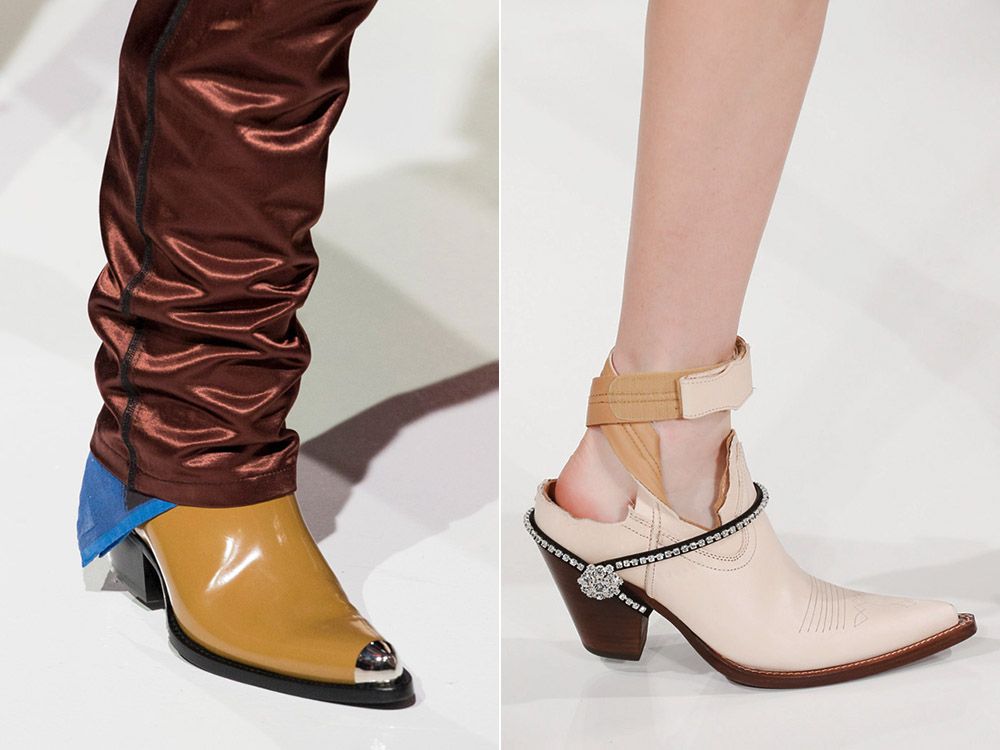 Real cowboy glam chic showed Versus and Coach – their boots are generously studded with sequins and decorated with fringe..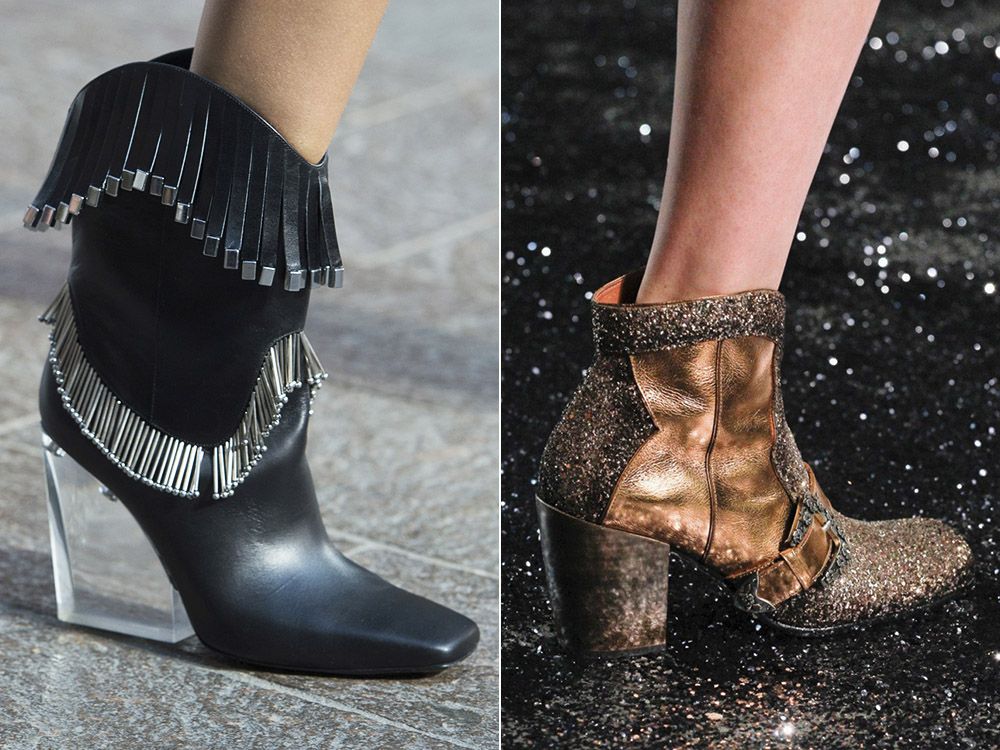 Fashion boots
Summer boots are no longer new to the fashion world. Designers strongly recommend that we wear such shoes with light dresses and mini skirts.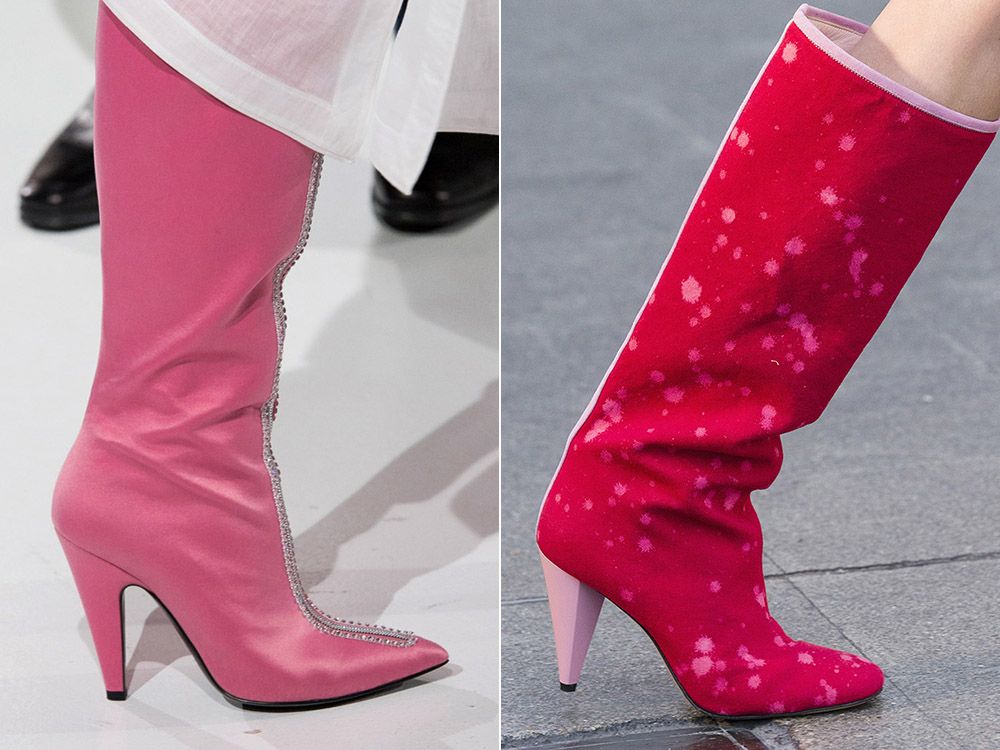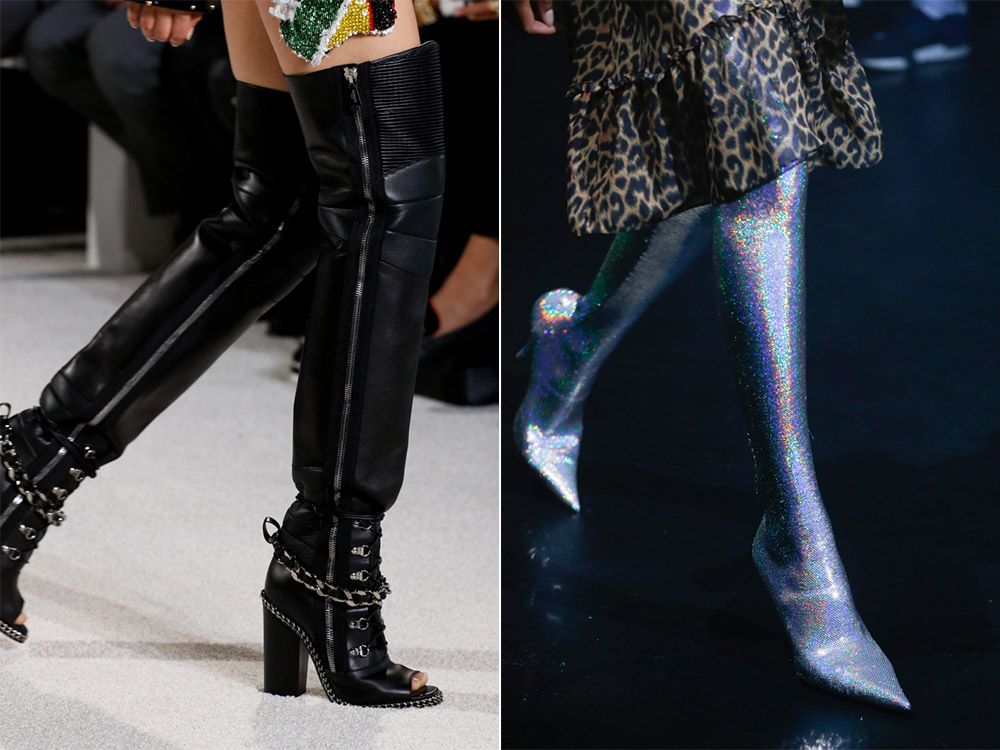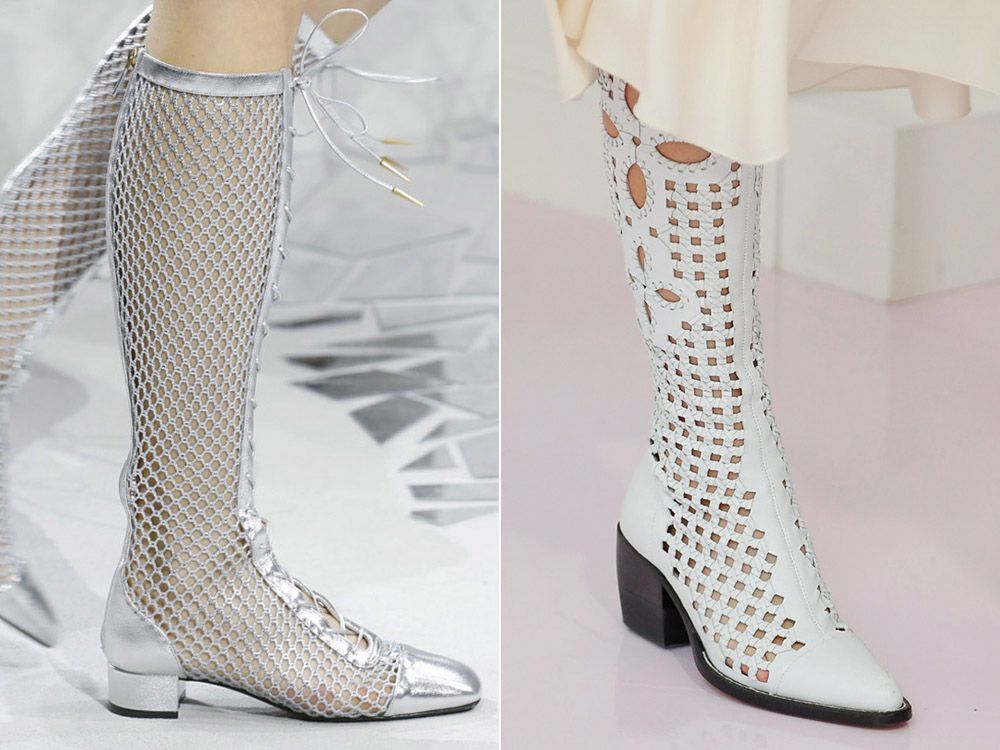 Fashion sports shoes
Many well-known brands have included sports shoes in their collections. The most beautiful models can be found in the collections of Loewe, Valentino, Louis Vuitton and Prada.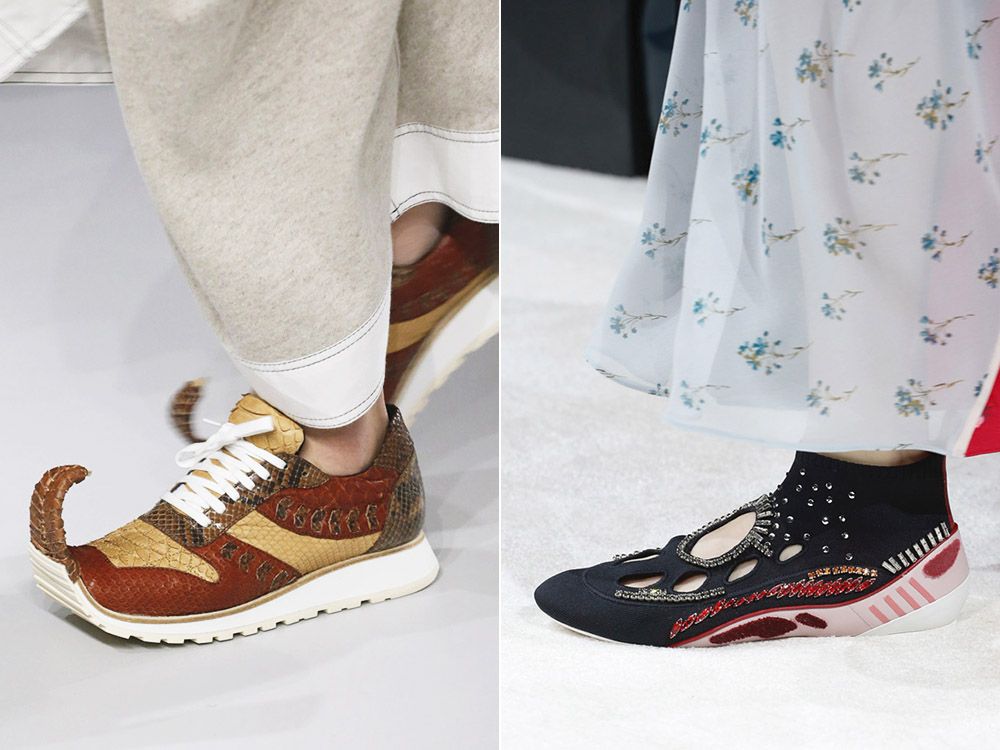 "Sporty chic" – this is how Louis Vuitton and Prada sneakers can be described. Here the main emphasis is on the shape and fashionable combination of colors.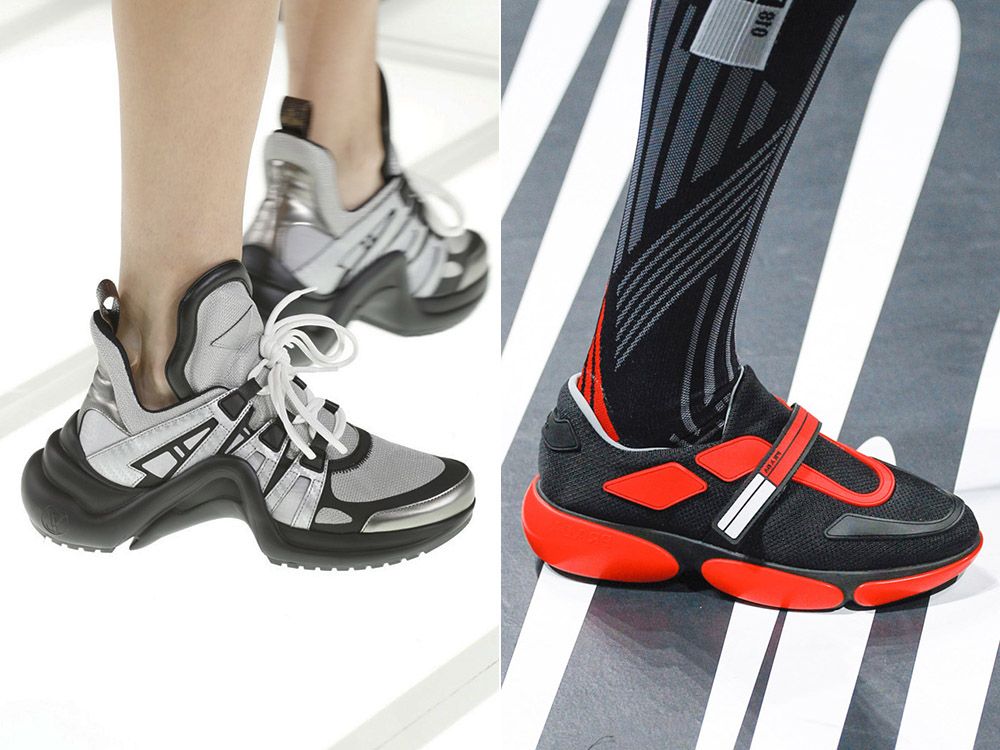 High-heeled sports sandals or a rough tread platform will be trendy next summer.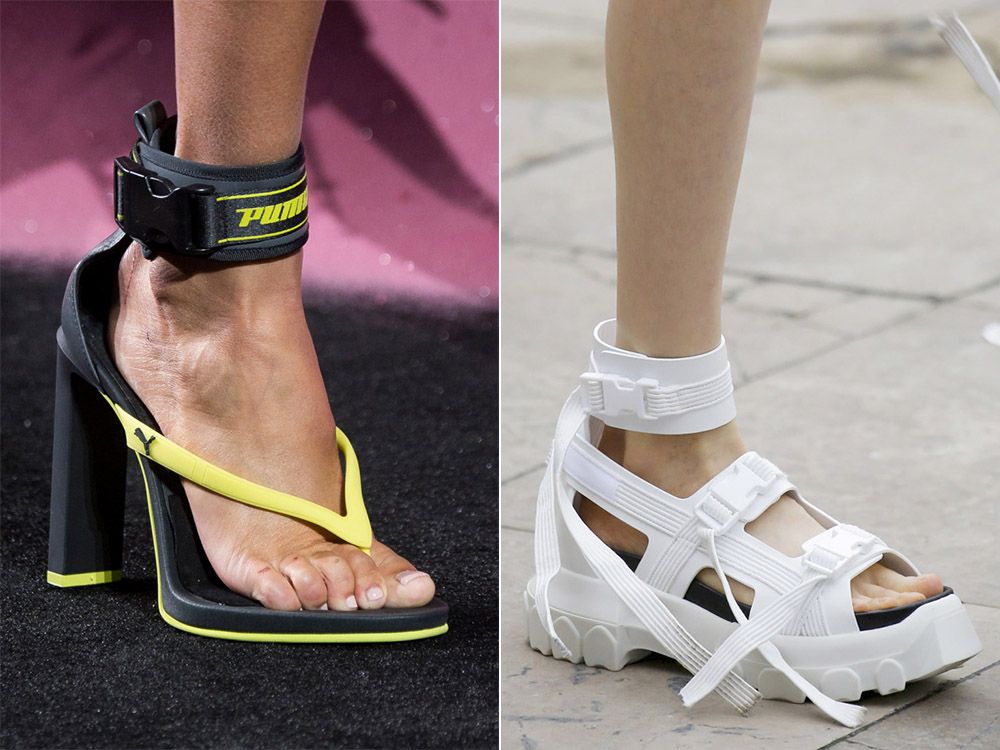 Shoes with straps and buckles
Jeremy Scott and Jason Vu present elegant stilettos consisting of thin straps and laces.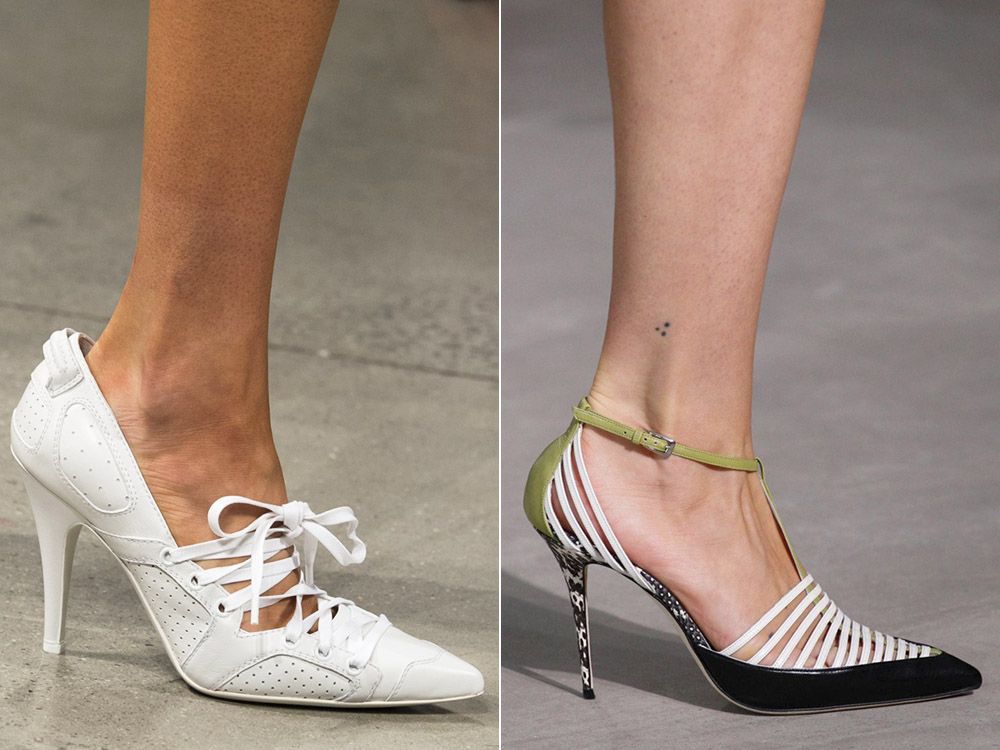 The straps can be of different thicknesses. The weaving itself can end in the area of ​​the rise of the foot, and can reach the level of the knee.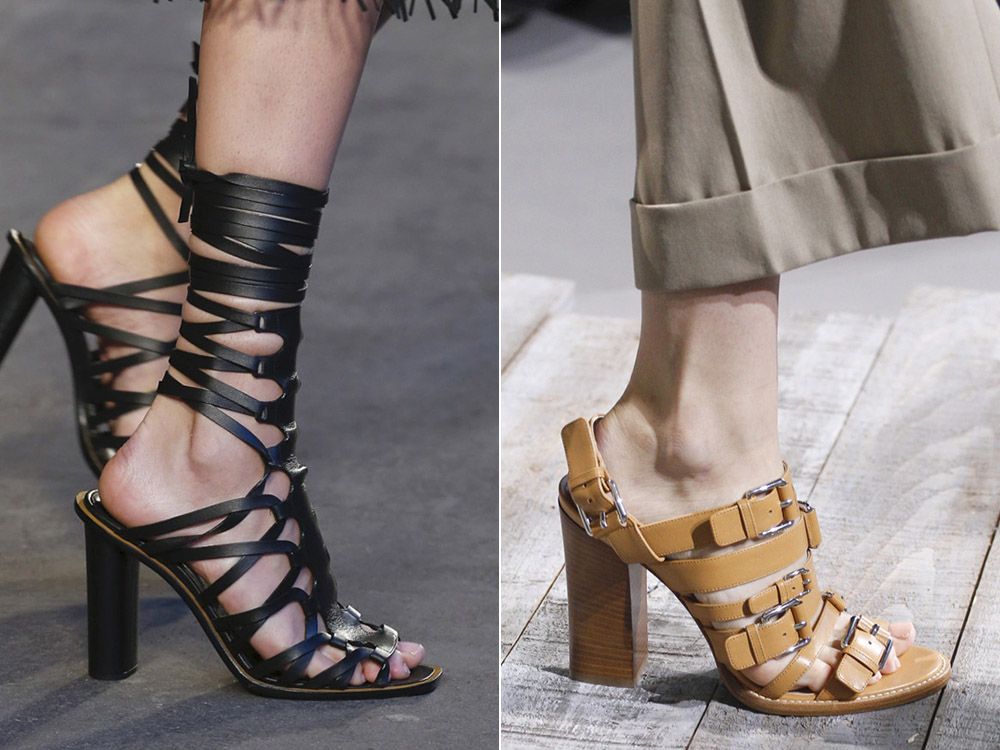 Emilia Wickstead and Dolce&Gabbana decorated the shoes with a comfortable strap, which makes you feel comfortable even with high heels.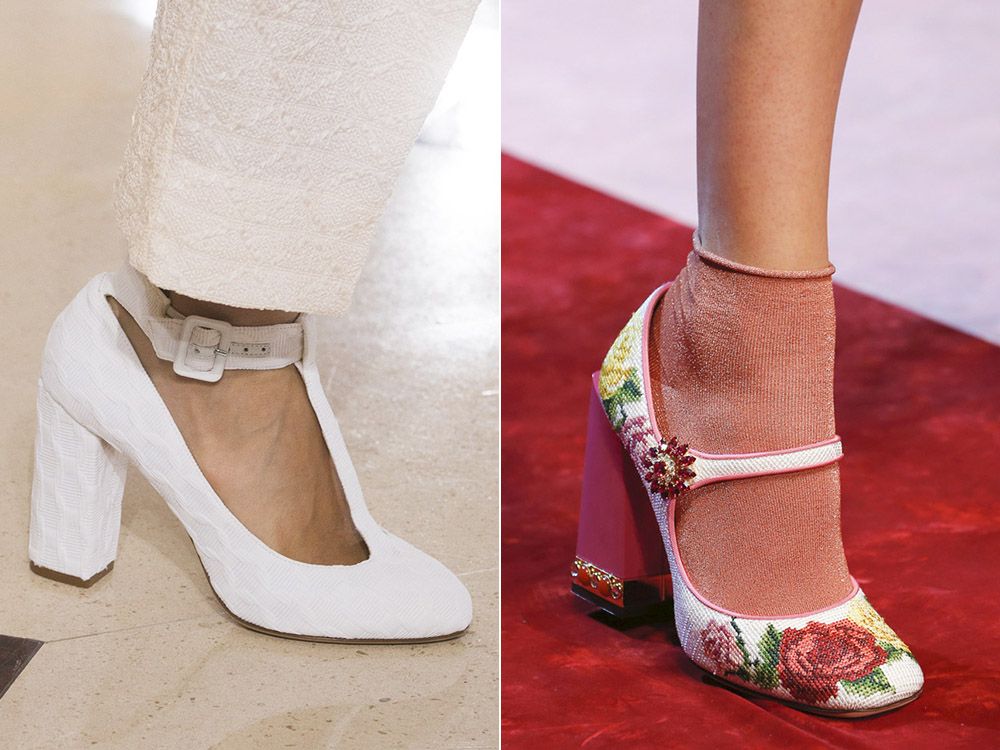 sandals – gladiator sandals
Fashion for gladiator sandals ended a few years ago, but in the spring-summer 2018 season, designers decided to remember about high sandals that reach the level of the knees.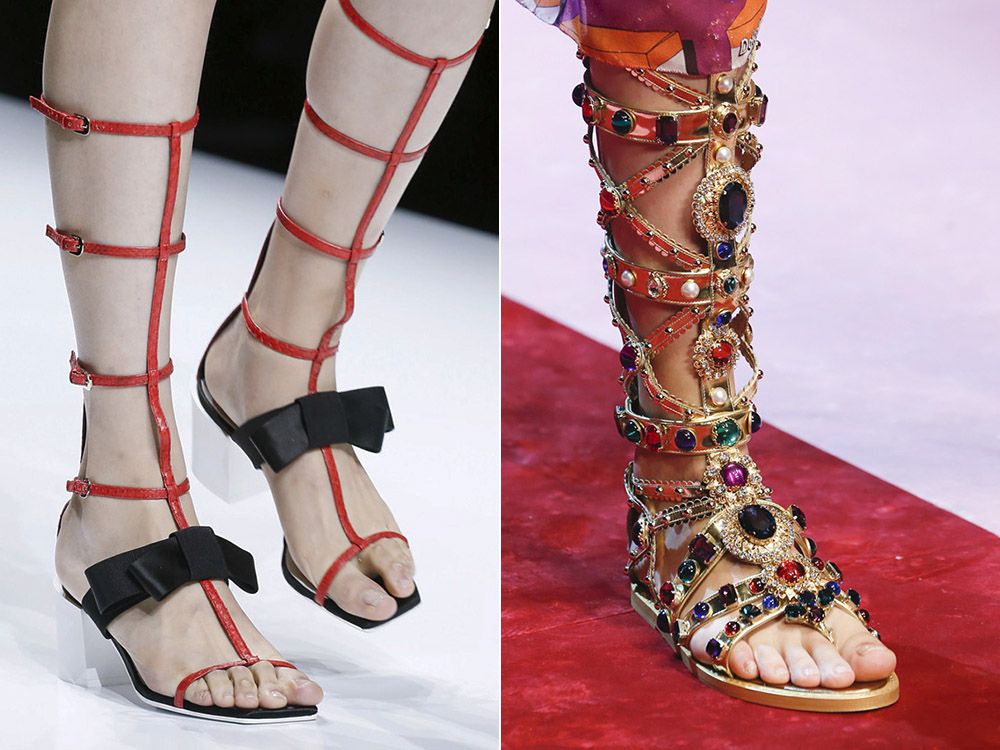 Sandals with socks
Sandals and sock. Last year, designers dressed models in shoes with socks, now the turn has come to sandals and slippers.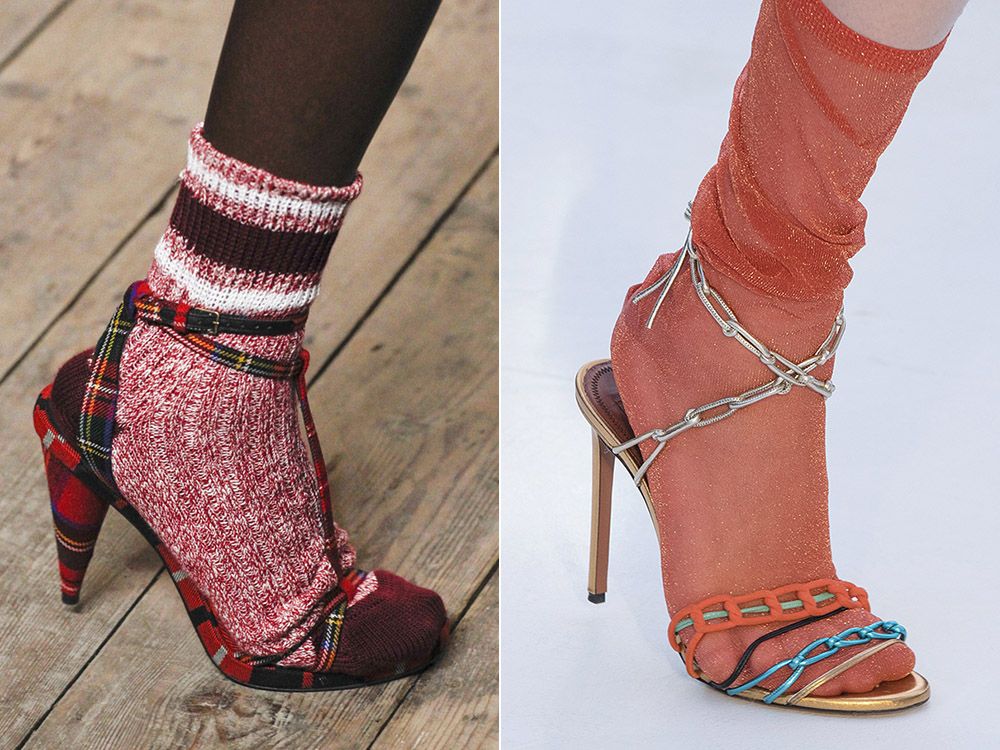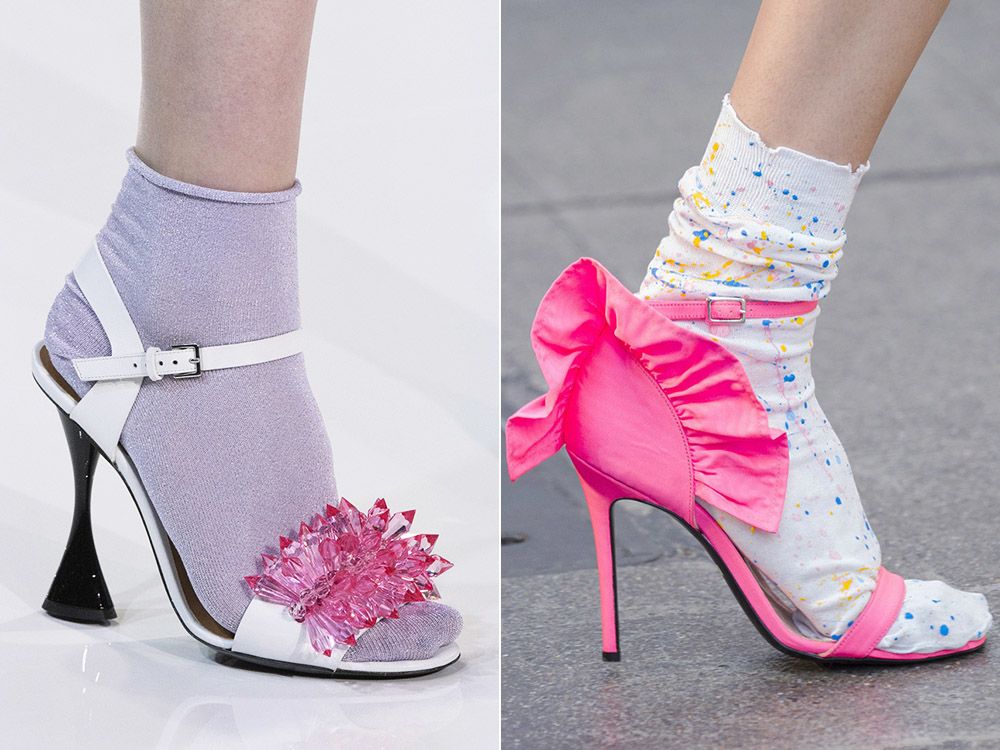 Fringed Shoes
The main element of the decor in the spring-summer season of 2018 was fringe, which revived and gave dynamism to even the most unremarkable shoes..
Glam rock Christopher Kane shoes have become even more fashionable – adorned with shiny rhinestone fringes. These ropes looked harmonious even in combination with a restrained casual style..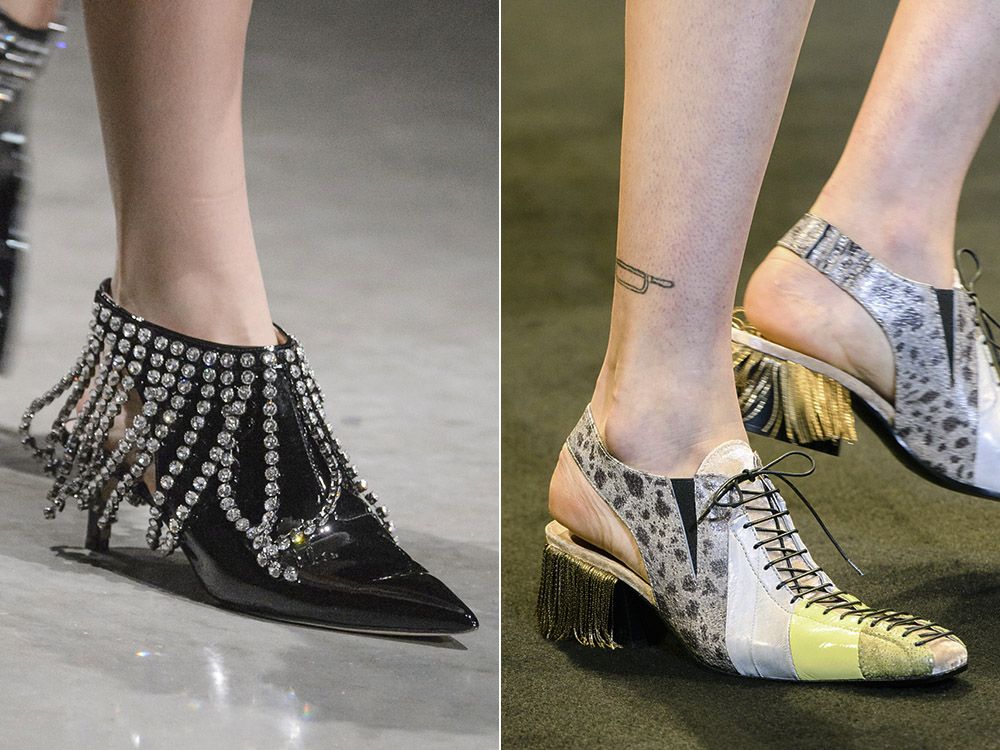 Sequins and glitter
Multicolored shiny glitter is another popular element in the decor in the spring and summer season of 2018. Emilia Wickstead, Valentino, Dolce shoes generously adorned their shoes with sequins&Gabana, Victoria Beckham.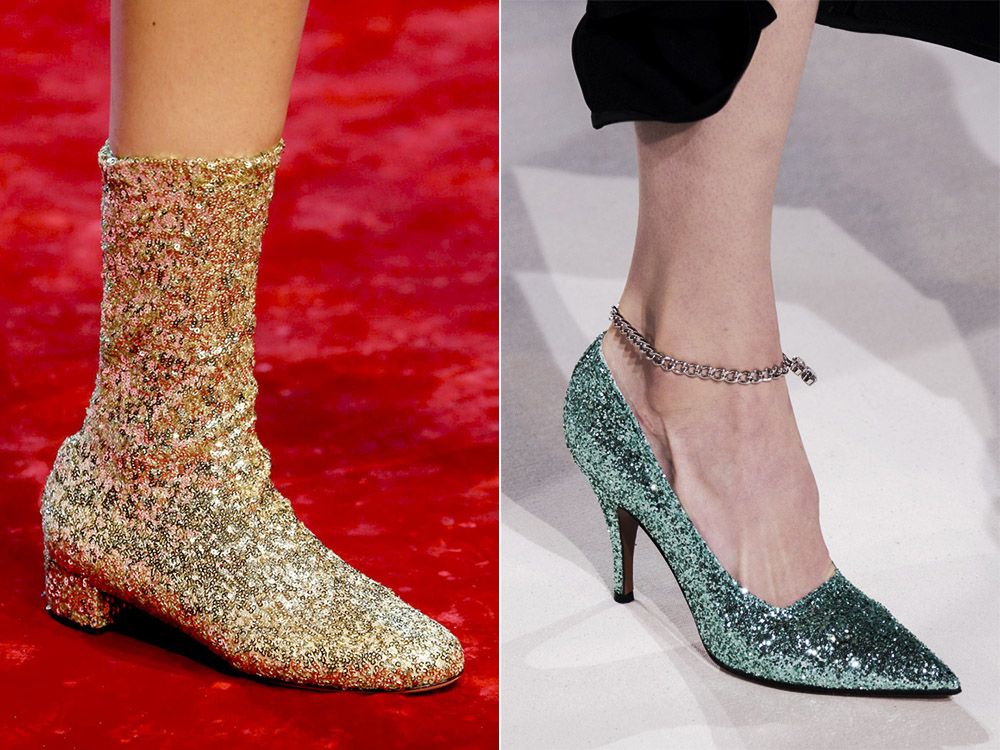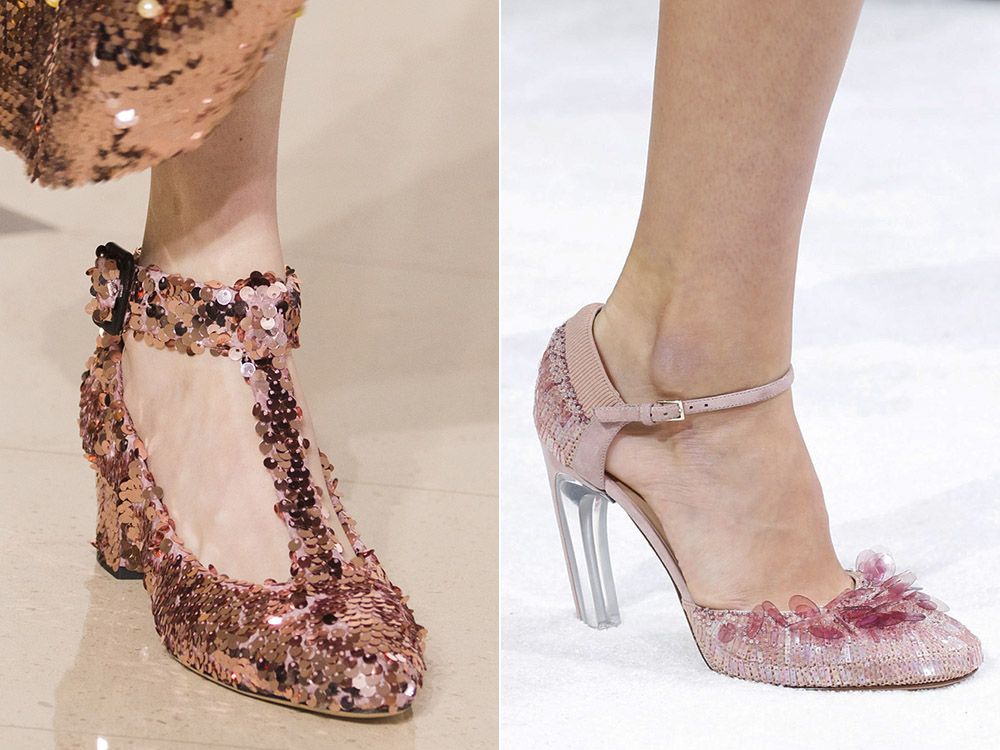 Ruffles
fashion designers offer to decorate shoes with ruffles and ruffles. This decor creates a feeling of freshness and lightness. Large ruffles immediately attract attention and visually reduce foot.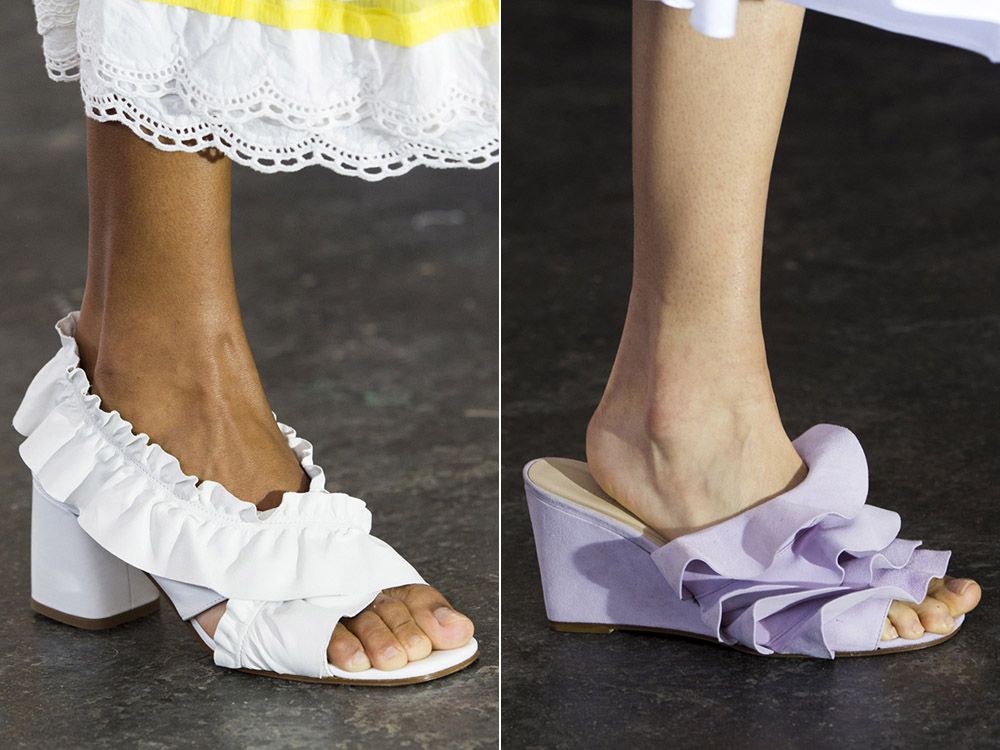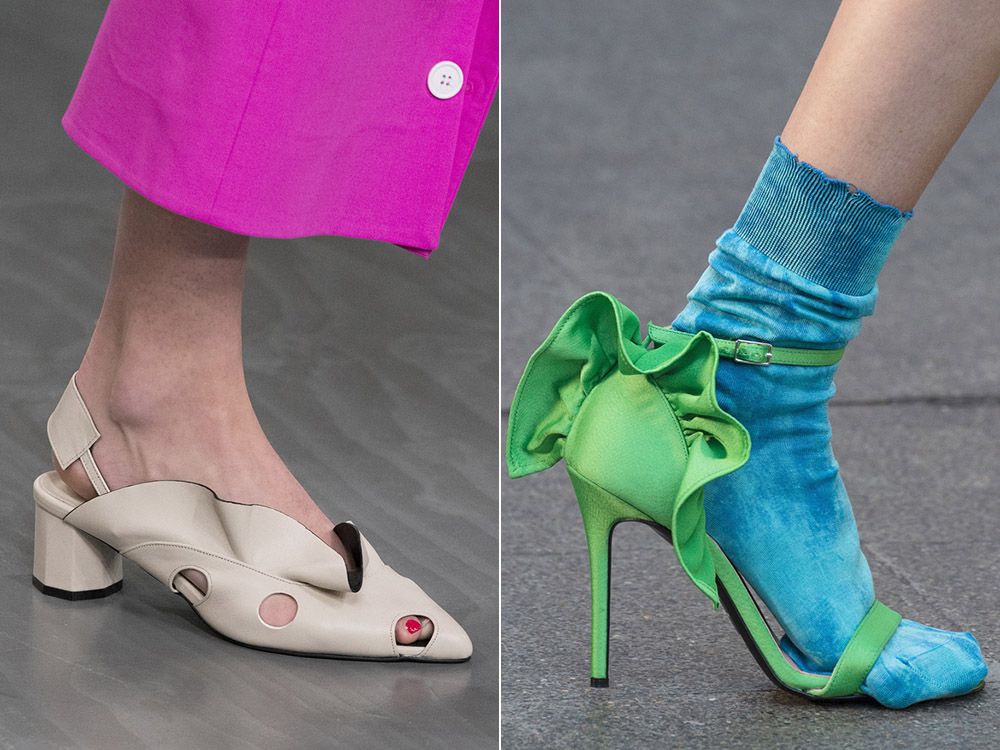 Be the most stylish beauty! Good luck!
Similar articles
---