Content
---
---
Everything is reserved and logical, asceticism is present in everything. Even the desire to give a little shine to denim was not out of the picture. The jeans collection risked becoming a little monotonous if it weren't for the denim of color, bright gradient, Tie dye, combined models and decorative flirts in the style of the 80s.
Combined Denim
Combination is a trend that has shifted from past seasons. And if earlier in one model different fabrics and diverse prints were combined, now different types of denim are combined. Coach and Veronique Leroy light and dark patches on the jeans fabric form a beautiful, contrasting play of colors.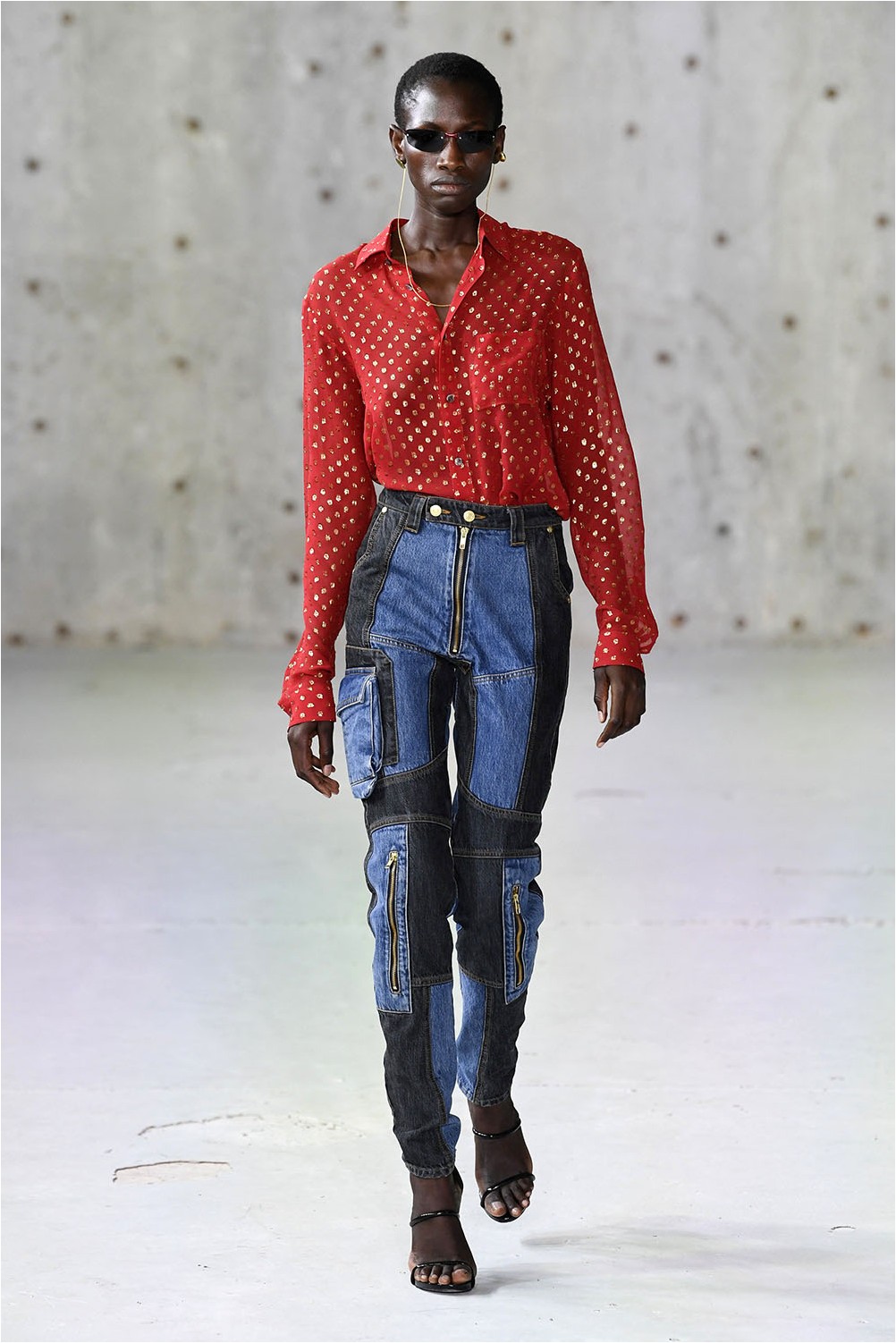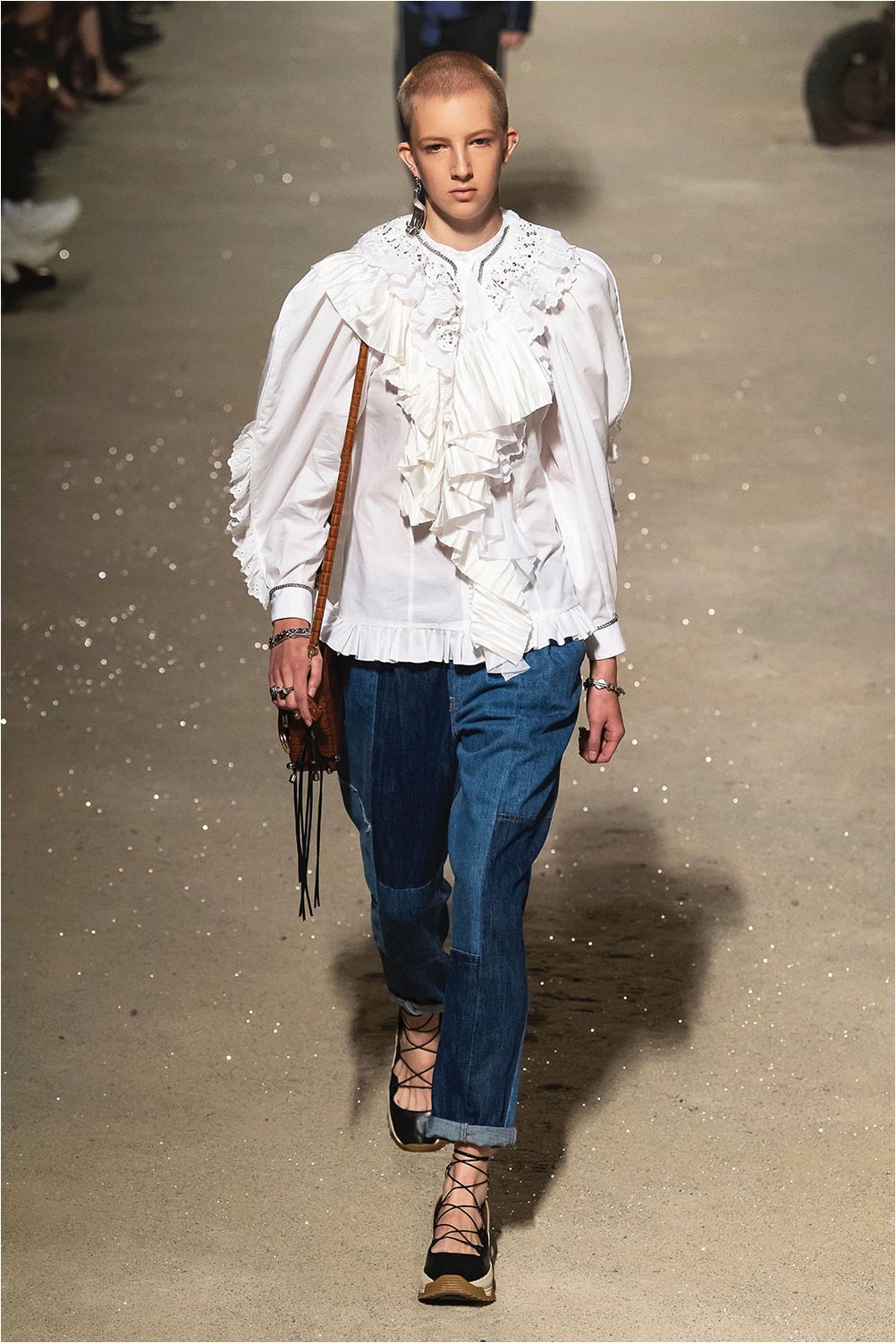 Sometimes in jeans such a quantity of multi-colored denim is combined that the effect of motley patchwork is created, as in the models from Jeremy Scott and Etro.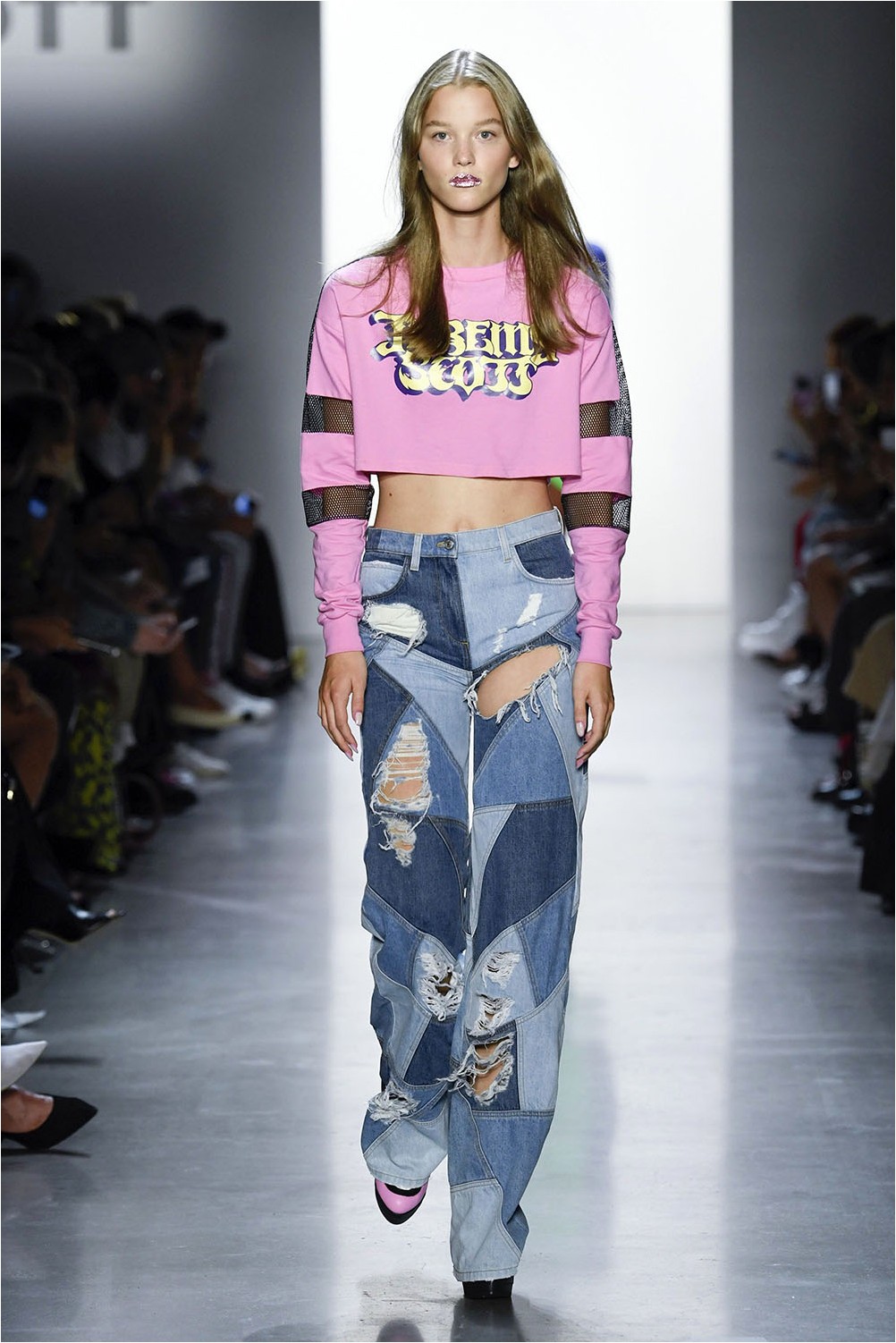 Denim breeches
Cropped breeches have become the main trend of this season. They suddenly acquired the status of universal clothing. Now you can safely wear breeches for any style of clothing: business, sports, grunge, casual and classic.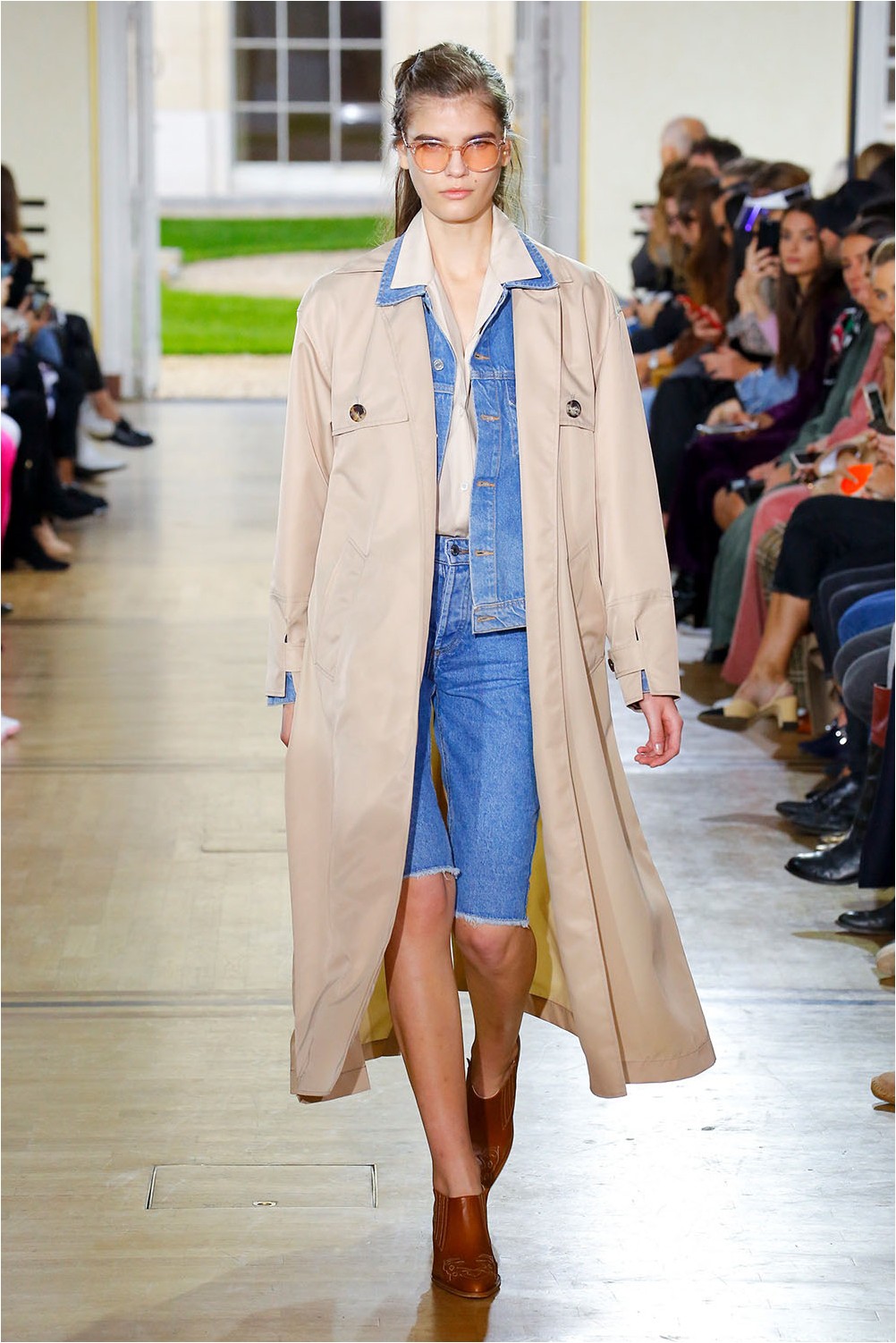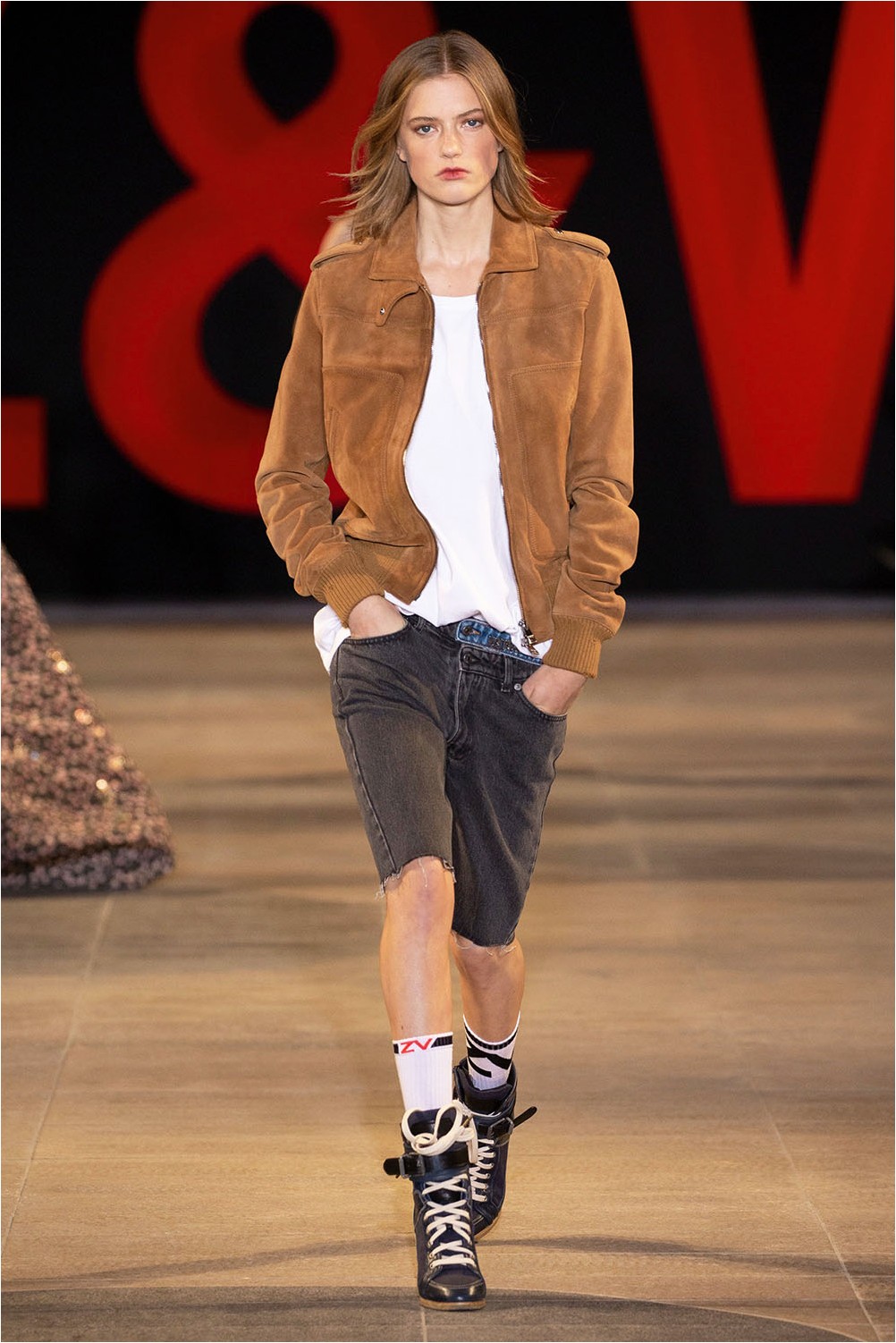 Breeches fit perfectly in a denim total look, especially if a cropped denim jacket is present in the image. Dion Lee designers even created an evening look, combining breeches and an elegant transparent top with an asymmetric jacket.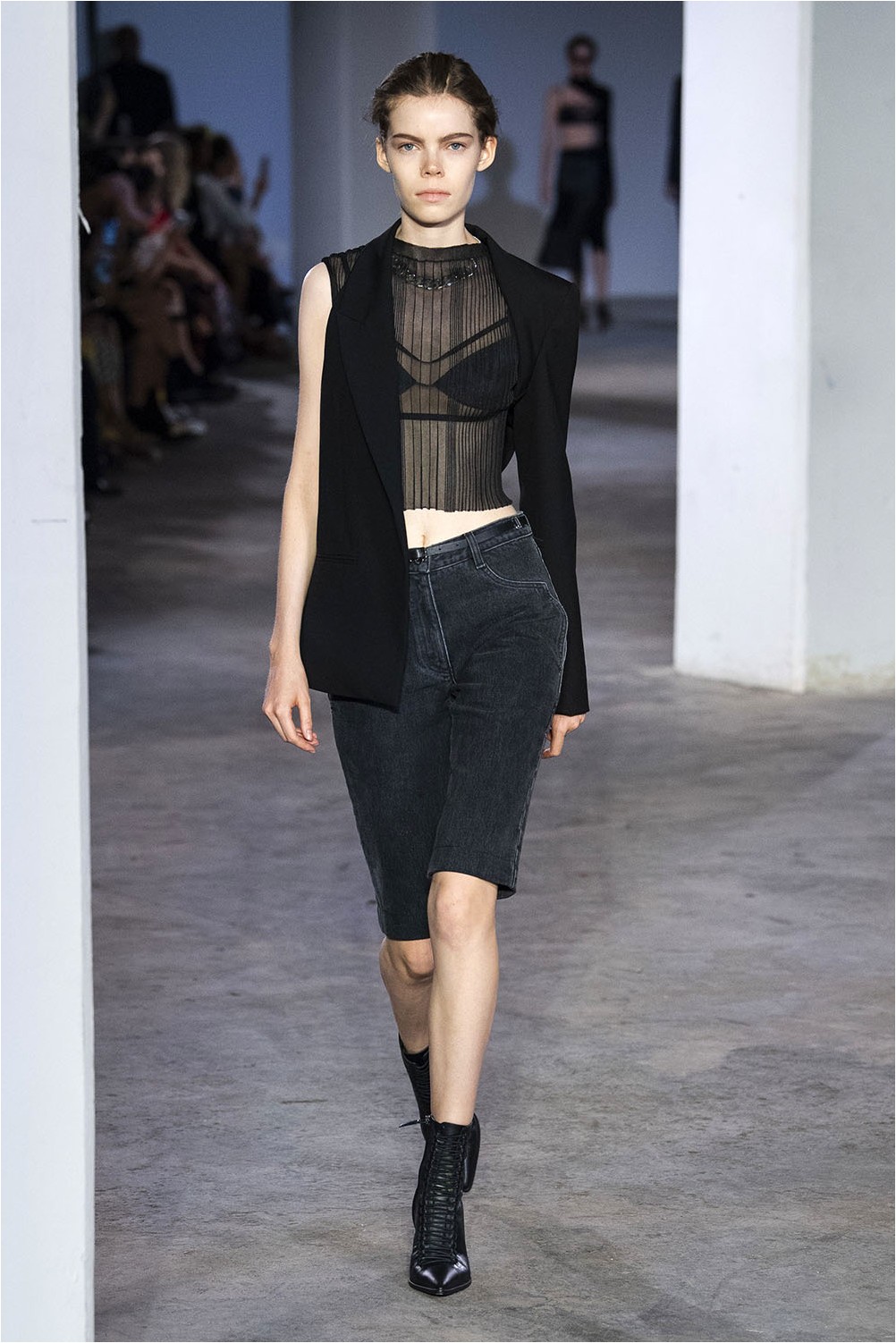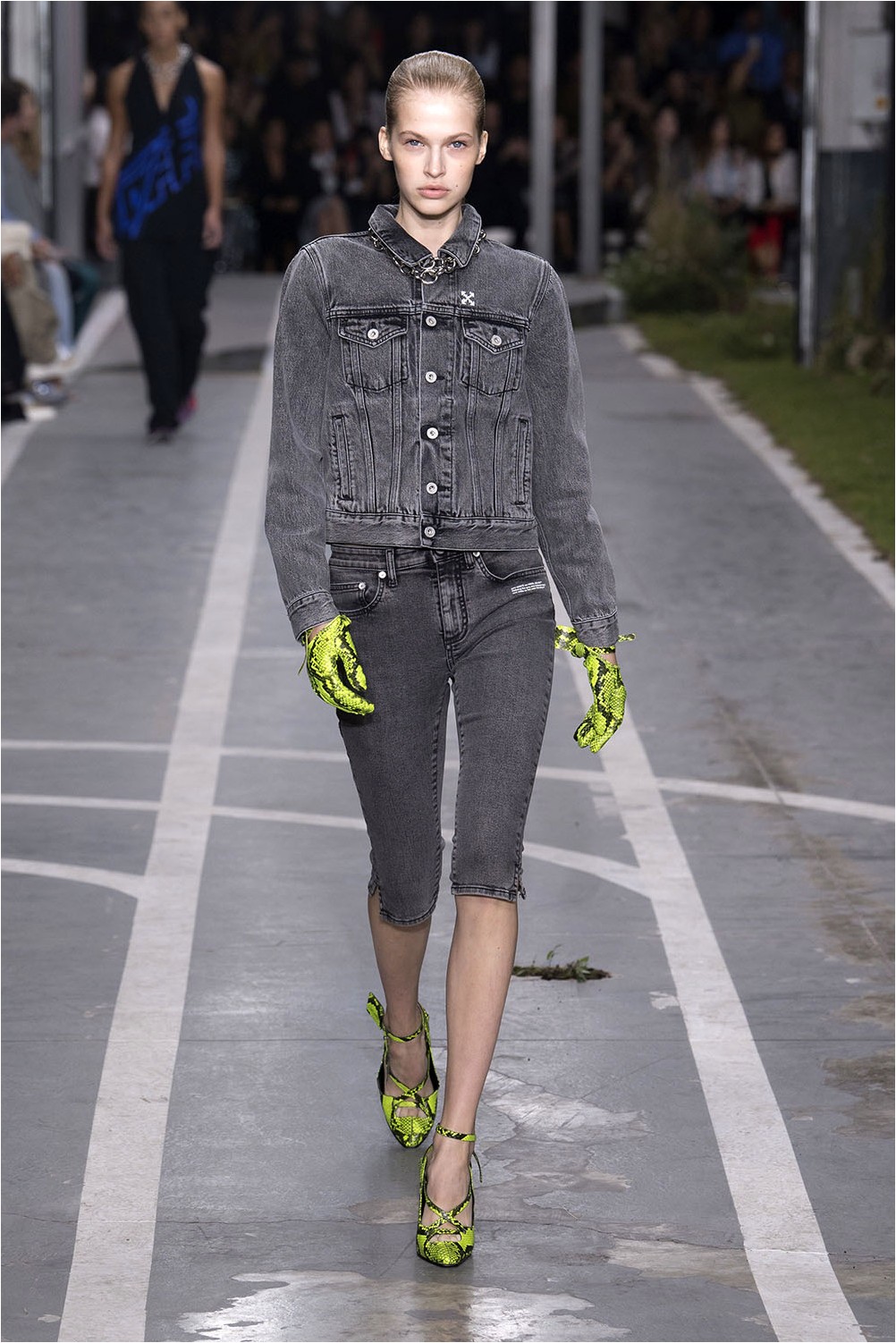 Layering
Layering in one image of completely incompatible objects – something like this looked like the layering of the last season. In the spring-summer season of 2019, the trend has gone through a serious upgrade and now impresses with its intricacy. Layered denim looks like it was made up of hundreds of scraps of different jeans.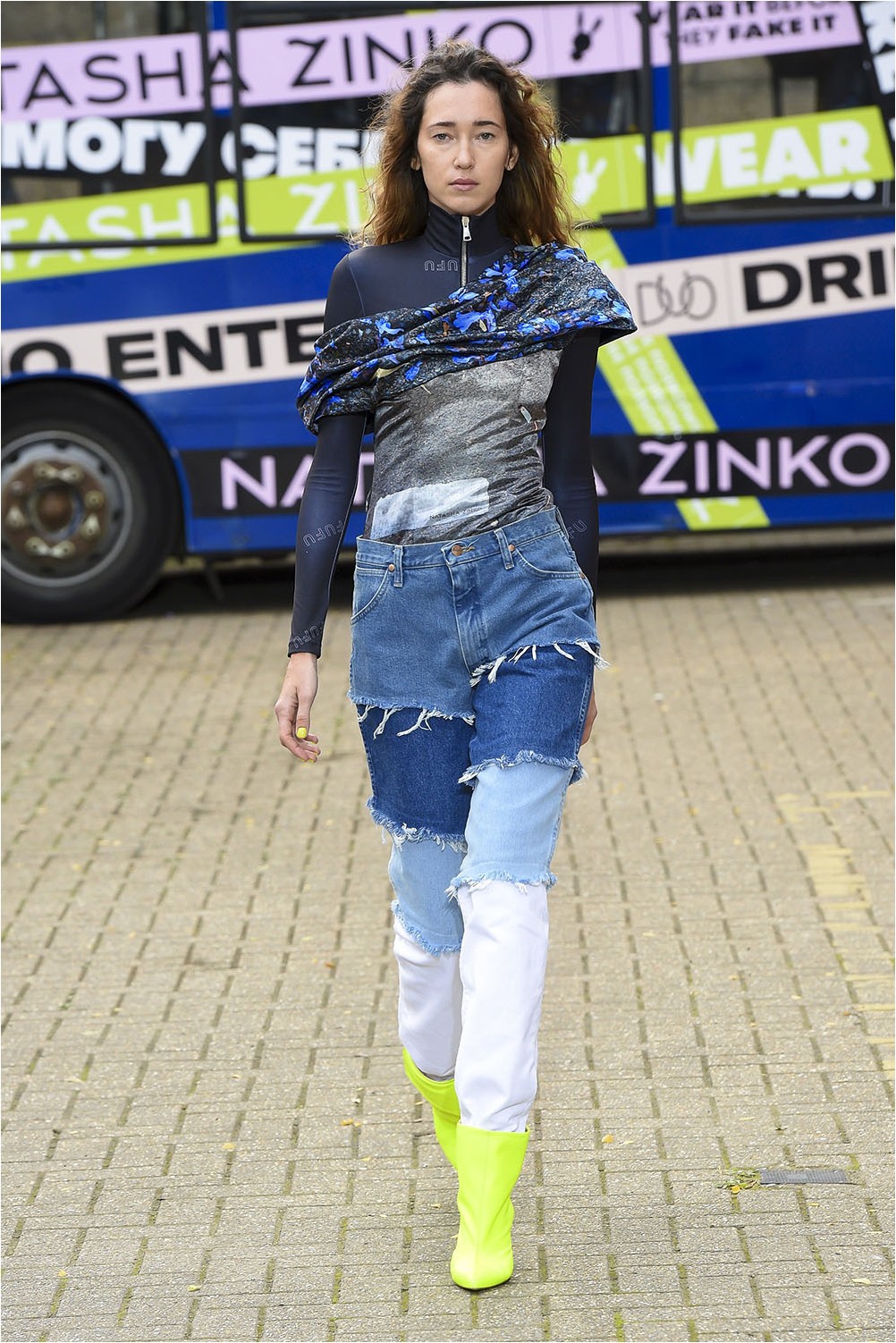 The complex layering of pockets, zippers, decorative upholstery or blended sleeves tied over jeans – such a slightly messy "puff" was presented by designers in their collections. Some have suggested creating the effect of denim shorts worn over denim or leather trousers..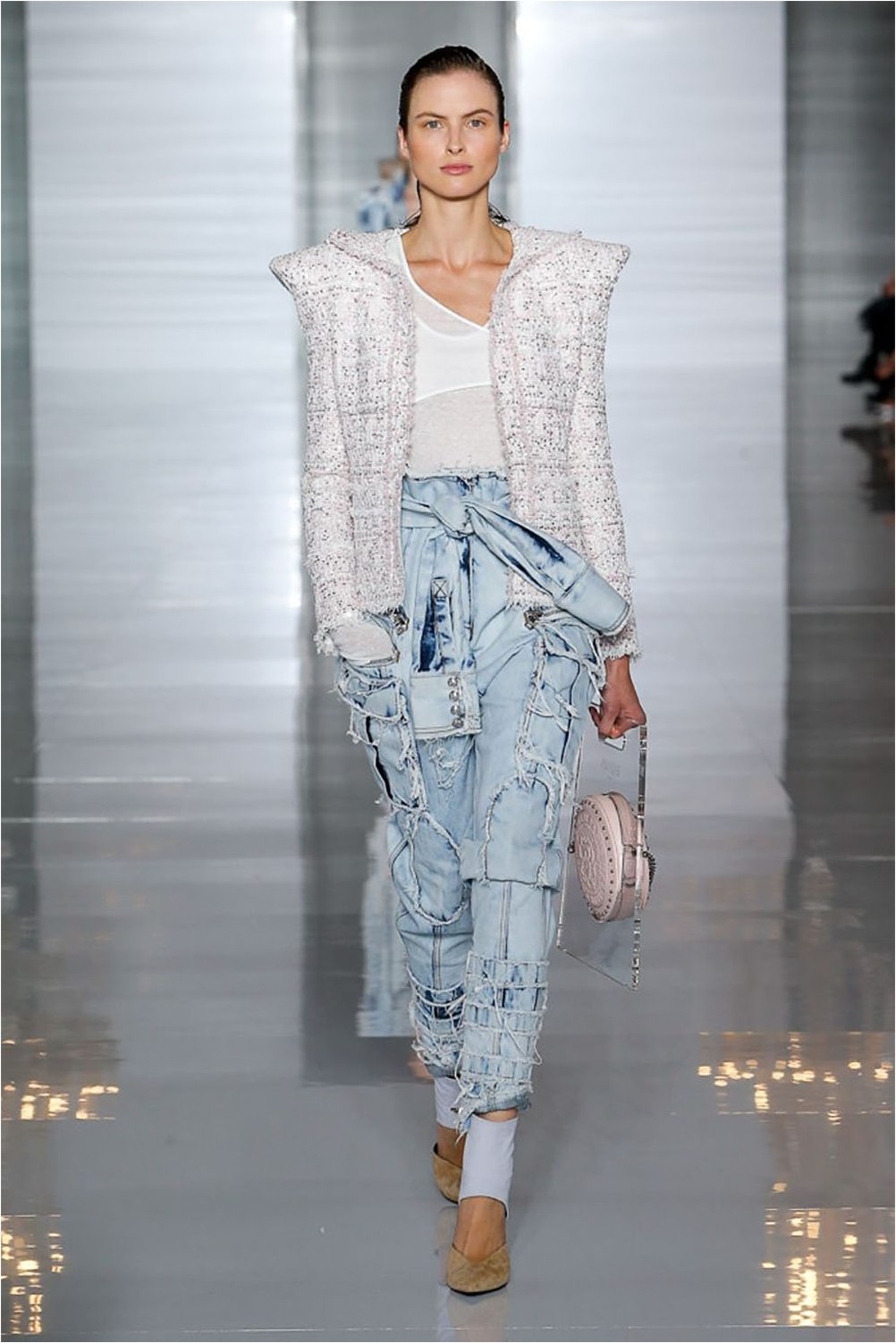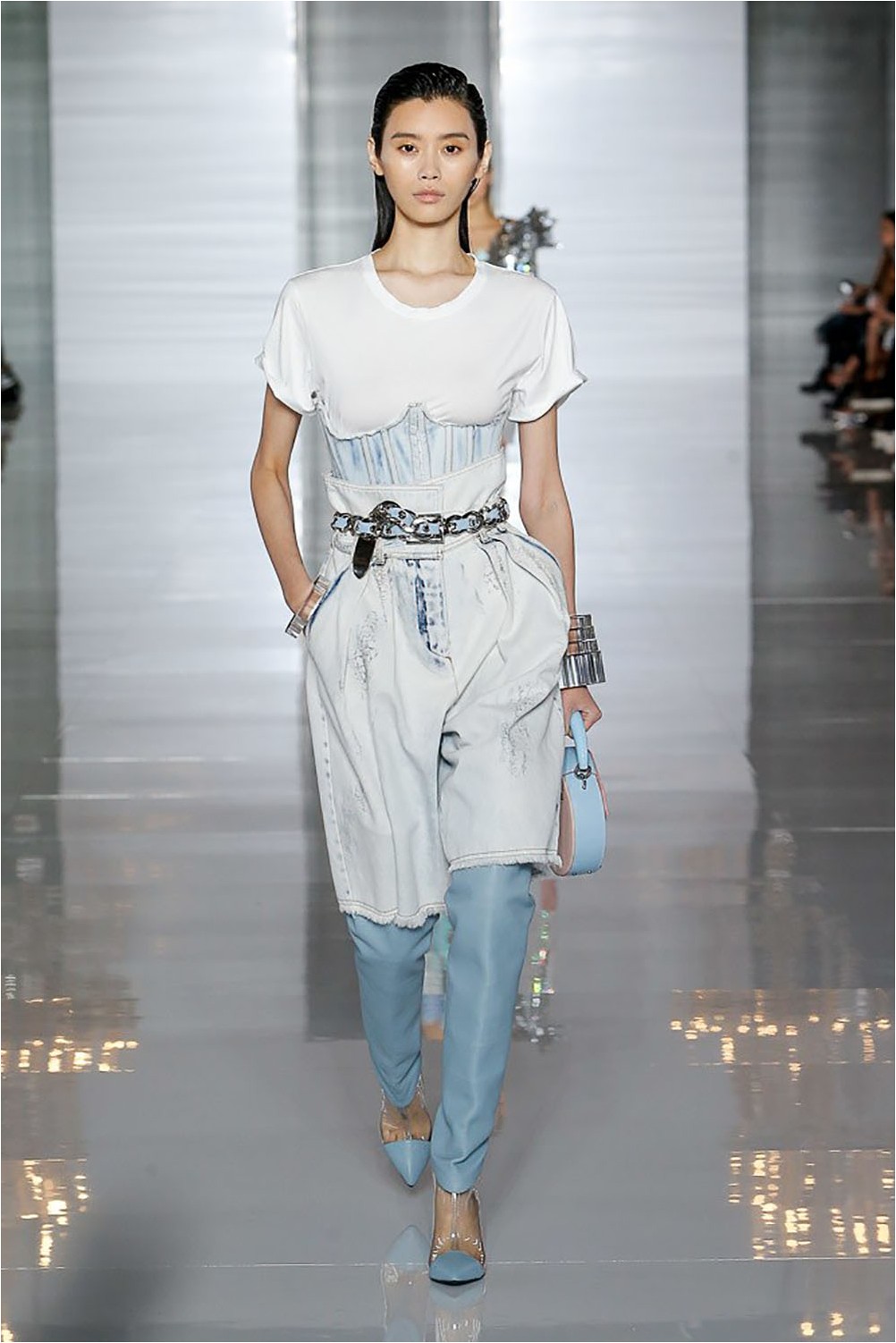 Flare
Flared jeans did not remain in oblivion for long. Skinny skinny skirts give way to 70s retro fashion. A flare in all its diversity was presented at the fashion shows of the spring-summer 2019 season.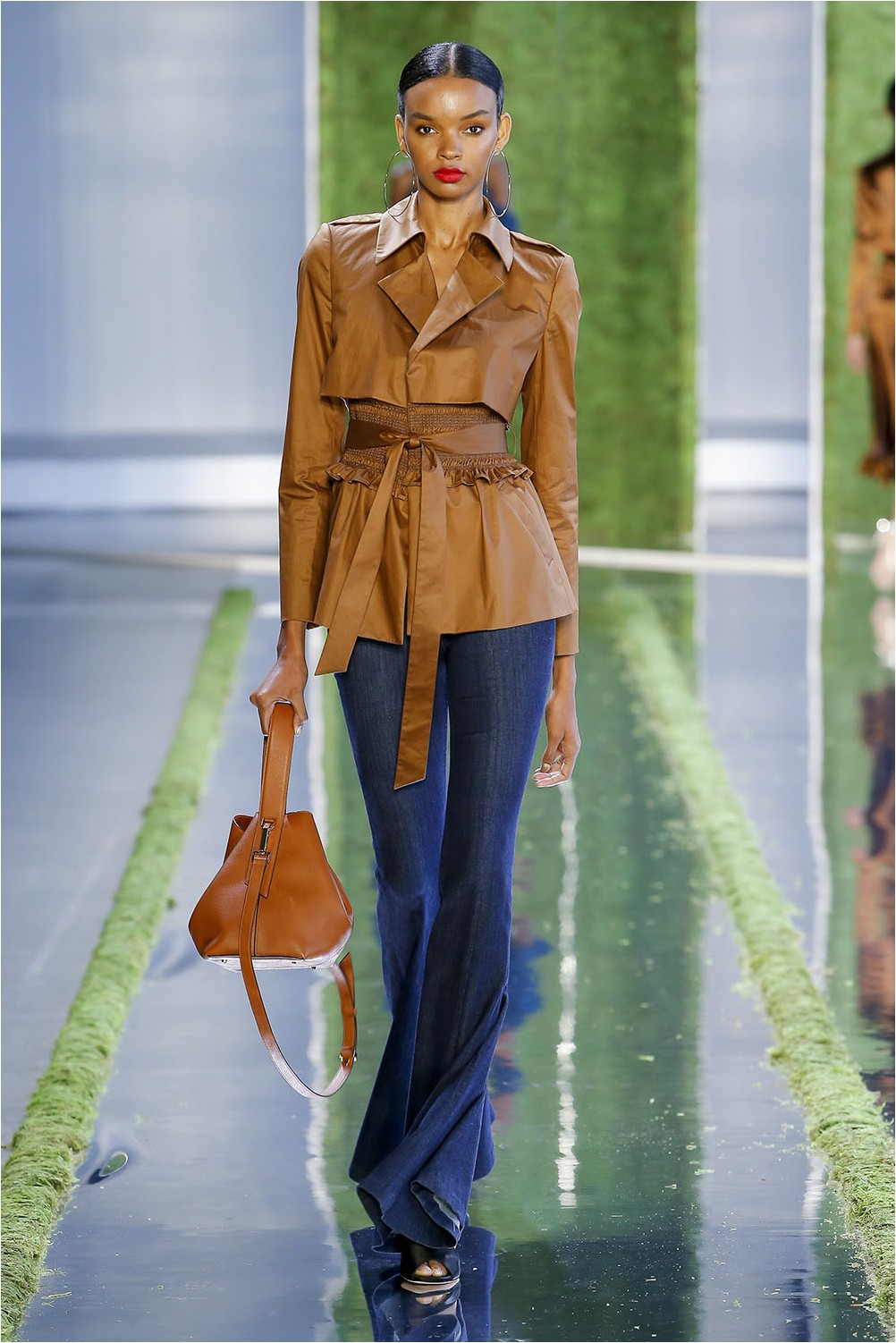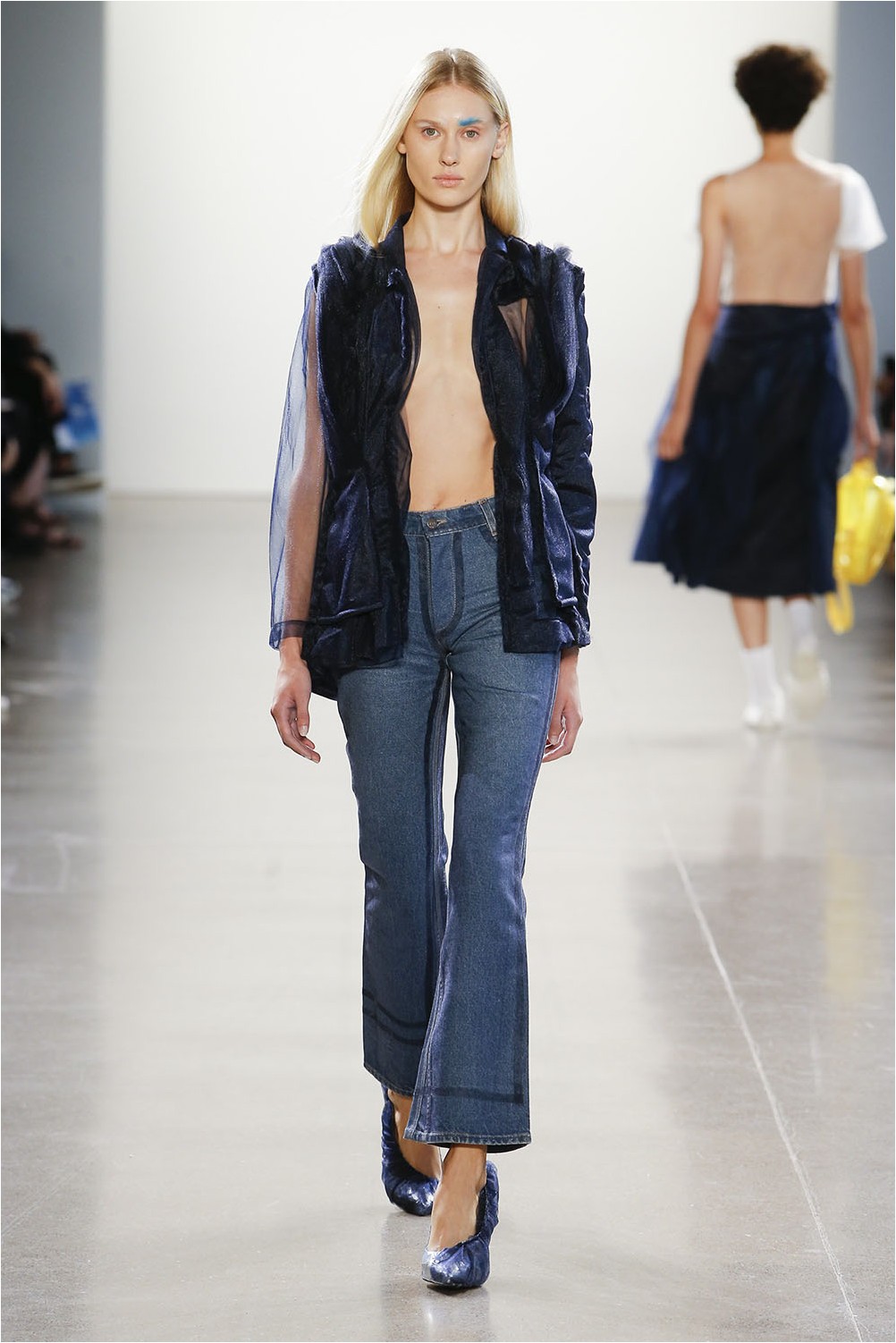 The most trending model was jeans, flared from the knee or incredibly wide jeans in the style of a palazzo. And if they are still a little shortened, then they will fall into the top ten fashionable novelties of this spring.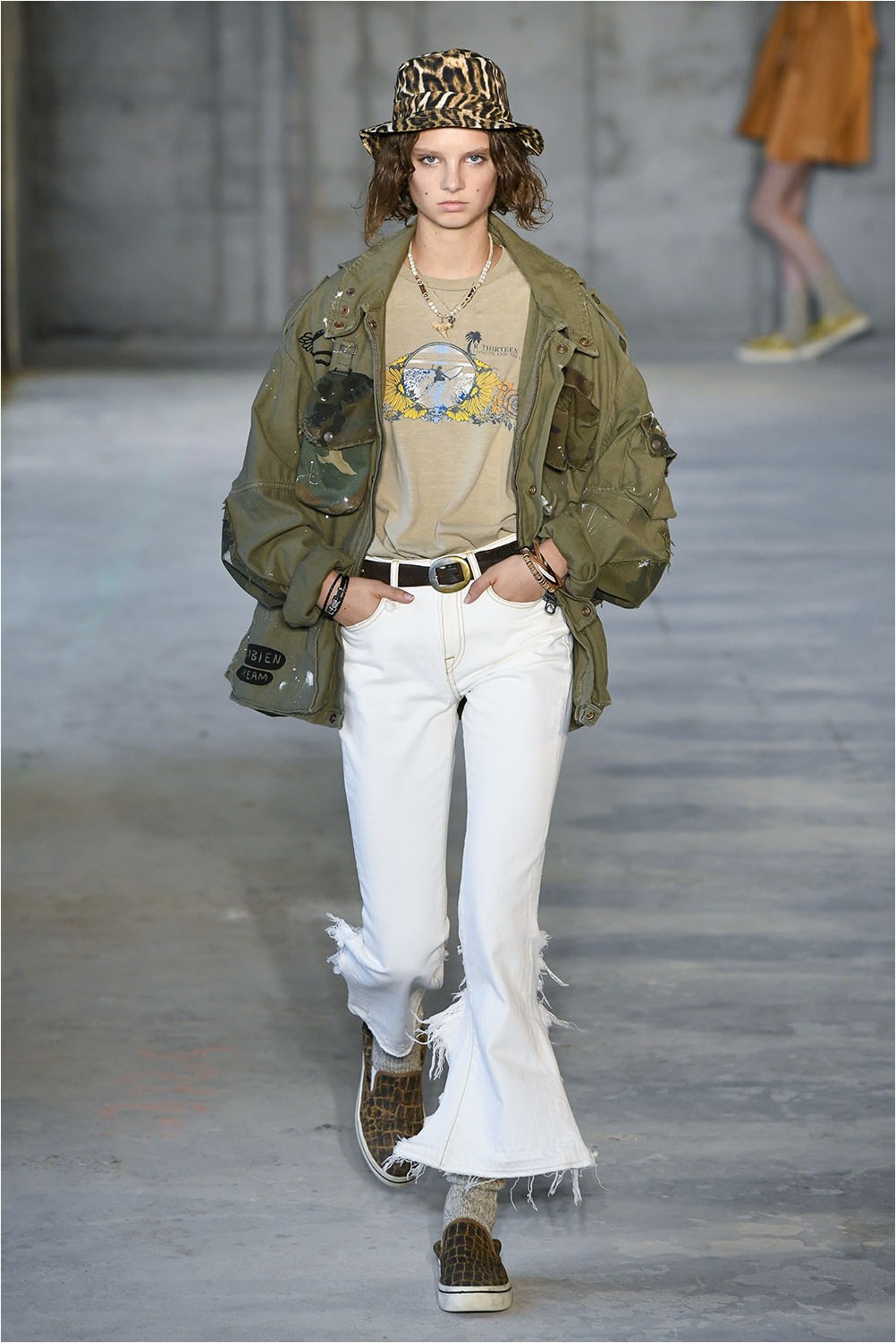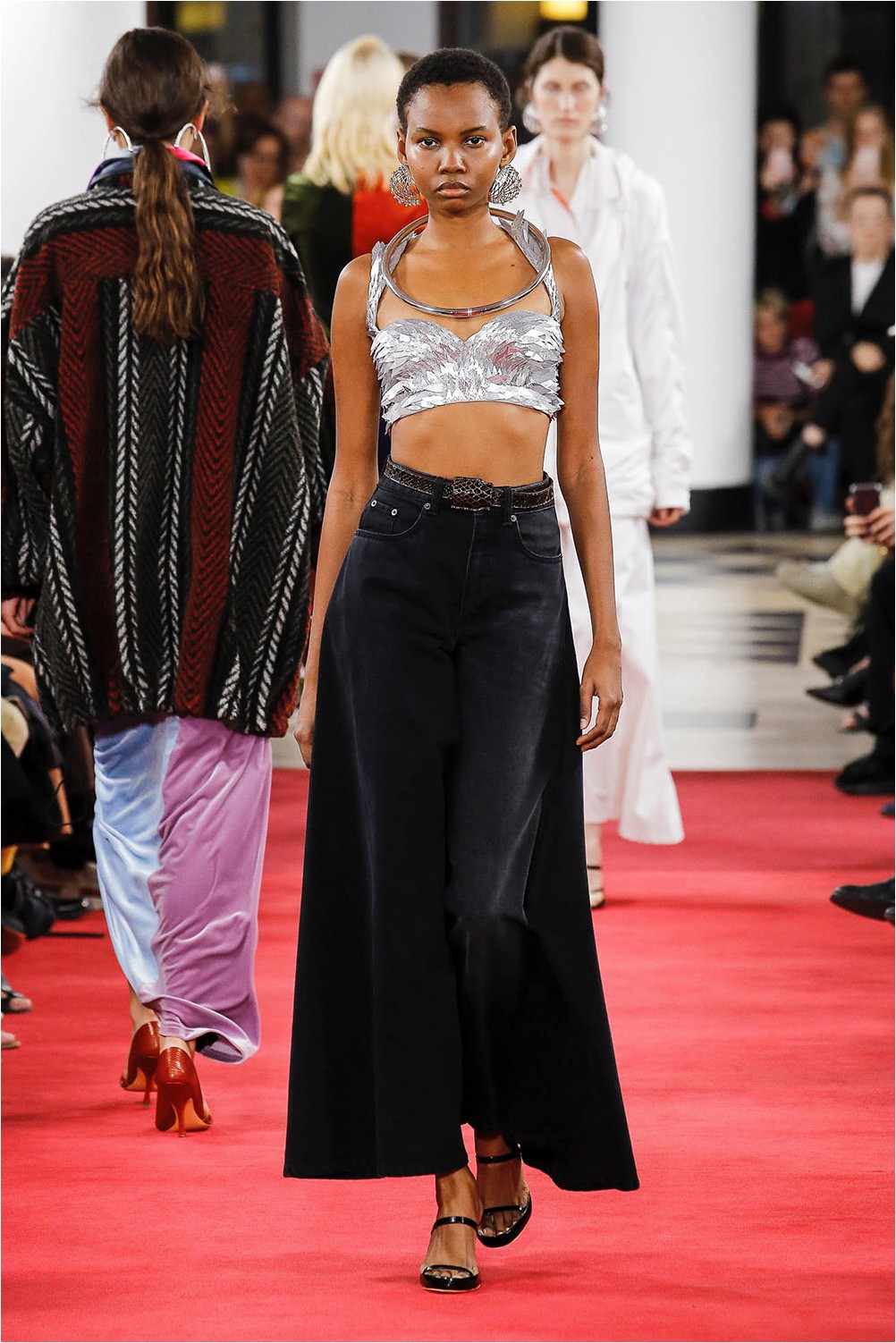 Wide jeans
Jeans of a wide cut stand out especially brightly against the background of other models. Pantaloons, bananas, boyfriends – all these styles are in trend. In the spring-summer 2019 season, designers decided to expand the range of wide jeans with immense palazzos.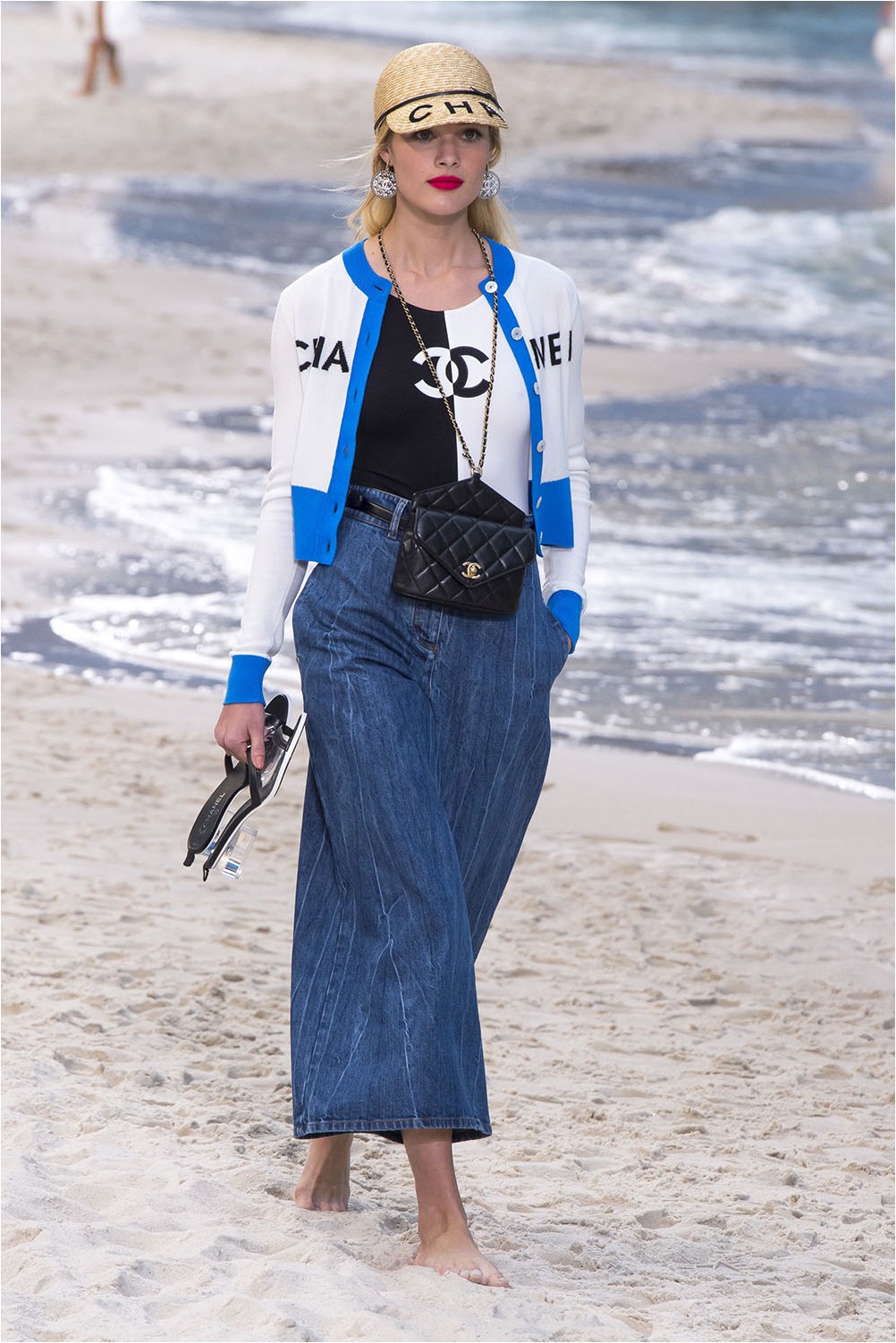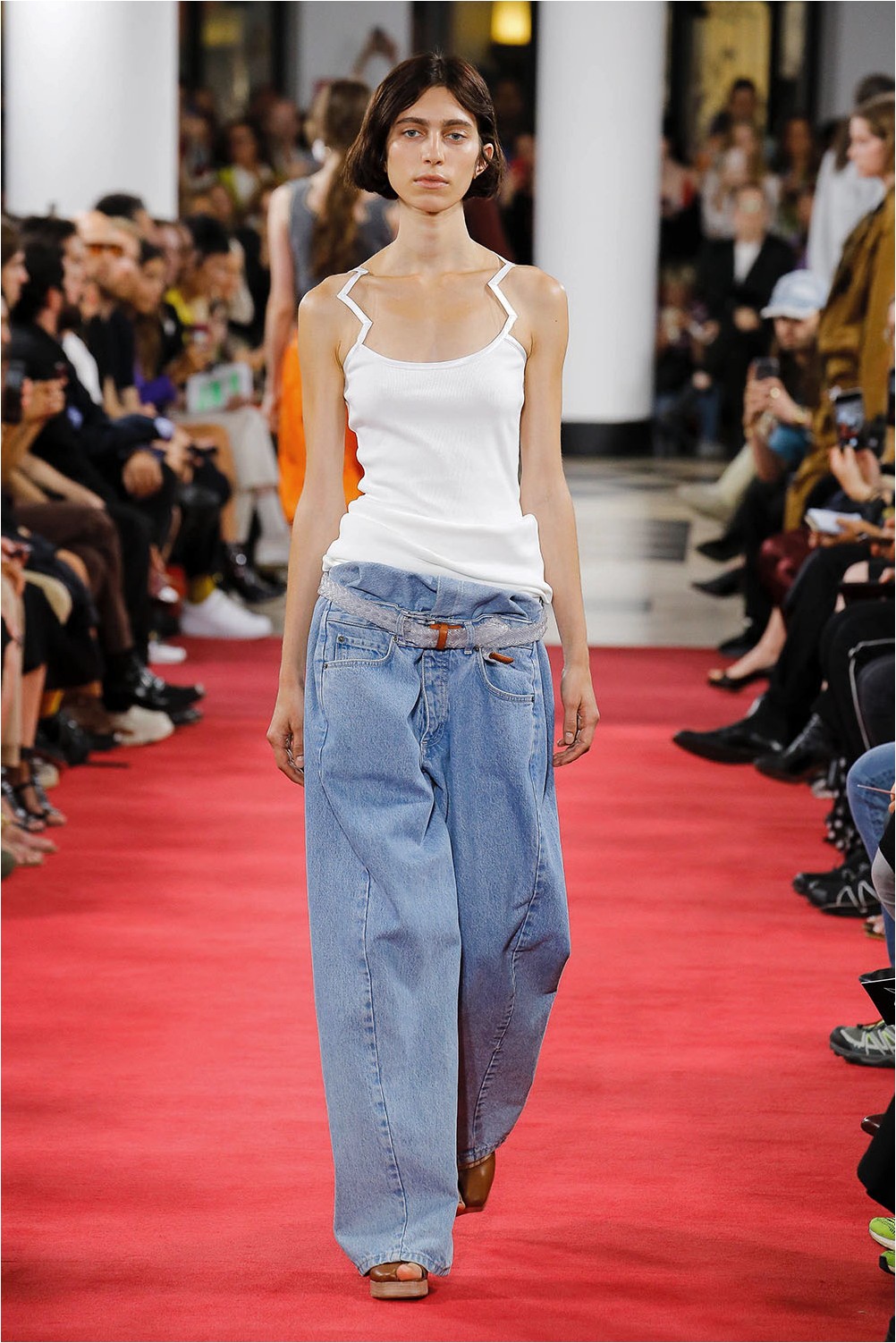 Workwear style
The uniforms of builders and workers have more than once become the standard of style for many fashion houses. This time, the displays did not do without workwear items. Jeans with large patch pockets, stitched zippers, flaps and rivets flashed on fashion catwalks.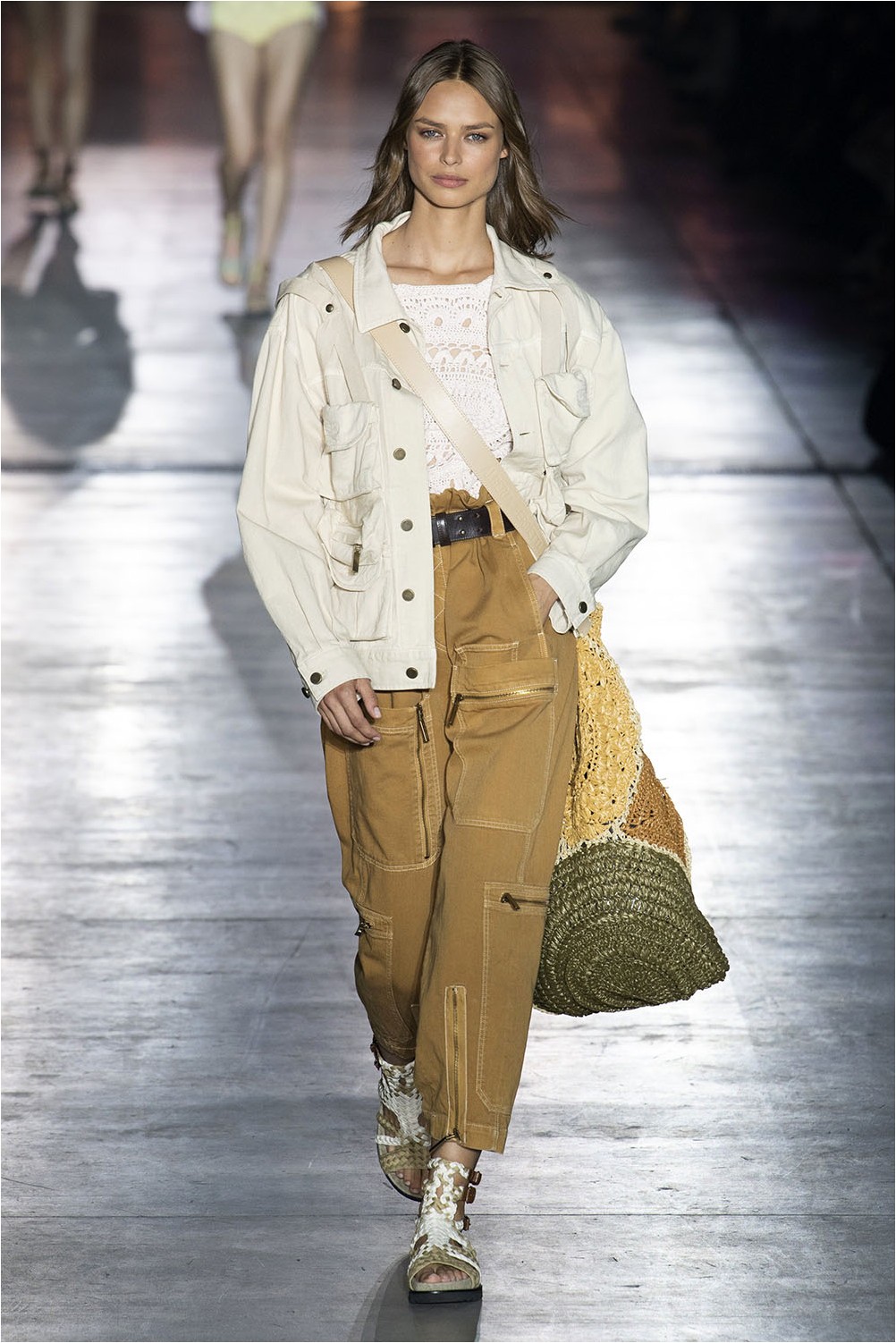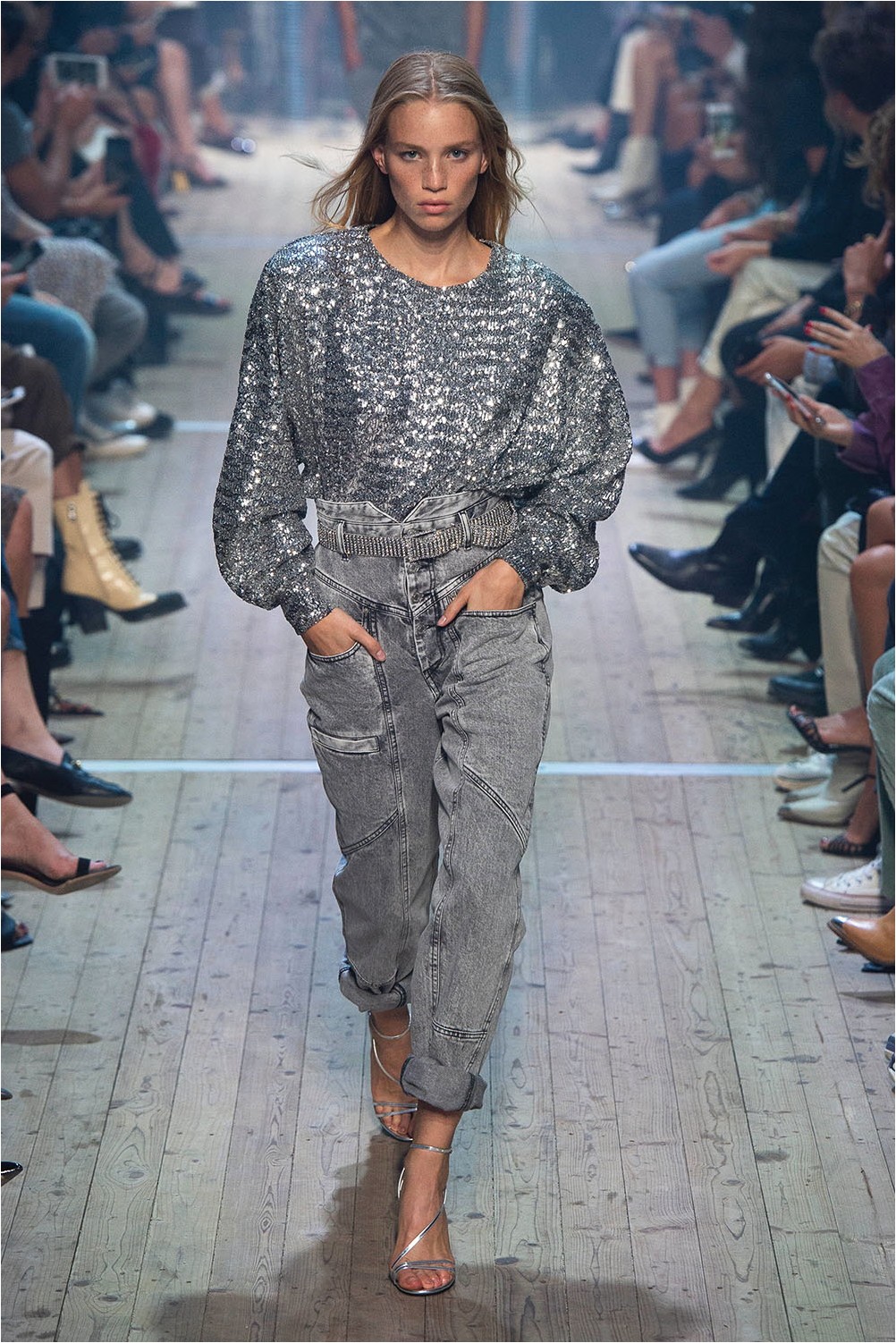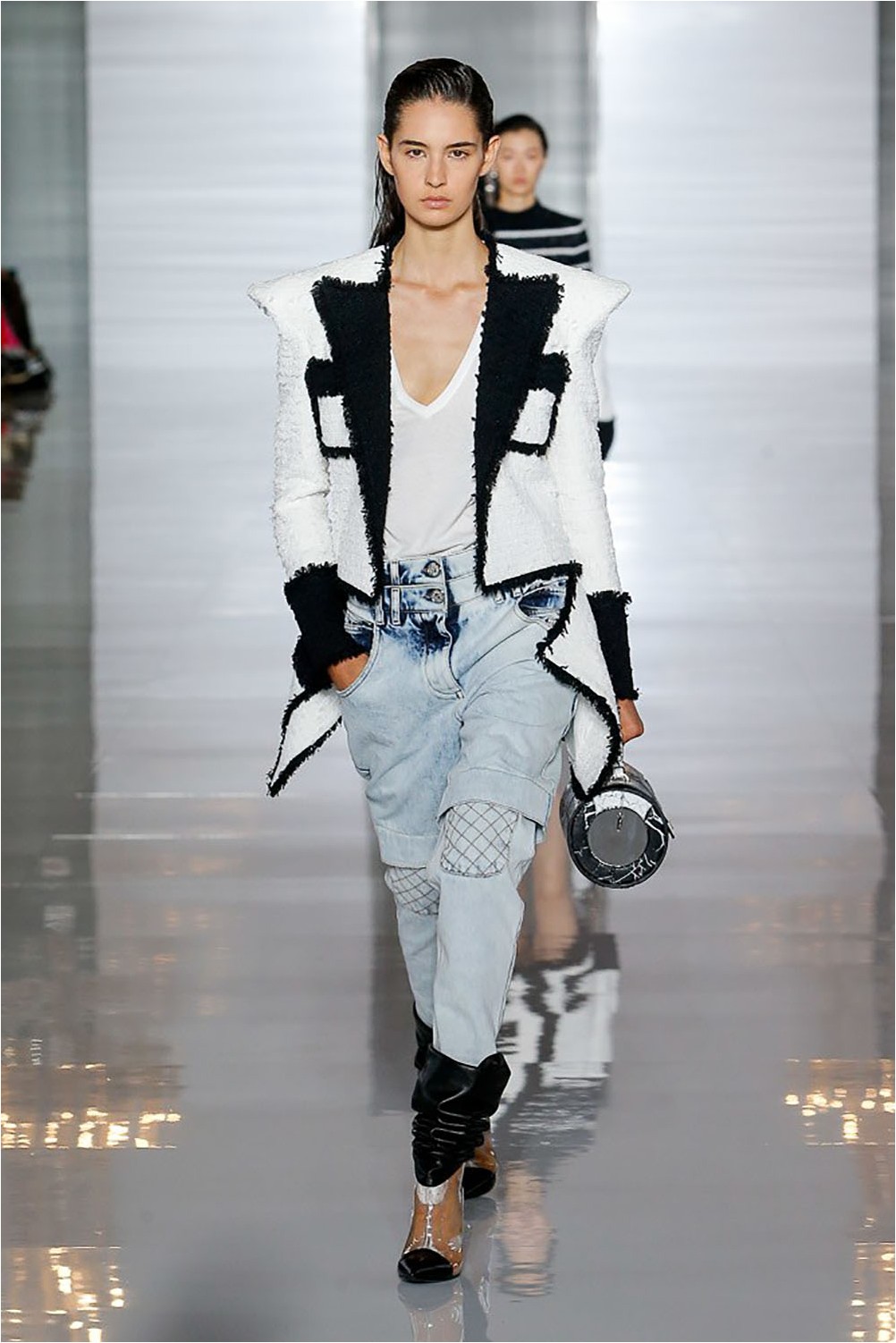 Another mandatory attribute of such models is a contrasting decorative finishing line. Sometimes even a decorative seam is enough to create a stylish workwear effect.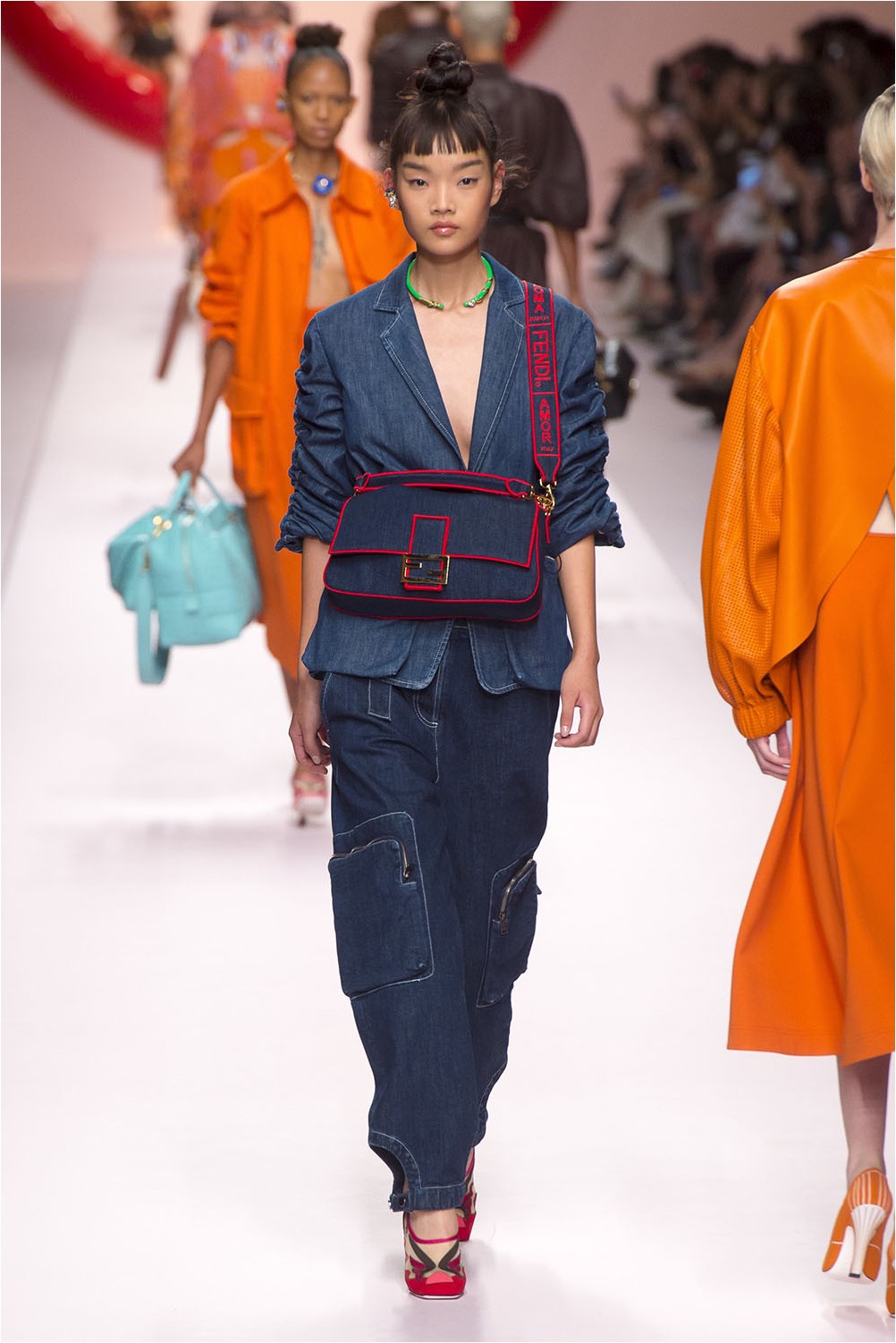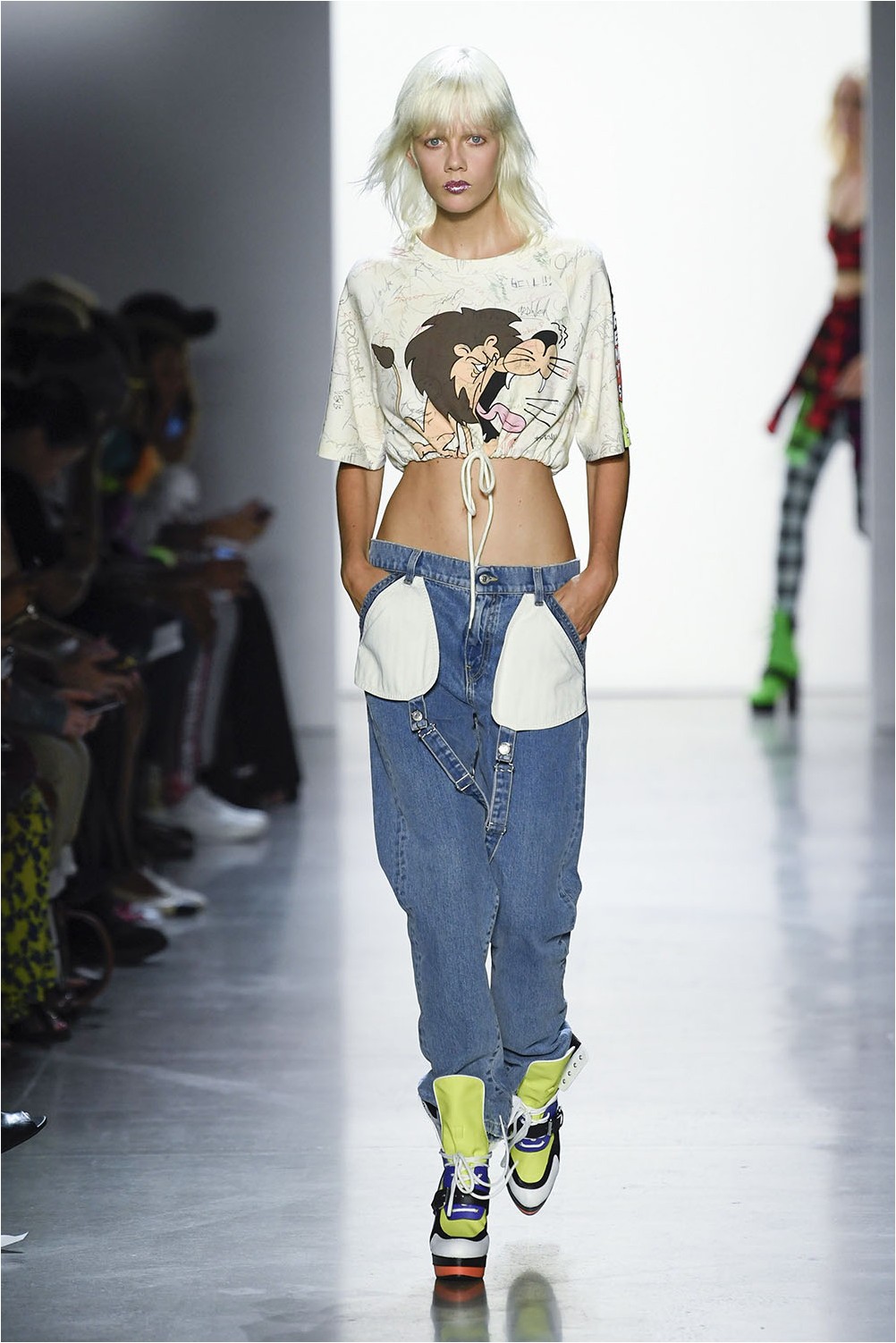 Decorative coquette
She became the main decoration of trendy jeans and trousers. Jeans from a dumpling with a curly coquette of a complex cut are in fashion. The waist is necessarily high, and under the yoke there are several folds.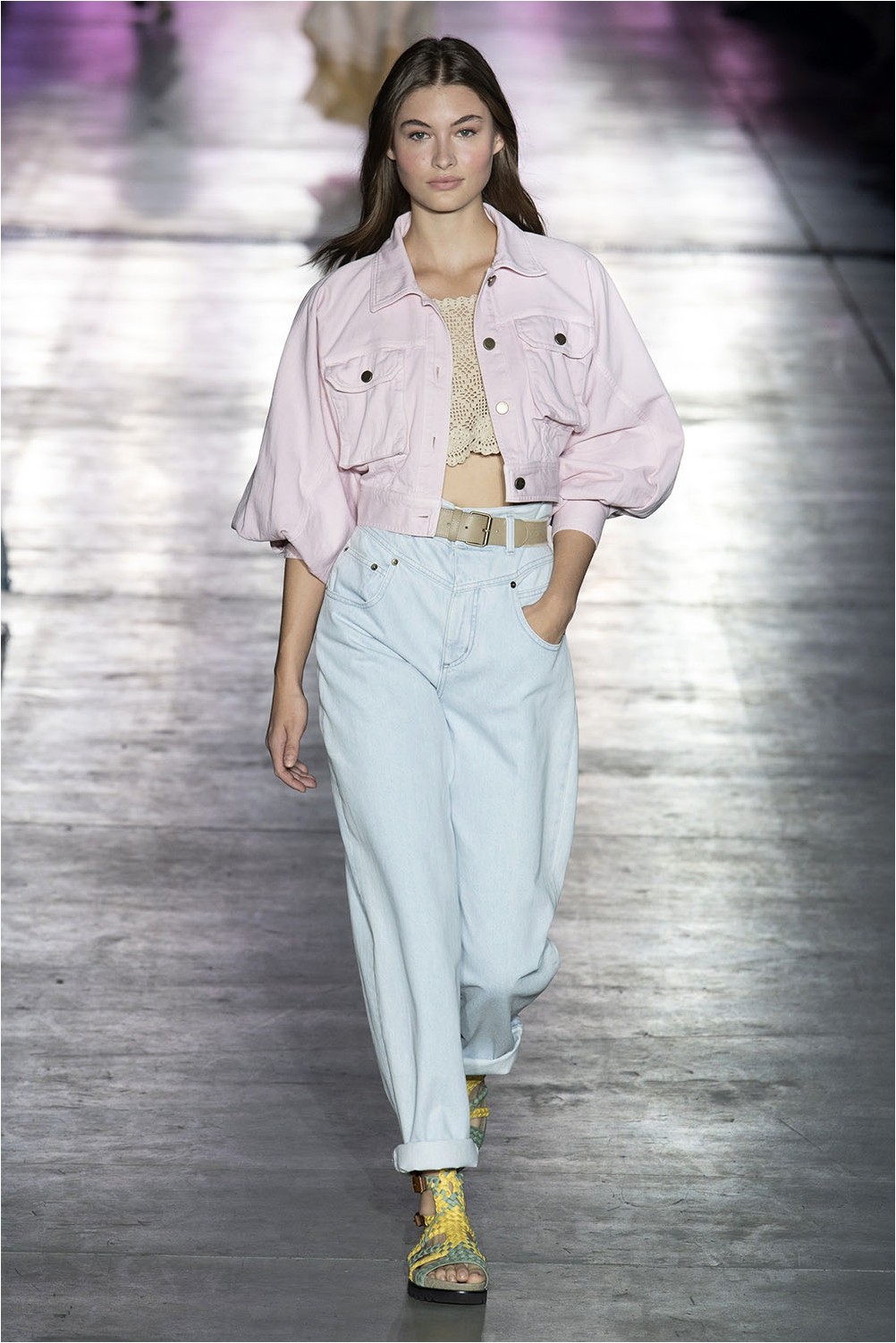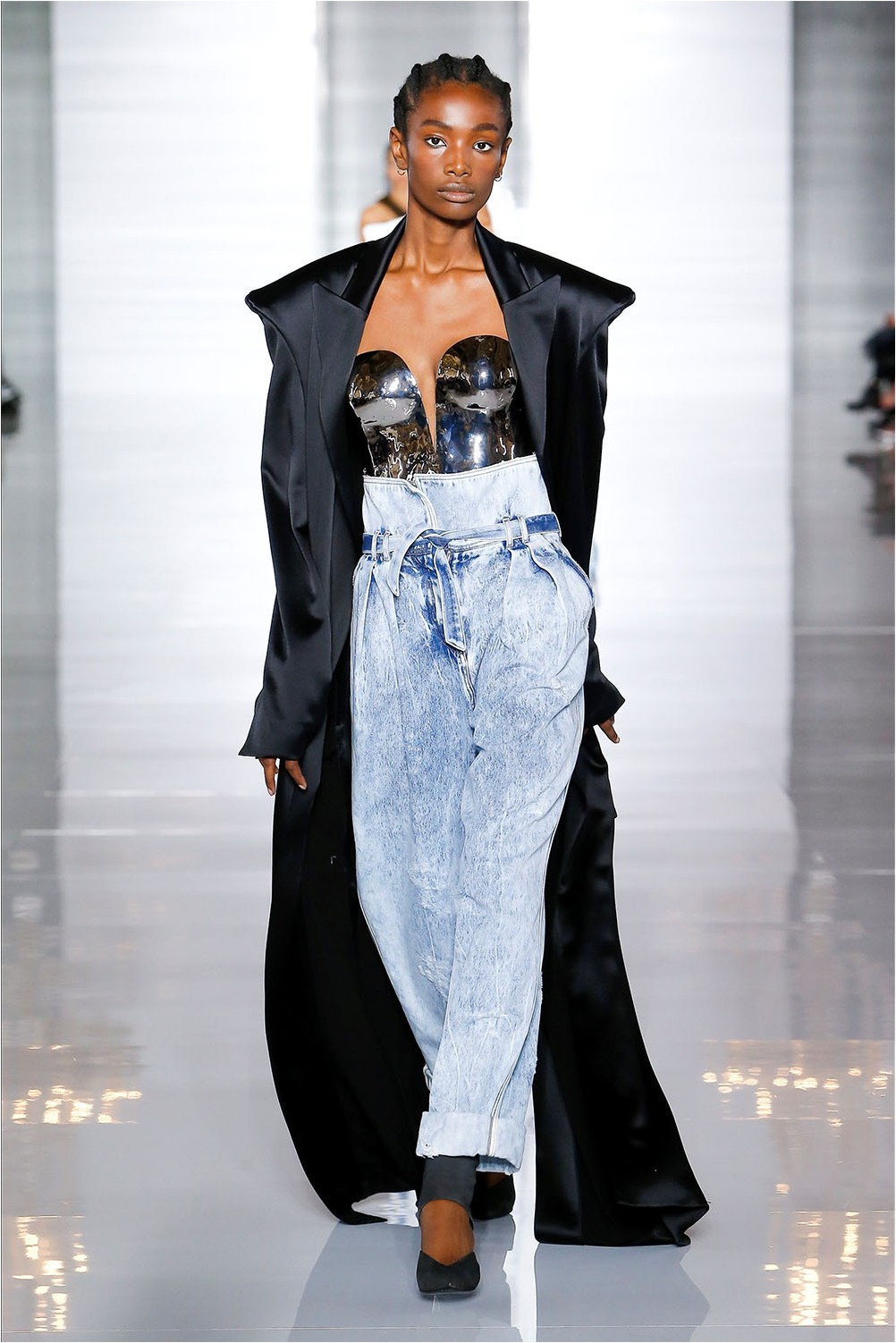 This interpretation of fashion jeans was proposed by Marissa Webb, Isabel Marant and Balmain. Models look very feminine, because the best aspects of a female figure are emphasized in them.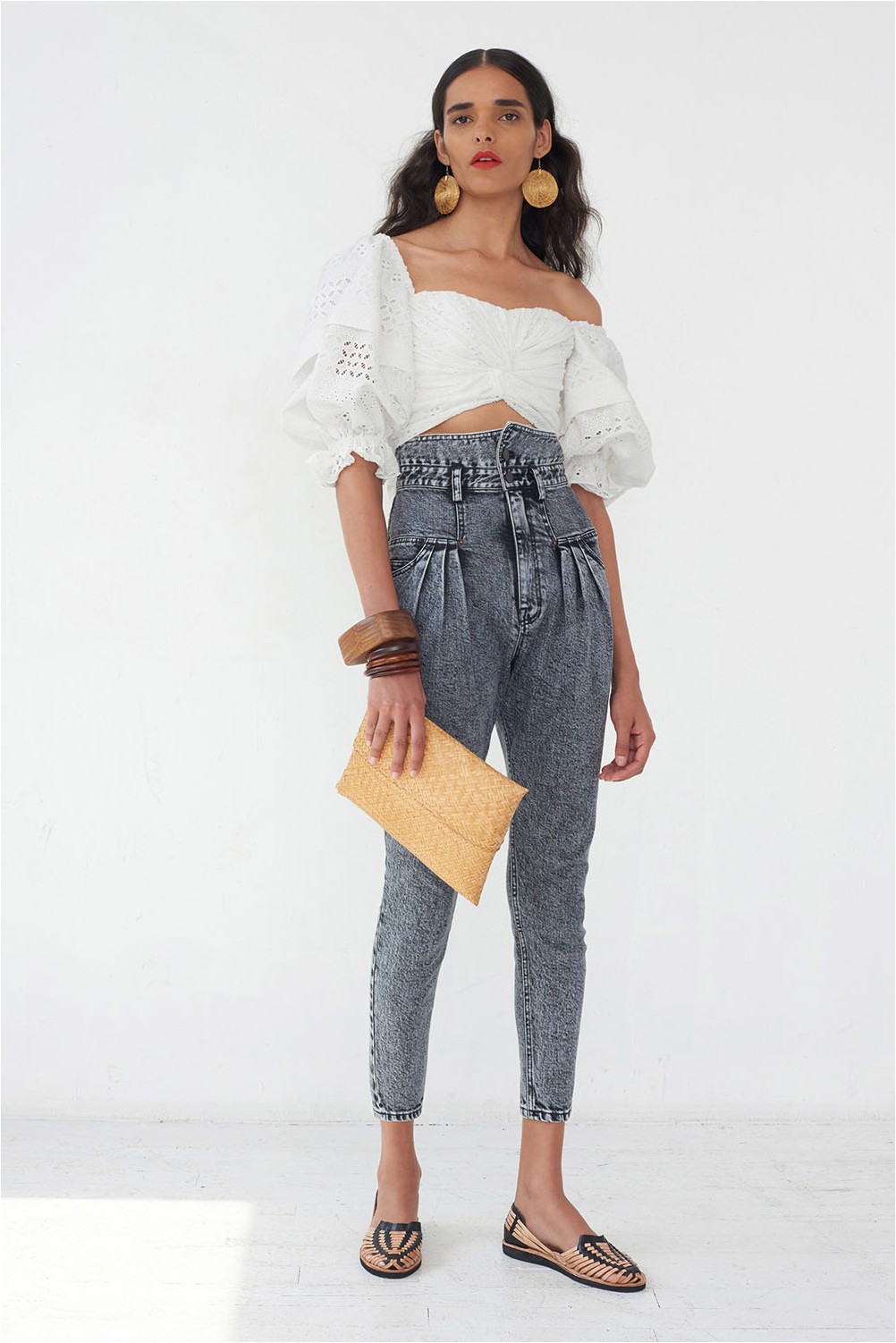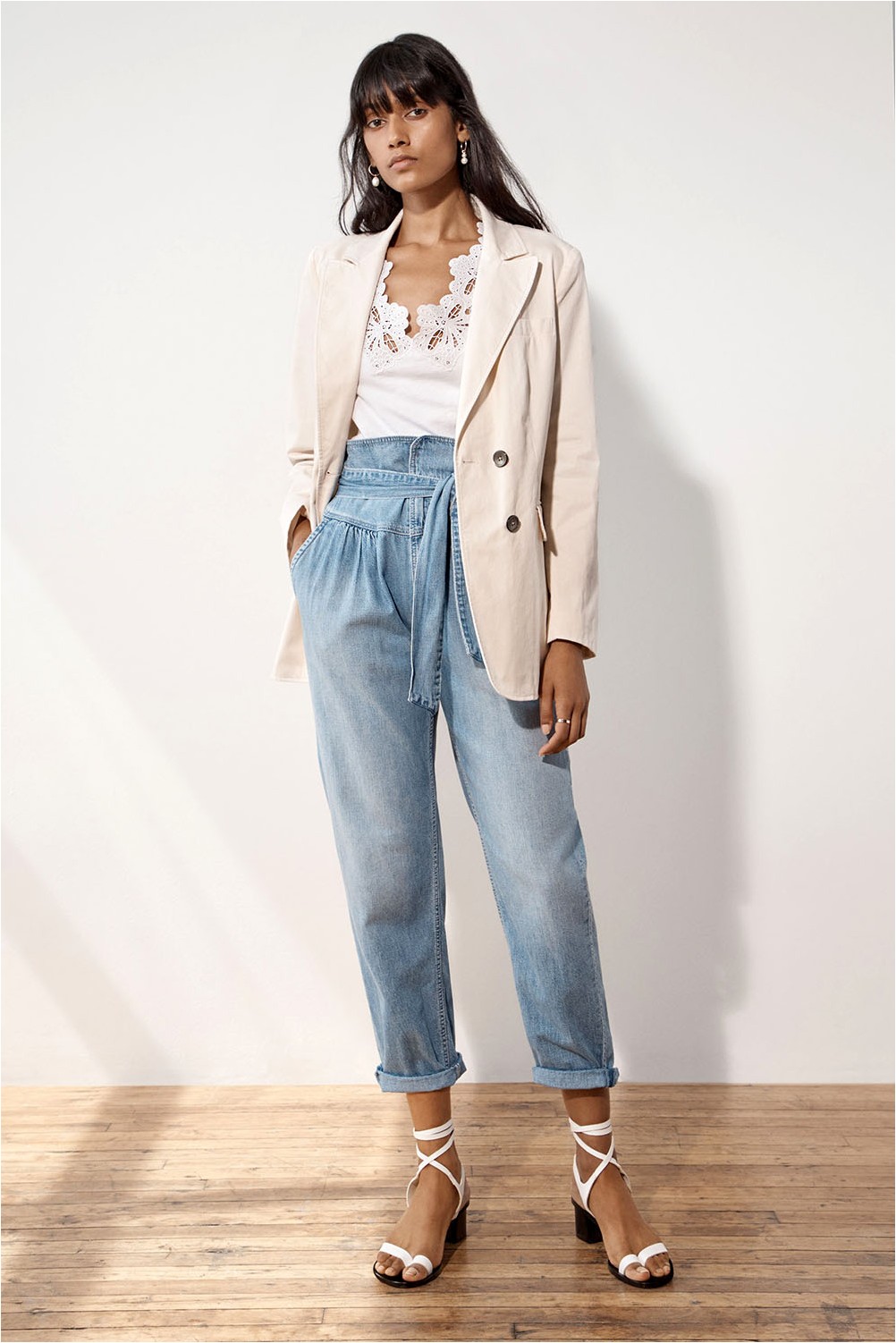 Cropped jeans
Jeans in the spring-summer season of 2019 should be at least slightly shortened. It doesn't matter how short the length will be achieved – due to twists, cut or even it will be short breeches. The main task is to slightly open the ankle and draw attention to the elegance of the legs.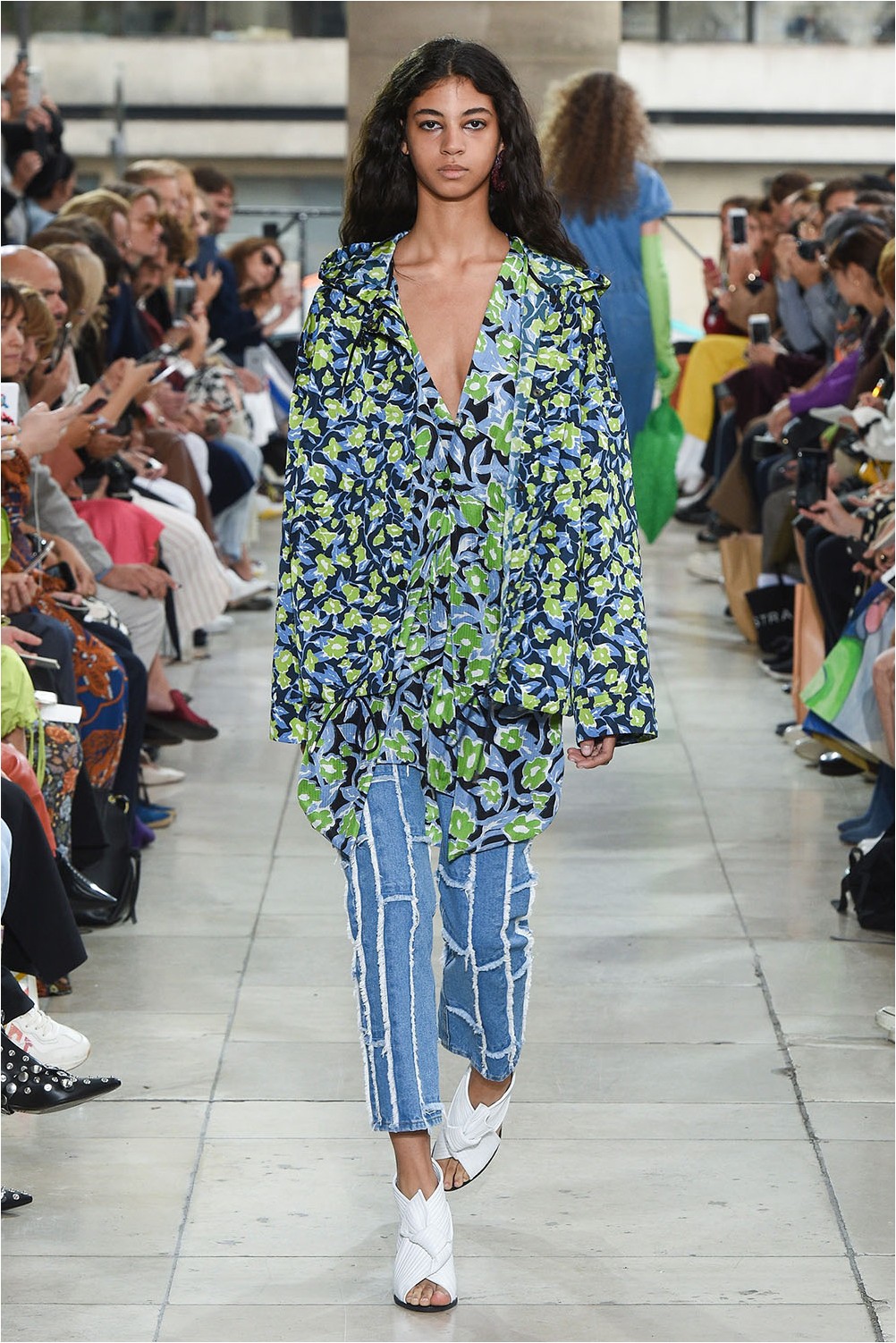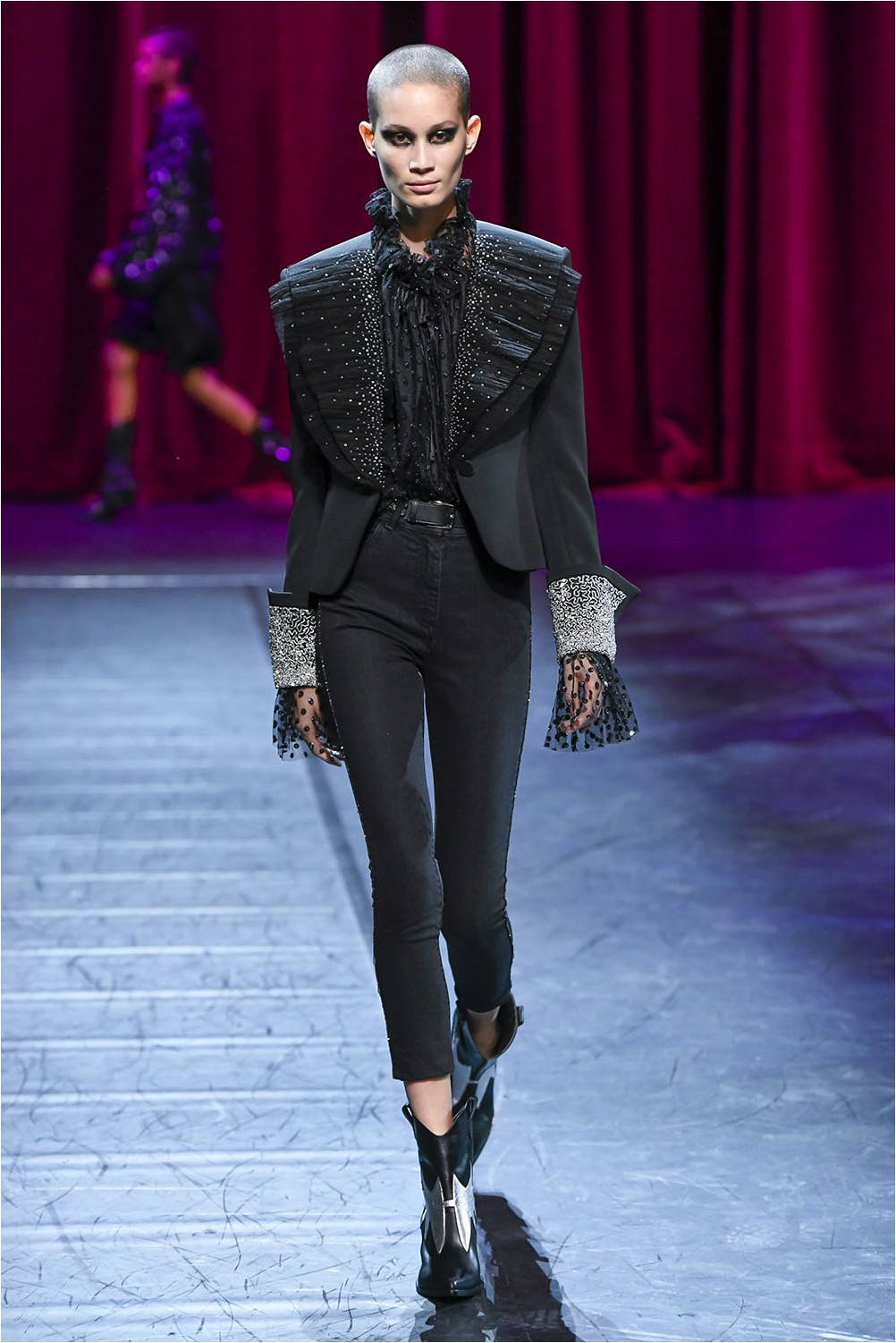 The length of cropped jeans can be different. But the most relevant will be breeches, culottes and models ¾ or 7/8. They are suitable for active girls, because they do not constrain movements at all. Will be appropriate in any informal setting and even as an office dress code in the summer.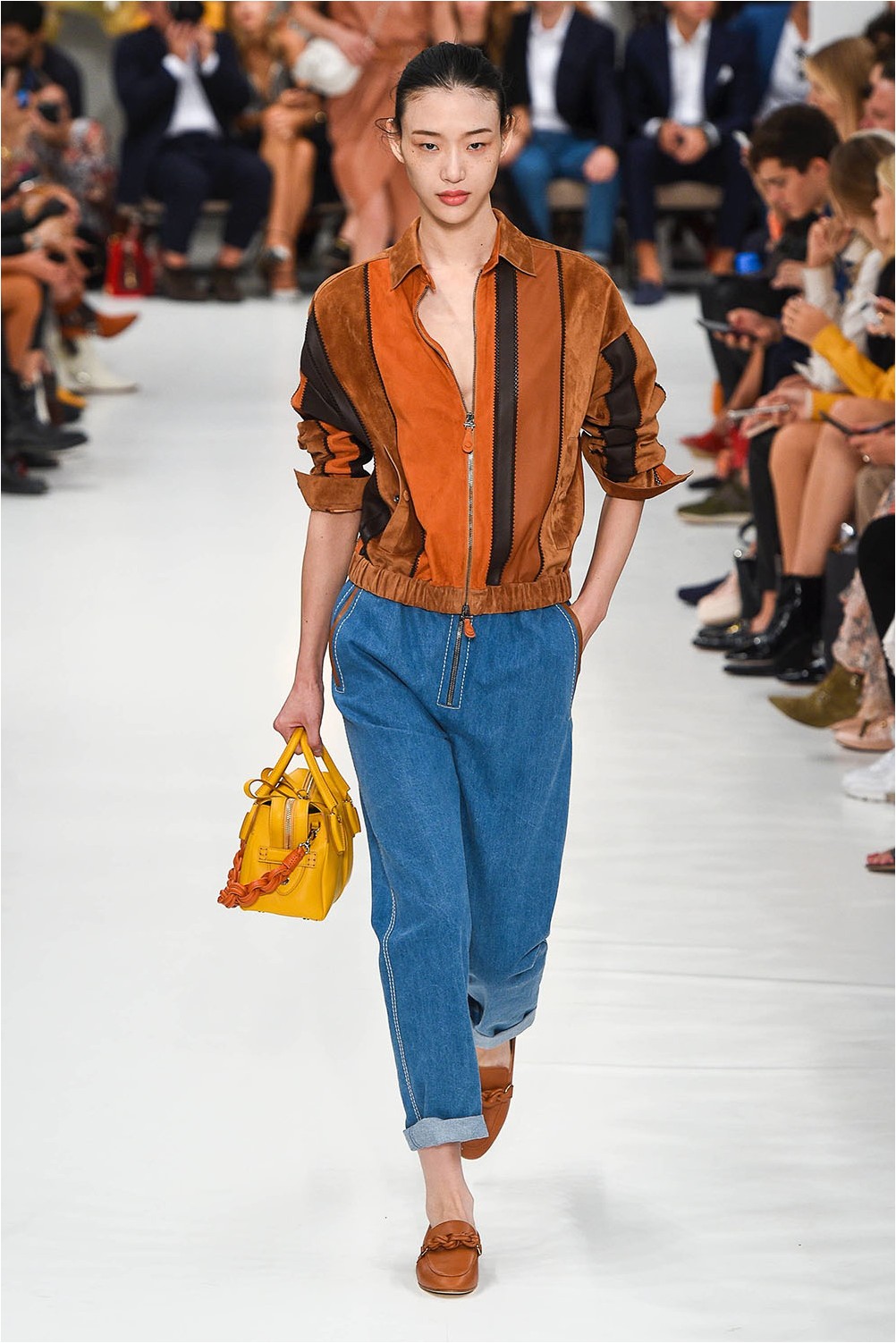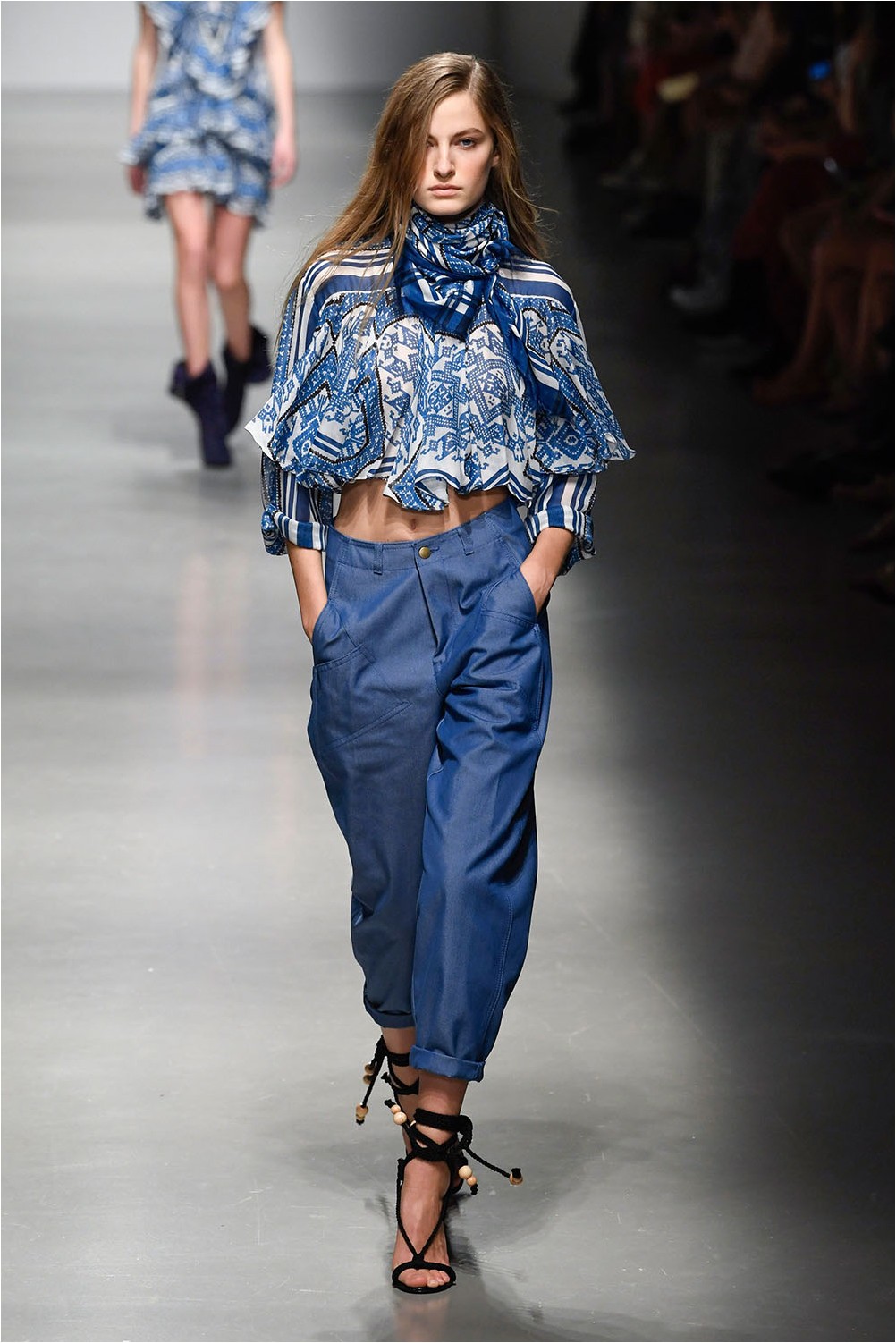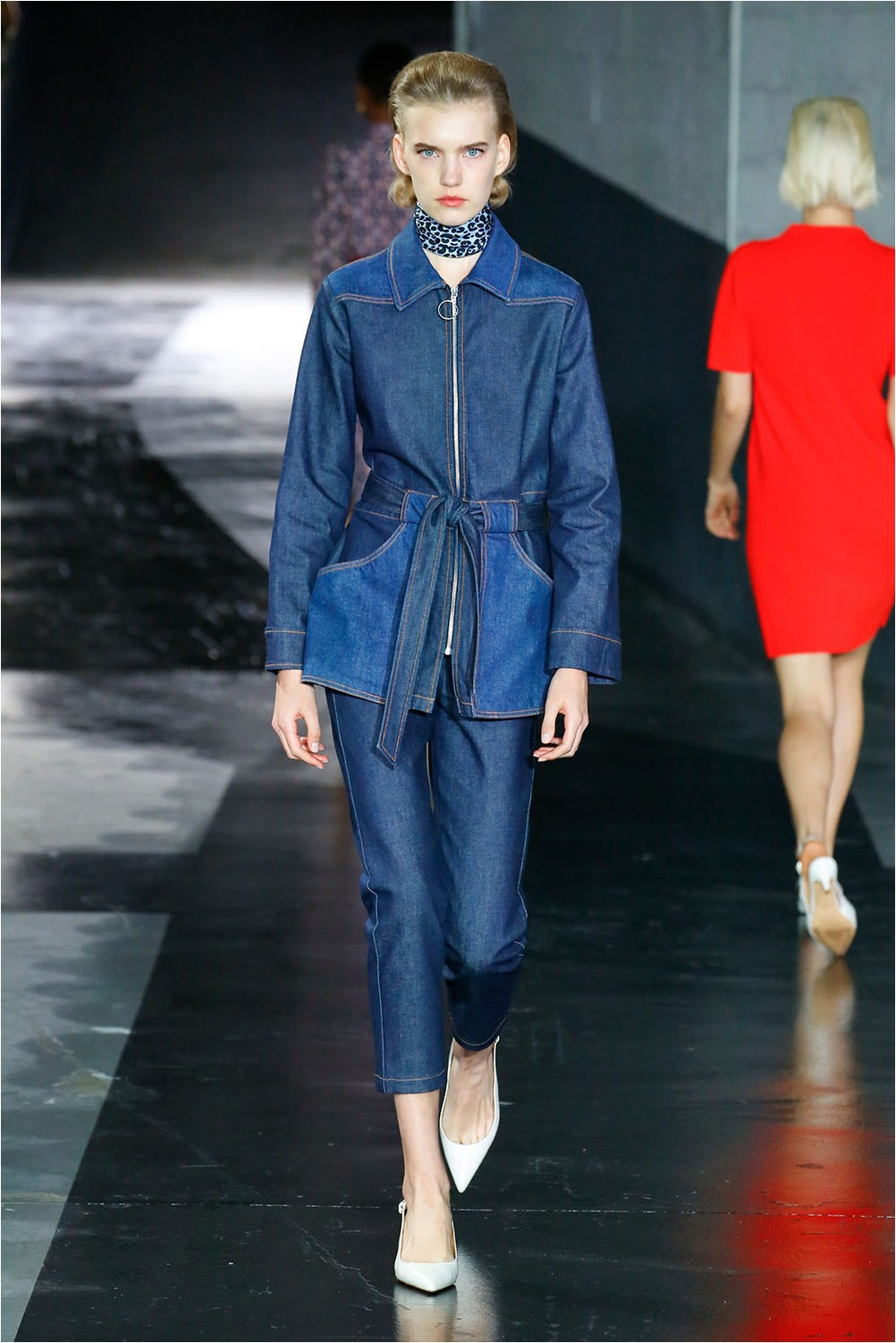 Denim total look
Total look has stayed in the top of the most sought-after trends for so long that it would have been boring for a long time if it had not been for the creative thinking of the designers. It would seem that everything is predictable. You pick up two things that are the same in color and the mono image is ready. But the fashion guru has many ideas left..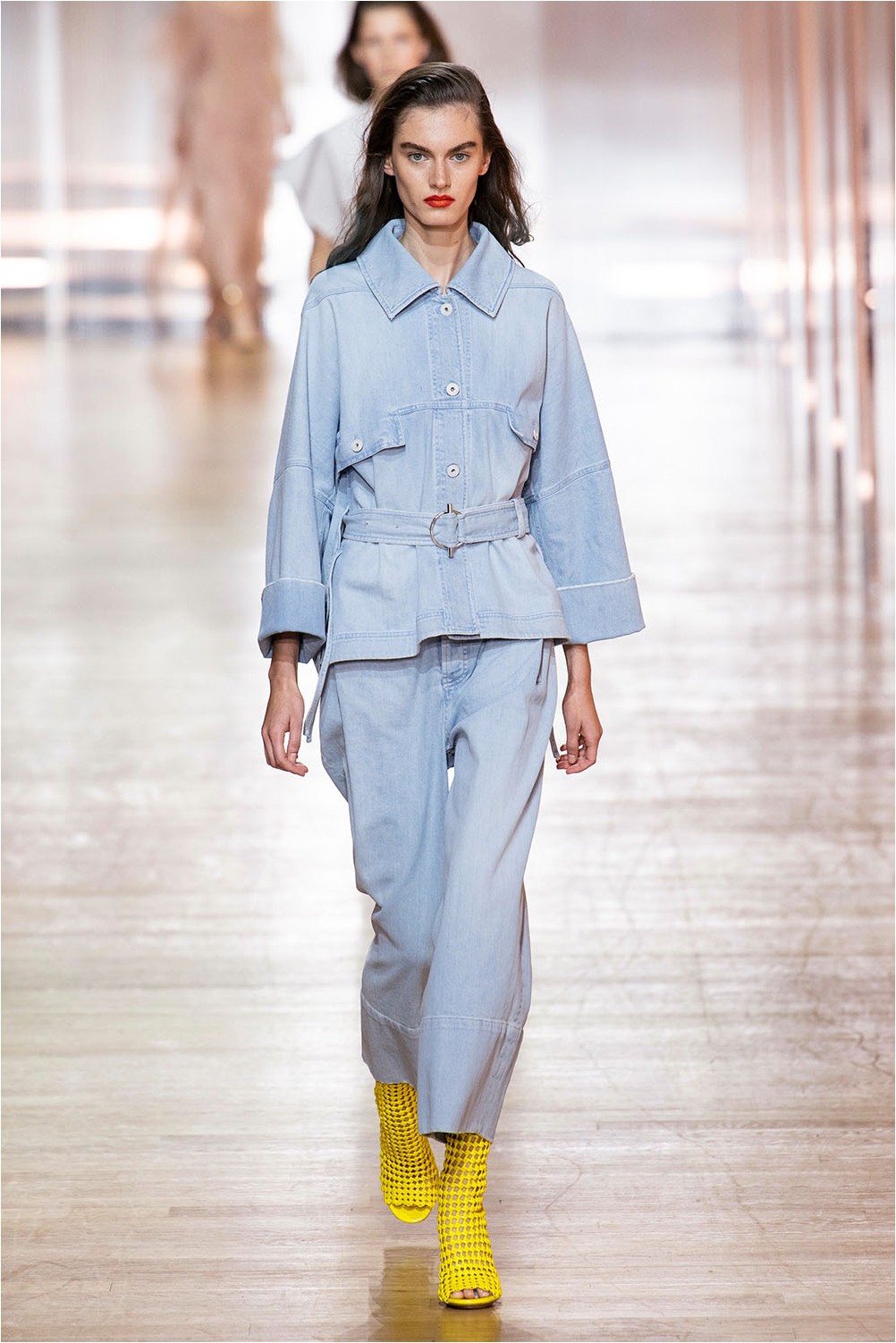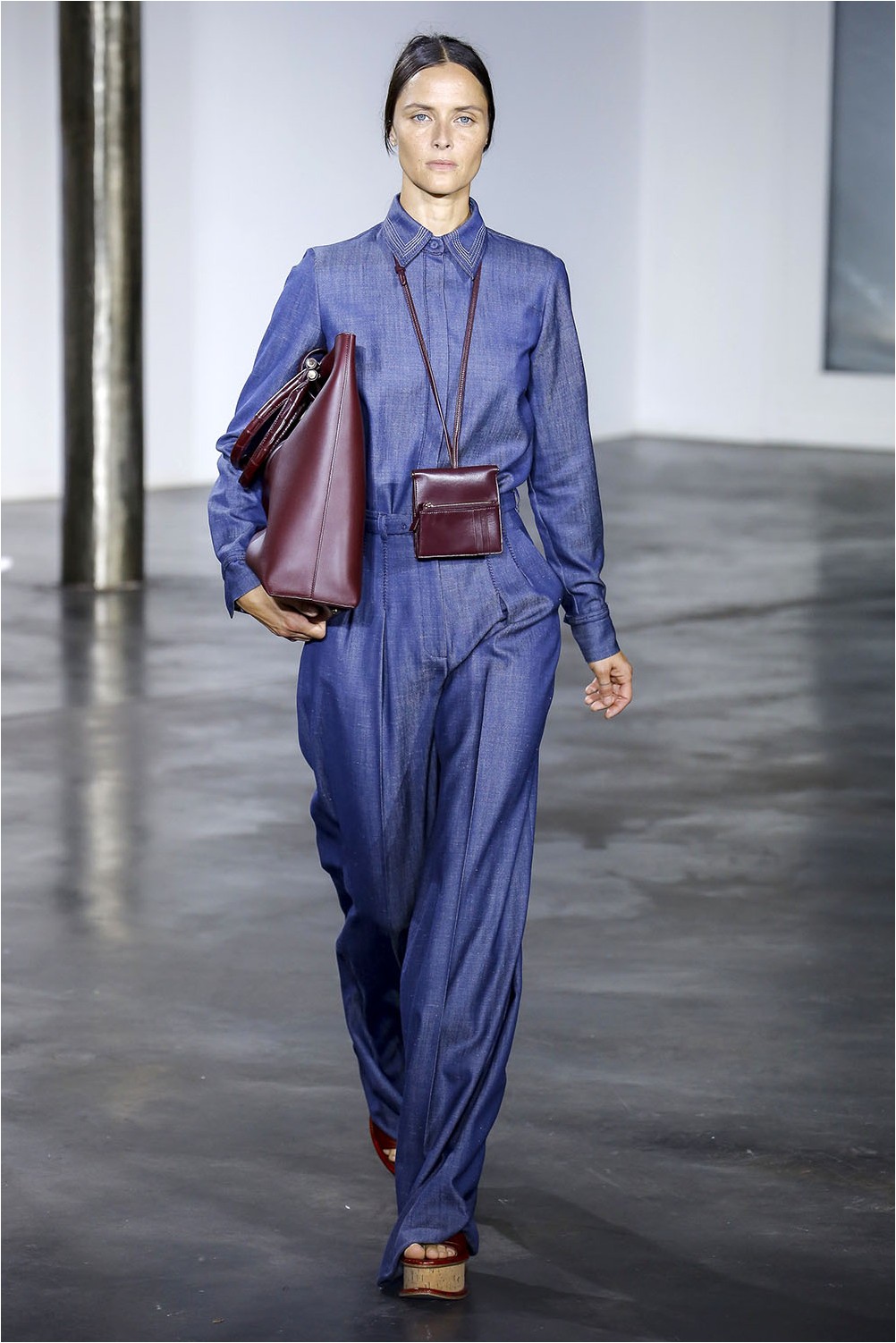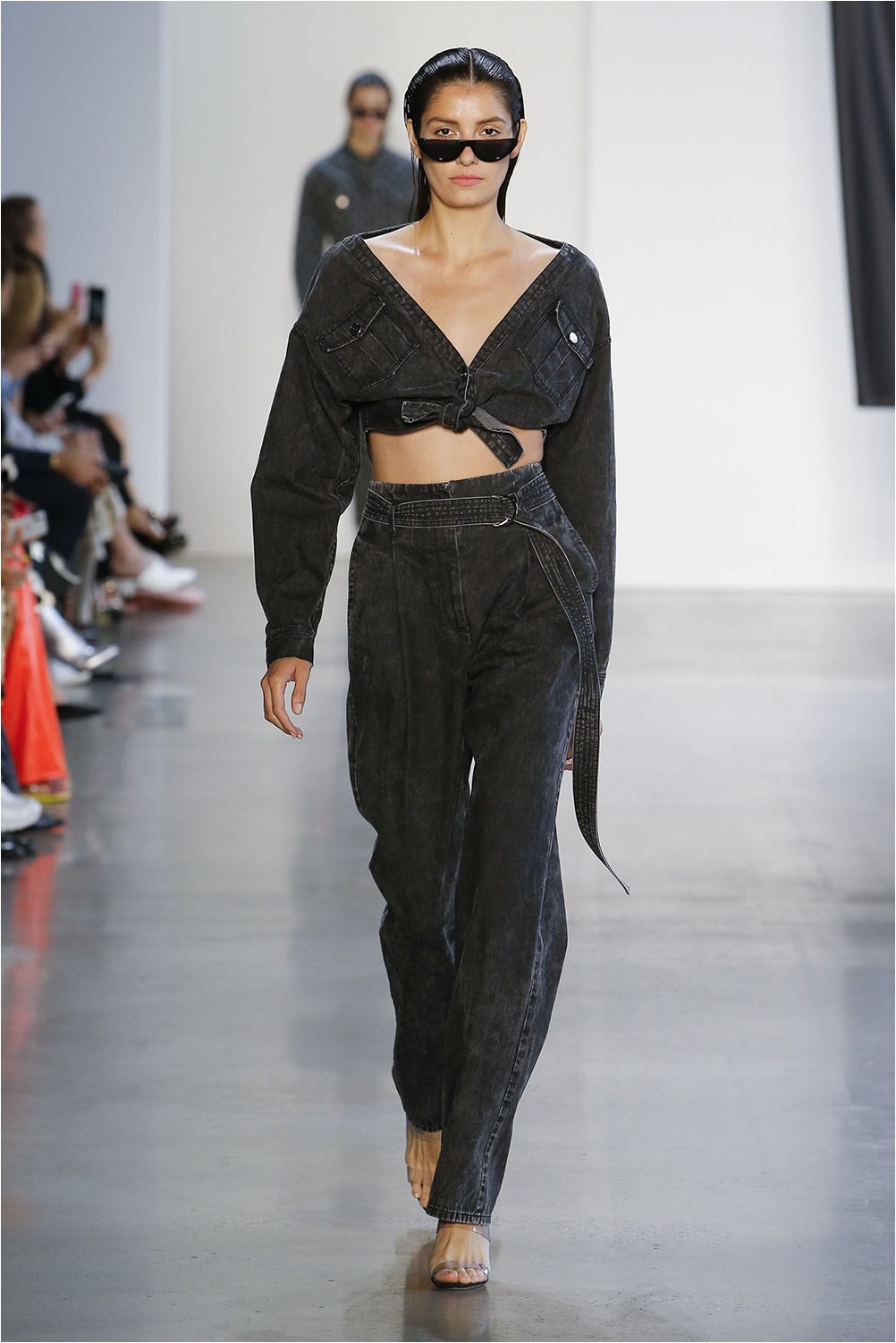 Now they offer to dilute the denim total look with lace, as Karl Lagerfeld did as part of the Chanel collection. Victoria Beckham also proposed her own version – a strict and feminine two-piece suit from plain denim in the style of the 70s. Stella McCartney has created a whole line of stylish boiled denim costumes.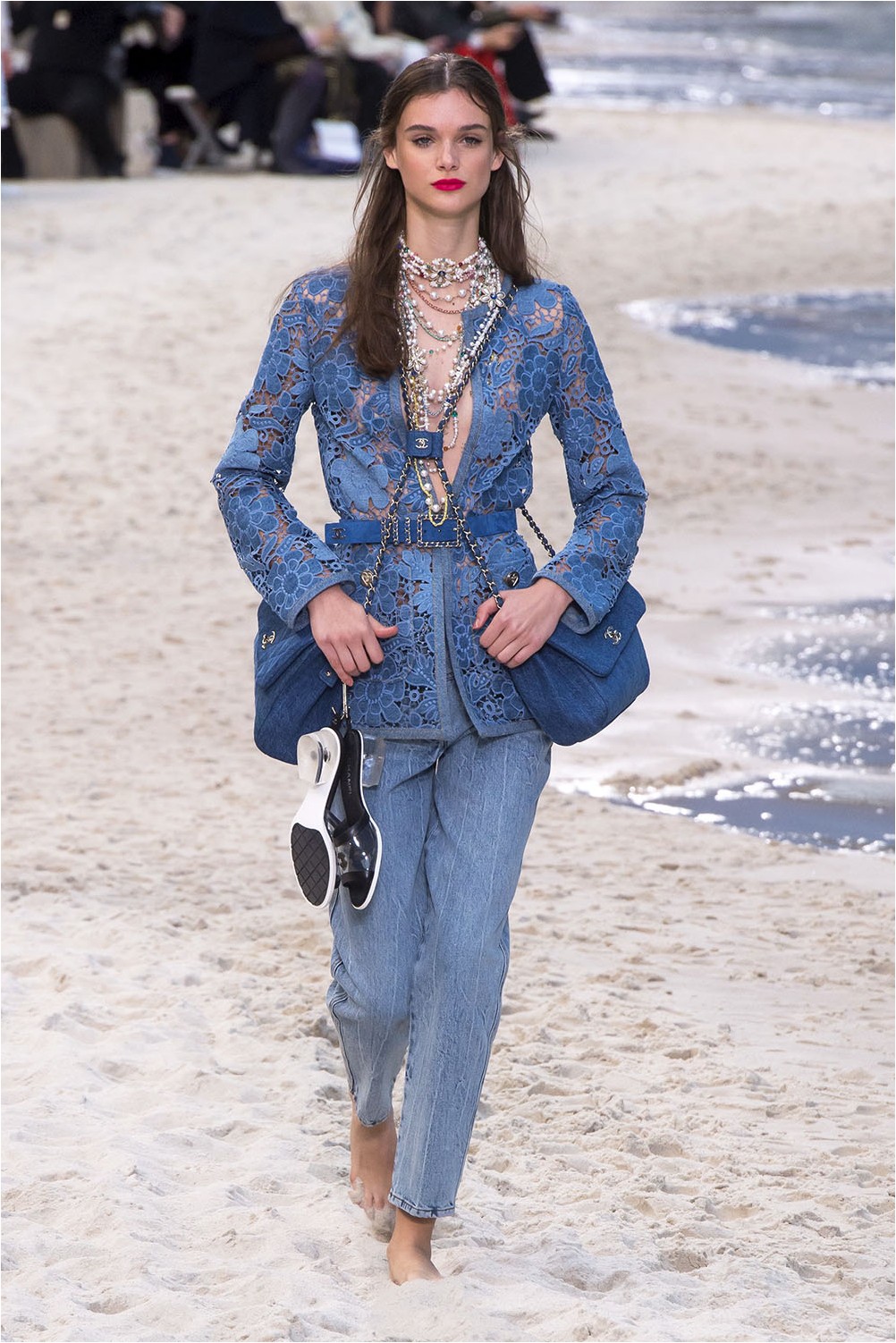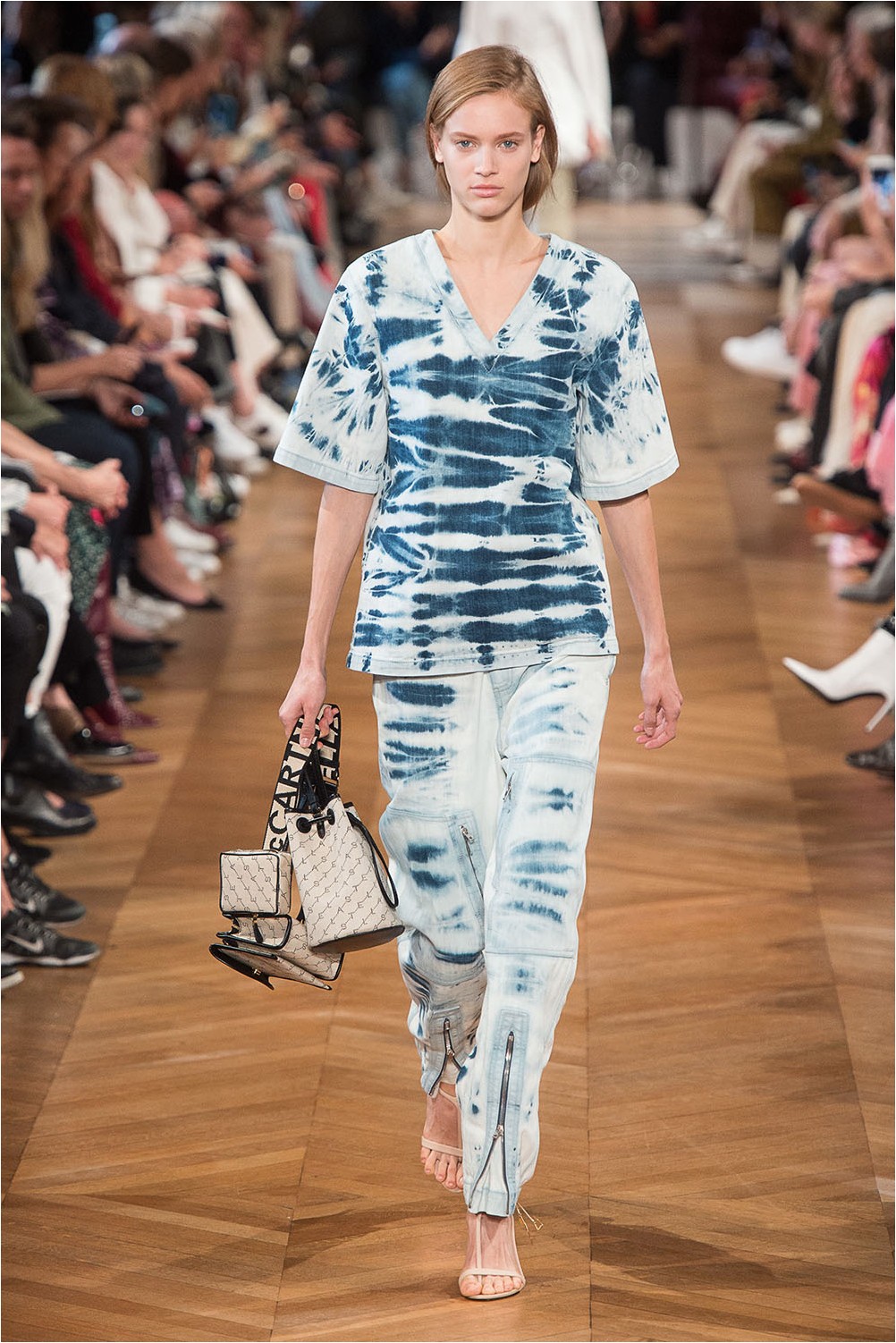 Denim total look does not have to be done in classic denim shades. It can be bright or with a print, like Versace and Sally LaPointe.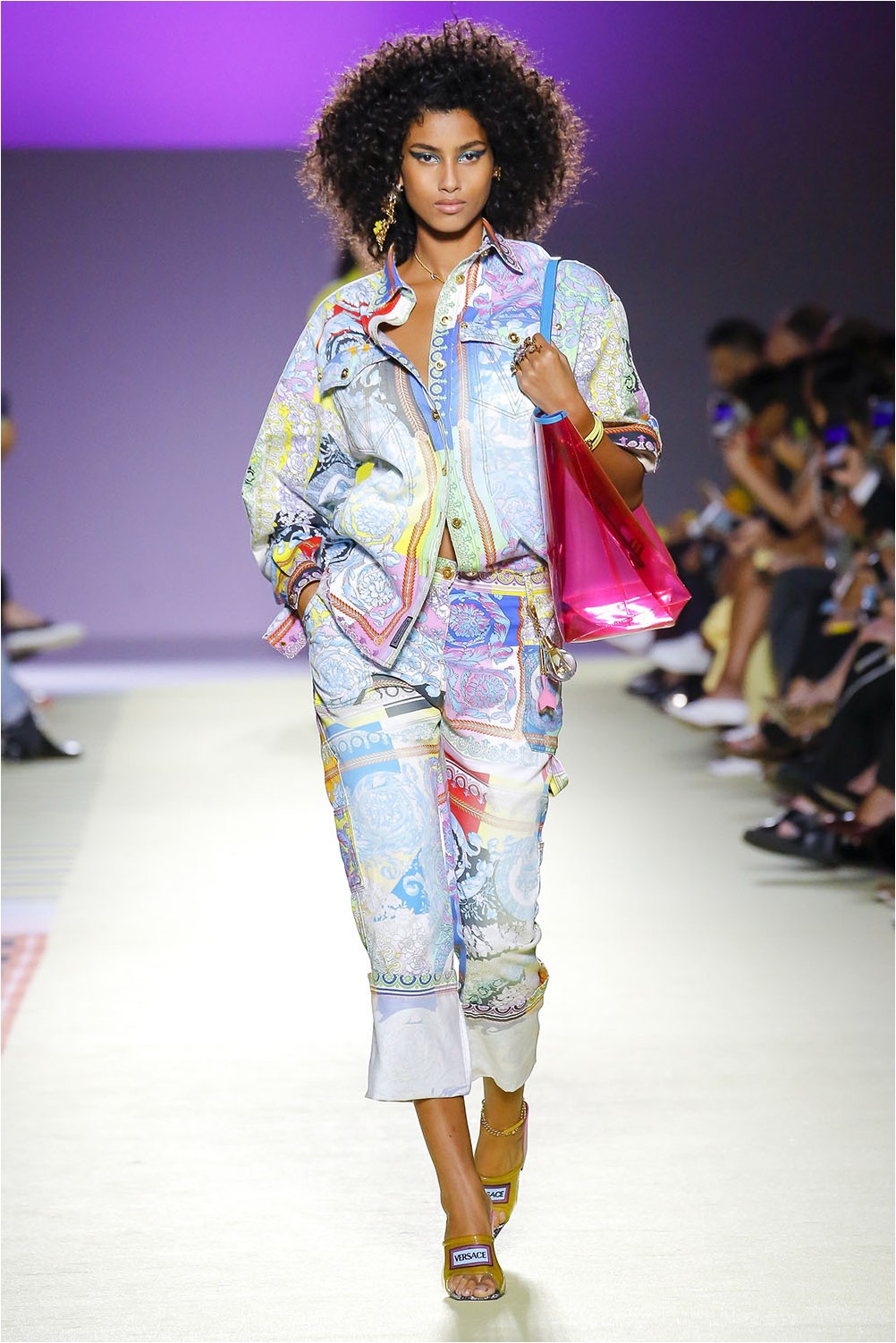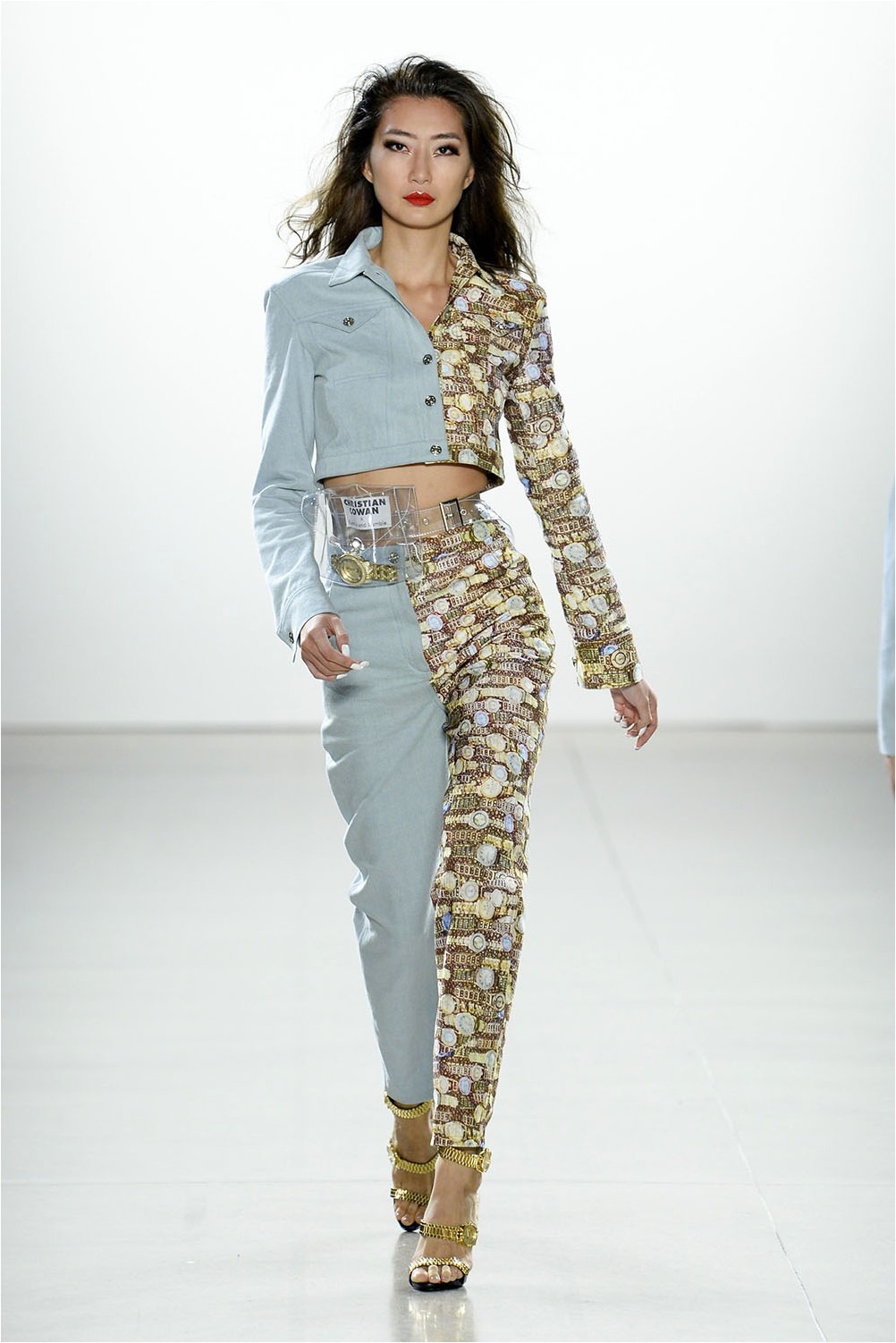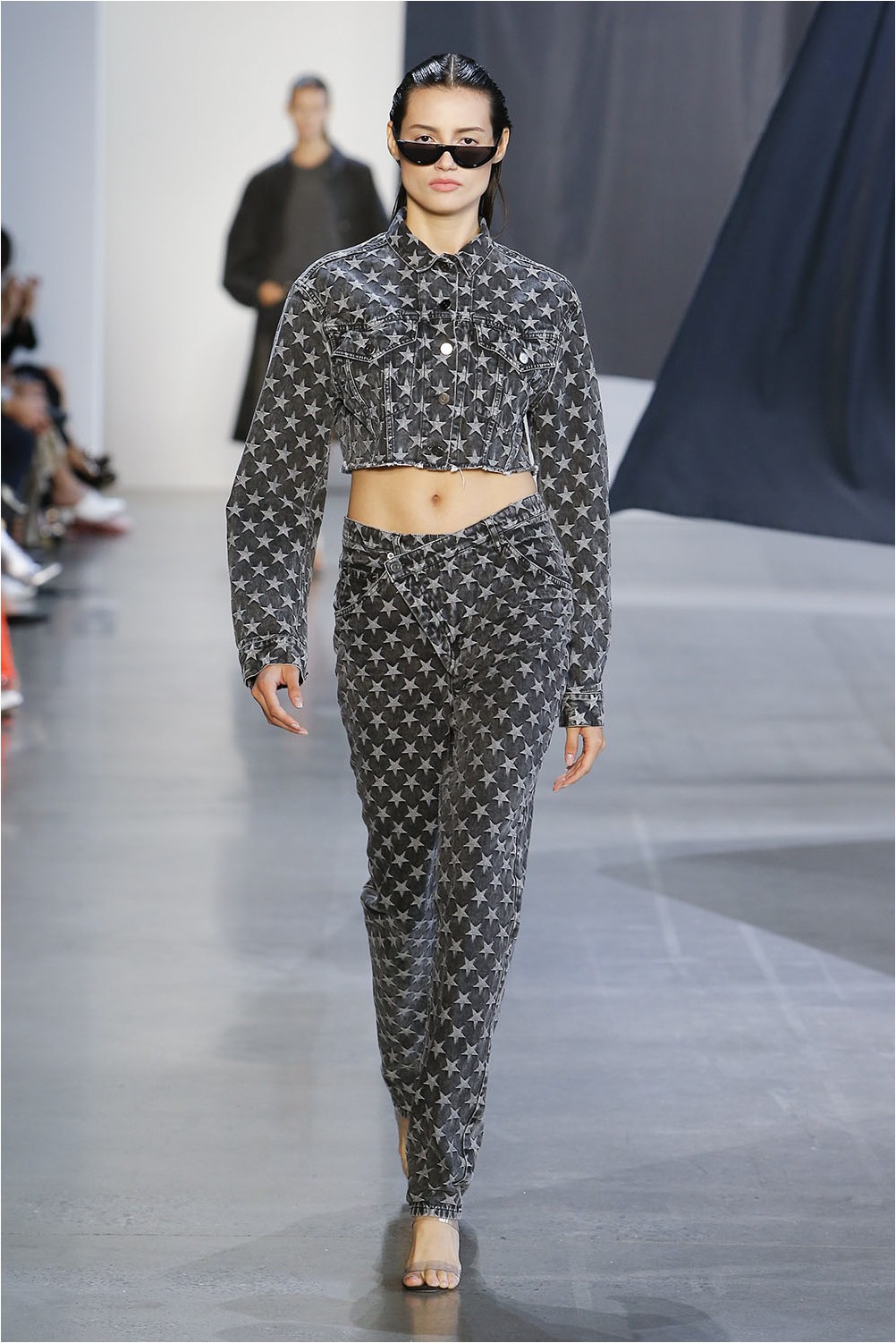 Glamorous decor
The decor of the jeans has become much more moderate. They only went a bit about the fashionable marine trend. That is why silver sequins, golden pearls and silver threads flickered on the denim.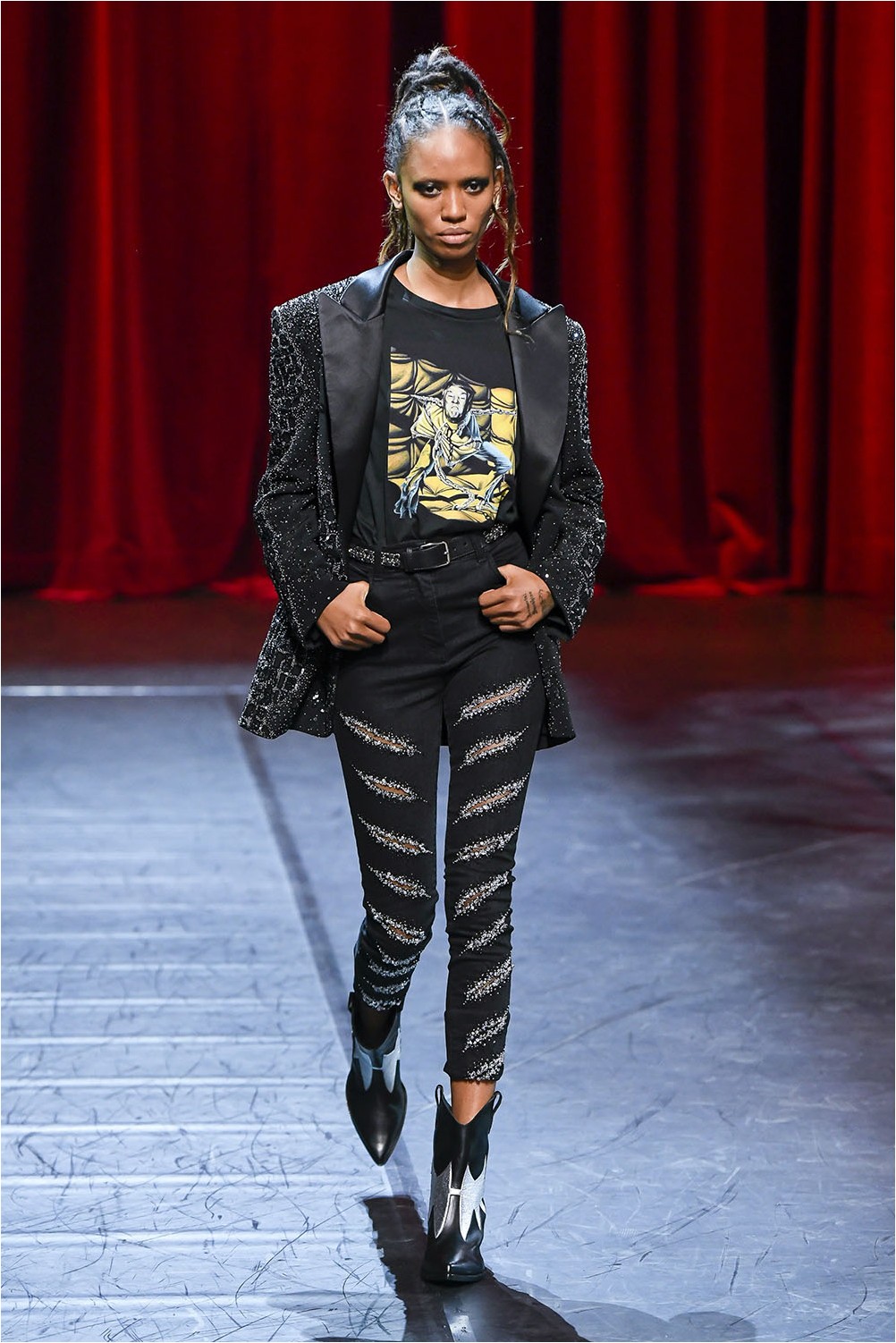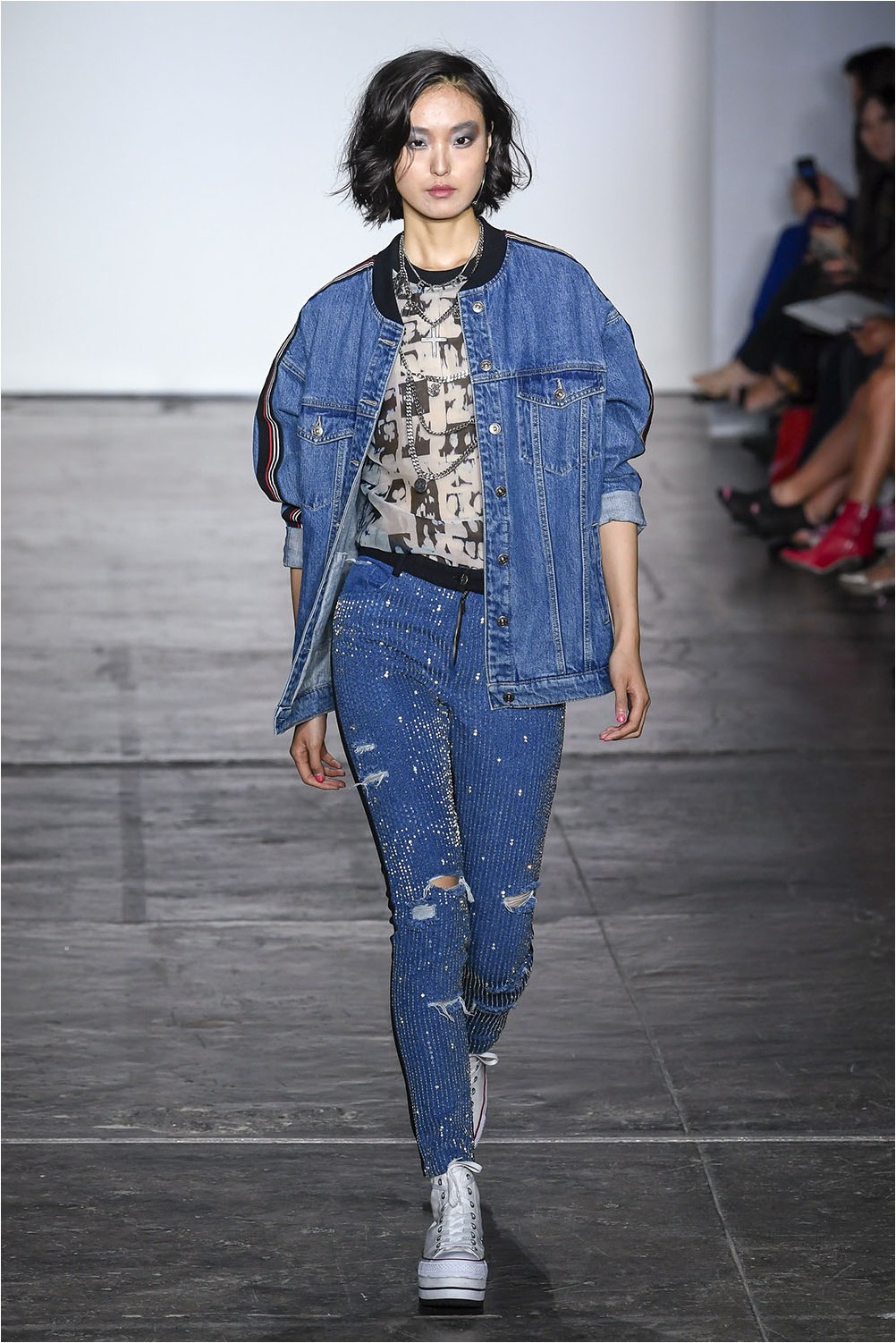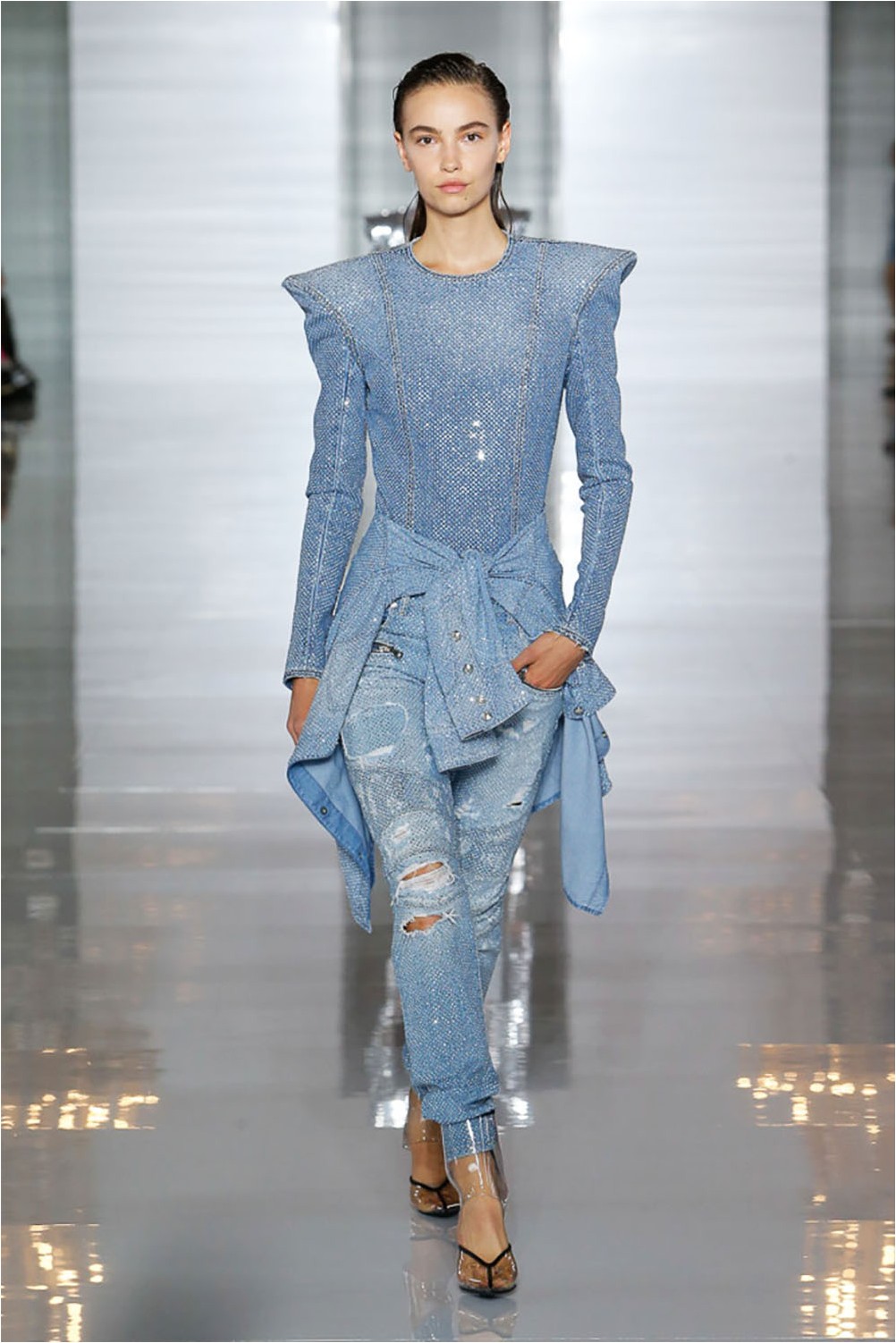 As planned, all this brilliant magnificence should remind the water world: the radiance of water ripples in the sun, the gloss of sea waves, overflow of fish scales. Denim sets from Balmain, Nicole Miller shimmer with silver, and jeans from Redemption have holes in jeans decorated with rhinestones.
80s jeans
Boiled jeans from the fashionable 80s are once again experiencing their peak of popularity. But they have substantially changed. The classic white and blue color is present only in some models. Designers decided to boil color jeans.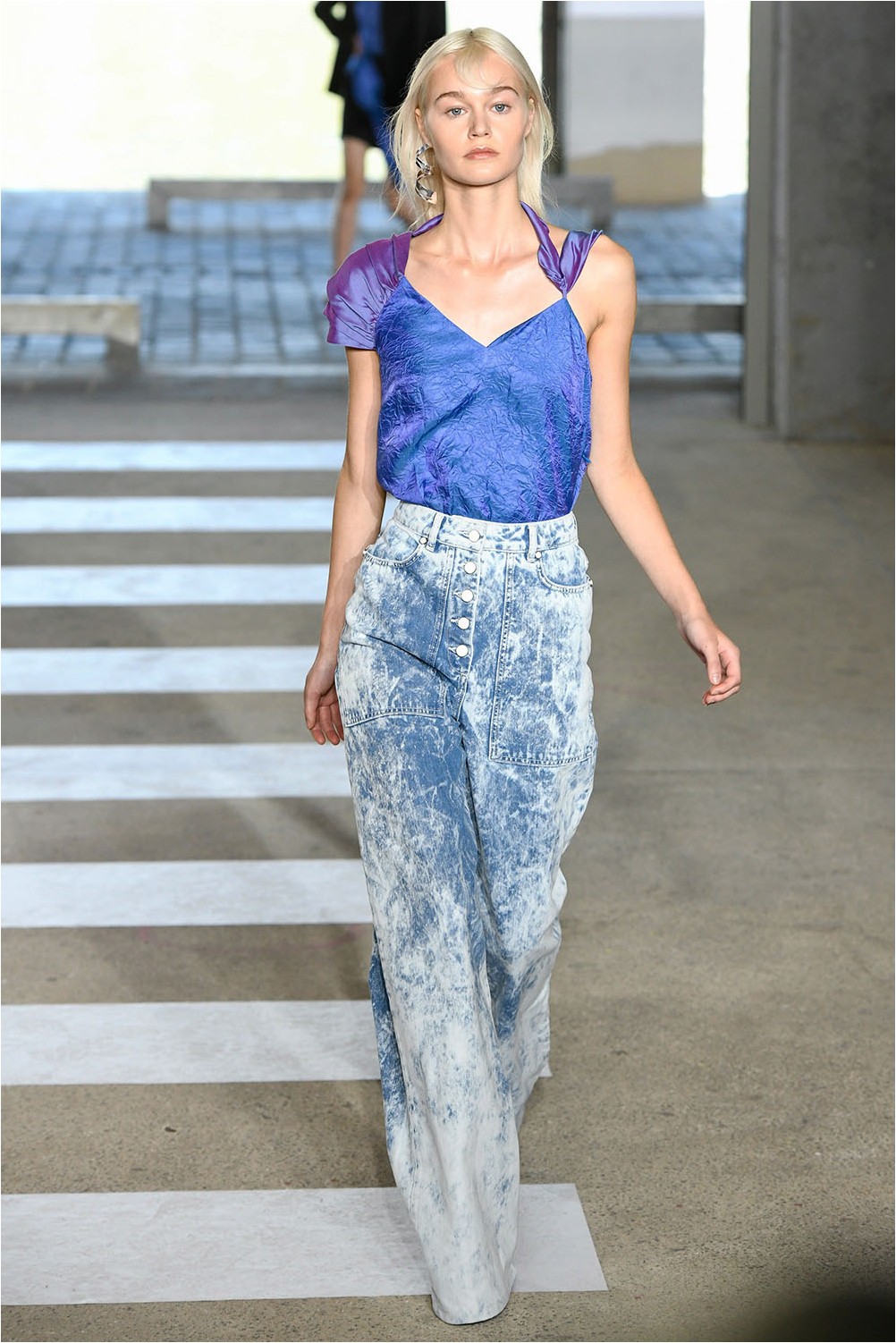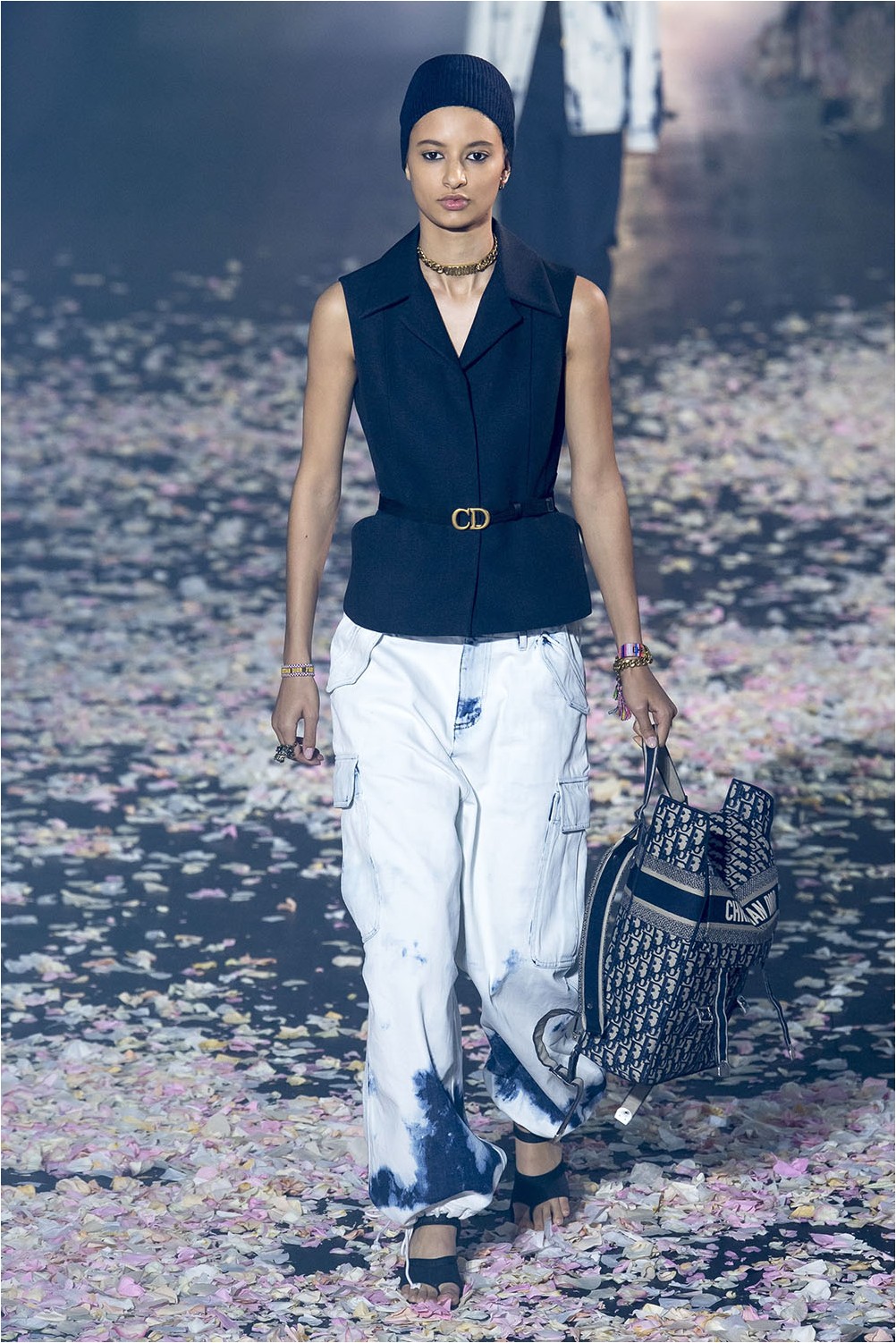 Boiled denim also looks great as a total look, when the top and bottom absolutely coincide in color. If you don't like monotony, you can dilute the monophonic image with multi-colored boiled denim. Both options were successfully demonstrated at MSGM shows..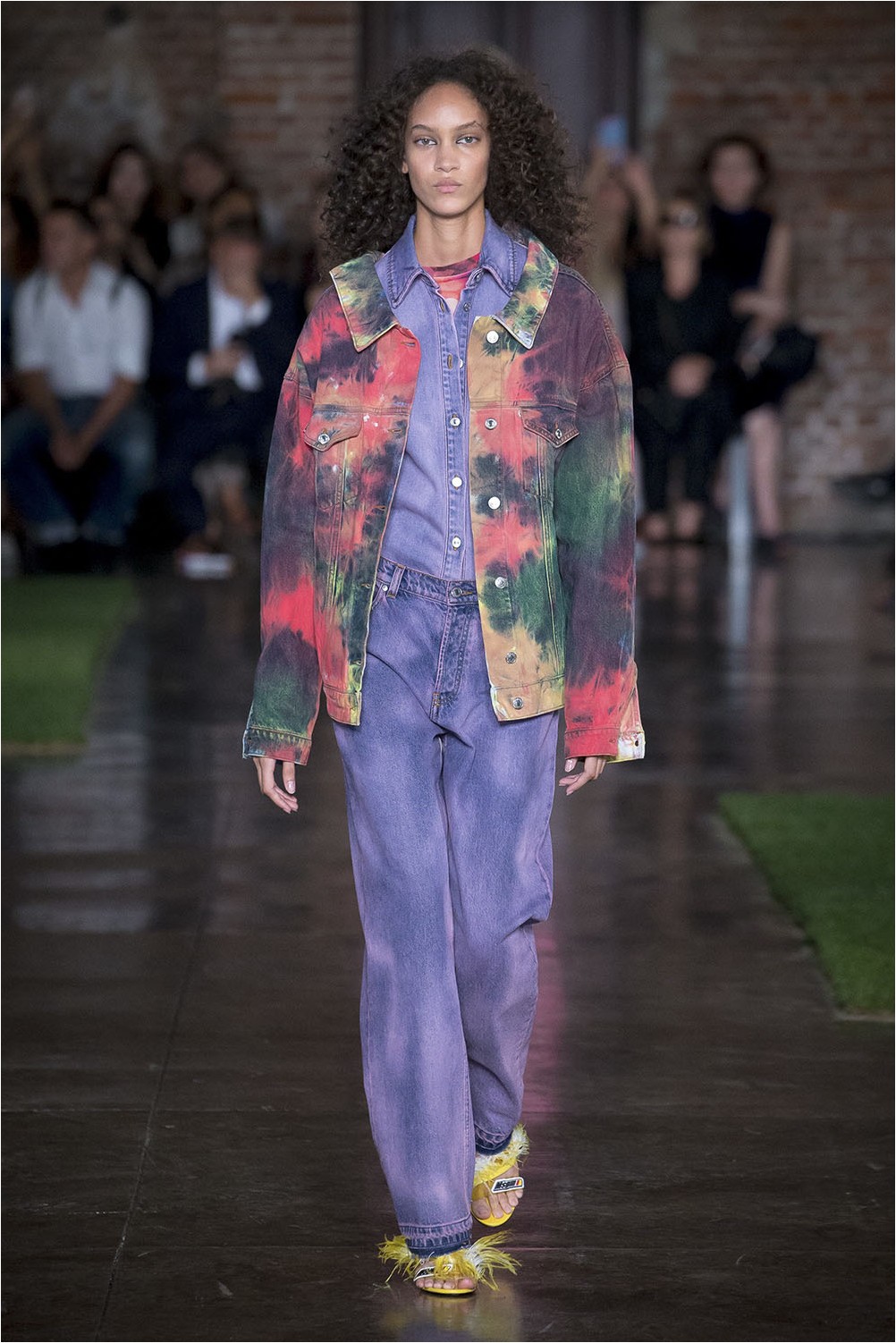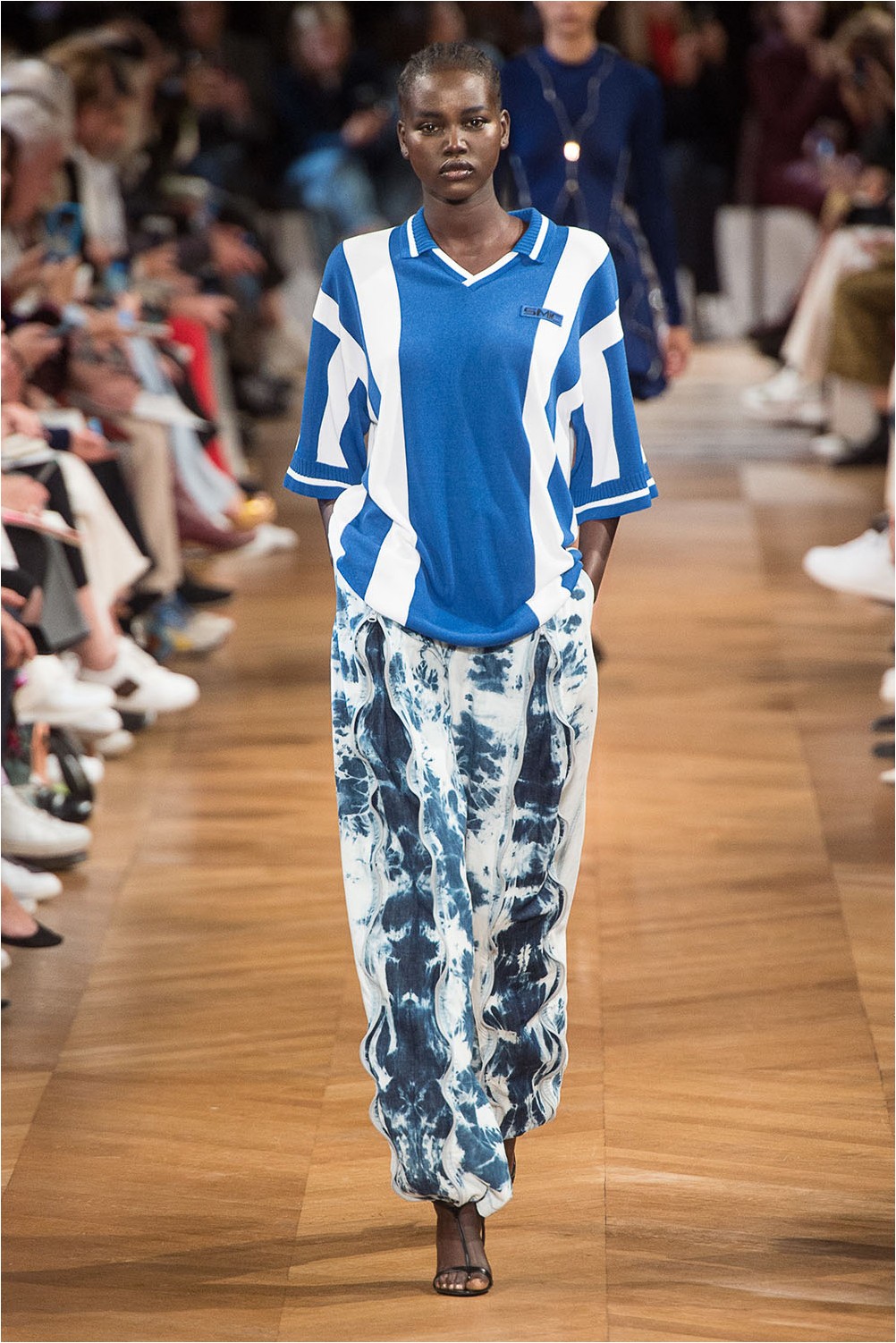 Gradient and Tie dye
The trend of hippie culture Tie dye is gaining momentum in the warm season, which will delight you with the most unexpected ornaments and patterns. Overflowing colors and a special dyeing technique will adorn the fashionable jeans of the spring-summer 2019 collections. The gradient can be made in classic denim colors, like Céline and Christian Dior, or in a variety of colors.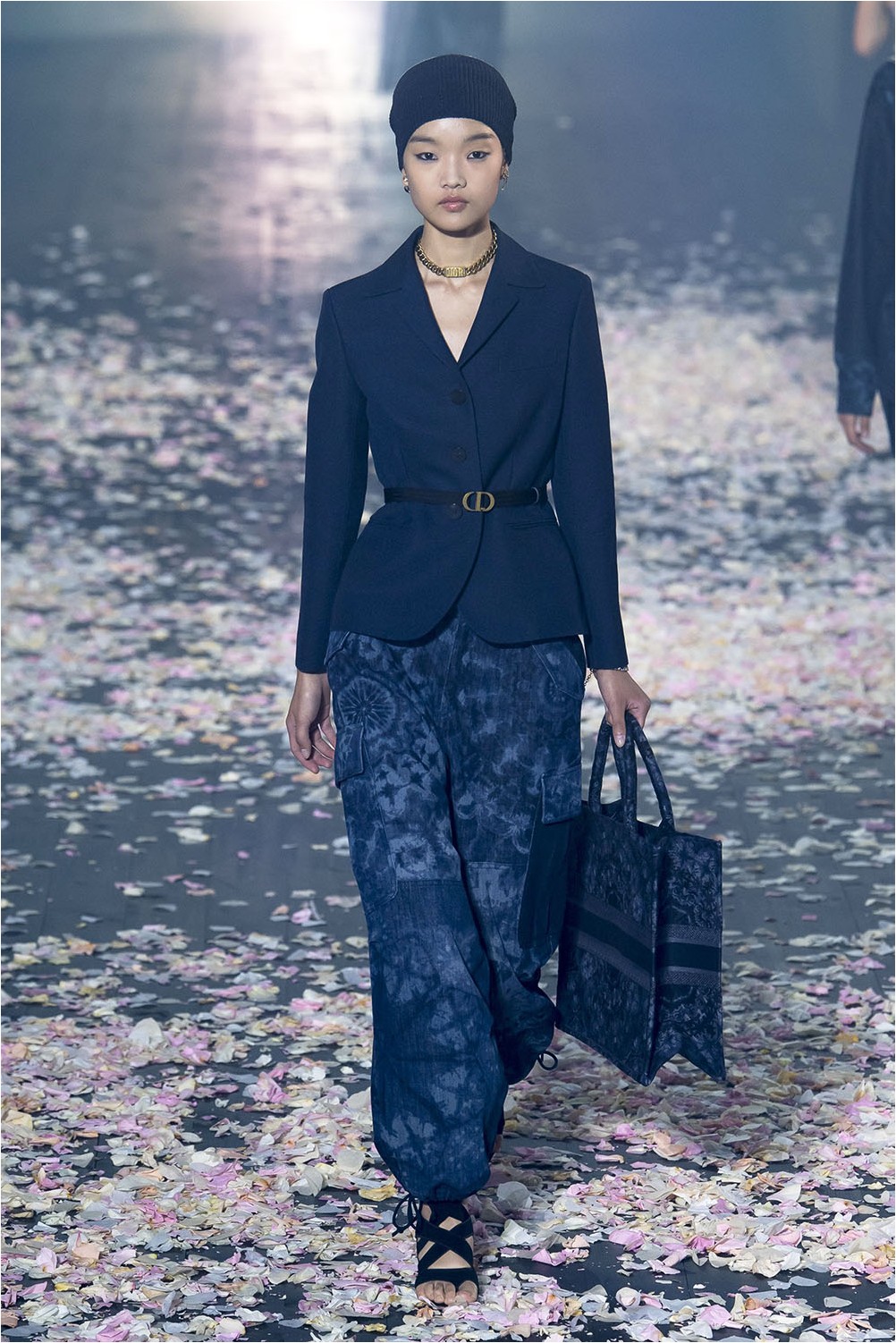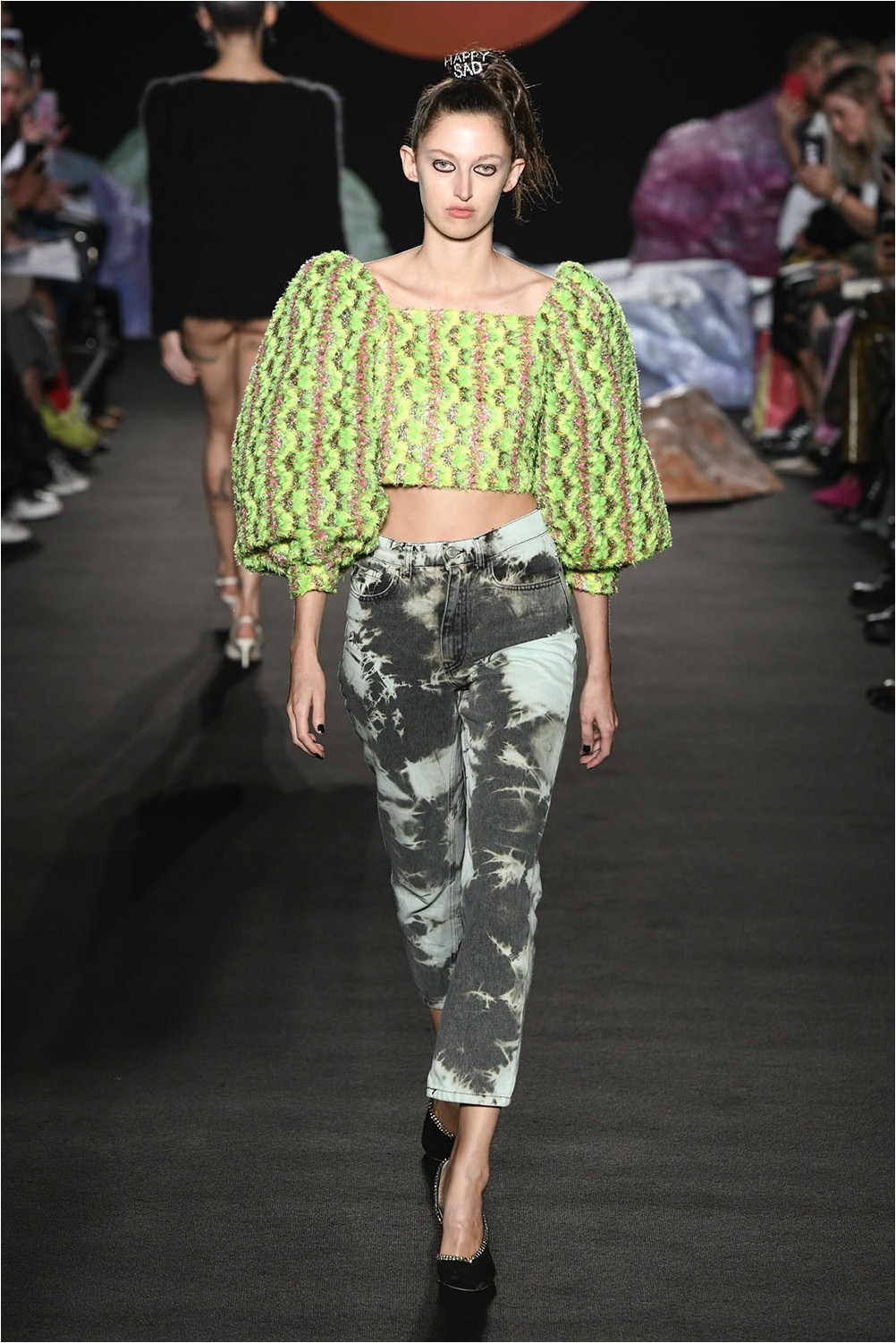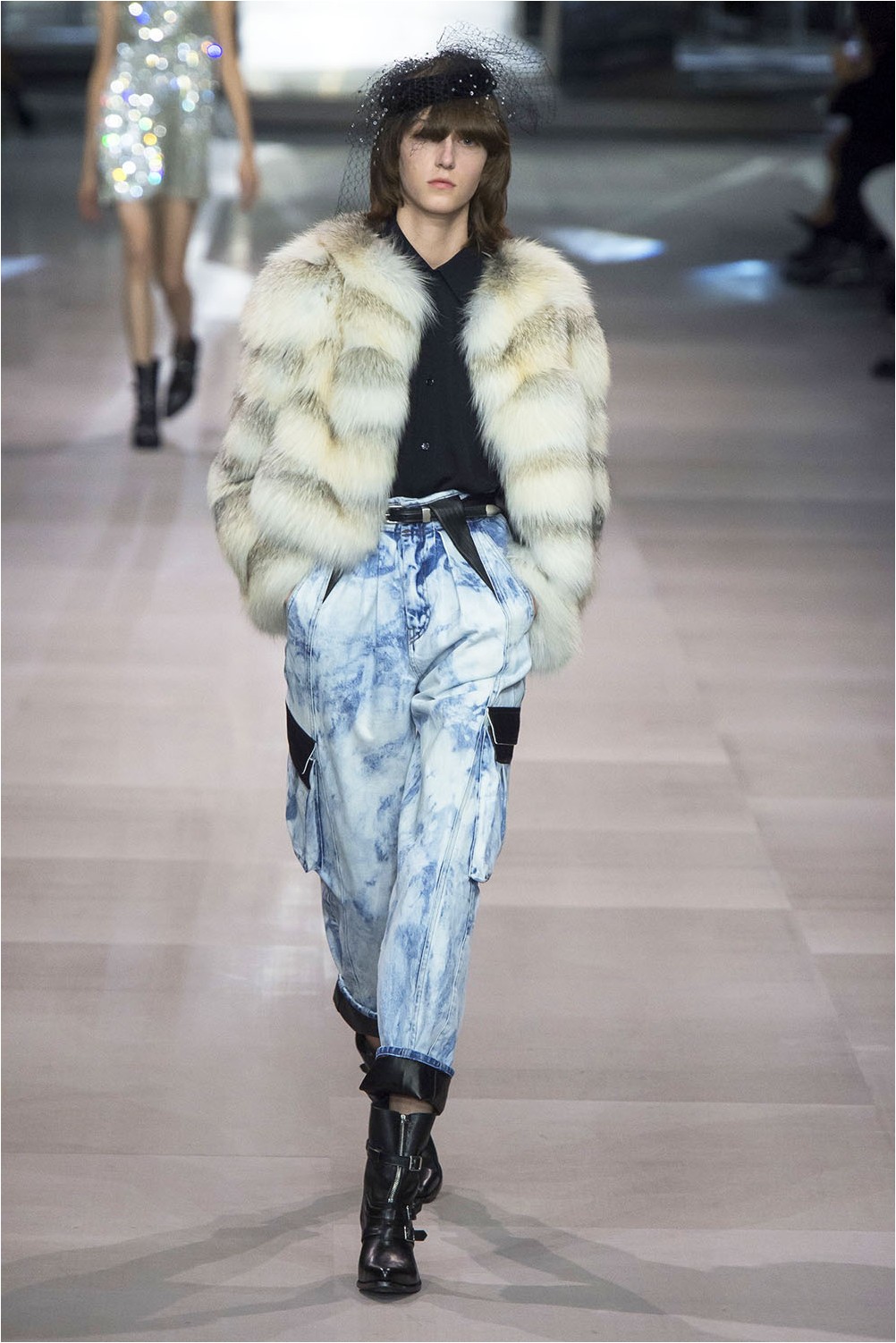 Sometimes it's a contrasting shade at the bottom of the leg, like in Miaou jeans. And the designers of the fashion brand Eckhaus Latta using color gradations created an imitation of a cellular print.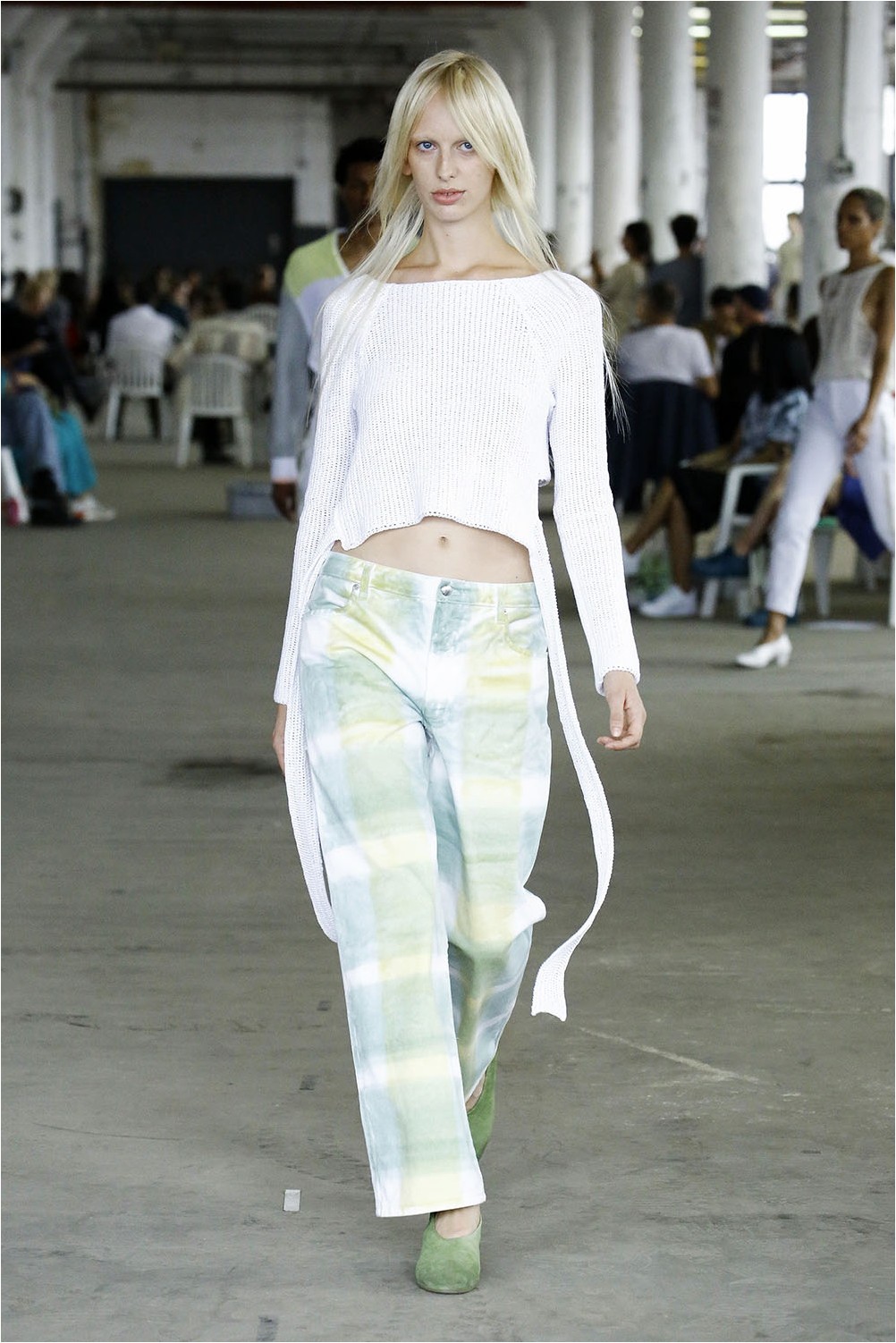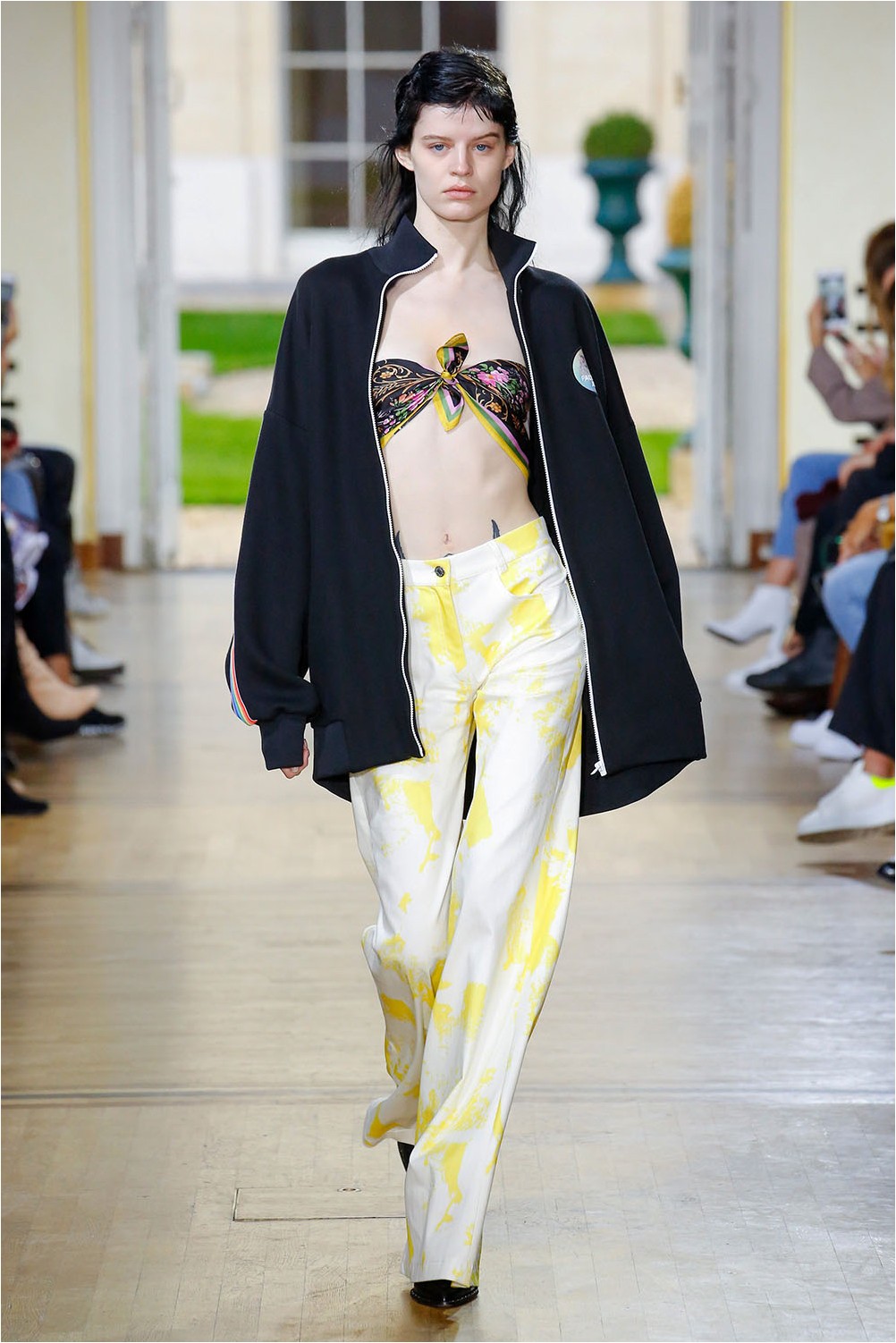 High waist
A high waist on jeans gives the waist elegance, evens out proportions and makes the silhouette sophisticated and feminine. In the spring-summer season of 2019, the waist is overstated due to high yokes, wide belts, or an elongated cut of the top.
Feminine details give a special charm to the high waist. Their choice is huge: a belt with a bow from Christian Cowan, decorative straps from Balmain, assembled top from Isabel Marant.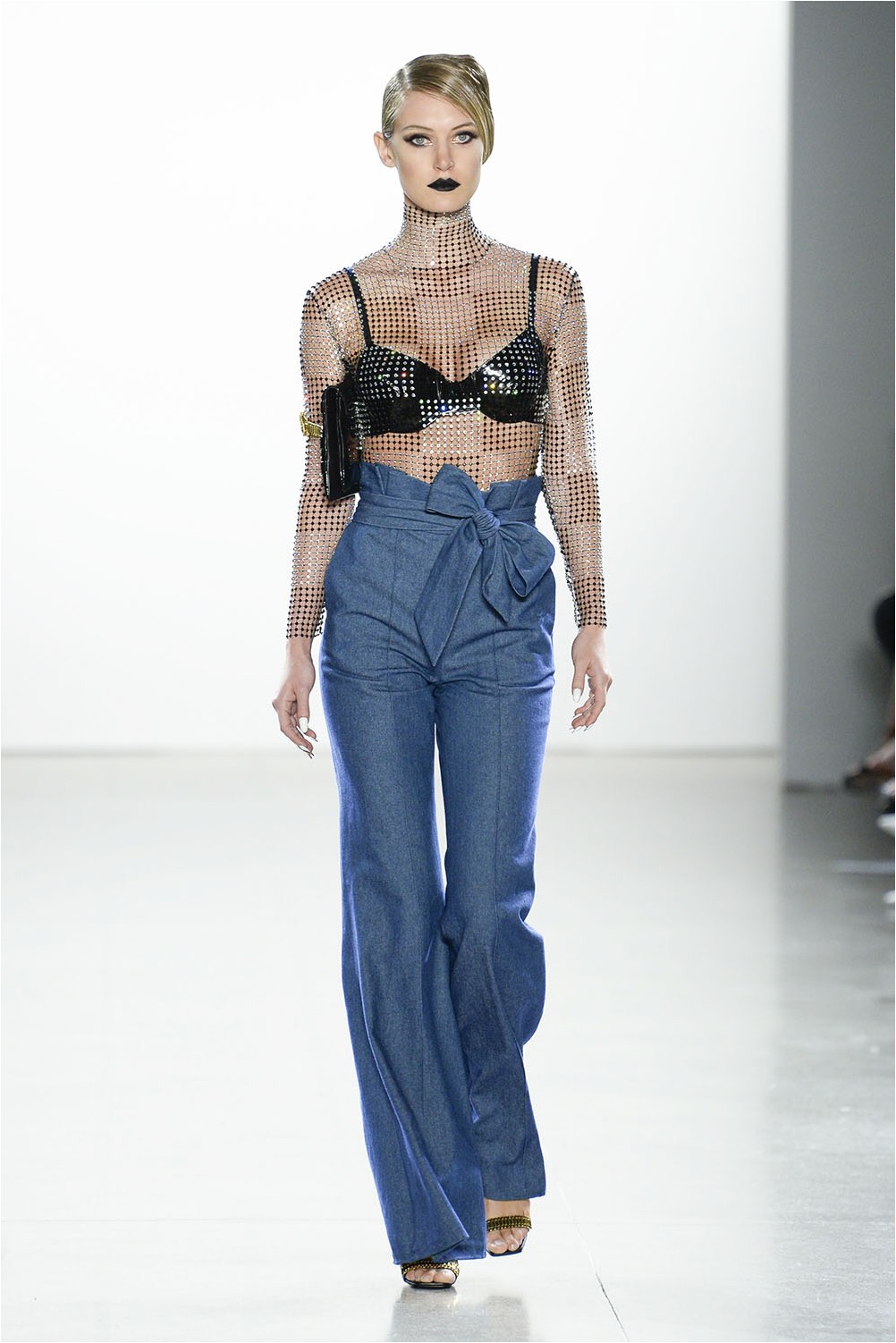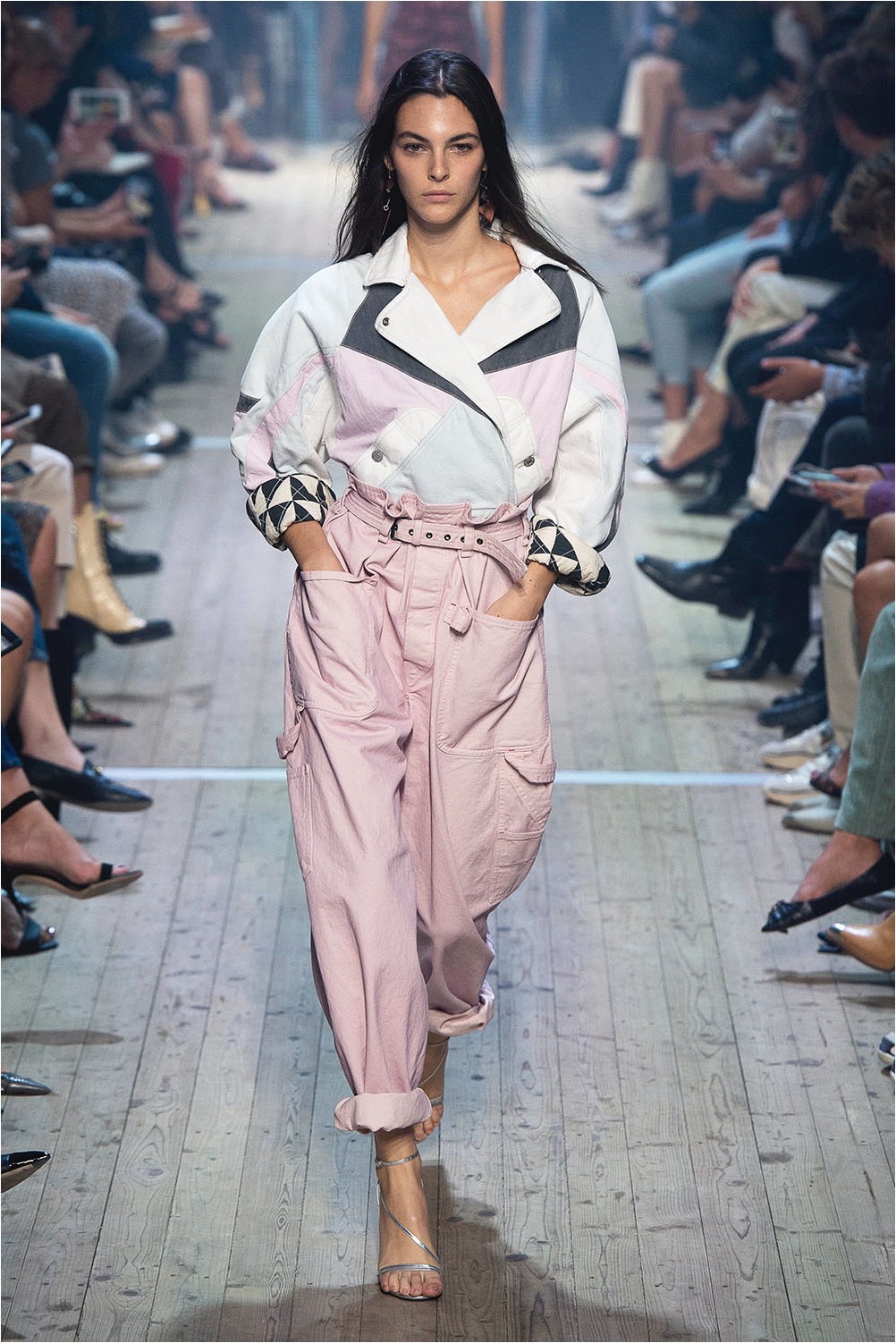 The most relevant cut of jeans with a high waist is "bananas". Loose thigh jeans with large pleats at the waist and large pockets. Wear them in a pair of 80s-style jeans. And don't forget to make fashionable lapels. Without them, the stylish image will remain unfinished..
Low waistline
The antitrend of past seasons – low-waist jeans received an unexpected demand. For several years, no fashion report on understated cuts was mentioned. He was in disgrace for a long time and was considered not stylish. But it is not known for what reason low-waist jeans reappeared at the shows of Blumarine, Chanel, Fashion East, Zadig & Voltaire and Dolce&Gabbana.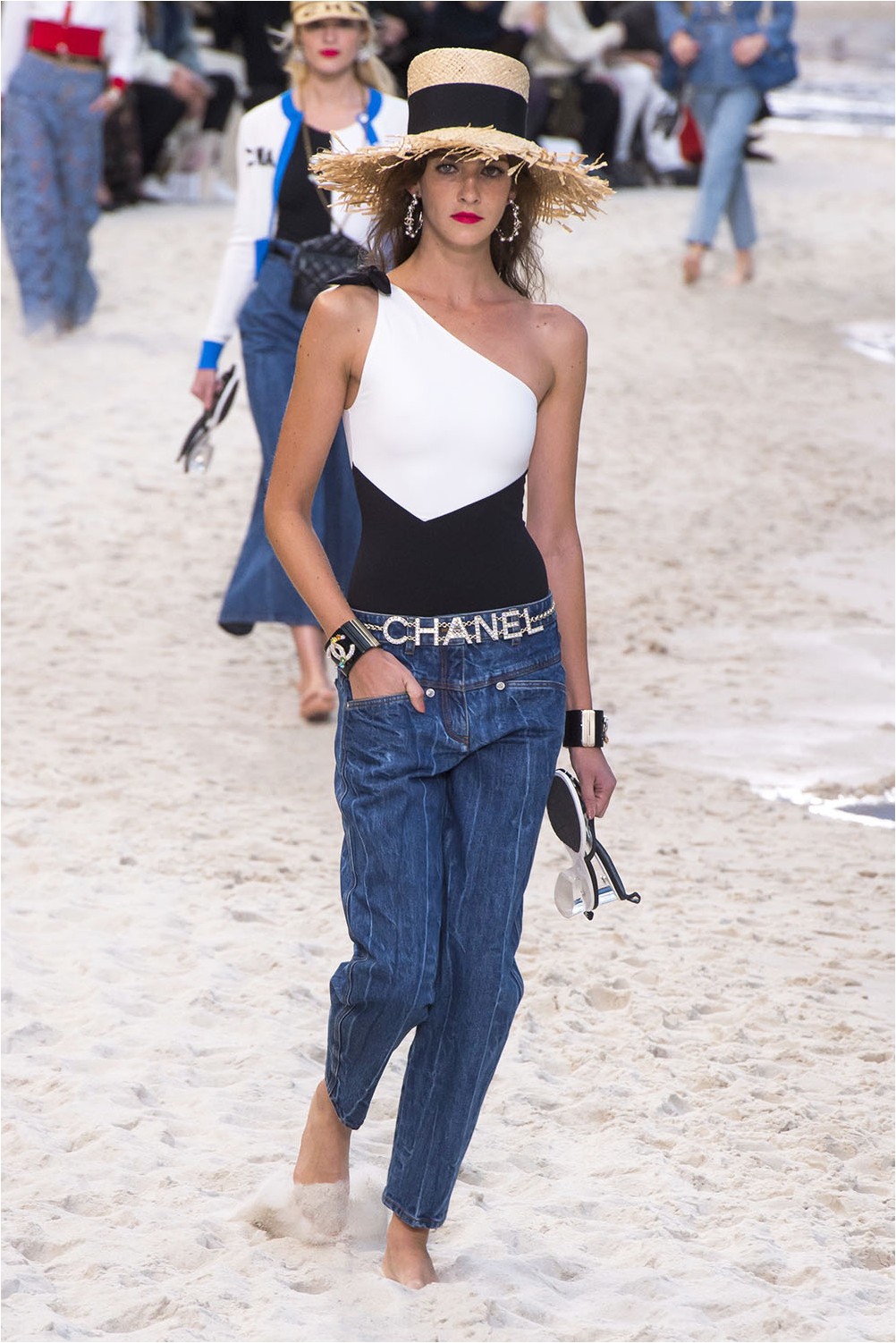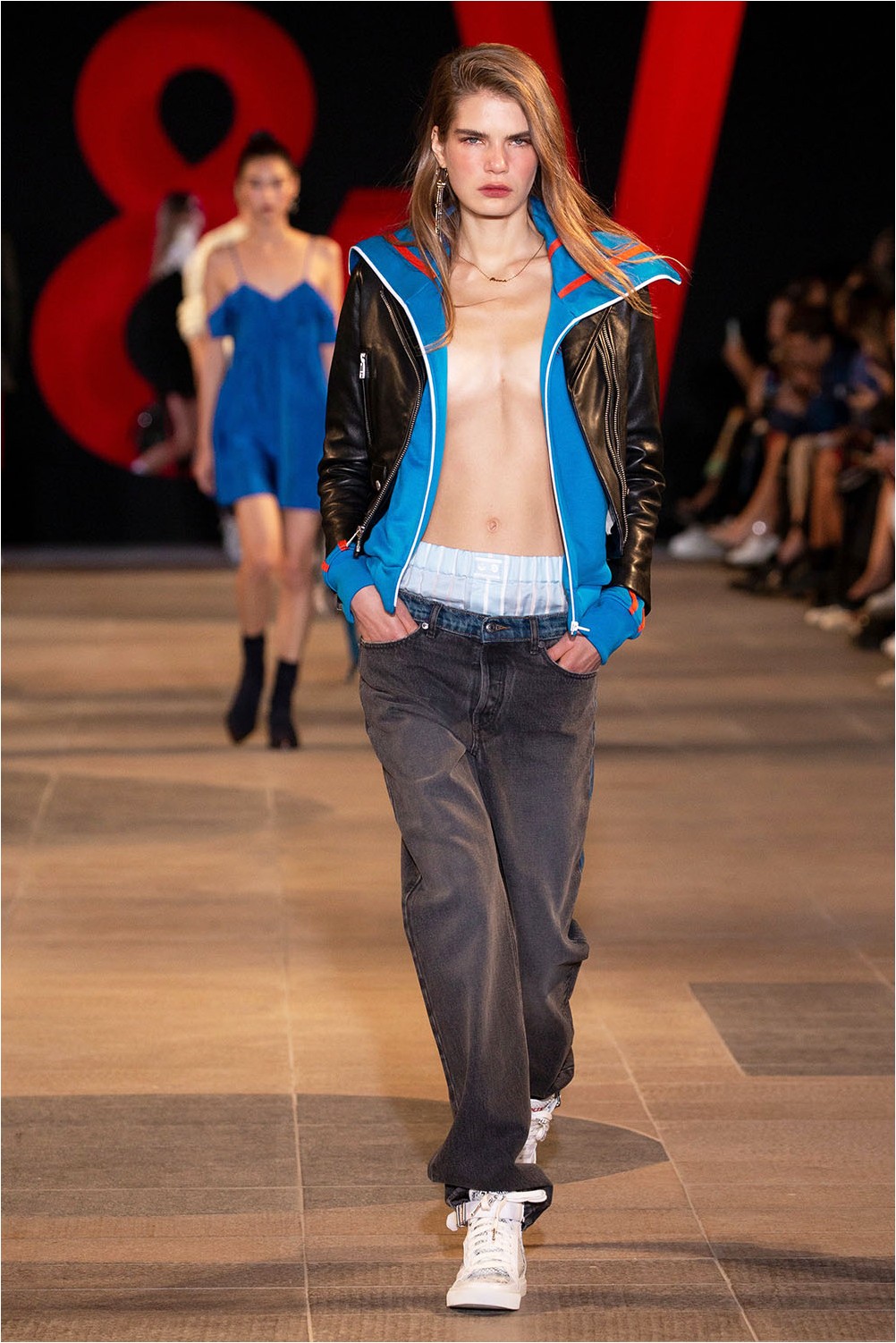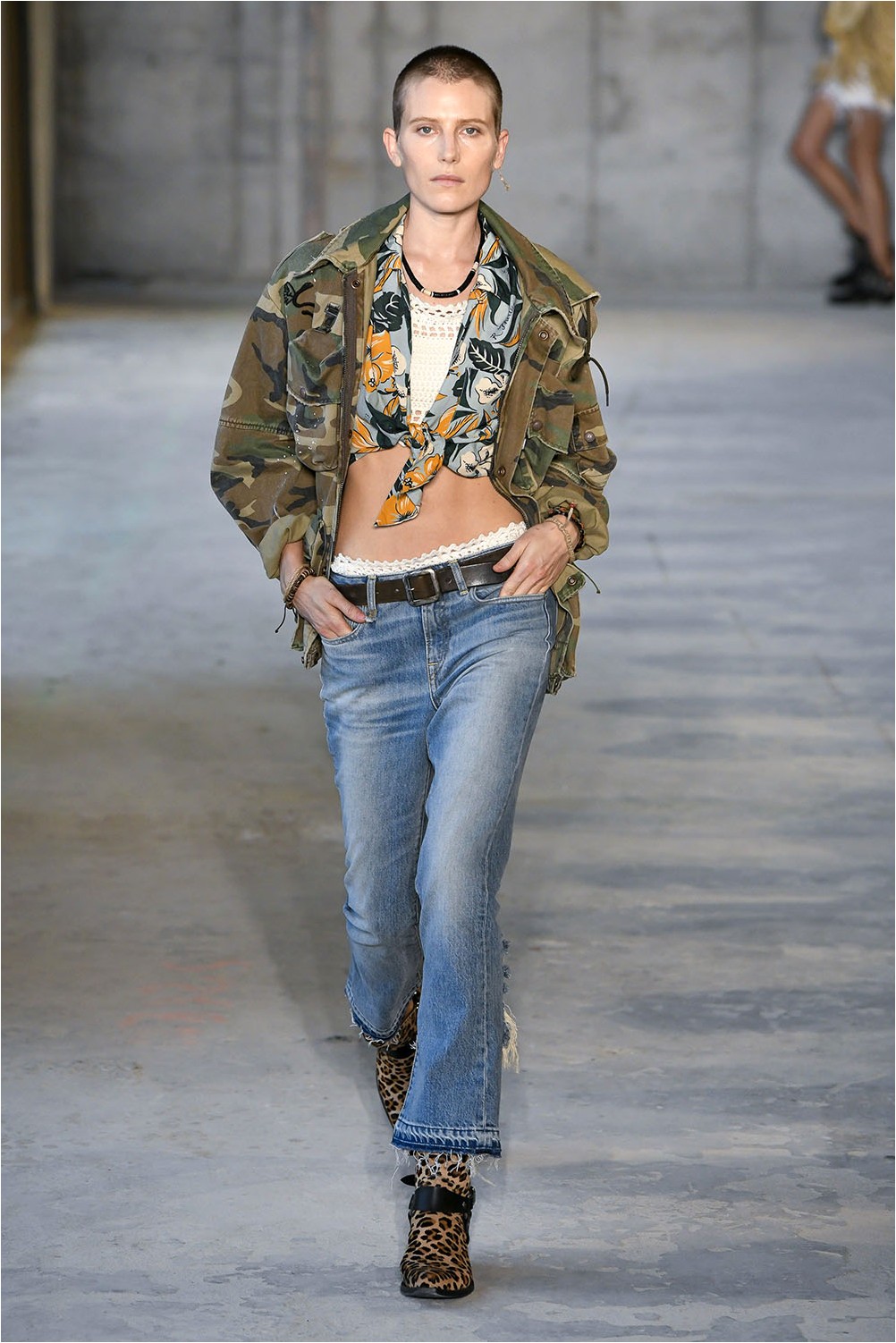 Designers still managed to prove that even an anti-trend can be a hit if professionals work on it. A feature of the new understated models is the lack of a belt, the style of the 70s, stripes and fashionable "holes" on the canvas.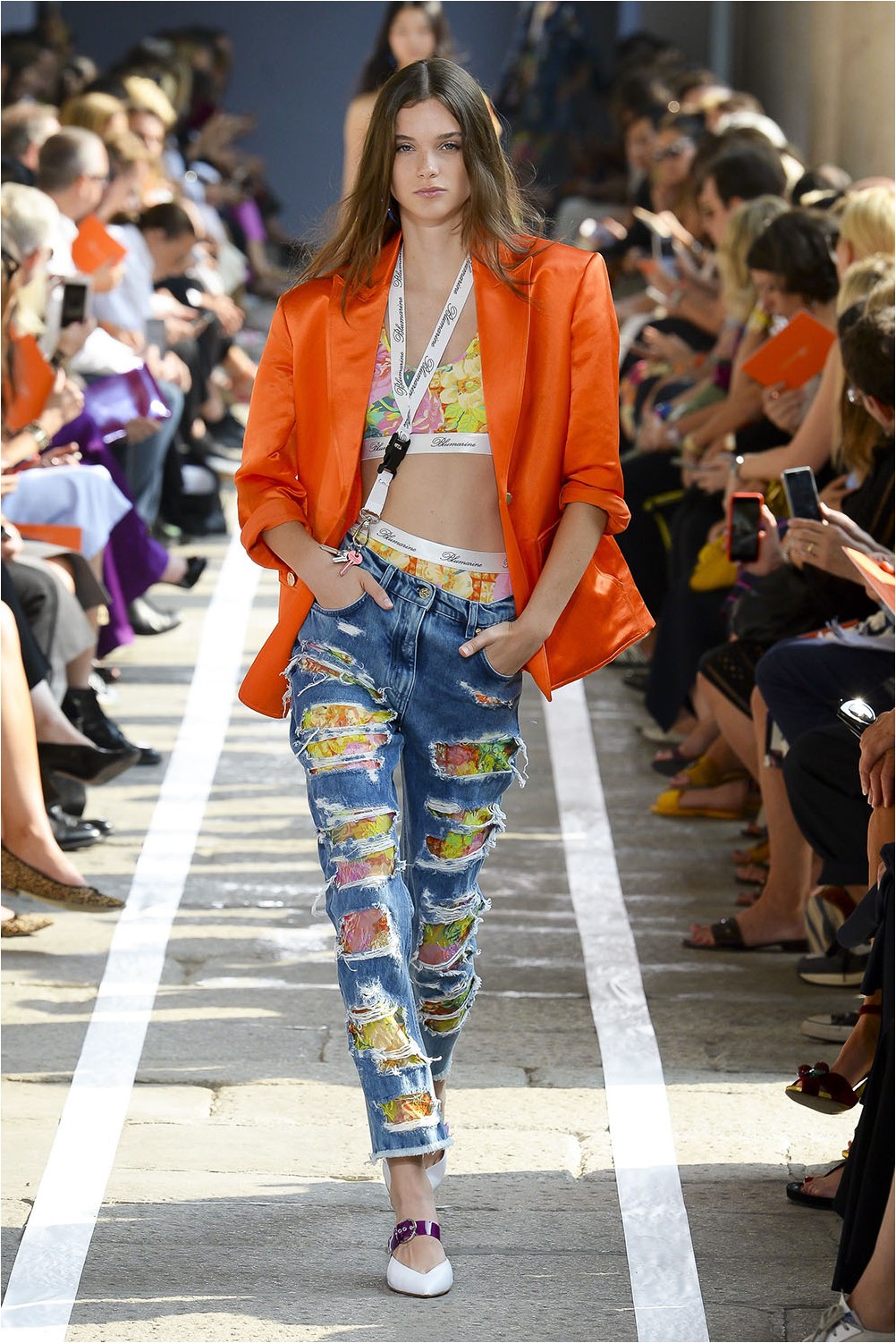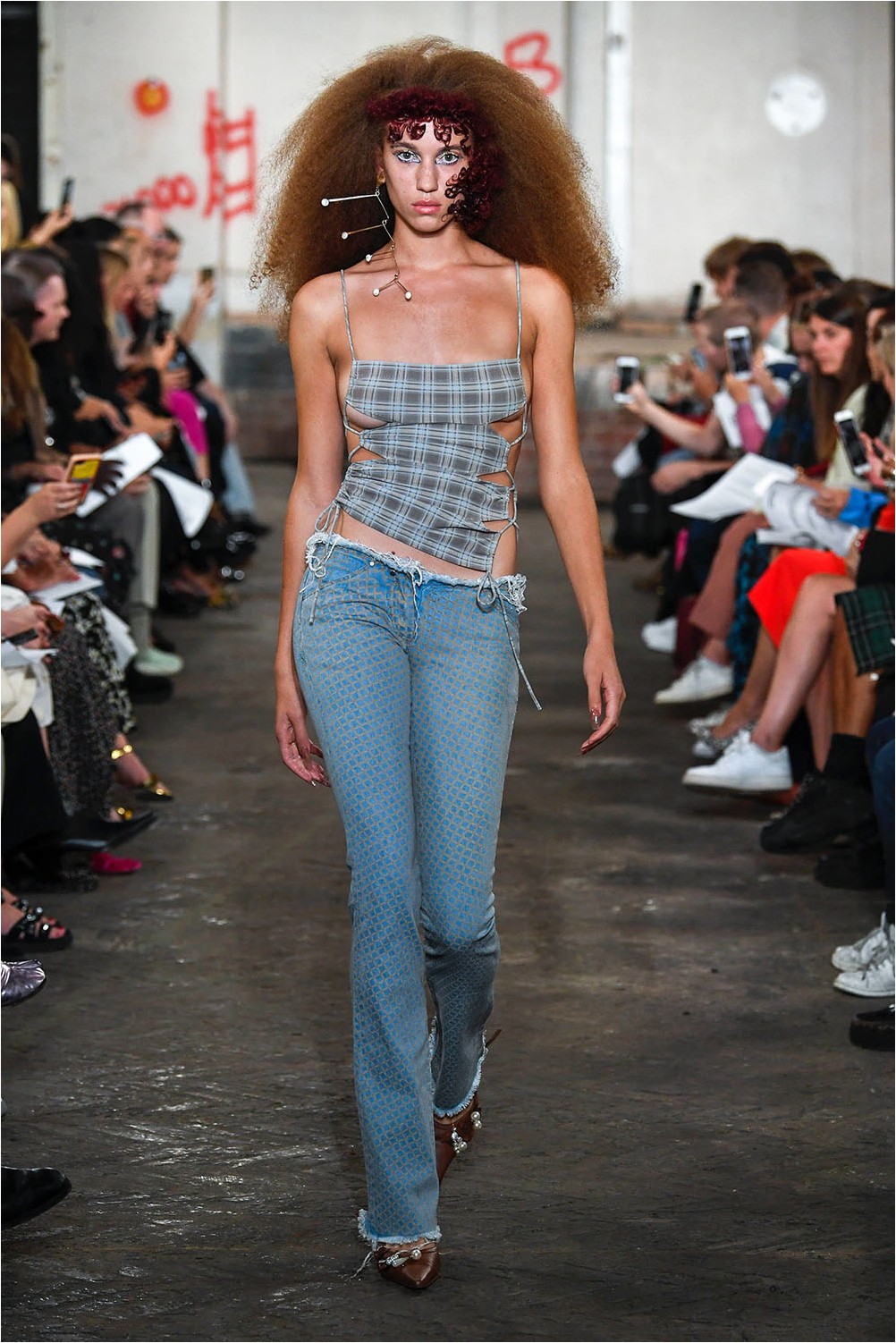 Ripped jeans and fringe
Still in fashionable jeans there will be attritions and lacerations. Most often they are located just above the knee or at its level. But there are other options. For example, in the Ottolinger model, the bottom of the trousers is decoratively torn. Gaps should look chaotic and uneven.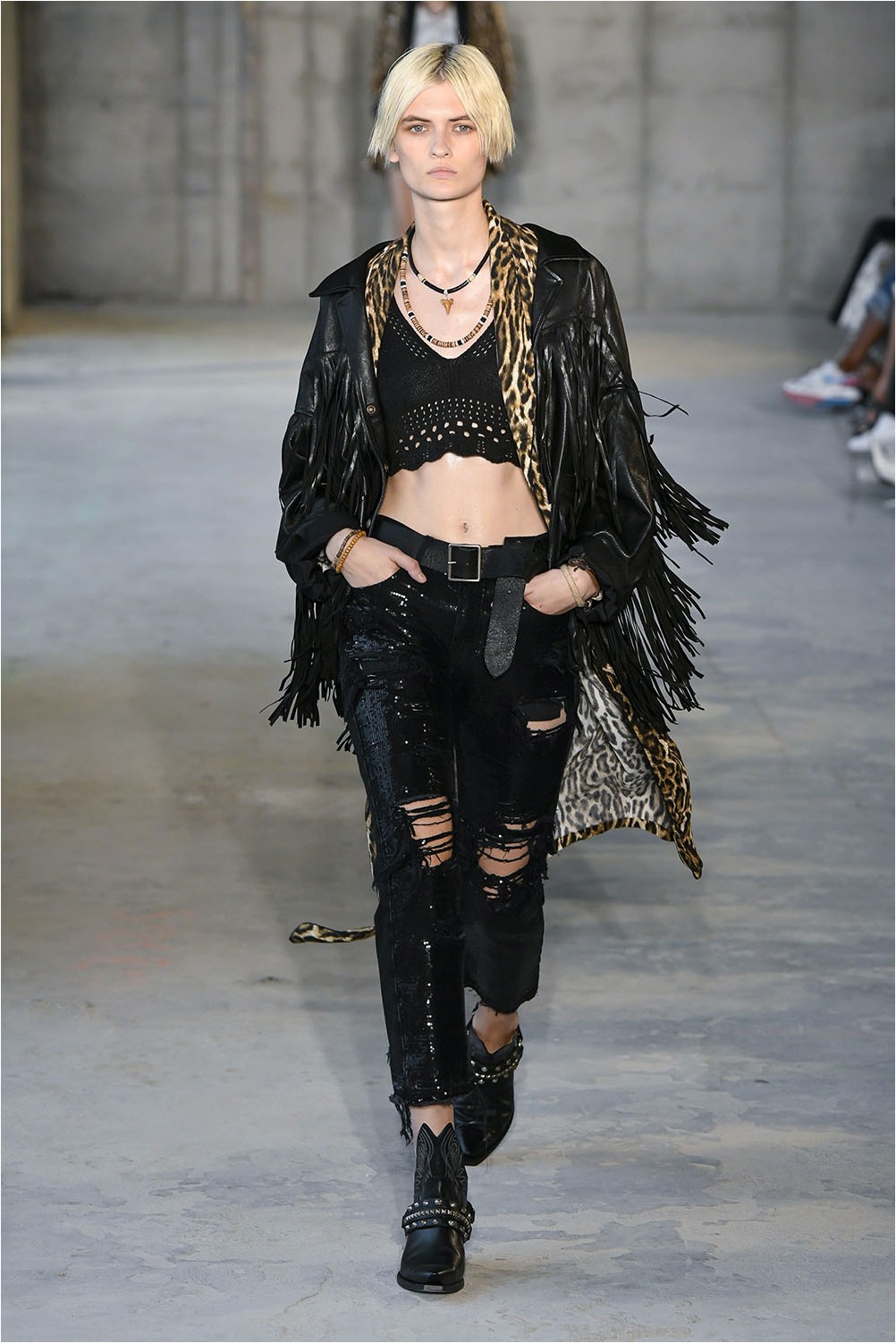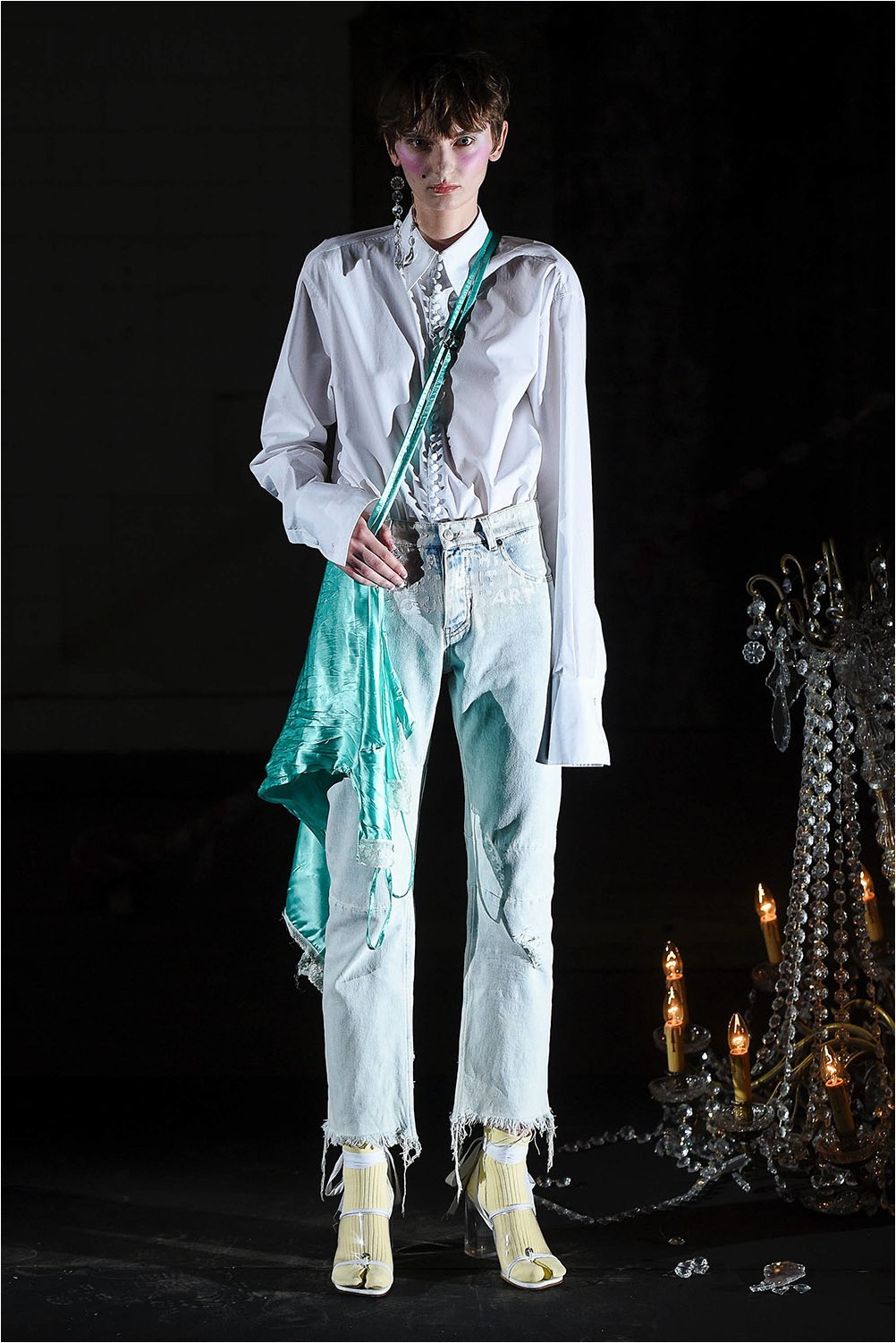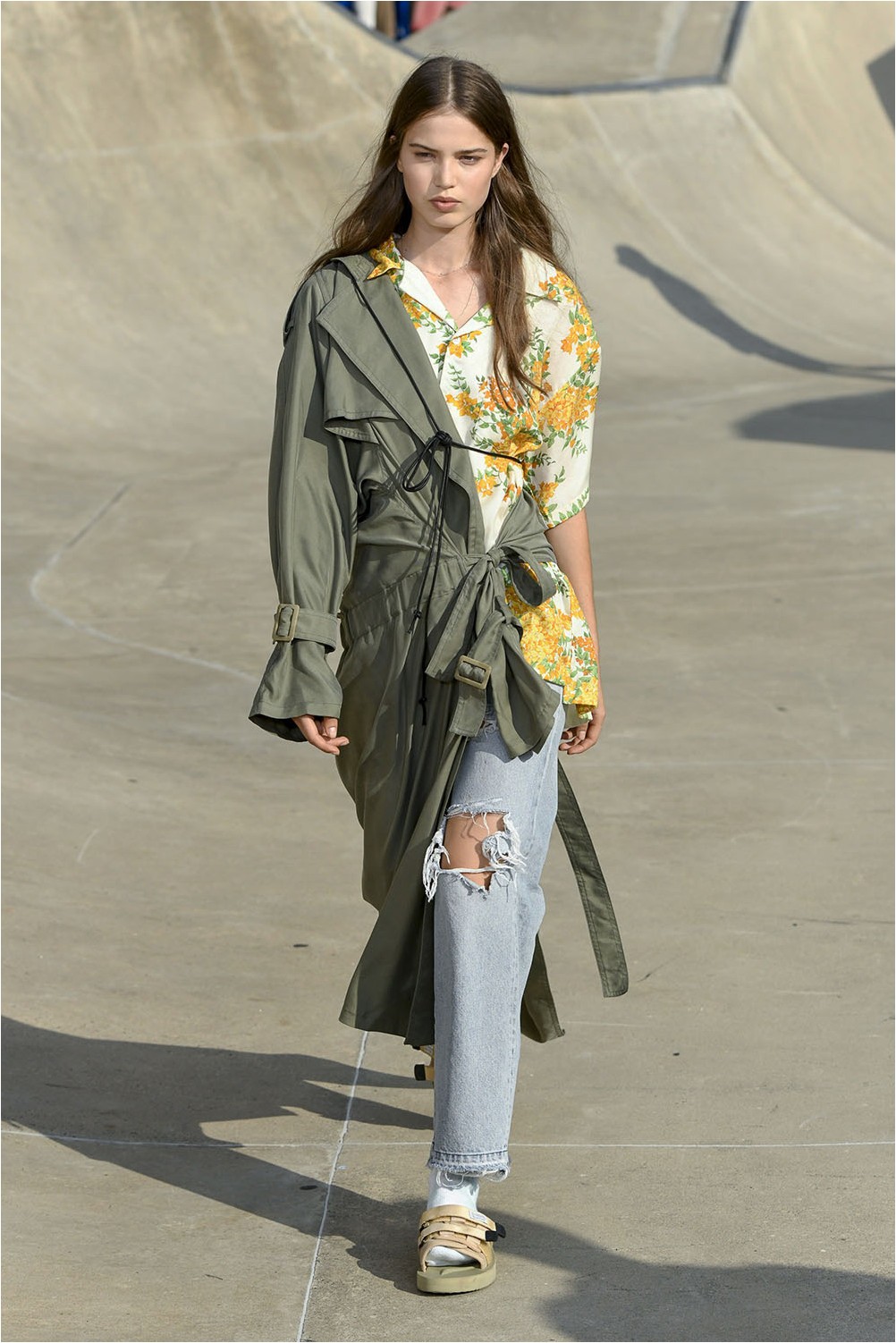 Torn edges, unevenly hanging threads and scraps of denim, a carelessly tattered hem – all this should give the impression that the jeans were seriously frayed and cracked from a long and careless wear.
Lampas
Jeans weren't given too much attention in the new spring-summer 2019 collections. Lamp stripes are one of the few exceptions. Spacious jeans with wide side stripes are trending. The decor with general-style stripes was found in models by Eckhaus Latta and Hellessy.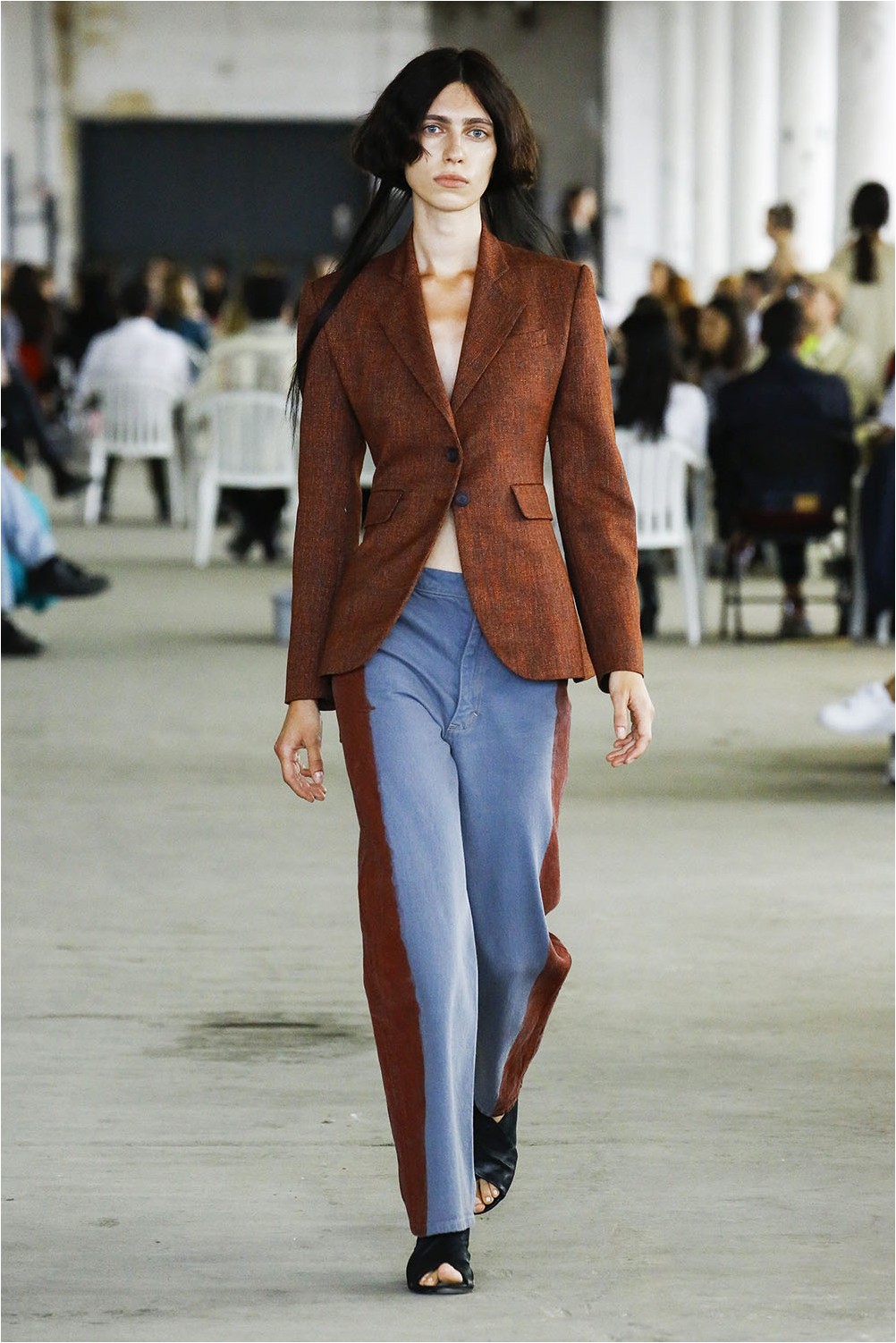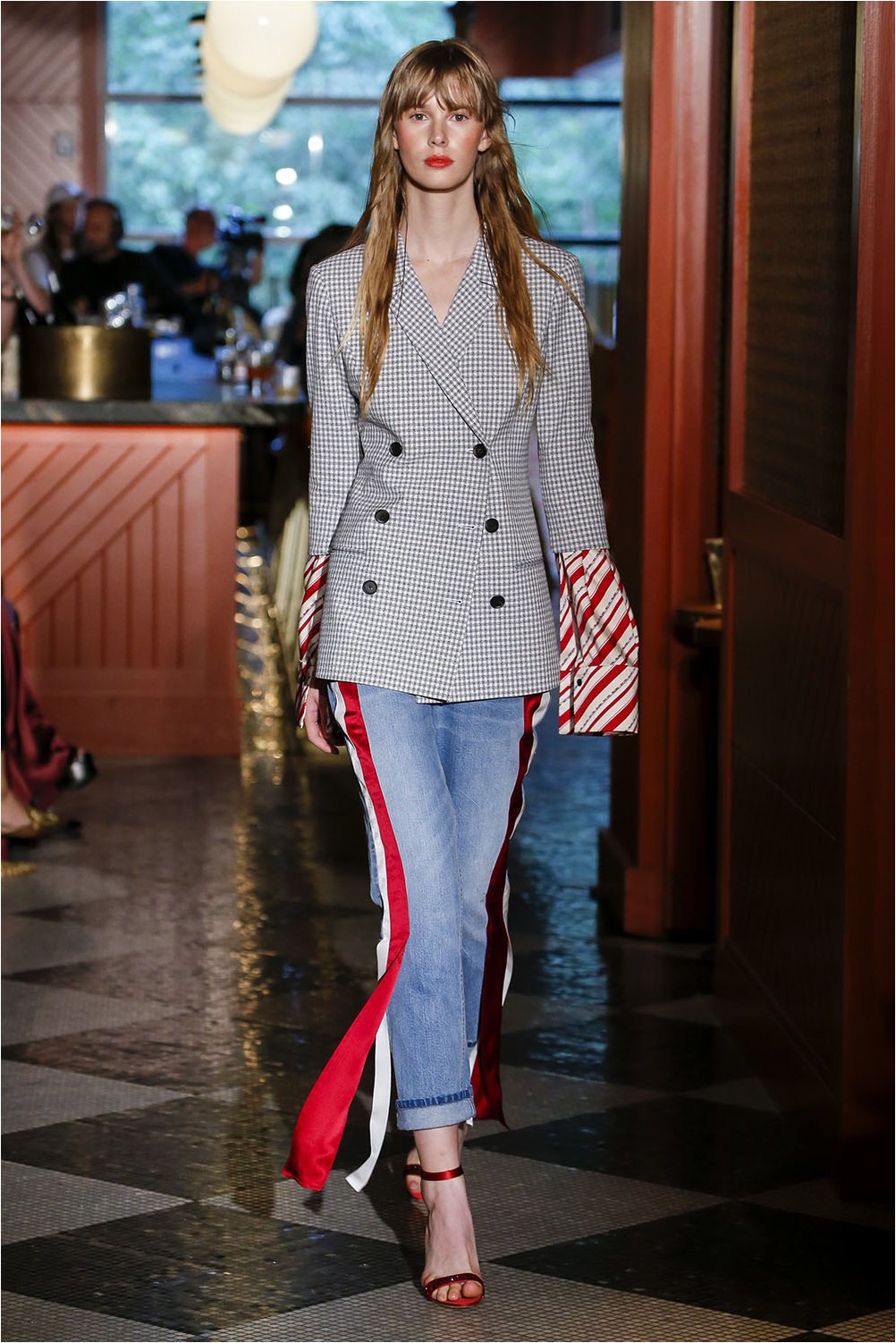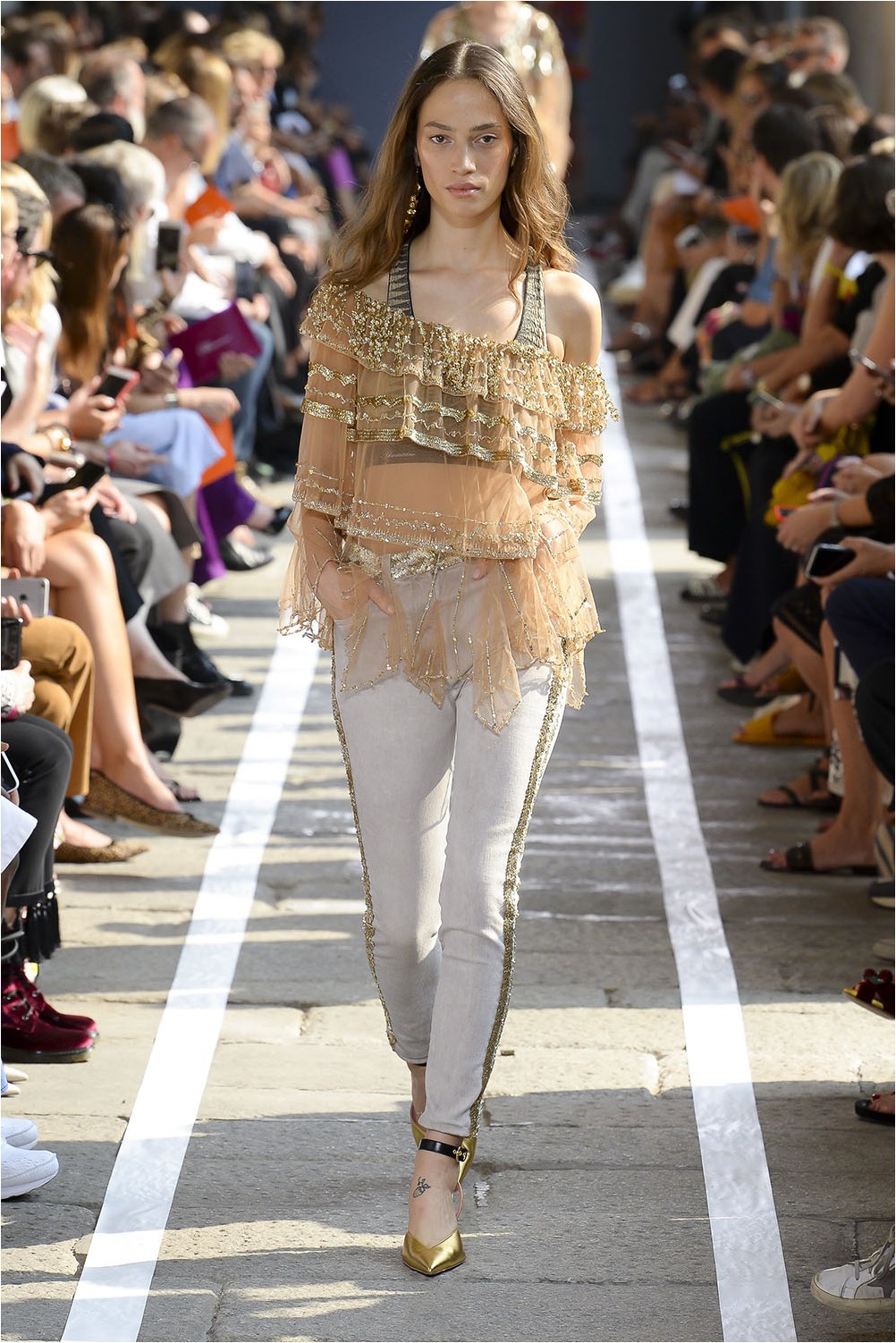 But the opposite is also possible – skinny jeans with "thin pipes" with thin shiny stripes. The image is obtained with a touch of glamorous chic, an example – models from Blumarine and Redemption.
Overalls
Denim overalls are a must have of the spring-summer 2019 season. On the fashion catwalks, many variations of a fashionable one-piece outfit were offered. It can be wide and roomy or tightly fit the figure. Following the current asymmetric trend, in the Genny collection appeared overalls with an asymmetrical cut of the top.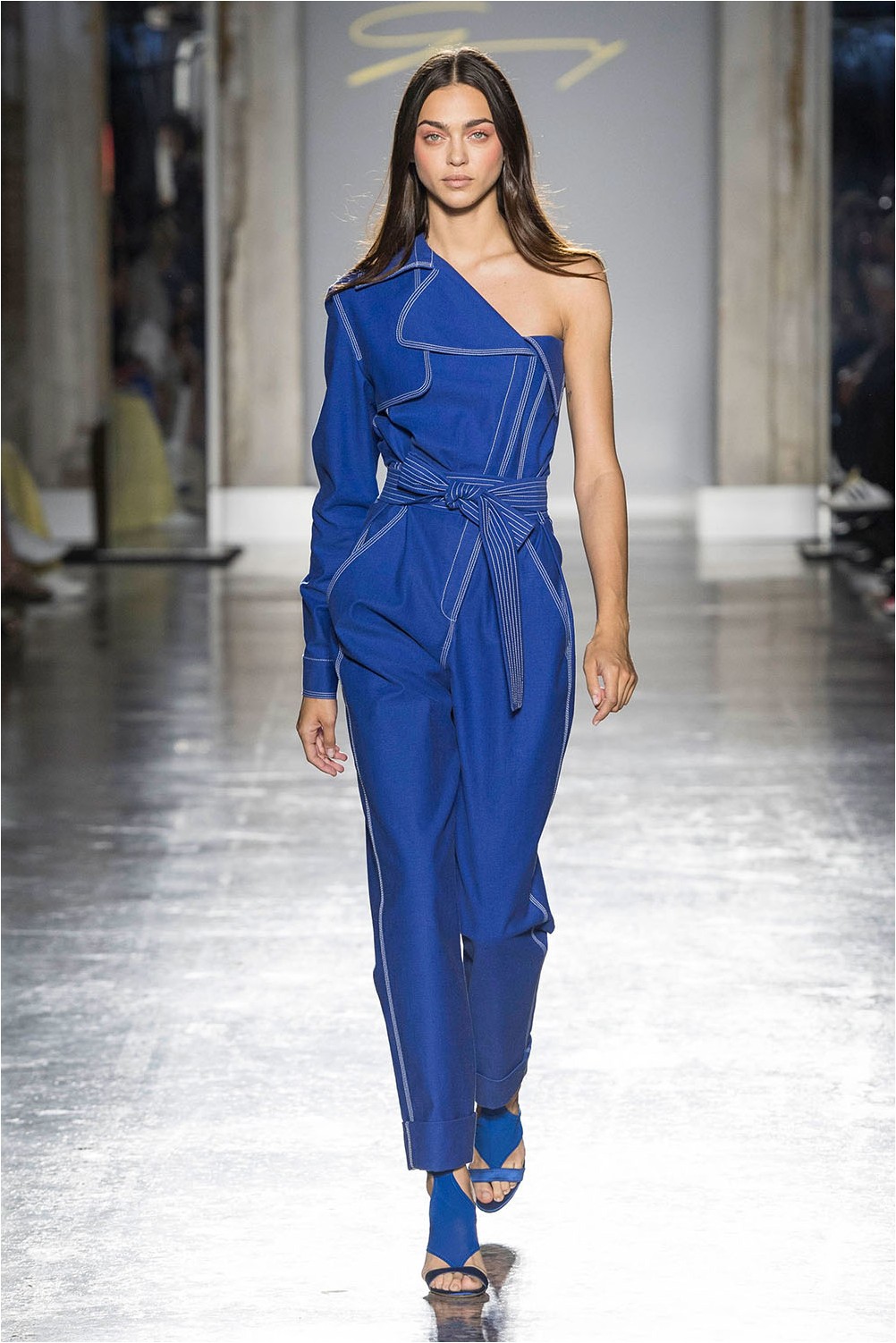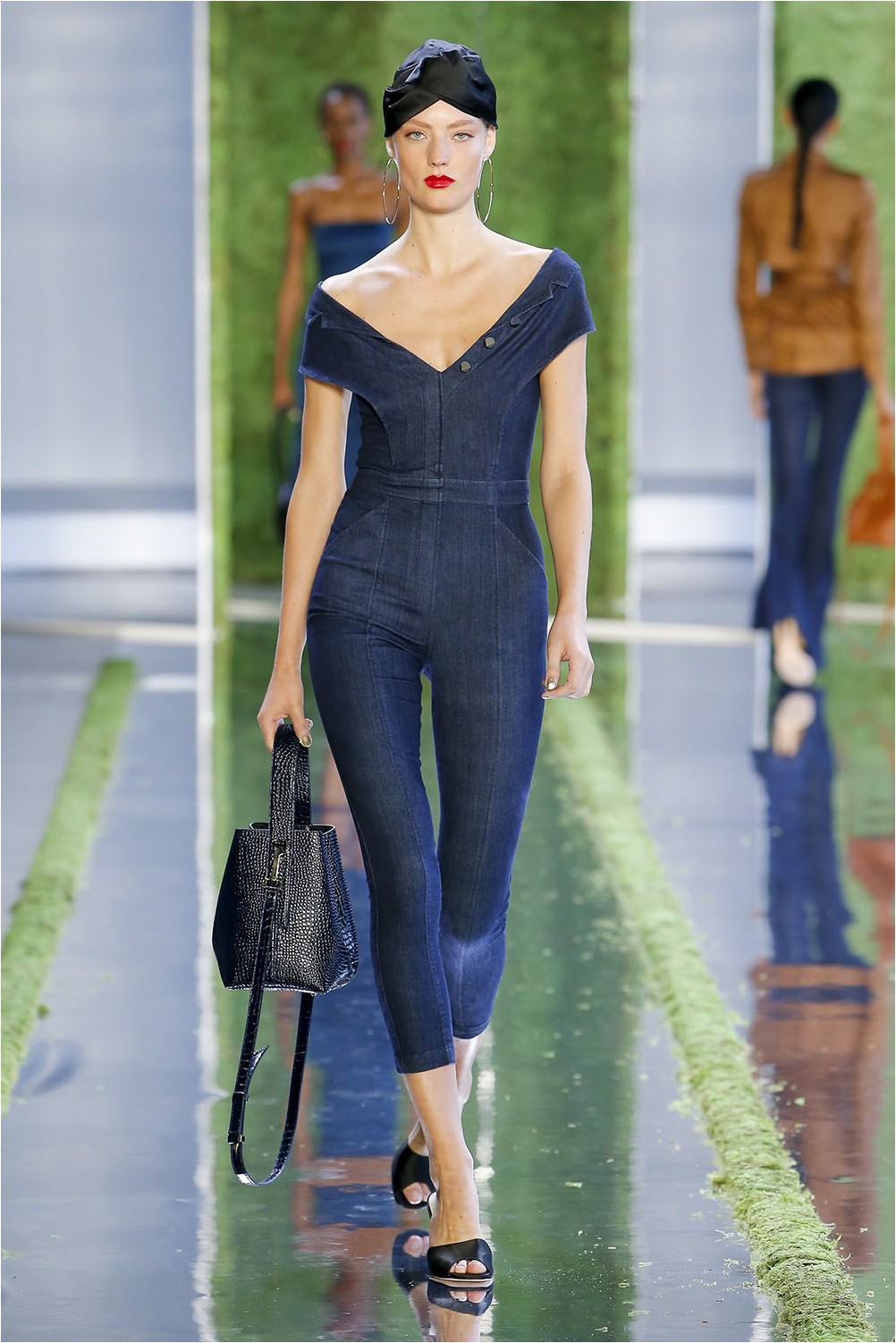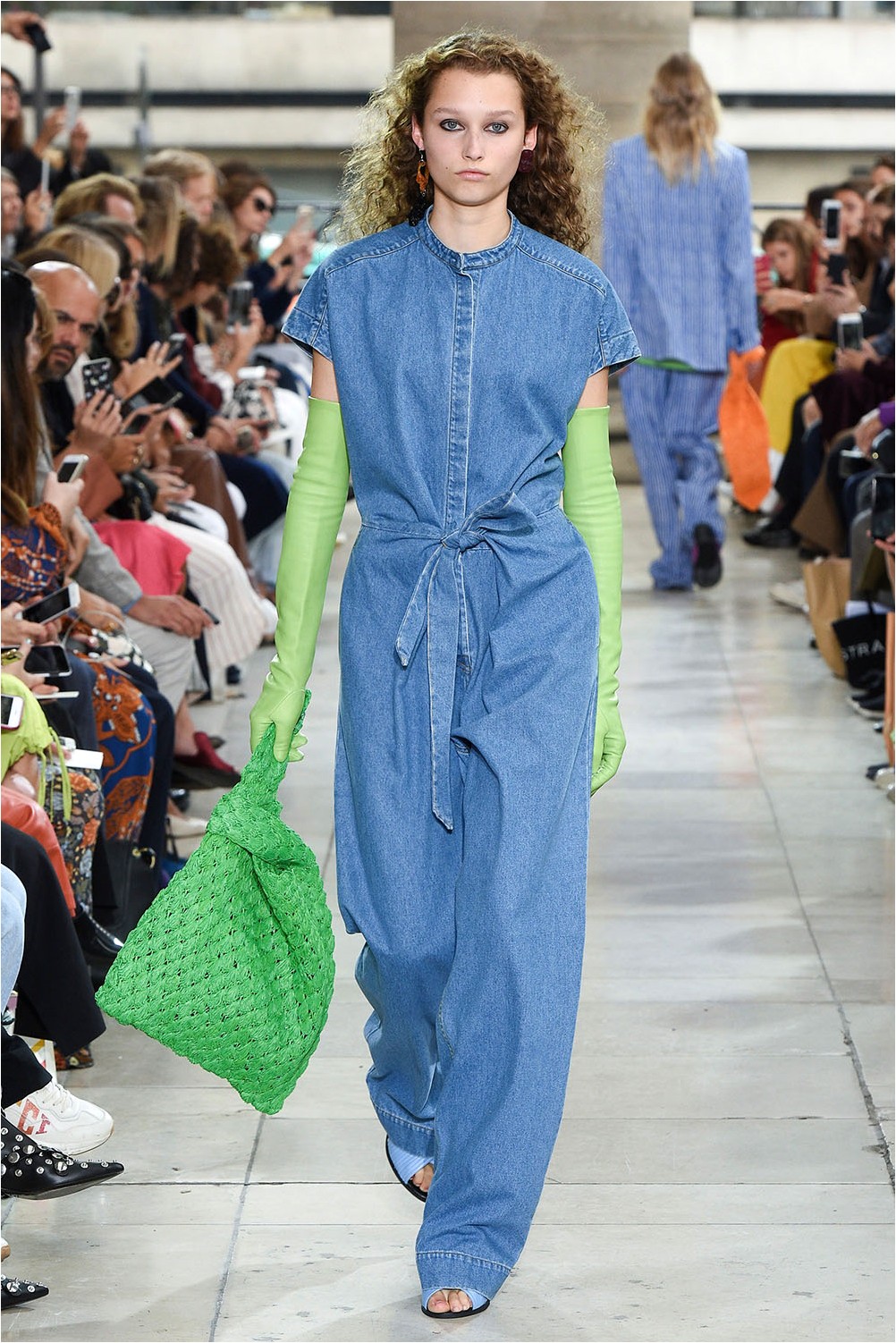 Boiled denim overalls, like Stella McCartney, will also be trendy. And Jeremy Scott decided to beat the theme of breeches in his models and supported the trend for combining denim.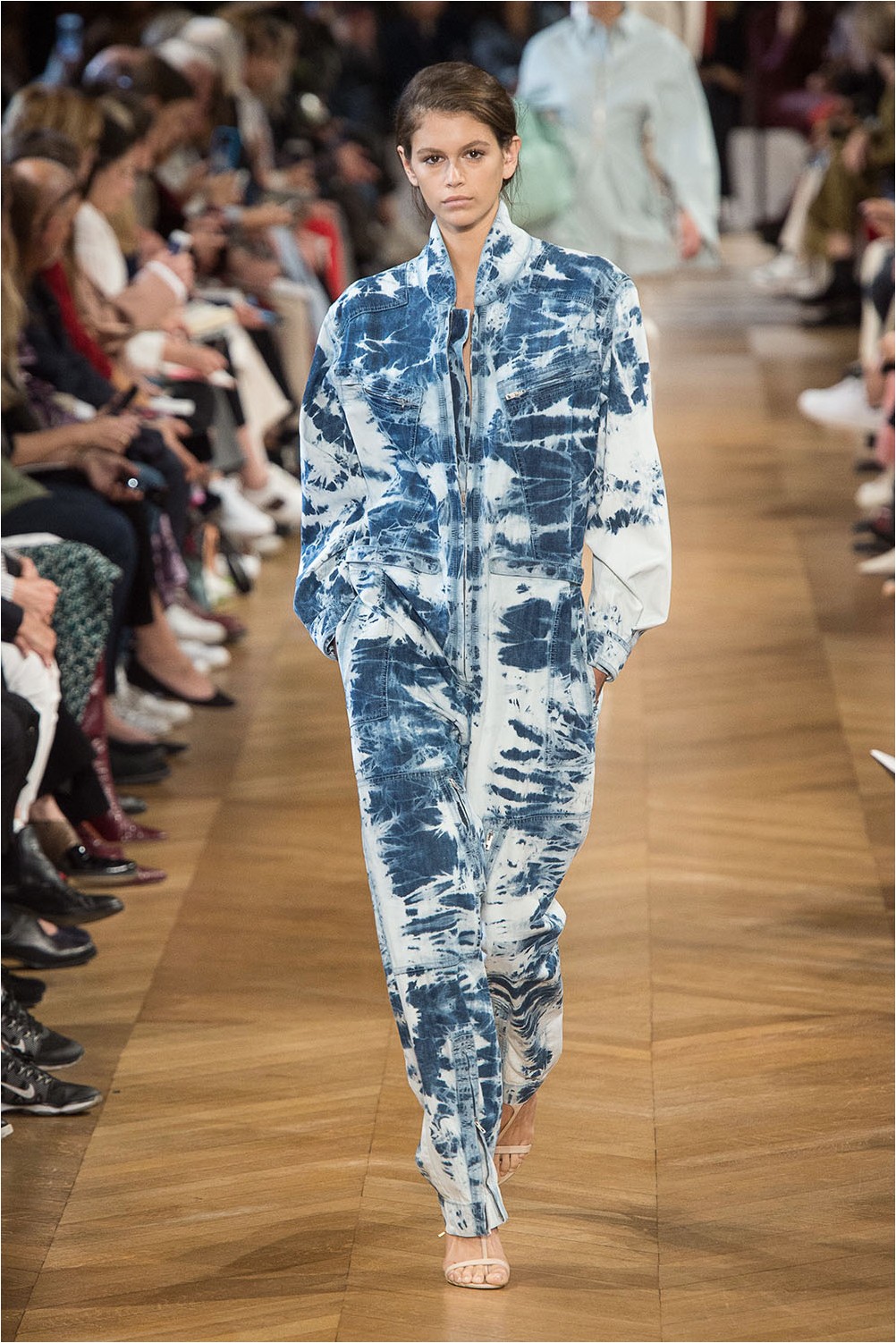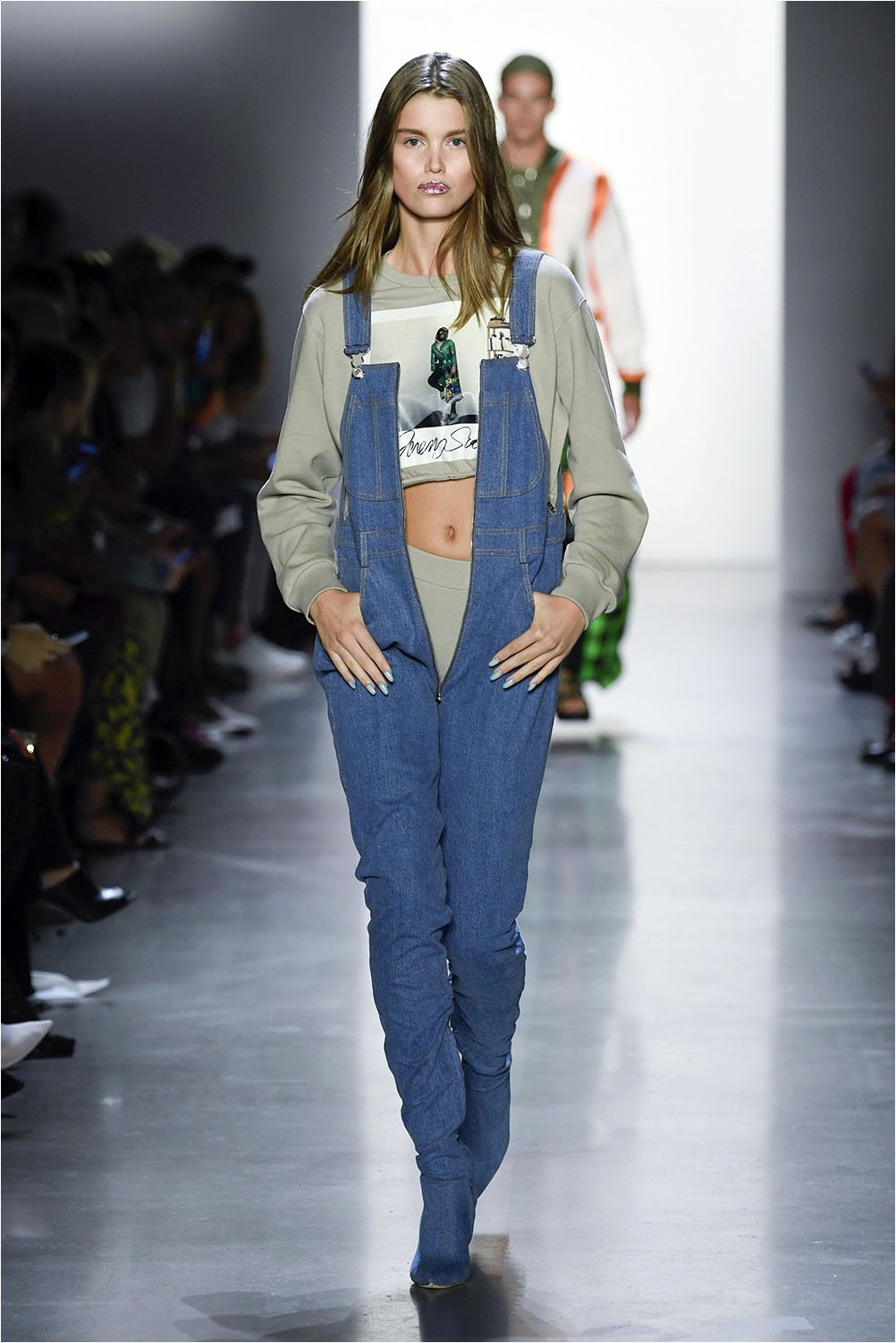 Sheer denim
A bold trend for transparent fabrics is reflected even in jeans fashion. Sometimes such models balance on the verge of a foul and do not hide anything. Frank jeans, glowing through, were present in collections from Ashish. Translucent textures appeared in Chanel. Their variation of the transparent trend is enlightened jeans stitched from gray-blue lace fabric.
Colorful denim
Multi-colored jeans became a bright interspersed in the kingdom of blue denim. All shades of this season's fashionable palette were met – bright red Fiesta, deep blue Princess Blue, pale pink Pressed Rose.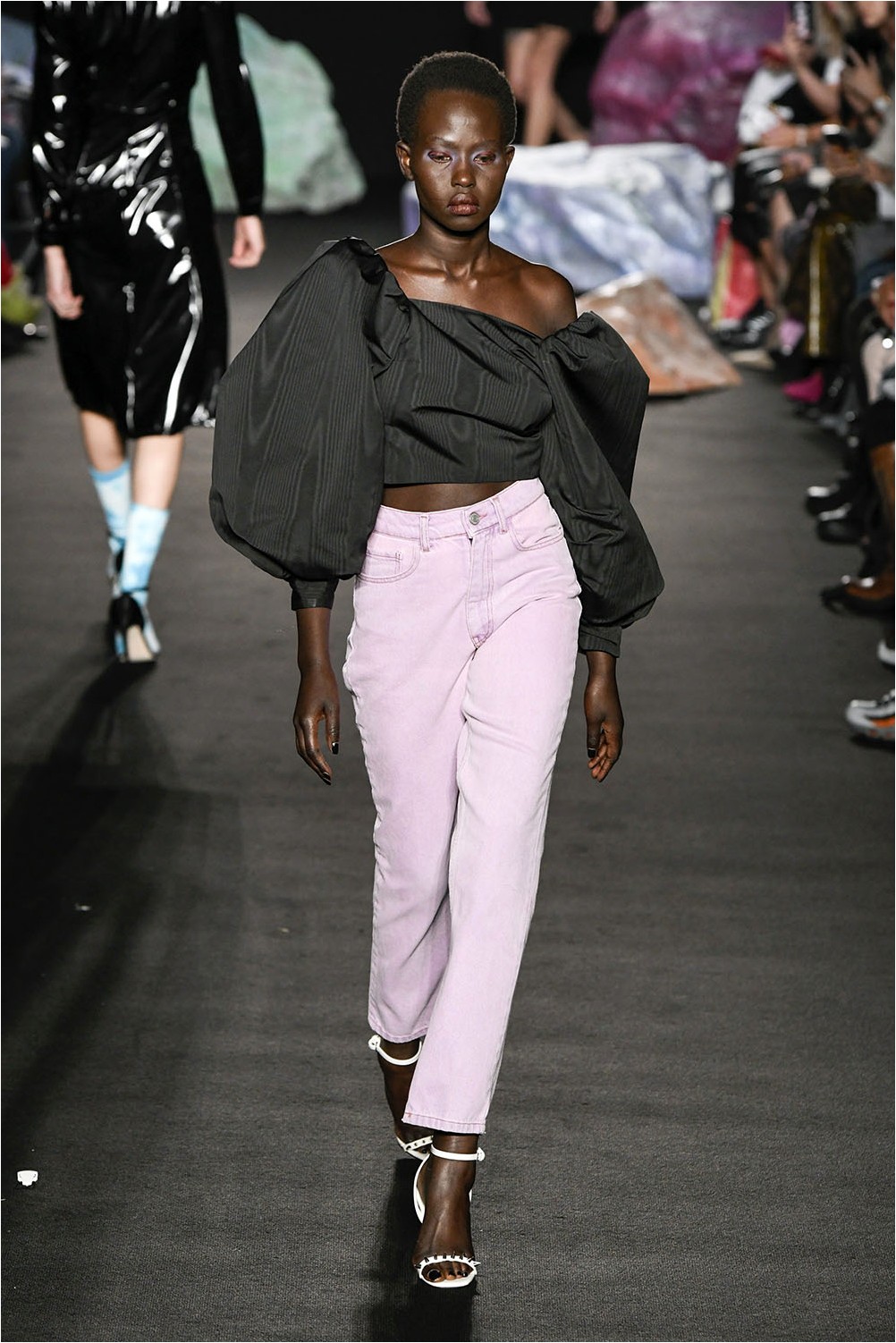 Not the last place in the list of top colors was the color gradient and the unpredictable Tie dye. Total look sets in one color will also be relevant..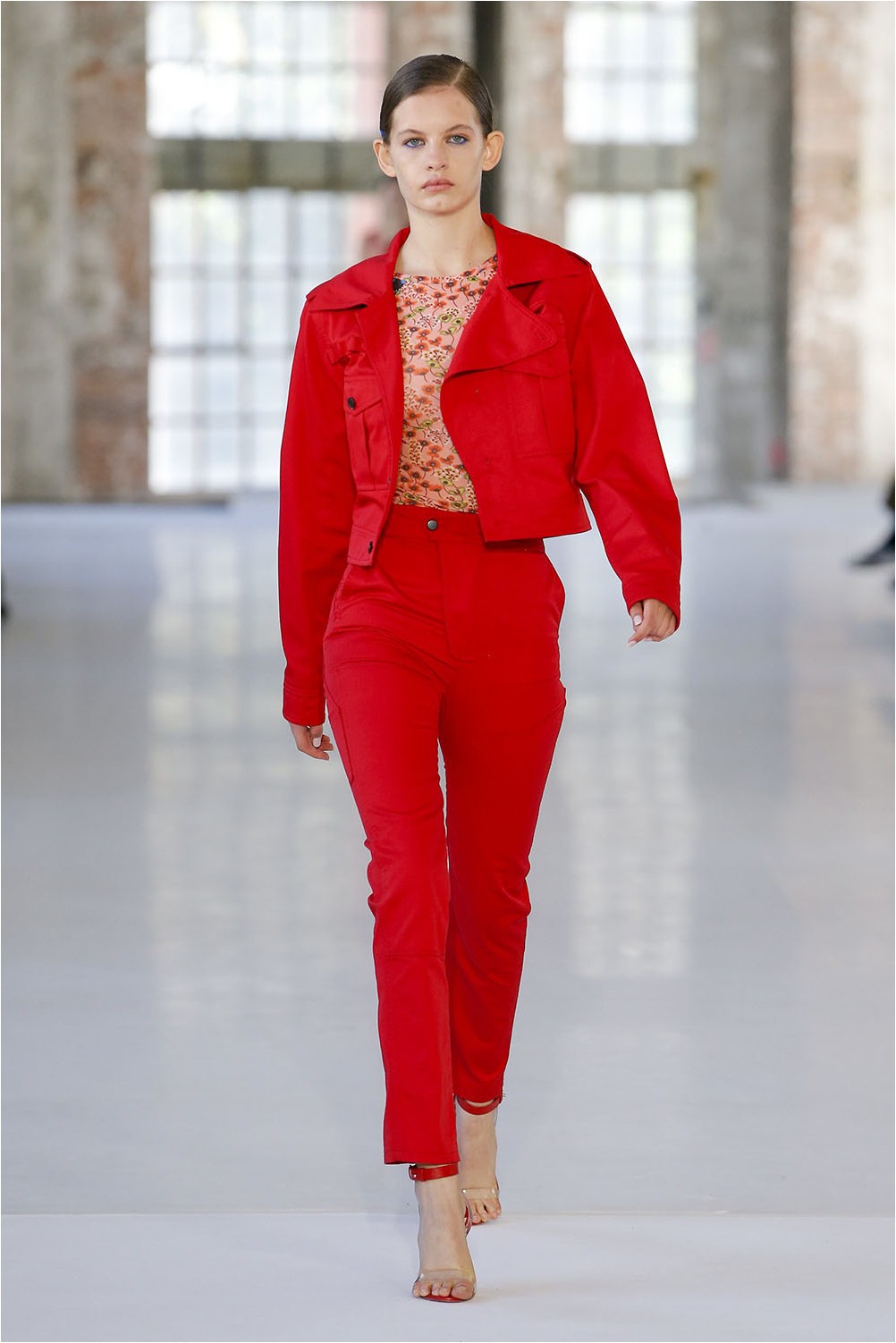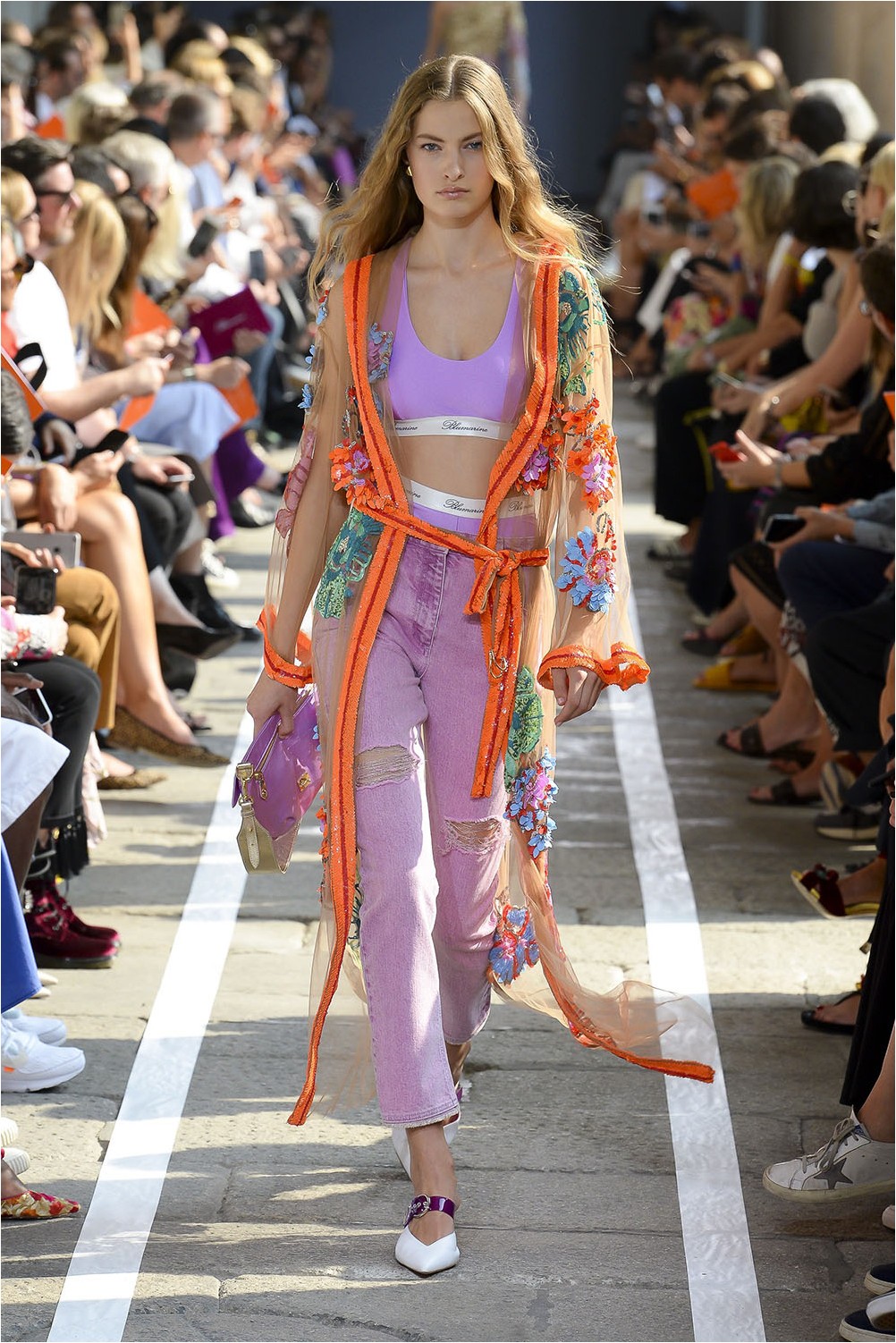 White denim comes in fashion that will perfectly fit almost any look. No unnecessary details and decor, only light scuffs are permissible. Color is the main advantage of white jeans. It refreshes the image and gives it lightness..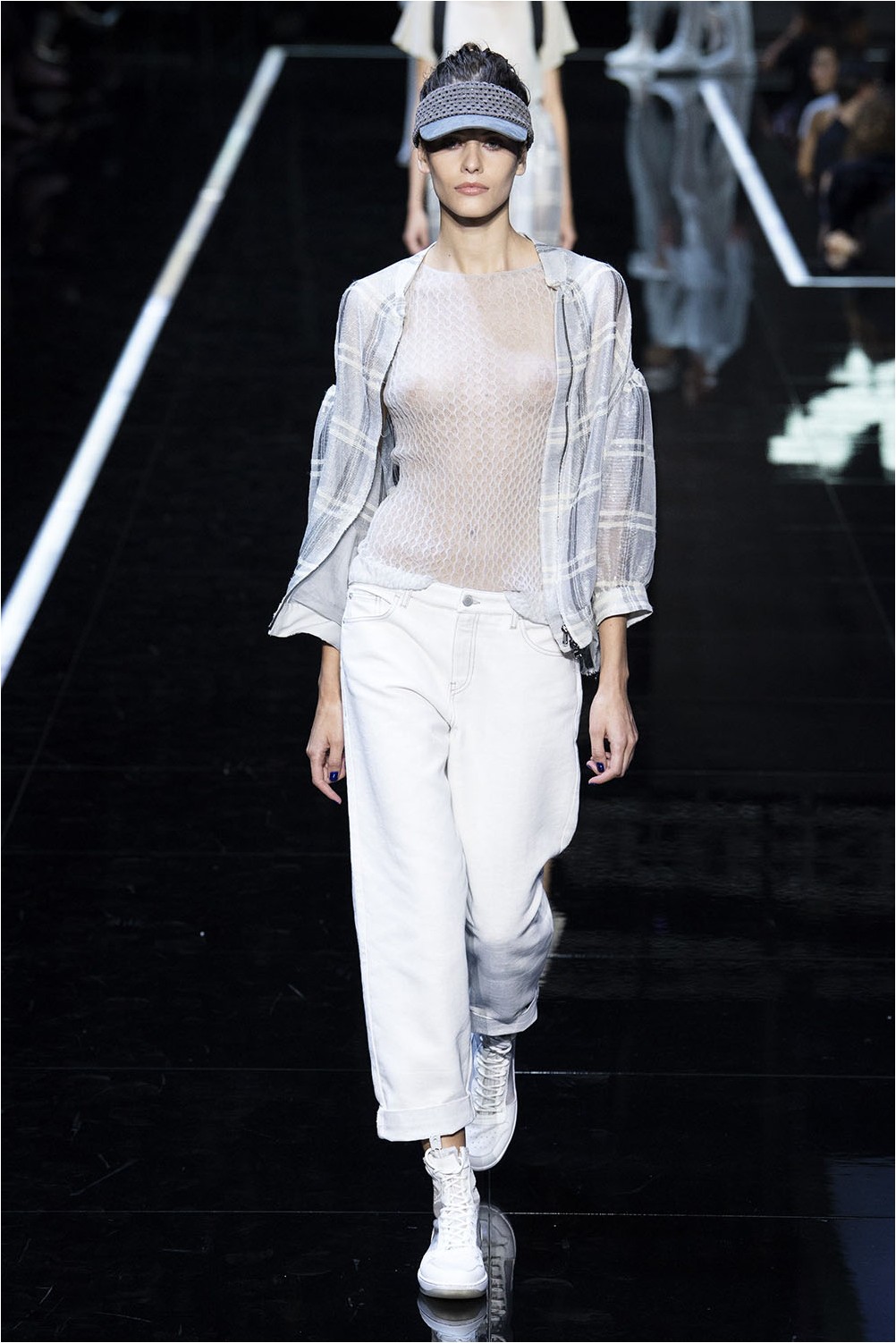 Designers offered us a huge selection of fashionable jeans: from overly wide palazzos to narrow skinny overalls. There were few classics, but she, as always, was elegant. The most trendy in the spring-summer 2019 season are retro trends. To the actual "bananas" from the 80s are added dumplings, jeans with a figured coquette and flare jeans from the 70s.
Similar articles
---