In addition, the new palette includes not 10, but 16 colors, of which Pantone separately identified four classic base colors.
♥ The top most fashionable shades of the spring-summer season 2018 included:
yellow Meadowlark and Lime Punch;

lilac Ultra Violet and Spring Crocus;

pink Pink Lavender and Blooming Dahlia;

deep red Cherry Tomato;

Brown Chili Oil and Emperador;

Blue Little Boy Blue;

Green Arcadia

neutral Almost Mauve.
1. Meadowlark
The juicy and fresh tone of "Meadowlark" is part of the fashion collections of the warm season and, in addition, is the main color of the spring-summer of 2018. Meadowlark is solar heat and life energy. It is filled with joy and fun..
This color is found in many collections: Marc Jacobs, Tom Ford, Diane von Furstenberg, Gucci, Prabal Gurung, Calvin Klein.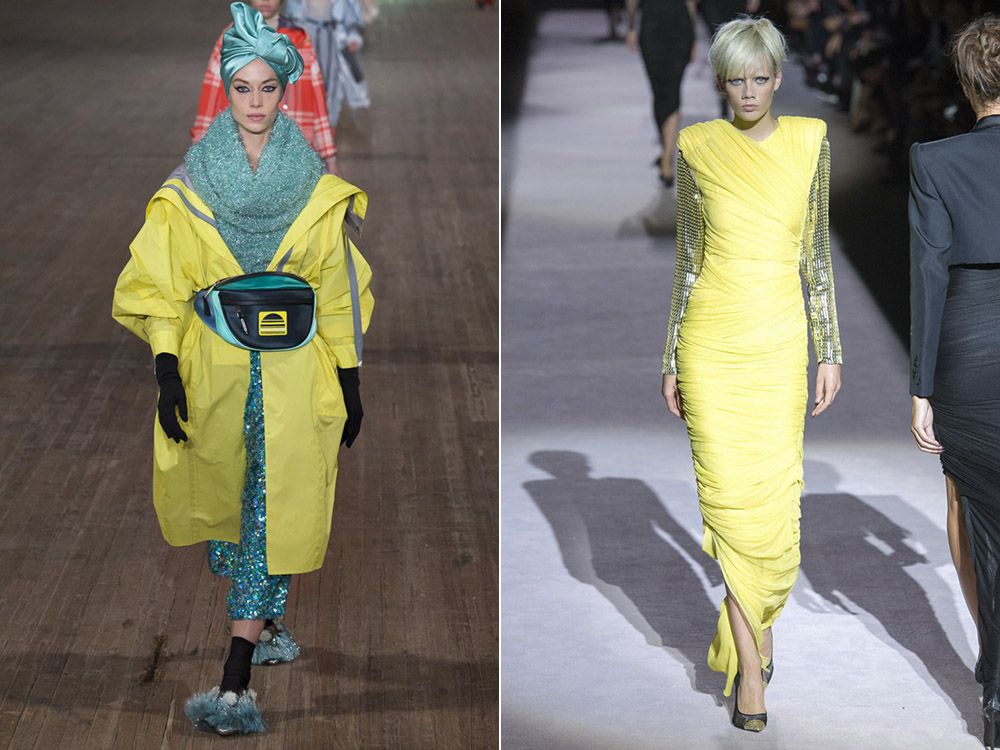 This is an independent color, but it goes well with other shades. Combine Meadowlark with monochrome colors: white and black, or Warm Sand fashionable this season.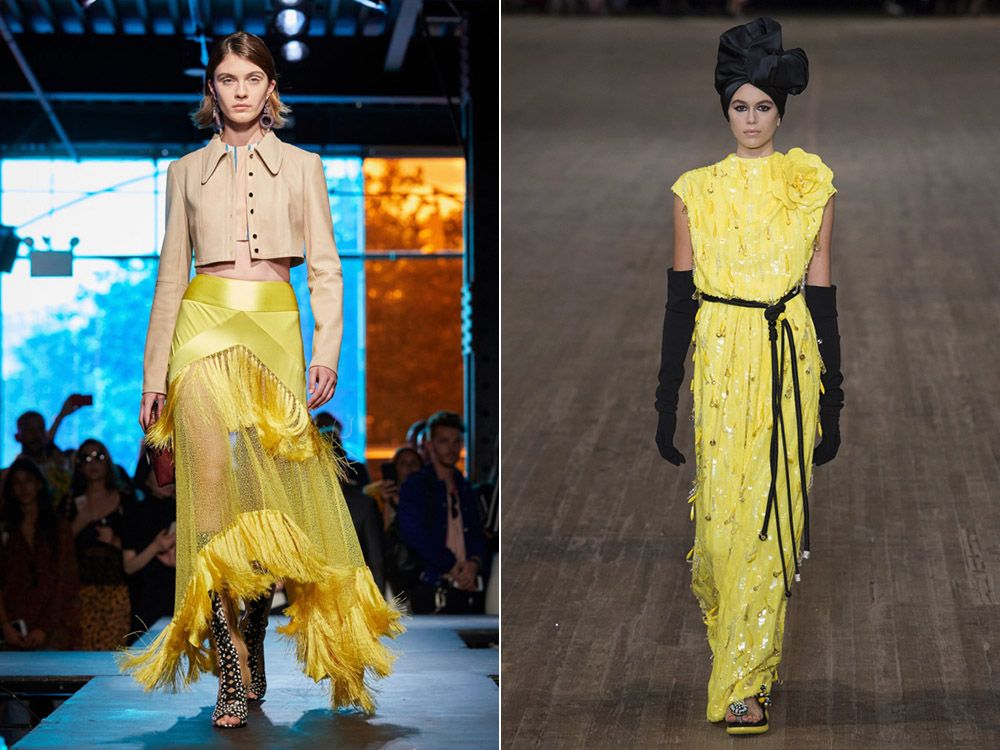 2. Cherry Tomato
An impulsive shade combining reddish and orange tones. It is impossible not to notice it, it is outstanding and expressive. Clothing in this shade is for bright and confident personalities..
Look for this shade in the following collections: Altuzarra, Proenza Schouler, Delpozo, Gucci, Rodarte, Victoria Beckham, Adam Selman, Christian Dior.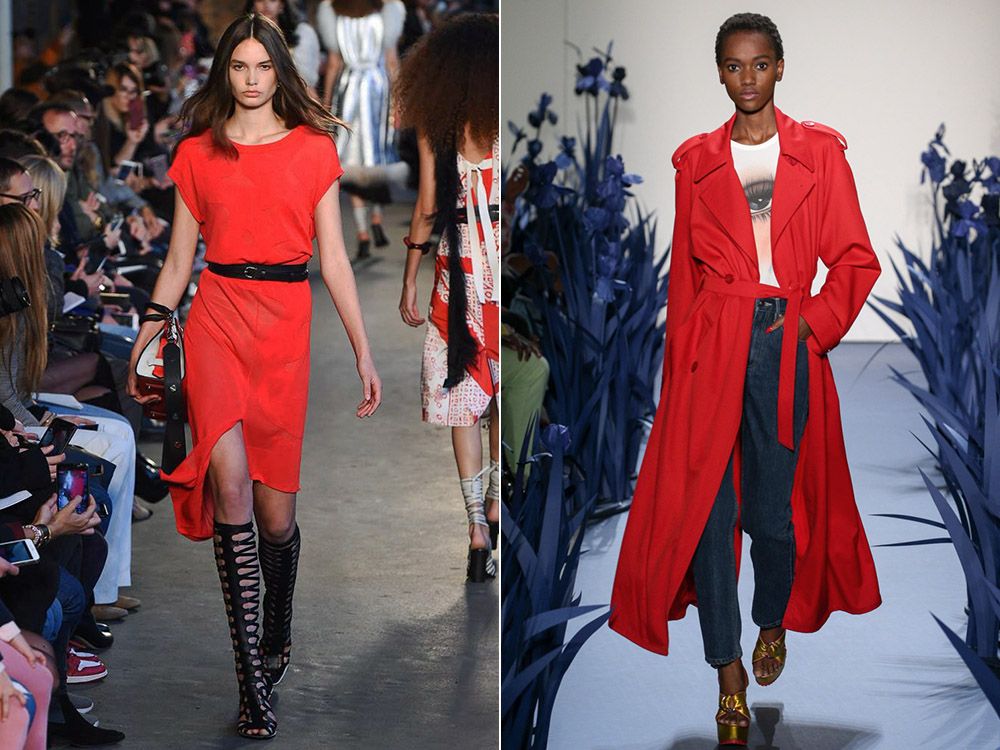 Shades of red combine well with many colors. Cherry Tomato goes well with Coconut Milk Black, White, Gold, and Trendy Classic..
3. Little Boy Blue
The blue and blue of the morning sky intertwined in the delicate shade of Little Boy Blue. It is as if he promises us a new bright day. Calm and at the same time non-trivial – this shade of blue sky is mesmerizing at first sight.
Clothes in this color were included in their collections by such famous brands as Versace, Michael Kors, Carolina Herrera.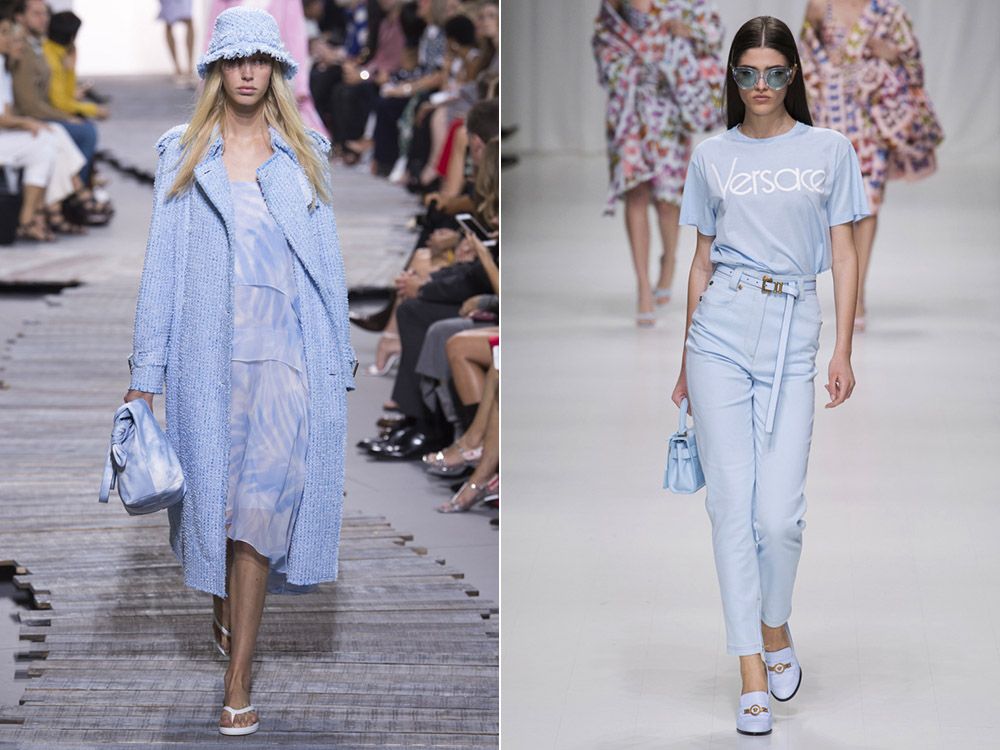 This color looks equally good both independently and in combination with other pastel shades. Pink-peach, muted mint, ivory, beige and neutral white are the best partners in the color palette. Little Boy Blue also blends with trendy Pink Lavender, Almost Mauve and Coconut Milk.
4. Chili Oil
The deep brown-red color of Chili Oil is associated with a burning and vibrant seasoning. Add a spicy touch to your spring wardrobe and you will see that stylish clothes in the "Chili Oil" color will not go unnoticed.
This fashionable color looks especially luxurious with shades close to it: brown, burgundy, red, brick, terracotta. Coach, Altuzarra, Marchesa and several other well-known brands have included this amazing color in their collections..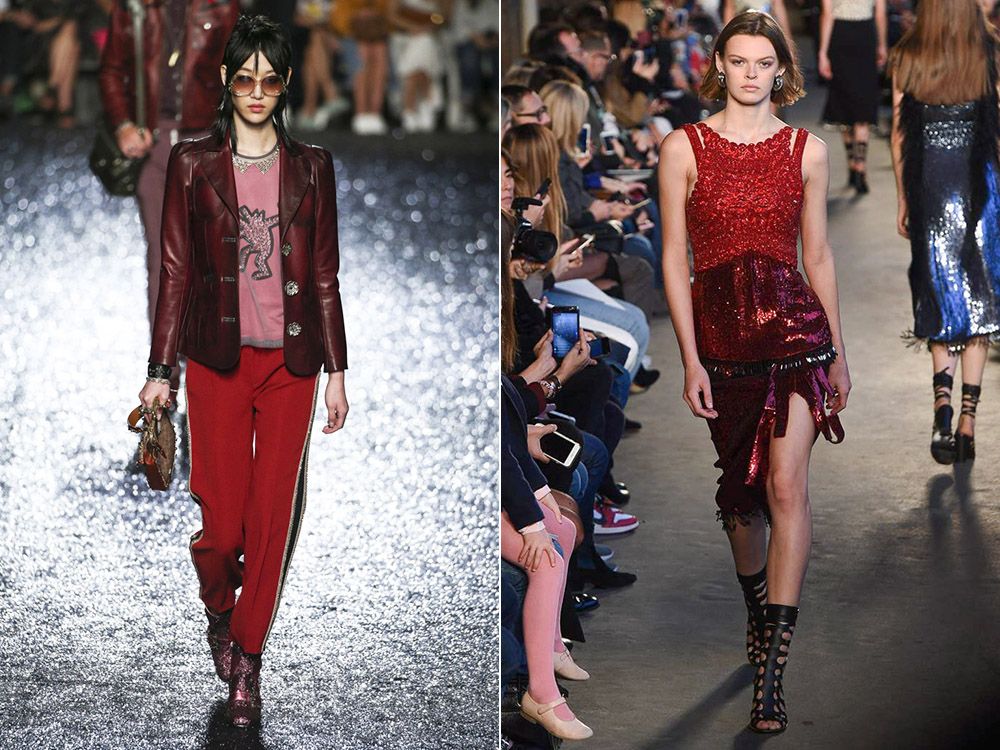 5. Pink Lavender
Pink color is among the top fashion trends of this season, which is represented by three shades at once. One of them is Pink Lavender. A calm lilac-pink tone gives peace and peace.
Despite this, you cannot call him boring or beaten. There was a place in it, and lilac, and pink, and lavender notes. Such a complex combination is best combined with colors such as mint, white, beige, brown and light gray.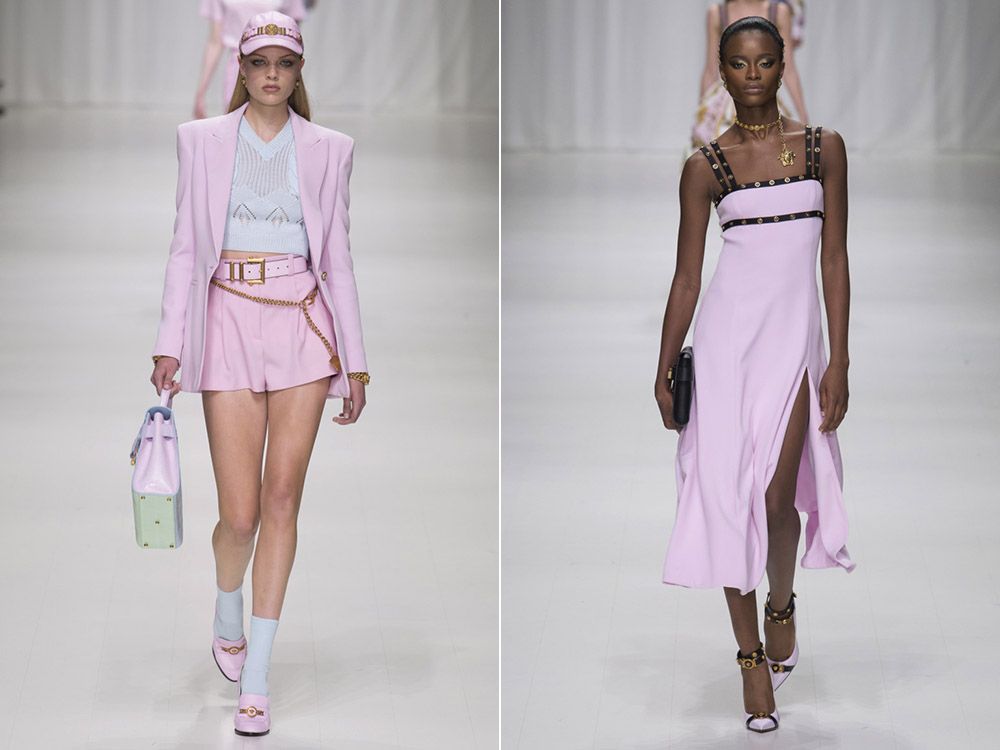 Michael Kors, Rodarte, Tom Ford, Versace, Gucci – many famous fashion houses have made Pink Lavender the main color of their spring-summer 2018 collections.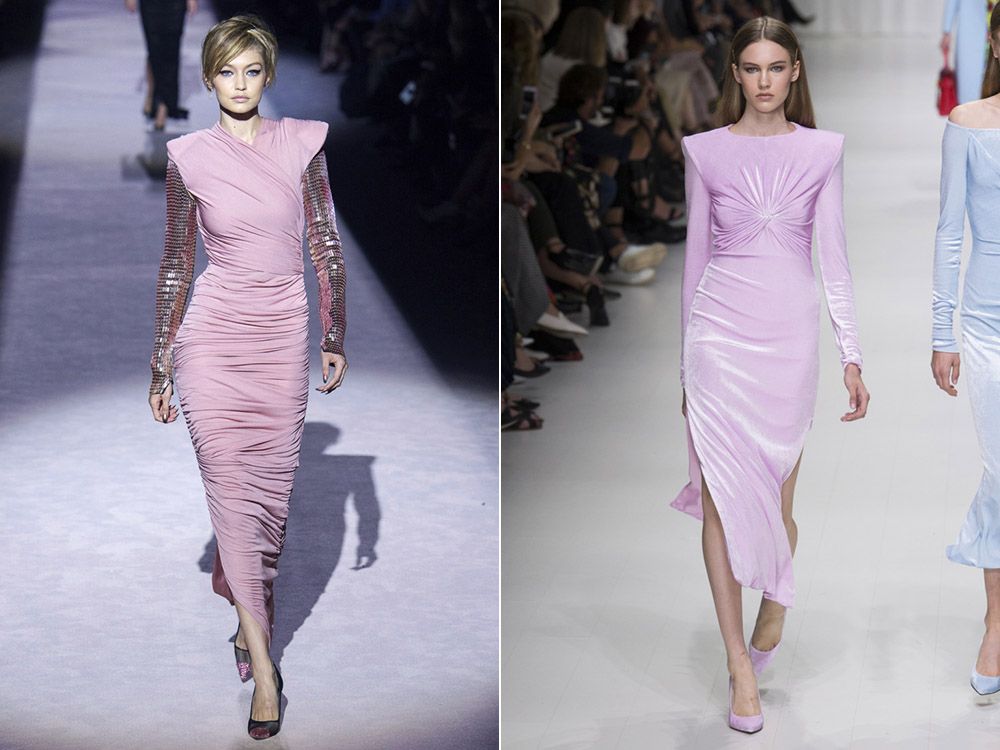 6. Blooming Dahlia
Another shade of pink is Blooming Dahlia. This shade is also very attractive for its charm, like the flower itself.
Blooming Dahlia is best suited for white. "Blooming Dahlia" along with white is an excellent base for making everyday summer dresses. Some designers combined Blooming Dahlia with fashionable Meadowlark – it turned out bright, unusual and very modern..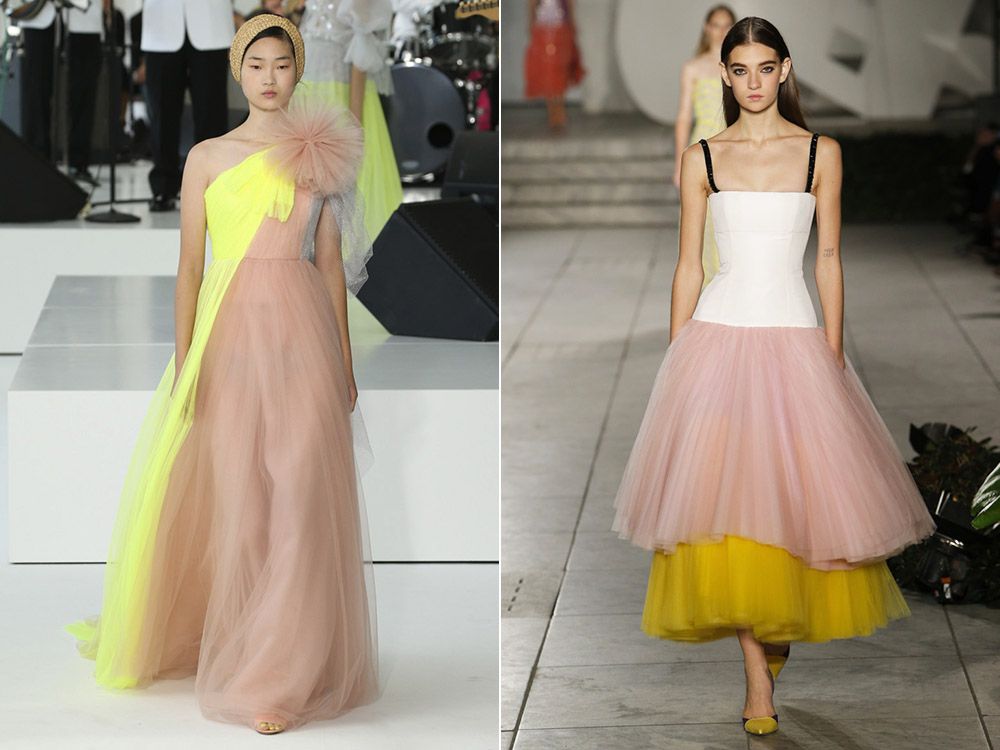 7. Arcadia
The Arcadia color combines notes of retro style and modernity. This is a new, fresh and stylish look at green. A light, barely noticeable bluish color brings novelty to the basic green color..
The noble color of Arcadia looks best in solo performance. If desired, it can be diluted with light gray and yellow, ideally with the bright Meadowlark and classic gray from the Pantone palette, fashionable in the spring and summer season of 2018.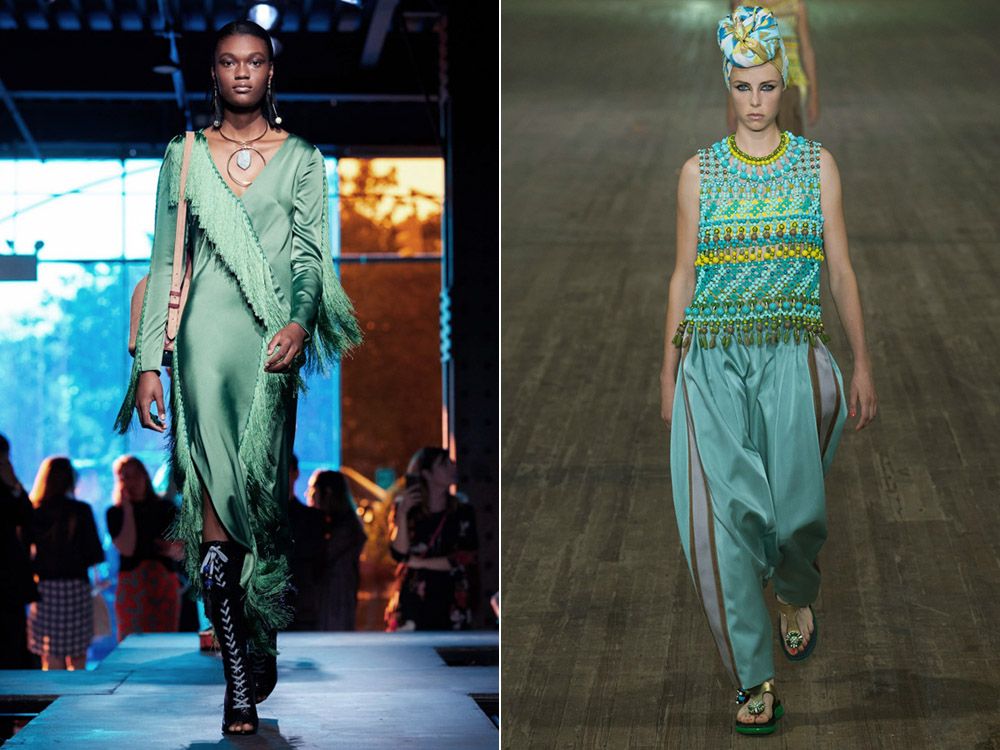 8. Ultra Violet
The original and sophisticated color "Ultra Violet" will create real magic in your image. Extravagant magenta delights and intrigues.
Designers recommend combining Ultra Violet with other vibrant shades or using it yourself.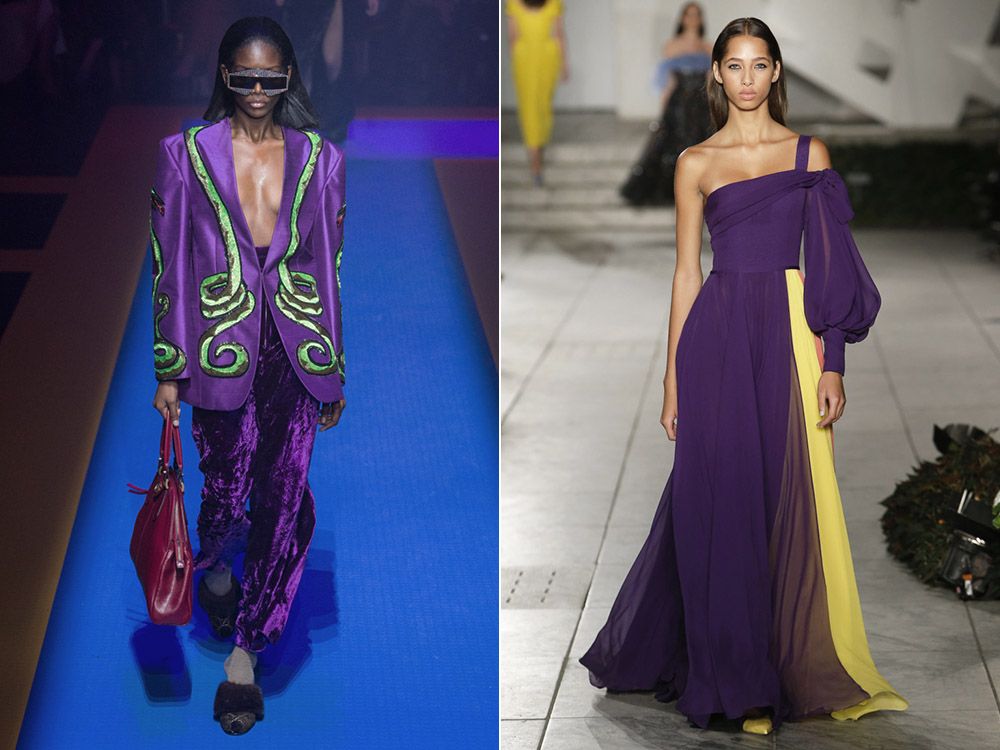 How to use this expressive color correctly, you can learn from the collections of Gucci, Carolina Herrera and Calvin Klein.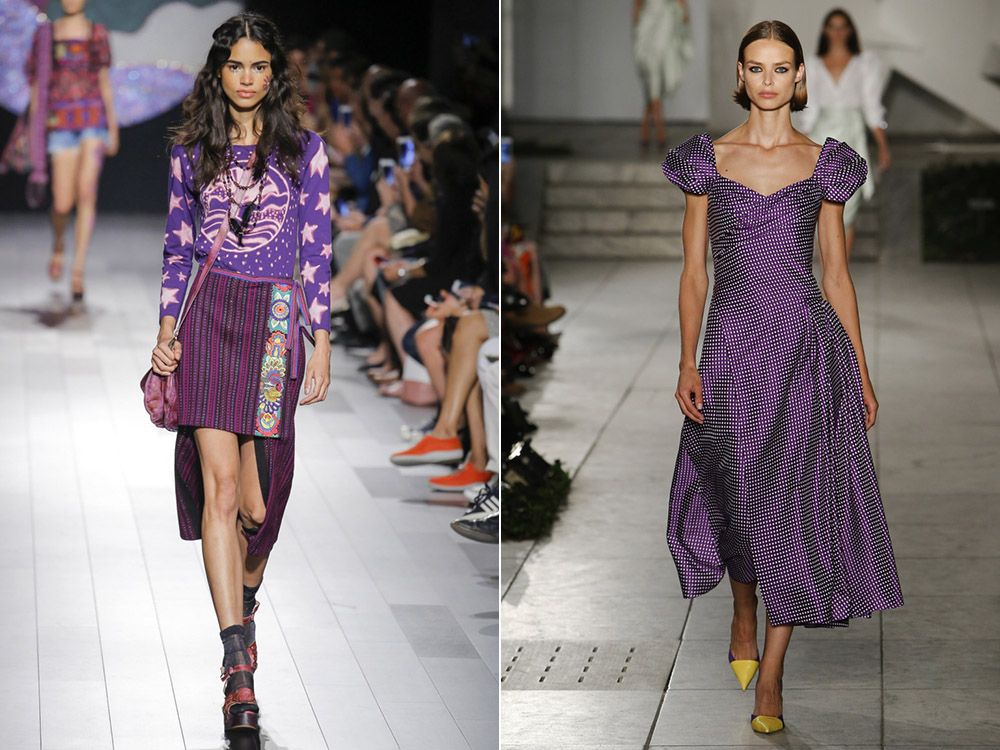 9. Emperador
Warm, deep brown color is a true autumn shade, however Pantone included it in the list of fashionable flowers of the spring-summer season 2018.
This color can be used both independently and in combination with others, ideally with muted colors. Some designers approached the use of this color very creatively – they combined Emperador with Meadowlark and Cherry Tomato – it turned out bright and very unusual.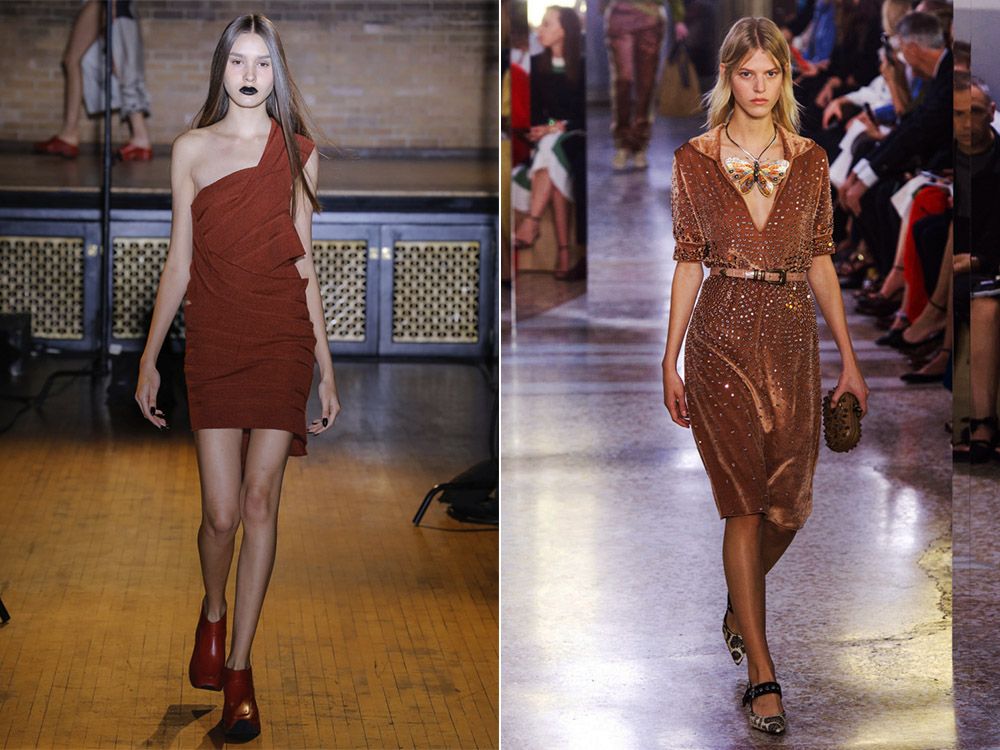 10. Almost Mauve
Almost Mauve looks especially good on textures such as delicate silk, iridescent satin and flying chiffon..
Almost Mauve is part of a line of calm neutral shades and is suitable for any color type of appearance. Ideal for restrained outfits, creating a lyrical and sophisticated look.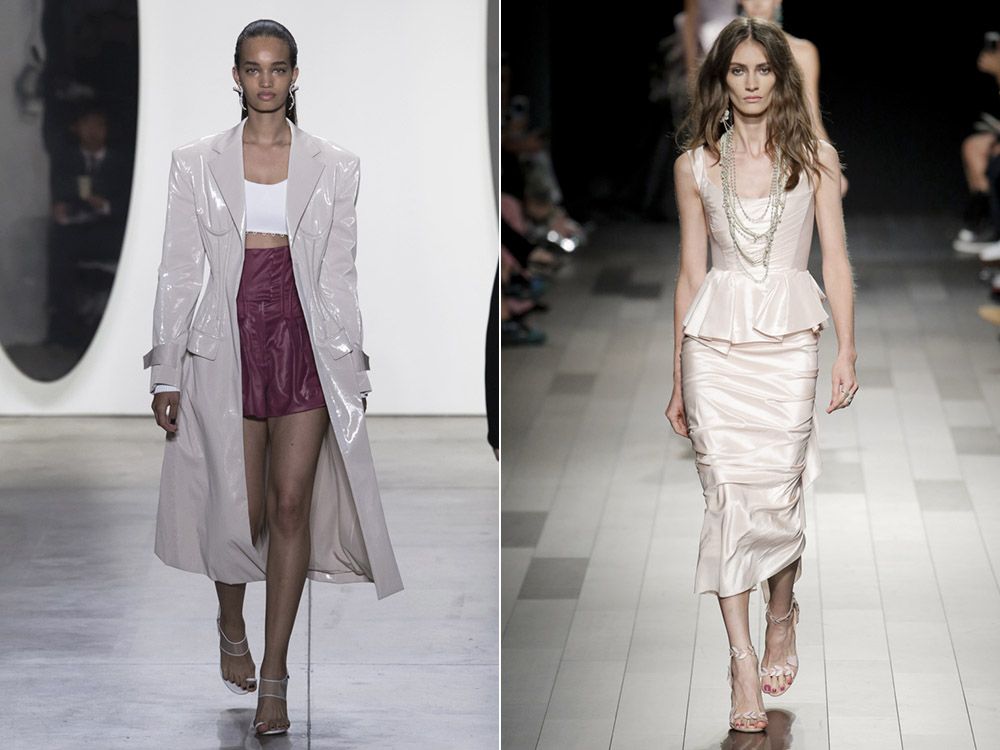 11. Spring Crocus
The provocative and expressive Spring Crocus is another lilac shade in the fashionable palette of the spring-summer season 2018. This color is both unique and universal..
Best of all, Spring Crocus is in harmony with the fashionable ones of the season Almost Mauve, Pink Lavender and Ultra Violet. This combination of pink, purple and purple shades can be found in the Anna Sui collection. Spring Crocus is also combined with classic white and black colors..
12. Lime Punch
The bright acid yellow color of Lime Punch is as sharp as lime juice. This is a real challenge, especially with the delicate romantic colors of Pantone's fashionable palette. At first glance, it may seem caustic and sharp, but only those who are ready for bold experiments can appreciate it.
Lime Punch color looks especially good on tanned skin.
Classic base colors from Pantone
Four basic neutral colors were also included in the classic palette: dark blue, light gray, beige and white.
1. Sailor Blue
The leading base color of the spring-summer palette 2018 is the rich, dark blue shade of Sailor Blue. The fact that he was classified as the most relevant is not an accident. This color is universal.
Sailor Blue is so versatile that it matches any color..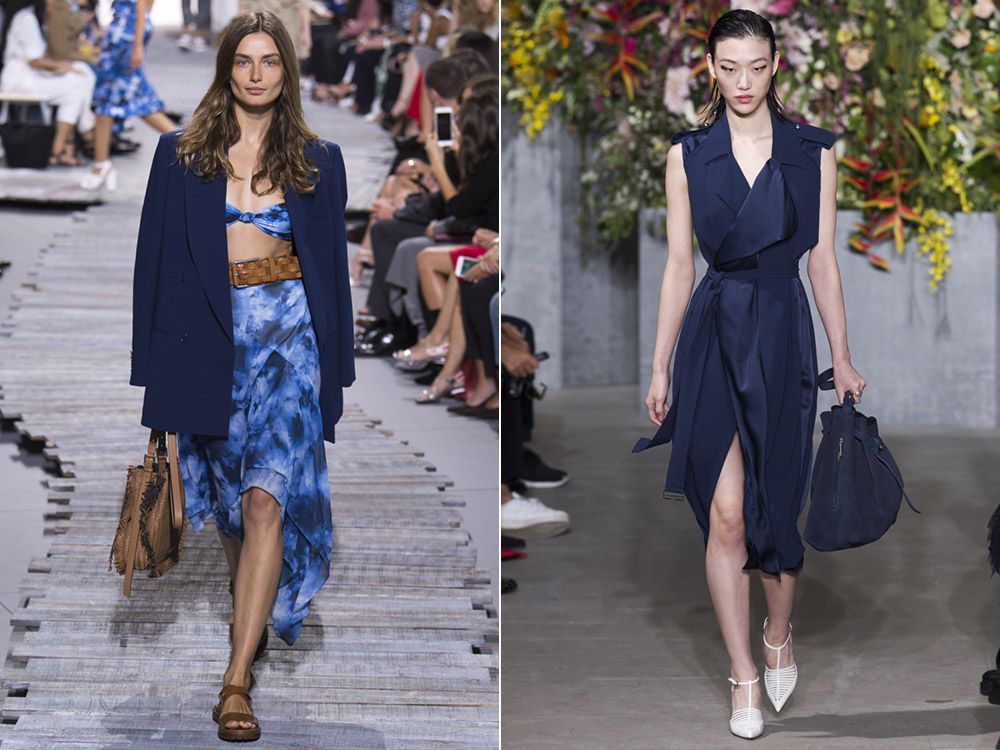 2. Harbor Mist
This shade has become a key in many collections. Such a seemingly boring color comes to life in combination with other colors.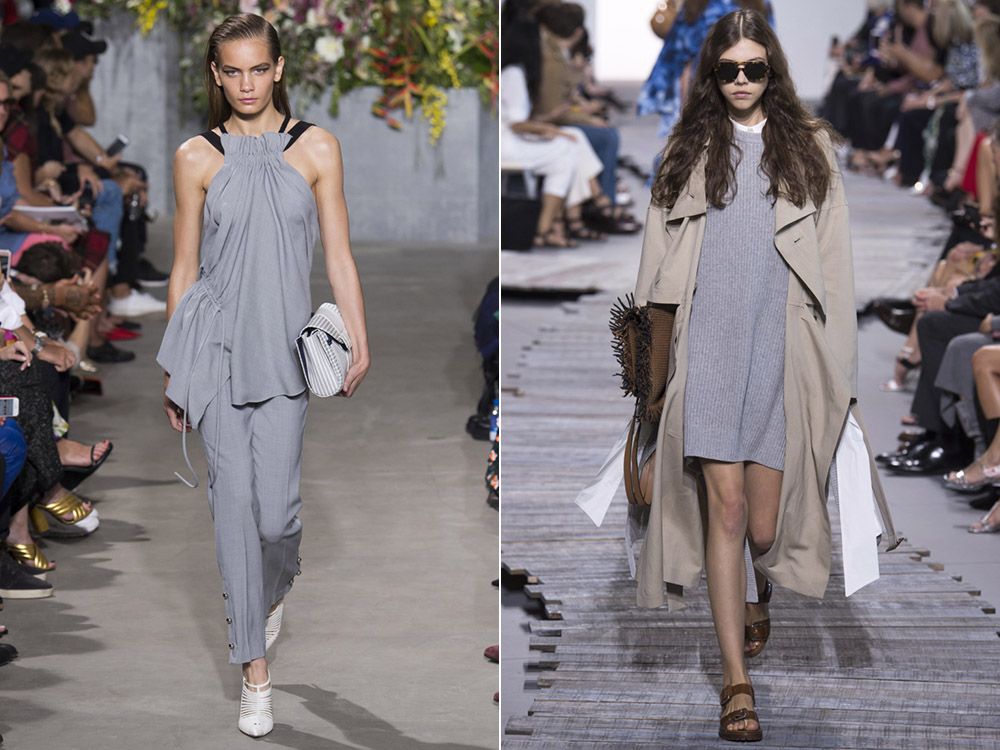 3. Warm Sand
The soft, comfortable and neutral color of Warm Sand, it will become the link in stylish outfits. Pantone Color Experts Select Warm Sand as Leader in Their Base Palette.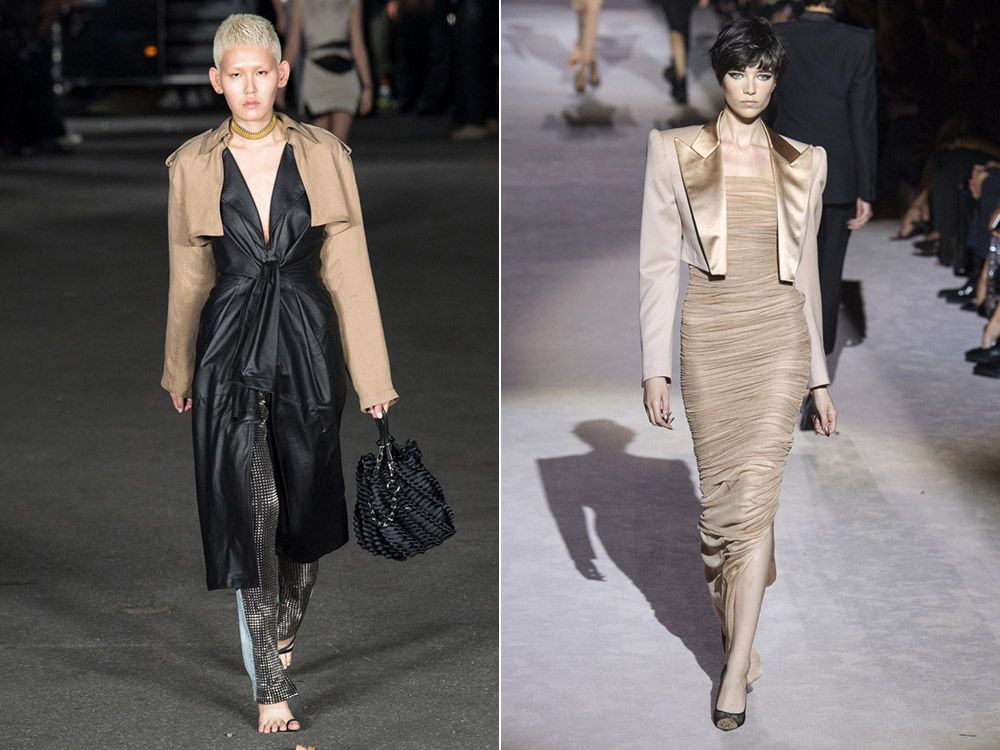 4. Coconut Milk
The new representative of the white palette is Coconut Milk. It is cool white with a beige gray tone..
Cold combinations with the Coconut Milk color can be obtained by combining it with rich gray, blue and purple colors..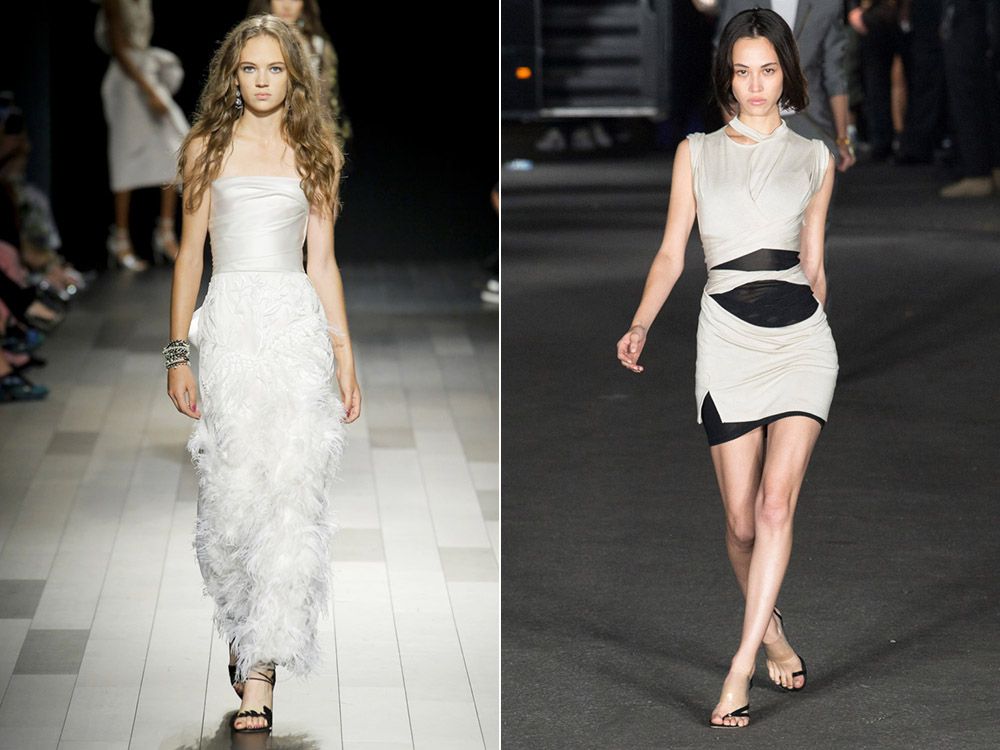 These were the 16 most fashionable shades of the spring-summer 2018 season, called by the experts of the Pantone Institute. Designers advise them to be used not only in the wardrobe, but also in accessories, manicure and makeup. The easiest way to always look fashionable is to make a basic wardrobe of classic colors, and complement them with bright accessories.
Be the most fashionable beauty! Good luck!
Similar articles
---