Thinking about updating your wardrobe? it is worth conducting an audit in your wardrobe. It is possible that you already have everything you need for the most fashionable looks of the season. After analyzing the spring-summer collections, we found out that parks and cropped tops with slogans deserve a second chance in your wardrobe, and you may have to open a hunt for vintage dresses in vintage shops! A new life of old things – in our review.
Things from the past that are relevant in the new season
Dress BABY-DOLL
The image of a naive teenage girl in pink ruffles is again in trend, and the designers this season found a lot of his interpretations. Flirty fitted dresses with floral print, and translucent elongated blouses with lace in the style of Lolita, and voluminous flounces of a shade of cotton candy. It seems like a good reason to visit a vintage clothing store is found.
Polo shirt
The main attribute of the preppy style – a polo shirt – unexpectedly turned out to be the subject of design experiments. A classic polo with a small neat brand logo or, conversely, with a large name can be found in the archives of the 1990s, and new interpretations are transparent elongated shirts, polos – dresses with a characteristic collar, and models with a degraded effect. It is important to note that you can wear polo with mini and midi-skirts, leggings and suits, not paying attention to the rules of preppy style.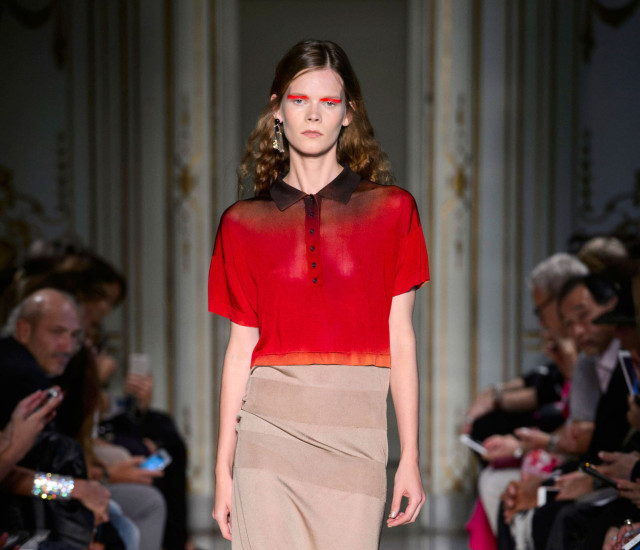 Transparent Dresses
Transparent tulle and lace patterns are back in fashion. And this is another reason to think about the new life of old things and solve the question of whether it is worth it once and for all to get rid of bored copies. Current spring models: romantic white and powdery shades, with lurex in the style of the already mentioned 1980s, like Louis Vuitton. Combine them with body and thick opaque underwear.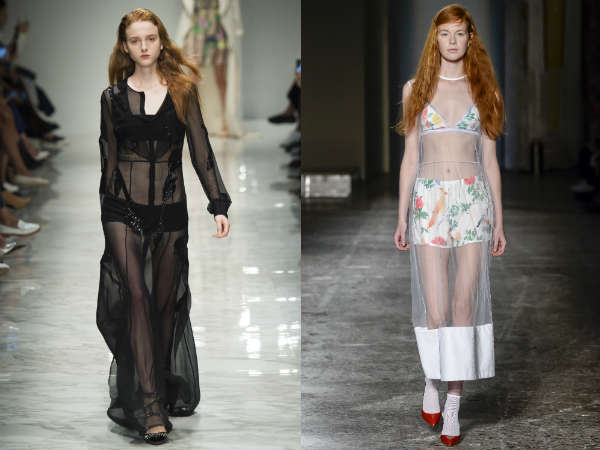 TOP BUSTIER
Seductive bustier tops that send pin-ups with aesthetics fit perfectly into the realities of modern fashion and the concept of freedom of choice: both deliberately feminine and emphasized by masculine images. They can be combined with a shirt, tutu skirt, leather skirt or pipe trousers, and can be used in everyday and evening looks.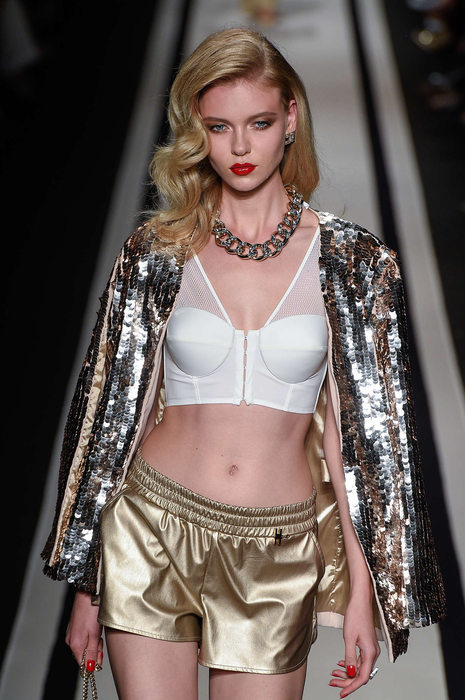 Floral Dresses
Floral prints are a fashion trend of spring-summer collections. But this season, designers with special love interpret the drawings from the 1960s and 1970s. Pastel shades and a combination of colors with graphics – at Prada, acid background and bright small flowers resembling prints on the dresses of our grandmothers, at Balenciaga. But the cut of the dress can be any without extra lyrics: with hypertrophic flounces, high cuts or voluminous sleeves.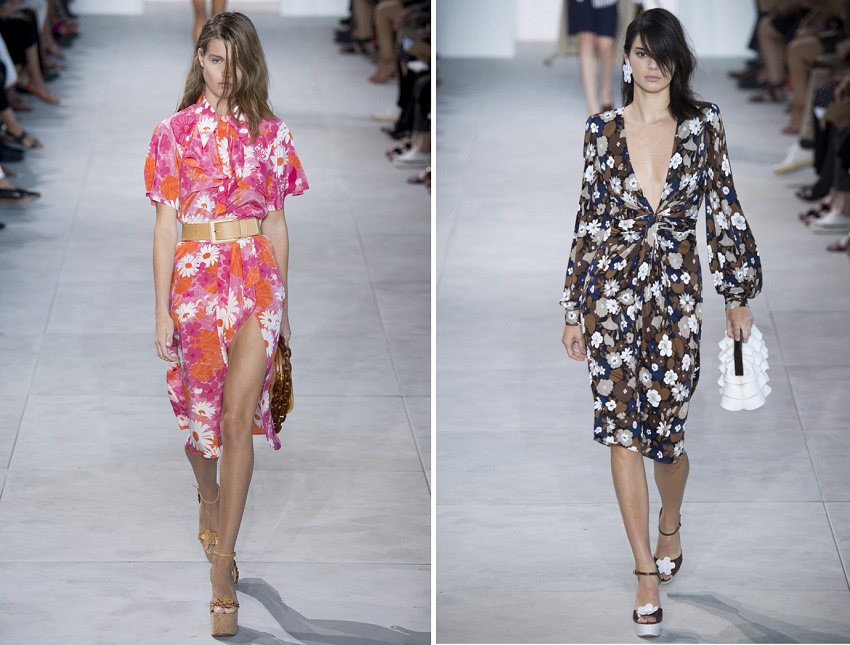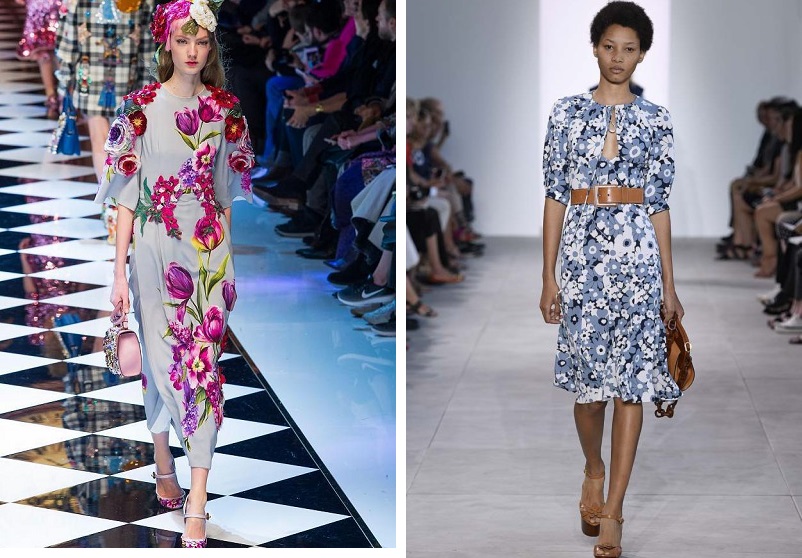 Oversized jacket
Another flashback in the 1990s was an oversized jacket, and now it's even more appropriate to say "jacket" because the square cut and wide shoulders clearly copy the male model. In the wake of feminism and the cult of strong women, it is not surprising that the jacket is back in fashion. It is better to wear it in the appropriate company – with wide trousers or a midi skirt and a shirt, or a shirt borrowed from a boyfriend.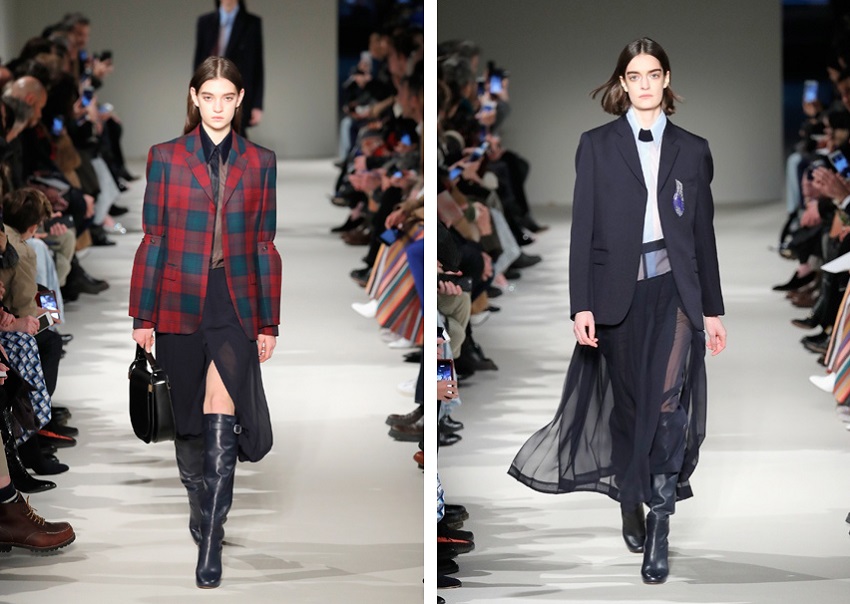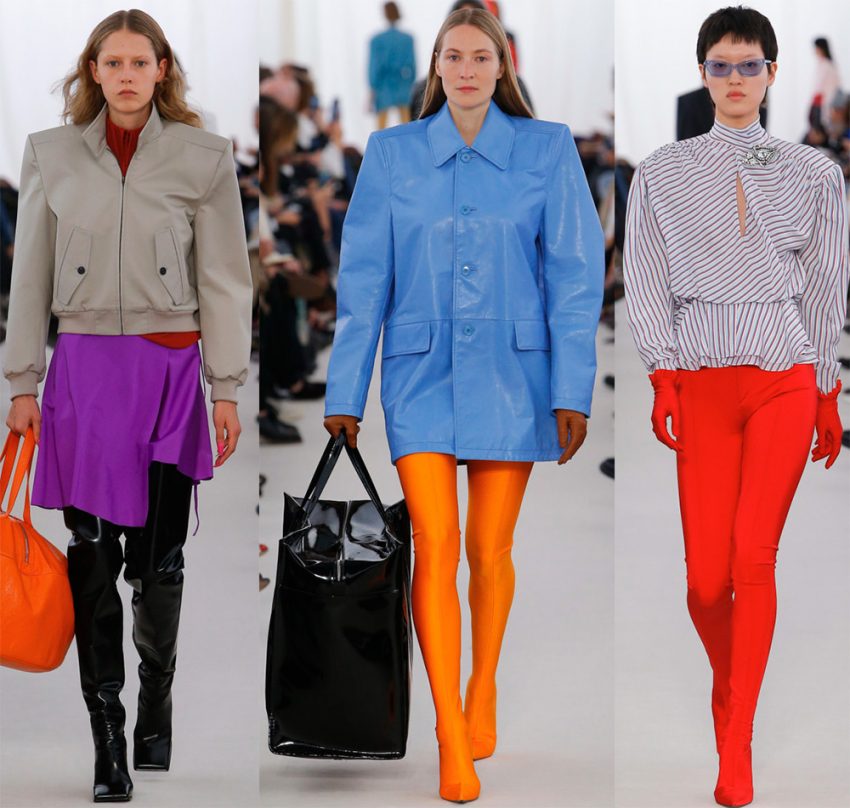 Top with the slogan
The world should know what you are thinking about, and there are more and more ways to express yourself. You can answer the daily facebook question "what's on your mind?", Post another meme on instagram or put on a T-shirt with a suitable slogan. The most popular, without a doubt, was invented by Maria Grazia-Curie from Dior "We should all be feminists", but in the new collections there will also be less radical statements or tops with a laconic brand name.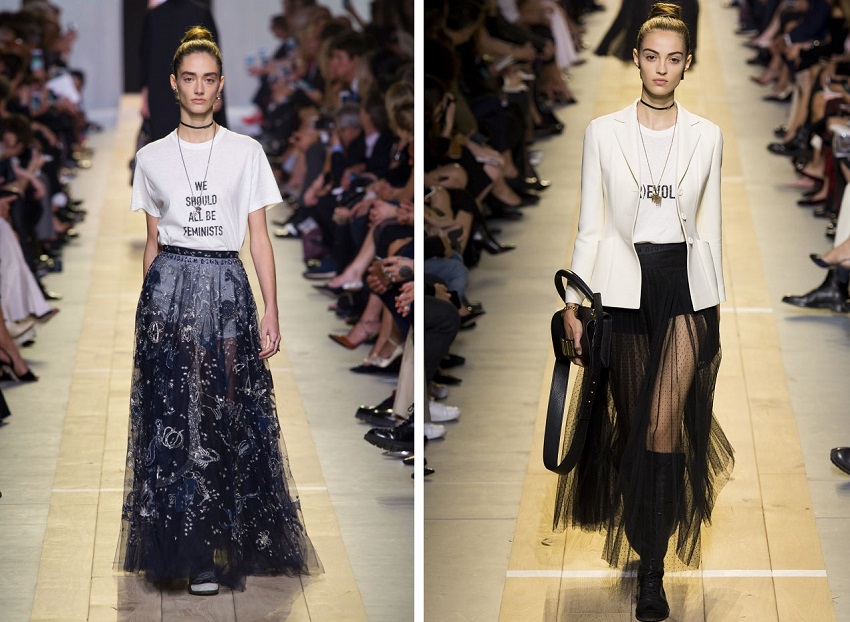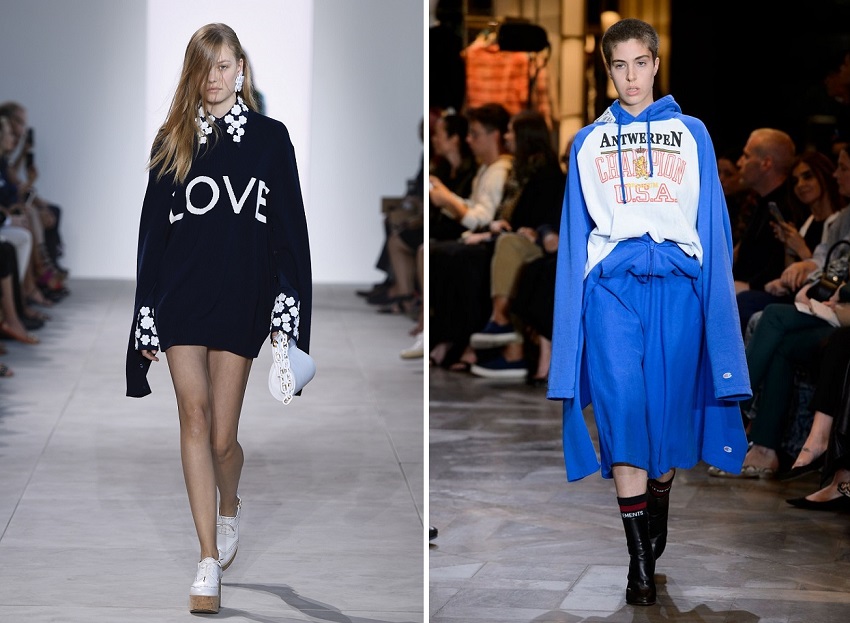 PARKA
PARK: back in fashion, the reason for this is the triumph on the podium of a sporty style. However, the fashionable jacket of the new season is necessarily long and loose cut. The universal option is a long black, like Gigi Hadid's at the Sportmax show, it obviously looks great with a swimsuit, and with a dress, and with knitted trousers. Donatella Versace showed her opinion on retro sports, and Emilio Pucci and Max Mara were carried away by graphics.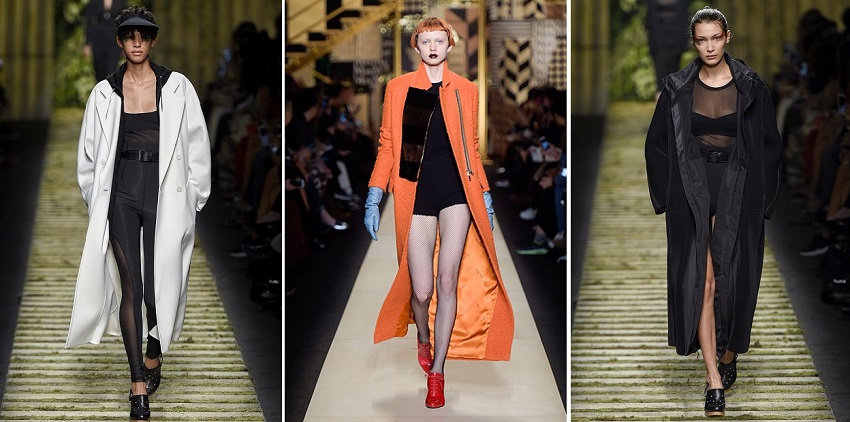 Shoulder Top
The 1980s are back, and it seems like a long time. The main signs of style are brilliance, lurex, bright colors, and most importantly – voluminous shoulders, like the eccentric heroines of the Dynasty series. Tops and dresses with false shoulders will surely be found among the things of my mother's youth. Look for the most fashionable models from Balenciaga, Louis Vuitton and Gucci. Large jewelry and metallic accessories will make the look especially spectacular.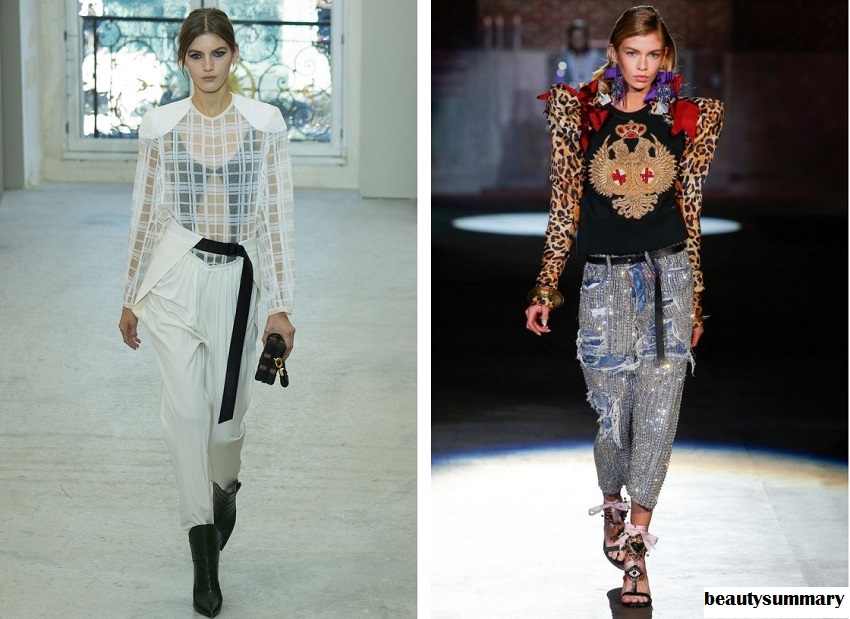 Crop tops
Crop tops flashed on the podium every season, but a surge of interest in the style of the 1990s and 2000s provided him with superpopularity. A knitted top, plain or with the brand logo, probably wore, or at least remembers, everyone whose youth fell on this period. Now it can no doubt be returned to the base wardrobe and worn with wide trousers, a pencil skirt or over the dress.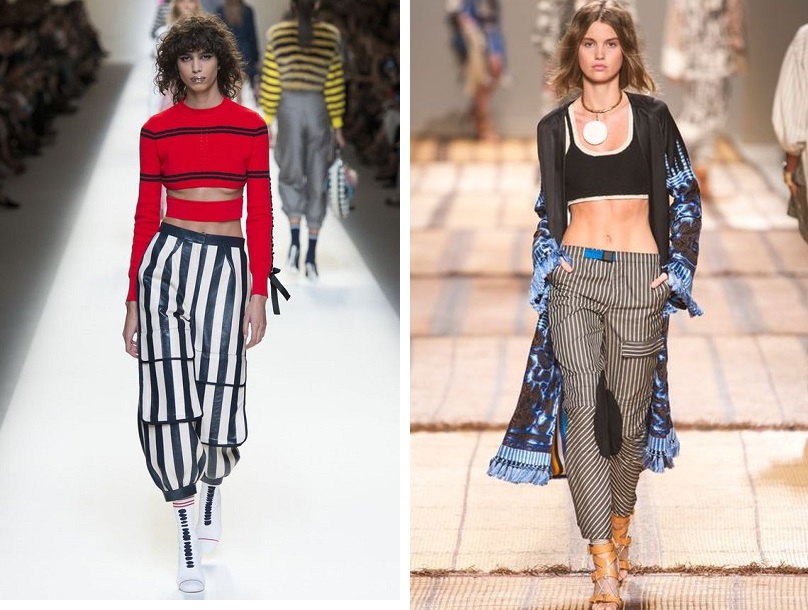 You may also like our article. about fashionable stylish trends of the season 
Be fashionable! Beautiful girl!!!