Content
---
---
Anna Wintour, editor-in-chief of the American Vogue magazine, expressed an interesting idea about spring-summer 2019 fashion. According to her, you should not rush a rash over a new handbag or coat to update the wardrobe for the next season. You just need to learn how to feel fashion, completely plunge into it and try to create stylish images yourself. And so that ideas are generated faster, we offer 20 main trends for spring-summer 2019.
Trend 1 – Asymmetry
Asymmetry is a trend that will not lose its relevance in the next warm season. Dresses with asymmetry of the top will be in fashion – one shoulder is fully open, the other is closed with a sleeve, as in models from Blumarine, David Koma and Max Mara. Imbalances also appeared at the bottom of the outfit – a slanted side placket with buttons, an asymmetrical cut of the skirt.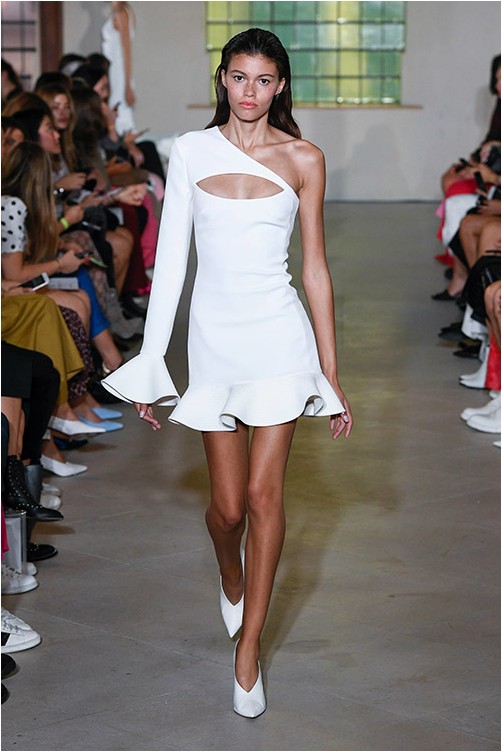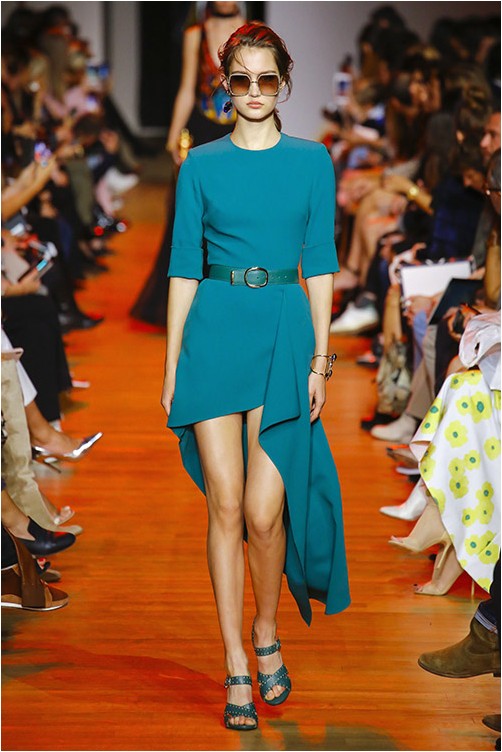 An interesting combination is obtained if asymmetry is combined with shuttlecocks. Ruffles can extend along the sleeve, bottom of the skirt or along the edge of the neckline. Off-White designers successfully implemented another idea – asymmetry + layering. In their model, the shirt is "woven" into the miniskirt, and to enhance the effect of the "cabbage", pleated elements were added.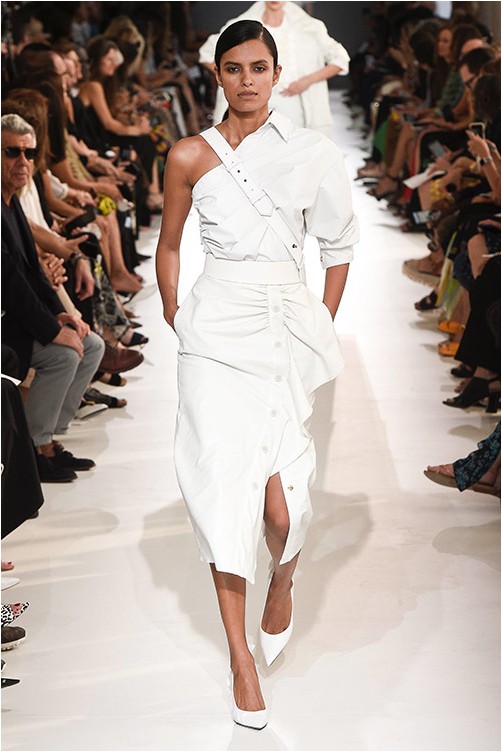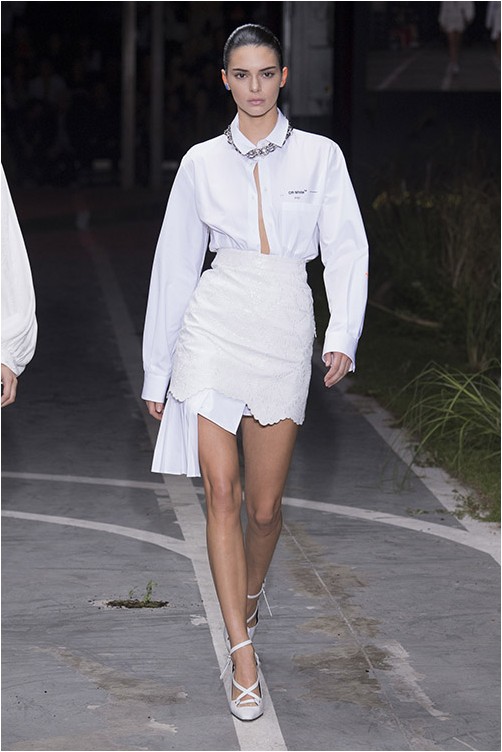 Trend 2 – lush bows
Masculinity is being replaced by 100% femininity. And proof of this is the magnificent bows in the style of the Marquise de Pompadour, which appeared in the fashion collections of Miu Miu, Issey Miyake, Marc Jacobs, MSGM. Bows are no longer a regular piece of clothing. They moved into the category of fashion accessories..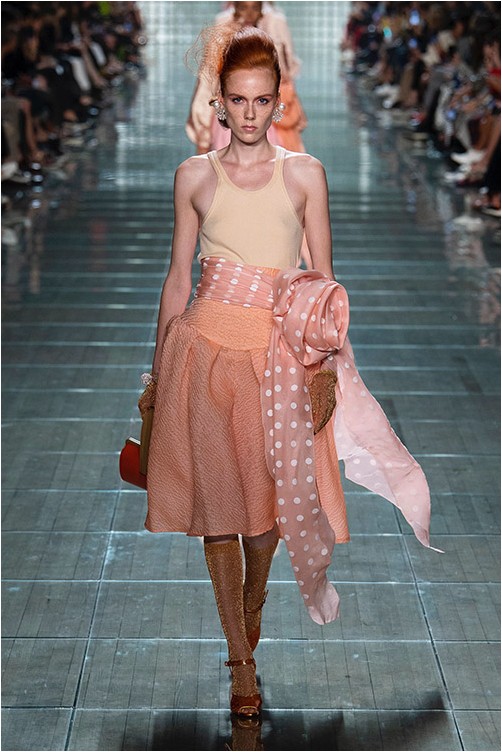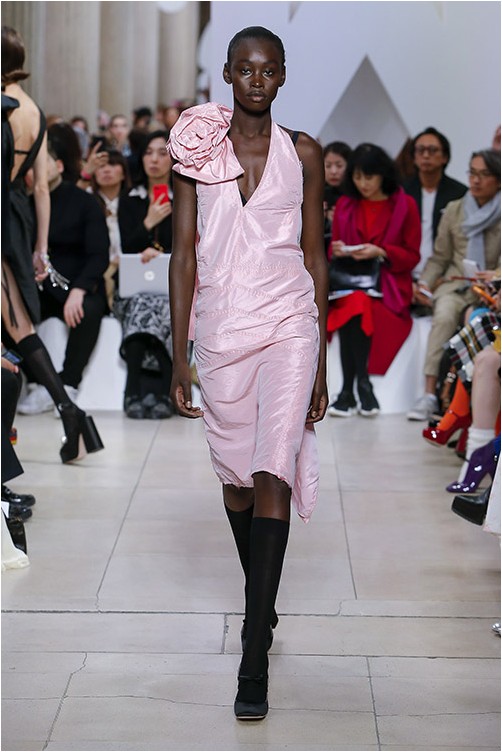 The trend will be bows tied on a belt, shoulder, attached to the pockets of the jacket. Moreover, they can be decorated not only in the form of a classic "butterfly", but also in the form of a swirling large rose. A simple and unusual solution from Dries Van Noten is a bow from a strip of contrasting fabric, tied to the chest. As they say, everything ingenious is simple, and in this case also stylish.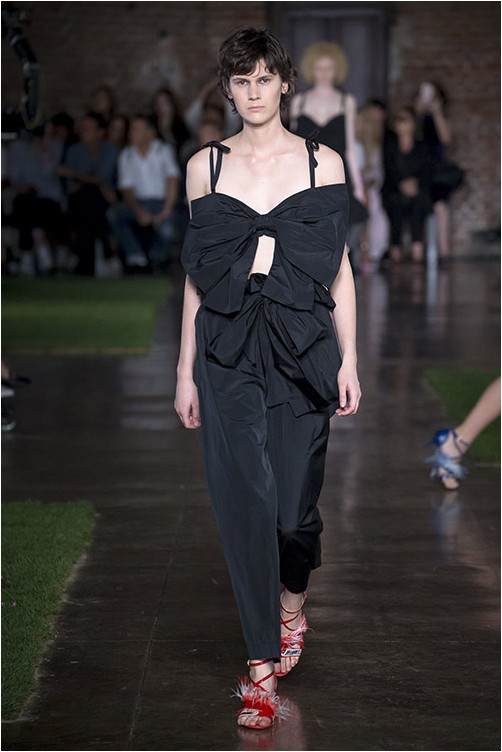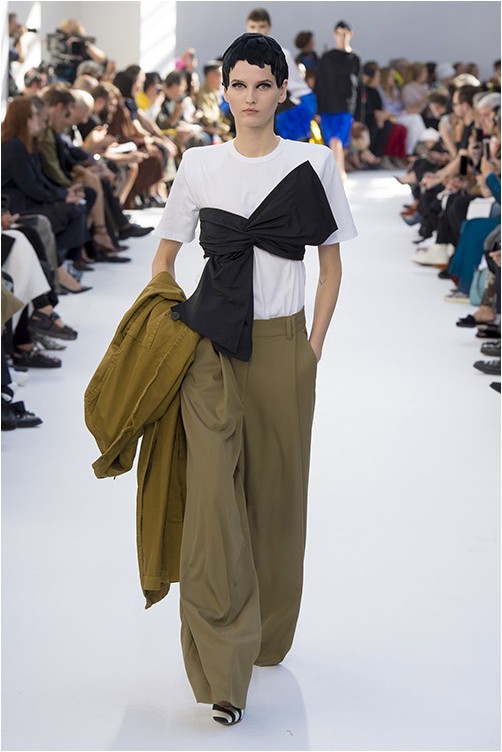 Trend 3 – White Jumpsuit
The fashion for total white has found a new expression – snow-white overalls. It seems that in the spring-summer season of 2019 you can not do without them. After all, they appeared in the collections of many famous designers, such as Giambattista Valli, Isabel Marant, Stella McCartney and Delpozo. There are many options for white overalls. The model will include models resembling overalls for military pilots: with a simple and convenient cut, pockets, zippers, metal rivets and buttons.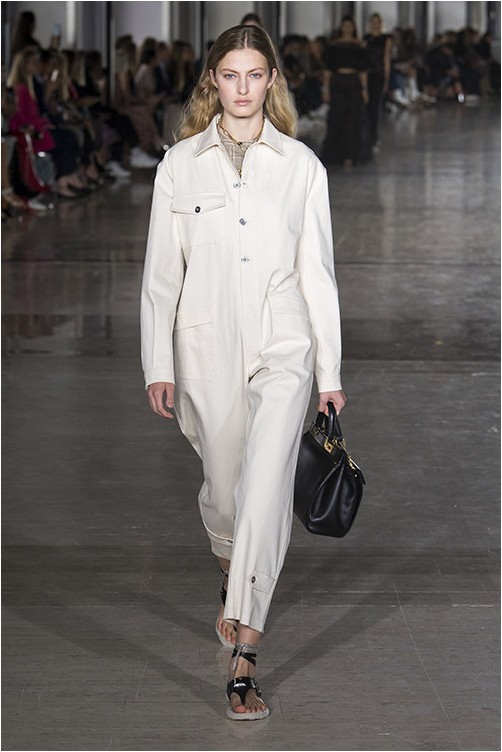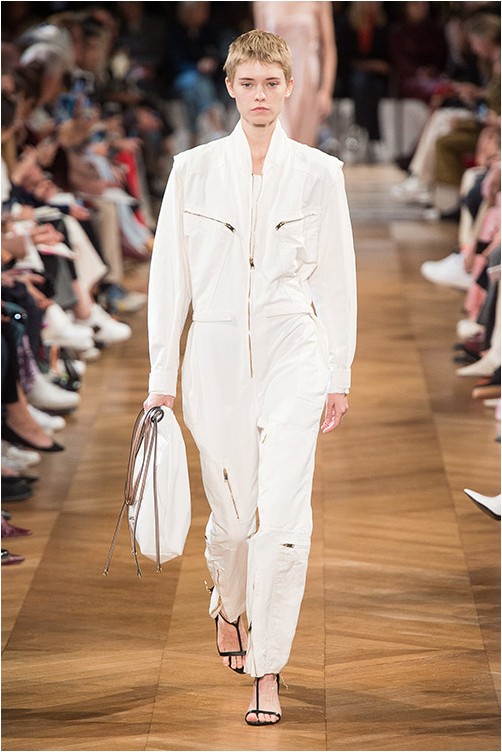 More romantic options will also be relevant: with frills, slits on the shoulders and wide banana trousers, stylized in the fashion of the 1980s.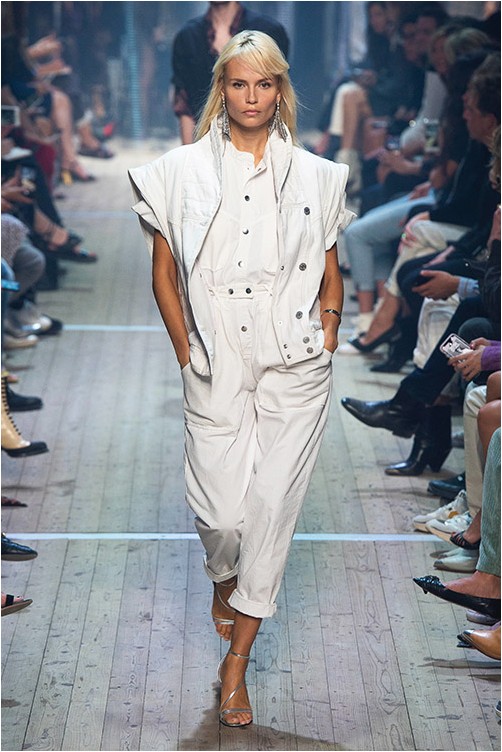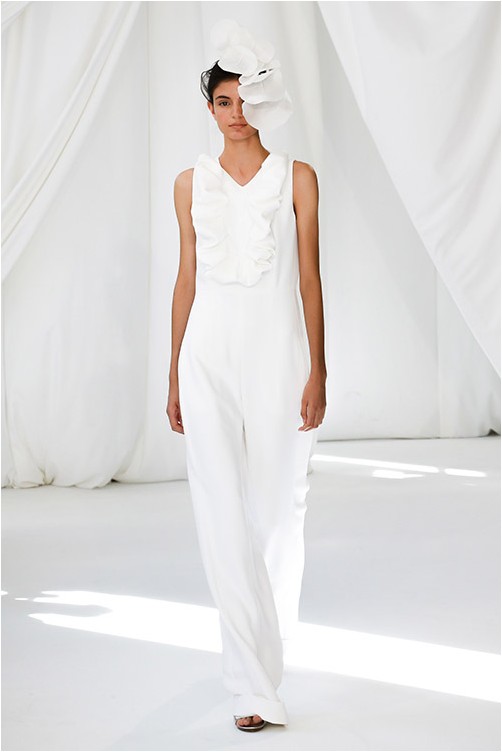 Trend 4 – Slit Pants
Stay in trousers and look feminine. Designers have proposed their solution to the question: you just need to make cuts on the trousers. That is why original fashion trousers with cuts appeared at fashion shows..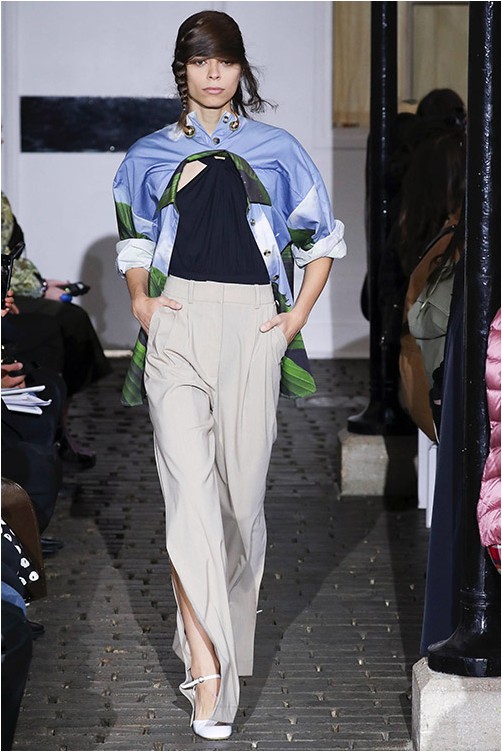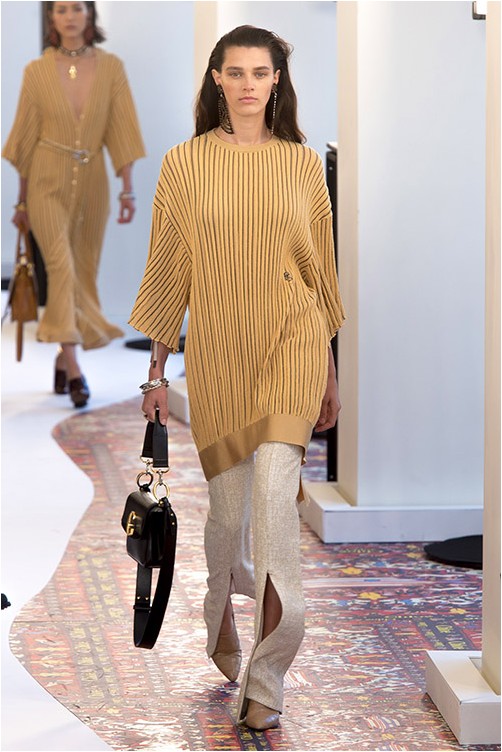 At the same time, the incisions can be small: reach the knee, and can rise to the very thigh. High cuts combined with Chanel wide trousers resemble a skirt-trousers from the 80-90s retro fashion.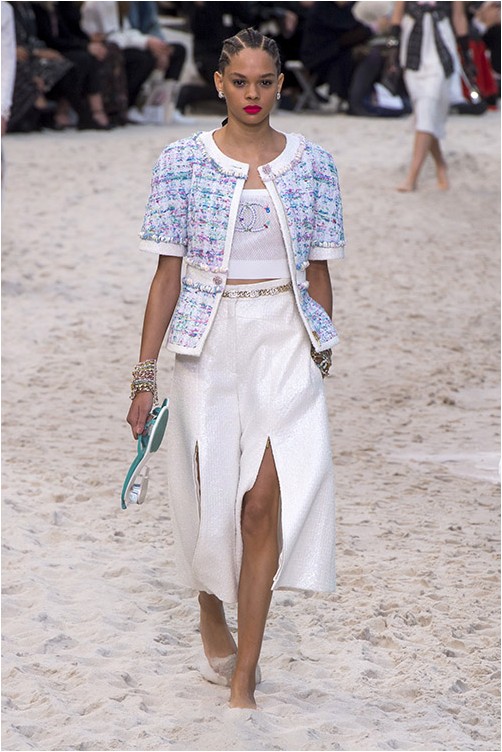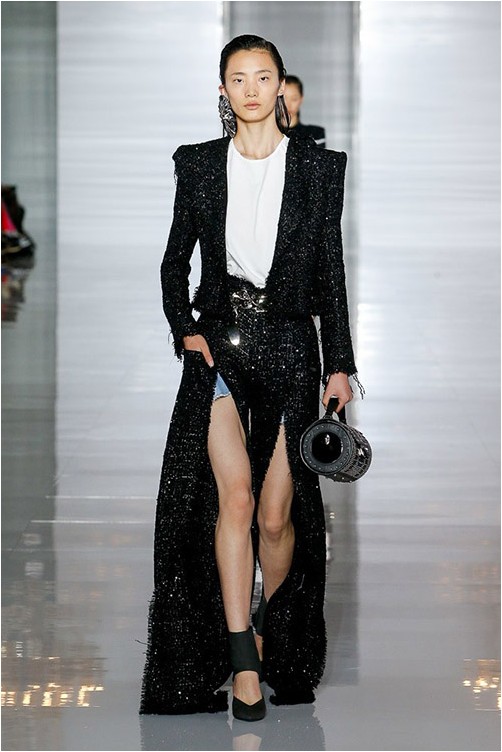 Trend 5 – Cooked Denim
Vintage denim is in fashion, but boiled denim is at a premium. And from it sew not only dresses, skirts, jeans, overalls. "Varenka" today is used to create fashionable bags, accessories and even shoes. Such a fashionable Total look was proposed by Isabel Marant, Christian Dior. The image was concise – boiled denim and nothing more.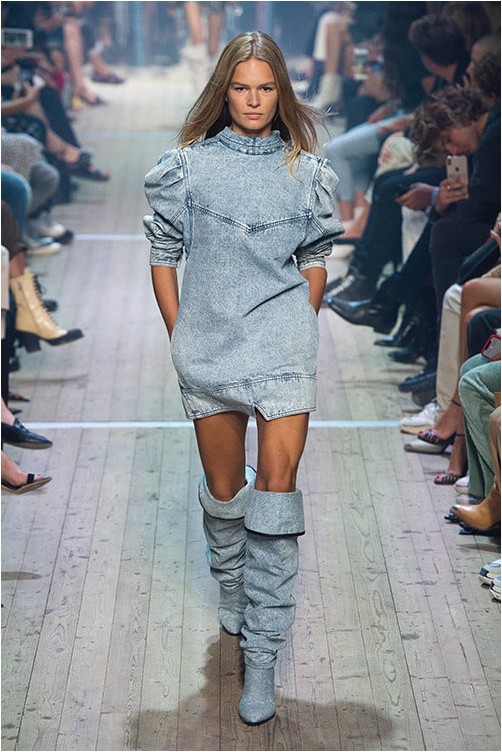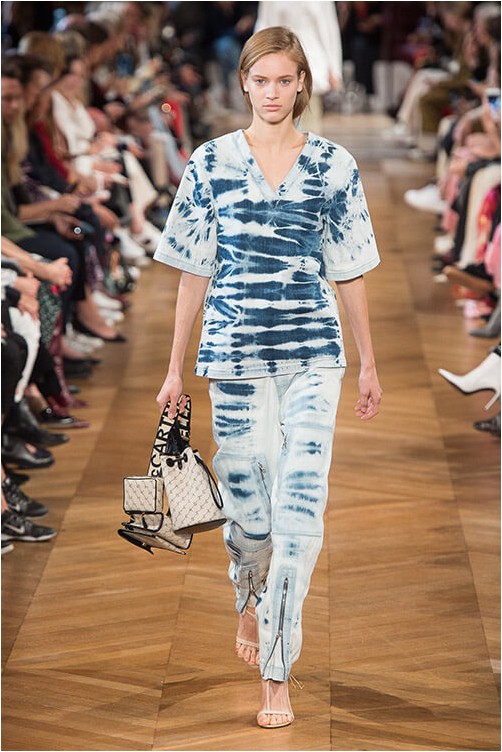 If you don't like a mono look, then choose combined models from "varenka" and other fabrics. This combination has also become popular at past fashion shows..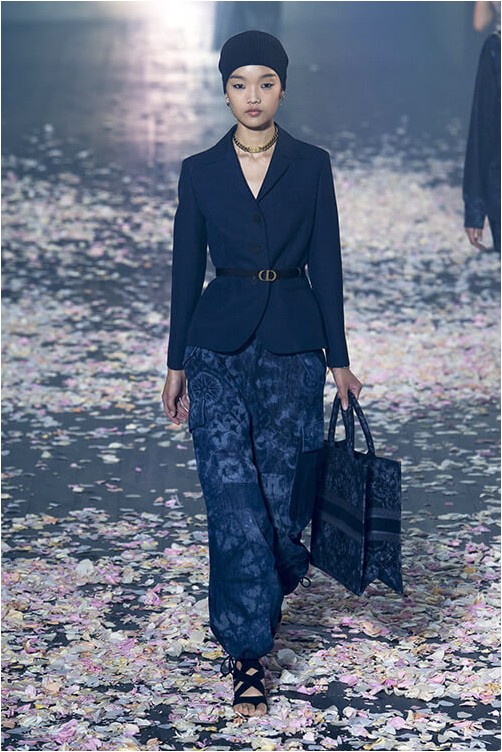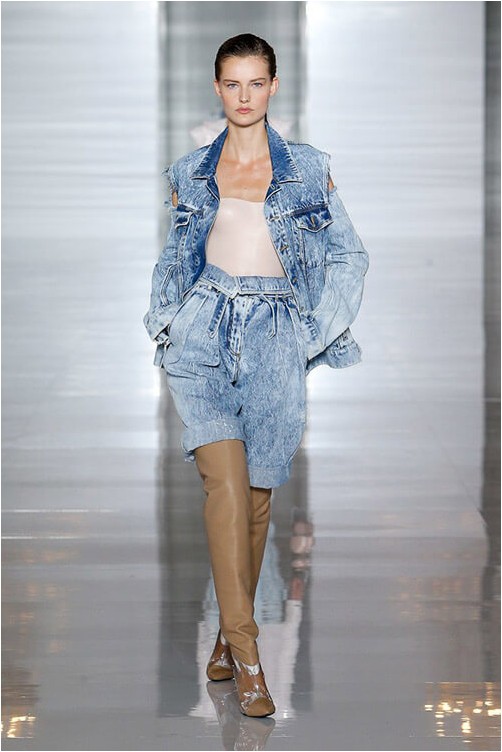 Trend 6 – Bicycles
It seems that the craze for sports has spread to the fashion world. Otherwise, how to explain such a number of bikes in fresh fashion shows? Today, they can be combined with almost any clothing – a jacket, a shirt of a complex cut, elegant tunic, a vest with sequins and a bomber jacket. Now even the evening look with bicycles has become possible..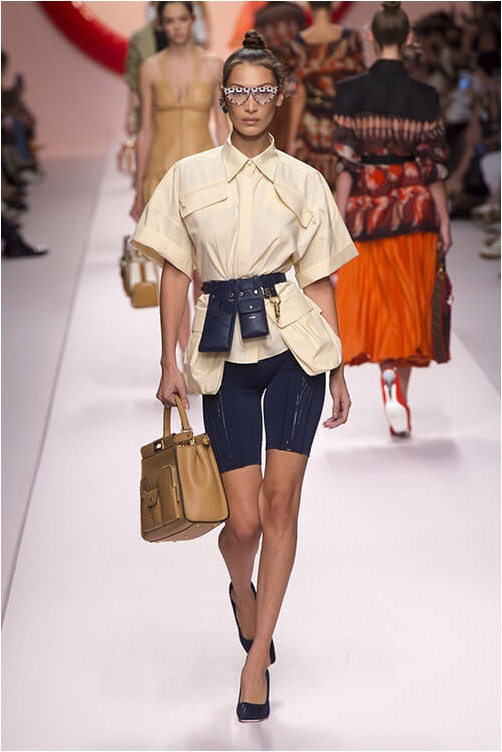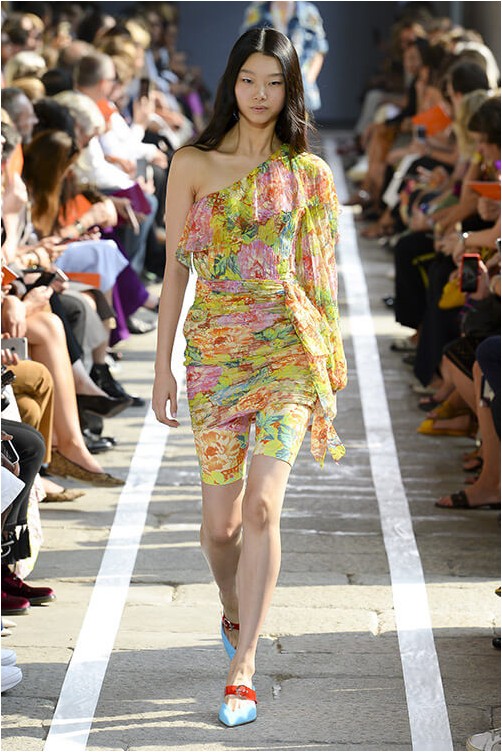 Asymmetrical wrap dress and black, tight-fitting biflex bikes strewn with shimmering rhinestones complete with metallic-colored boots – this is what a fashionable image for a festive occasion looks like. The designers of Stella McCartney suggested a completely unexpected option – a jumpsuit with a floral print, the bottom of which is decorated in the form of bicycles.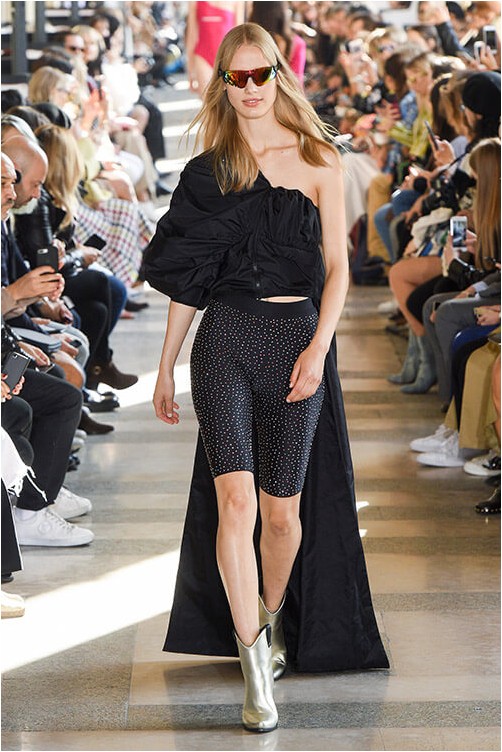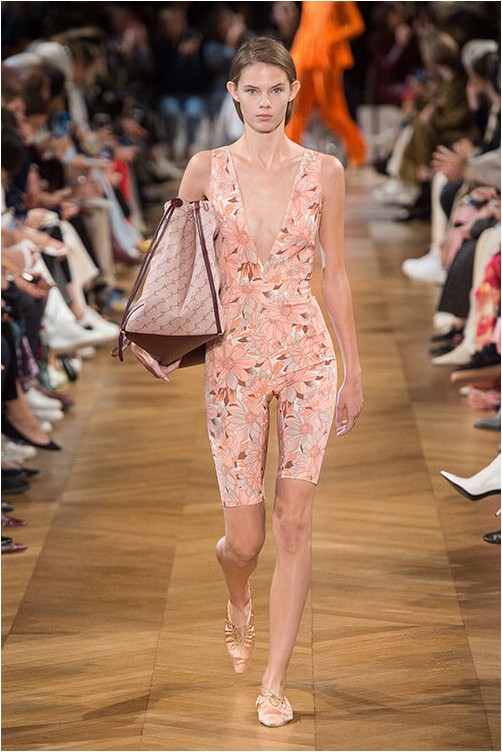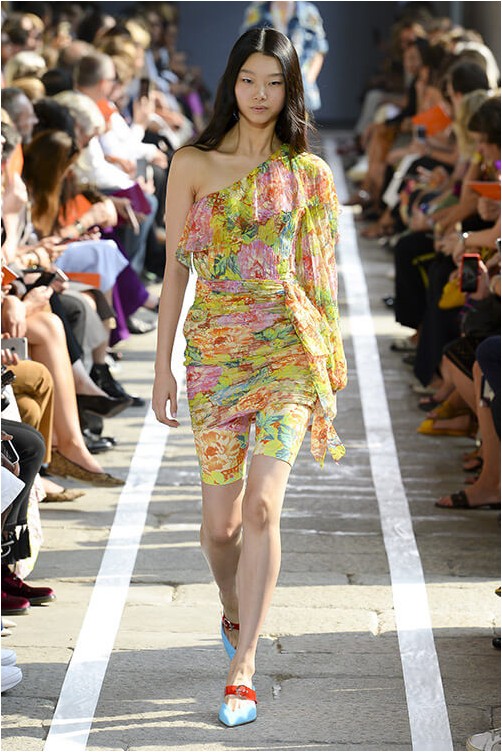 Trend 7 – "Polka dot"
The picture "Polka dot" cannot be called a new trend. He goes from season to season for several years in a row. But in the spring-summer 2019 season, it will become the most relevant print, having displaced predatory and floral motifs from the fashion catwalk. All kinds of "Polka dot" patterns are welcome: large, small, combined, clear and blurry.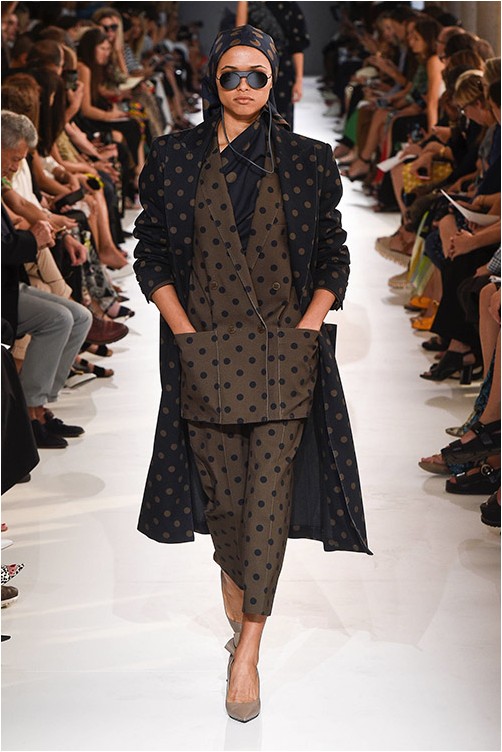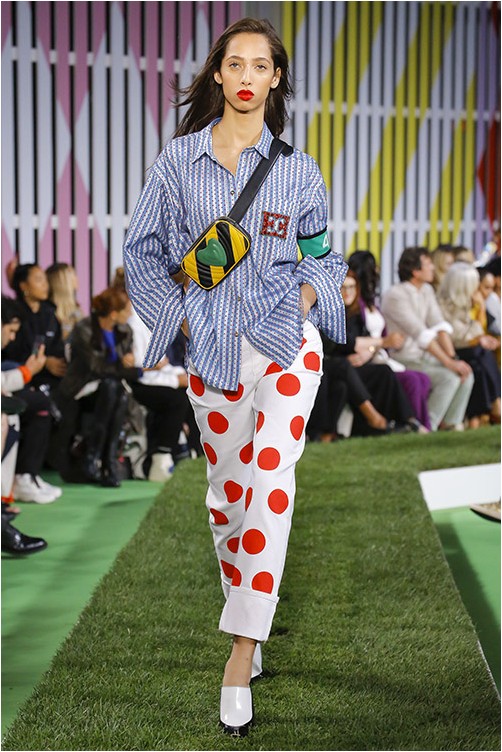 Choose such clothes to your liking, but consider one important feature of the picture – it can visually change the proportions of the figure. Therefore, for slender girls, a larger picture is suitable, and for size + girls it is better to choose a smaller print.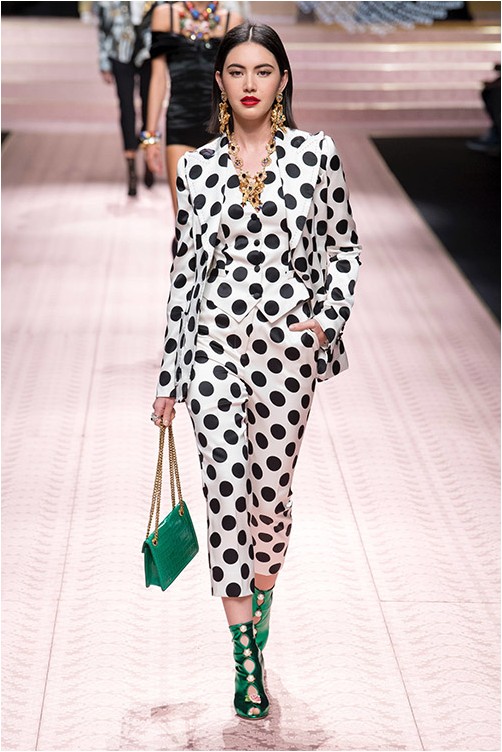 Trend 8 – Degrade
Graduated color transitions degrade actively used by designers in fashion collections. Rainbow colors appeared on clothing, accessories and shoes. The colors used were very different, mostly bright and rich, but orange-red transitions dominated.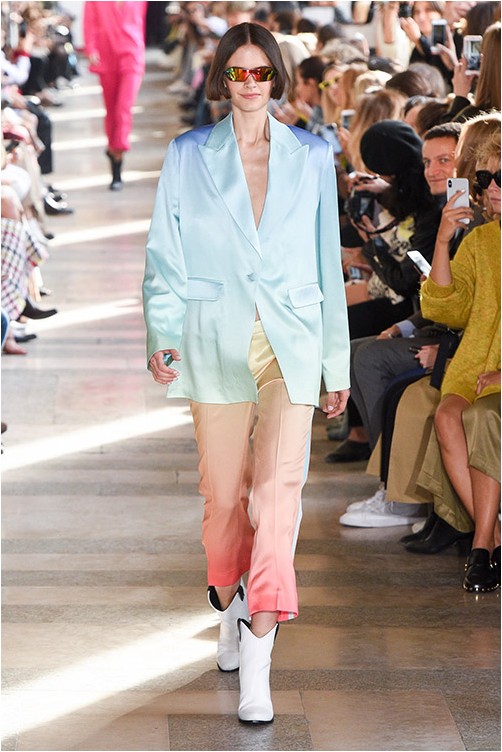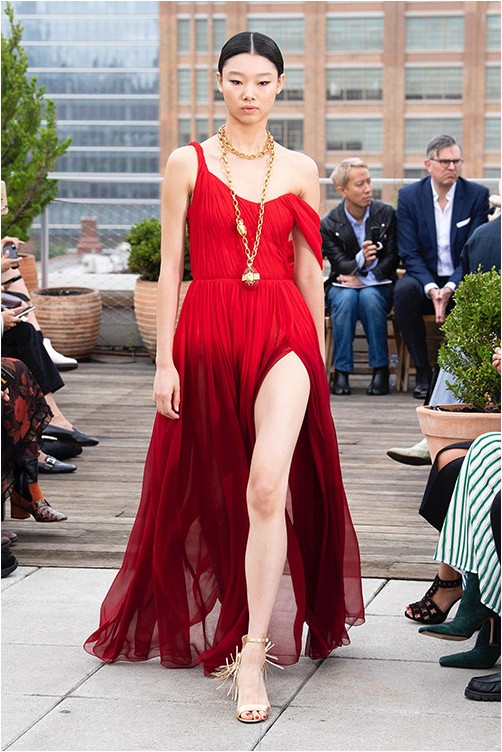 There were exceptions, for example, gentle beige and smoky overflows on clothes, like Christian Dior and degraded in pastel colors like Alberta Ferretti.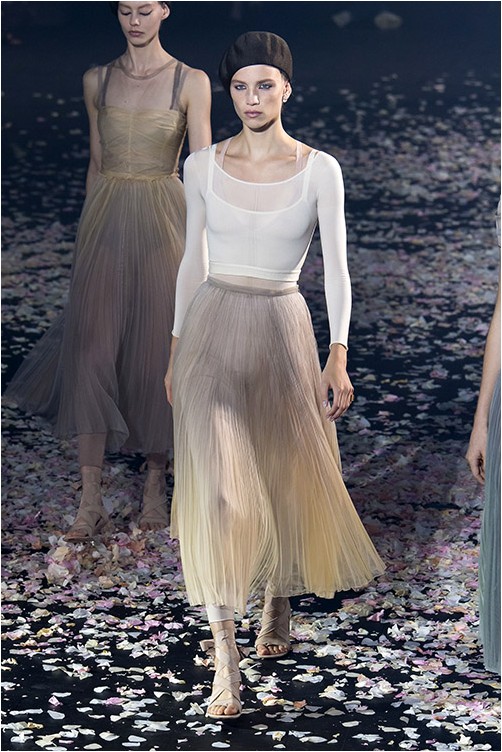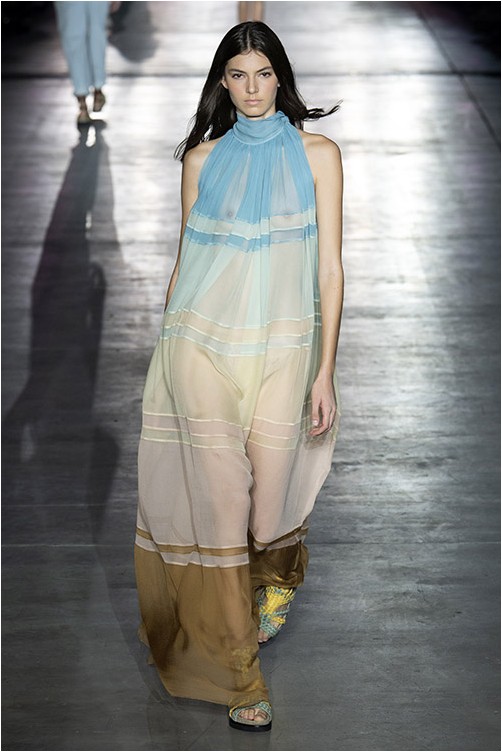 Trend 9 – Shorts & Breeches
Modern shorts have long gone beyond the military style and are not at all like the military uniform of British soldiers. In the spring-summer season, they became part of business clothes. And this is not surprising. Prada and Off-White Shorts Look Elegant and Strict.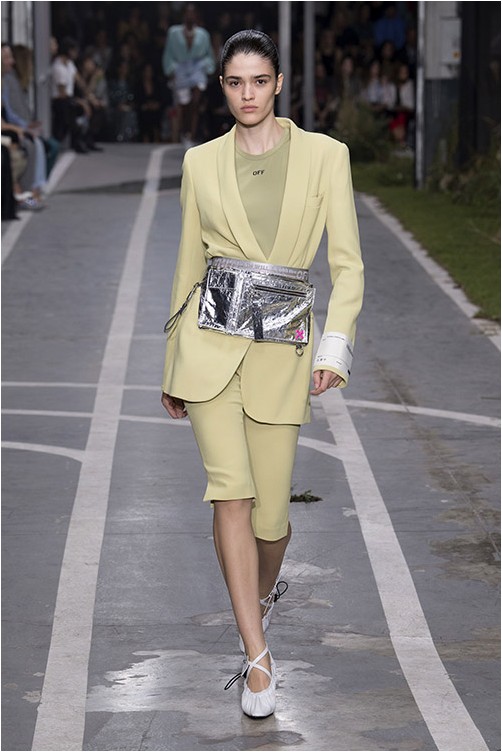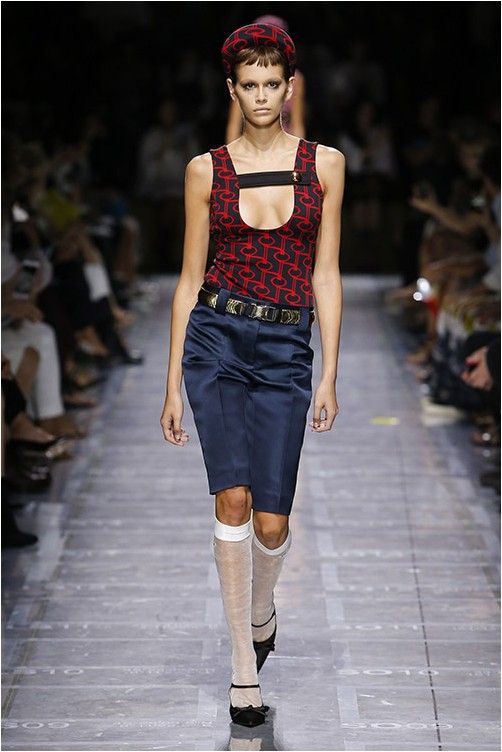 Trend 10 – Crochet
Crochet technique or crochet lace knitting was relevant recently. In 2017, the Italian brand Moschino presented a stunning collection of crocheted skirts and T-shirts in the style of "grandmother's squares".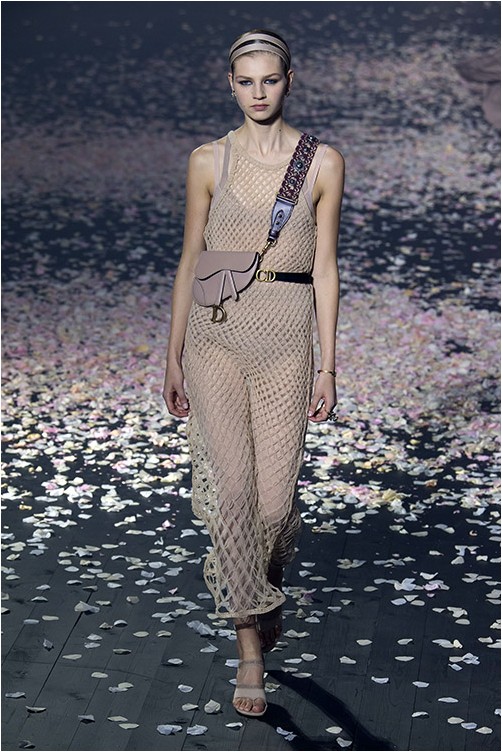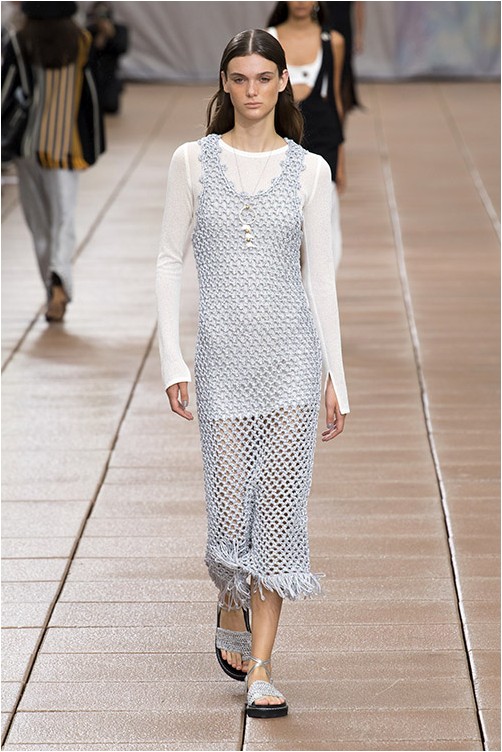 In the warm season of 2019, another crochet technique will come into fashion – a large, rough mesh knit. But there was a place for romance. Models from Chloé are composed of hundreds of knitted openwork flowers.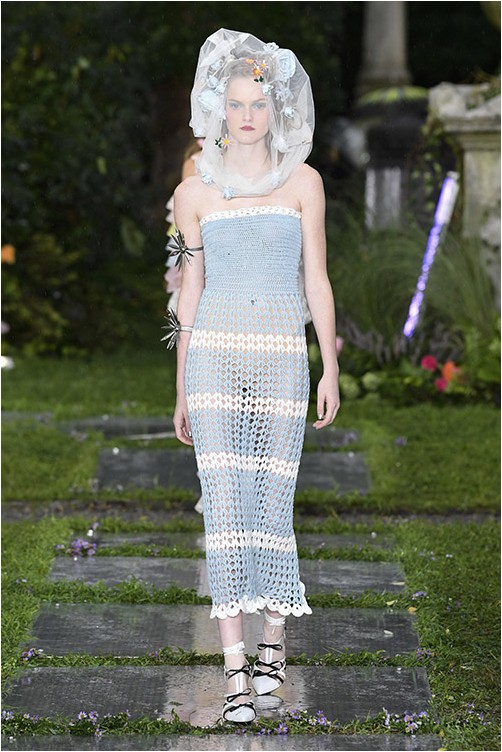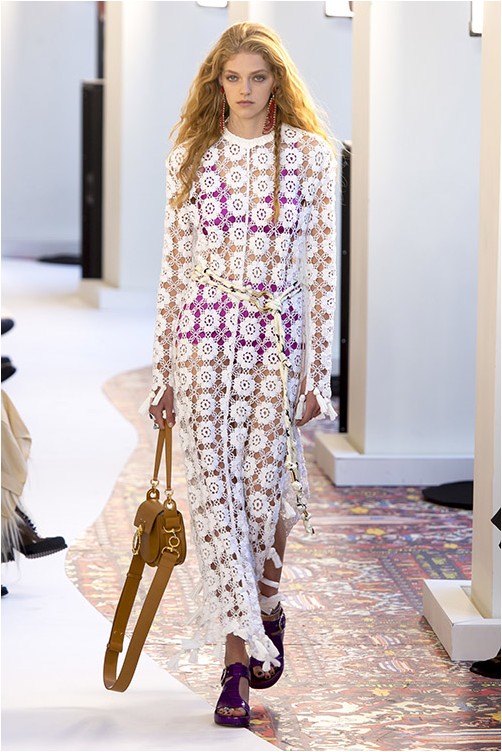 Trend 11 – Mallet Dress
Andrew Gn, Marc Jacobs, Giambattista Valli and several other famous designers decided to revive interest in cascading dresses of mallet. Models with a short skirt in the front and a long train at the back will become the trend of the spring-summer 2019 season.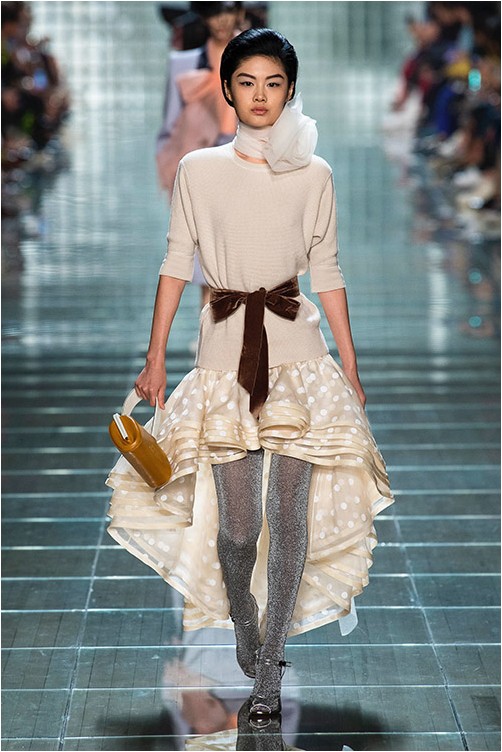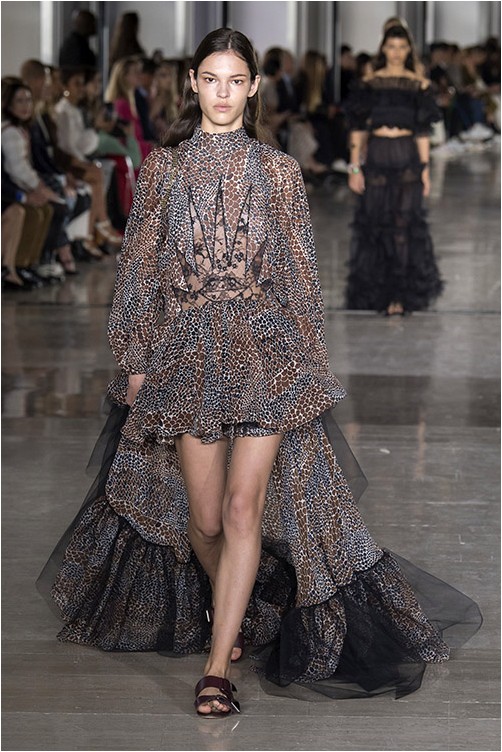 But mallet dresses have a "complicated character". Low girls are better off giving a full skirt.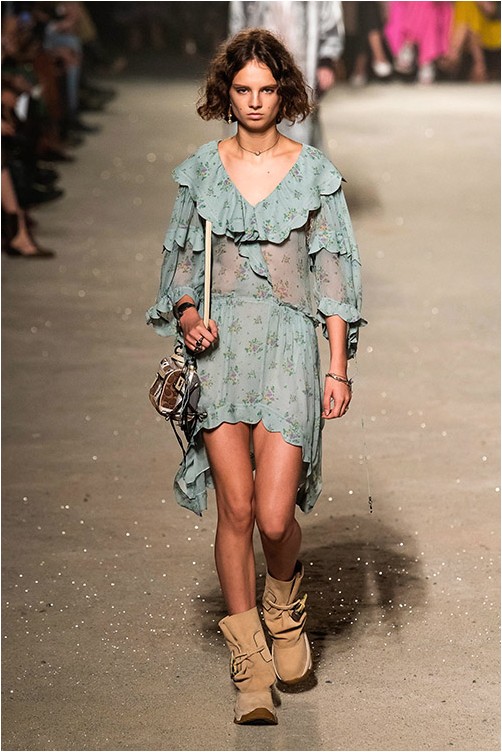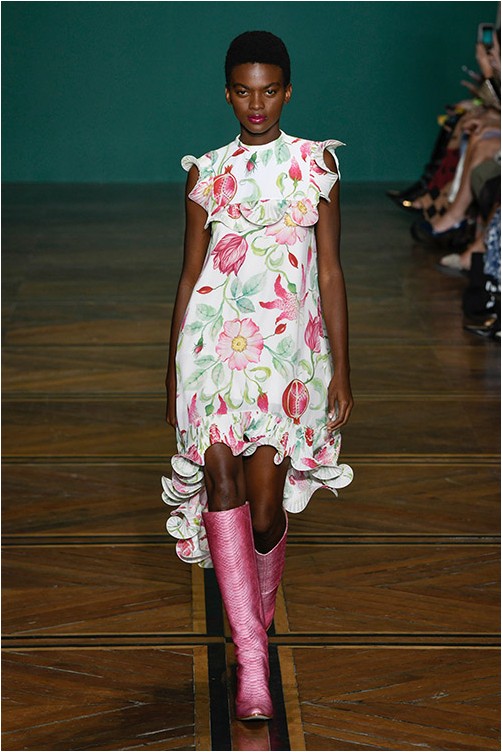 Trend 12 – Pockets
Pockets sewn on top of the canvas are considered the most comfortable. Now they are also the most trendy. Large pockets with and without valves are in fashion. They appeared both on light dresses and blouses, and on jackets and cloaks.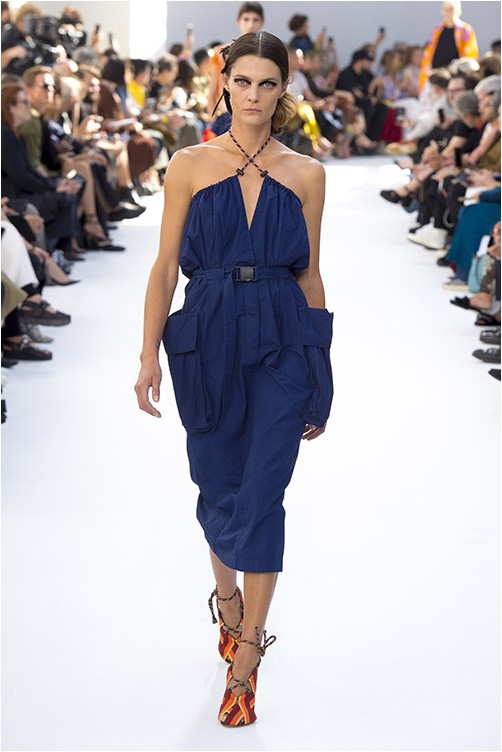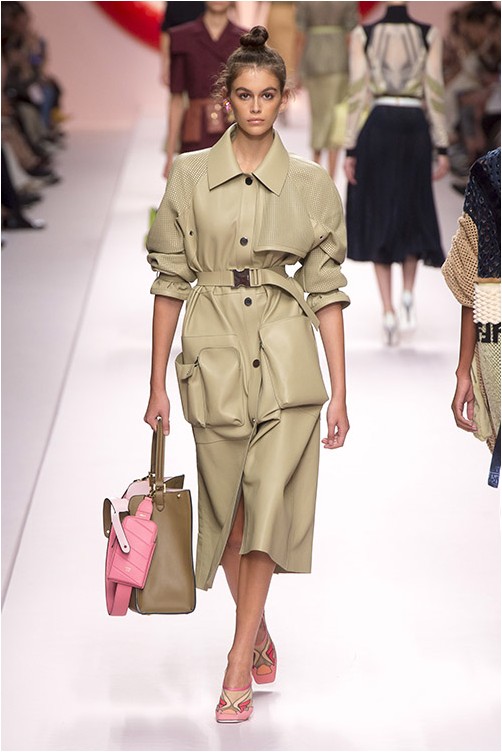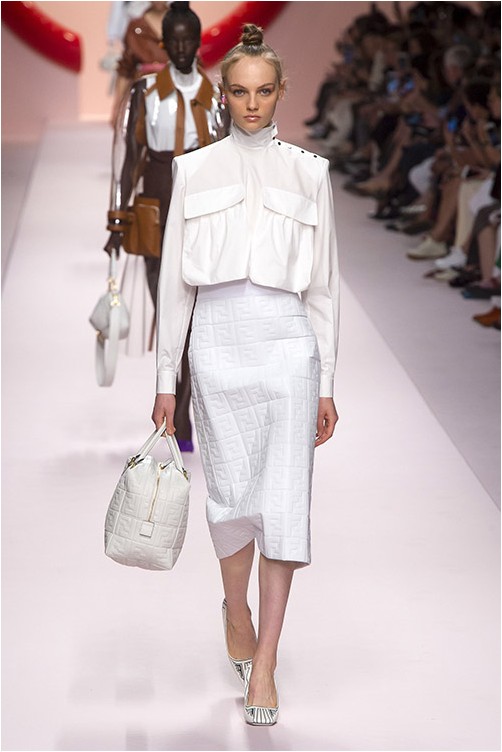 The trend towards layering has proven itself in these practical models. Sacai offered a series of models literally dotted with pockets. With so many spacious pockets you can forget about bags, backpacks and clutches.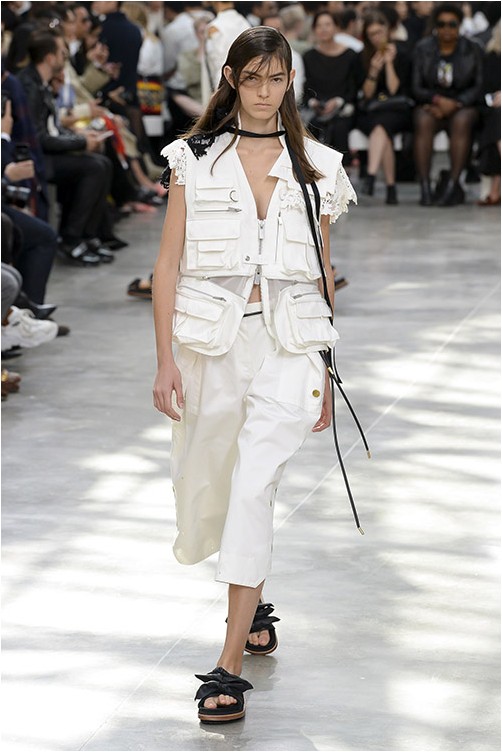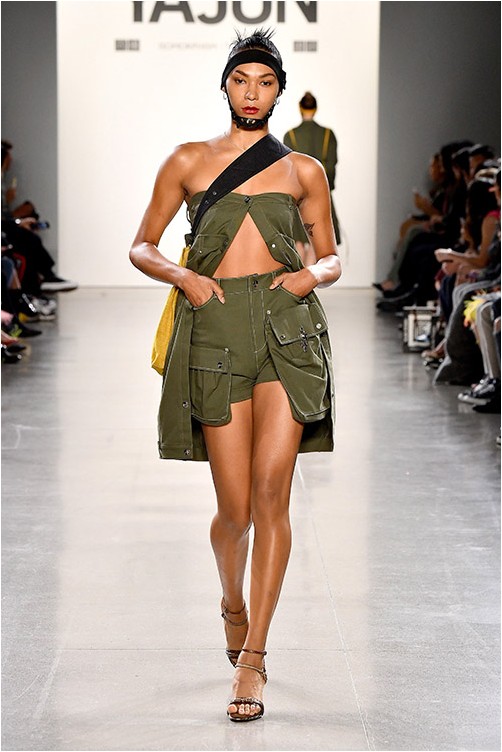 Trend 13 – Feathers
No matter how strange it may sound, it's fashionable to wear fluff and feathers now. Glamorous vintage feathers adorning the bottom of dresses and not only is a trend that has moved from winter to summer. They can decorate any item of clothing: pockets, jacket collar, bottom of trousers. May merge with the outfit, and may contrast.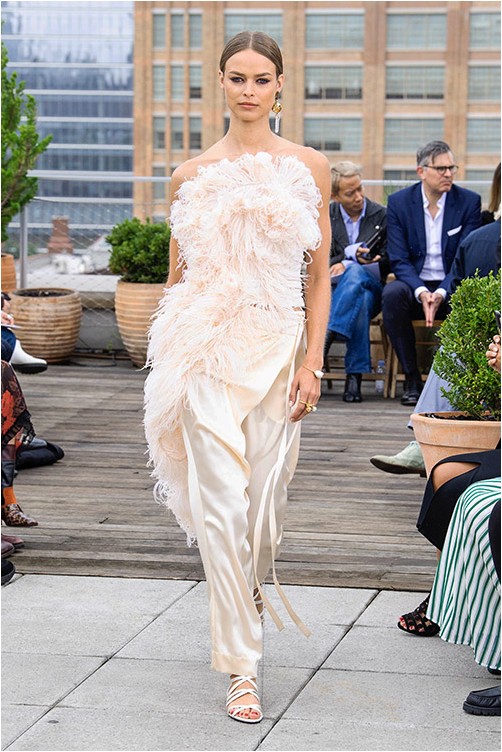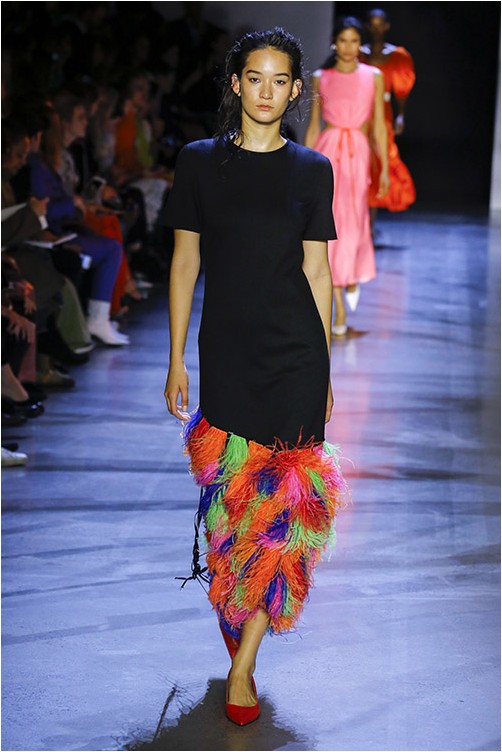 For example, in the collections of Prabal Gurung and Loewe, the "plumage" turned out to be colorful and rainbow-like in the summer. And Tom Ford and Oscar de la Renta have relied on the glamorous chic of fashion of the last century. In some cases, feathers fit well even in casual style.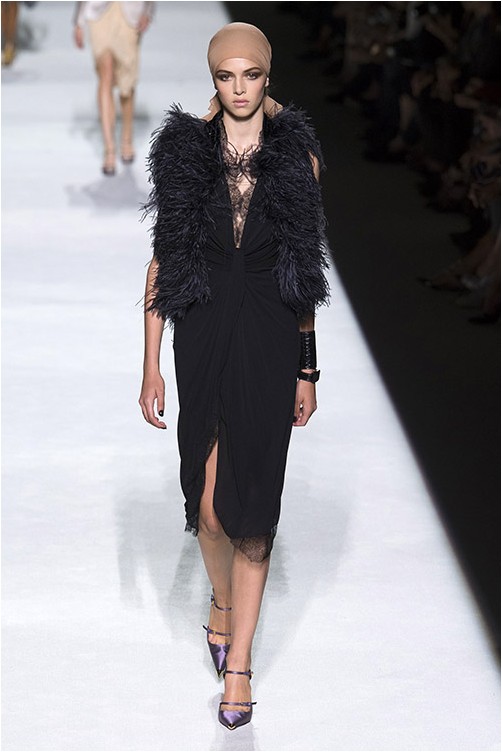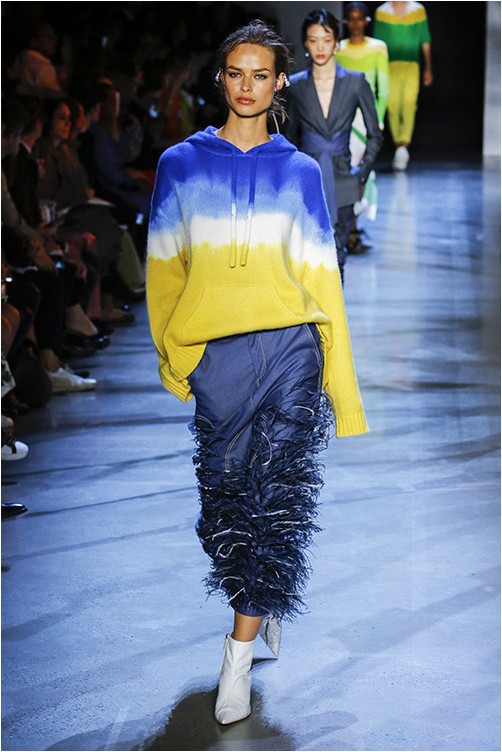 Trend 14 – Shawl Print
A bright and original shawl print replaced the millefler and tapestry drawings. Colorful shawl patterns migrated from shawls to dresses, blouses and even pantsuits. Chloe designers presented models combined from different fabrics with a contrasting shawl print. Etro decided to replace the beach pareo with a colorful trouser set with handkerchiefs.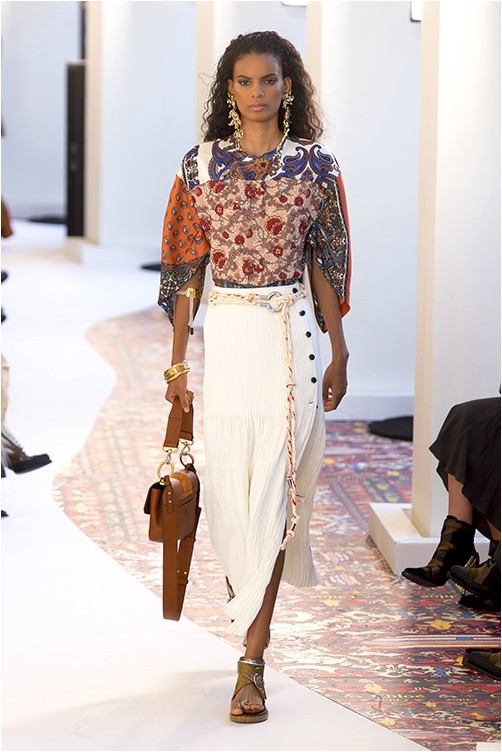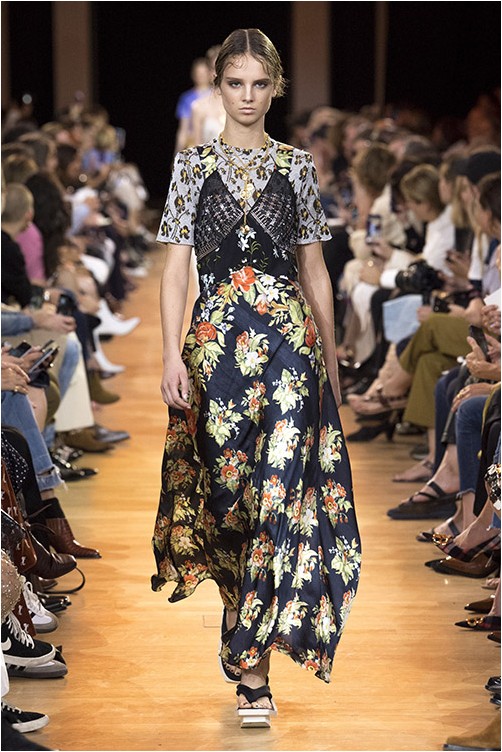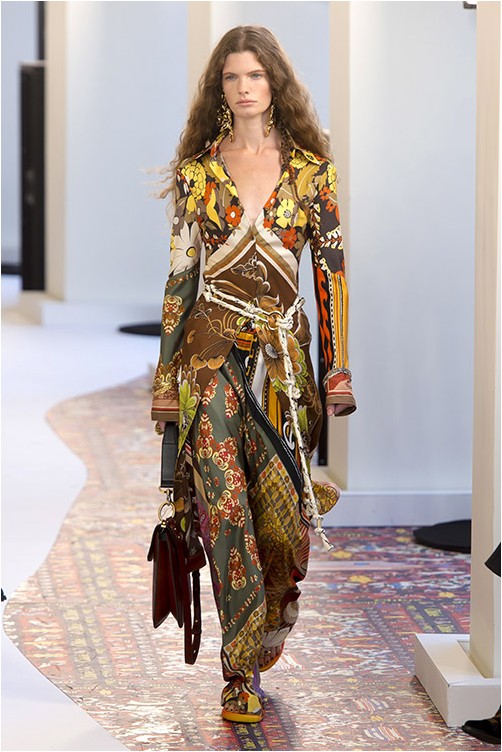 Trend 15 – Pleated
Pleated does not happen much – they counted in many famous fashion houses and created a whole series of dresses, skirts, overalls and tunics in a small fold. But in the spring-summer season of 2019, the accordion pleats appeared in a new image. Asymmetric dresses and pleated skirts are in fashion.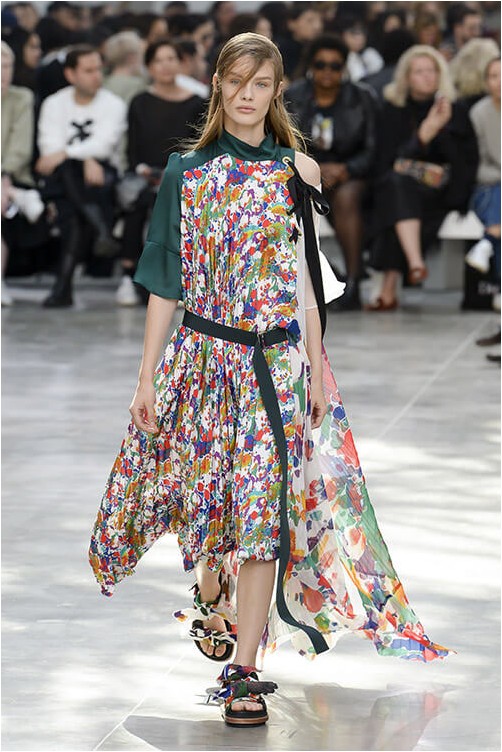 No less relevant are dresses that are completely tailored from pleated fabric. Moreover, the stripes of folds pass in different directions: up, across, along an oblique line. How do you like the pleated Total look from Valentino? In the model from the cult designer, even a pleated cloak.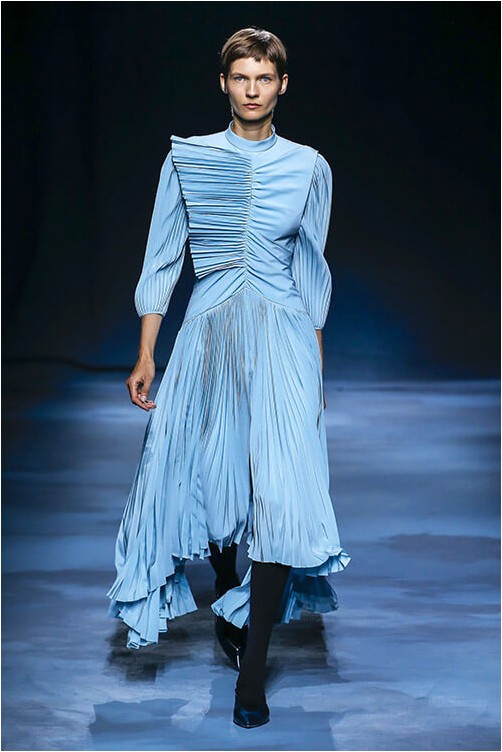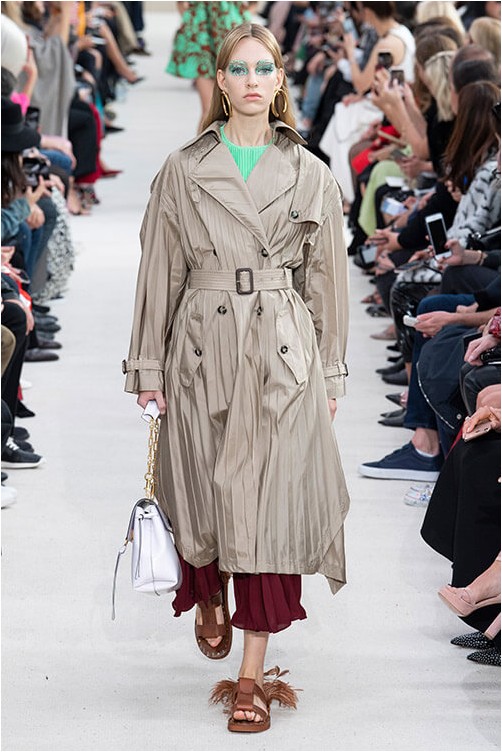 Trend 16 – Shallow Strip
The strip in the summer season 2019 is a variety of colors. And most importantly: they must be thin and multi-colored. A small multi-colored strip appeared in the collections of Badgley Mischka, Stella Jean, Y / Project, Monse, JW Anderson.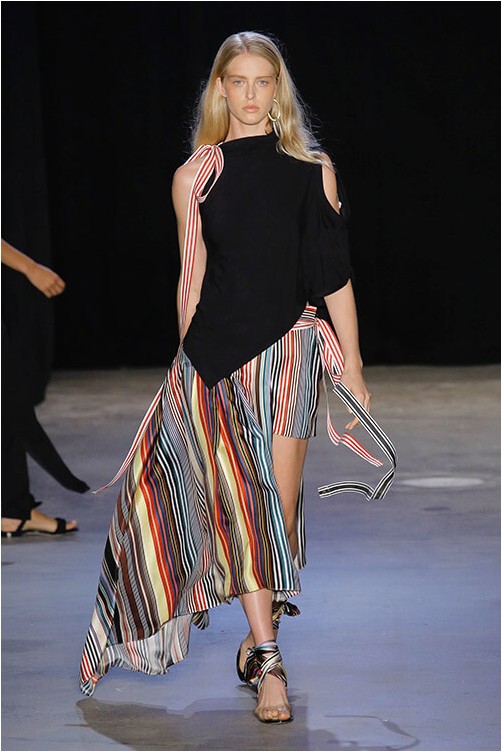 The striped total look will become relevant, in which the bands pass in different directions. And also found its place and calm black and white combination.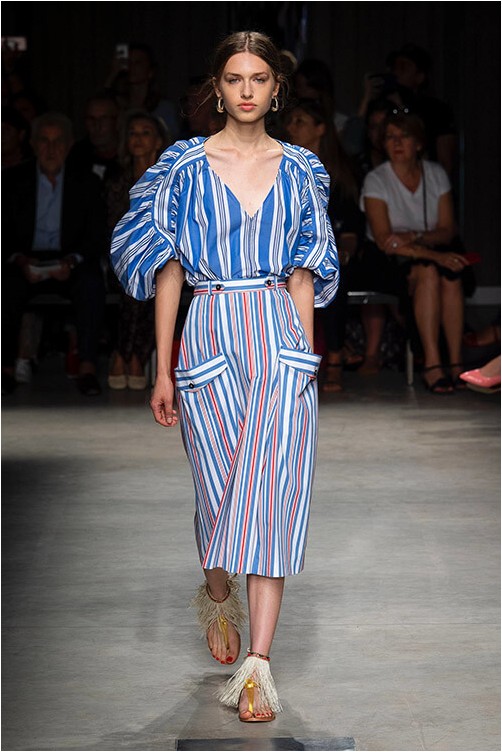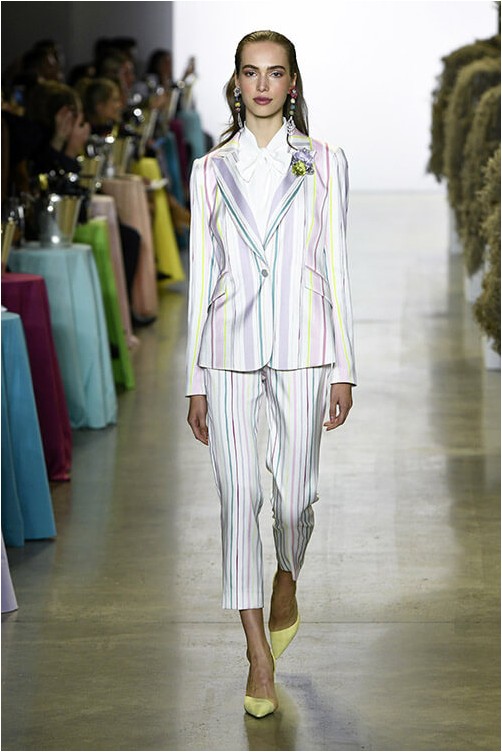 Trend 17 – Tie-dye
One of the highlights of this spring is the Tie-dye print. Literally, the term translates as "tie-dye". This is how unusual color overflows on clothes are achieved. The fabric is folded, wrapped, tied and dyed folded. When the material is untied, an unusual ornament remains on it. Rainbow colors appeared even on leather outerwear.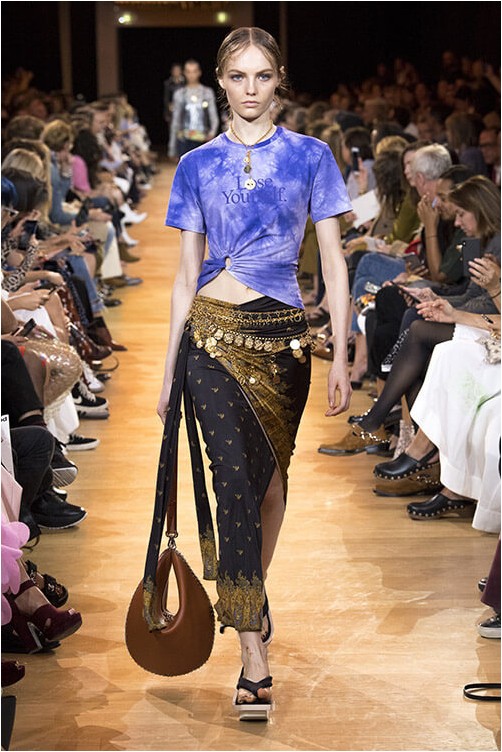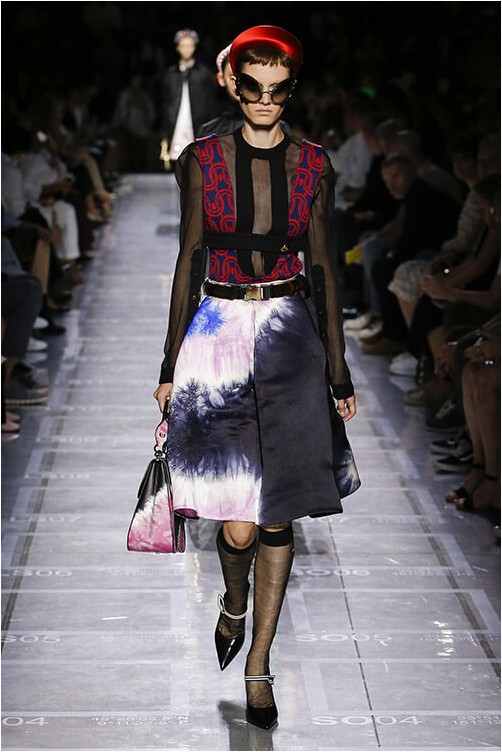 Tie-dye experienced a real boom in the hippies in the 1970s. This summer you will have the opportunity to feel the free spirit of the youth of the last century. The truth is now Tie-dye does not look as psychedelic and hippy as before.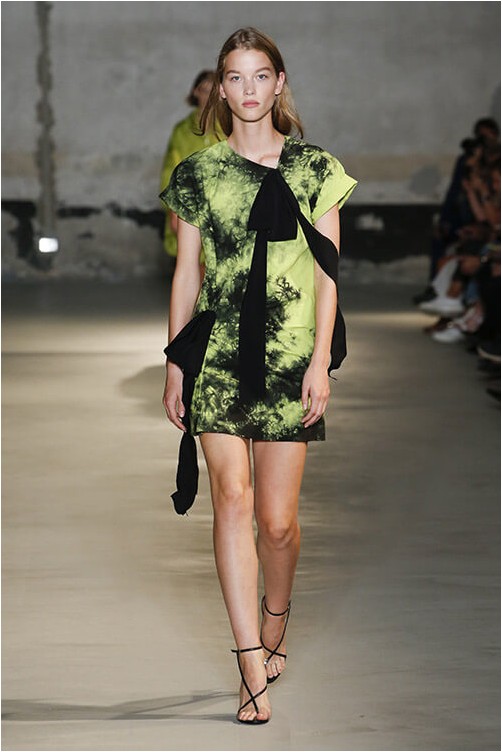 Trend 18 – Creative Prints
Some believe that the designer turns to prints when he has run out of ideas on the cut, silhouette and presentation of a new image. But on the models from Louis Vuitton, Mugler, Prada and many other high-fashion trendsetters, you can't say that they have run out of fantasy. On the contrary, avant-garde and sometimes surrealistic models with creative prints from famous designers suggest that they still have a lot of creative.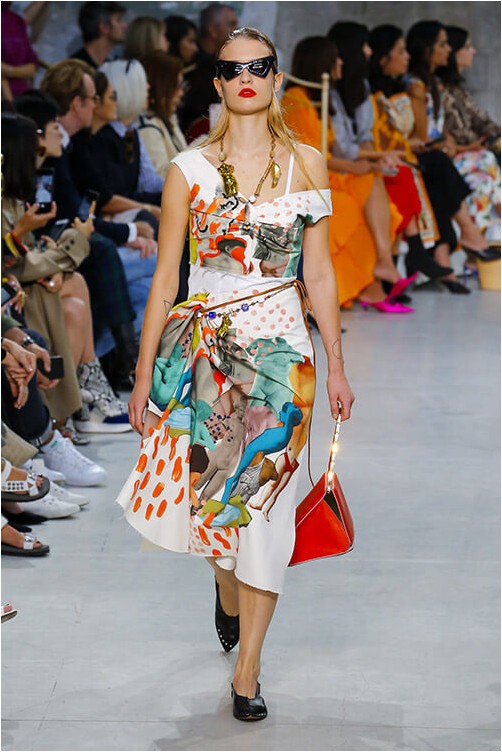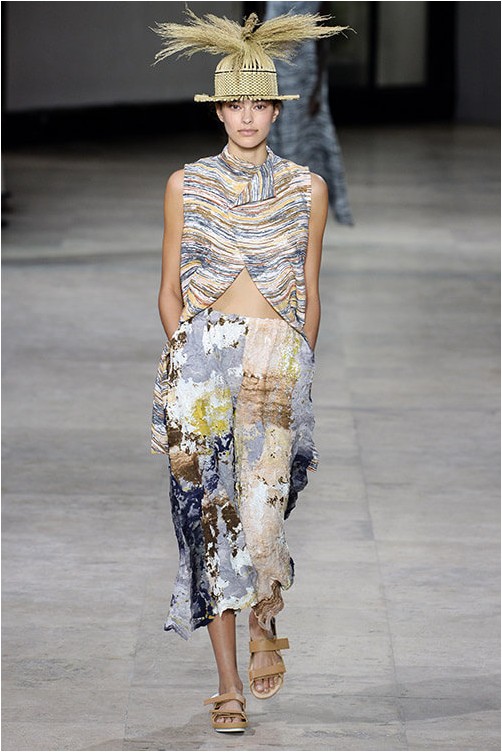 At the latest fashion shows, many original prints appeared, colorful and original, unlike the standard understanding of the pattern on the fabric. Bright, splashes of paint, color stains, colorful specks, spots and dashes, art deco elements and plots from surrealistic paintings – all of this found a place in the fashion collections of the spring-summer 2019 season.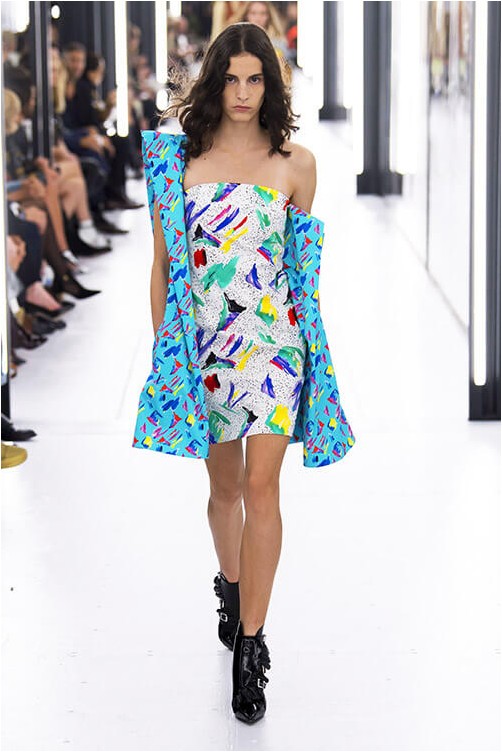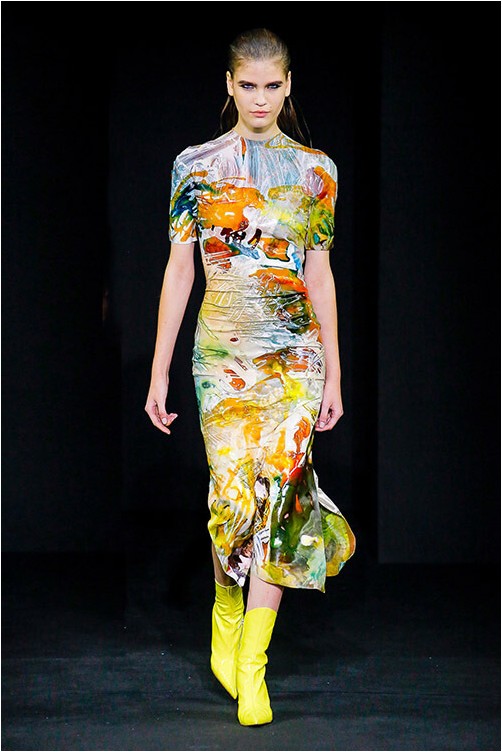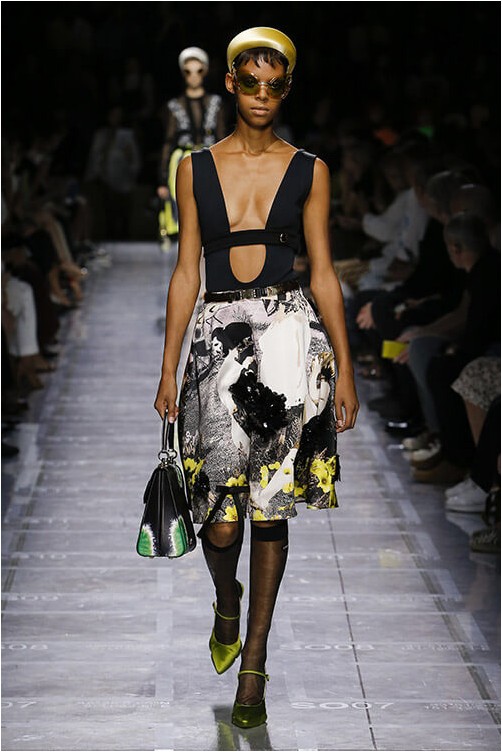 Trend 19 – Shell Shape
The shell-shaped cut is one of the most original and fresh trends in the spring-summer of 2019. Balmain, Gucci, Each x Other and Valentino presented unusual models with magnificent shell sleeves. According to fashion critics, this shape of the sleeve will be the most trendy in the warm season.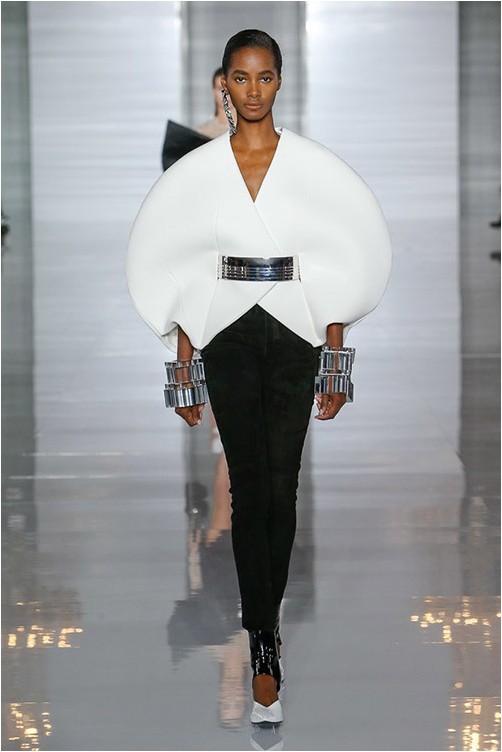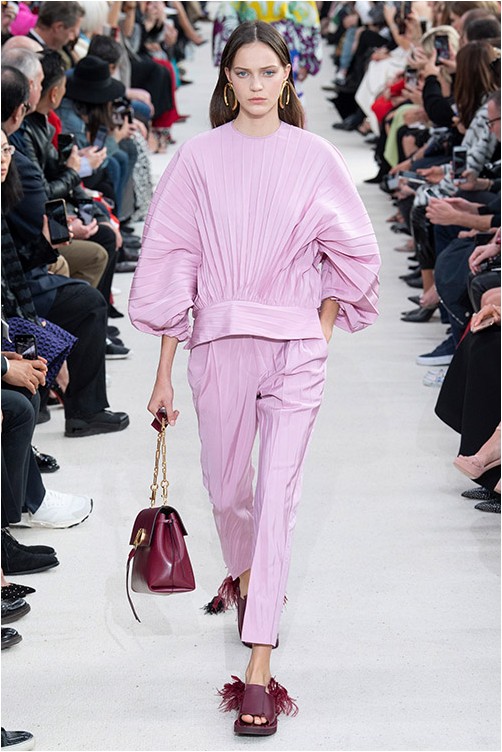 The corrugated effect is obtained due to the pleated and large folds on the shoulders. The "shell" will not only look fashionable, but will also help "smooth out" the angular, wide shoulders. If you are not ready for such non-standard experiments, pay attention to the form fashion bags this season. Many of them repeat the surface of the shell exactly.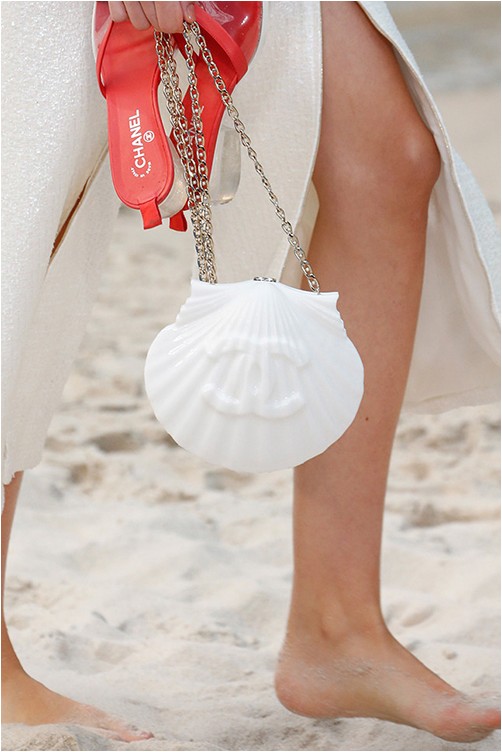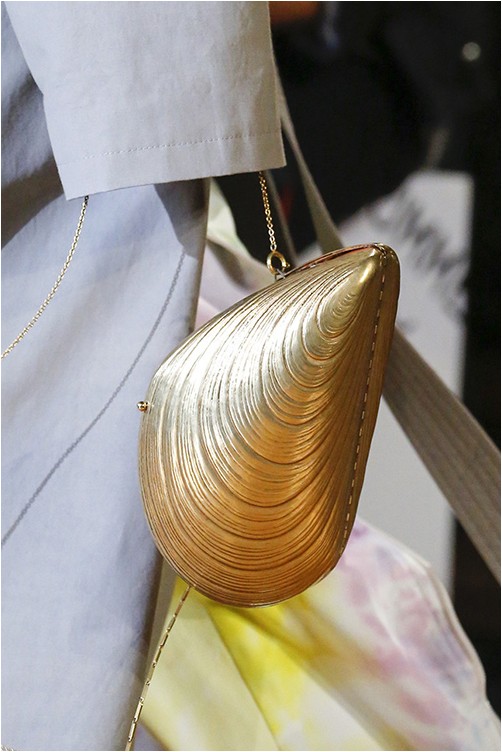 Trend 20 – Macrame
Continuing the theme of hippie culture, the designers proposed variations on the theme of macrame with a long fringe and a decor of wooden beads. Tunics and tops made using the macrame technique have become part of multi-layer combinations. In the trend, dresses covered on top with a knitted, mesh "case", like those of Ports or Salvatore Ferragamo. Sometimes the "puff" effect is achieved due to two models connected using the crochet or macrame technique, for example, a model from Altuzarra.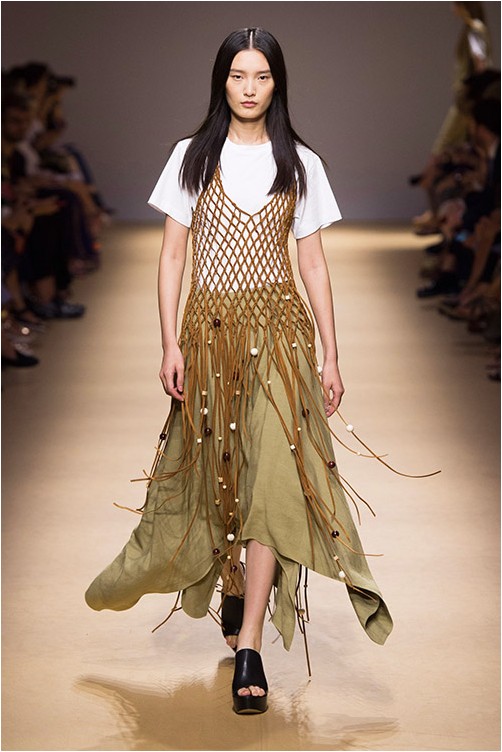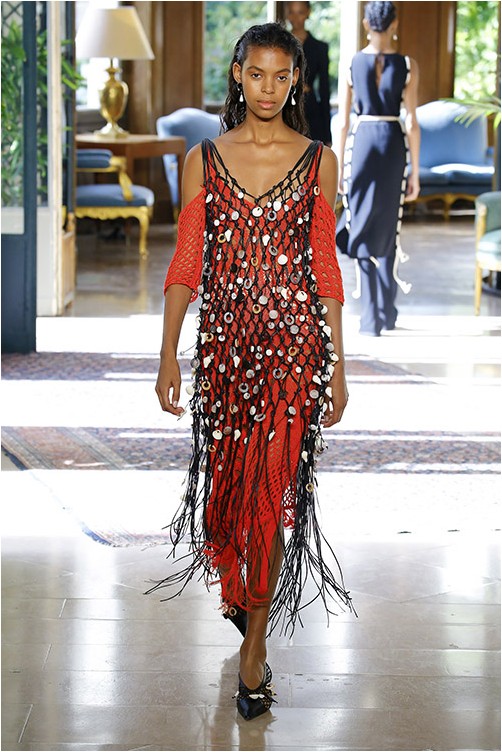 Fringe can be different: long or short, thick or rare. Suitable for any style of clothing: casual, romantic and even sporty..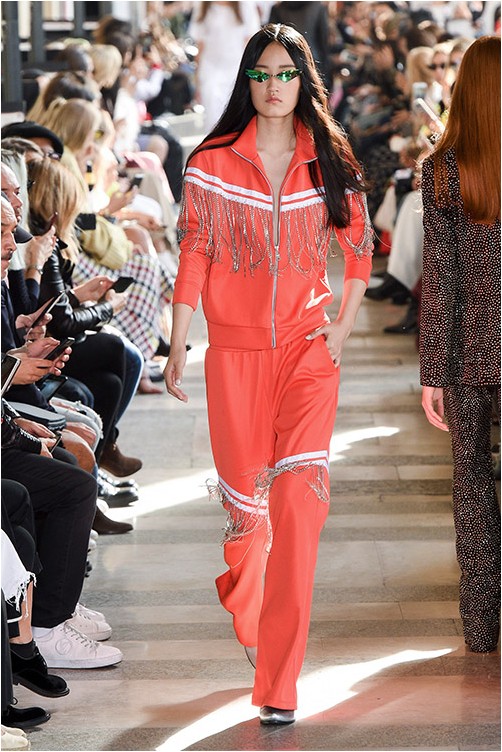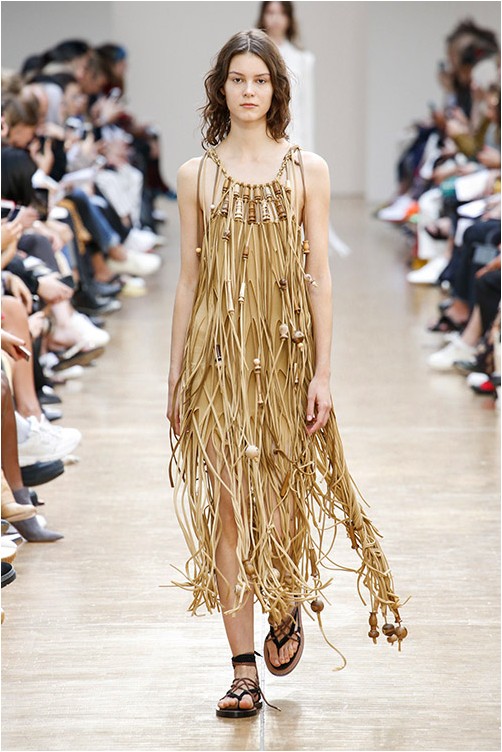 Fashion trends of the spring-summer 2019 season allow you to create incredibly feminine images. Designers have proposed a whole arsenal of ideas to emphasize the beauty of a woman, to make her tender and alluring: lush bows, a mallet dress and a pleat. If this doesn't seem enough to you, then white jumpsuit, shell sleeves, degradation and a scarf print will help to become irresistible..
Similar articles
---