Everyone who is actively losing weight, is engaged in sports, adheres to the rules of a healthy diet and wants to have beautiful smooth hips, a tightened tummy and elastic buttocks, will be useful to learn about such an effective procedure that helps to make the body and skin perfect, like mustard wrap.
This well-known product, actively used in cooking and traditional medicine, has many useful properties that make it an indispensable tool in the fight against figure flaws..

How mustard works?
Mustard Wrap Wraps are among the "hot" treatments. The mixture with mustard has a tangible warming effect, activates the separation of sweat, helps rid the body of toxins and excess fluid.
Therefore, when carrying out the mustard wrap procedure yourself at home, you must definitely monitor the correctness of the drinking regimen. In order for the procedure to be safe, you need to drink a glass of ordinary water every half hour before and after carrying out a slimming mustard wrap.
The secret of mustard powder wraps lies in the unique properties of this natural product. Getting on the skin, mustard contributes to its heating, increased blood flow and activation of metabolic processes in the subcutaneous tissue.
In addition, it is an excellent means for peeling, because mustard perfectly softens the upper layer of cells, allowing it to be removed effectively and make the skin more even and smooth. The result of ten regular procedures, which should be carried out with a frequency of once every 2-3 days, will be a noticeable decrease in body volume by 2-5 centimeters.
Despite the fact that mustard is a completely natural product, allergic reactions and even burns are possible with its use. Therefore, before the first use of mustard for wrapping, it is recommended to conduct a test on a small area of ​​the skin. If already during the procedure you feel a burning sensation and cannot tolerate it, you must immediately wash the mixture from the skin with cool water.
Such a skin reaction does not at all mean that anti-cellulite wraps using mustard are strictly contraindicated, perhaps its concentration was too high for your skin. You can try adding vegetable oil to the mixture and reduce the amount of the main ingredient.
Mustard is not used on its own.
Most often, in addition to this product, the mixture for wrapping includes:
honey;
blue clay;
olive or linseed oil.
In addition to the main ingredients, the mixture will need cling film and warm pants.
Sequencing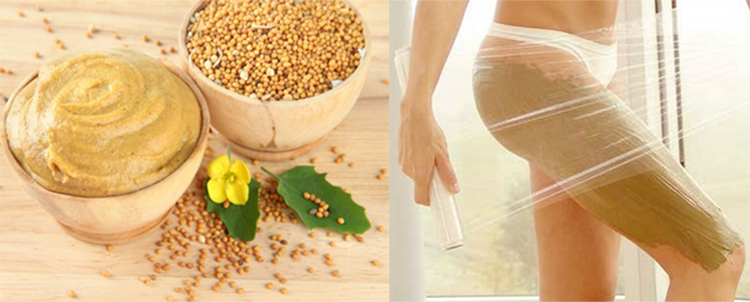 In order for the procedure of anti-cellulite wrap with mustard to benefit, it is necessary to follow a certain procedure for its implementation, namely:
Before the procedure, it is necessary to take a warm shower and process the places where the wrap will be carried out using a scrub;
Next, apply the mixture on clean, dry skin in 1-2 layers;
Wrap the treated places with foil and insulate with the help of panties;
After this, it is recommended to actively move: do fitness, cleaning the apartment, outdoor games with children, etc .;
if you have no desire to actively move, you need to additionally warm yourself with a blanket and lie down for 20 minutes;
then you need to wash the mixture off the surface of the skin and apply cream.
All the time the mustard wrap-up procedure will last, regardless of whether you are moving or lying under a warm blanket, you need to monitor your feelings.
Contraindications
Like any other procedure, cellulite wrap with mustard has its contraindications. So, wraps are contraindicated in
varicose veins,
severe hypertension,
as well as in the presence of cardiovascular, endocrine, gynecological and oncological diseases.
Pregnant and lactating women are also not recommended to perform any wraps, including mustard ones. It goes without saying that the list of contraindications includes the presence of individual intolerance to mustard and a tendency to allergic reactions.
Mix Recipes
There are many mustard-based wrap recipes. One of the most popular is the recipe for wraps with honey and mustard. For its preparation, natural honey must be mixed with mustard powder, previously diluted with water to a state of thick slurry, taken in equal quantities.
If you do not have liquid honey, you can slightly warm thick honey in a water bath. It is not recommended to add dry powder directly to honey, as lumps may form which, upon contact with the skin, will cause severe irritation. Also, honey-mustard mixture is often used, in the composition of which vinegar is introduced in the amount of 2 tablespoons per 100 ml of the mixture.
Due to its high efficiency, the mixture for wrapping mustard, blue clay and essential oil is very popular. To prepare it, mix 2-2.5 tbsp. tablespoons of clay and 1-1.5 tbsp. spoonful of mustard, dilute with water to the consistency of homemade sour cream and add 2-3 drops of orange oil. Such a mixture for wrapping with clay and mustard will help to quickly and effectively smooth the skin texture and get rid of cellulite.
For skin prone to irritation, it is recommended to use the following mixture recipe: 150-200 g of mustard powder and 250-300 ml of olive, peach or sesame oil. The mixture is thoroughly mixed, applied to problem areas, wrapped in foil and left there for the next 20 minutes. Then the mixture is washed off with warm water and soap. At the end of the procedure, a moisturizer is applied to the skin.
In addition to wraps with mustard and honey, mustard baths give an excellent effect. For the procedure, you will need 250 g of mustard powder, which must first be dissolved in a small amount of water, and then poured into a bath of warm water. The duration of the procedure is 15-20 minutes. After the procedure, you need to wipe dry with a towel and lie down for half an hour under the covers.
If sharply negative feelings appear, the procedure should be interrupted urgently. Take care of yourself and your health and be beautiful!