In order to beautifully design an intimate area, it is not necessary to have hairiness. Intimate hairstyles can be created in women whose genitals have rare body hair.
For the original design of the most piquant place on the body, paints, sparkles are applied, temporary or permanent tattooing is applied.
Female body decoration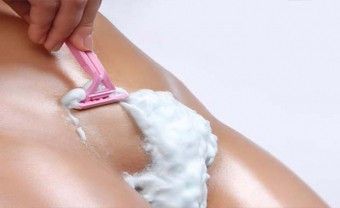 Thick hairiness on the female body is an individual feature. It should not be complex if there is a lot of hair. The excess of male hormones – androgens is indicated by vegetation on the chest, shoulders and increased hairiness of the hips.
When hair grows in places designated by nature, this indicates a bright sexual temperament of their owner.
Nature has not just given women a haircut in an intimate place. Hair protects delicate skin from external irritation.
Yes, and most men, in spite of the modern fashion for complete hair removal, consider curls more seductive than a naked "pussy".
Currently, hairstyles performed on female intimate places have not only become fashionable, but have also turned into a form of art – body design.
But this direction cannot be considered new. The royal vegetation of Ancient Egypt, for example, Queen Nefertiti, was engaged in changing the natural vegetation. The women in ancient Japan painted the bikini area in different colors, and the Chinese women applied gilding and silver.
In the XX century, a fan of this trend was Marilyn Monroe – the most famous sex symbol of our time.
So why not make a peculiar gift for your partner? There are special salons where qualified craftsmen draw up a bikini zone according to the client's request.
But if you are embarrassed to contact the salon, you can invite the master home, or try to improve your intimate area yourself.
Modern trends in body design
Modern body design is not easy to give the bikini zone the shape of hearts, butterflies or bunnies. On the intimate area, braids are braided, painted in different colors, decorated with shiny pebbles and beads.
At the peak of fashion, tattooing, both temporary and permanent. The combination of tattooing, skillful hair removal and coloring create real masterpieces.
Depilation also did not go out of fashion. It is performed using traditional shaving, or hair is removed using various methods: hot wax, sugar mixture.
The skin is decorated with special stickers or patterns that mimic a tattoo. Drawings are considered sexy in which individual strands are left as decorative ornaments.
Body Design Nuances
To get a beautiful and stylish design, you need to know a few rules:
To paint and decorate women's intimate hairstyles, you need to purchase special paints. Those packaging of hair dye, where it is written: "do not use for coloring eyebrows and eyelashes", are not categorically suitable. There are special tools;
If it is impossible to buy a special paint in a beauty salon, you can use a natural coloring agent: henna or basma. In this case, act according to the instructions on the package;
Paint for eyelashes and eyebrows gives a more intense color;
It is preferable to shorten hair with regular scissors.
After dyeing hair, the use of cosmetic hygiene products is undesirable. Normal soap is enough for washing, because hair styles will live longer.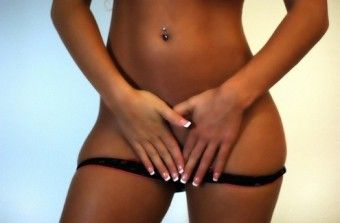 When choosing a picture, it is necessary to take into account the peculiarities of the pubic structure, the color of the skin on it, and the shape of the figure of its owner. A well-chosen haircut helps to correct the general appearance of the lower abdomen.
Almost all go to the shape of a triangle. Women with narrow hips will be visually wider by a snake or fungus.
A floral pattern or the shape of a flying bird will help a fluffy woman look slimmer. Drops, rhombuses and crescents are suitable for female figures of standard forms.
Learning to do body design yourself
Before you make an intimate hairstyle at home, you need to determine the type of pattern. And to give it a shape, you will need to remove excess vegetation. The necessary contour of the image is drawn with a cosmetic pencil.
Types of Depilation
Before we begin to design an intimate hairstyle, let's look at the types of hair removal:
An ordinary razor. It is advisable to pre-steam the skin, shave off the hairs by growth, and then apply a special cream that relieves irritation;
Sugaring. Sugar paste can be purchased ready-made or made independently. To do this, mix 1/1 of the water with lemon juice in a proportion, add 500 g of sugar and boil caramel. After cooling, the mixture is applied to the body, and with the help of previously prepared cloth strips are removed along with the hair. Less painful than waxing. Tear off hairs along the growth line;
Waxing. One of the most painful types of hair loss. Hair is removed against growth. The skin should then be treated with irritation;
Electrolysis. The hair is plucked against growth. The skin must first be steamed. After the procedure, the treatment site must be wiped with an antiseptic.
The most painless way to remove hair is to apply a special depilation cream. Disadvantage – individual intolerance is possible.
After getting rid of excess hair, the rest is cut to an equal length – if you do not need to leave separate strands – and impose a stencil image. In some cases, to give the contour the greatest clarity, the extra hairs are pulled out with tweezers to pluck the eyebrows. All manipulations are performed in front of the mirror..
The methods of hair coloring depend on the material with which you have to work. If ink toning is meant, it is better to leave it to the final stage. When you want to get a monochromatic picture, you can apply the paint before depilation.
Pleasant leisure time
Creating a drawing in an intimate area can add variety to a couple's pastime.
But if you decide to do this together, you need to consider some of the nuances of the procedure:
It is better to trim the hair to the desired length in advance;
Depilation should be carried out only in painless ways and it is advisable to steam the skin before that. A man will be pleased to spend a few minutes with a partner in the bath. There should not be any pulling out of individual fragments with tweezers or waxing (unless you are a fan of the BDSM style)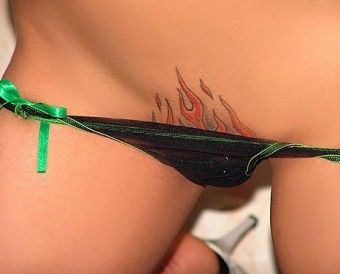 It is advisable to choose drawings that are simple and do not require artistic talent from performers. The mutilated bikini zone is unlikely to please its owner4
Do not experiment with paint. This procedure takes time, and the man hardly set as his goal the creation of a masterpiece.
If the desired result was not achieved, then the hair can be removed completely, and to remove unpleasant emotions, go to the direct purpose of the meeting. Joint creative process expands sexual experience.
A well-groomed pubis meets the requirements of hygiene, reduces the possibility of an unpleasant odor in the intimate area and allows a woman to feel confident, sexy, relaxed and comfortable.