Content:
Varieties of face masks with protein
Popular recipes for face masks with protein
Face mask with an egg: video with a recipe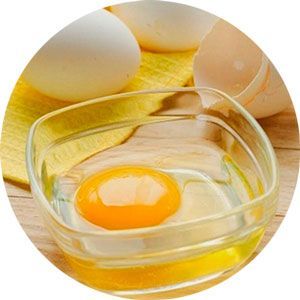 What could be better than relaxing after a working day for the benefit of your beauty. Of course, a do-it-yourself mask. Making homemade masks is a very simple process, because you will find all the necessary ingredients in your kitchen. Everyone has heard about the beneficial properties of home masks. Always fresh additives, reasonable price and the absence of artificial, and sometimes even harmful additives distinguish masks made at home from masks on store shelves.
In this article, you will find some simple recipes for popular egg-based homemade face masks with added sugar, starch, honey and lemon. Each of them has its own purpose, for example, a mask with lemon helps whiten the skin, and honey is an excellent nutrient for the skin..
Varieties of face masks with egg white
Face mask with protein is one of the most popular lifting masks prepared at home. Egg white is an excellent ingredient for homemade face masks. It contains vitamin B, amino acids and other trace elements beneficial to the skin. Egg white is often part of masks for oily or combination skin. In the latter case, the mask should be applied to areas of the T-zone, where the skin, as a rule, has a greasy shine. Due to the fact that the protein has a constricting effect, the skin, under such a mask, becomes fresh and supple, fine wrinkles are smoothed out. A face mask with protein will save you from black spots and narrow your pores. Such masks have a rejuvenating effect, they are suitable for dry skin. A tightening face mask with protein is prepared using fresh cucumber and a small amount of corn or olive oil.
Popular egg white face mask recipes
There are many recipes for masks that include egg white as the main component. As a rule, a face mask with egg white is prepared, starting with the fact that the protein needs to be whipped into a thick foam so that it is not liquid and does not spread, and after that the components are added, depending on what effect you want to achieve. The most popular masks in their composition are very simple to prepare. You will not spend much time on them, but the result will be noticeable immediately after you remove the mask and moisturize your face with your favorite cream. The skin will breathe and shine..
Face mask with egg white and honey
Before making a mask, make sure that honey is not an allergen for you.
A few tips to make a face mask with honey appear more effective.
Cleanse your skin with water or tonic;
Lightly heat the honey;
Rub the mask in a circular motion;
Use the mask immediately after cooking;
Mask recipe
For 15-20 minutes, apply honey mixed with protein foam on your face, remove the residue with a napkin and wash with cool water.
Face mask with egg white and lemon
This cleansing mask mattifies the skin and tightens pores. Lemon serves as a good bleach, after the mask the skin will be fresh and rested.
The recipe is simple. Mix the steep protein foam with lemon juice, in a dosage of about one tablespoon, and apply for 15 minutes. Do not overexpose the mask on your face, lemon contains a large amount of vitamin C, it is not recommended to keep the mask for more than half an hour.
Face mask with egg white and starch
This type of mask will remove excess shine, add dullness, if desired, and if you add some more oil, the mask will increase the effect and moisturize the skin.
Mask recipe
Dilute starch in warm water to a porridge
Pour protein into starch
Rub rubbing on face
Wash your face with water
Face mask with egg white and sugar
This mask cleanses the pores well and serves, in some way, as a face scrub. Use granulated sugar for such a mask, whisk it with protein and apply on the skin. The mask is applied to prepared, cleansed skin. Application time 15-20 minutes.
Pay attention to yourself. For this, a face mask with egg white will be perfect for at least once a week, and the result will not be long in coming. Matte and radiant skin is what you need. And all this without extra time and effort!
If you have dry or weathered skin, then you are better off using face masks made from yolk eggs with lemon.