Today it is difficult to imagine any apartment without a sofa – they tightly entered our life and occupied their niche in it. Folding sofas are especially relevant in small apartments, when there is a need to save space, then the sofa at the same time serves as a place for sleeping, relaxing and storing things..
Which sofa to choose: overview
It is very important that the sofa quickly unfolds and develops, has a high-quality durable mechanism and looks good. We would like to note that when you choose a folding sofa, its appearance fades into the background, while convenience, on the contrary, comes to the fore.
Sofa with a book mechanism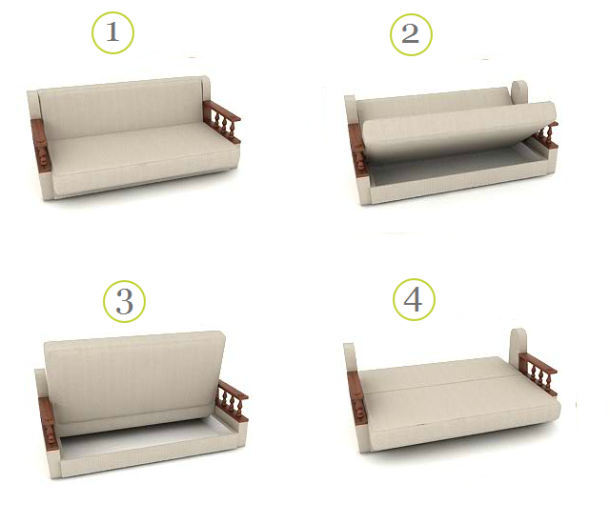 This type of sofas has been familiar to us all since Soviet times – it is the simplest and most inexpensive type of mechanisms, and this, in turn, has a positive effect on its durability. The principle of its operation is as follows: you pull the seat toward you, it drives forward, there is free space above the storage box and the back rests on it. The "book" mechanism cannot be called the most reliable, but now a novelty has appeared – a click-clack book. This is the same "book", but it has a transitional position when unfolding – 45 degrees, due to which it turns out to redistribute the load, thereby increasing the life of the sofa.
Sofas of this type are suitable for small apartments, when every meter counts or when the sofa is in a narrow place. In addition, manufacturers attract buyers with low prices, since the book mechanism is much cheaper than others. With the active use of the mechanism, the life of the "book" is 5-7 years.
Sofa with euro-book mechanism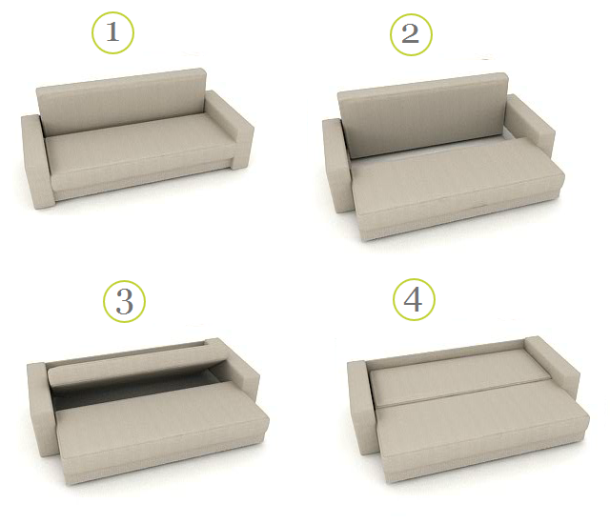 The Euro-book is now the most popular and affordable mechanism among other options for transforming sofas. It has several obvious advantages: ease of transformation, durability of the mechanism and a large flat surface for sleeping. The principle of transformation is as follows – push the seat of the sofa forward, and then gently lay the back on the storage box, and your bed is ready.
Euro-books, as a rule, come with pillows and with stationary armrests, or with one on the right or left. It is worth noting that it is very important for a Euro-book sofa – high-quality lamellas, because thanks to them the sofa will last a long time, and you will have a healthy and high-quality sleep.
Sofa with clamshell mechanism
Sofas with folding mechanisms occupy a special place among the mechanisms of sofas, as they allow you to make sofas with the most fanciful design folding. All thanks to their compactness and the small size of the clamshell itself, which easily hides inside the sofa. Transformation principle: pull the seat towards you, and then turn it around like a roll, and at this time the cot becomes on metal legs, on which it rests.
The main advantages of a sofa bed:
The compact size of the clamshell itself, which takes up little space, thanks to which it fits in a shallow box; Durability of the mechanism; Easy operation and noiselessness of the mechanism when unfolding and folding; Such a sofa looks like an ordinary clamshell, but unlike it, it is more durable, and thanks to orthopedic lamellas will be a great place to sleep;
The downside is the lack of a glove box, or rather it can often be used only when unfolded.
Sofa with dolphin mechanism (roll-out)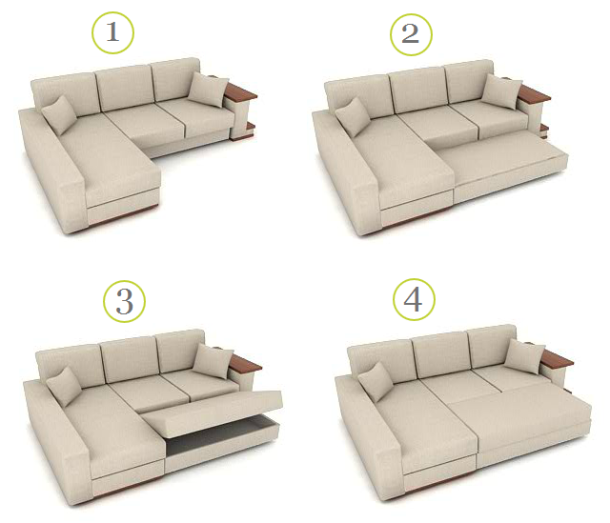 The dolphin mechanism is well known, as is the book. It is very easy to layout and quite popular because of the low price. The principle of the mechanism is this: you pull the seat toward you, it extends forward, and the remaining parts that form the common bed extend from the glove box. In addition, the bed can form as a back with an inner tab, and a built-in "folding bed" with a mattress (which is folded into large pillows).
Also, the dolphin sofa, as a rule, has a beautiful design, it is comfortable to sleep on it every day, thanks to the orthopedic frame, and a hard seat. Most often, this type of mechanism is used in the floor of corner sofas, so you have two boxes for storing things.
The main disadvantage of such a sofa is its large dimensions, as it requires a lot of space when unfolding. The layout mechanism can be safely called durable, it can become a little loose over time (more than 5 years), but only from constant folding.
Sofa with Accordion mechanism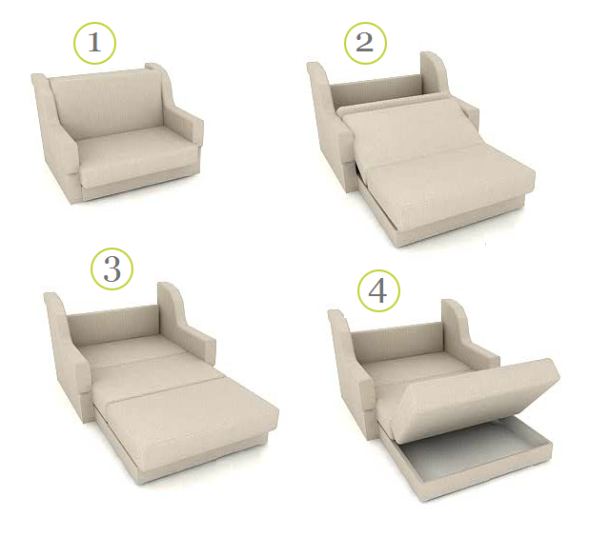 "Accordion" is a popular principle of a folding sofa or chair. He usually has a wooden back and armrests and a soft folding sleeping surface. The principle of folding is this: you pull the seat towards you and the sofa, like a paper booklet is laid out towards you.
This type of sofa transformation forms a large flat bed, but at the same time it is inconvenient in folding back, you will have to try hard to fold it. Moreover, when folded, it has a very thick back, in addition to a stationary wooden one, you get another one – from the folding part of the bed. The accordion is not as durable as a click clack or a dolphin, and because of the constant fuss back and forth it can spoil the flooring. In addition to all this, the accordion requires a lot of space when unfolded.
Non-standard mechanisms for assembling sofas
In this section, we will talk about unusual and even not quite practical types of transformation of sofas, but they, like the rest, deserve our attention, if only for the novelty of ideas and the fresh interpretation of the theme of folding sofas.
Sofa with the Wave mechanism
This is a new modern mechanism that is used in large expensive sofas. Its advantage is stylish, beautiful, spectacular, but practicality is a minimum, since this wave affects only the sitting comfort.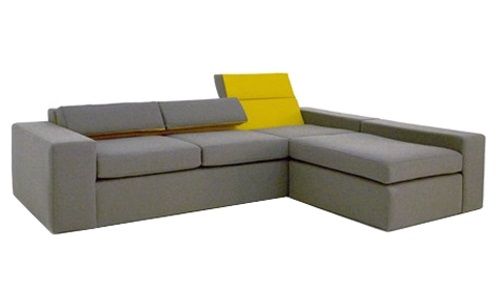 The principle of transformation is this – you change the position of the back, as it is plastic, like a spine, thereby making it more convex, or even. If you pick up a large sofa for the living room, which will not be a sleeping place, or if you are chasing fashion trends, then you can buy such a mechanism.
Modular sofa
This type of sofas is very convenient in public places – cafes, restaurants, beauty salons, offices, but it can also be used in residential premises with a large area. A modular sofa consists of several modules, which at the right time are assembled into a certain design – in a row, square, triangle, or rectangle, as in our photo.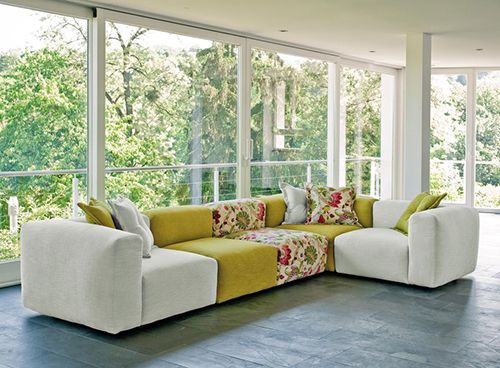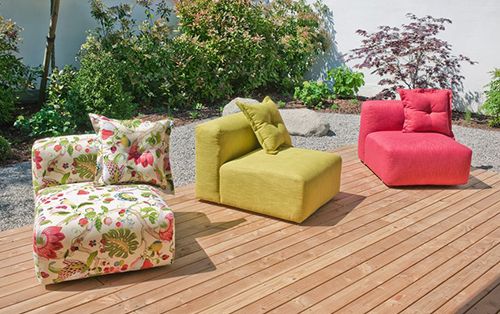 A modular sofa can become a sleeping place, but it has one big drawback: as a rule, the modules are not fixed to each other and can move apart at any time, which means you risk falling off the sofa at night. Therefore, this type of sofas is still more convenient to use separately by modules, or in the form of a long sofa, but not a bed.
Petal sofa
The petal mechanism is similar to the principle of a wave sofa with one feature: in such a sofa, the backrest moves as a whole, and does not bend like a spine. This type of sofas is more convenient than a sofa wave, as it nevertheless initially unfolds like a book and only then you can adjust the height of the back.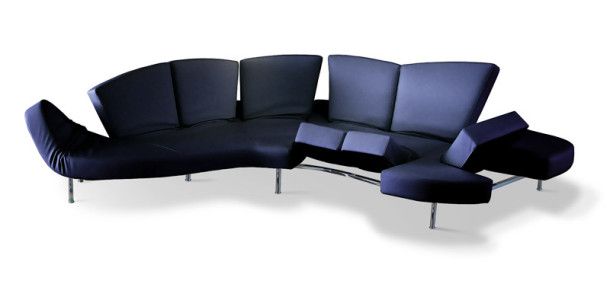 The peculiarity lies in a specific mechanism that can fix the back at different heights. Such a sofa is convenient from all sides – it can be easily folded out, sleeps comfortably and comfortably on it, and thanks to such an original backrest, it will become a great place for friendly gatherings, where every vacationer can choose the height of the back for himself.
We advise you to consider the following questions before buying a sofa:
Do I just need a sofa for relaxation or a sleeping place? how often will I lay out the sofa? where will he stand? how much free space will be around the sofa?
And by giving answers to these questions, you will be able to understand which particular mechanism suits you more than others. We wish you a successful purchase of the sofa, a pleasant rest and a healthy sleep.