Content
---
---
But the fashion party decided to recall the past: in 2010, Karl Lagerfeld decorated the bodies of the models with black temporary tattoos, two years later, Dior presented a collection of nine translated tattoos Les Ors de Peau, and in 2015 the golden translated tattoos became available to the general public – Flash Tattoos from Miranda Barnet conquered youth with its accessibility and ephemeral beauty.
Stars choose temporary tattoo
The new "chip" is suitable not only for those who are afraid to get a permanent tattoo. Many stars flaunt with temporary pictures on the body, posting photos on Instagram. Under the hashtag #flashtattoo you can find photos of Beyoncé, Lena Perminova, Vera Brezhneva, Jordan Dunn and many others.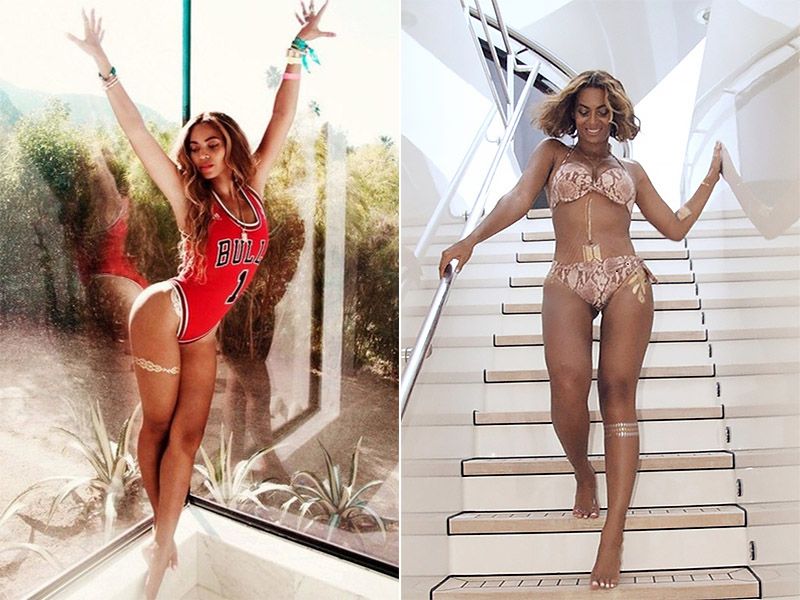 Rihanna went even further: she released her own line of Flash Tattoos in gold and black. The abundance of pictures allows you to transform into elves, princesses and gypsies at least daily for a month without repeating the same image.
Benefits of Transfer Tattoos
Obviously, temporary tattoos have many "advantages" compared to traditional ones:
complement any image (from a beach bow to an evening look);
apply and clean in 3-7 minutes without additional tools;
absolutely non-toxic and safe for the skin;
no pain when applied;
look original and bold;
you can find cheap gold translated tattoos of different styles: from steampunk to ethnic motifs.
Rules for applying and removing transferable tattoos
 To apply Flash Tattoos correctly, you need to degrease the selected area of ​​the skin and dry it thoroughly. Then, the protective film is removed from the selected tattoo, and the drawing is applied to the skin for 5 seconds, and it must be abundantly moistened with water. After that, an unnecessary piece of paper will lag behind the skin, and a sparkling gold tattoo will show off for another 5-7 days.
The most important thing is not to apply oily cream and oil on it and not to give in to mechanical action, otherwise the picture may be damaged.
To remove the faded Flash Tattoos, just wipe it with a swab moistened with makeup remover or body oil.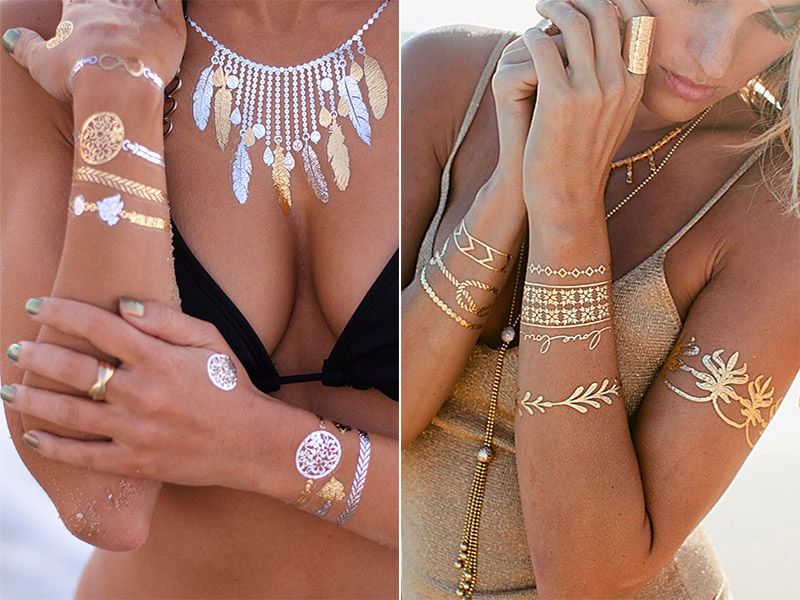 By the way, a translated tattoo can be perceived not only as a decoration, but also as a sculpting method: a correctly selected drawing will help to highlight the oblique muscles of the abdomen, collarbone or other seductive parts of the female body.