Content
---
---
If earlier fringe was an attribute of a wardrobe of a kind of informal such as hippies or people of a certain circle, today it adorns outfits created by great designers. The fringe can be different: short and long, on top of dresses and instead of them, in the form of tassels decorating the hem of dresses.
In the spring-summer season, fringe is actively used as a decor for clothes, shoes, accessories, and also acts almost as the main outfit. Agree, there is something to be completely delighted with fans of silk ribbons, twisted threads and leather laces.
Fringed dresses
Especially popular in the spring-summer season are poncho dresses with fringe that adorns the hem or neckline. This style gives the figure fragility and femininity, and dancing ropes make the image light and energetic.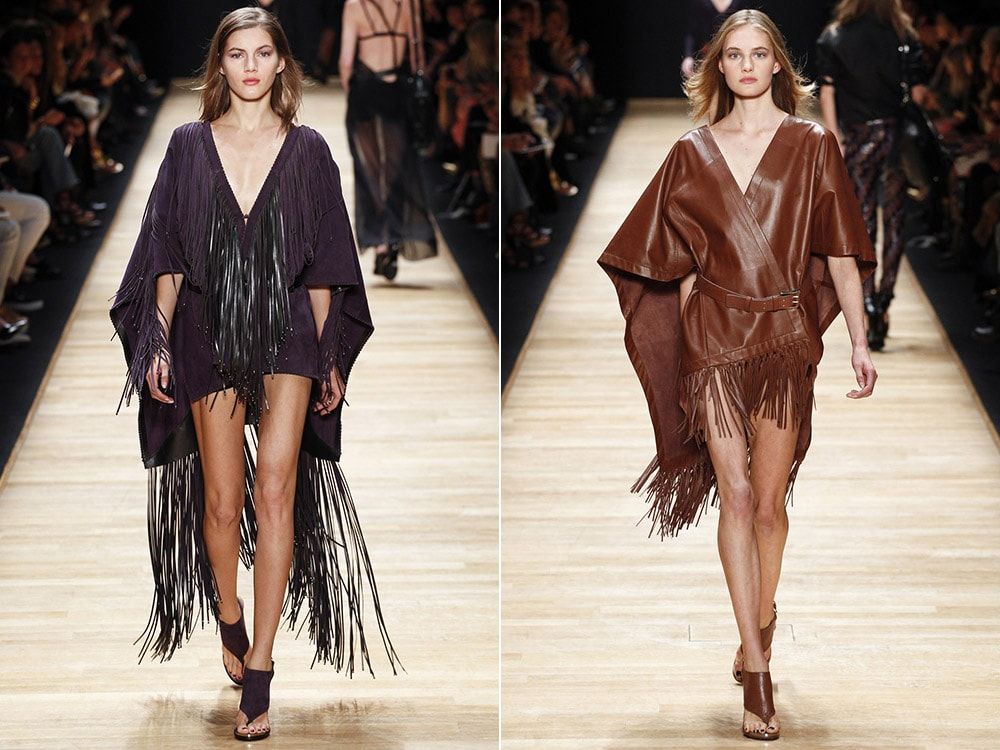 Fringes can be of all kinds, of any length and made of any material, including leather, suede, silk or cotton yarn, as well as fabrics of unusual textures. For example, for Alexander Wang and Barbara Bui, the fringe is made of leather, for Alberta Ferretti and Issey Miyake it is a thin colored thread made of the same yarn as the dress itself.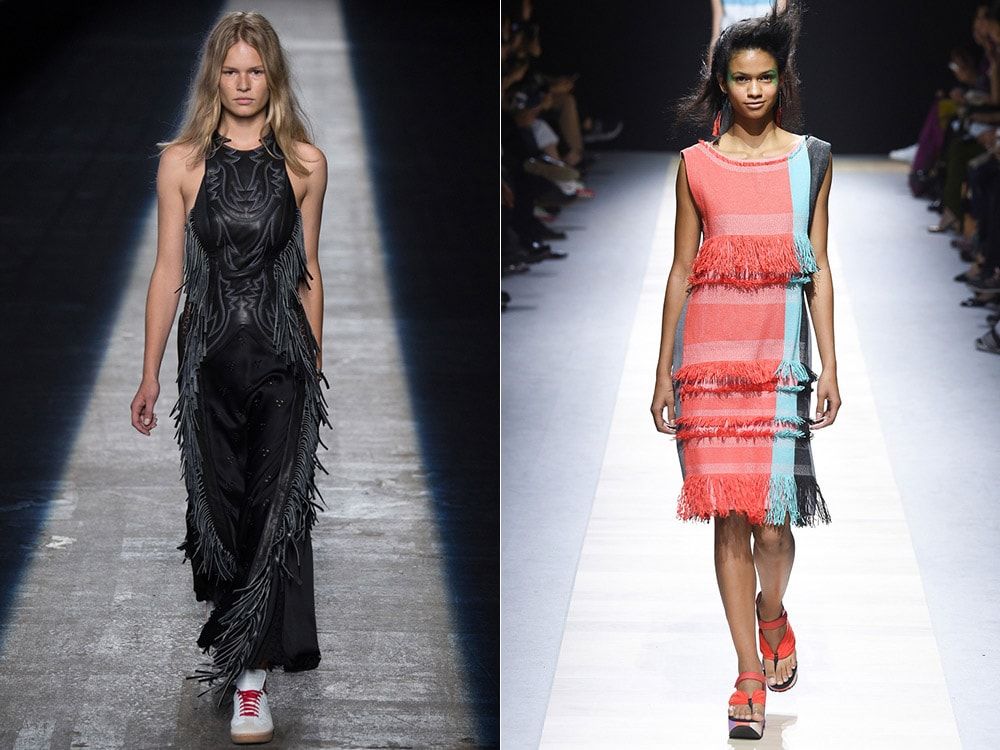 All kinds of pendants can act as a separate element that adorns the sleeves, collars, neckline or hem of the dress, and as the main outfit.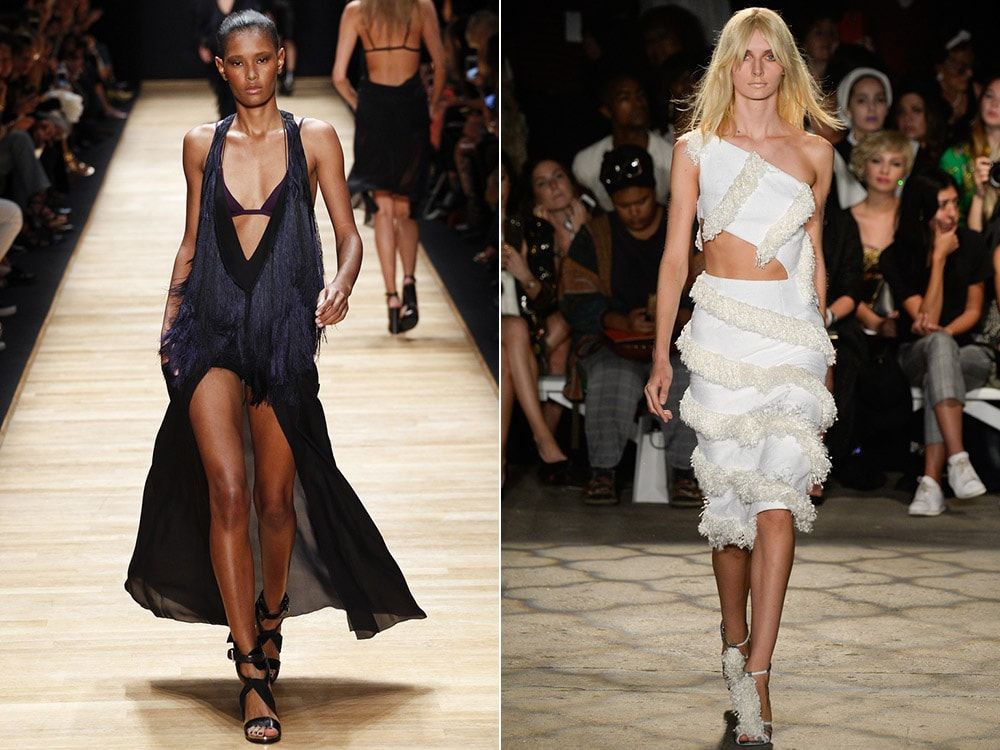 The fringe can be in the form of a long colored "noodle" decorating light dresses in the style of the 20s or can be a continuous canvas of thin threads, which are not so much a decorative element as an original thread hem – any manifestation of fringe is relevant in the spring-summer season.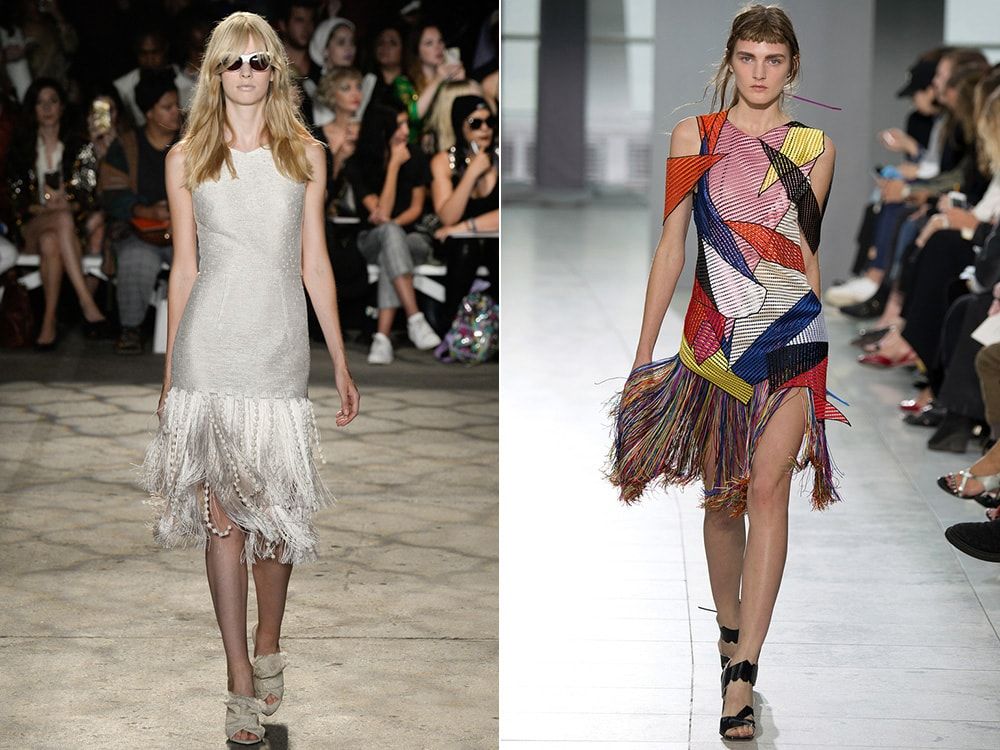 The fringe looks quite familiar on dresses with ethnic motifs (Valentino) or in the Gothic style (Givenchy), which partly resemble seductive camisoles and peignoirs.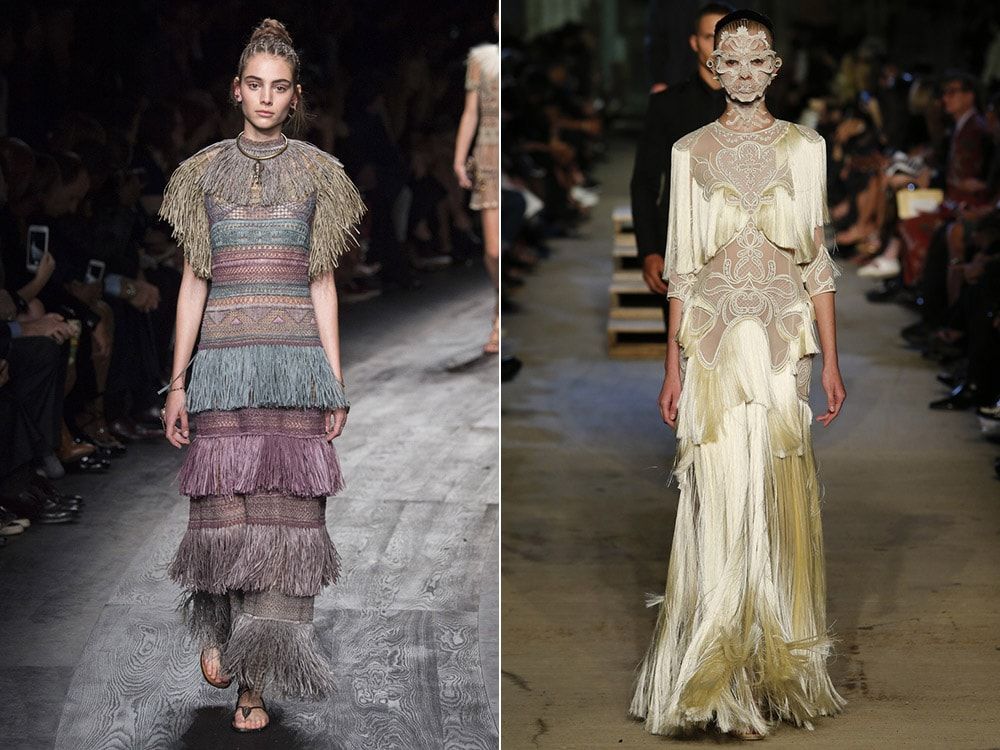 Fringed skirts
The latest fashion trend is fringed skirts, and here it is located either in several tiers or in one, but with very long threads. For example, Elisabetta Franchi presented some nice ensembles with a skirt decorated with long fringe..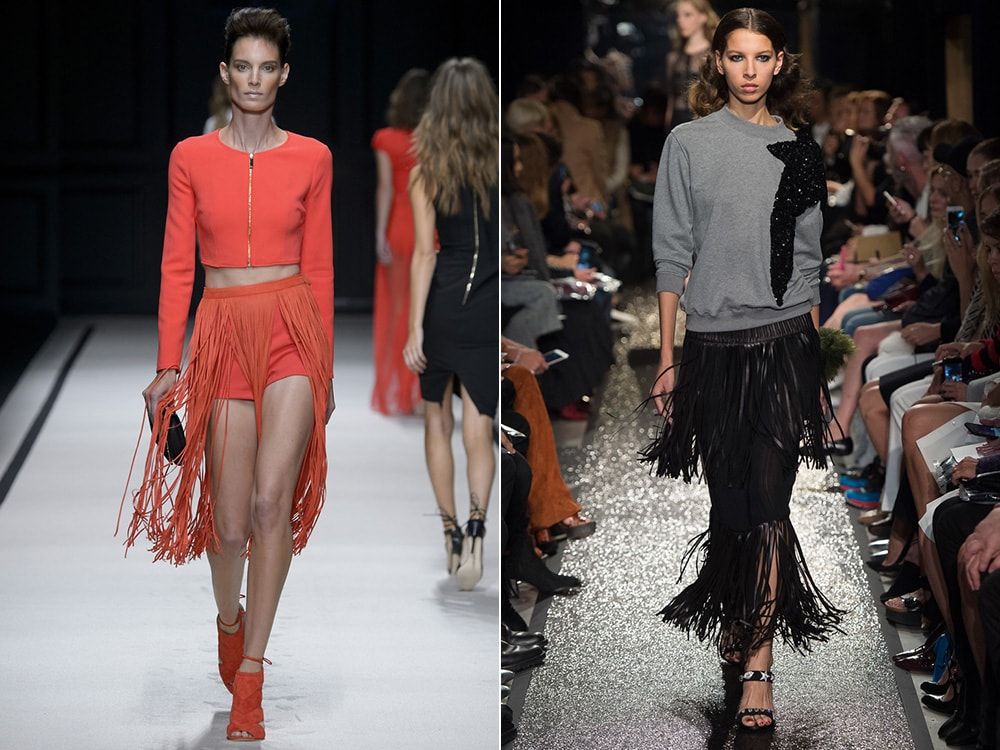 Loewe introduced a skirt with shiny "noodles" resembling festive tinsel. Stella Jean surprised everyone at the show with his "fringed" skirt, decorated with a falling cascade of multi-colored ribbons that add volume in the right places.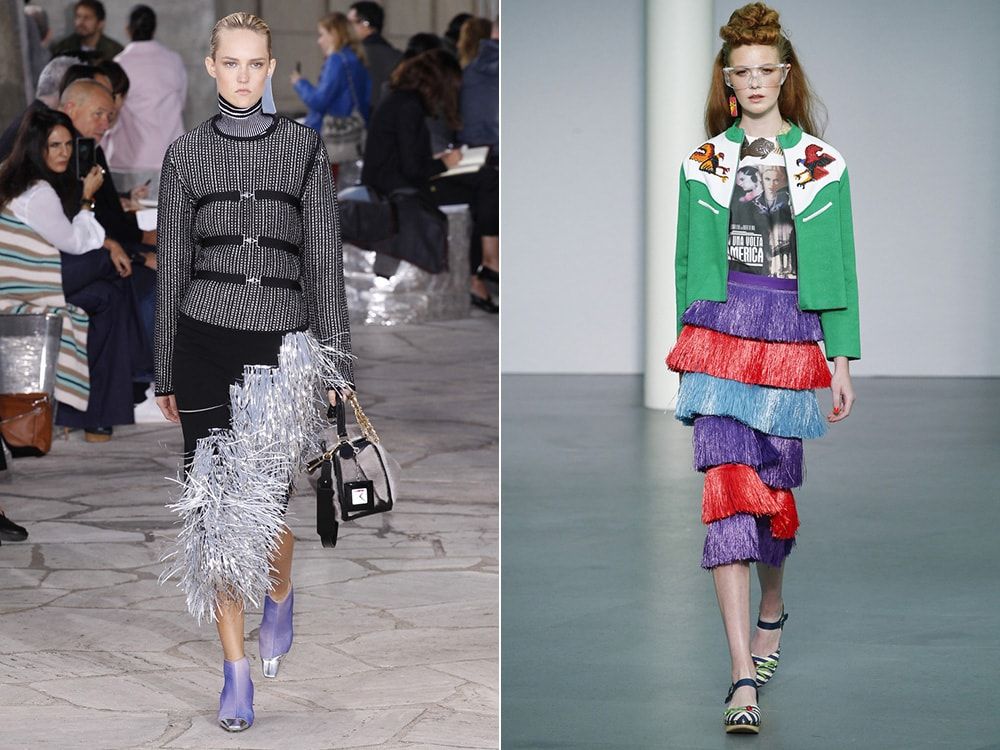 A fashionable fringed skirt goes well with t-shirts and casual sweaters, as well as formal jackets and blouses, both with sneakers and stilettos.
Fringed Tops & Jackets
Fringes are decorated not only dresses and skirts, but also tops, jackets, as well as sweatshirts and jackets. For example, Barbara Bui and Elisabetta Franchi build the entire spring-summer collection around fringe-decorated items, from tops and trousers to jackets and summer jackets..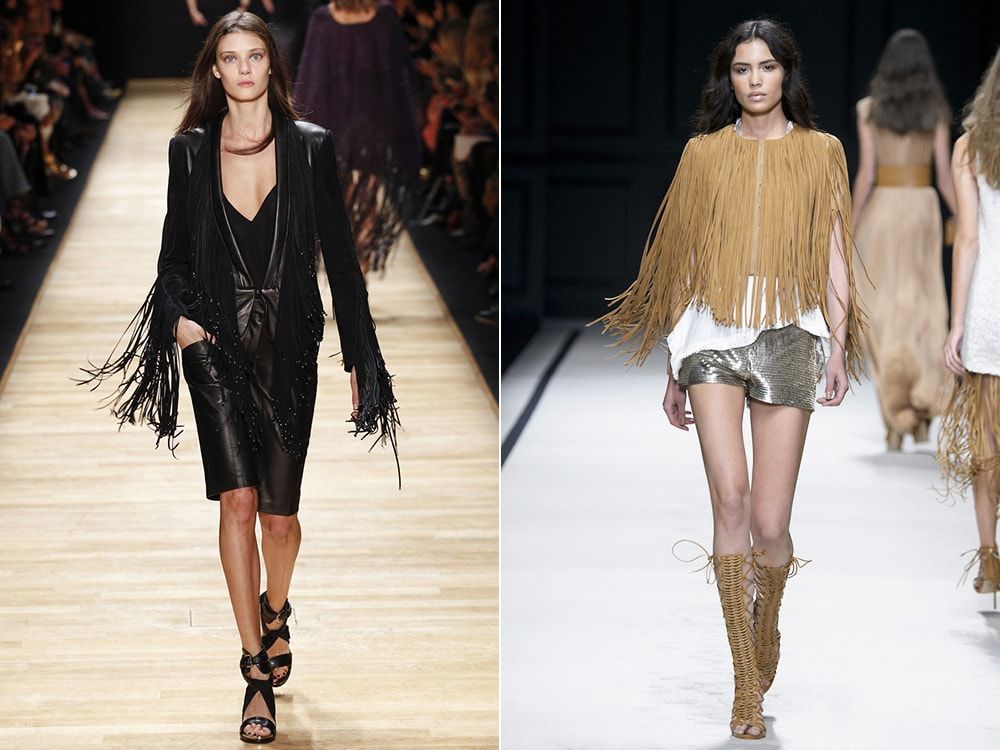 Designers mix fringe in several things at once: a skirt with a cloak, trousers with a jacket … Make it from leather, suede, textile, yarn – any texture is suitable for creating a "fringe" decor.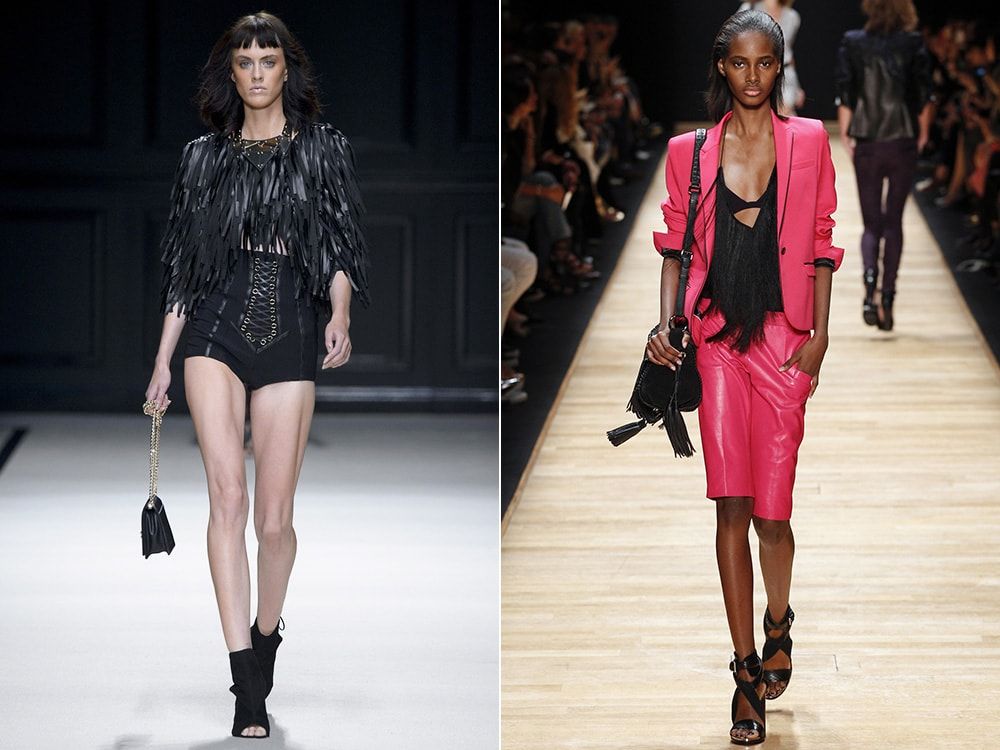 Fringed shoes and accessories
Of course, the trend for fringe did not pass by accessories, mainly bags and belts, as well as shoes. Saddle bags, wicker baskets, backpacks decorated with tails, tassels and other "hanging" elements – the most successful purchase of the season.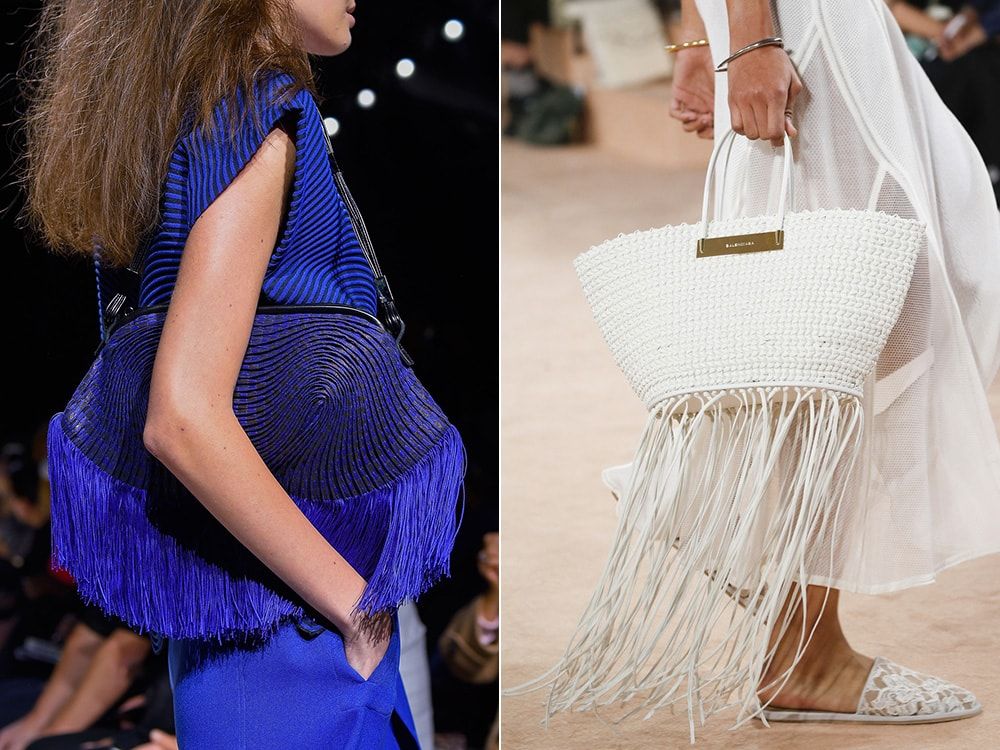 There are more glamorous options, for example, miniature handbags and clutches made of patent leather or woven genuine leather, but always with a fringe.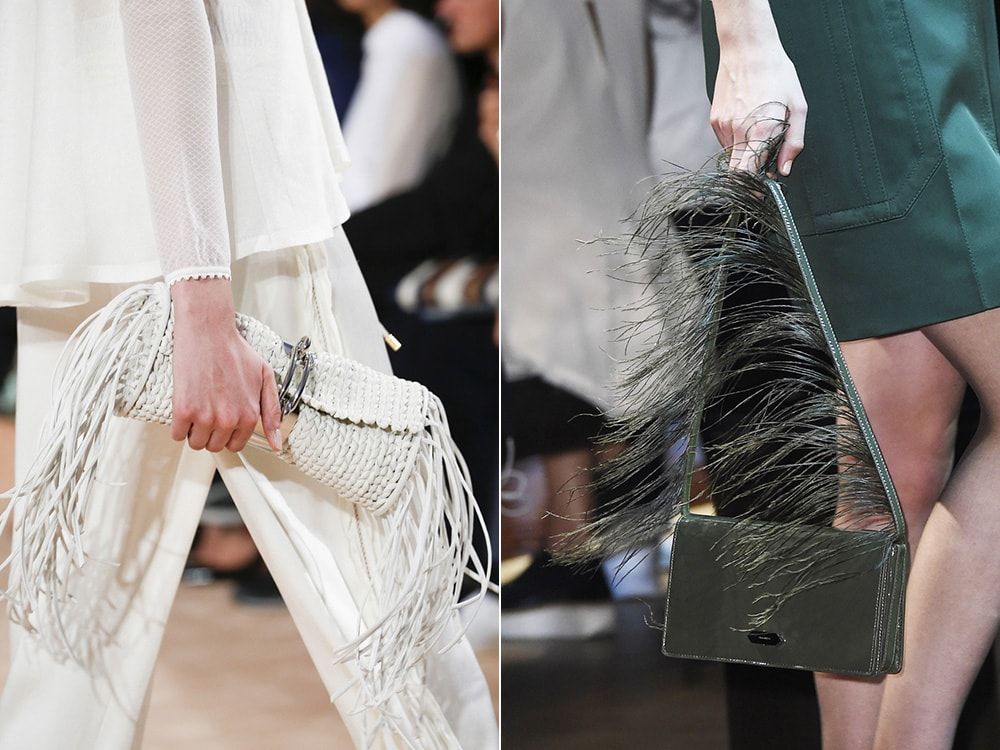 The appearance on the legs of fashion models of shoes with a fringe, meditatively swinging to the beat of movements, suggests that shoes, slippers, sandals with dancing pendants promise to become a trend in the coming spring-summer season.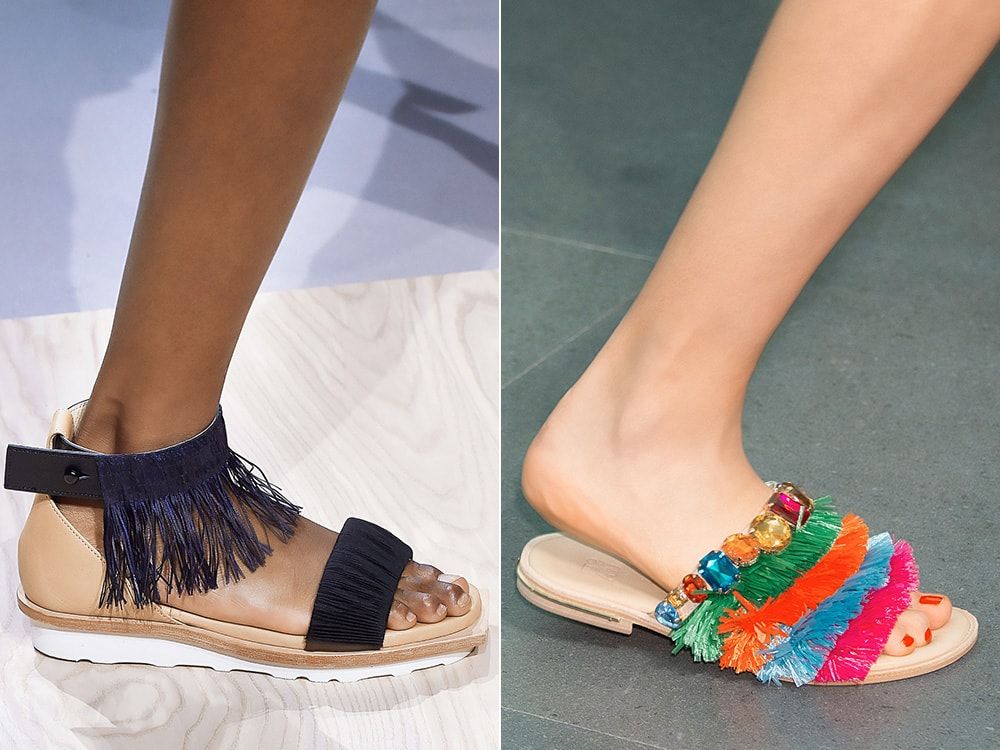 It is difficult to say what caused the popularity of fringe: the fashion for ethnicity or the desire to revive the image and give it dynamics. The fact remains – fringe is in fashion, of any length and from any material. This is a trend that has been, is and will always be present on the catwalks and shop windows.