Content
---
---
It is difficult to single out unequivocal leaders among trends and styles, however, designers also have "favorites" – certain models of shoes that are given special attention. These favorites can be safely attributed shoes with a pointed toe.
Pointed Toe Shoes
This spring, pointed-toe shoes are relevant in a wide variety of variations – from classic stilettos to men's flat-topped models. Saint Laurent and Nina Ricci presented classic high-heeled shoes, equipped with a strap around the ankle that holds the leg. This strap allows you to feel comfortable even with a high heel.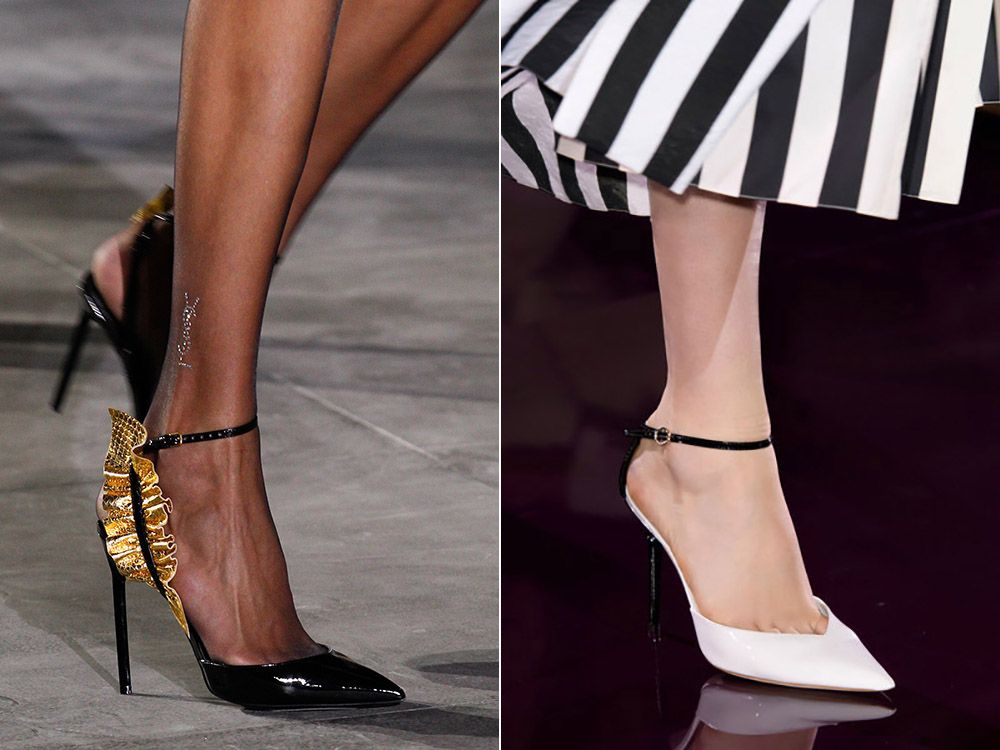 Jacquemus and Marni decided to make life easier for fashionistas by introducing classic pointed-nosed models of shoes with steady heels. A minimalist design gives the shoes a conservative touch that fits perfectly into casual office wardrobe.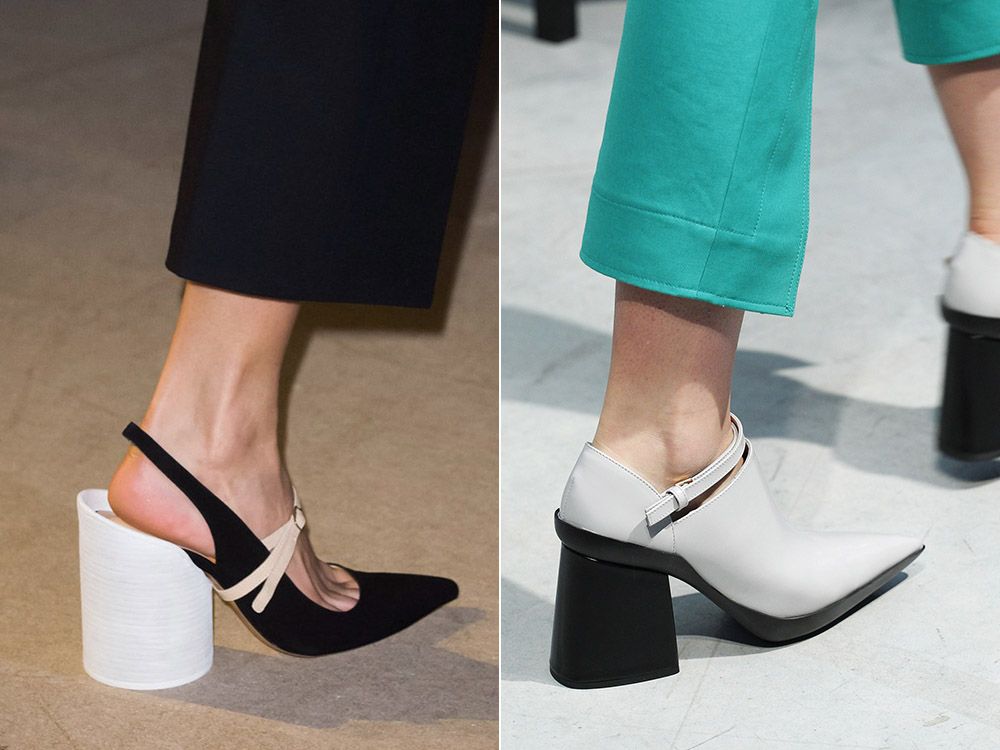 Connoisseurs of maximum comfort will definitely appreciate the pointed-nosed loafers and brogues, as well as low-speed models. Incredibly convenient and practical, these options look as stylish as their higher "brothers", but at the same time allow you to lead a fairly active lifestyle.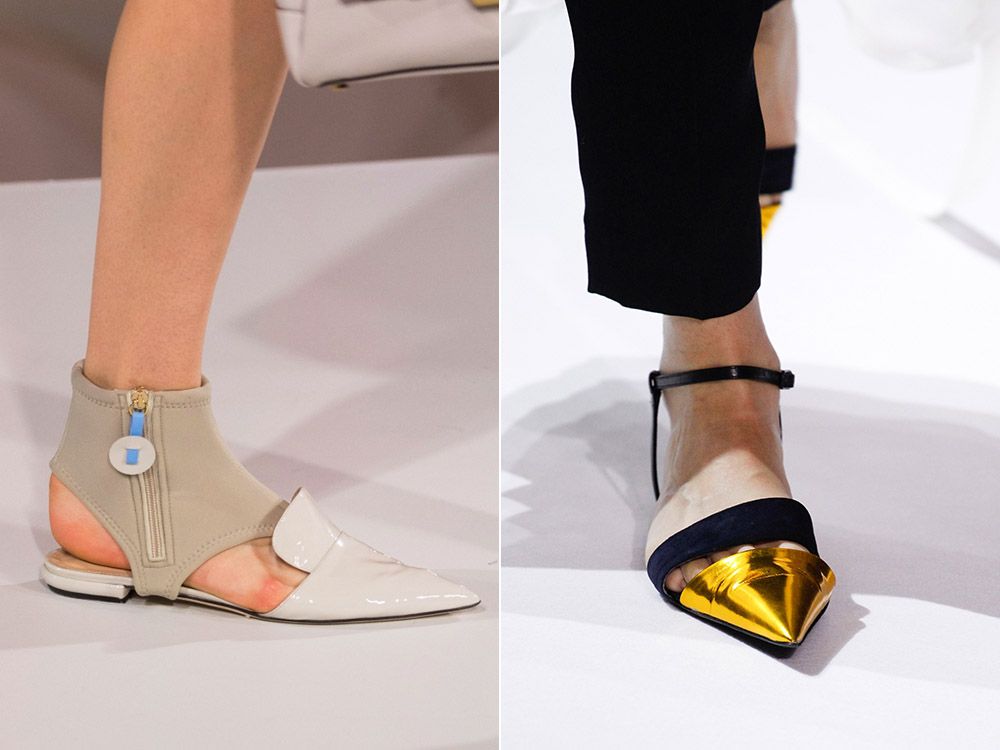 Slippers
Another popular piece of fashionable spring-summer 2017 shoes is a steady heel. There is no need to talk much about its advantages: they are known to everyone who has worn such shoes at least once. Shoes with stable heels are presented as medium and maximum heights. Have dolce&Gabbana is square and with a beautiful decor, Mulberry has an unusual curved shape, House of Holland is made to match the shoes.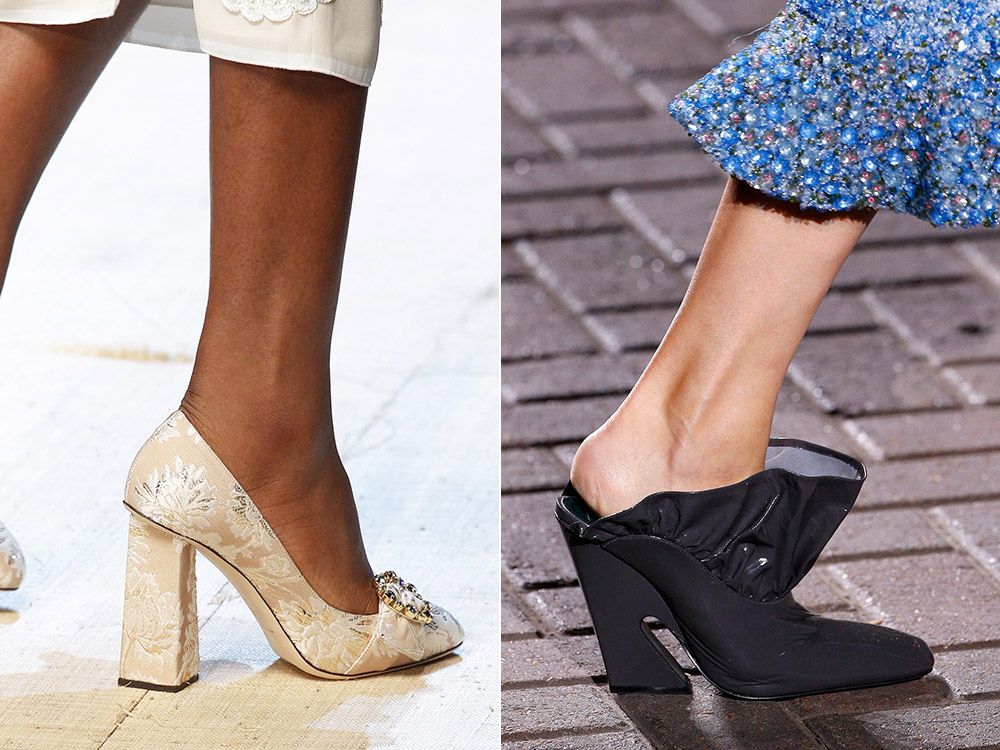 Also not without shoes with high massive heels with thickened soles. Such models will not only visually add a few centimeters of growth to the figure, but also make it more slender, while remaining stable and as comfortable as possible..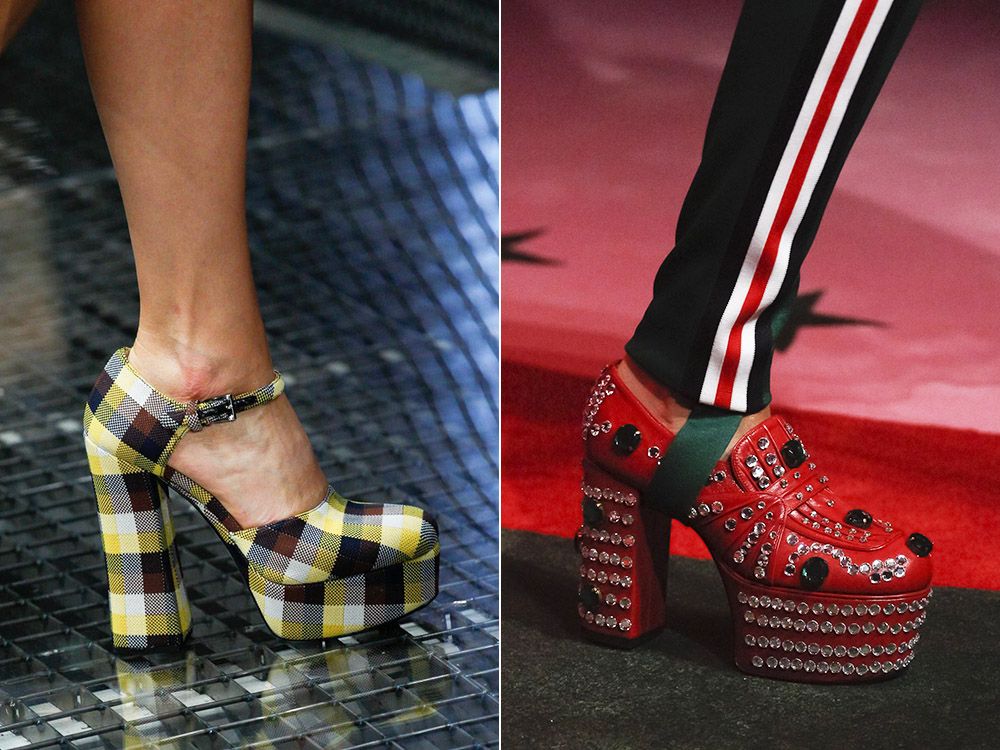 Classic pumps
Classic pumps this spring are undergoing a renaissance. Designers experiment with the shape of the heel, play with a combination of materials, shift the emphasis to the ankle with a thin strap, offering a new look at classic boats.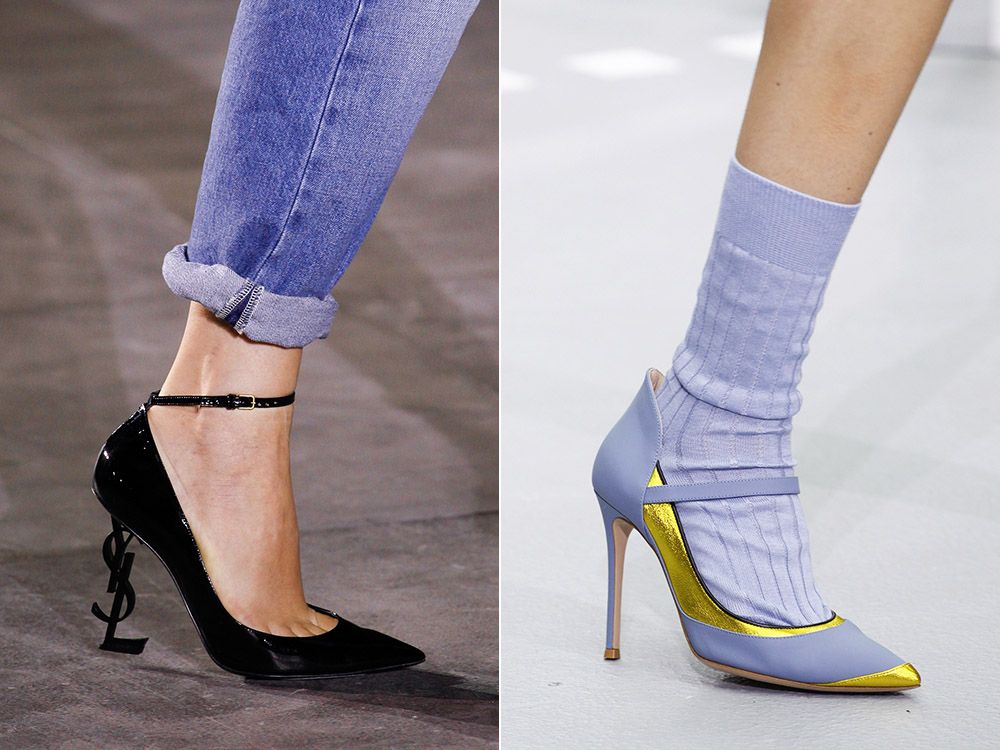 However, no matter what trends prevail at the moment, classic pumps with a pointed toe on a high heel are included in many collections of the spring-summer season 2017. The only thing is that the color has become more saturated and the decor more noticeable.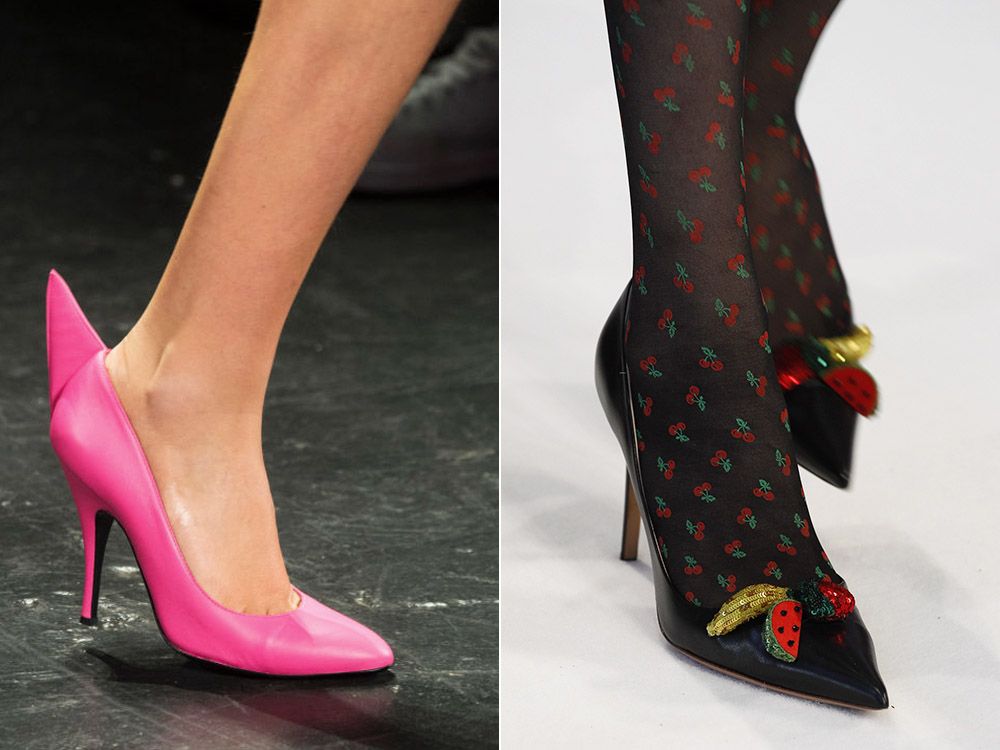 For fans of the classics, for whom friendship with a hairpin for some reason did not work out, the designers prepared a worthy replacement. So, Haider Ackermann and Christian Dior presented classic low-heeled shoes and a small kitten heel. These shoes look as feminine and elegant as on a high stiletto heel..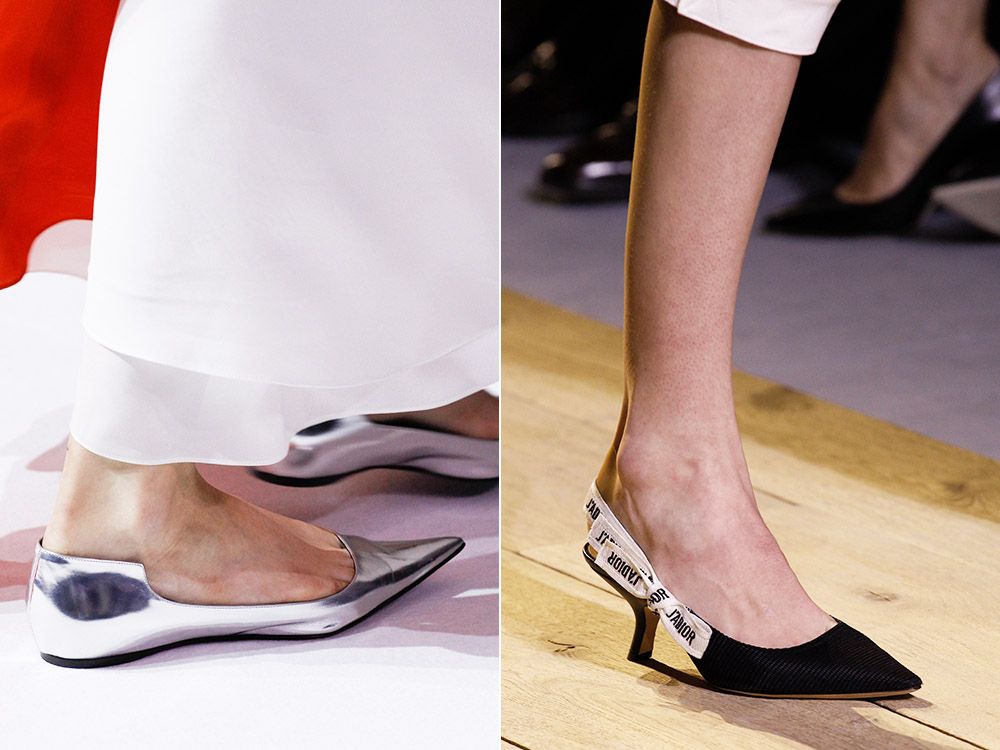 Wedge and platform shoes
If a thin hairpin is not to your liking, do not immediately switch to ballet shoes and other flat models. Prada, Balmain, Bottega Veneta, Michael Kors and Miu Miu offer fashionable high-heeled shoes and a stable platform.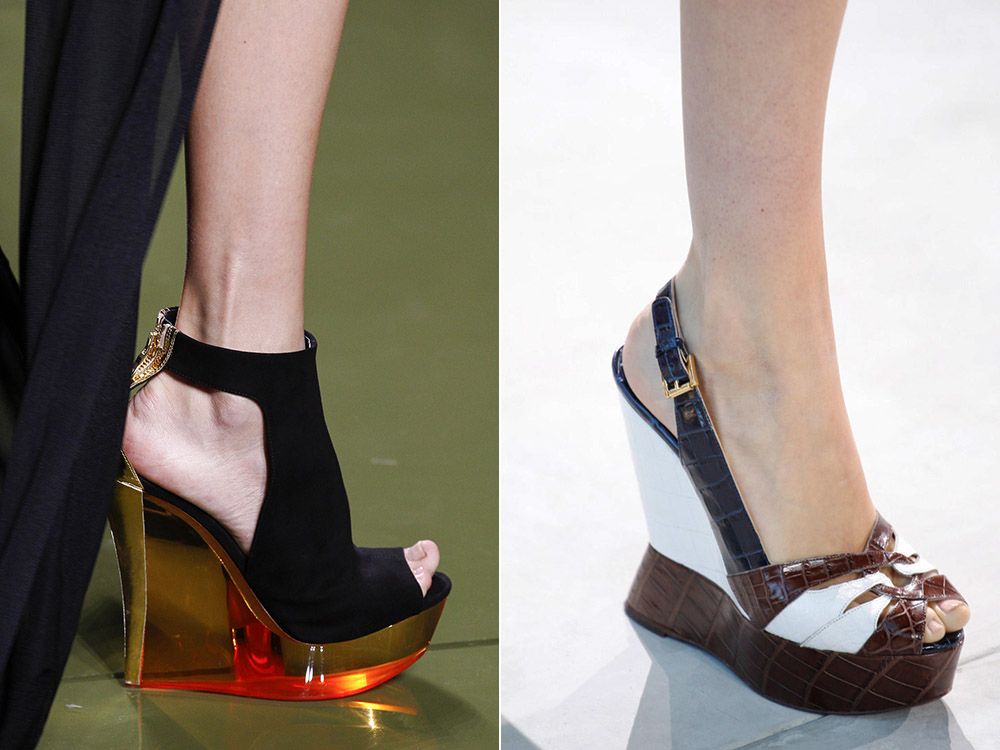 Thom Browne and Miu Miu added a bit of originality to the platform by introducing shoes with massive architectural soles. It turned out unusual and very stylish.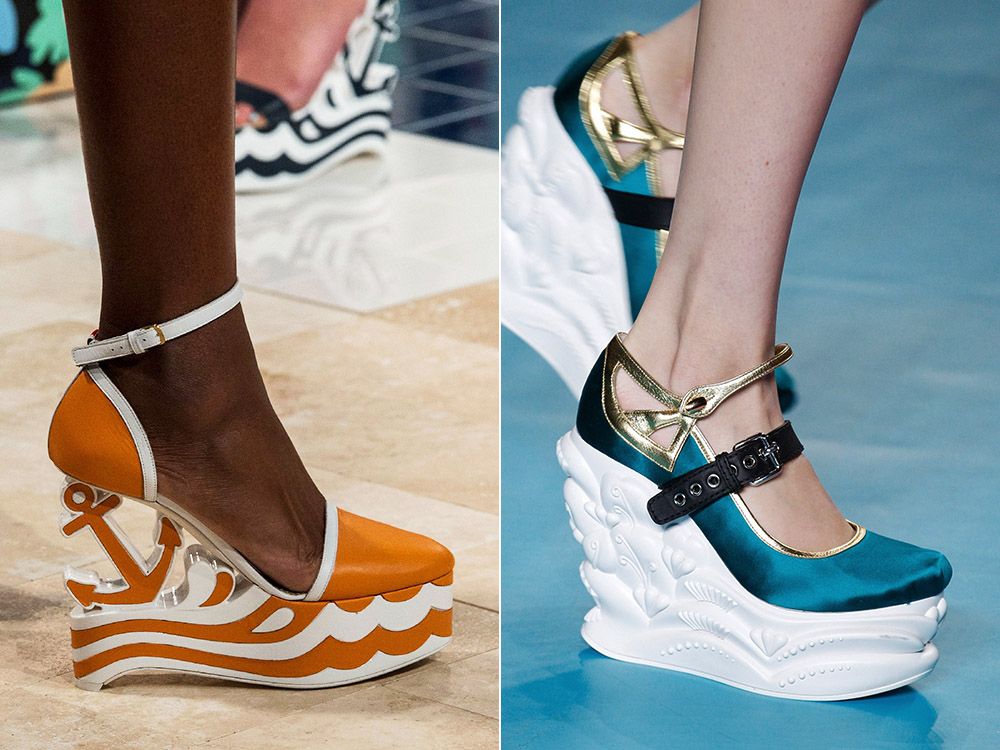 Gucci and Erdem also created shoes on a flat or almost flat platform, the so-called flatform. Their models were made with traditional Japanese elements, which became the main focus of fashion shows..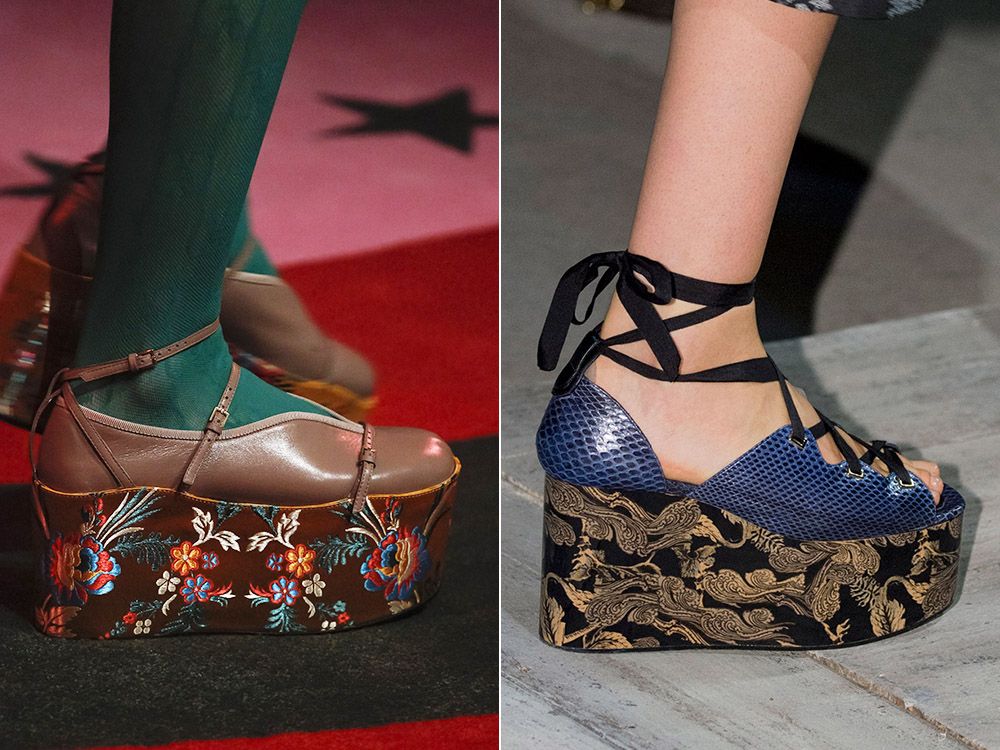 Men's shoes
Women's shoes in the men's style are not new in the world of haute couture. Sharp-nosed loafers with a characteristic visor and practical oxfords are still on the list of fashion trends, but interest in them has noticeably diminished. Masculinity is replacing femininity in the spring-summer 2017 season, so designers advise even combining rough brogues not with trouser suits, but with weightless dresses and light blouses.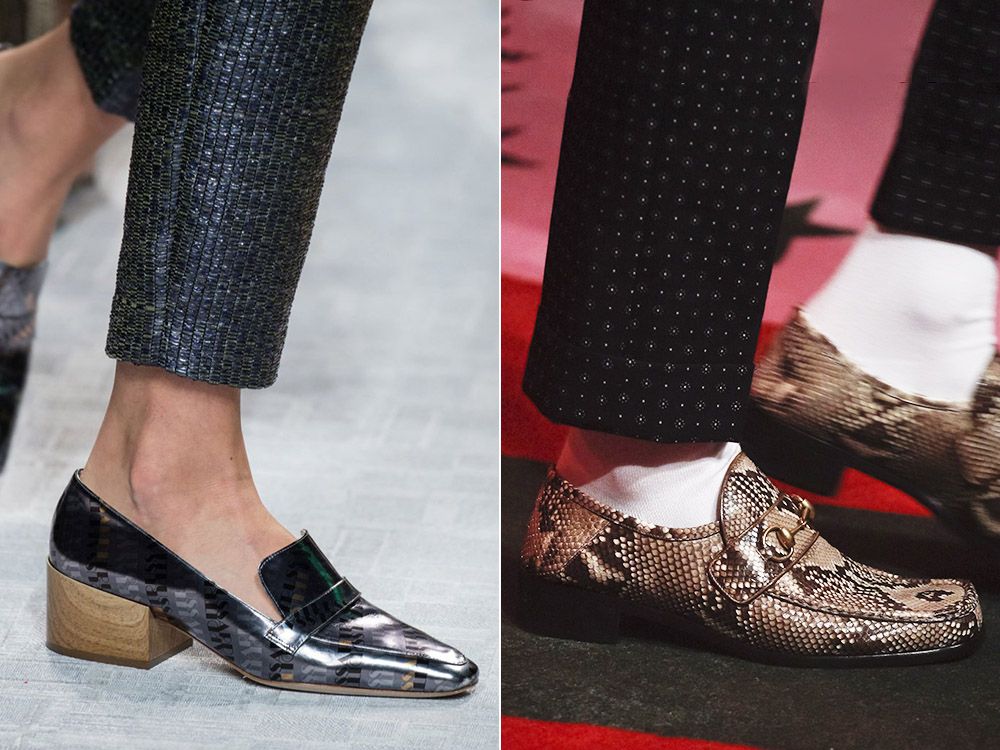 And the loafers and oxords themselves have become more neat and feminine. Instead of rough black leather, designers used metallic and expensive reptile skin, and also experimented with the shape of the nose, complementing pointed nibs with a sleek strap and fringe fashionable this season.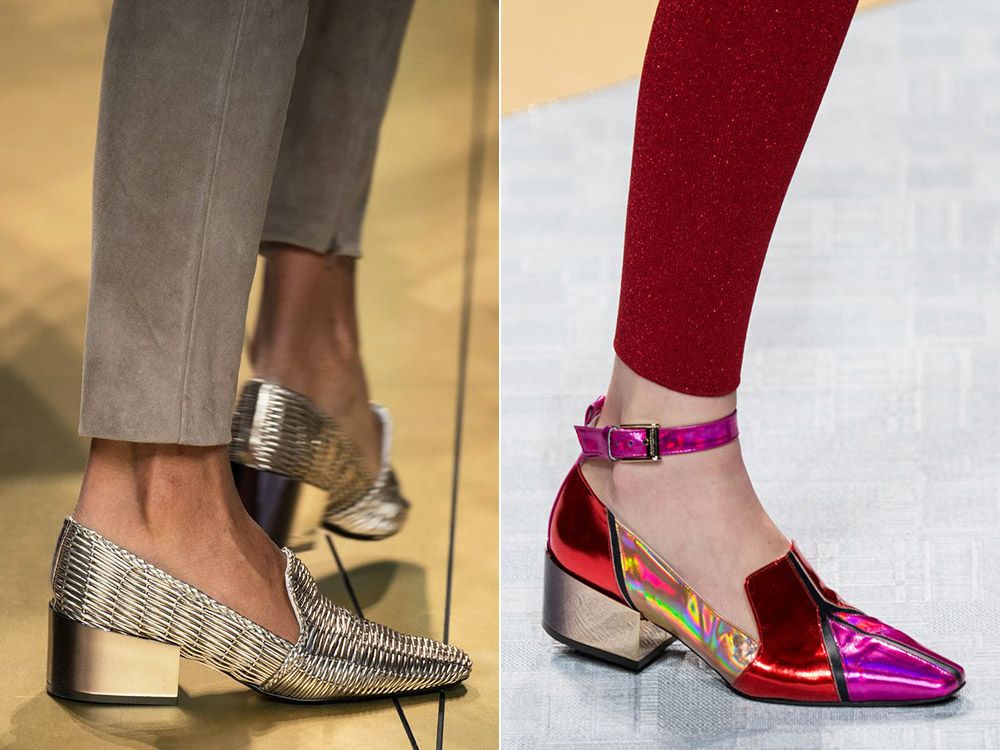 Retro shoes
An integral part of a successful retro look is matching shoes. This year, designers decided to focus on a low heel and a round elongated cape, complementing the model of retro shoes with thin straps and playful ties.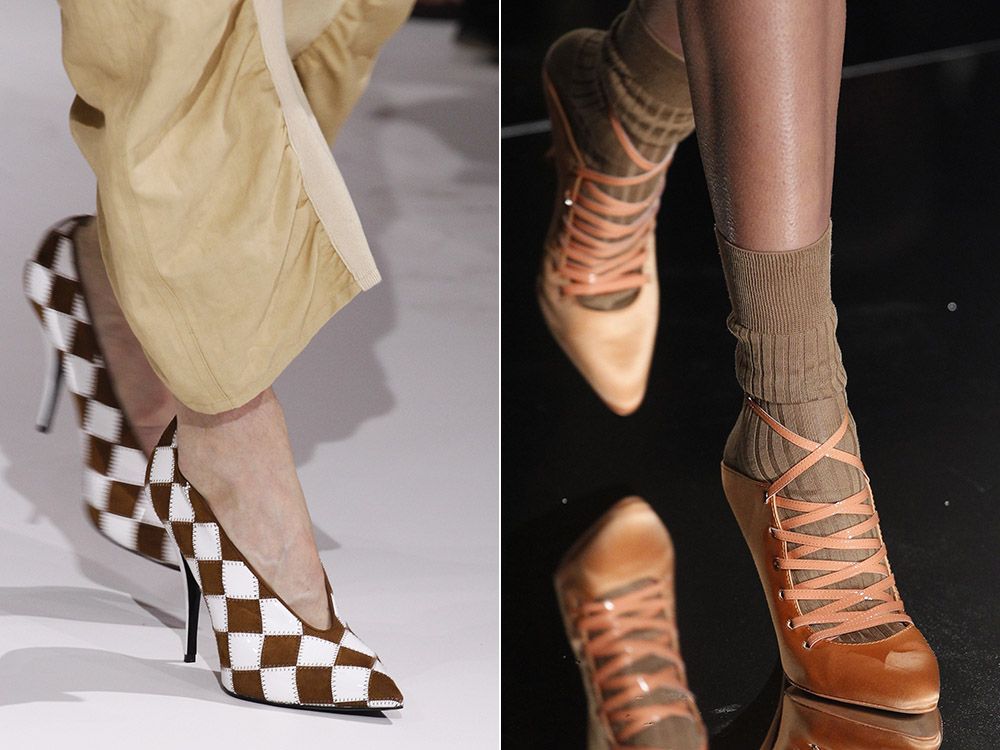 Retro shoes can be found in the collections of Dries van Noten, Erdem, Chanel, Celine, Stella McCartney, Givenchy.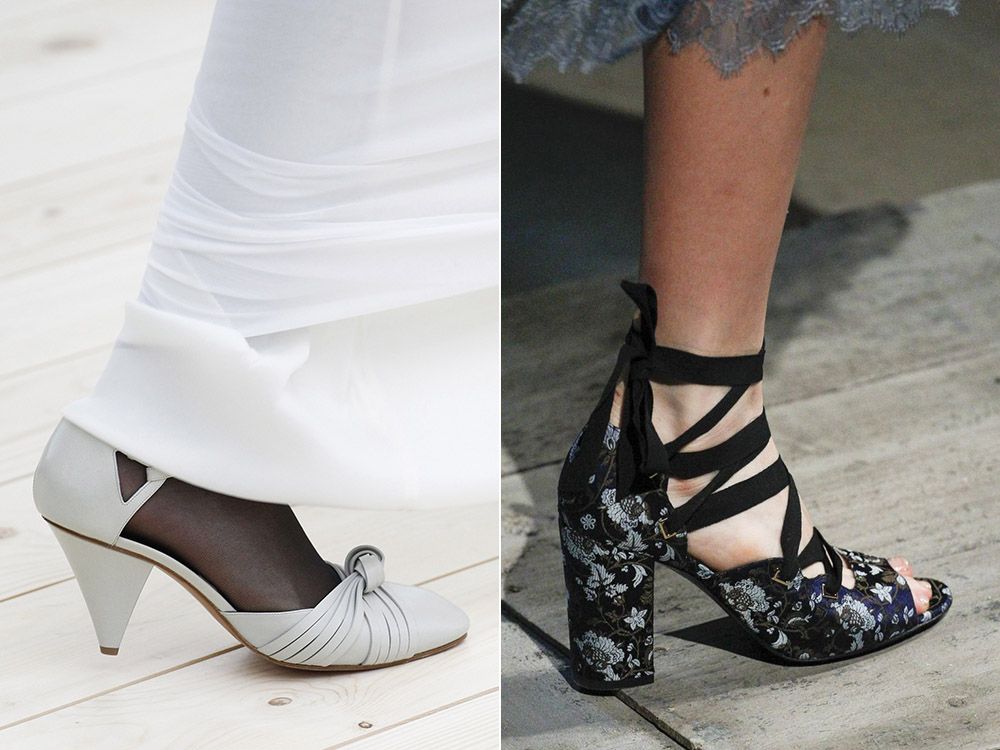 Fashionable materials and colors
In addition to classic leather, among the popular materials you can also highlight shoes made of patent leather, velvet, textiles, as well as models with imitation of reptile skin.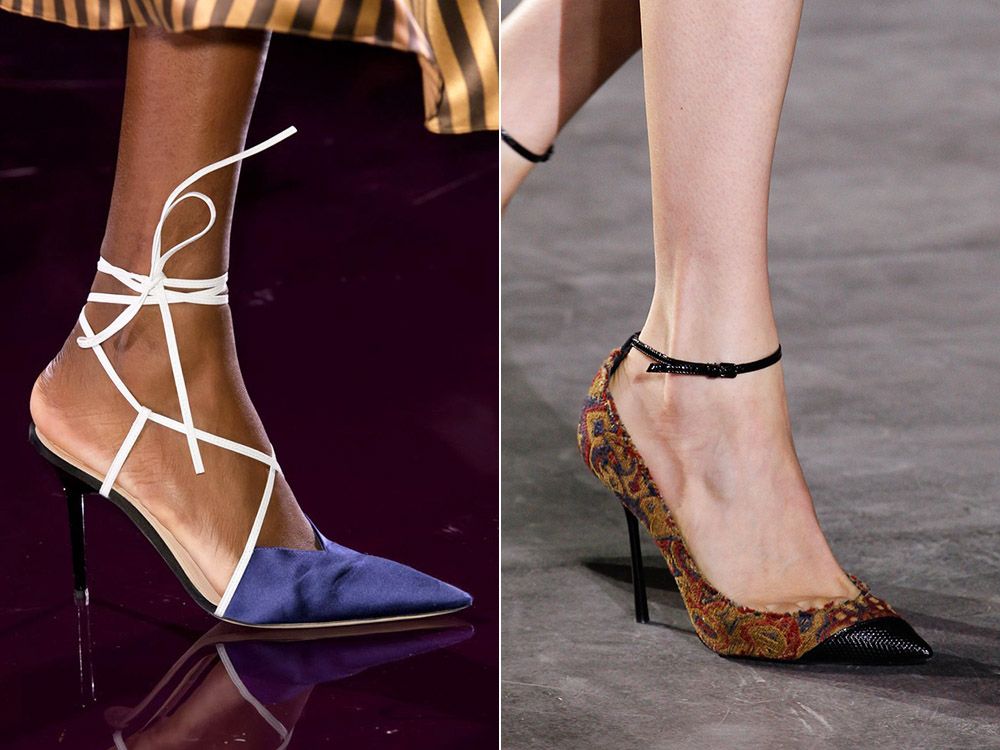 Many designers have actively used materials with a metallic effect. For example, Trussardi even created a whole line of "metal" loafers: from gold and silver models to options with a holographic effect.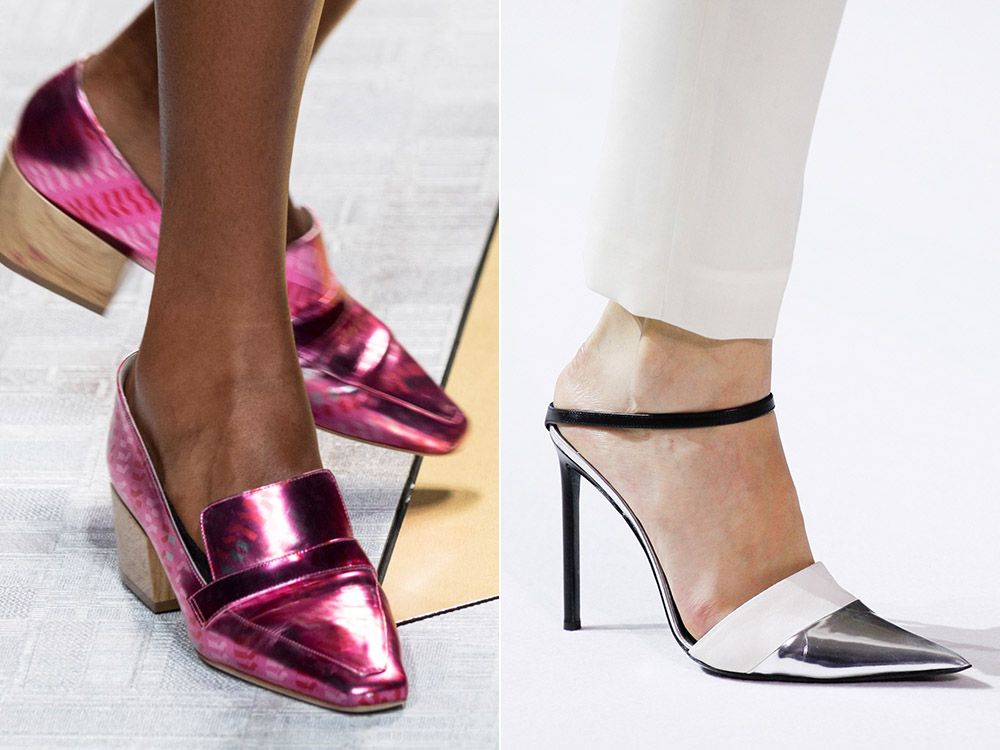 Balmain, Prabal Gurung and Simone Rocha actively used plastic. But completely transparent models are no longer relevant, shoes that combine several materials at once are in fashion: plastic, leather, wood and textiles.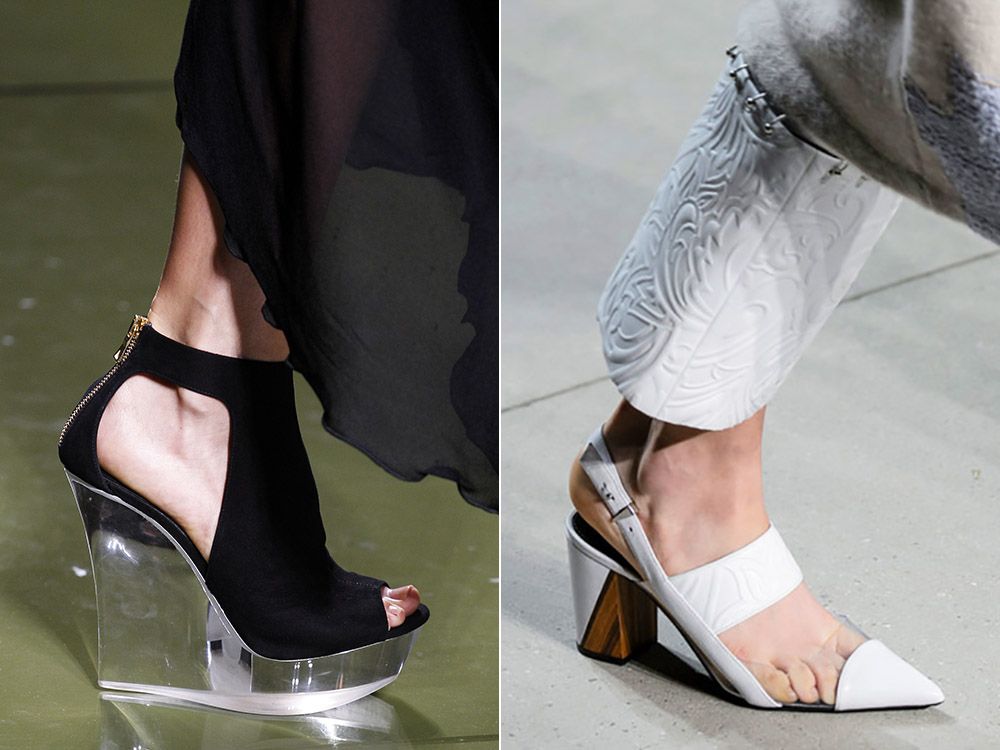 As for the colors, in the spring-summer 2017 season, along with bright colors, the achromatic gamut stands out brightly, which is a bit unexpected for the warm season. Also, designers paid attention to the floral print and vichy cage fashionable this season..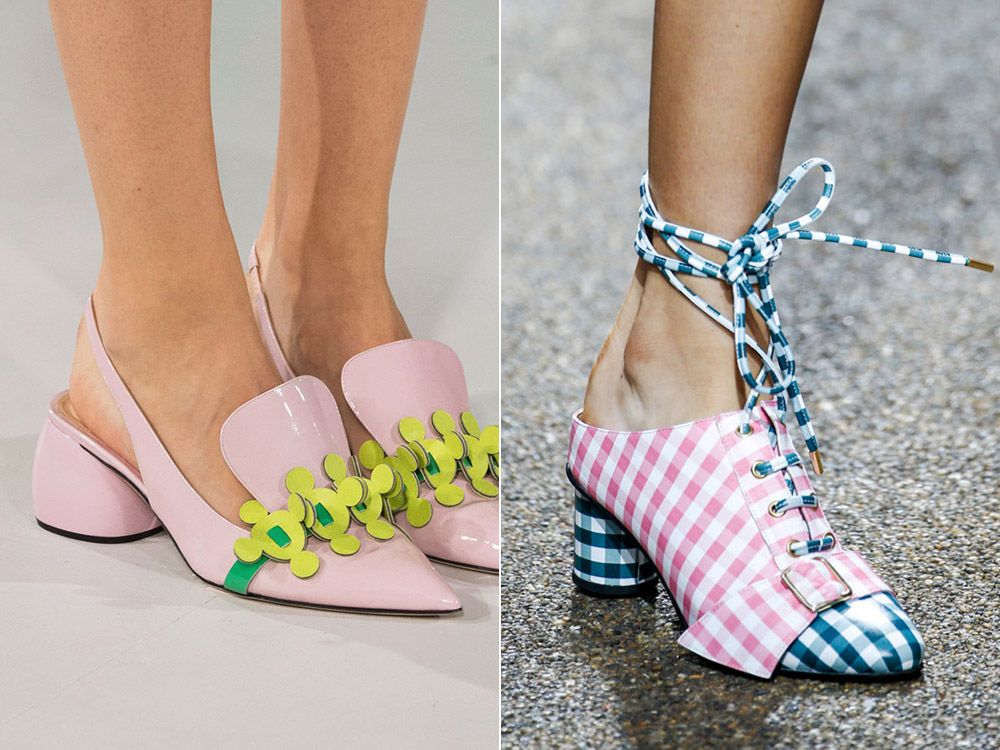 Fashionable decor and unusual shapes
It's time to take a break from architectural heels, intricate designs and an abundance of decor. Only some models of shoes were decorated with metal parts, beads and stones..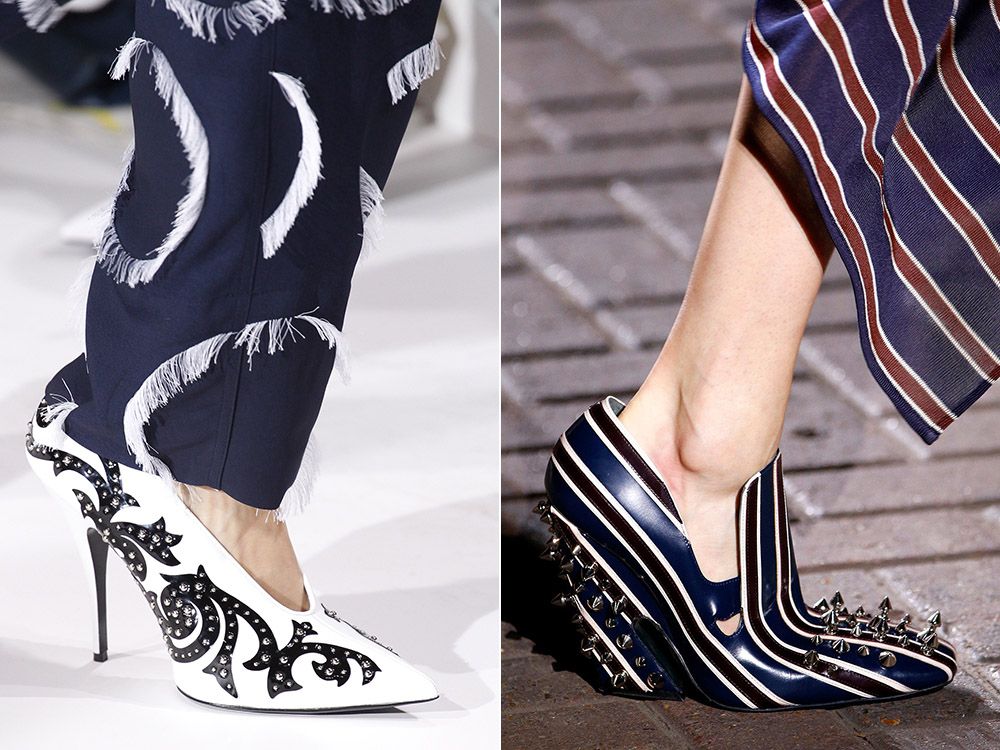 As for the shape of the heel, here, too, designers preferred restraint and conciseness. Unlike previous seasons, only a pair of brands presented shoes with a non-standard shape of the heel this year..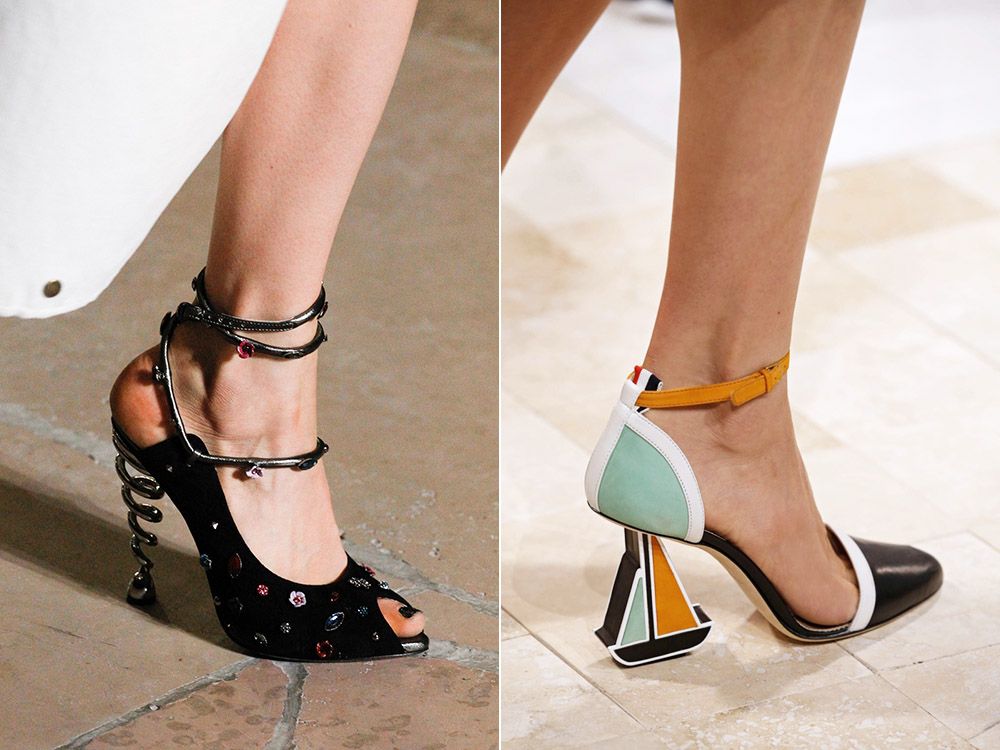 In general, shoes have become easier. Despite this, the shoes in the spring-summer season of 2017 look really fashionable, while remaining as comfortable as possible to wear.