Content
---
---
The era of maximum nudity is coming to an end, and more and more designers are offering us to dress in closed swimsuits. Moreover, some fused models are much more seductive than revealing the whole body of a bikini. And thanks to modern technology, the possibilities to dream up with fabrics, decor and colors are becoming much wider..
In fact, beachwear has absorbed a number of common fashion trends that are observed in the rest of the wardrobe, but in general, a relaxing show in sunny Miami is radically different from the rest. Let's see how the leading trendsetters of beachwear see the summer of 2017.
Mayo swimwear
One of the most popular styles of one-piece swimsuits has become mayo – this is a classic closed version with sewn on straps and often a V-neck. They look good on any type of figure, but are especially suitable for girls with wide hips. V-neckline opens chest as much as possible, thereby balancing the bottom and top of the body.
There are both more restrained options, and very frank swimwear with deep cuts, with a predatory print and trim in the form of frills, ties and tassels. Similar models can be found in the collections of Blue Life, Filthy Haanz, San Lorenzo and For Love & Lemons.
Monokini and Plunge
Plunge is a more open version of a one-piece swimsuit that allows you to further expose your body due to a deep cutout in the front and back. The neckline in such a swimsuit can look no worse than in the most revealing bikinis, and a naked back will make the entire male part of the beach lose vigilance.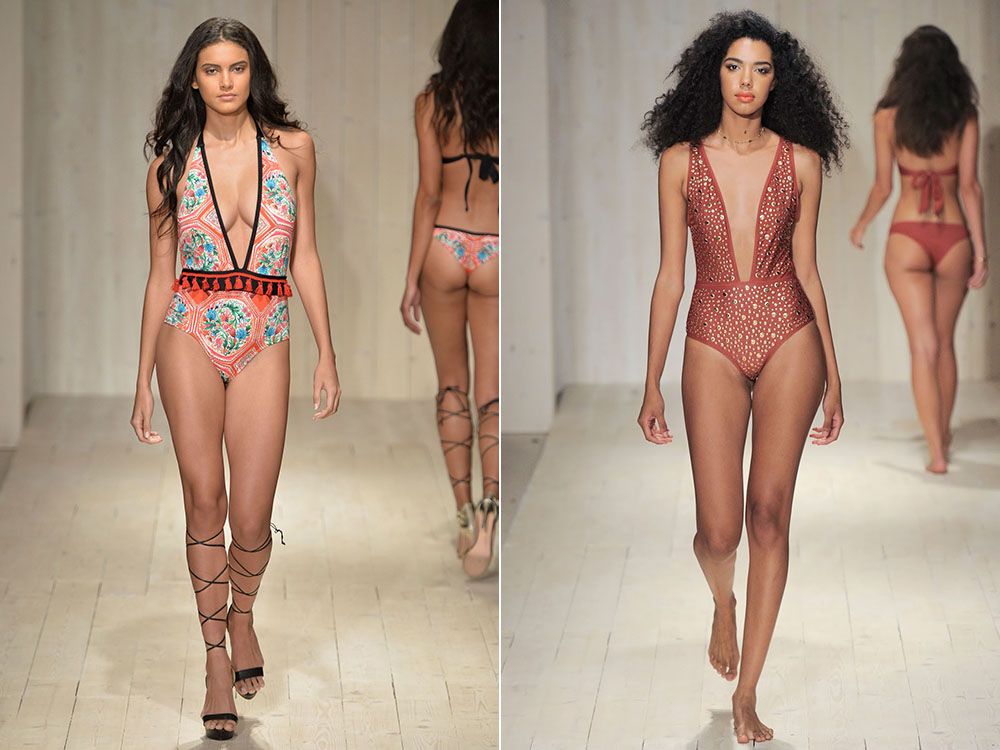 There are more closed options, as well as very frank models with deep cutouts for the legs. Similar models can be found in the collections of Aguaclara, Hot As Hell, Blue Life, Gottex.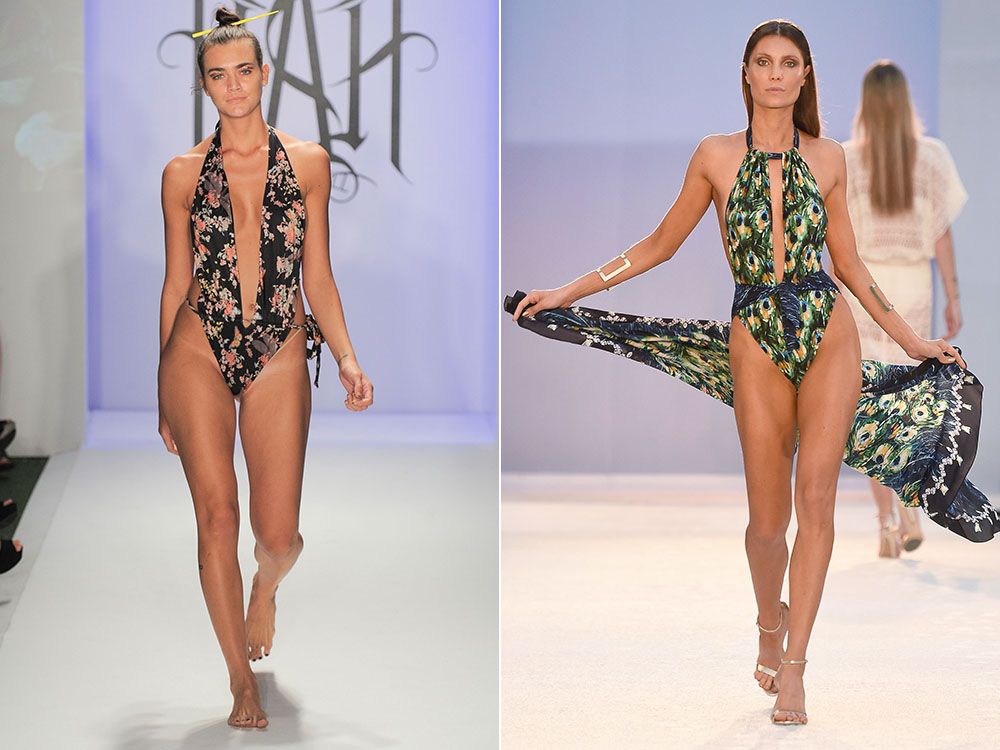 If all the previous swimwear seems too closed to you, look at the monokini. In such models, the bodice and panties are connected only in front, leaving full scope for imagination.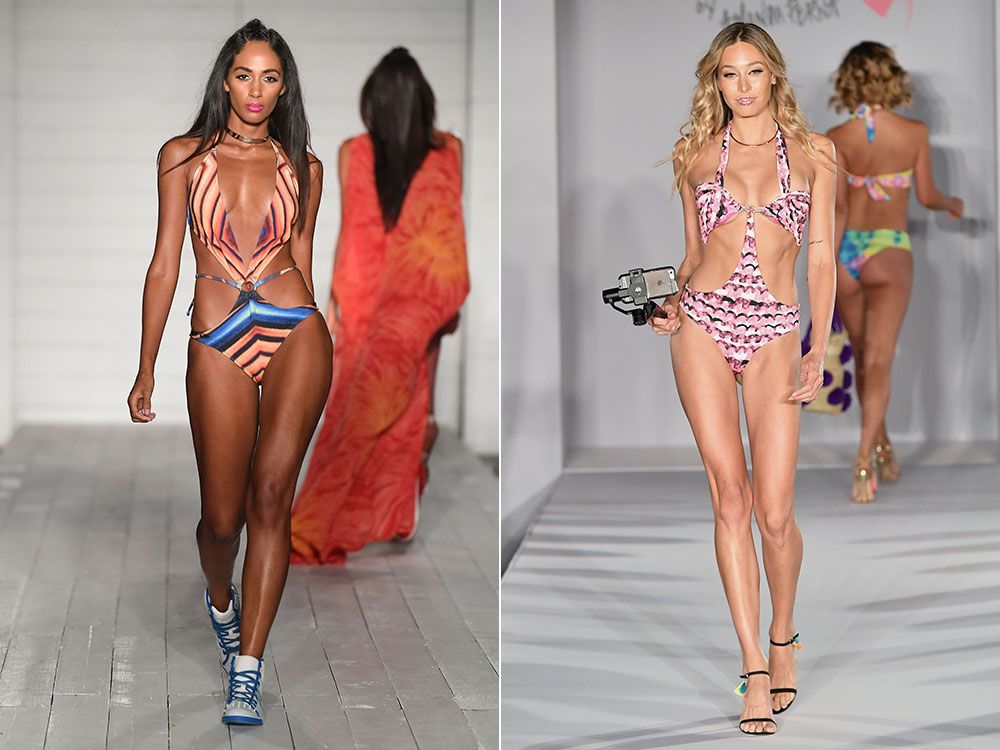 Sports swimwear
Sports models this year have lost their position compared to last summer. Only some well-known brands have included swimwear for active pastime in their collections: Mint Swim, Indah, Just Bones Boardwear, Lycra Moves Swim.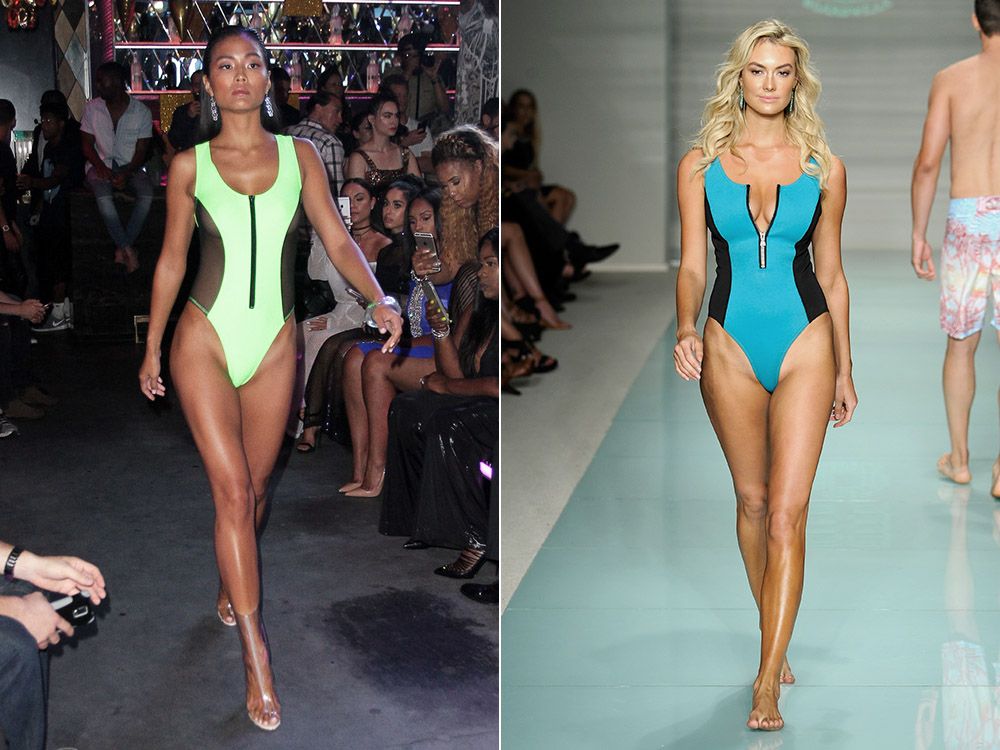 Sports swimsuits are presented as one-piece models, as well as separate ones with panties and tops that support the chest well while you are active. The colors of such models are mostly bright – from a trendy electrician and catchy neon, to juicy lime and other bright colors.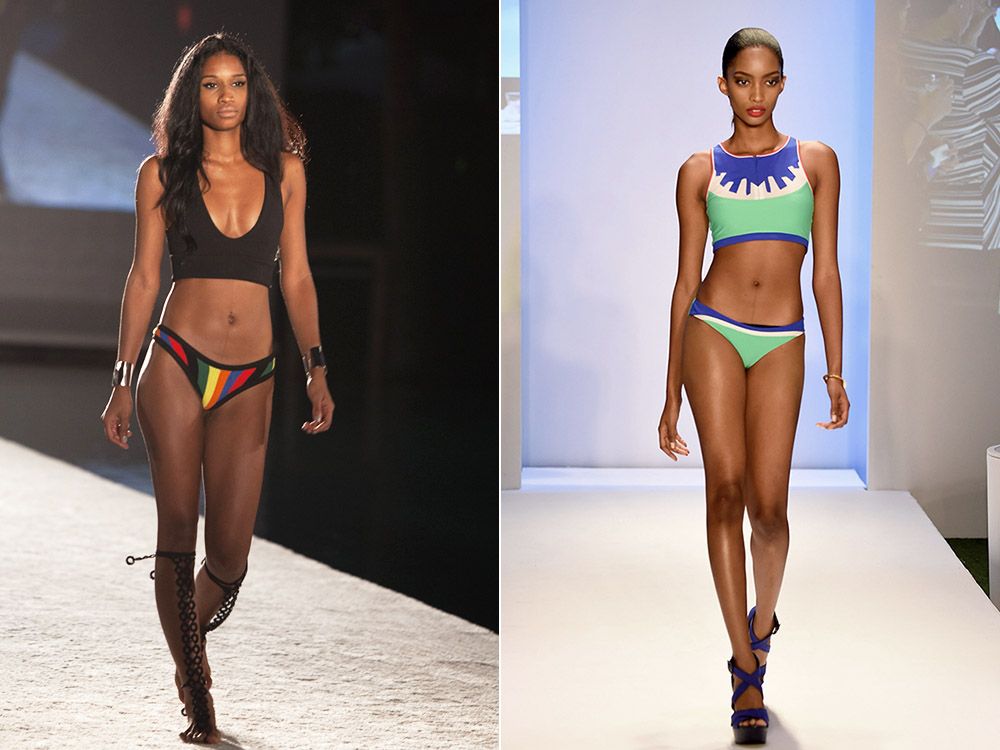 Long Sleeve Swimwear
While some beauties prefer bikinis for tanning, which allow them to open their bodies as much as possible, designers offer the exact opposite trend – long-sleeved swimwear. This technique is used both on fully enclosed swimsuits, and in monokini and separate tankini models – a set of panties and T-shirts of various fit.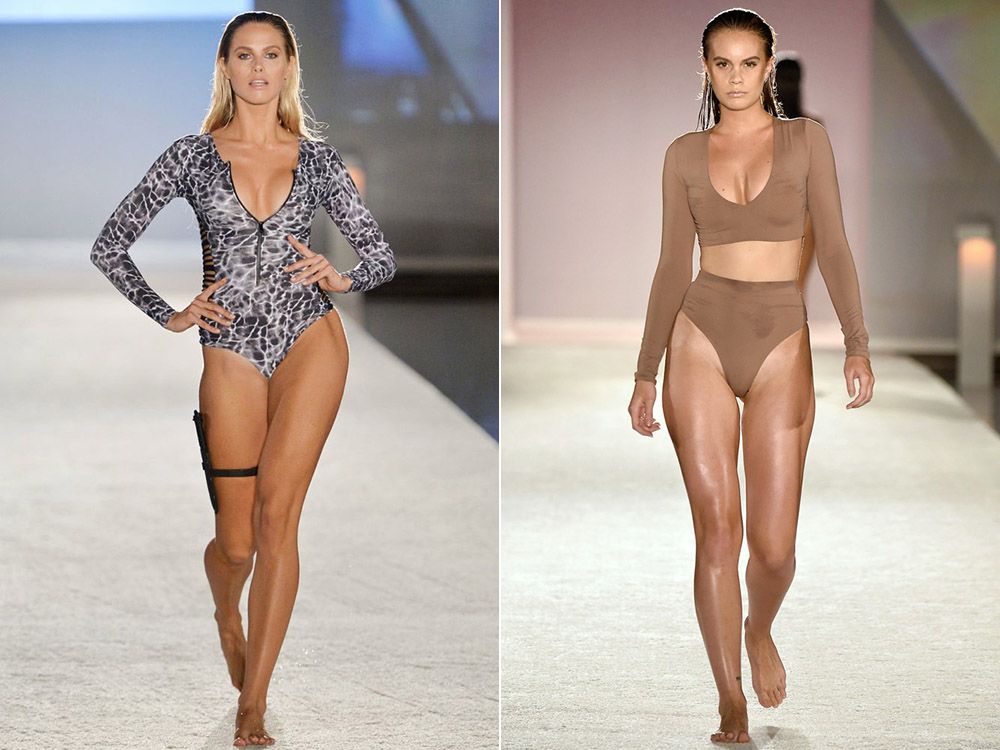 Swimwear with sleeves can be made in a monotonous scale without unnecessary decor, or decorated with floral and marine motifs, a predatory print, chaotic abstraction and geometric patterns. All this is in abundance presented in the collections of Issa de 'mar, Myra Swim, Luli Fama.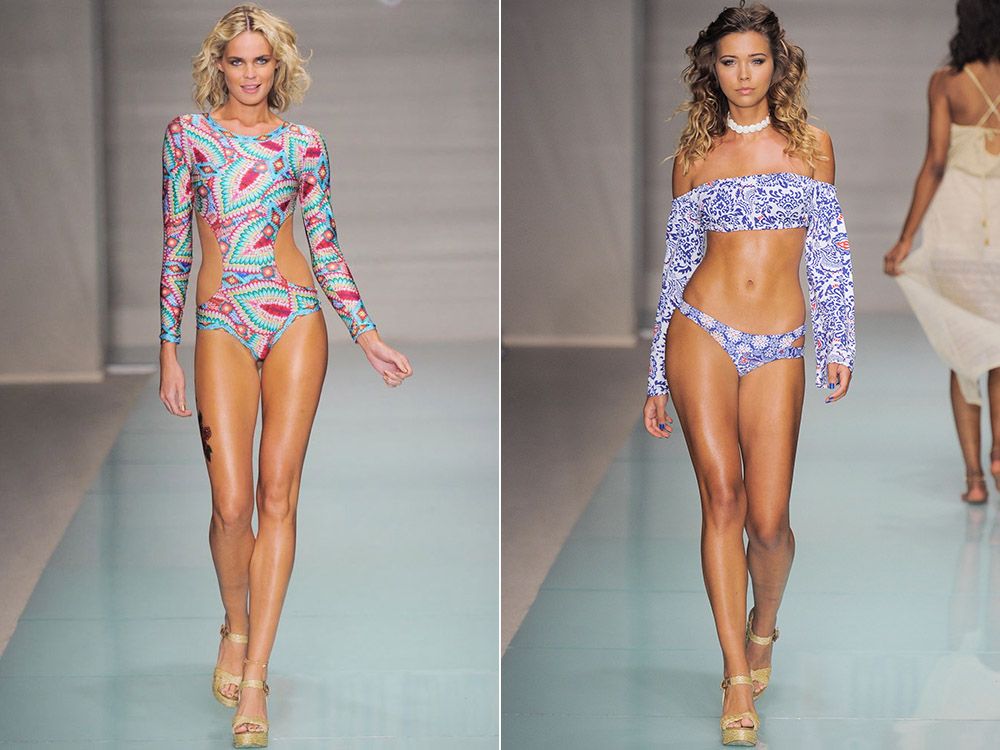 One shoulder swimwear
Asymmetric cut has become a key technique in the spring-summer 2017 season for many designers. In the beach fashion, asymmetry is represented by one-shoulder swimwear.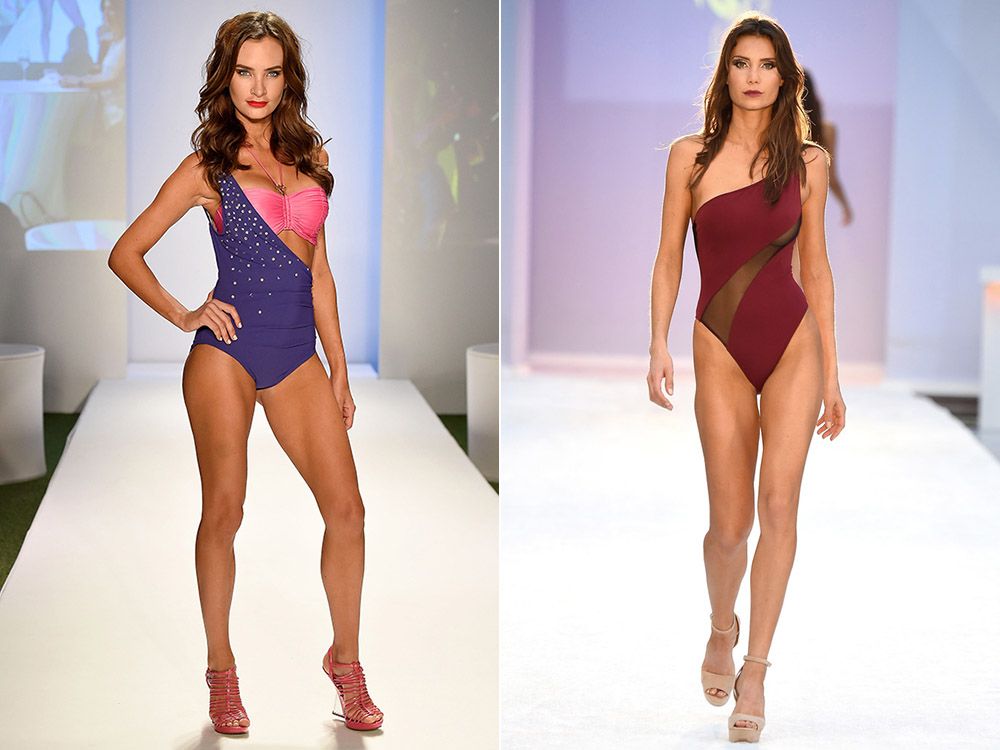 In appearance, they are very similar to the bando model, but in contrast to them are more comfortable to wear – you can not be afraid that the bodice will slip at the most inopportune moment.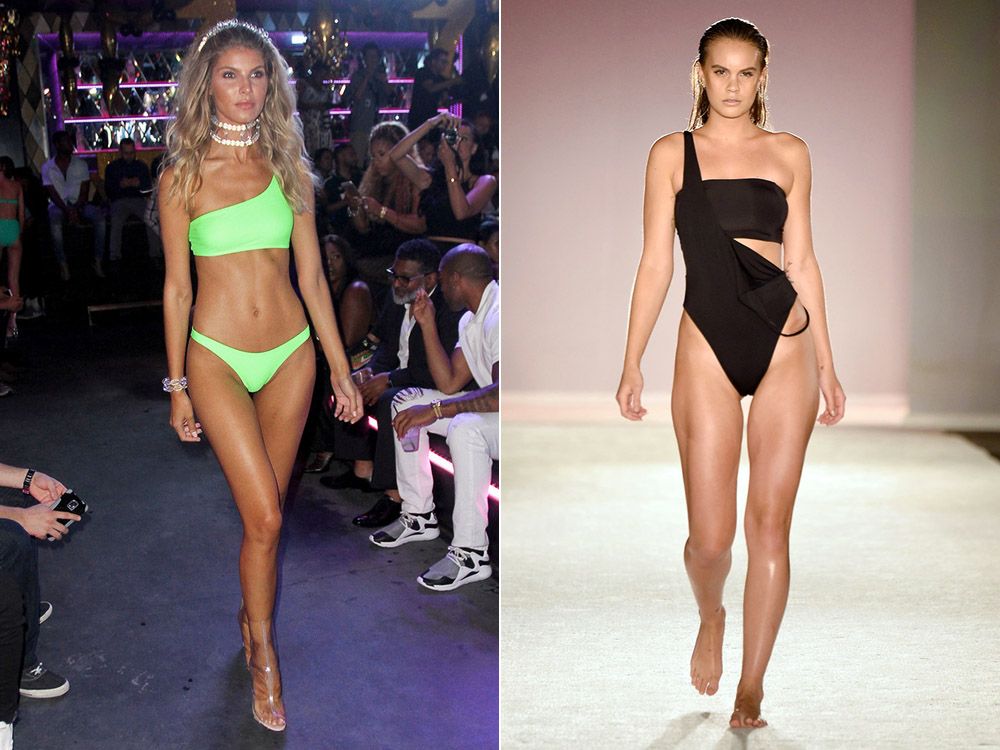 Swimwear Halter
Halter swimsuit – the main hit in the beach fashion in the summer of 2017. A distinctive feature of such models is that their straps are fastened or tied around the neck. In the summer season of 2017, the halter is presented not with standard bikinis, but with a set of panties and a top. In such a swimsuit it is also convenient, as well as in sports models. But unlike the latter, halter swimsuit allows you to get a more even tan thanks to the ties that can be untied when necessary.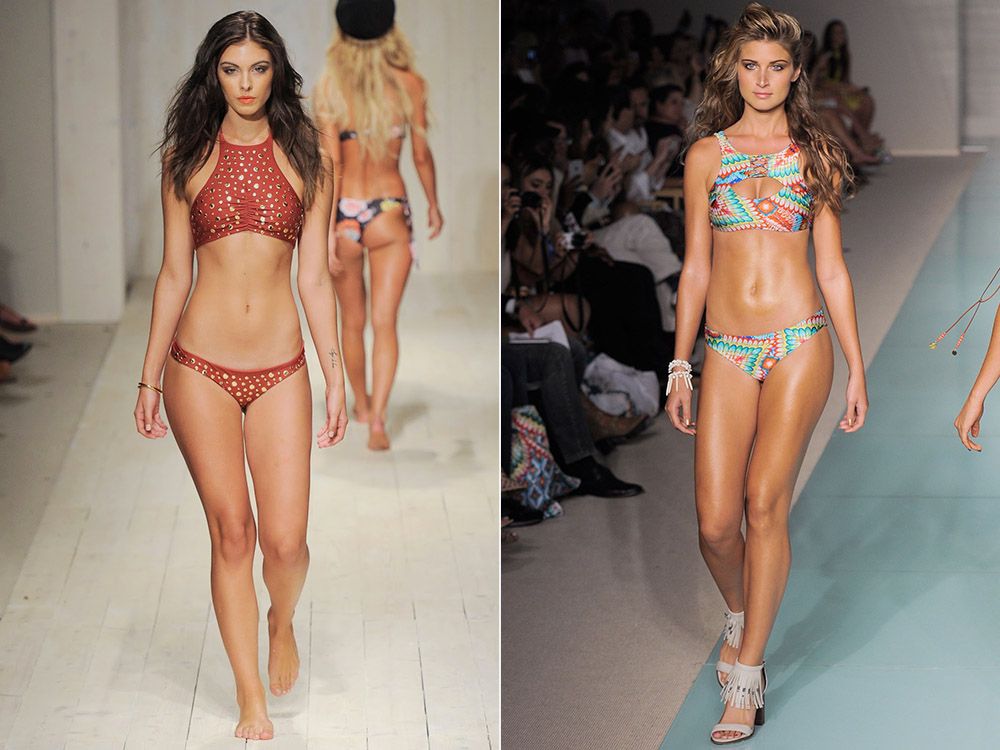 Due to the fact that the top of the swimsuit has become more closed, designers have the opportunity to experiment with a cut, adding cutouts, transparent inserts and additional ties. The color, width and thickness of the straps may vary..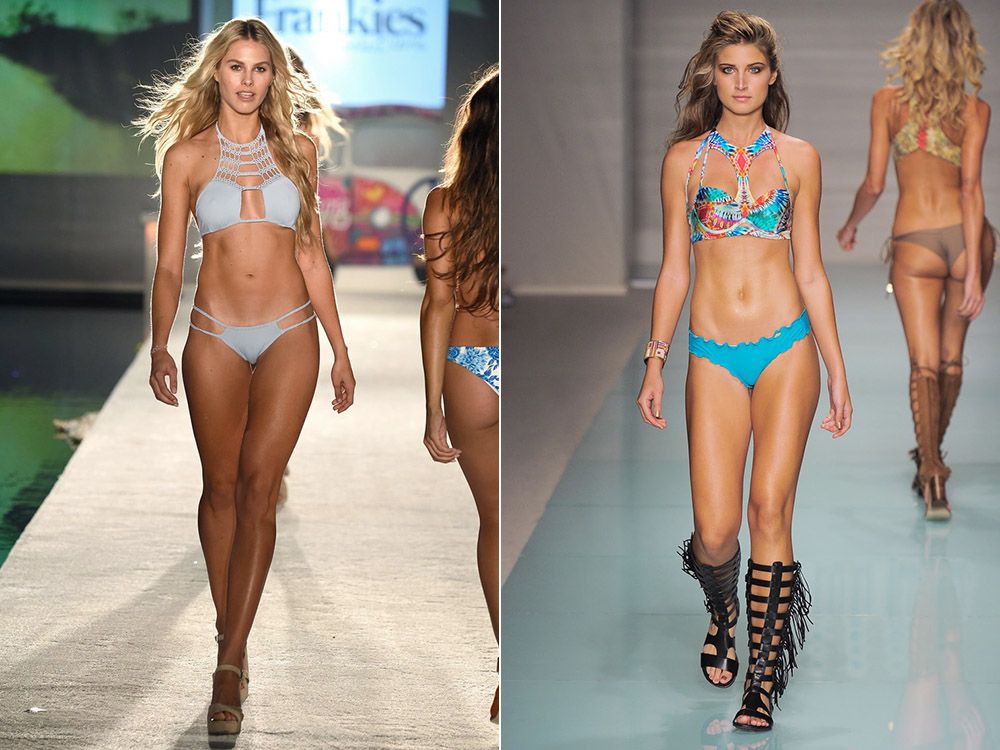 Closed halters and a monokini with a clasp around the neck were less common at shows..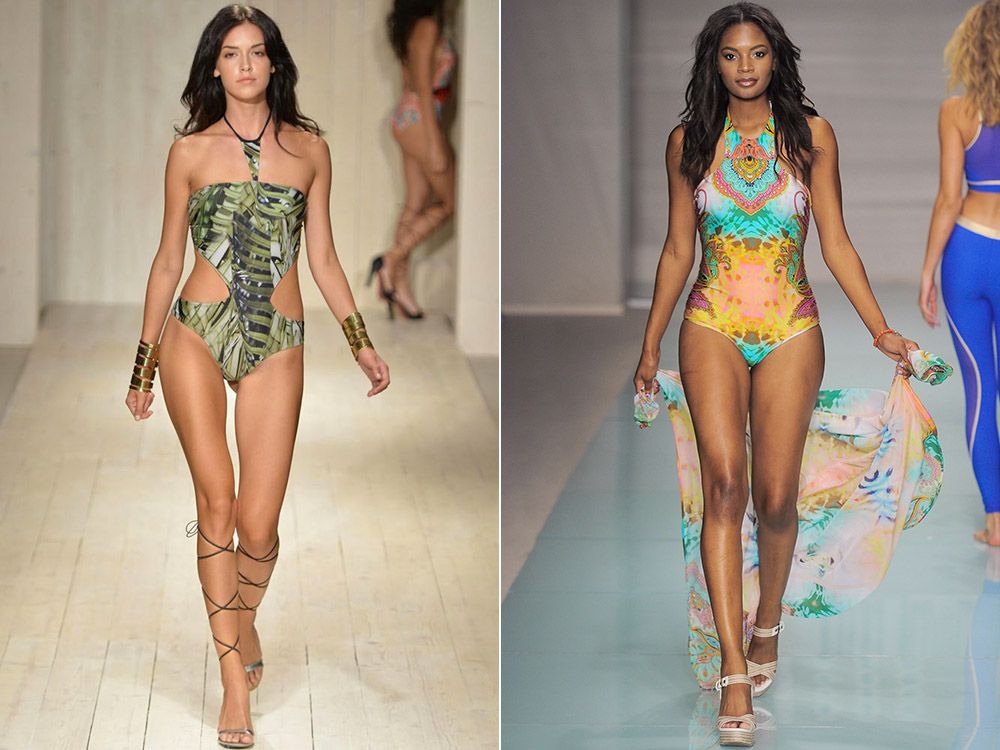 Swimwear with high panties
The return to the catwalks of cut swimwear of the 60-80s with high panties is quite predicted. Rounded forms, smooth lines – femininity returns to fashion again. Swimsuits inspired by the style of past years were seen in the collections of Sire? Nes De Soleil, Kai Lani, San Lorenzo, Aguaclara, Lee + Lani.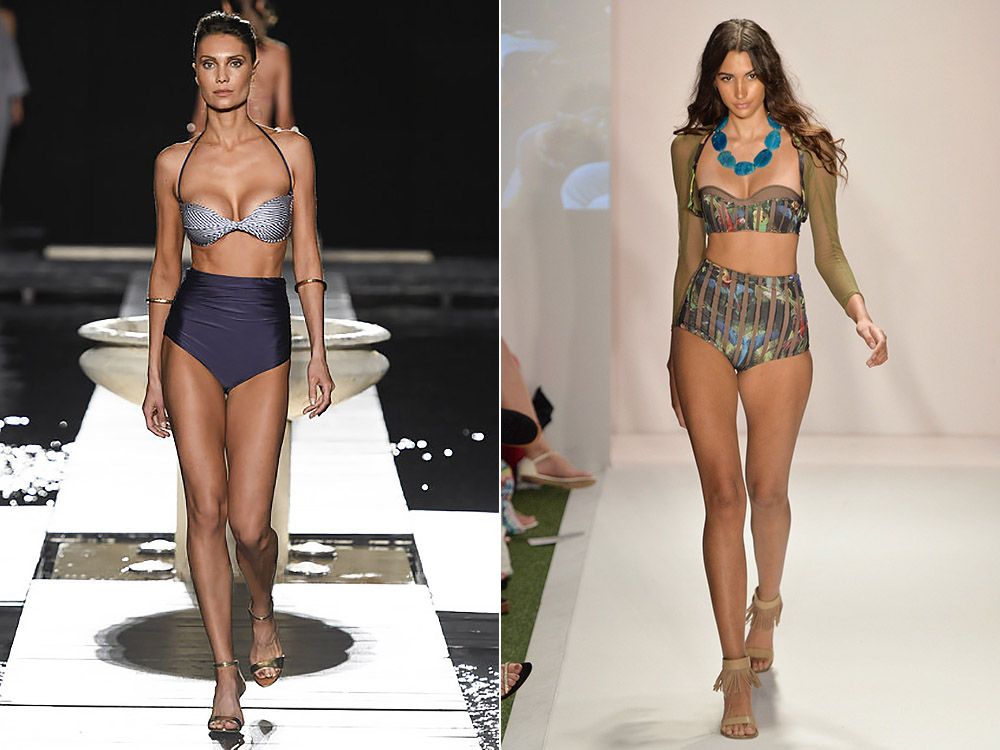 There were clear representatives of retro with high panties and wide bandos, as well as more modern swimwear with a decor in the form of transparent inserts, lacing and coloring under predators. Do not be afraid to look old-fashioned: the new retro looks coquettish, and sometimes even seductive.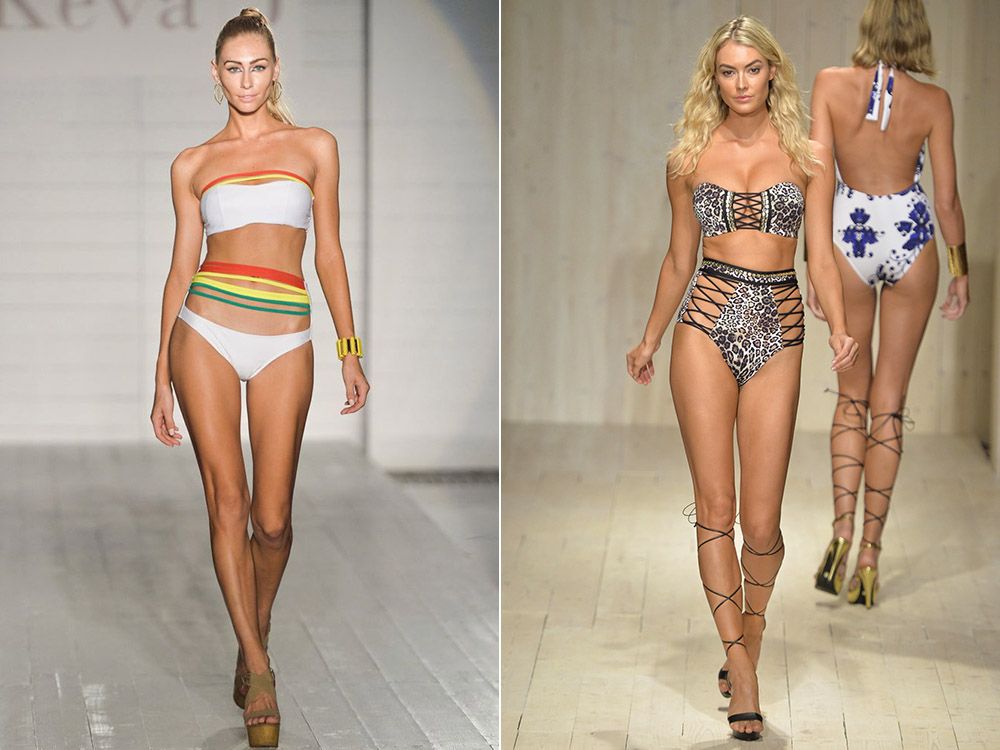 Cutouts, lacing and transparent inserts
One of the most intriguing trends of beachwear in the summer of 2017 is seductive cutouts and transparent inserts. The degree of frankness literally varies from Puritan models, slightly opening the stomach, to very frank swimsuits, showing even more than is customary.
Cutouts and transparent inserts adorn most of the beachwear. Even microscopic bikinis and highly revealing monokinis are complemented by mesh and small cuts..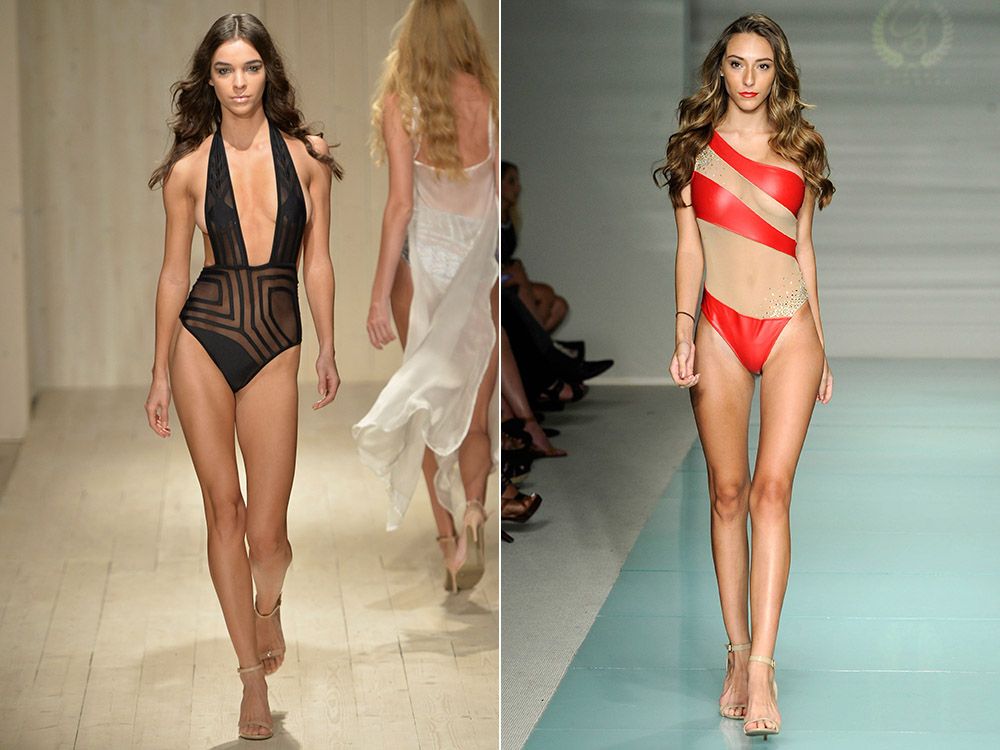 Swimwear, decorated with lacing, thin straps, ties and many straps are also on the list of fashion trends. Lacing decorates the neckline and waist, as well as the side of one-piece swimsuits.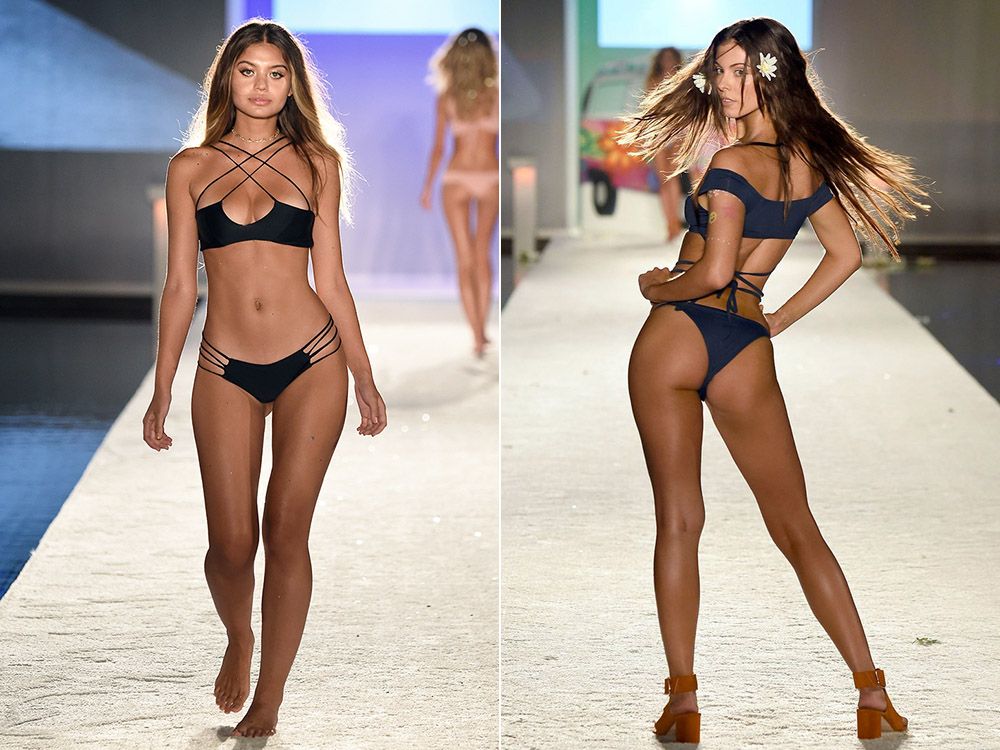 Even the closed models and very modest retro swimsuits with high panties thanks to the lacing look seductive and no less attractive compared to the most revealing bikinis.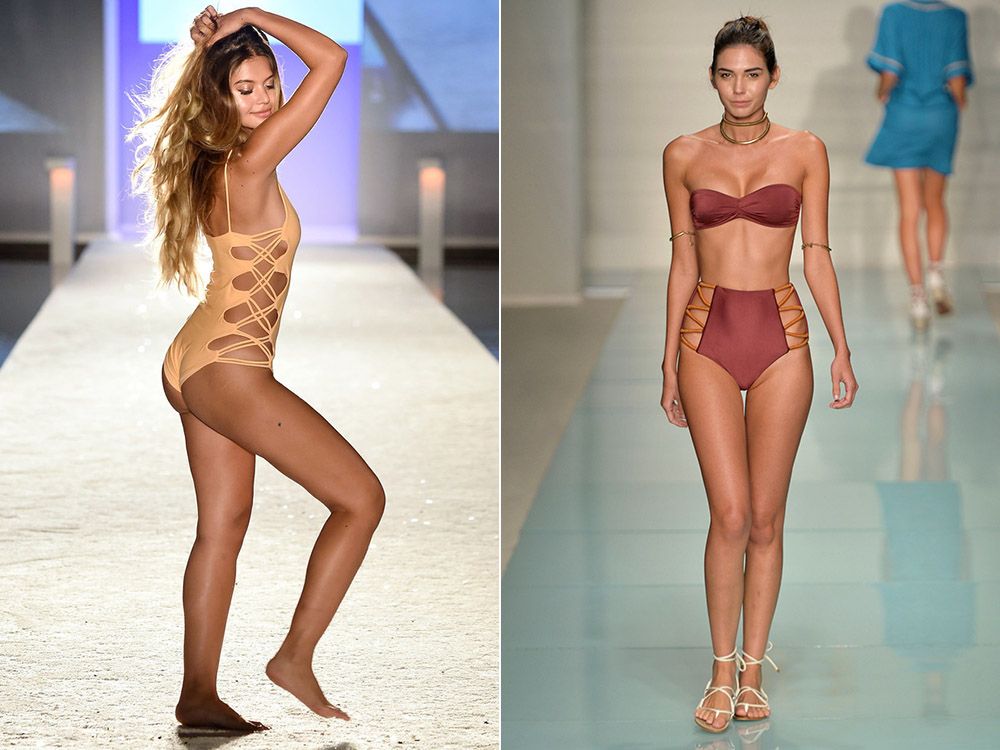 Swimwear with tassels
The trendy last season swimsuit with a fringe was replaced by models decorated with decorative tassels and small pompons.
But this does not mean that the brushes completely squeezed the fringe. Playful pasta also adorns a significant portion of beachwear. Best used fringe Du Aqua and Luli Fama.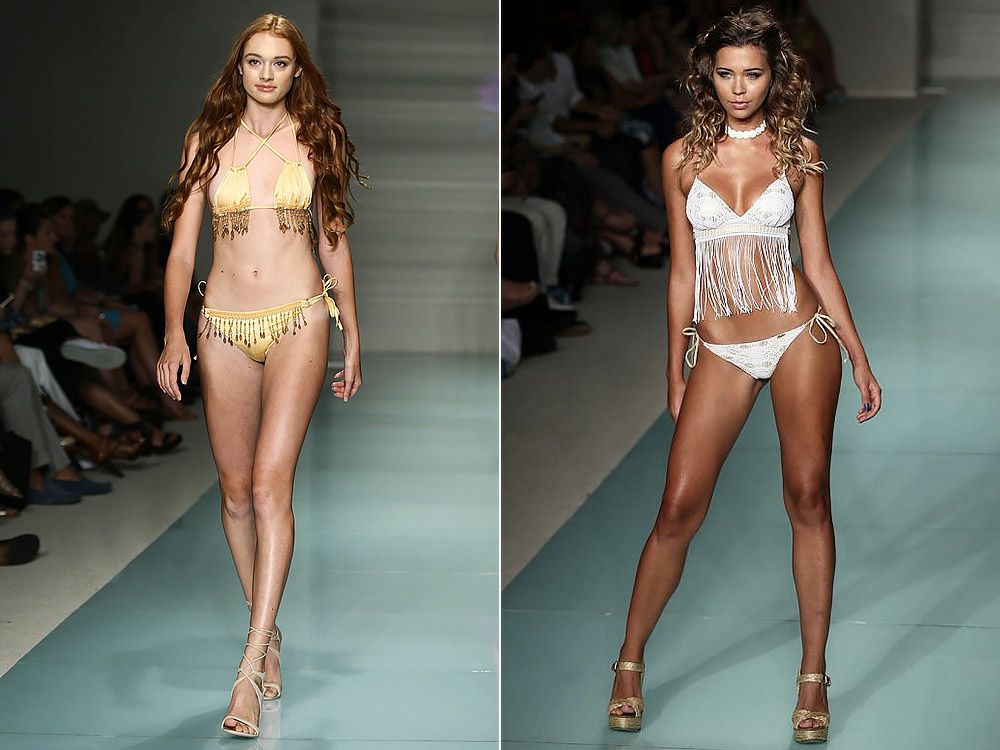 Fringe, tassels and pompons will adorn literally everything this summer: from the bodice and panties of a swimsuit to tunics and beach shorts..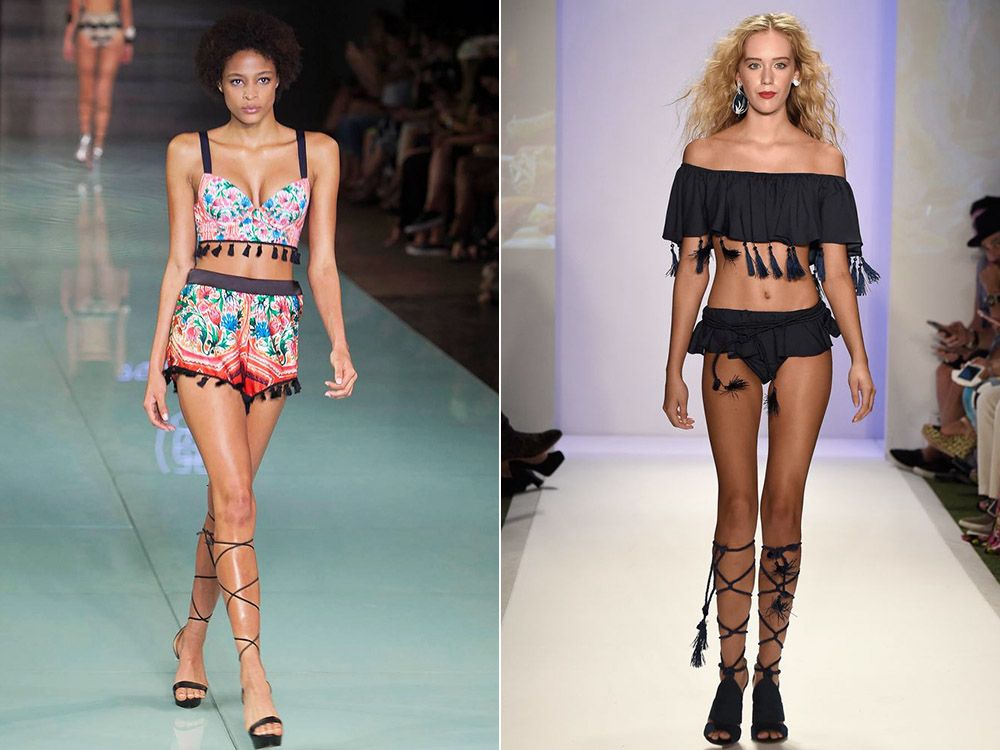 Ruffle Swimwear
Another trend in the swimwear of the spring-summer season 2017 is frills and ruffles. They look equally good on everyday and beachwear. Ruffles and frills can be decorated as the upper part of the swimsuit or the bottom of the panties, and the whole set.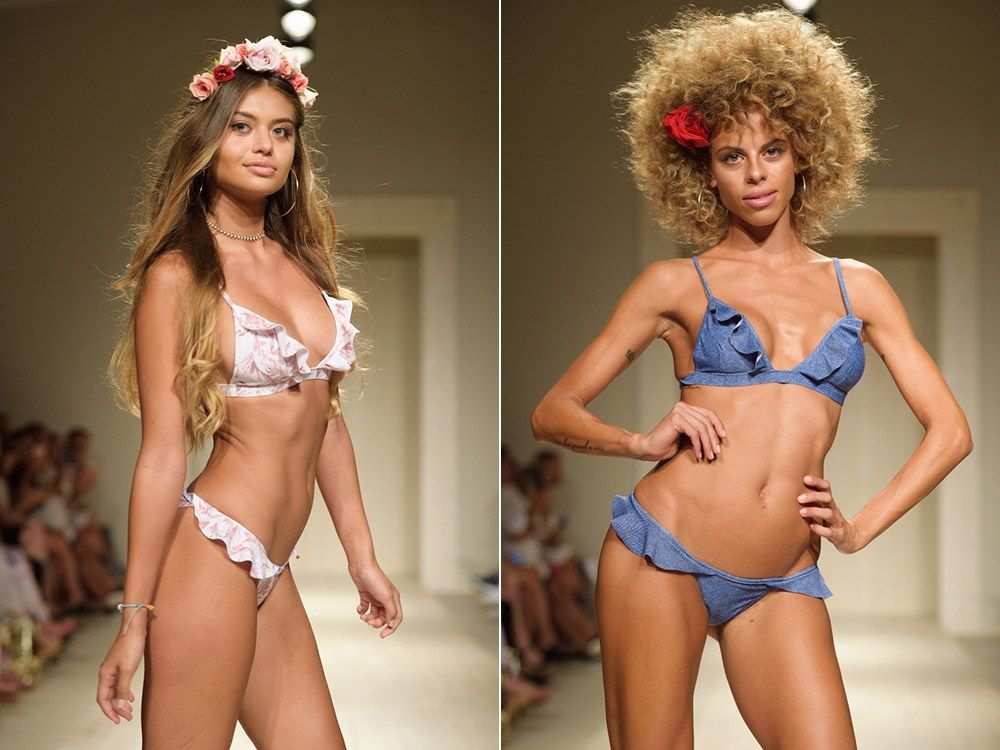 Ruffles look good both on monophonic models, and on multi-colored swimsuits with floral and graphic motifs.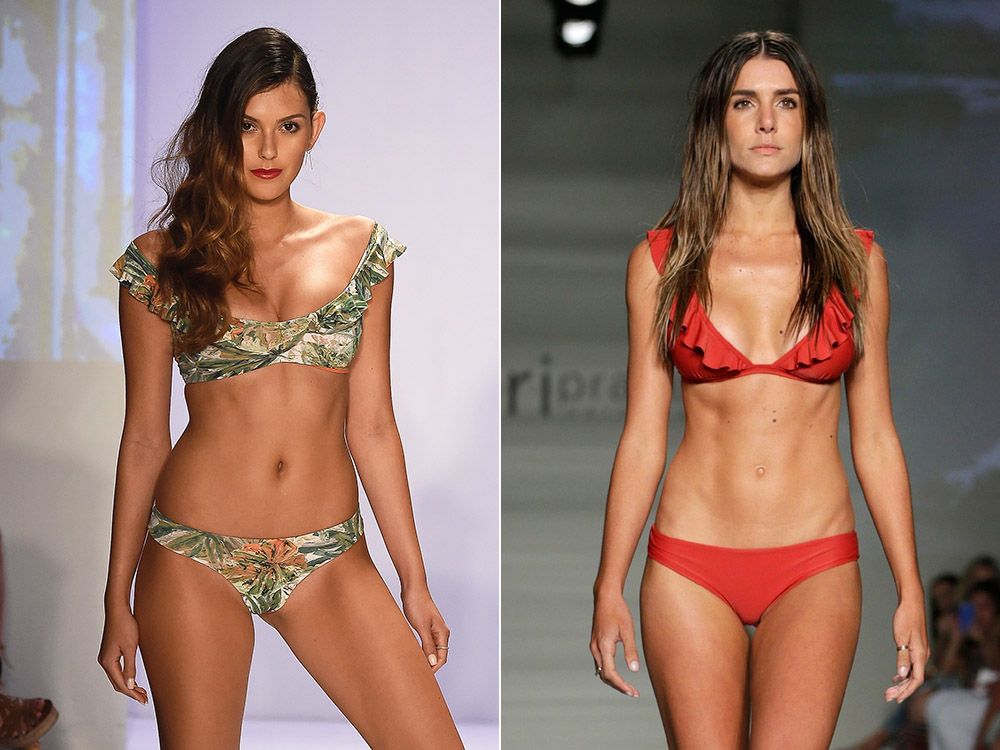 Printed swimwear
Tropical and meadow flowers and other plant prints are annually included in the top trends of the summer season. Both a small floral print and large individual floral motifs are in fashion..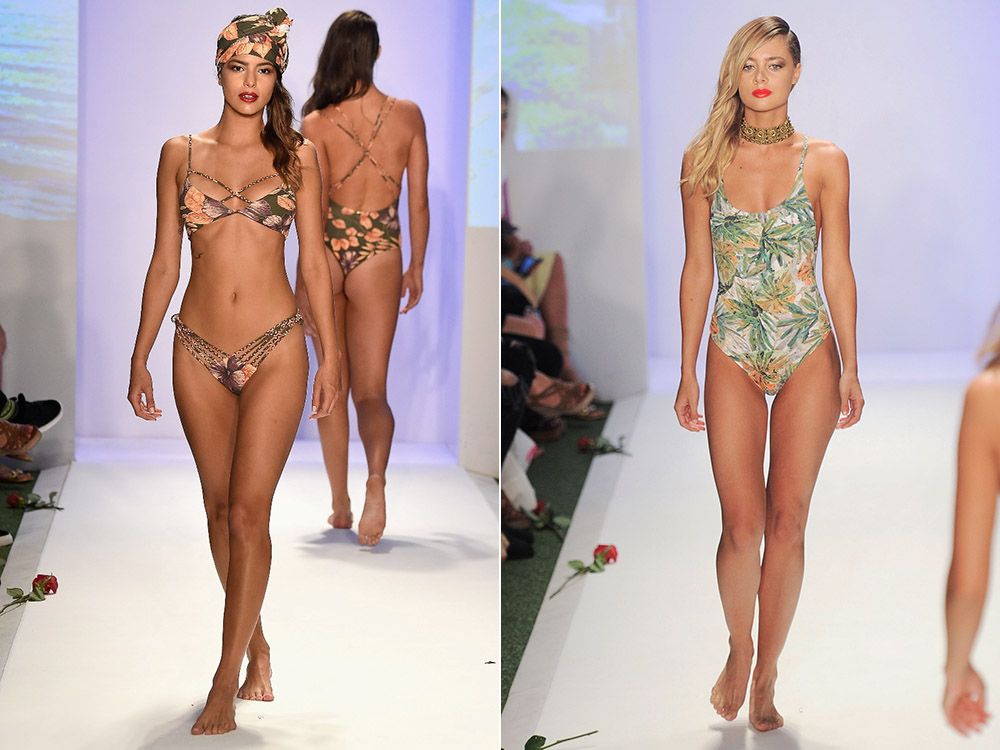 Swimwear with animalistic motifs are constantly present in fashion collections as well as flowers. But unlike previous seasons, this year interest in them has noticeably decreased. Only in some collections have been seen swimsuits with predatory print.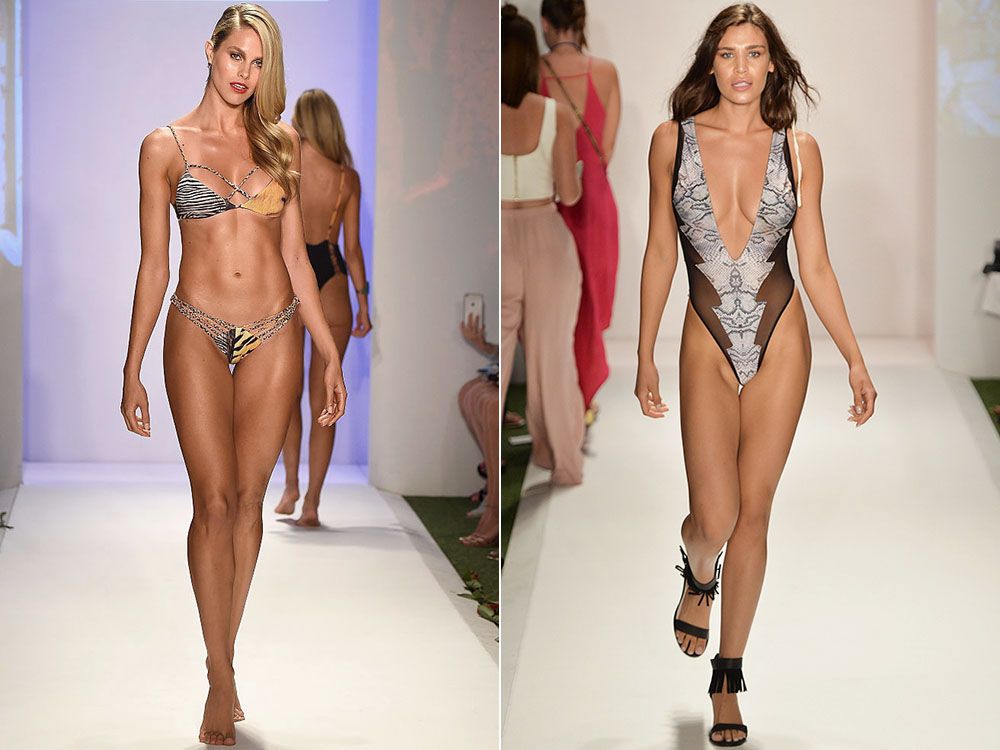 Flesh-colored swimwear
Fashion strives for naturalness and naturalness in everything. And after nude makeup, clothes in nude shades become fashionable. Flesh-colored swimwear look beautiful on a tanned body and create the illusion of nakedness. And so that the swimsuit does not completely merge with the body, the designers have provided contrasting inserts in black.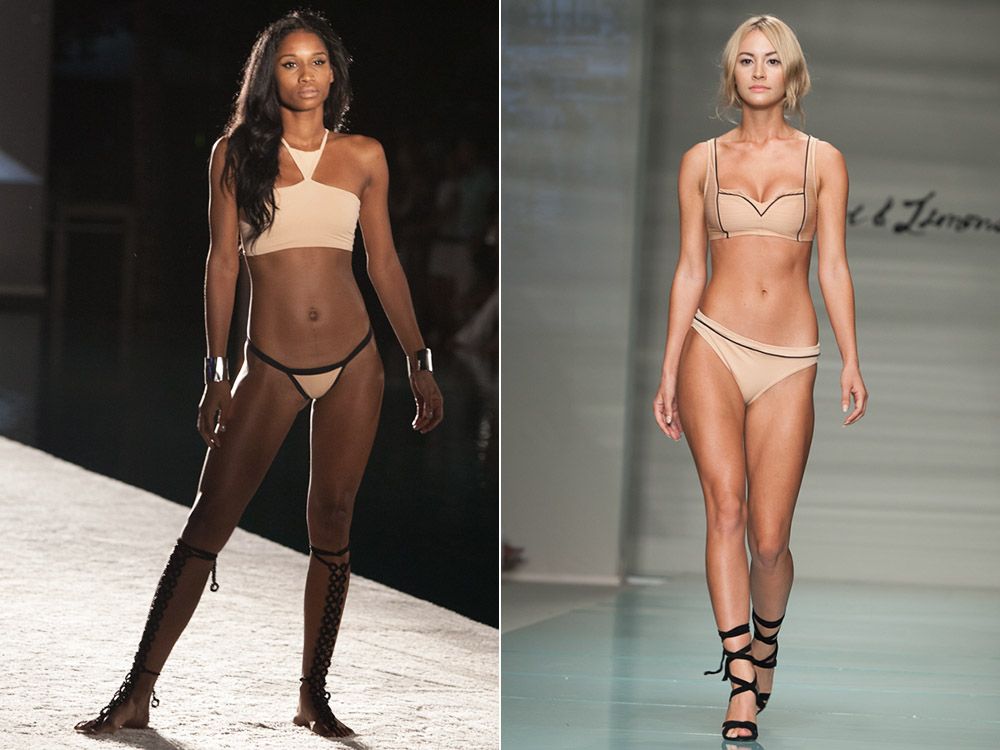 Peach, light pink, beige, powdery and other nude shades in popularity surpassed even bright colors traditional for the summer and floral print. So delicate neutral shades became the main color of the beach fashion of the summer season 2017.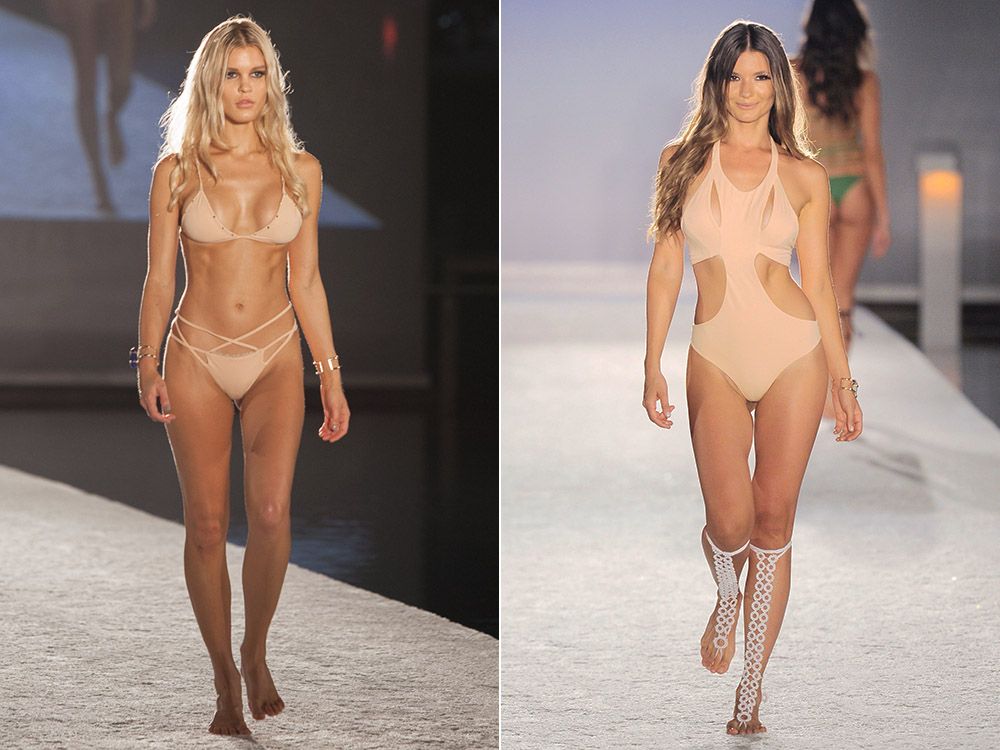 Underwear-like swimwear
The fact that this is not the first season the models in outfits that look more like negligee appear on the catwalk, we are already accustomed to. Now the trend to wear clothes resembling underwear has also moved into beach fashion.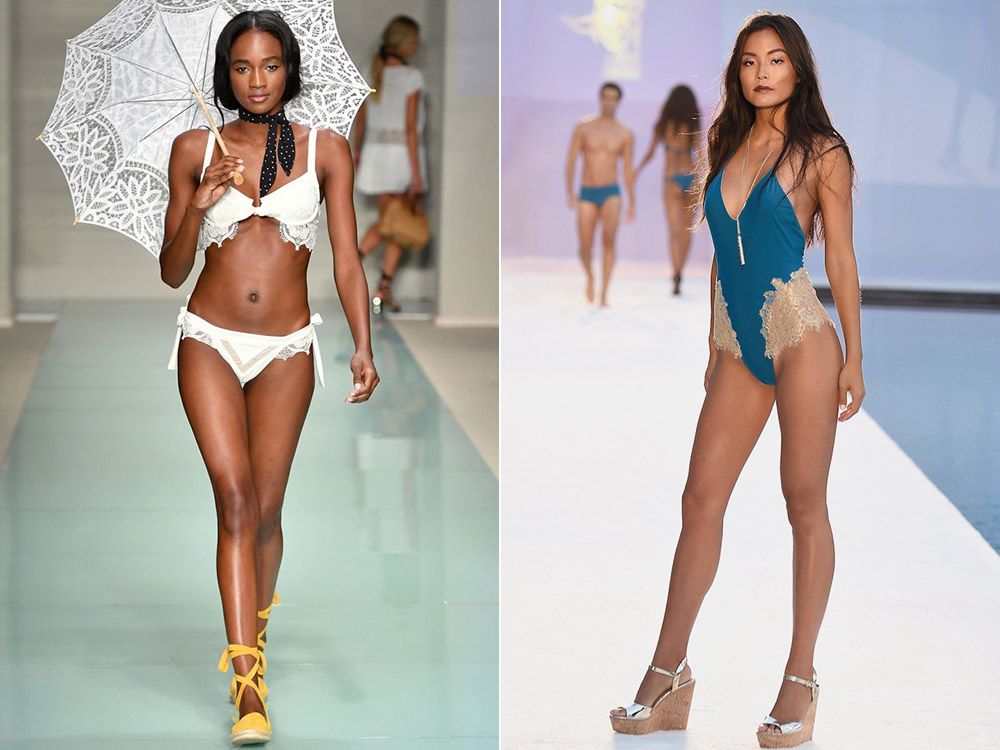 For love & Lemons, Baes and Bikinis, Cirone Swim, Hot As Hell, Lee + Lani – these are not all the brands that have included such swimming "underwear" sets in their collections.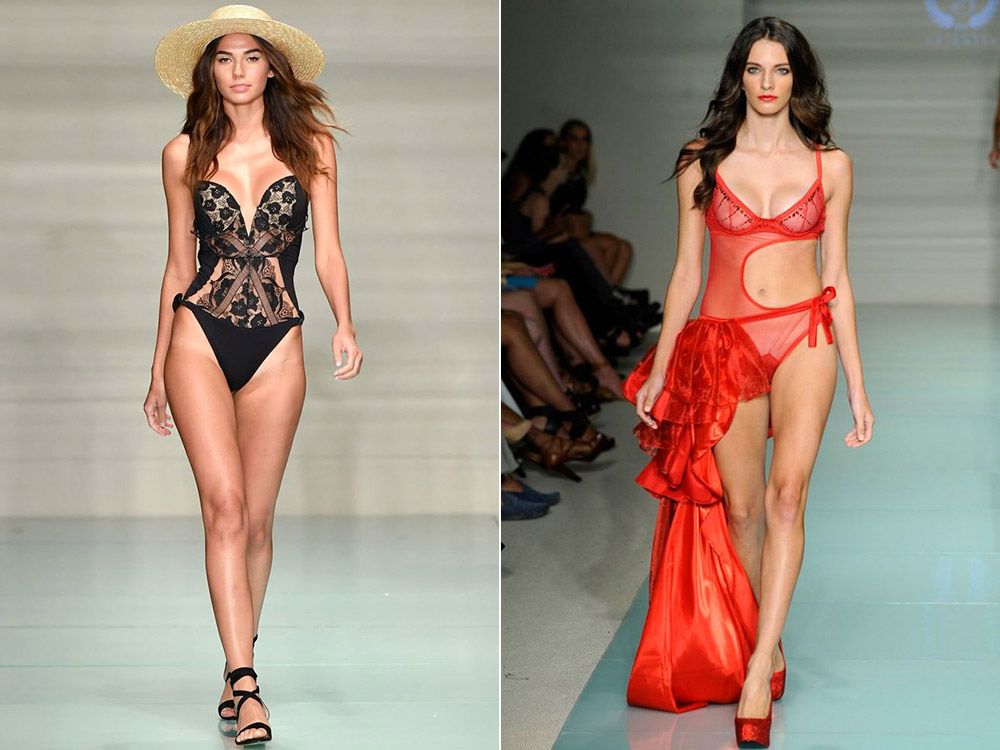 Beach Riot has created a whole line of luxurious wedding swimsuits. Fabrics matched appropriate – silk, lace, chiffon and satin of snow-white color.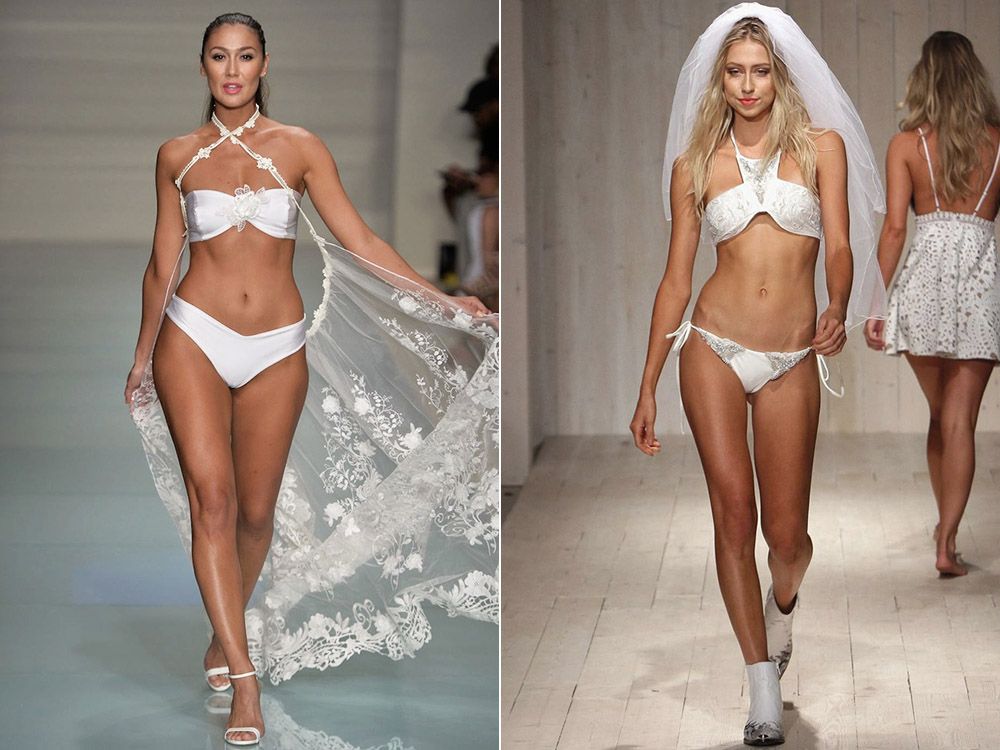 Knitted swimwear
There were practically no fashionable knitted swimwear in past seasons this year. Only two brands – Frankie's Bikinis and Indah have included similar options in their collections. So, if your mother or grandmother loves to please all family members with sweaters of their own production, ask them to knit a flesh-colored swimsuit, complemented by seductive cutouts or thread tassels that are fashionable this season.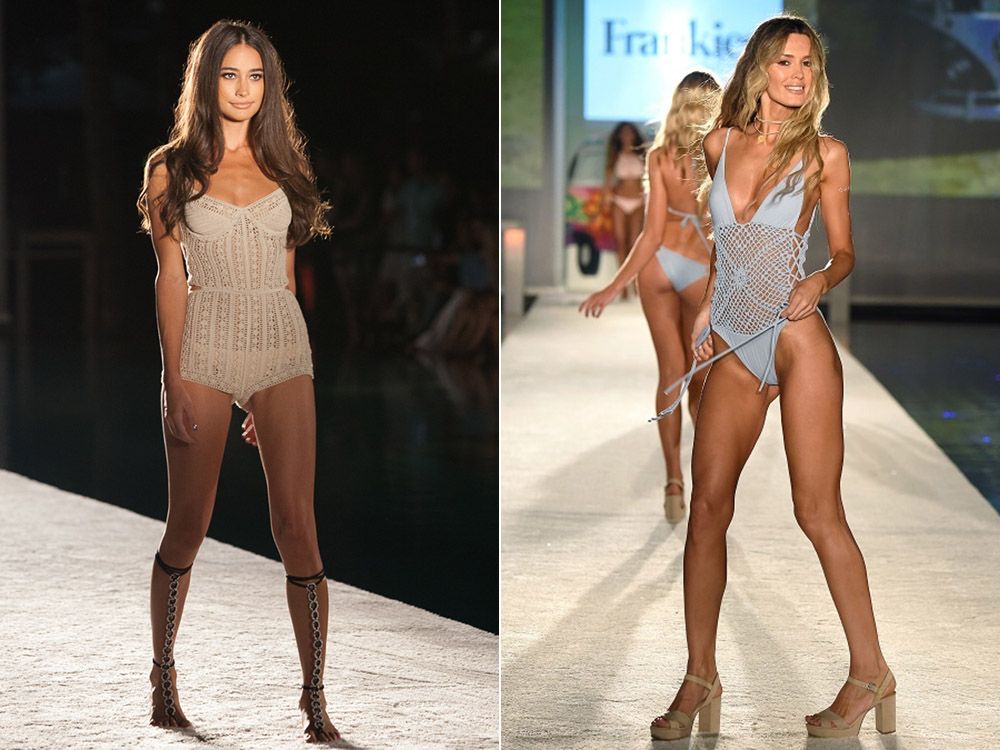 Evening decor
Designers actively used rhinestones, sequins, stones and gold embroidery as a decoration for swimwear. Some swimwear in terms of the amount of decor and the quality of the materials used can compete even with evening dresses.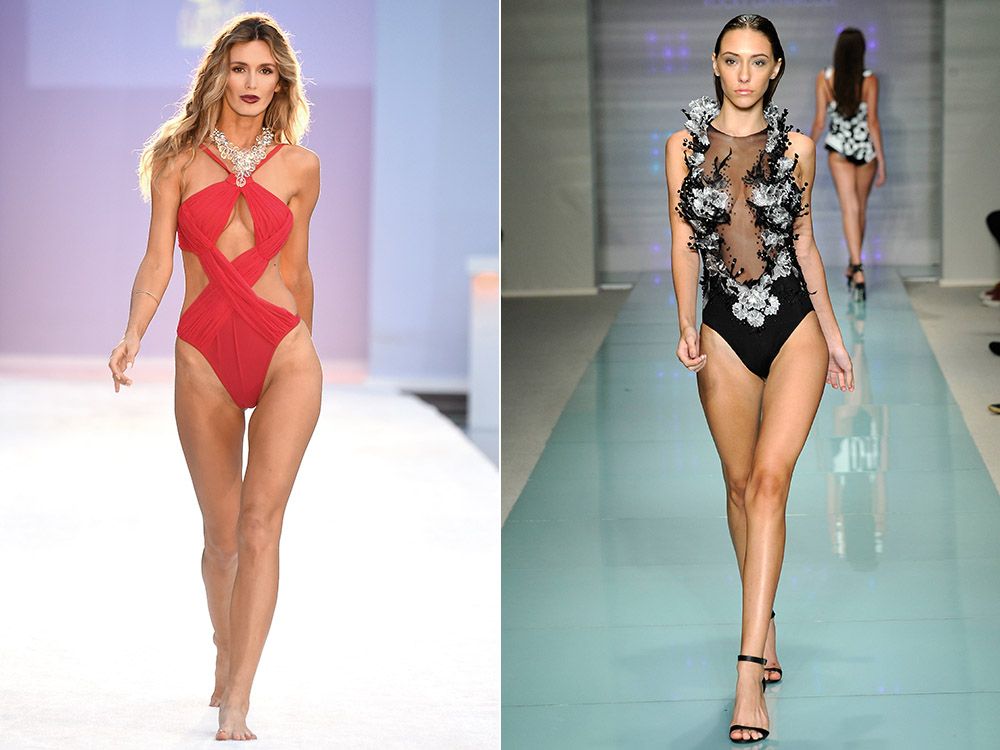 Let them not be suitable for everyday wear, but for a beach party it will be the most.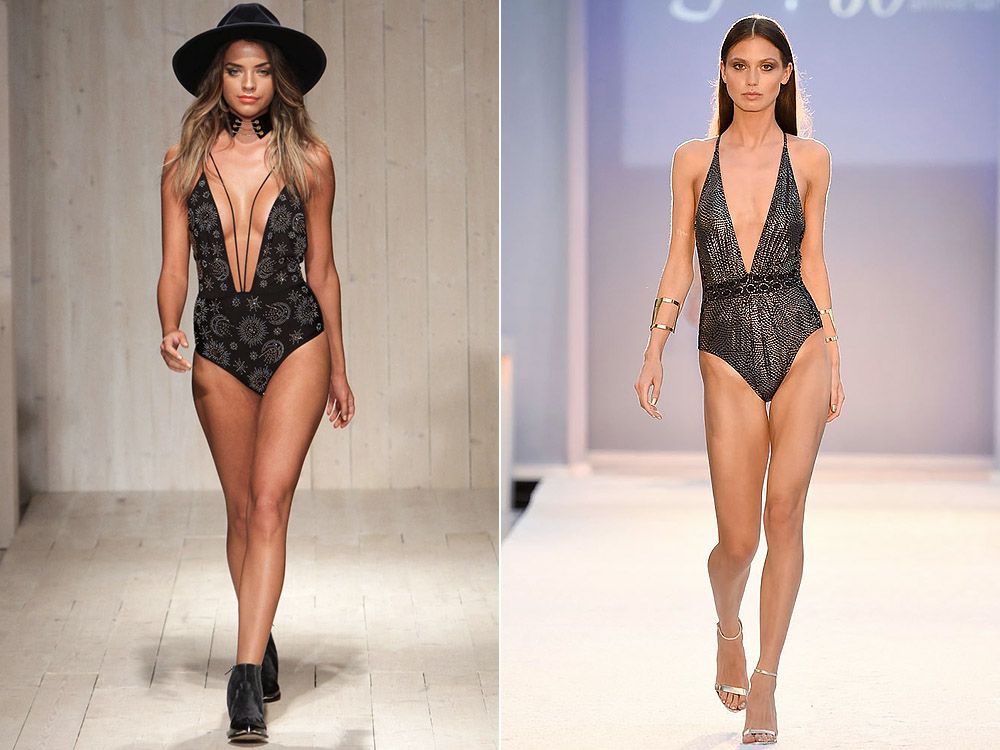 To have only one swimsuit for the entire beach season is no longer fashionable. Beachwear should be in line with the latest trends, like skirts, trousers or dresses. So make sure that in the summer season of 2017 you have at least several swimwear: for swimming, for sunbathing and, just in case, for publication.