Summer is the time for vacations, the gentle sea and a beautiful tan. True, no matter how strange it may sound, not everyone knows how to sunbathe correctly, so often on the shore you can meet people sunburned in the sun with red or hanging tattered skin.
Zero aesthetics for others, and even the most burned it brings a minimum of pleasure. Some people know how to sunbathe correctly on the beach, although the rules are very simple..
The rules of even tanning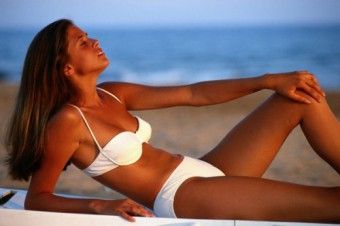 How to sunbathe on the beach?
To avoid the occurrence of sunburn and protect yourself from heat stroke, it is enough to adhere to three rules:
Choose the right place;
Choose a quality cream;
Strictly keep track of time.
It's easy to quickly sunbathe, the main thing is to choose a convenient place for this. The safest tan can be obtained under a canopy. We all know,
that direct sunlight is hazardous to health.

They can cause burns and the development of skin cancers. Therefore, it is recommended to sunbathe under an umbrella or tent.
To tan lay flat, and while the skin does not dry out and was protected from ultraviolet radiation, experts recommend the use of special sunscreens. Each tube has its own marking, where SPF is only protection against UV rays, and PPD is both protection and skin care.
The numbers indicate the degree of security. So, for people with a light skin tone and children in the first days it is recommended to take a cream with indicators of at least 40, 20 will be dark.
Escaping Burns
How can you quickly sunbathe on the beach and not get a sunburn? You just have to keep track of time. The safest and most beautiful is the morning and evening tan..
It is recommended to sunbathe from sunrise until 10-11 a.m., and in the evening after 16-00, when the sun is gentle and tender. For uniform darkening of the skin, only 2 hours a day is enough, more is harmful on the beach, even during hours of least sun activity.
The time spent continuously under direct rays should not exceed:
For fair-skinned – 10-15 minutes;
For people with an average skin type – up to 30 minutes;
Swarthy – no more than 1 hour.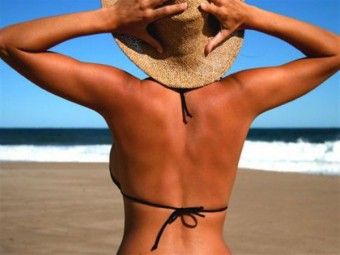 Vacationers who have left for more southern countries should take into account the lower location of the sun. For them, the time spent on the beach should be reduced by almost half, from 12 to 15, in general, it is advisable to sit in a hotel room or lobby.
It has been proven that a pleasant bronze tint on the skin will appear faster if you constantly move. Just playing volleyball or just walking along the beach, do not forget to put on a hat and anoint yourself with cream.
The tan in water "sticks" very well, so the product must be waterproof, and you should cover your face with a cap. If you decide to swim on the mattress, be careful, you need to roll over more often than usual.
How to sunbathe better?
What would be better – sunbathing naked or in a swimsuit? For health, it would be better to bathe, and bask in the sun without clothes. This will allow the body to regulate body temperature in a timely manner..
But since it's not customary to sunbathe on public beaches naked, at least special swimming trunks should be used, not shorts and ordinary underwear. Bathing in a T-shirt, and then, not taking off lying in the sun, is also a bad option.
Since most of the body remains closed, and the tissue is sometimes wet, it dries up, the body can not normally regulate heat transfer processes. As a result, heat stroke. By the way, in clothes you can also sunbathe and burn, so sitting in a shirt in the open sun is also dangerous.
Follow all the rules and get an even bronze skin tone can be tanning on a nudist beach. Just don't forget why you came there, and don't look at people, it's not accepted there. Behave naturally, do not be shy about anyone. In such places nudity is ignored.
Where and how to sunbathe?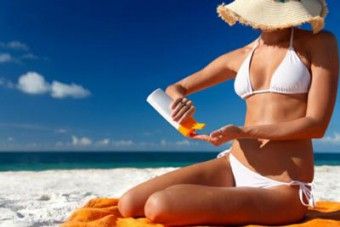 In general, whether to take sunbaths on a city or nudist beach, everyone decides individually.
If nudity does not bother you, and the desire to become the owner of an even tan, without stripes and triangles prevails over all other desires, feel free to go to the "wild". Just remember, the time spent in the sun should be strictly limited, be sure to use a cream, cover your hair from direct sunlight.
Well, those who are not ready to bare themselves to strangers can safely take places under awnings on rugs and sun loungers.
Compliance with all these rules will not only allow you to get the desired bronze skin tone, but also have a nice vacation without suffering from burns and sunstroke. Have a nice rest and even tan!