A tattoo? This is a way of expressing the inner state of a person by applying drawings and patterns to various parts of the body. Tattooing? this is a very serious step, because the drawing remains on the body for life. This is what makes many people refrain from this way of self-expression..
Modern equipment and paints allow you to apply a temporary tattoo, which after some period of time completely disappears without any trace. The application of such a tattoo does not require specific skills and knowledge, so it can easily be done even at home.
Types of temporary tattoos
Before you make an original temporary tattoo at home, you need to determine the type of materials used, as well as the method of applying them: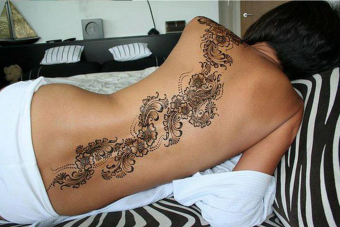 Decals. To apply such drawings, special stencils are used. After wetting the insert, you can make a "translation" on any part of the body that will last several days;
Biotattoos. In this case, not only paints are used, but also glitter with glitters, which are glued along the contour of the pattern. Such jewelry "lives" all a couple of days, so they are not particularly successful;
Henna Tattoo. This type of tattoo is considered one of the safest, since natural henna, which does not contain any chemistry, is used as a paint. Previously, patterns made with henna were used only in religious rites. However, today they can be found almost everywhere;
Airbrushing. The ornament or pattern is applied using an airbrush tucked in red. In appearance, this device looks like a gun. This type of tattoo is very similar to body art, so you can admire a beautiful pattern for no longer than one week..
Flash tattoo
How can I make a flash tattoo at home? Drawing is done without any specific tools, so anyone can make it on their own. Flash tattoo does not look like other types of tattoos.
Firstly, drawings are always obtained in either silver or golden hue. Secondly, they are often used as an alternative to ordinary jewelry: chains, rings, as well as bracelets.
Ready-made flash stickers can be purchased in specialized stores, after which it remains to be applied to the body:
Clean the area of ​​the skin where the tattoo will be made;
Remove the transparent layer from the sticker;
Place the pattern, patterned down on the desired area of ​​the body;
Using a regular sponge, moisten the sticker with water and press firmly;
After half a minute, carefully remove the remaining paper.
As you can see, the process of applying the pattern takes no more than five minutes, after which you can show others beautiful and extraordinary patterns that look best on tanned dark skin.
Needle tattoo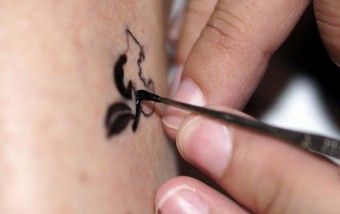 How to make a tattoo a regular needle at home? In fact, this method is unlikely to suit those people who do not have special artistic skills..
Using stencils in this case will be very problematic, and certainly you can't name a temporary drawing.
The patterns applied by a needle can be seen on the hands of elderly people who, in their youth, used the "grandfather" method to apply patterns to their bodies..
To apply a tattoo, you must have:
ordinary needle;
a thread;
ink.
Application Process:
take a needle and disinfect it thoroughly with alcohol;
thread the needle;
dip the needle into the paint and apply the pattern.
In this case, the thread acts as a sponge that absorbs ink. During the puncture, the needle contracts more tightly in the hand, causing the ink to flow along the metal rod. As a result, the paint directly gets under the skin.
Before making a permanent tattoo at home, think three times, because such a pattern already just will not wash off and will not be erased. To remove it, you will have to contact a professional.
Henna Tattoo
How to make a regular henna tattoo at home? This method is somewhat more complicated than the previous one, but you can also master it if you wish. Moreover, such drawings are kept on the body for no more than a few weeks. You can make an original ornament on almost any part of the body: shoulders, arms, ankle, neck, stomach, and also the back.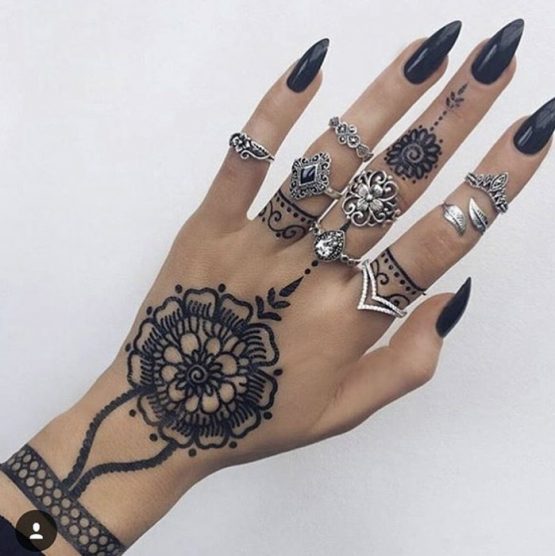 Before applying the pattern, you should:
Clean and degrease the desired area of ​​the skin. To do this, use body scrubs and ordinary medical alcohol;
If there are hairs on the skin, it is advisable to remove them;
Make a solution of henna. To do this, dilute dry paint in water in a ratio of 1: 4 and add a couple of drops of eucalyptus oil;
Then apply the desired pattern. If you do not know how to draw, use special stencils;
As a tool for applying paint, you will need a regular syringe without a needle, toothpicks and thin brushes;
Since henna tends to absorb very quickly, if applied incorrectly, immediately remove the paint with cotton pads;
To fix the result, use ordinary hair spray.
How to make a tattoo machine
If you intend to apply a high-quality pattern on your body, it is not necessary to purchase expensive equipment in the store. You can even make a special tattoo machine even at home from improvised materials.
This will require: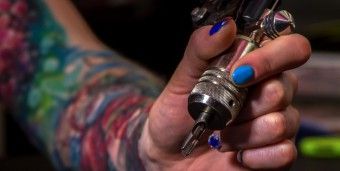 metal clip from a clerical pen;
thin string for guitar;
a motor from a children's car or an old cassette audio player;
the gel pen;
Power Supply;
the wire.
How to make a special tattoo machine at home?
You can make a machine for home "tattoo-needlework" for 20 minutes, but before using it, be sure to adjust the string tension. It is also advisable to use a power supply, in which there is the possibility of regulation of power. This will allow at the right time to reduce or increase the speed of a homemade tattoo machine.
Temporary drawings on the body do not oblige to anything, so many young people and girls put them on their work. A beautiful pattern allows you to stand out in a crowd and attract attention. Often, temporary drawings are done as a "rehearsal" before applying a permanent tattoo.
However, do not forget that tattoo? this is a fashion trend that may pass over time, but a permanent drawing will forever remain with you.