Content
---
---
The bar counter is an interesting and stylish attribute of a kitchen or living room. It fits particularly well into the interior of the kitchen, when it can be used to visually mark the border where the kitchen ends and the living room begins. But now we would like to talk about the bar in the interior of the living room, when it will perform many functions: a bar, dining table, a place for receptions and parties.
Advantages of the bar counter over the table:
The bar counter is more compact, and therefore takes up less space than a large table. This difference is especially noticeable when comparing a long bar counter and a large dining table;
Thanks to the rounded edges, the rack makes it possible to sit behind it a lot more people than it is designed;
Now the bar is no longer associated only with bars, but has become a part of everyday life of ordinary apartments and is not perceived as ambiguously as before;
Due to its compact size, the counter does not require a large table setting, and therefore serving it is very quick and easy;
The stand gives any interior some kind of informality and a feeling of a non-ending party;
Who should use the bar in the living room
Often, in order to save space, instead of a dining table in the living room place a bar. Of course, you need to take into account the number of residents in the apartment, since regularly only at the bar will be convenient for a family of two, maximum three people. A bar counter instead of a table is more suitable for young couples or single people without children. For children, the bar counter will be uncomfortable, because its standard height is 1.1 m – 1.2 m. Agree, this is too high for children under the age of 10.
An even bigger idea with a bar in the living room is for families who rarely eat at home and lead an active social life, often throw parties and host guests. Just for a party, the stand can easily turn into a DJ console, which, in addition to music, will also have snacks.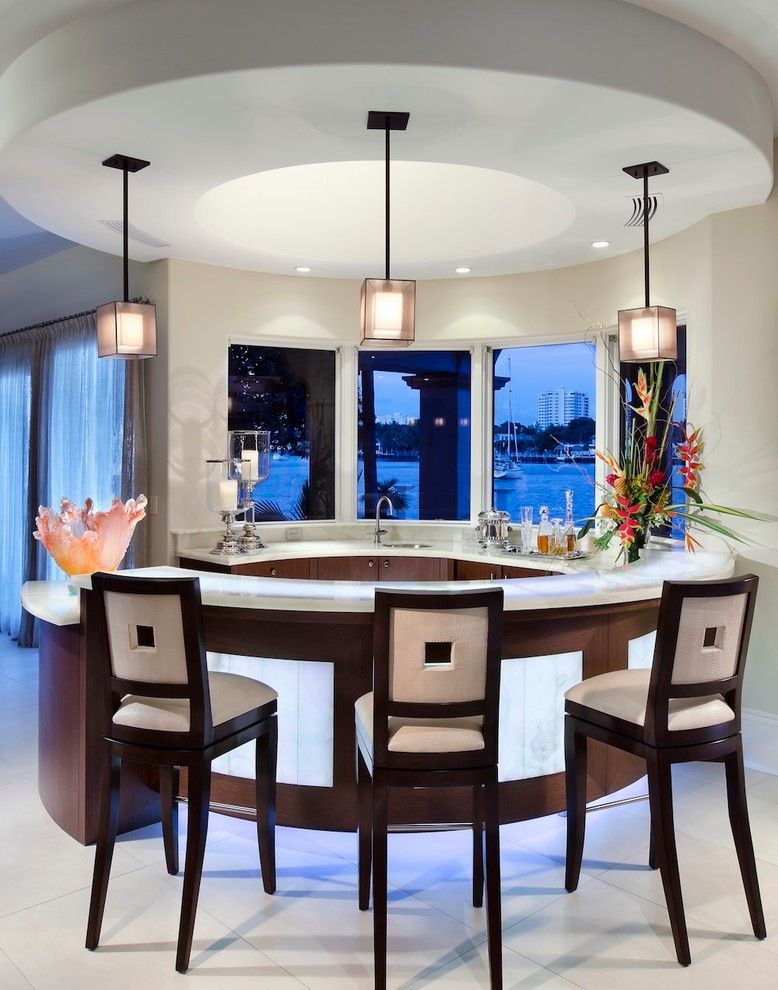 The bar counter can be fit into any style and interior design. It all depends on your preferences and taste. The stand can be of the most unusual form, becoming a real center of all interior design. It is also worth noting that the living room is the room in which you can realize almost all your ideas, because it is not a permanent living room, which means that you can make a stand, a bar, and a cinema in it.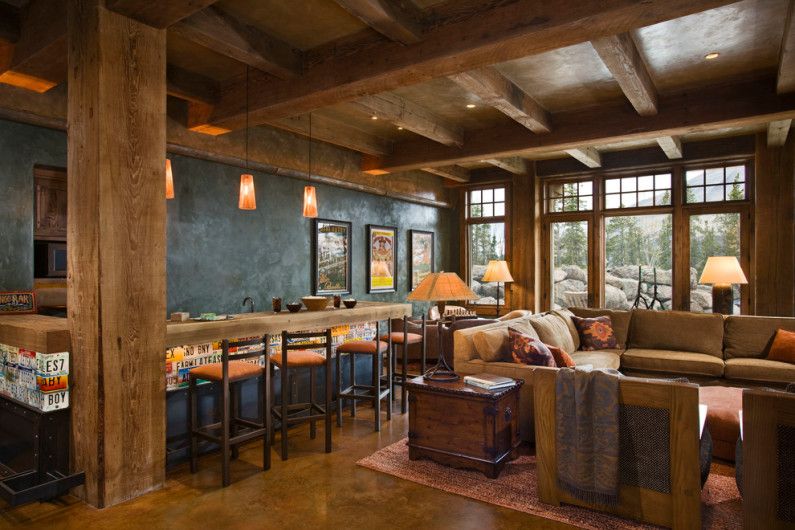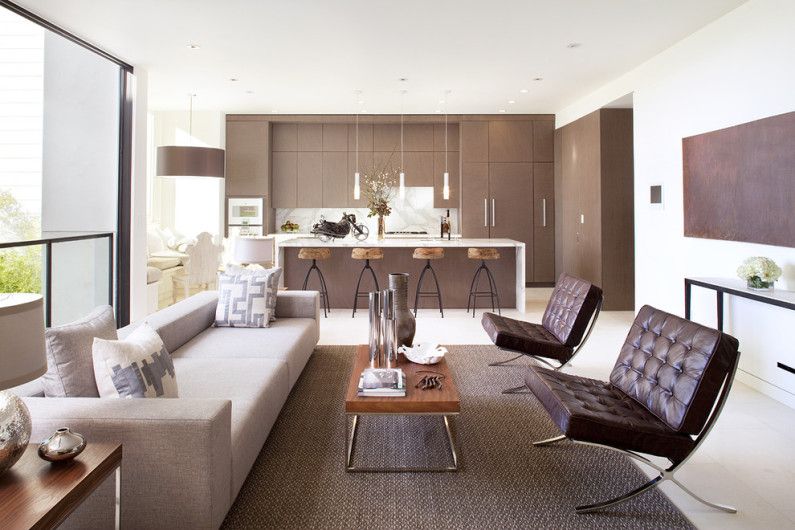 Types of bar counter designs
There are two most common types of bar counters: single-level and multi-level.
Single-level racks are a type of racks that represent a single plane – a countertop, which can be of any shape and length. As a rule, the standard height from the floor of such racks ranges from 110 to 120cm. For comfortable sitting, the width of the overhang of the rack itself should be no more than 20 cm, otherwise people of short and medium height will have to reach for the countertop itself.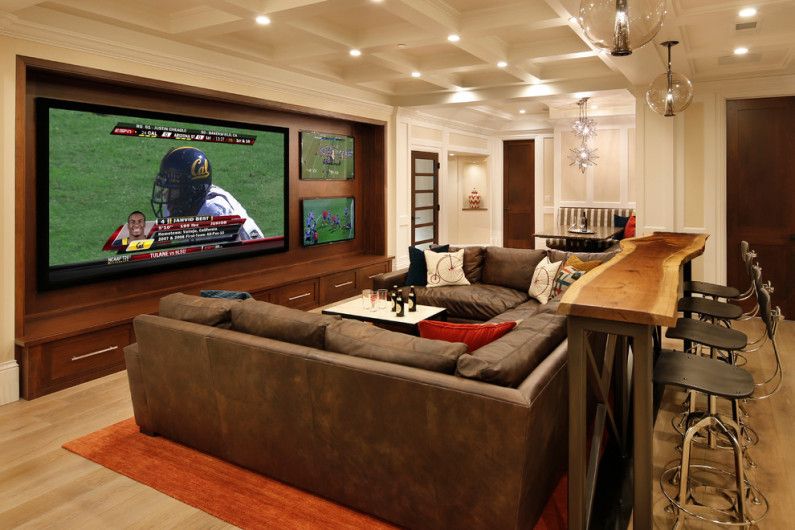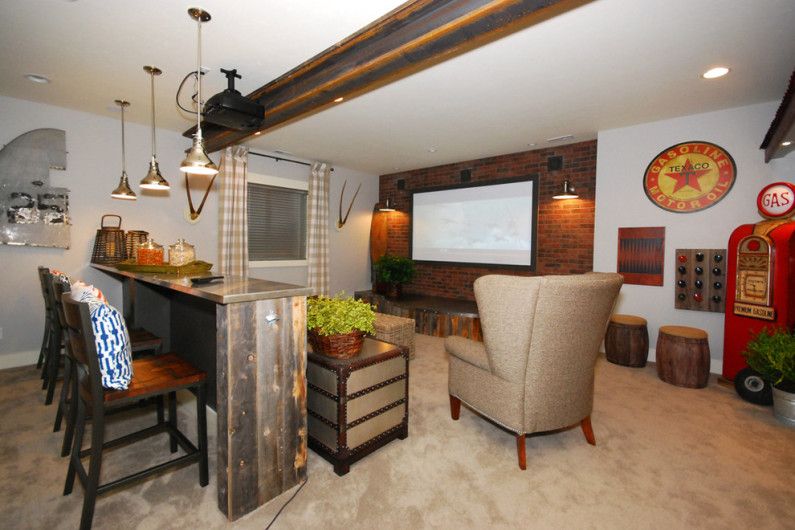 Multilevel racks – a composition of racks, which has a main rack and a different number of additional countertops, the size is smaller. Typically, the main tabletop is about 90-100 cm high and is provided as a bartender's workplace behind the counter, and another tabletop is installed above it in the form of a superstructure, which is 20-30 cm higher.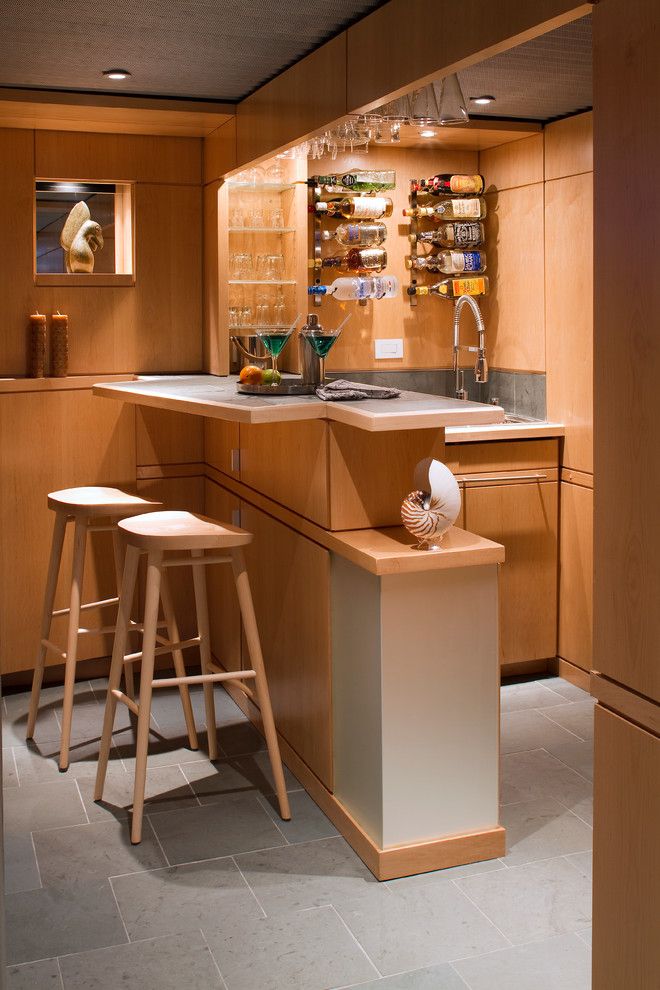 Materials for racks in the living room
For the racks in the living room, as well as in the kitchen, one rule works – the rack should be combined with the rest of the furniture. But at the same time, if you want to focus on the rack, you can make it out of an unusual material. For example, from rough grinding wood, concrete, stone, iron or stainless steel. In a word, unlimited possibilities open up for you in this matter..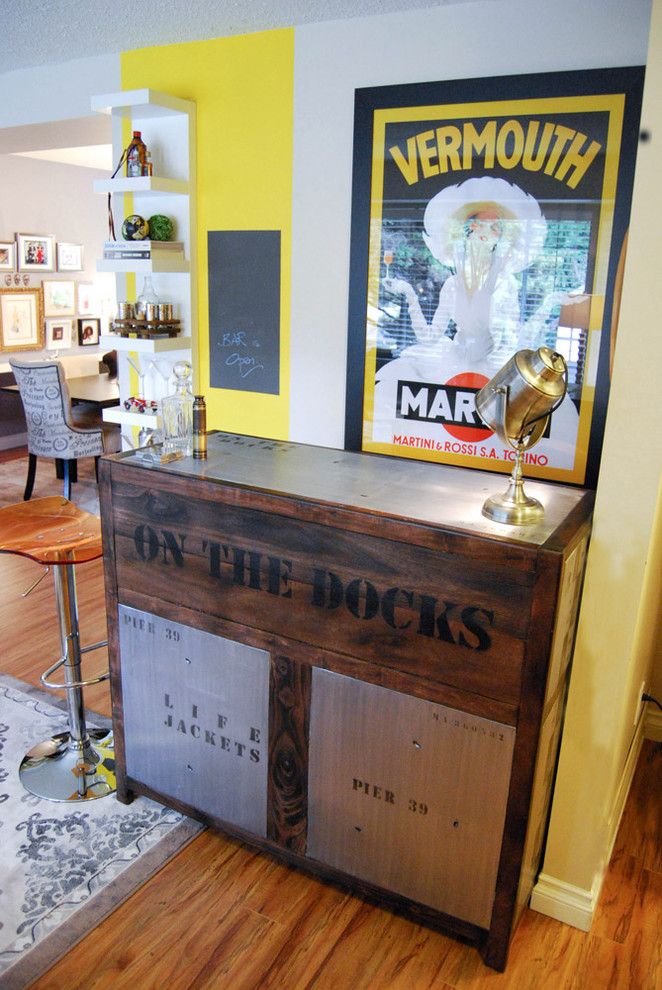 Stone countertops racks are very practical and no less spectacular. The stone can choose natural and artificial. In any case, such a stand will last a long time. The stone is not whimsical in caring for, with a natural stone there is a nuance – you need to remove spilled liquid from the rack as quickly as possible so that it does not penetrate into the depths of the stone and does not spoil its color. But it is better not to put very hot dishes on the bar counter made of quartz agglomerate, since a crack may form.
Racks made of natural wood also serve for a long time, but require mandatory water-repellent impregnation, because for a tree the main enemy is moisture and bugs. Make sure that these two factors do not come into contact with your stance. Inspect the wooden stand regularly for damage, and also renew the moisture repellent coating once a year..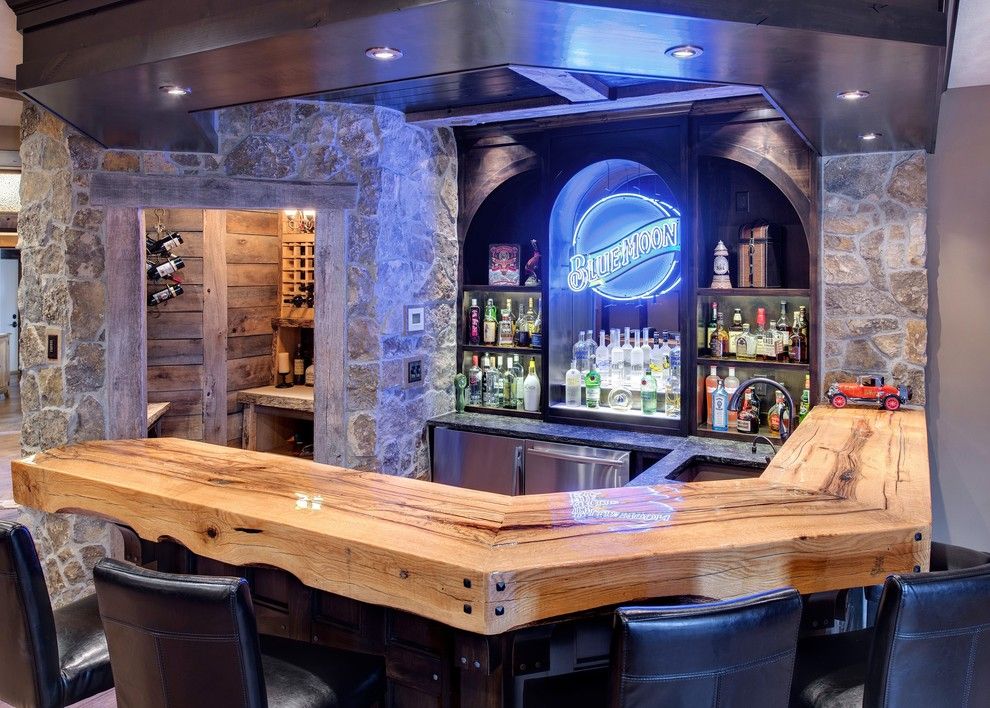 Choose the size of the bar
In the large living room you can install a large luxurious rack, which will amaze with its beauty. Or maybe the opposite is true – you have a small living room, and there is only enough space for a small table, in which case it is better to install a small counter that will replace a dining table, a coffee table, and a chest of drawers.
Small lounge
This example clearly shows that a small double stand is better than a table and a complete lack of free space.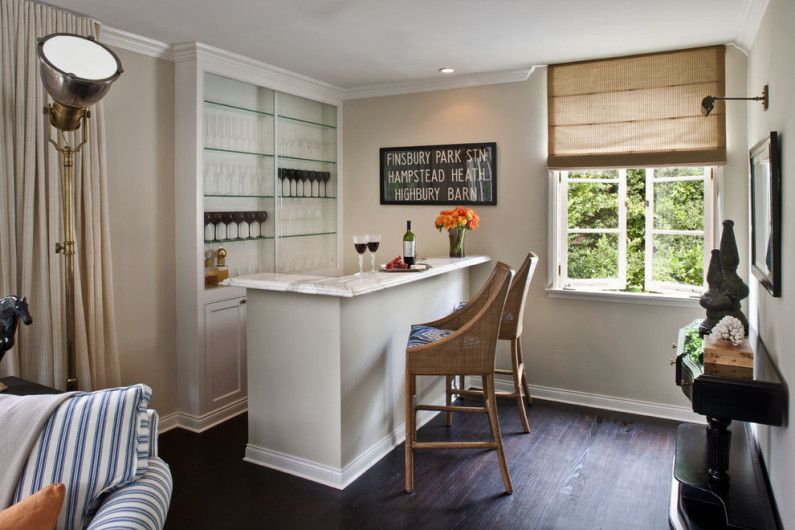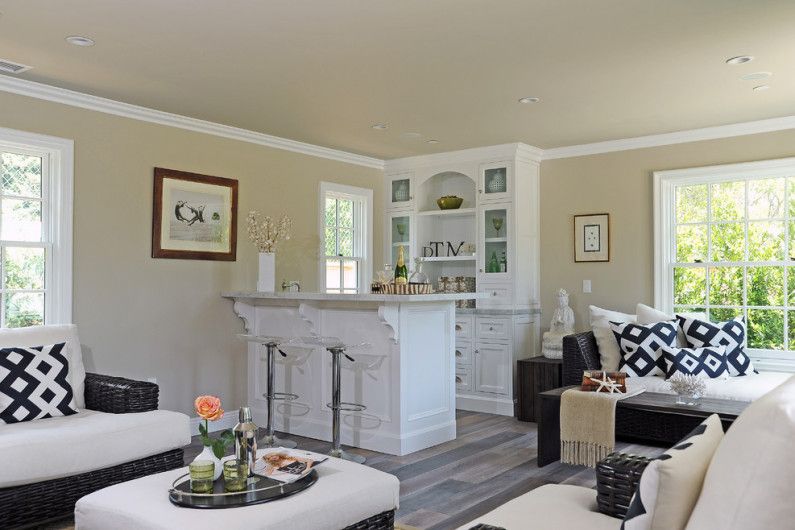 Spacious living room
Of course, when there is room and the living area calls, you can easily install a long rack for 5 people or more.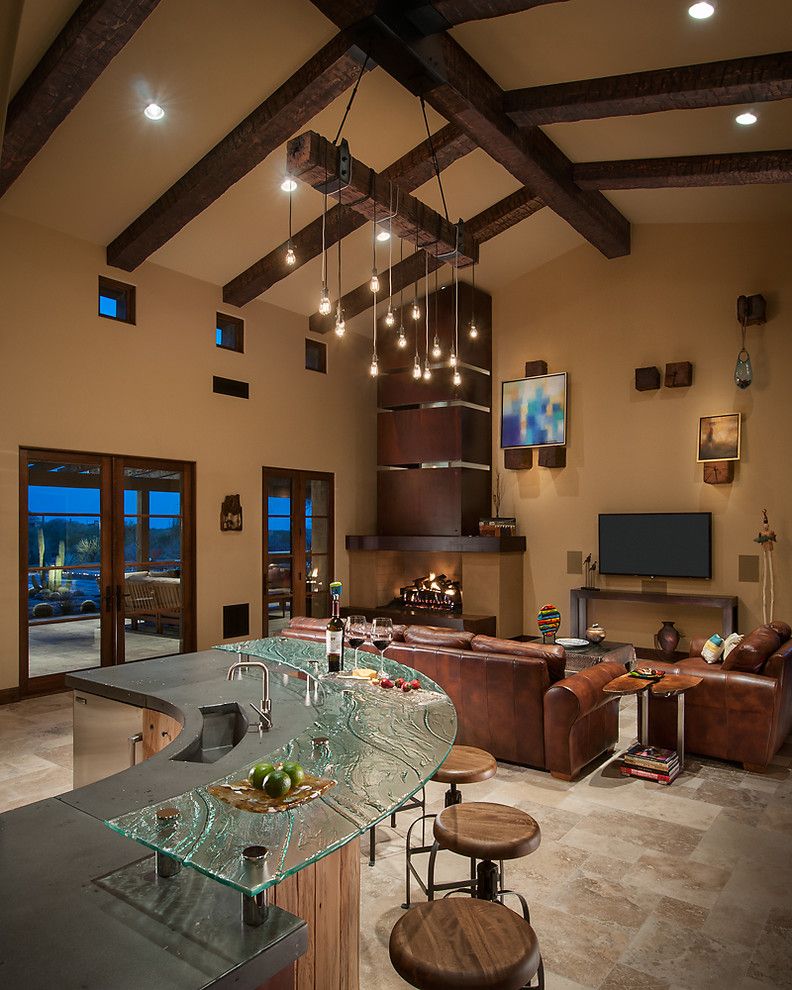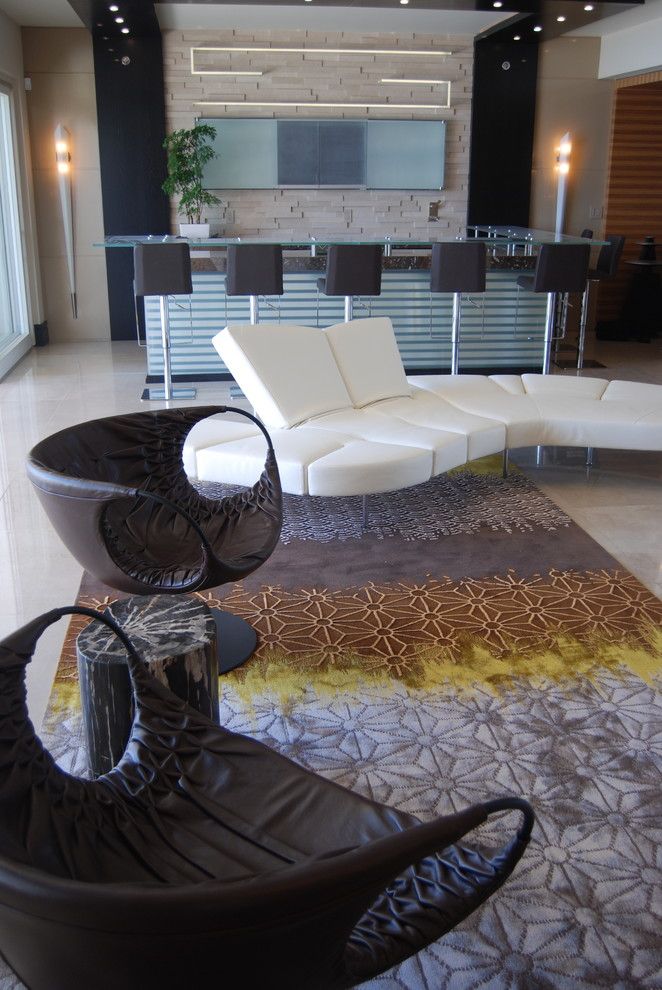 Bar chairs
In addition to the bar, the bar stools, on which the owners and guests of the apartment will sit, play an important role. The main feature of bar stools is their height adjustment. Also, some models have a backrest tilt adjuster. Choose chairs according to a simple principle – they should be comfortable and have support for the back. You can be seduced by beautiful chairs without a back, but believe me, your back will get tired very quickly without additional support.
With the help of chairs, you can make small accents in the interior, because you do not have to choose chairs that are very suitable for furniture. This is a rare case in design, when things can be original and differ in style. For example, in a minimalist interior, beautiful velvet bar stools will be very good..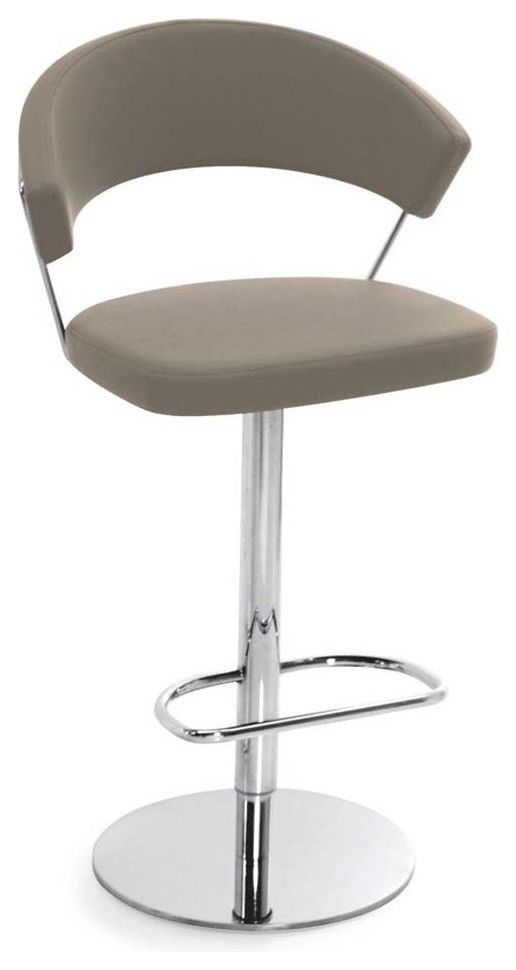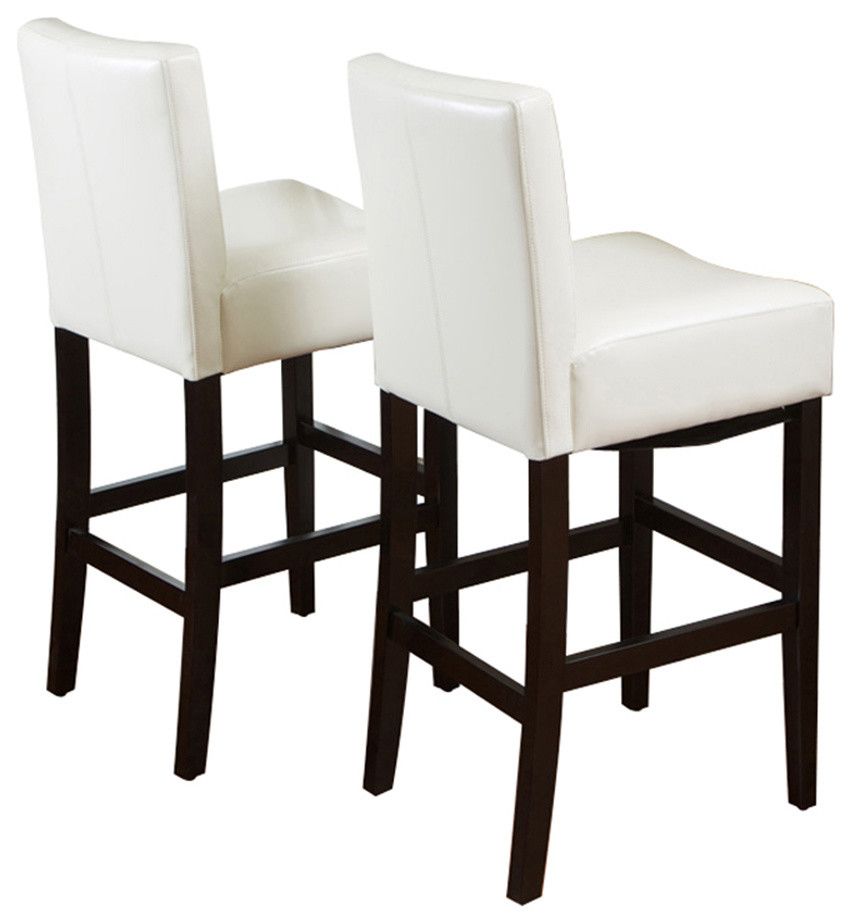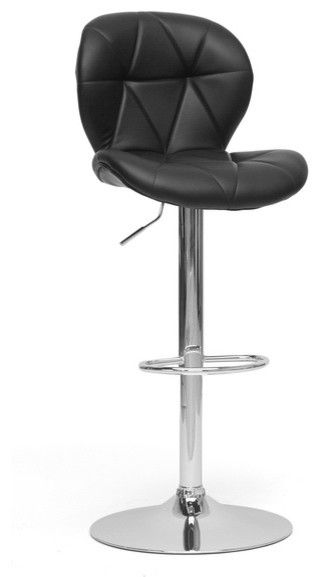 Light above the counter
The bar counter will require an additional light source above itself. Firstly, for the one who prepares drinks or treats, so that he can clearly see what he is cooking, and secondly, for those who sit behind her. Indeed, often the rack becomes a place for discussion of interesting topics, a field for gambling.
You can install a number of spots, several lamps on a long cord, one large chandelier. The main thing is that the light source does not interfere with the guests sitting quietly at the counter and are not afraid to catch their head on it.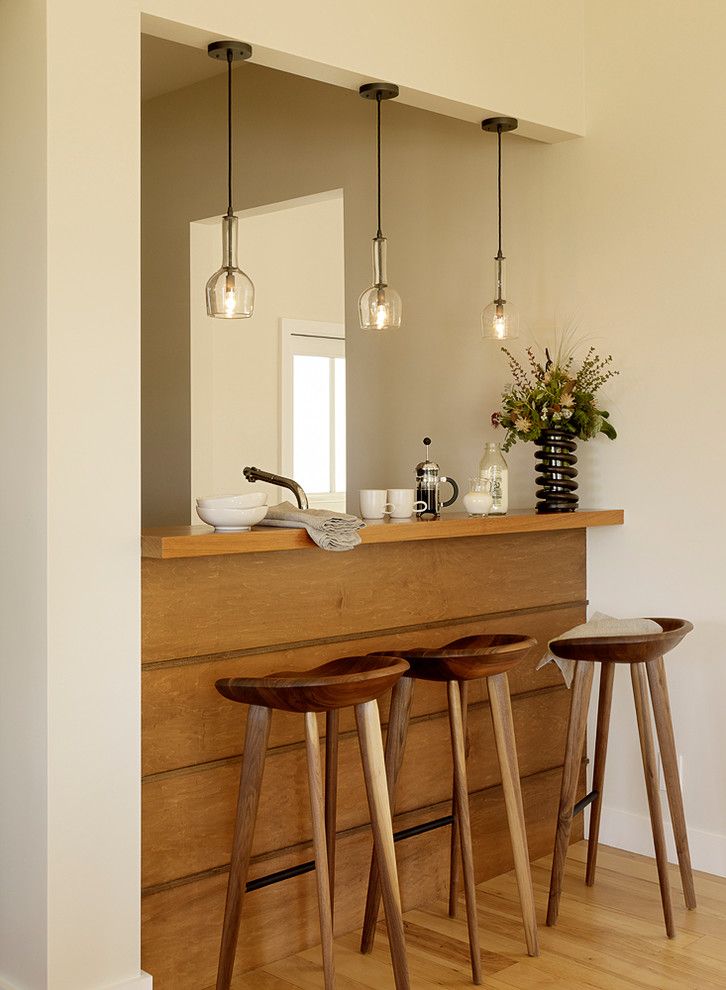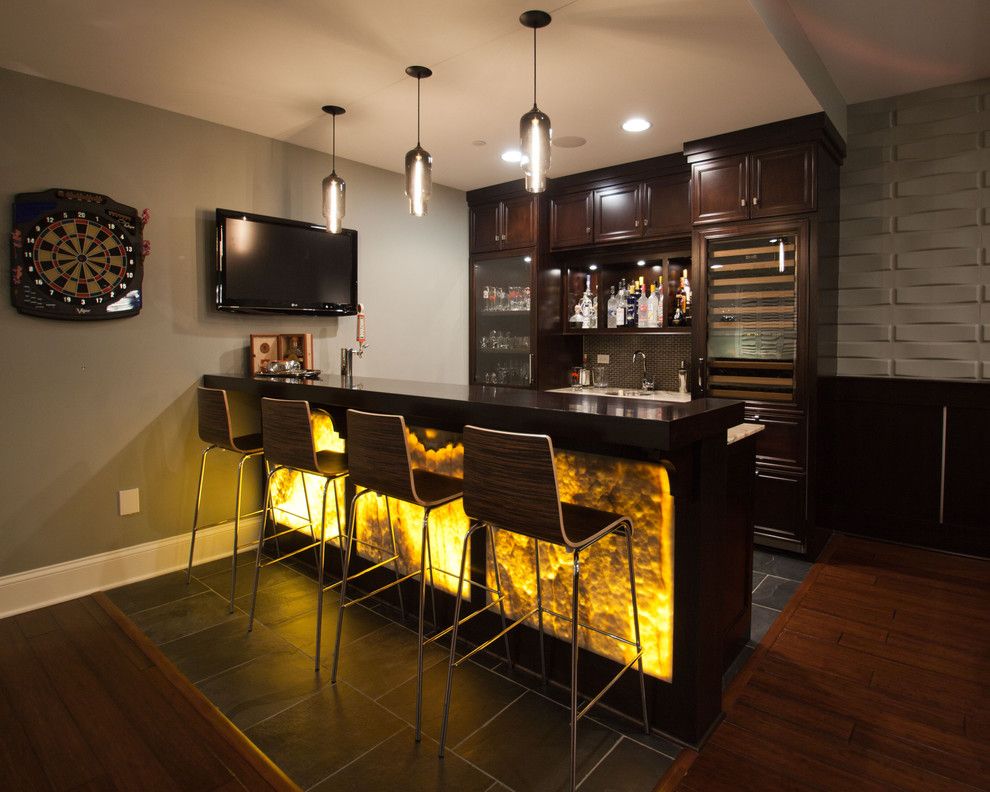 In addition to the overhead light above the counter, there is another way to focus on the counter – diode lamps with sweat countertops. But do not get carried away by a large amount of lighting under the countertop so that your bar counter does not look like a bar in a nightclub (of course, if that is not the task).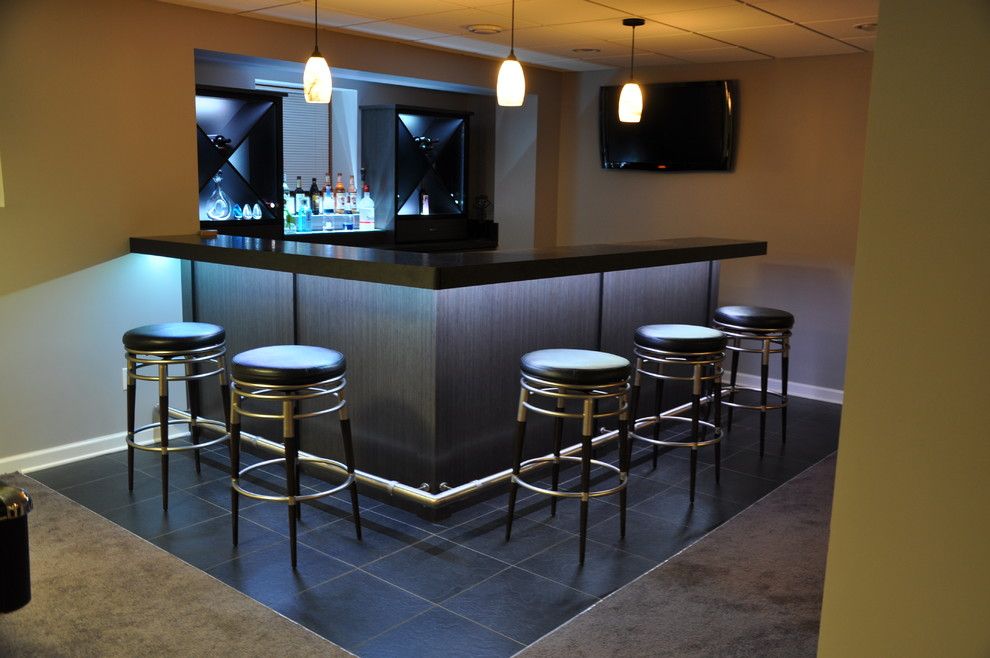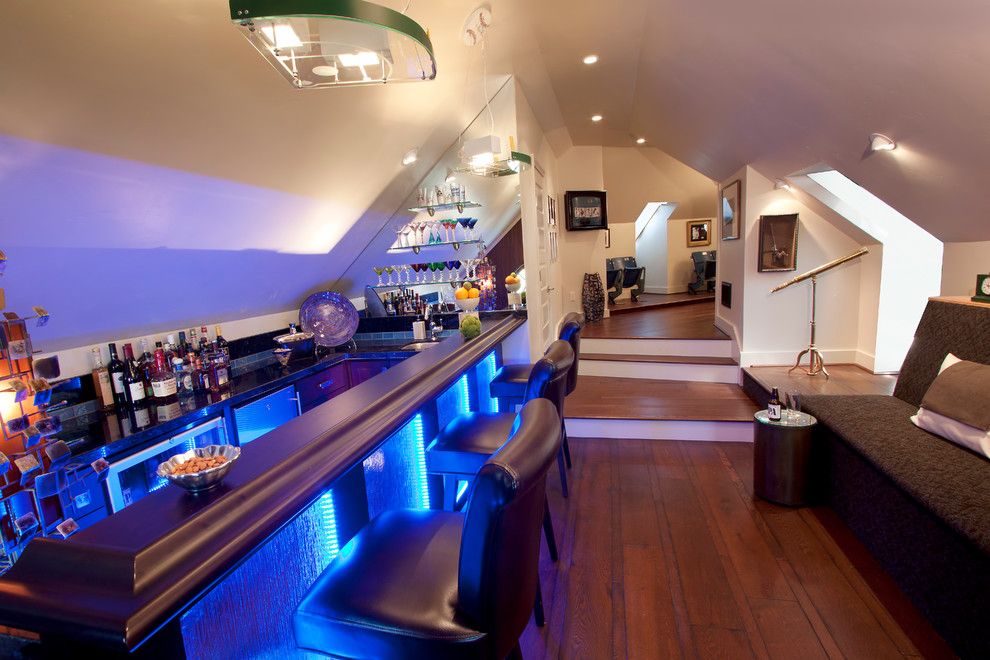 The choice of accessories for the rack is not so great, but still there is some variety in this matter:
– Various wall mounted shelves. Shelves can be very different – larger, small, wide. Entire shelves can be formed from shelves;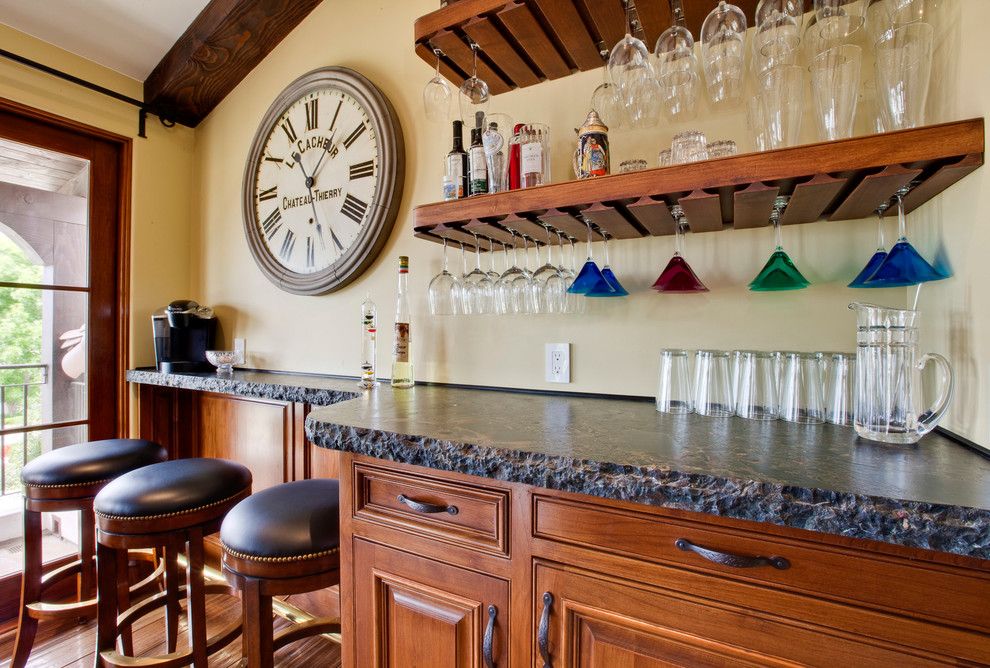 – Glass holders. As a rule, glasses are mounted vertically in the holder; this is both convenient and practical;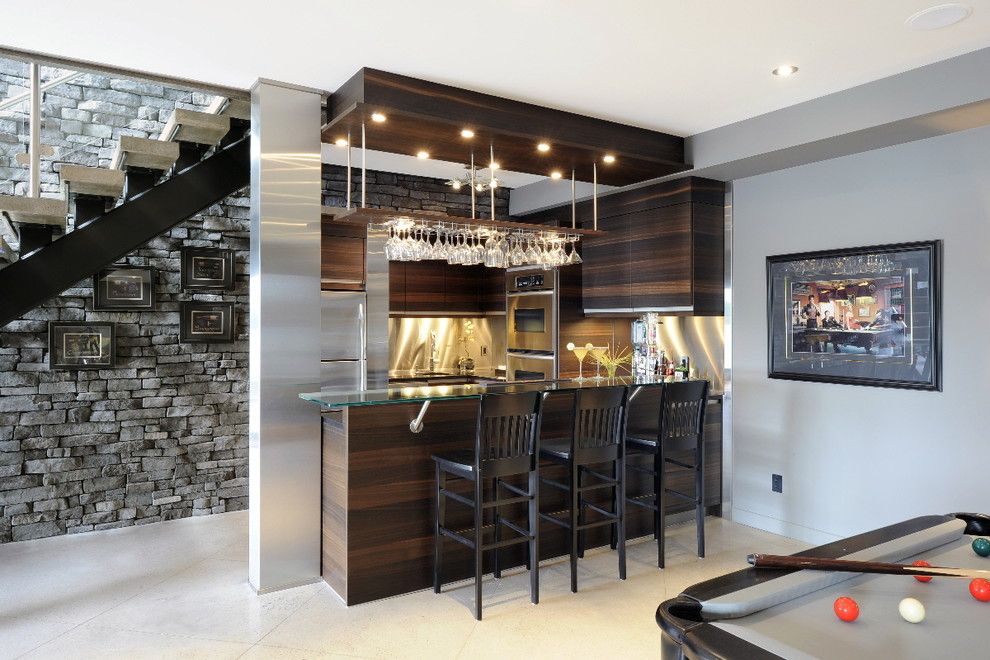 – Shelves for bottles. A large number of bottles in a bar is like a winery.