Textiles have the unique ability to change the interior and give it the character and mood that it will take. You can radically change the appearance of a room in just a few hours, just using different textiles.
Pillows – this is one of the most used interior "decorations". Textiles as a material are very characteristic, inexpensive and having many different types, it is very easy to apply and "introduce" into the interior with the help of pillows.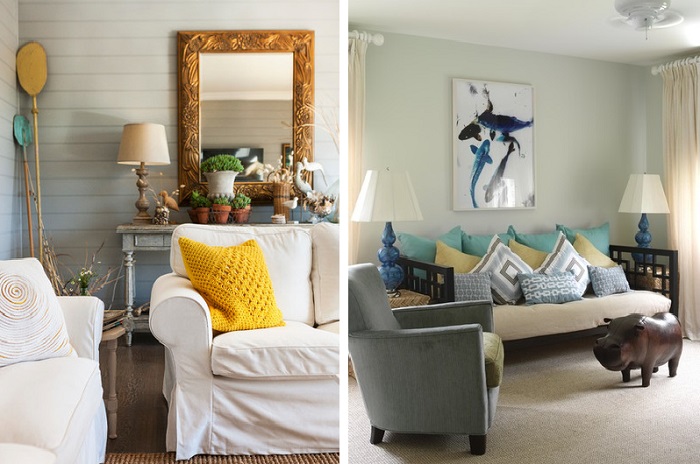 "Anyone, even a rather conservative person, is quite easy to decide on a colorful pattern of a sofa cushion. At the same time, changing the upholstery of the sofa itself can be quite difficult, time-consuming and costly. "
Choosing bright prints, patterns, or even a whole color mix is ​​already an almost impossible task for many. In the pursuit of traditional things at the heart of the interior there is absolutely nothing wrong or shameful – on the contrary, this kind of base becomes ideal for the same experiments with textiles in the future.
Let's see where exactly we can use pillows, how to combine their shapes, patterns and colors. We will not talk about all the known options, but rather we will focus only on those that are most relevant now.
Where can I use pillows in the decor
Pillows as decor on a sofa
These are the pillows that are so comfortably scattered on the sofa. You can rely on them, you can move aside, taking care of the fabric or drapery. But if the sofa, as in most living rooms, takes pride of place, the role of pillows in the perception of the entire room will be enormous. That is why textile design needs to be treated very carefully..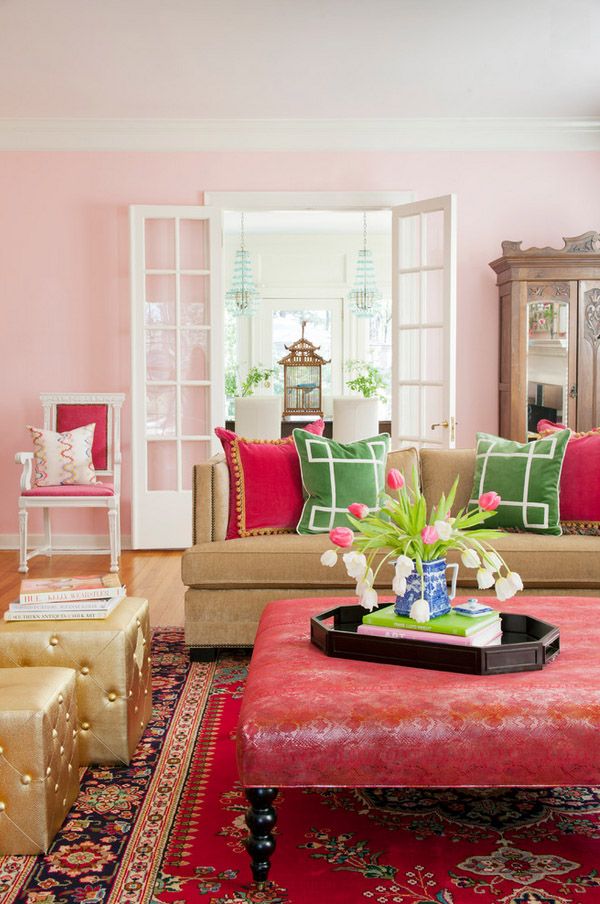 We decorate beds with pillows
Here we are not talking about large pillows that are comfortable and often used during sleep, but about decorative pillows. It is appropriate to put them on a bed already covered with a bedspread. As a rule, they do not carry any function other than decorative, which does not negate the almost unconditional need for them when decorating the interior of a bedroom.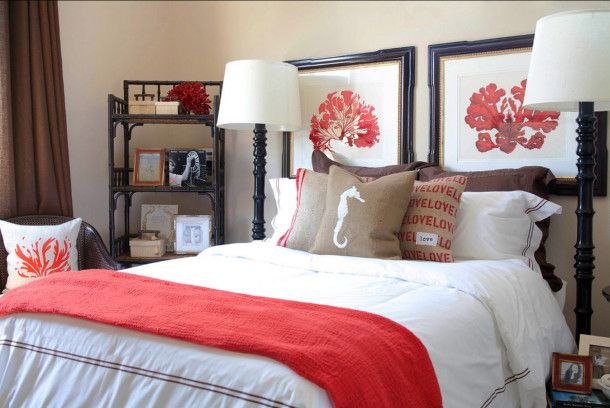 As a functional mattress or soft element on an armchair, chair or bench
Pillows of this kind are often supplied with additional ribbons, ties, Velcro and other fasteners, which are necessary for fixing the pillows themselves. As for the size – almost always it is individual, such products are often sewn on order and for a specific occasion.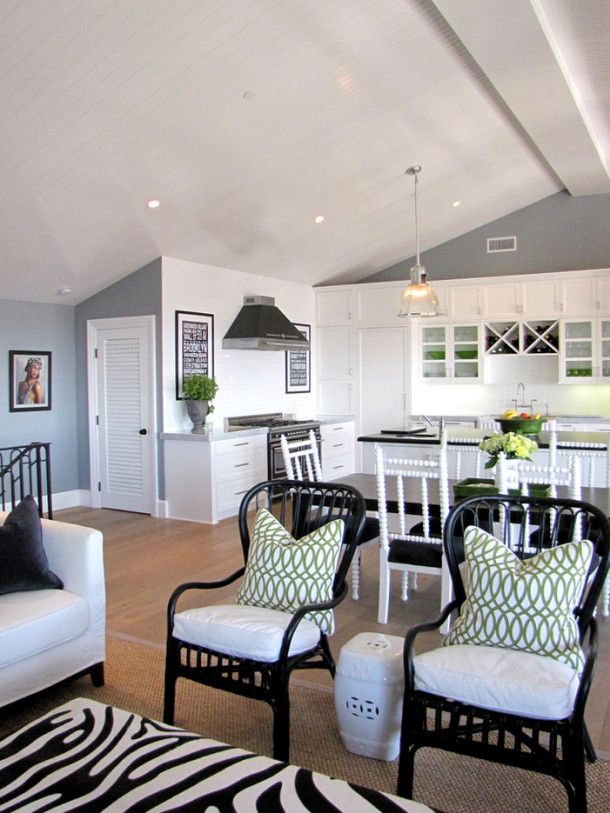 Pillow as an object of upholstered furniture
These pillows are quite large. The fabric for them needs to be selected wear-resistant and not easily soiled, because the location of this pillow is almost always directly on the floor.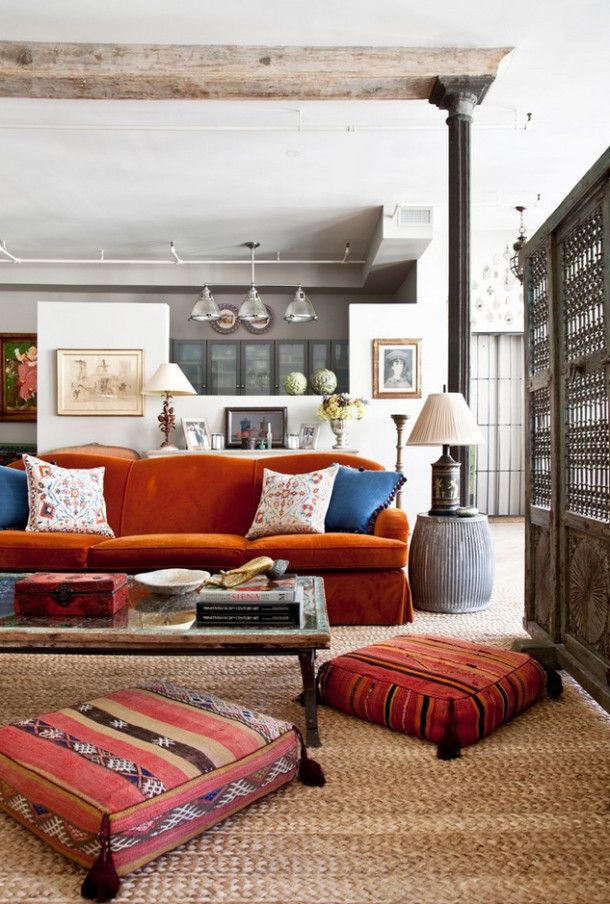 How to combine the colors and patterns of sofa cushions
And now consider a few successful examples of the organization of pillows in color. You just have to choose the most interesting option and try to bring it to life in your home.
Contrast pillows on the sofa
Choose cushion covers that actively contrast with the color of the sofa upholstery. For more effect, use no more than 2 prints – similar or created by inversion.
In the photo you see a black-and-white and white-black pillow, which are absolutely similar in color and style of performance – the difference is only in a cardinal change of colors.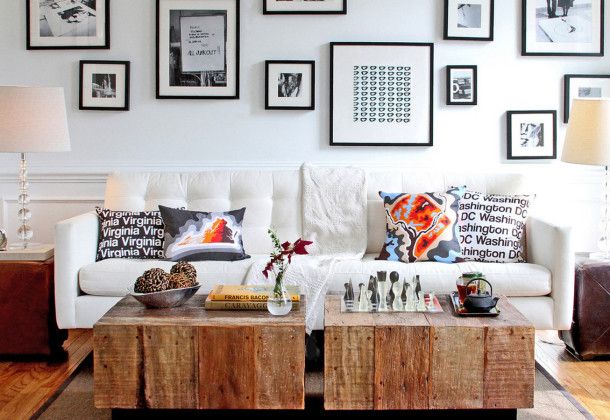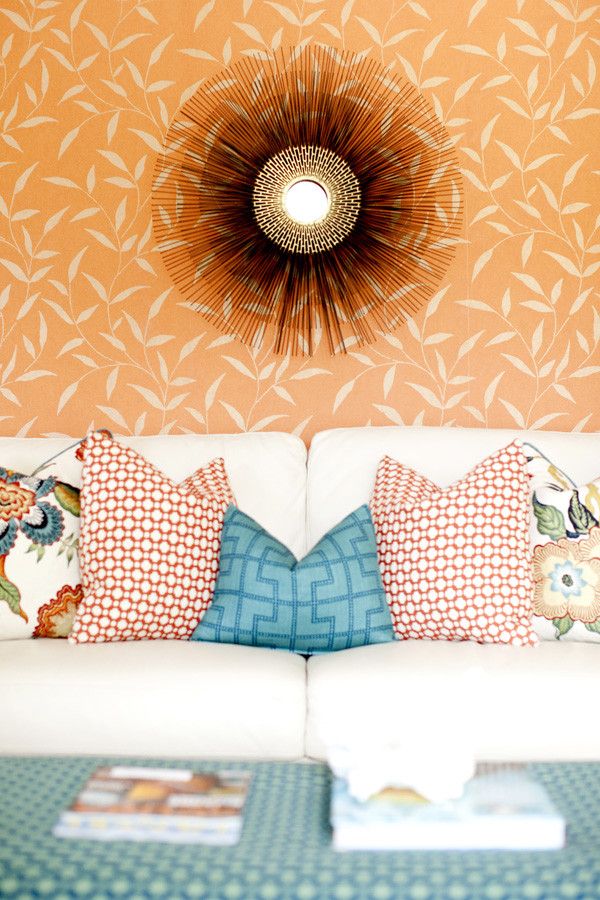 Patterns and ornaments on pillows, stylish interior in your room
In the culture and traditions of different countries you can find such a storehouse of inspiration that any artist will have for his whole life. Open a book with patterns and ornaments of ancient peoples, and you will be surprised at how much of this we already use now, and how many worthy patterns can still be taken as a sample as a good example.
In the photo below, the general mood of the pillows creates a clear association with Chinese culture. Their pride is the finest porcelain, often made in this white and blue color scheme. And if you also buy a table or tea set in the same style, everyone will only be surprised at the thoughtfulness of your interior.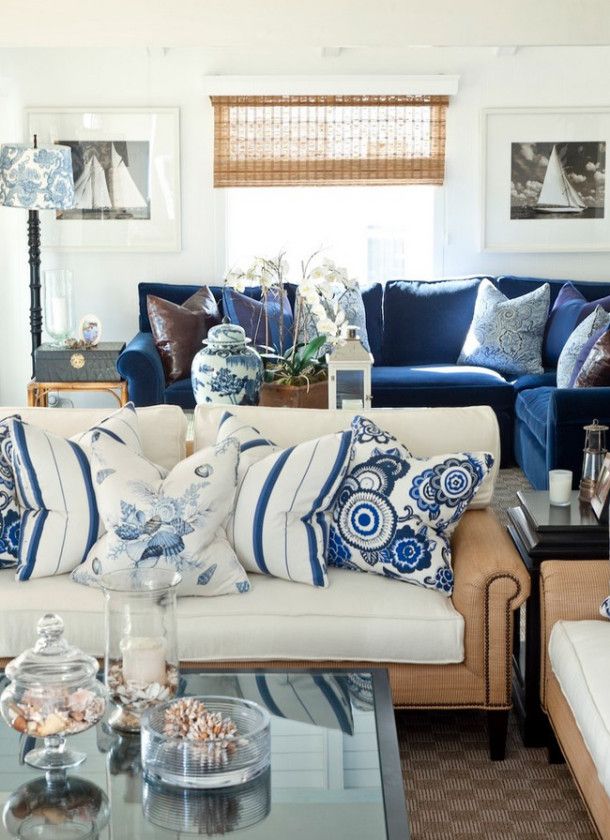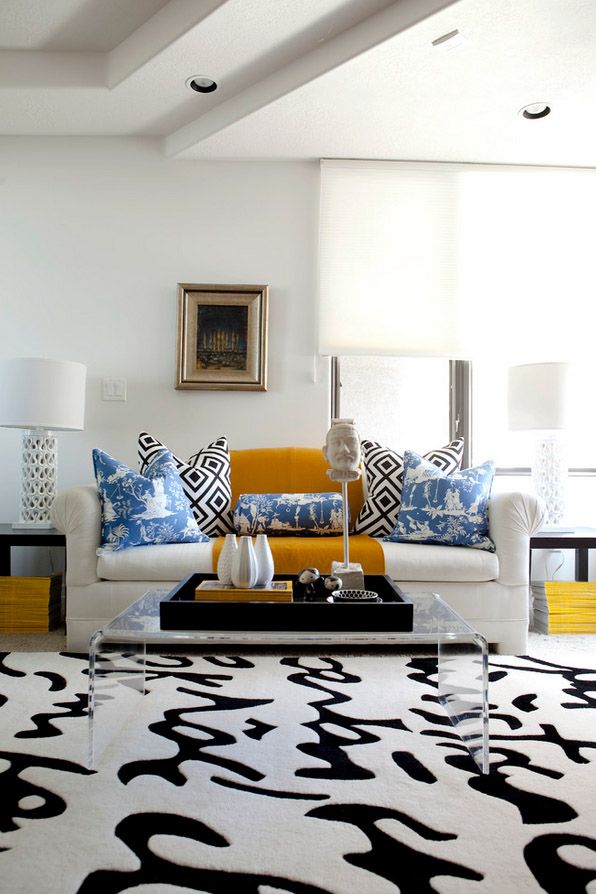 Pillow as a duplicate element in the interior
If it turns out that you have already used a lot of colors in the room, and it's just reached the pillows, you can smooth the situation this way. Just duplicate in their upholstery those colors that are already present in the room. It will be ideal to repeat even fabrics, although a correctly selected similar shade on a different texture will look even more professional.
Thus, you will not aggravate the situation with the use of many colors and shades, but simply support the already created atmosphere. If there is an obvious bust with flowers, choose pillows to match the sofa so that it becomes a calm and discreet element in the room.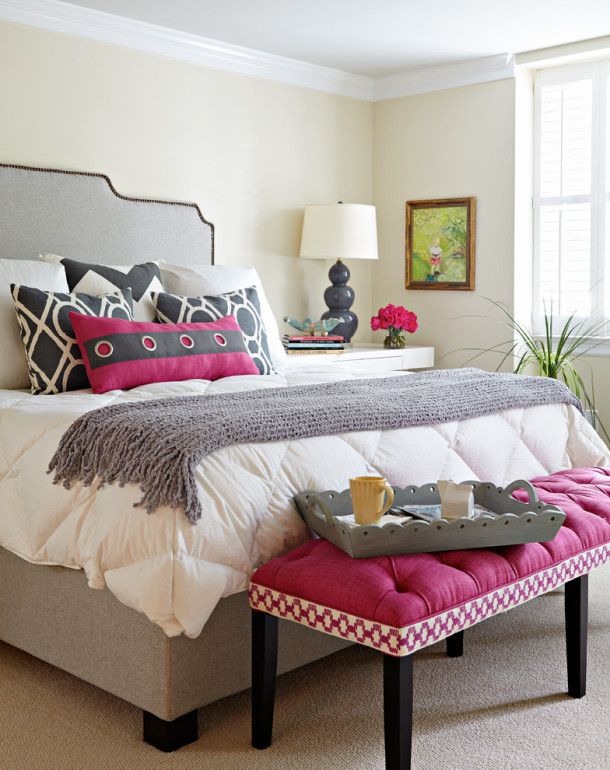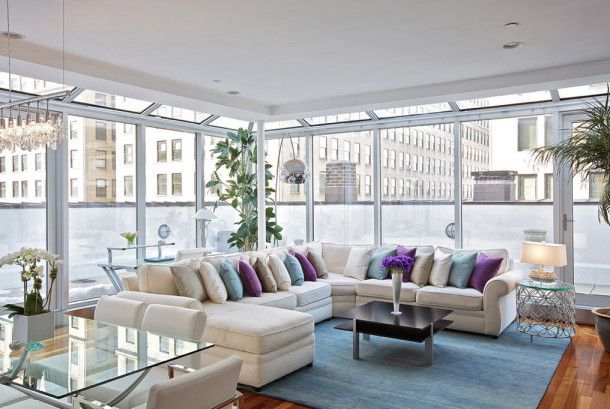 The analogy to living plants
Many homes have living plants. Mistresses love them dearly, take care of them, put them in a prominent place. That is why almost the most win-win option will be to support the "green range" in the design of the room with decorative pillows. Let it be different shades of green and other natural colors of nature, which can be successfully alternated with expressive geometric patterns, simple lines and shapes..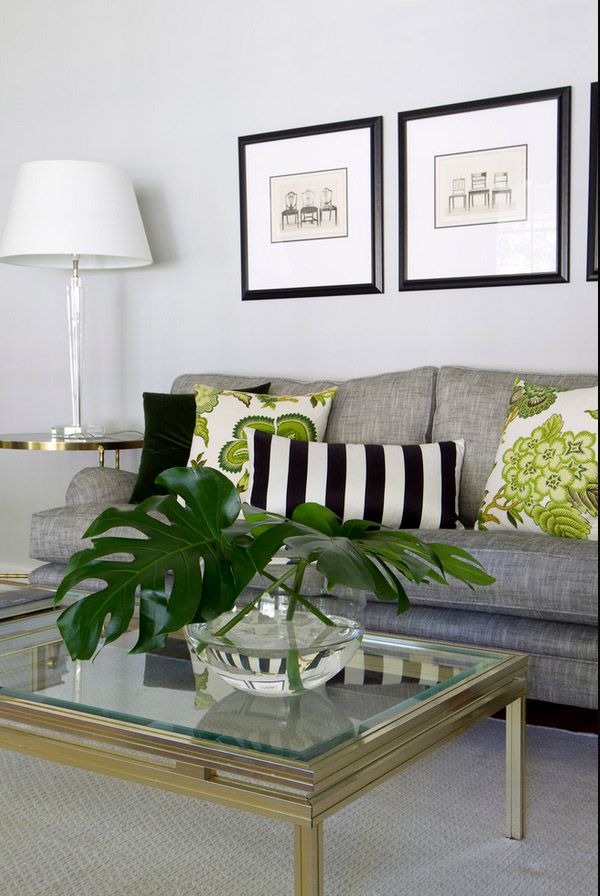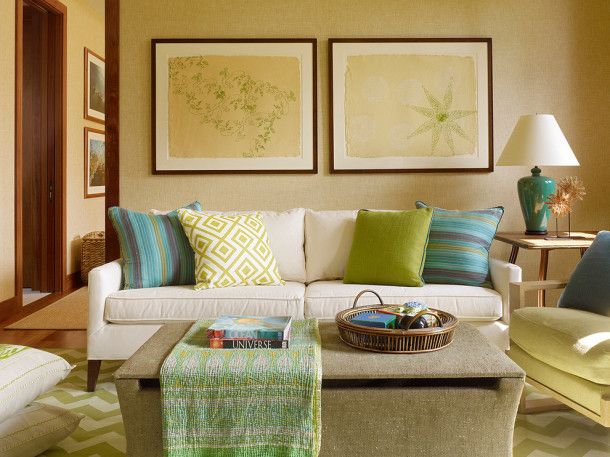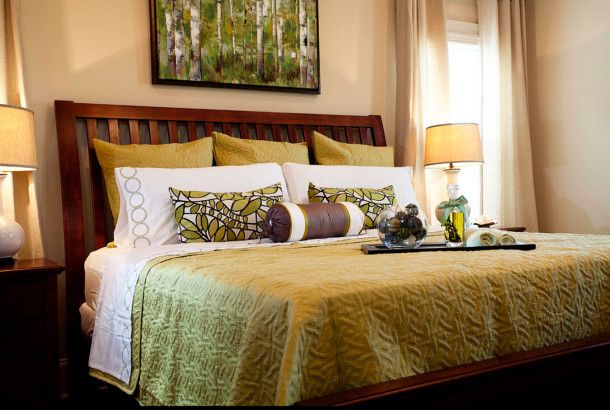 Black and white geometric pillow prints
We are returning to this pattern for the third time. And it's not surprising – just such variations of prints are just at the peak of popularity right now. They look fresh, bright and at the same time discreet. Made mostly in black and white, pillows with geometric print will be appropriate in any of the combinations described in the article.
Choose the most interesting pattern for you personally and use it in one or two pillows. If you have any other elements of black and white color in the apartment – a picture frame, a carpet, a coffee table or a vase – you will create a worthy ensemble and at the same time support the already existing color combinations.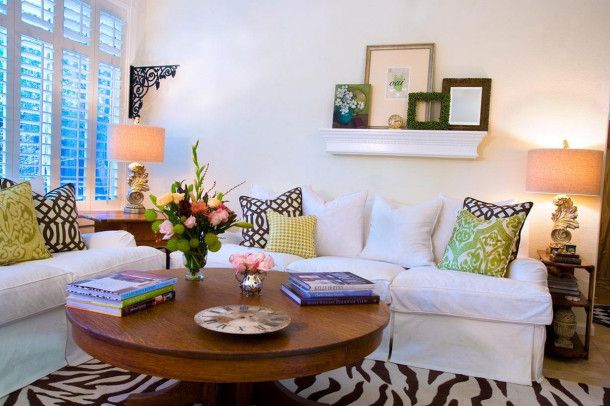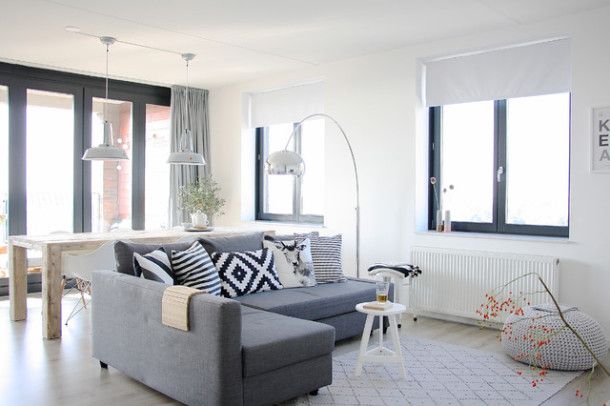 Naturalness and environmental friendliness in everything
Use natural fabric for your pillows. Her color scheme is pretty simple, not too saturated. Although a certain brightness and accents can be added using print or even fabric inks. Whatever your interior, rough natural textiles will definitely be "to his face". After all, it is appropriate both in country style and in art deco style. There is already a greater question of the ability to correctly apply the material and combine it.
Tip
Remember that such textile decoration of pillows sets a certain tone and, most likely, other elements (curtains or tablecloths on the table) in your home should also be made of clean and natural materials that look very characteristic without unnecessary decor and only add comfort and warm in the room.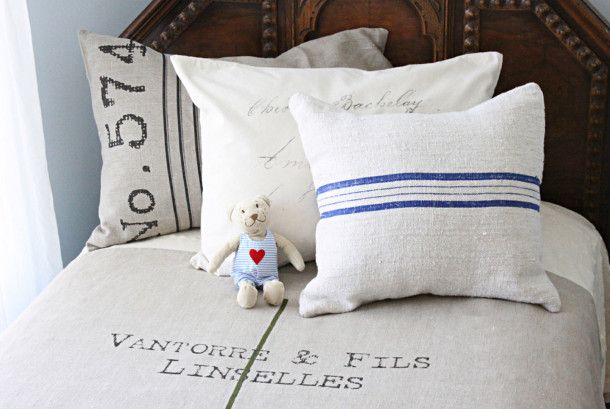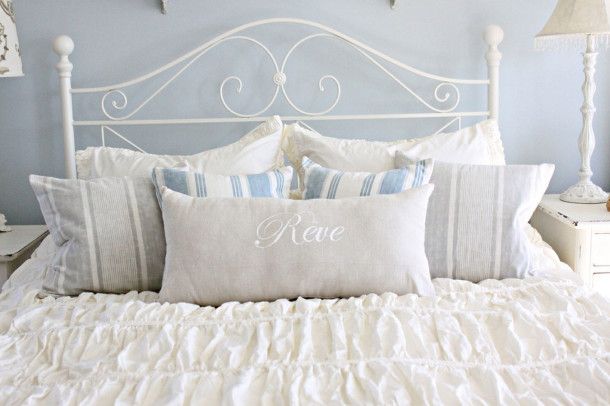 Finally
As you can see, combining pillows is quite simple. It doesn't work out – you can always change the cover – and make it easy and completely inexpensive. It is realizing all the "frivolity" of the issue that you solve it quickly and with pleasure, just trusting in a good mood. And to your surprise, in 90% of cases you will be happy to notice that the experiment was very successful. After all, design is emotions and a lot of spontaneity. Give in to the senses and listen to the sensations within yourself. This will definitely help.!