If you want to surprise all your guests, or just need to diversify the boring atmosphere of the living room, just refresh one of the walls of the room, but be sure to bright and unusual. The accent wall in the living room will bring freshness, enthusiasm and a new character to the whole interior into the familiar image..
Wall decoration in the living room
We present to your attention several ways of accent decoration of the wall in the living room.
Radical staining of the main wall
This option does not require significant efforts on your part and is available in all respects. Nevertheless, if you adhere to traditional views in the arrangement of living rooms, it is better to go directly to the next point..
This one is devoted to an unusual coloristic solution, namely, repainting one of the walls in pure black, scarlet, yellow and other catchy tones. We are sure that people who are progressive, not afraid of the influence of such colors, will be happy to take note of this method, because it is able to radically change the image of the entire room.
It is not recommended, however, to use too dark colors (purple, black, swamp) in a small living room – they are more suitable for spacious and bright rooms.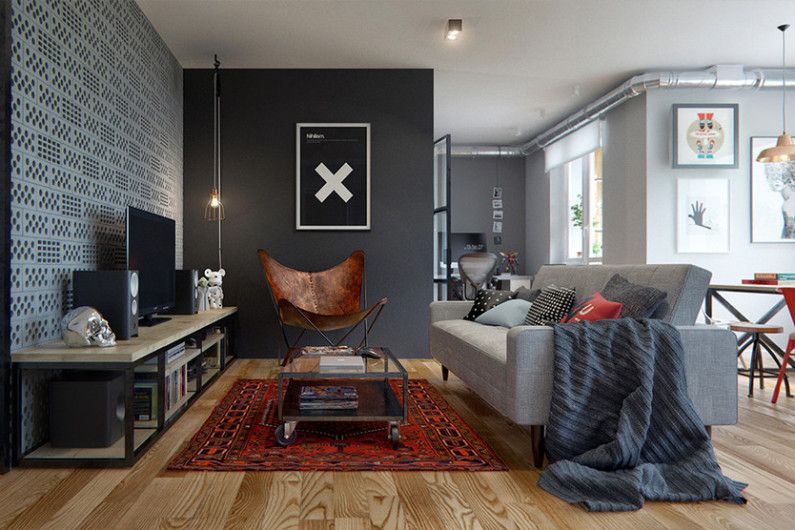 Fireplace and accent wall in the interior
If there is a fireplace in the living room or its imitation, it by itself becomes the center of gravity of each look. But such an element can serve as the basis for creating a whole accent composition, if, for example, the portal is emphasized with beautiful stucco elements (preferably polyurethane, they are not afraid of temperature changes), and the area around it is highlighted with a natural shade of greenery, the sea, wooden beams or mirror panels.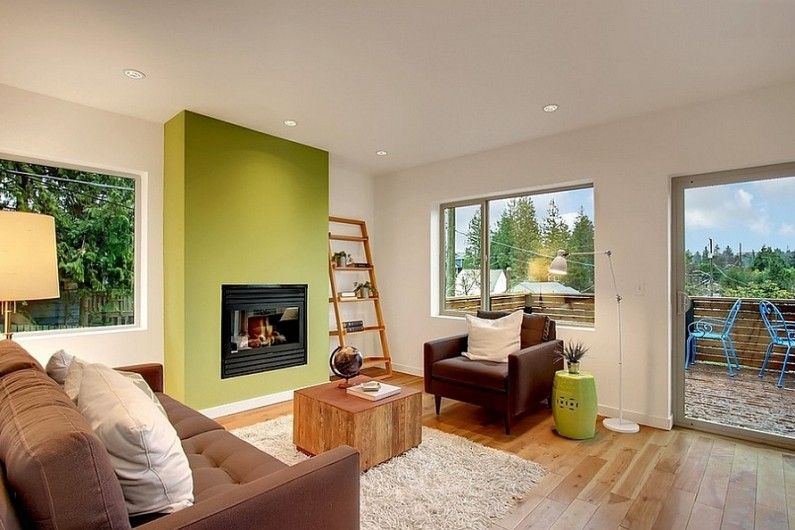 Brickwork in interior design
The use of natural materials in the living room with a view to a decorative accent through a beautiful and characteristic texture is doomed to success. Therefore, nothing should stop you in the desire to make the room even more elegant and unique..
Just one wall is enough to make its surface, covered with decorative brick or embossed glazed tiles, the most prominent area around which the rest of the living room will be built.
Use the backlight, – sconces, floor lamps placed side by side, floor light or a scattering of decorative sources attached to the surface of a brick wall will show its sculpturality and volume.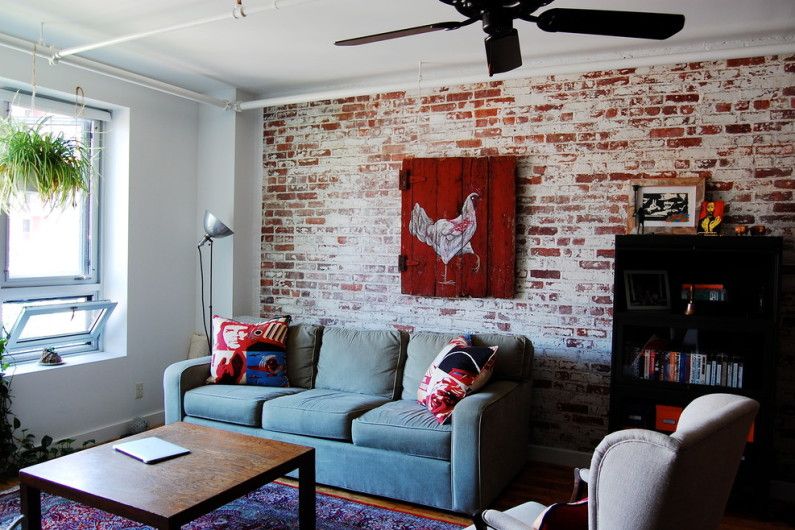 Large paintings and mirrors in the living room
Mobile items, but rather large in size, are effective and convenient when you need to quickly and effortlessly update the living room interior. In addition, the mirror here is already a classic element that is appropriate in any style of interior, and the choice of catchy paintings or reproductions can tell a lot about the tastes of the owners.
Do not be afraid that too large a picture will be inappropriate in a small living room – it is important to choose a copy that illustrates a perspective image made in bright colors. A simple way that helps in the task of expanding tight spaces.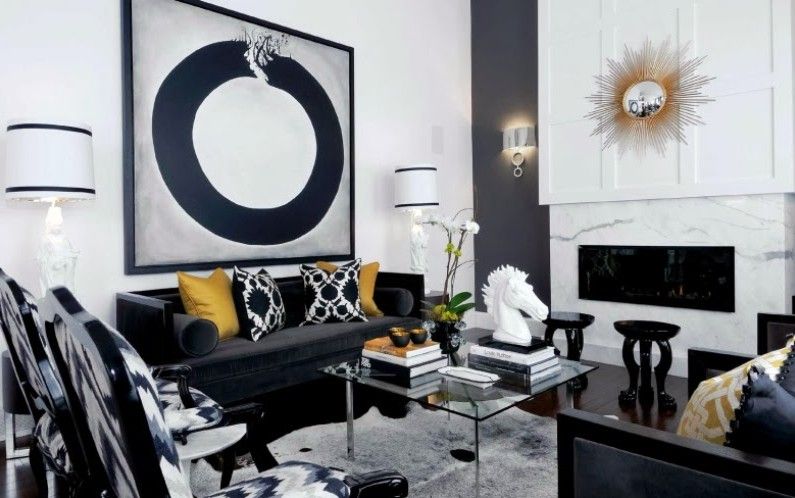 Accent Wall: Fancy Wall Painting Solutions
For those who are looking for a custom solution for an accent wall in the living room, we recommend that you pay attention to the current tendency to paint the surface using stencils, masking tape and paint in several shades of the same color (or beautiful combinations of different colors).
Zigzags, stripes, waves, ellipses and rhombuses, honeycombs and a cell – you are free to choose any of them, or create a new one by connecting different elements.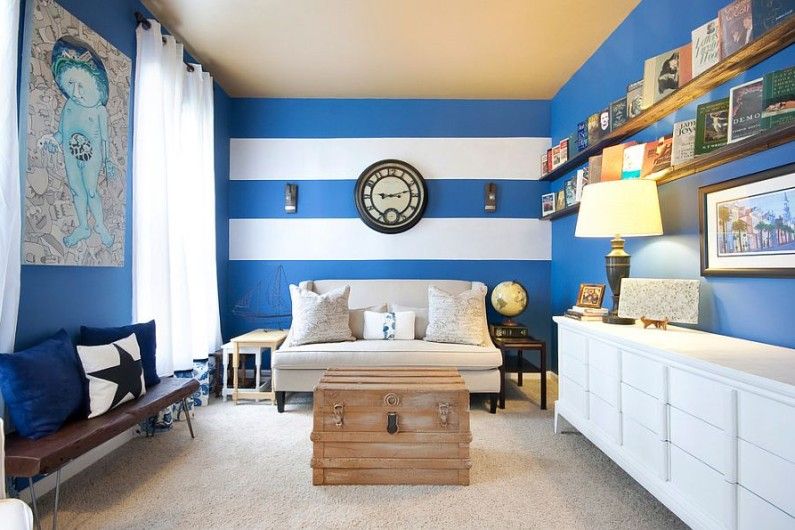 Decorate the wall with various objects
Making an accent wall in the interior of the living room, try to move away from the usual and understandable ways of decorating. Carved paintings are beautiful, but they are unlikely to surprise anyone. Try to fantasize, and use objects that are innovative, or not at all designed to be hung on the wall surface..
Of course, the chosen things should be adapted to the style of your interior, unless it is fusion or eclecticism, prepare them, stylize, and possibly remodel a bit. You can, for example, choose an object of an unusual shape, but color it in a tone suitable for the main colors of the room.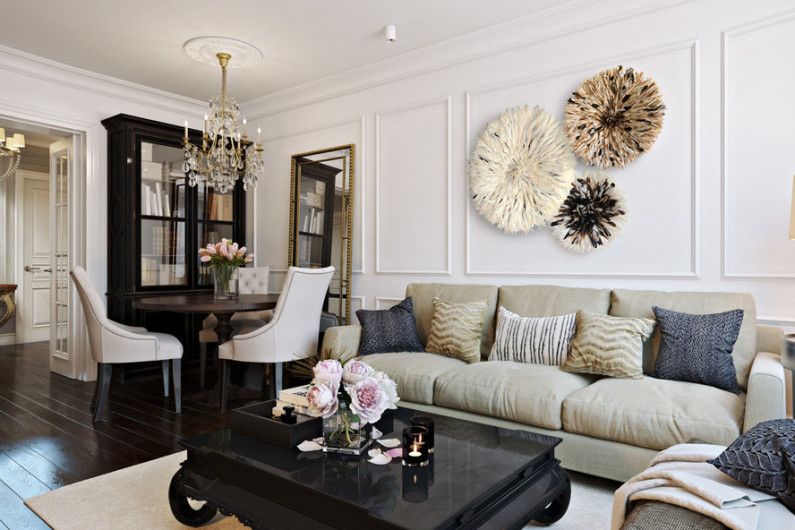 Decorate the wall with shelves: Functional wall
Finally, you can not only interestingly decorate the wall in the living room, but also make it exploitable (which is especially important for small rooms, or studio apartments).
Order a wall-mounted shelving in a carpentry or furniture workshop, construct a built-in structure with niches and ledges, or simply hang several shelves with figured supports. Now you can store books here, put paintings, decor, vases with flowers, and most importantly, you are free to change, clean or supplement as you wish and opportunity, introducing new shapes and colors into the interior of the living room.