Content
---
---
There are many decorative elements that can decorate and transform the interior, but the mirror in the living room is considered the most unusual and functional according to designers. It will help transform even a small room, making it spacious, stylish and modern..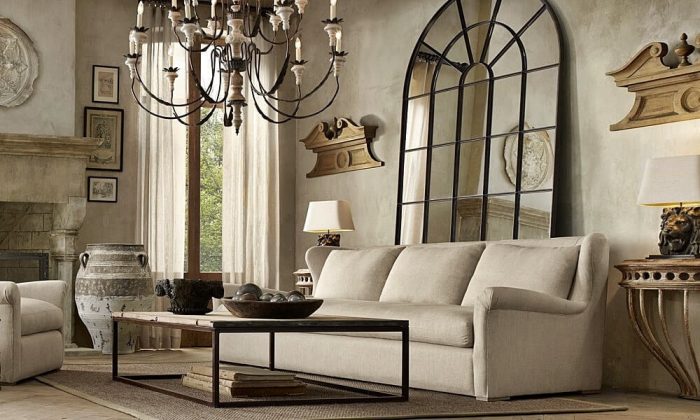 Functions of mirrors in the interior of the living room
The mirror surface should favorably complement the interior, emphasize the chosen style, mask the errors and visually enlarge the room. In addition, we must not forget about the decorative function, because the mirrors give the living room grace and lightness. With proper placement, you can achieve these visual effects:
Room expansion.
This is one of the main functions of mirrors, so designers often use them when decorating small-sized apartments.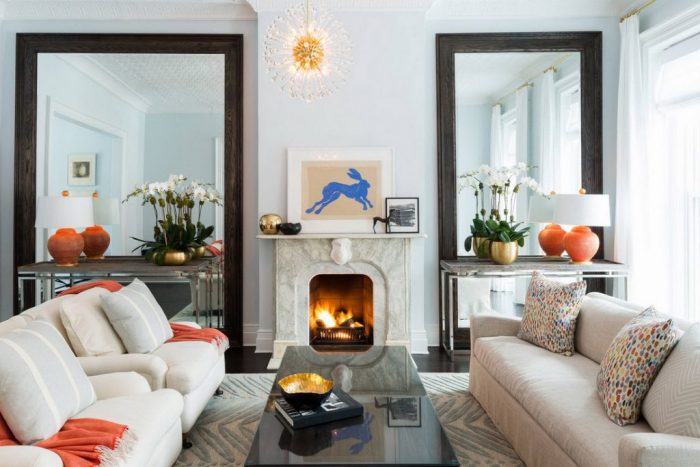 Improved lighting.
If you have a dark living room in your apartment, then you simply cannot do without this element of interior. Position the mirror so that it reflects illuminated objects, such as a chandelier or window. Thus, the light will be evenly scattered, providing excellent lighting throughout the room.
The Illusion of Abundance.
Many styles do not imply a large number of decorative items. Thanks to the mirror image, you can create a feeling of fullness without overloading the interior.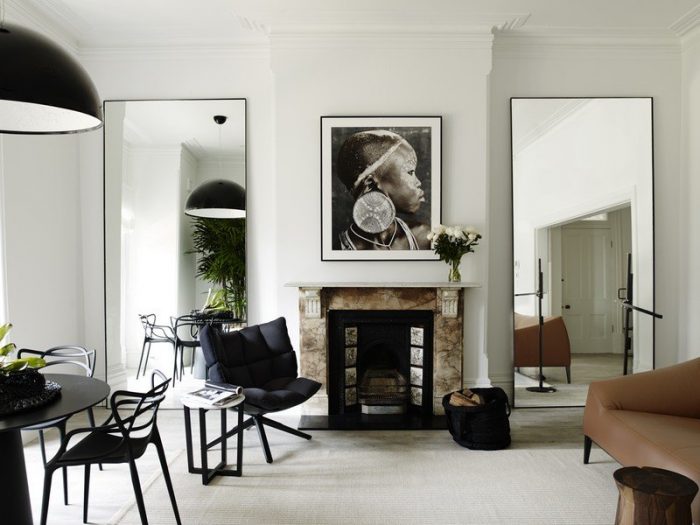 Proportion Adjustment.
By choosing the right shape of the mirror, you can easily change the visual perception of the room. For example, an oval mirror stretched up will allow you to make higher ceilings.
Emphasis.
If there is an object in the room that you would like to highlight, place a mirror in front of it. Thanks to this technique, an old vase, beautiful paintings or a luxurious chandelier will definitely not go unnoticed..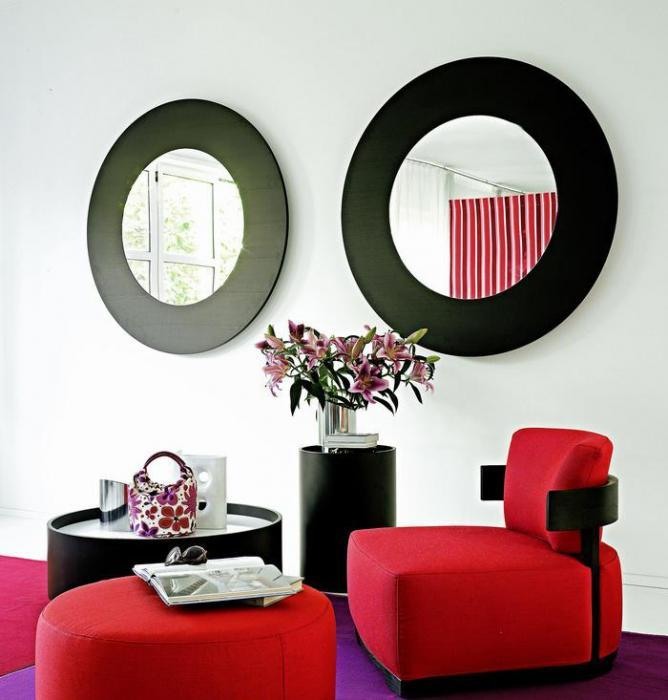 How to place a mirror in the living room
You can use all the functional advantages of mirrors only if they are correctly positioned. We suggest that you familiarize yourself with the basic principles of mirror placement in order to prevent common mistakes and choose the right product.
1.Installing several mirrors in the room, make sure that they do not reflect in each other. Otherwise, the room will look like a confused maze, which will certainly affect your psychological and emotional state..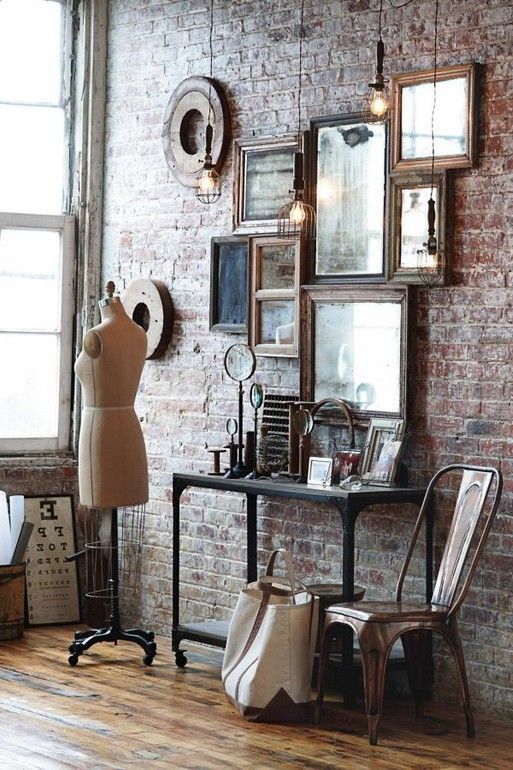 2. Wall-mounted mirrors are not always able to expand space. For example, when placed in dark interiors, on the contrary, they conceal it. Experts recommend using mirrors exclusively in light-colored rooms..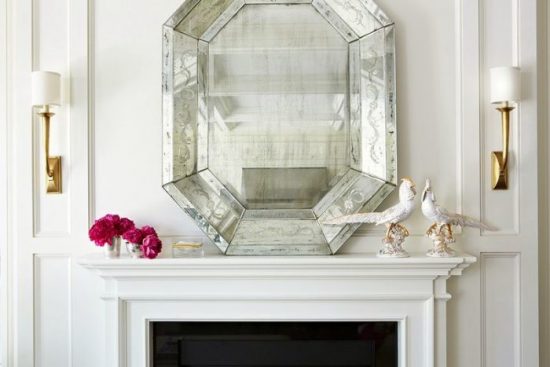 3. Mirrors for the hall should be installed in such a way that no more than two large objects are reflected in them. If they are aimed at a large number of decorative elements, the interior will get a sloppy look.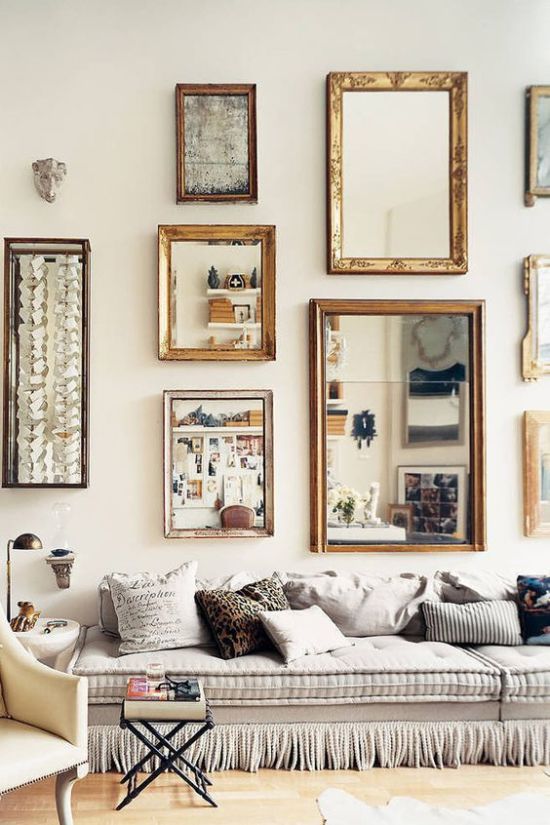 4. Owners of large living rooms should not place mirrors on the ceiling. They will make them even higher, which can cause dizziness..
5.With prolonged eye contact with a mirror surface, some people begin to feel nervous tension, so psychologists do not recommend placing them in a prominent place.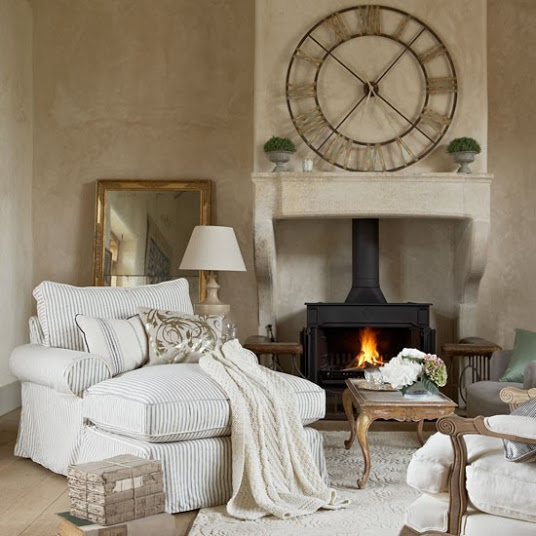 6. If you want to decorate the interior of Feng Shui, then hanging a mirror in front of the bed or doors is not recommended. According to Taoist practice, it is desirable that all households can see themselves in a full-length mirror. It is also believed that by placing the product in front of a window with a beautiful view, it will attract beauty and coziness into the house.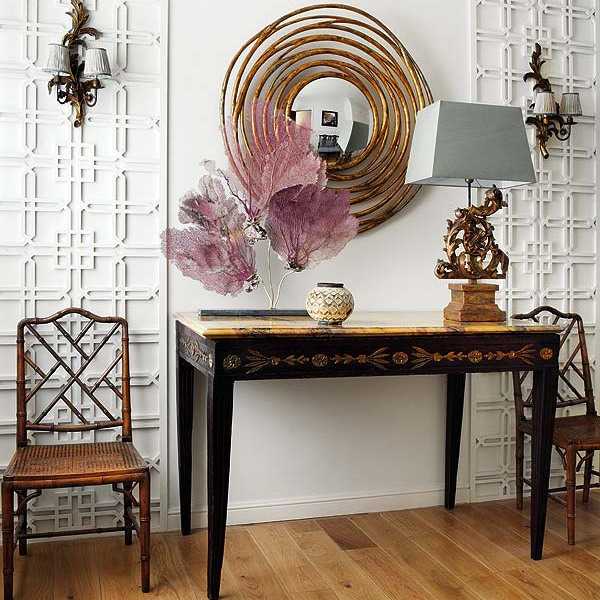 7. Care should be taken to ensure that the reflected light scatters the room uniformly. If you want to make the room brighter, do not place mirrors in close proximity to the light source. Better set the backlight on the subject that it reflects..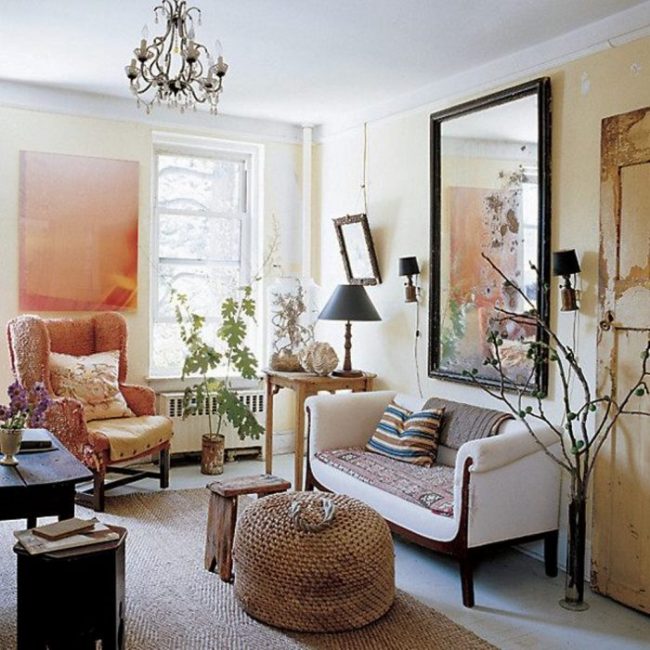 8. If the mirror is used exclusively as a decoration, then it should be installed at a distance of at least 1.5 meters from the floor.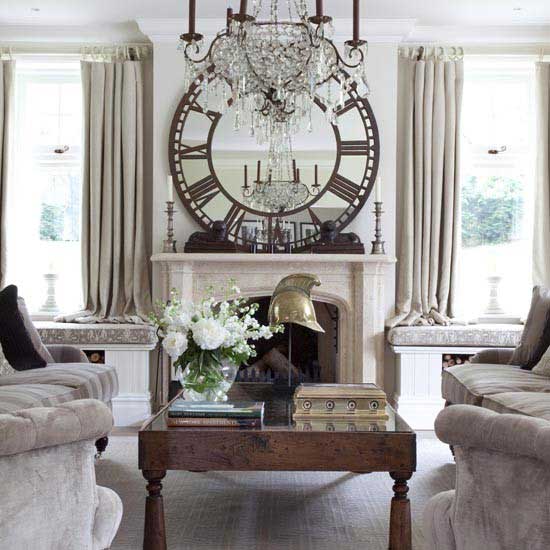 9. Owners of living rooms with a small number of windows can create false windows with a mirror. To create a stained glass effect, choose a product with decorative partitions. Install the product in front of the window or in close proximity to it. For lack of windows, the mirror must be hung in such a way that it reflects light from fixtures or other light sources.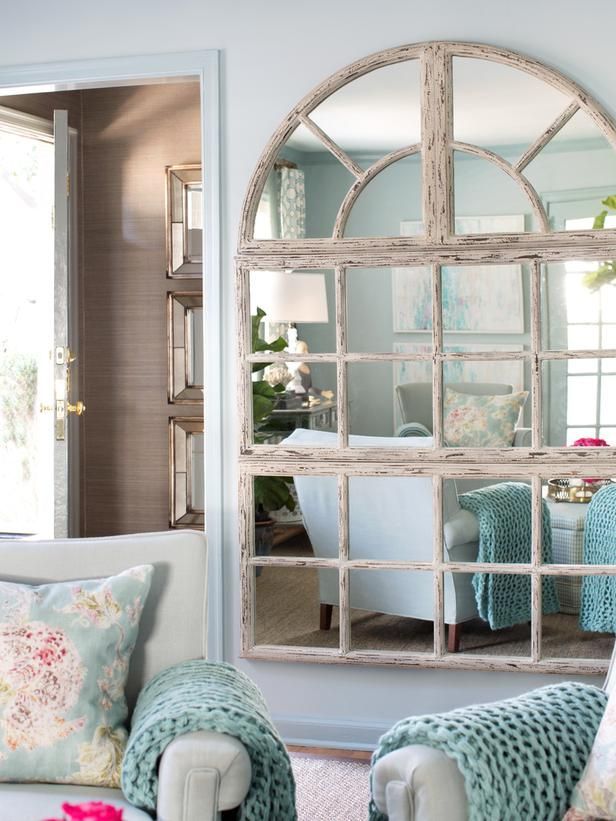 Mirror placement options
A wide range of mirrors is presented on the modern market, so choosing a suitable product can be difficult. Before you go shopping, you should study in detail the features of all varieties, their advantages and disadvantages.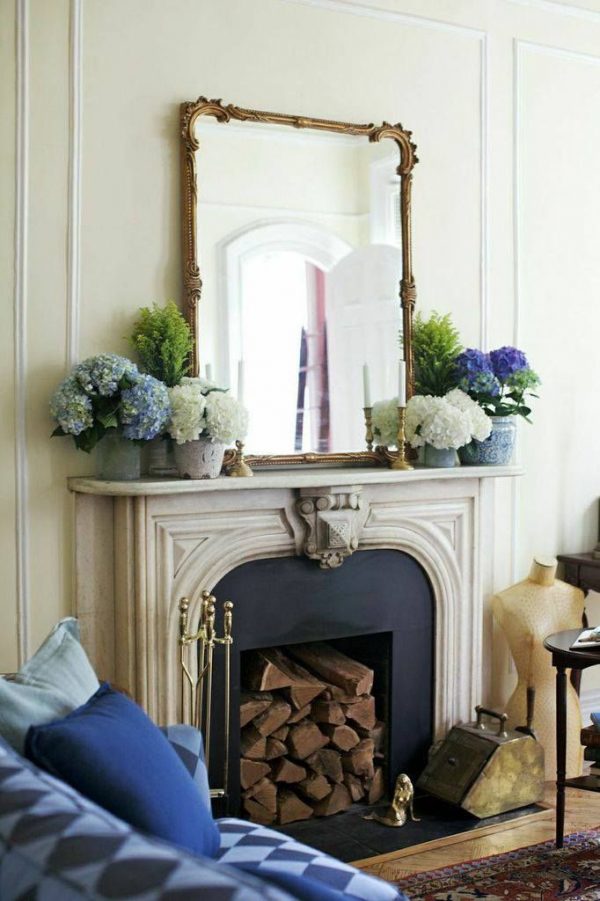 In frame
Without a frame, the mirrors look quite strict, so they are placed in beautiful frames. The choice of the latter should be approached very seriously, because the product should emphasize and complement the overall style of the room. For example, a mirror in a wooden with carved decor or antique frame perfectly fits into an elite classic living room.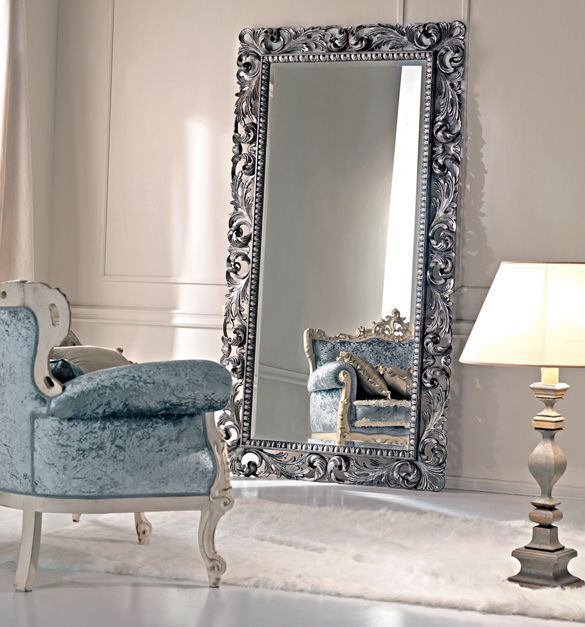 For country, it is better to choose products of simple geometric shapes in frames made of natural materials. In this case, a frame made of wood with unusual carvings, rattan, and even sea shells is perfect. If the room is decorated in art deco style, then complement it with a round mirror made in the shape of the sun.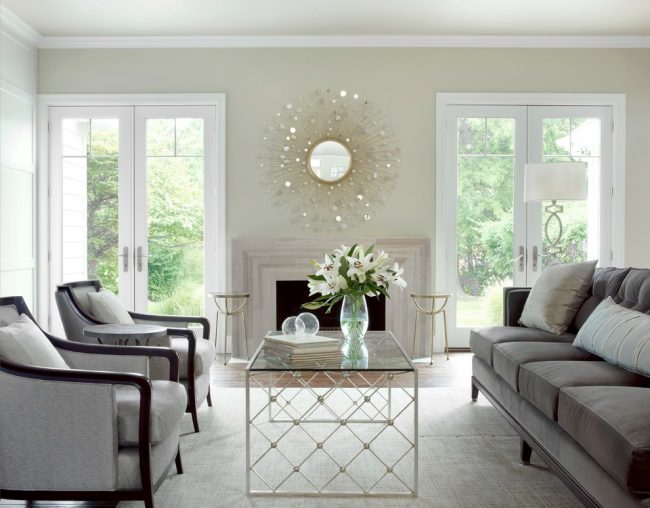 For Art Nouveau, it is appropriate to use models containing natural motifs, elaborate elements and all kinds of curls.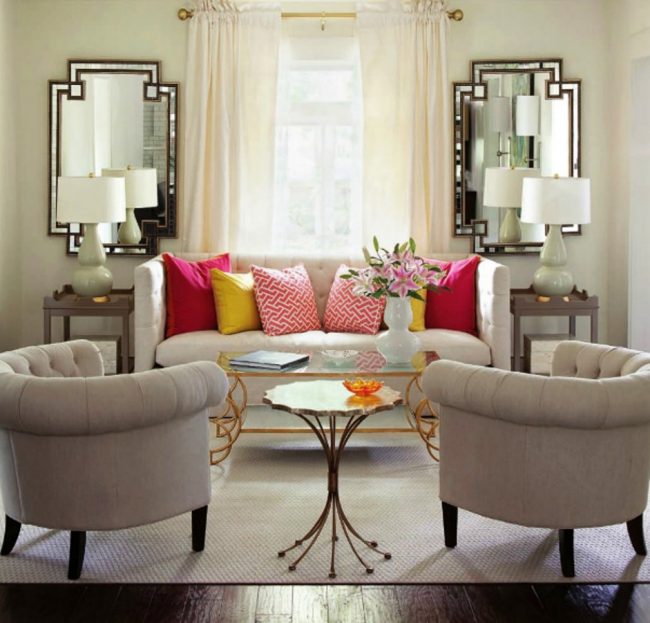 Without frame
Recently, minimalism has become increasingly popular. As you know, this style is characterized by practicality and does not accept the abundance of decorative elements..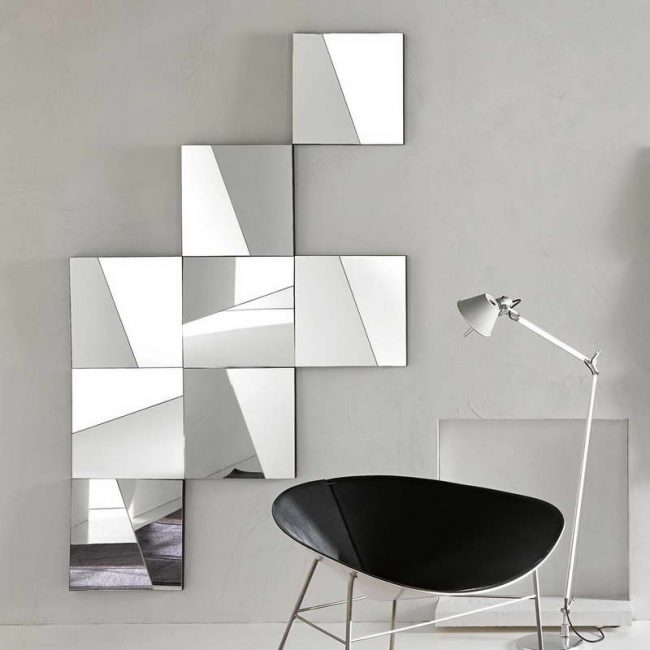 Decorate the living room with a large mirror panel – this will help expand the space and make it brighter. Another modern style is hi-tech. It is characterized by simplicity, clear lines and strict forms, so give preference to round, rectangular or square models.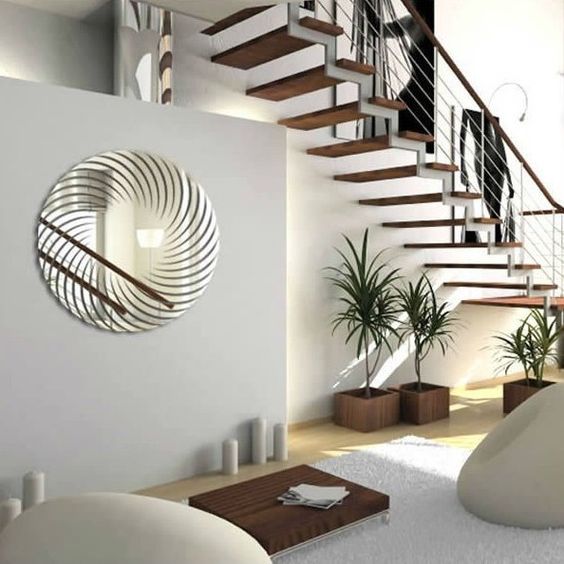 Mirrored Furniture
This is a great solution for any style. The mirror surface creates a feeling of spaciousness, gives the room a stylish and modern look.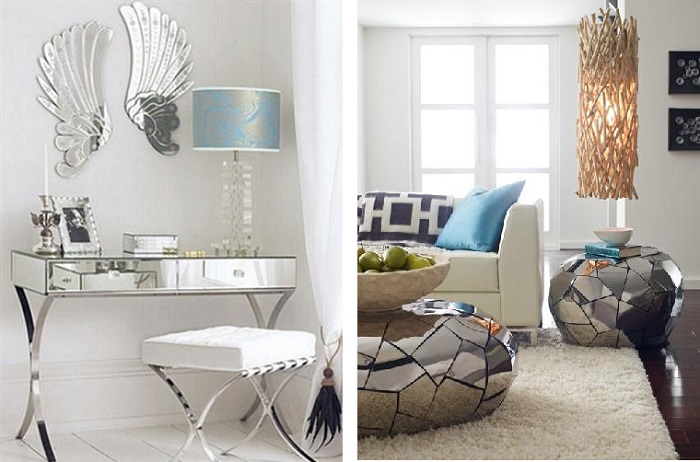 Such furniture is versatile, functional and practical. In production, modern technologies are used, therefore, such products are durable, reliable and have a long service life.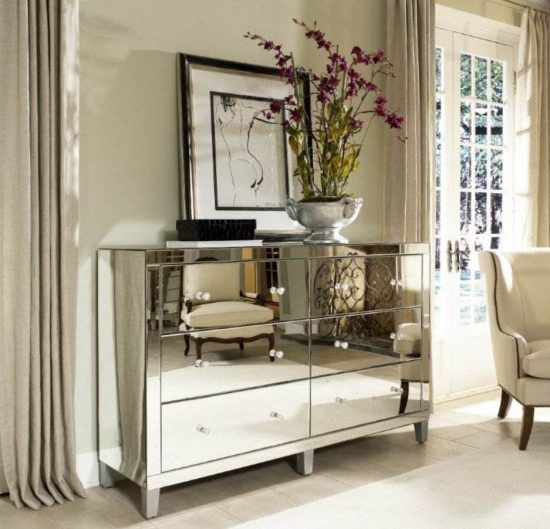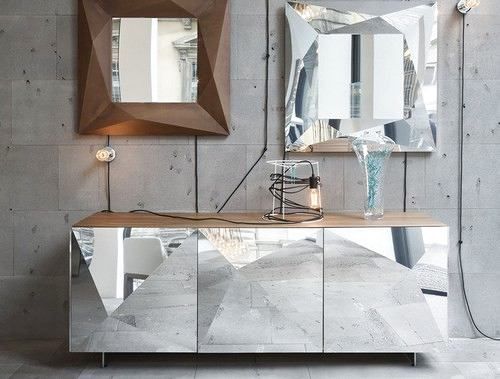 Mirror Compositions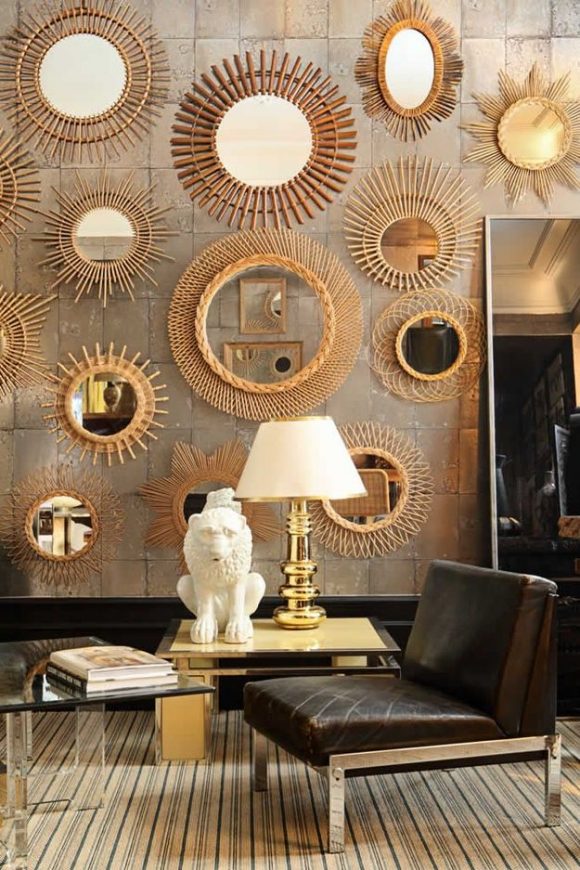 With the help of small mirrors you can create an unusual mirror wall. If you want to give the room originality, use models of an unusual shape or different sizes, framed by the same frames..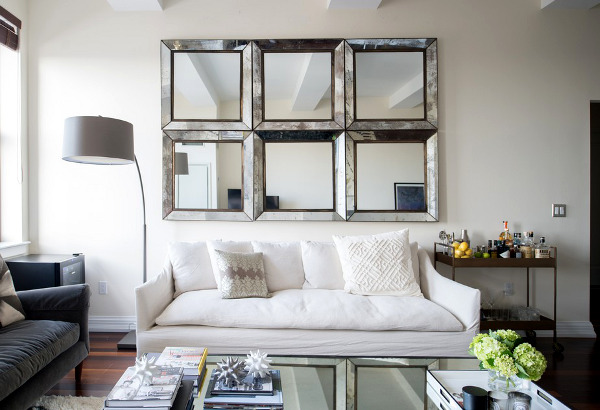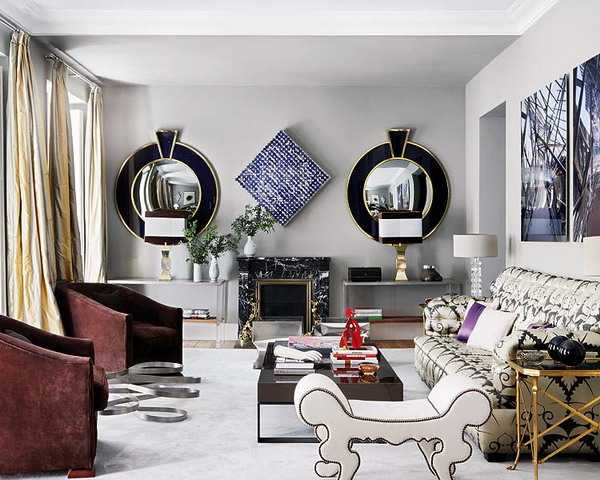 Floor models
In a classical interior dimensional mirrors in massive frames look excellent. Not every wall can support the weight of such products, so they are placed on the wall or placed on special stands. We recommend paying attention to mobile models, which, if necessary, can be put at the right angle or moved to another room.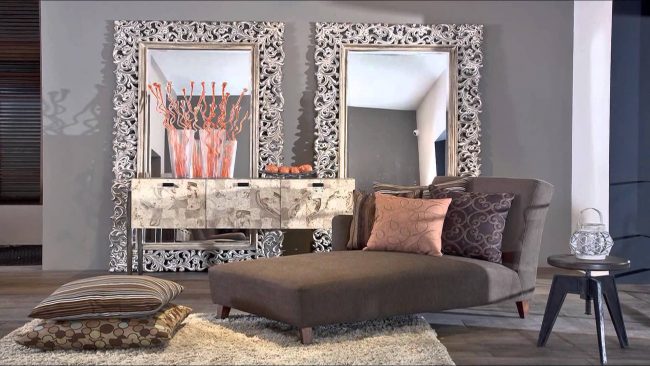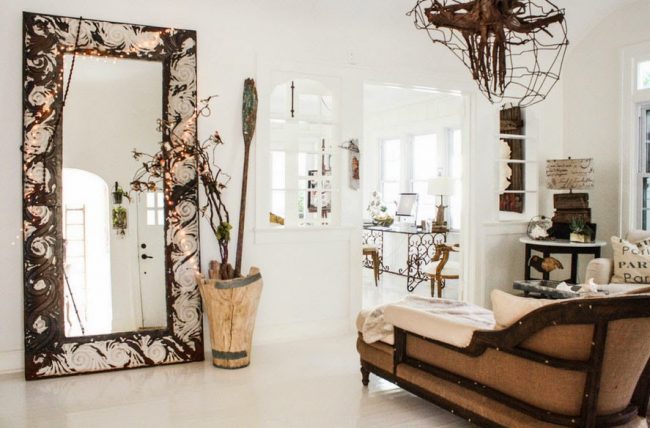 When designing a living room with mirrors, be sure to adhere to the style of the room. Carefully study the basic rules of placement and the recommendations of specialists to select the correct shape, size and installation location of mirror surfaces. Having familiarized yourself with all the intricacies of using mirrors, you can avoid common mistakes and significantly transform the interior.
Mirrors in the interior of the living room: photo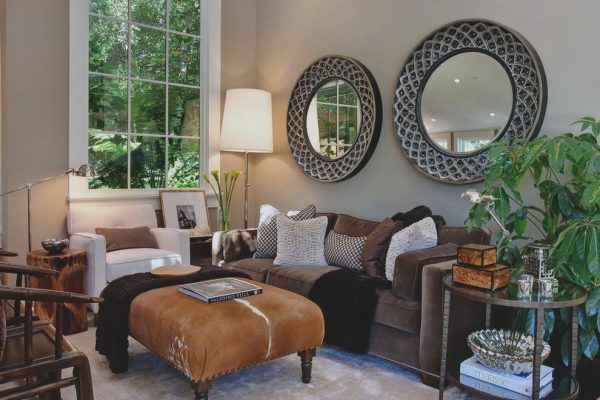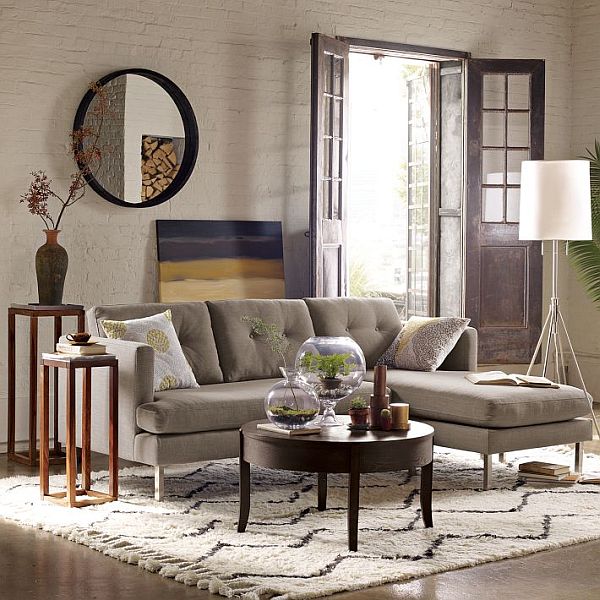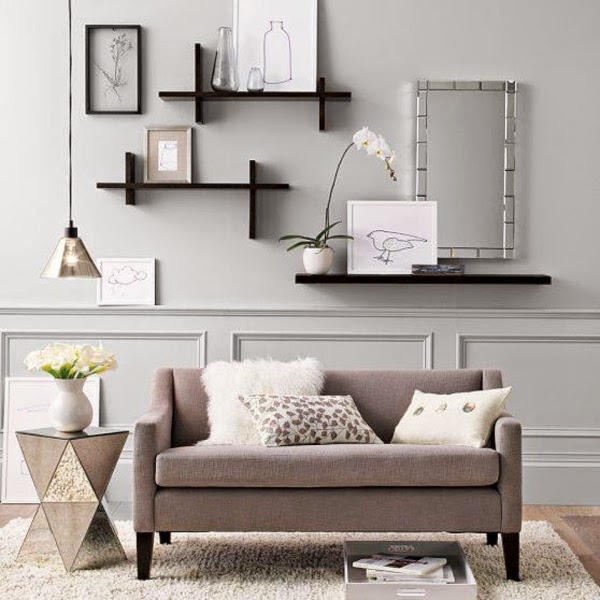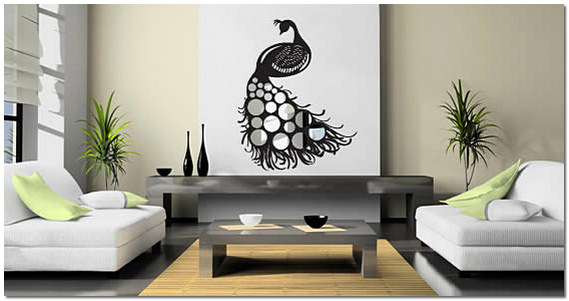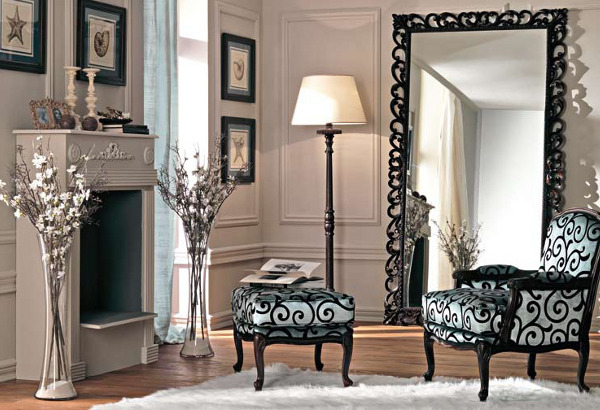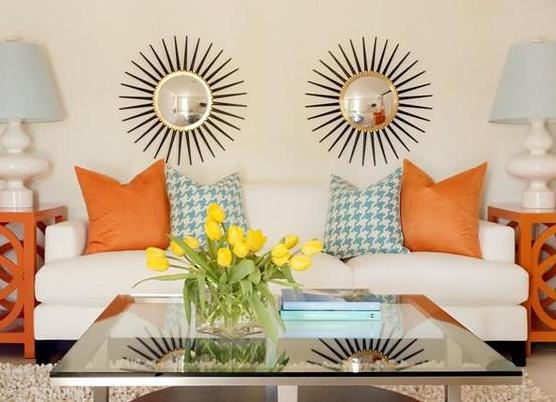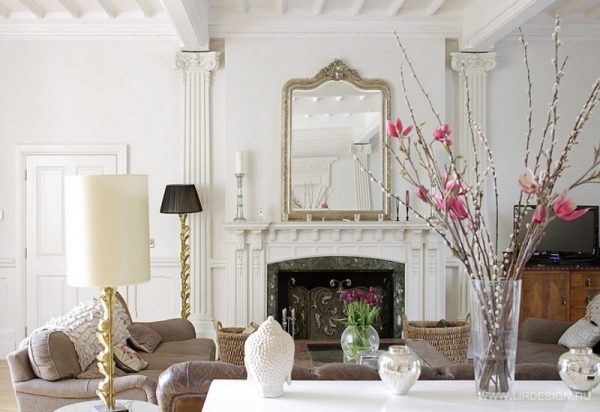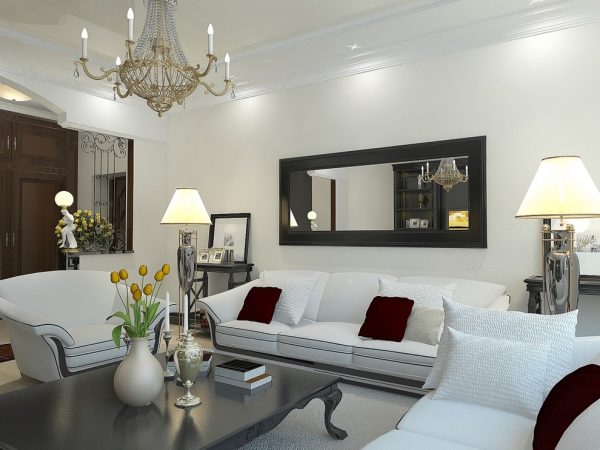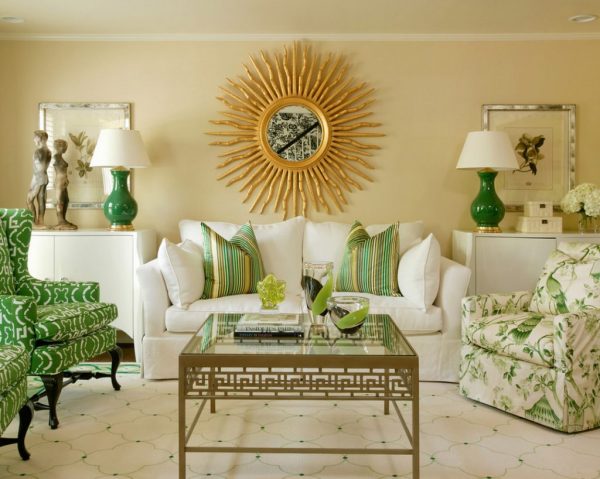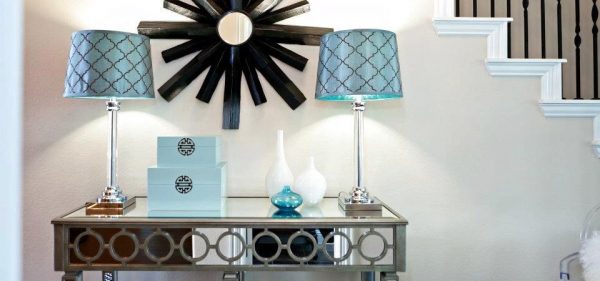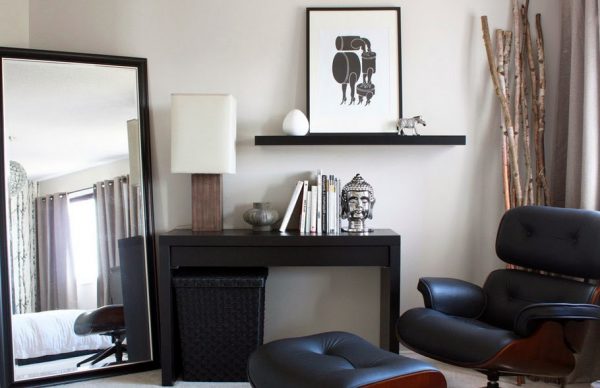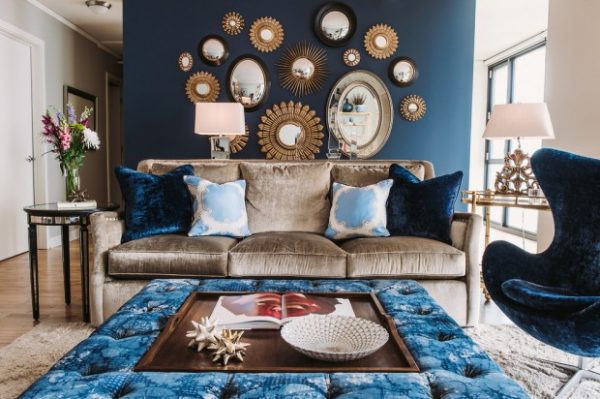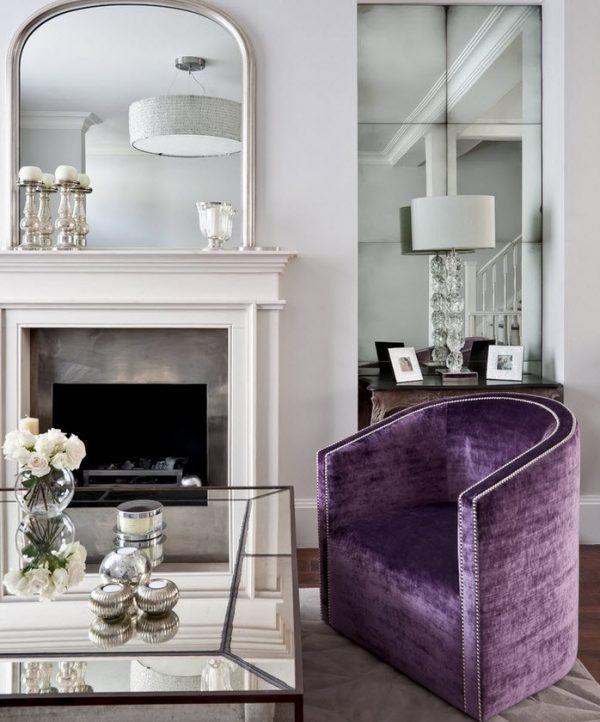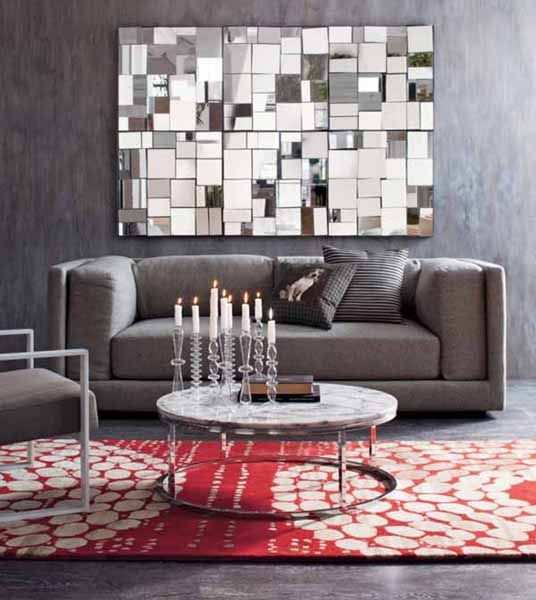 You may also like our article: How to decorate a wall: Best ideas
Good luck!