Many owners of apartments, country houses and cottages dream of becoming the owner of a fireplace in which a fire blazes merrily, warming with their warmth. And after the hearth structure is built, the fireplace portal must be designed efficiently, effectively and in accordance with the style of the room.
In apartments, the erection of a real fireplace, most often, is simply impossible, but it can be successfully replaced with a false fireplace or electric fireplaces, for which gypsum board, tile, wood or polyurethane will be a suitable facing material. But if your house has a fireplace with a furnace and chimney, you should use high-strength, refractory materials: stone, brick, granite, tile, tiles.
The design of the fireplace portal may differ due to the style of the room. If, for example, the living room in a private house is made in the country style, it will be appropriate to stone the fireplace with a stone, combining it with wood elements; in the room, the interior of which is light and sophisticated in French, the fireplace decorated with the use of polyurethane stucco elements, tiles or light stone will organically look.
Materials for the design of fireplace portals
It should be noted that the fireplace is able not only to carry out the direct function of heating the room, but to be, at the same time, a rather attractive part of the room, and even its compositional center. To this end, you need to use the right facing materials – not only high-quality, but also aesthetic.
Tile or mosaic
Ceramic tile is a universal material, and can be quite decorative, with ornate patterns of any color, smooth or rough. Cladding a fireplace with its help is a real pleasure, since this process is not complicated. However, a prerequisite for the use of tiles is a special building adhesive that can withstand high temperatures and prevents the destruction of the tile surface of the fireplace.
Ceramic tile is fireproof, therefore it is a fairly reliable material for decorating a fireplace, but an immortal mosaic can be called an even more attractive material from a design point of view.
Ceramic, glass, mirror or smalt, – the mosaic surely takes one of the leading positions in the field of building and facing materials.
The portal around the fireplace can look completely unusual and catchy, just use a color or black and white mosaic, laid out in a specific pattern.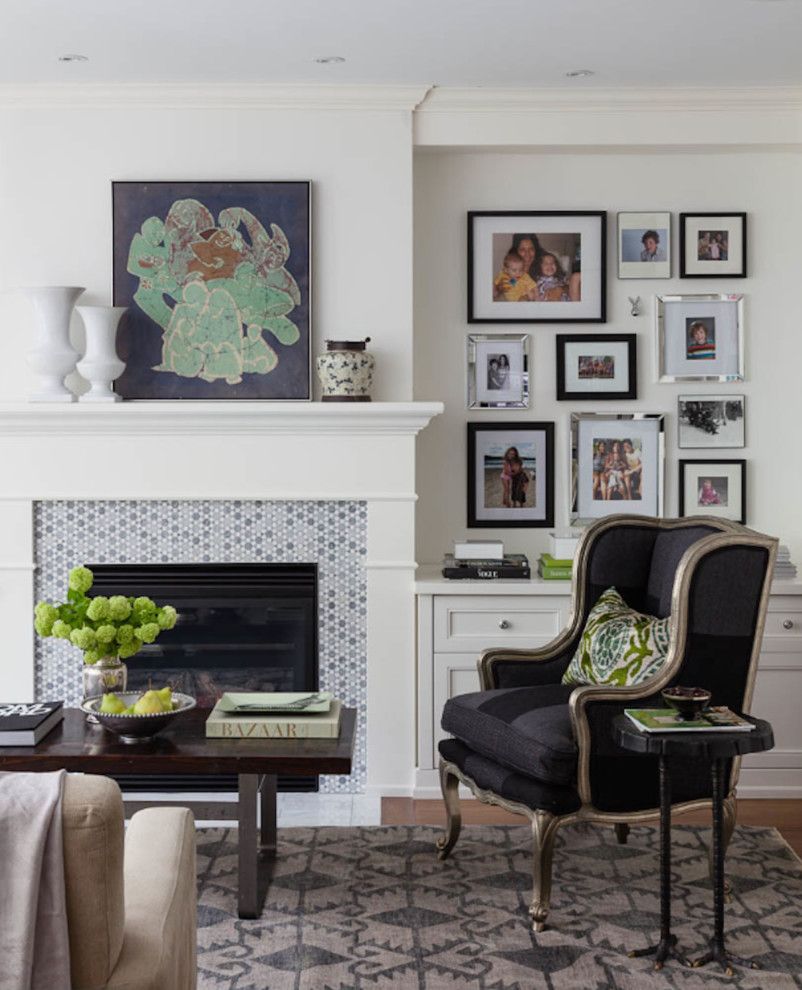 Marble
By its nature, marble is quite heavy, and therefore, for the design of fireplaces, its individual elements are used (stoves, pilasters, bases and cornices), which are made by masters in a single composition already in place. If you are ready to choose this material, be sure: a solid appearance and durability of the fireplace lining are provided, but it will cost quite expensive.
Only a reliable surface made of brick or stone should be lined with marble, since a lightweight construction made of drywall is likely to hardly support the weight of the stone..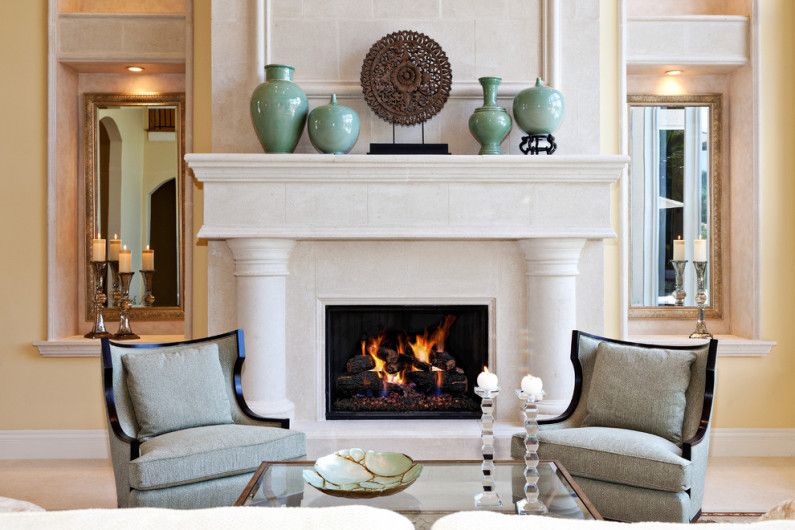 A rock
By lining the fireplace with natural or artificial stone, you can create an accent, even monumental object in the heart of a private house. The portal will look solid, but very natural, if you select a loose masonry with irregularly shaped stones.
In order that the stone portal of the fireplace does not look too strict, we recommend supplementing it with a shelf – a cornice made of light wood or polyurethane.
The advantage of stone for decorating fireplaces, in addition, is the variety of its options: smooth granite, porous shell rock, exquisite travertine or semiprecious onyx. It is important to remember that it is not worth it to wall the fireplace yourself — it's better to entrust the work to a good master, because only a specialist will be able to choose the right mortar, and take into account the features of the chosen breed, skillfully laying out stone elements.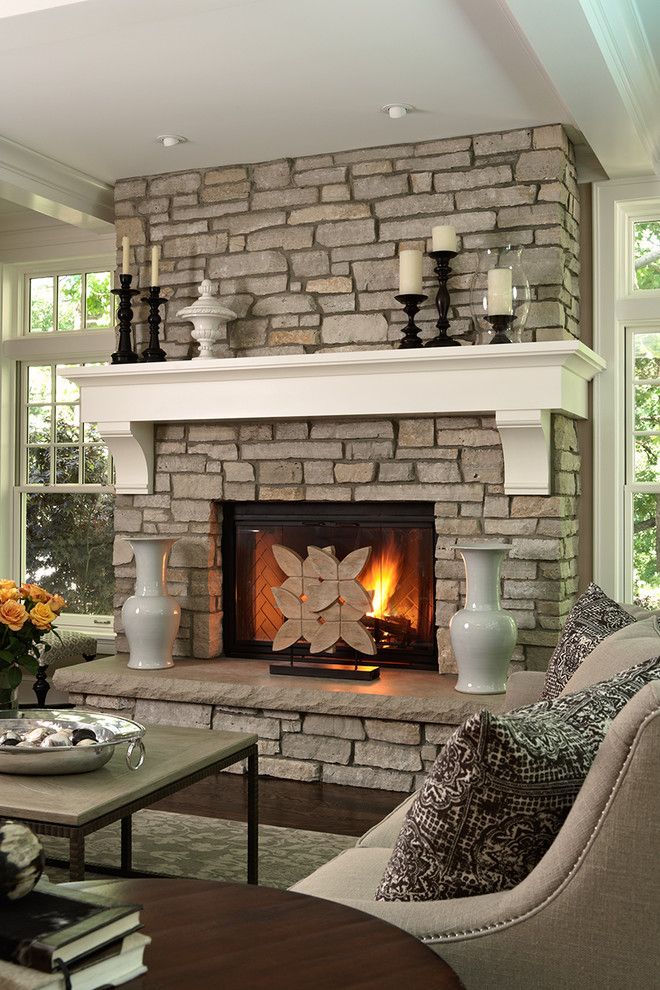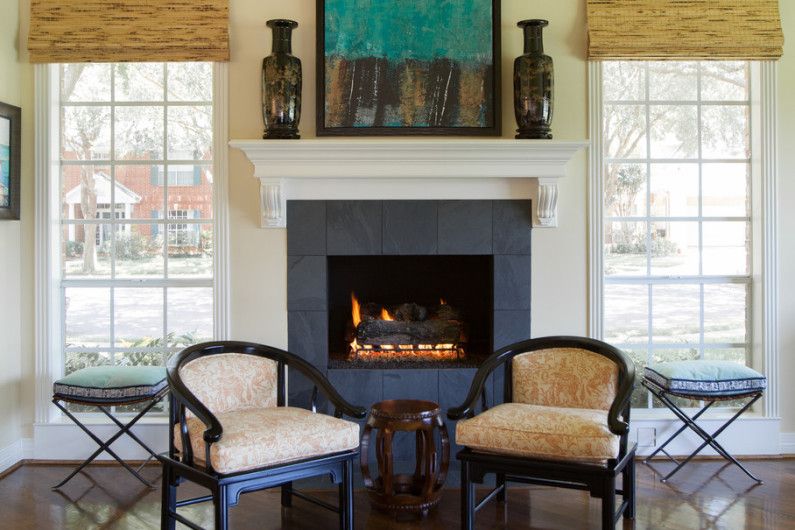 Brick
Brickwork itself looks very attractive and not too defiant to organically get used to the image of a strict minimalist interior, as well as rooms with elegant furniture and expensive fabrics. In addition, the color of this material is in harmony with different shades of cold and warm colors, therefore, there will be no difficulties in choosing other furnishings.
Please note that the traditional red brick can be replaced with white, or rather, use tiles of the appropriate size and shape, laid out in a clear "brick" order. This method of facing looks very elegant and is suitable for elegant, light interior styles: Mediterranean, French.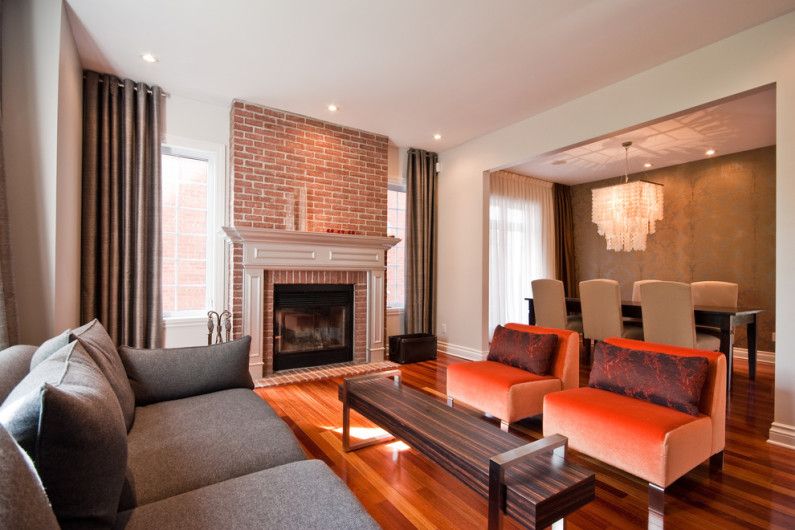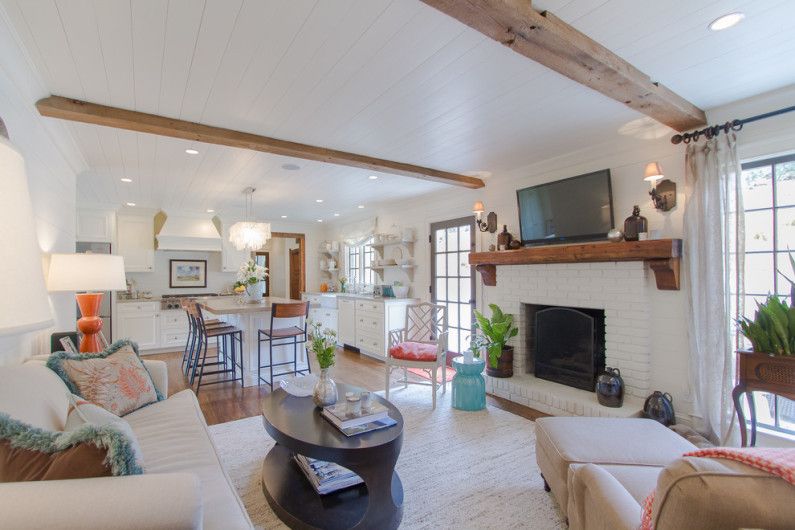 Tiles
A fireplace revetted with tiles – glazed clay tiles – boxes hollow inside will look very characteristic and unusual. Each such element is created manually: on the outer surface of the tile there is a relief pattern or pattern, which is painted and coated with a special glaze. The result is a very beautiful refractory material, which is most often used to design fireplace portals.
If you liked this idea, know that it will be possible to clad the fireplace with tiles only if, during construction, metal staples were installed between the masonry joints, to which decorative tiles are attached.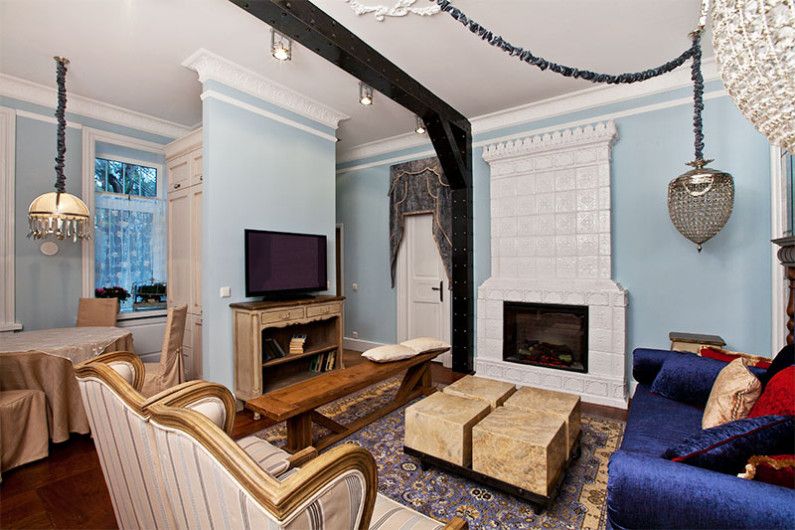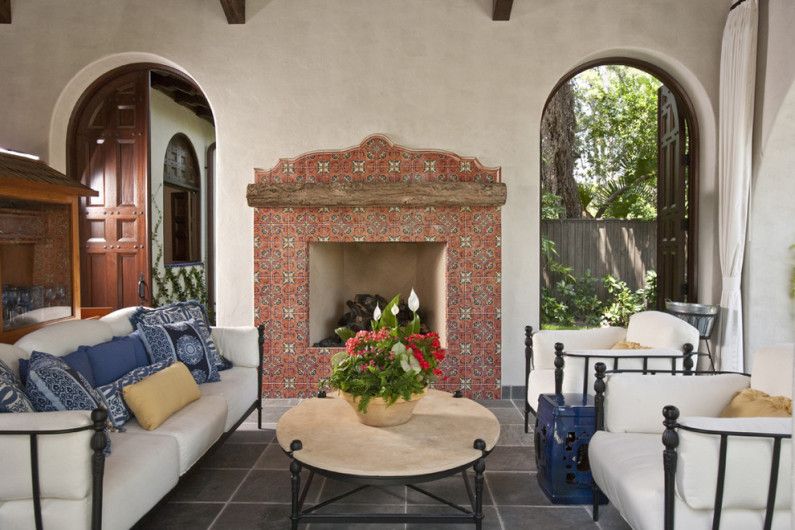 Drywall
Both the one and the other way of facing the fireplace are good when it is necessary to make the surface of the portal perfectly smooth. If the stove is built of brick, it can be plastered, and then painted in the desired color. But before that, a special technology should be observed: to melt the fireplace, clean the masonry joints in depth 1 cm, and then moisten it before applying two thin layers of plaster.
Drywall will help to simulate the shape of the portal, hide the imperfections of the masonry, and simply diversify the usual look of the fireplace. But for cladding, it is imperative to choose a refractory gypsum board, and strictly control each stage of working with it from installing vertical frame racks and horizontal profiles, to reinforcing corners and putty.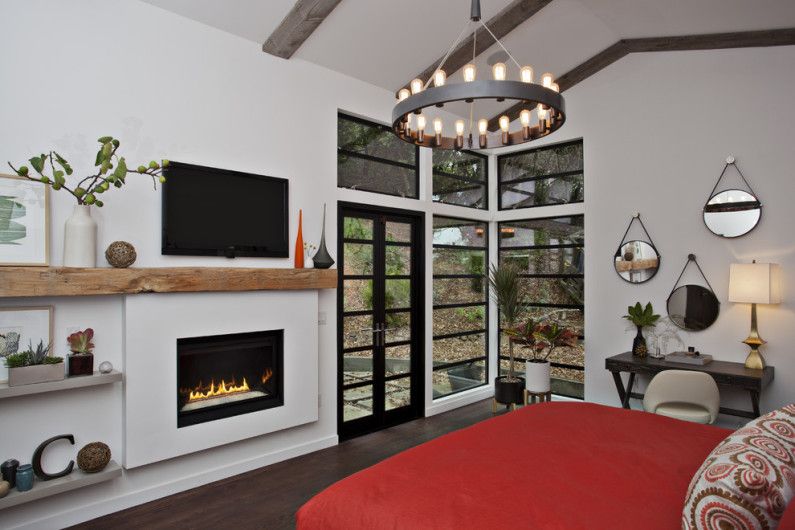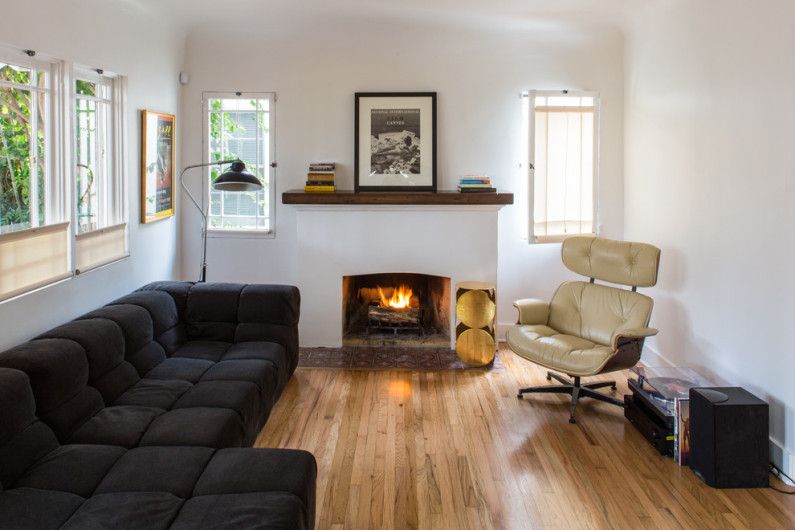 Polyurethane stucco molding
It is necessary to use polyurethane elements precisely for decorative decoration of a fireplace already built and lined with refractory material. Polyurethane (or foamed plastic), tolerates temperature extremes, it does not yellow, it is easily painted and washed, it is represented by a large number of decorative elements (sockets, cornices, pilasters, half columns, bases) from which you can create a beautiful relief box based on a stone, tiled or plastered portal.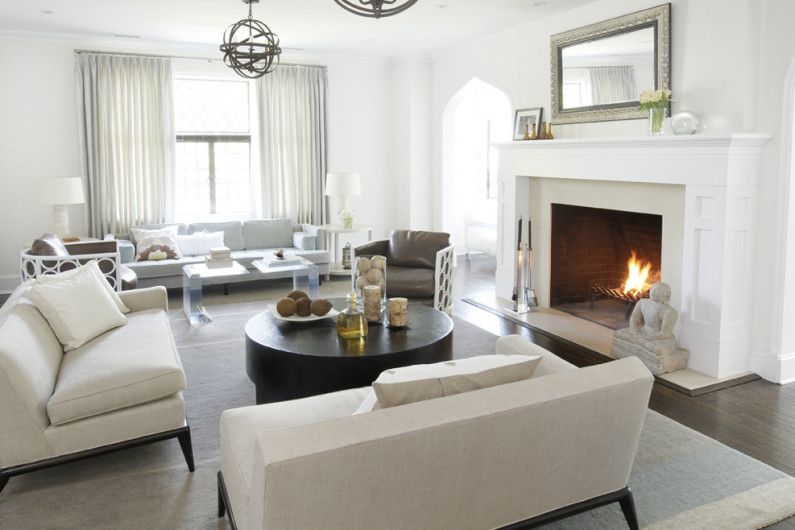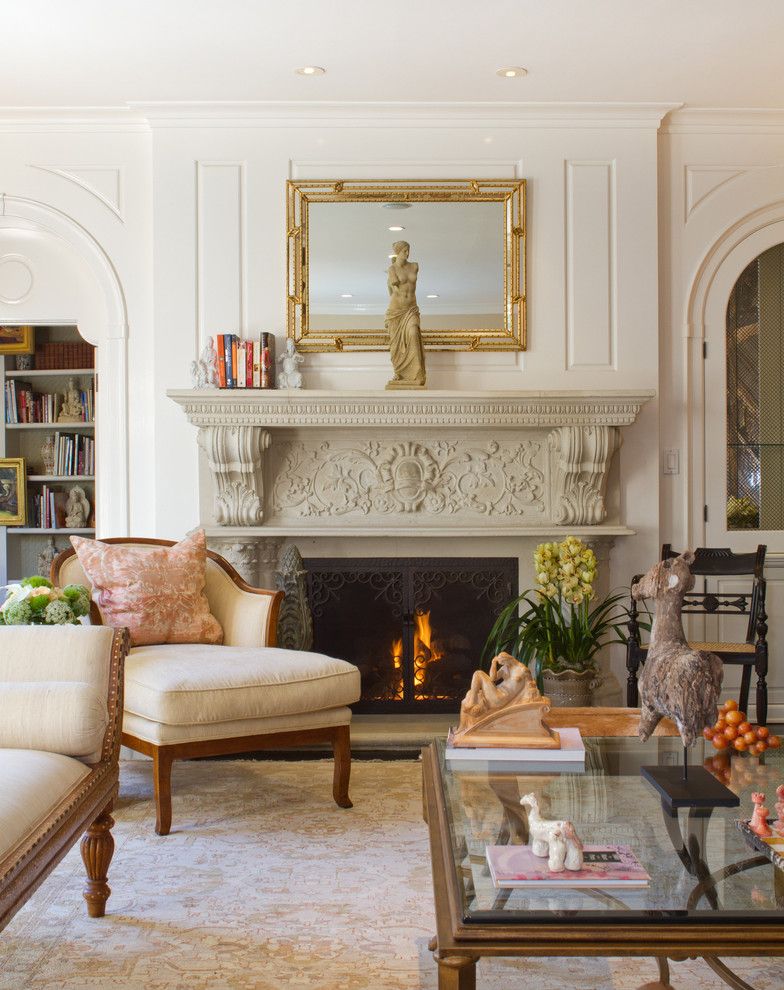 Wood
In the design of fireplace portals, wood is not often used, but it is it that is able to ennoble an ordinary brick or strict stone portal with its texture and natural color. In a Mediterranean, colonial or country style fireplace, decorated with wooden elements with a solid, pleasant to the touch texture, would be the perfect solution.