Final chords at the completion of interior design go to decorators. They have a lot of ways to make the room more lively and comfortable, and one of the most powerful tools in the work is textiles. Window decoration with curtains plays a special role.
"As you know, the simpler, the better – even, falling curtains made of beautiful fabric will never lose their popularity."
How to decorate windows with curtains: tips and ideas
But for those who like brighter and more original solutions, we have created this collection of ideas on how to diversify the standard design of windows with textiles. They should be implemented separately, carefully making sure that the textile design does not become awkward.
Contrast the curtains.
This solution, in addition to its external attractiveness, is also very practical. As you know, many people like to fall asleep and wake up in pitch darkness. And although the choice of fabrics with the black out effect is rich, it cannot be compared with variations in the solutions of ordinary materials. Here you can not deny yourself the pleasure and choose exactly the fabric that you like.
Choose two types – the first is monophonic, the second with a pattern or ornament. One of them should be with the aforementioned black out effect (not letting in sunlight). Now it remains only to decide which material you will face the window, and which – to the main part of the room.
Tip:   It makes sense to emphasize such an original technique, deliberately making careless lapels to show the lining.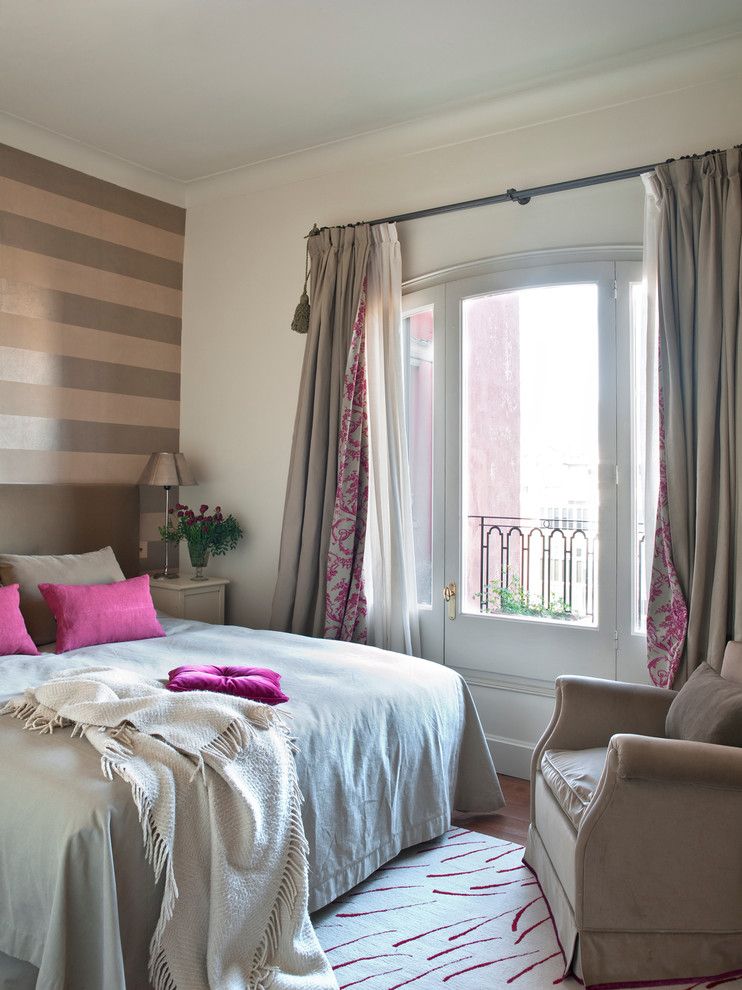 Paint the cornice
Colored cornice is a rare phenomenon. That is why those who want to use this particular technique will most likely have to resort to the help of brushes and paints, because you can hardly find such frills on sale. But you immediately have a huge advantage – you can choose a color in advance, making sure that its shade matches perfectly with the design of any object in the interior. By the way, it is unlikely that there should be curtains – make sure that the contrast between them and the cornice is maximum.
Do not be afraid of bright colors – this is just a small horizontal bar under the ceiling – and even lemon yellow or bright pink in this case will not bring an overabundance of color into your room.
Tip
Take this decision rather as a skillful use of accessories – you can give an analogy with the selection of a strap for a dress or cufflinks for a man's shirt.
Focus on the mount
If you use a metal cornice, you have the opportunity to draw even more attention to the design of the mounting of the curtains. In the upper part you can fix special decorative elements that can be made of plastic, leather, fabric, glass or wood.
Similar accessories are sold in curtain stores and other specialized stores. A decorative curtain, which does not imply its movement along the cornice, can be fixed in a more elegant way than just hanging on hooks. The loops can be sewn from the same fabric, weaved using the intersection method or decorated with beautiful caps. There can be a lot of ideas, but all of them in this case pursue one goal – to draw the attention of the guest to the upper half of the room and the window itself.
Tip
This technique will help highlight the high ceiling or its complex architectural design..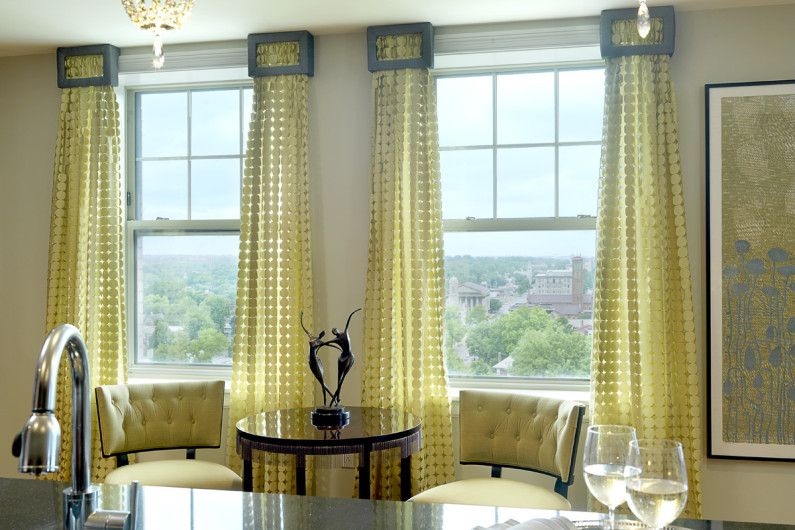 Choose contrasting fabrics for curtains
This solution is one of the most interesting today. It is easy to execute, and in addition to the charm of an expressive appearance, it eliminates the need for owners of huge window openings to move one heavy curtain at large distances.
Calculate how many meters of canvas you need to ensure that the window closes completely. After that, divide the resulting number in an unequal proportion. Let's say you need 10 meters of fabric. Then divide it into two curtains – three-meter and seven-meter. Both of these pieces of fabric, most likely, should be from the same collection, but the colors can have completely different. And this is not only not prohibited, but even encouraged. It is recommended to hang such curtains one line of eaves.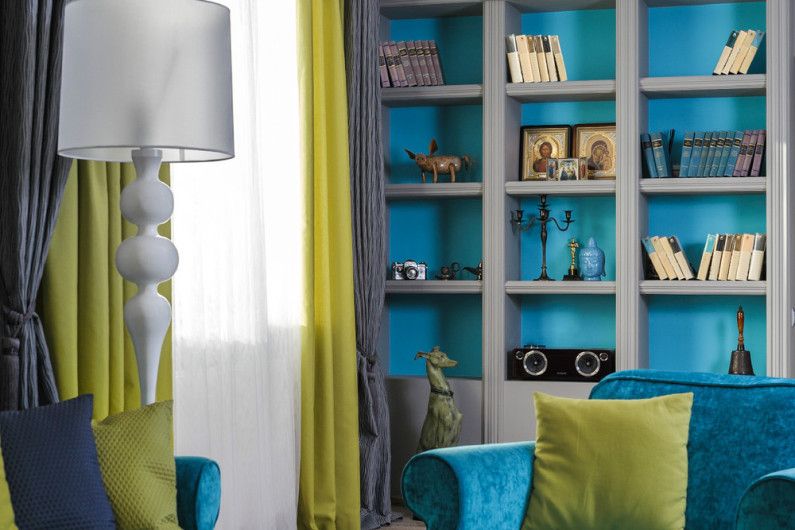 Use textile accessories
Remember that in specialized stores they can offer you much more than just a variety of curtains and curtain rods. Ask about trends, news, interesting accessories and unusual solutions. After all, textile manufacturers are so sophisticated that they often complete woven patterns with many options for holders, suspensions, dividers, beads, braid and other elements.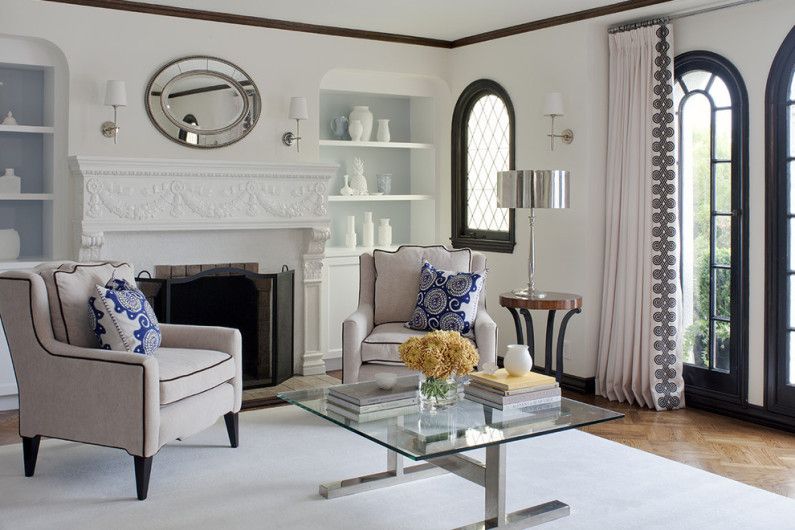 Since there are very few traditional and established elements, rely on your luck. Ask questions and ask you to recommend interesting accessories for curtains. And if you find something interesting, be sure to use this solution. Just reconsider your decision regarding curtains – often after choosing accessories it may turn out that you need to correct it.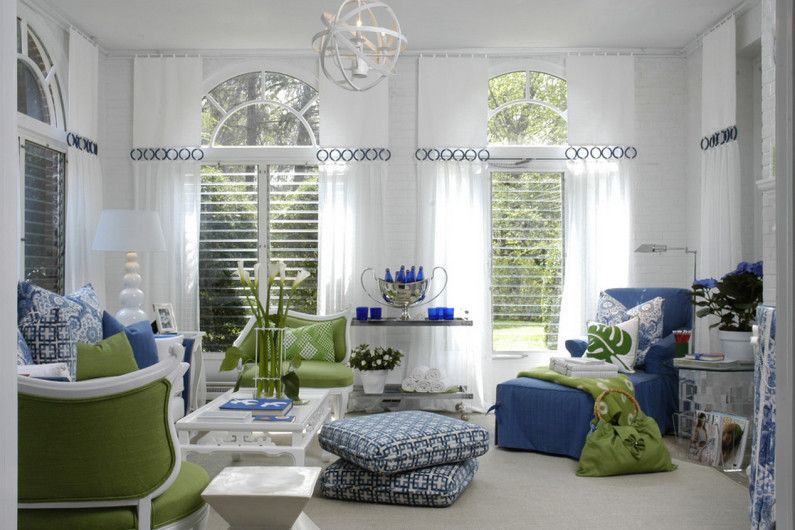 Create horizontal stripes
Horizontal stripes on a fabric are often the work of a good craftsman. After all, the fabric is sold in large skeins, and it is very difficult to guess here with proportions. Therefore, if you like this method, discuss it with the seamstress in advance. And also go to the store for the fabric with it. Because if you can take your choice of color scheme into your own hands, then a person without practical skills in sewing simply will not understand the nuances that will be important when sewing.
These include – compatibility of materials, their density, behavior when sewing, how much the fabric will wrinkle, and so on. It is better to ask the master initially to help with the choice than to later hear that the two materials are not compatible and spend your time and money again. As for the proportion – it is often the bottom line that is highlighted to add some static to the room. This is about 1/4 or 1/5 of the height of the room, the rest is sewn from another piece of fabric.
Close the cornice with lambrequin
Such a technique can often be found in English and American homes. Its essence lies in the fact that you close the cornice and the upper part of the curtain with fastening and assembling the so-called decorative "skirt". It should be made in the same style with curtains and make up a single ensemble with them..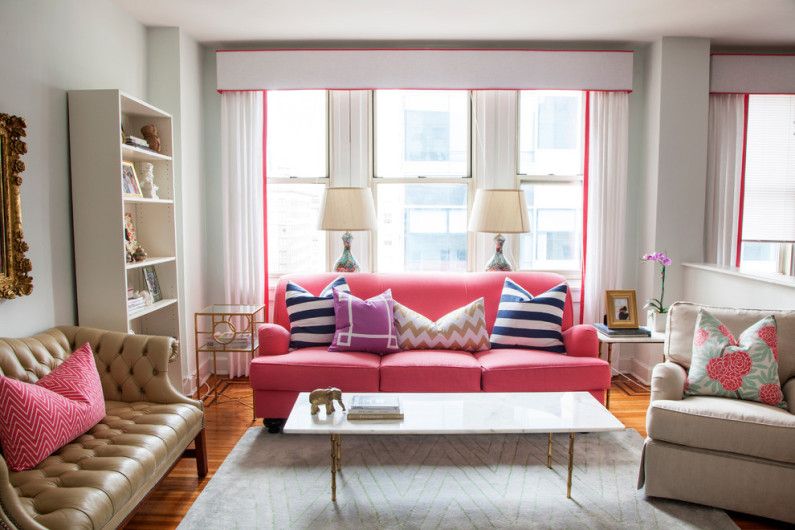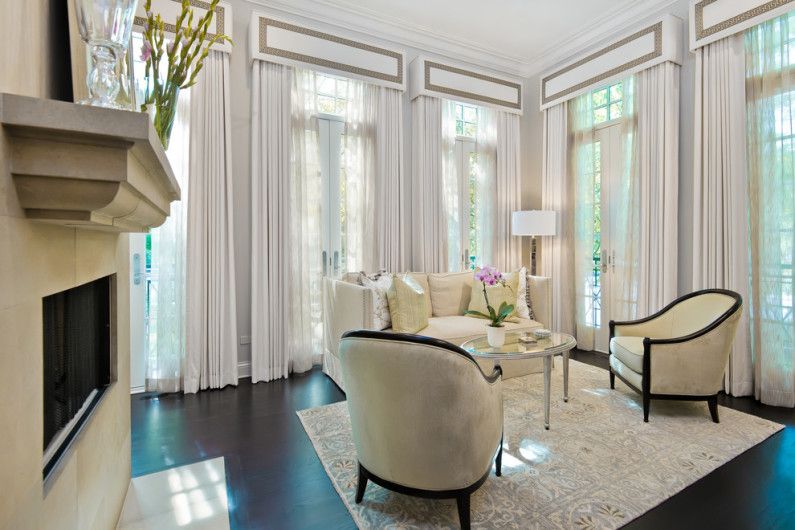 A similar lambrequin most often is attached to a plastic frame with the help of fabric harnesses and Velcro. This is necessary so that, if necessary, it can be easily removed and washed. Using this method, you save yourself from having to spend money on an expensive curtain rod, and also remove from the field of view all elements of installation of a curtain.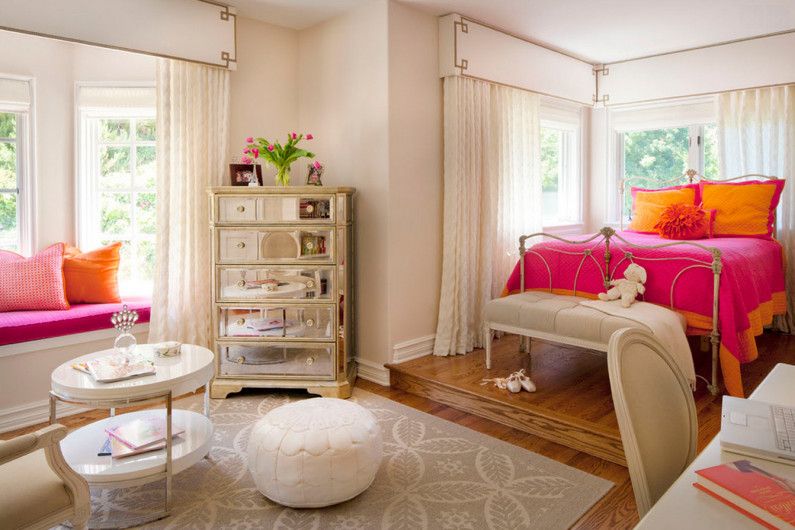 These simple techniques can be applied in absolutely any setting, in every house or apartment. They can look both conservatively and pretentiously and brightly. Here, everything will depend on your choice of fabrics and accessories. In general, the solutions themselves are designed to help diversify the design of windows for those who are sure that the essence is precisely in the details. If you like to consider small elements, pay attention to them and lovingly devote time to every centimeter of your house, creating its unique atmosphere, this article will surely be useful to you. Sincerely hope so!