Content
---
---
Coffee tables are an integral part of the living room. Around them, as a rule, the main zone is located – sofas and armchairs, where we spend leisure time and communicate with guests. It is not so easy to choose the same table, because there are a lot of them, and it is not always possible to choose the very table that fits perfectly into the interior of the living room.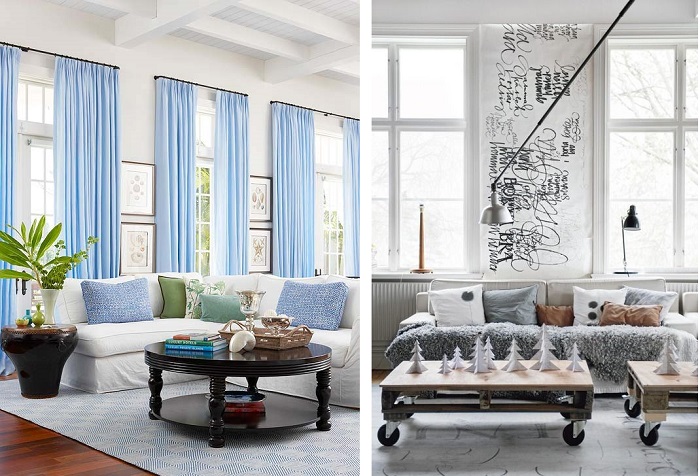 Coffee tables can be divided into several groups:
practical tables – large, spacious tables with a large surface and various shelves or drawers, transforming tables – their transformation functions can be different, they can be disassembled and become separate mini-tables, or they can turn into a ottoman or a banquet table-decoration – such tables As a rule, of unusual shape, made of bizarre material, they can not fit much because of size or because of shape, they serve as decoration of the room
Practical coffee tables
This is the most common type of tables for the living room. This type includes the simplest and most complex multi-level tables. This group of tables is characterized by the absence of a large number of details and bright decor, as a rule, they have a large countertop and a stable base. They can have different shapes – a square, a rectangle, an oval, a circle and a rhombus. Such tables can be in a variety of styles, but the most common ones are classic, minimalism, high-tech..
A practical table is suitable for everything – for friendly gatherings, for a party, for a cup of coffee, for board games and for an evening with a book. It is convenient to store various things on it – books, magazines, CDs, consoles, games. It can stand flower pots or vases, and despite this, there is enough space for a tray with coffee and croissants. Of course, such a table is not suitable for regular meals, due to lack of space and small height, but it is convenient to have breakfast behind it, or to invite friends for a glass of wine and snacks.
Such tables are suitable for people who love order and functionality – everything is in place and at hand. It is very convenient when the table has open shelves, this facilitates access to all things stored in it..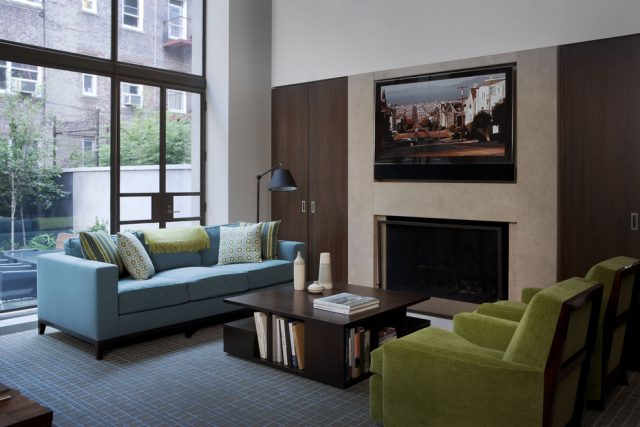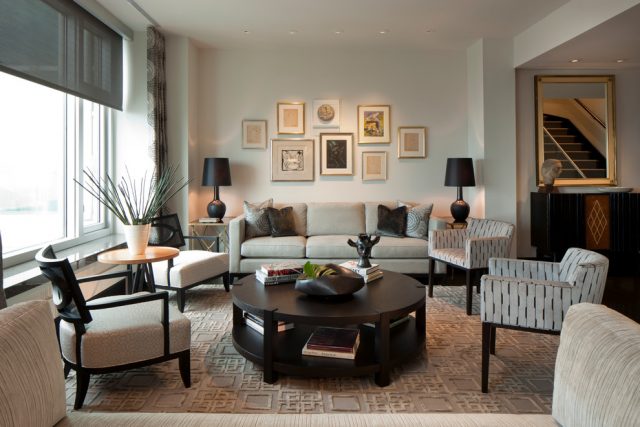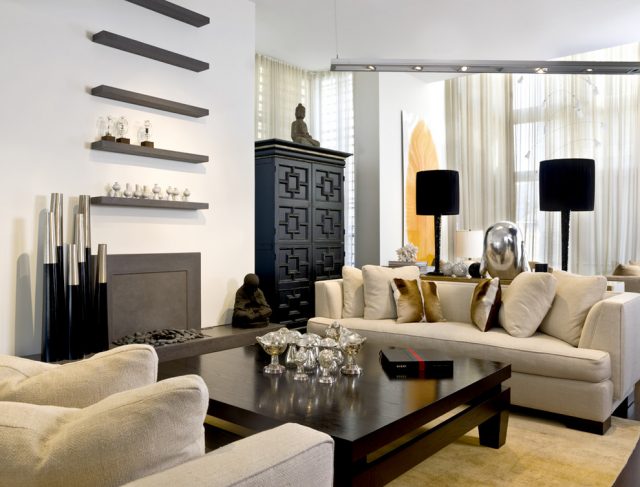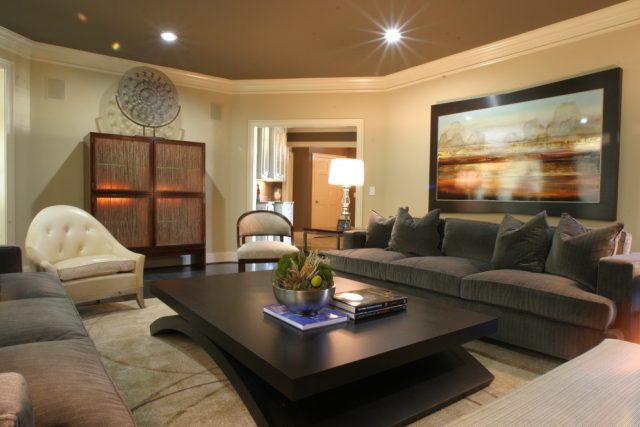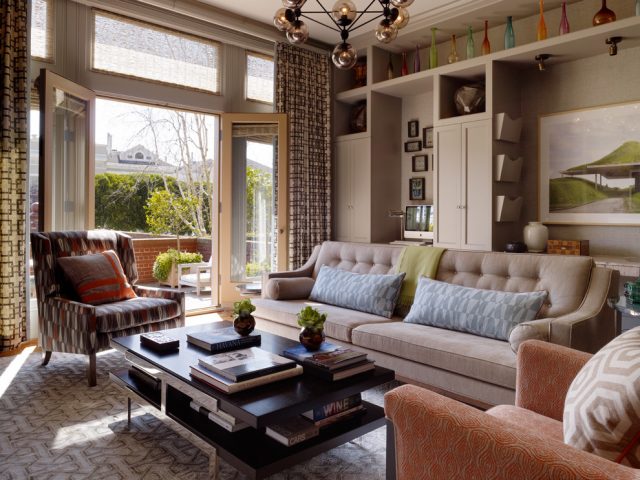 Transformer Tables
In this section, we placed tables, in which the first place is functionality and design, and only then convenience. Often, in such tables there is no place to store things, since it is difficult to combine the incongruous. Transformations can be different, but the most common are: from the table to the couch, or ottoman; the table is laid out or assembled from smaller components into a single one, the table has wheels, and can "move" to another place.
Such advantages are valuable in small living rooms, or in houses where often a lot of guests, and seating is not enough. Or there's not enough room to hold a large table, in which case, a folding table is just a find.
A table with wheels is very convenient if you like to frequently change the arrangement of furniture, or the place of its temporary "parking" has another, more important purpose. And when there is a party in the house so that everyone has access to the table, it is transported to a place with a convenient approach for everyone.
When you choose a table of this type, you have to think about a place to store those little things that usually lie in it. Think of shelves or a chest of drawers, or maybe a stylish TV stand that can hold books and magazines.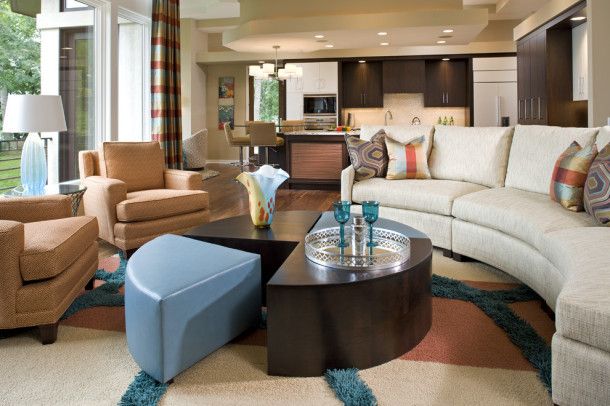 These lovely glasses turned upside down are ready at any moment to become stools for arriving guests. In this table, practicality and beauty of form came together.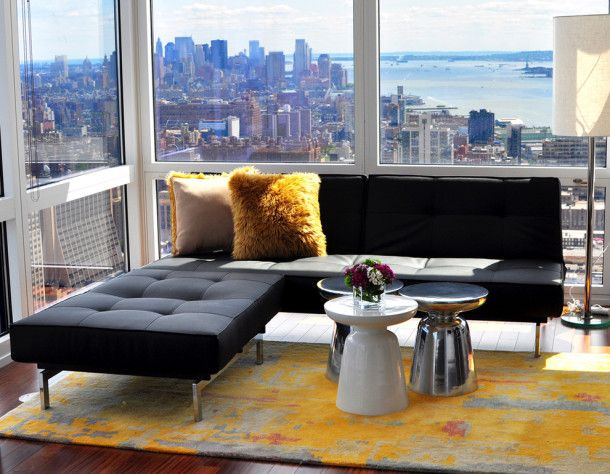 Pouf tables are very versatile, as they are hard enough to hold food and drinks, but also soft enough to sit comfortably on them..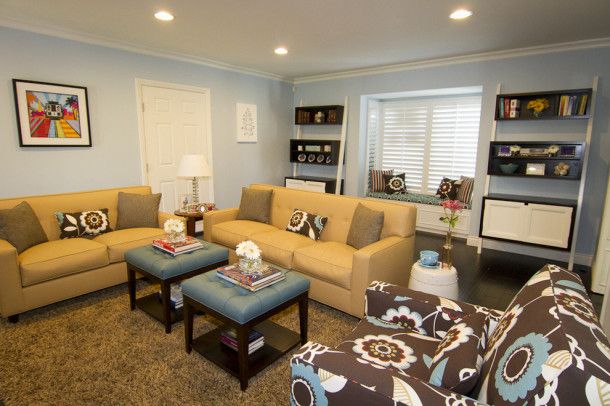 Beautiful, leather-covered stools with an oriental accent are ready to become coffee tables at any time. From the fact that there are two of them, it is even more convenient, because one can always be moved closer to the sofa.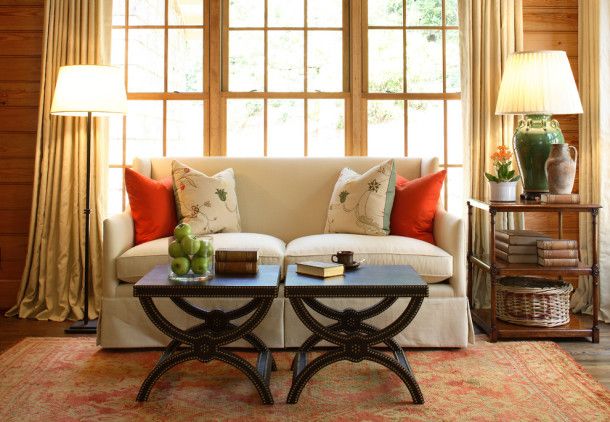 A simple-shaped little table has three niches in which three ottomans are hidden, in case there are more spectators in this home cinema than in the hall of seats.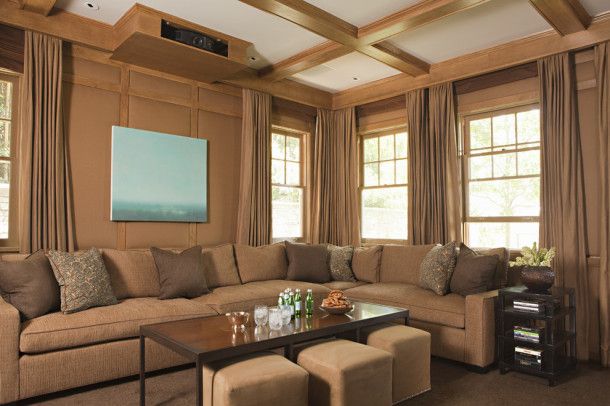 And although a table with such a height is unlikely to be convenient during a noisy party, it is easy to move it to another place and bring a bigger table, or maybe make room for dancing.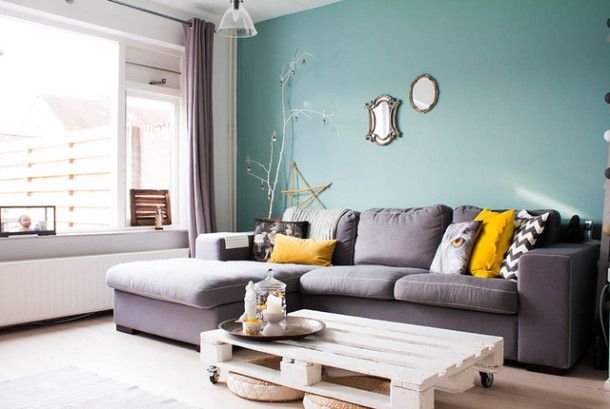 Designer Coffee Tables
We included tables-works of art in this group, when the form becomes higher than the content, beauty is more important than functionality. Such coffee tables are objects of art that occupy a central place in the entire interior, since it is simply impossible not to pay attention to them.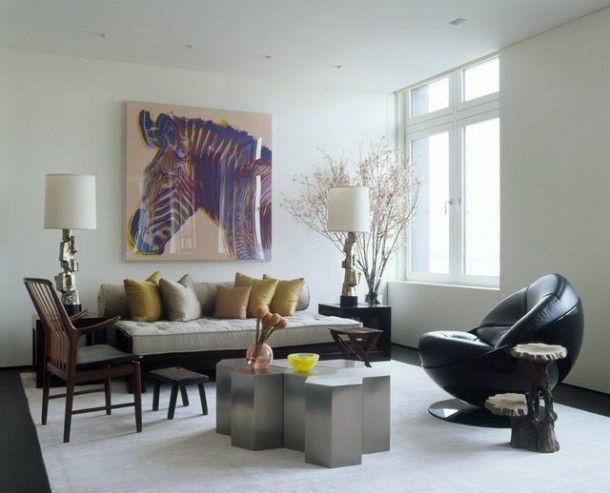 They can be of any shape, made of the most unusual materials, the color scheme is endless, the size can also be very different. It goes without saying that practicality can be forgotten. Often, in such tables there is no place to store things, the maximum is to put cups of coffee on them. But, the purpose of such tables is to decorate the space with themselves, and this is the main thing.
Tables made of glass or with a glass top create the illusion of a light prism. Things on them seem to soar in the air. Of course, dust and any stains are very visible on such a table, but nonetheless, it's worth it.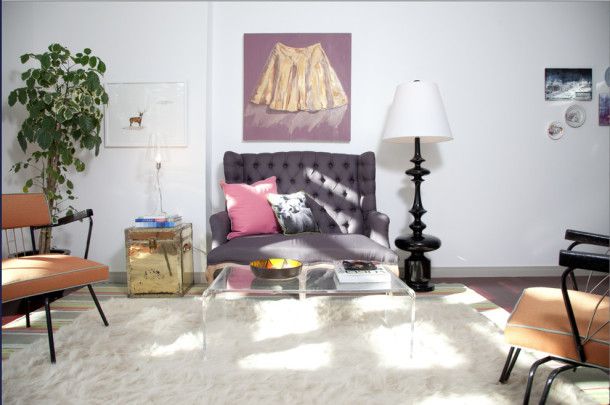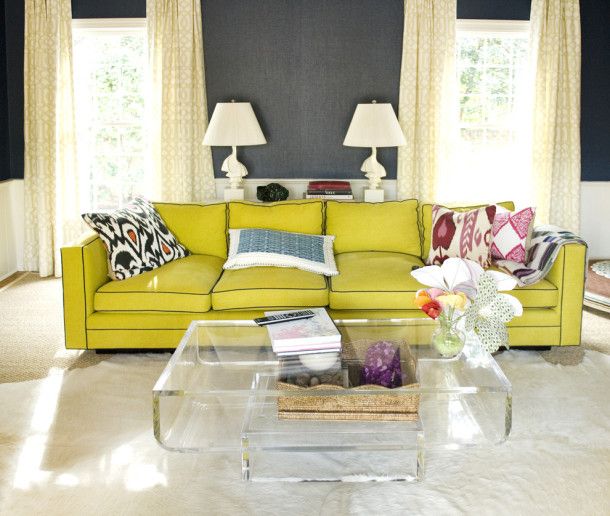 The tables are very interesting, in which a piece of wood of a bizarre shape serves as the tabletop, or the legs are made of driftwood, or maybe a beautiful log is used instead of a table. There are several advantages – it immediately attracts attention, because of the inhomogeneous surface dust and spots are not visible on it..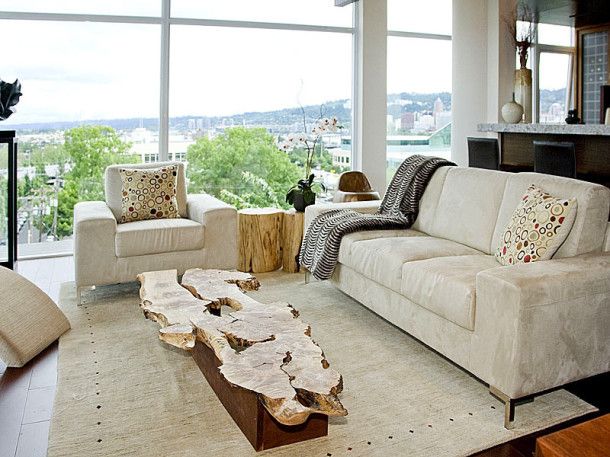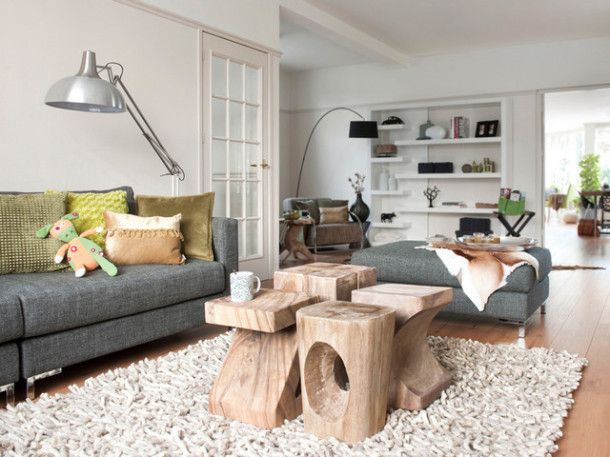 It turns out very well when old things are given a second life. Tables are made of old doors, floorboards, chests, barrels, benches – from everything that comes to hand. The main thing is to find the right raw material, process it and give it the appropriate texture and color.
Tip
Old paint will help to remove a building hair dryer, to clean irregularities – sandpaper, then choose a paint or varnish.
And the thing is small – to saw or disassemble into the necessary sections of the board, and then bring down already in a new product. Such a table will be firstly unique, and secondly, it will delight you for many years, as well as everything done by yourself.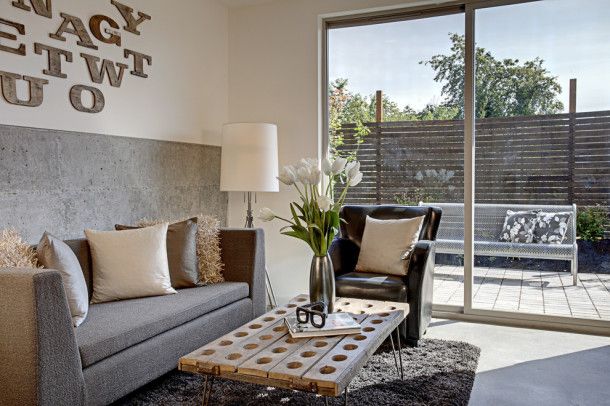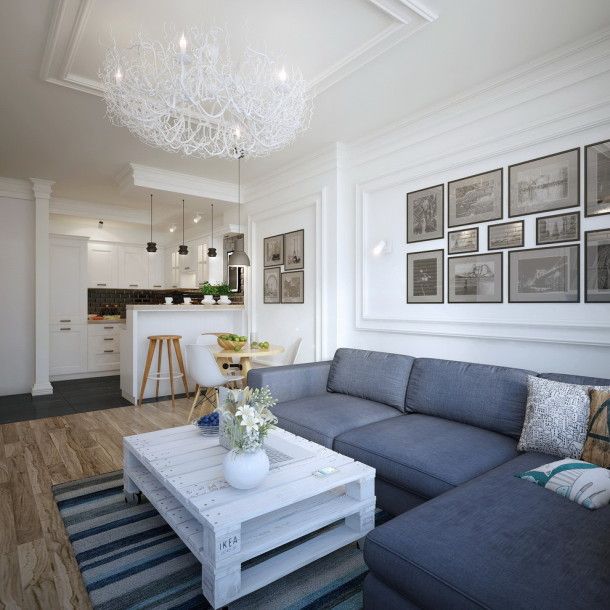 A coffee table is an important attribute of any living room, you need to choose it based on the needs of residents and the purpose of the room. If you are going to store only books and consoles, you need one table (a table with shelves for injuries), but if you arrange noisy tea parties – another (a transformer table or several tables made up together).