It is important to choose practical and high-quality upholstery for upholstered furniture whether you buy a new sofa or restore an old one. But among the variety of fabrics that is presented on the modern market of upholstery, it's not long to make a mistake, sacrificing durability for the sake of a catchy appearance.
Today we will talk about popular types of upholstery fabrics and their features, as well as about the importance of the category of a material for the upholstery of furniture.
What is the upholstery fabric category?
All furniture fabrics can be divided into several categories according to the following parameters:
• Durability
• Operational properties
• Appearance and lightness
• Price
Therefore, the higher the density of the fabric, and its value, the higher category it belongs, for example:
• Scotchguard, cotton, light chenille – 1 category.
• Thick cotton, suede, flock, velveteen – 2, 3 categories.
• Tapestry, dense chenille, jacquard – category 4.
• Faux leather, arpatek, suede with a pattern – 5.6 categories.
• Light genuine leather of low cost – category 7.
• Expensive, natural and dense skin – category 8.
Types of tissues and their characteristics
Velours
The material has a rich silky texture and can be represented in a wide range of colors. Velor is made by mixing natural and synthetic fibers, which makes it unusually soft, fleecy and, importantly, safe (non-toxic).
As upholstery for upholstered furniture, this fabric is better to use in certain rooms, for example, cabinets, dressing rooms, living rooms, but not in nurseries, kitchens or hallways, since we use the latter constantly, and velor is a whimsical and whimsical material. It is subject to abrasion, and is not resistant to contamination..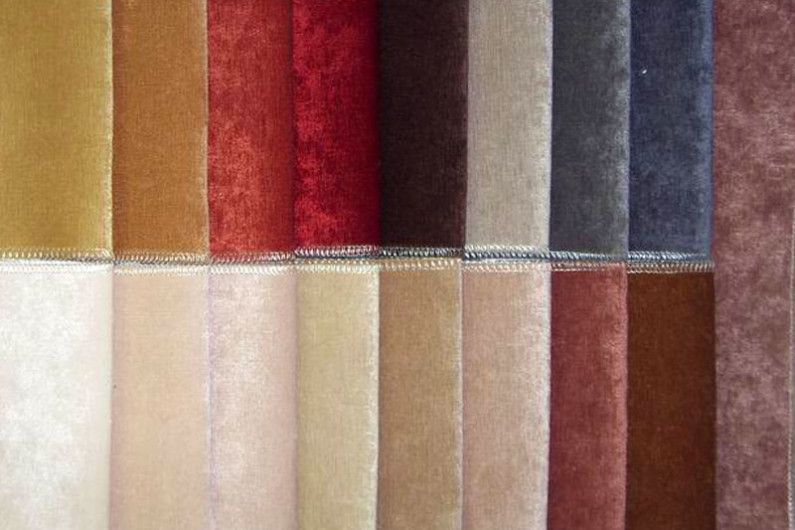 Scotchguard
Scotchguard or simply furniture cotton made from natural fibers, pleasant to the touch, lightweight, and very durable material. Scotchguard is easy to clean from most contaminants, it almost does not fade and stays resistant to moisture. Such upholstery looks great on furniture for living rooms, bedrooms, children's rooms, as well as bathrooms.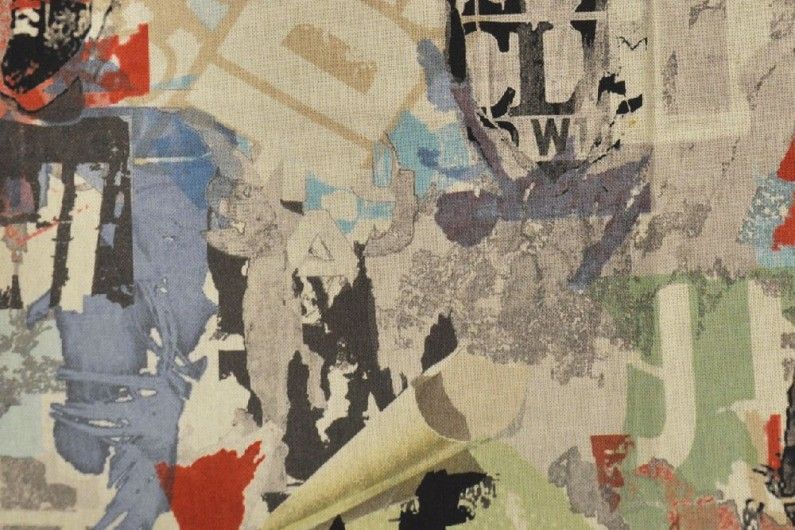 Jacquard
Fine material, very beautiful, quite dense and durable. The Jacquard manufacturing method is its own peculiarity: the threads are intertwined very closely and tightly with each other, and the material is durable and textured.
Jacquard is excellent as an upholstery for furniture, since it does not fade, retains its shape and presentable appearance, is easy to clean, and is represented by a rich assortment of colors and patterns.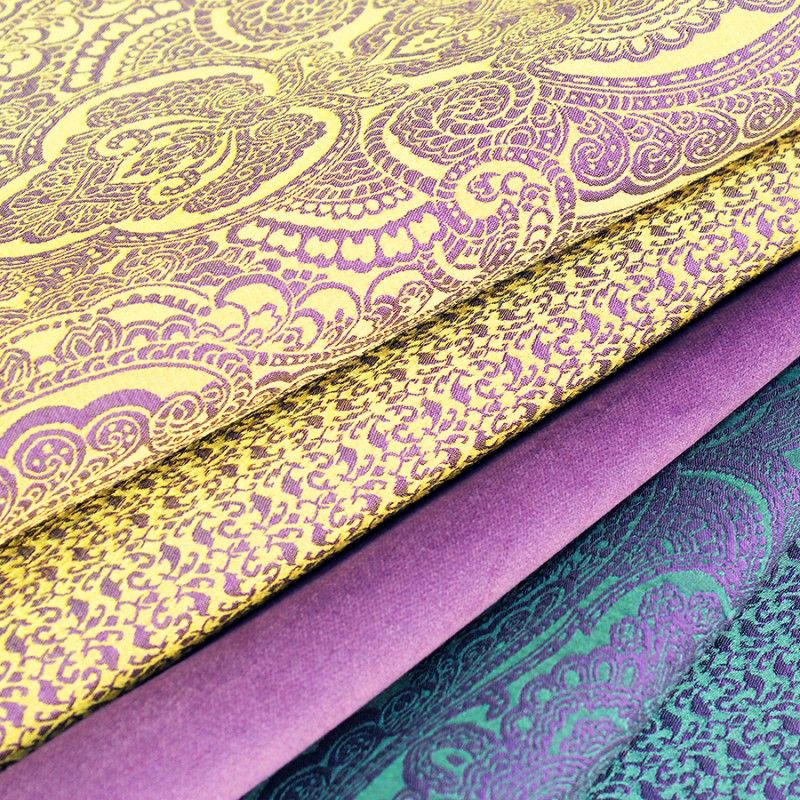 Thermo Jacquard
An innovation in the world of upholstery fabrics, obtained as a result of combining classic and modern production technologies. The material is based on a white unpainted jacquard fabric on which thermal paper with a printed pattern is applied. In a special unit called "calender", the canvas with paper is heated, and the dye penetrates deep into the jacquard fibers, firmly fixed in them. After this process, the fabric is ready for use, and has all the quality characteristics of a familiar jacquard.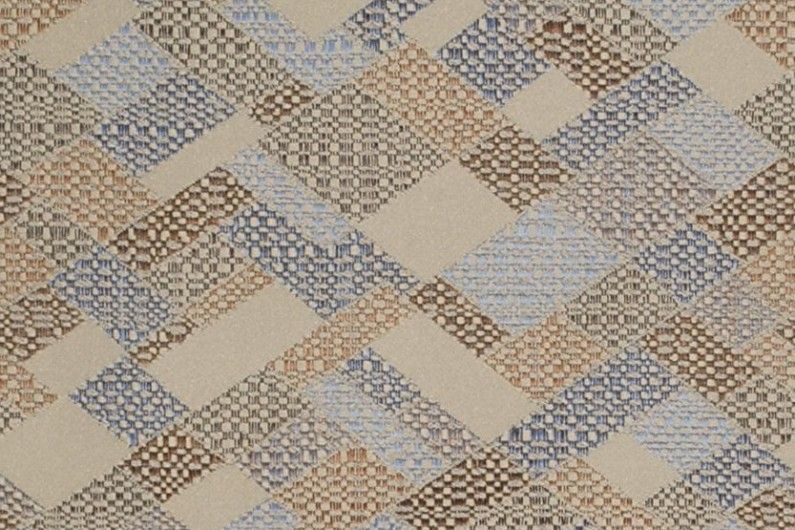 Shannil
The fabric is made from synthetic and semi-synthetic yarn, twisting the threads in a spiral fashion and weaving them longitudinally and transversely, therefore, shannil is considered one of the most durable and strong upholstery materials..
We also note that shannil does not absorb odors, it is environmentally friendly and hypoallergenic, but does not tolerate wet cleaning and quickly absorbs wet spots. An excellent selection of colors and patterns makes this fabric not only practical, but also suitable for any type of room..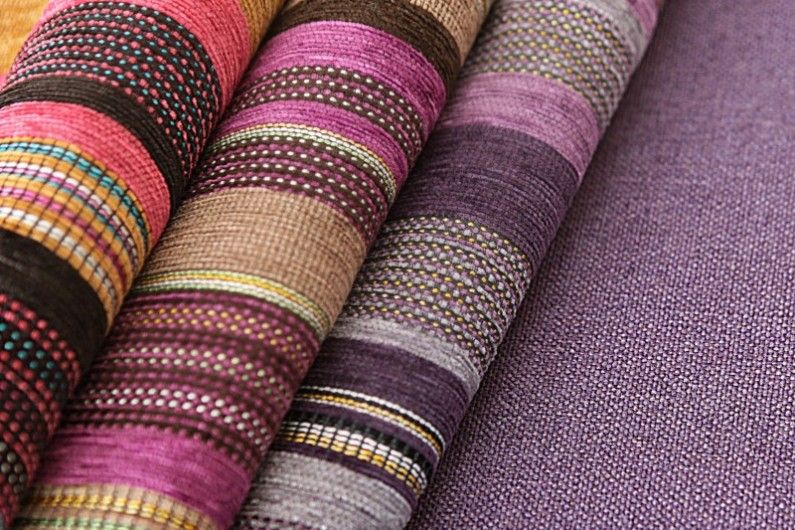 Flock
This material is made by applying a small artificial pile to the base of cotton, satin, polyester, twill coated with a special adhesive composition. The result is a soft, fleecy tissue resistant to mechanical damage and various kinds of contamination. Flock is represented on the market by a large assortment of patterns and shades, it is durable, lightweight and durable..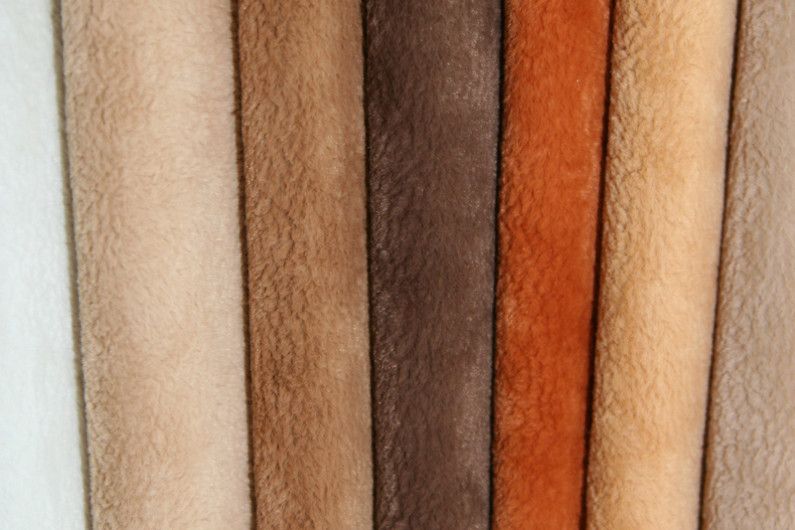 Microfiber
A modern canvas that allows air to pass through, is resistant to the effects of aggressive environments, and looks pretty beautiful. A feature of the fabric is the incredibly thin threads in its composition and the presence of two polymers: polyamide and polyester. Micro fibers are ten times thinner than cotton, wool and silk threads, but at the same time, the fabric turns out to be unusually resistant, does not wear, it is easy to wash. Externally, microfiber upholstery looks very solid and elegant, it is durable and easy to clean..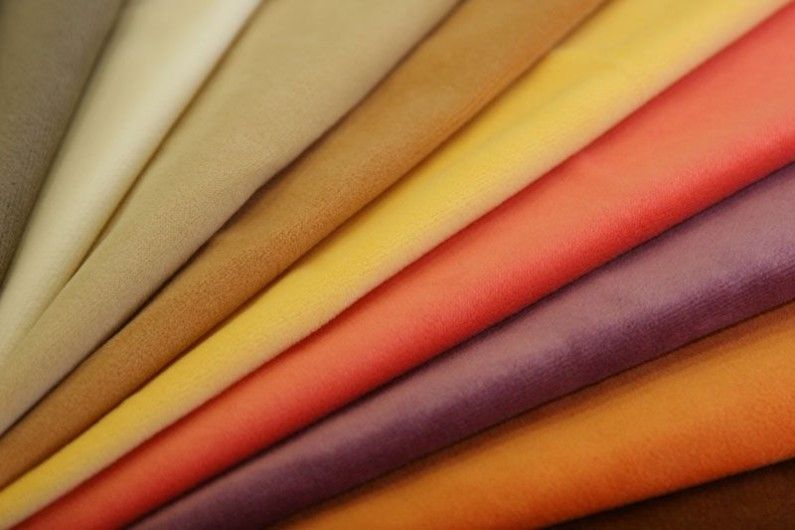 Faux leather
An artificial analogue of genuine leather can sometimes surprise with its durability and practicality, as well as, unlike the original material, low cost.
Artificial leather is easy to clean, does not absorb moisture and dirt, is resistant to abrasion, practical and non-toxic. Among the disadvantages of such an upholstery material, low heat resistance and sensitivity to scratches and other mechanical damage can be distinguished.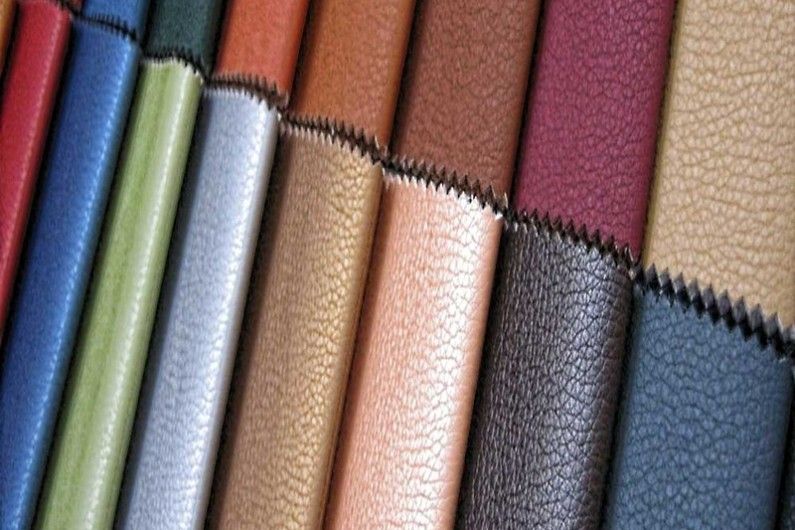 Faux suede
Practical fabric, pleasant to the touch and outwardly, durable, not subject to deformation, burnout, and also, almost does not attract dust. Clean suede should be dry using a brush or vacuum cleaner, but a wet sponge is better to put aside. Of the two types of furniture suede (woven and non-woven), it is better to choose the first, since it is characterized by higher strength and durability, although it costs more than non-woven fabric.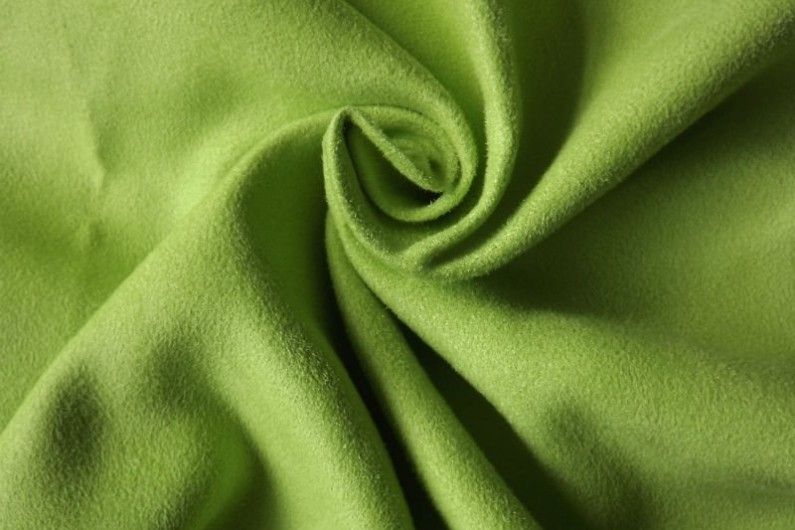 Genuine Leather
Genuine leather upholstery has many positive qualities, it is of high quality, but its cost is high. It is noteworthy that for the furniture industry mainly used the skin of horses, goats and pork. High-quality crafted material does not contain wrinkles, scuffs or bubbles, it is elastic, with uniform thickness and a pleasant sheen.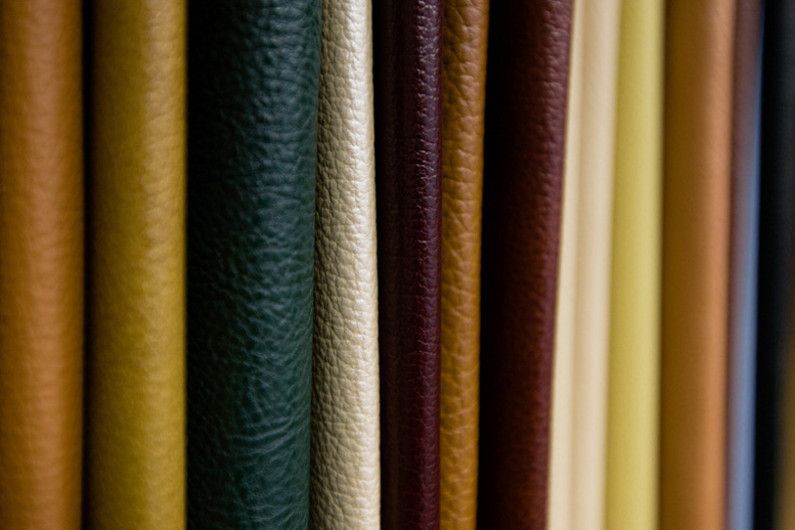 Velveteen
From the Latin language, Vellosus means "hairy, hairy", according to its composition it is divided into: 100% cotton, cotton velveteen with elastane, mixed (cotton, elastane, polyester). The fabric is available in a wide variety of colors and shades, mostly plain, or with a longitudinal striped pattern. Velveteen is also divided into: micro velveteen, with a wide hem, with a medium and complex hem.
Caring for velveteen upholstery will require your patience and accuracy, because it can not be rubbed and squeezed, the stains should be wet, and then use a special stain remover. But overall, velveteen is practical, does not crease, is beautiful and soft to the touch.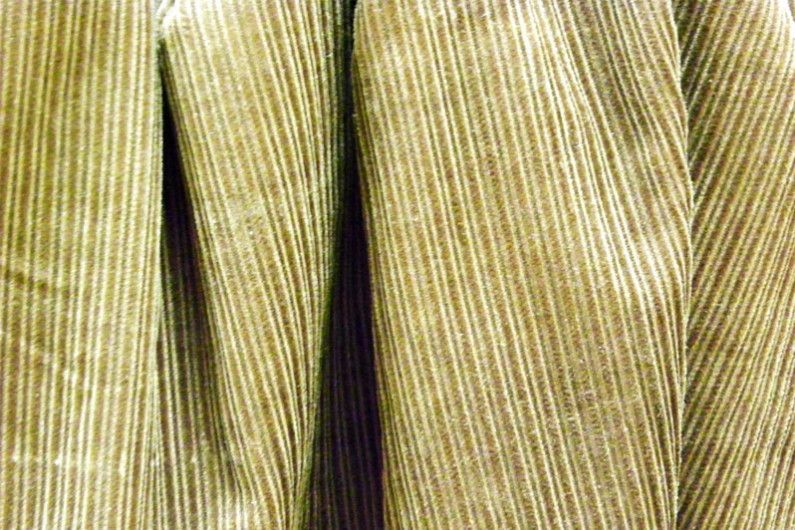 Arpatek
According to its qualitative and aesthetic characteristics, this upholstery material is not inferior to the skin, but it is synthetic. It consists of 25% cotton, 33% polyurethane, and 42% viscose. Arpatek retains the warmth of the human body, does not stick, but does not become rough in the cold. Safe for allergy sufferers and children, the most durable among other types of fabrics, easy to clean, resistant to moisture and sunlight.