Content
---
---
At the shows, the designers demonstrated, to one degree or another, all the trends we know, but nevertheless they managed to develop a certain fashionable style for the future warm season. We have selected the 20 most important and interesting trends for the spring-summer 2017 season.
Trend 1 – ruffles and ruffles
Apparently tired of androgynous fashion and unisex, the designers decided to highlight femininity and sexuality in the form of transparent fabrics, delicate colors and an abundance of ruffles and flounces. Even minimalism and futurism lovers such as Giorgio Armani and Karl Lagerfeld have included frills as trim elements in their collections..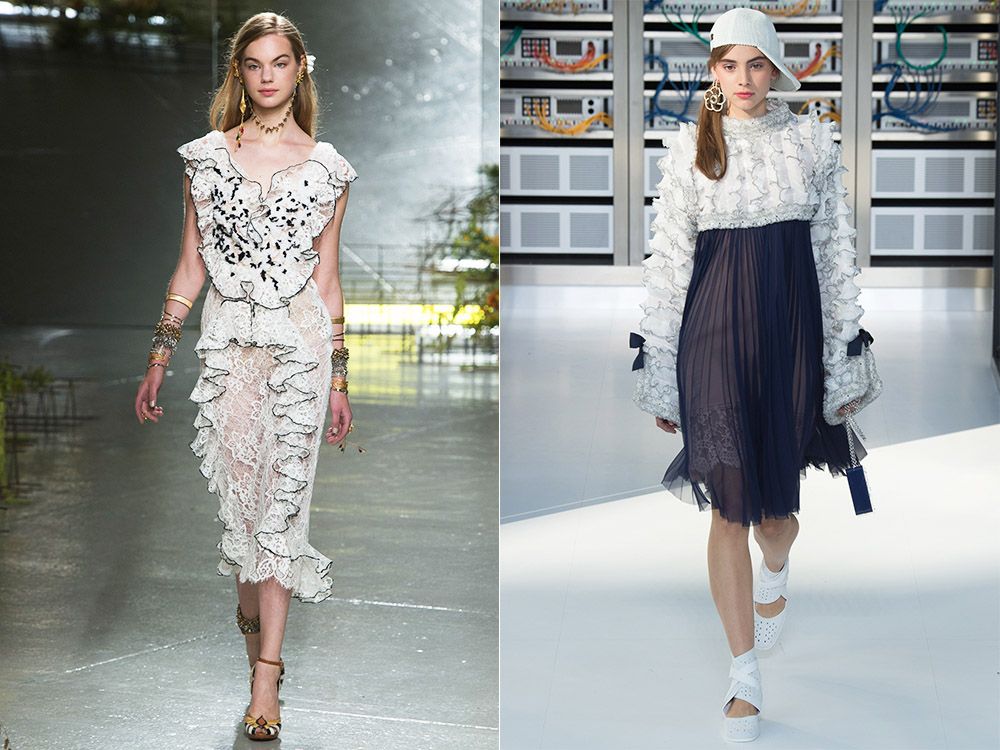 Romance is on the verge of ultimate: ruffles and flounces adorn a large half of the collections of the spring-summer season 2017. Layered dresses, draped blouses and skirts over-decorated with frills – there is no doubt that fashion seeks femininity.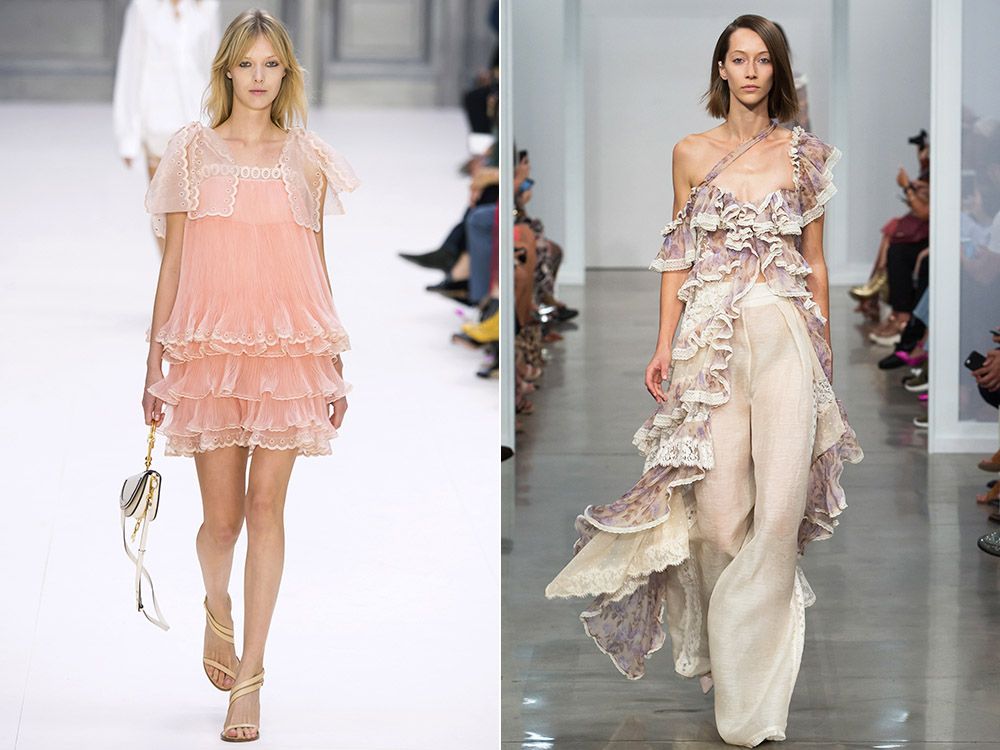 Emanuel Ungaro even decorated ruffled formal jackets, sports jackets and leather jackets. Thus, even the most aggressive outfits have become more feminine and romantic..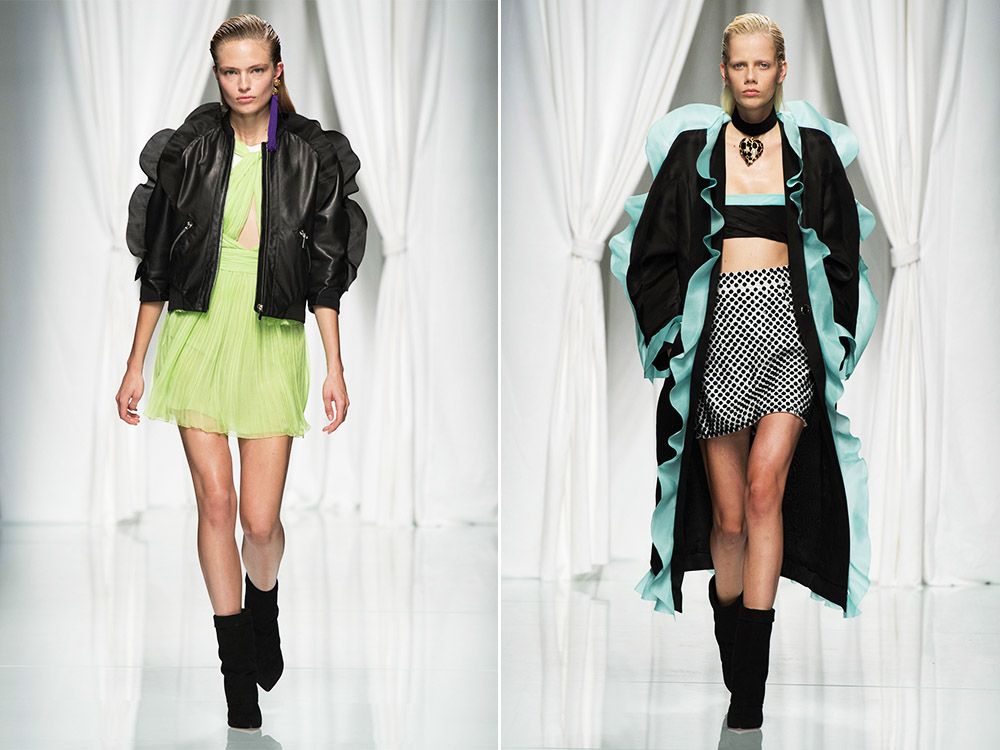 Trend 2 – Transparency
Every year, fabrics are becoming thinner and more transparent. Thus, organza, silk, lace, chiffon and tulmarine took the place of the key fabrics of the spring-summer season 2017. Designers presented any possible variations on the topic of transparency: from evening chiffon dresses to the floor to lace tops and minimalistic "naked" trousers.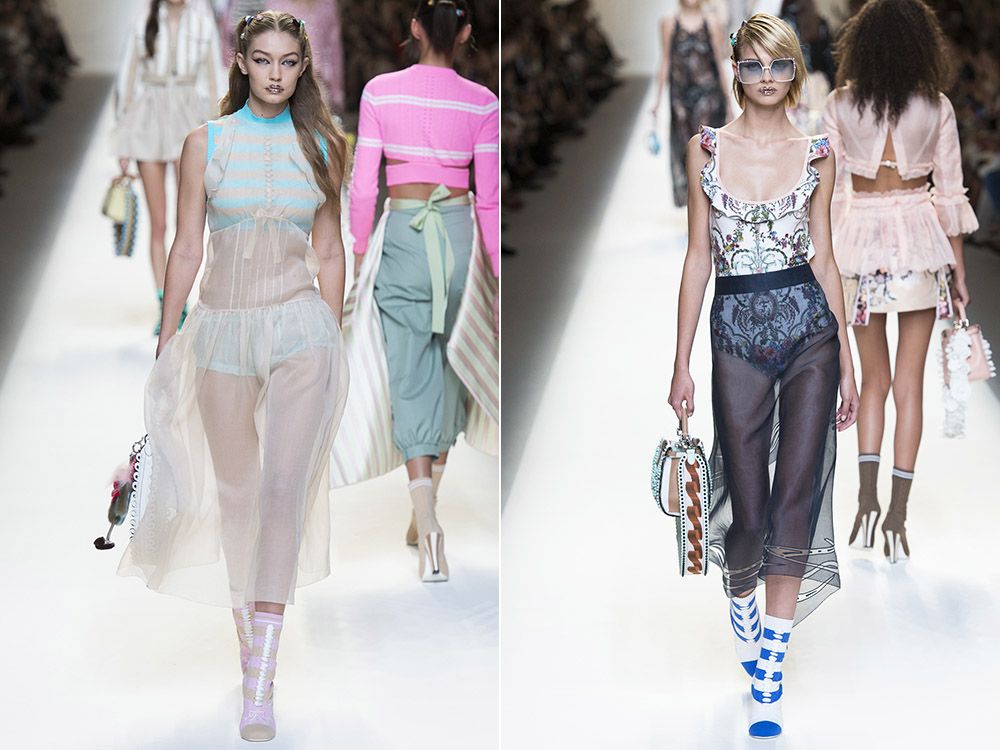 Transparent clothing is appropriate not only on fashion catwalks. You just need to learn how to wear it so as not to look too defiant. This can be learned from the collections of Christian Dior, Dolce.&Gabbana, Alexander McQueen, Fendi, Giambattista Valli. According to designers, the "safest" option is to wear a bodysuit or bandeau and high-waisted shorts under the dress. So you will look seductive, but did not go. In this form, you can even come to semi-official events.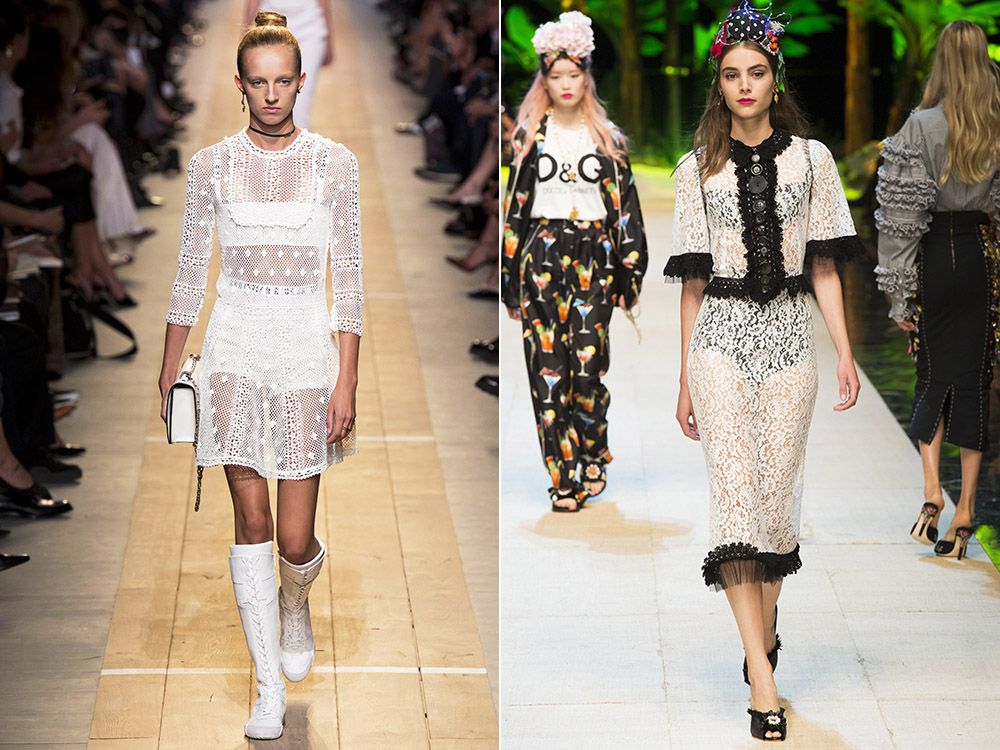 Trend 3 – Open Shoulders
Another "seductive" trend seen at the shows is the abundance of bare shoulders. According to many designers, cold shoulders are a more sensual option than just a deep neckline. This trend has covered almost all the options for clothing with "cold shoulders": from blouses and dresses, to sweatshirts and blazers.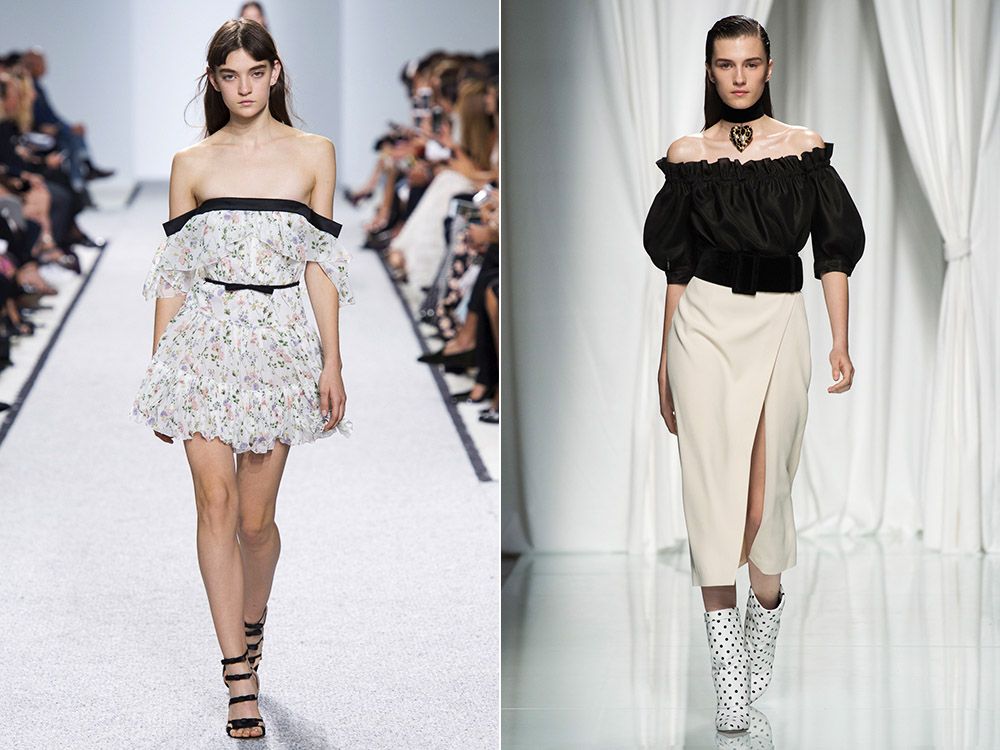 Designers offer different ways to open their shoulders. Some lower the décolleté line so deep that the shoulders are bare almost to the armhole, while retaining the sleeves or trim in the form of frills, flounces and "wings". Others experiment with asymmetrical cuts or make seductive notches on the shoulders..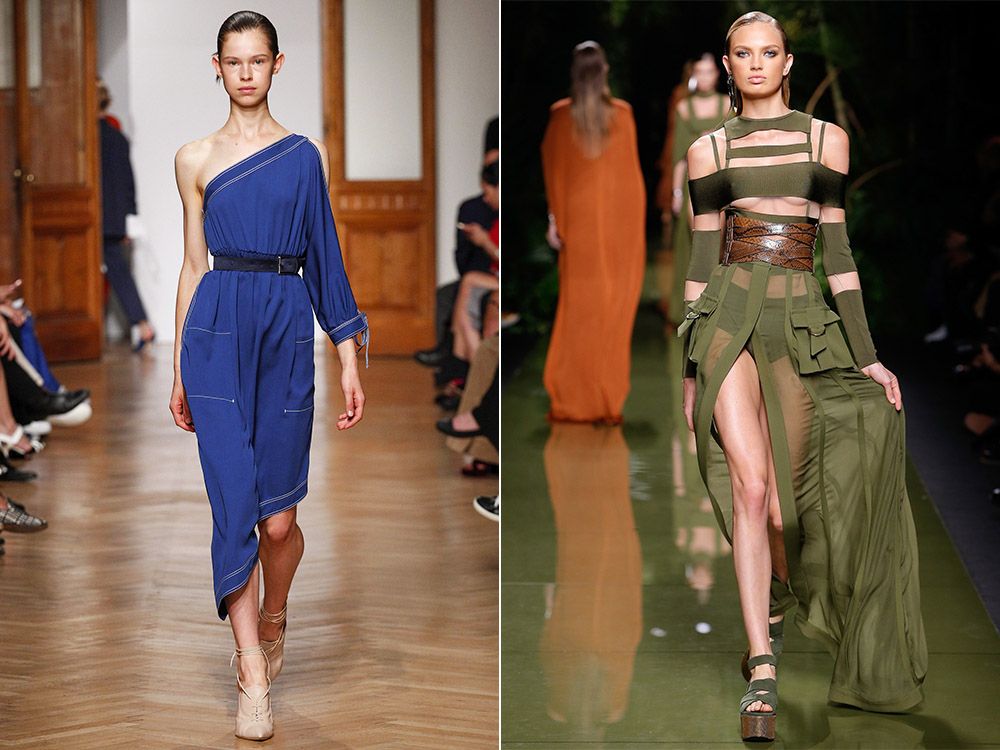 Trend 4 – High Cut
One of the most intriguing trends of this season is a deep cut. Moreover, showing off the chest is no longer relevant, legs should be ajar. Mostly dresses and skirts with a midi or maxi length are decorated with a cut. Thus, now you can look as seductive as in a mini, without risking to show more than is allowed.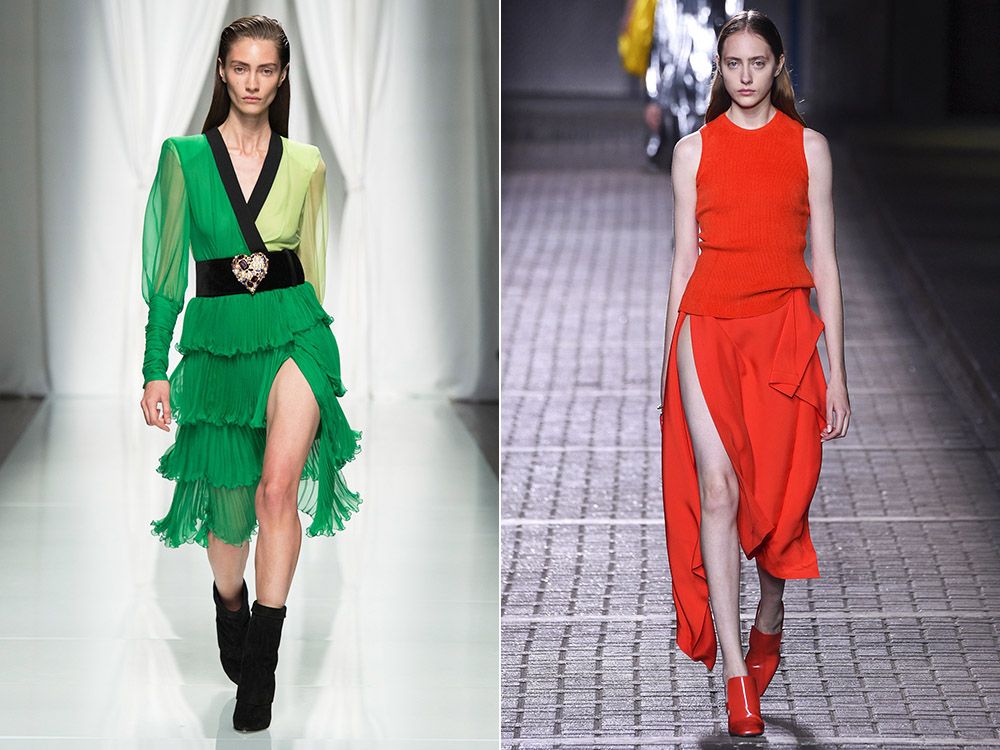 Designers advise you not to be afraid and barely bare your legs even in a strict office dress code. Only in the evening you should choose a deep cut, for a day – a more modest.
Trend 5 – overwhelming clothing
If a deep cut for you is already too much, then pay attention to another fashion trend of the spring-summer 2017 season – overwhelming on clothes. Unlike the previous version, the overwhelm allows you to slightly open the legs, which become barely noticeable only when walking.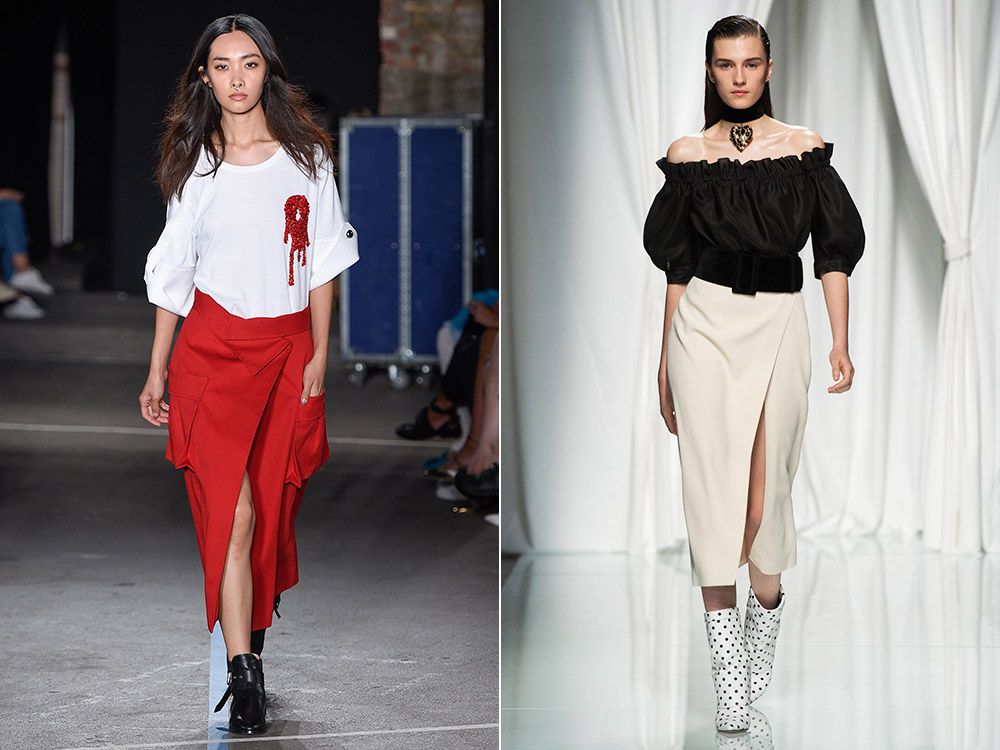 As in the first case, the overlap looks good on the average or maximum length of the dress or skirt, and also blends perfectly with other trends of the season, for example, with ruffles and ruffles.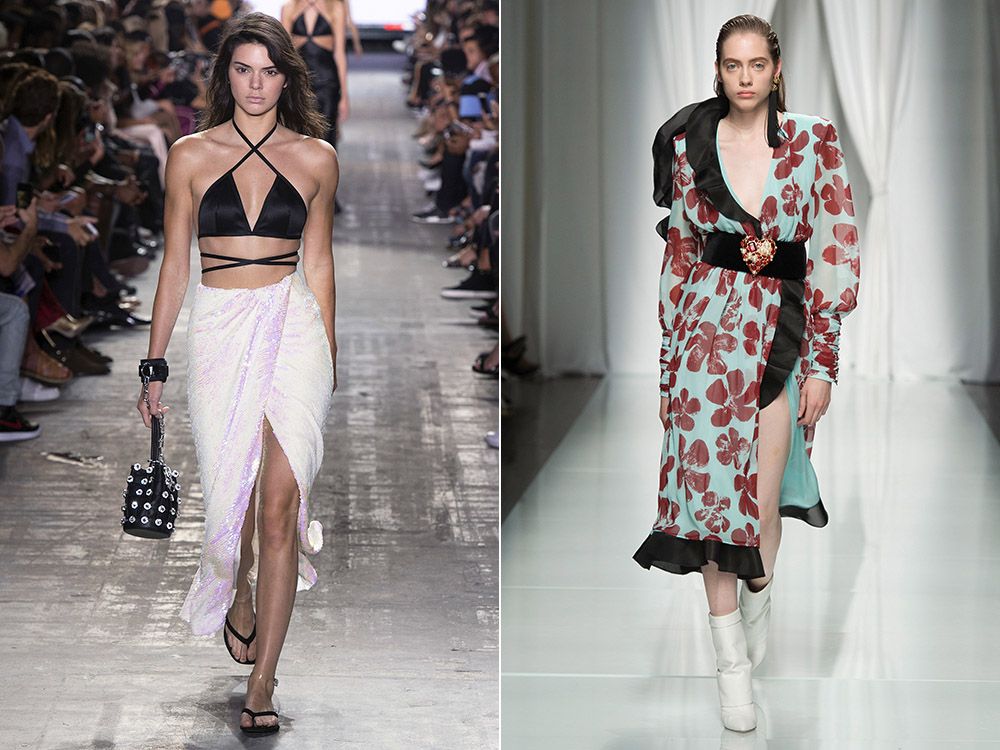 Trend 6 – puff sleeves
If you like the romance of retro looks, this season will delight you with one interesting trend from the past – voluminous puff sleeves. Designers decided to try all forms of this sleeve – from a neat flashlight to hypertrophied options, sometimes reaching impressive sizes.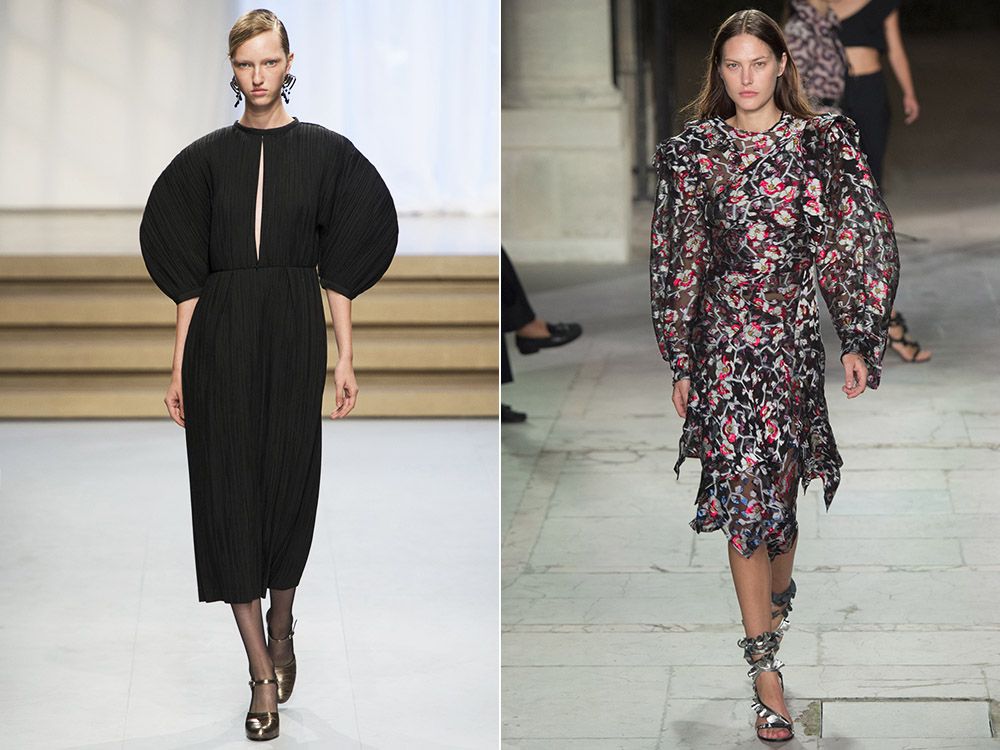 Saint Laurent, David Koma and Isabel Marant completely redid their outfits, leaving one shoulder completely naked and the other decorated with a huge puff sleeve.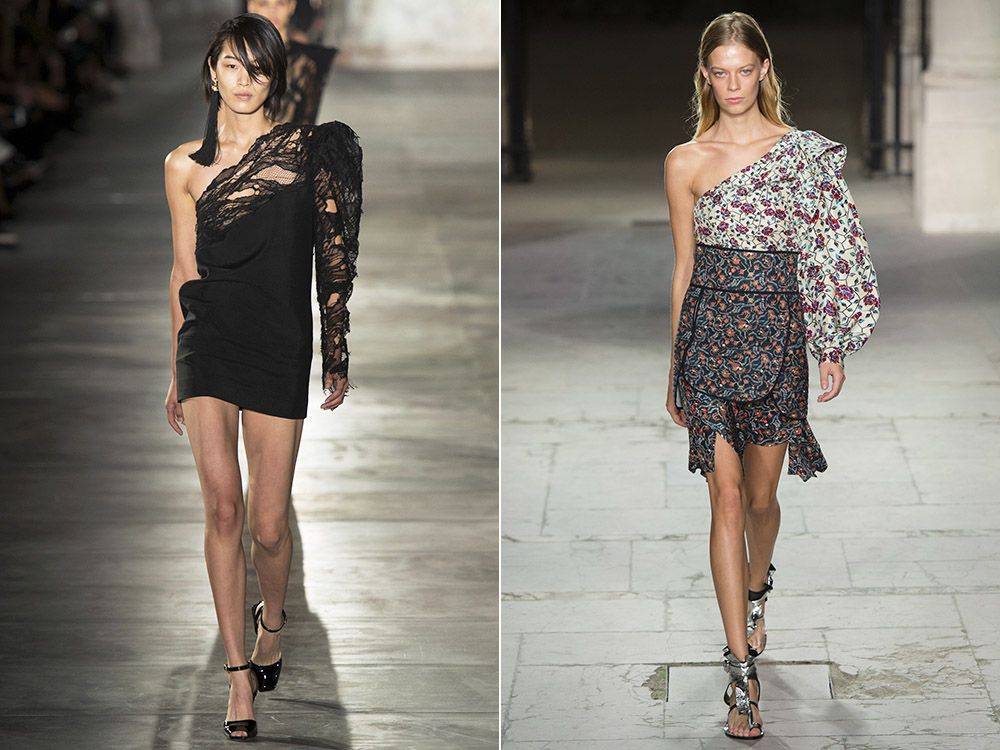 Trend 7 – Strip
If a black stripe has come in life – designers advise us not to be upset. Following it, white, blue, red will certainly begin … The strip adorned not only summer sundresses and shorts, but also overalls and even evening dresses.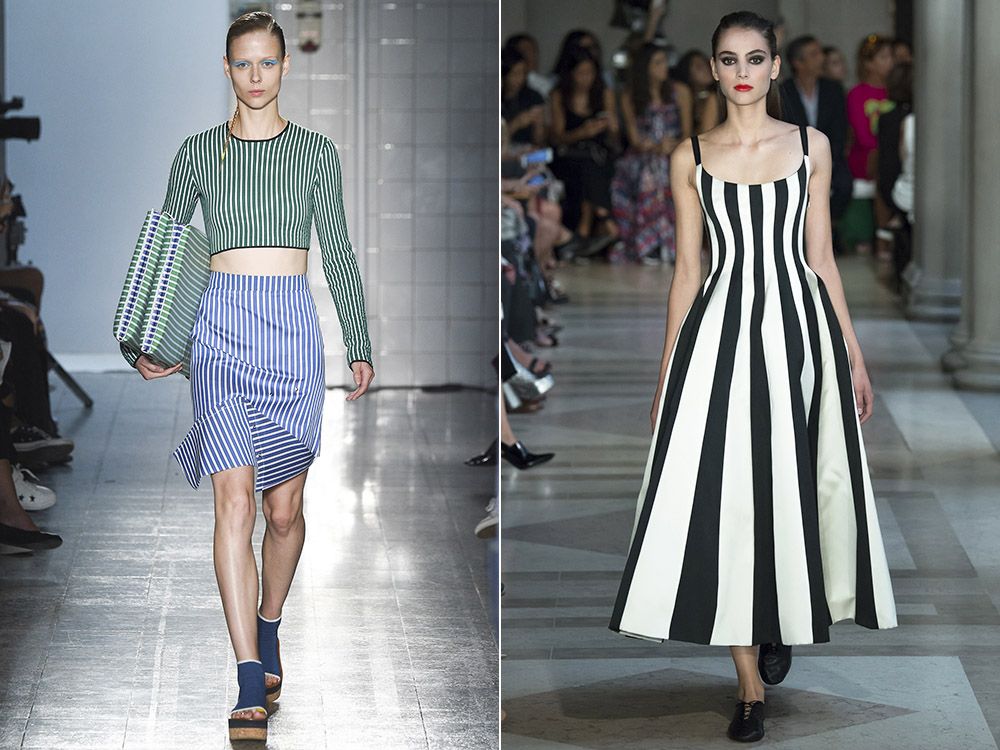 The strip will become even more diverse: vertical, horizontal, diagonal, tending to spin in a spiral, monochrome and all colors of the rainbow. In the spring-summer 2017 season, the strip in popularity surpassed even a floral print.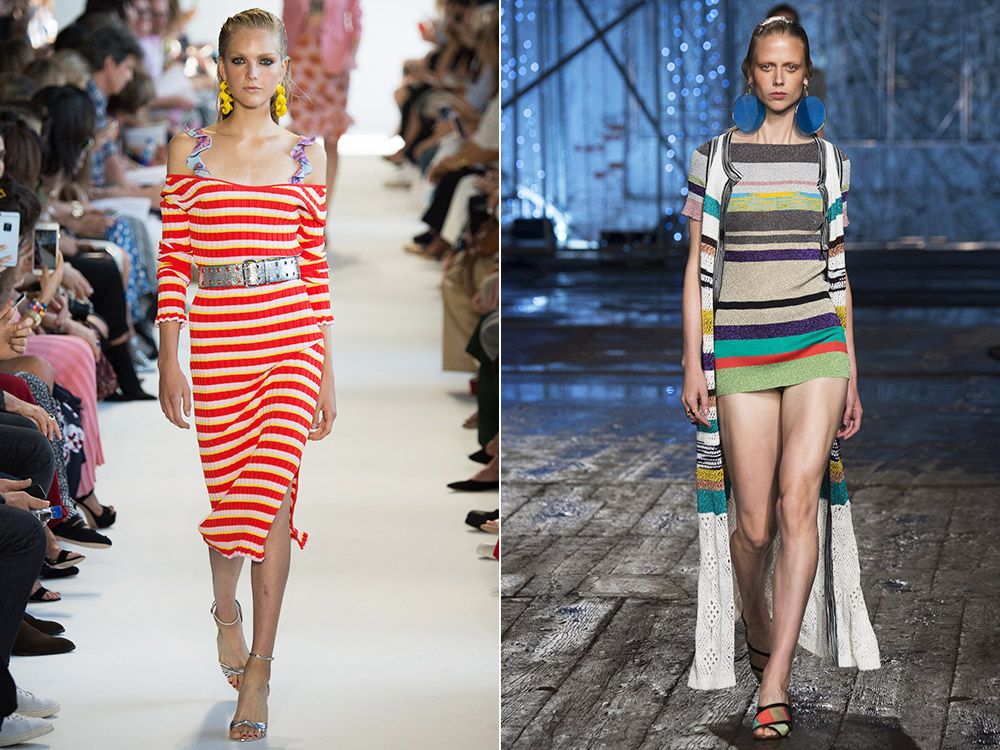 Trend 7 – Cell
The cage never loses its relevance, just the priorities for this print vary from season to season. This spring, designers are advised to forget about the traditional plaid and goose foot and pay attention to the two-color cage of Vichy. She is more feminine and romantic, and, in their opinion, looks best on summer dresses and short tops..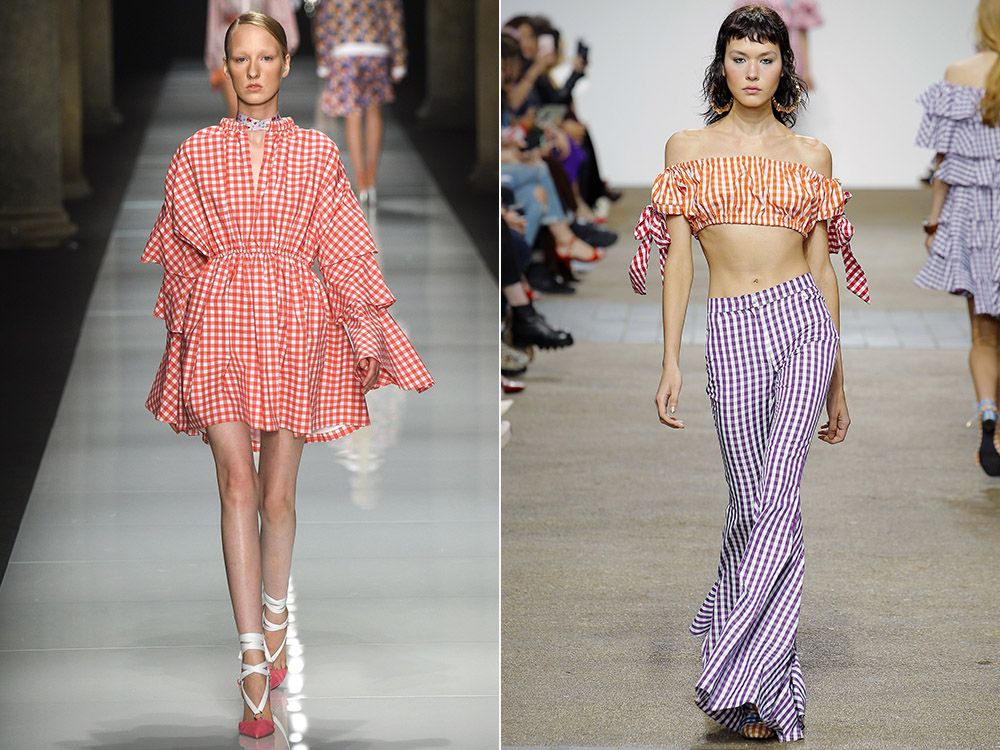 Designers are not in a hurry to abandon the classic two-color combination, but they are not averse to expanding the tint range and experimenting with the combination of Vichy cells with other prints and patterns.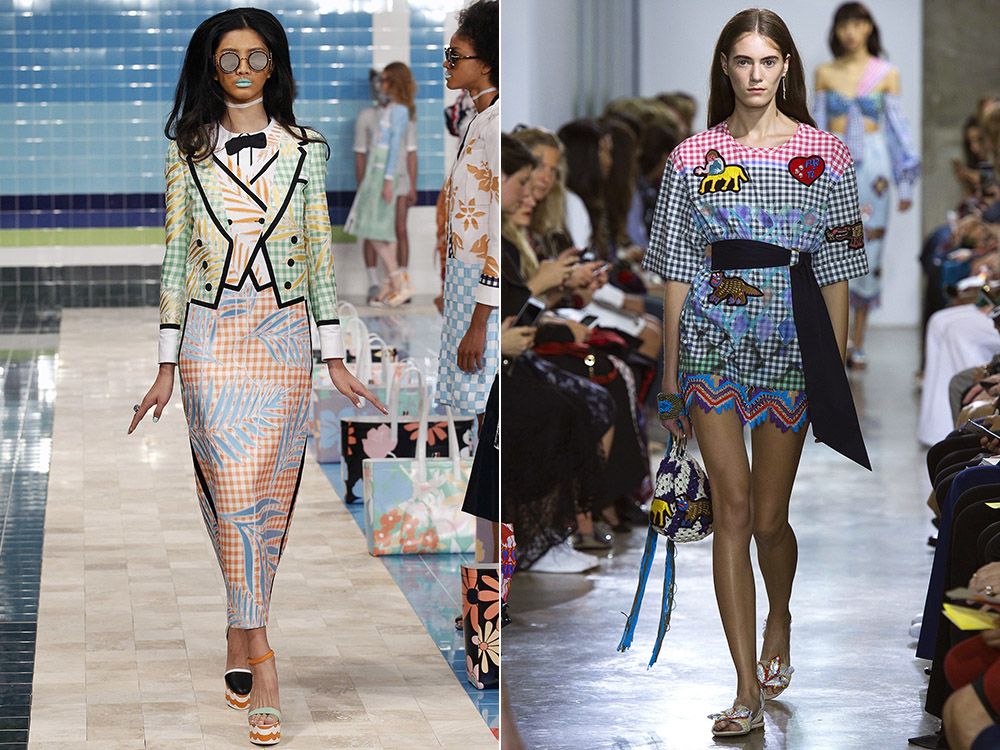 Trend 8 – Fringes and Feathers
In the spring-summer 2017 season, this decor element is actively used in clothes, shoes and accessories, and also acts almost as the main outfit. Fringe and ostrich feathers adorn even simple, concise costumes..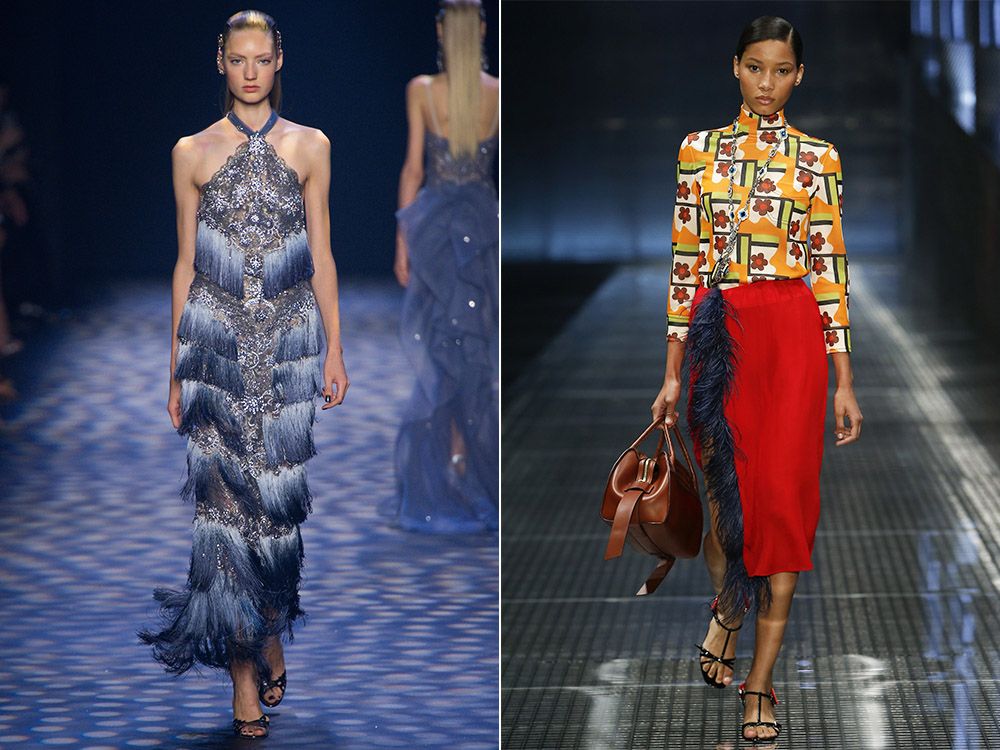 Thus, fringe has become the main trend of the season. According to designers, this element of decor is able to revive even the most boring outfit, adding brightness and dynamism to it..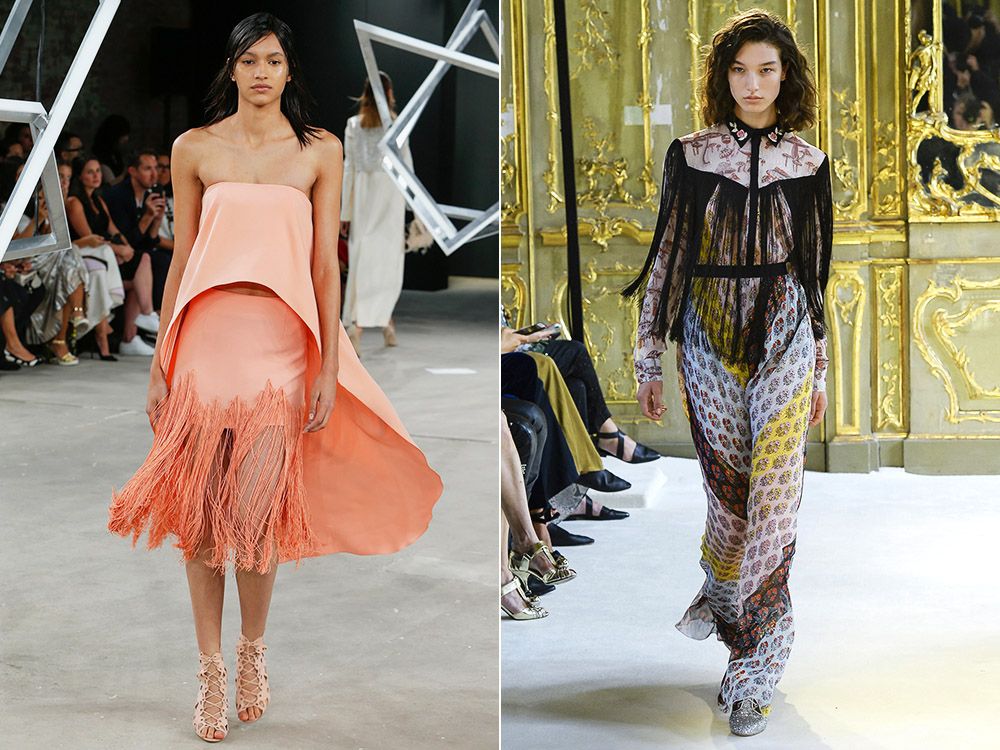 Trend 8 – Floral Print
Large rosebuds, bright sunflowers, tropical and meadow flowers and other "plant worlds" are constantly included in the top trends of the spring-summer season. This year this print can be found everywhere – both on flying chiffon dresses, and on classic office blouses, and even on pantsuits.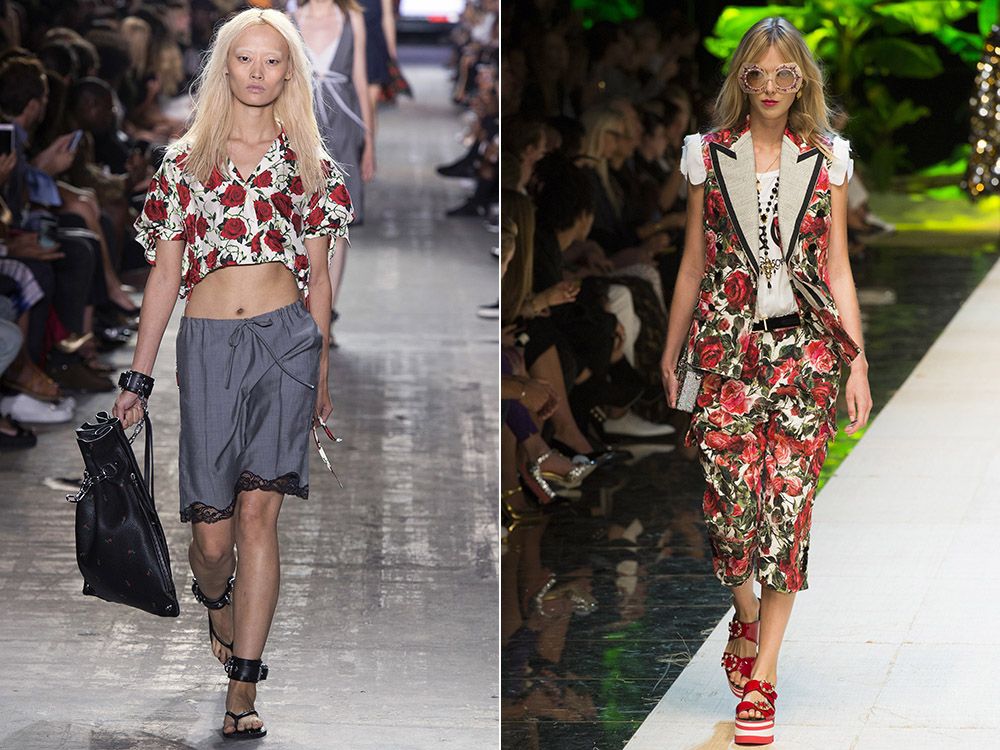 In fashion as a full floral total look, stylized as blooming gardens and green meadows, as well as individual floral elements.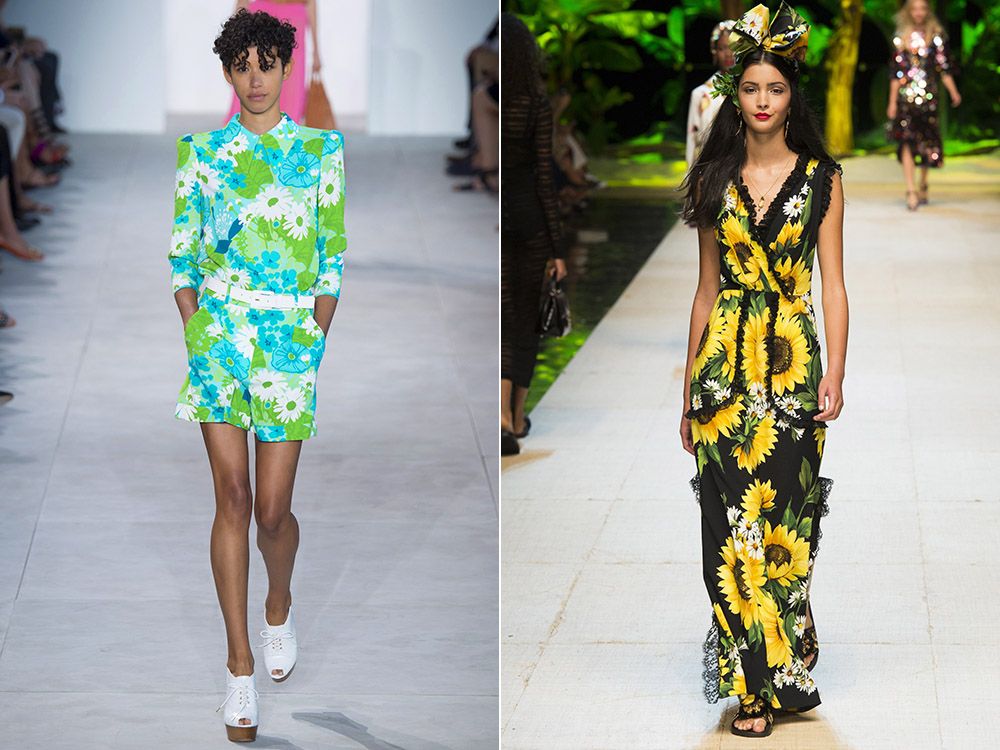 Trend 9 – Metallic
There will be enough glitter this season. Evening dresses made of flowing fabrics with lurex, trousers with foil effect, trouser suits with mirror shine, metallic dresses, stylized under the skin of reptiles – metallic in all its forms became the inspiration for creating most of the spring-summer collections.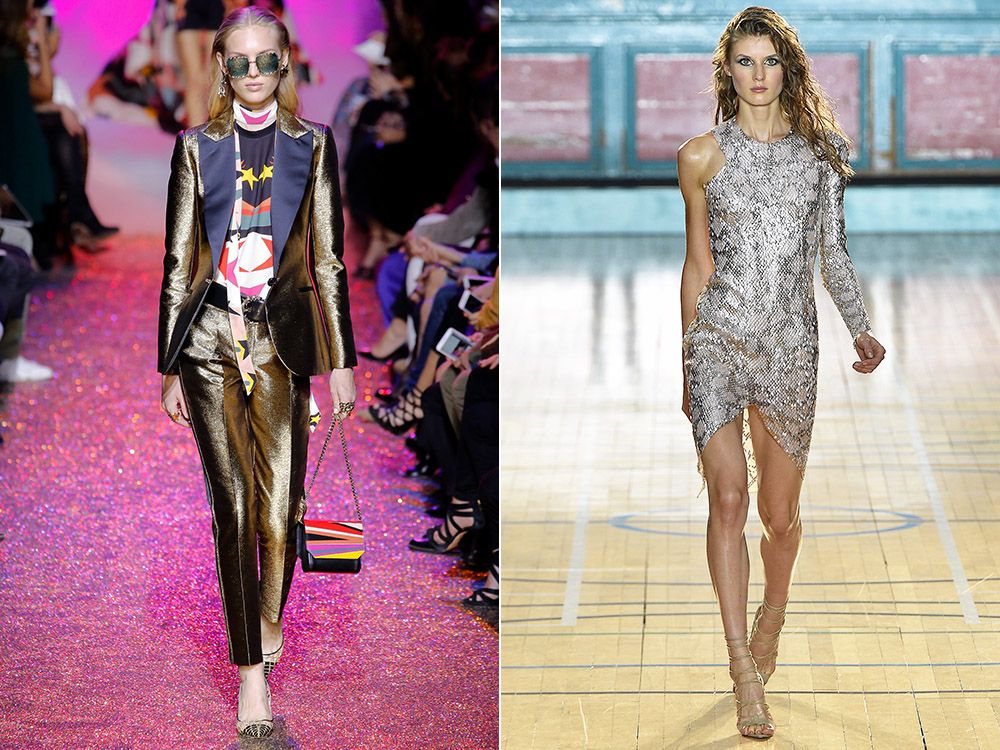 And if before we wore shiny silk and sequin decor exclusively for the outlet, now clothes and accessories with a metallic effect can also make up a casual look.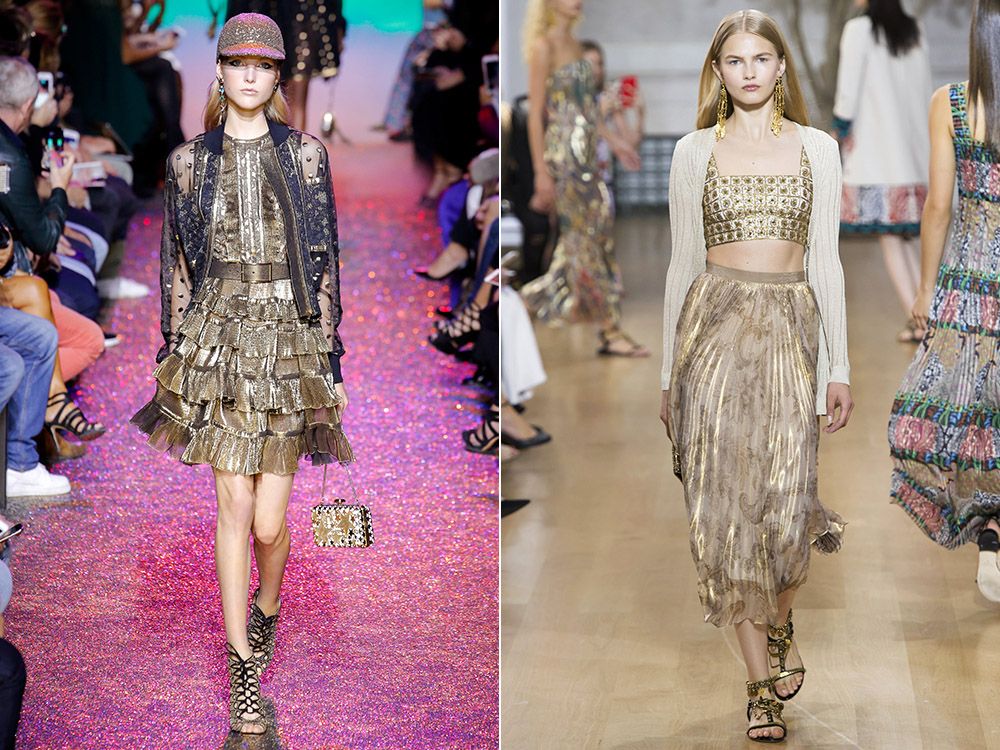 Trend 10 – clothes reminiscent of underwear
This is not the first season models appear on the catwalks dressed in silk pajamas, satin robes, translucent peignoirs and tops, more like corsets and lace sconces.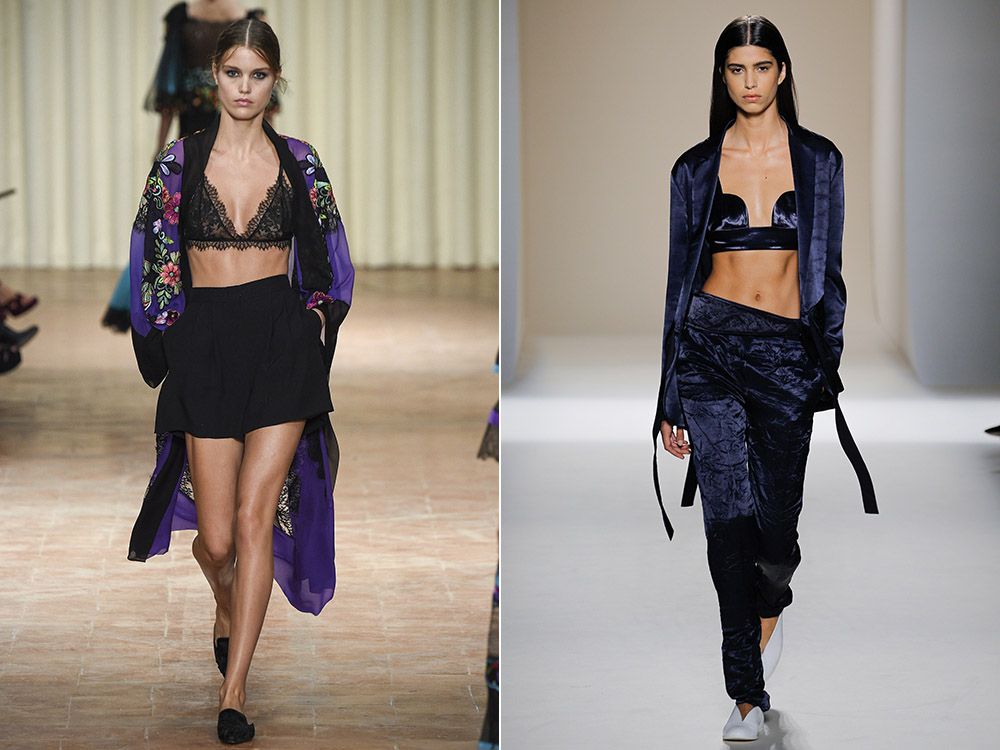 Meanwhile, the tendency to appear in outfits more reminiscent of negligee is gaining momentum more and more. Alberta Ferretti, Anna Sui, Chanel, Zimmermann – this is not all who included such "linen" sets and "pajamas for going out" in their collections..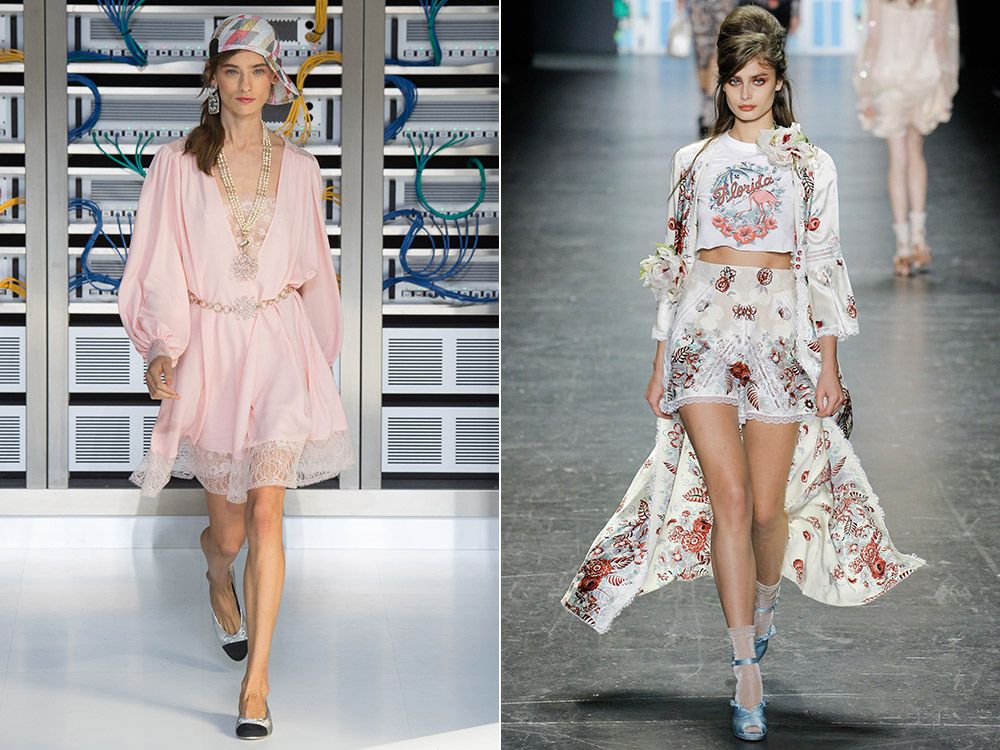 The fabrics are selected appropriate – silk, lace, chiffon and satin in pastel colors – in pearl white, milk, flesh and black..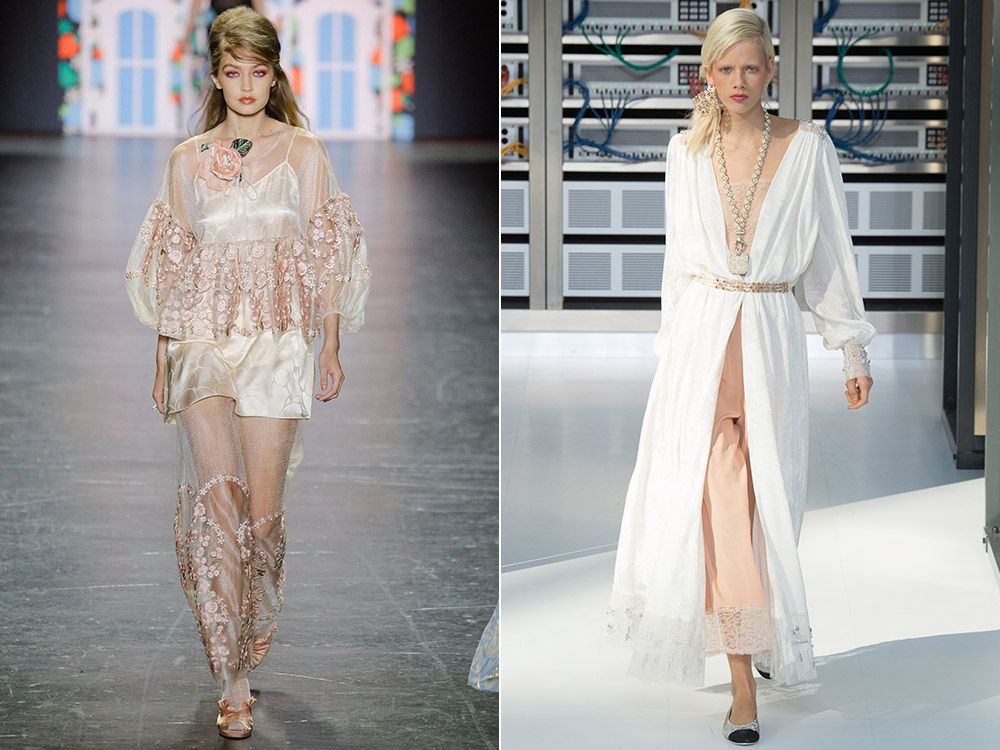 Trend 11 – bodices and sconces
The continuation of the tendency to bare as much as possible became bodices and bra-tops. This is an even bolder and more frank option compared to crop tops fashionable in previous seasons. Designers advise wearing them as an independent item of clothing, not being afraid to flaunt more than is allowed.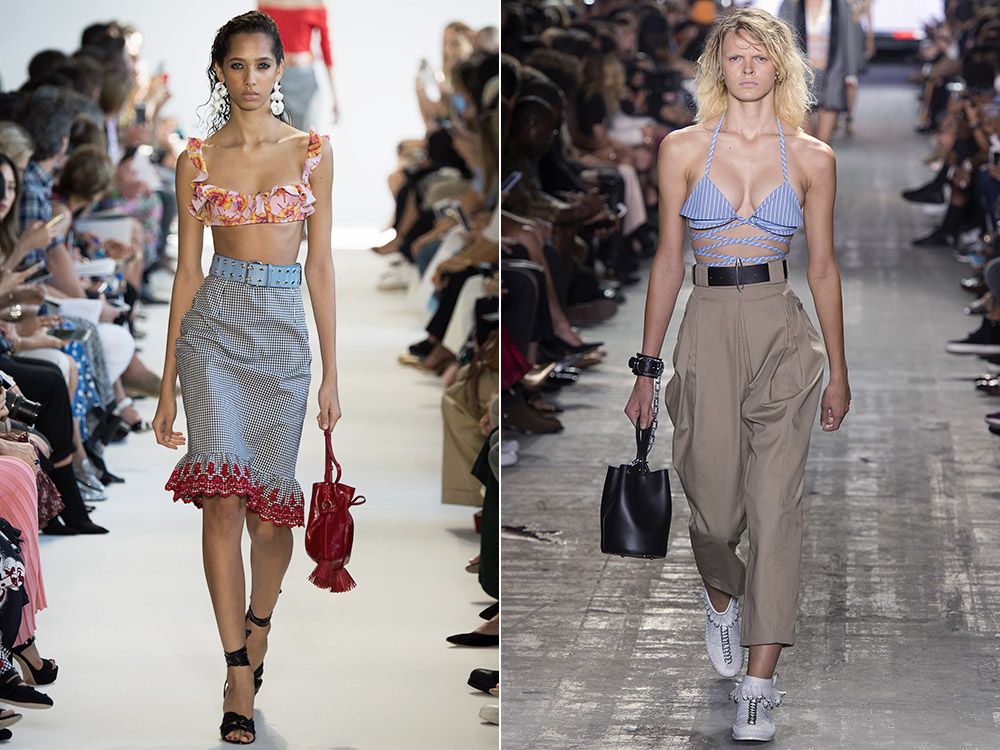 For those who are not ready for such an experiment, designers offer a more modest option – wear bodices and bra-tops for transparent dresses that are fashionable this season, under a jacket and even over a blouse or shirt.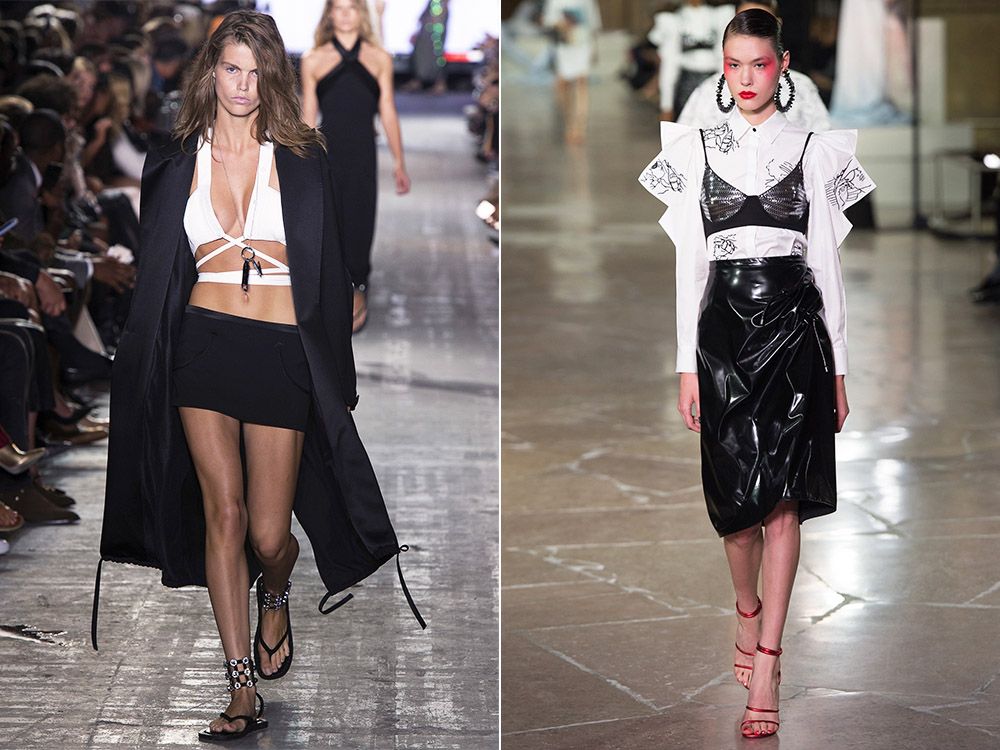 Trend 12 – pantsuits
It sounds too harsh and boring, but it wasn't there. If classic trouser suits have long settled in a women's wardrobe, then in the spring-summer 2017 season it will be fashionable to wear more informal options: with hypertrophied shoulders, huge puff sleeves, with a "predatory" print and bodice instead of a blouse – anything but classic costumes. Designers are advised to wear such suits not only in the office.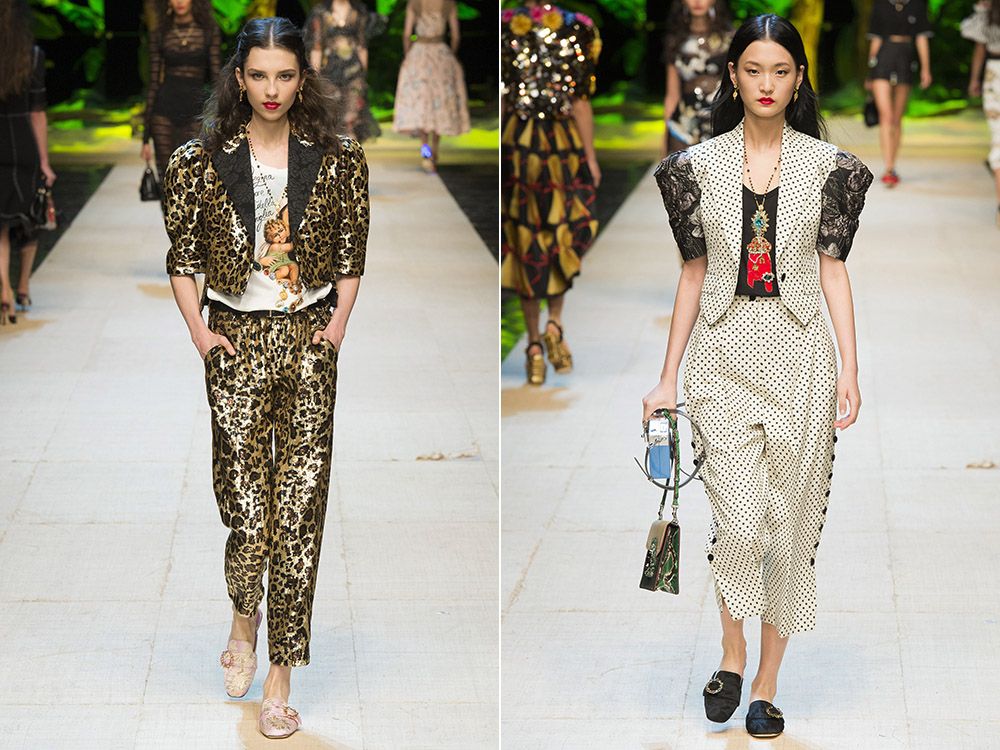 There are also more concise options, quite appropriate for a strict office dress code. It doesn't matter what you choose: a trendy suit with pants in small peas or a more restrained classic version, in any case, a pantsuit has become one of the most sensual images of this spring.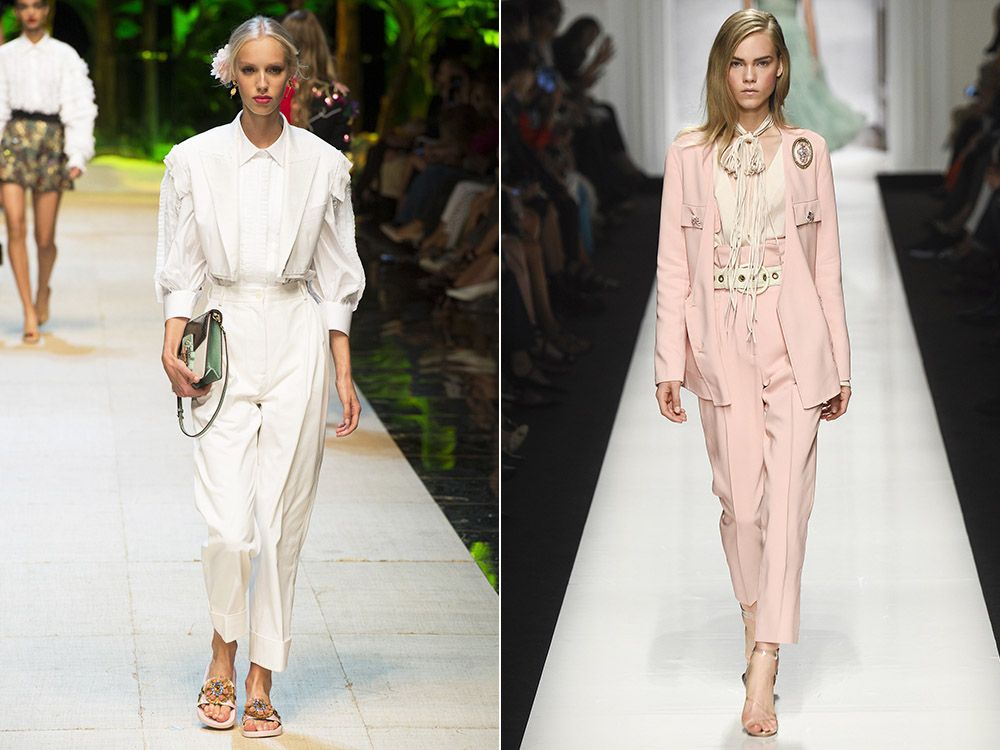 Trend 13 – Jumpsuits
When there is no time to make an outfit of trousers, skirts and blouses, overalls come to the rescue. Moreover, modern models no longer look like typical "robes" and may well compete even with evening dresses.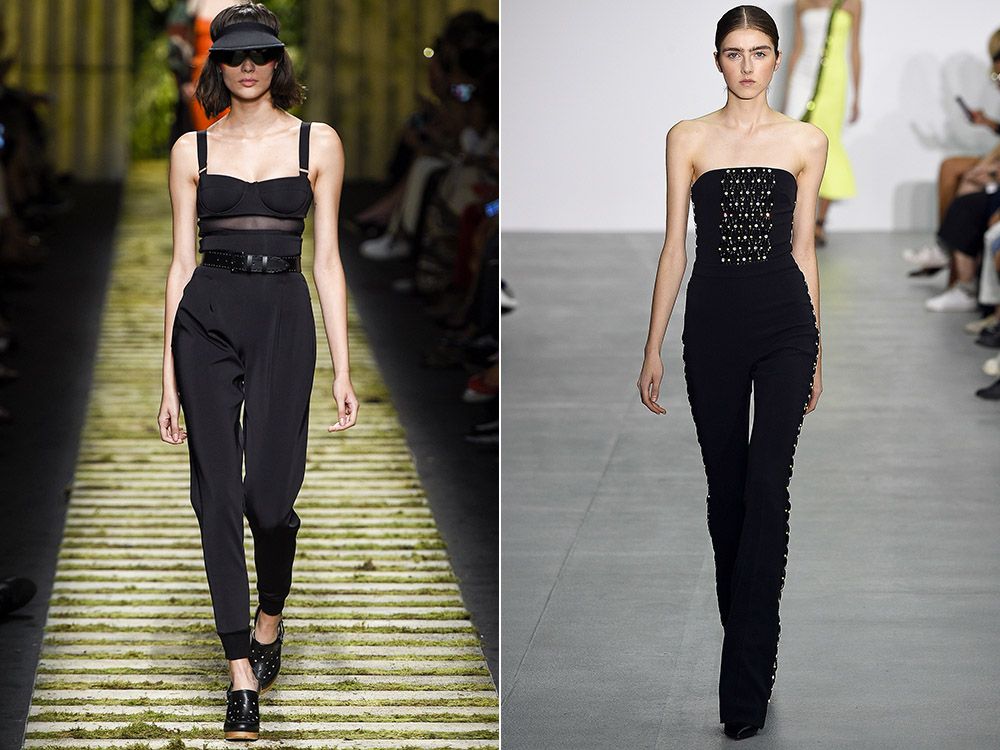 The overalls can even be worn in the office, just choose more conservative styles, without decor and other decorations.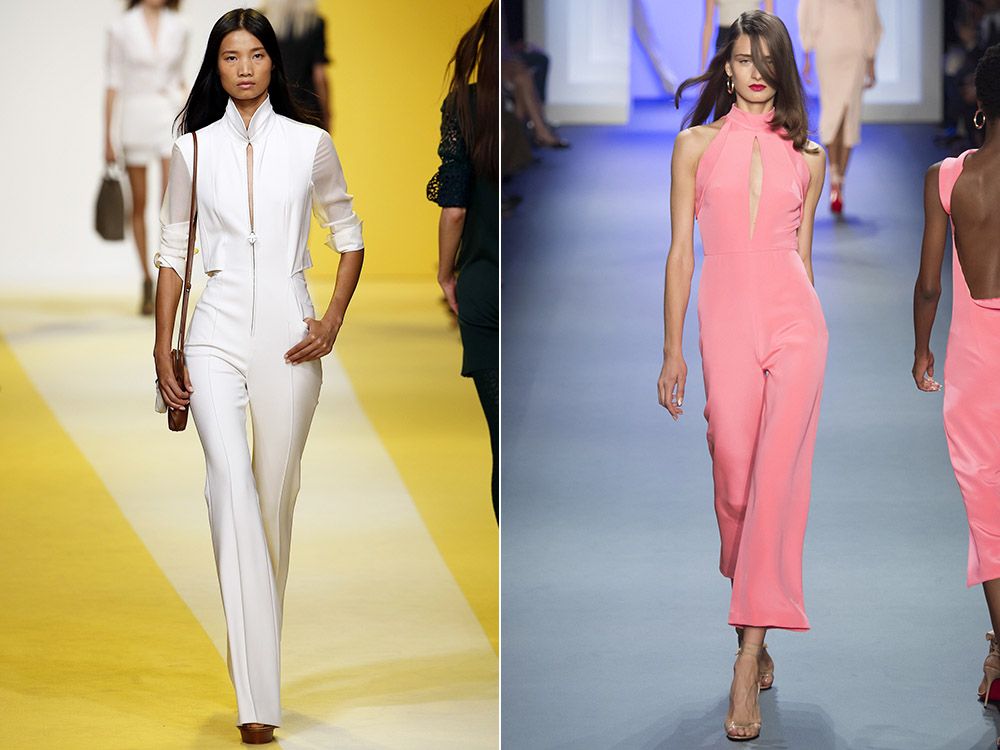 Trend 14 – Frank Mini
Forget at least this summer about modesty and restraint. The short length returned to the list of the main trends of the spring-summer 2017 season, and she strives for ultramini.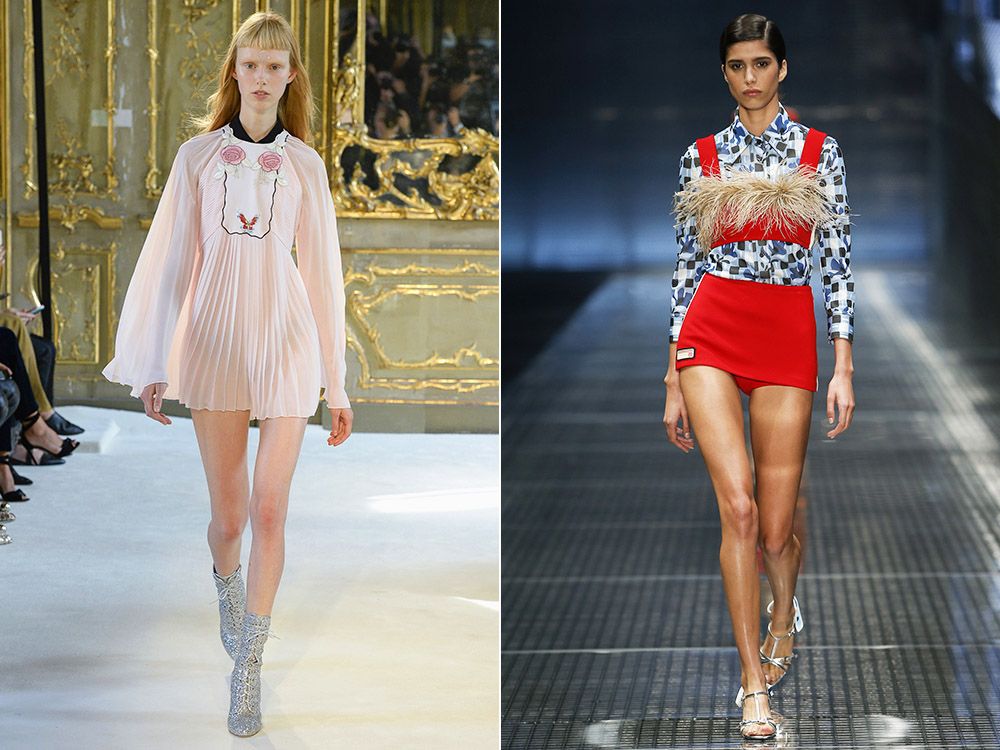 But with extreme length you need to be careful – you should look feminine, but it didn't go. If you choose a mini, then make sure that the top is as modest and closed as possible..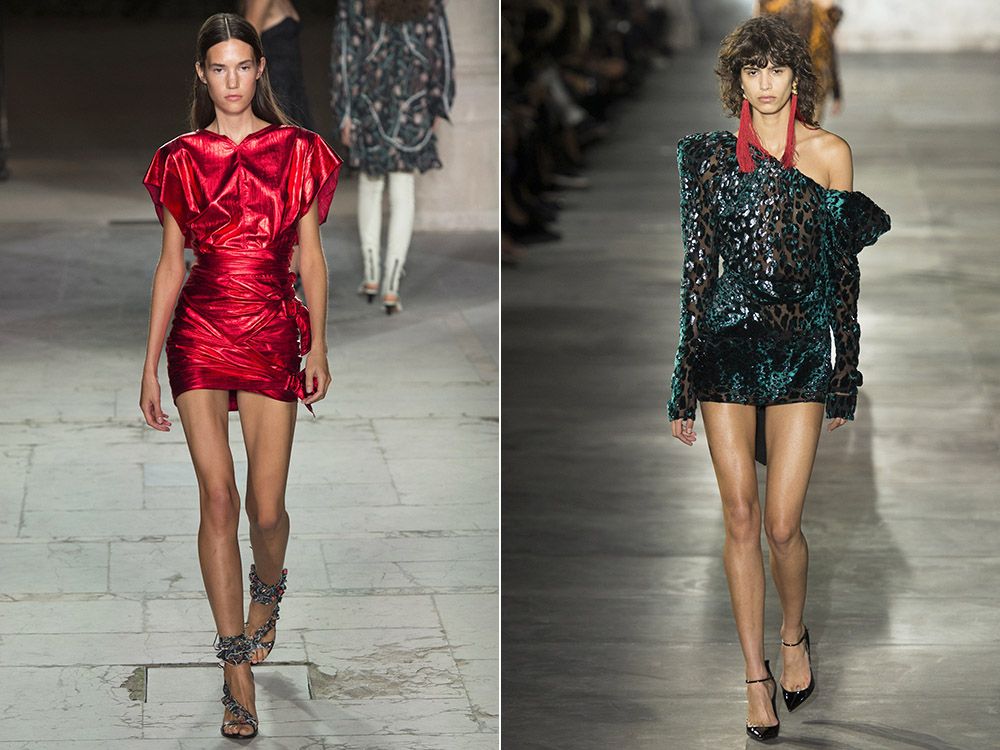 Trend 15 – dress over trousers
A dress worn over trousers and jeans, not the most unequivocal trend of the 90s, returned to fashion catwalks. A Detacher, Alberta Ferretti, Daks and several other equally well-known brands presented trouser-skirt layering.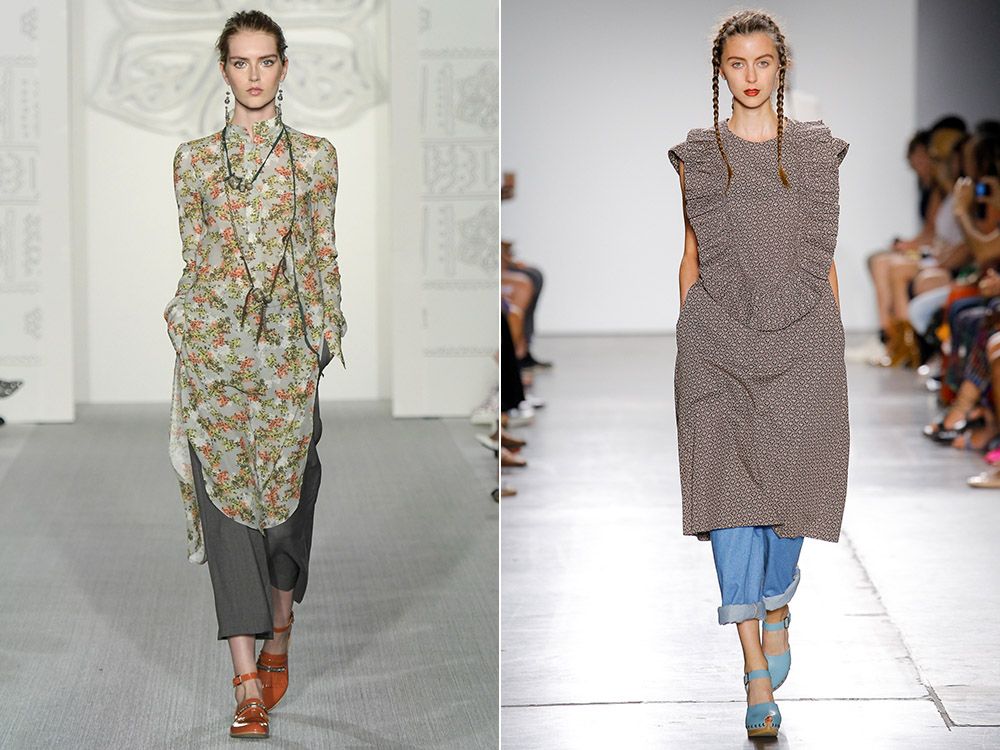 It would seem that these two subjects are absolutely not combined with each other. Nevertheless, if the ensemble is composed correctly, then you can get a stylish, modern look. Moreover, the dress and trousers are not necessarily exactly selected according to the color and texture of the material.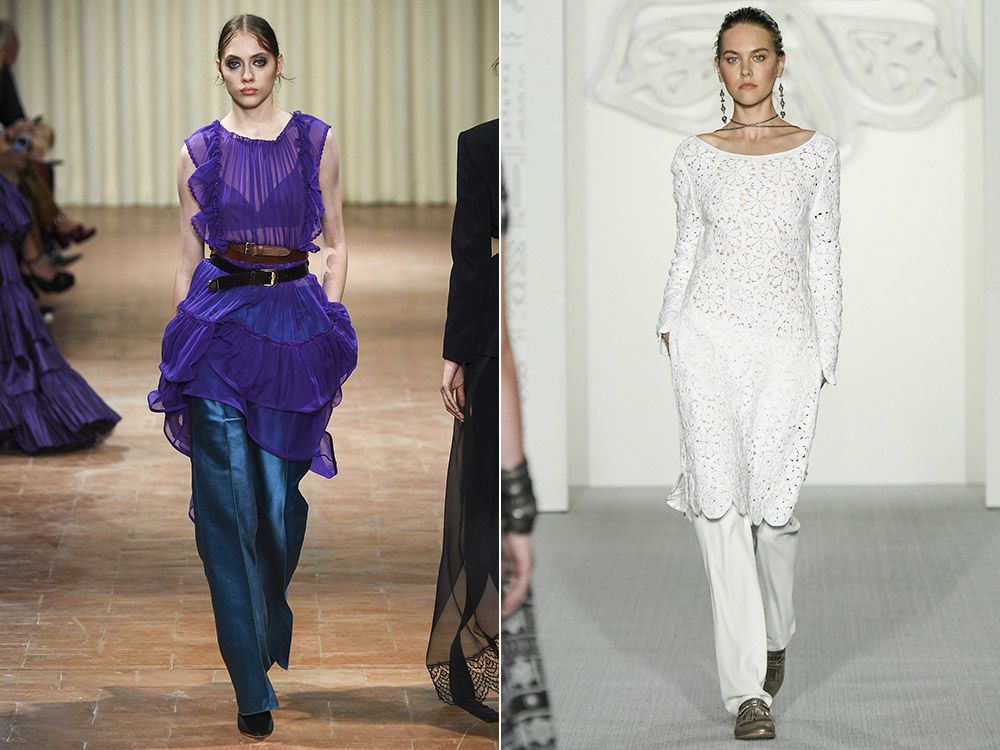 Trend 16 – Asymmetry
You probably already noticed a tendency to asymmetry. For many designers, the lack of symmetry in the cut was a key technique when creating the spring-summer collections of 2017. It can be just long pieces of fabric draped asymmetrically around the body, or full-fledged outfits tailored from contrasting materials.
For some designers, the asymmetry is presented in the form of dresses with one sleeve and concise dresses with a beveled hem.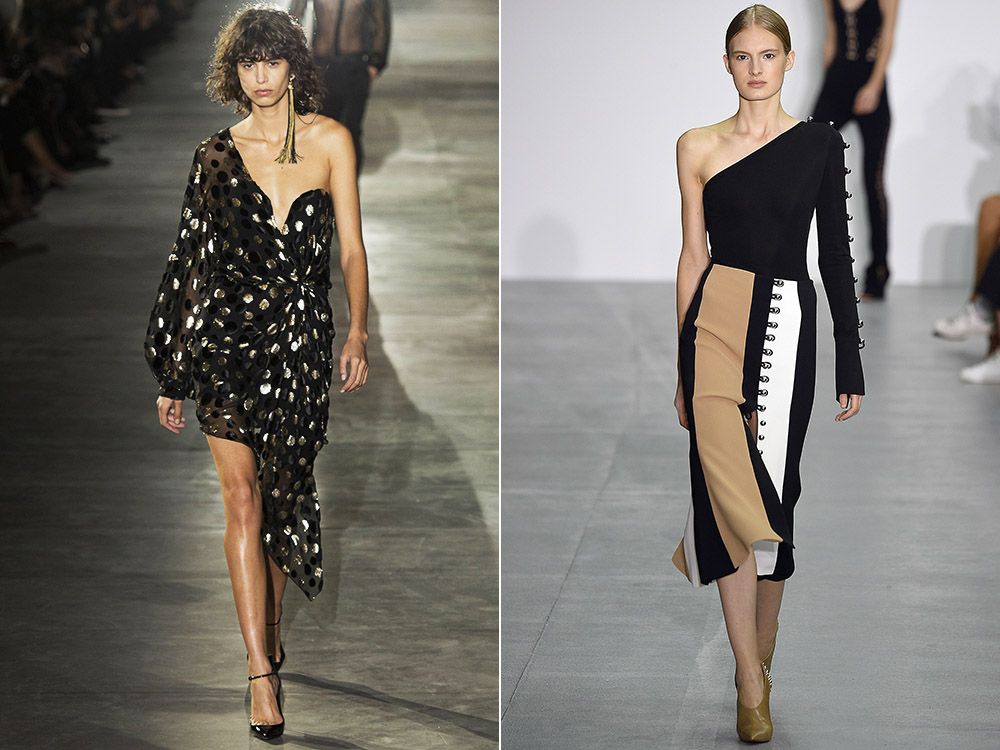 Trend 17 – Sports
While sports women of fashion stretch out on yoga and sweat on treadmills, designers also do not sit idly by – they seized a passion for sports and turned it into a full-fledged trend.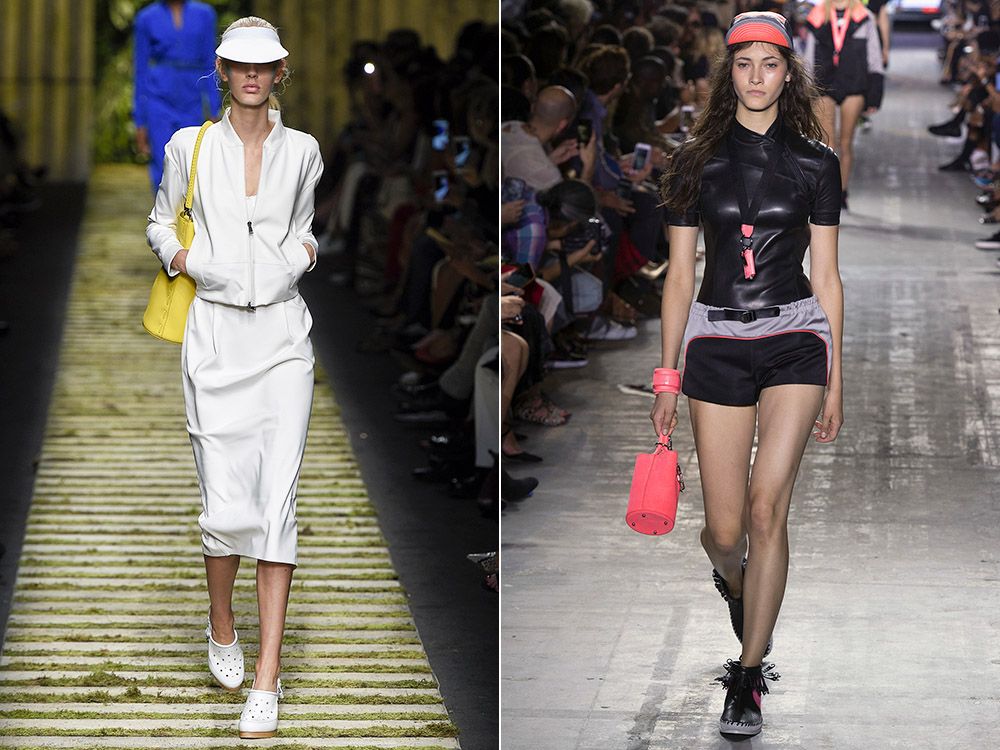 If earlier fashion collections were limited to only a couple of modest sports T-shirts with serial numbers, now they are filled with bright bicycles and T-shirts, equipment of motorcycle racers and other ready-to-wear sportswear.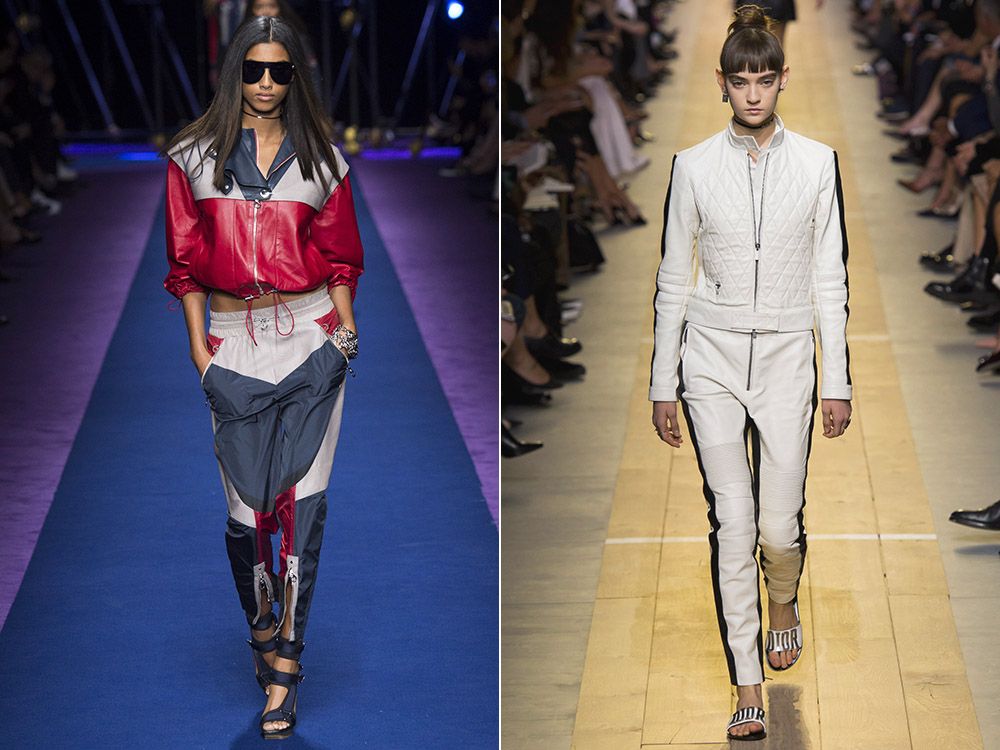 Trend 18 – color total look
The trend for an image in a single color is gaining momentum. Almost every designer presented his line of clothing in a particular color. For example, Salvatore Ferragamo, Mugler and Hugo Boss chose a deep blue color. Emilio Pucci, Dries van Noten, Tibi – Deep Yellow.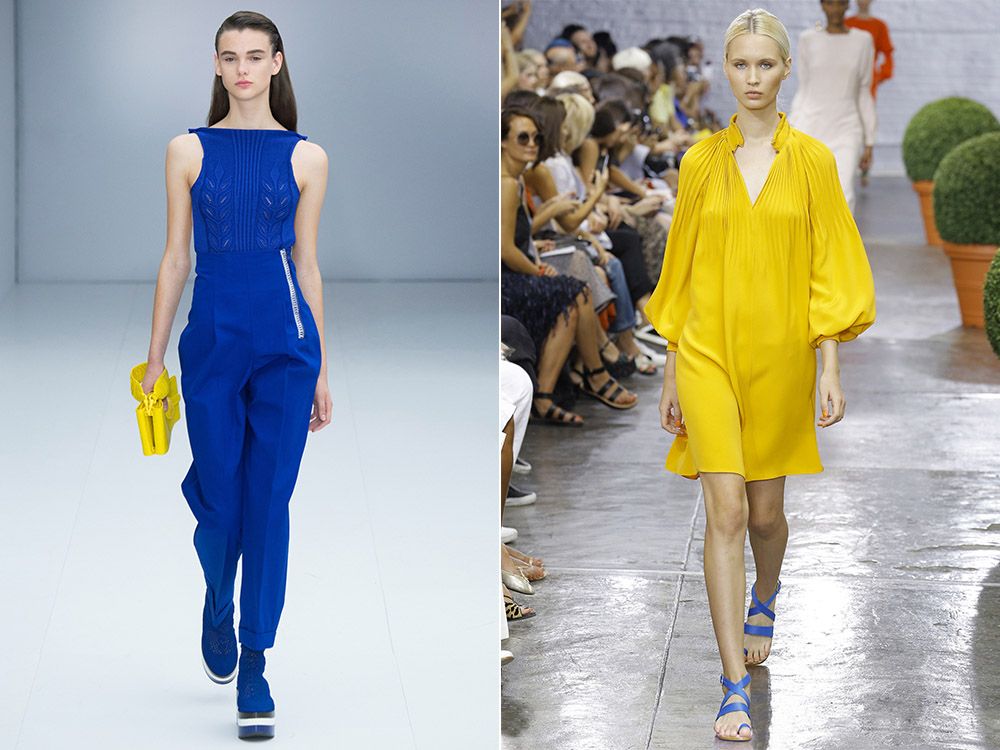 Mulberry and Sportmax presented bright total bows in fiery red, Christian Siriano and Emilio Pucci in bright blue. These bows have one thing in common – all of them are in the top 10 most fashionable shades of the season.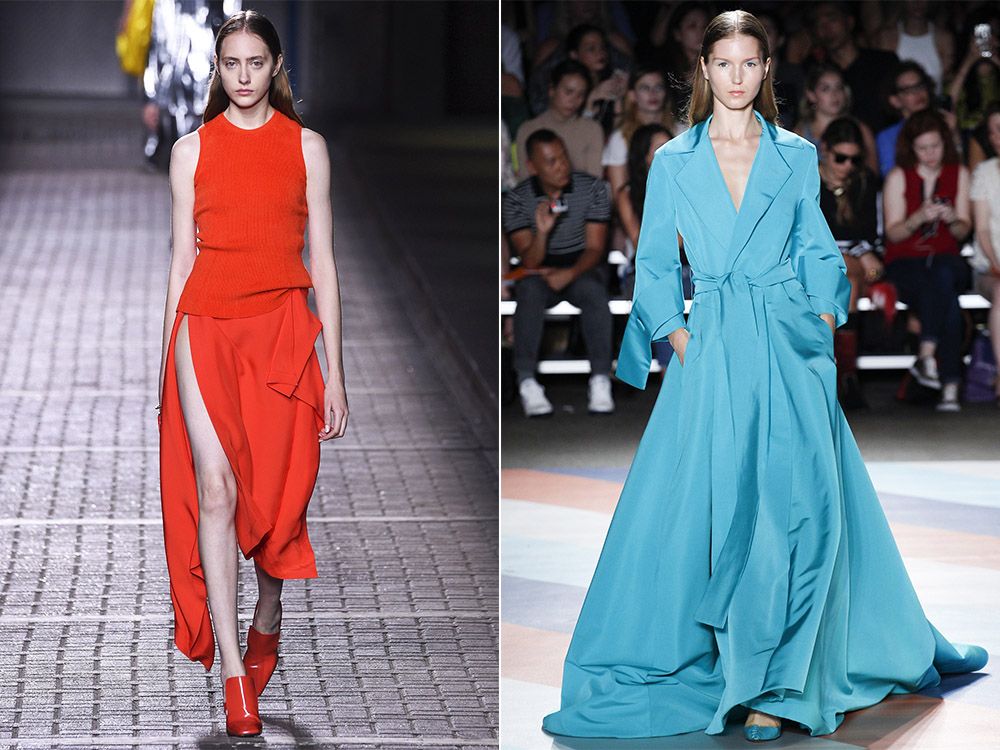 Well, the most popular color in the spring-summer 2017 season can be safely called pink, which is present in all shades – from soft powder to rich fuchsia. Also in fashion are the previously forbidden combinations of pink, red and purple.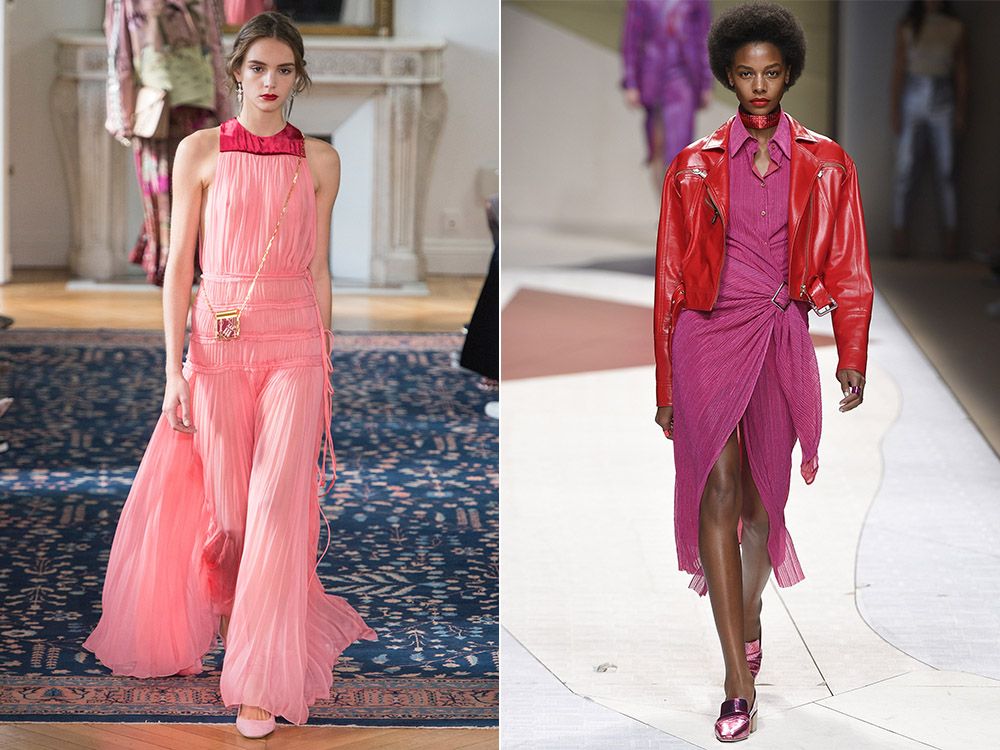 Trend 19 – Pleated
From New York to Paris, pleating appeared in almost every other collection. This trend looked good in any performance: from the usual skirts in a flat fold, to asymmetric dresses and dresses with voluminous puff sleeves.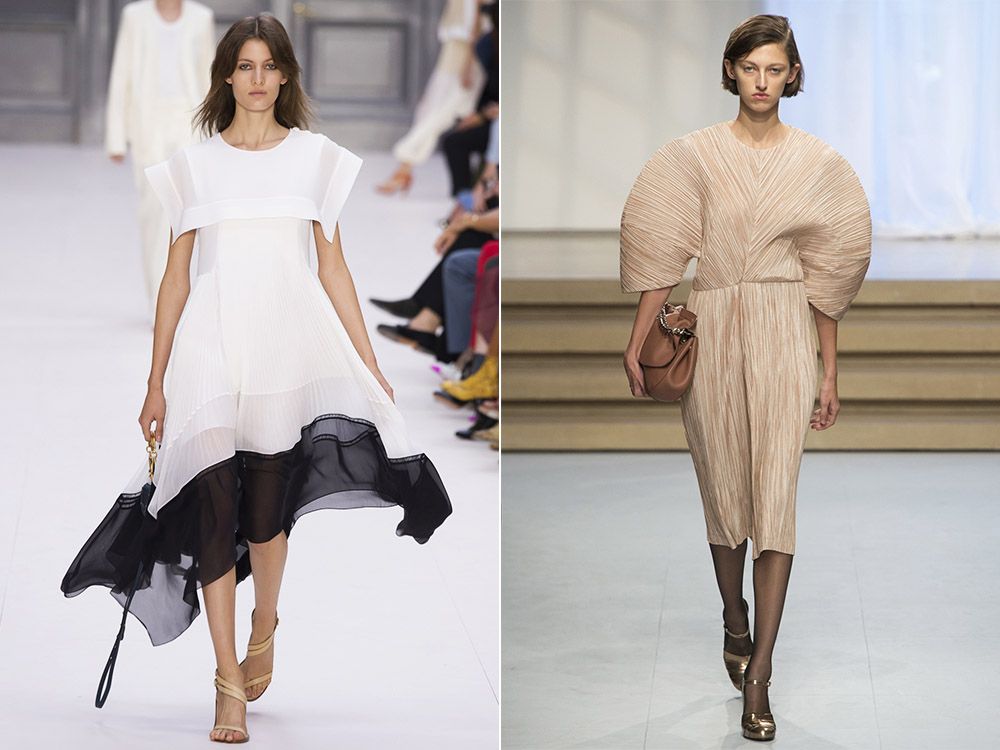 The Rochas collection was built entirely on a multi-colored pleated. The corrugated look was acquired not only by dresses and skirts, but also by trousers and blouses.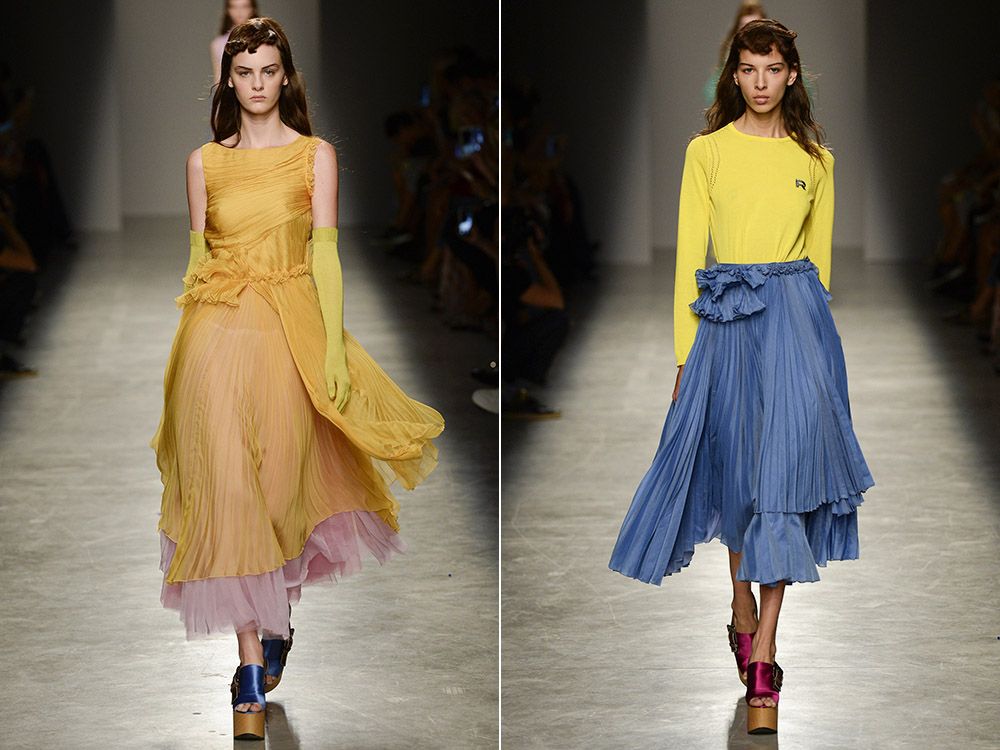 Trend 20 – Bohemian Style
The boho-chic style, which is not the first season, inspires designers to create individual, unlike any other images, also got on our list of hot trends..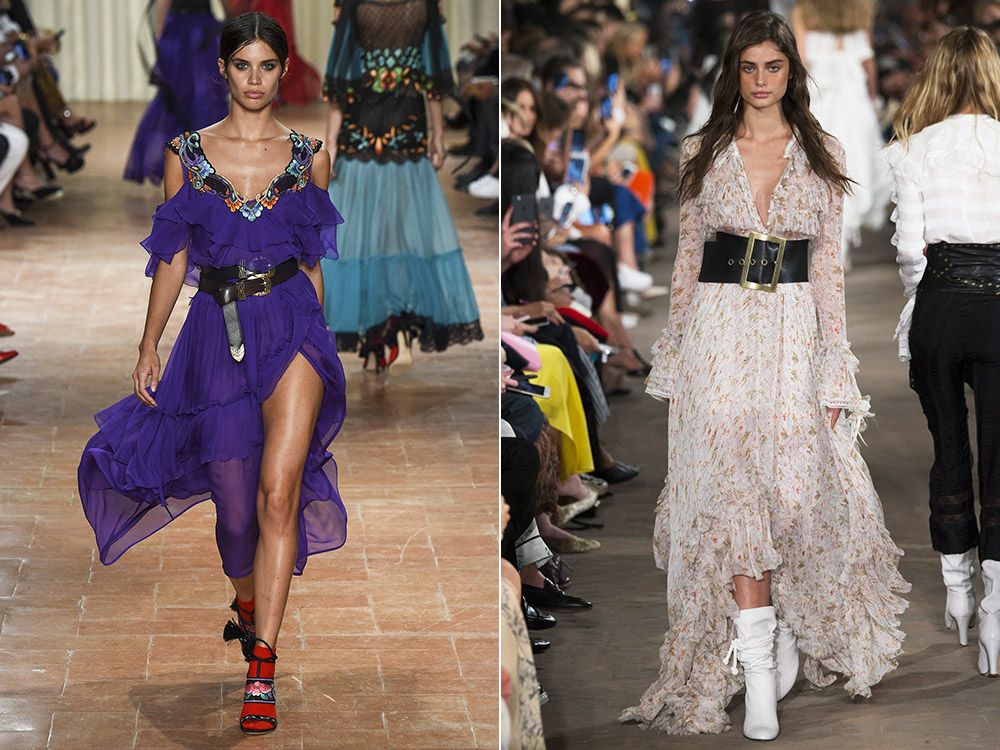 Flowing fabrics, frills, folklore motifs, gold threads, tassels and ties – all these designers tried to combine simultaneously in one outfit.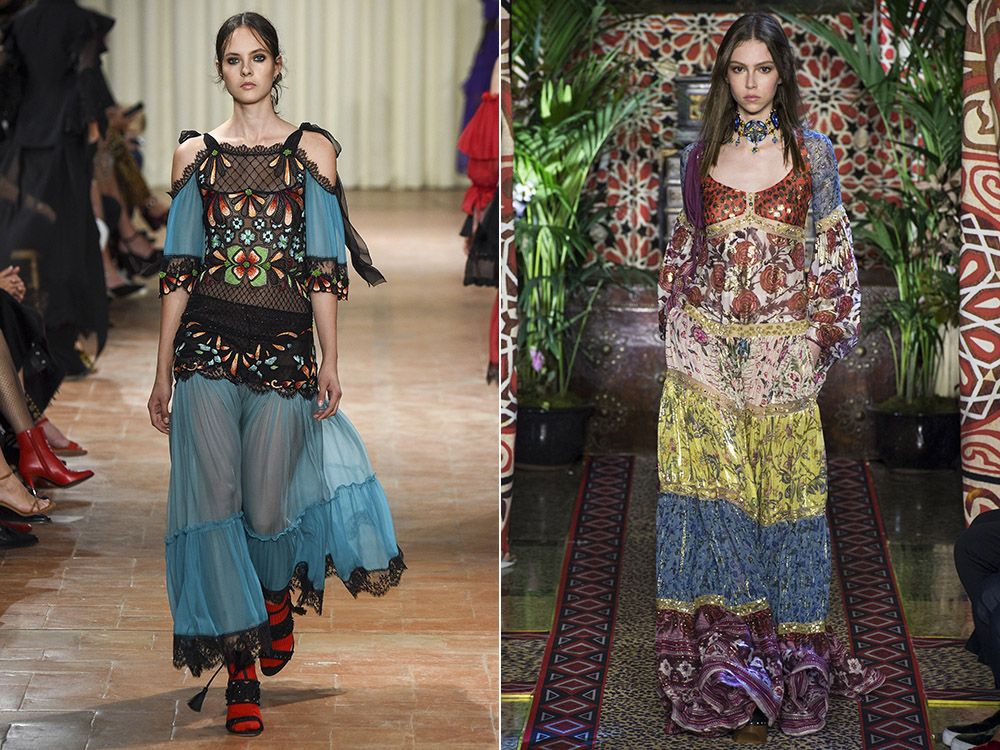 Now you know the main trends of the spring-summer season 2017. Use them wisely, giving preference only to those that are right for you.