Content
---
---
Among the unexpected new products are bicycles. Now they have left the cycle track and are participating in different trendy images – evening, business, casual. The cell and strip are also relevant. They were joined by the "Polka dot" print and motifs borrowed from the "grandmother" shawls. So, we present 25 current trouser trends according to the most respected world designers.
Total look
It is believed that mono images speak of a good sense of style. Total look has another indisputable plus – they make the figure slimmer. Perhaps for this they were so loved by designers around the world. Looking at the new monophonic kits from Alberta Ferretti and Emilia Wickstead, it's hard to believe that they will ever go out of style. So these monochrome images look expensive and luxurious. They focus on texture and trend colors, such as green Pepper Steam, pink Sweet Lilac and yellow Lemon Verbena.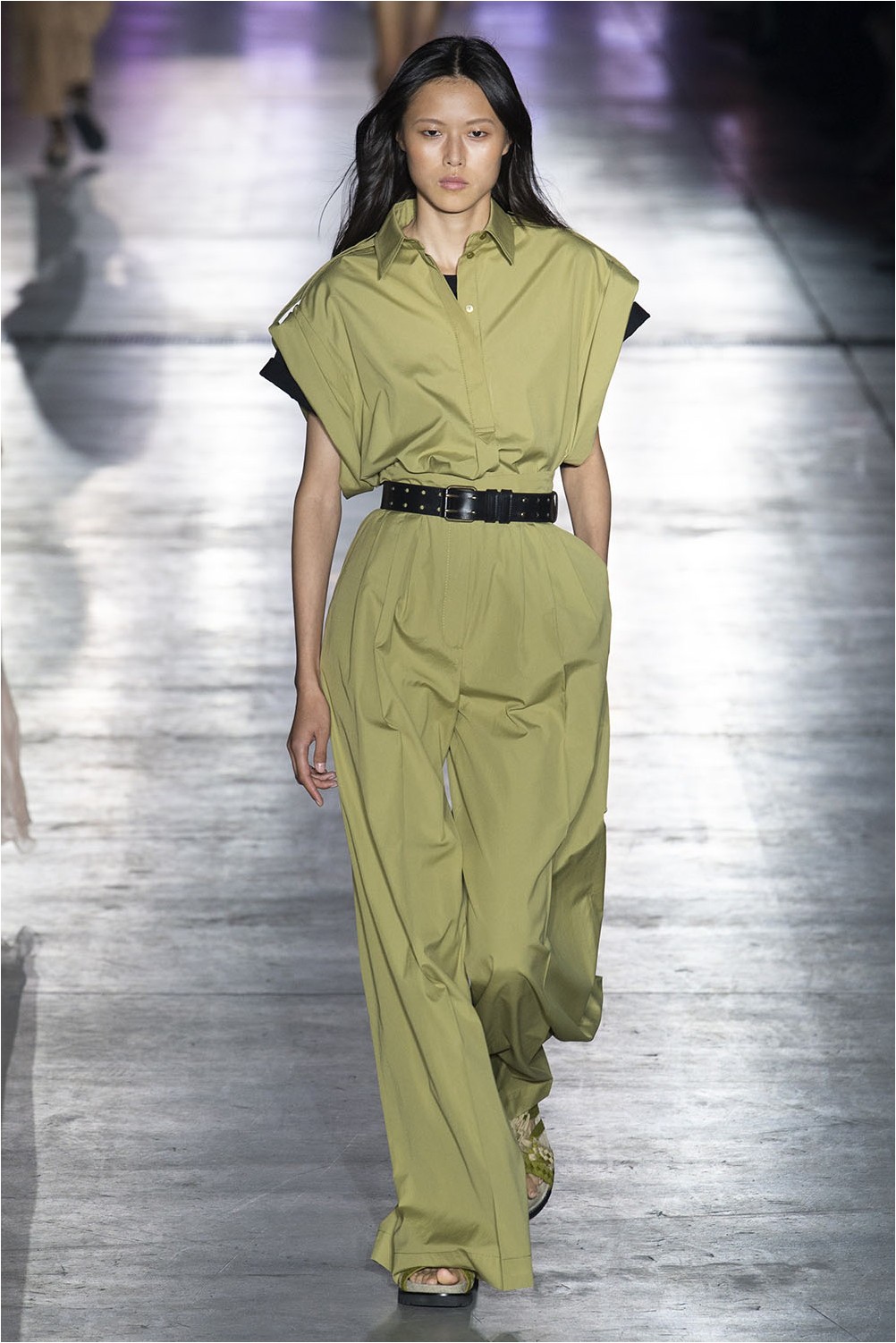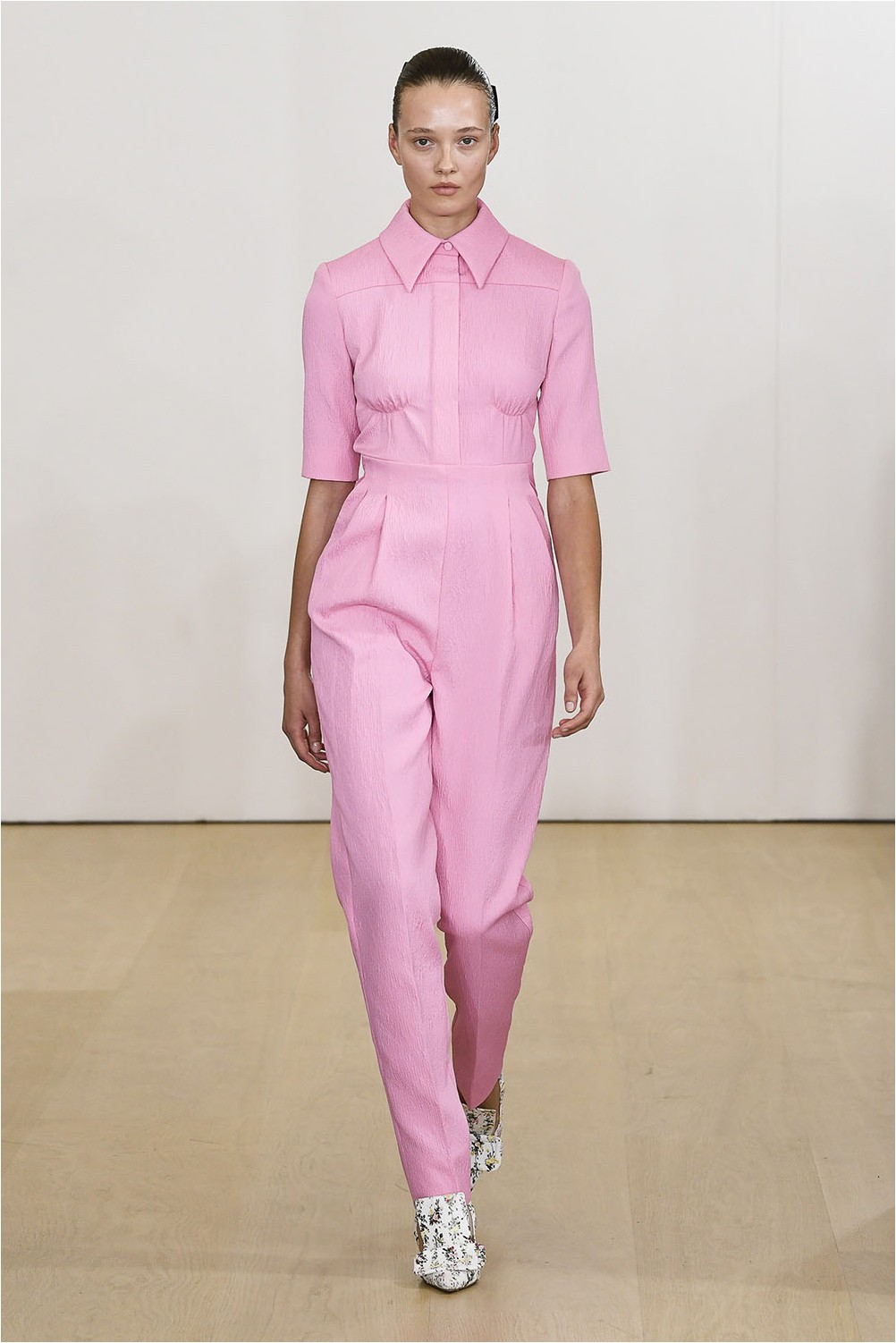 White Total look and colorful monochrome dresses with floral or shawl print are also in fashion..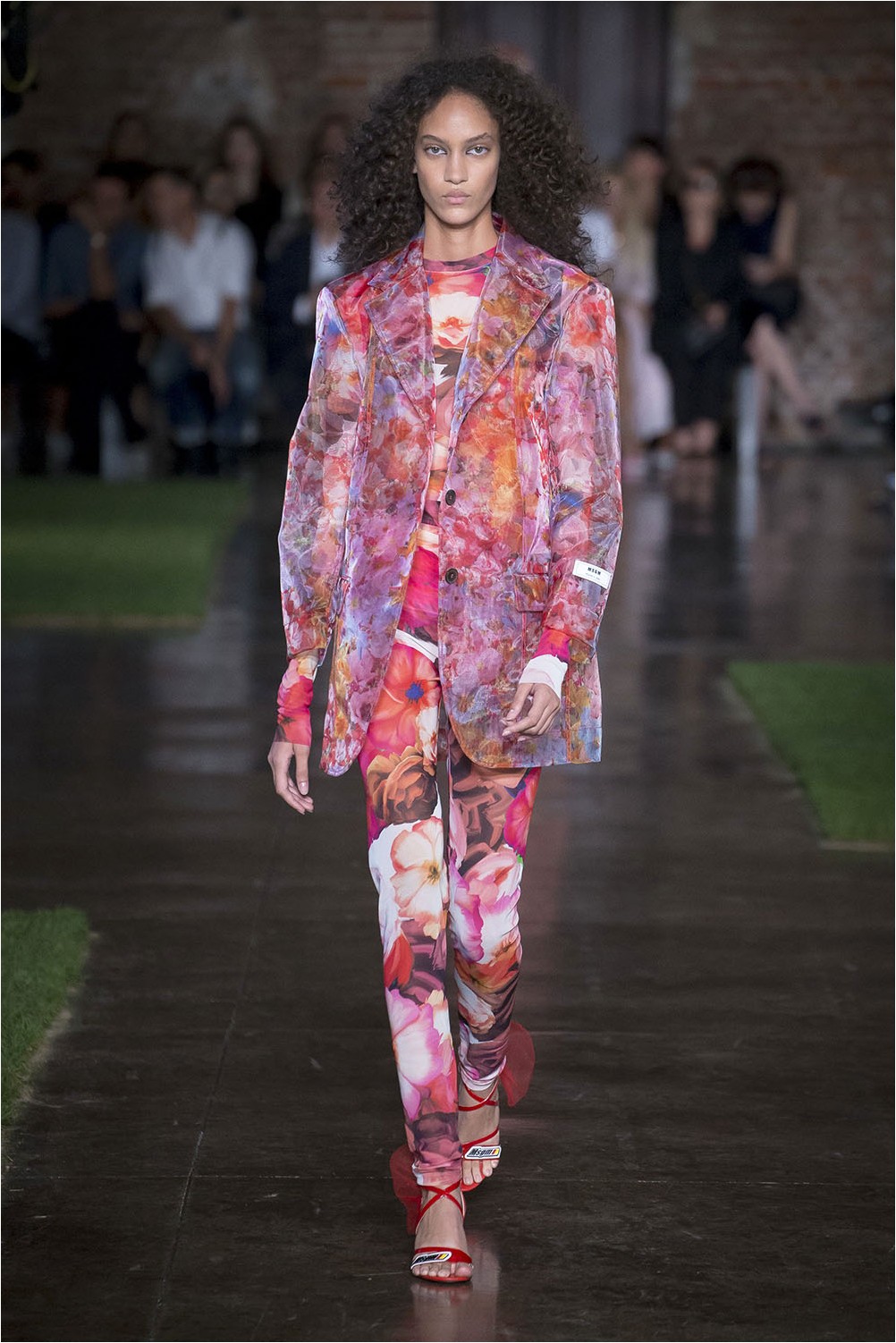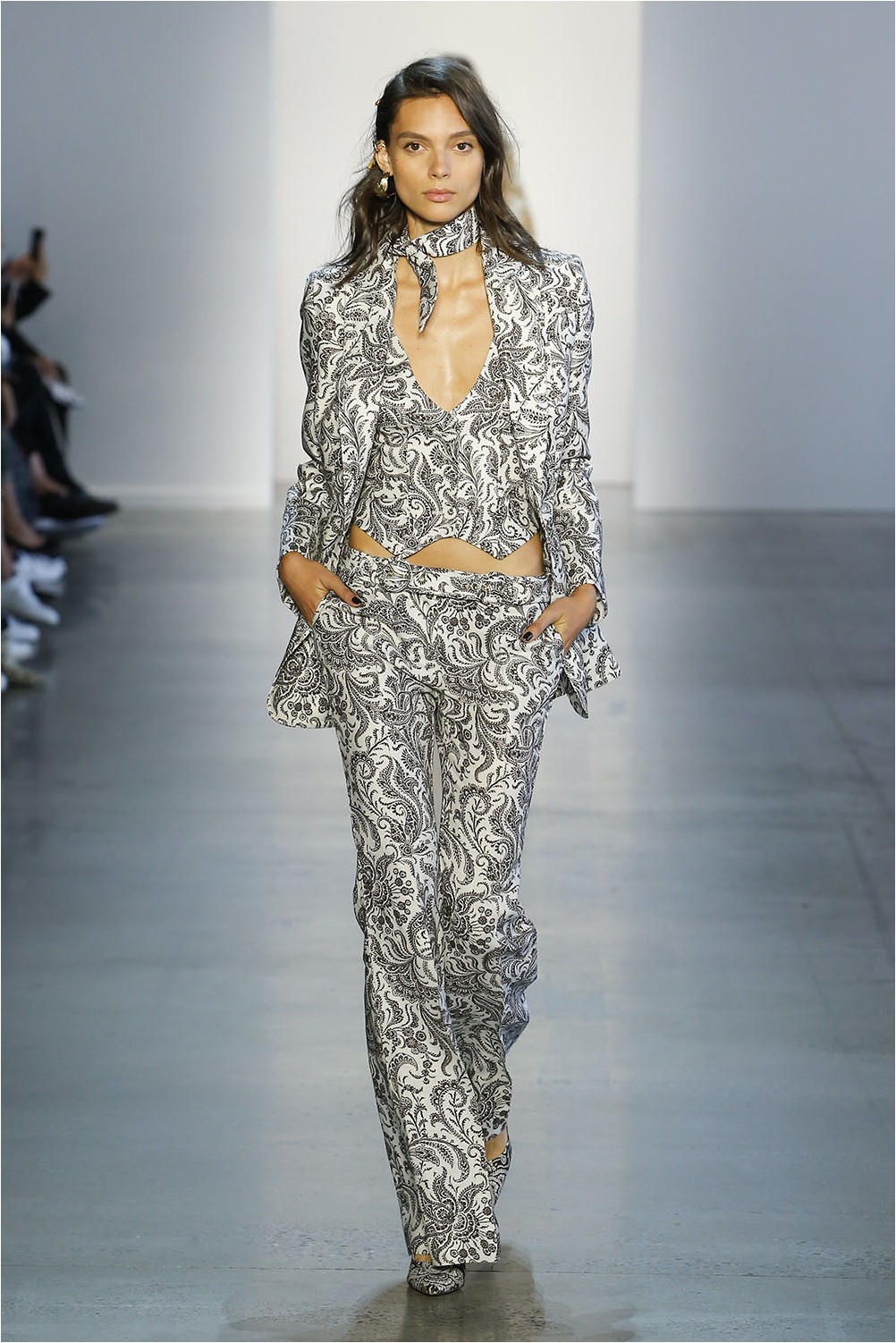 Asymmetric fit and double trousers effect
The avant-garde, asymmetrical cut has become the main focus of many shows. In trousers, he was less common, but looked nontrivial. Dion Lee surprised with a trouser outfit with asymmetry of the top and an unusual cut of the bottom. Sally La Pointe and Burberry presented a completely unexpected solution – the effect of two trousers worn on each other.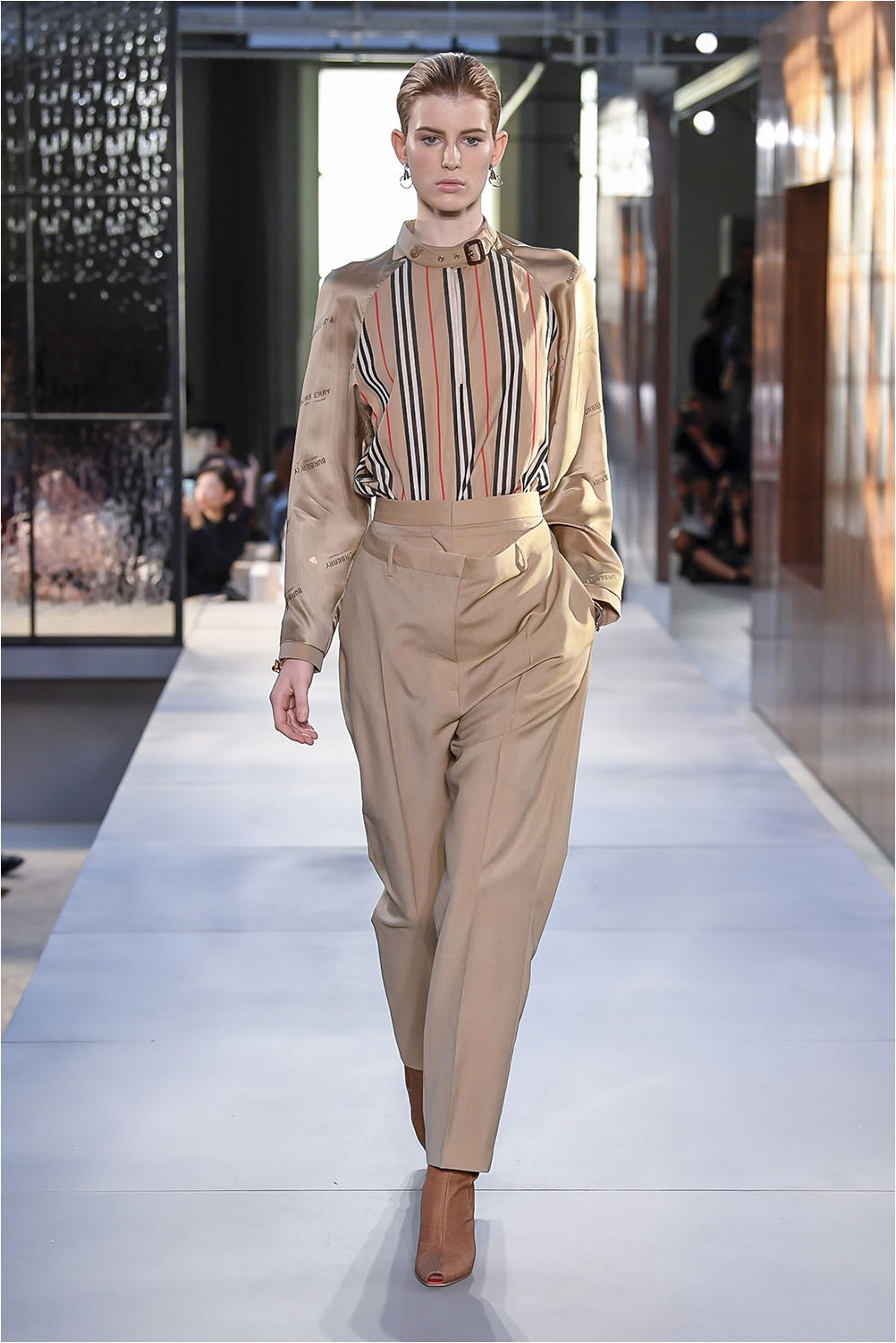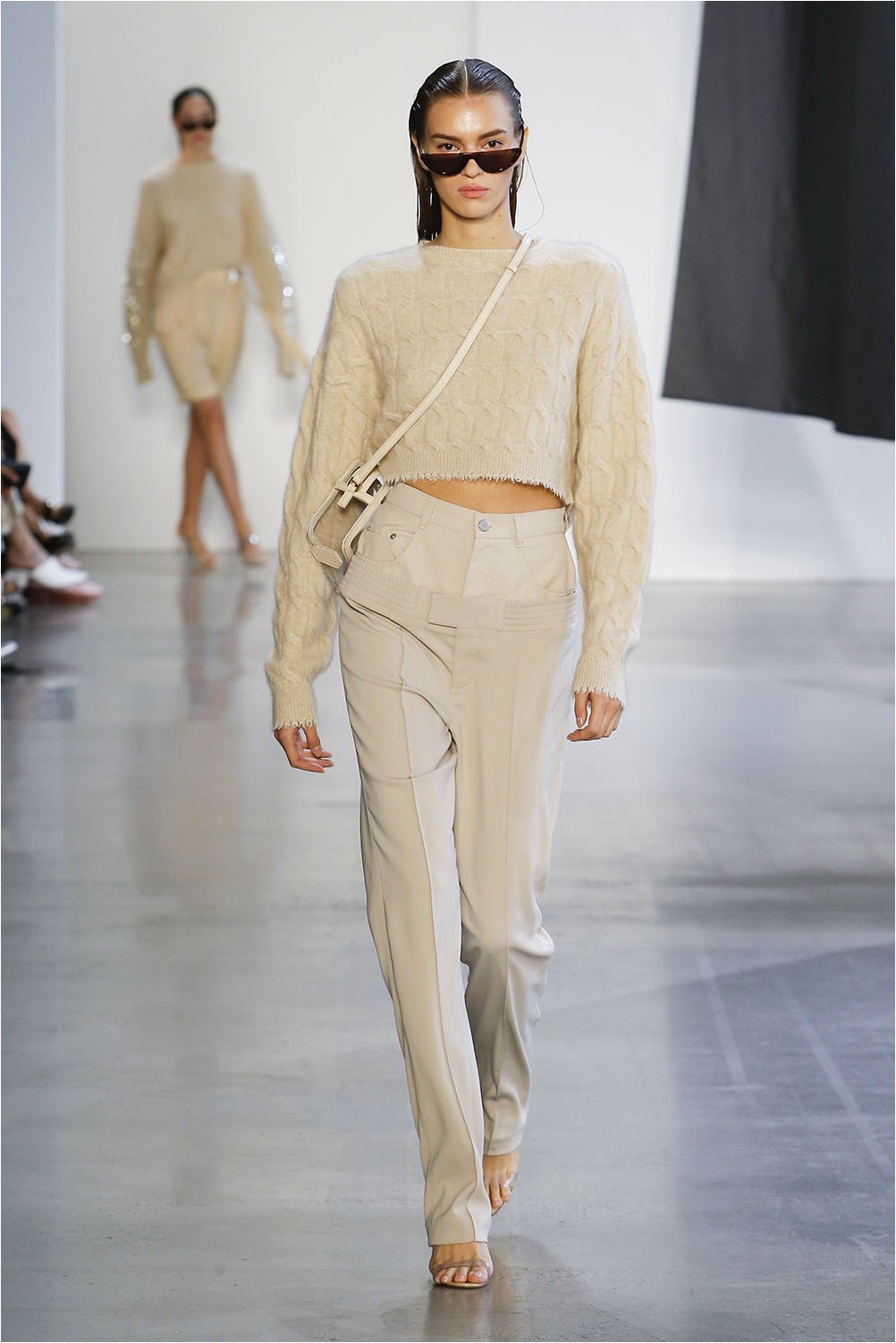 Ascetic asymmetry is trending. It should not be much. Disharmony is in the details. A beveled clasp with a strap or one uneven large loops on the belt – this is the trend asymmetry for spring-summer 2019 from Sally La Pointe, Marco de Vencenzo and Victoria Beckham.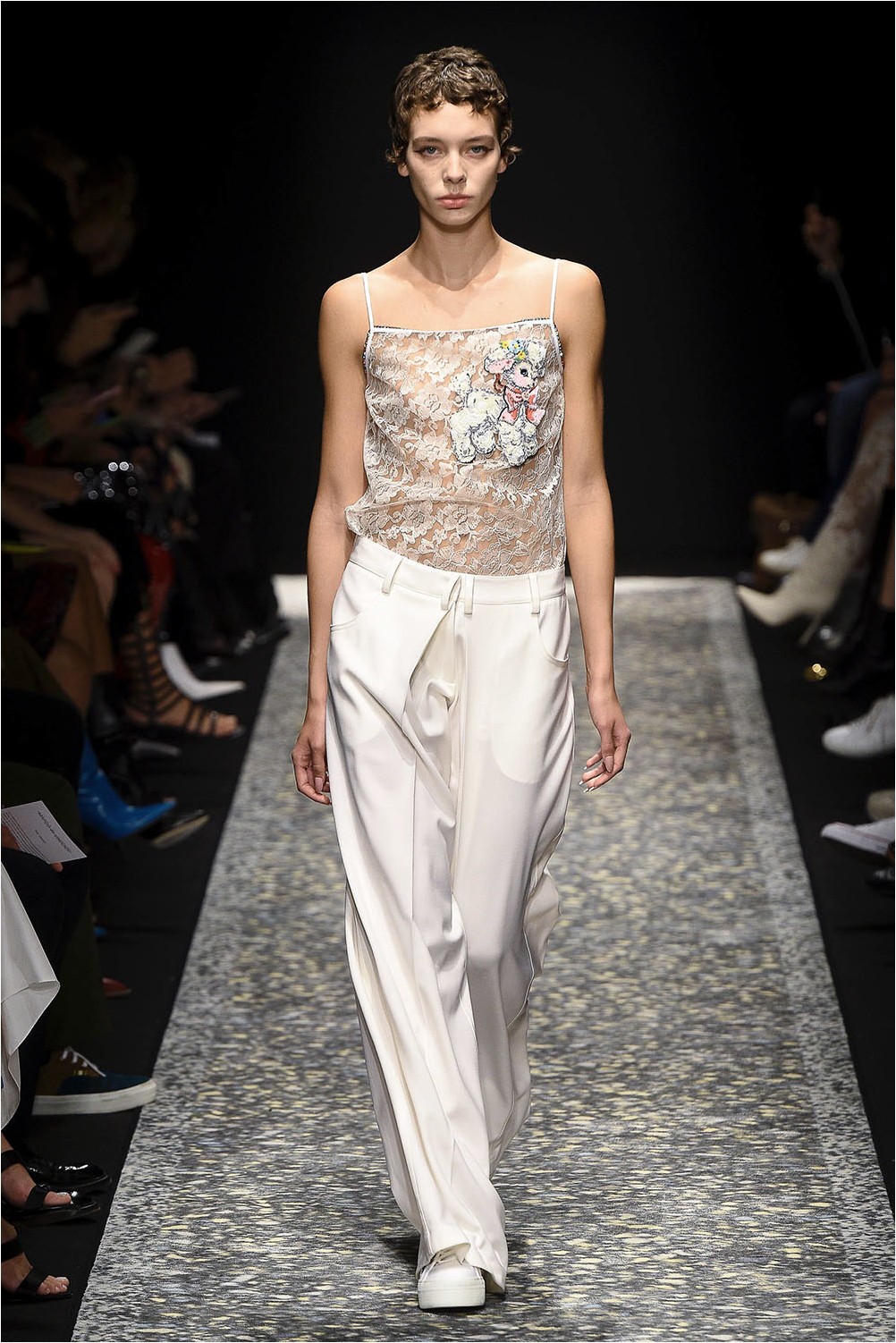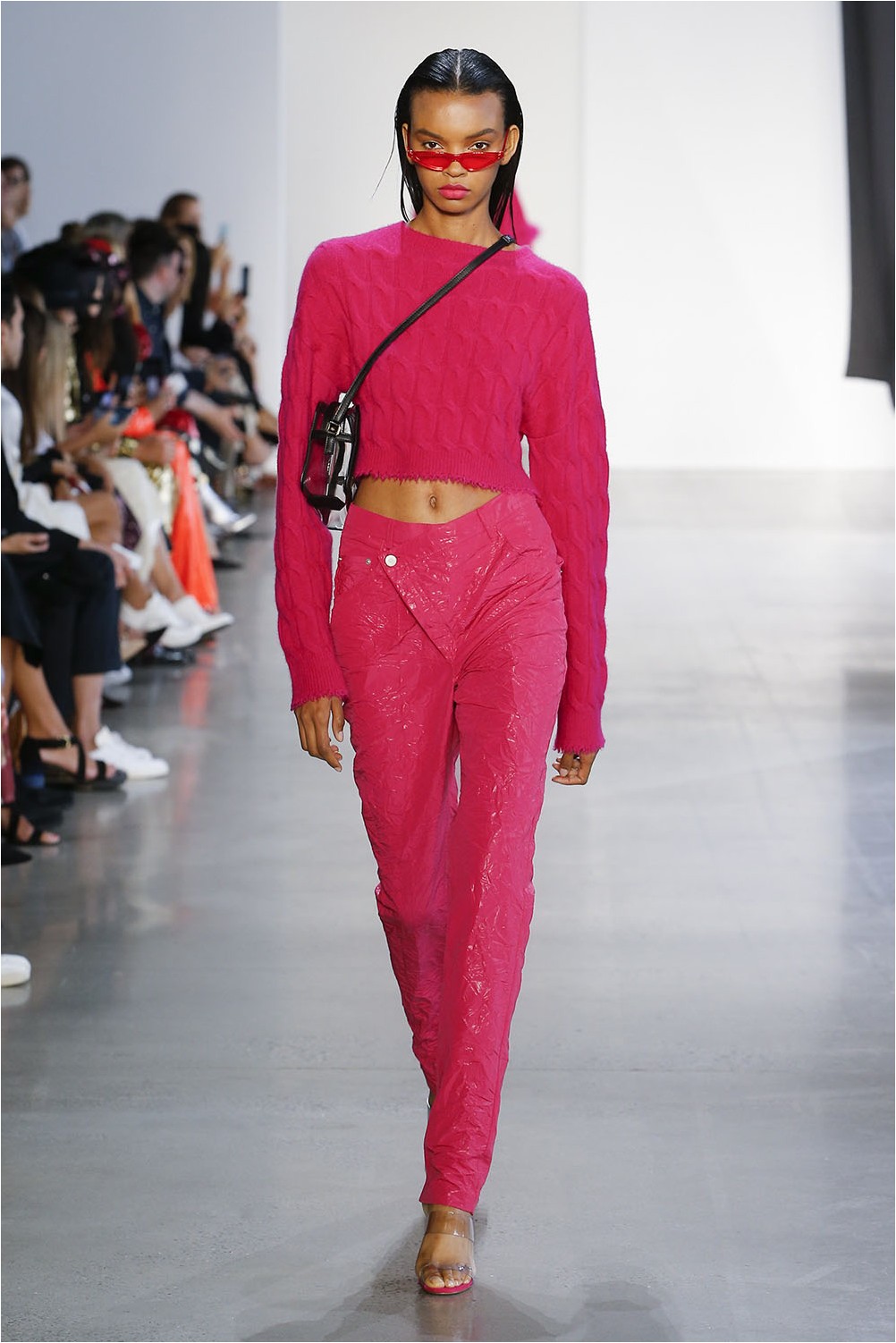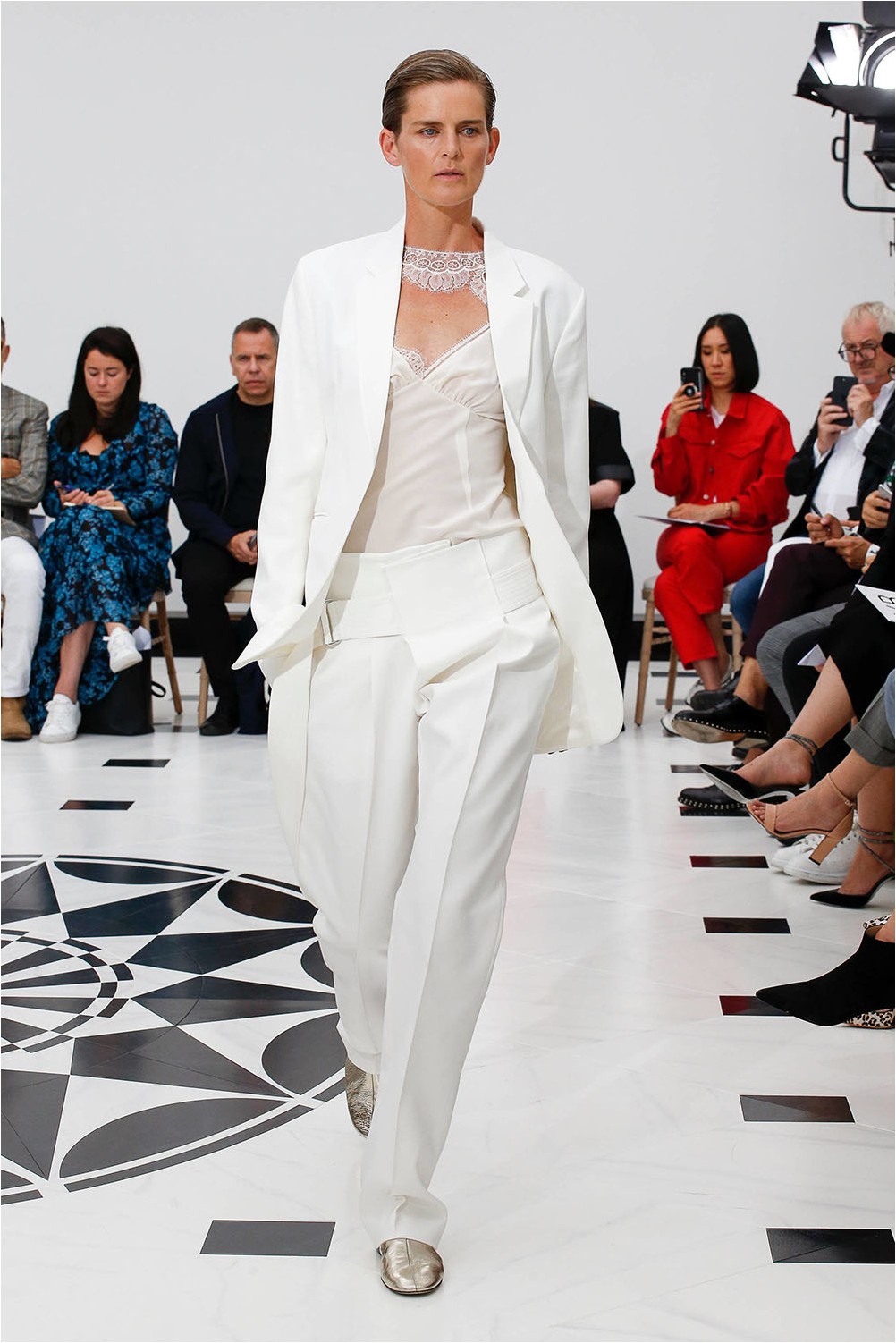 White pants
White trousers – 100% must have in spring 2019. Inventive designers did not come up with any variations on this seemingly ordinary theme. White trousers of all "times" are in fashion: retro, classic, bananas, culottes and palazzo, with and without cuffs, with patch pockets and asymmetric cut.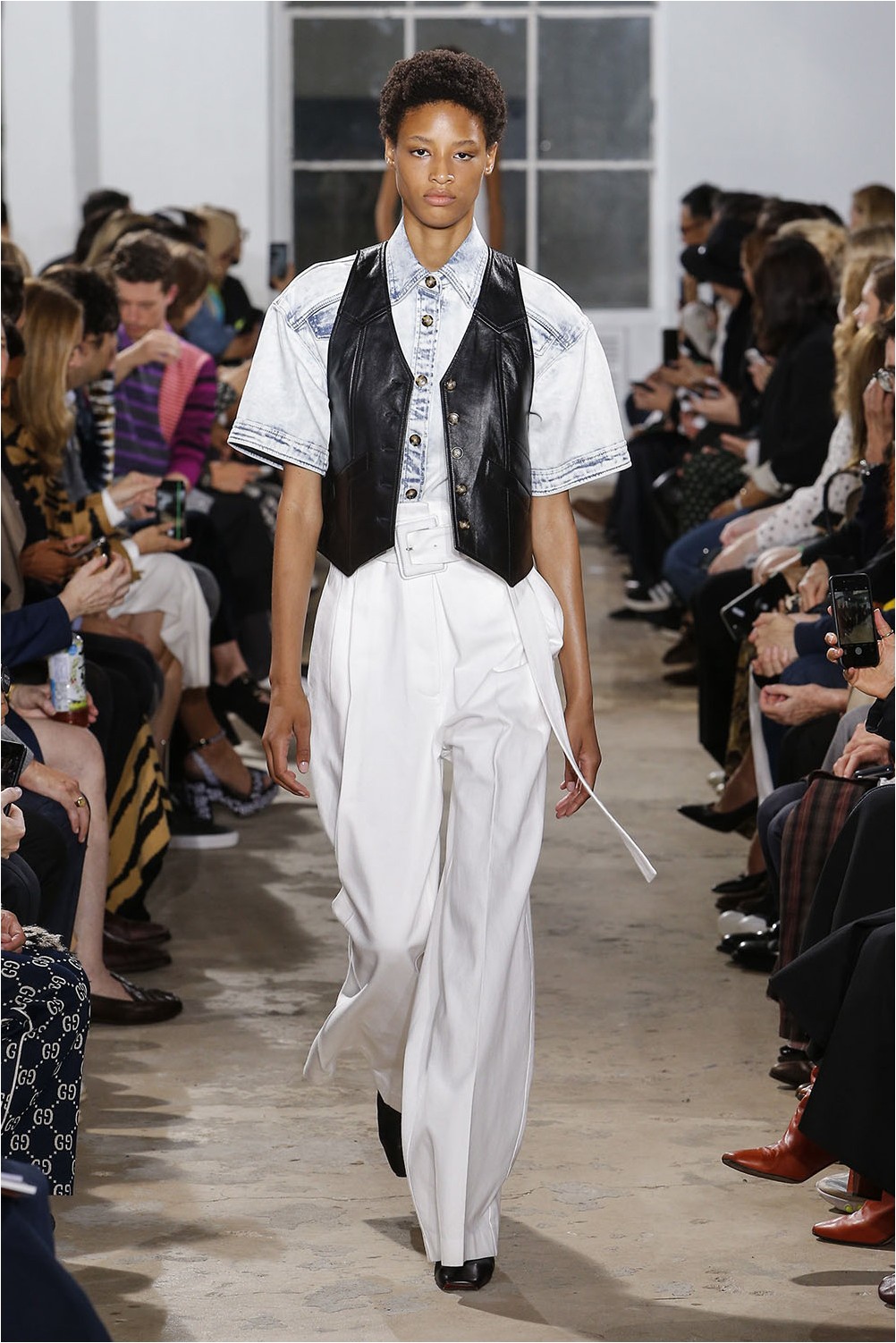 A special niche was occupied by the images of total white and snow-white overalls.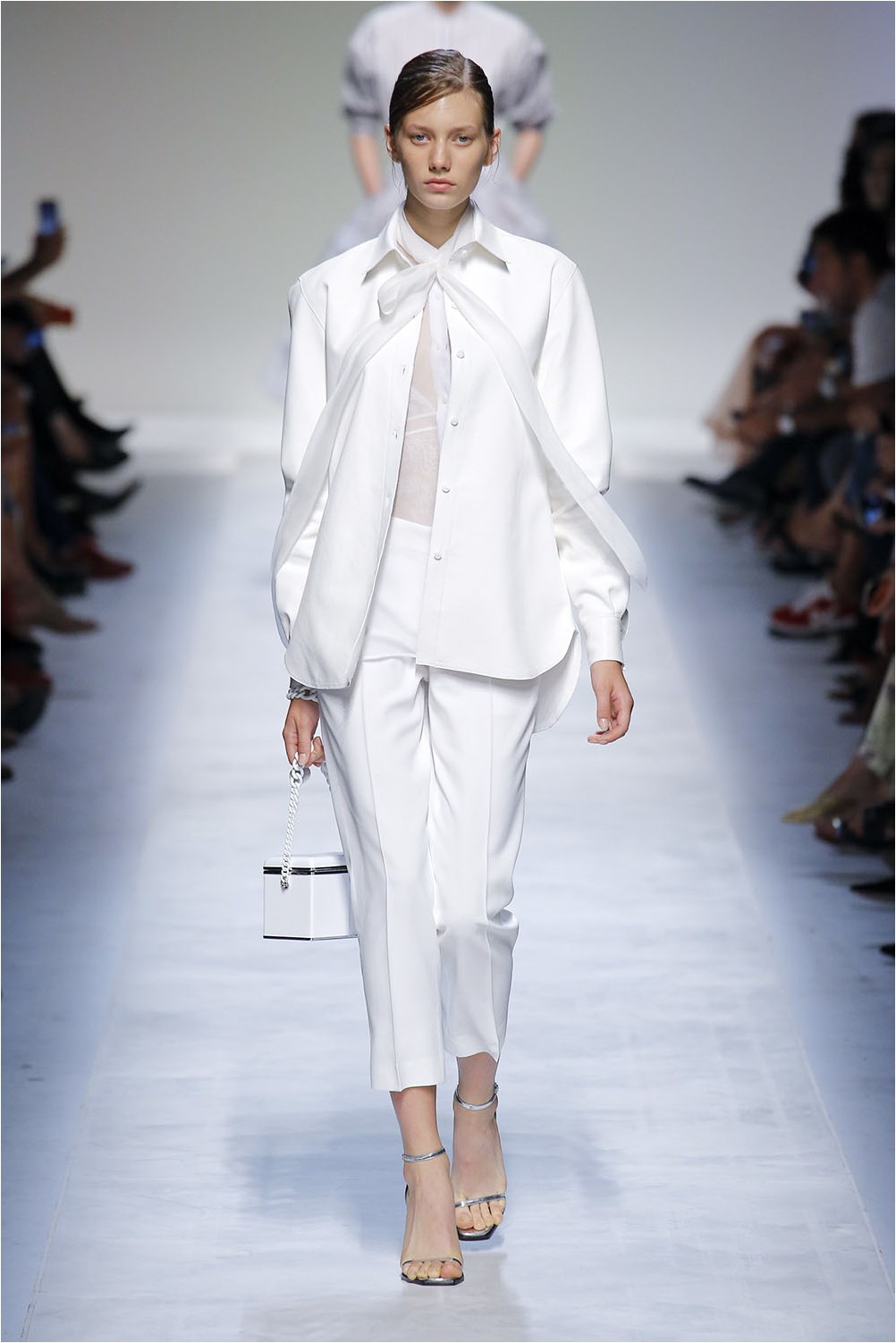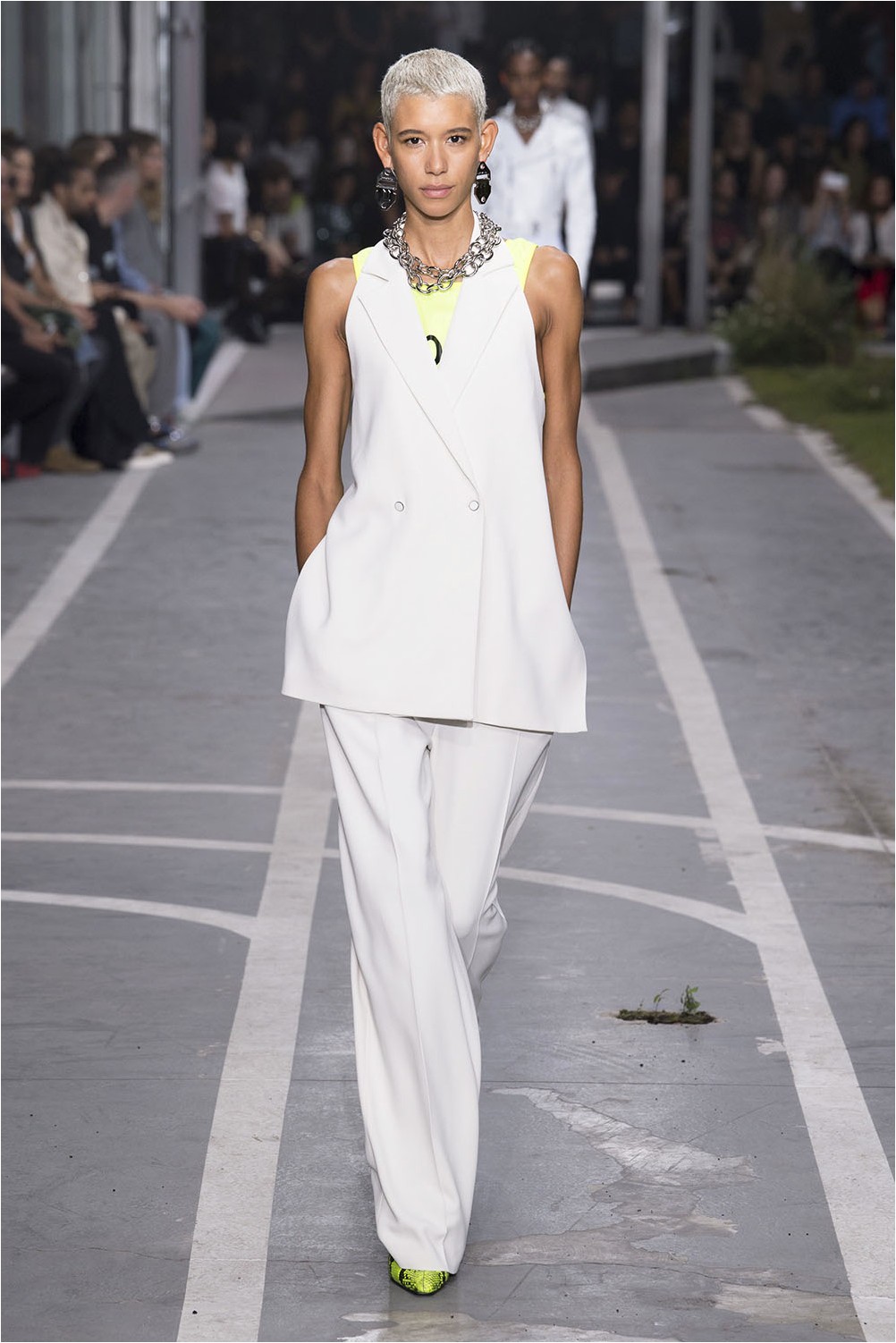 Bicycles
Those who did not have time to wear bikes last season (they were not so popular yet) will be able to do this in the coming spring. At the same time, they can be not only sports, made of supplex, but also made of other textures.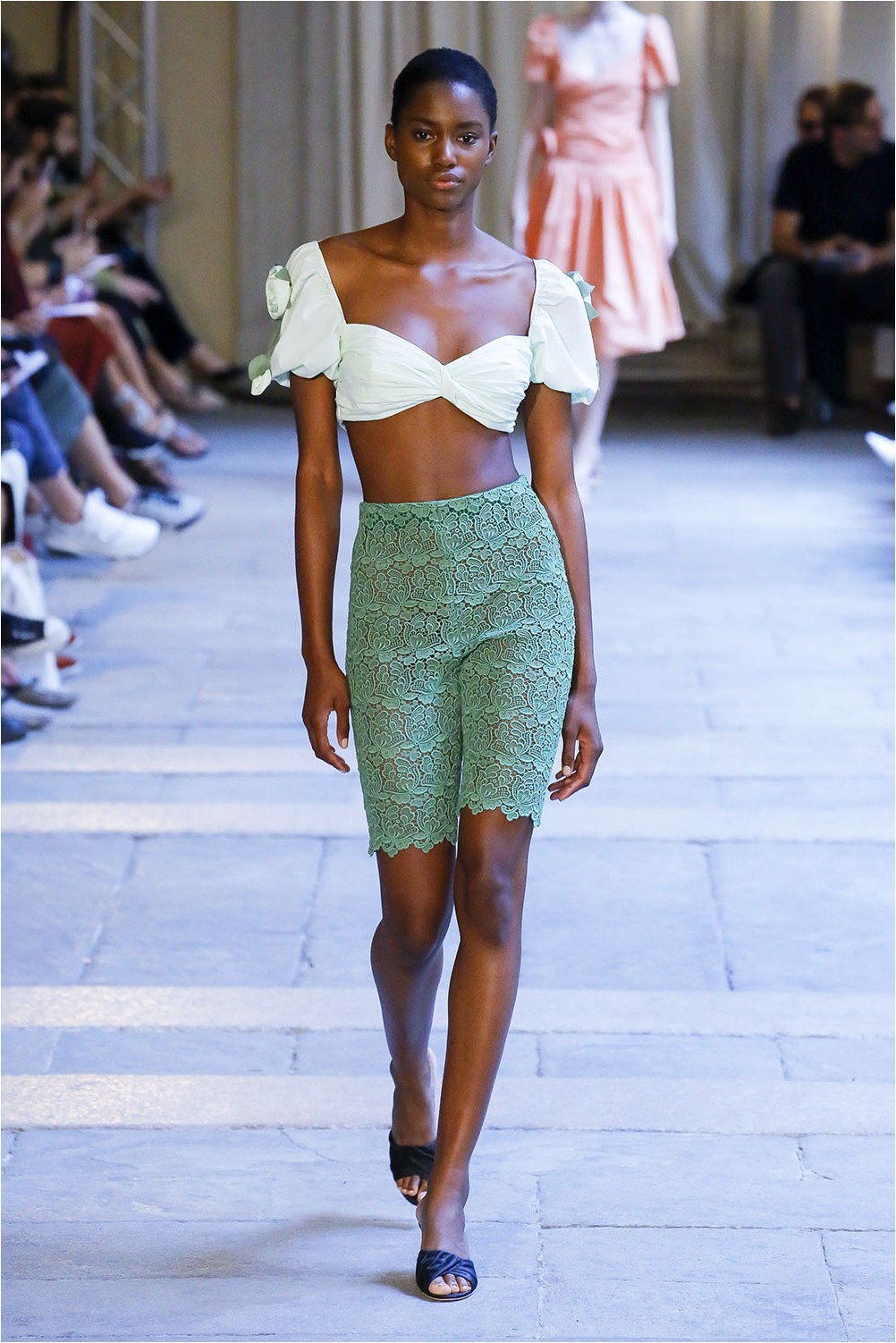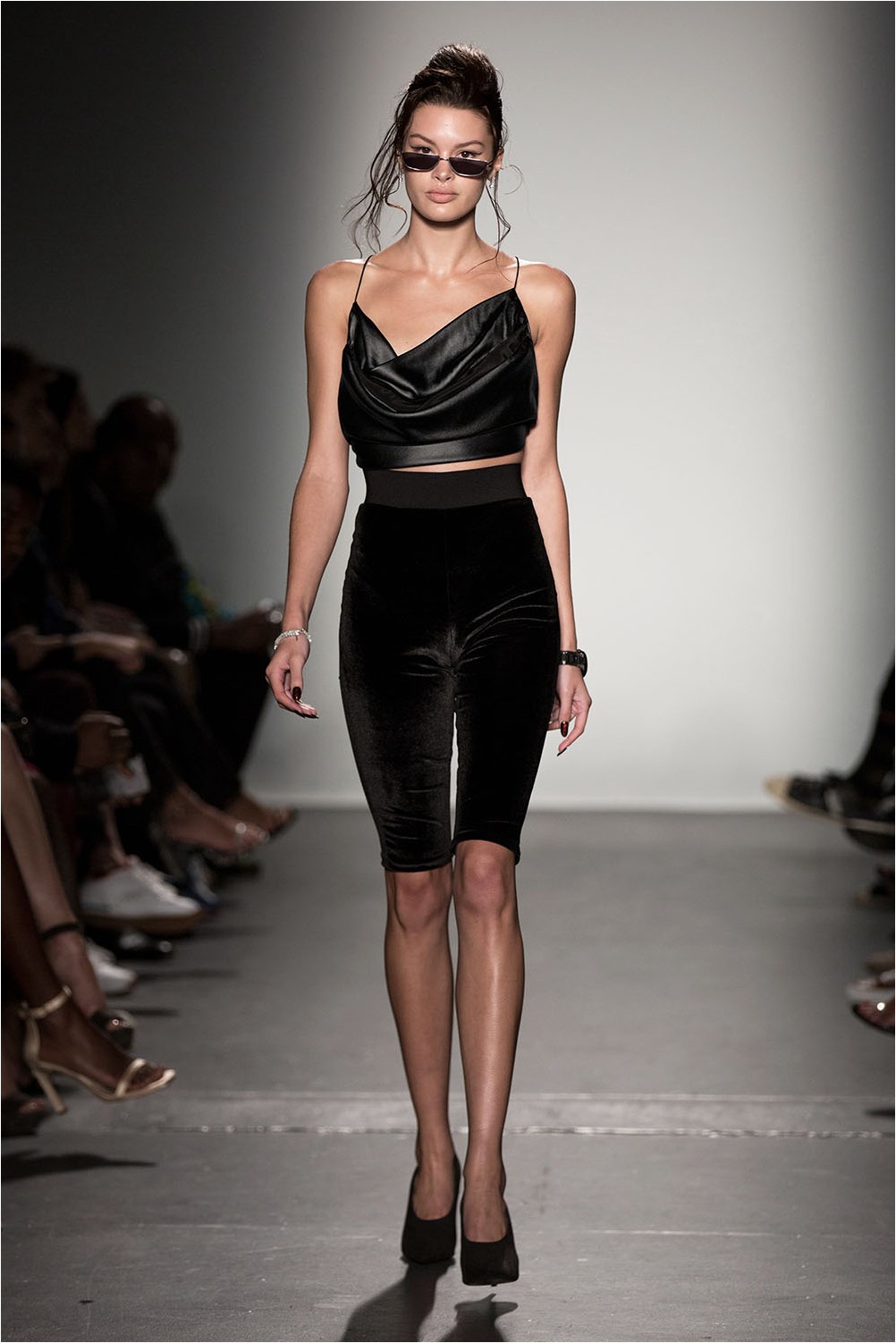 With the light hands of designers, they became silk, lace and velvet. Designers offer to combine bicycles with anything: with a jacket, safari shirt, top and even a sundress.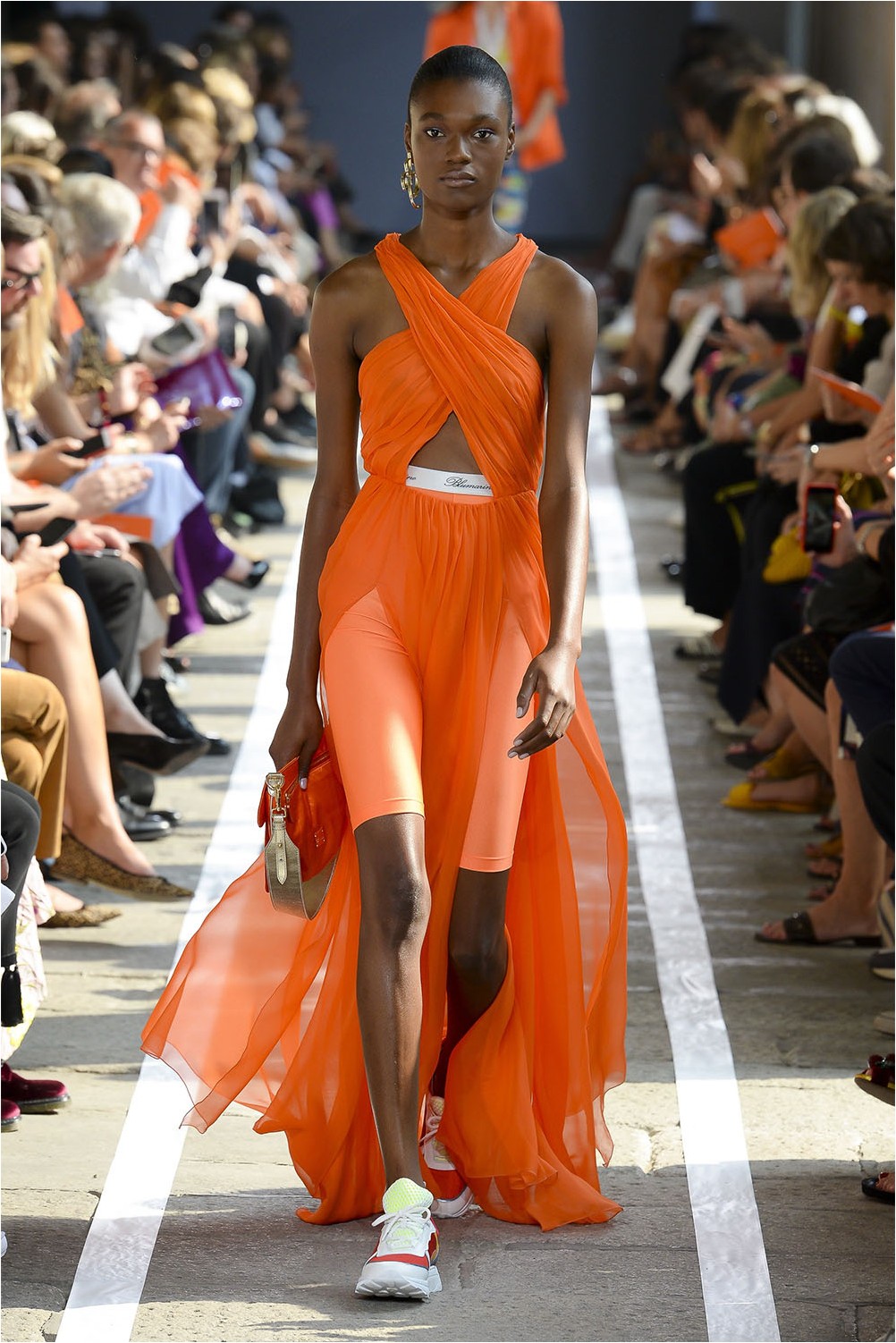 Shorts and breeches
Despite the tendency of the spring-summer trends of 2019 to absolute femininity, military trends still broke into fashion. But they were also polished, thoroughly cleaned of masculine sharp edges.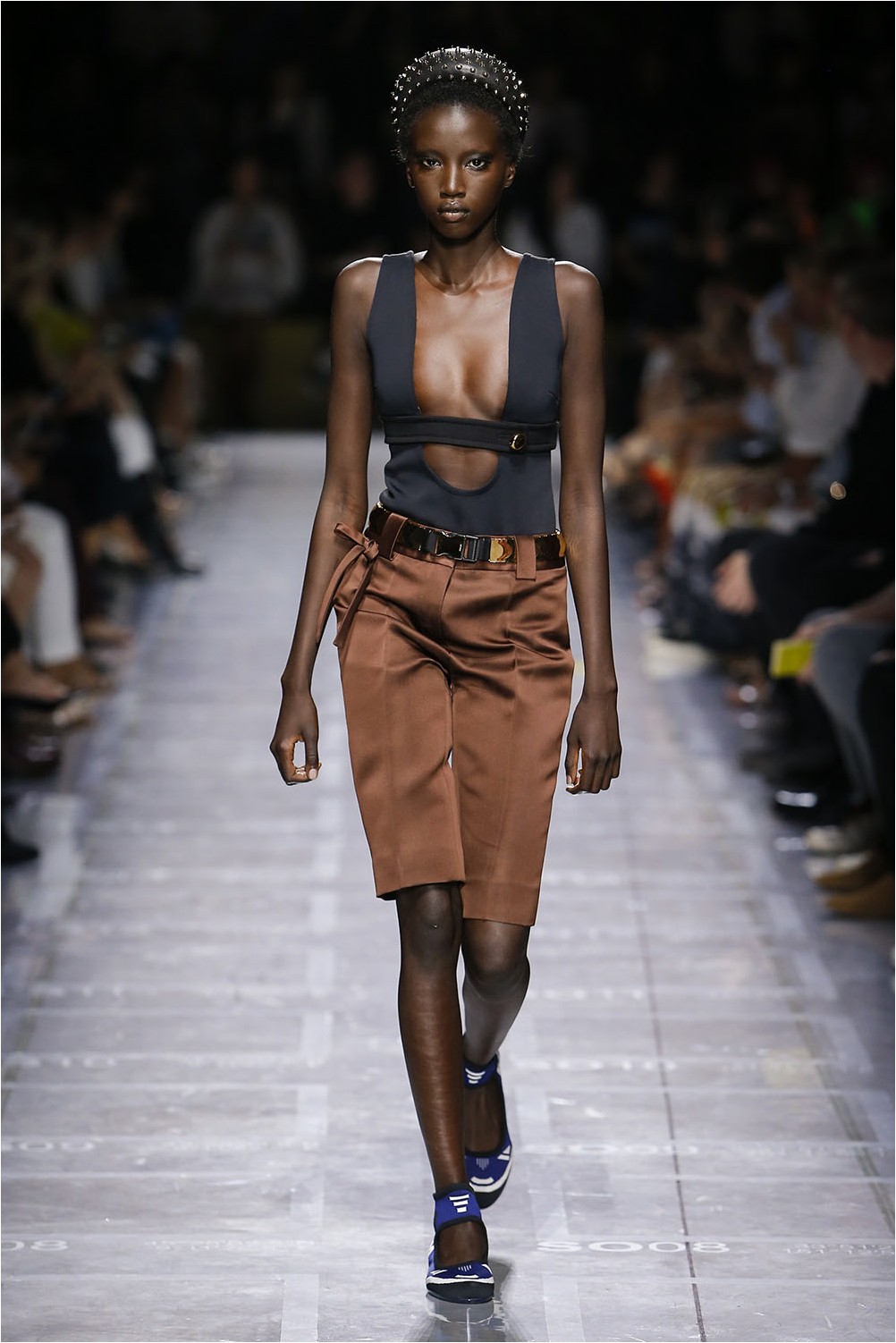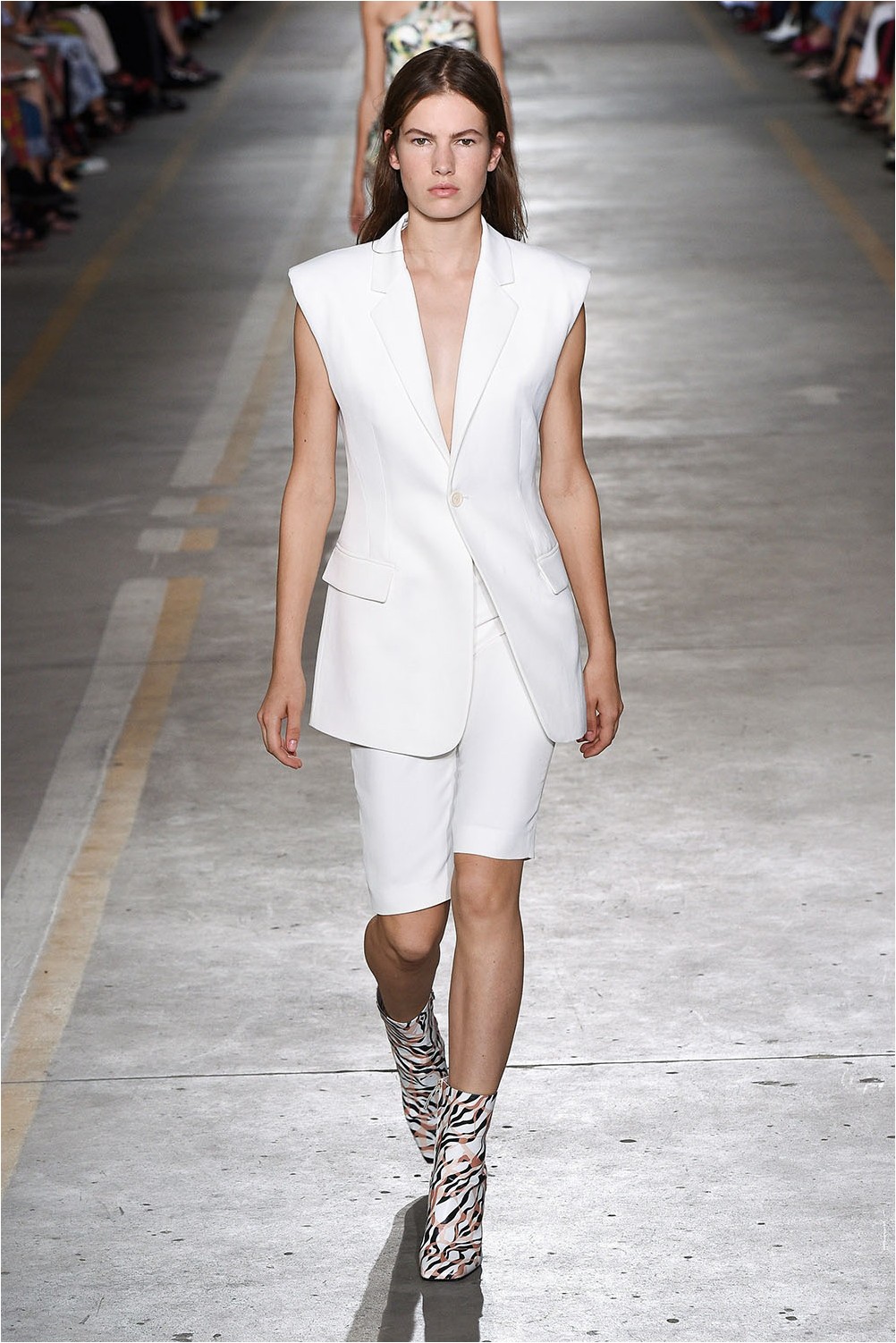 So, among the fashion trends of this season, exquisite Prada satin shorts and stylish trouser suits with knee-length trousers from Roberto Cavalli, Off-White, Dion Lee and Tibi appeared.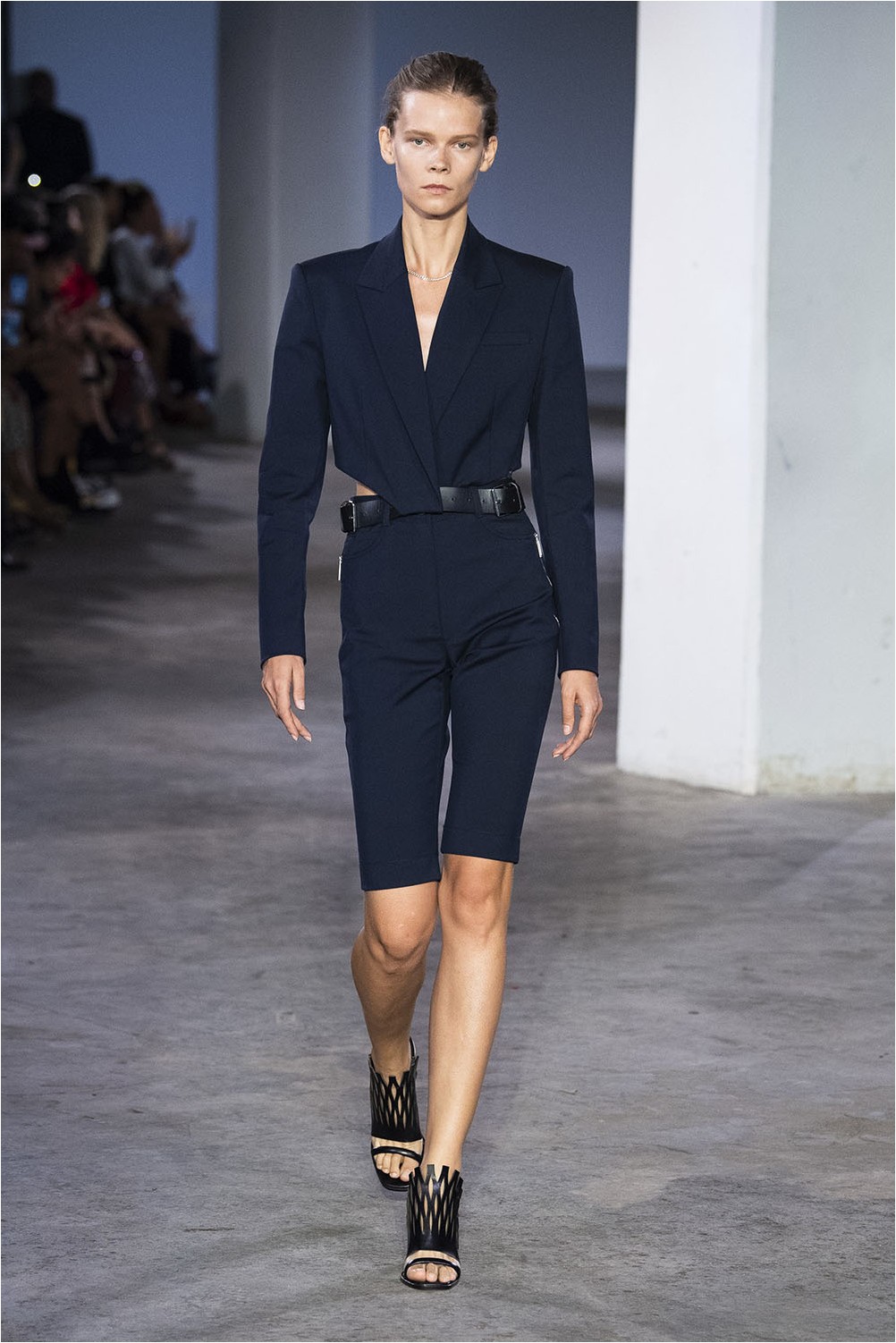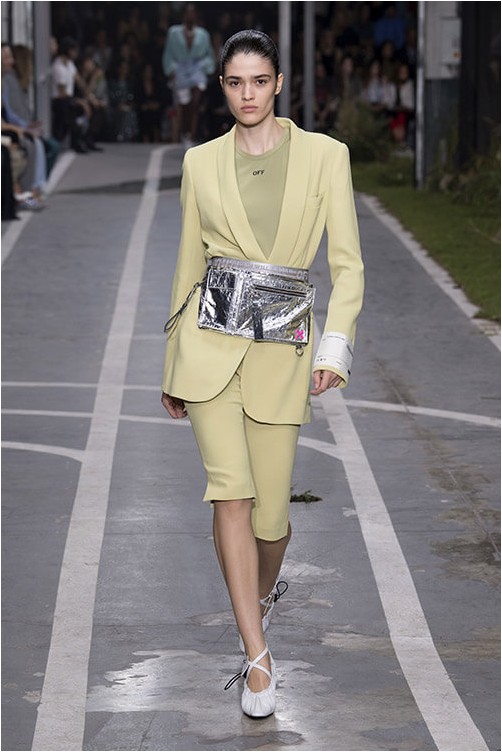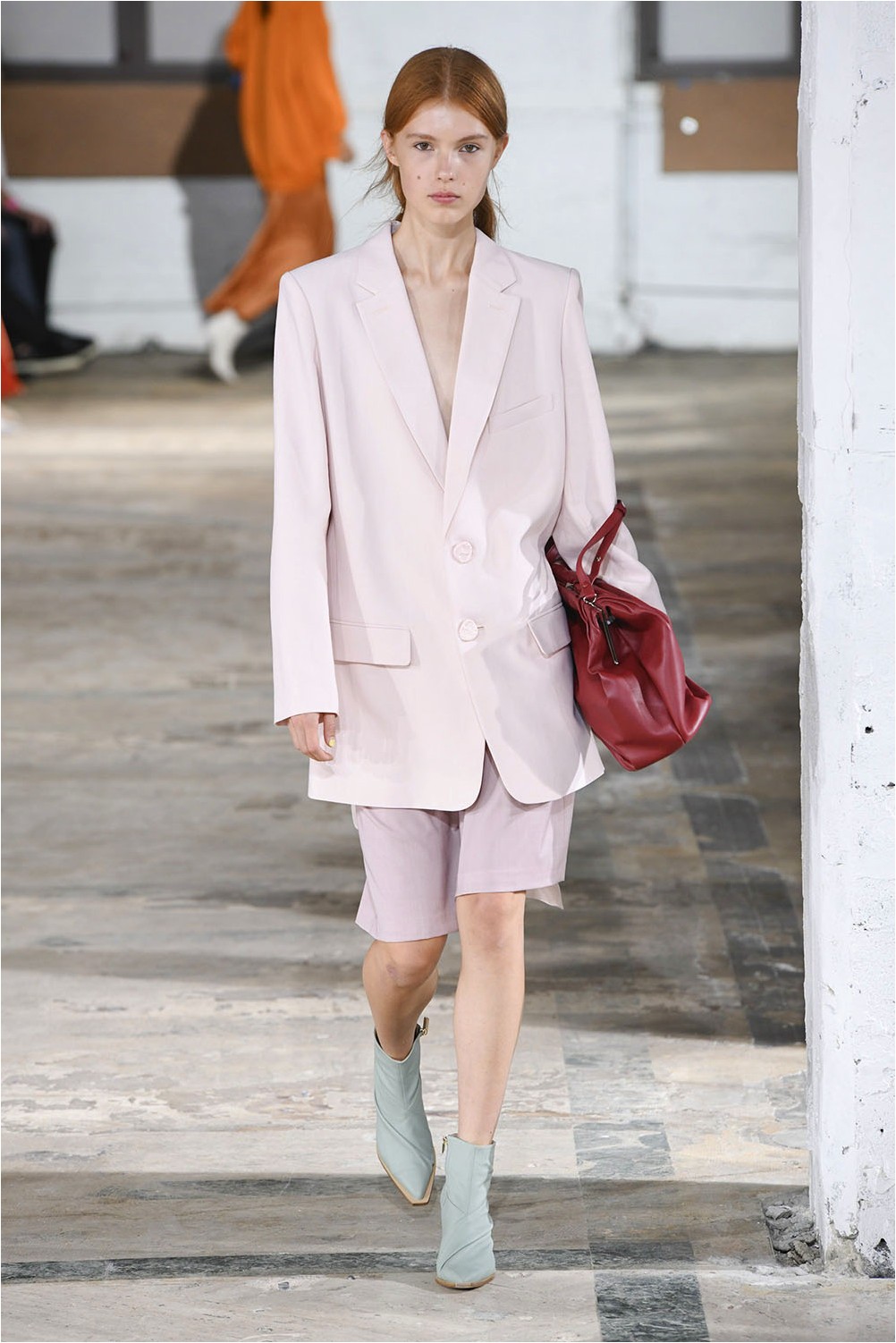 Macrame and lace
September fashion weeks were filled with needlework trends. The couture collections included all kinds of needlework: macrame weaving, embroidery, crocheting and knitting. But special favorites were volume embroidery with stitch and lace of all kinds.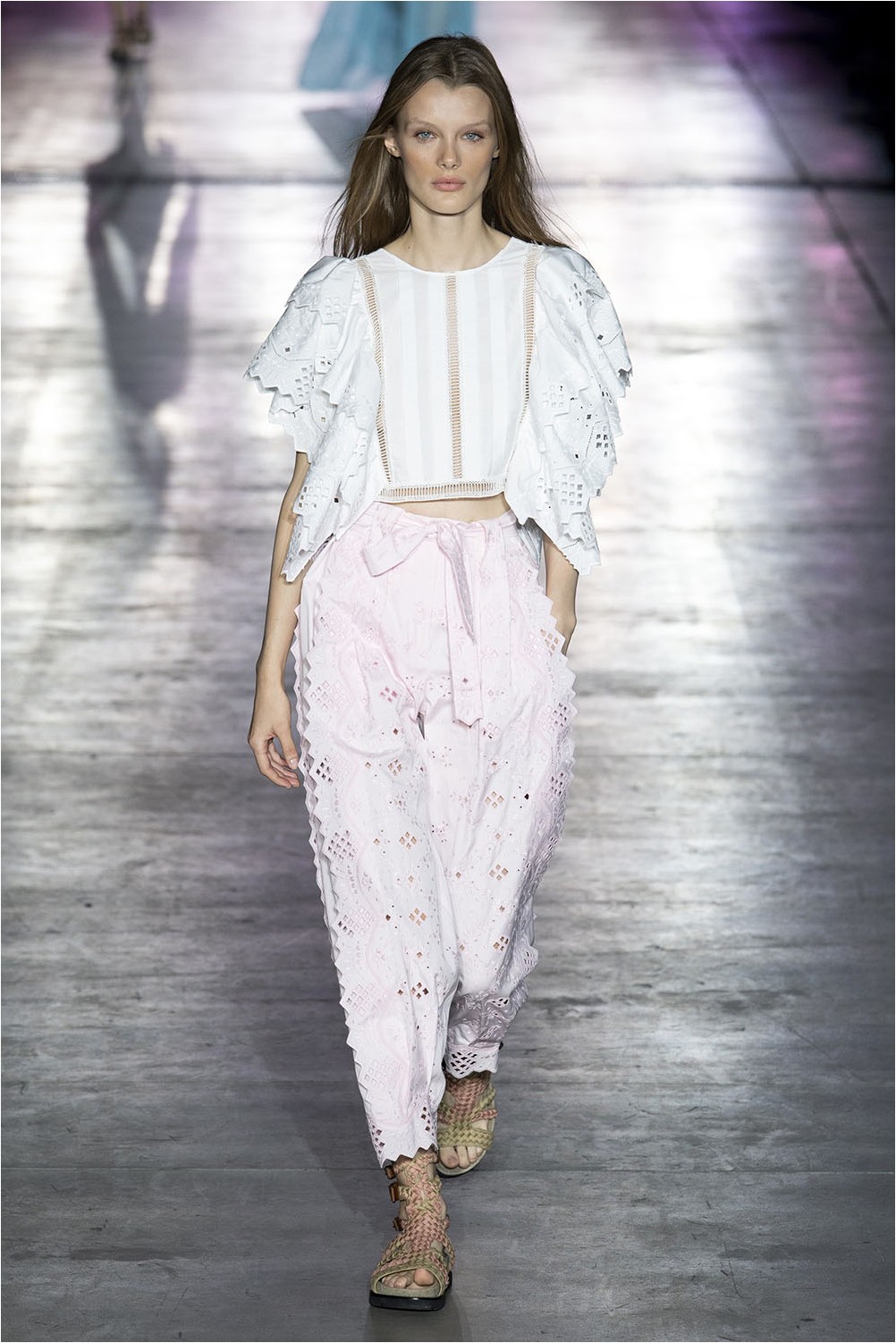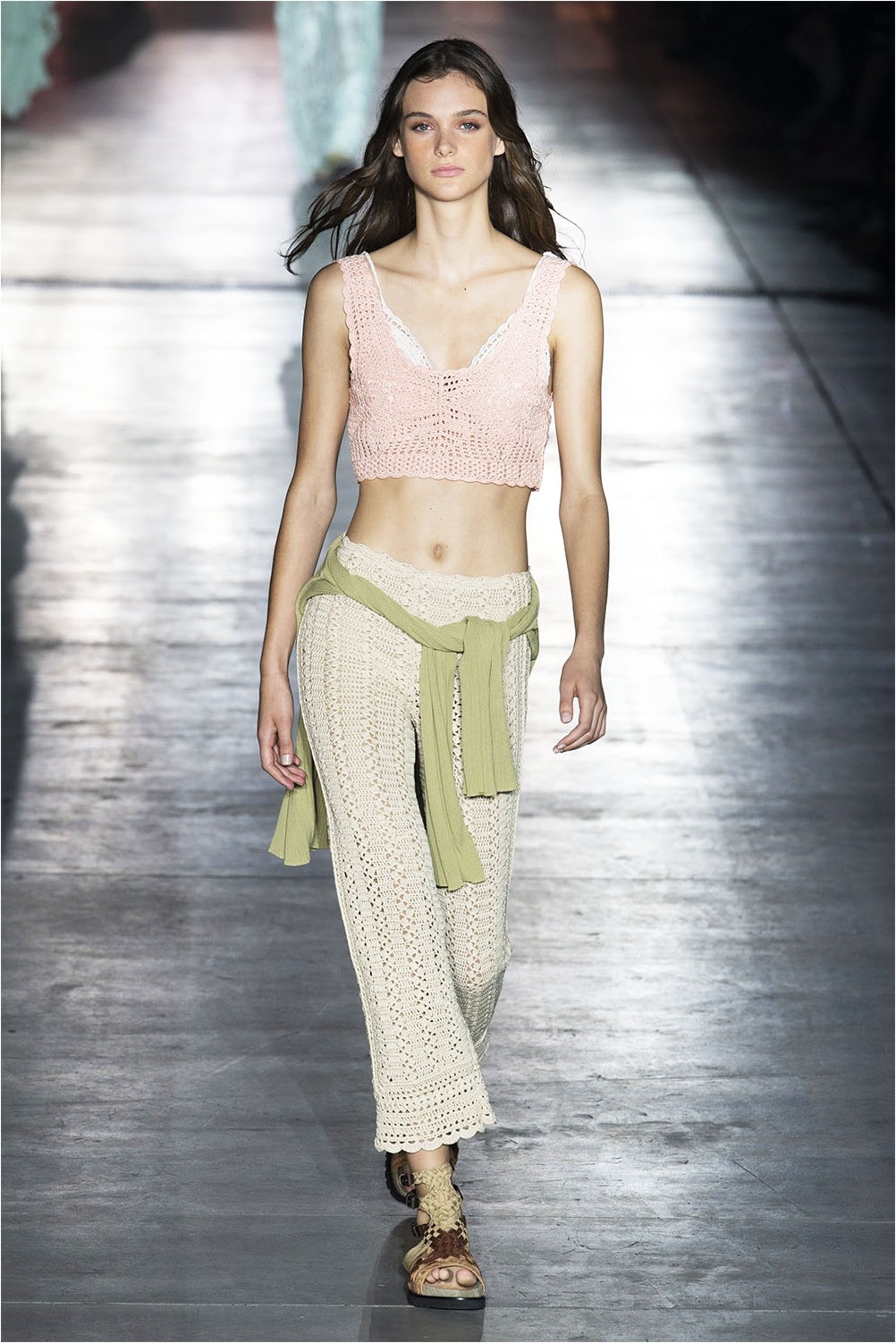 "Polka dot"
More than one generation of designers tried to popularize the Polka dot print with the help of retro dresses. And now a new version of everyone's favorite print appeared – trousers in a large Polka dot pattern and images from Max Mara, Dolce&Gabbana and Escada. Color combinations – unlimited, but the leaders still remain a black and white combination.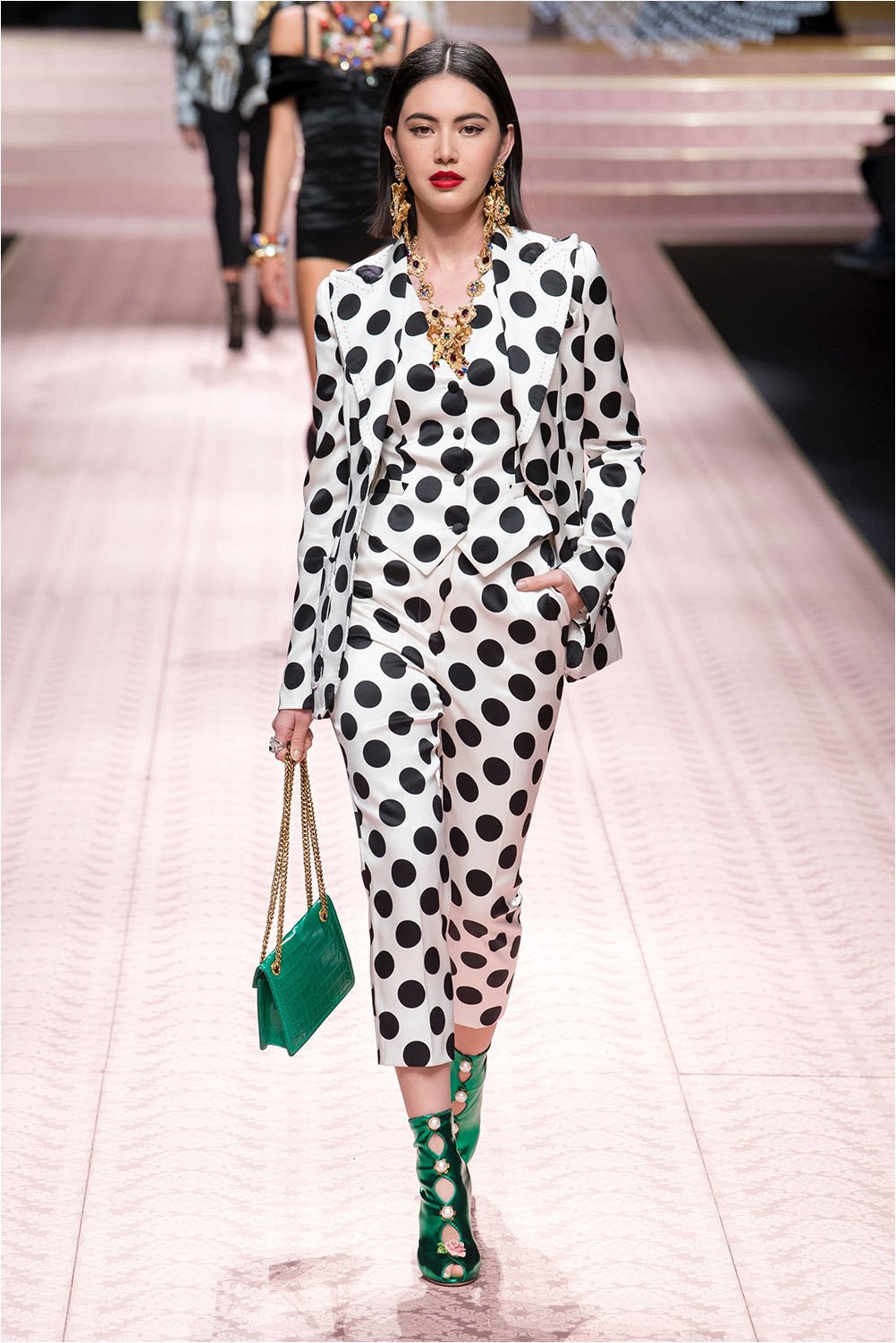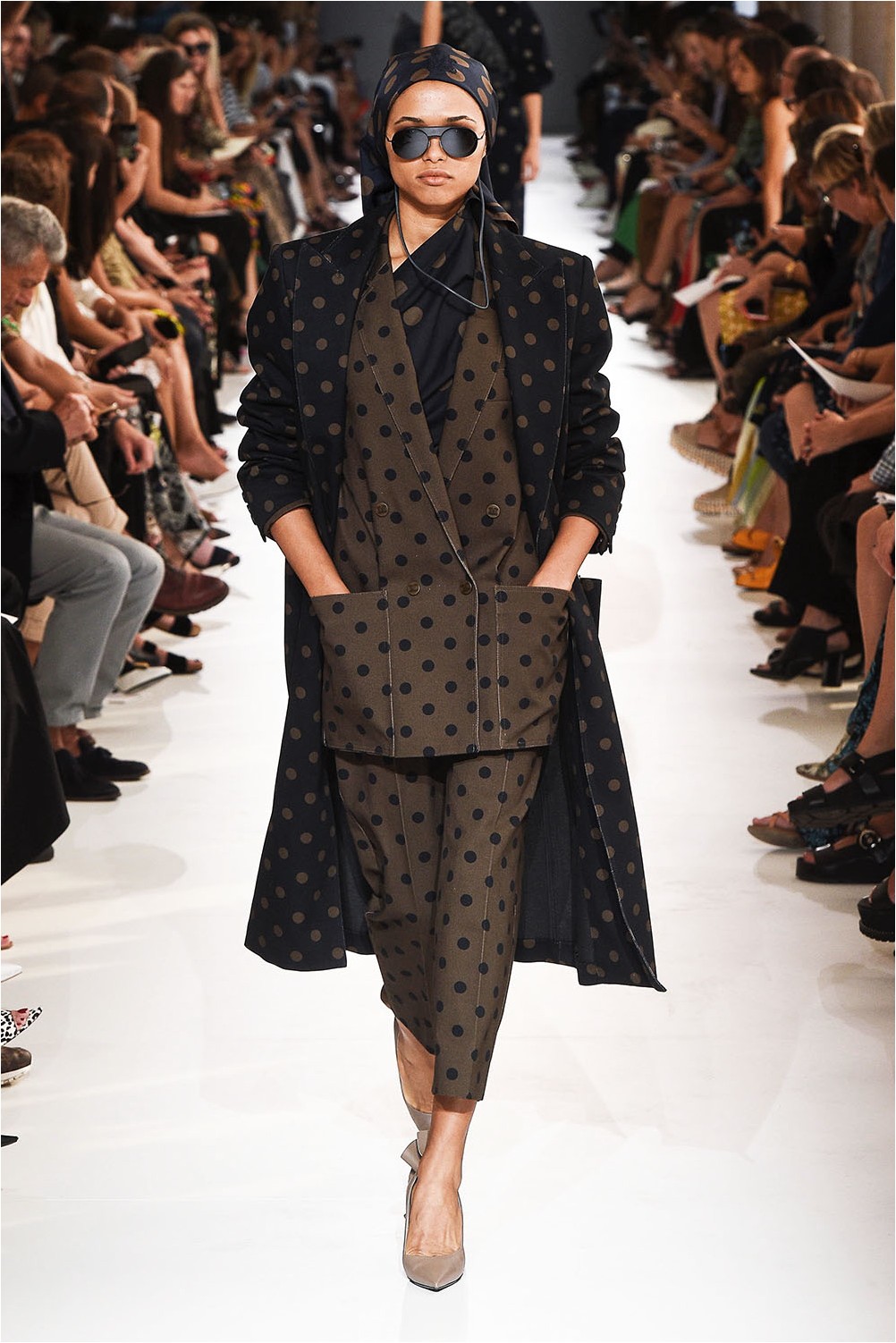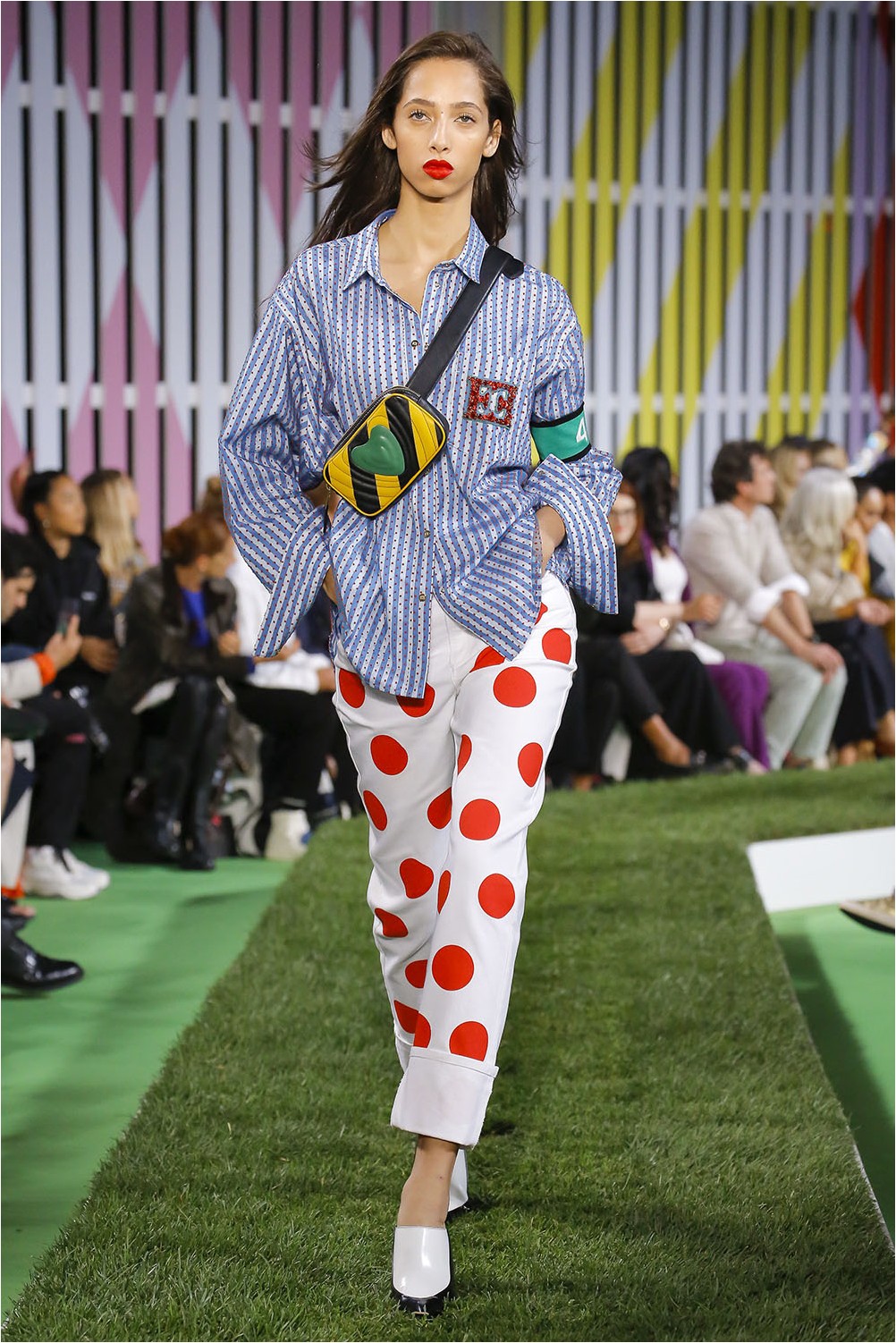 High waist
Planting trousers will be of considerable importance in the spring-summer season of 2019. In the trend, high-waisted trousers. Moreover, the belt in such models is often assembled in the form of ruffles intercepted by a thin strap. Such options of women's trousers were presented at their shows by Acne Studios, Balmain, Givenchy.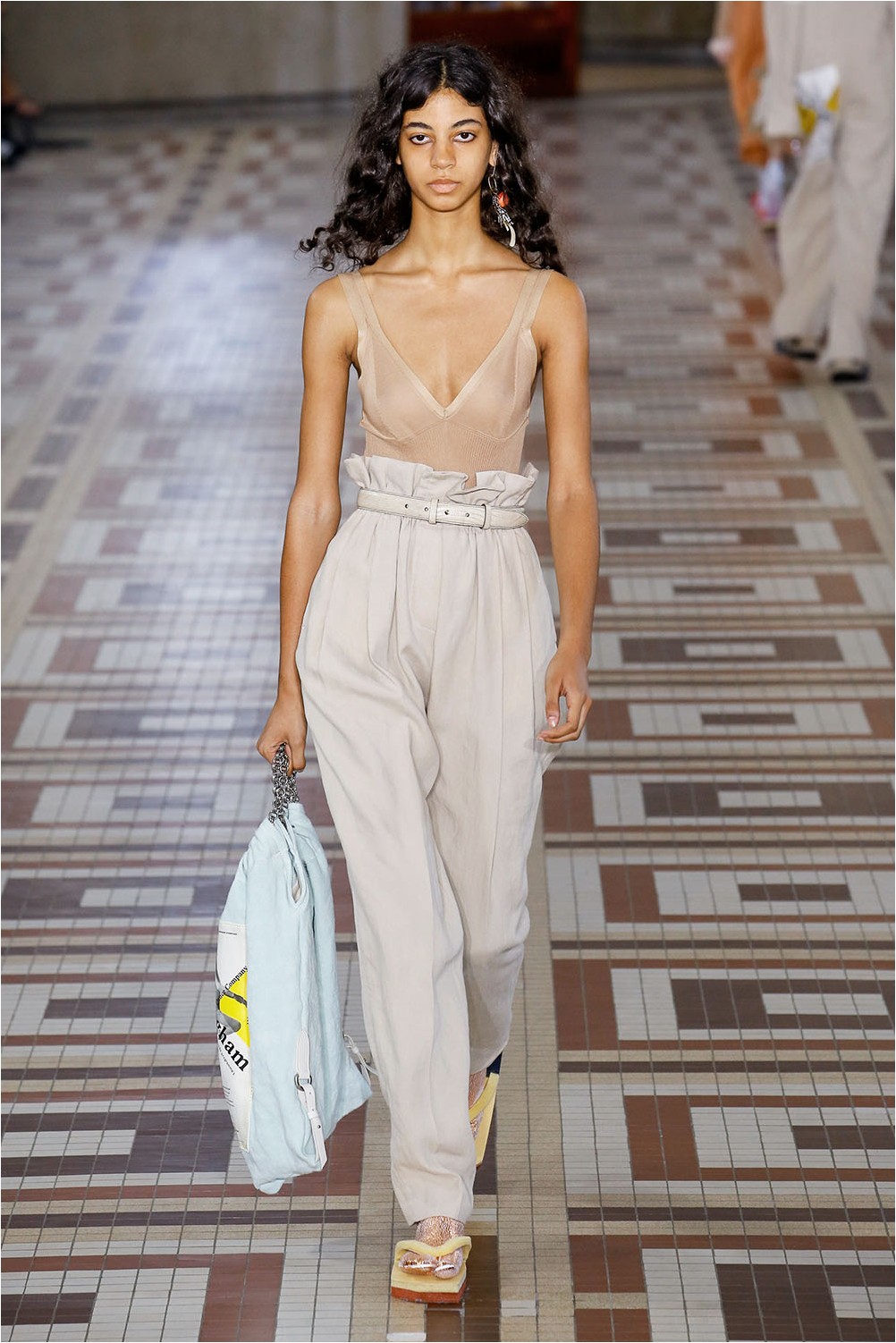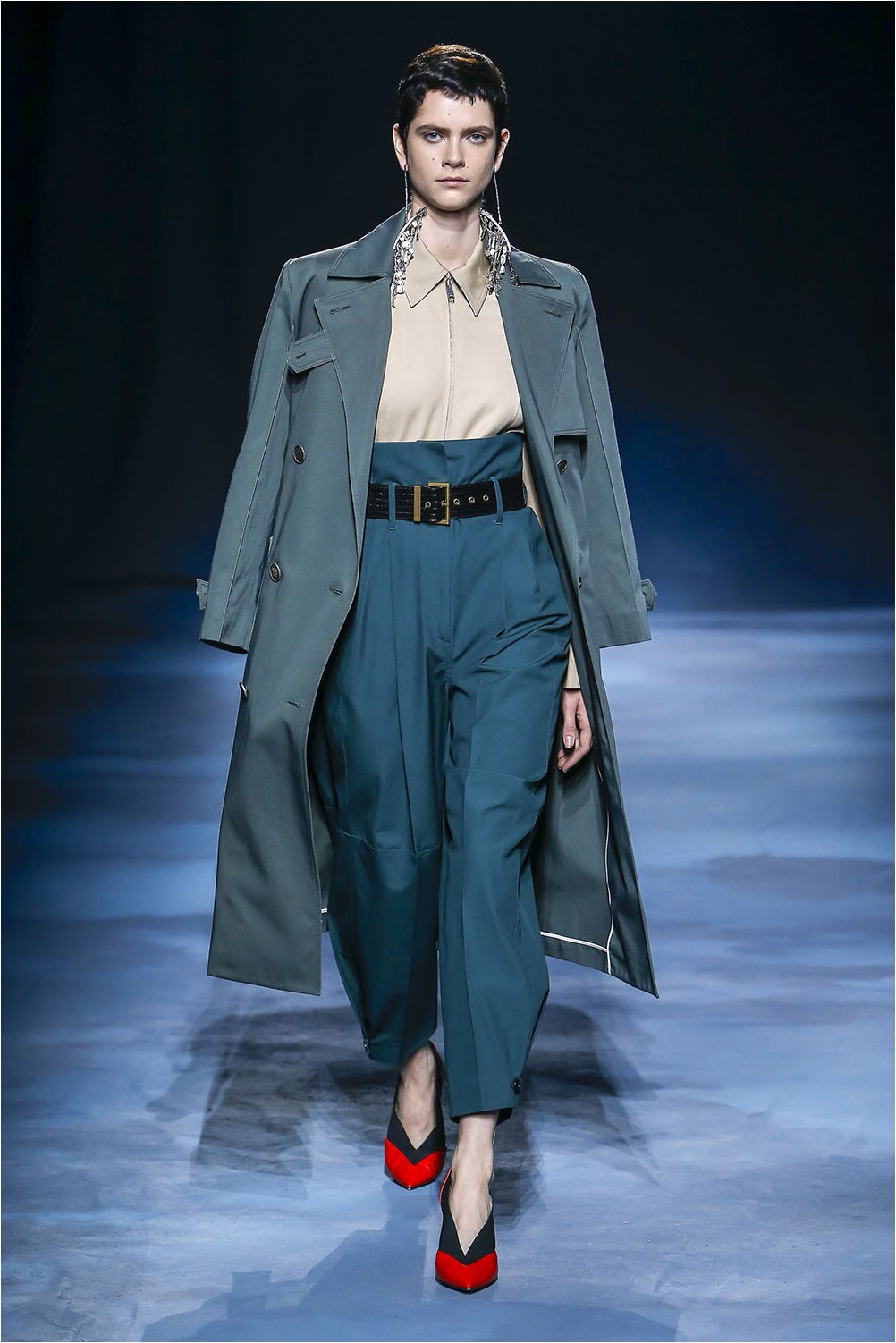 Other designers "raised" the waist through a wide corset belt and other techniques.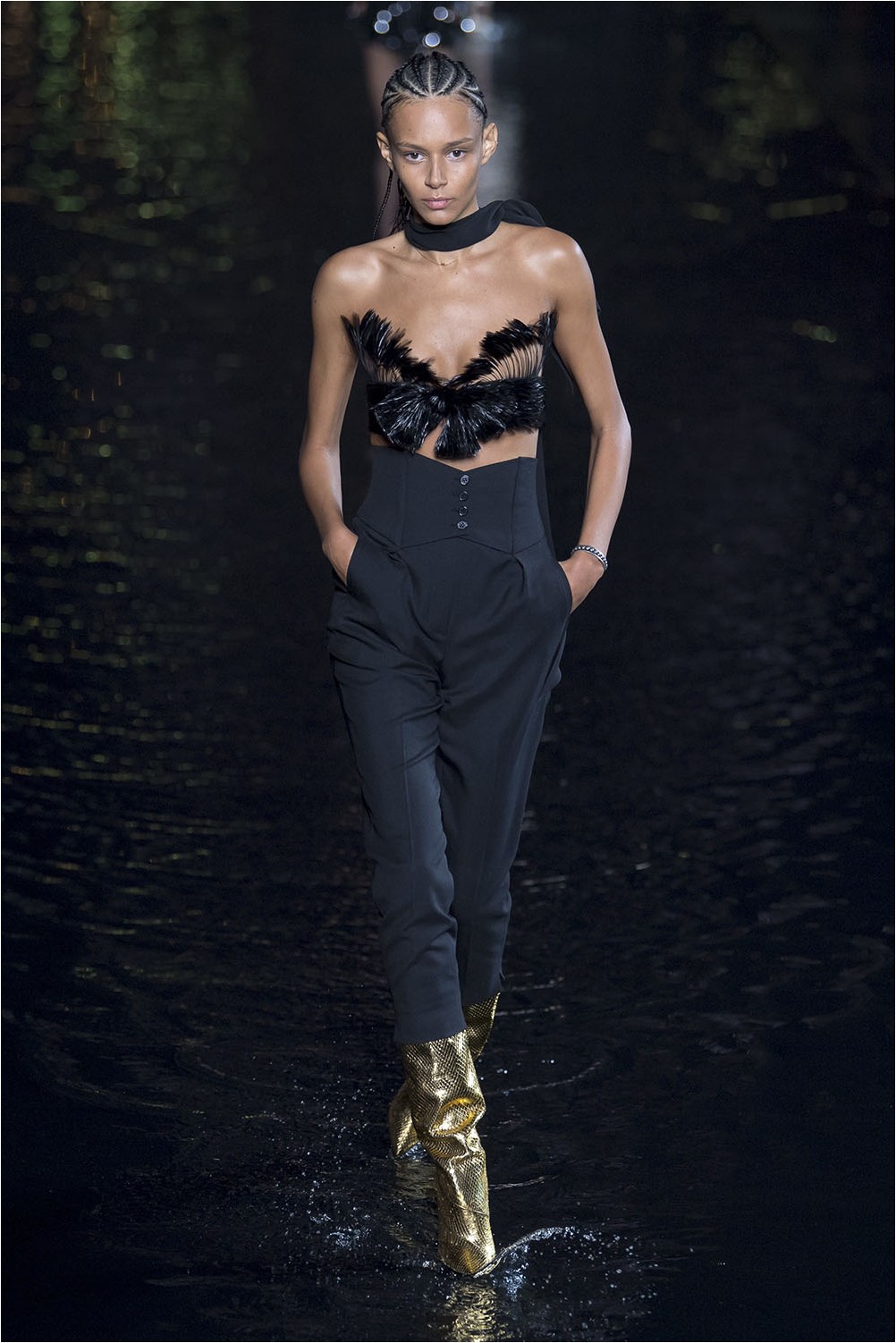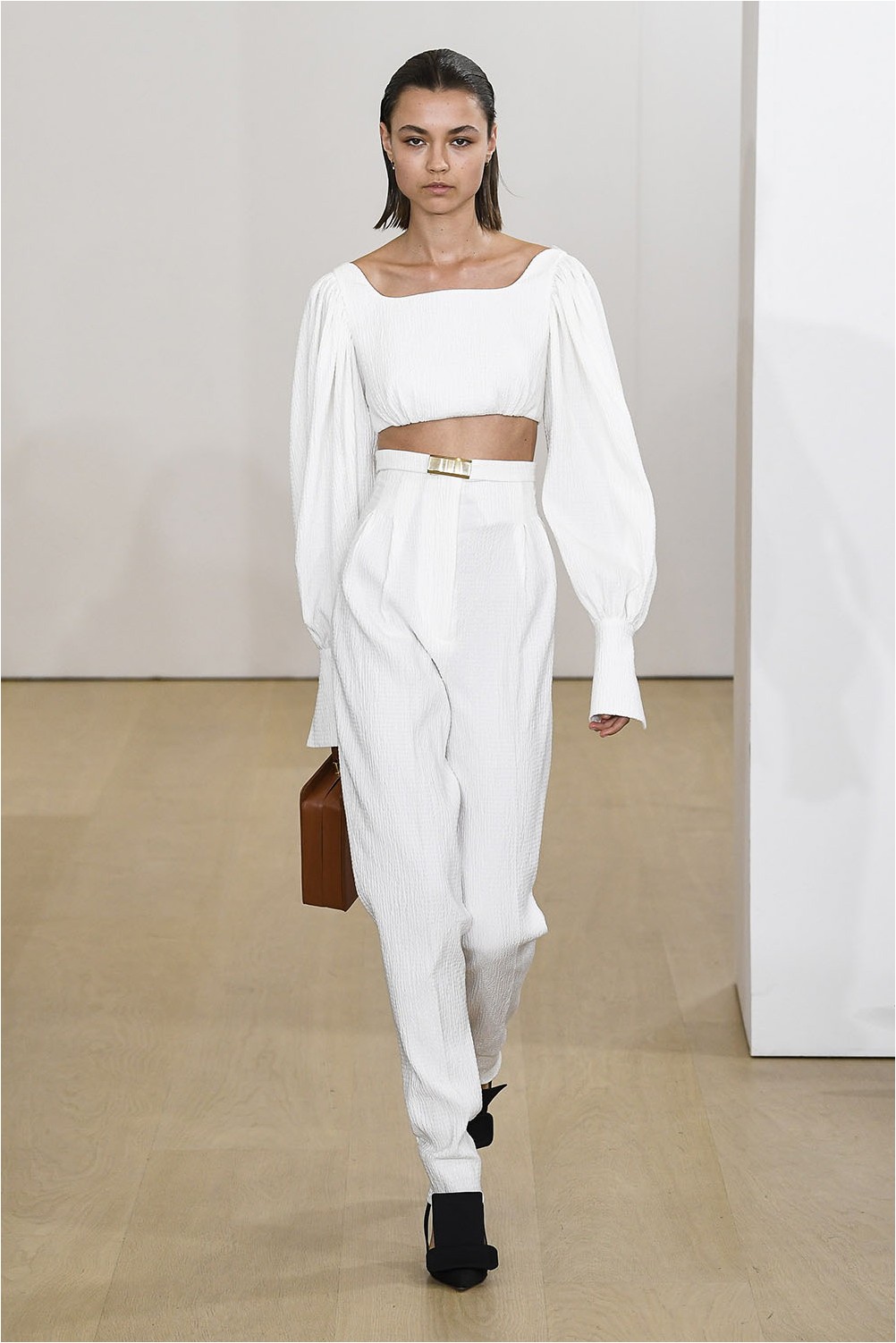 Snake print
The demand for clothes with a pattern under the skin of reptiles has been holding since the winter of 2017. Then the designers launched all kinds of cells and ensured the print first place in the top of the most current trends. Now the excitement has subsided a bit. For those who like outfits with patterns under the skin of reptiles, there is good news – the snake print is still in trend. Designers Kenzo and Philisophy presented snake trousers with natural shades, while Off-White offered bright acid trousers..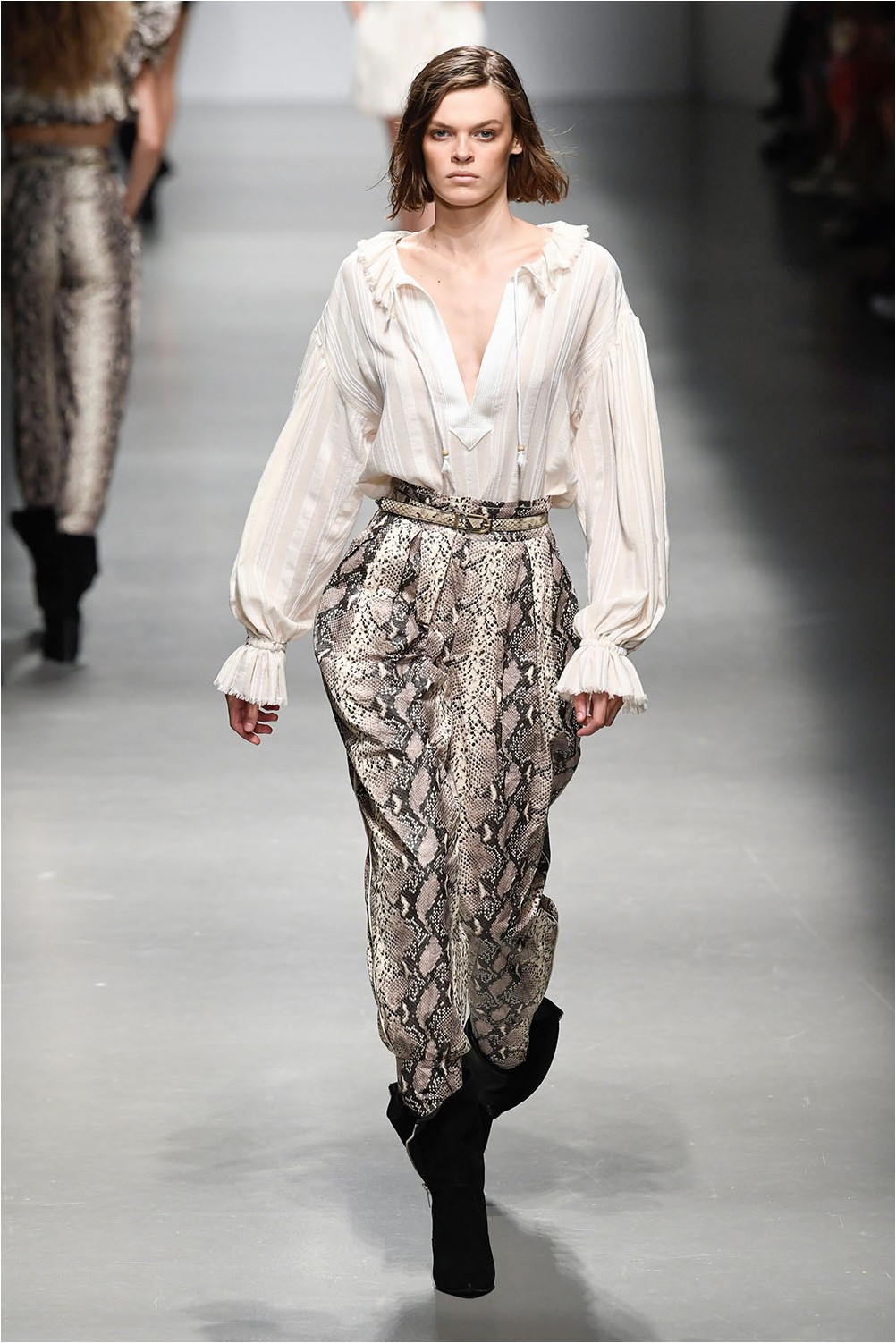 Classic trouser models
Everything classic is predictable. This stereotype was destroyed by new collections from Balenciaga, Phillip Lim, Mugler, Christopher Kane, Estaban Cotazar, Givenchy. Whether they conspired or not, no one knows. But the designers supplied strict classic trousers with revealing tops..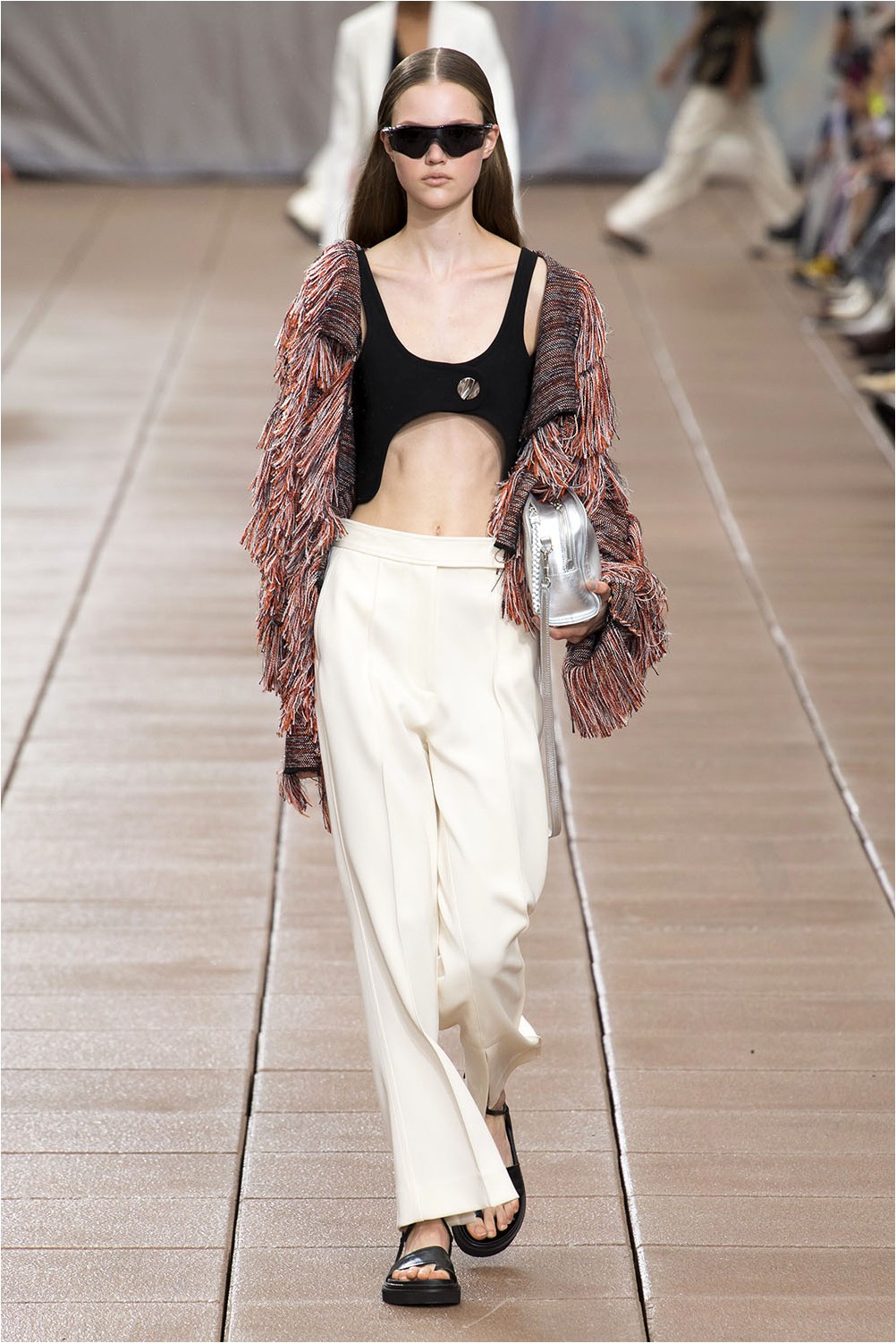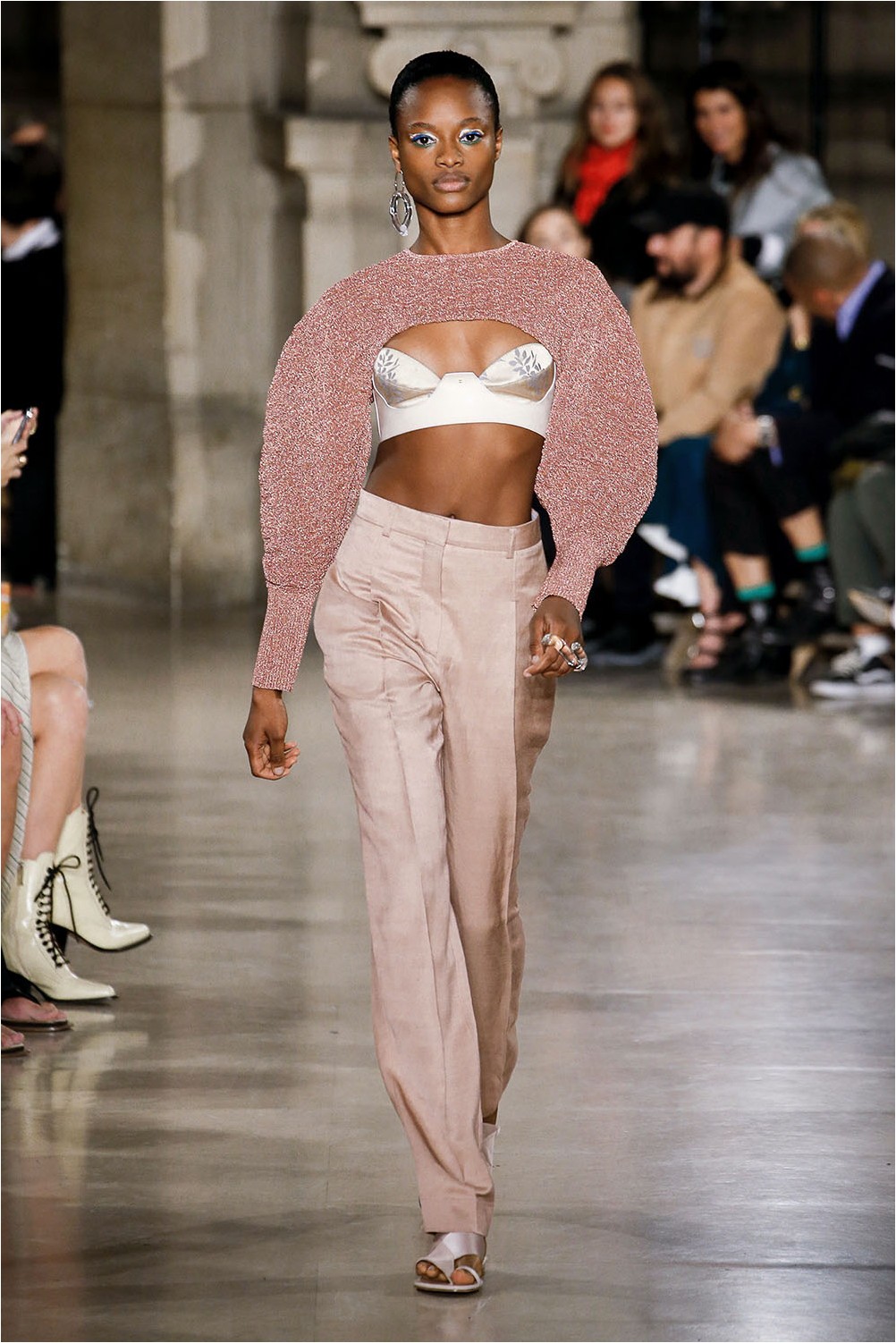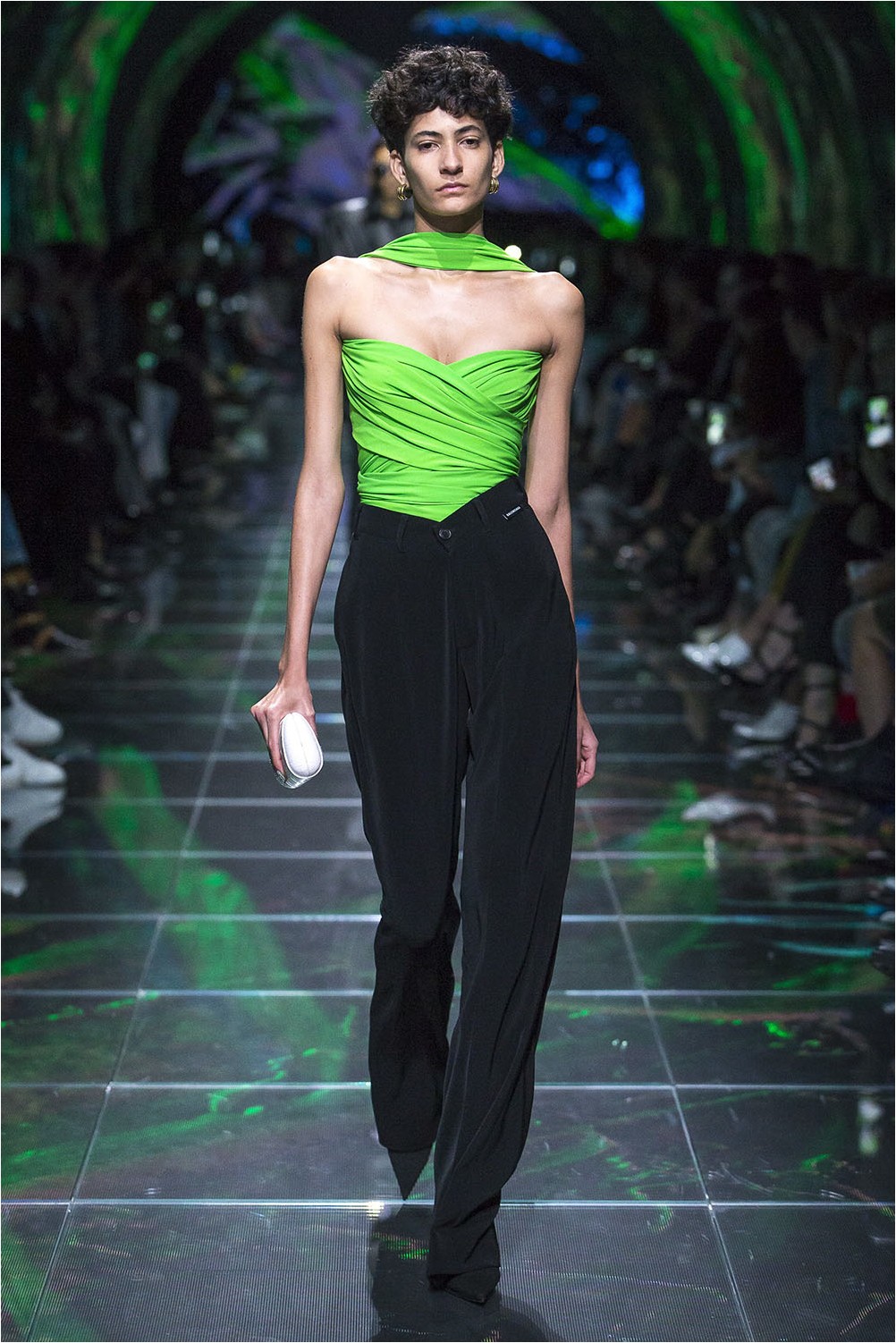 If such bold experiments are not included in your concept of style, there is a way out – pick up a shirt with an unusual cut for classic trousers. You can equal the model from Tibi and Elie Saab. And so that the classic does not look boring, the trousers are made in the most trendy colors..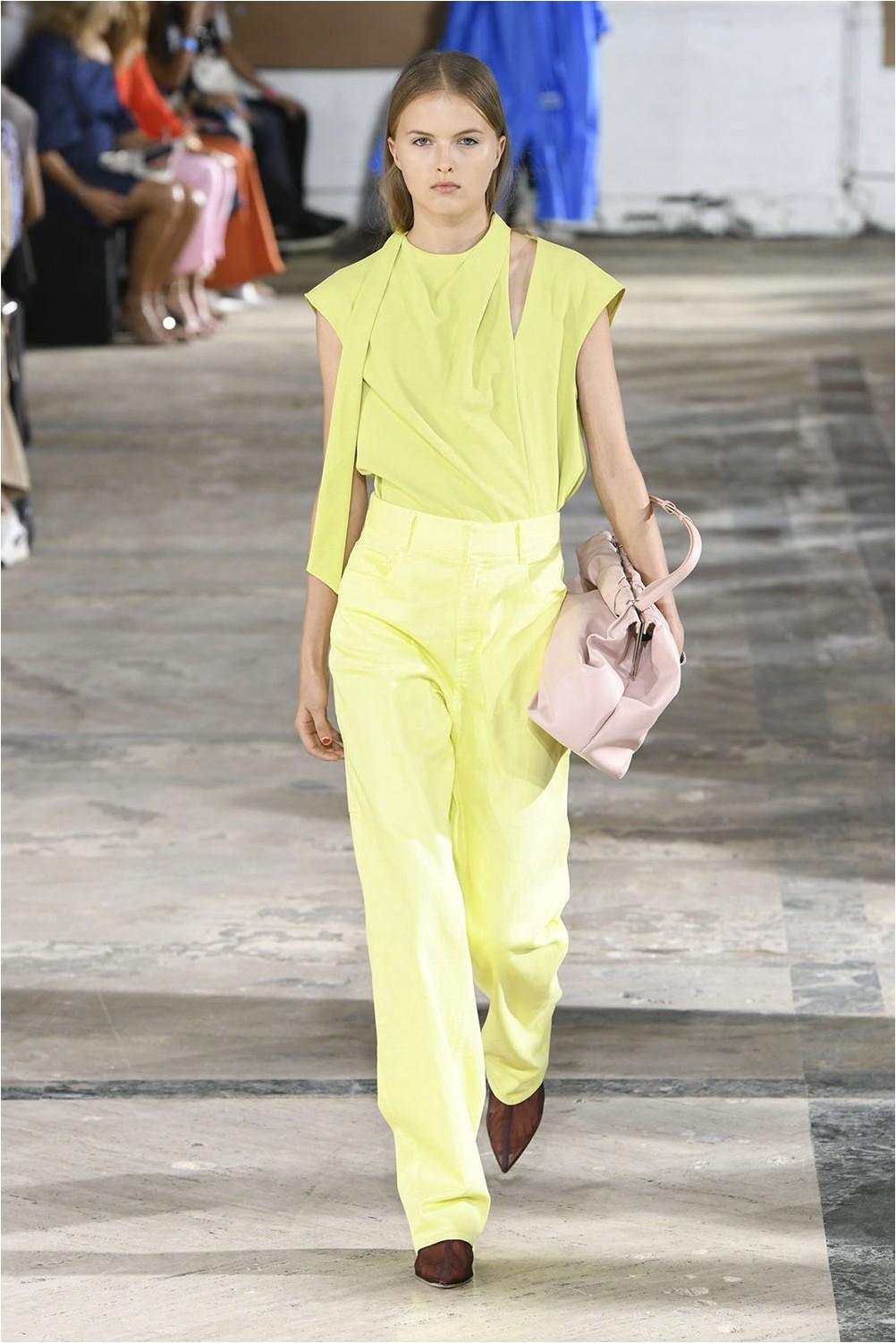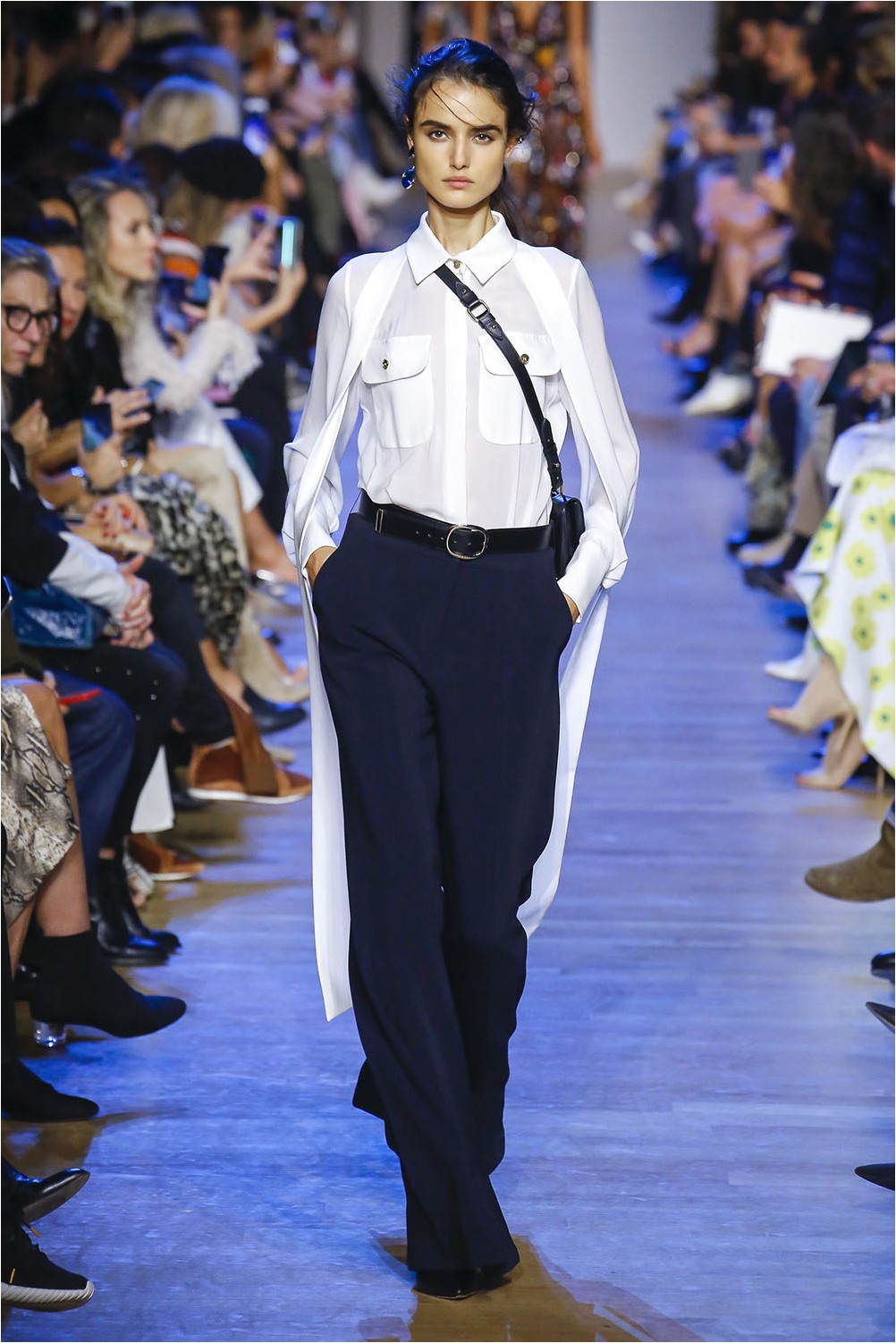 Strip
In the spring-summer season of 2019, the strip will occupy a more confident position in a fashionable wardrobe. The trend is narrow, colorful stripes in combination with cropped chinos, as in the image from Brock Collection. The trouser suits in colored stripes of different thicknesses will be relevant. Such a stylish image was demonstrated at Badgley Mischka shows. Escada designers used a different trick – a combination of stripes and the Polka dot print that was fashionable this season..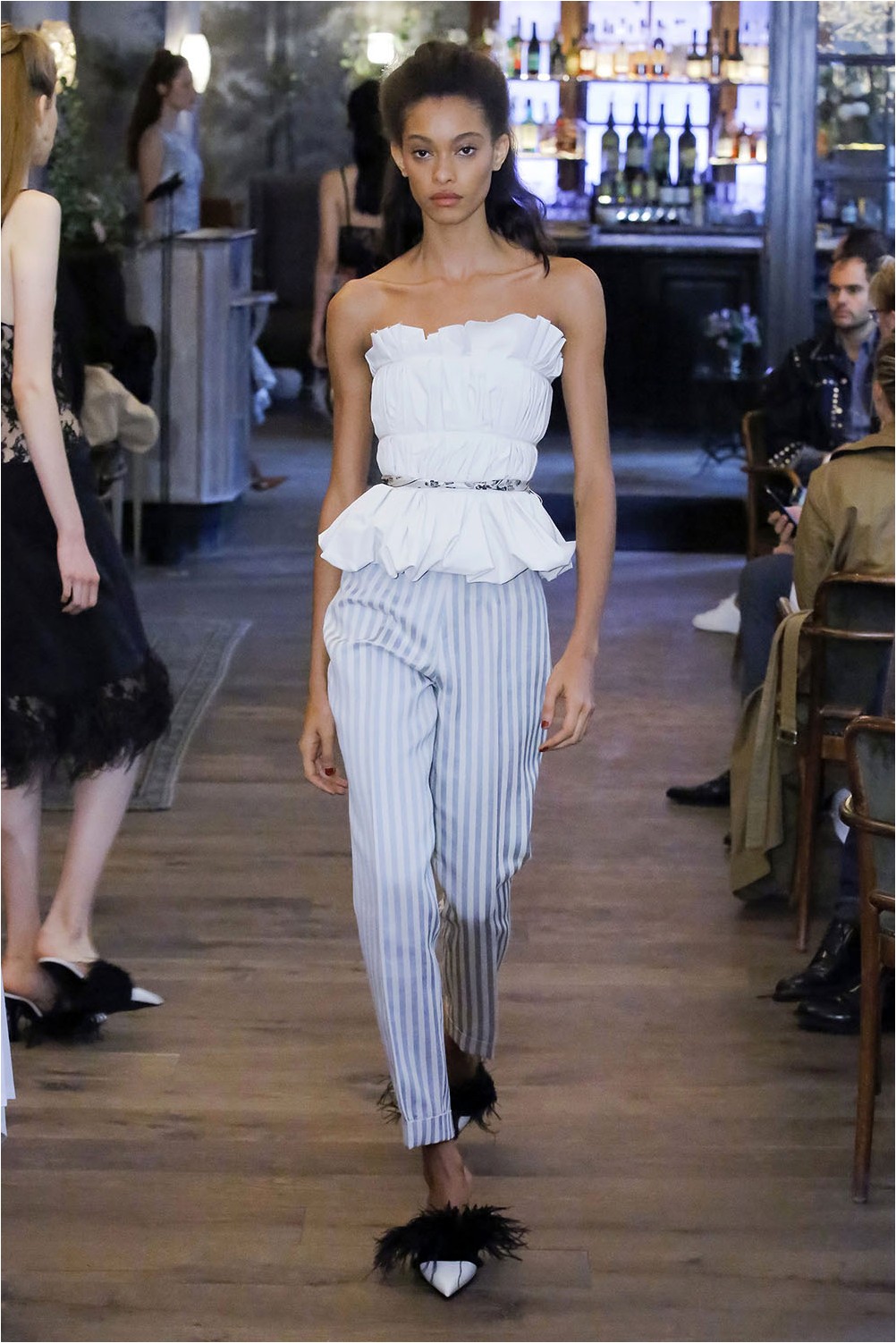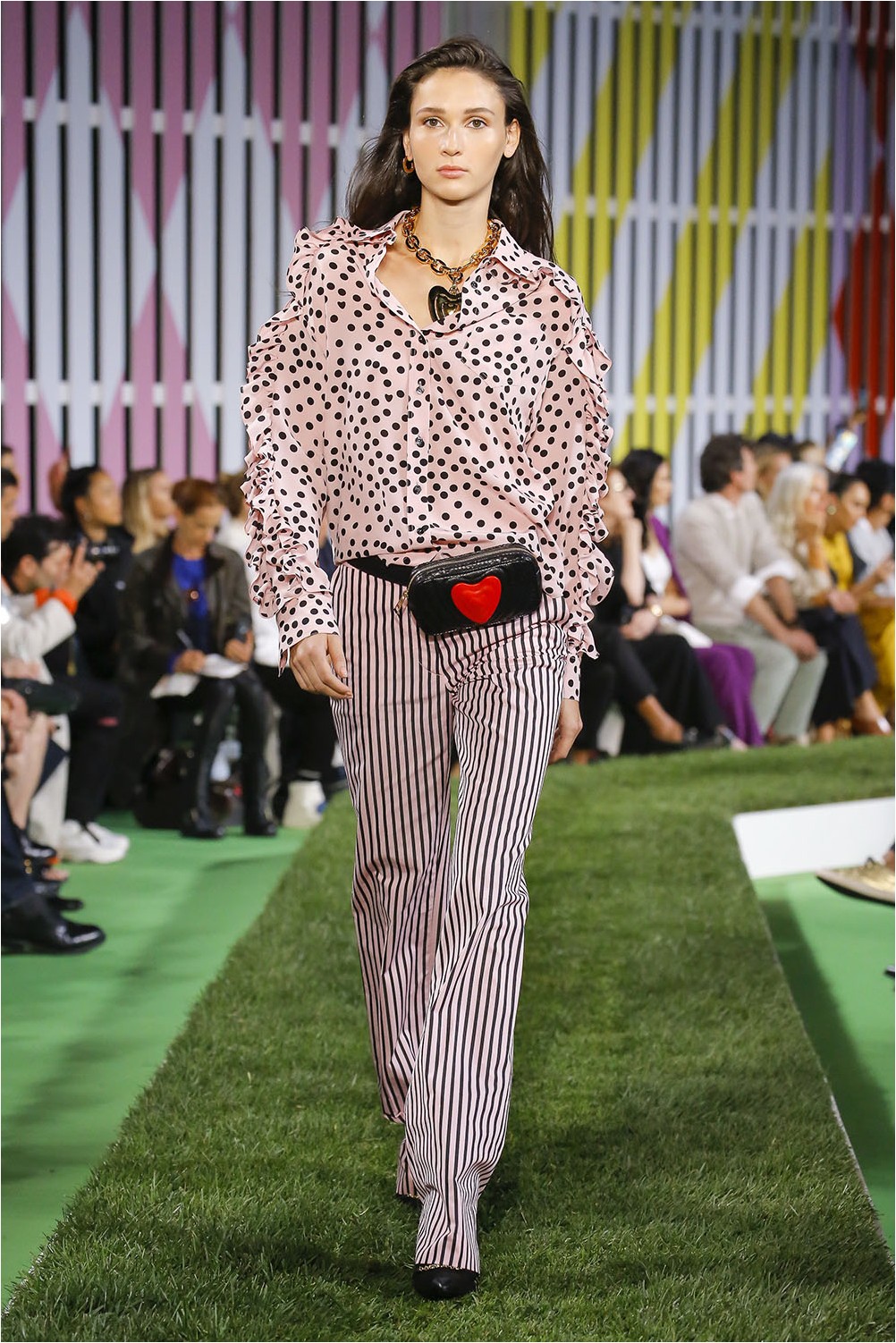 Leather pants
As already mentioned, embossing under reptiles fades into the background. Matte leather in warm red-orange, coral and brown shades is now in fashion. Trouser cut – concise, straight, sometimes a little shortened.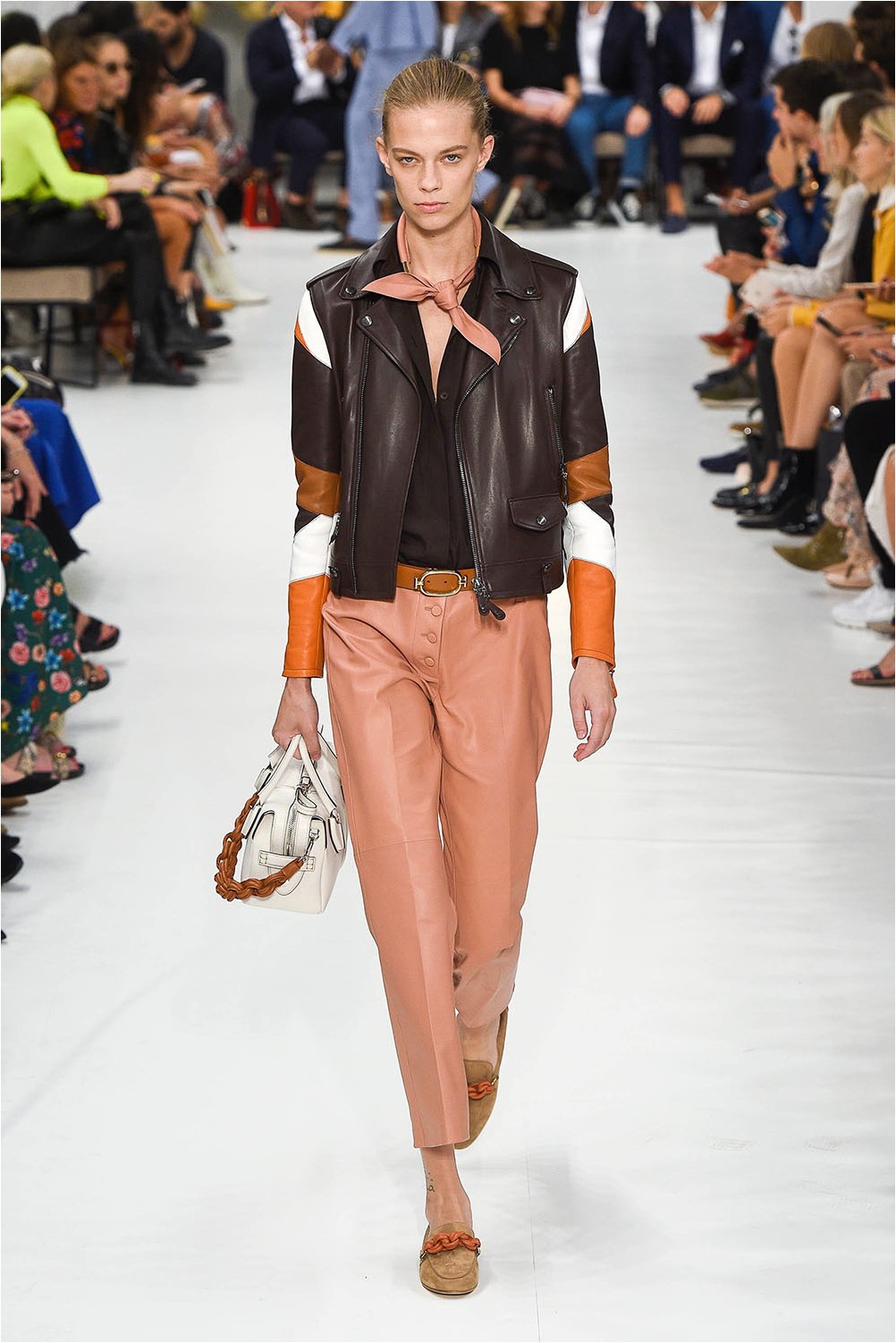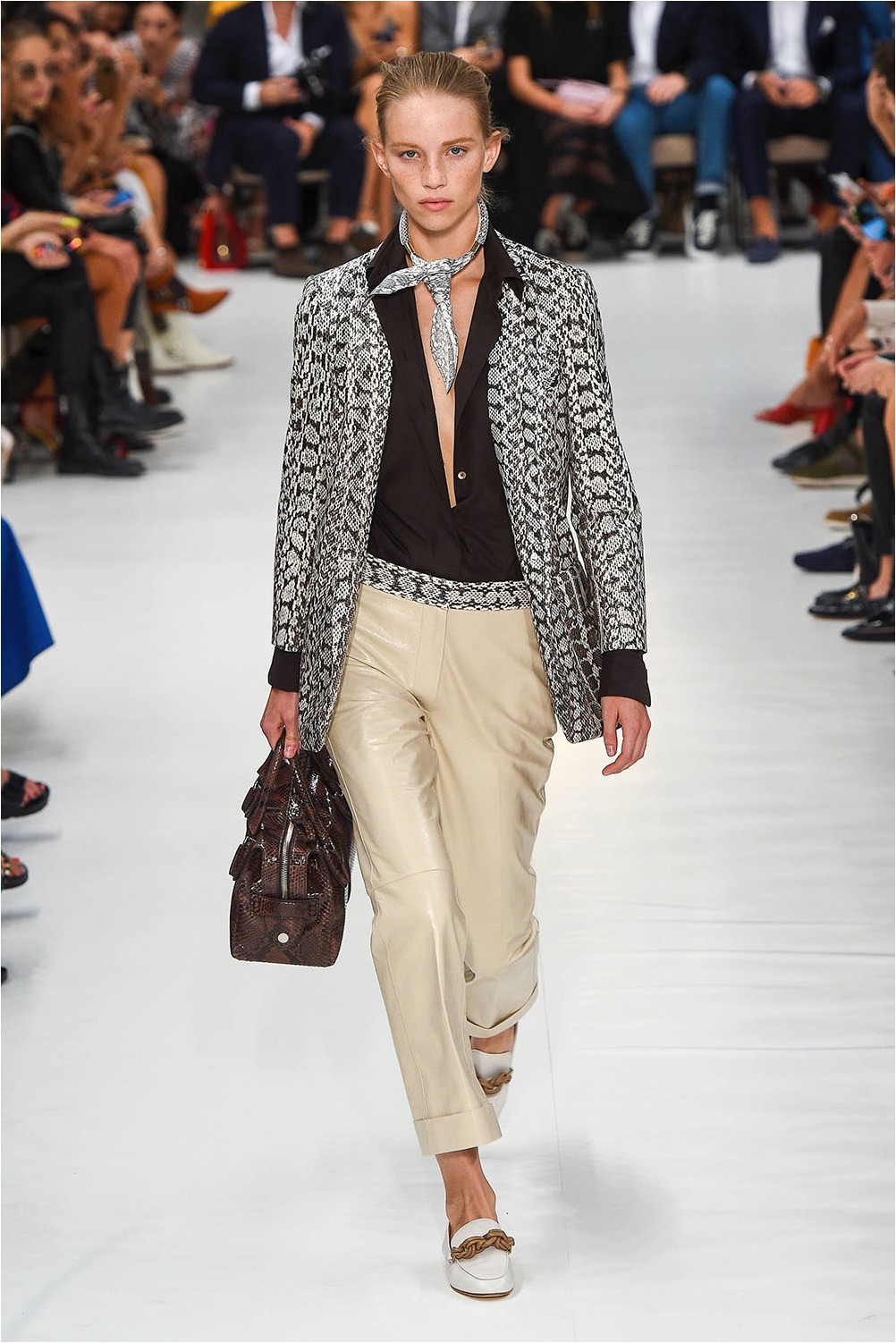 Although there are exceptions – wide palazzos with stripes from Boss and "banana pants" made of leather from Balmain. Some designers went further and decorated the leather pants with embroideries and appliqués..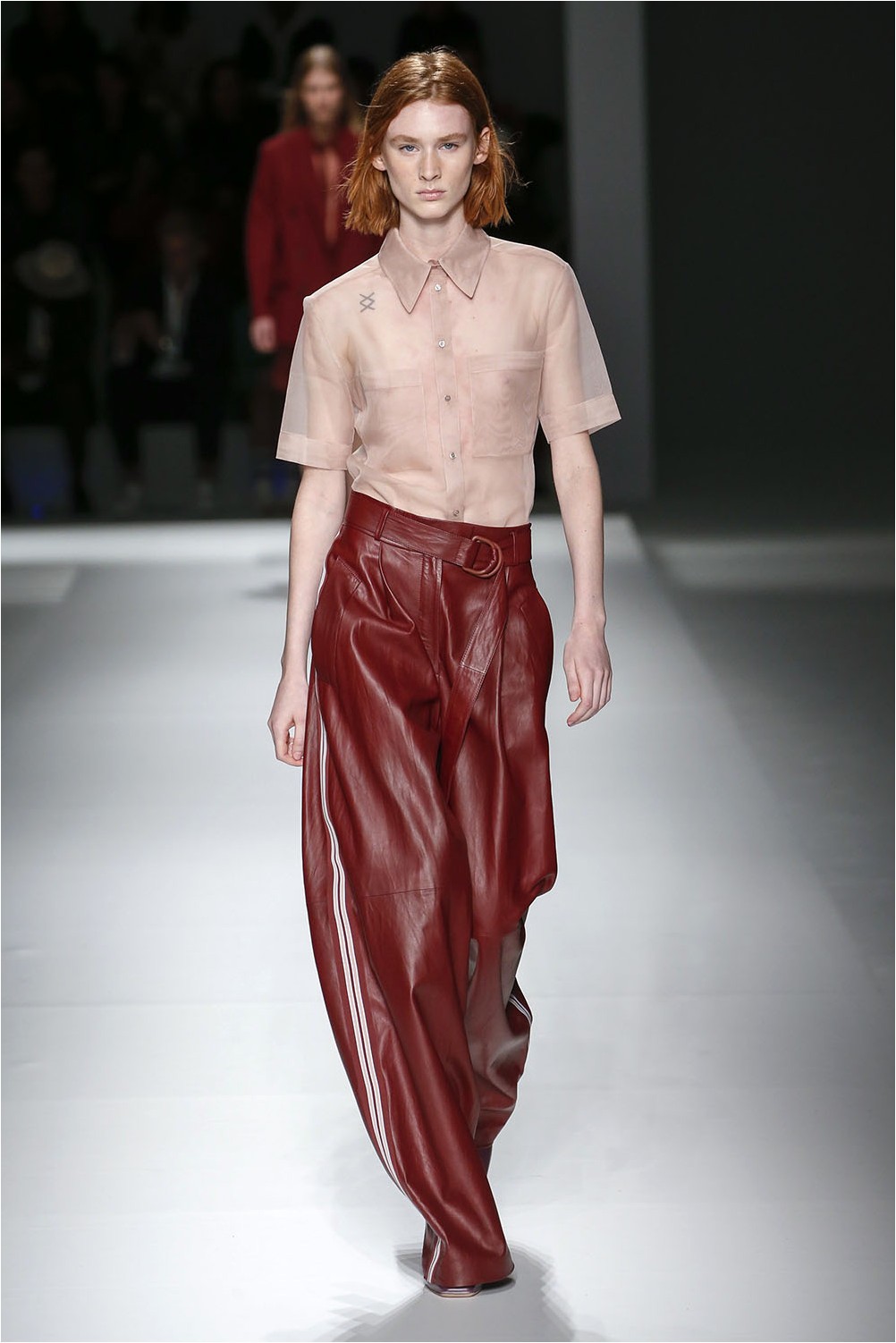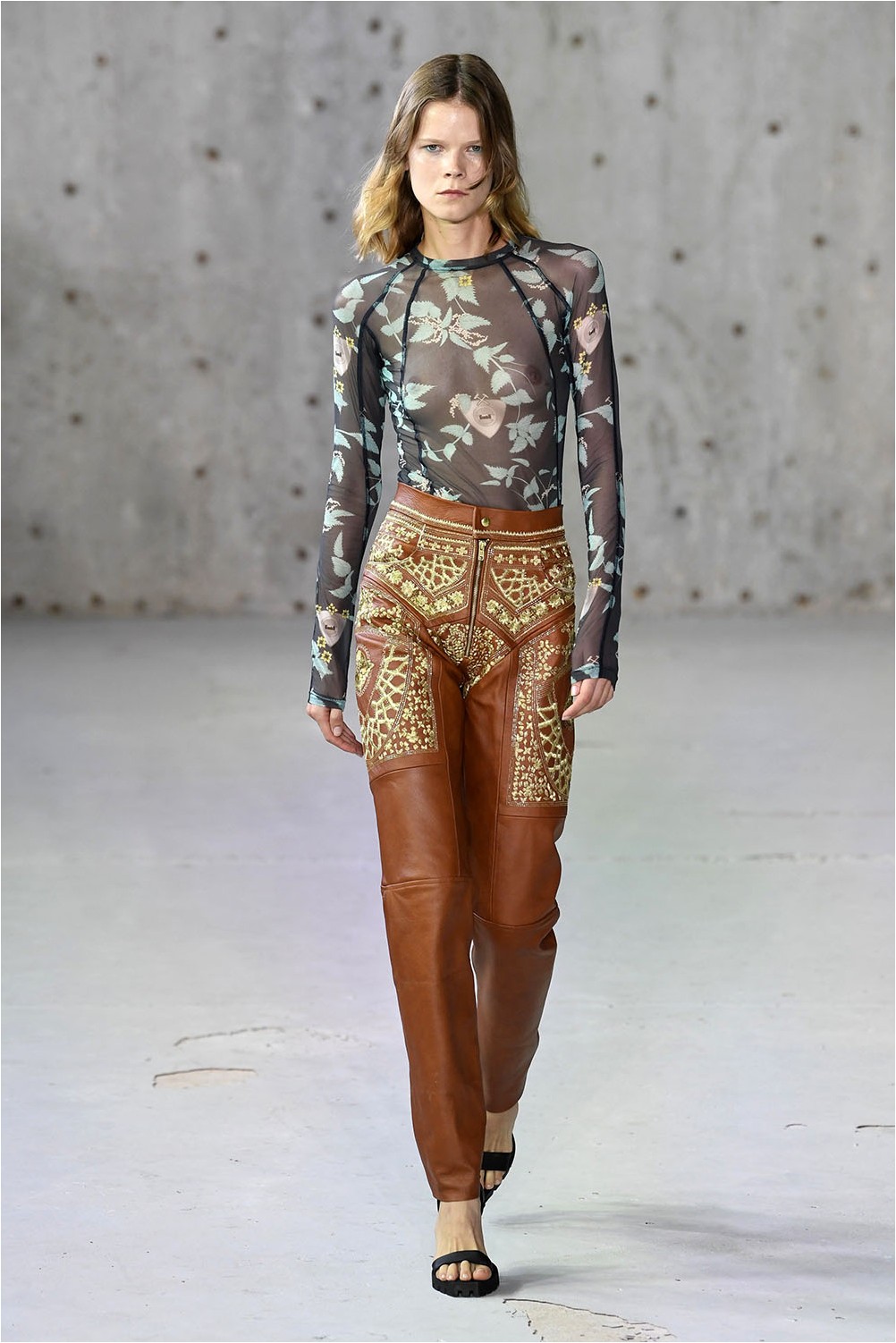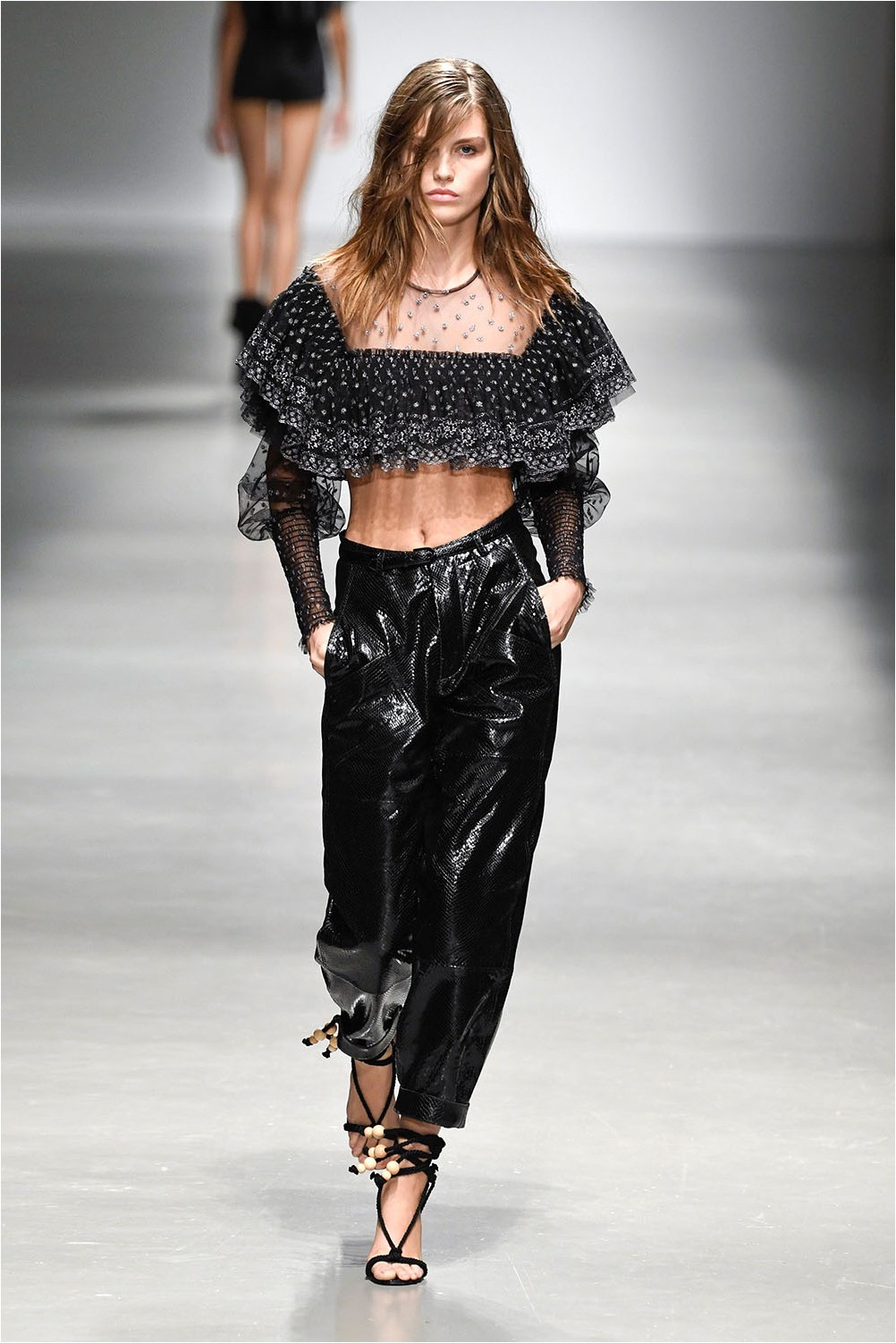 Overalls
Overalls are in no hurry to leave the fashion catwalks. In the spring-summer 2019 season, they have become even more feminine. Now they are mainly represented by models with frills, ruffles and sleeves-lanterns, as in Philisophy and Preen by Thoronton Bregazzi.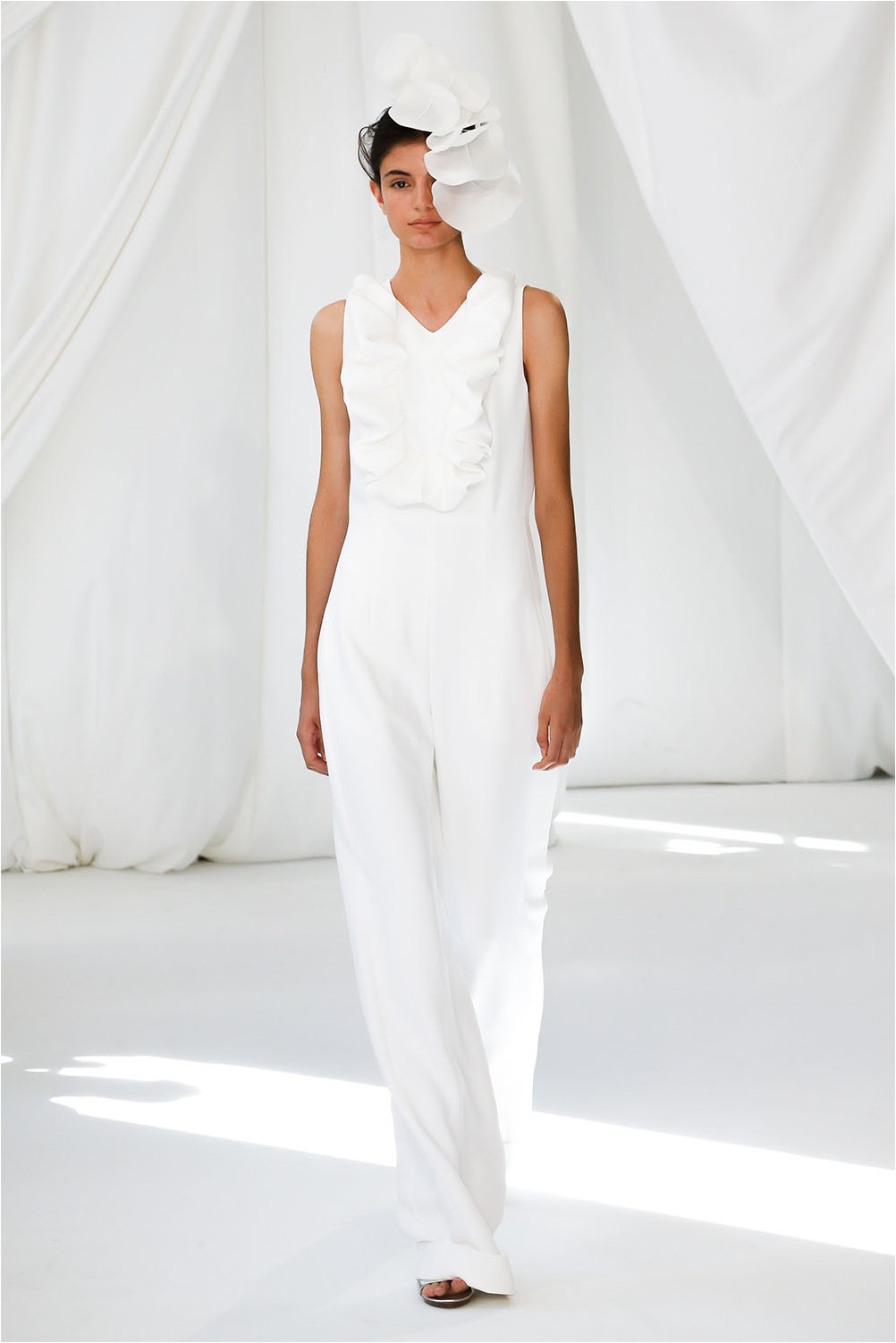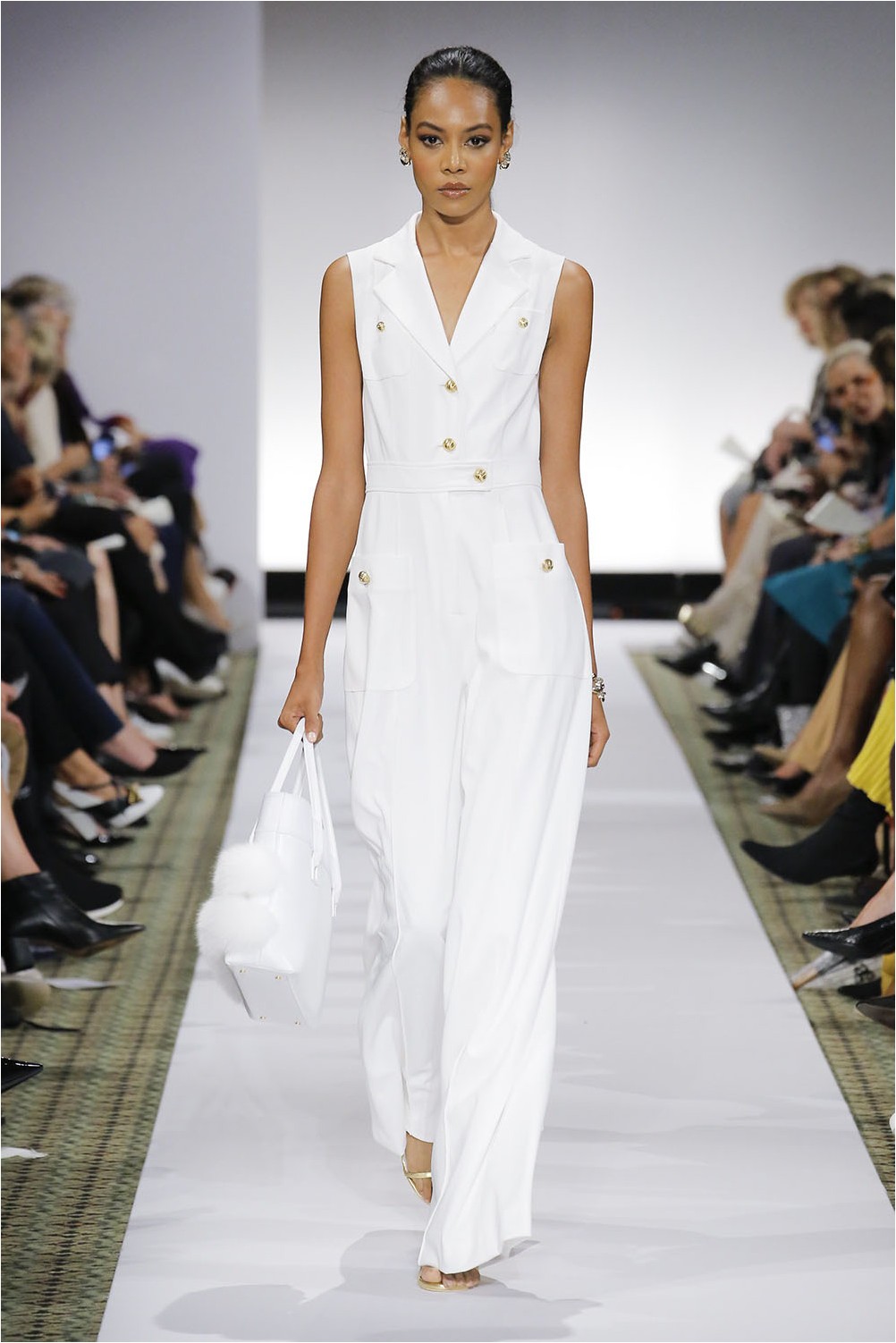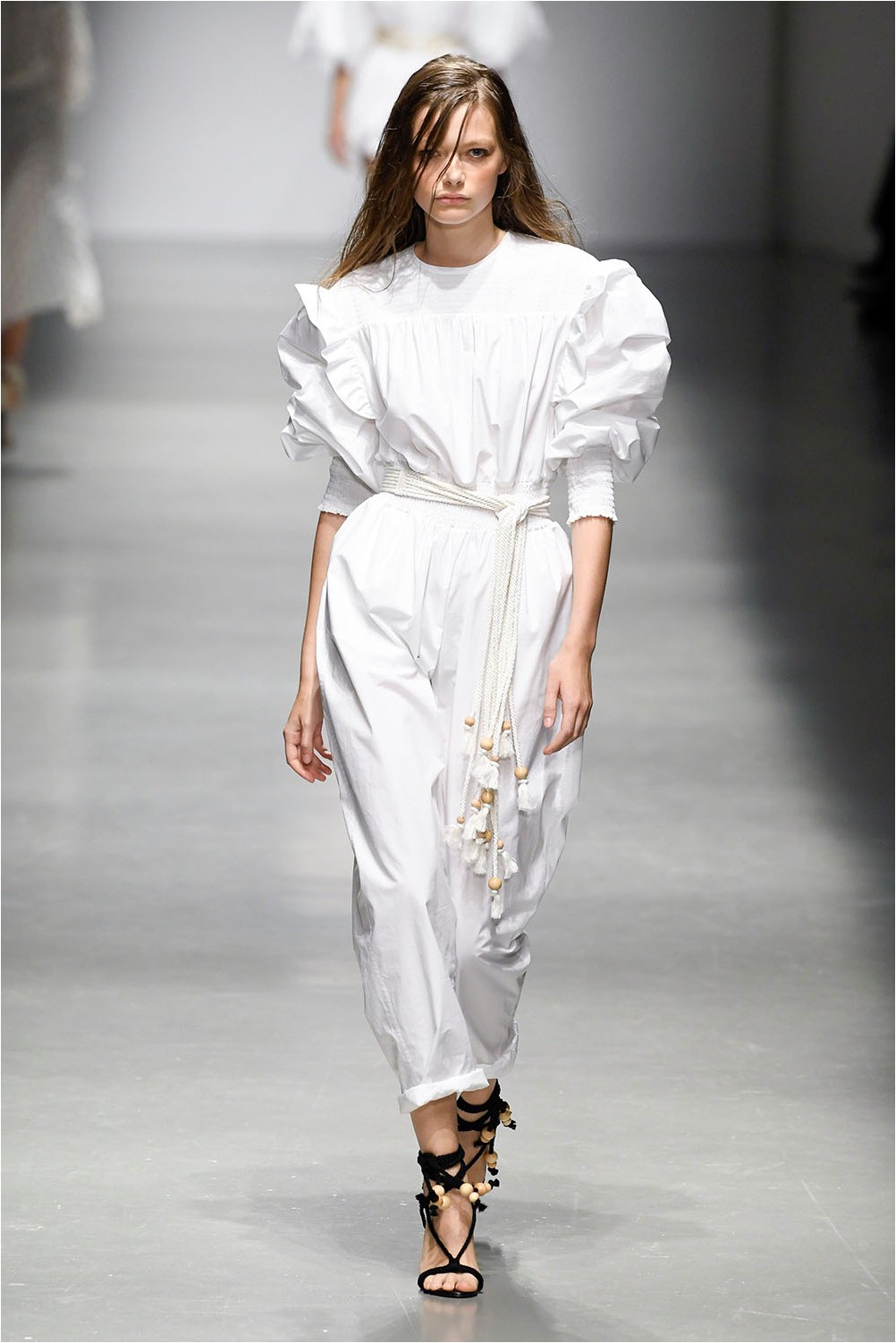 The most relevant color of overalls is white. But in the collections of haute couture there were also color options, and models with a floral print. For example, an Alberta Ferretti jumpsuit in a trendy green Pepper Stem shade or a lemon shade model from Emilia Wickstead.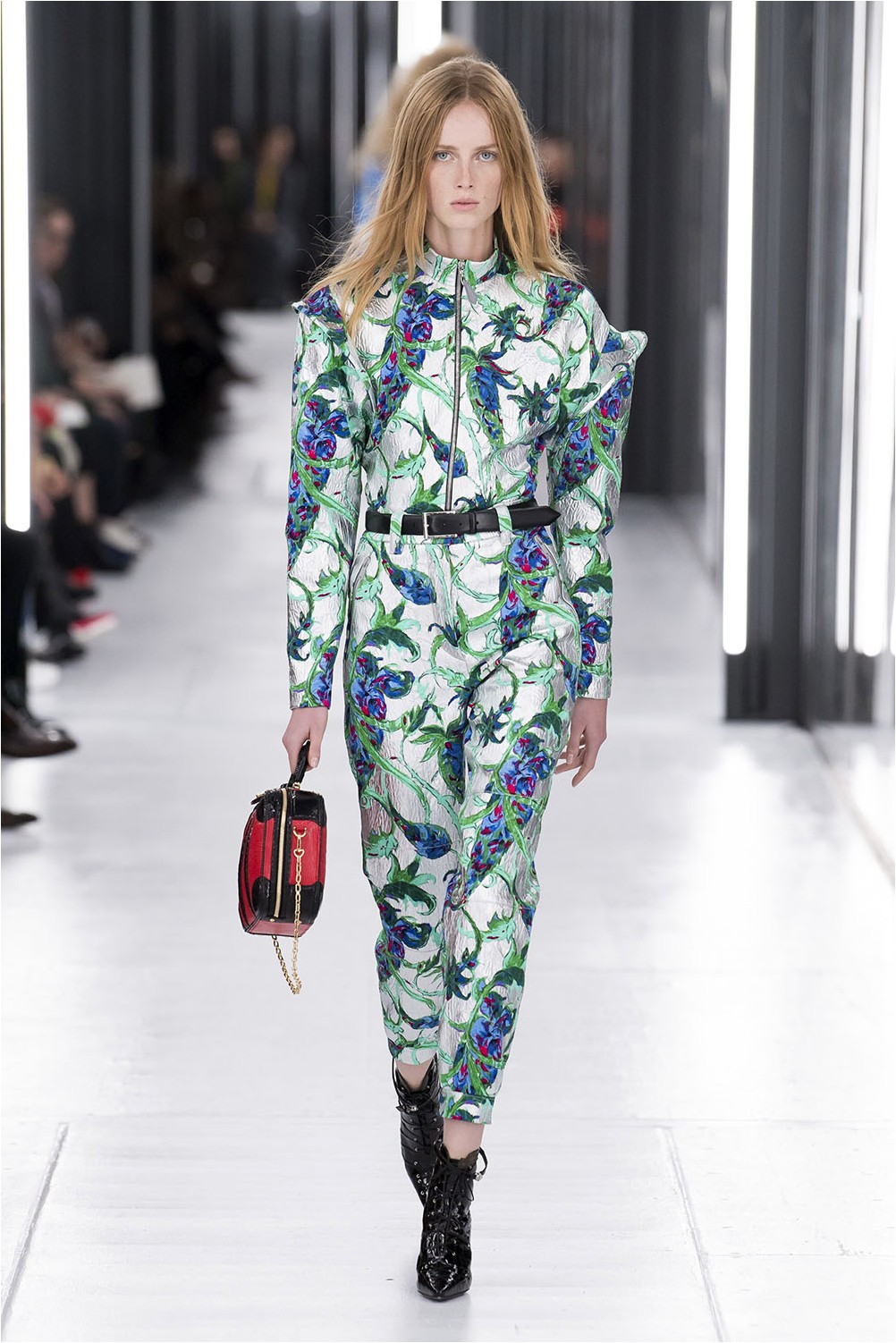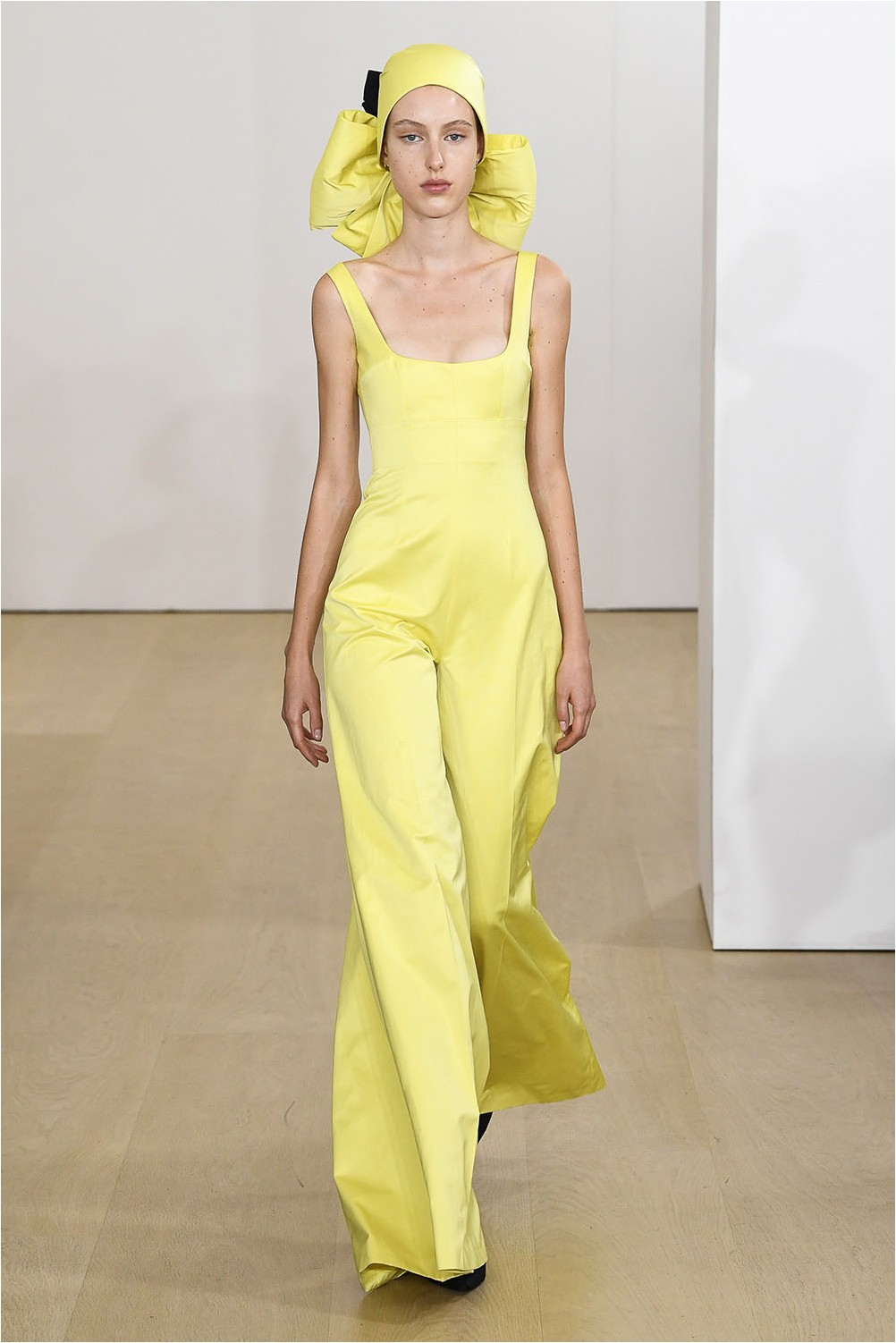 Lampas
Unlike previous collections, this time the stripes have become more moderate. The place of bright stripes with logos and leopard print was taken by classic satin stripes to match the trousers. Haider Ackerman and Iceberg remained faithful to the sports theme and presented knitted trousers with contrasting stripes.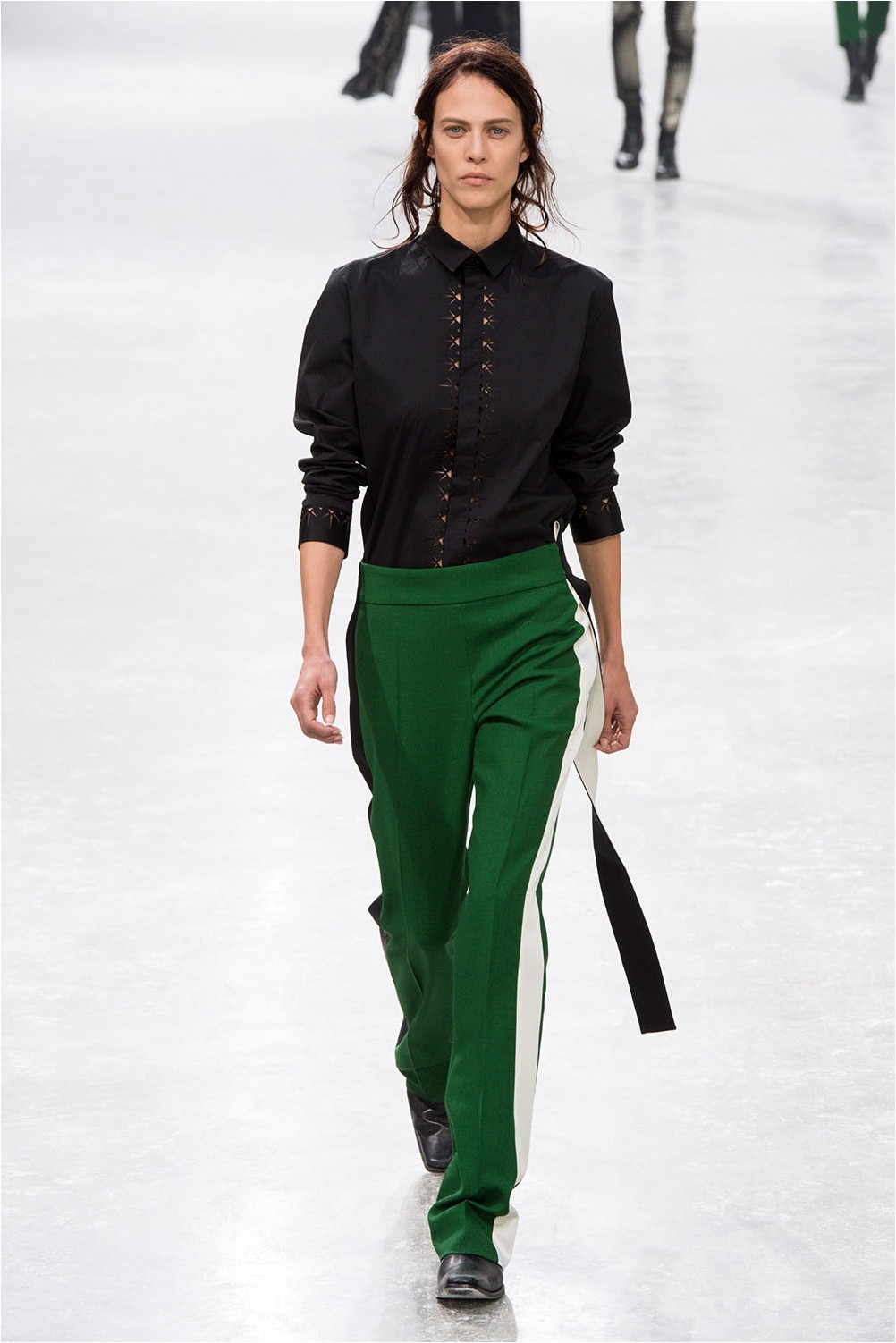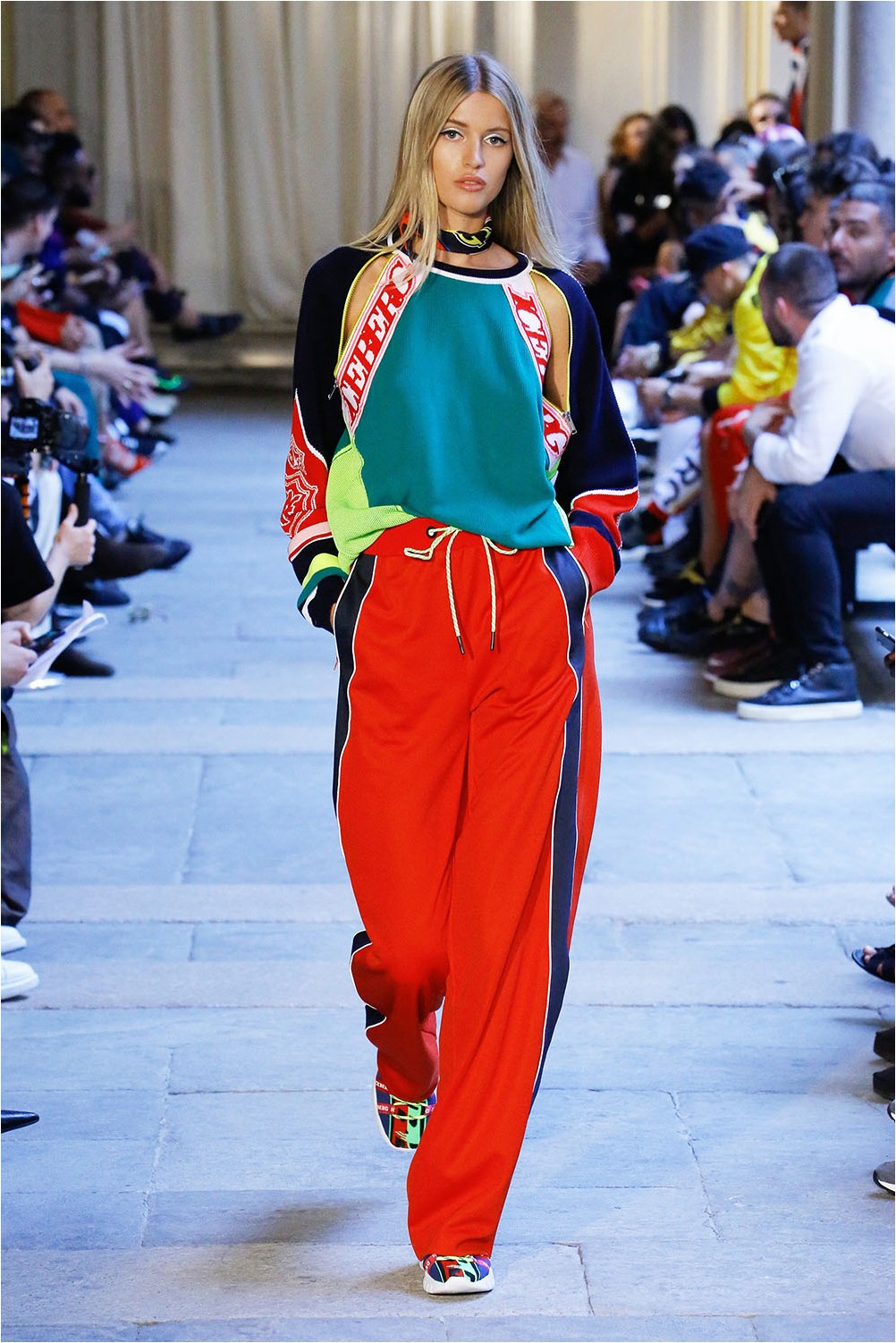 Creative options were found in the fashion piggy bank at Eckhaus Latta and Max Mara. Their trousers were decorated with side ruff and fringe stripes..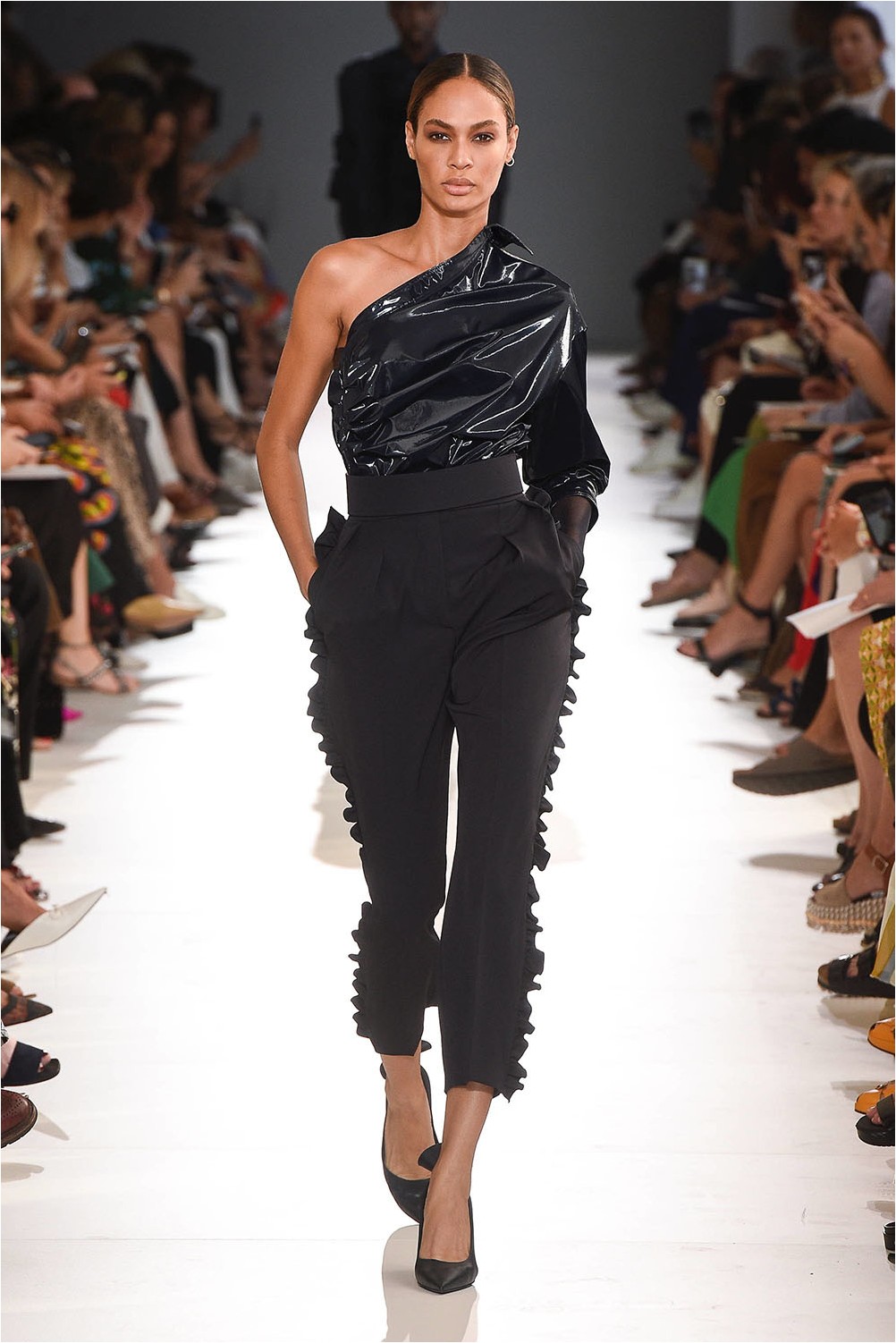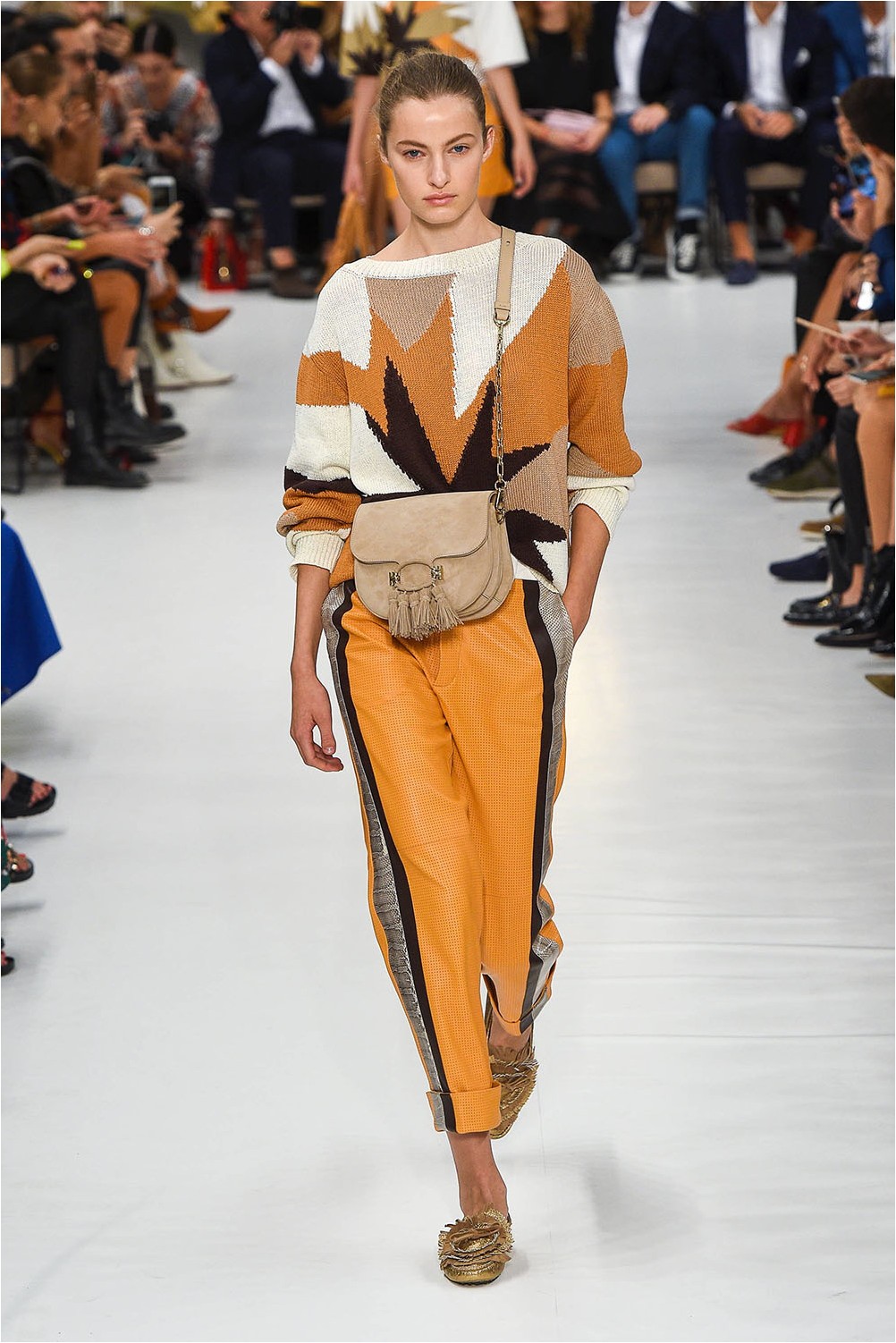 Patch pockets
After the resounding success of Lara Croft Bags with many pockets and straps, the trend towards multifunctionality also affected clothes. Vests, skirts, trousers and even cotton shirts must now be with pockets. Maybe so the designers decided to save the girls from bags, backpacks and shoppers? It doesn't matter, as it doesn't matter, on zippered pockets, with flaps or simply sewn onto the surface of trousers – the main thing is that there are a lot of them.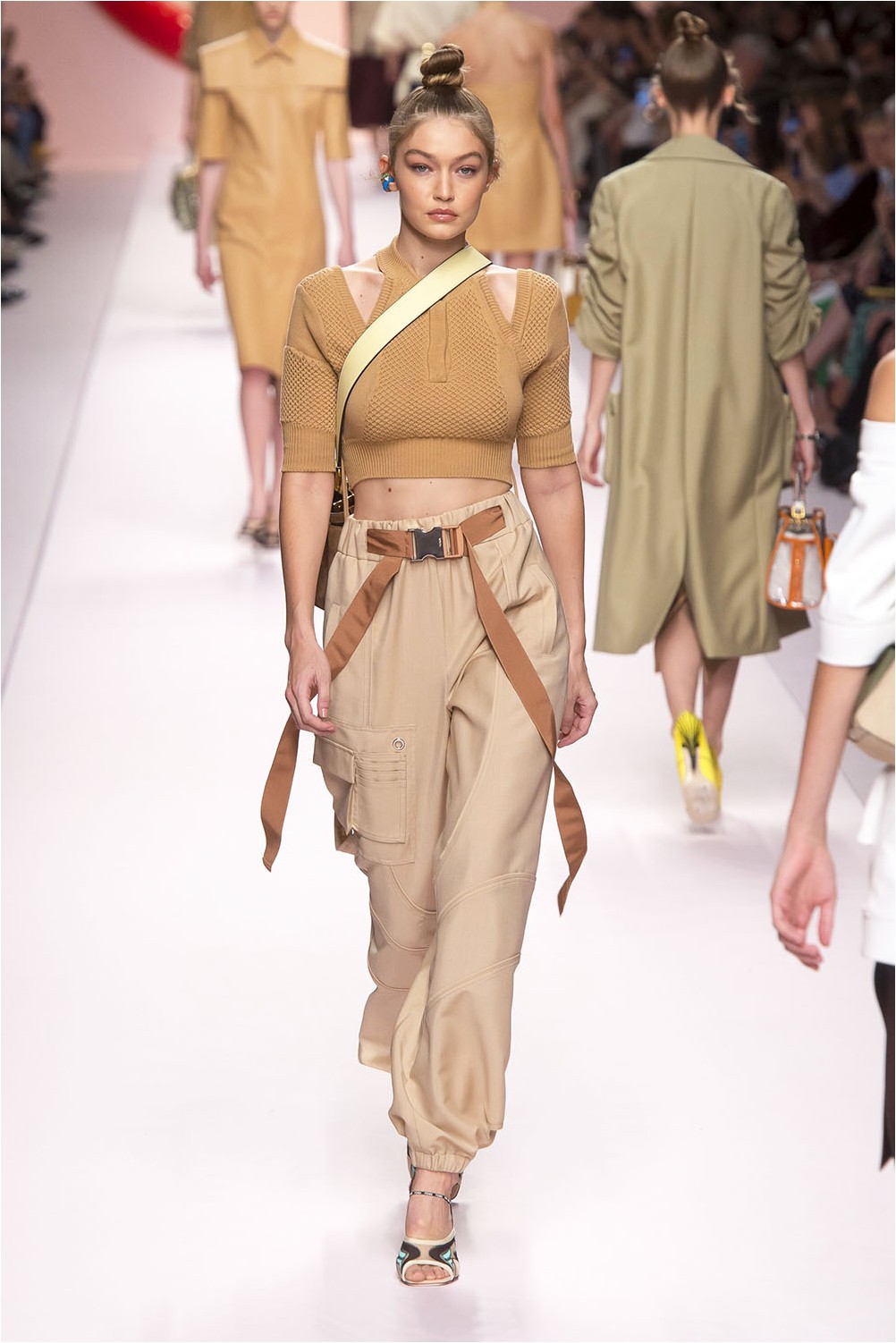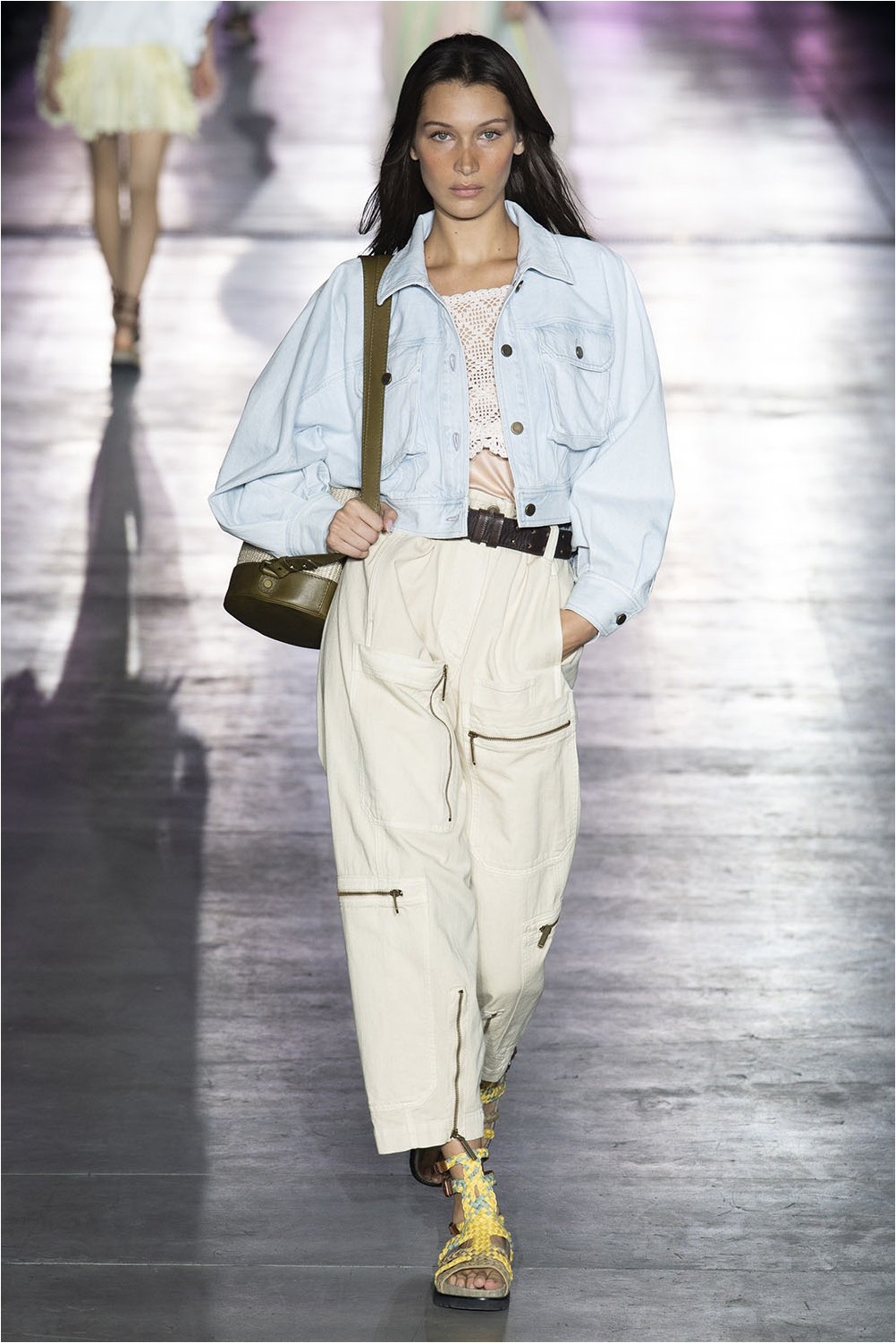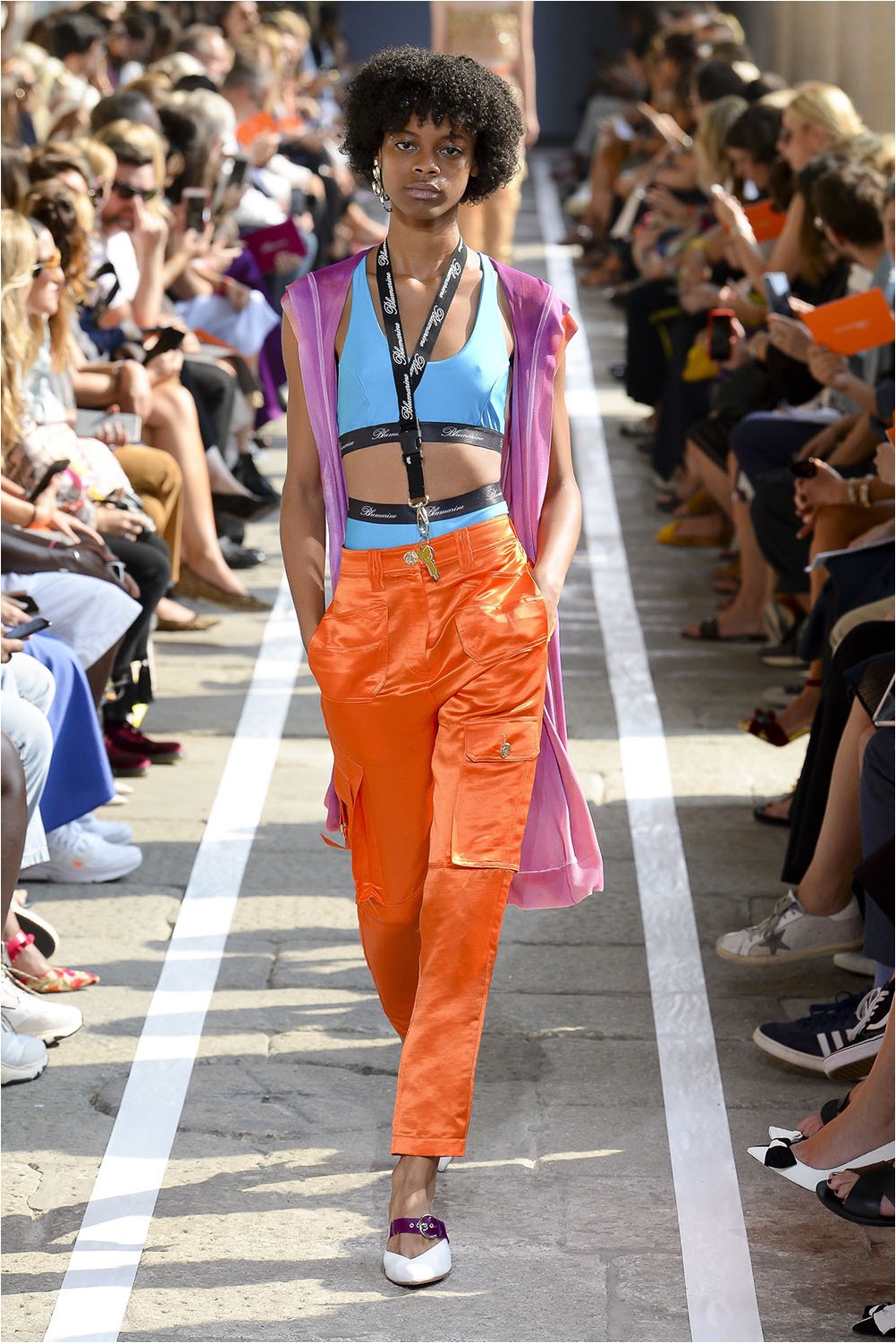 If Jonathan Simkhai and Karl Lagerfeld modestly placed pockets on trousers in the amount of two or four pieces, then others without hesitation multiplied their number.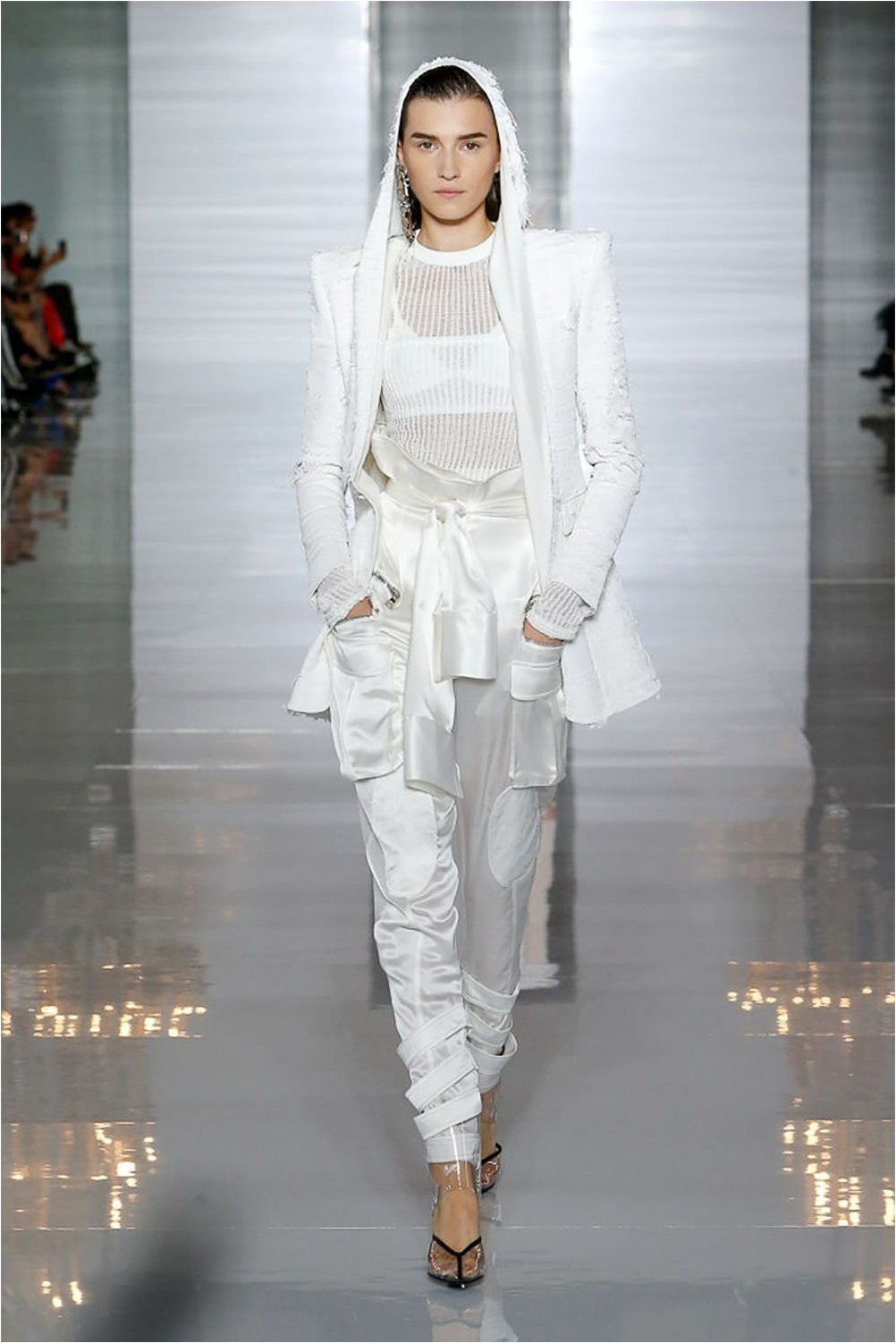 Unusual print
It is easy to make ordinary classic pants original. You just need to add an extraordinary print. Now the pattern on the trousers can be anything: abstract, with elements of pop art, with the image of fruits and vegetables, birds and animals, with gradient stains or retro photos from the Victorian era, which, by the way, set the tone for many autumn fashion shows.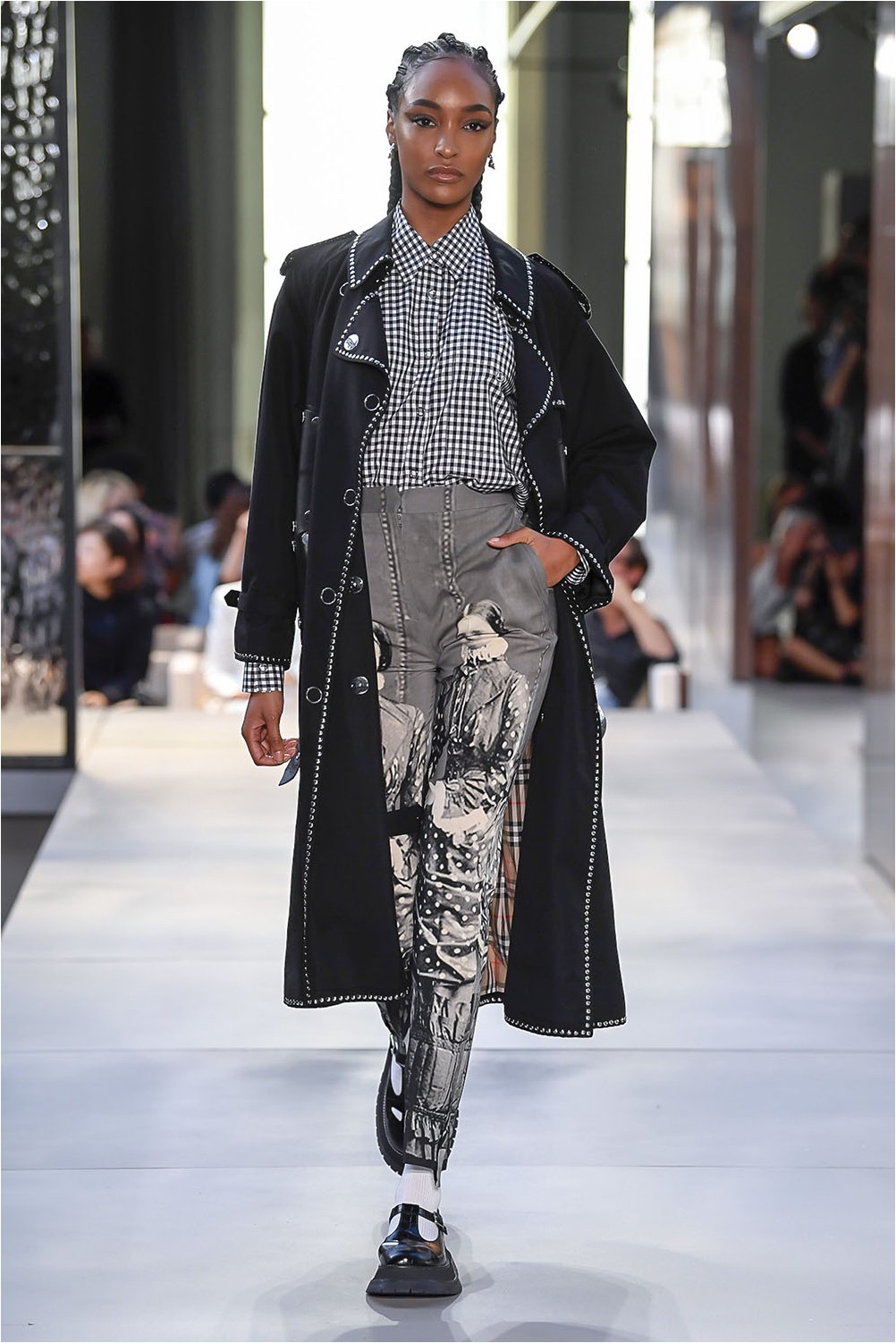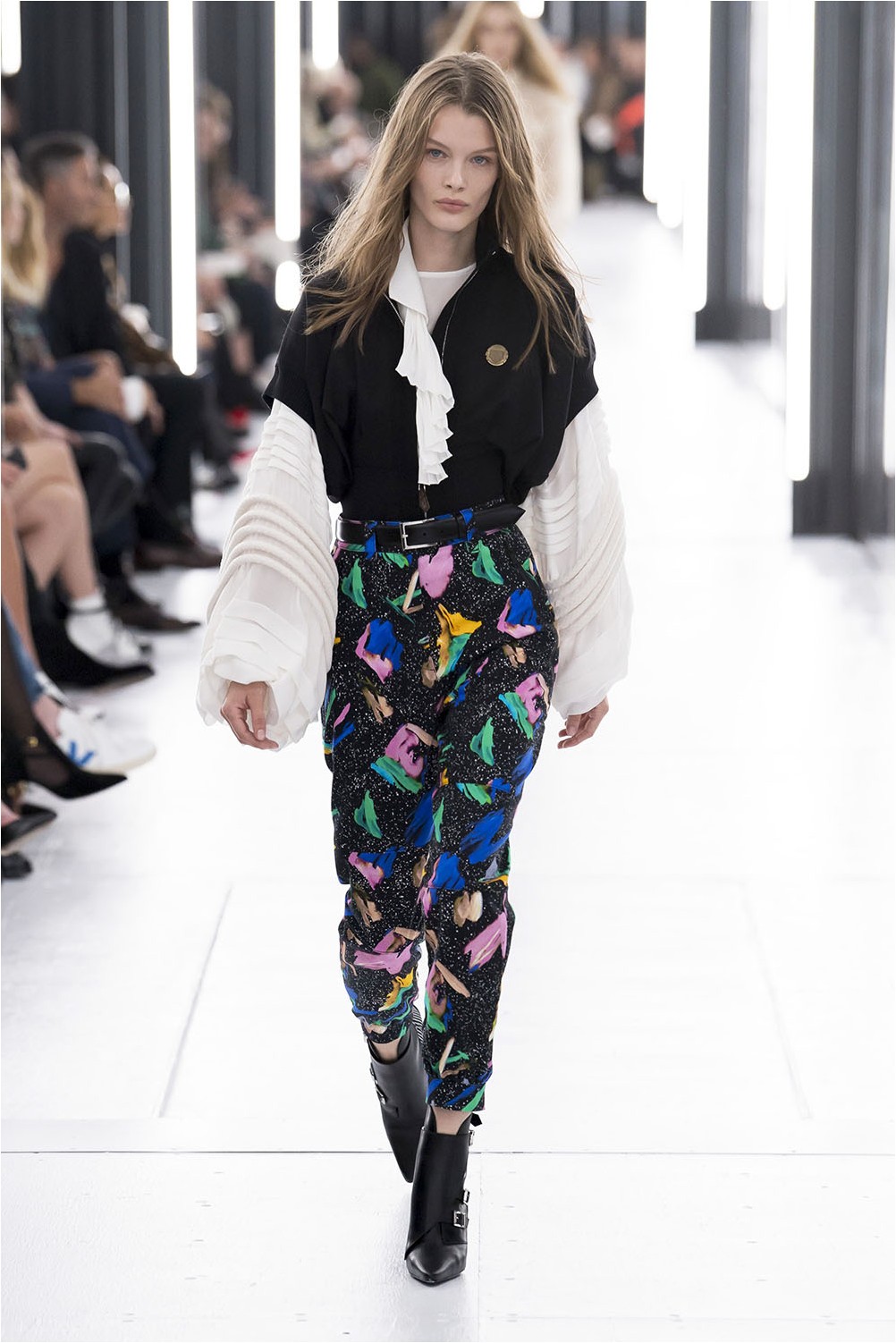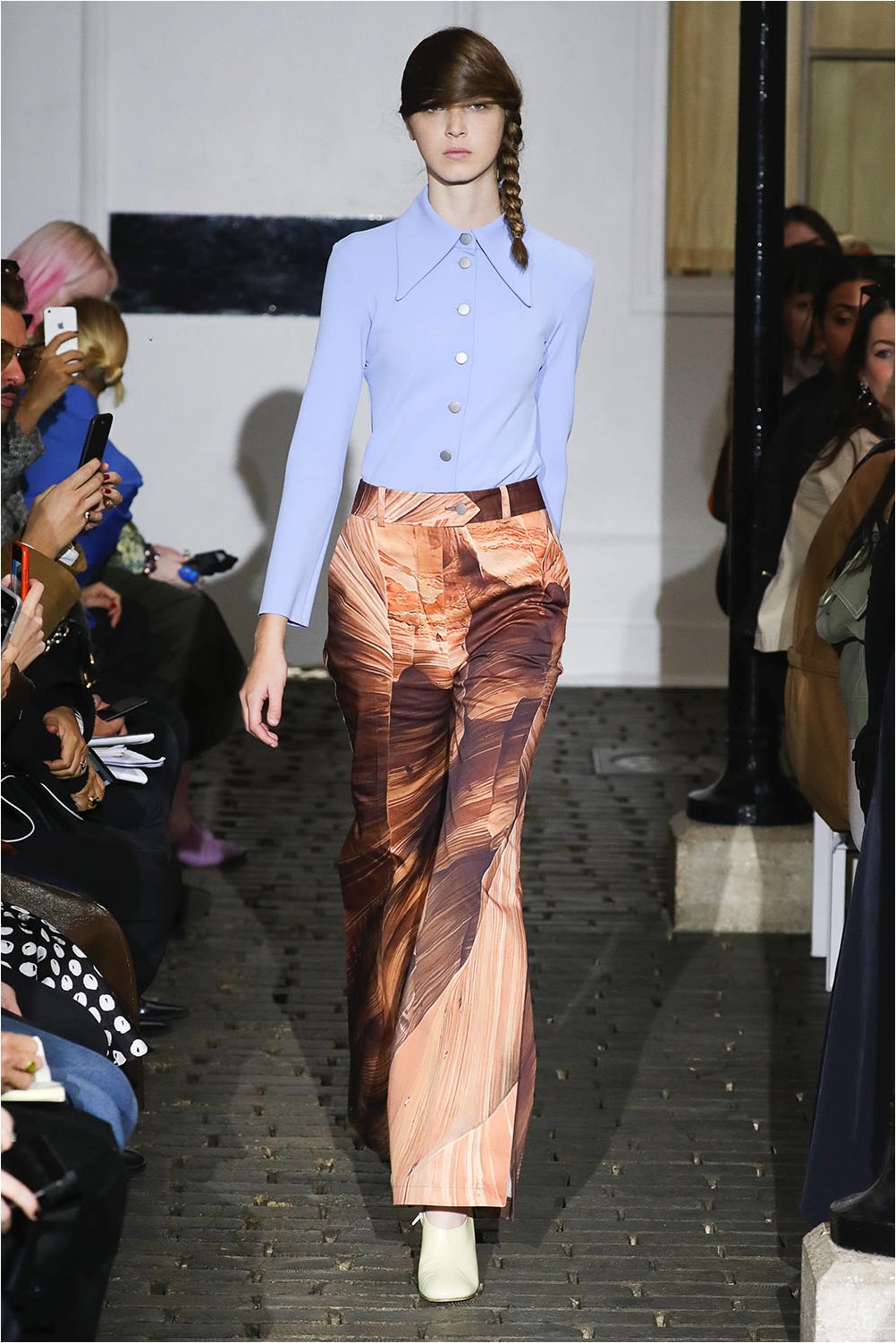 Sequins
Sequins of all shades with a metallic sheen – such pants were offered by Ashish, Marc Jacobs, Isabel Marant and other fashion houses. In the fashion textures and colors that create an atmosphere of celebration and luxury.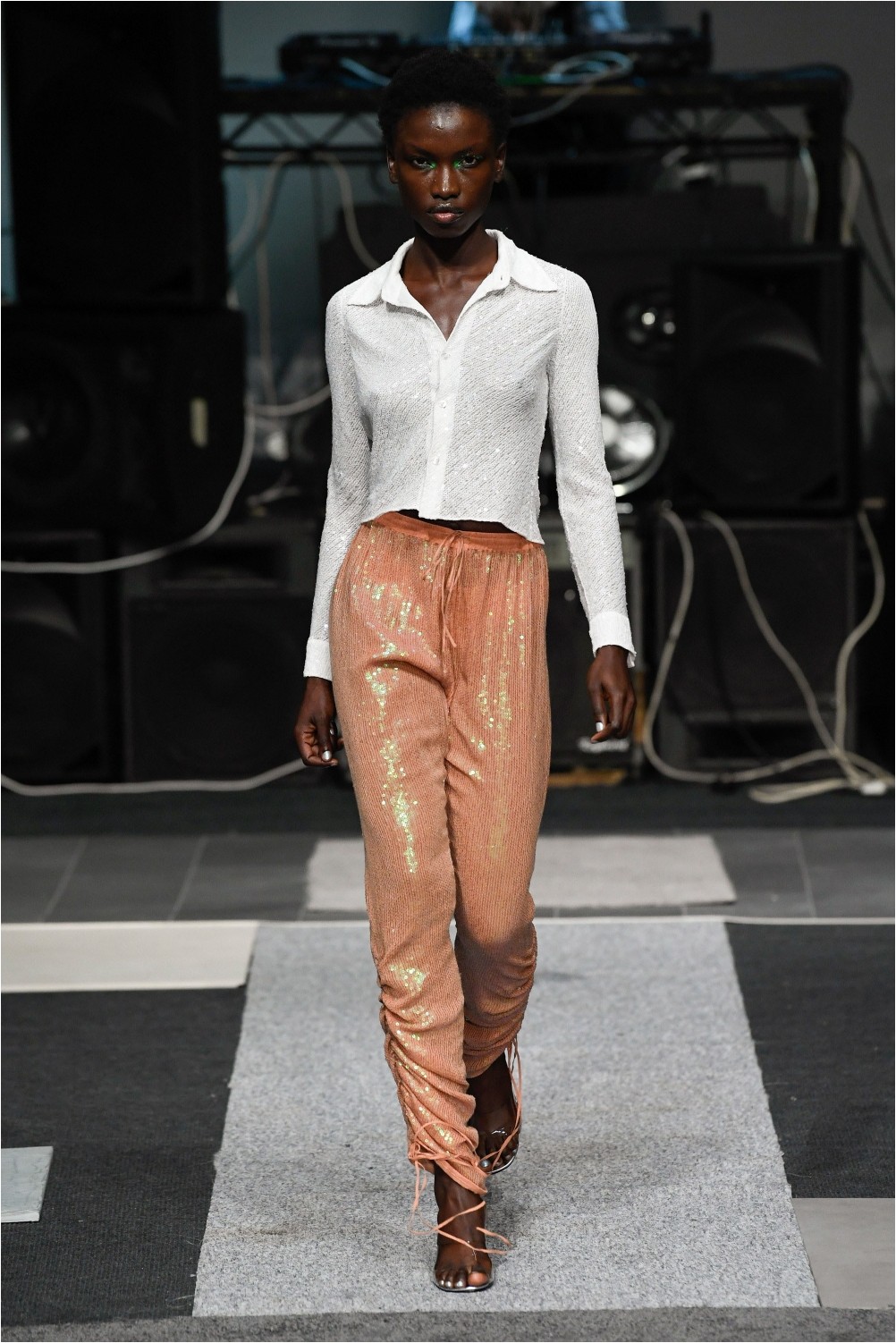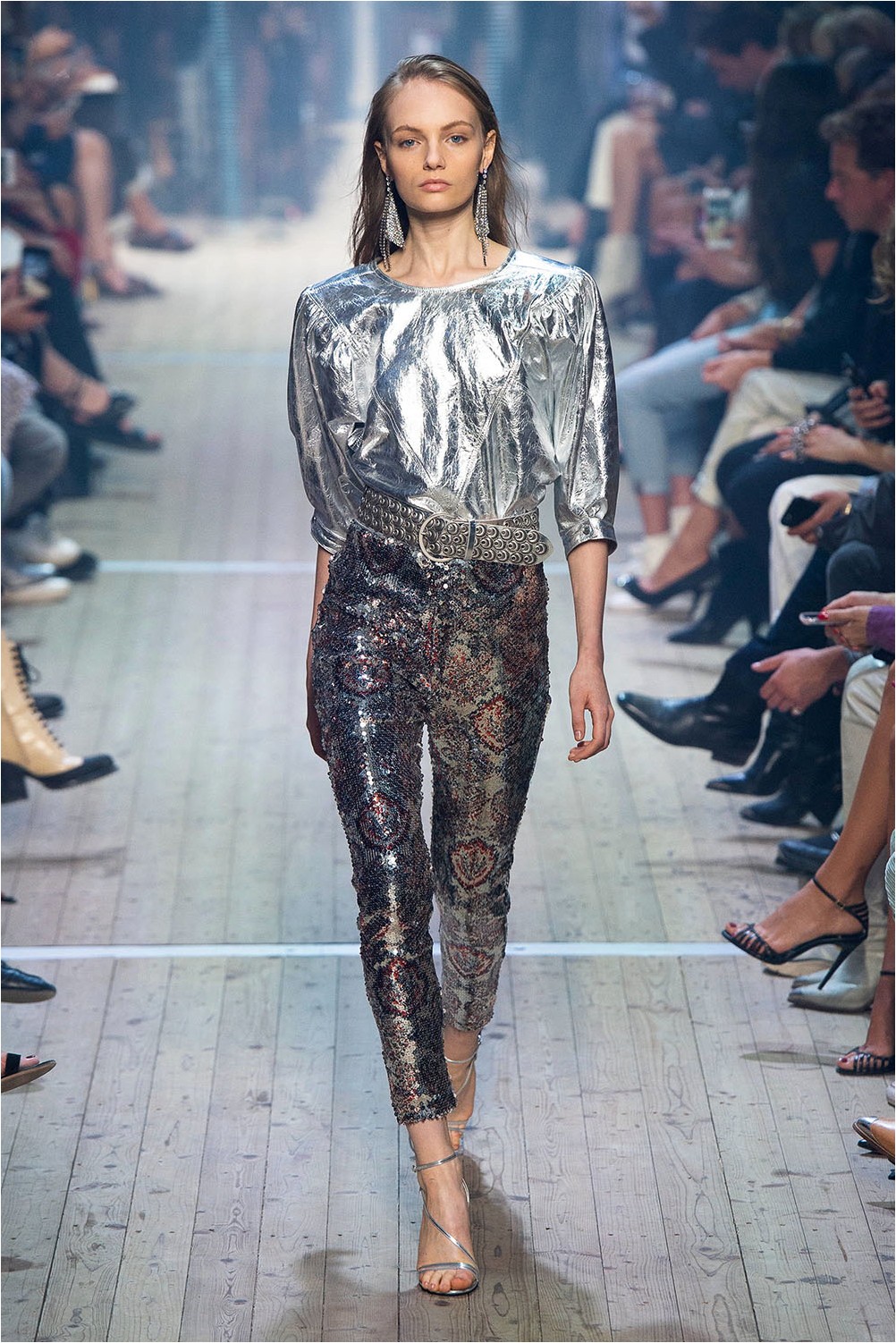 Giorgio Armani used a translucent organza in shades of aquamarine, Marc Jacobs Lurex and skin with a shimmering coating, and Isabel Marant trousers were strewn with sequins.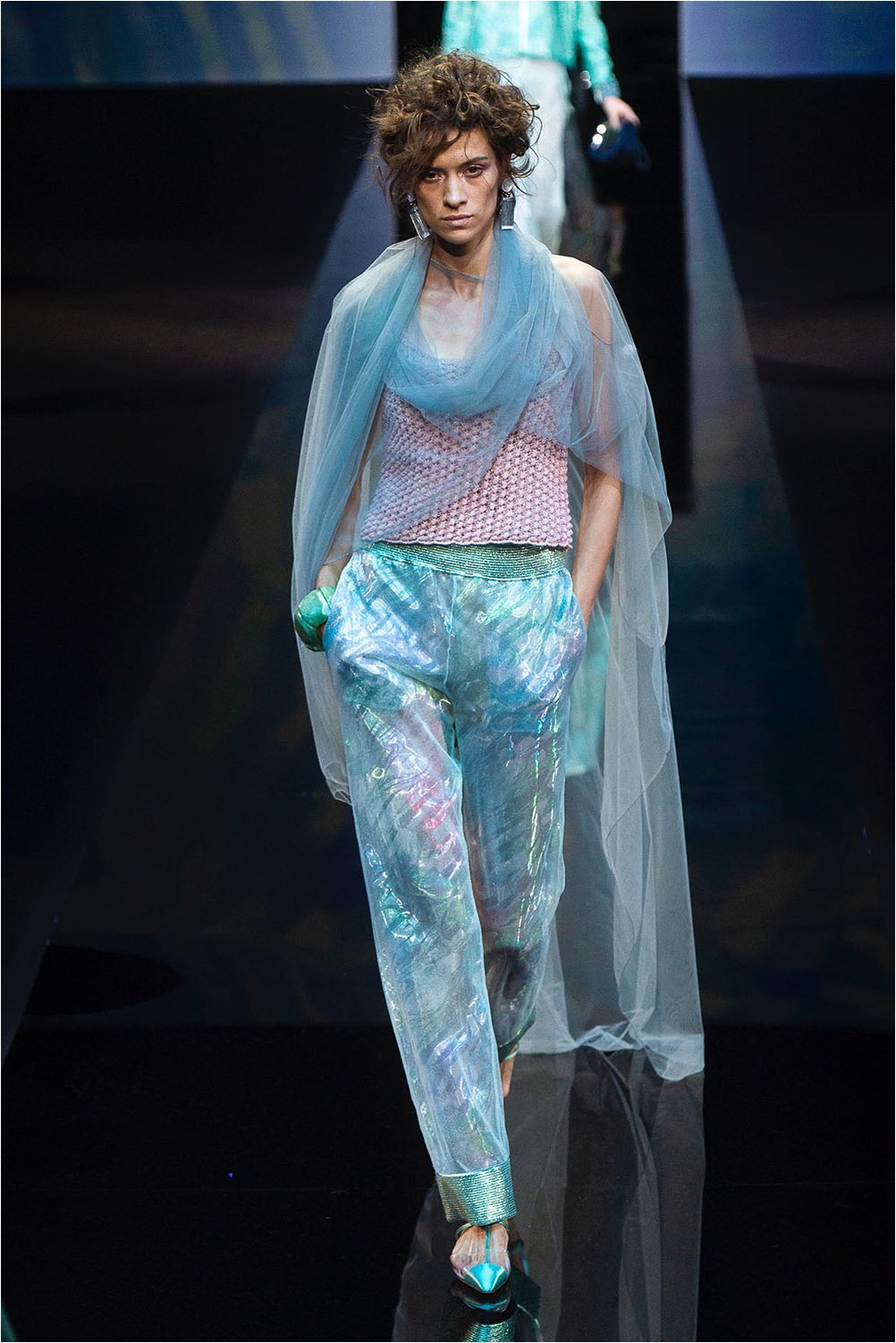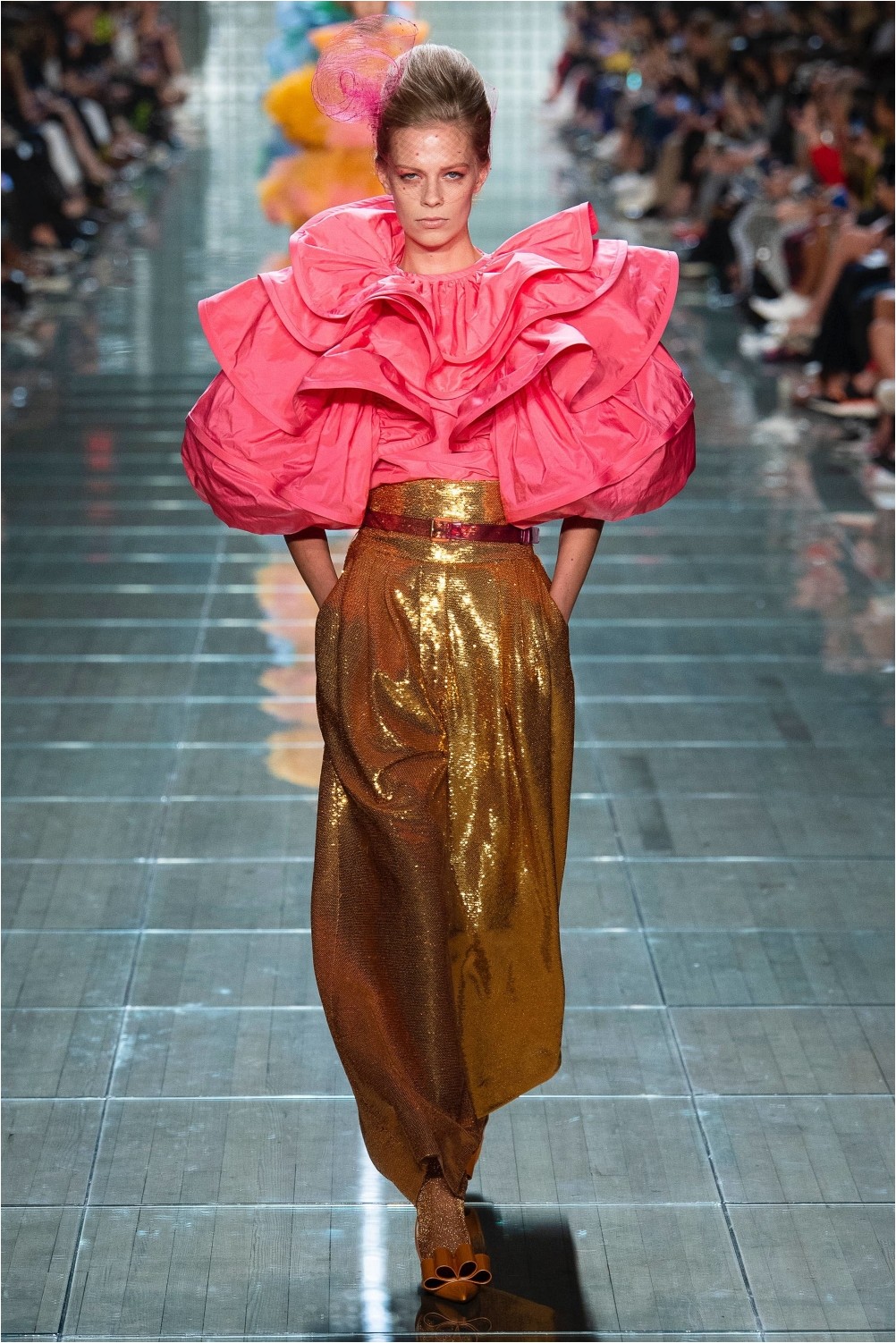 Pajama style
More than 10 years have passed since Sharon Stone introduced pajama style, but still it remains relevant. At first glance, pants resembling night pants can seem funny and even a little ridiculous. But with the right approach, you can create stylish and even luxurious images with them..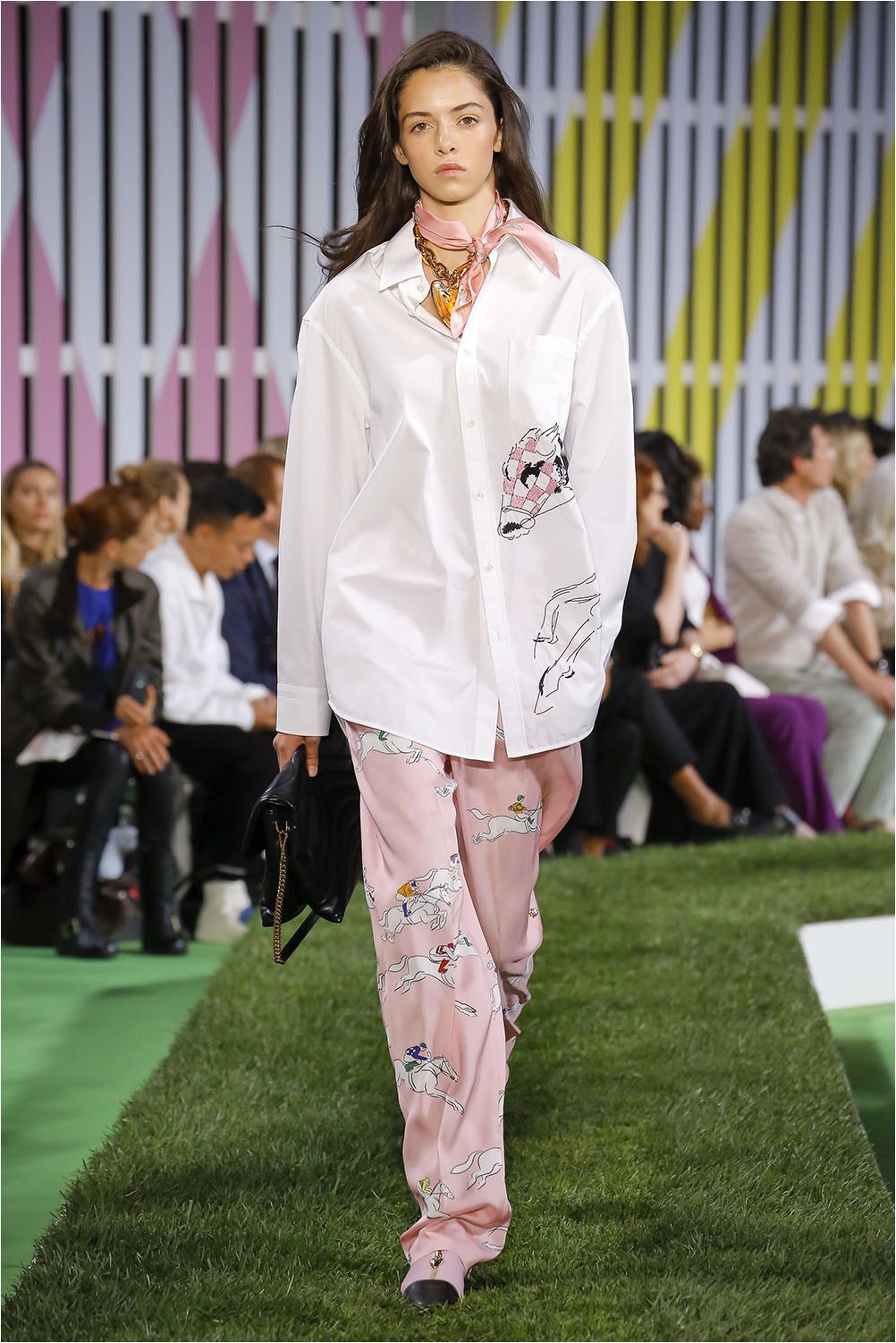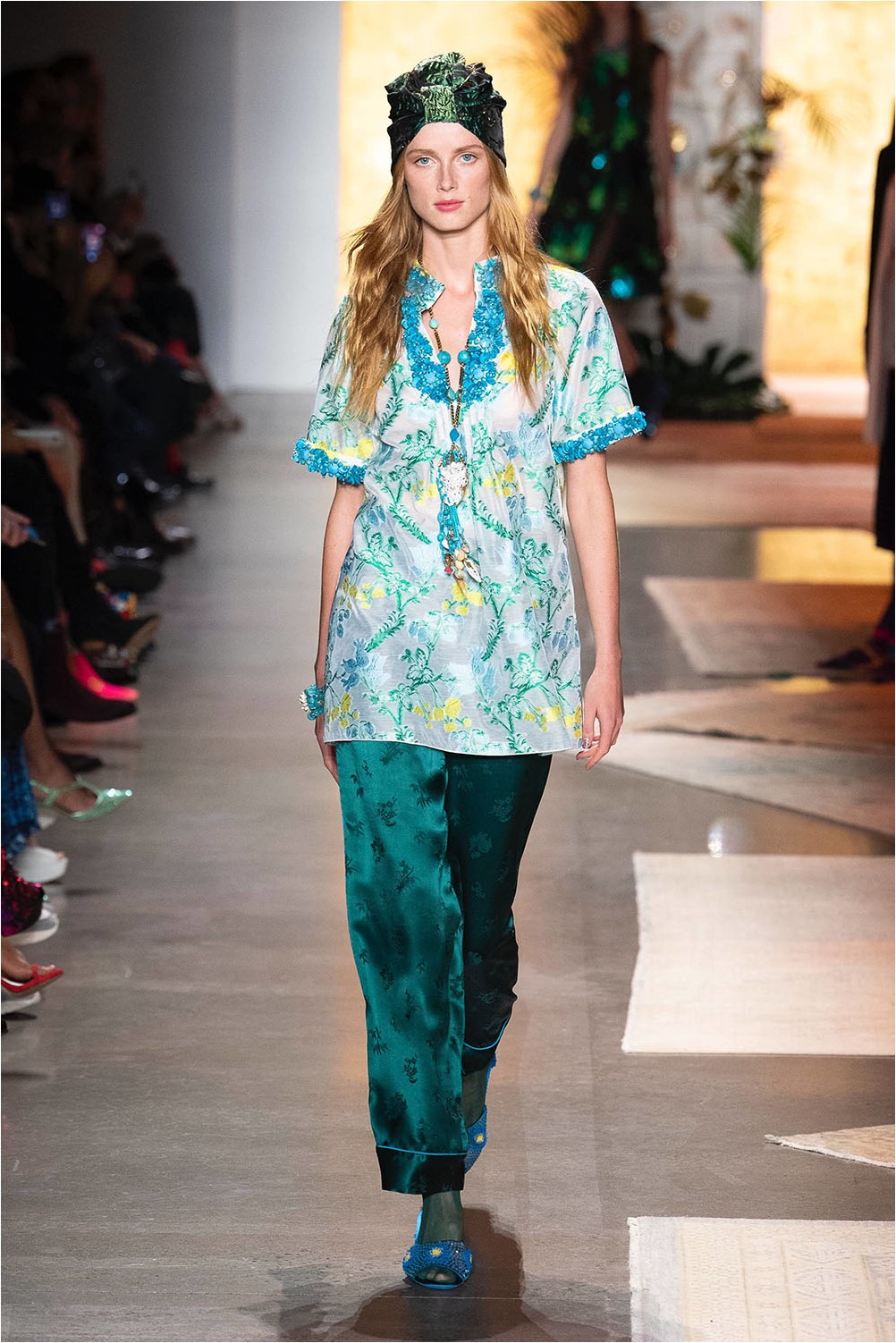 An example is creative imagery from Escada, Anna Sui and. Etro.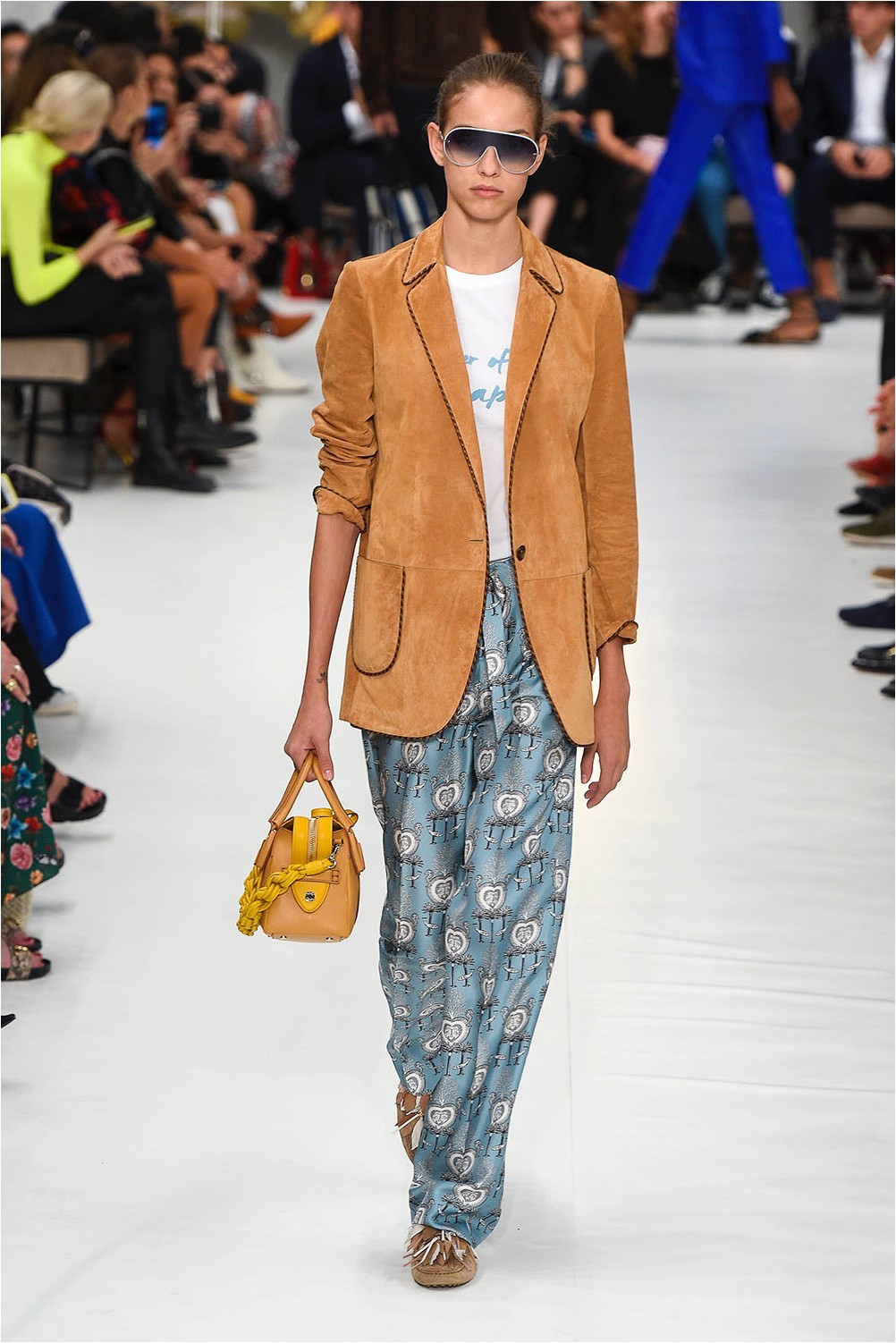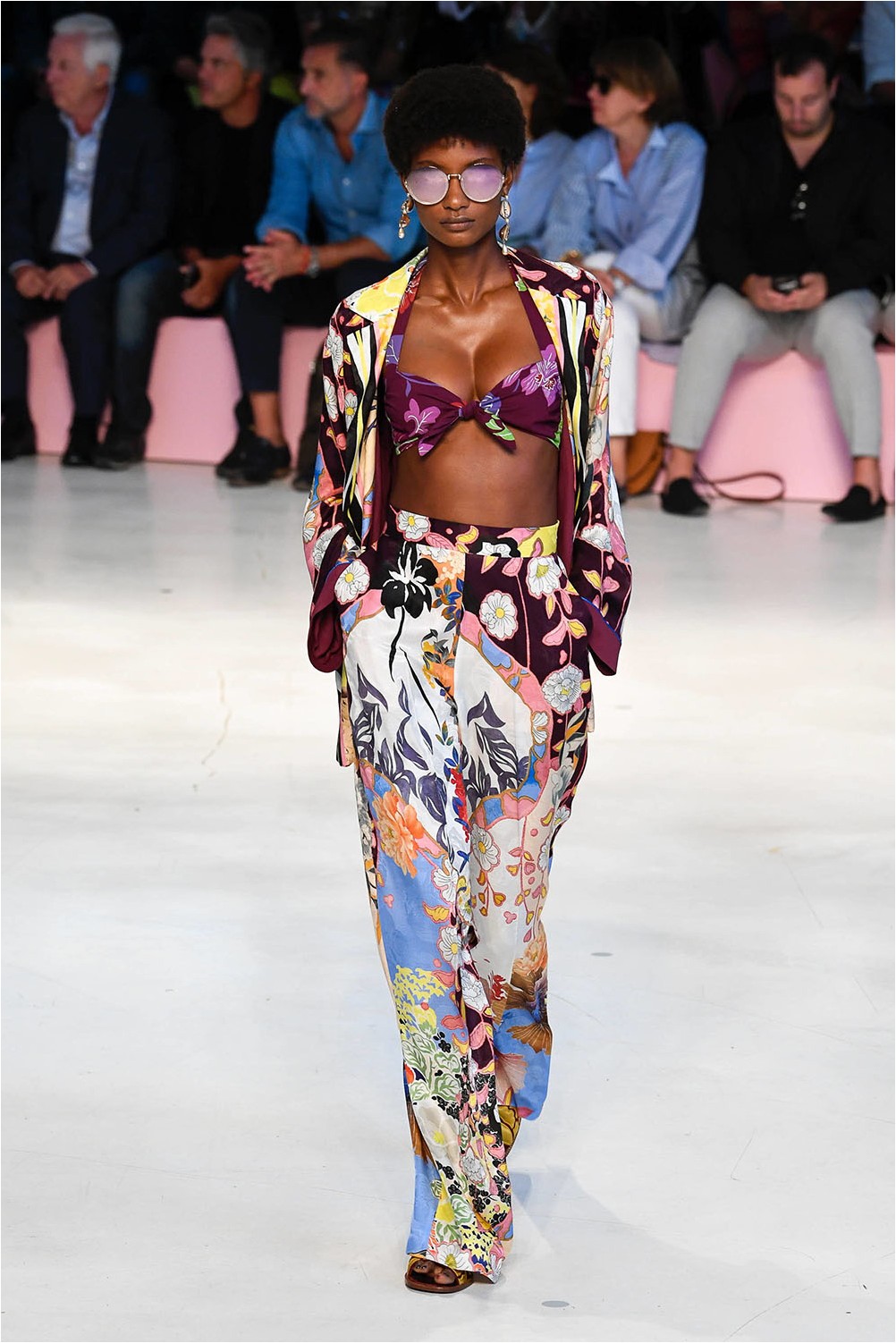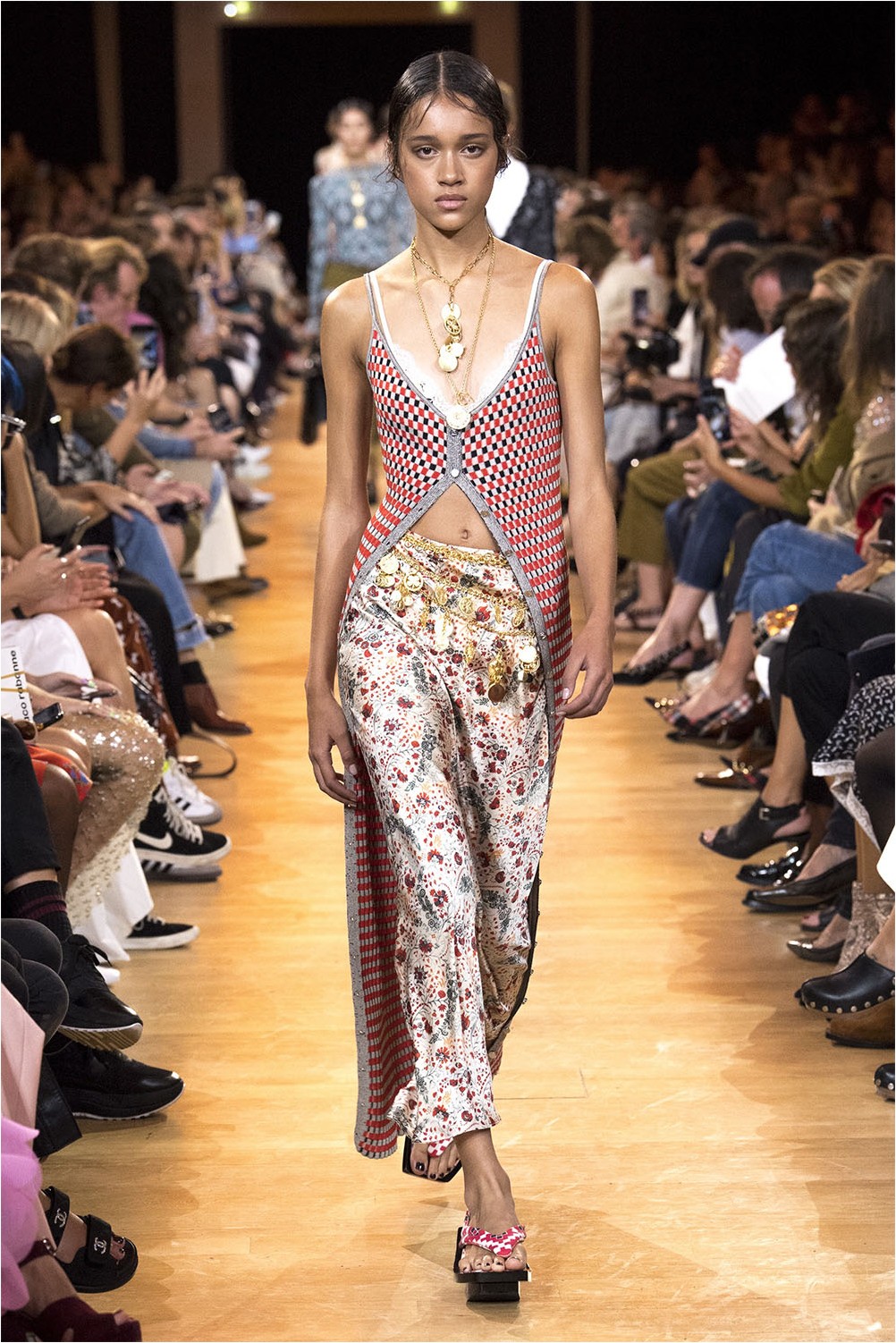 Transparent textures
Pants made of transparent fabric dare not everyone to dare to wear. But fashion has its own laws and transparent fabrics are now in trend. Loewe slightly "softened the blow" and added organza only in the form of inserts on the legs. But the designers Emporio Armani and Emilio Pucci did not become shy. Their trousers are made from right through materials..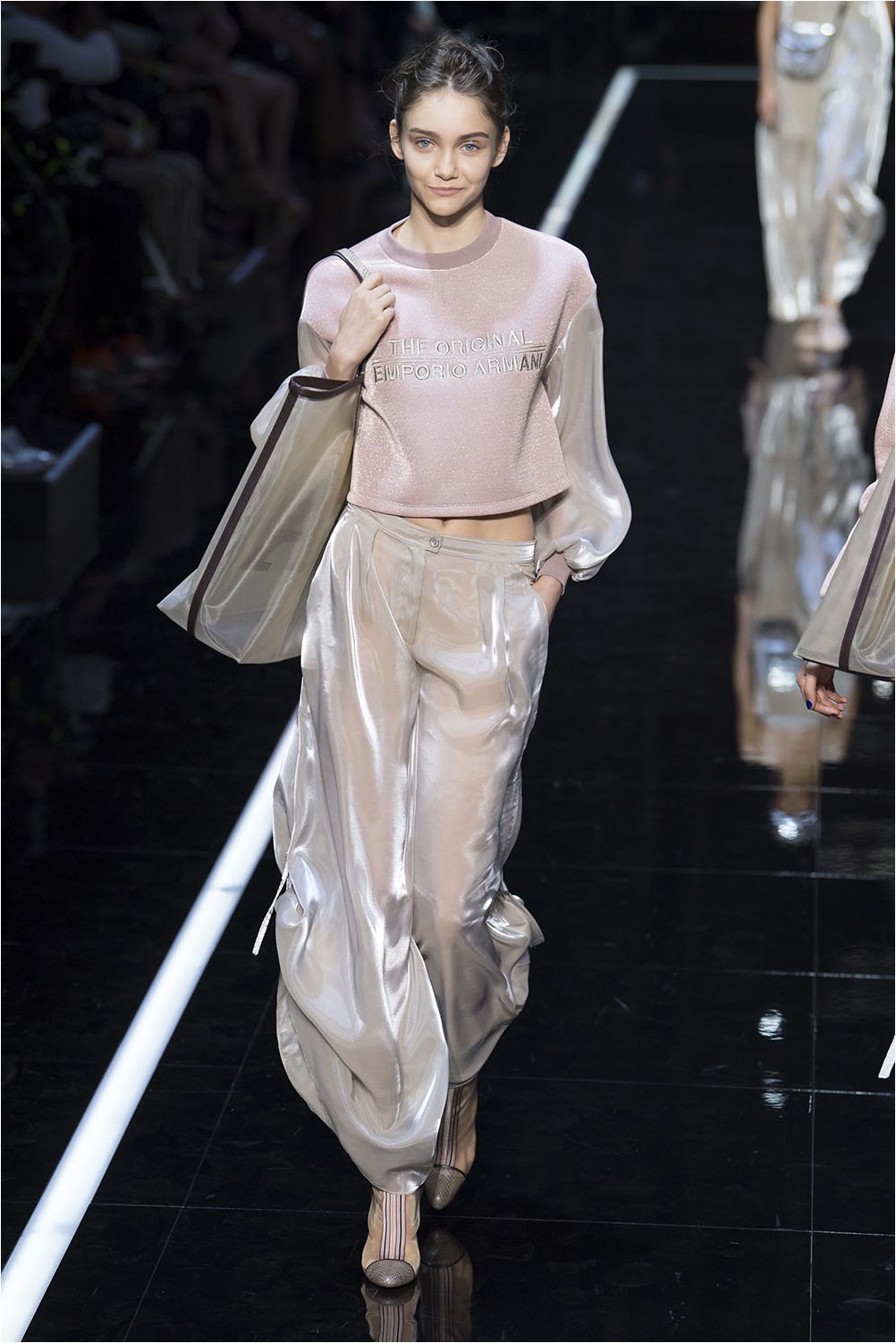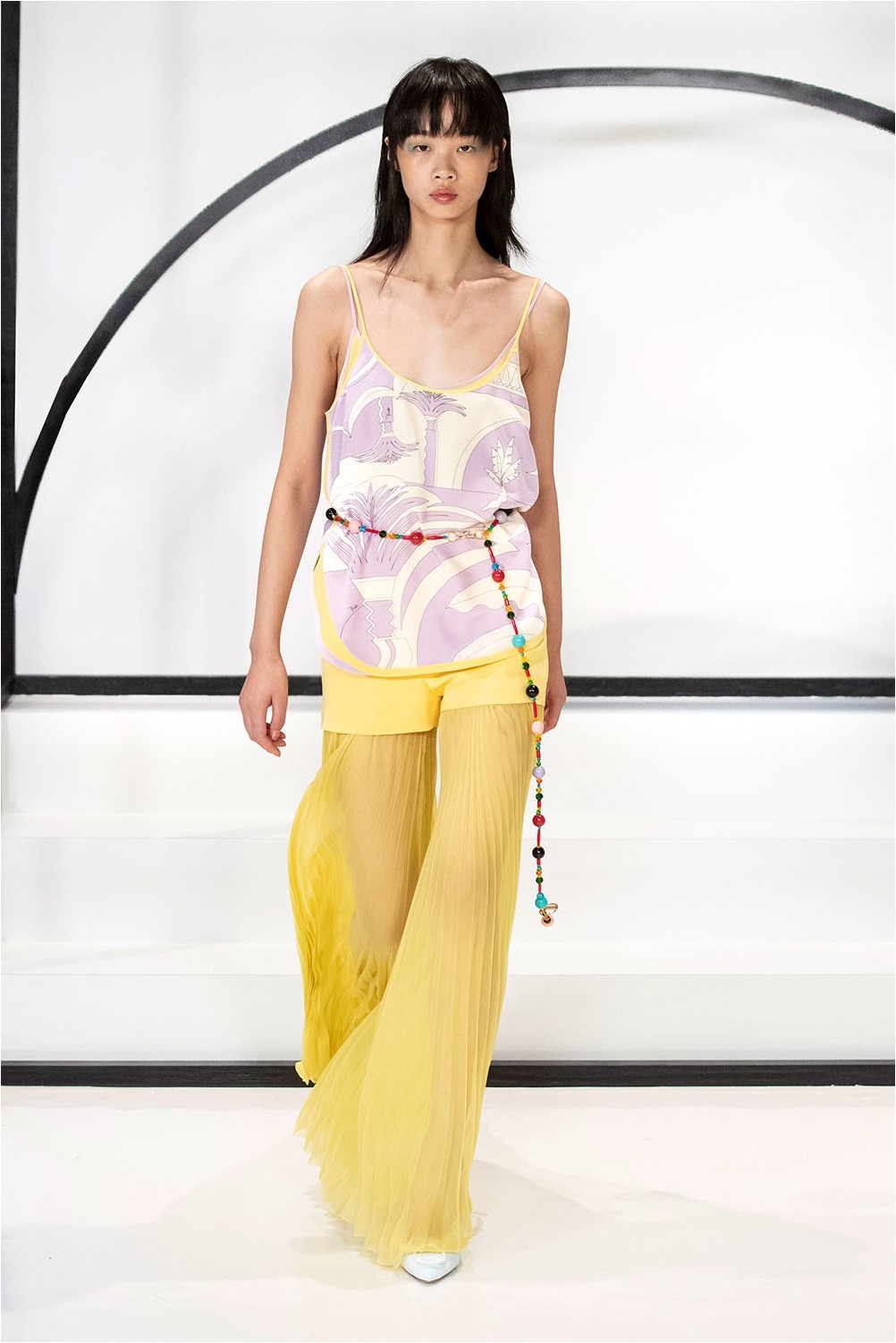 Cuts
Pants are comfortable, practical and elegant. But they have one drawback – they hide the beauty of female legs. It is easy to get rid of this "flaw" – you just need to make cuts on the legs. This is what they did in the most reputable fashion houses – Balmain, Chanel, Burberry and Chloé.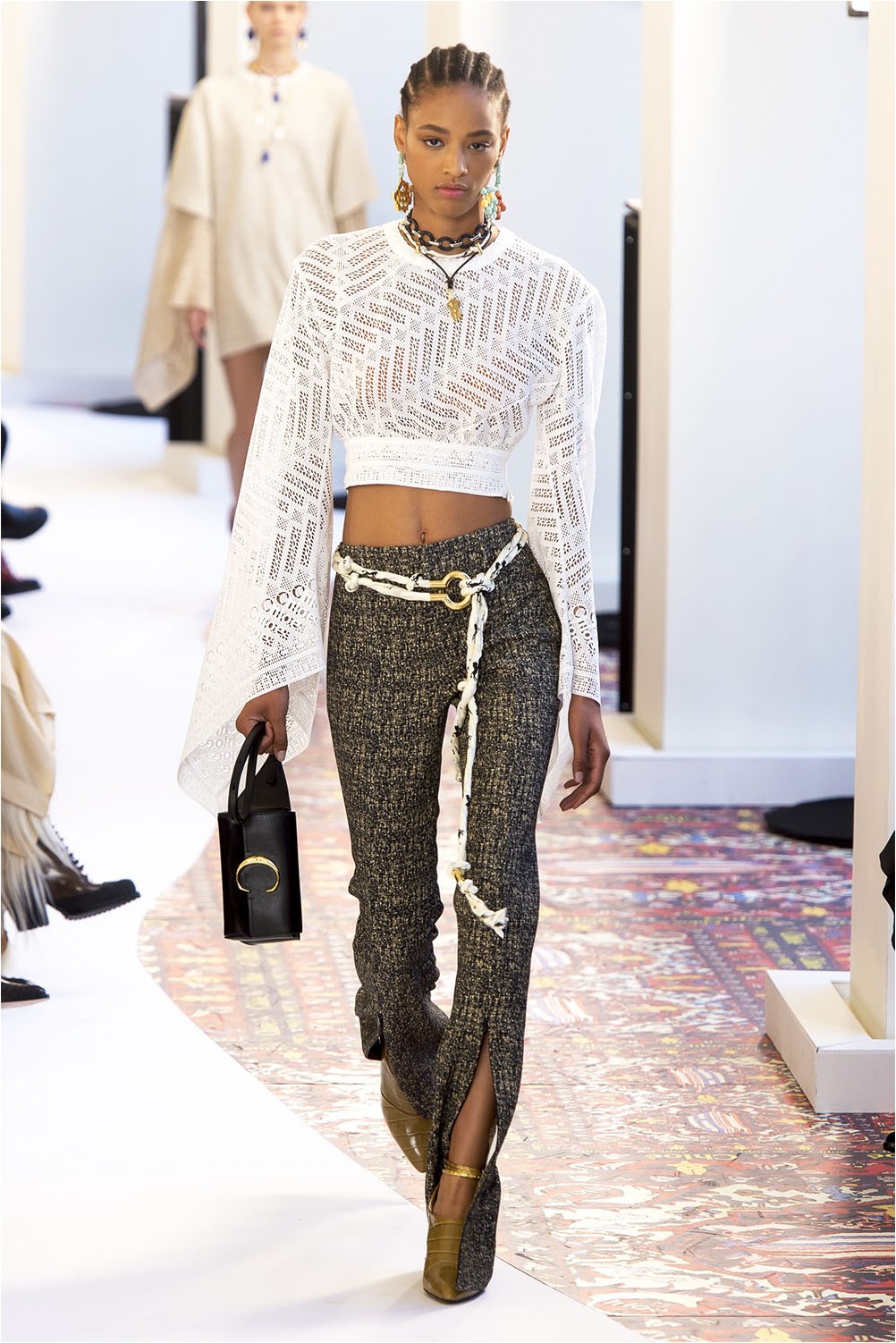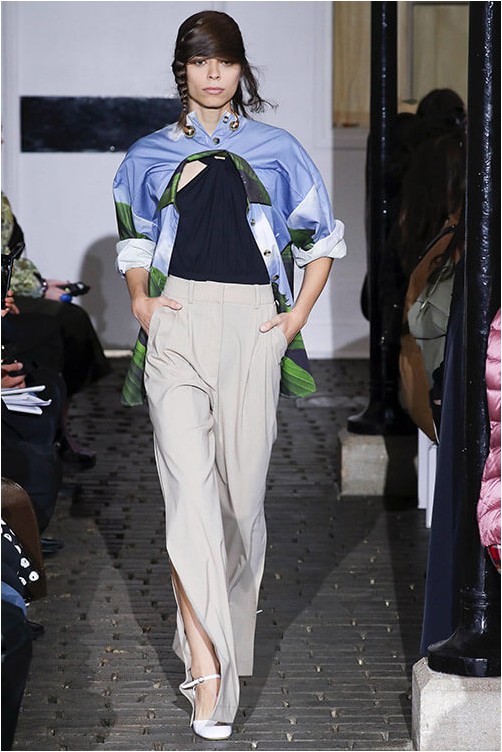 Now from under the trousers an ankle, a shin or even a thigh temptingly peeks out. It all depends on the depth of cut, which can be minimal, medium, or almost to the waist.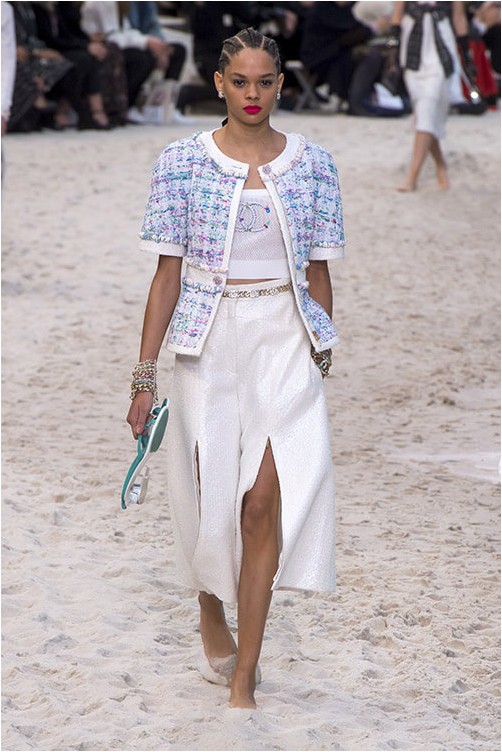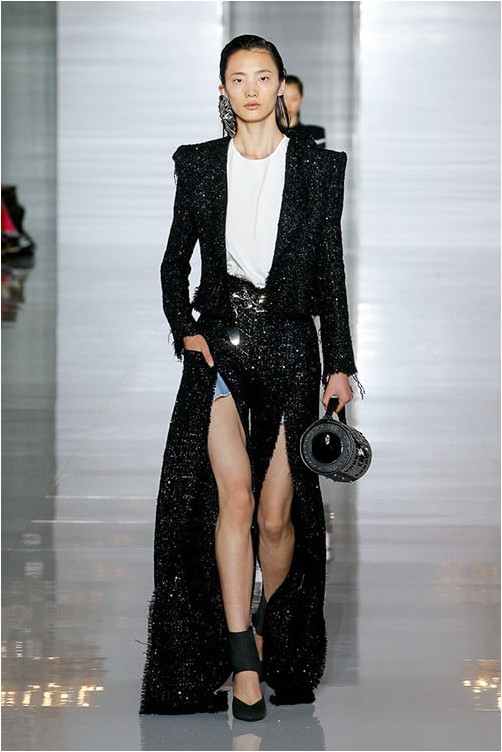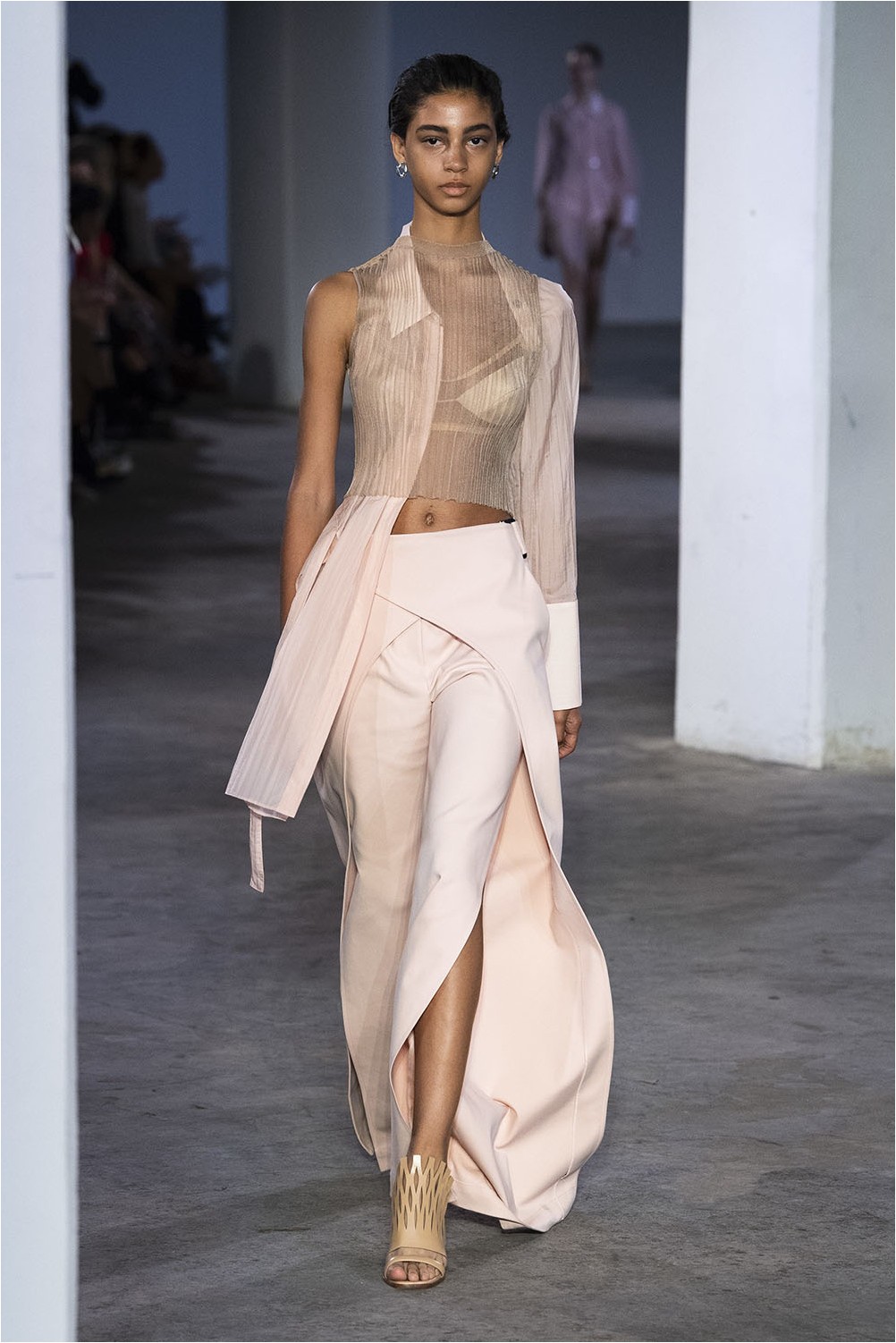 Wide retro pants
Wide trousers literally flooded the catwalks at the September fashion weeks. Pants "bananas" from the 80s, a palazzo from the 60s, flared from the 70s, voluminous skirt-pants from the 90s – all these styles help maintain the trend on the crest of a fashionable wave.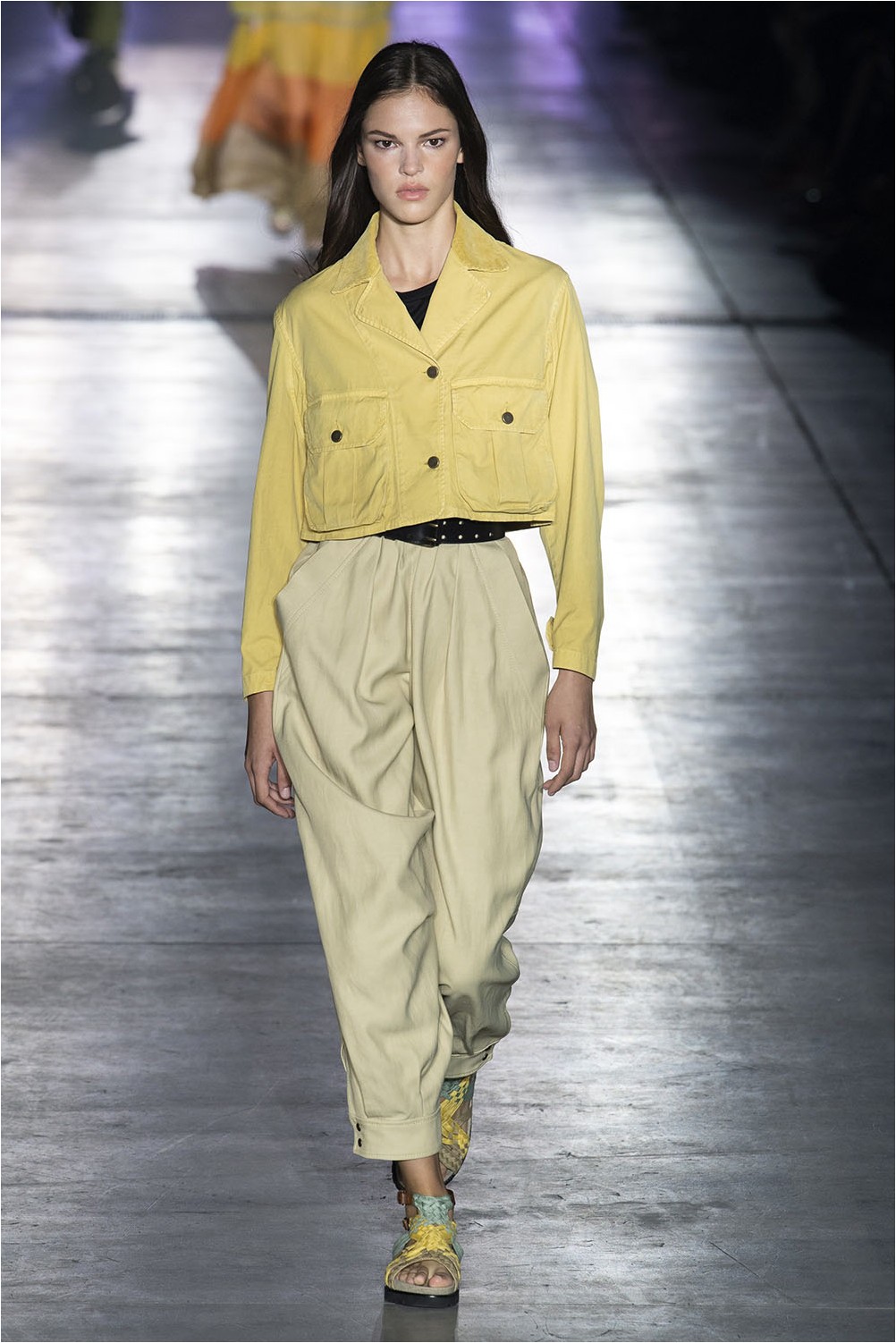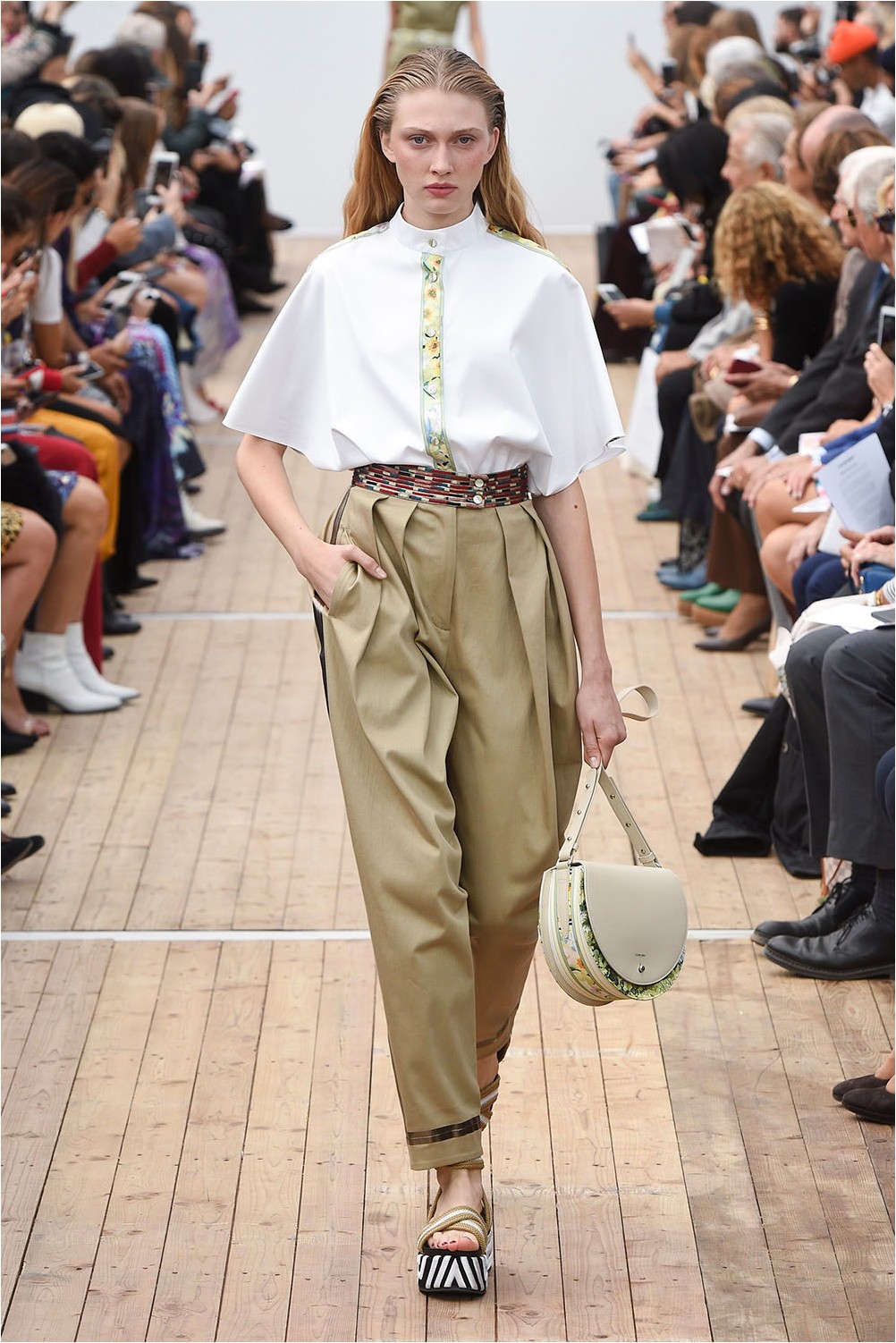 They are joined by breeches and trousers in the style of Marlene Dietrich – straight and spacious, with a touch of masculinity. The main goal is to achieve volume. And no matter what means masculinity is achieved.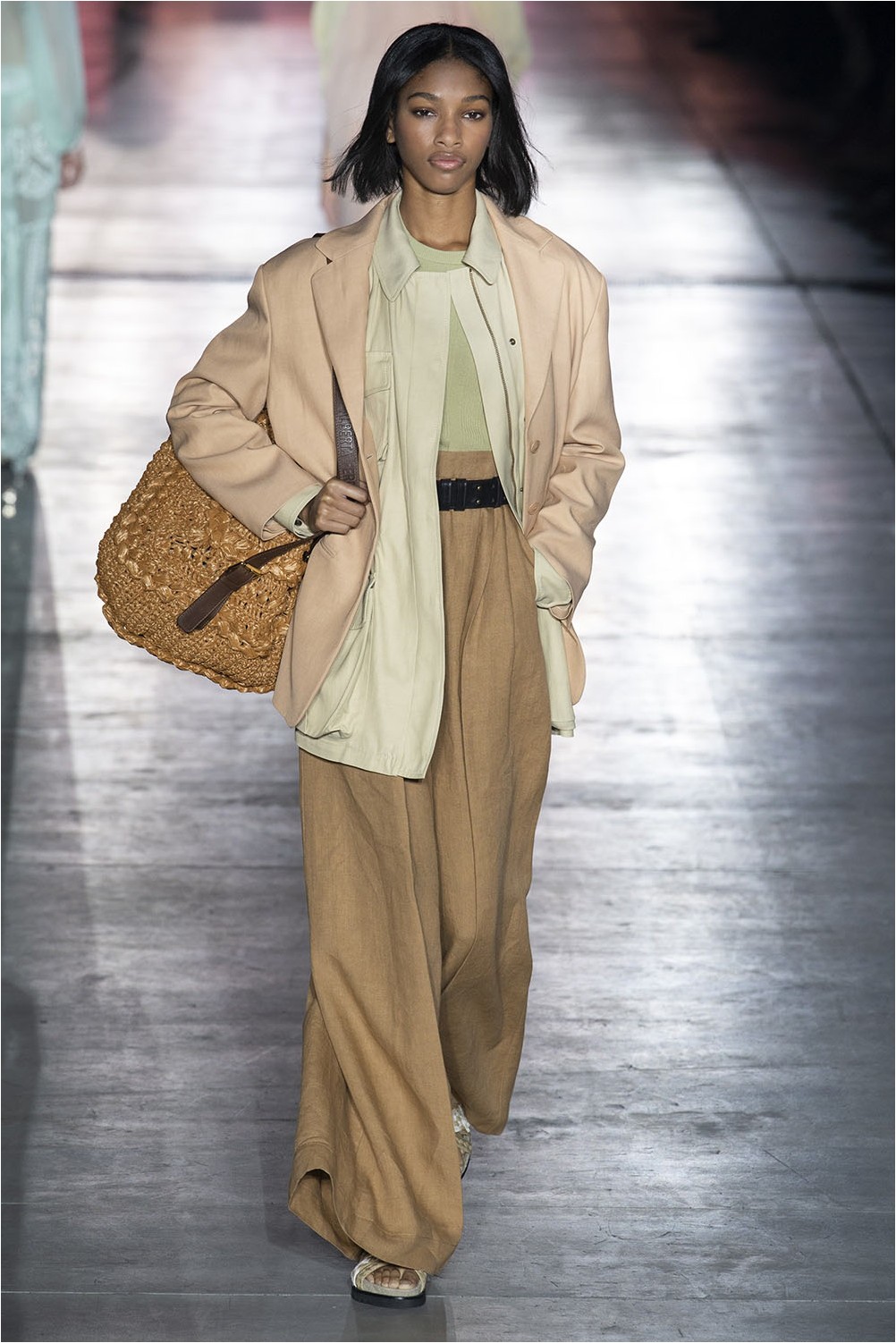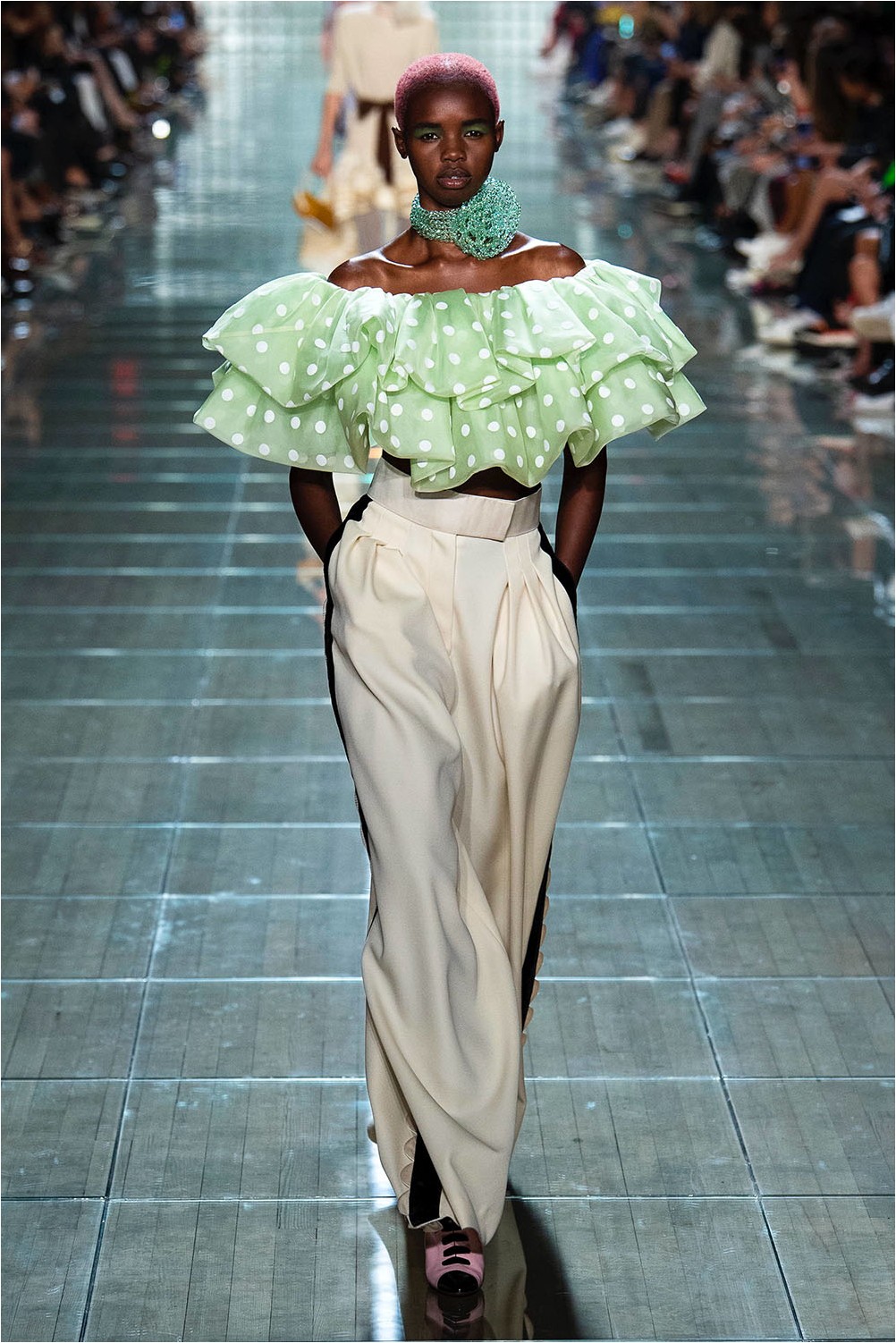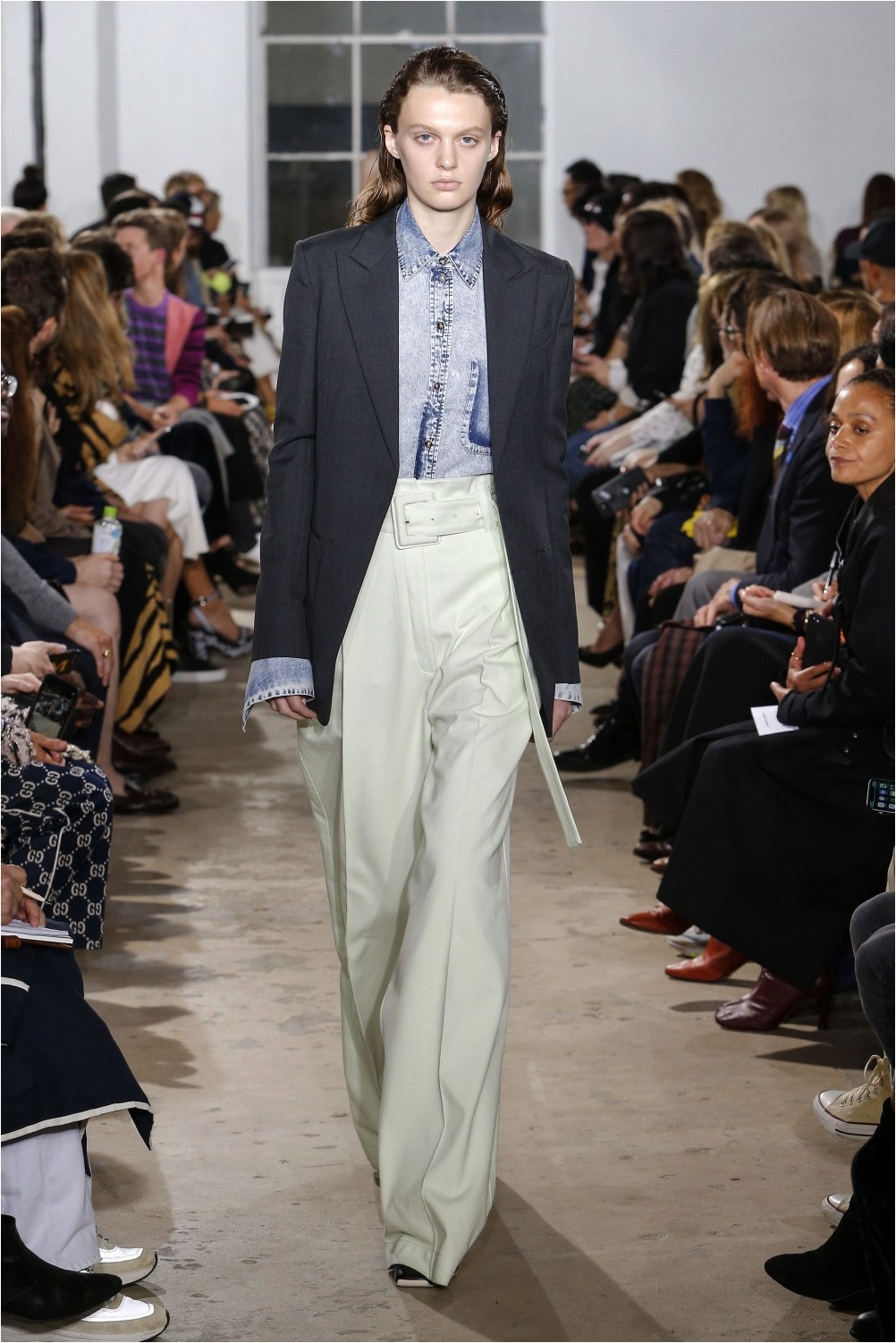 Cropped trousers
Trousers – Chinos, 7/8, culottes, and other options of shortened trousers break records in popularity at fashion shows. Shortened trousers were included in almost every collection. Sacai, Louis Vuitton, Alberta Ferretti and Emillio Pucci introduced shortened versions of bananas and wide trousers.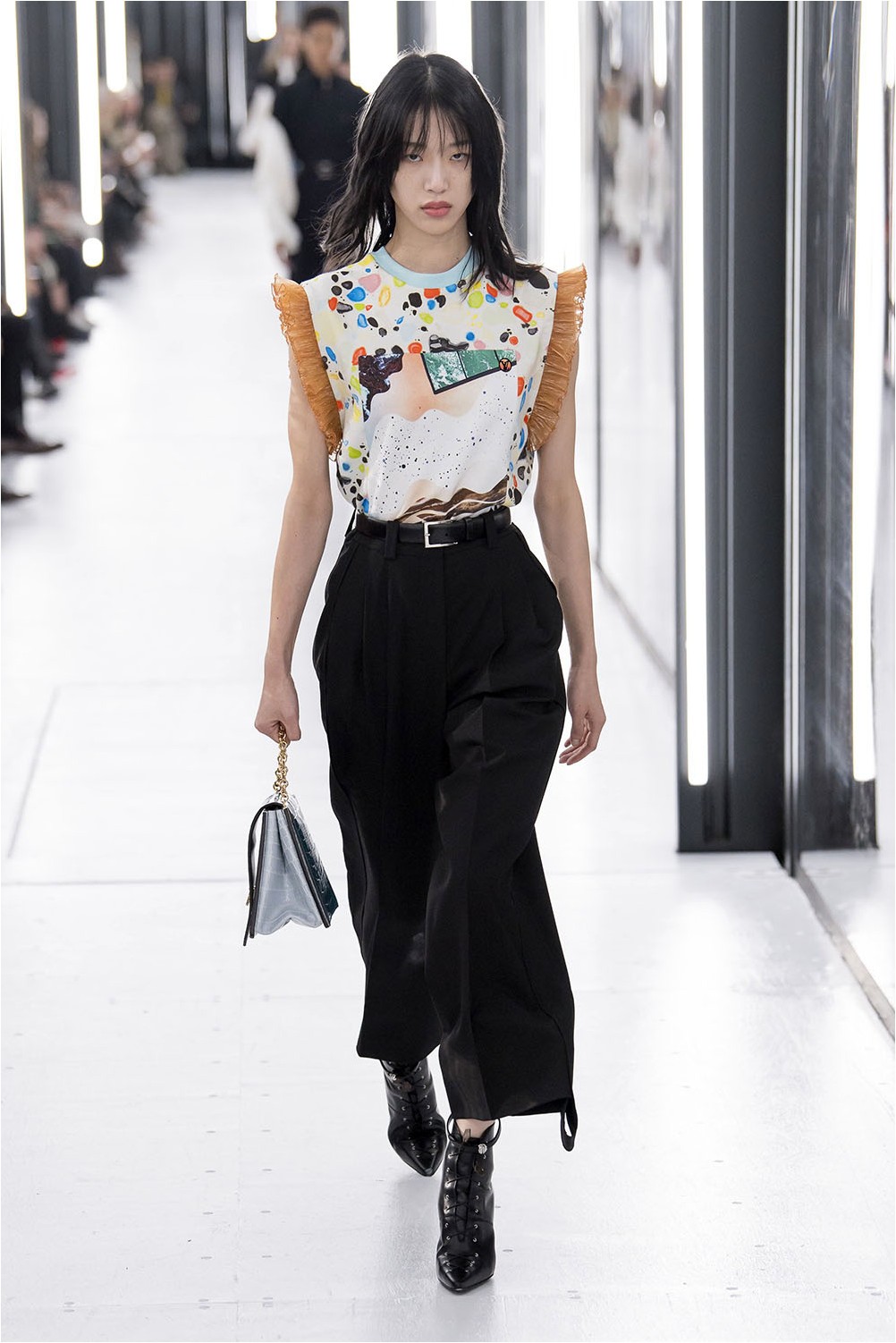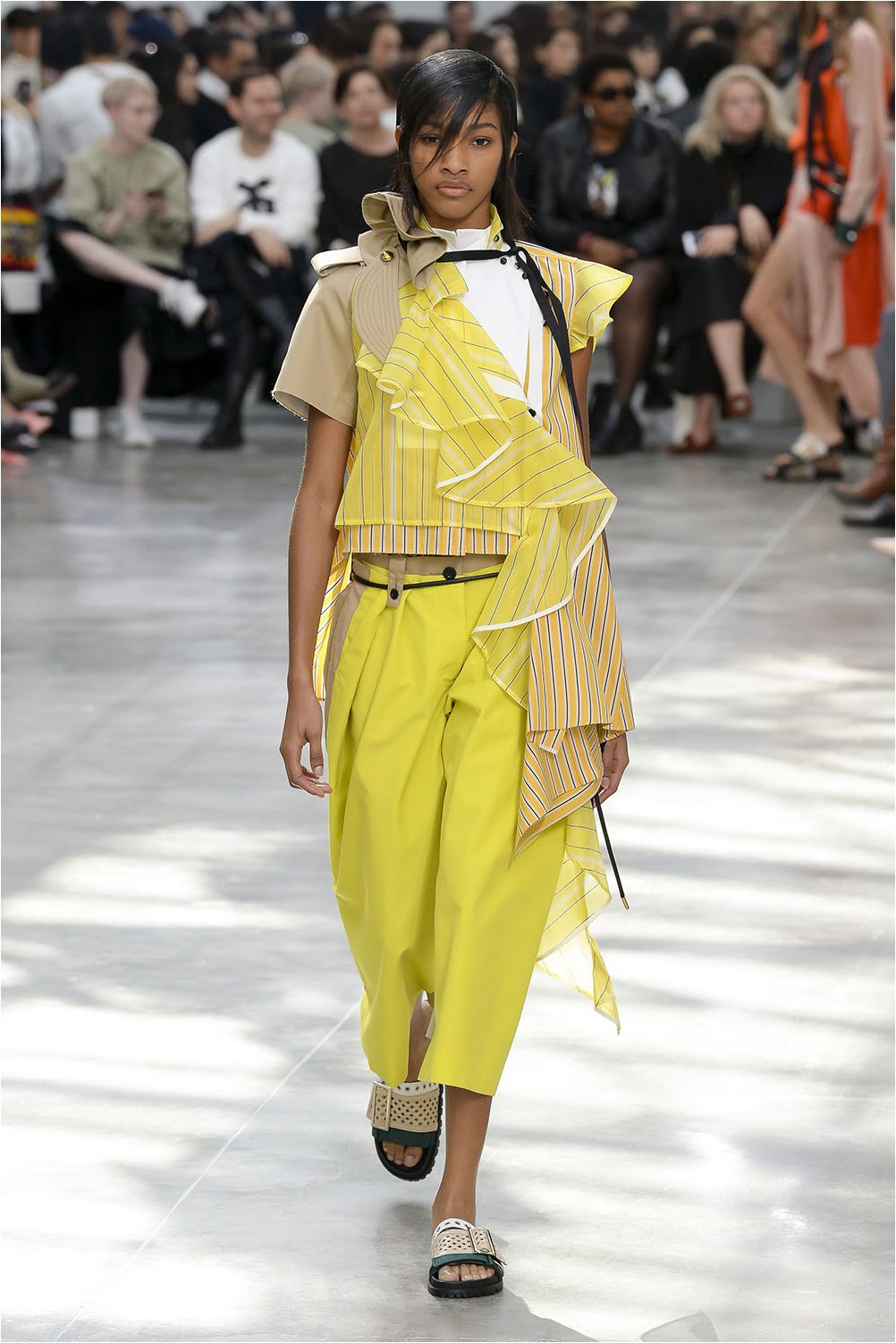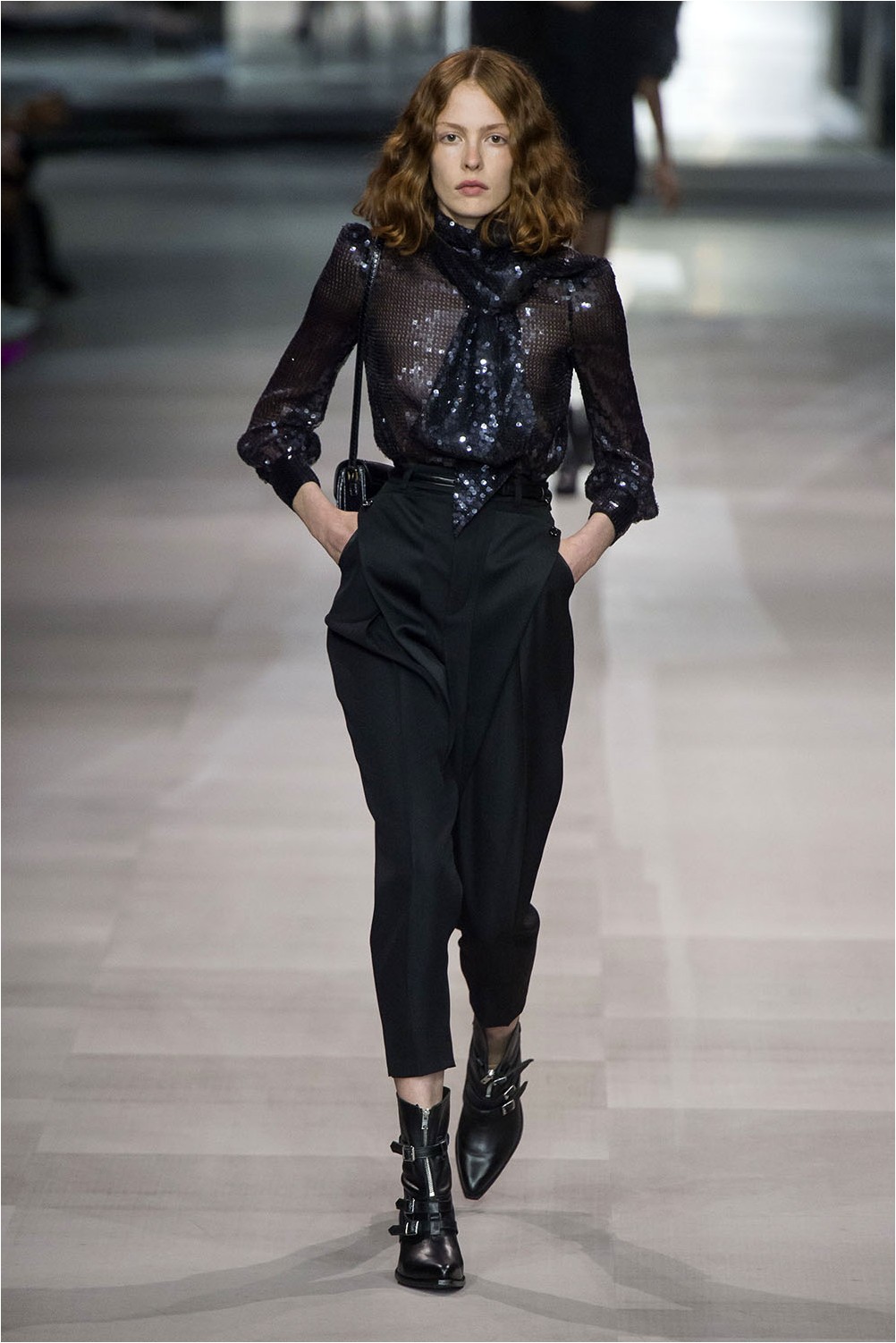 Fashion designers Ermanno Scervino, Hermès and Emporio Armani decided on a more radical experiment – shorten straight classic trousers. In any design, cropped trousers look easy and relaxed. And in combination with a jacket, they dilute the excessive severity of business style.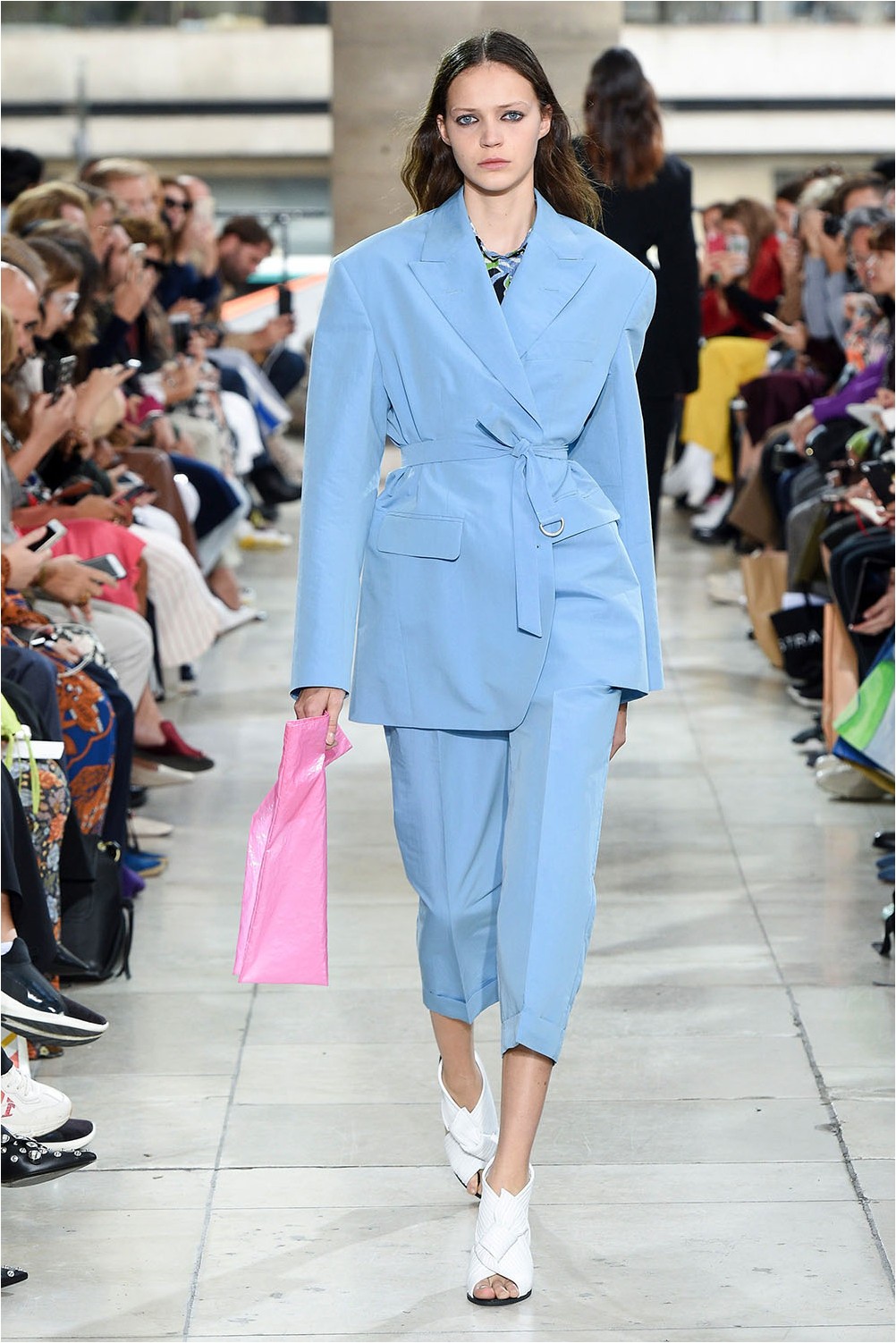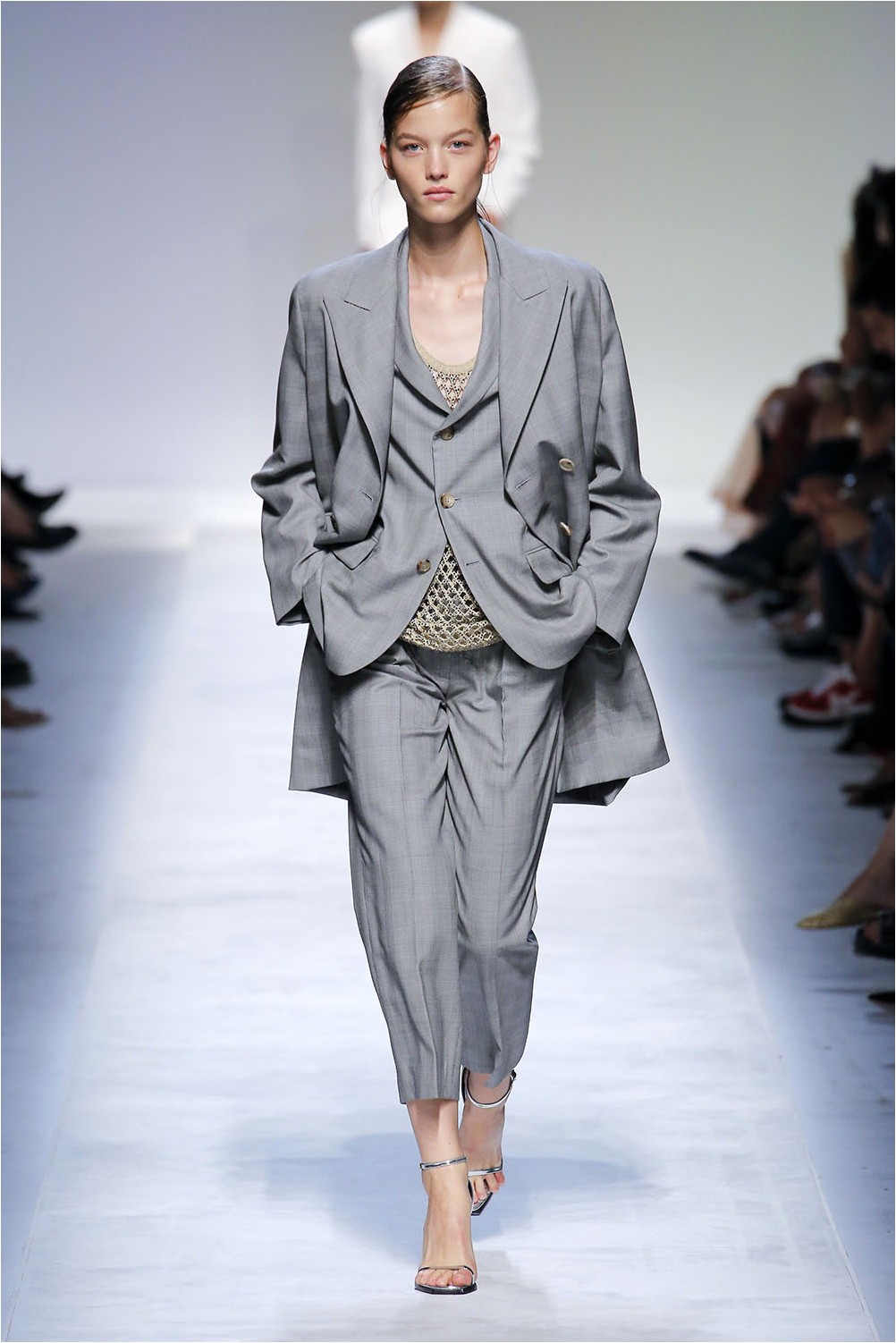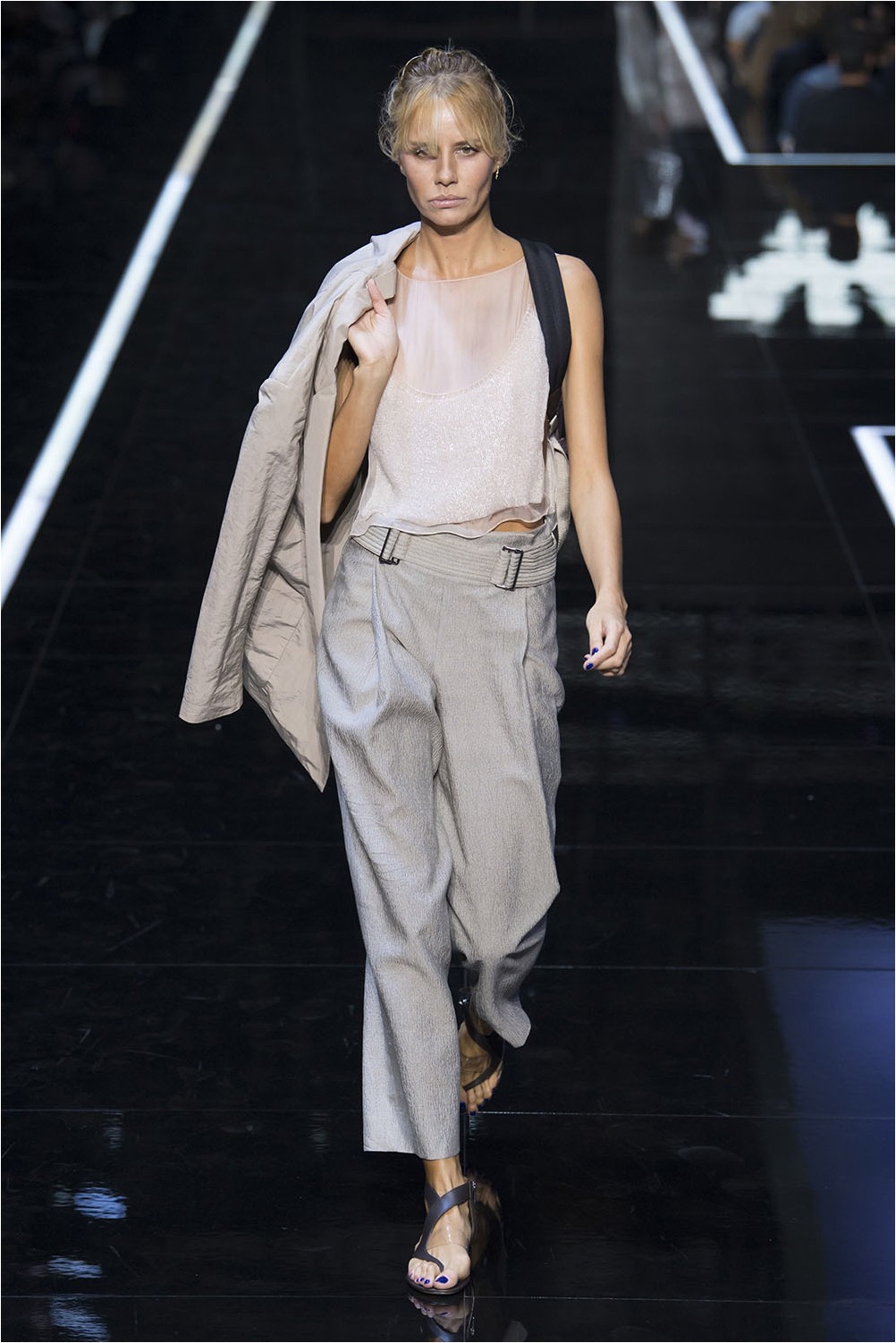 Floral print
Not a single spring-summer season is complete without a floral print. And if he managed to stay in trend during the time of masculinity, now the time has come for the reign of a floral pattern. The floral motifs habitual for dresses also decorated trousers. Flowers were for every taste – large, small, colorful.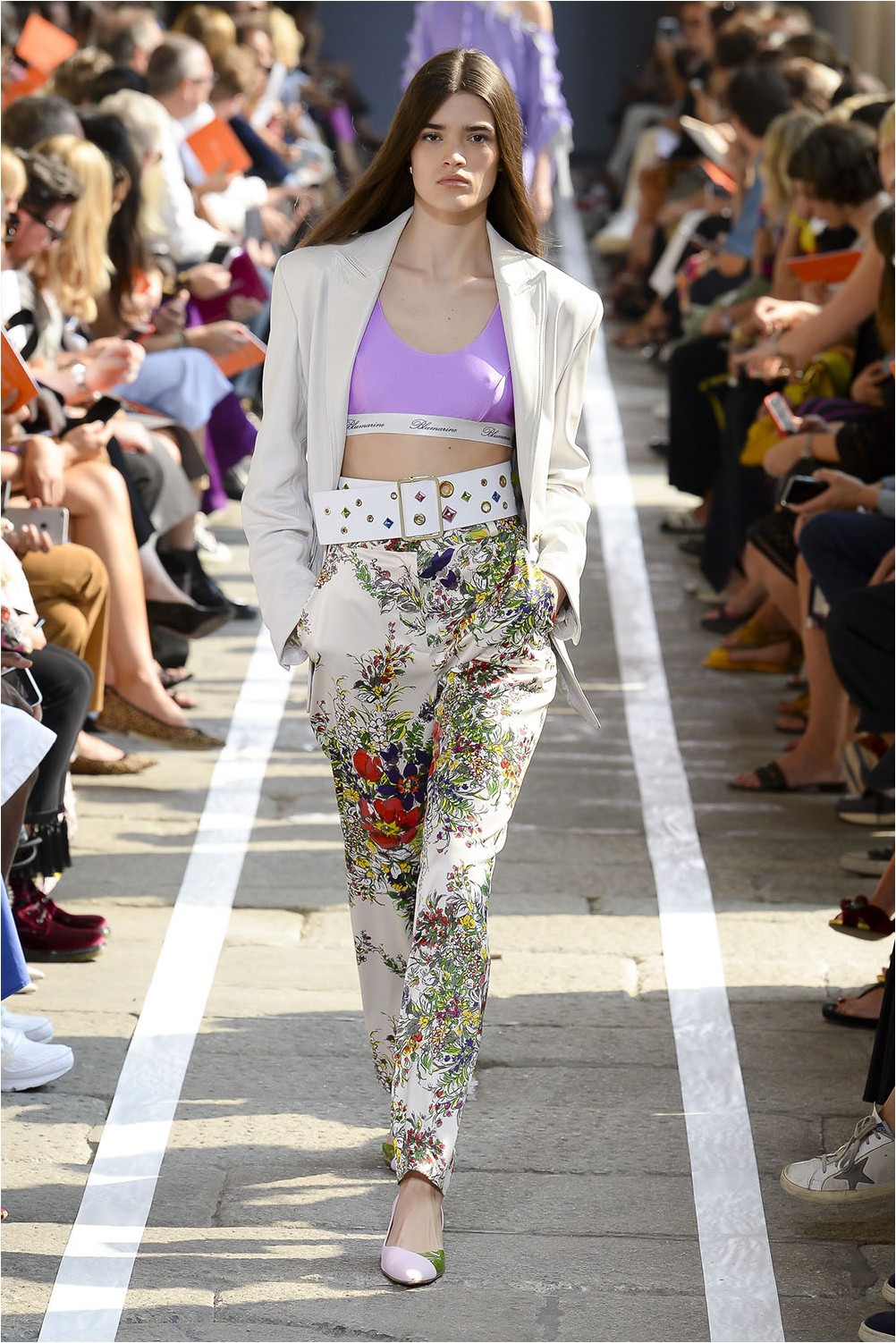 The main fashion concept for 2019 is maximum femininity. That is why on trousers from Badgley Mischka, MSGM, Blumarine, Dolce&Gabbana, Michael Kors and Etro have so many colors.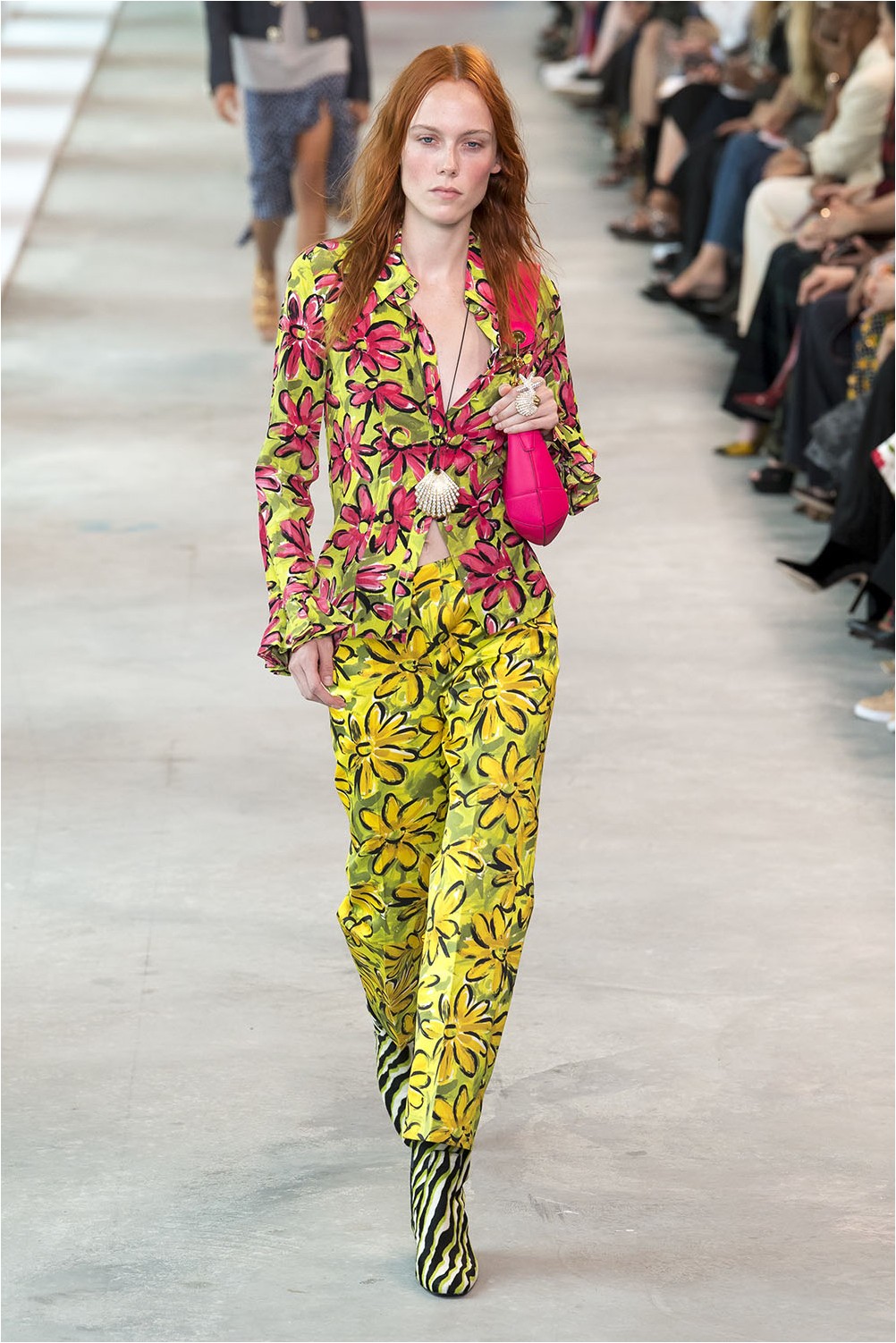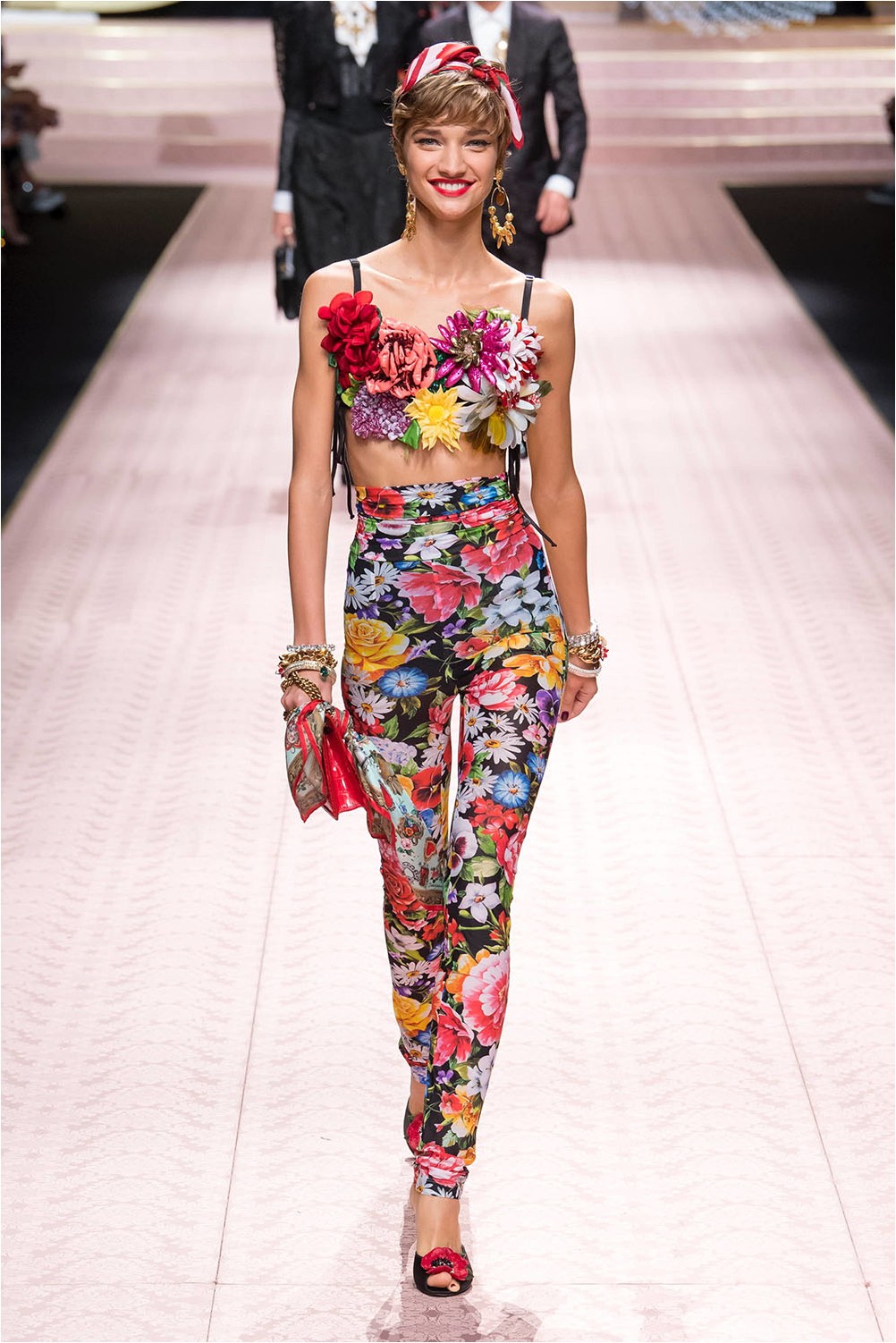 Shawl motives
The fresh trend of this spring is the scarf print. Patterns borrowed from scarves and shawls appeared on the canvas of trousers. Oriental "cucumbers" or paisley, intricate Arabic ornaments, Indian flowers – this is only a small part of the drawings, which now show off on trousers from famous couturiers.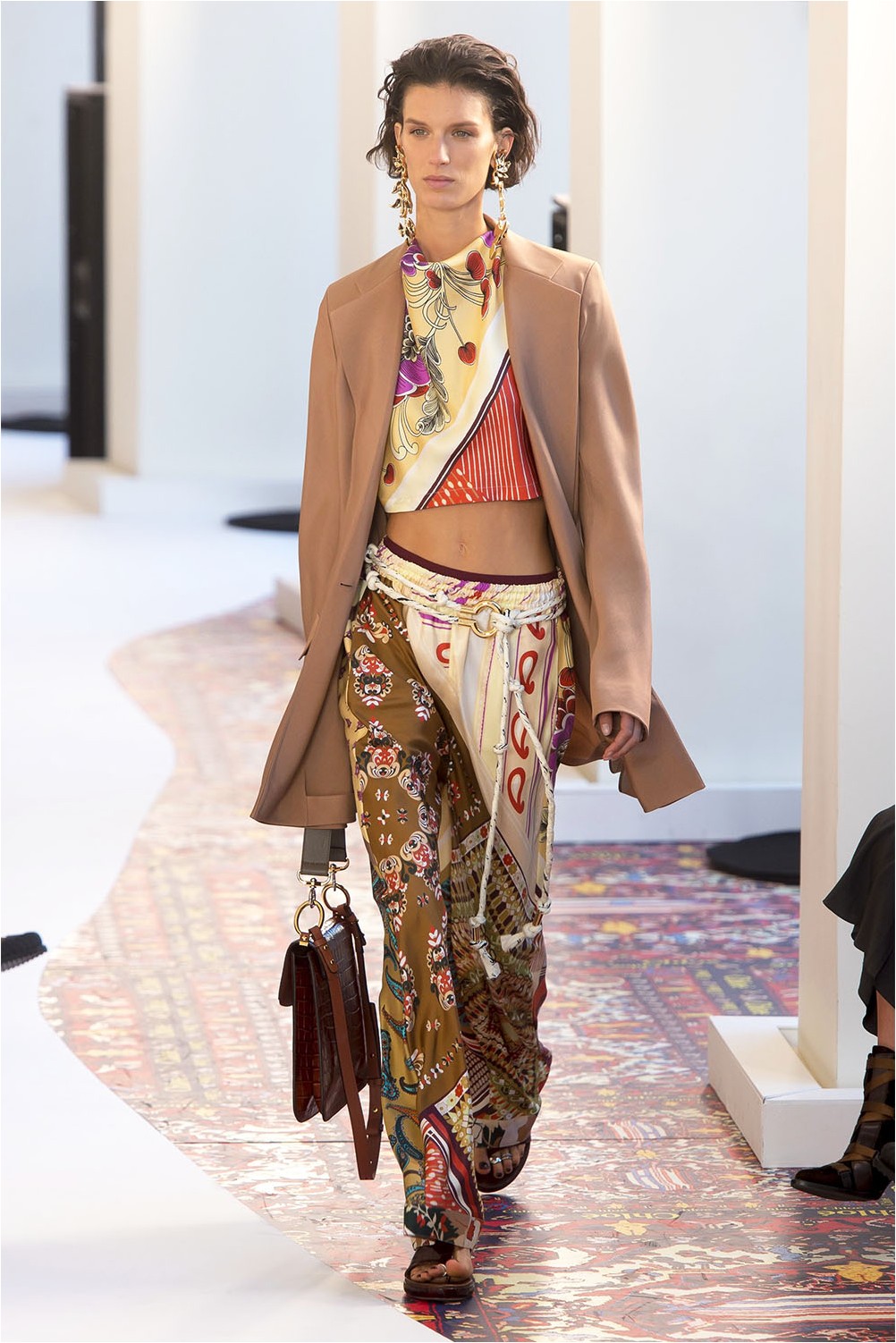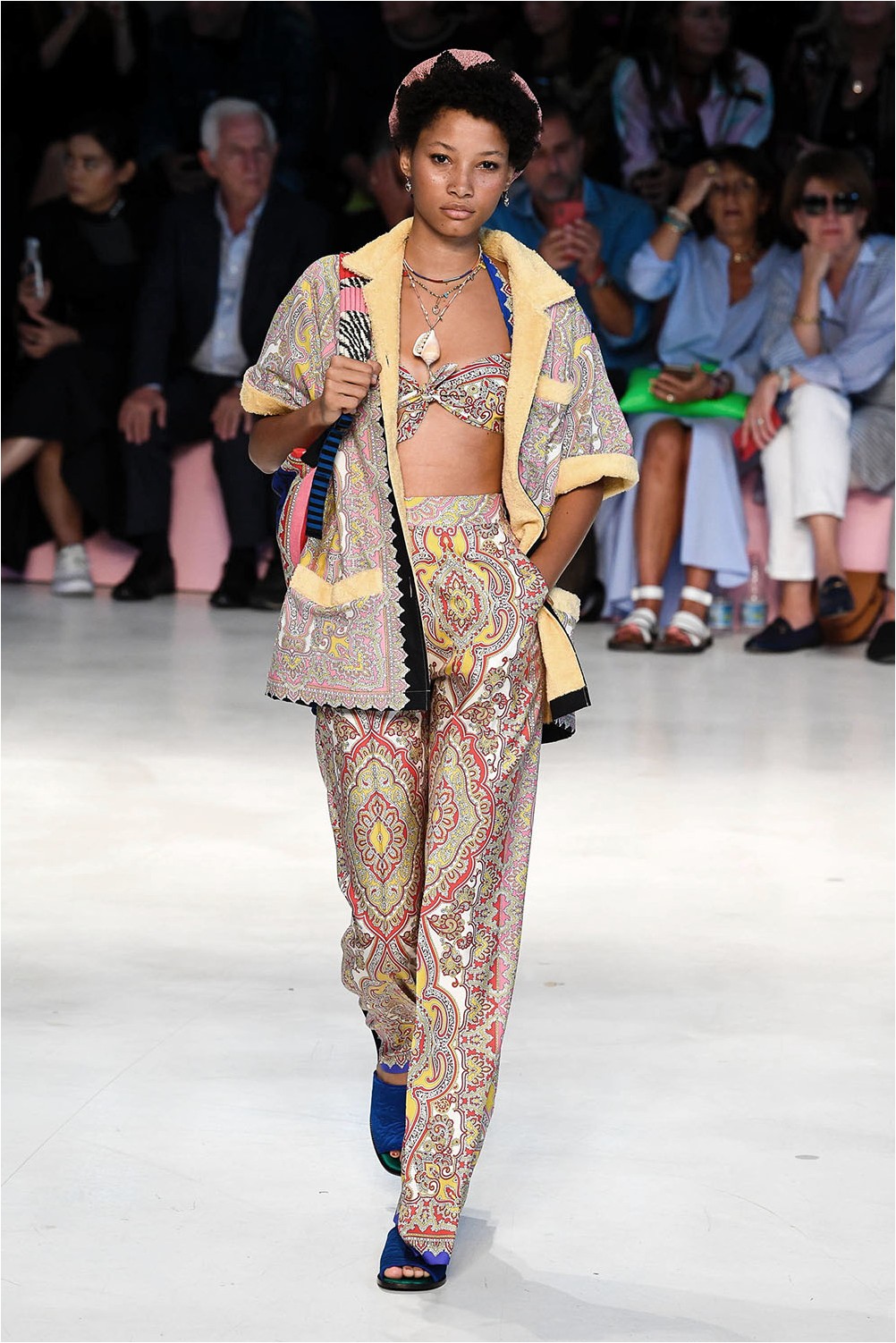 Pants are clothes that once passed from a men's wardrobe to a women's. Judging by fresh collections, trousers will completely leave their masculine origins and become extremely feminine. To achieve this, the designers used all conceivable and unthinkable tricks. "Polka dot", lace, ruffles, floral prints, cuts and sequins – all this has become part of the fashion trousers of the spring-summer season 2019.
Similar articles
---