Content
---
---
In the fashion collections of the fall-winter 2019 season, there was practically no denim, but leather, velvet, jacquard trousers struck the imagination with a variety of cuts and color schemes. Designers have proved: correctly selected trousers can decorate a woman many times better than even the most beautiful dress.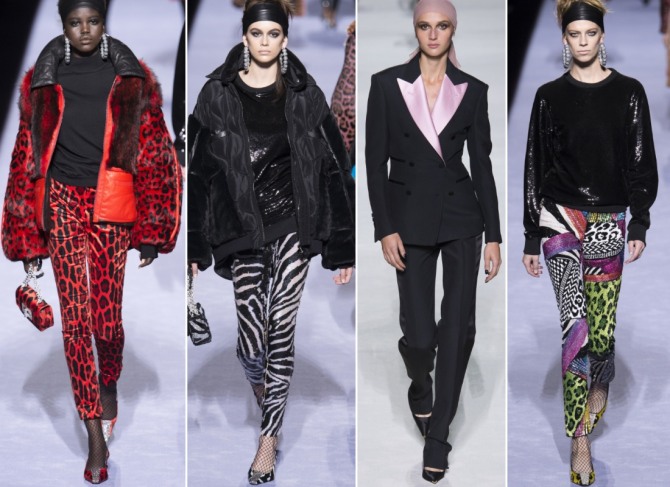 Lovers of luxury will be pleased with fashionable velvet and velveteen trousers, and fans of strict British style will like the cage. What surprised was the almost complete absence of decor. But his place was worthily taken by a floral print and leather of various textures and colors. Retromancers can rejoice – flares, "bananas" and wide trousers return to us again. There will even be a tendency to wear trousers with the dress. Of men's motifs are breeches and stripes. But this masculine drop dissolves in a sea of ​​gentle and feminine images.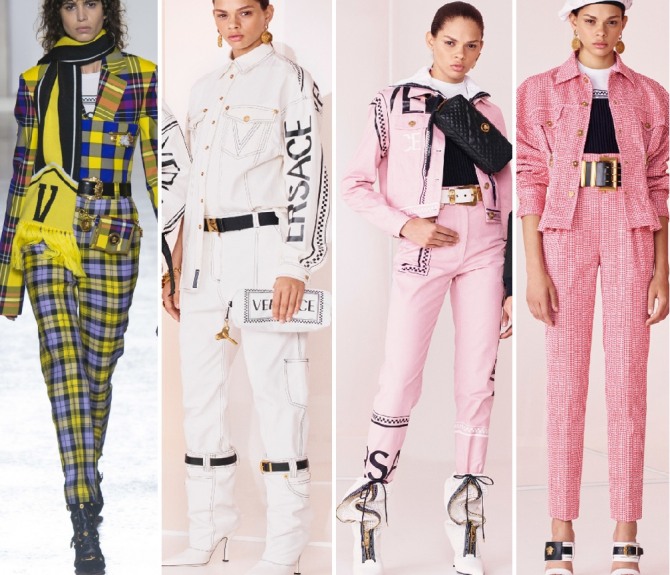 Velvet and Velveteen
Along with the usual materials for sewing trousers, in the autumn-winter season 2018-2019, designers actively used velvet. Emilia Wickstead, Nicole Miller, Giorgio Armani convinced us that the "royal" velvet looks much more luxurious on everyday clothes than on evening dresses. Note, no bright shades – the "real" velvet is represented exclusively by black, graphite, burgundy, swamp green and blue tones..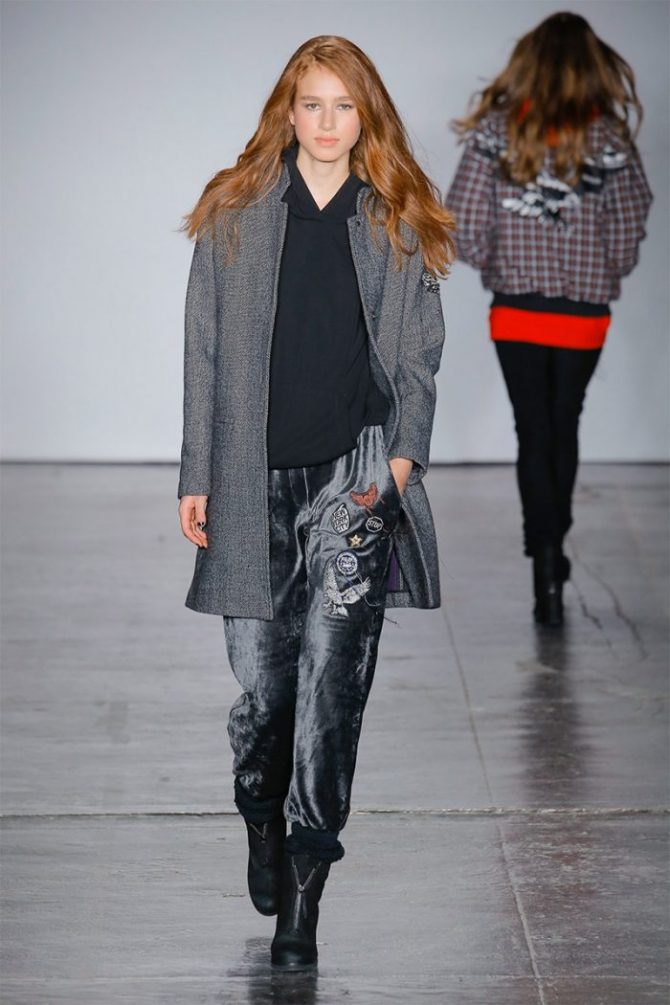 Velvet pants will also be in fashion. You can wear velvet or velvet trousers with any top – they look equally good with a blouse and a classic coat, as well as with a fashionable sweater and jacket.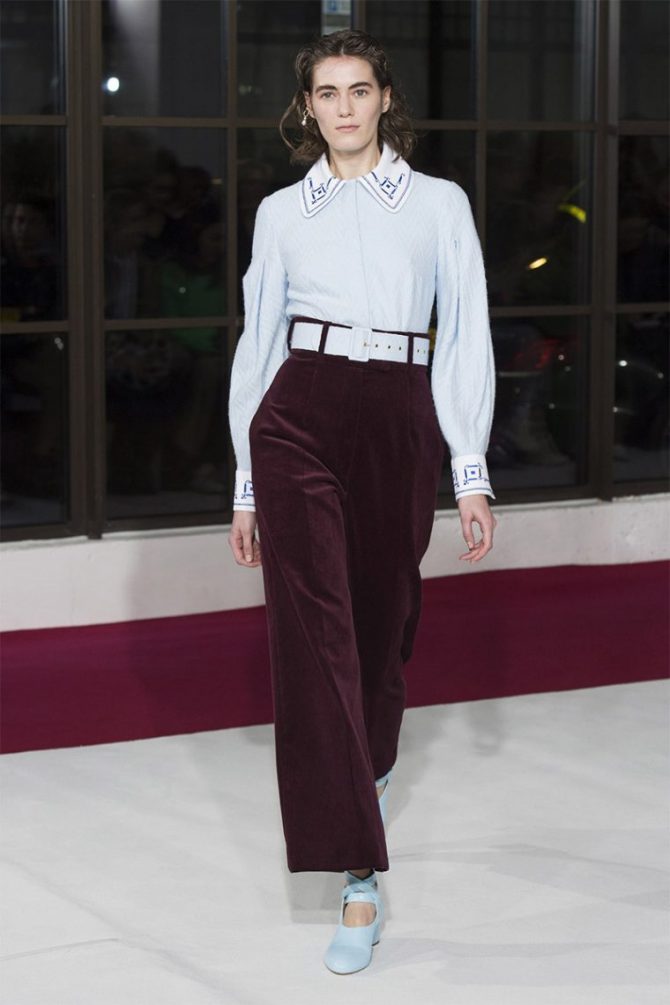 The main condition is not to overload the image with decor. Velvet and velveteen are self-sufficient fabrics, their texture perfectly copes with the task of avoiding gray everyday life..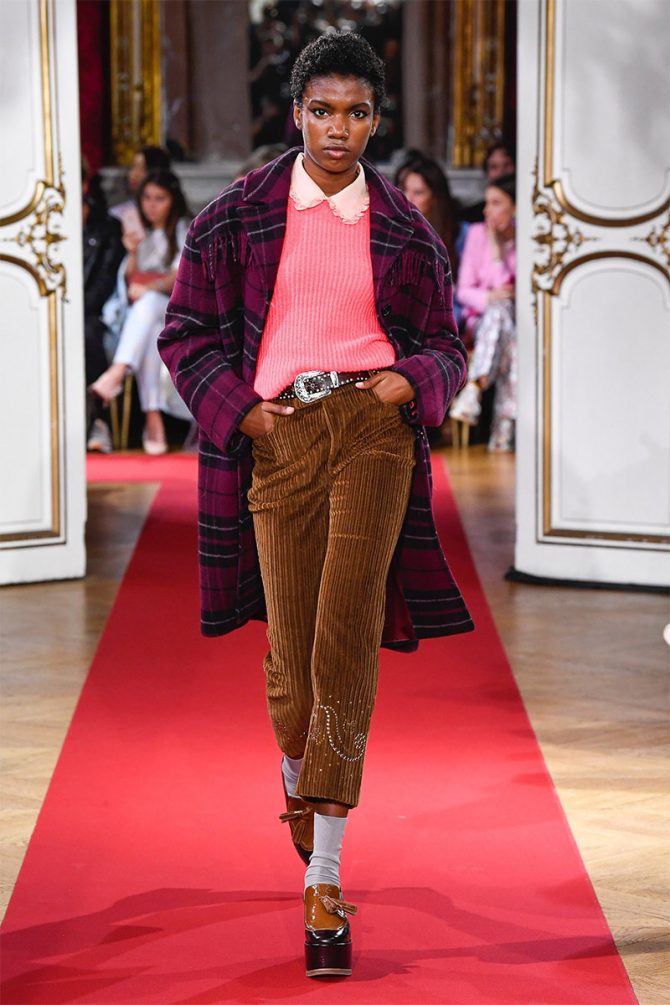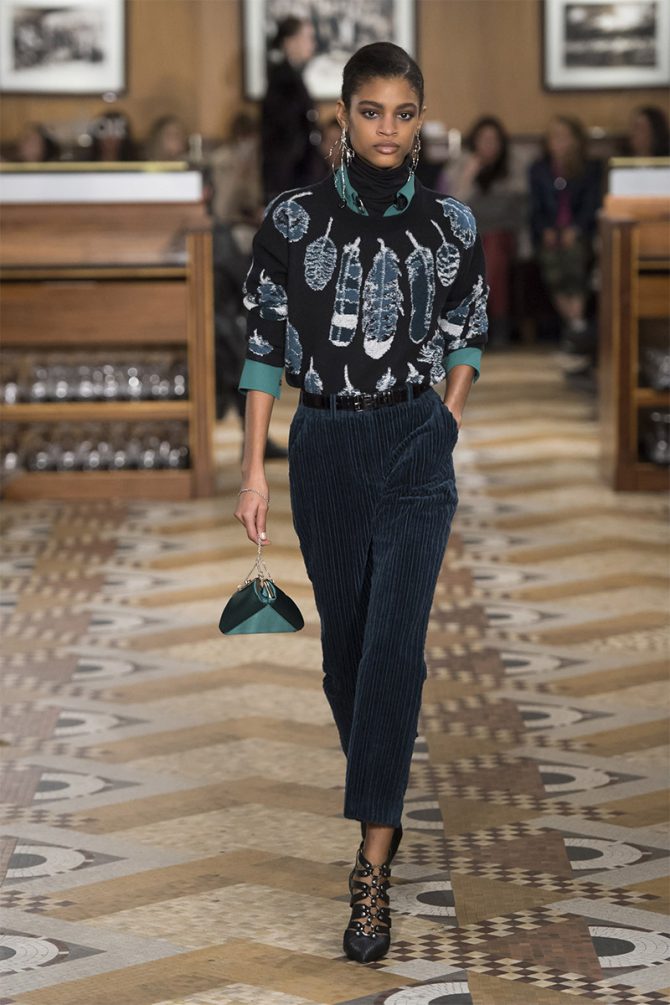 White pants
It seems that the designers seriously decided to extend the summer until winter. If earlier white trousers were considered an attribute of the warm season, now they are also included in the autumn-winter collections. Have to support the idea of ​​eternal summer and stock up on the white season with snow-white trousers.
The only thing, no sports and baggy pants – the "right" white trousers are presented exclusively by models of a classic cut.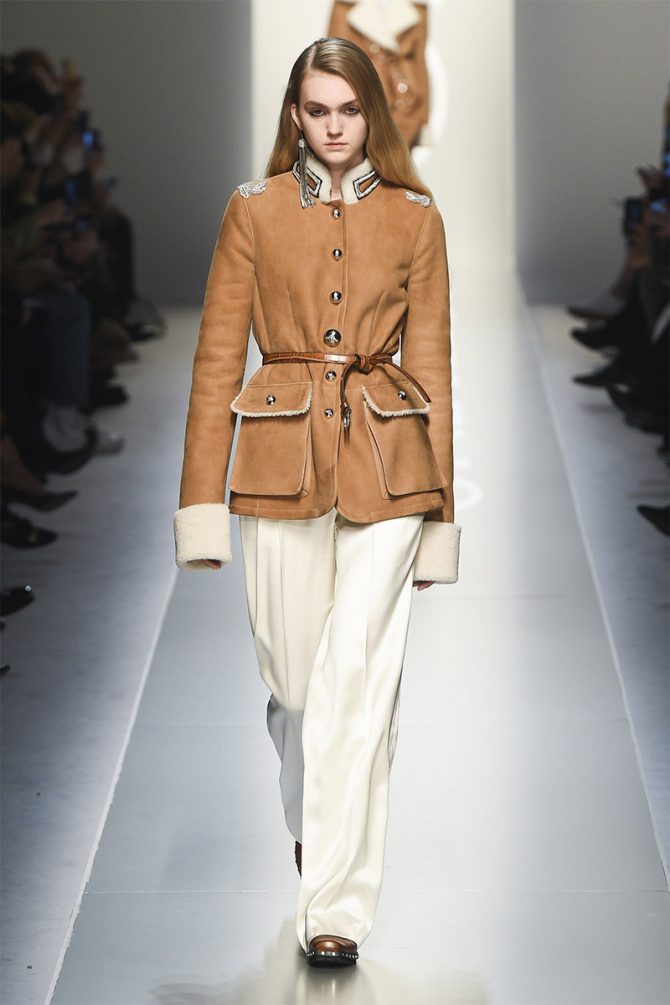 Wearing white pants is allowed for any type of autumn shoes – with shoes, boots and even boots.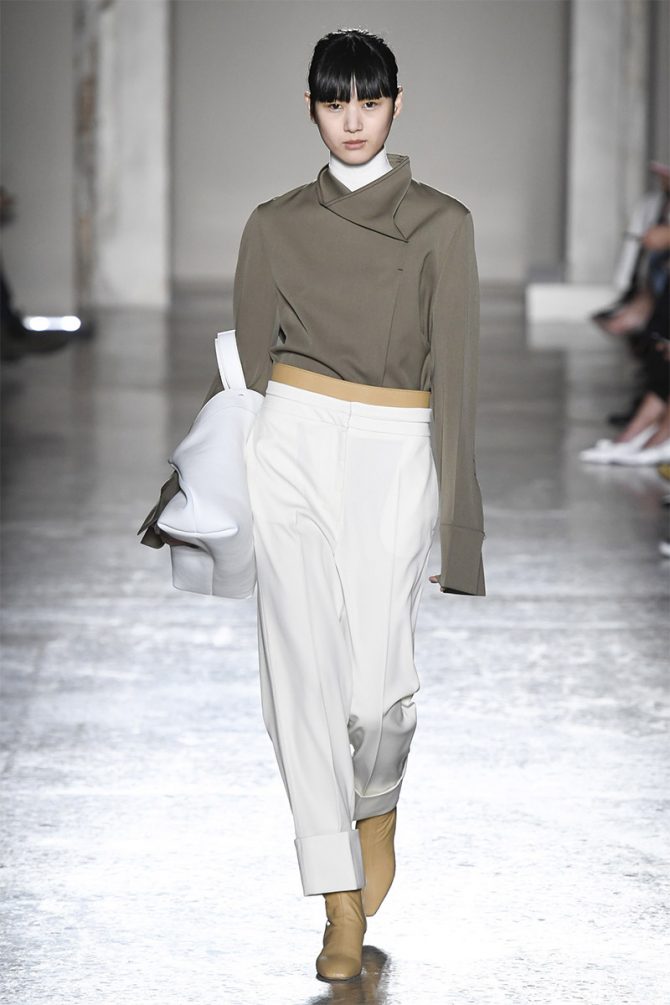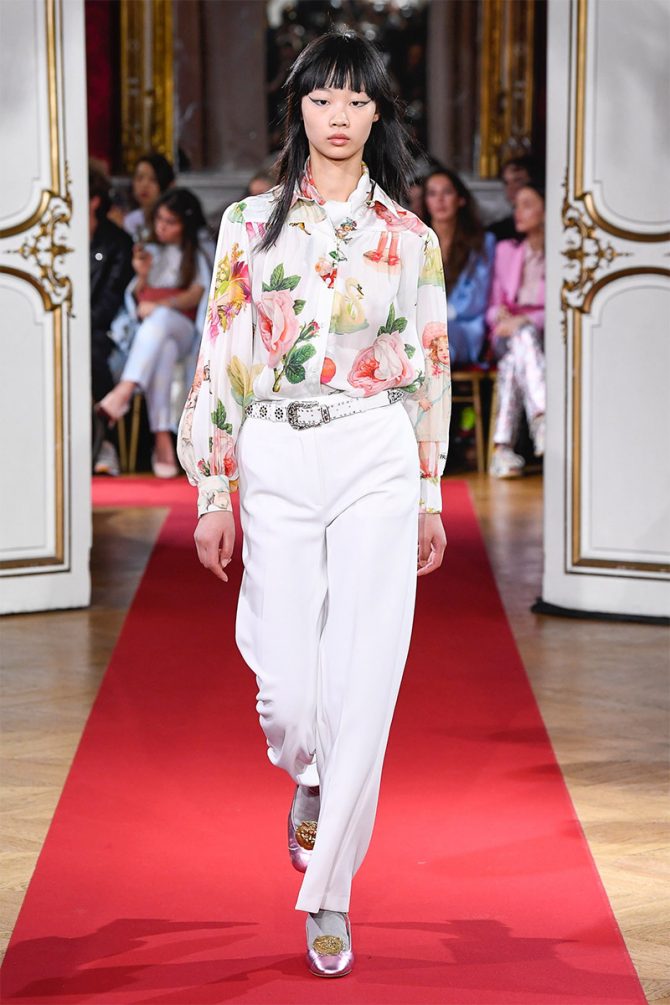 Pantsuit
To return femininity to women is the main task of the autumn-winter fashion 2018-2019. Even in trouser suits there is a desire to create delicate, graceful and elegant lines. This solution for trouser suits is extremely contrary to the masculine trends of women's fashion in recent years..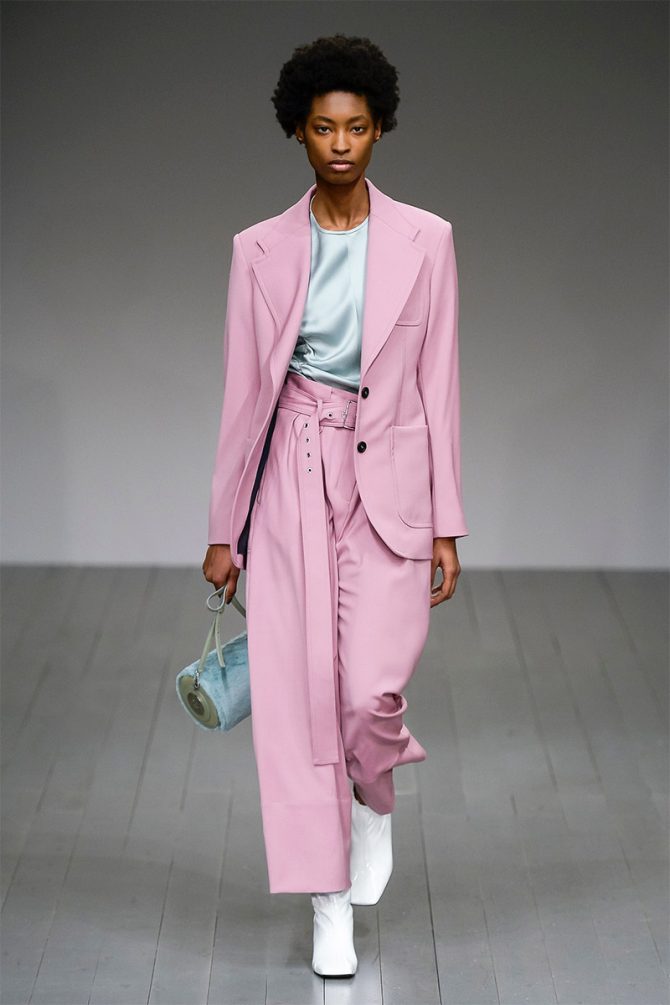 Now the trend is suits with a fitted jacket and tight, cropped trousers. Fabrics and colors are selected appropriate: luxurious jacquard, velvet, velveteen. The usual materials for trouser suits are allowed, but in this case they are printed or patterned..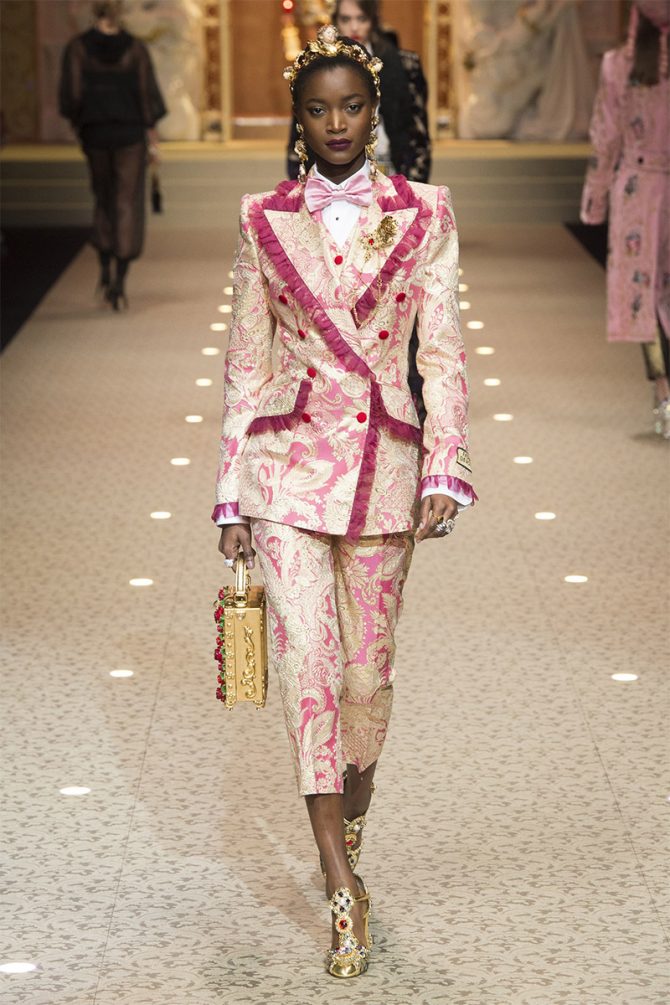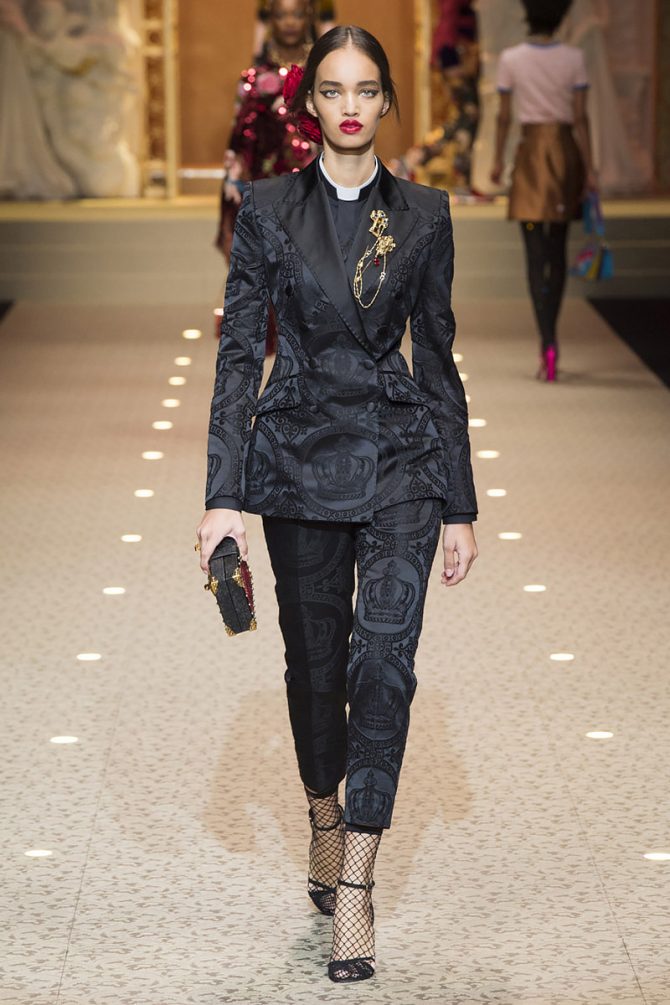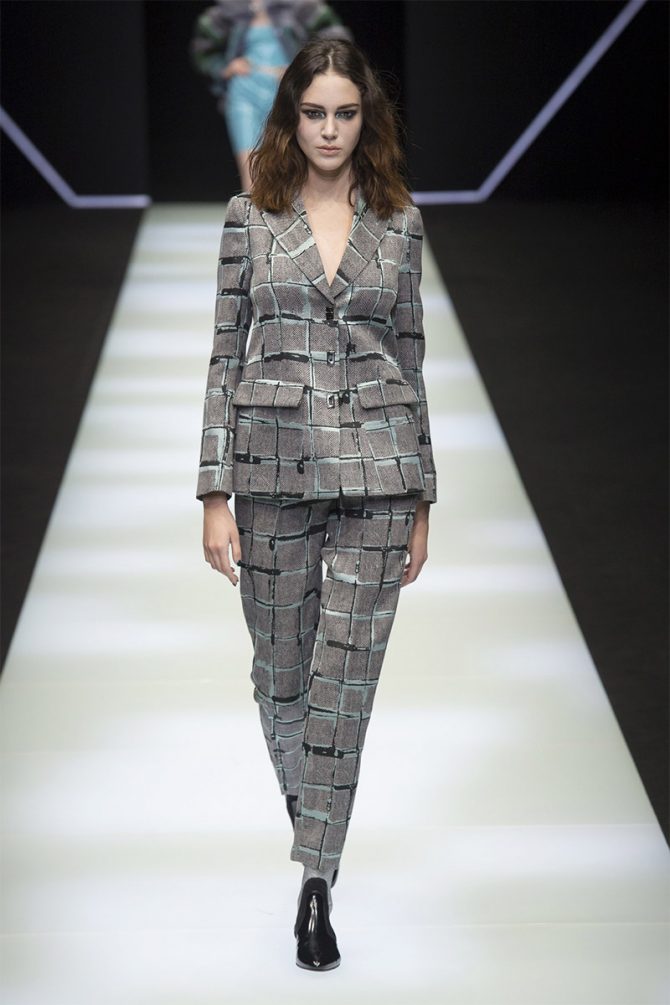 High waist
High waist – a stylish technique from past seasons – will appear in the autumn-winter fashion 2018-2019. At the same time, virtually all models of trousers raised their waist – culottes, pipes, skinny, classic, flared.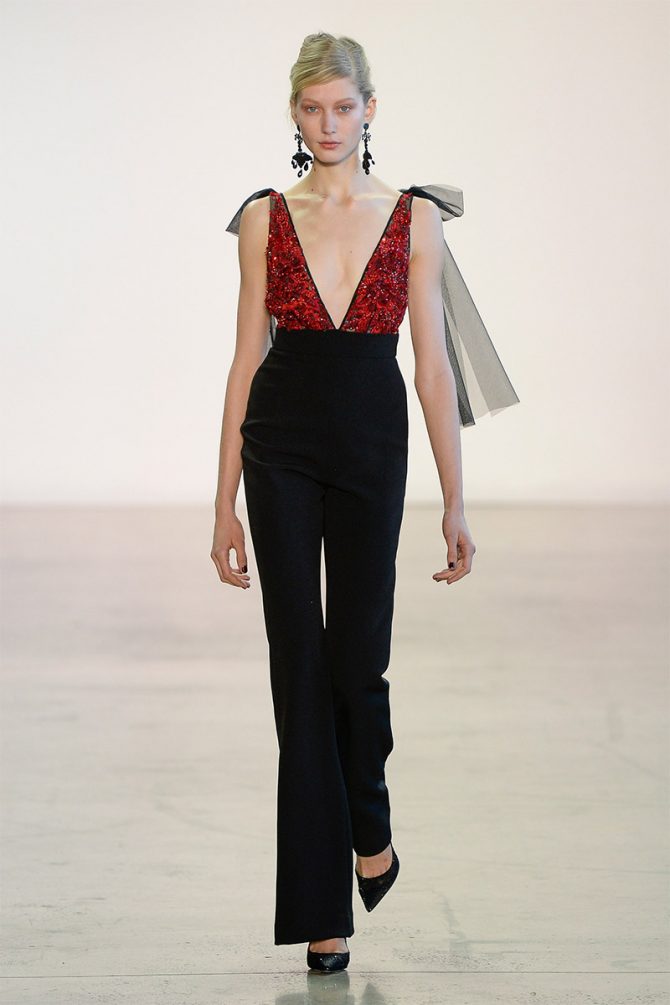 High-waisted trousers are an ideal solution for short girls. Such a cut has one big plus – it visually stretches the silhouette and evens out the imbalances of the figure, making the waist visually thinner and more expressive.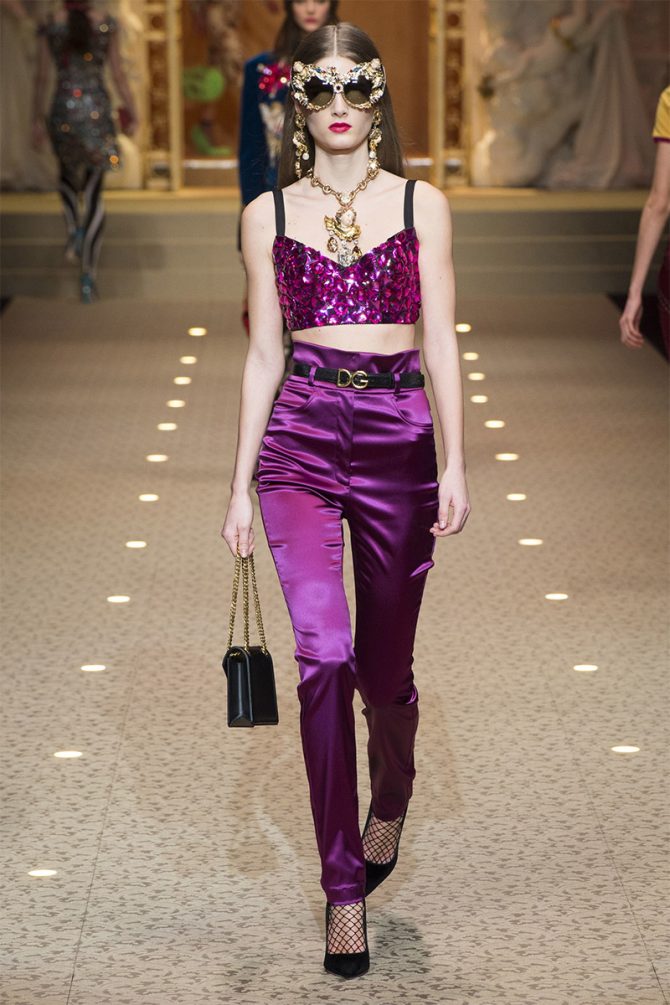 To further emphasize the narrow waist, Emilia Wickstead and David Koma are advised to wear these pants with a wide belt or belt..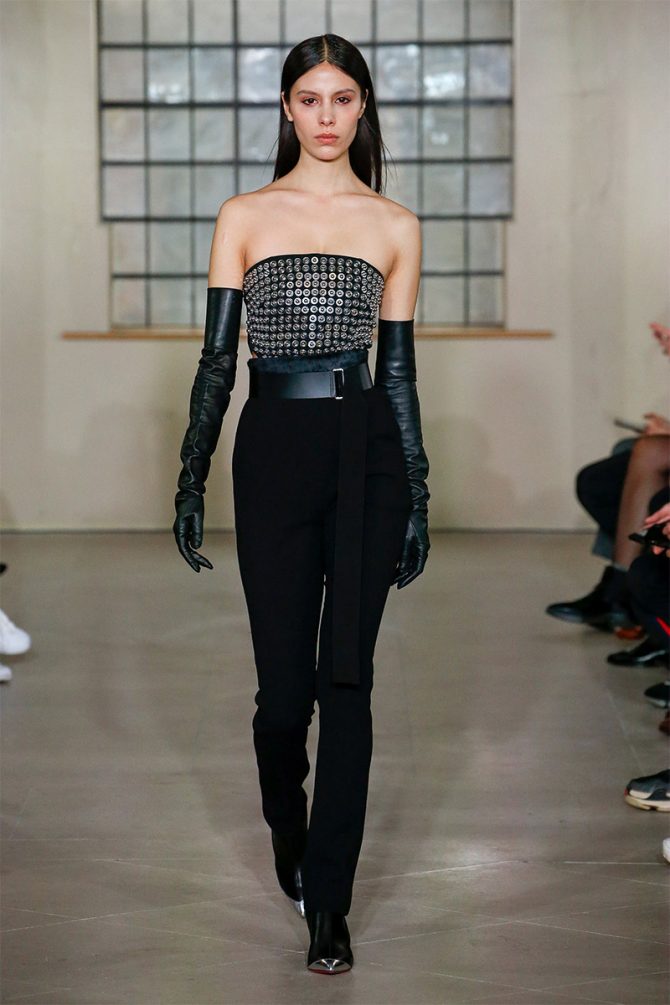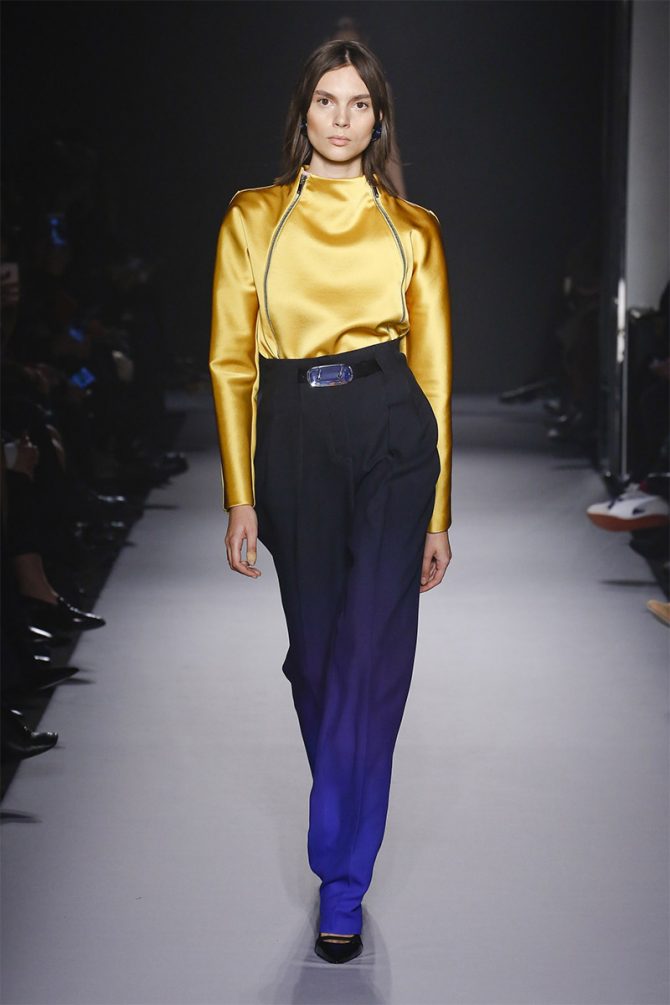 Breeches
Jodhpurs again returned to fashion catwalks. In the fall-winter 2018-2019 season, the breeches will be in trend with a slight flare from the hip, which gradually narrows to the very bottom. They are close to classic styles and, as a rule, such trousers are deprived of decor..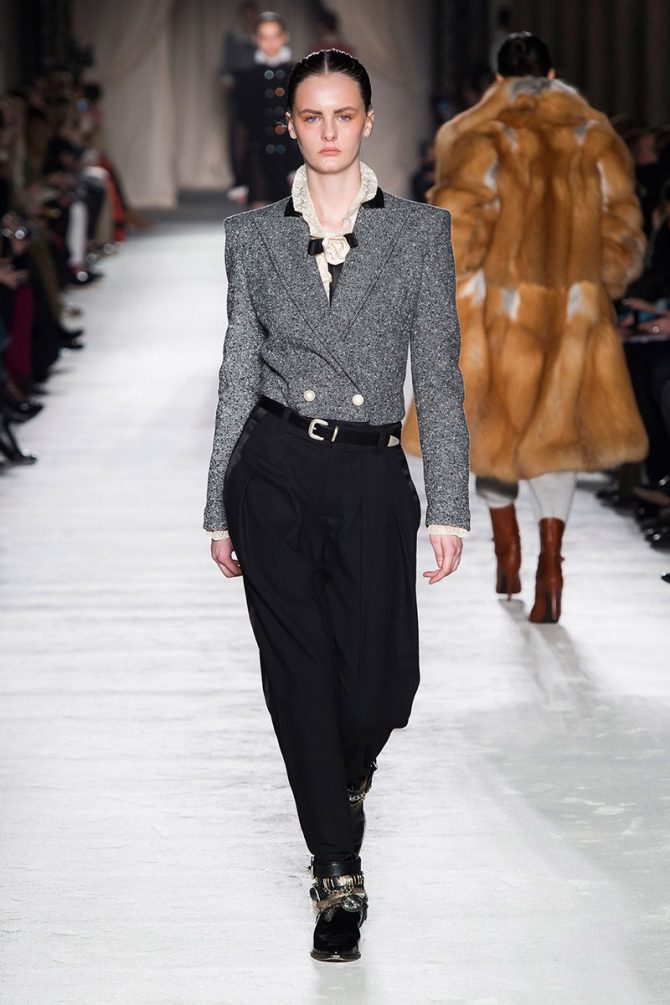 The presence of a looser cut at the hip and a narrower bottom tells us that we have the most real breeches.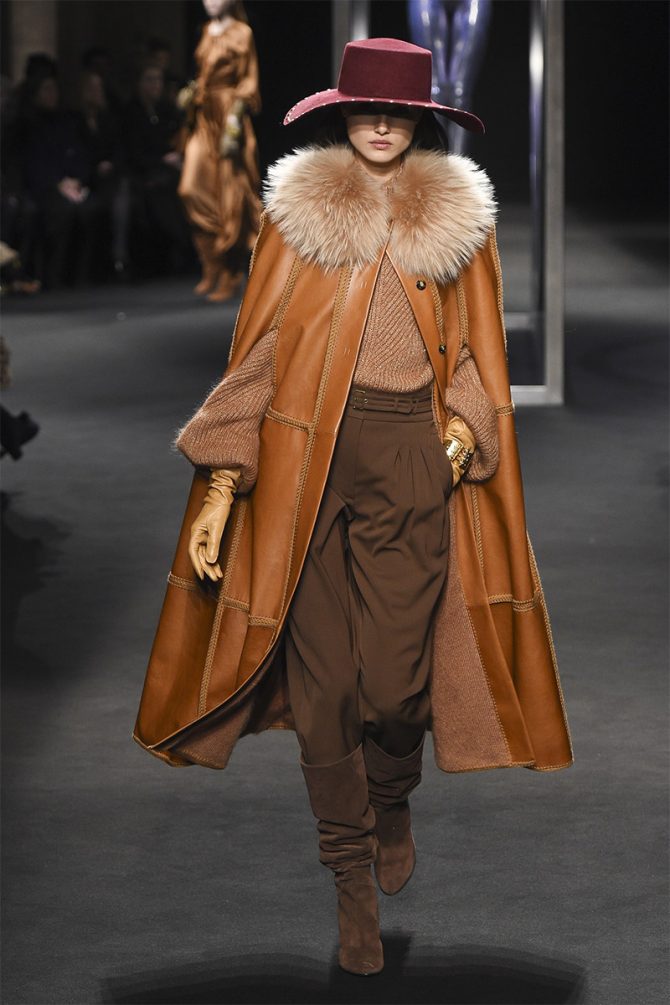 A striking example of such a cut is trousers from Emilio Pucci, Philosophy and Chloé. The ideal tandem with breeches – high boots or boots. Although these trousers look no less interesting with boots and shoes.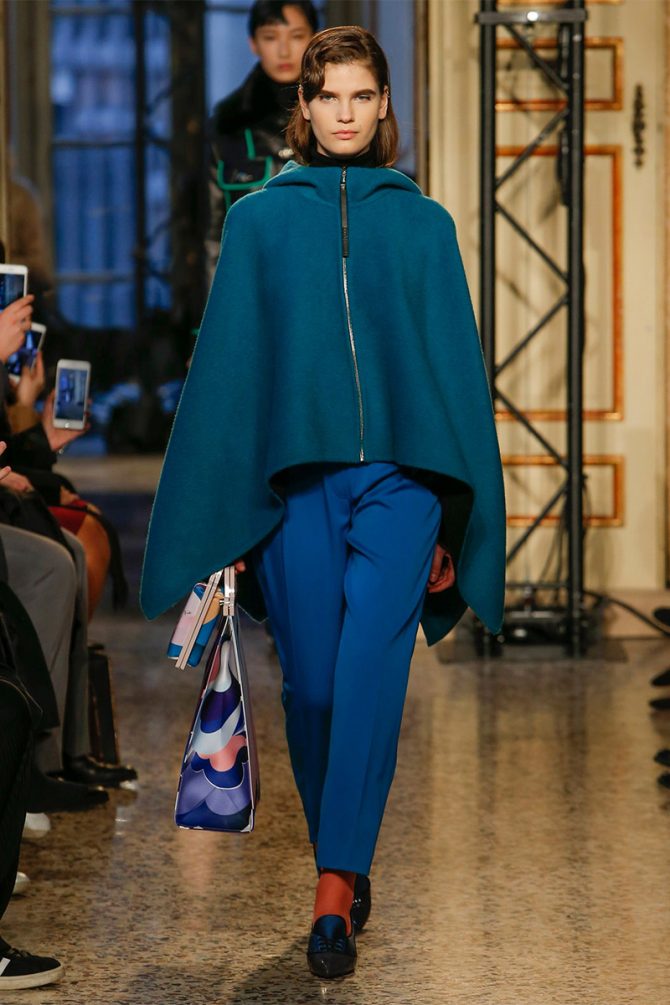 Classic pants
The basis of the basic wardrobe is still a classic cut pants. After all, only with them you can create many interesting ensembles. And so that the classics did not make the image boring, designers shortened the standard length of the trousers.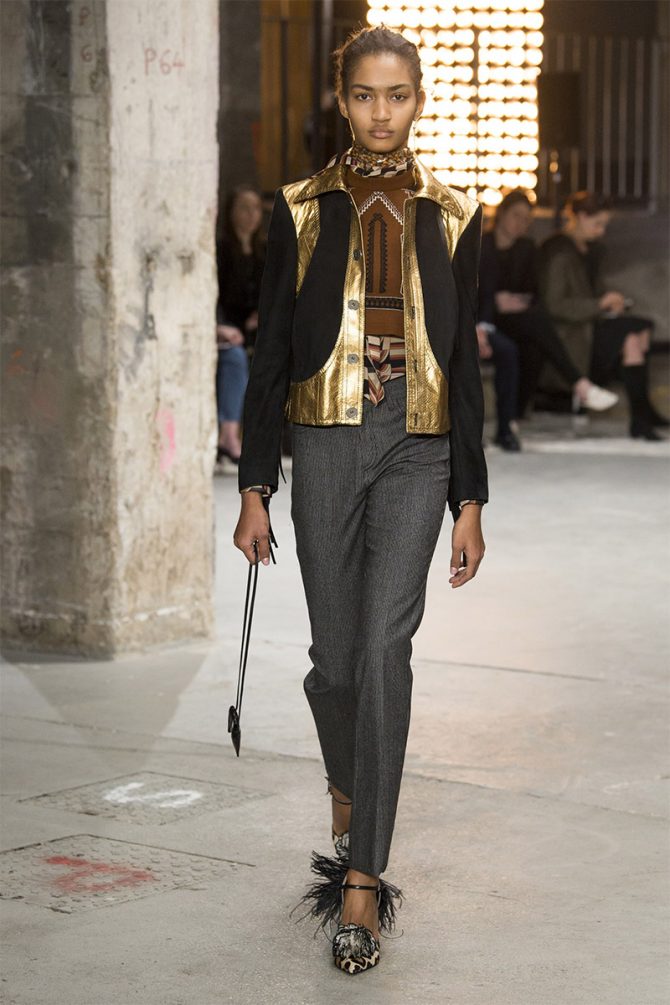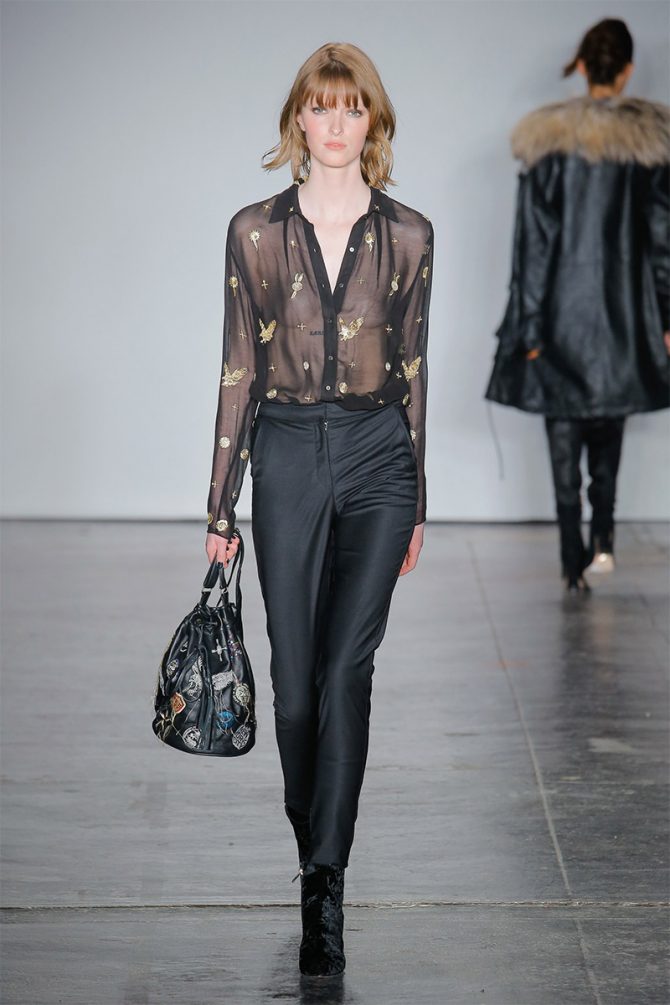 You can do it differently – just tuck your pants in your boots. This technique has become trendy at the latest fashion shows. As for the cut of trousers, this season, designers have allowed to exist both too high and too low waist lines.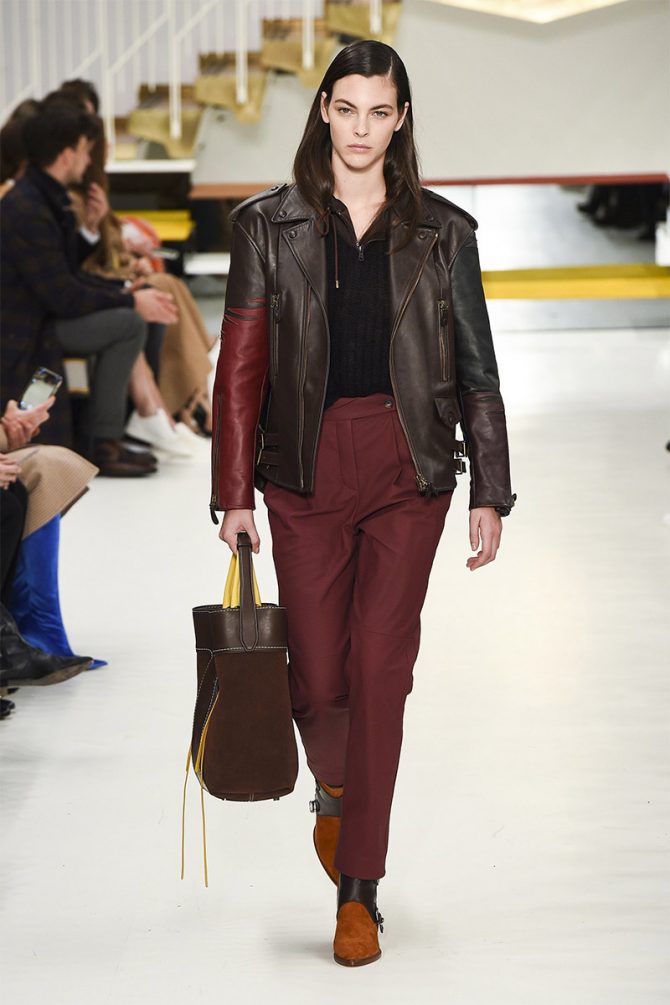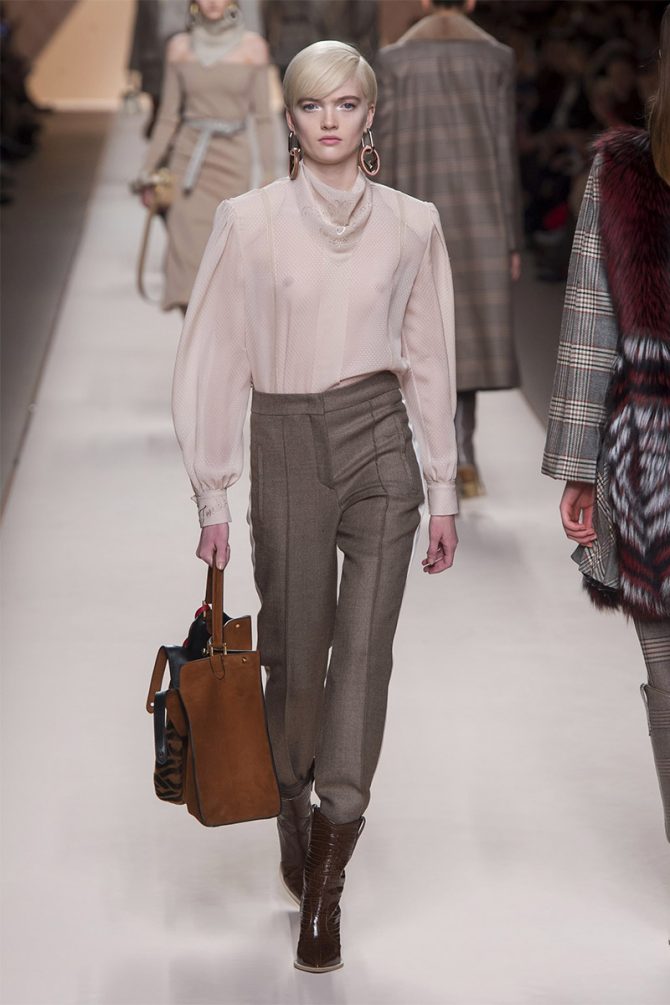 Checkered trousers
A cell of all kinds and colors is present in fashionable trouser collections – from colorful burberry to muted caledonia. The cell is recognized as the most sought-after print of the year. Also in checkered total look. Just to look really stylish, combine several types of cells in one image. How did Carven, Michael Kors, Miu Miu, Versace.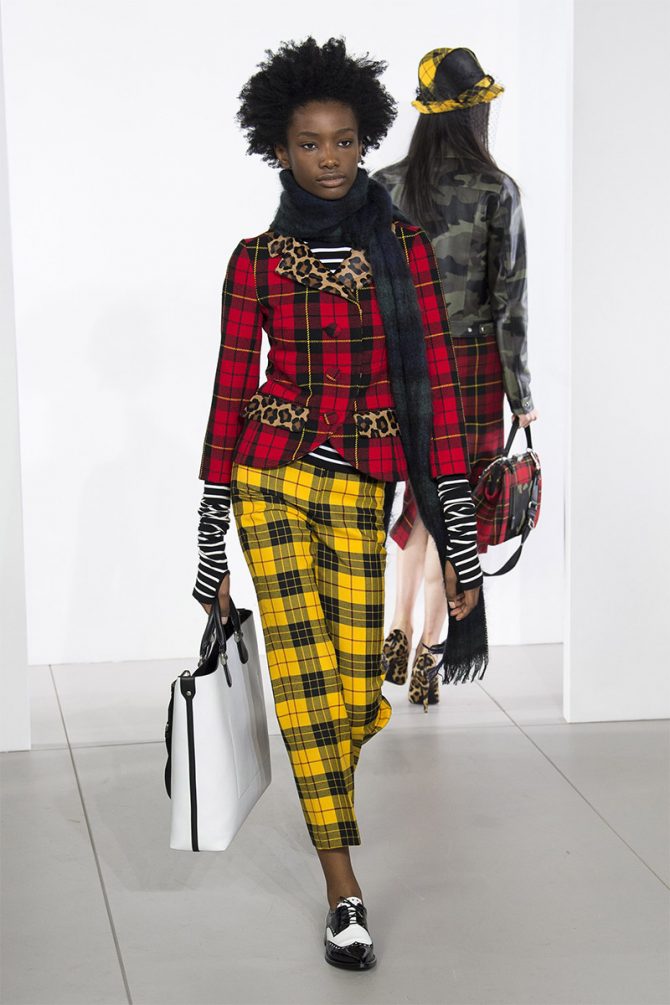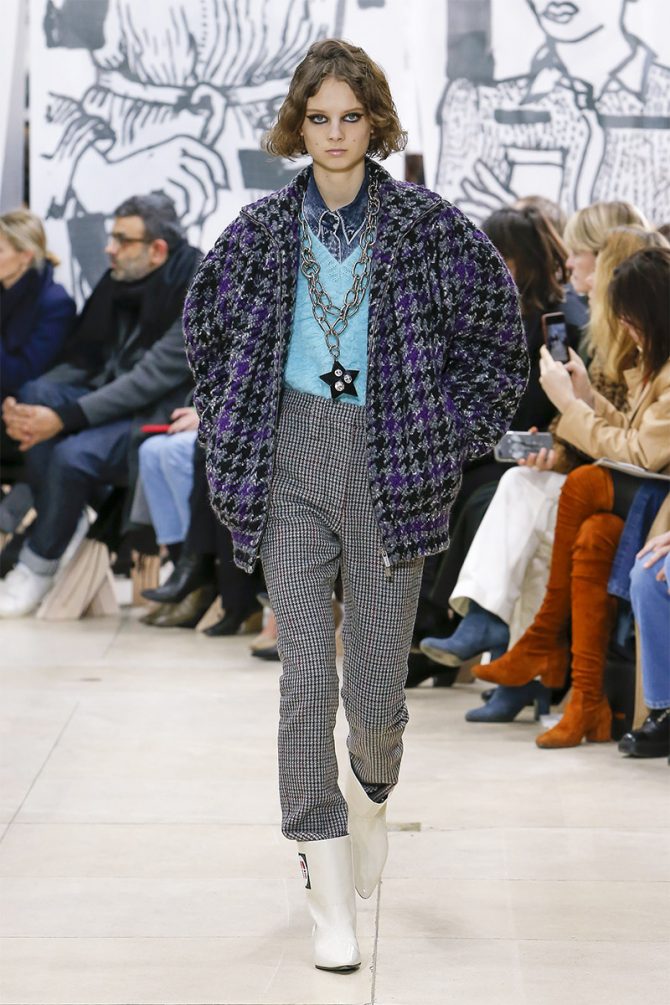 Trousers in a cage can be completely different cut. A wide coquette, a decorative smell, pinches in the waist – all these methods are acceptable in fashionable trousers in a cage.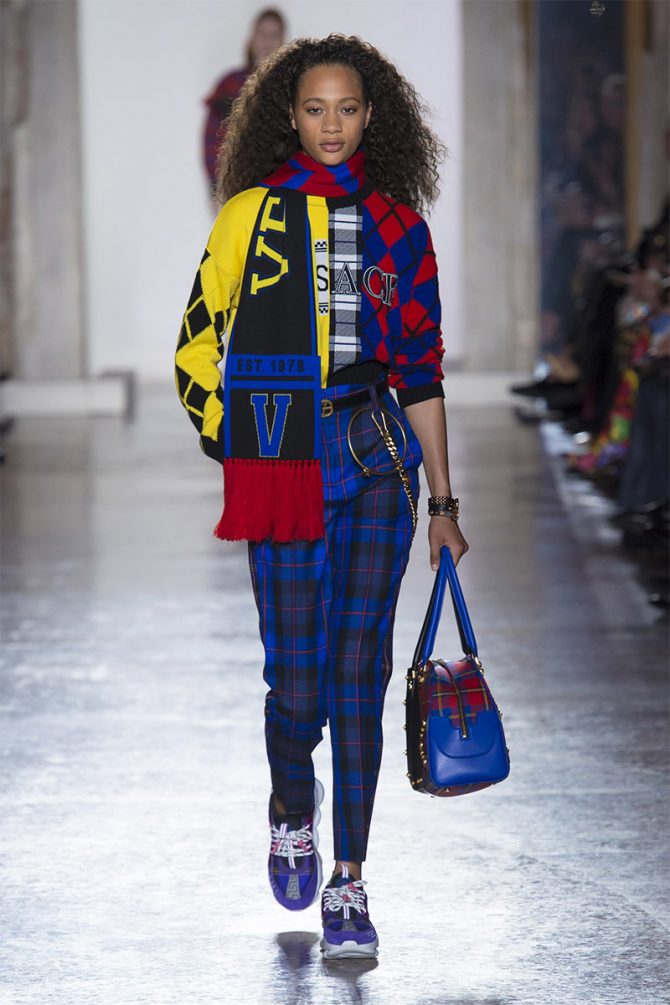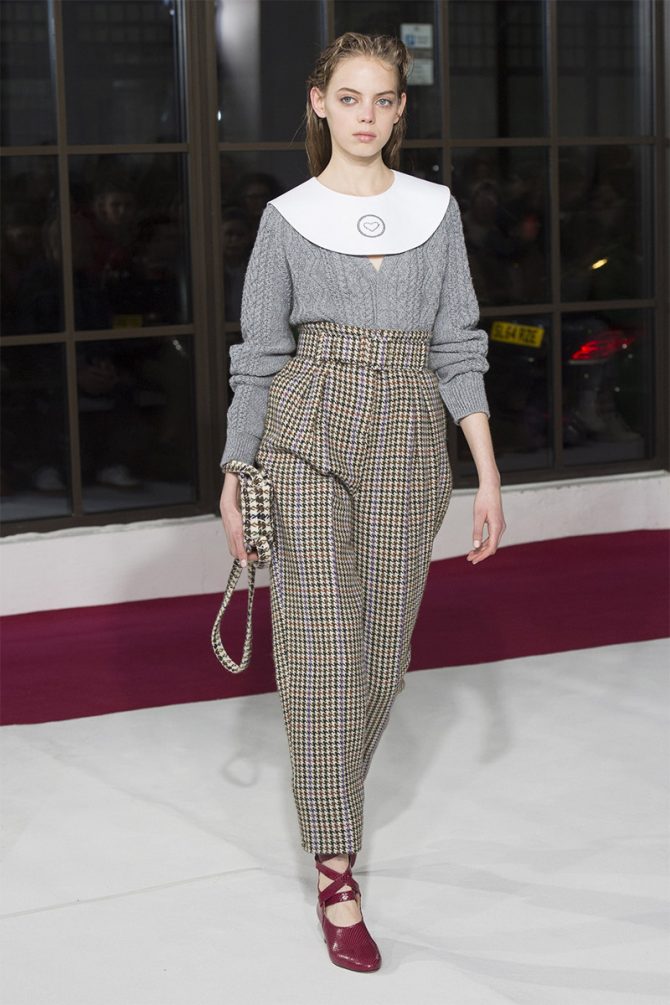 Flared pants
Retro style finds its niche in every season. This fall he is represented by flared trousers. Flare may be different.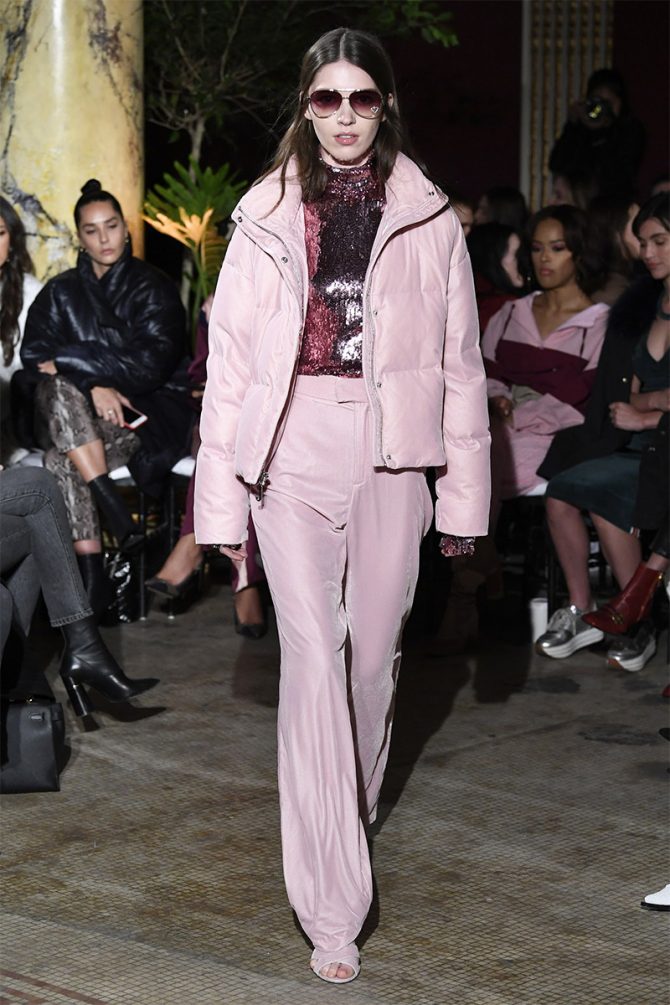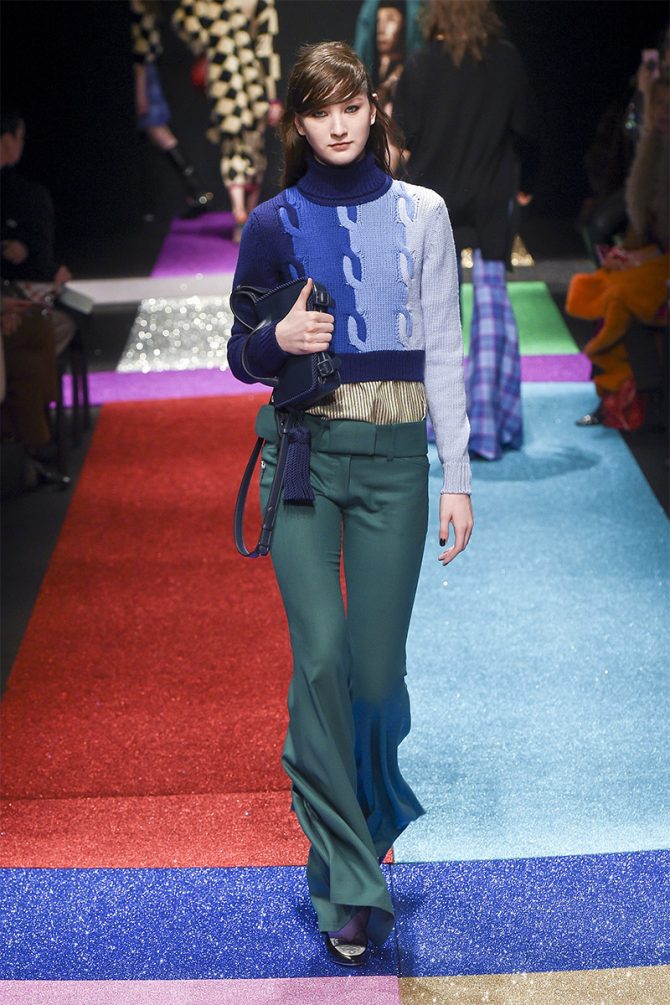 There are no rules: it can start both from the knee, and from the very beginning of the thigh. Arrows and the use of decorative elements are allowed..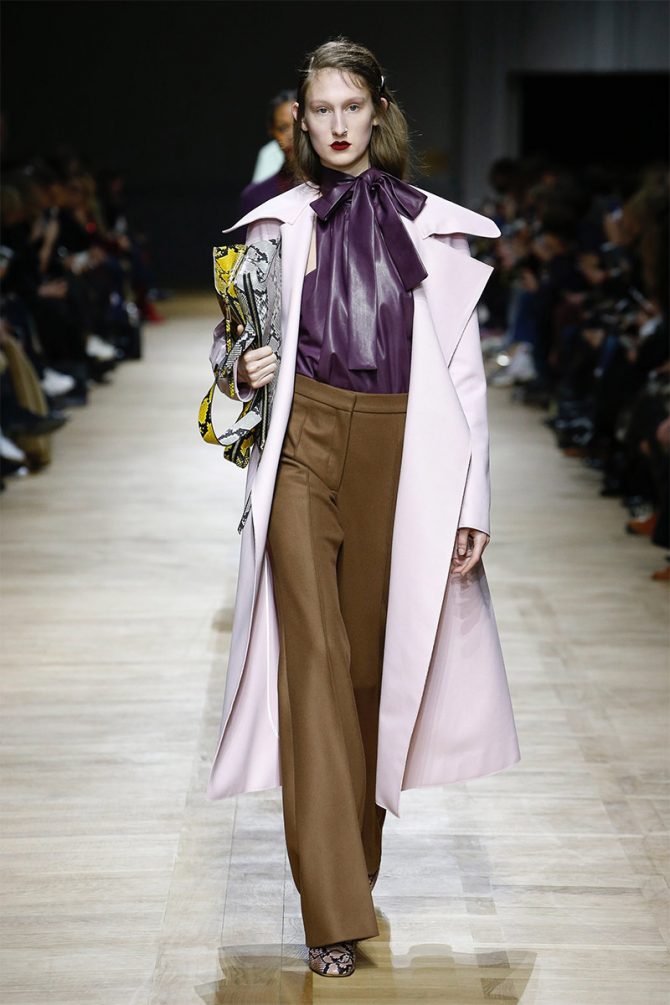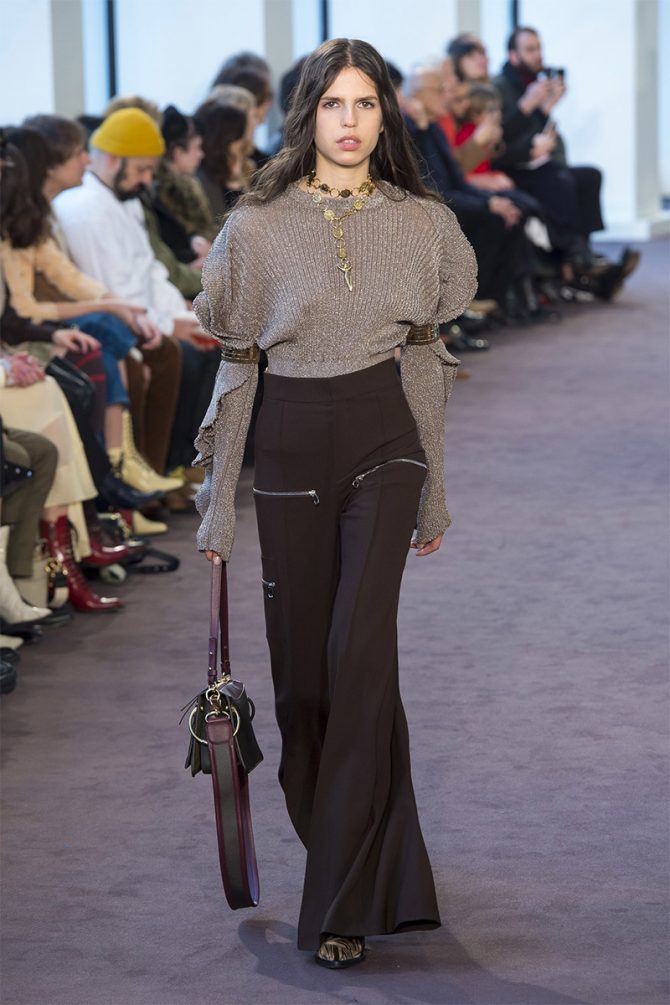 Leather pants
In the autumn-winter season, dresses, skirts and trousers made of leather will break all the records for popularity. This material has even reached the everyday and business wardrobe. The trend is three different types of skin: soft matte, coarser varnish and print or embossing under the skin of reptiles.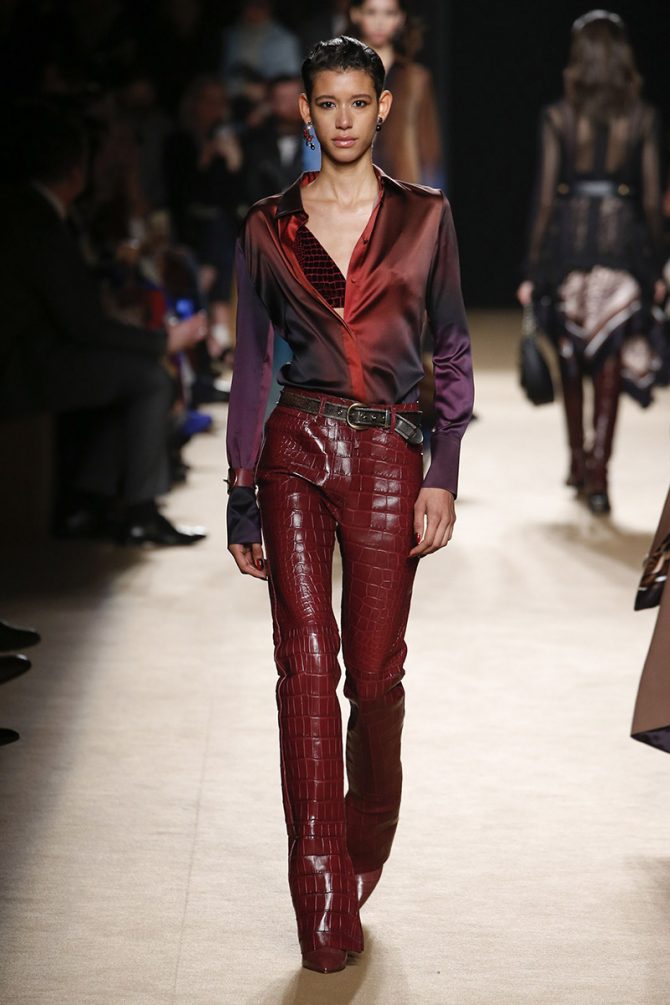 There are no restrictions on colors at all – from classic black and brown to orange. The cut can also be absolutely anything: classic, bananas, culottes, flares, cigarette pants. Even leather trouser skirts are less exotic thanks to Zimmermann's efforts..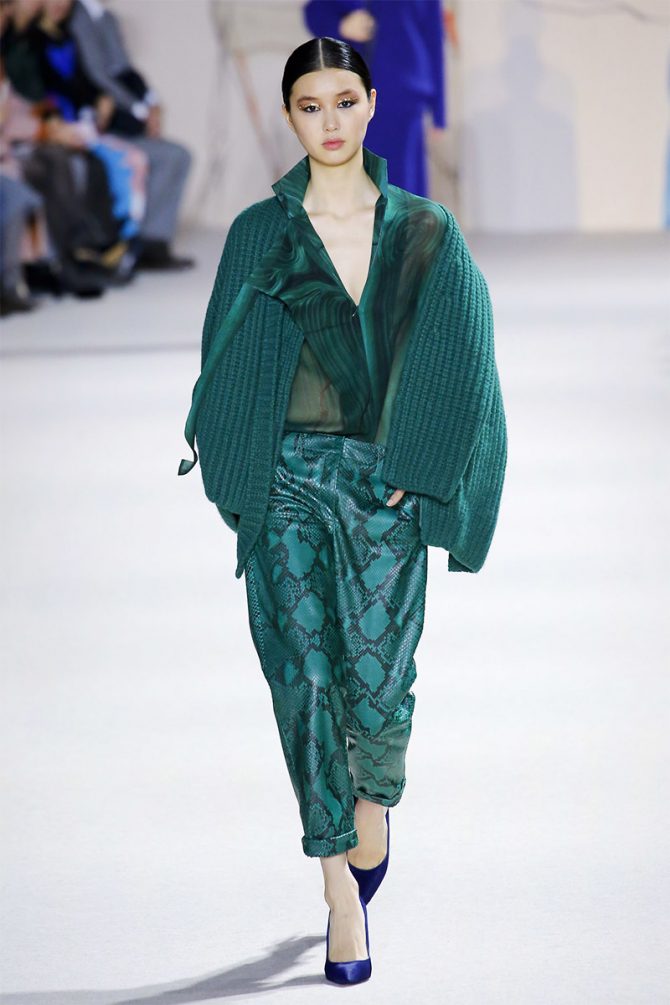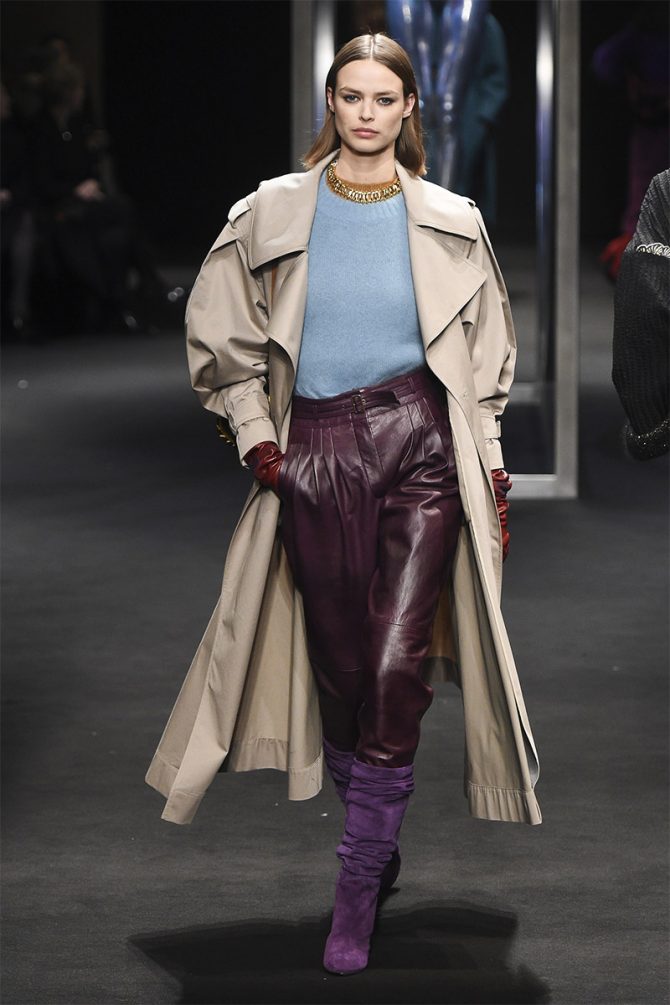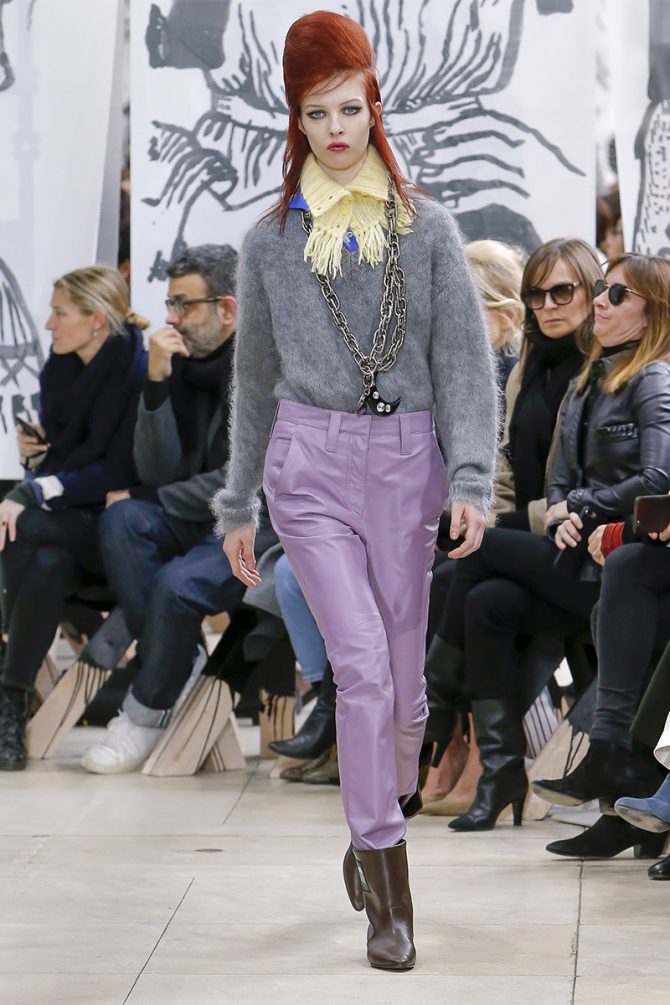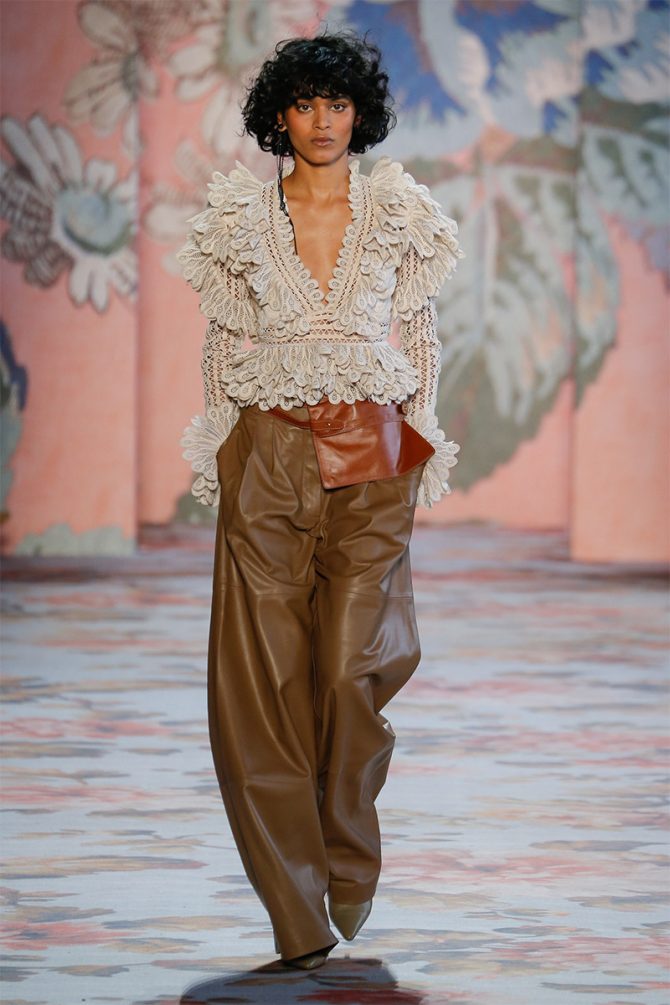 Overalls
If ordinary trousers require the search for the perfect "top", then the jumpsuit completely eliminates this problem. At the same time, overalls have become so versatile that there are models for every occasion..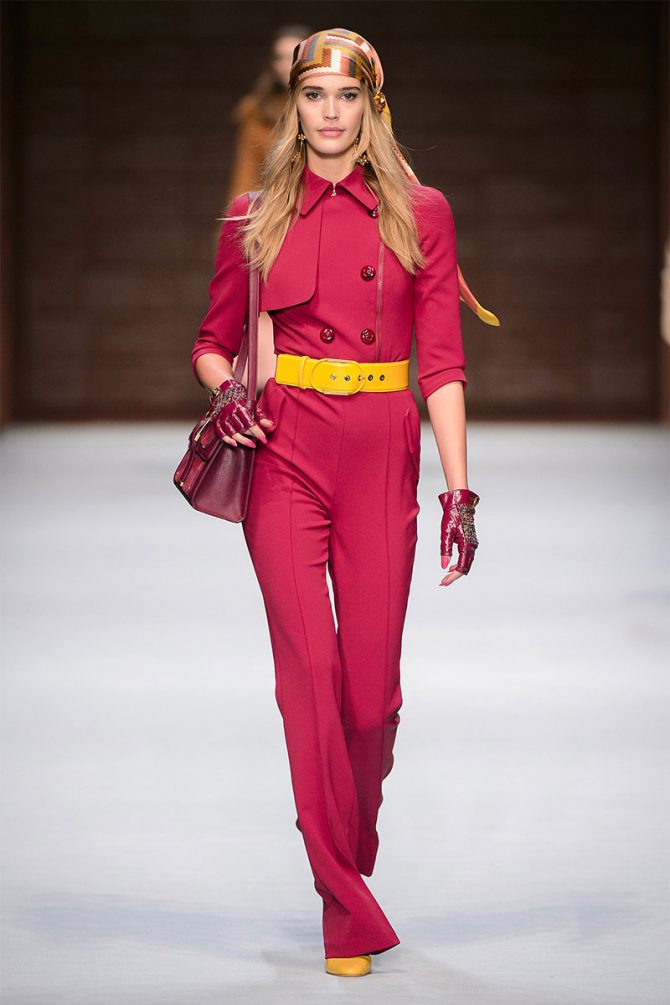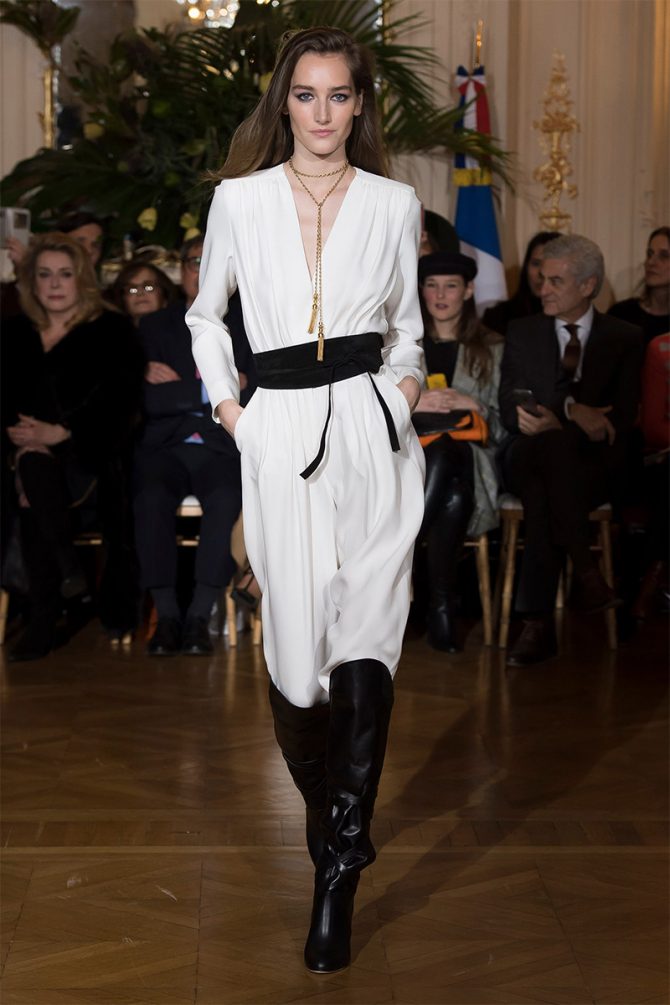 For evening events, choose overalls from velvet or satin, for a strict office dress code, give preference to classic models from costume fabric, and for everyday outfits, knitted overalls are the best suited. In such clothes you are not afraid of either frost or a piercing wind.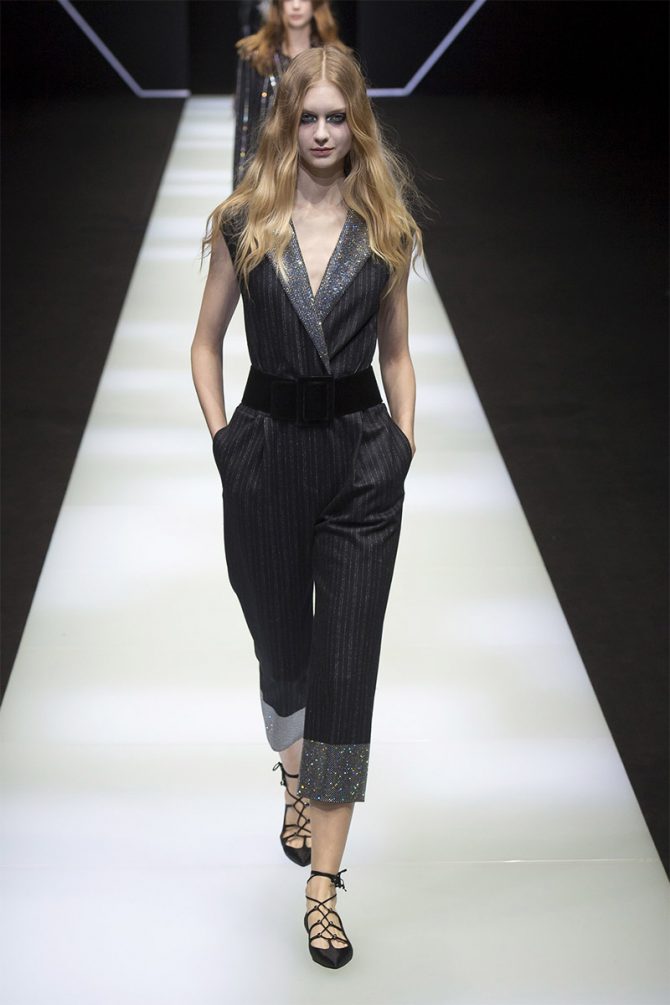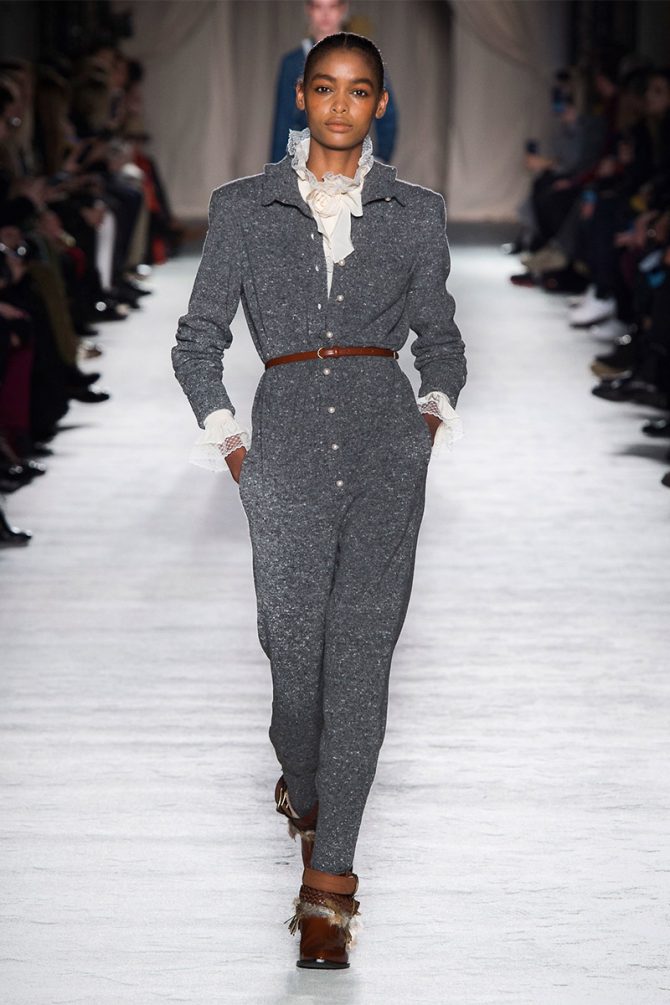 Trousers with stripes
Wide stripes along the legs appeared at fashion shows a couple of years ago. And only now they have gone beyond the catwalks. With each season, stripes are becoming more interesting. Now it is not just plain stripes. In the autumn-winter season, every second well-known brand presented its fashionable pants with stripes..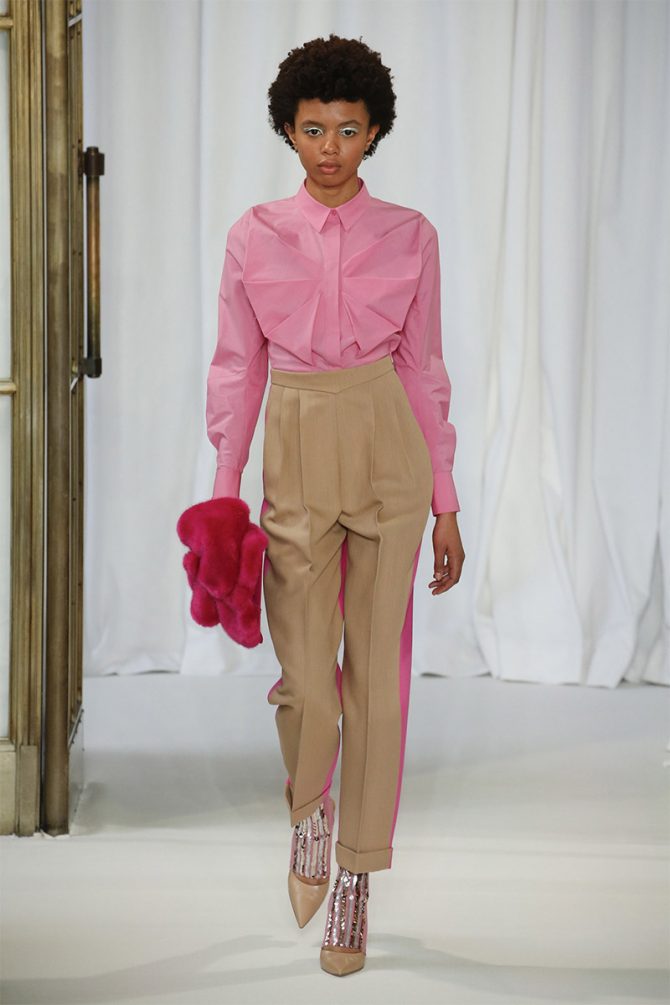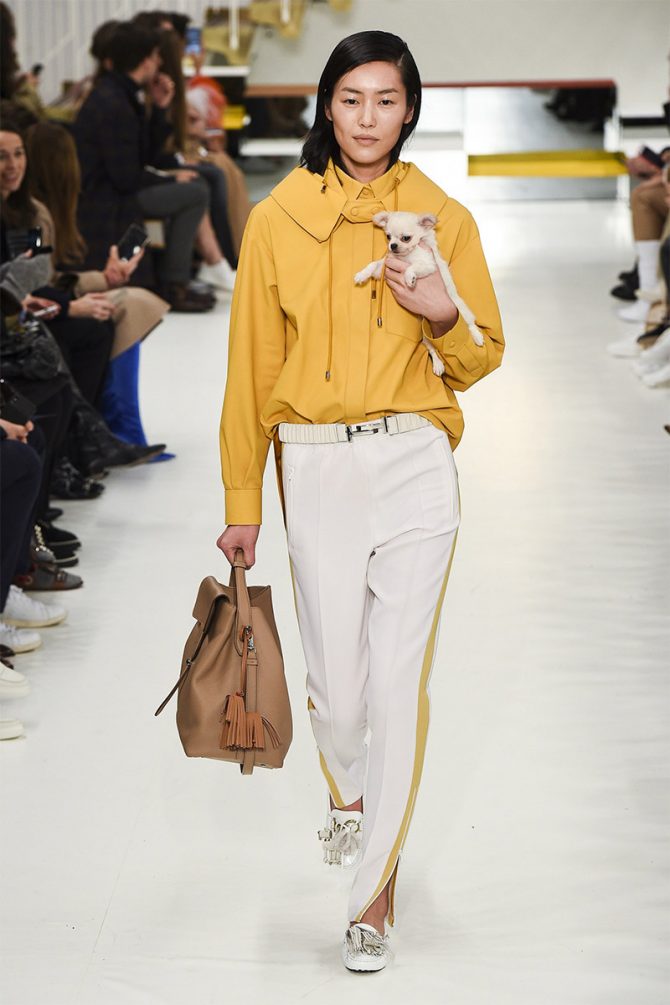 At Area and Delpozo, the trousers were adorned with glamorous leopard and bright pink stripes. At Gucci, the stripes are made in recognizable brand green-red colors. Tod's suggested combining the colors of stripes on trousers with shades of top. The stripes now even show off their own brand names.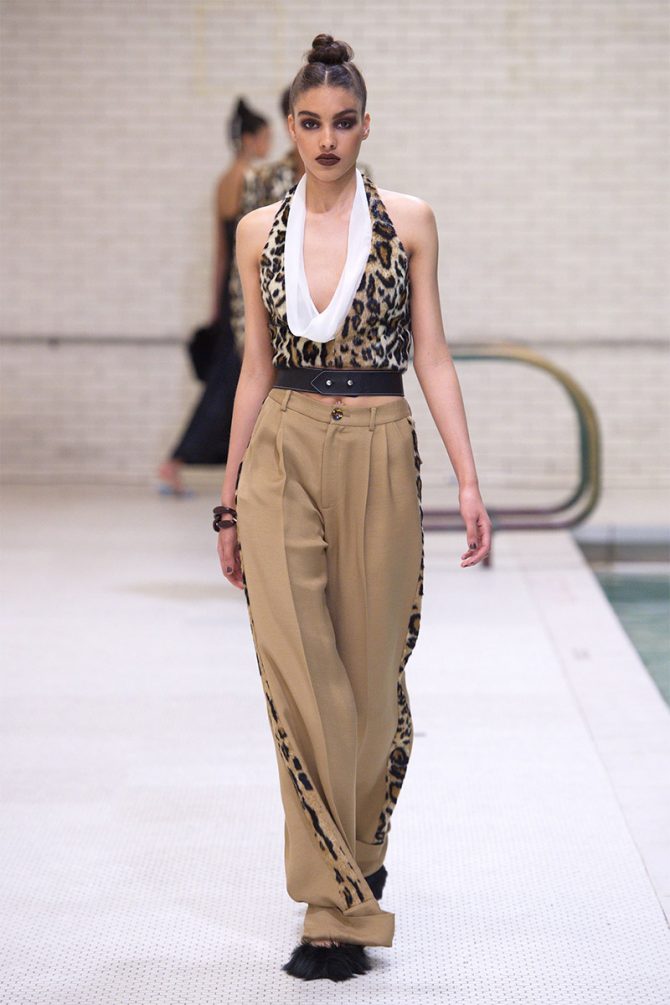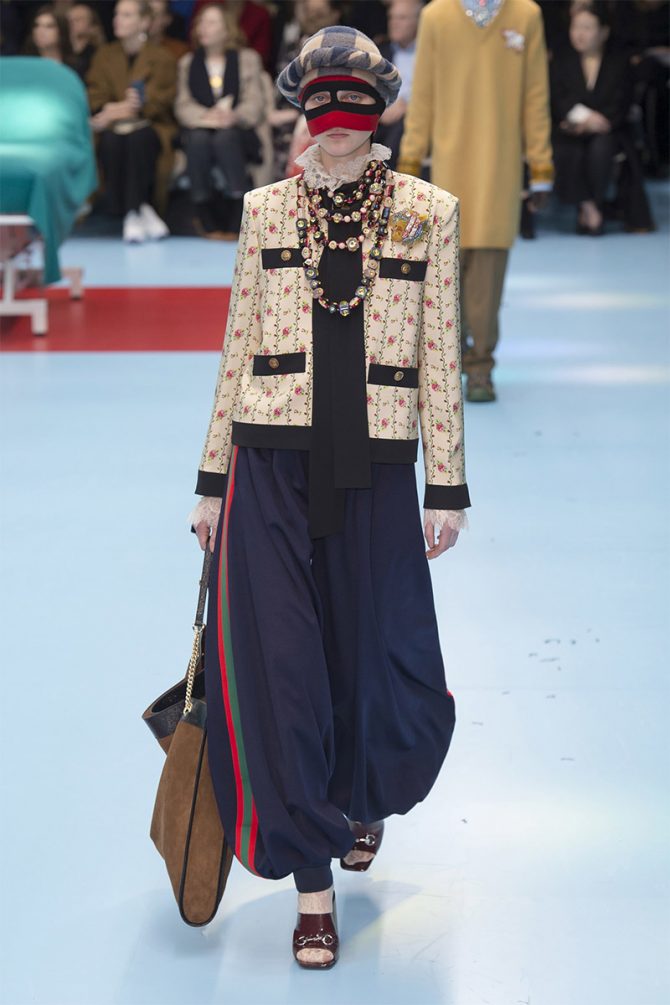 Metallic trousers
Pants of metallic colors continue the space theme. Next fall, the trend will be trousers that emit a cold silver or warm golden glow. Moreover, they are suitable not only for an evening out.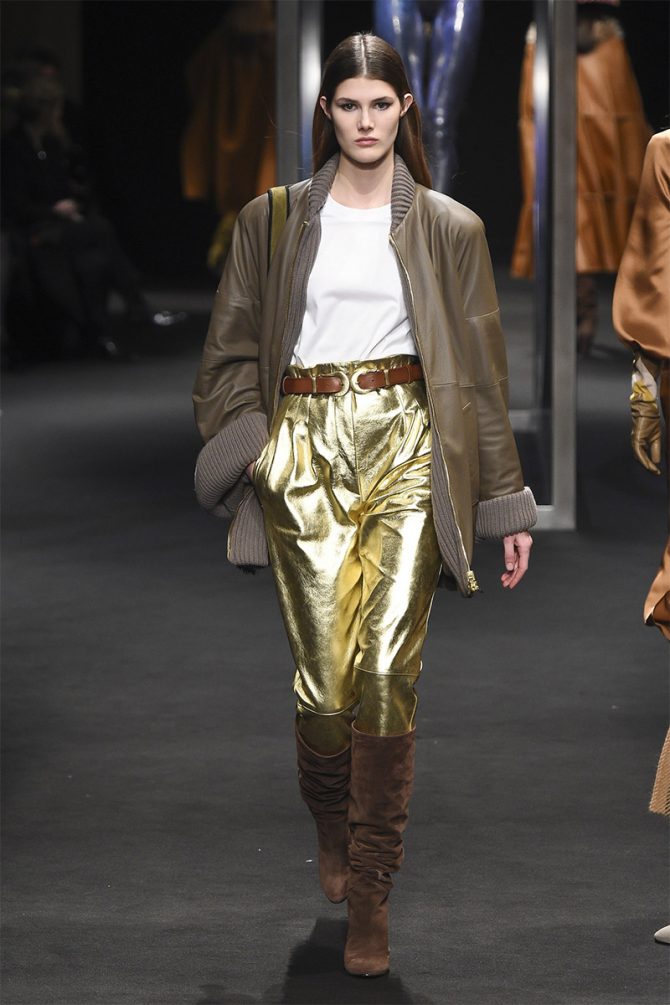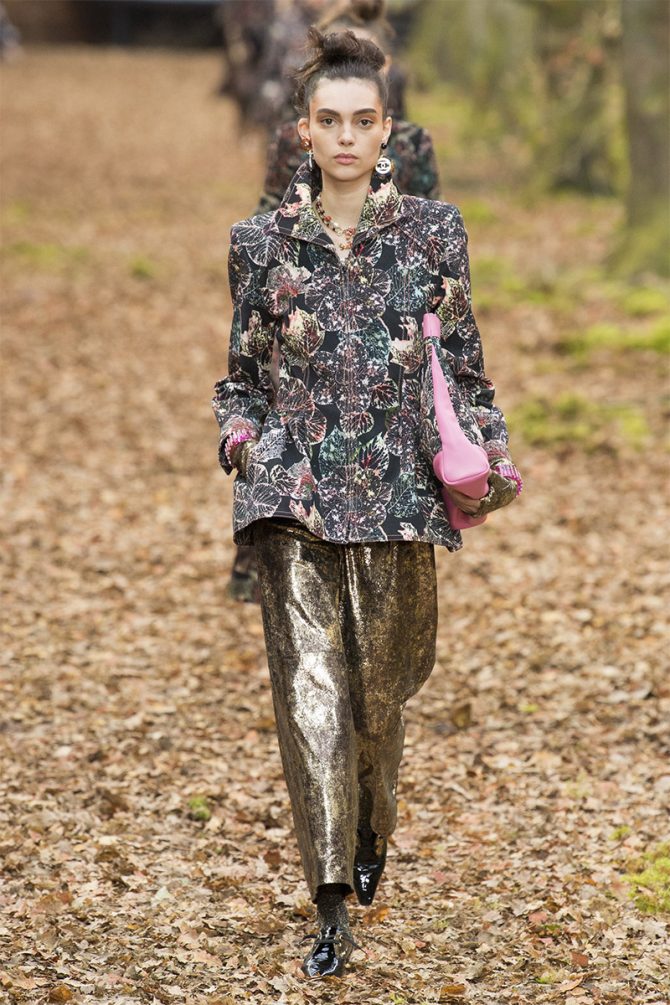 Designers break stereotypes and offer casual looks with trousers made of golden and silver leather. This image has a double nature – it combines the modesty of a casual style and a touch of catchy glamor. This season's trend is the diamond-shaped stitch. Trendy metallic quilted trousers presented in the Balmain collection.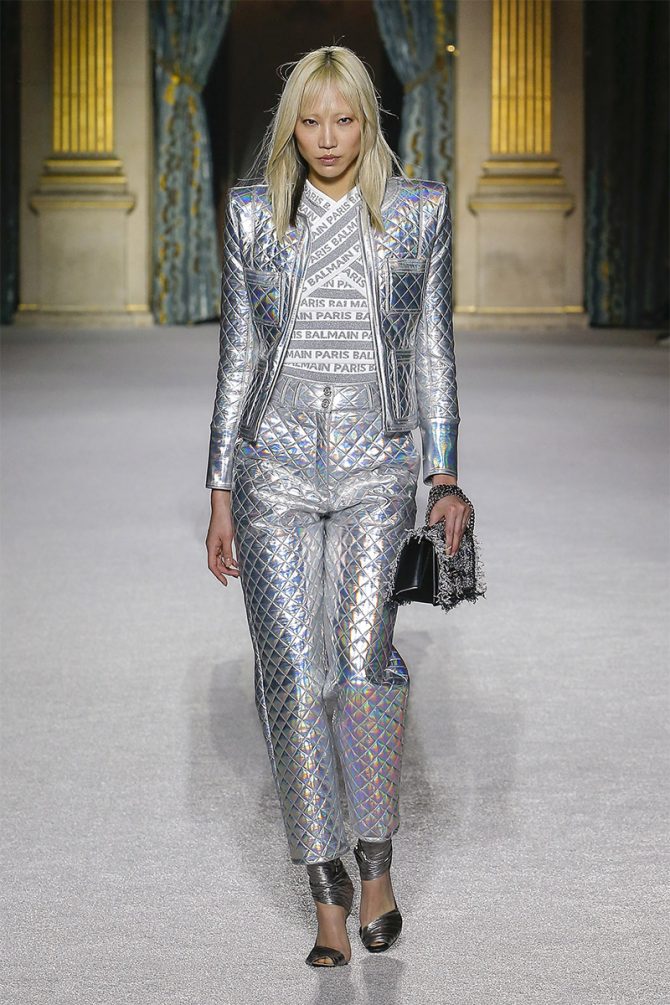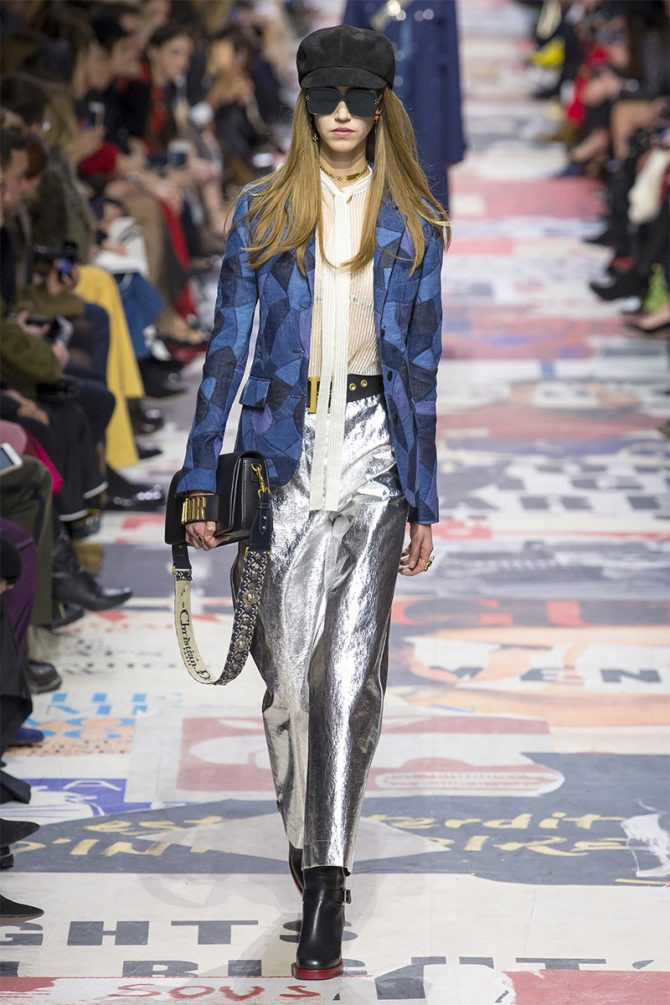 Mono look and total look
Mono look and total look do not want to leave the top lines of fashion. The secret to their popularity is elegance. They are designed in a single color and always look stylish. This season, the total look for trousers is not as strict as before. Now you just have to maintain an identical print of the top and bottom.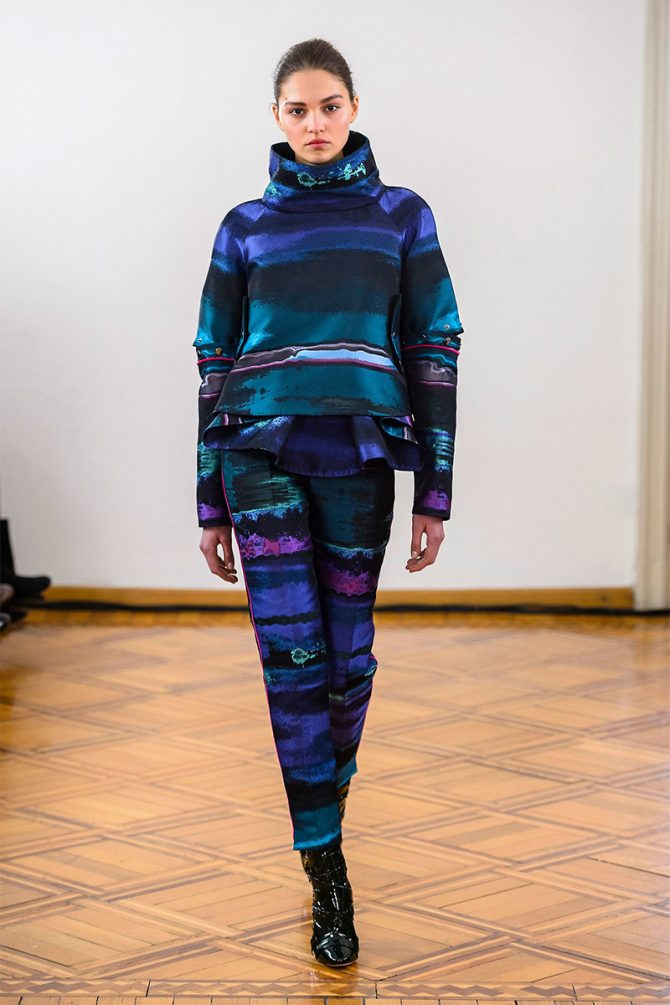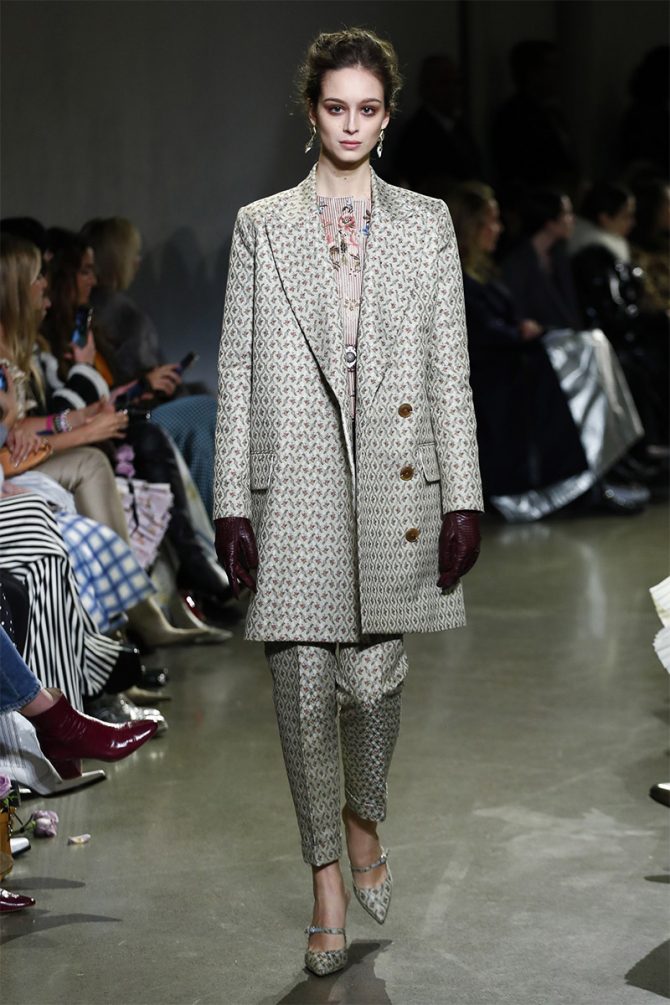 Mono look became brighter. Now the colors for autumn are far from muted classic shades. And to make the already boring color total look even brighter, you can add another bright color to it.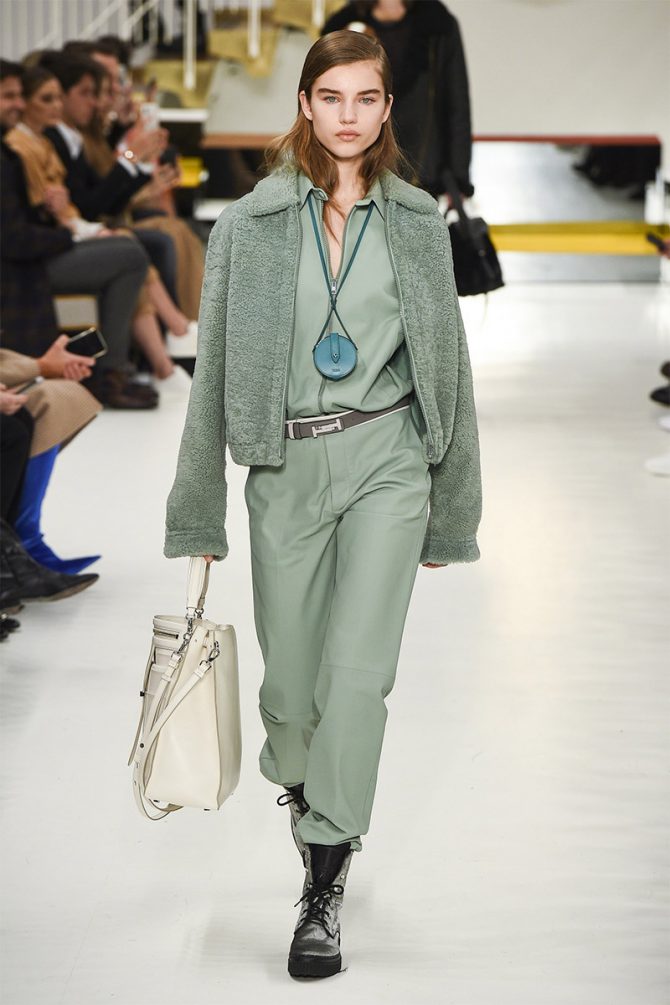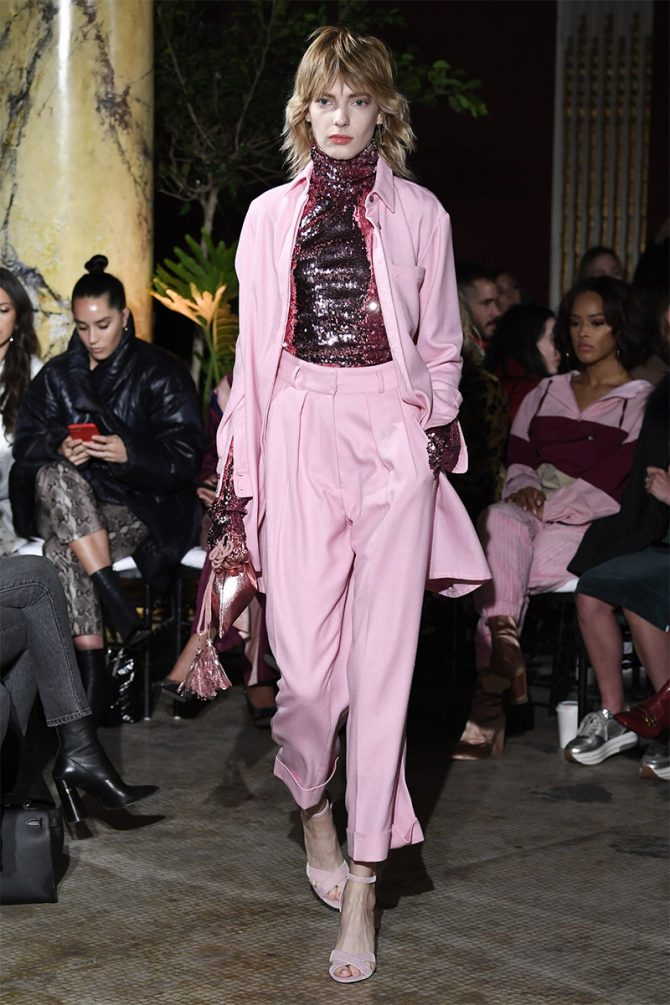 Trousers with a dress
Wearing a dress over trousers is not a new trend. In the fashion world, it is called dress-over-pants. The idea was borrowed from the national costumes of Asian and Arab women. The oriental flavor of their models was transferred by the brands ADEAM, Bibhu Mohapatra, Victoria Beckham. By the beginning of autumn, a knee-length dress in the form of a light tunic is best suited. And closer to winter, pick up more closed dresses from warm fabrics.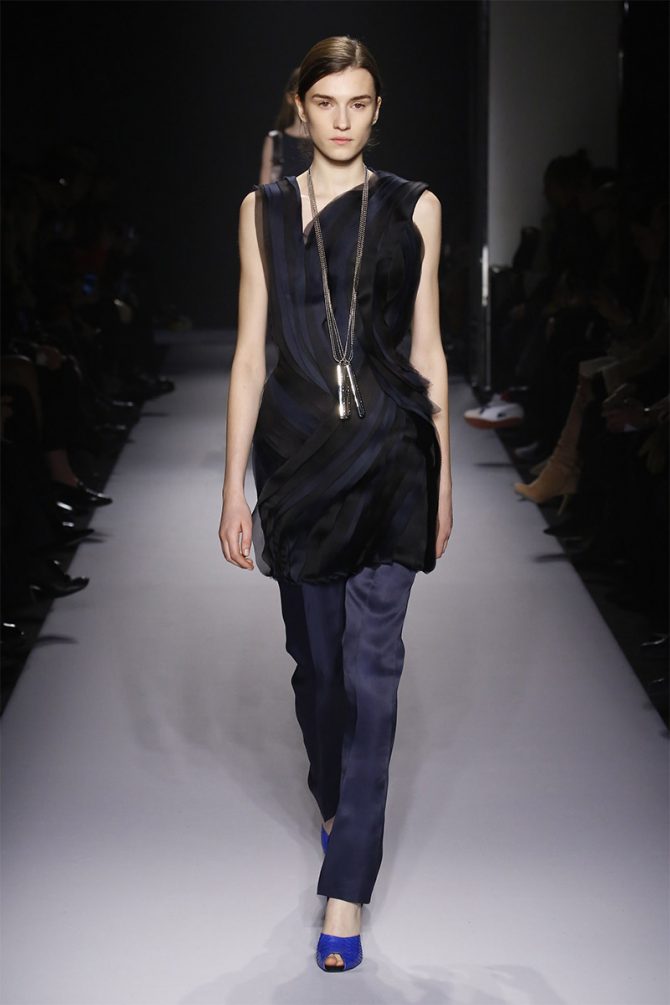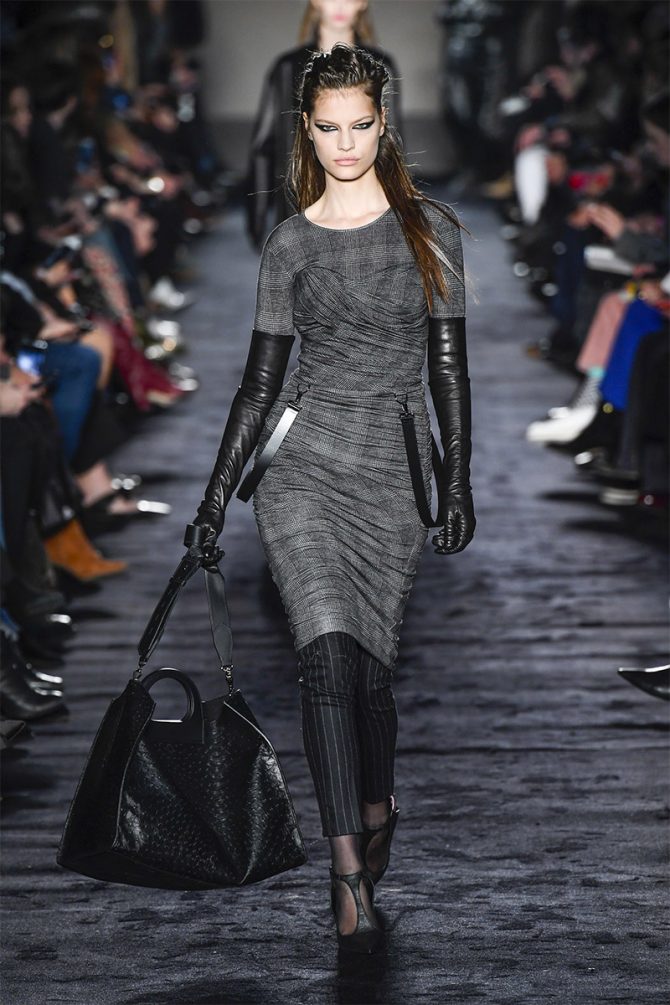 Tight mini dresses over Max Mara trousers-pipes look very feminine and stylish. For lovers of extravagant fashion, there are options for dress-over-pants with long fringe from Givenchy and Alexander McQueen.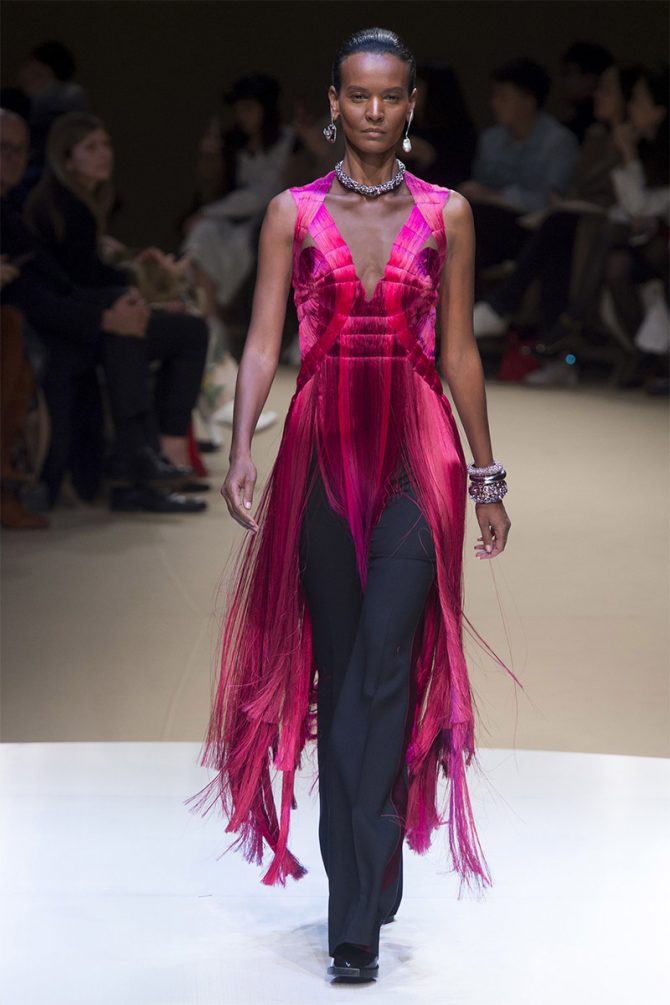 Cropped trousers
Cropped trousers – must have the upcoming fall-winter season 2018-2019. This trick allows you to open your ankle and focus on its attractiveness. The trend will be trousers with shortened legs of different widths – from voluminous culottes to tight-fitting pipes. Classic trousers made shorter thanks to designers all over the world.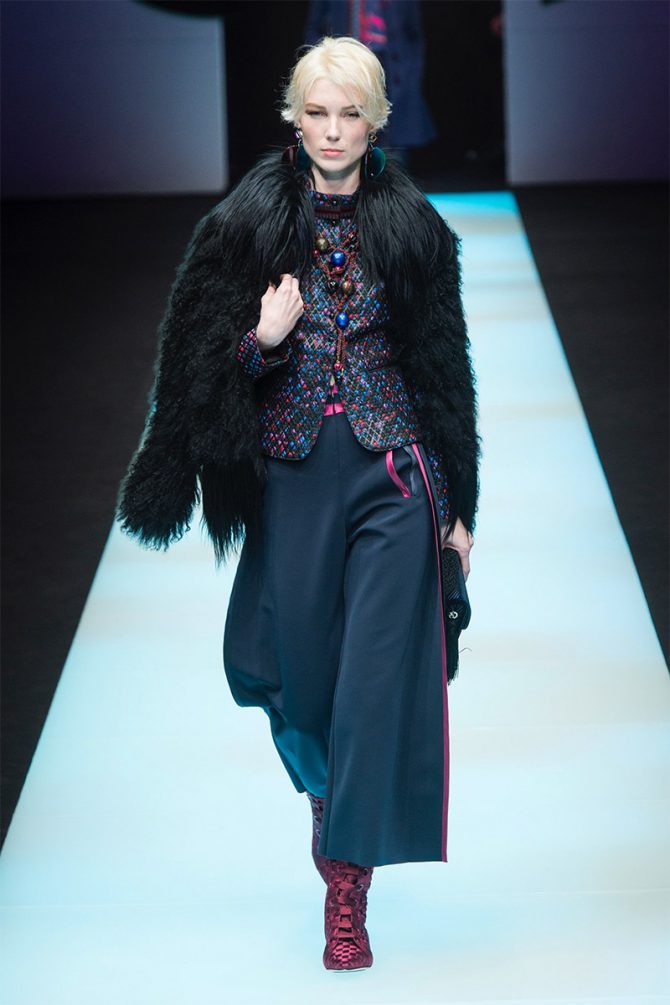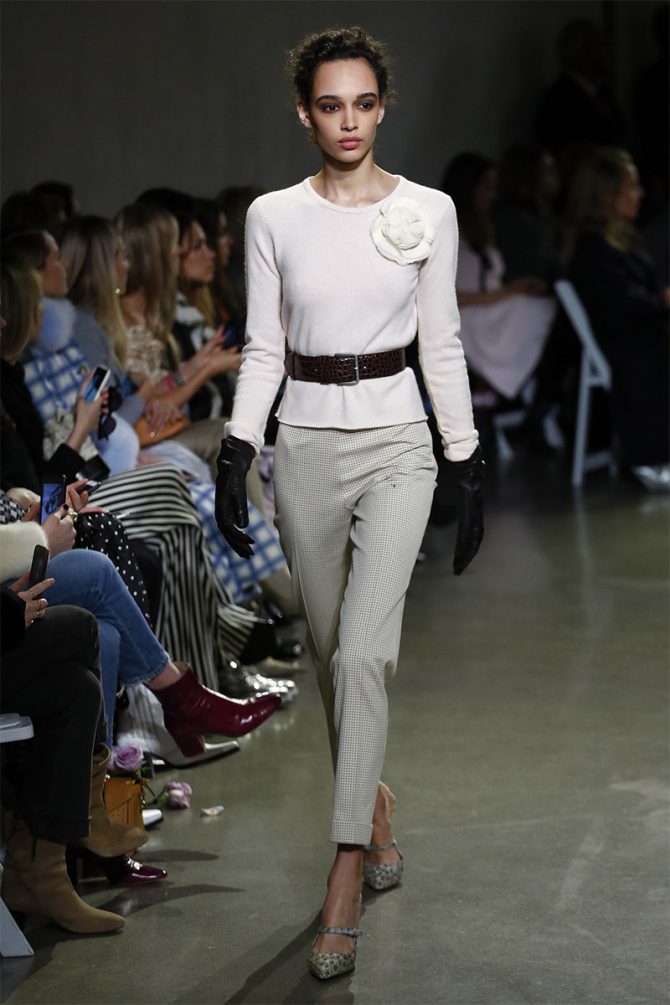 Keep up with fashion trends and meet autumn in trendy cropped trousers. And the best ideological inspiration for you will be the models from Brock Collection, Giorgio Armani, Erdem, Emporio Armani.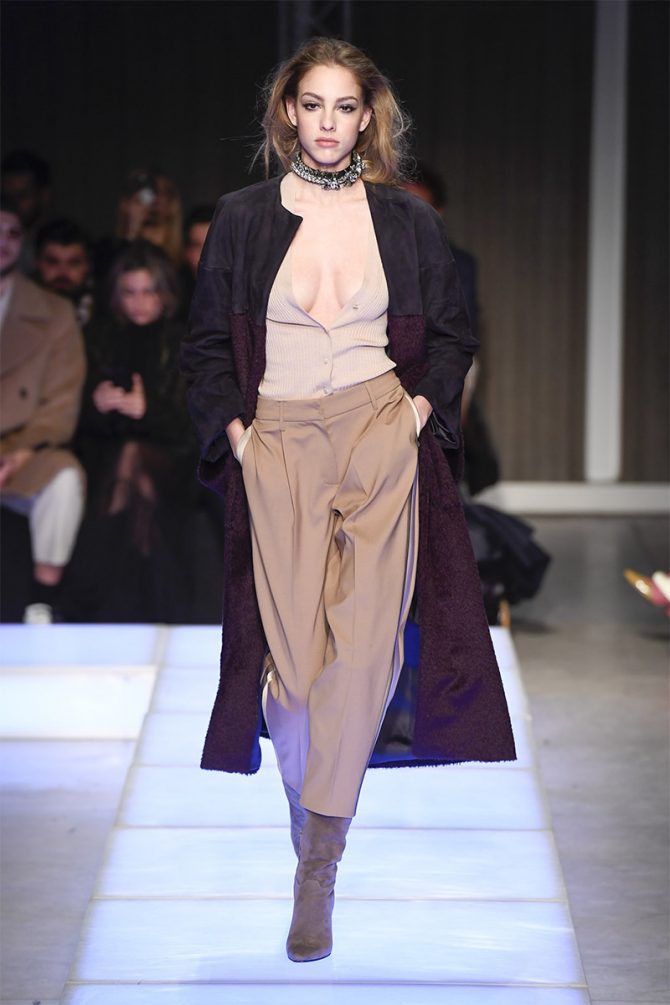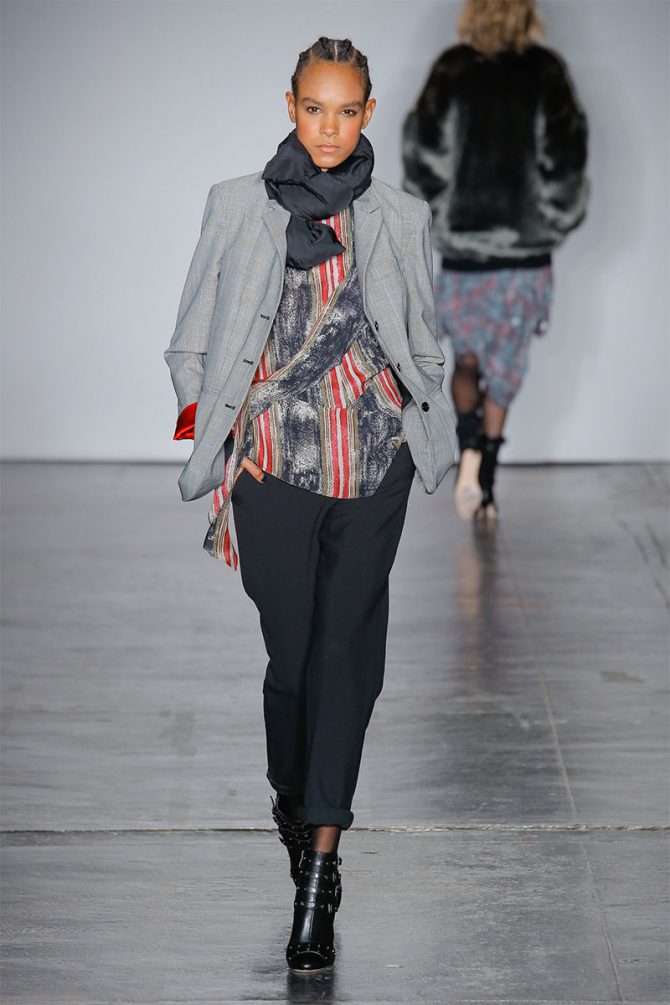 Floral print
Speaking of a floral print on fashionable trousers, one important detail should be noted – the wider and more voluminous the trousers, the larger the floral print. A good example is trousers from Bibhu Mohapatra. Conversely, narrow trousers adorn smaller floral motifs, like the Giambattista Valli. Well, for ascetics – a small floral applique on the bottom of the trousers from Oscar de la Renta.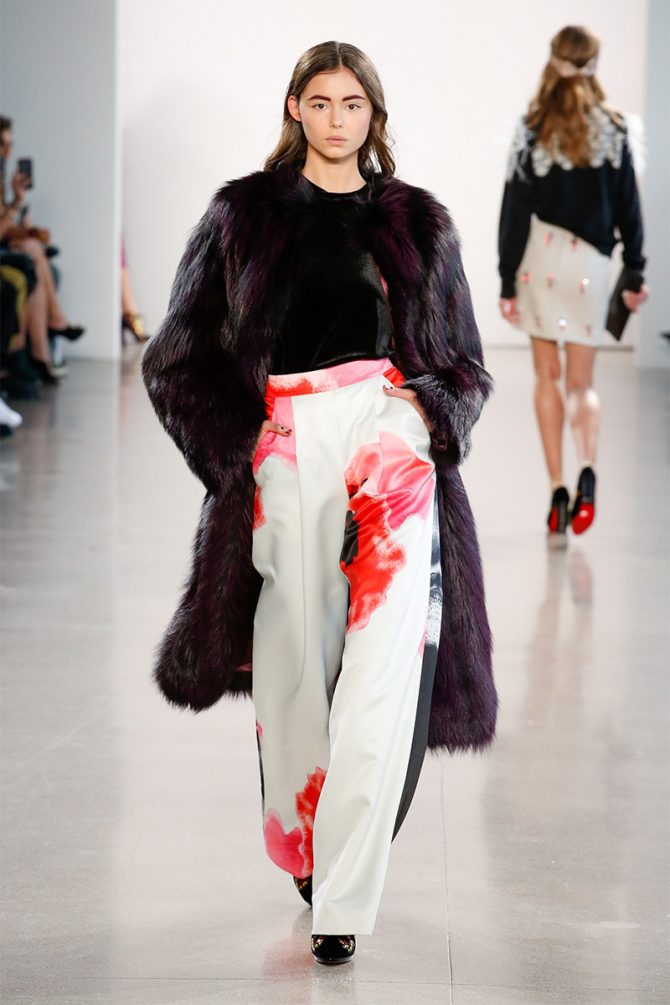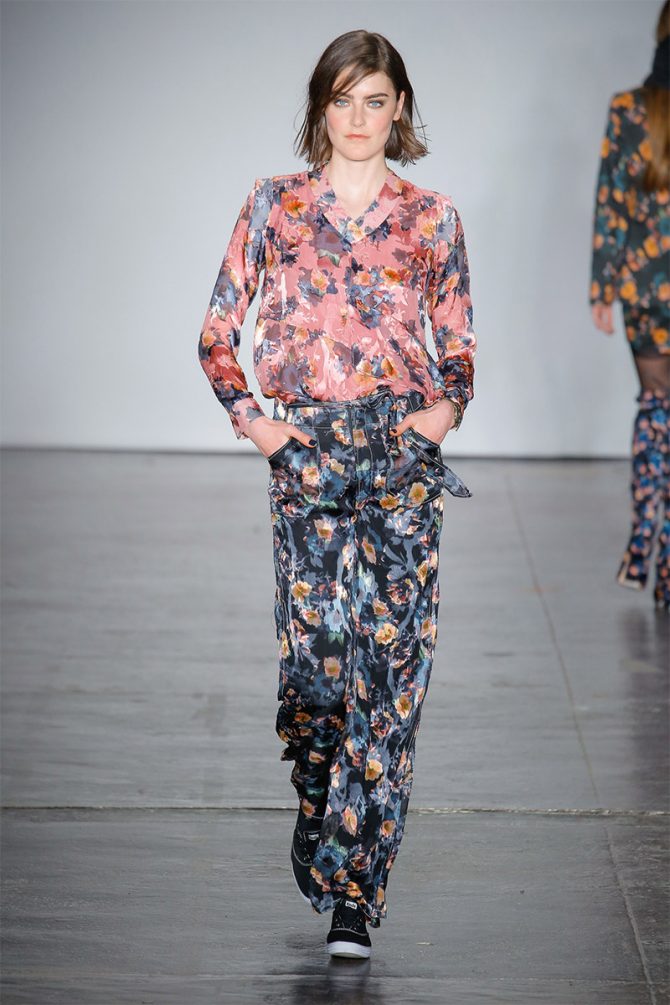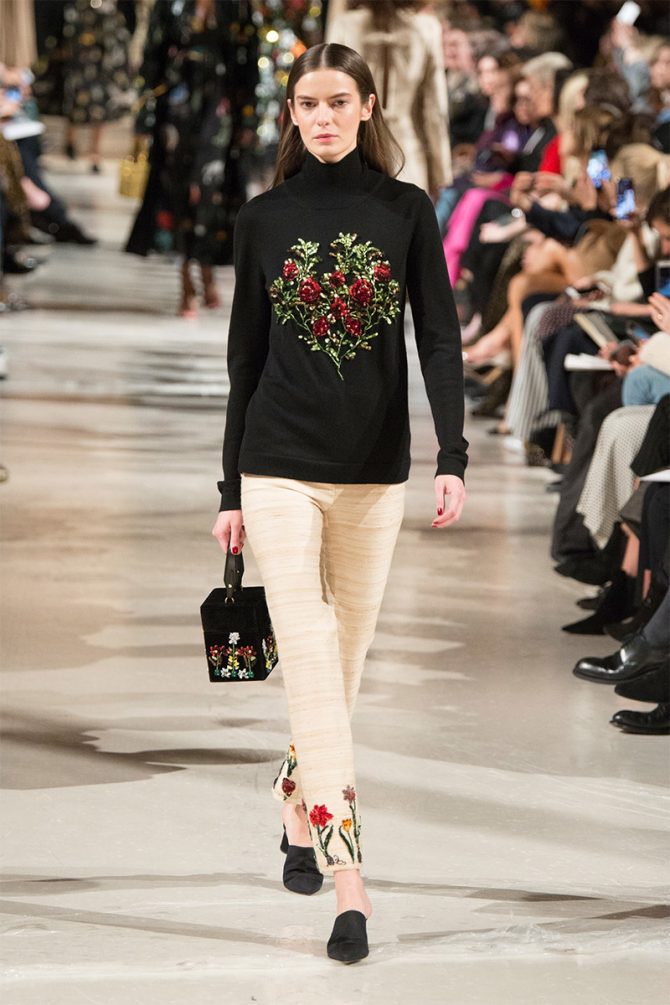 Wide pants
Wide trousers have one advantage over other styles – in them the waist becomes very slim and thin. In the fall-winter season 2018-2019, extended pants will be the most fashionable hit. Their width can be different. The most restrained option is a slightly increased width of classic trousers. Such models were present in the collections of Antonio Berardi, Carolina Herrera, Christopher Kane, Creatures of Comfort, Philosophy.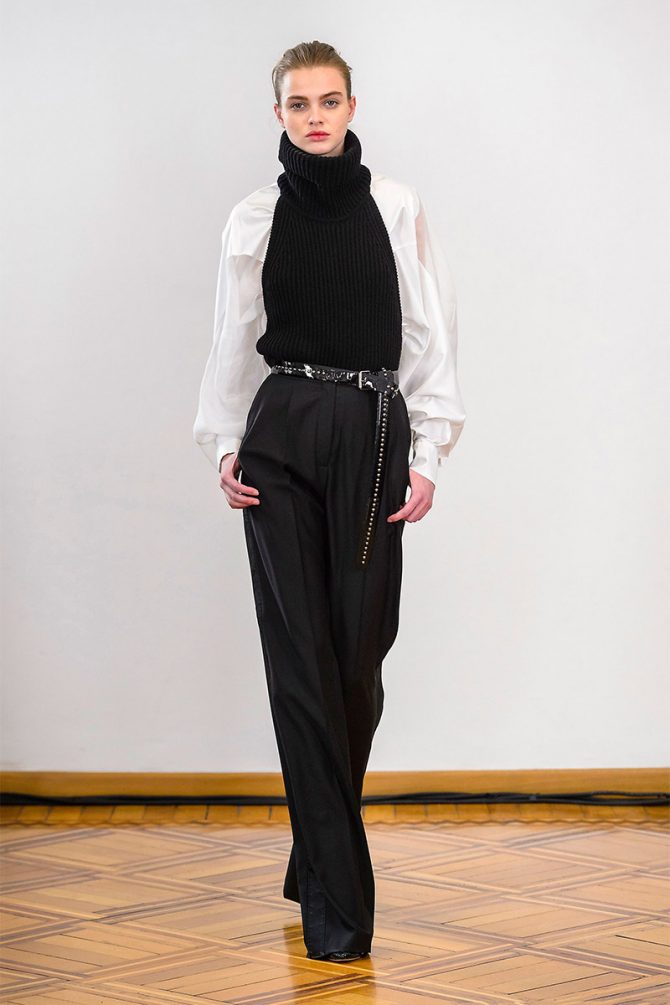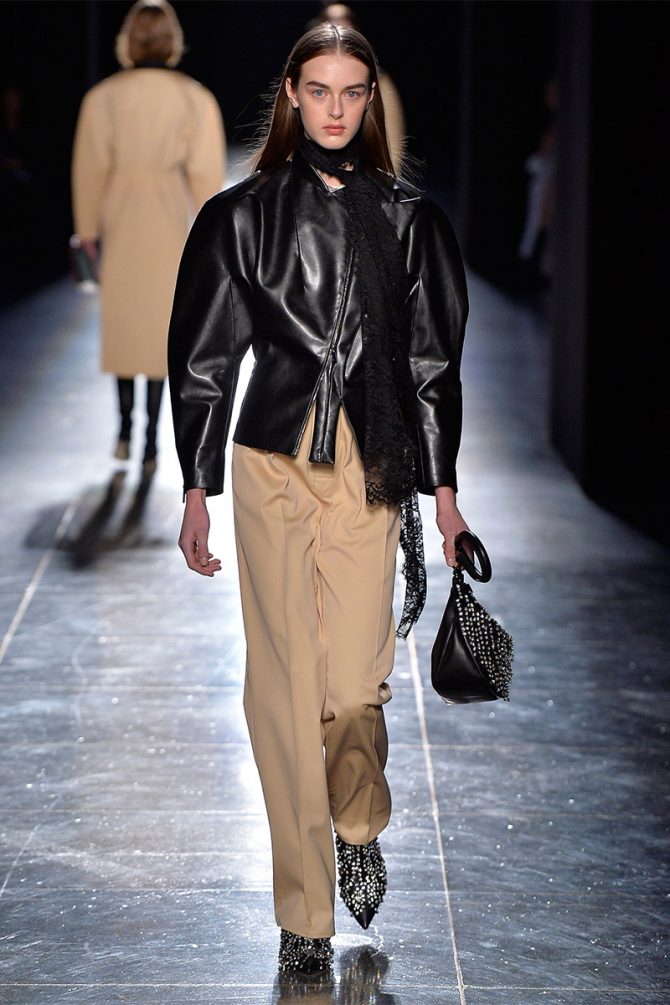 The looser version is wide pants with large pleats at the waist, for example, Boss, Gareth Pugh, House of Dagmar. And a completely democratic interpretation of wide trousers – incredibly voluminous and shortened culottes from Giorgio Armani, Eudon Choi and Salvatore Ferragamo.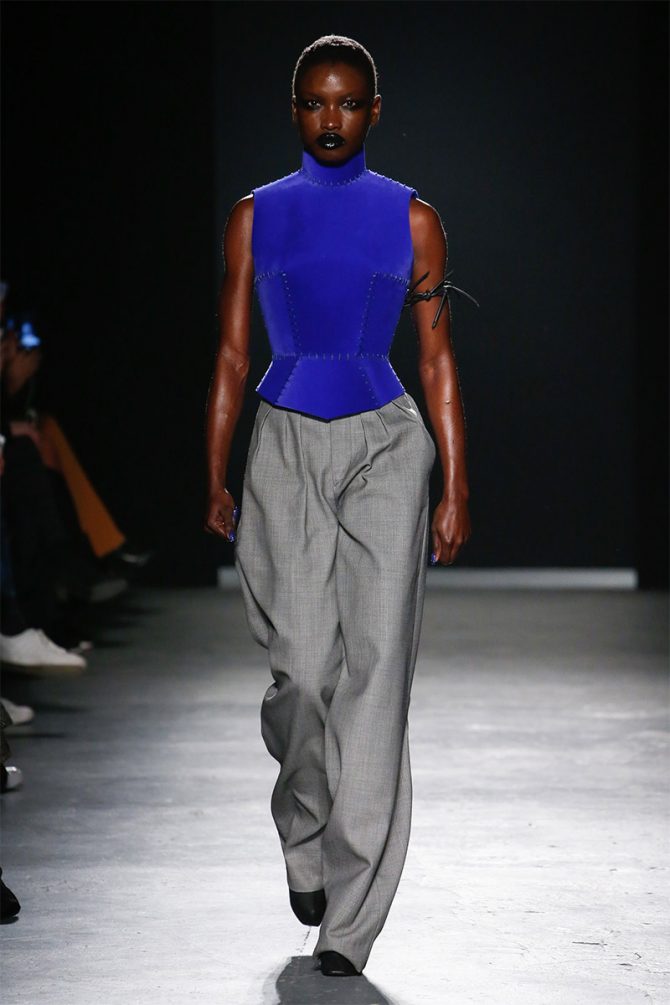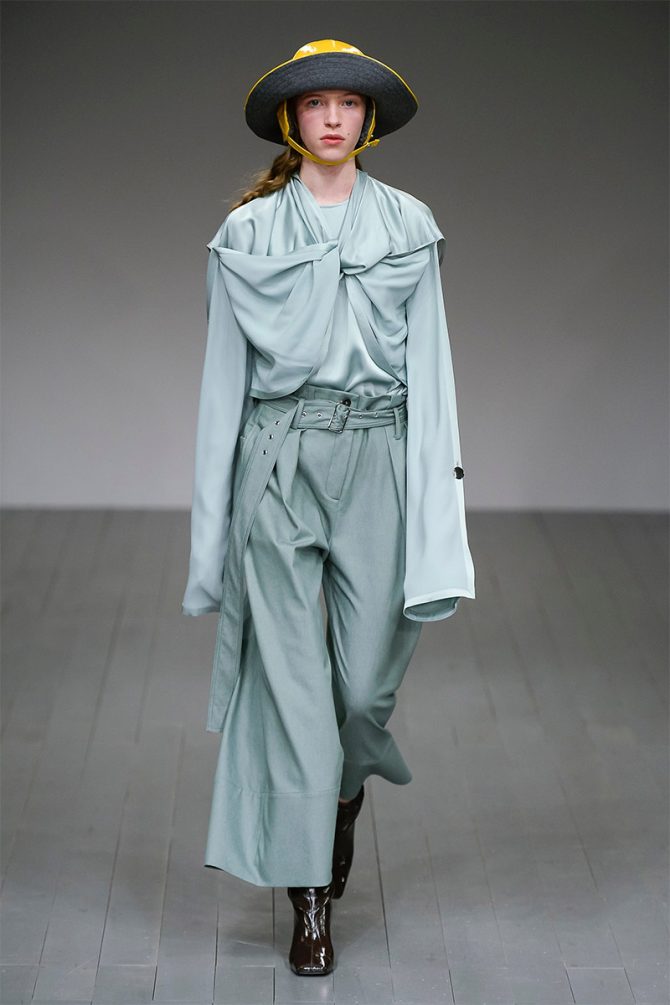 Bright colors of trousers
Bright colors will help to dilute the gloomy charm of autumn. They will become the current trend of the fall. All the most catchy shades of the fashionable palette of this season are allowed – Ceylon yellow, red poppy, orange orange, light lime, fuchsia, ultraviolet, green quetzal. All these juicy, atypical colors for autumn will help to colorize the monotonous autumn weather and set you up for positive.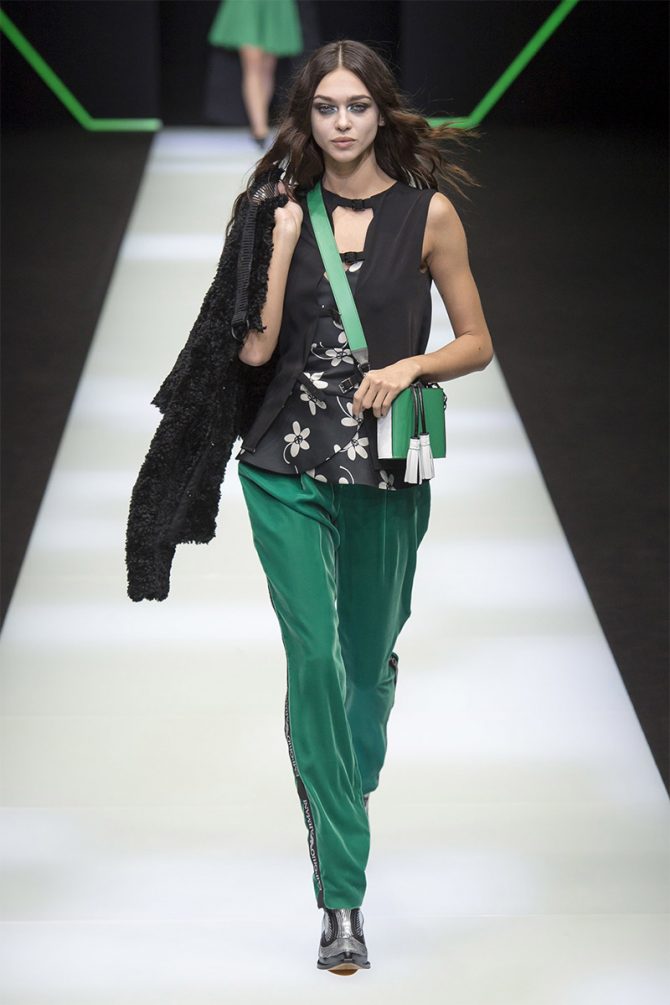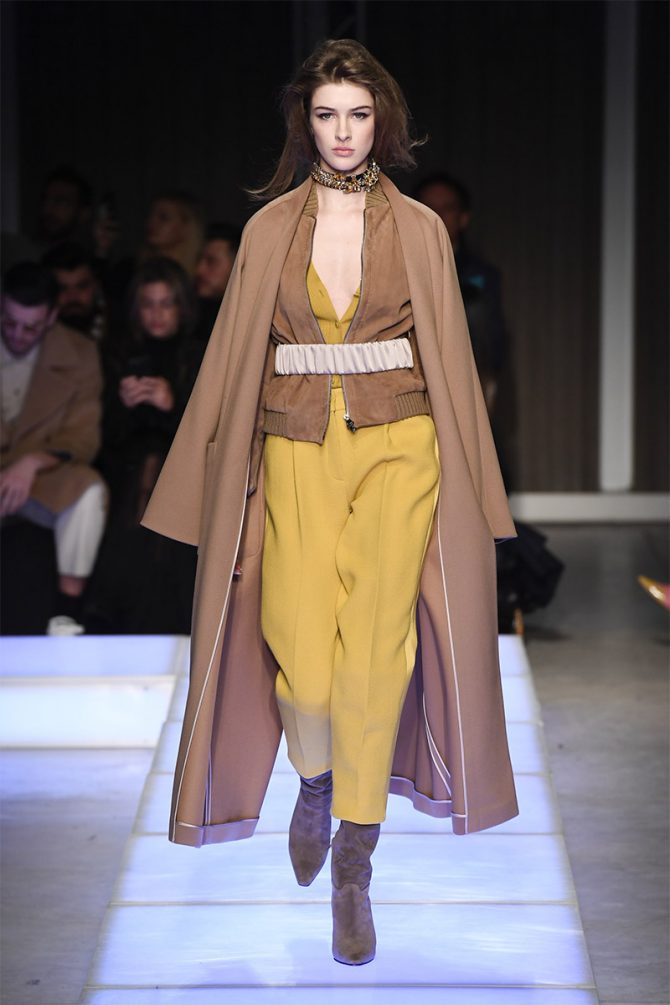 Designers have demonstrated that a modern girl should have at least three trousers in her basic wardrobe: classic for creating a business style, more practical for everyday wear and a couple of non-standard models of trousers in bright colors or unusual styles.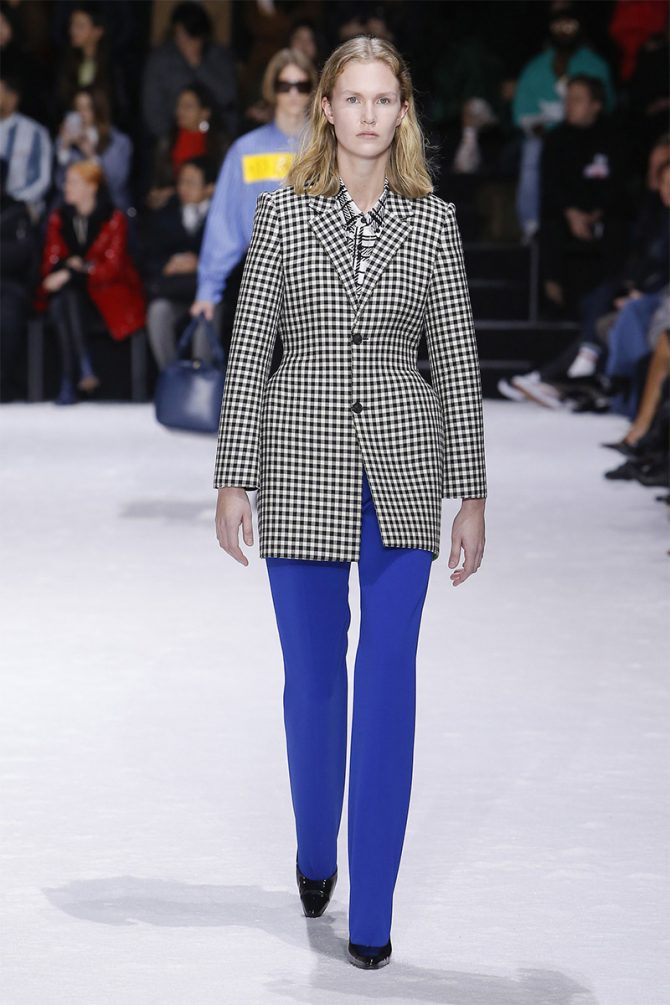 Fashionable trousers for the fall-winter 2018-2019 season are a variety of cuts and textures, bright colors and colorful prints. Not the most familiar selection of models for the autumn look. But this is its uniqueness. For the first time, autumn-winter fashion sounded in spring and summer.
Similar articles
---