Content
---
---
The favorites of the new season were glasses with colored and mirrored lenses, in a round frame and the beloved "butterflies". But oversize points are ahead of them all – we'll start our review with them.
Oversize Points
Glasses whose dimensions are far from the standard come to the fore. Moreover, the shape and style do not matter – the main size. The usual round and square glasses of exaggerated sizes are in fashion, as well as accessories of irregular shape and hypertrophied "butterflies".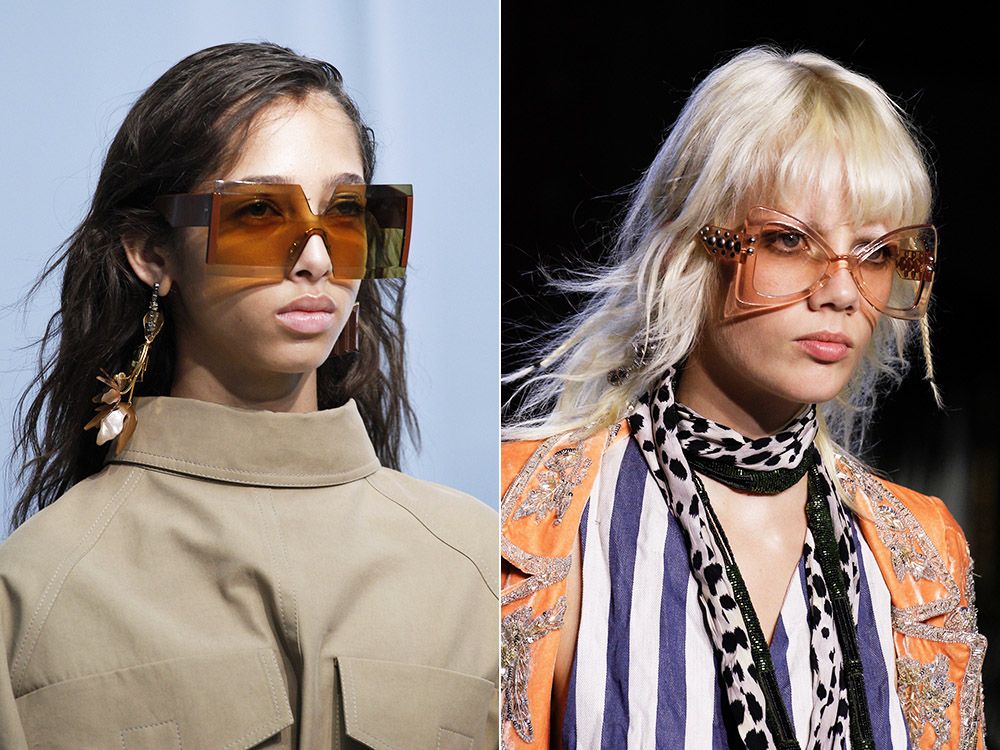 The color of the lenses can also be any: classic black and brown, transparent, with an ombre effect, as well as in any other color. The fact that oversized glasses are in fashion is quite justified – the oversize size suits absolutely everyone, even those who find it difficult to pick up glasses with a smaller frame.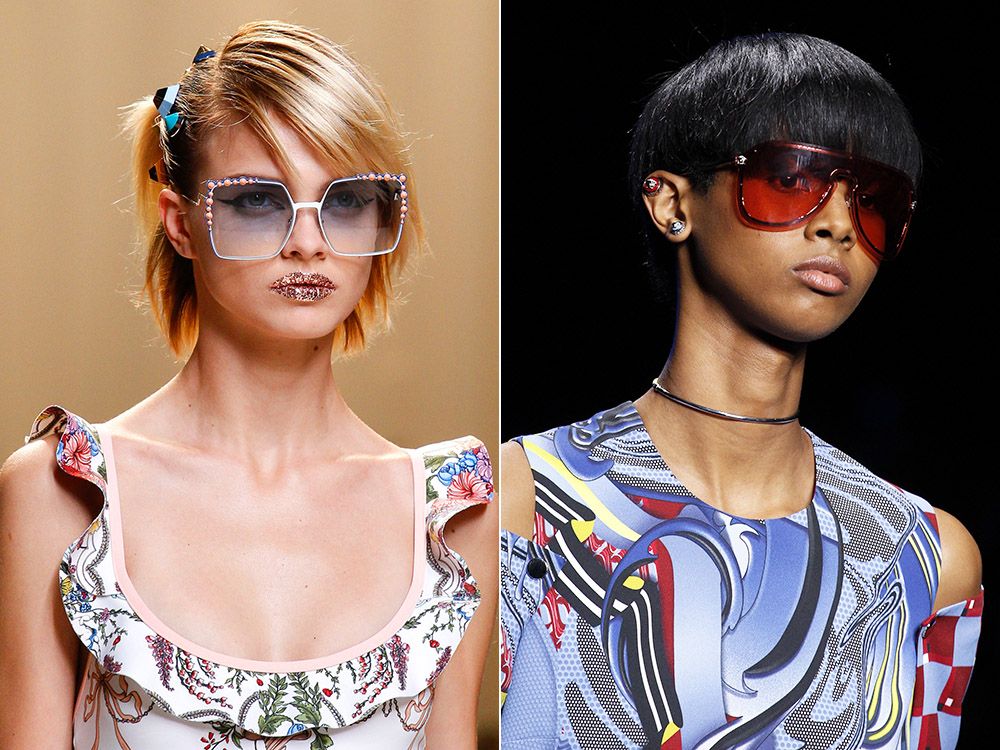 Round glasses
Tisheids, Lennons, blind men – many names, one form. In the summer 2017 season, the round rim in popularity surpassed even the iconic aviators and everyone's favorite "cat eye". Only now it's worth choosing a larger frame, oversize size – there are such in the Dolce collections&Gabbana, Jenny Packham, Marni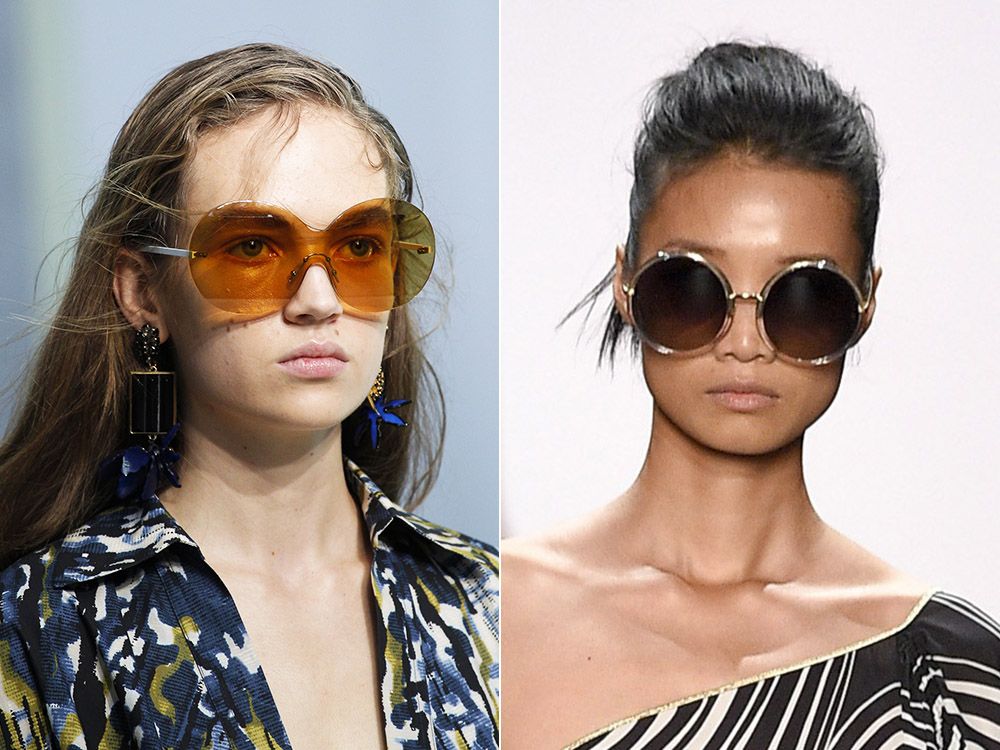 Thom Browne and Dolce&Gabbana breathed new life into tisheydy with the introduction of round "mirrors" and glasses with futuristic frames and round lenses.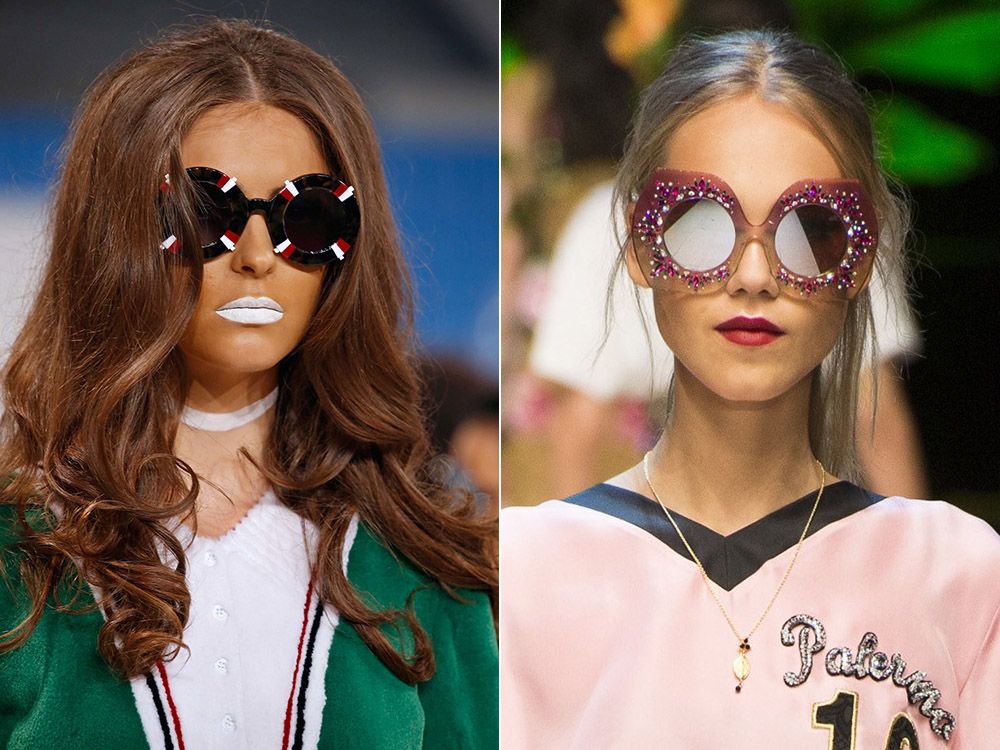 There were also more familiar models. Dries van Noten, Givenchy, Trussardi presented the classic Lennons without too much decor. A small "but" – this shape of the frame suits girls with rectangular faces, chubby young ladies in tishades look funny.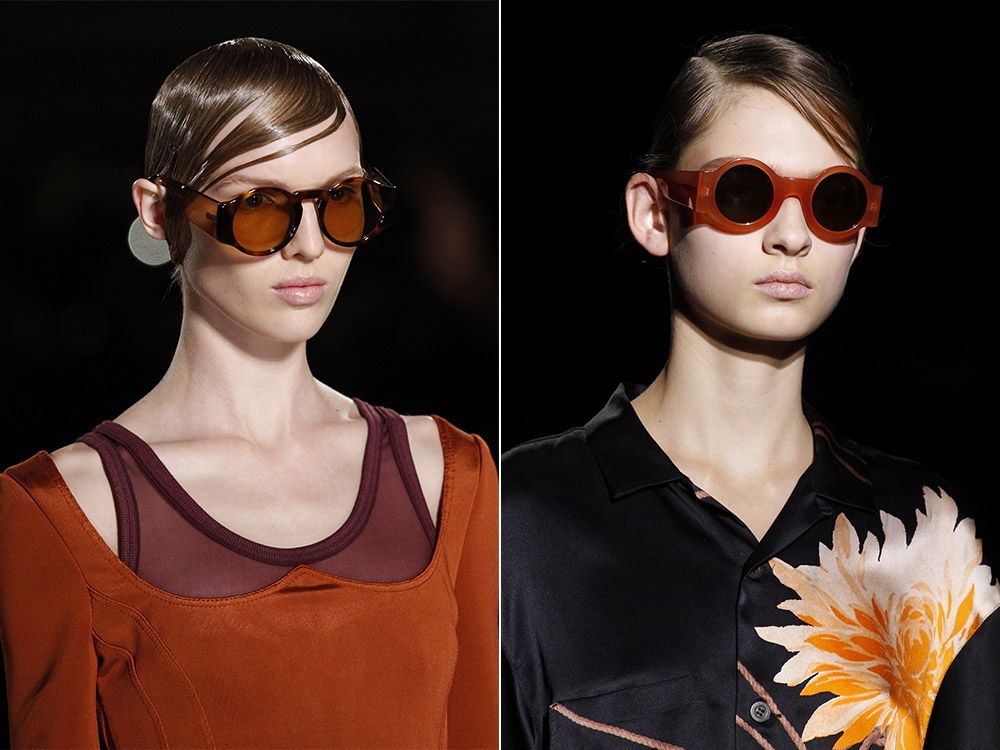 Cat eyes / butterflies
It seems that the "cat" frame will outlive everyone. The popularity of this form of women's sunglasses is quite justified: "cat eyes" or "butterflies" make the face more pretty, visually reduce a high forehead and wide cheekbones.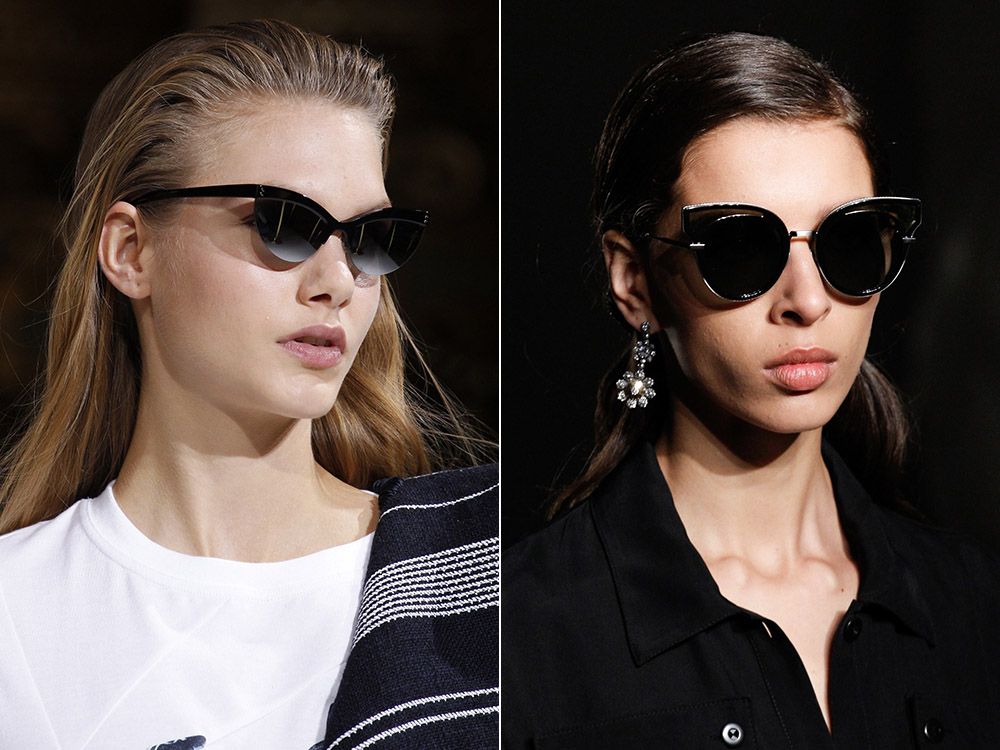 Bottega Veneta opted for the classic shape of cat eyes. The rest felt that this form looks too simple and slightly changed it, giving it a more futuristic modern look.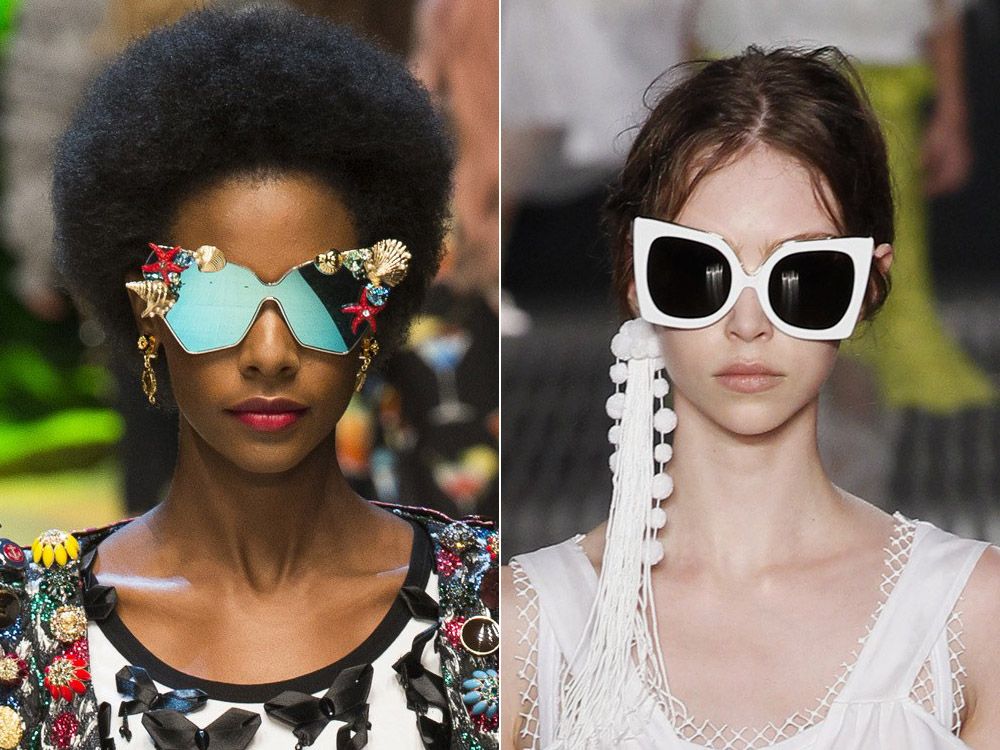 As part of the spring-summer 2017 collections show, Roberto Cavalli presented a whole line of plastic "butterfly" glasses: from transparent models to options with colored lenses and glasses with an ombre effect. Butterfly glasses with classic lenses in black and brown are found in the Marco de Vincenzo collection..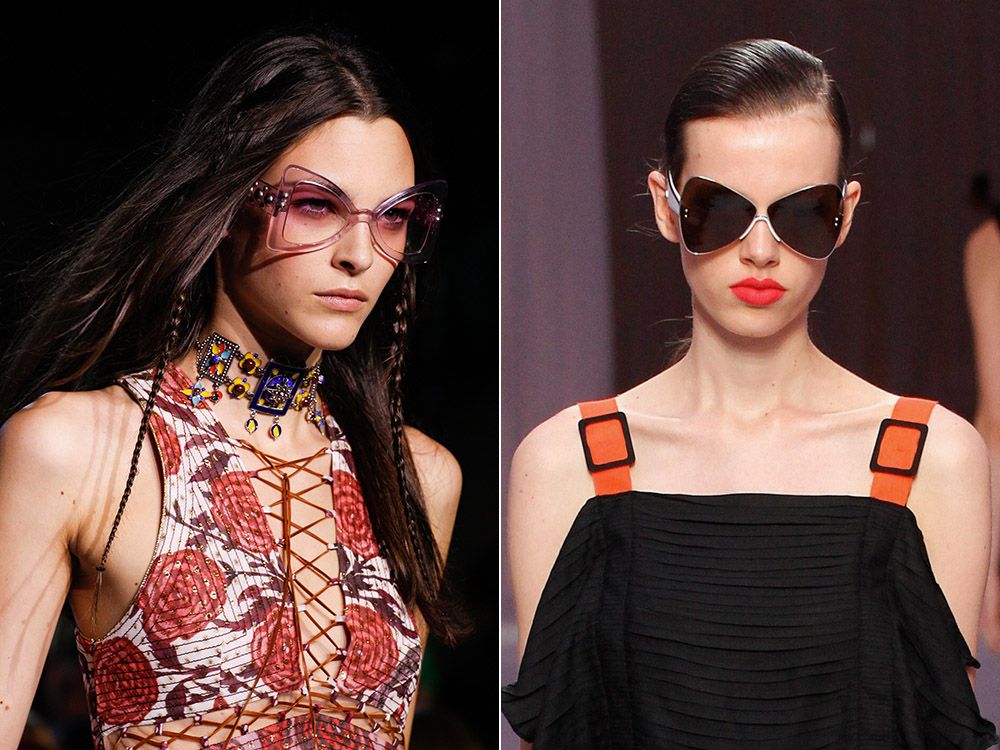 Double jumper
The most striking trend of spring 2017 is glasses with a double jumper – a bridge connecting the lenses. If before the double jumper was typical mainly for aviators, now two or more bridges are decorated even with glamorous cat eyes and round tishides.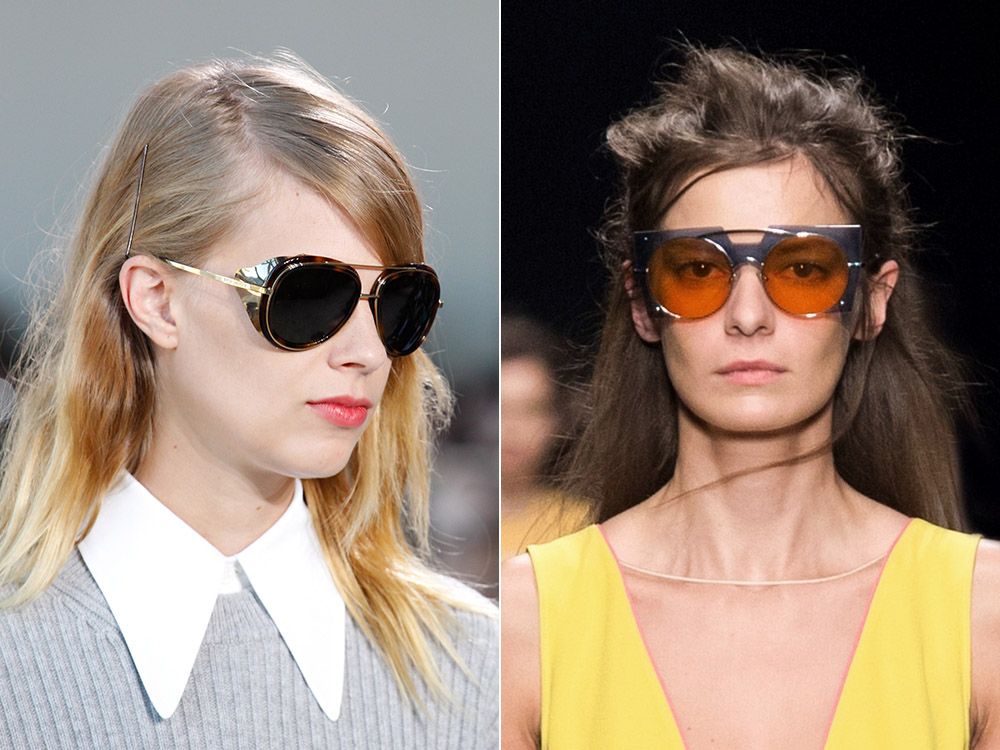 As you probably already noticed, sunglasses with colored and transparent lenses are in fashion regardless of shape and size. Double-bridge glasses were introduced by Michael Kors, Phillip Lim, Mulberry and many other well-known brands..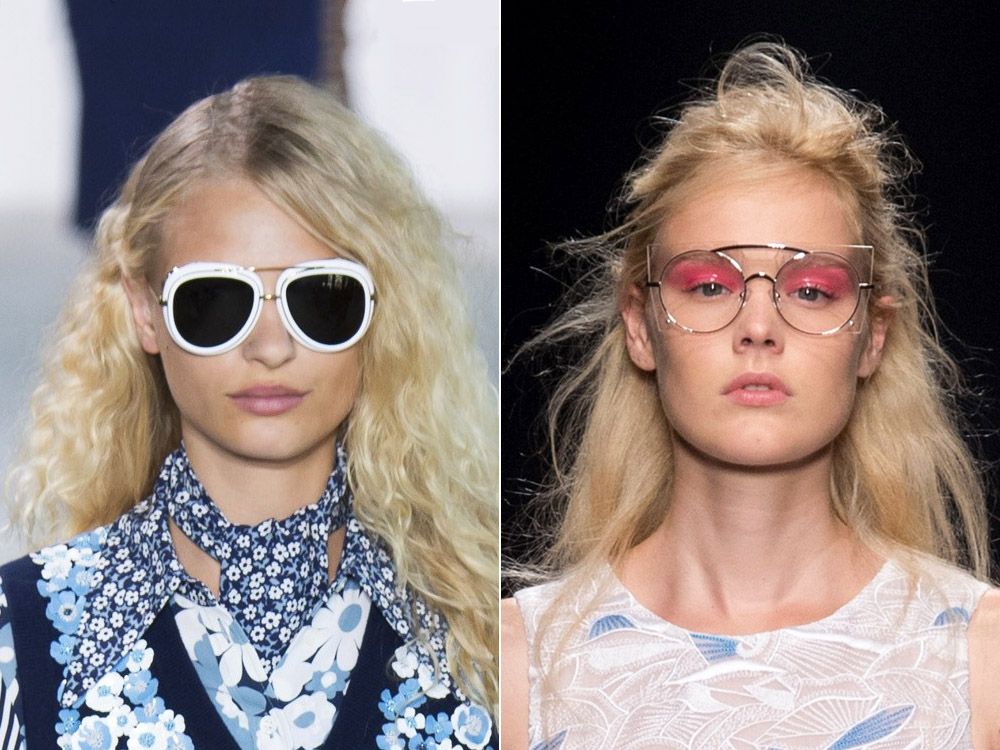 Iconic Aviators
It is difficult to say how many seasons in a row fashion catwalks were loaded with models in aviators. Recently, interest in them has noticeably decreased, but in the spring-summer 2017 season, aviator glasses are again returning in a new guise.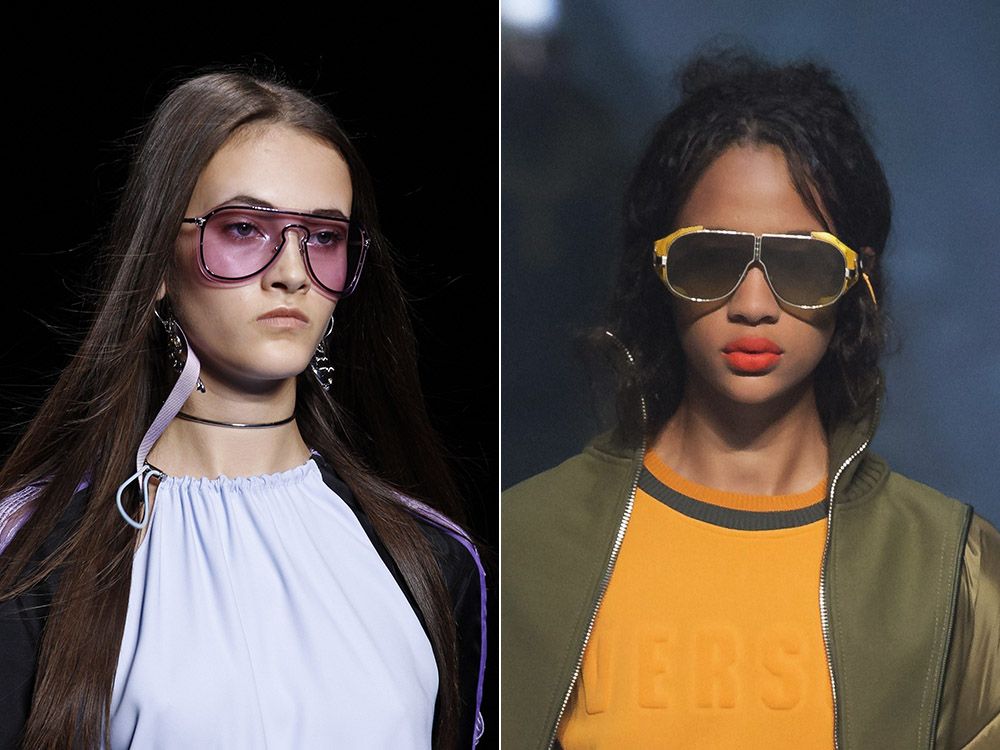 For example, Phillip Lim and Michael Kors presented cult aviators with colored lenses, Christian Dior – classic models in a light metal frame, traditional for aviators. This is perhaps the only unisex model that looks perfect on both men and women, and also fits almost any style..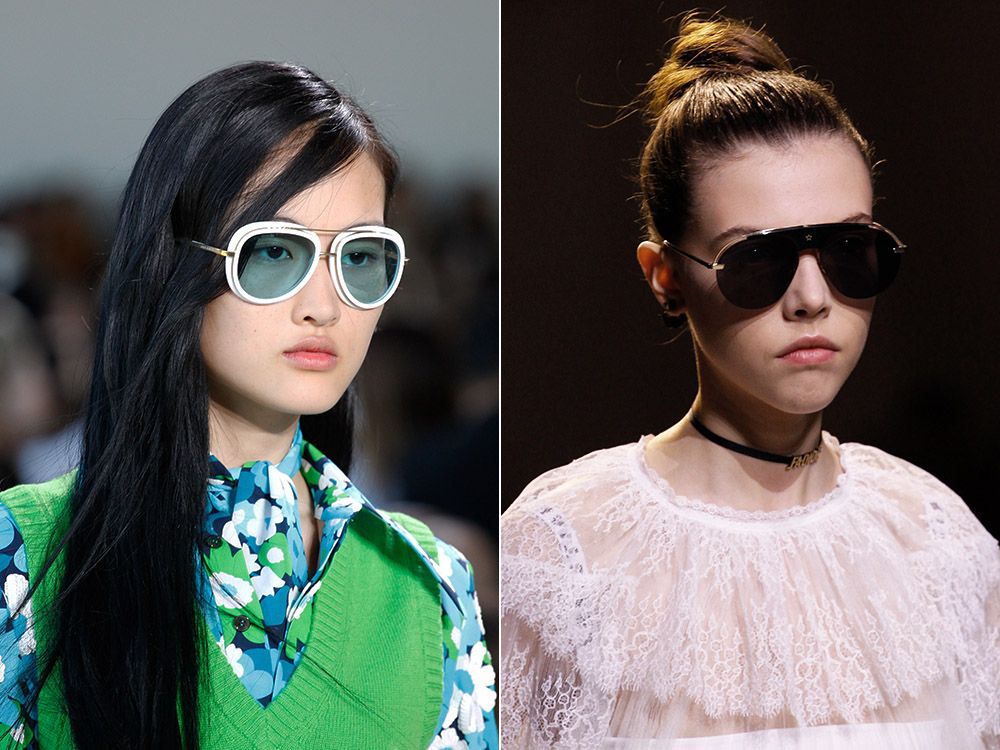 Fancy frames and lens shapes
Plastic is an amazing material with which you can experiment indefinitely. To hide from the sun was not so boring, the designers presented very unusual glasses with a disproportionate frame and lens shape.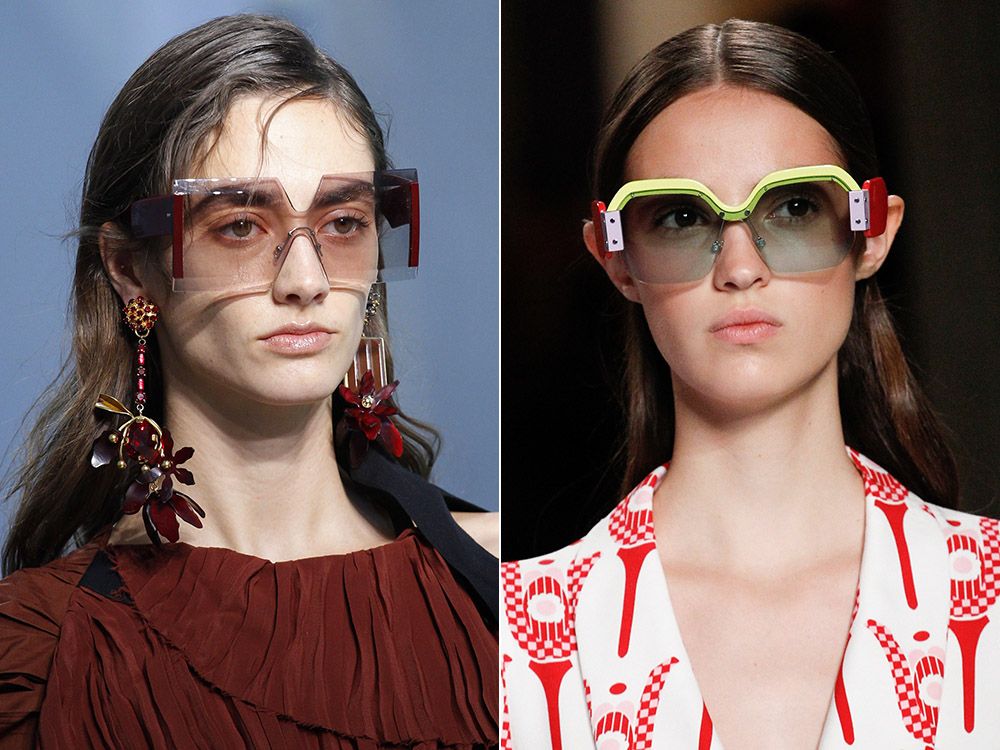 These are neither butterflies, nor tysheydy, nor browliners – this is a completely new form of sunglasses. This futuristic approach appealed to fashion critics, who called this decision "the freshest in the world of fashion accessories".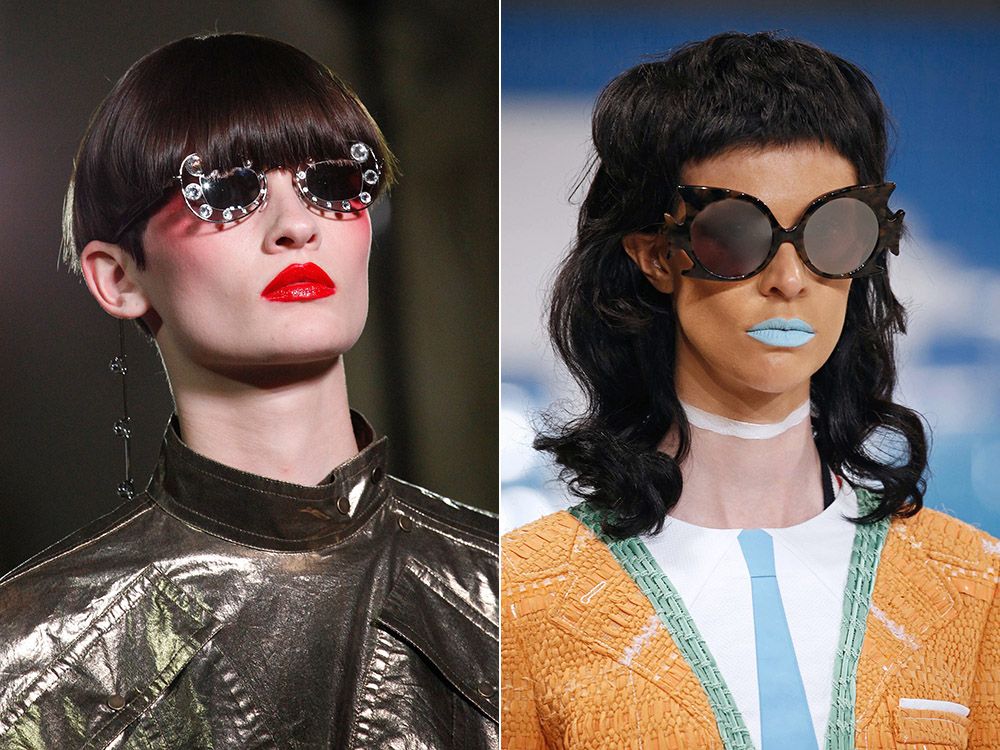 Gradient Glasses
It all started with hair, when the fashionable ombre dyeing technique literally in an instant won the hearts of fashionistas. Not surprisingly, this trend has touched accessories. Prada, Gucci, Fendi, Jenny Packham and other designers presented a number of models of sunglasses with gradient lenses, in which one color smoothly changes to another.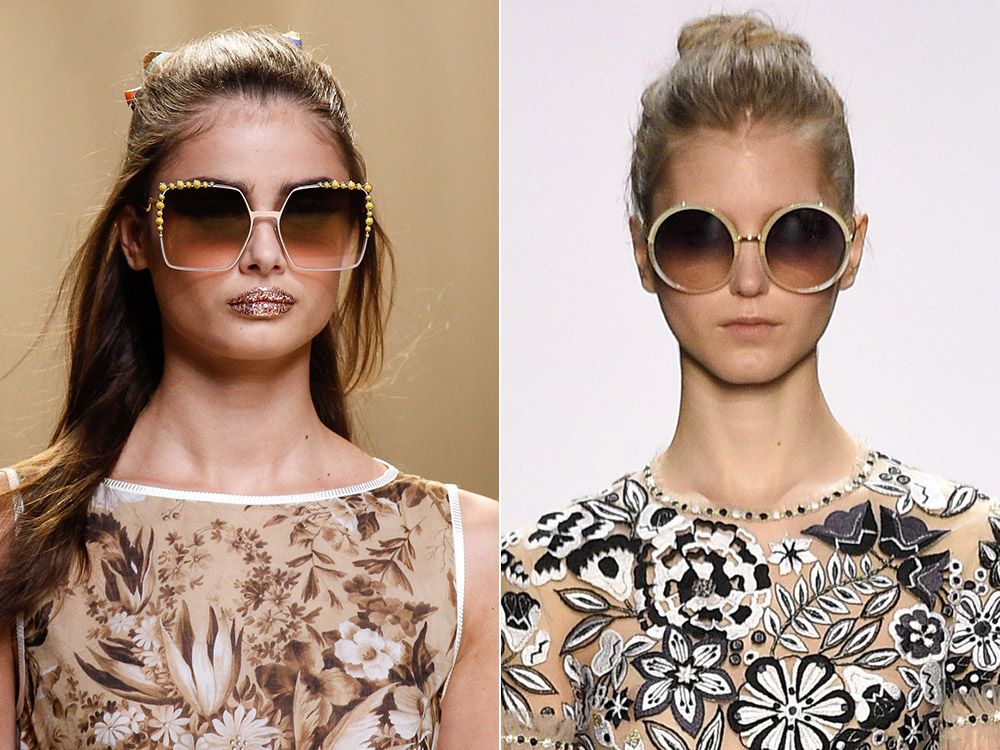 But the interest in glasses with transparent lenses has noticeably decreased compared to previous seasons. Only a few brands presented transparent glasses, but even that, the color of the glasses was not perfectly transparent, but with the ombre effect.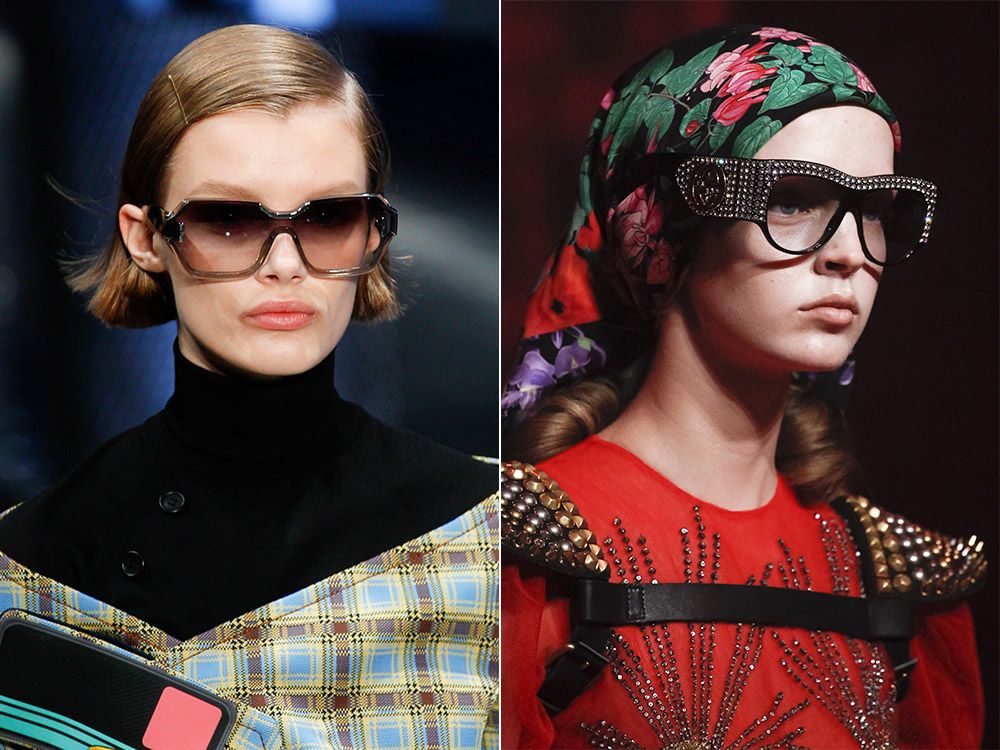 Glasses with colored lenses
More color is the first thing everyone expects from the summer. Therefore, designers advise at least for the next six months to abandon the classic black-brown lenses and wear glasses with colored glasses. Pink, blue, green, yellow and orange – lenses in the summer 2017 season can be any color.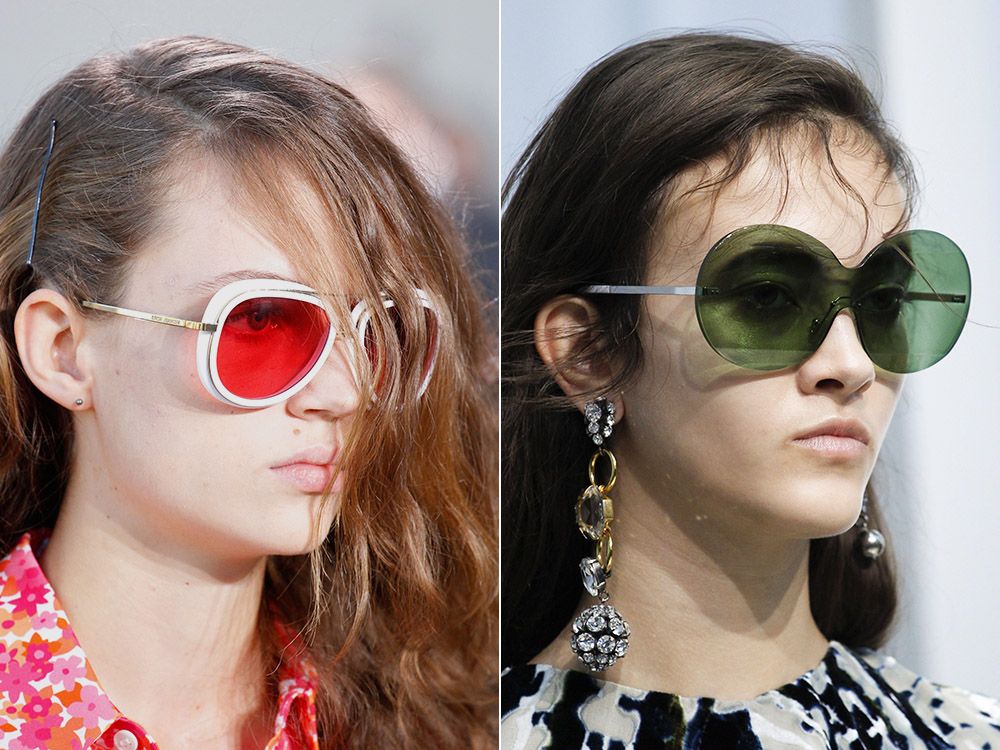 The shape and size do not matter. It also doesn't matter – the glass or mirror will be transparent – the main color.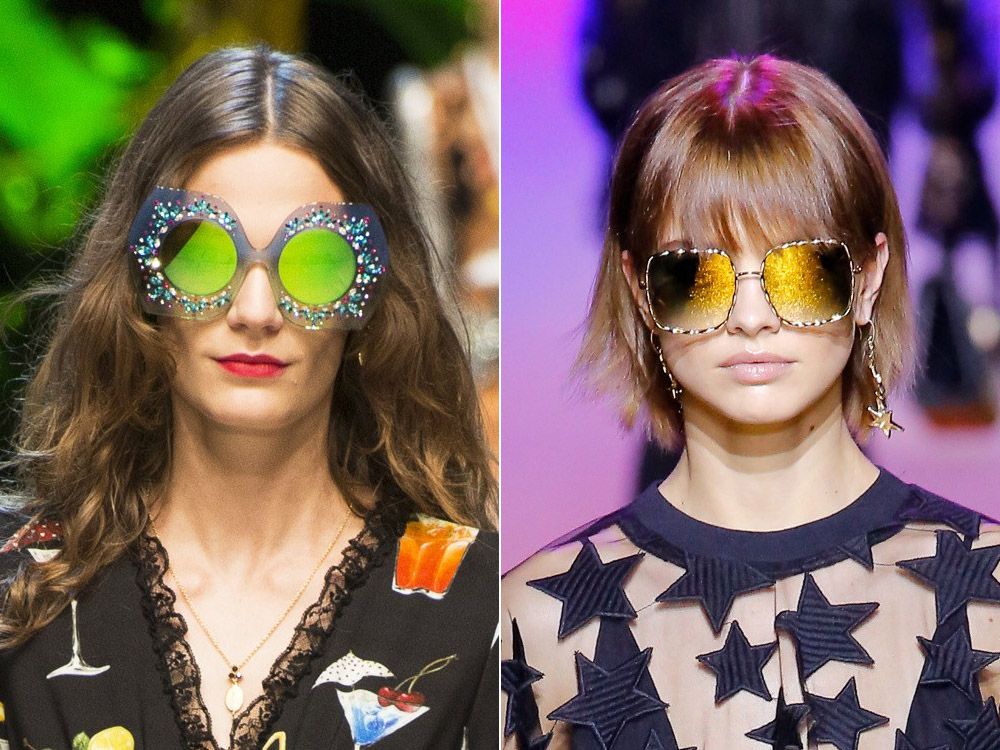 Glasses with decor
You may notice that this season accessories and jewelry strive for simplicity and conciseness. Designers abandoned the abundance of rhinestones, sparkles and other decorative ornaments. Only a few brands have presented a collection of decorated sunglasses.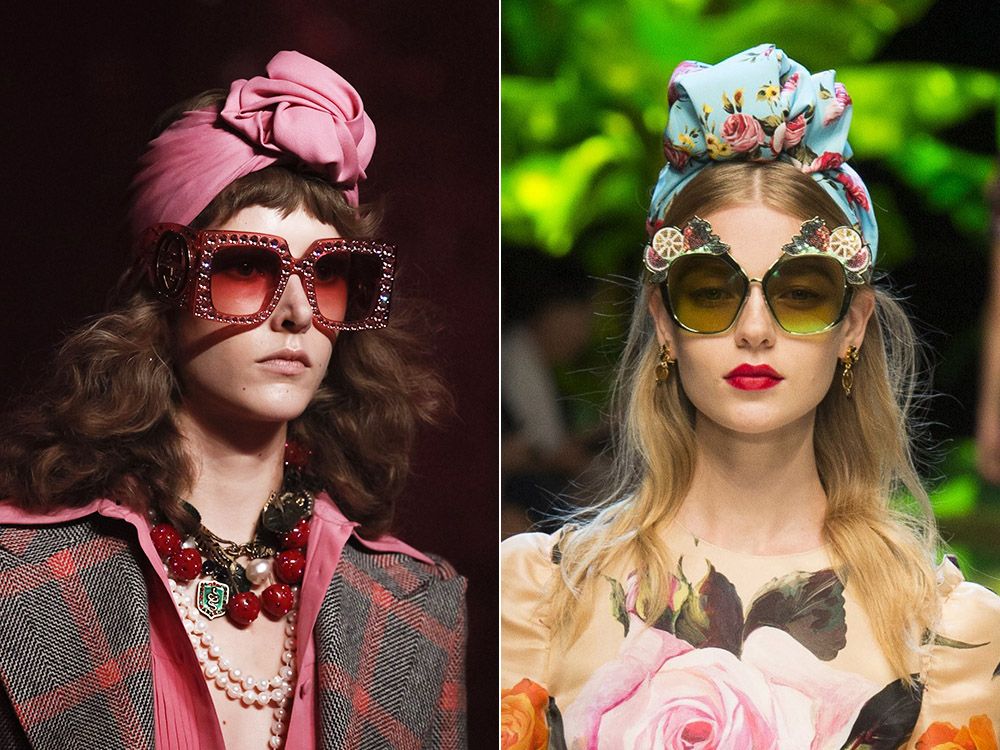 That is what sunglasses will look like in the summer 2017 season. As you probably noticed, their main task is not just to protect the eyes from the sun, but also to emphasize facial features and make the image as complete as possible.
Be fashionable! Beautiful girl!!!