Content
---
---
Fashionable bags of the fall-winter 2019 season are complex geometry, a riot of decor and colors. Moreover, round shapes, relevant for several seasons in a row, almost completely faded into the background.
Podiums cluttered clutches, minodiera, satchels of clear square or rectangular shapes. Only slightly shapeless hobos, pouches and shoppers are knocked out of this picture.
For the decor of fashion bags, a whole arsenal of tools was used. Fur, chains, voluminous flowers and much more. Collections became bright, without undue shocking.
Fur bags
Designers are sure that fur can be an excellent decorative element of a bag. For example, to become a beautiful decor for the sides or to shade the logo. Karl Lagerfeld addressed this technique when creating the Chanel bag collection. He came up with a combination of 2 current trends: fur and diamond stitch.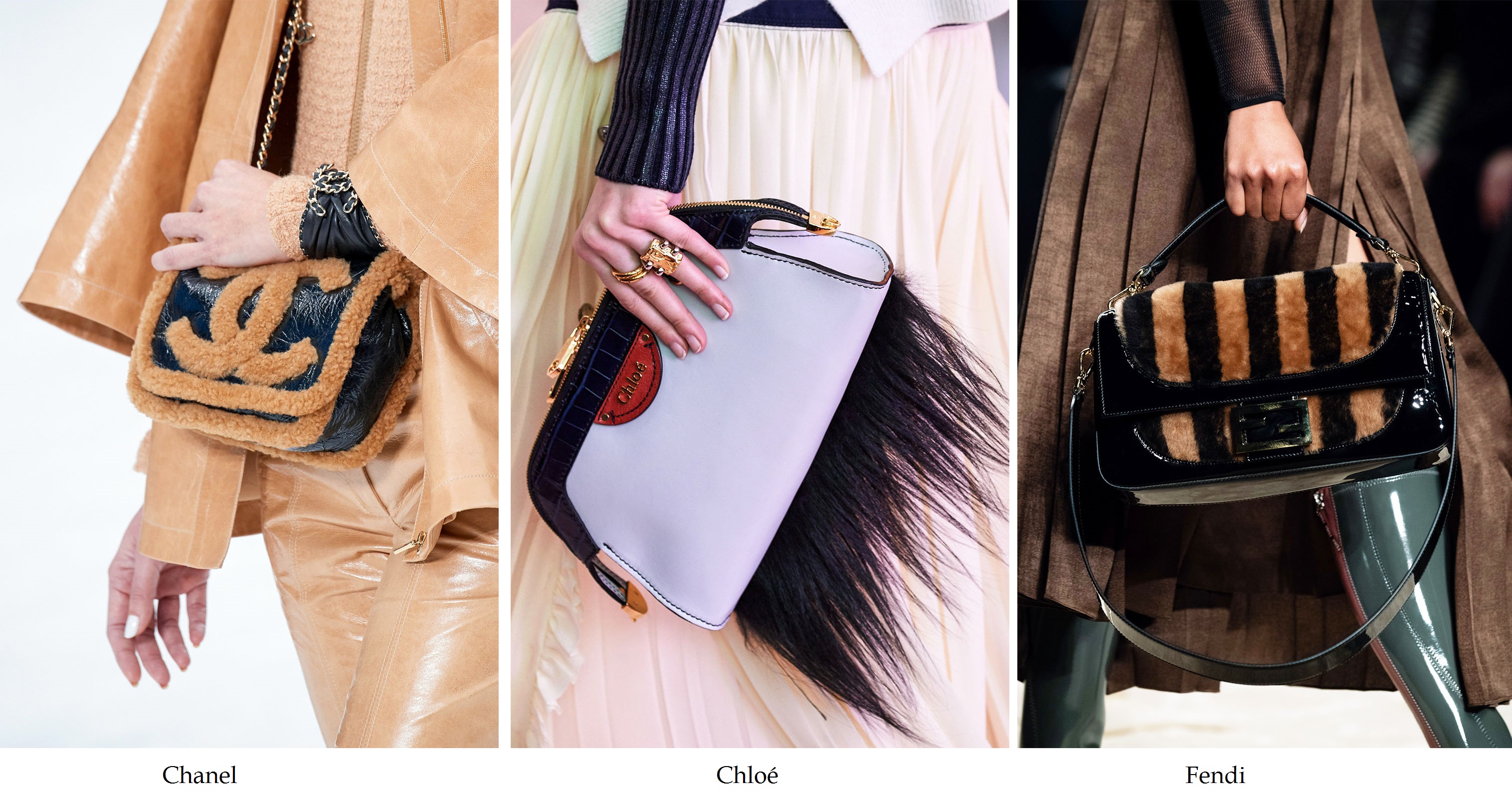 Bags made of fur in bright, sometimes even acid shades are in fashion. Bright lilac, orange, turquoise. Such colors for the fall-winter 2019 were proposed by Dries Van Noten, Chloé and Off-White.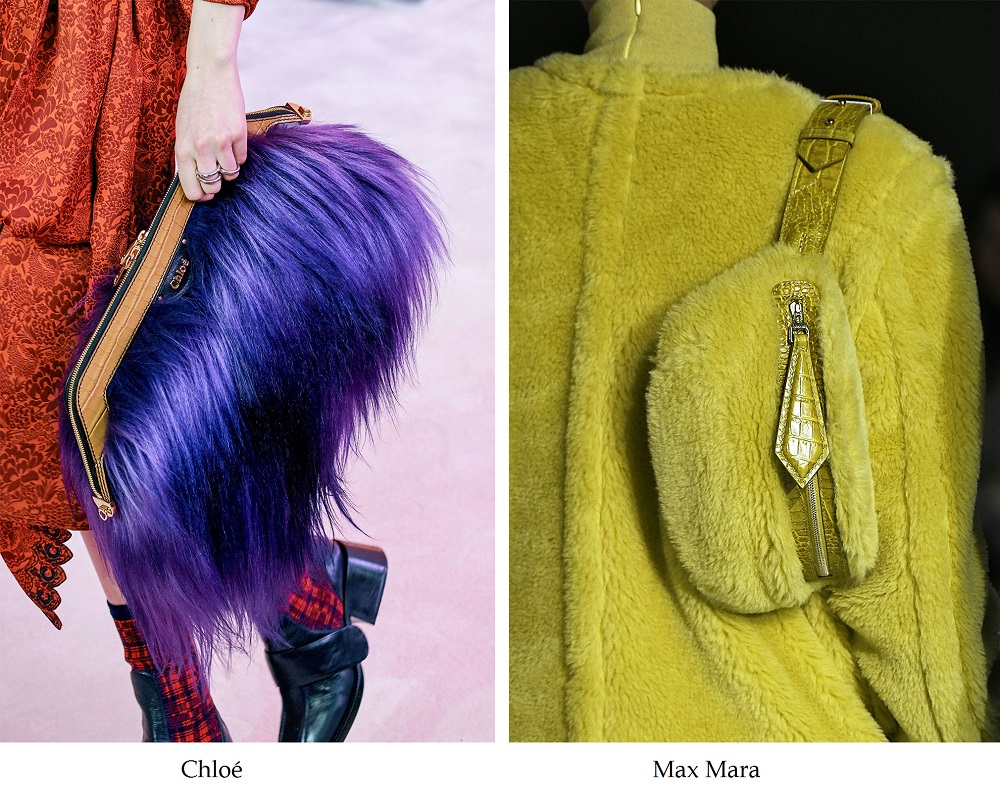 The bag does not have to be made entirely of fur. It is enough that at least a small fur detail is present in it – trim pockets, an insert of fluffy fabric, decorative design of the logo. The fur look is also relevant when the color or print of a fur coat and bag is completely the same..
Chains, spikes and rivets
The attributes of rock culture are trending. And the main one is metal decor. Chains instead of handles on bags have become relevant in previous seasons. This time they added the "heavy artillery" – sharp spikes, rivets and other metal parts.
Chain handles on the bag can be very thin or consist of massive links. Often bulky chains combine with tiny handbags.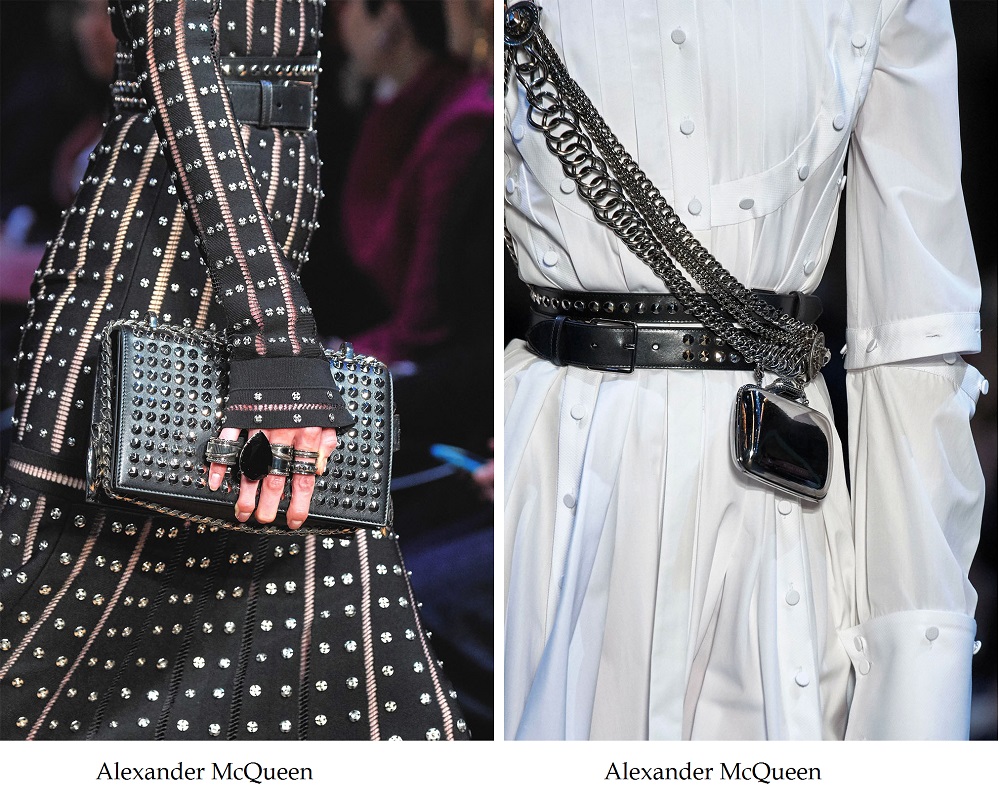 The decor of the chains can be multi-layered. It includes a large number of elements: chains of different sizes and configurations, pointed and round rivets. Sometimes in this metallic splendor the bag itself is lost.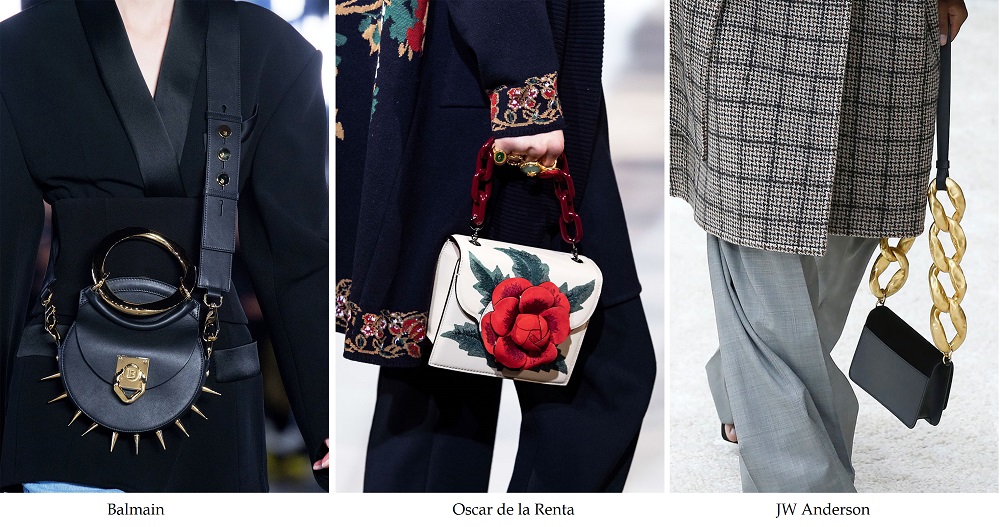 So, Alexander MacQueen created the effect of a sword belt and an accelerant with the help of a huge number of decorative chains. And the role of the tablet was fulfilled by a metallic mini-bag.
Combination
Bags that combine different textures, colors and prints are a hit of the fall-winter 2019 season. As a result, the bag looks contrasting and extraordinary. The fashion trend is embodied in different ways..
Brands Leowe, Burberry and Rebecca Minkoff used 2-3 contrasting colors to create eco-friendly handbags. In Chloé bags, different textures are combined together – leather, fur, feathers. In the fashion house Lanvin presented a huge bag-bag, which combines floral millefleur and plain material.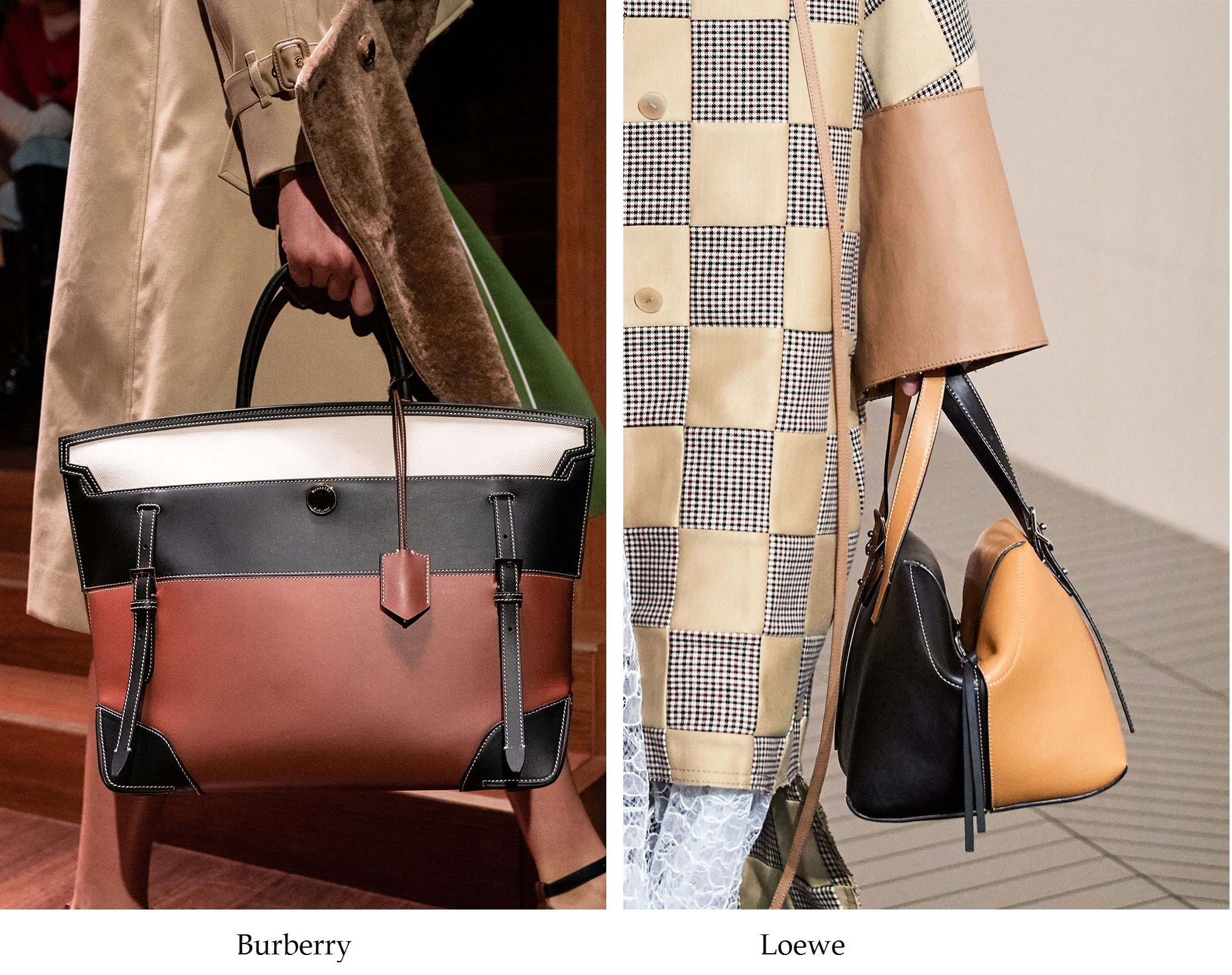 But the patchwork patchwork technique remains the most relevant combined trend. A bag made of multi-colored pieces of leather is a must have in the cool season. This technique was chosen by Coach, Tory Birch, Michael Kors.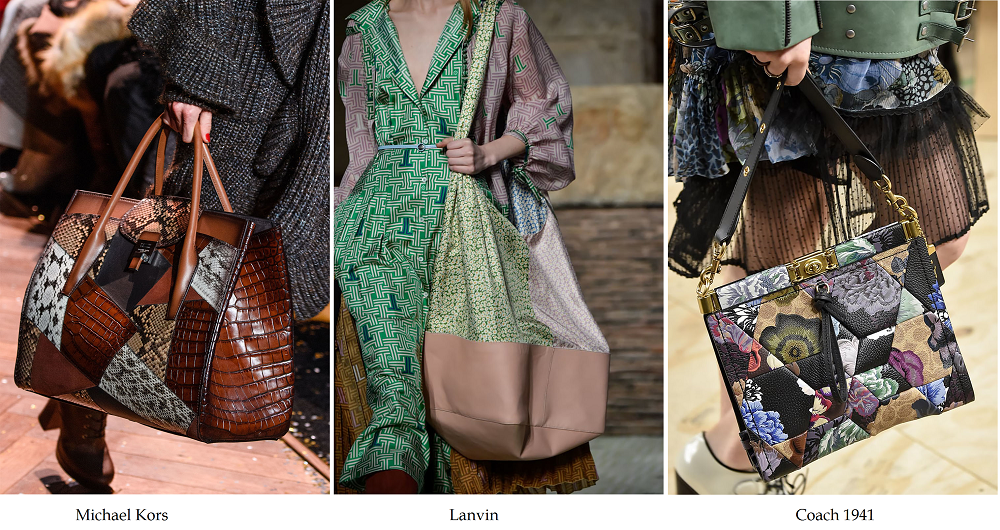 Total look
Total red, total white, total black – all these variations are relevant as never before. The trend is a monochromatic outfit, where everything from a bag to gloves is made in one color.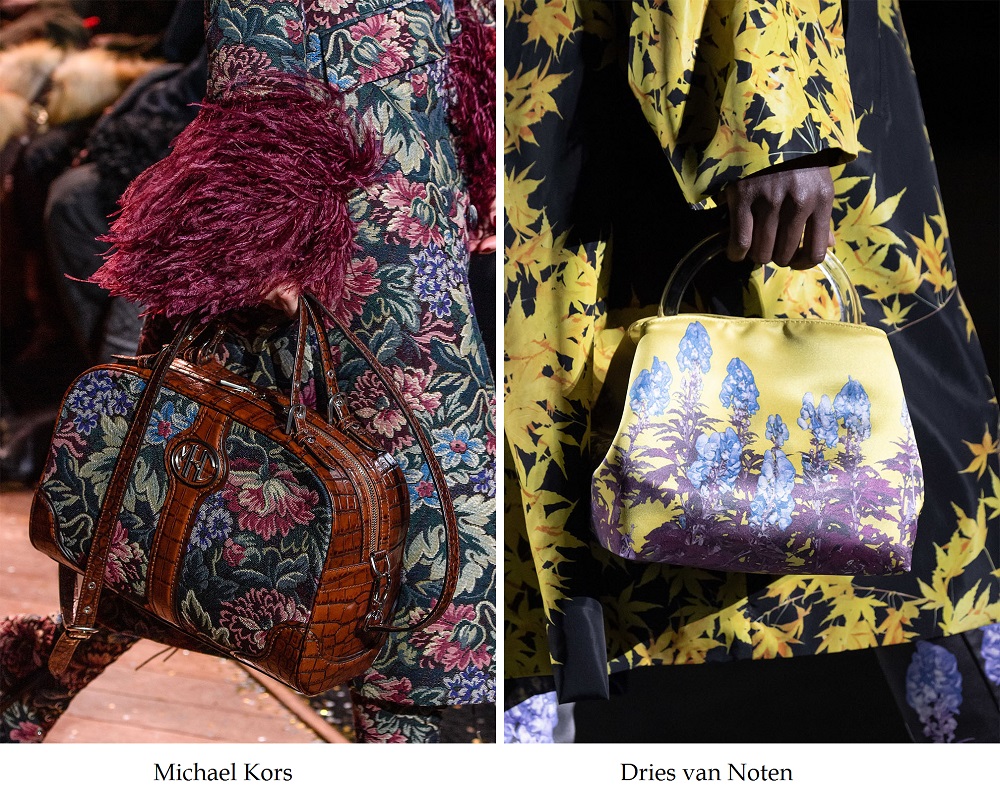 In this case, the color palette can be radically different – from bright pink, blue, orange, yellow shades to a calm beige, gray and restrained black.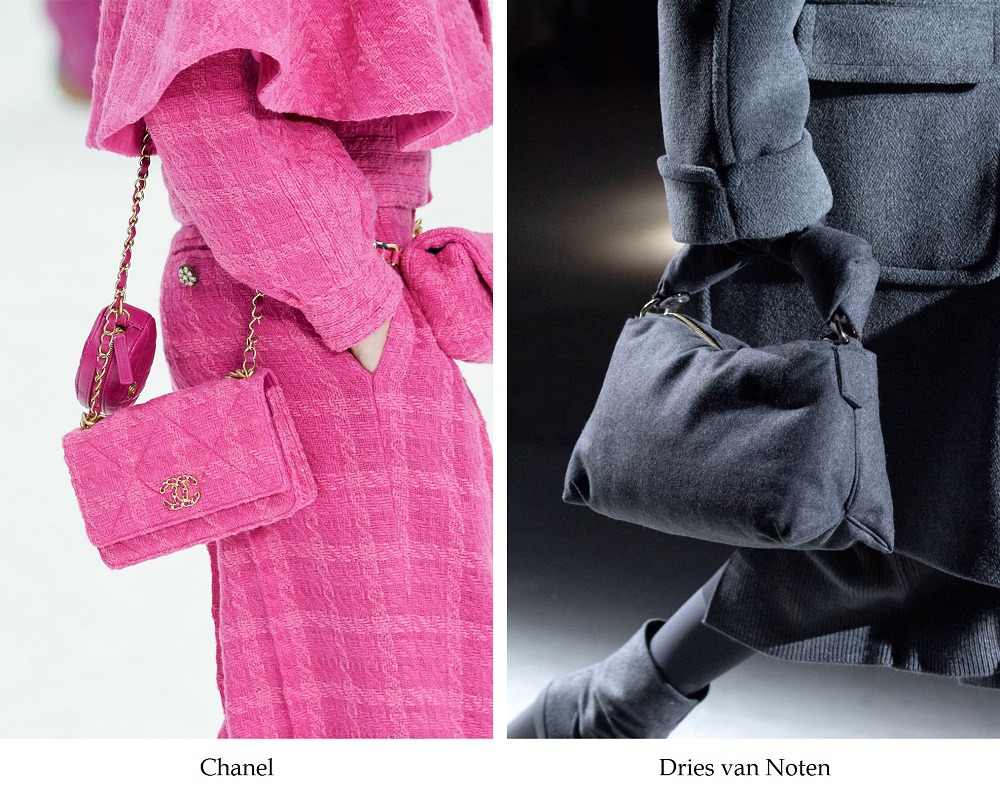 ———————————————————————————————————————————-
The current option will be the same print on the coat and bag. The cell is in fashion now. Therefore, a plaid outfit can be supplemented with a plaid bag from the same fabric..
———————————————————————————————————————————-
This is what Christian Dior and Chanel did in fashion houses. And Dries Van Noten created an image in the style of total patterned look with the help of a floral pattern. A special charm comes from Etro and Michael Kors. Massive bags with tapestry motifs harmoniously fit into a romantic look.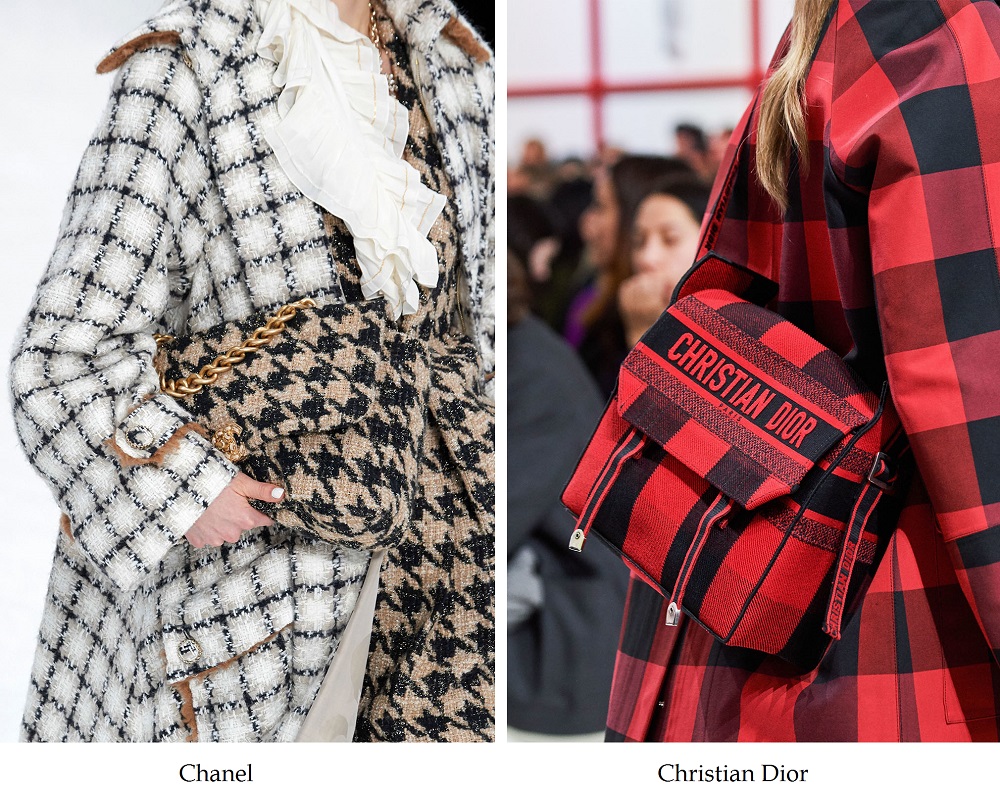 The effect of stitches, braids and capitons
Stitch is the most popular trend today. In the fall and winter of 2019, bags quilted with volumetric squares, stripes and rhombs will become fashionable. In general, the shape of the square is now the most relevant. A square pattern is achieved with the help of stitches, patchwork patches and special eco-leather strip weaving techniques. These are the handbags Bottega Veneta presented at its latest shows..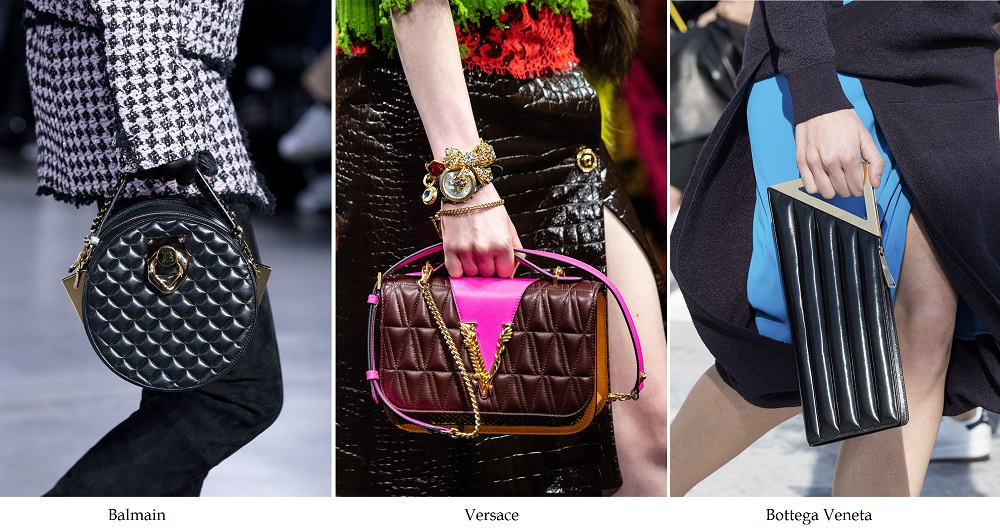 Another finishing technique that is gaining momentum in popularity is Capiton. She borrowed from the upholstery of luxurious sofas. It is a special decor in the form of buttons buried in the upholstery of upholstered furniture.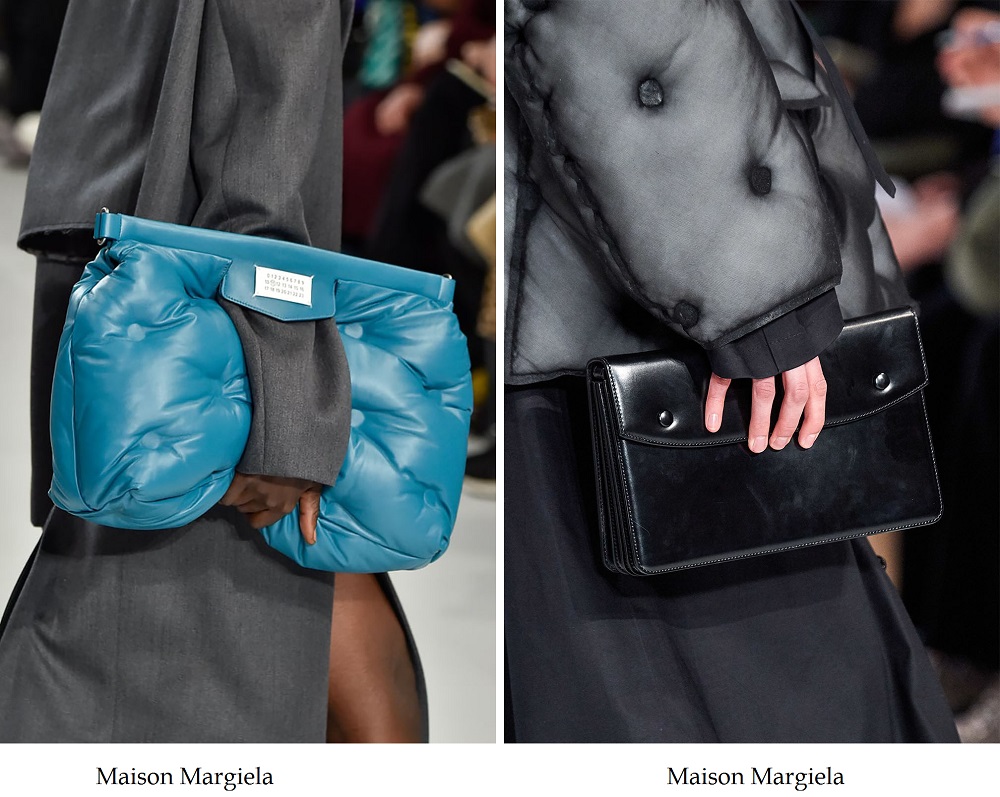 Such an unusual decor is present on bags from Maison Margiela.
Flowers
Flowers are the main motive of fashion shows. They appeared on bags not only in the form of prints. 3D trendy flowers from wool, leather, satin and other materials are now in trend. And the most "fashionable" flower is a rose.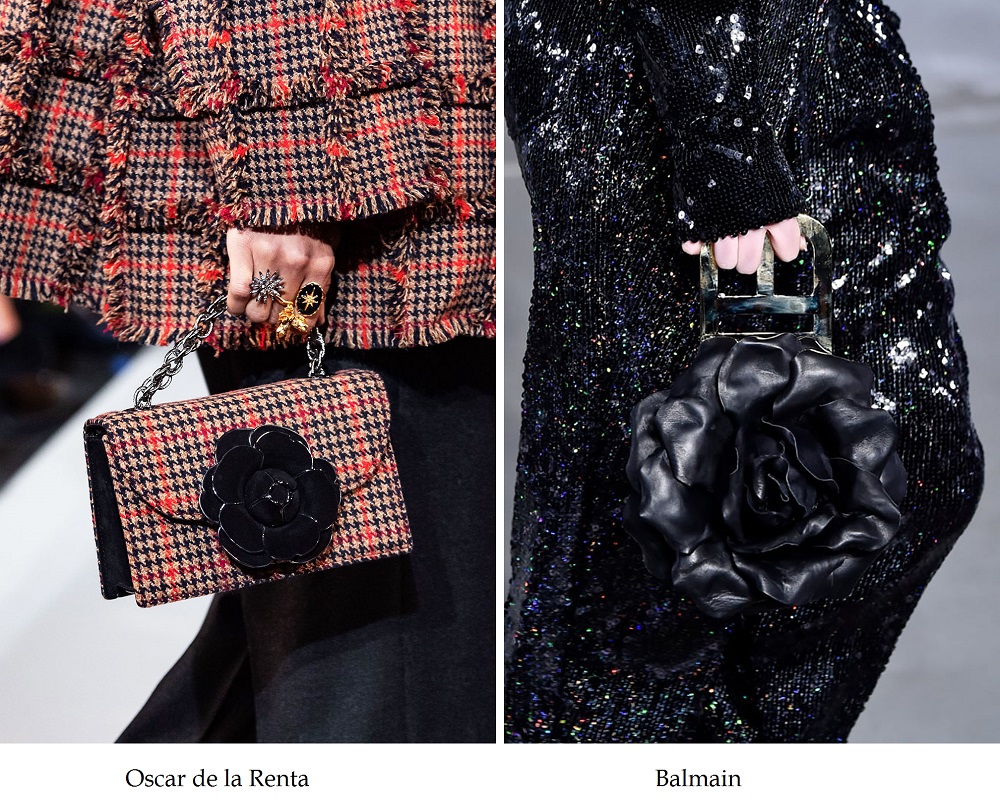 Satin multicolored flowers decorated bags from Prada. Oscar de la Renta used lush eco-leather roses instead of clasps. And Balmain bags are already originally made in the shape of a rose.
If you are not a fan of floral prints and hand made finishes, then the fashion trend can be supported in a simpler way. Simply attach a pendant or keychain in the form of buttercups, daisies, chrysanthemums or other flowers to your bag and you will be in trend.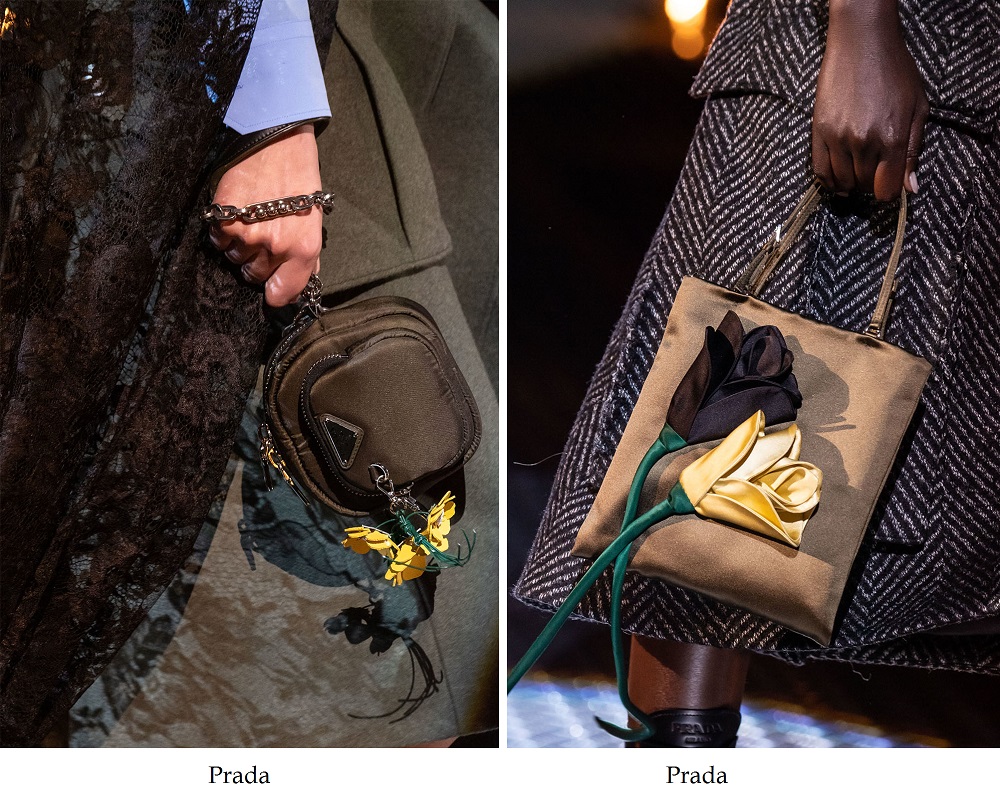 Wide belt
Fashion for bags is not limited to the style, color or configuration of the model. Sometimes details play an important role. Now the emphasis has shifted to the belt. Fashionable strap should be wide. Even if the handbag itself is very tiny, it is decorated with a wide, reliable and massive strap.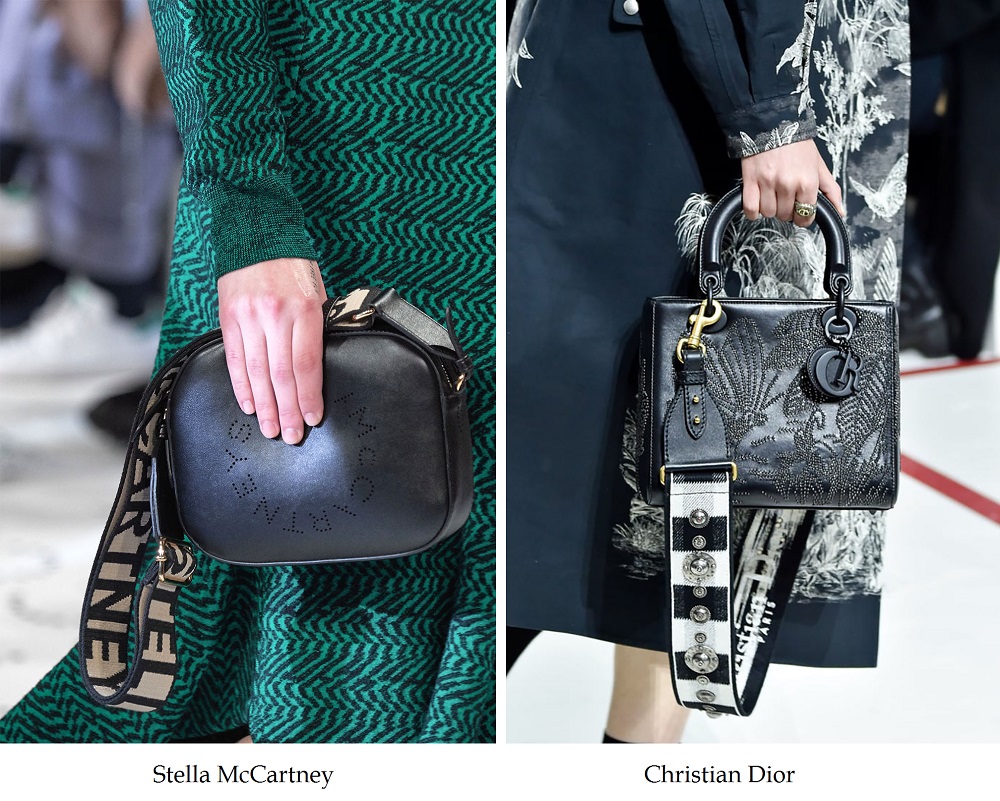 A new field has appeared for the embodiment of creative imagination of designers. Wide belts are decorated with logos of famous brands, rivets, decorative grommets, embossed. A wide belt can be a decorative part of any bag.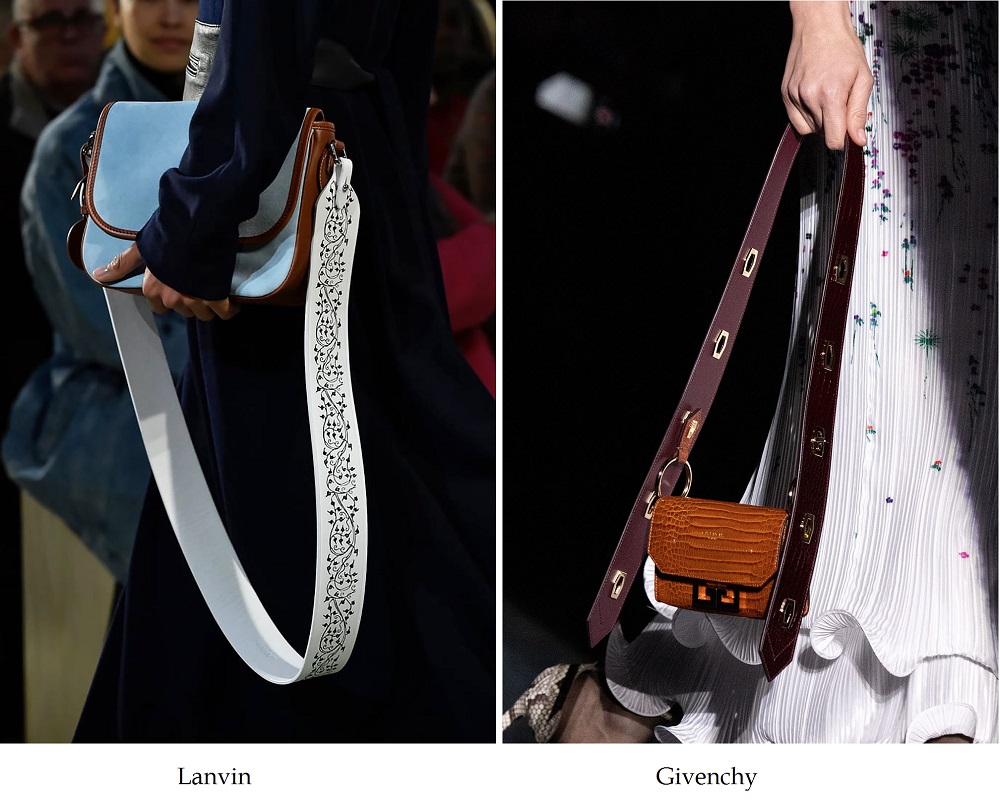 Bright bags
Bags for the cool season have become atypically bright and cheerful. In the collections of designers for the autumn-winter season, models of juicy summer flowers appeared. Cheerful turquoise, coral, lemon, doll-pink handbags can now be worn in cold weather.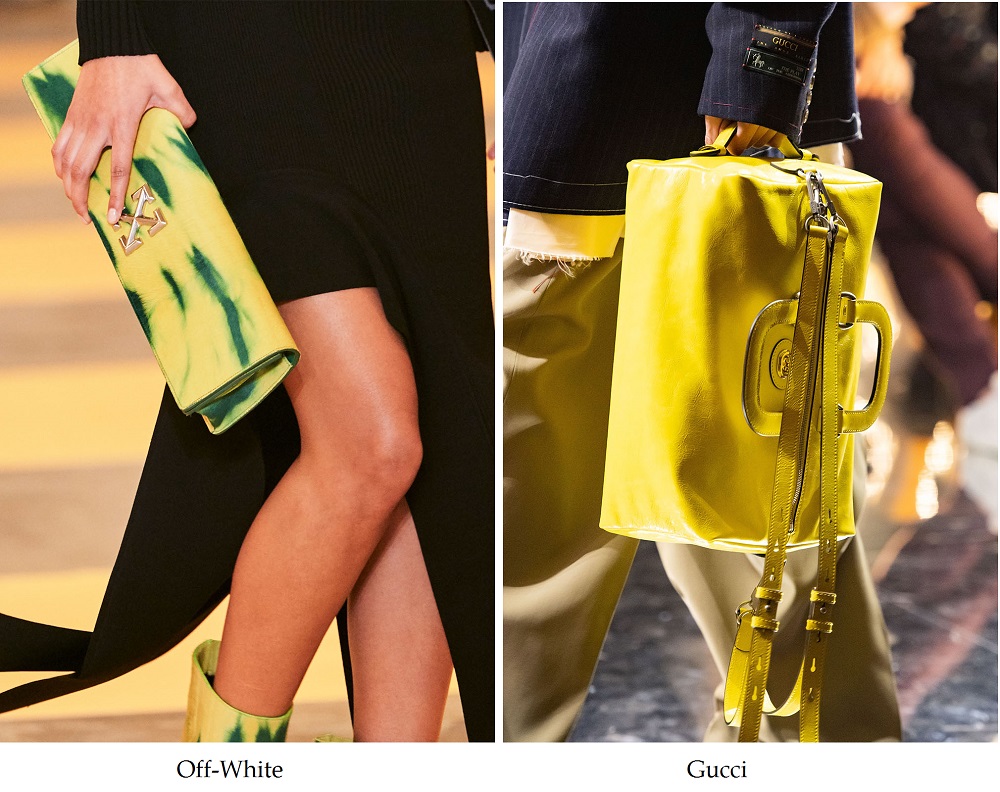 Bright proof – models from Gucci, Versace and Off-White. Even the most modest outfit will become much more interesting if you add a bright accent in the form of a bag to it. Total look in saturated colors is allowed, where the bright handbag complements the general harmony of color.
Predatory print and embossing
Interest in such prints does not cease. Along with the leopard pattern, a print appeared like a zebra skin, becoming the main trend of the autumn-winter season. Interestingly, fashion designers not only copied the drawing of animals. They used short-haired fur to create the full effect of the skin.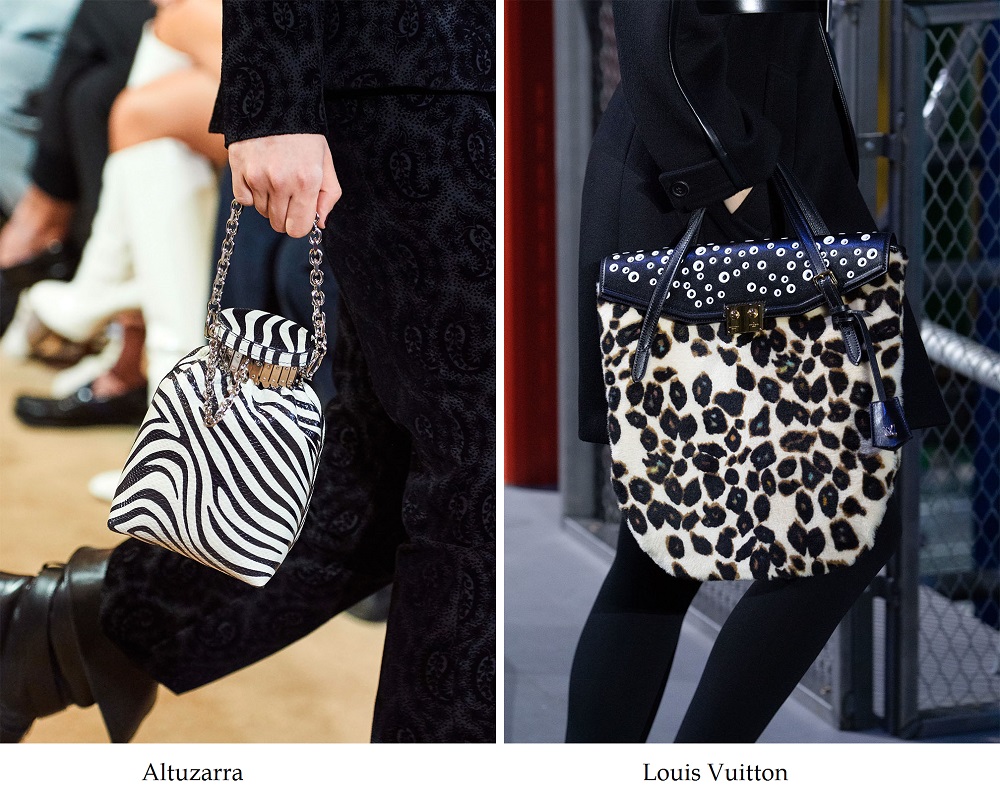 Imitation of reptile skin is still relevant. Celine, Givenchy, Gucci, Louis Vuitton – all these high-fashion trendsetters have chosen textured reptile skin reliefs to create their collections of handbags..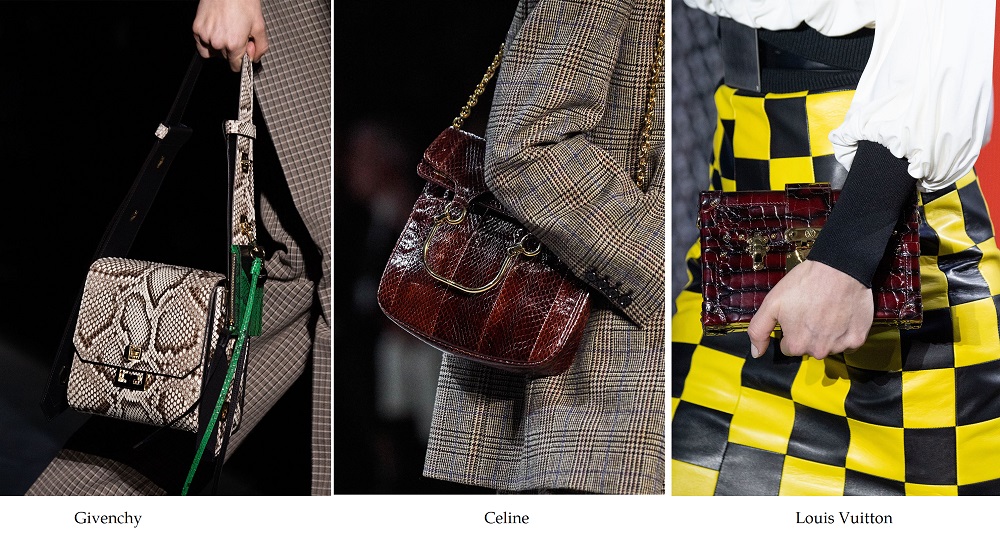 Geometric shapes
In the fashion for bags reigns strict geometry. Moreover, for trending models, more and more unusual geometrical figures are chosen – triangles, pyramids, cube. But even this seems to designers a little.
Balmain presented the bag in the form of a truncated cone. This form looks futuristic and is perfect for attire in the style of a girl from the future. The pyramid clutch from Bottega Veneta is made in the same style.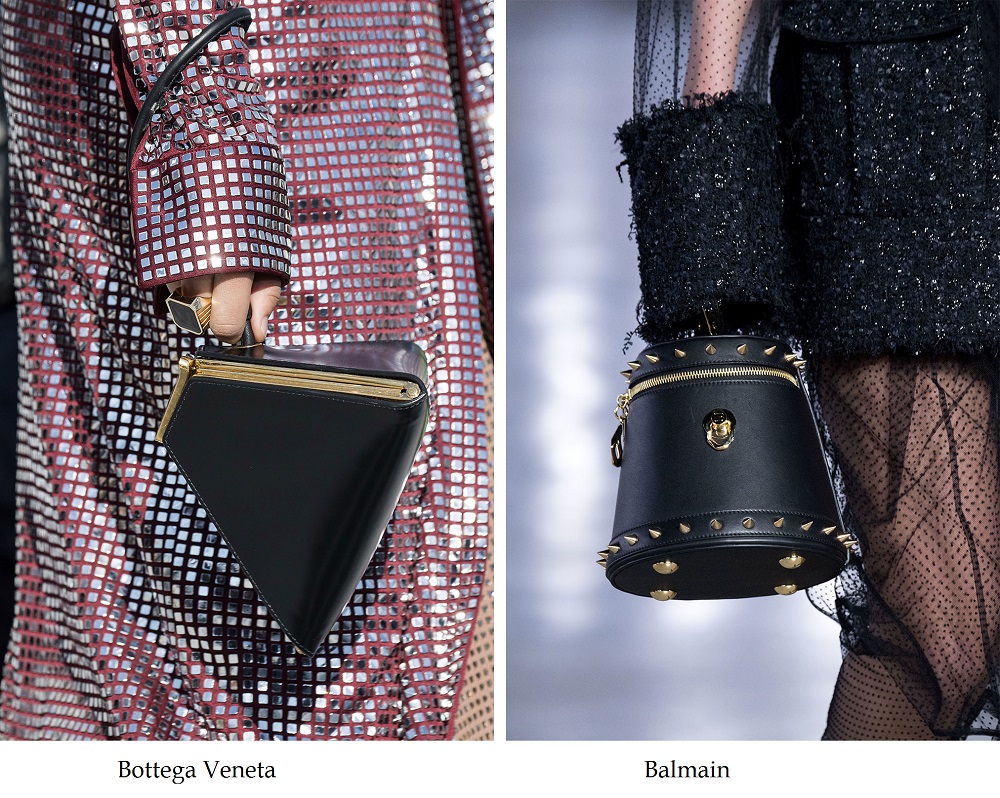 Cross-body and clutches in the form of a small, molded rectangle hit the top trending ones this season. A simple but stylish idea was proposed by Elie Saab and Bottega Veneta. Bags – geometric figures are decorated with chains and neat buckles of golden color. They do not require any other decor. The main role here is played by an unusual form..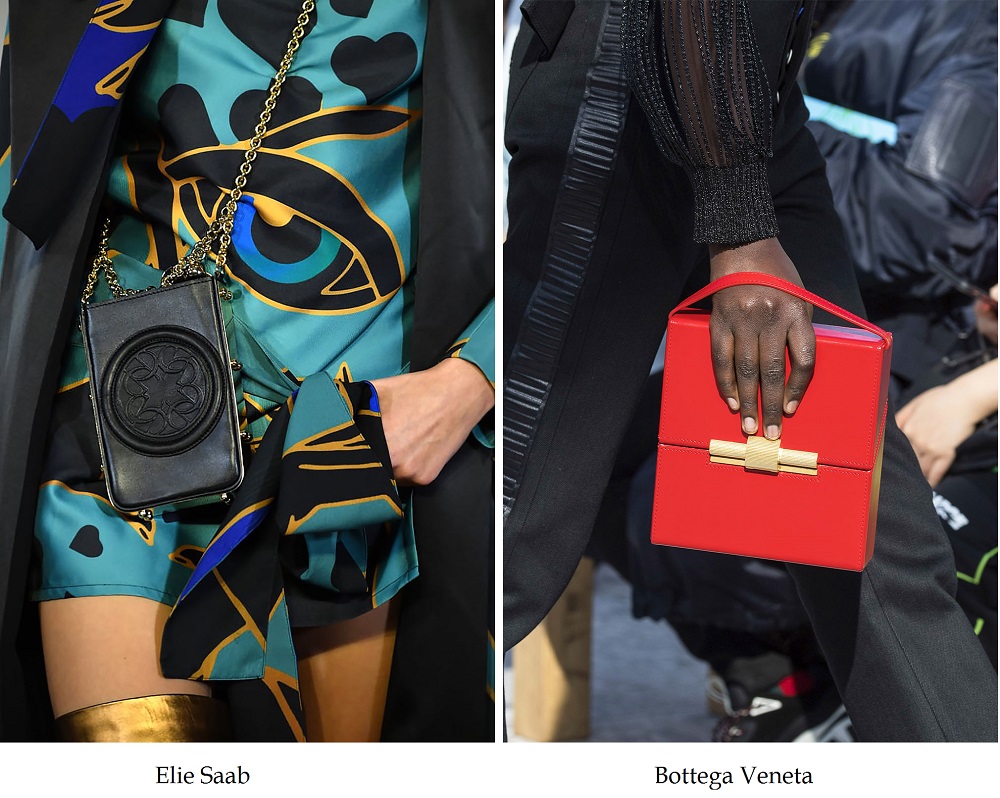 Logos
Logos are no longer just an indication of the brand. Their design is used to design fashionable bags. Brand names Louis Vuitton, Michael Kors, Rochas, Versace appeared on clutches, purses, cross-body.
The trend is expressed differently. A modest option is a small logo clasp. A less restrained technique is decorating the canvas with a brand letter print. The most luxurious version of the fashion trend – drawing, buckles and a print on the belt using the logo.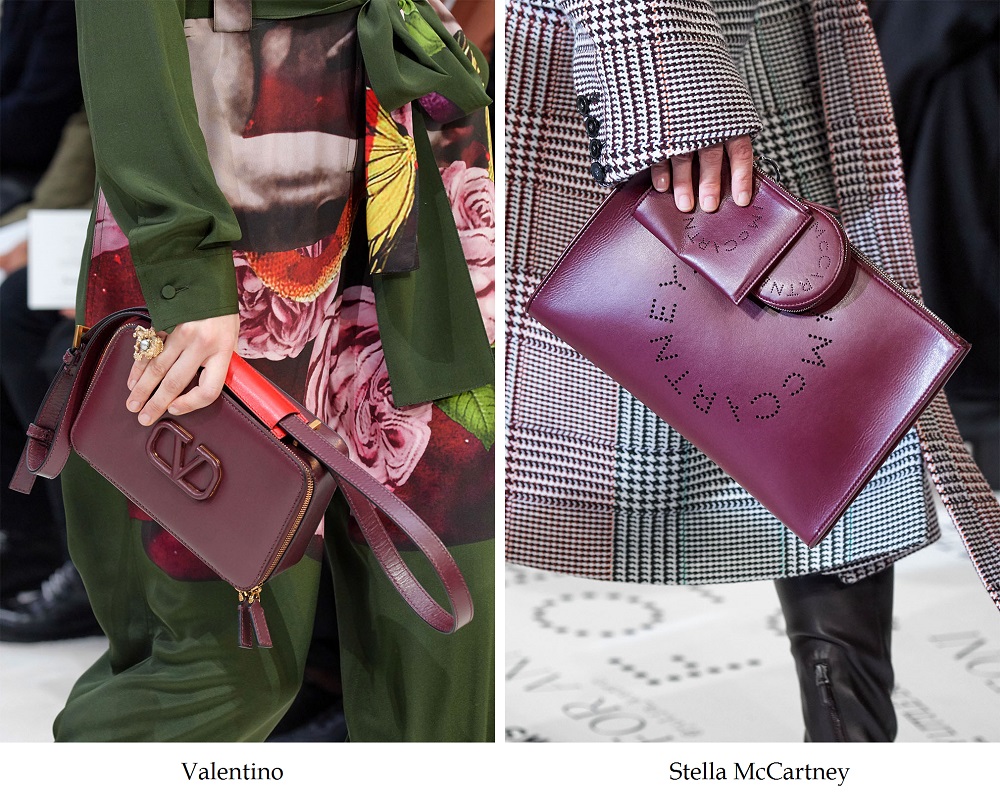 Sometimes a logo can be embossed, as in the Valentino model. Or you can decorate the bag with a thin inscription in the form of perforations. This way of printing the logo was chosen by designers Stella McCartney.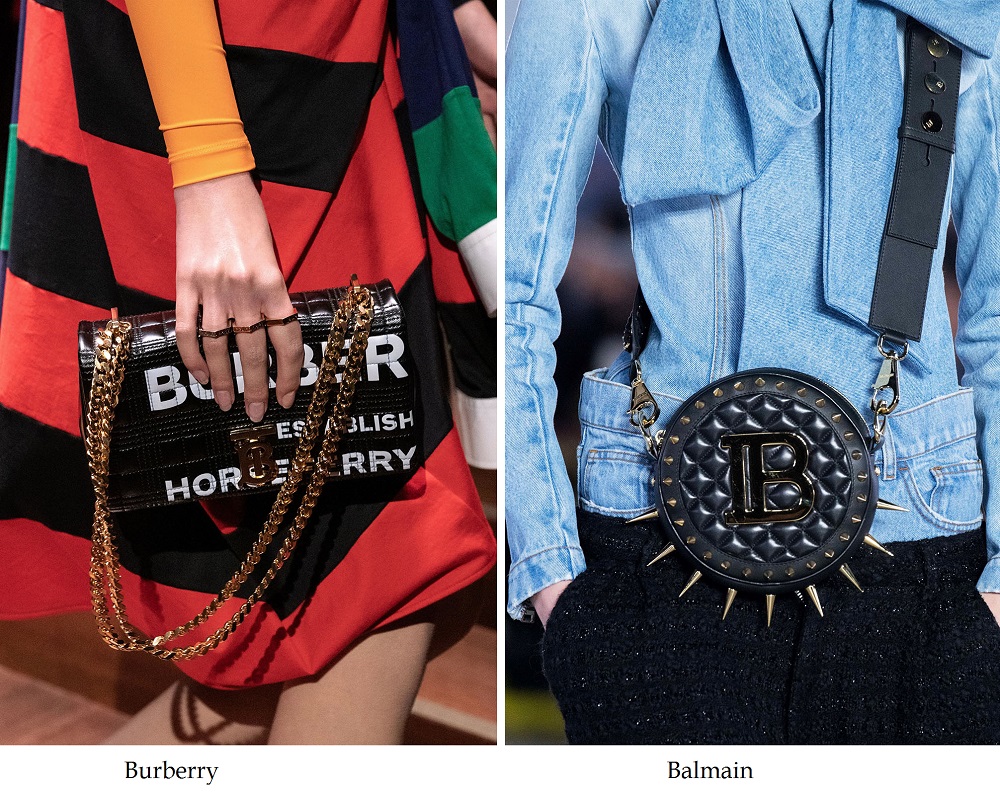 Satchel
Speaking specifically about models, a set of satchel bags stands out among the variety. Outwardly resembles a satchel or school bag. A characteristic feature is a rectangular shape, a rigid frame and flip straps with clasps.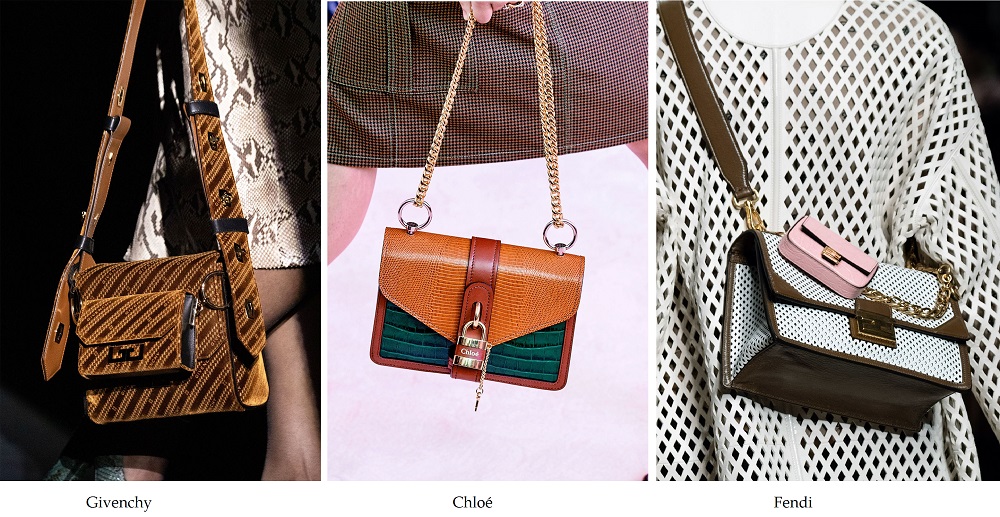 Now the trend is small bags. Many designers offer to carry simultaneously two bags of different sizes, but made in the same style..
Box bag and chest bag
Bags in the form of square boxes and chests in a retro style continue the geometric trend. Cubic-shaped bags are a hit in the fall-winter season of 2019. Transparent square minoders have become part of the Brandon Maxwell collections. Here, designers turned to the history of minodeyer. It was invented for a lady who did not like ordinary bags.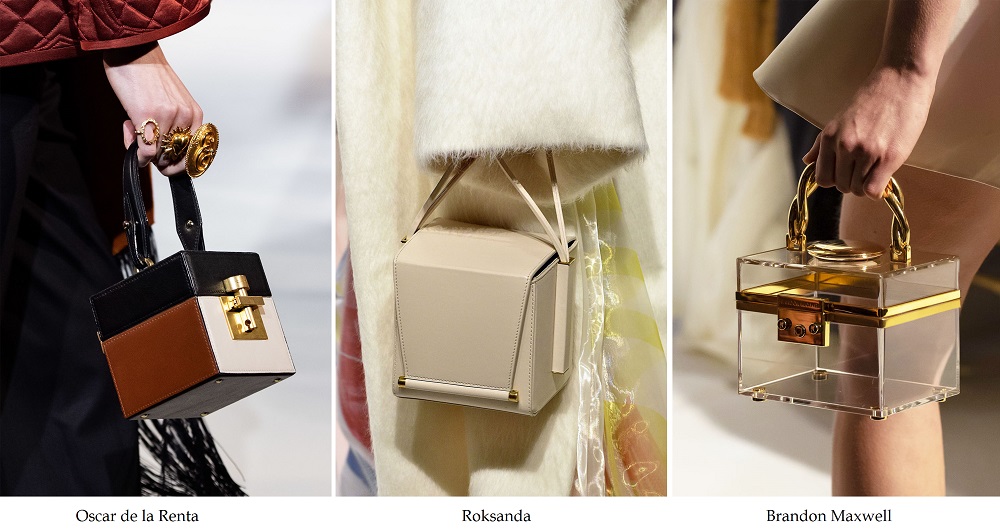 Clutches in the form of old chests continue the retro theme. They were offered by Ome Oscar de la Renta. And the brand Roksanda Ilincic has relied on conciseness. The cube bag from this brand impresses with its perfectly even proportions and almost complete absence of decor. If earlier minodiera and clutches were an attribute of evening fashion, now designers offer to complement everyday images with their help..
Set of bags
Can't decide which bag to bring with you to work or a party? Take a few at once. After all, handbags are the current trend for several seasons in a row. Sets of small clutches and huge bags – a tote, sets of posets and pouches – each designer presented his bag set.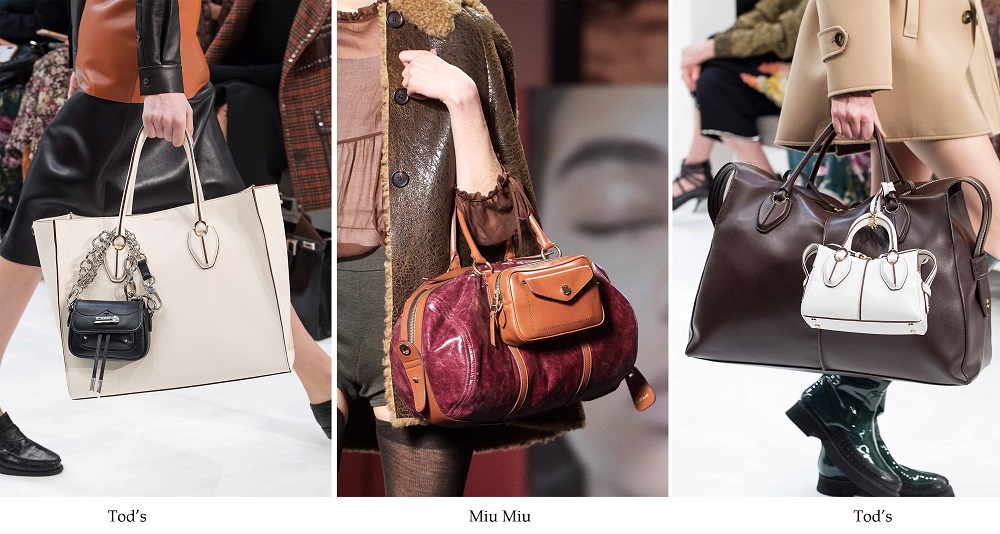 Fashion designers Tod's and Miu Miu have proposed combining 2 bags, different in size and color. Rebecca Minkoff put together a pouch and a round hat box model. Stella McCartney immediately combined 3 bags of different sizes and shapes.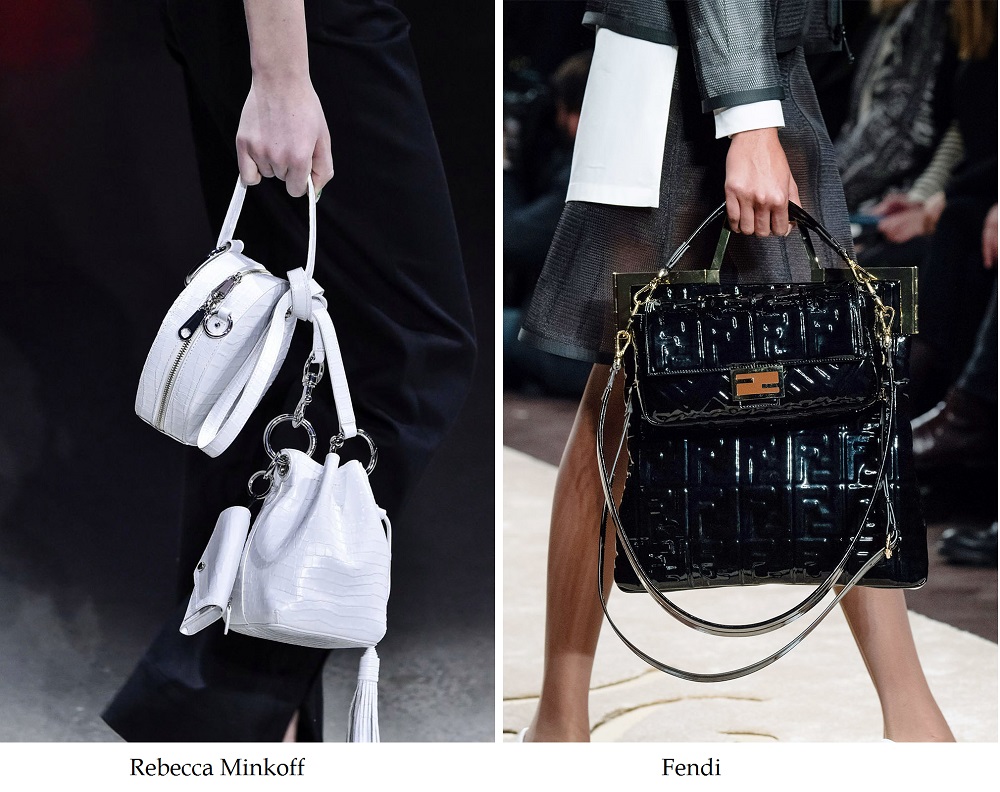 Minimalism
Against the background of bright models, bags in a minimalist style looked very memorable. In the fall-winter season of 2019, the strict conciseness of such accessories is diluted with elements of luxury and glamor. The decor of the bag should not be too provocative and should not distract from the beauty of a restrained image. Its function is to give the image a touch of luxury..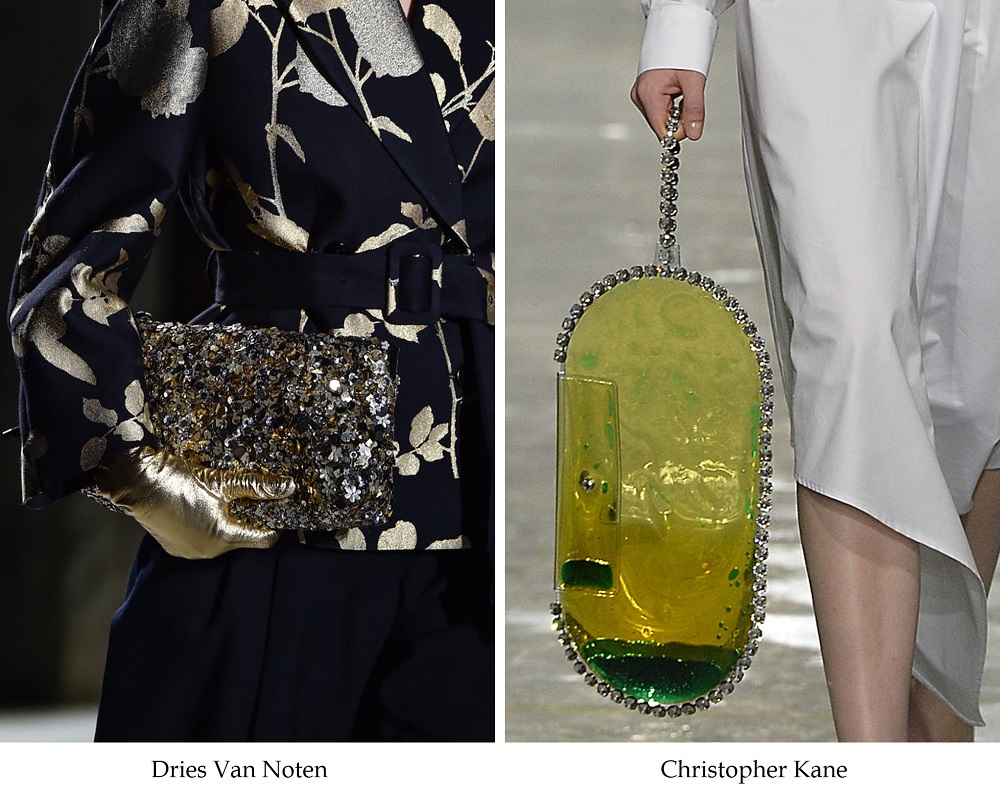 Is it possible to combine these two opposite concepts? It turns out that this is quite real. This can be seen on the example of bags from Dries Van Noten, Christopher Kane and Paco Rabbane. Their collections of fashionable minimalist accessories are decorated with stones, rhinestones and sequins in antique gold.
Waist bags
Belt bags confidently move from past seasons to a new one. In form, they can be different, resembling a pouch, briefcase or small messenger.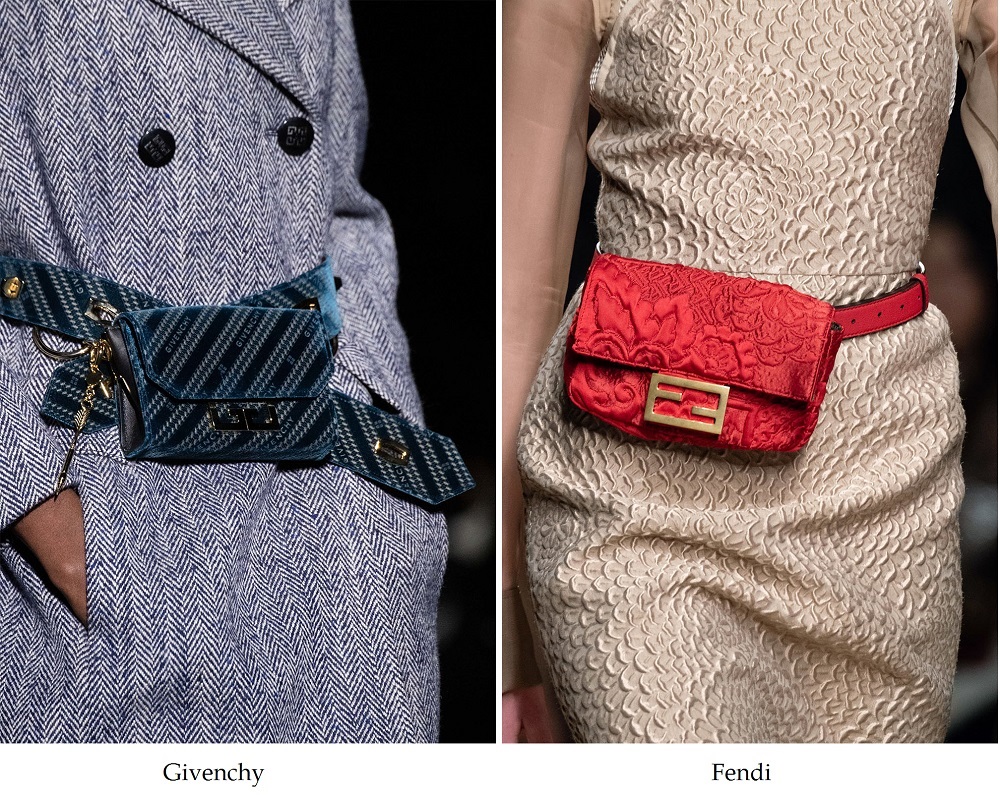 In terms of size, too, no restrictions. Belt bags of all sizes were presented at the shows, from tiny mini-clutches to huge hobos fastened to a wide belt.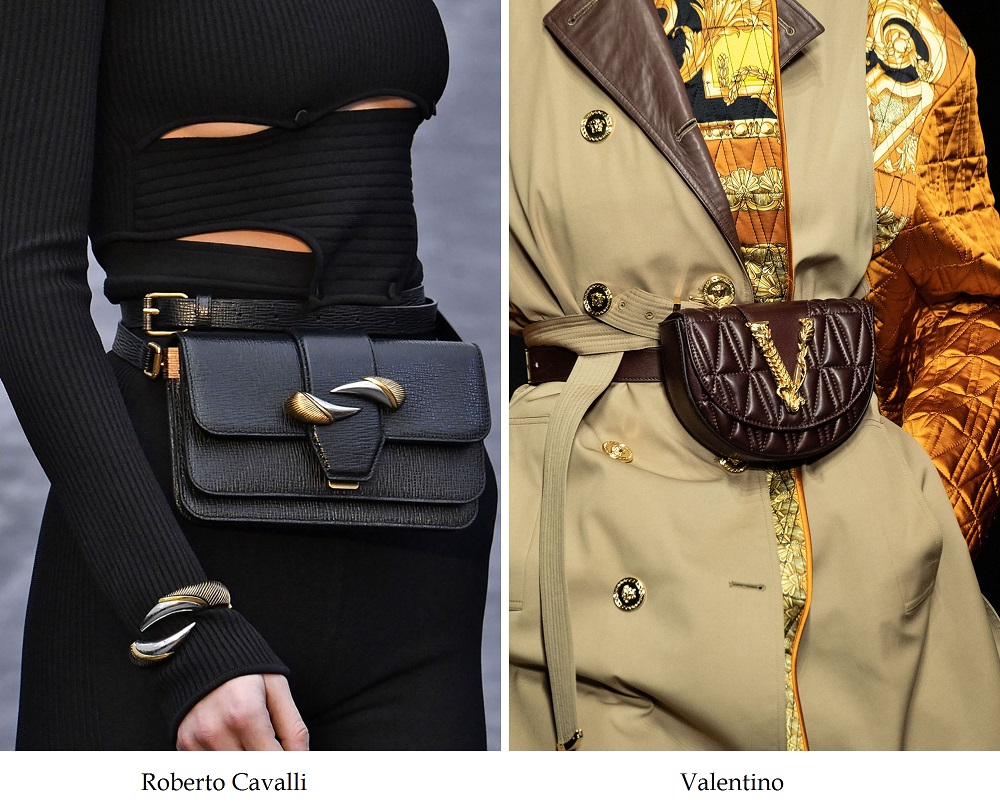 A new idea has appeared – a suspension bag. It is attached to the belt loops of the trouser belt and looks like a stylish decoration. Although it does not lose its practical function. Met at fashion shows and unusual solutions. For example, Burberry fashion house offered a waist bag in the form of a tiny backpack with waist and shoulder straps.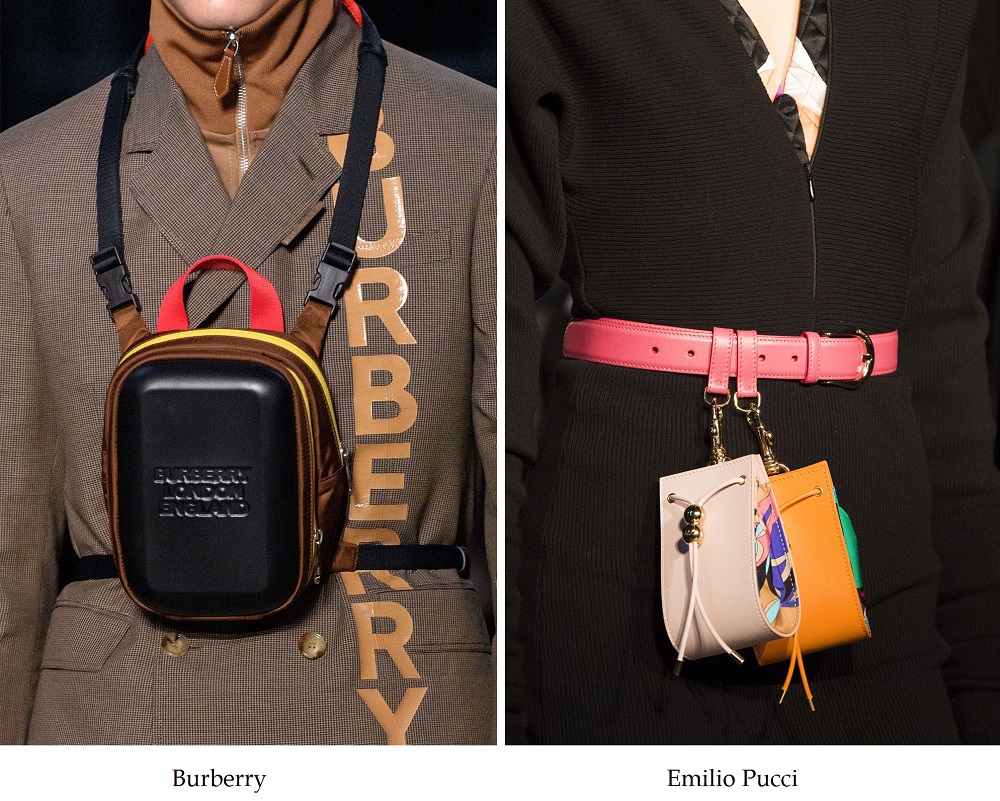 Mini bags
Tiny handbags on a long chain are the trend of the fall-winter season of 2019. They resemble an iron box, a case for a mobile phone or a retro bag. They can be worn on the shoulder or as a cross-body, attached to a belt or thrown over your wrist.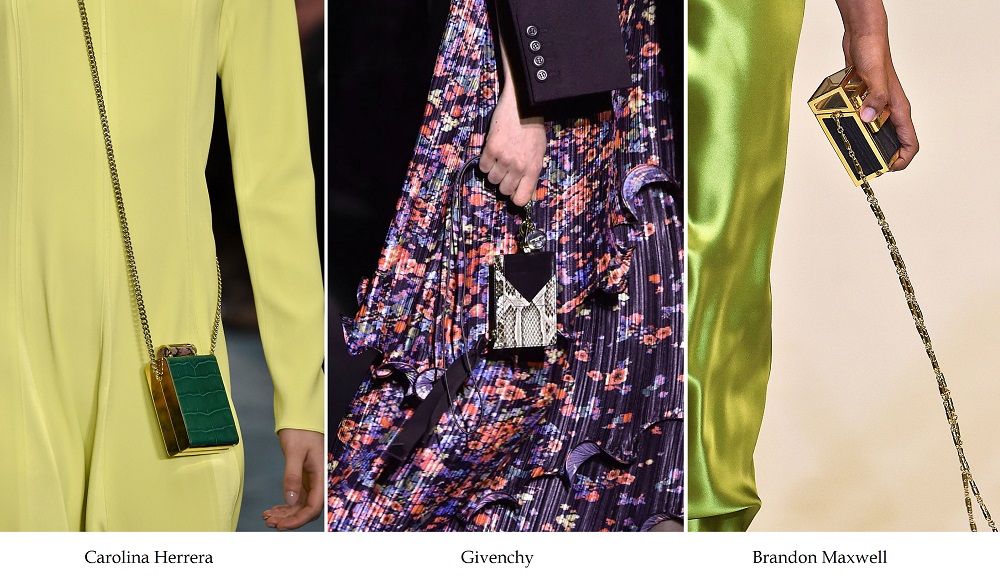 Unusual bags
For those who love bold experiments, designers presented bags of complex and unusual shapes. A bag in the form of a pear, a tube of toothpaste, a slot machine and even a mini copy of a crocodile.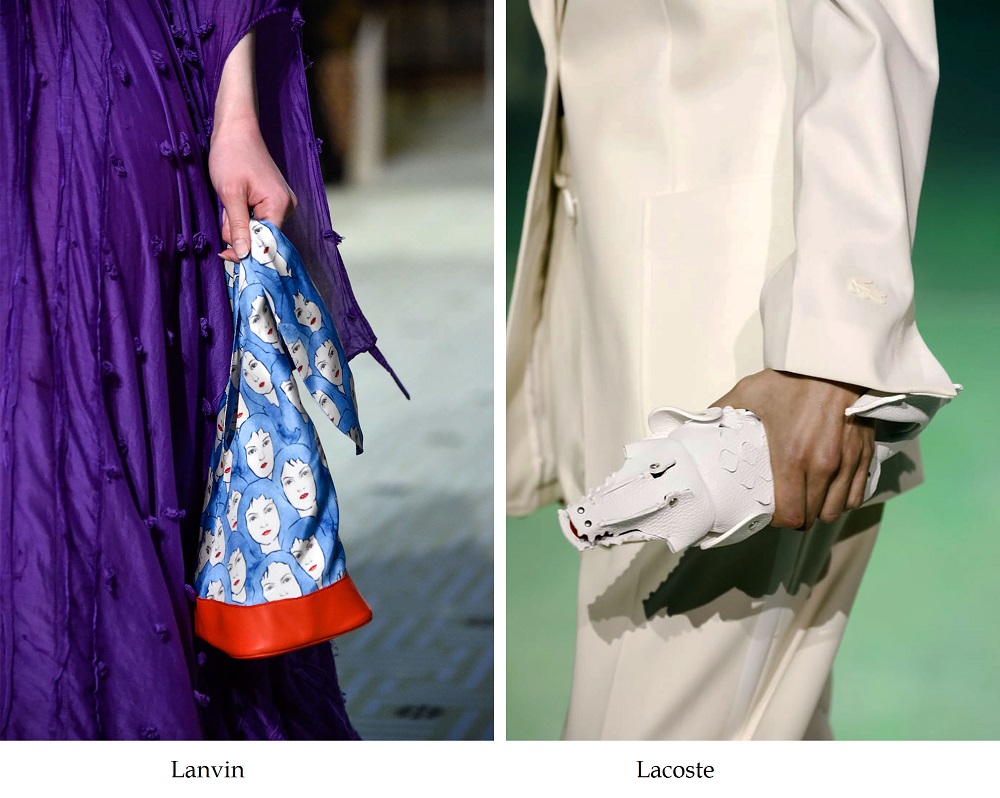 There are, of course, no rules here. The main task of such an extravagant accessory is to distinguish a fashionista from the crowd. What they are doing well. To make sure of this, just look at the unusual bags from Lacoste, Lanvin, Moschino.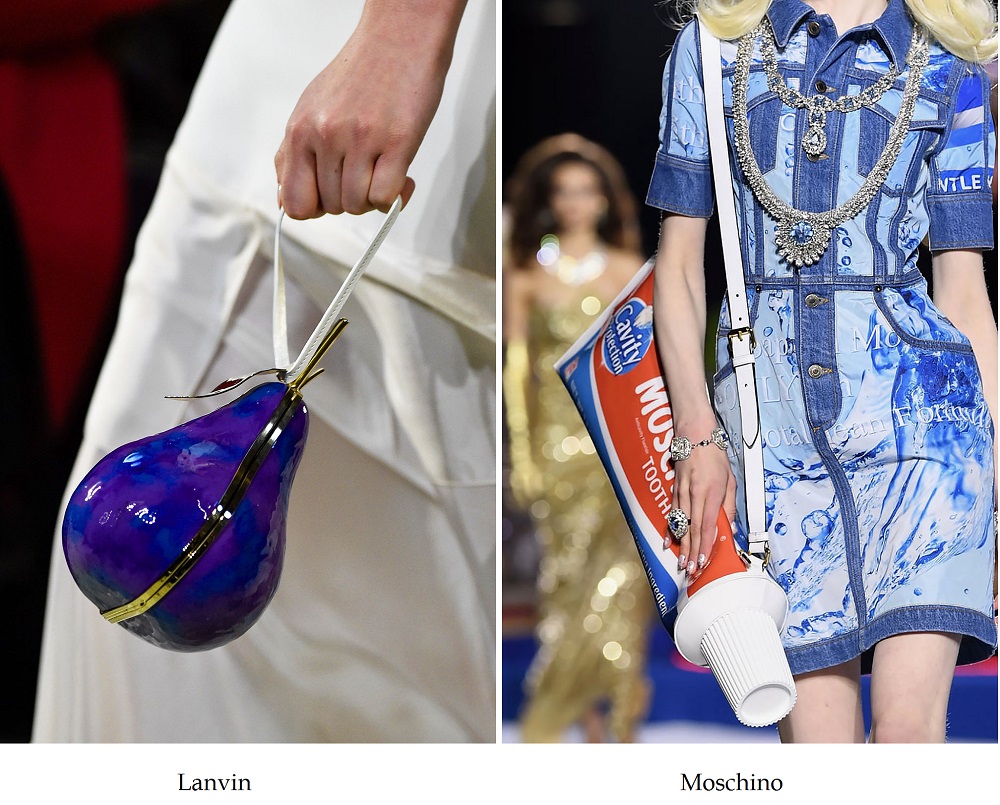 Fashionable bags for the fall-winter 2019 season are so diverse that creating a stylish look with them is not difficult. It seems that in the fashion collections the preferences of all fashionistas of the world are taken into account.
Good luck!!!