Content
---
---
In order to fully feel the taste of the upcoming holiday, you just need to start preparing for it in advance, then during the whole preparatory period you will feel a unique, and most importantly positive, pre-holiday atmosphere. Today we want to show you how to decorate an apartment by February 14, a house or just a separate room, it all depends on where the romantic evening will be held.
How to decorate a room for Valentine's Day
Paper balls. Very simple in terms of the material used, and the manufacture of decor. What can not be said for the finished look of fluffy balls, they look really festive. They can literally decorate the whole house, the main thing is to be able to hang them somewhere, a chandelier, wall sconces, a window ledge will do. You can also drive carnations into two opposite walls closer to the ceiling, pull a fishing line and hang such balls along its entire length.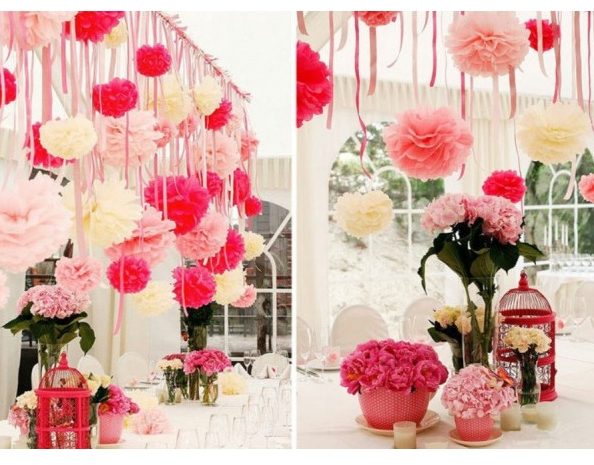 How to make balls from napkins. We put five or six napkins one on top of another, turn them into an accordion, and in the center we knit them with a thread. We begin to lift to the top each layer of napkins on each side, as a result we get a fluffy napkin flower-ball.

How to decorate an apartment for Valentine's day with balloons
Well, how can such a romantic holiday be able to do without balloons. Ideally, it is better to fill the balls with helium, then they will soar effectively on the ceiling surface. To the ropes of each of their ball, you can tie a Valentine with an exclusive declaration of love. In addition, a large heart can be formed from the balls..
How to make a voluminous heart out of balloons
Cut the heart out of thick cardboard, cut the core with a clerical knife. Inflate balloons, it is necessary that they be of different sizes. Tie the balls tightly to each other to the cardboard blank, and so on until the result starts to satisfy you. You can study the process of creating such a heart in the photo below..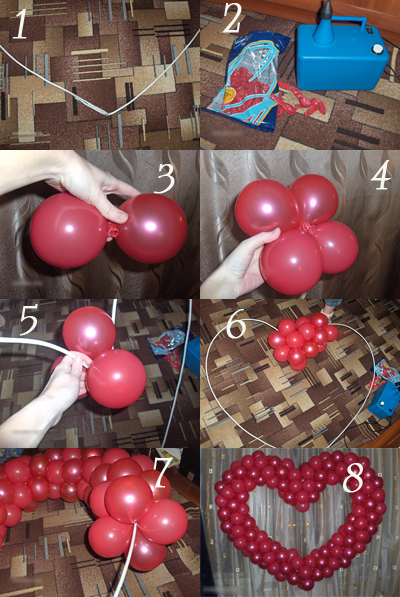 Or make a heart of thread and decorate with a garland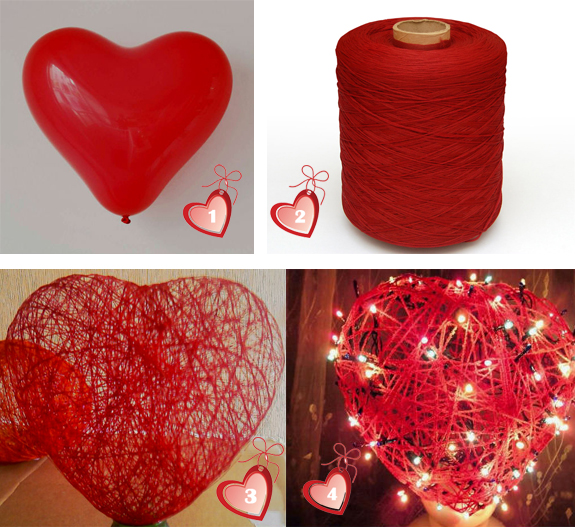 Garland Decor
Garlands will help you beat the idea, and it does not have to be electric garlands, they can be made of paper, wire or fabric. If you still want to use electric garlands, you can stick them on the window with scotch tape, simultaneously forming a heart.

How to decorate an electric garland with hearts
From paper for a printer or a regular newspaper, cut out identical hearts, in the center of each heart create a slot for the size of the garland bulb, insert a heart into each bulb, turn on the garland and admire the result.

How to decorate a room for Valentine's Day: wall decor
The walls can be decorated with various themed panels, garlands or flowers. Flowers can be cut from the tube from paper towels, for this you bend the tube slightly in the center, cut it with scissors into rings 8 mm wide, we get the petals, put the flowers from these petals on the table and glue them into the composition. The finished composition can be hung on the wall.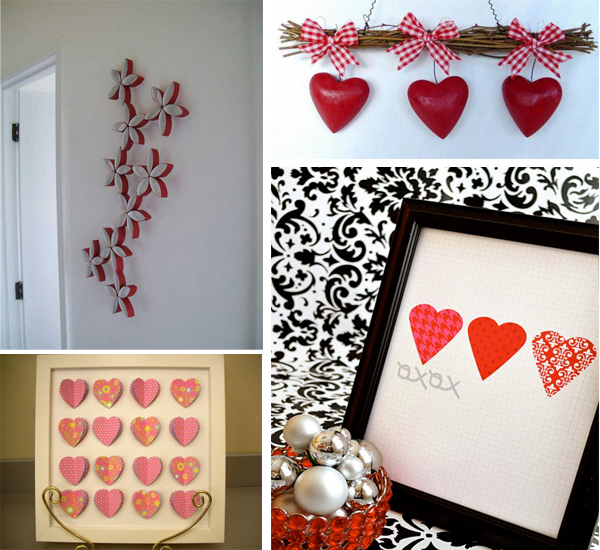 How to make valentine heart out of branches
On a wooden frame, fasten a thick sheet of paper, cut out a heart from paper, according to its outline, cut dry twigs, paint them in golden color. Then paint the background, and stick in the center a heart of twigs, hang the finished panel on the wall. You can paint the branches red, and make the background white – choose your options.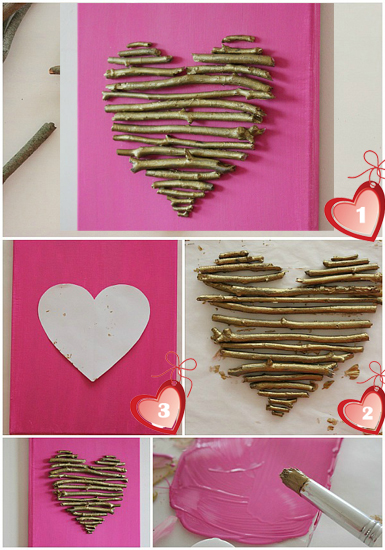 Heart pattern
On a wooden frame, fix the paper, you can white wallpaper. Then take a clean, thick sheet of paper and create a rainbow effect with strokes of paint, cut out identical hearts from this paper, each of which bend in the center, and glue to the wallpaper fixed on the frame. Hang the finished panel on the wall.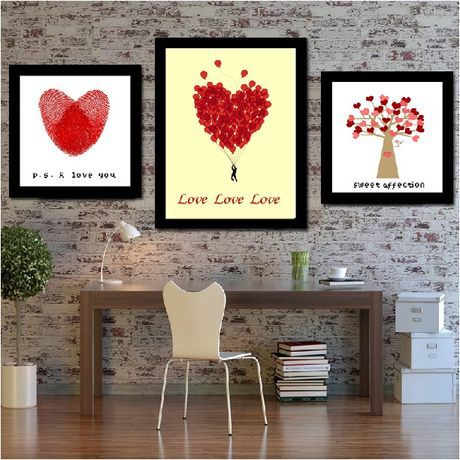 Love tree
In honor of love, you can craft a home decoration on Valentine's Day in the form of a tree. To do this, you need to pick up a dry branch with branches, install it in a vase, and tie hearts or buds of roses from paper to its branches.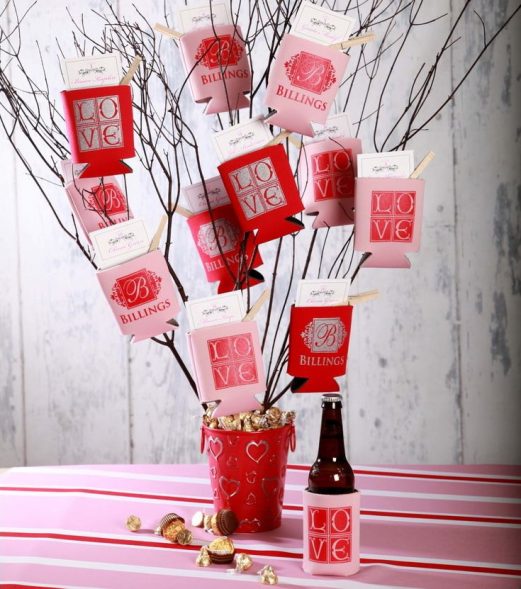 Heart shaped holiday wreath
A festive wreath in the shape of a heart will fit perfectly into the overall interior idea, and besides, it is absolutely not difficult to make it. From a thick cardboard, cut out a heart-ring, and on top of it paste Christmas toys in the form of hearts, paper or fabric hearts. The volumetric heart on a ribbon of paper flowers also looks very beautiful. To make it, you need to cut out a heart from cardboard, stick a tape to it, and completely glue paper flowers or hearts on the front side.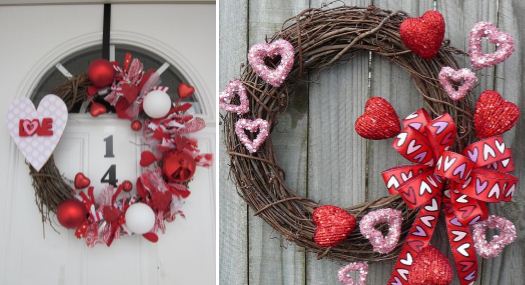 Valentine's Day festive table decor
Decorate the table with candles, flower arrangements, a snow-white lace tablecloth, place valentines here and there, cover the table surface with rose petals, put a candle in an elegant candlestick and a tiny vase with a rose near each plate, do not forget about themed red napkins, and soaring balloons above the table.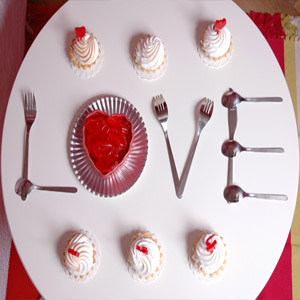 Valentine's Day table setting
The color of tableware can be white, red, gold or pink. Combination dishes in white and red look the most advantageous. If it is decided to put white plates, then a red textile napkin with a fork and knife tied with a red ribbon with a heart will look great on top of them. You can also put on a plate, a small box with a gift, and put two scrolls of sheets of paper with printed words of love nearby..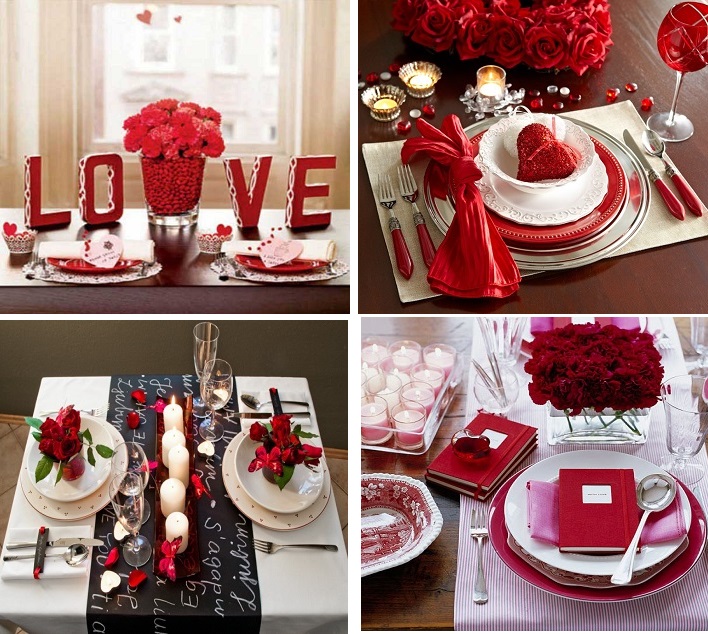 How to make paper flowers
Spiral rose bud. On a piece of paper we draw a spiral, cut it with scissors, then take a toothpick and wind the cut spiral from the outer end (not the inner, but the outer one), removes the winding from the toothpick, and the bud immediately takes on the desired shape.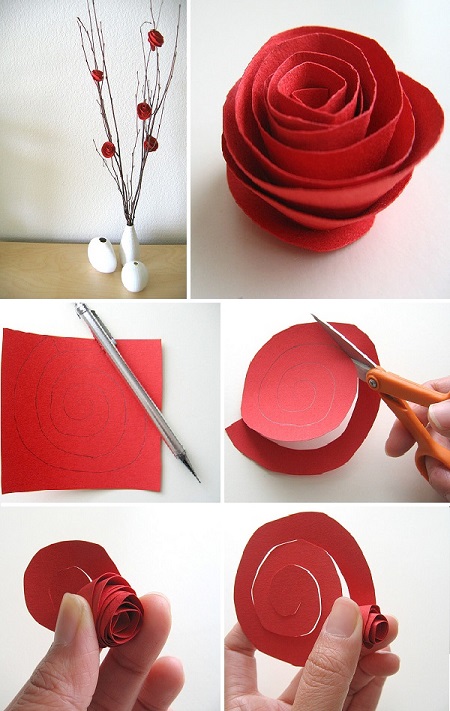 Happy valentine's day!