Content
---
---
A children's room, even the most stylish, sweet and comfortable, will not suit a young girl. After all, its territory does not personify fluffy teddy bears, but an awakening femininity. They have pajama parties with friends, dress up for a first date, try different makeup styles.
In a girl's room it should be convenient to relax, dream, consult with friends, but you should not forget about the need to study or work. What should be this room?
The basic nuances of room design for a young girl
The first thing to choose is the overall style of the interior. Not all girls will like bows and ruffles, but in the rich style of glam rock, not everyone will feel comfortable. Therefore, we focus on the preferences of the owner – if dreamy and romantic beauties like Provence, then pop art or modern will be more temperamental and active. There are parameters that are important regardless of what style is chosen: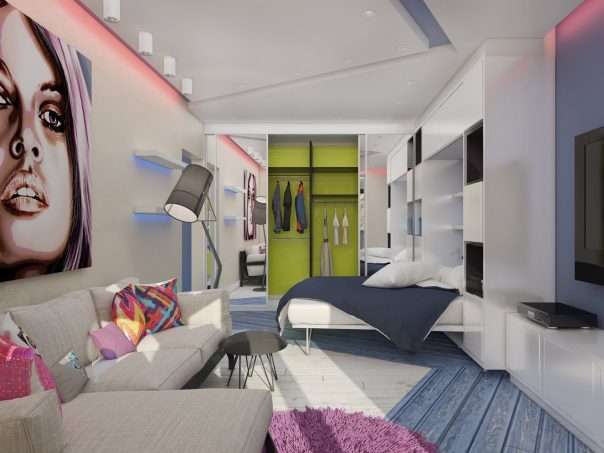 Proper lighting  For evening relaxation, subdued light is important, and in the morning – bright, so that it is convenient to apply makeup. Consequently, several light sources are needed.
Mirror is a must for a girl's bedroom. Just do not put it close to the bed – it is believed that the sleeping person should not be reflected in mirrored surfaces. And one more thing – the mirror should be large, in full growth.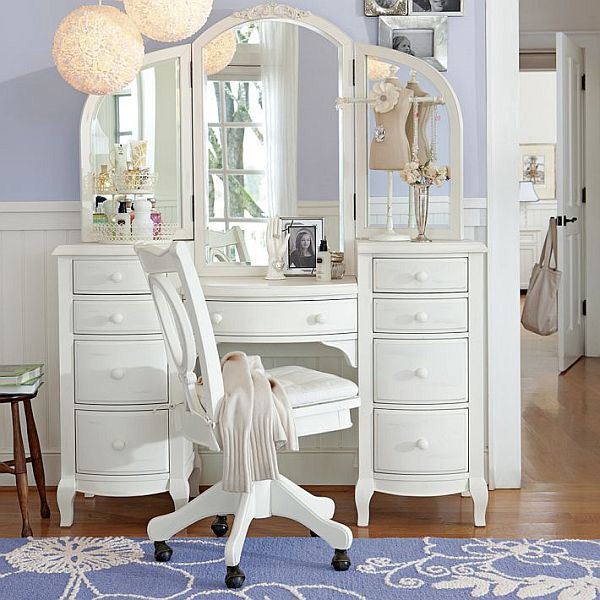 Storage system should be carefully thought out – because in the closet there should be a place for evening dresses and autumn raincoats, for many t-shirts and summer scarves, sweaters and accessories, jewelry and shoes. It's better to make a common cabinet for all this grandeur, but think of a multifunctional solution.
Everything without exception – from curtains to furniture facades, must correspond to the chosen stylistic concept.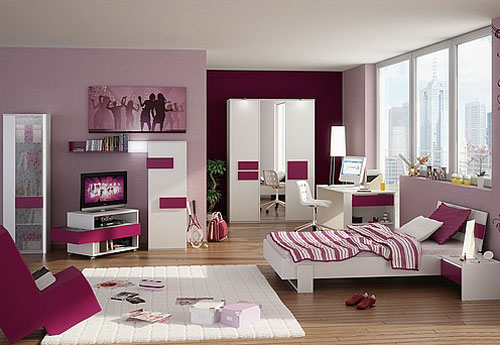 How to zone a girl's room correctly
The young girl's room is not a bedroom in the classical sense, but a living room, a sleeping place, a dressing room and an office. Each zone must be carefully planned and detached, which can be difficult to do, especially considering the small dimensions of the room.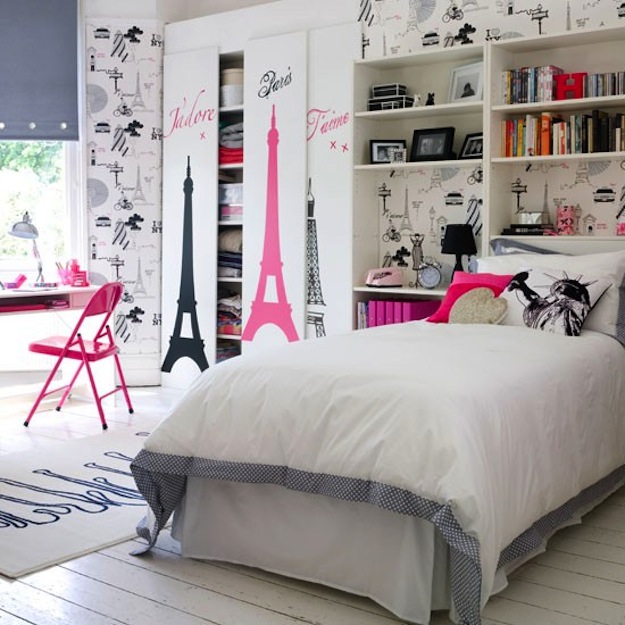 You can zone your space with spectacular decoration materials, or you can highlight areas with color – the main thing is to arrange furniture in practice.
What building materials to choose to repair a room
There are three materials that are ideal for a young girl's room:
Wallpaper – best without a pronounced pattern, textured, resembling crumpled fabric or decorative plaster.
Paint. She can paint the wallpaper (non-woven), choosing a tone that best conveys the mood of the owner, and can also be used to decorate the ceiling. The classic trick is creating a white surface resembling suede.
Laminate like a wonderful floor covering. It delightfully conveys the texture of natural wood and is immune to mechanical damage – even to point loads from female heels.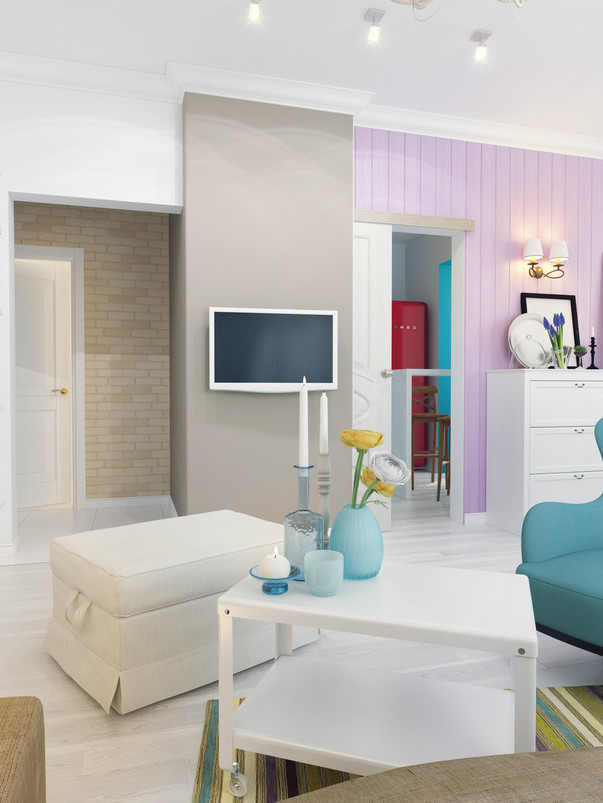 What furniture to choose in a room for a young girl
The central element of a girl's room will always be a closet. It is better to immediately choose a wardrobe as a more practical, roomy and at the same time compact option. It is divided into two zones: the first – the actual closet for storing wardrobe items, and the second – all kinds of racks and shelves where you can store movies, books, magazines and cosmetics.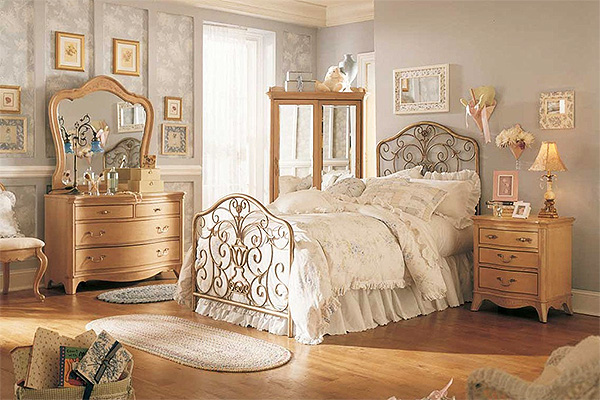 Well, if one of the doors of the closet will be a full-length mirror. This design will allow you to turn a standard piece of furniture into a full-fledged dressing room, where a girl will be able to lay out all her outfits and experiment in front of a mirror with the creation of new images.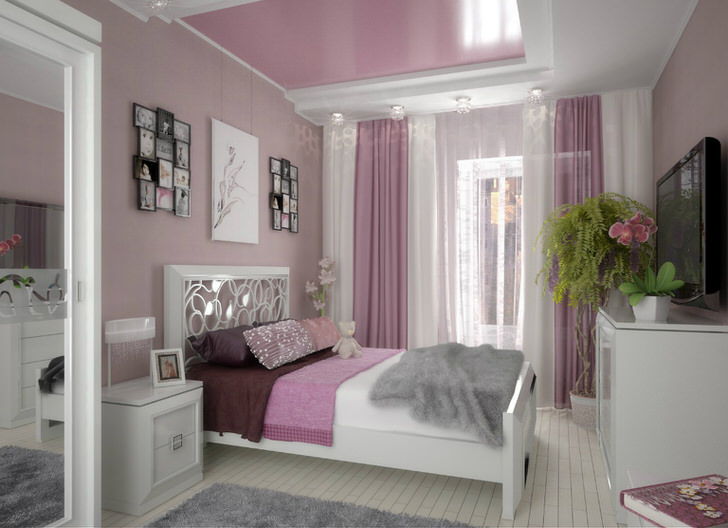 A table – it is better to choose a small one, but one that fits both writing instruments and a computer. A practical superstructure with shelves may also be provided. It also necessarily provides directional bright lighting. No less important is the dressing table (if necessary, it can be replaced with a chest of drawers with a mirror), which is complemented by a soft ottoman.
Bookshelves, shelves and an armchair – all this is appropriate in the girl's room, if not clutter up the space. You can also find a place for an easel or synthesizer, many pillows on the floor or a hanging cocoon chair, an embroidery machine – it all depends on the owner's preferences and hobbies.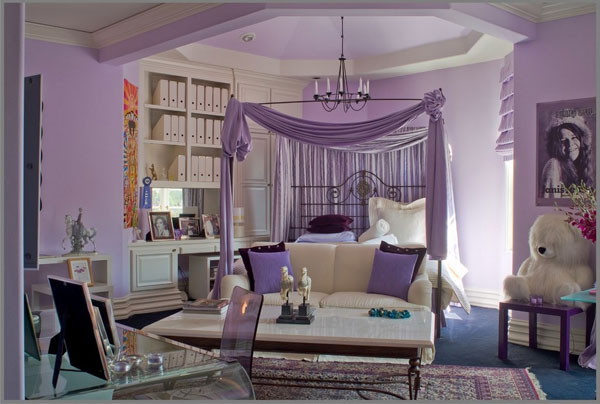 The girl's room combines the function of a living room and bedroom, and therefore a spacious bed here in most cases is inappropriate. It is better to use a folding sofa. If space allows, then a full bed is installed – and then the recreation area is fenced off from the rest of the room by screens, curtains, threads or a canopy.
How to choose a color scheme in a girl's room
If girls-schoolgirls are almost completely delighted with shades of raspberries, fuchsia, lilac and pink marshmallows, then for girls these shades may seem cloyingly sweet. Especially if their nursery was framed in these colors. But even if black became the favorite color of the young beauty, then you should not turn the room into the chambers of a Gothic castle. As always, you will have to find a compromise, trying to choose the right color scheme, combining the main color with companions.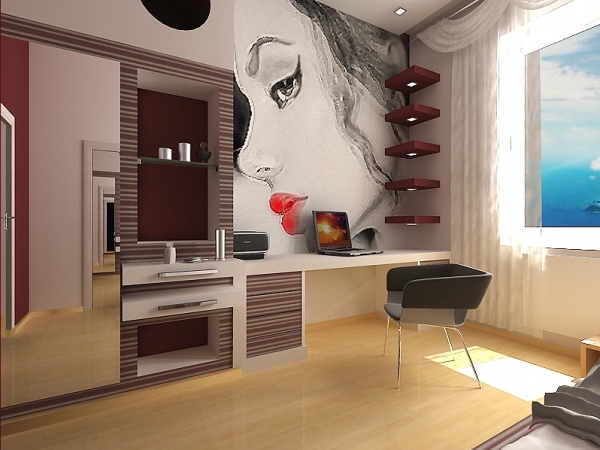 For a girl's room, a combination of bright colors with muted, pure watercolor tones with pastel and deep will be ideal.
A win-win version of the primary color – any muted tone. They choose it so that it refreshes the room, makes it more spacious. In addition, the shades of walls and furniture facades should be in harmony with each other. It is not recommended to use more than three basic tones at the same time, and one of the selected colors should still dominate.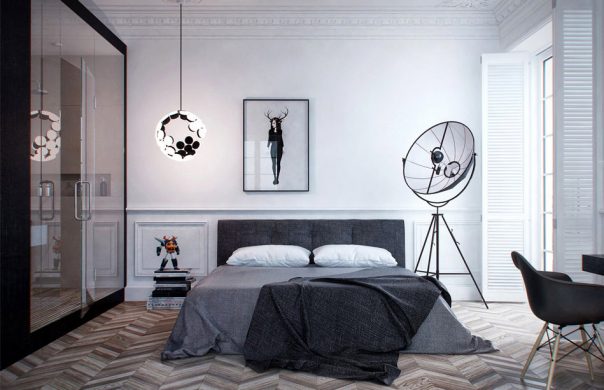 The room for the young girl will look sunny and bright, if you use warm pastel colors for her design – peach, yellow, orange, orange. They are combined with contrasting shades. In general, one of the important design rules says that a bright tone must be balanced with a contrasting calm, so that the room does not look aggressive.
Bright shades should be used in a dosed manner – although they combine well with explosive active girlish temperament, they can bring chaos to a harmonious interior. But the whitened, watercolor tones are "responsible" for the rich imagination. They are most often used in a small room, when you need to visually increase the space.
Unsaturated shades are suitable for calm and romantic natures, but you should not make everything light without exception – walls, furniture, and textiles..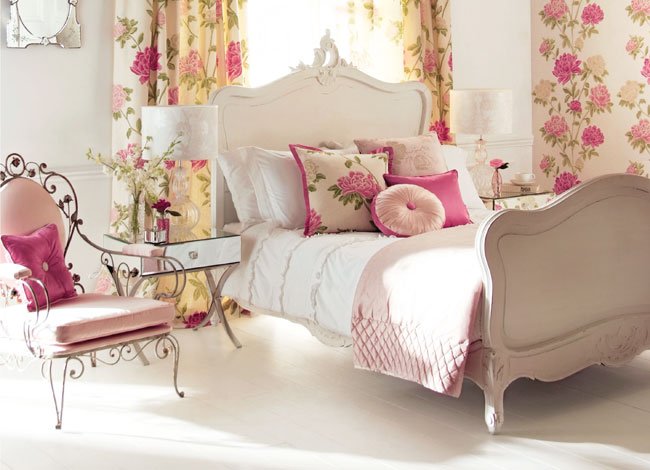 Fans of modern glamor are in no hurry to abandon pink – in their room you just need to use a different, not childish, shade. Impressiveness and chic of this tone can be made even deeper if you combine it with blue flowers – light heavenly or turquoise. If the girl does not tolerate glamor, but prefers sharpness, then a contrasting black and white version of the design or the style of pop art, with red, yellow, blue color spots, will suit her.
In a girl's bedroom, a combination of styles is also appropriate, but such a mixture is performed only on large areas. When it comes to a small room, the principle of zoning is chosen – for example, the working area is emphasized by the wallpaper of a different, more dynamic color.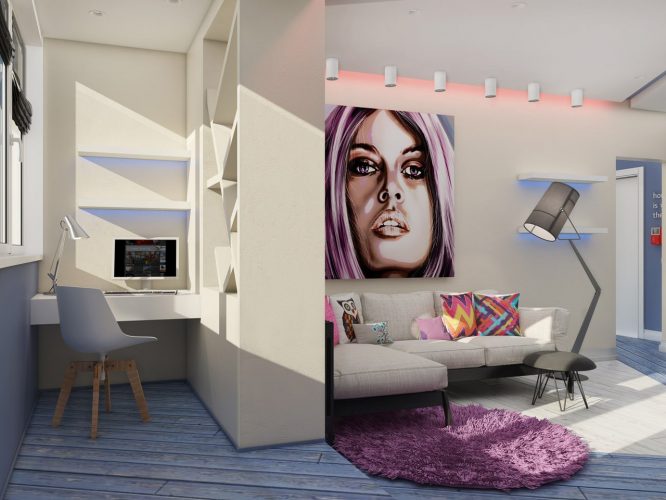 About textiles – curtains and bedspreads in a girl's bedroom should always be present, even if the room is decorated in the style of hard minimalism. Traditionally, they choose light curtains, for romantic styles with lace and frills, for modern ones – with a metallic coating or even leather inserts.